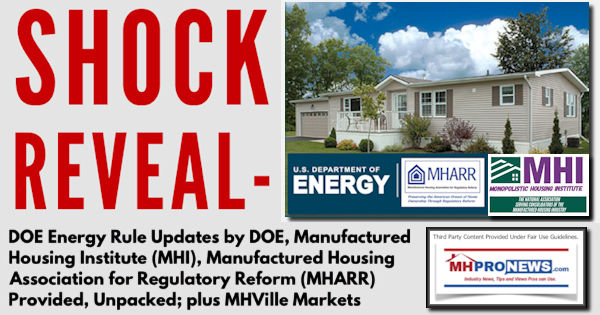 When all of the facts that follow are carefully examined, a shocking revelation alleged by various individuals and organizations involved in the manufactured home industry for some years about the U.S. Department of Energy (DOE) manufactured housing energy rule come into sharper focus. According to the DOE download obtained by MHProNews and attached below are the following remarks about their pending manufactured housing energy standards. Those standards have been delayed as a result of litigation which the Manufactured Housing Association for Regulatory Reform (MHARR) and MHProNews have long and consistently supported in 2022-2023, and which the Manufactured Housing Institute (MHI) and the Texas Manufactured Housing Association (TMHA) finally initiated a lawsuit on Valentine's Day, 2023. After all other 'MHI efforts' (linked below in Part III) proved fruitless and were exhausted, MHI apparently relented after months of published pressures and launched Case 1:23-cv-00174 Filed 02/14/23 IN THE UNITED STATES DISTRICT COURT FOR THE WESTERN DISTRICT OF TEXAS.
ICYMI, see that case with relevant expert commentary linked here.
Quoting from the DOE document which was also published in the official Federal Register, is the following update from them on the manufactured housing energy rule status.

MHI further stated that the current compliance date could not come at a worse time for the only industry focused on providing attainable homeownership to the most vulnerable Americans, and that delaying the compliance date would alleviate some of these pressures, while affording DOE the opportunity to develop enforcement procedures missing from part 460 and resolve other issues. (MHI at p. 8). Hemminger Homes (Hemminger) stated that it would be hard to comply with the current DOE standards in part 460 since the details are not laid out as to what needs to be done, by whom, or the penalties that may be applied for not complying.10 (Hemminger at p. 1). Hemminger stated that the postponement of the DOE implementation date is very important to all parties that will be affected by it. (Hemminger at p. 2). The Manufactured Housing Association for Regulatory Reform (MHARR) supports an indefinite extension of both the compliance and effective dates for part 460 pending development of new standards under part 460 and pending development of cost-effective testing, enforcement, and compliance criteria. (MHARR at p. 4).11 MHARR stated that delay of the effective and compliance dates is essential because the standards cannot be complied with in their current form and enforcing the current part 460 without a set of adopted testing, enforcement, and compliance procedures would deprive manufacturers of due process rights. (MHARR at p. 5).
DOE agrees with the commenters that it is necessary to amend the compliance date for part 460. As noted in the March 2023 NOPR, DOE believes enforcement procedures will provide additional clarity to manufacturers and consumers regarding DOE's expectations of manufacturers and DOE's plans for enforcing the standards."
There are dozens of pages of more insights from DOE, which are in their document available as a download (highlighting added, but otherwise unchanged) at this linked here.  That link has been substituted to the same document referred to by MHI linked below. MHI emailed the following on May 24, 2023 after 2:00 PM ET. Note that MHI's remarks came the day after those emailed by MHARR, which are provided in Part II herein below. Part III will provide additional information and analysis of all three sources that may prove to be eye opening for thousands in the manufactured housing industry, as well as for untold numbers beyond the manufactured housing profession who need, as DOE paraphrased what MHI said about the pending energy rules that: "could not come at a worse time for the only industry focused on providing attainable homeownership to the most vulnerable Americans…"
Part I – MHI Emailed 'News' Item on 5.24.2023
DOE Delays Energy Rule
Last Friday, the Department of Energy (DOE) announced that it will delay the compliance date for the Energy Conservation Standards for Manufactured Housing.
The announcement moves the compliance date from May 31, 2023 until 60 days after the DOE establishes enforcement procedures for single section homes. MHI expects the DOE to complete that process in the fourth quarter of 2023 at the earliest. The compliance date will be extended to July 1, 2025 for all other homes. DOE decided to delay after hearing from hundreds of MHI members. ##
 MHProNews notes and commentary in brief on the above from MHI.
Stating the obvious, the last line in the MHI 'news' update to the industry is an apparent piece of paltering and spin.
For example.
1) While it may be true that DOE 'heard' from "hundreds" of MHI members, it is also obvious from the quoted remarks above from the actual DOE document that it was a combination of factors that caused the DOE delay. Who said? The DOE did.
2) For example, the quotes shown in the preface above Part I revealed that DOE considered remarks by MHI, MHARR, and independents such as Hemminger Homes in PA. The DOE also considered opposition remarks to the delay, which will be quoted from the DOE and unpacked in Part III below.
3) As noted, among those that the DOE themselves cited were formal remarks from MHARR. A word search of the DOE document revealed that "MHARR" is cited at least 10 times by the DOE produced document. By contrast, a word search of the DOE document for MHI's phrase above: "after hearing from hundreds of MHI members" appears zero times (evidence: click here) in the DOE document.
4) MHI's email didn't mention MHARR at all. While MHI obviously played a role, failing to mention MHARR is obviously paltering, posturing, propaganda, spin, or whatever similar terminology someone may want to call it. More on that in Part III, further below.
That noted, let's pivot to the remarks from MHARR emailed to members and followers on 5.23.2023. More analysis and manufactured housing expert editorial commentary will follow in Part III herein.
Part II

MAY 23, 2023
TO:                 MHARR MANUFACTURERS
                        MHARR STATE AFFILIATES
                        MHARR TECHNICAL REVIEW GROUP (TRG)
FROM: MARK WEISS
RE:      DESPITE DOE DELAY ENERGY STANDARDS REMAIN 
            UNACCEPTABLE AS COSTS CONTINUE TO INCREASE
The U.S. Department of Energy (DOE) has issued a "pre-publication" notice of a final rule to extend the compliance date for its previously-announced "energy conservation" standards for manufactured homes. According to the notice, which was issued on May 19, 2023, but has not yet been officially published in the Federal Register (see, copy attached), compliance with the DOE standards – absent prior judicial or legislative intervention – will be required as of July 1, 2025 for Tier 2 homes and 60 days after the issuance of enforcement procedures (presumably in the form of a separate regulation) for Tier 1 homes.
This delay in the compliance date for the DOE energy standards, at a minimum, represents DOE's implicit recognition that its May 31, 2022 manufactured housing energy standards "final rule," published without any corresponding testing, enforcement or compliance criteria and procedures, was necessarily incomplete and invalid, and would not have survived a legal challenge as urged by MHARR immediately after its adoption. (See, e.g., MHARR Issues and Perspectives, August 2022, "Why the DOE Energy Rule Should be DOA.") As MHARR asserted from the beginning in multiple rounds of written comments to DOE, HUD and the Manufactured Housing Consensus Committee (MHCC), applicable law requires that federal regulations in general – and manufactured housing standards in particular – yield a positive cost-benefit for consumers.
Without either proposing or considering the cost impact of testing, enforcement and compliance criteria, the May 31, 2022 "final rule" did not net-out the rule's full costs versus alleged "benefits." As a result, the May 31, 2022 final rule was not properly calculated or promulgated and was vulnerable to court action, which is why MHARR strongly urged the Manufactured Housing Institute (MHI) to seek judicial relief as quickly as possible. It is not surprising, therefore, that DOE, once challenged in court, almost immediately backed-away from its original May 31, 2023 compliance date and opted to delay mandatory compliance with the May 31, 2022 rule, rather than face repudiation and invalidation by the court.
A mere delay, however, does not resolve the fundamental and inherent danger to the industry that is posed by DOE energy regulation based on the International Energy Conservation Code (IECC) – a code that is not appropriate for HUD Code manufactured housing and does not consider or prioritize initial purchase price affordability. By mandating IECC as the base energy code for manufactured housing, section 413 of the Energy Independence and Security Act of 2007 (EISA) would fundamentally undermine the manufactured housing market and would most especially harm the market for what are currently the industry's most affordable homes. Thus, while MHI, to its credit, took legal action (albeit delayed) against the May 31, 2022 DOE rule, that rule was ultimately a consequence of MHI's original support for and approval of the 2104-2015 DOE "negotiated rulemaking" process (and Term Sheet).
Because of the inherent danger to the HUD Code industry and consumers that is posed by section 413 and the current DOE rule, there are only two courses that the industry should follow:
The industry should seek the full repeal of EISA section 413 based on the continuing threat that it poses to the industry, to the affordability of its homes and to American consumers of affordable housing.
At a minimum, it should seek to force DOE "back to the drawing board" on energy regulation by continuing to oppose the current rule in court, including an appeal if the District Court ultimately decides in favor of DOE.
While a compliance delay is clearly warranted, DOE regulation of manufactured housing "energy conservation" under EISA section 413 – under any formulation — is not. The ultimate objective of the industry, therefore, should not be merely delay, but the invalidation and removal of section 413 in its entirety, and the reversion of regulatory authority over manufactured housing "energy" matters back to HUD where it properly belongs. Anything less would result in the complete subversion of manufactured home affordability and the manufactured housing market by energy/climate special interests and their allies with constantly more aggressive, demanding and costly energy mandates. (See, e.g., MHARR Issues and Perspectives, April 2023, "More DOE Energy Outrages Coming for Industry and Consumers.")
Accordingly, MHARR will continue to vigorously oppose section 413 as inappropriate for manufactured housing, as well as the May 31, 2022 standard (or other standard adopted under EISA section 413).
cc: Other Interested HUD Code Industry Members
Manufactured Housing Association for Regulatory Reform (MHARR)
1331 Pennsylvania Ave N.W., Suite 512
Washington D.C. 20004
Phone: 202/783-4087
Fax: 202/783-4075
Email: MHARR@MHARRPUBLICATIONS.COM
Website: www.manufacturedhousingassociation.org
Part III – Additional Information with More MHProNews Analysis and Commentary
It should be noted that Teir 1 homes are reportedly – per an association source – single section HUD Code manufactured homes. That aligns with what MHI said in their email provide in Part I, above. An earlier version of the DOE energy rule proposed a dollar amount on 'Teir 1', but with Biden-era inflation roaring, that proposed dollar amount might have quickly meant that there would be no 'Teir 1' homes under the pending DOE manufactured housing energy rule.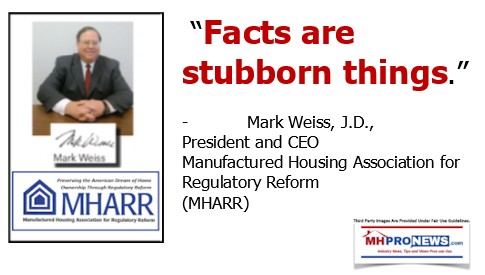 Per the DOE document here, are the following pull quotes. The lettered bullets are added, but the words used are per the DOE document.
A) "DOE agrees that additional time after DOE issues enforcement procedures is appropriate for manufacturers, particularly for Tier 2 homes, and is therefore finalizing a compliance date of July 1, 2025, for Tier 2 homes."
B) "Skyline, Cavco, and MHI stated that, at minimum, DOE should provide a 1-year compliance lead time after issuance of enforcement procedures given that such procedures are likely to require manufacturers to start over with their efforts to comply with DOE's standards. (Skyline at p. 2, Cavco at p.2, MHI at p. 9)."
C) "Twenty-one energy efficiency, environmental and/or consumer advocate organizations filed joint comments (Joint Commenters)[1]4 in opposition to DOE's proposed amended compliance date, noting that the DOE standards are long overdue and the current energy efficiency standards for manufactured homes in the HUD Code are almost three decades old. (Joint Commenters at p. 1)."
Two relevant points on the above quotations from the DOE document. As was noted in the preface of this report and analysis, the DOE document does not include the phrase used by MHI in their 5.24.2023 email: "DOE decided to delay after hearing from hundreds of MHI members." A WORD search revealed that expression was used ZERO times.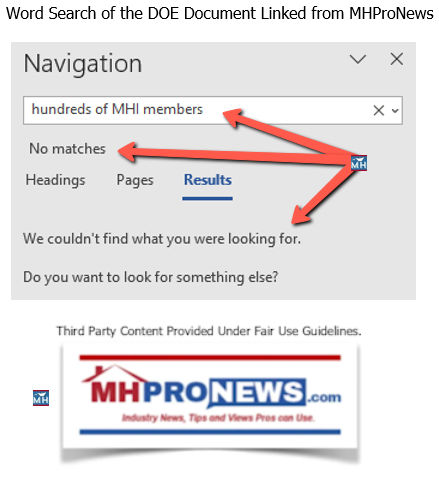 Next, who are those organizations that are opponents to this delay referenced in quotation C, above? Per the DOE document (highlighting added by MHProNews) was this.
D) "14

EERE-2009-BT-BC-0021-2567. The joint commenters include: American Council for an Energy- Efficient Economy, California Efficiency + Demand Management Council, Earthjustice, Elevate

Innovations in Manufactured Homes (I'm HOME) Network, Institute for Energy and the Environment, Vermont Law and Graduate School, Institute for Market Transformation, National Association for State Community Services Programs, National Association of Energy Service Companies, National Association of State Energy Officials, National Housing Trust,

Next Step Network

, Northeast Energy Efficiency and Electrification Council, Northeast Energy Efficiency Partnerships, Northwest Energy Efficiency Alliance, NPHS,

Natural Resources Defense Council

, Responsible Energy Codes Alliance, Rewiring America,

Sierra Club, and the VEIC."
Then, in stark contrast to the quote from the MHI email "DOE decided to delay after hearing from hundreds of MHI members" which was proven not to be found in the DOE document, the DOE did reference this writer for MHProNews twice. After mentioning MHARR as shown in E below, quoting from page 21 of the DOE document, are the references to Kovach in F below.
E) "MHARR stated that no amount of delay or modification can remedy DOE's failure to abide by EISA's cost-effectiveness and HUD-coordination requirements in the rulemaking process, and that the failure to abide by EISA's requirements makes the standards of part 460 and any action to modify such standards invalid, arbitrary, and not in accordance with applicable law. (MHARR at p. 8). "
F) "L.A. "Tony" Kovach[15] similarly stated that part 460 should be scrapped and redone, and that the standards are not cost-effective due to their effects on affordability. L.A. "Tony" Kovach also noted concerns of small manufacturers' ability to comply with DOE's standards and the role of such manufacturers, and larger manufacturers, in the rulemaking process." [15]

EERE-2009-BT-BC-0021-2517.
In no particular order of importance are the following observations.
Manufactured Housing Institute Leaders-Lawyers Asked About Explosive Allegations by Nonprofit Veteran on High Profile MH Industry Threat; Exclusive Q&A Claims Downturn Less Than 1 Year Away if MHI Fails
MHProNews previously reported in a deep dive Masthead report, analysis, and commentary the key role that the Sierra Club has played in the DOE process.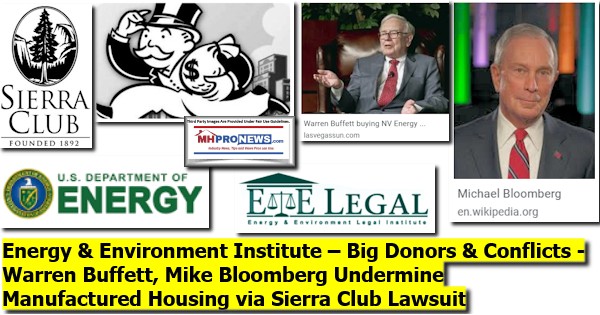 Sixth, Buffett is the Chairman of Berkshire Hathaway (BRK) which owns Clayton Homes.
Seventh, Clayton is reportedly a financial supporter for Next Step, which is also an MHI member.
Clayton-Next Step Off-Site Built 'White Paper'-Manufactured Homes, ThinkND 'Magic of the Mind-Everyday Illusion, Misdirection, Deception' MHI Members' Claims Analyzed; plus MHVille Markets Update
Eighth, the

Natural Resources Defense Council

was among those that MHI previously joined forces with in asking for negotiated rulemaking to get a DOE energy rule, per a document obtained from the DOE.
Ninth, put differently, there are several organizations that have ties to Buffett supported nonprofits, various Berkshire brands, and MHI that have apparently been working with openly and behind the scenes to GET the manufactured housing energy rule that MHI claims to be fighting. Those machinations have occurred purportedly unbeknownst to most of MHI's non-insider (i.e.: independents vs. larger consolidating) members.
Tenth, note carefully that MHI – unlike MHARR – is apparently, only asking for delays. They want more time, but are apparently accepting that the DOE will implement the energy rules that are coming.
Eleventh, the remarks by this writer for MHProNews included elements of the points made herein, which included linked articles on MHProNews. One takeaway is that Hemminger and Kovach are referenced, but "hundreds" of MHI 'AstroTurfed' (form, 'spam') emails are not.  That could be the subject of a separate report, but suffice it to say for now that MHProNews has advised readers for years that MHI's form emails to federal regulators are not quite the same as a similar campaign to members of Congress. Even Congressional staffers will quickly note and move beyond a mere 'form letter' email, but may read an original comment and consider it.
Twelfth, to draw this toward a conclusion, the latest from MHI, the latest from the DOE and MHARR, plus a look at the history of the DOE energy rule make it clear that MHI has been posturing to appear to be somewhat like MHARR's position in opposing the DOE Energy Rule.  MHI's and TMHA's own attorneys have said that the energy rule that is delayed, but pending, would result in "irrevocable harm."
'Irreparable Harm,' 'Public Interest,' 'Legal Defects,' 'DOE Seeks to Avoid Judicial Review' Cited by MHI-TMHA Attorneys v Dept of Energy – Pleadings and Developments; plus MHVille Stocks Update
As MHARR noted last year, MHI previously threw the DOE manufactured housing energy rule process "a lifeline." MHProNews reported in the evidence-packed report with analysis linked below. But what about the others in what passes for MH industry blogging and trade publishers?
Shock! Manufactured Housing Institute Boldy Gives 'Unforced Error' Doc After Favorable Court Ruling, MHI Charged 'Throwing Lifeline' to DOE Energy Rule MHI Admits Harms MH – MHI, MHARR Analysis
In as much as MHI and their de facto allies are stressing delay instead of what MHARR and Kovach did, which is to scrap the pending DOE energy rule and start over again, MHI appears once more to be giving the DOE energy rule process a lifeline again.
"Smoking Gun" Once Secret "Damning" Manufactured Housing Institute (MHI) Letters Obtained – Reveal "Betrayal" of Trust Undermine MHI's Claims; plus Manufactured Home Stocks, Markets Updates
MHI handing the DOE a lifeline is odd given that the MHI-TMHA suit appears to have given them some leverage via their MHARR and MHProNews encouraged lawsuit.  Which begs the question: why isn't MHI pushing to KILL the DOE energy rule with their litigation, as MHARR and Kovach asked the DOE? Why are MHI and their corporate masters apparently willing to accept mere delays instead of a complete do-over, given that they admitted that this is harmful to industry as well as to manufactured home consumers? After all, MHI's own attorneys said just weeks ago that the current regulations would cause 'irreparable harm.'
'Irreparable Harm,' 'Public Interest,' 'Legal Defects,' 'DOE Seeks to Avoid Judicial Review' Cited by MHI-TMHA Attorneys v Dept of Energy – Pleadings and Developments; plus MHVille Stocks Update
MHI's mixed messaging and seemingly self-contradictory behavior may not be lost on the DOE.
Some at the DOE likely grasp the same points being made herein, because they have available to them – and thus should KNOW – the history of MHI regarding this treacherous DOE manufactured housing energy rule process. DOE arguably KNOWs that MHI has played an apparently duplicitous role, while Buffett donor dollars flowed to the Sierra Club, and Clayton dollars flowed to Next Step, the later of which is an MHI member.
As just part of the history of this DOE energy rule process, recall this flashback report below. It is still relevant to understanding the long road that brought the industry to today.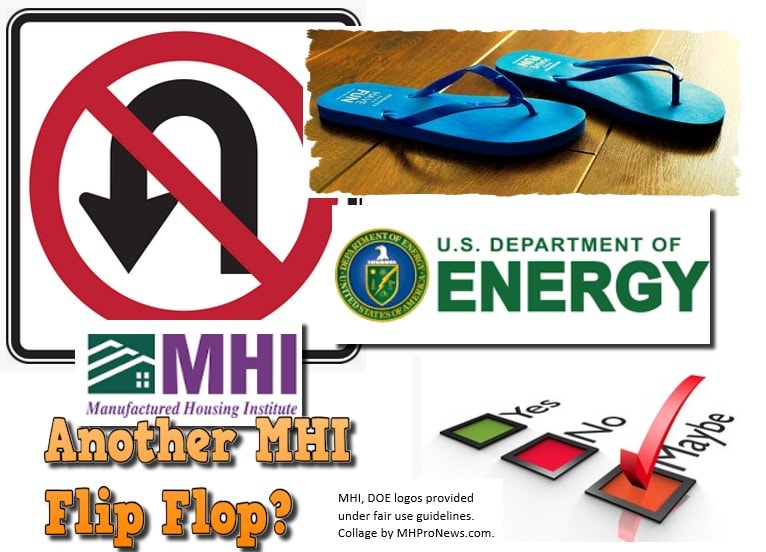 When all of the facts are properly understood, MHARR emerges as a kind of heroic organization for the manufactured home industry's independents. They are not only battling those at DOE who are attempting to push a harmful rule on the industry, but MHARR has also been fighting to expose MHI's role in that process (see the above and other linked articles).
It is MHARR, with digital support from MHProNews, that consistently pressed the history of MHI on this flawed process.
It is MHARR that pressed MHI to launch a suit, again with digital support from MHProNews.com. Recall that there is no known evidence of MHI mentioning in writing a plan to initiate a lawsuit until one was actually launched by MHI-TMHA.
As useful as a trade publication's reporting and positions may be, we are not in Washington, D.C. as MHARR is. MHARR does what a trade association is supposed to do, represent the needs of ALL of their members.
By contrast, MHI has apparently represented the consolidators of manufactured housing, as opposed to their increasingly obviously faux claim of representing "all segments" of manufactured housing.  Note that Skyline-Champion and Cavco Industries were mentioned several times in the DOE document. Once Clayton Homes hit near or slightly beyond the 50 percent of market share threshold, Clayton apparently pivoted to buying conventional housing builders while 'allowing' what became Skyline Champion (SKY) and Cavco (CVCO) to take the lead in buying out competitors. Keep in mind what MHI award winner Lavin has said, and how it applies to the above.  Note in the top part of this collage of screen captures and quotation images by MHProNews, that MHI no longer has Lavin's name on their own website? This is after Lavin spent years serving MHI in various capacities, and won an MHI award in the process?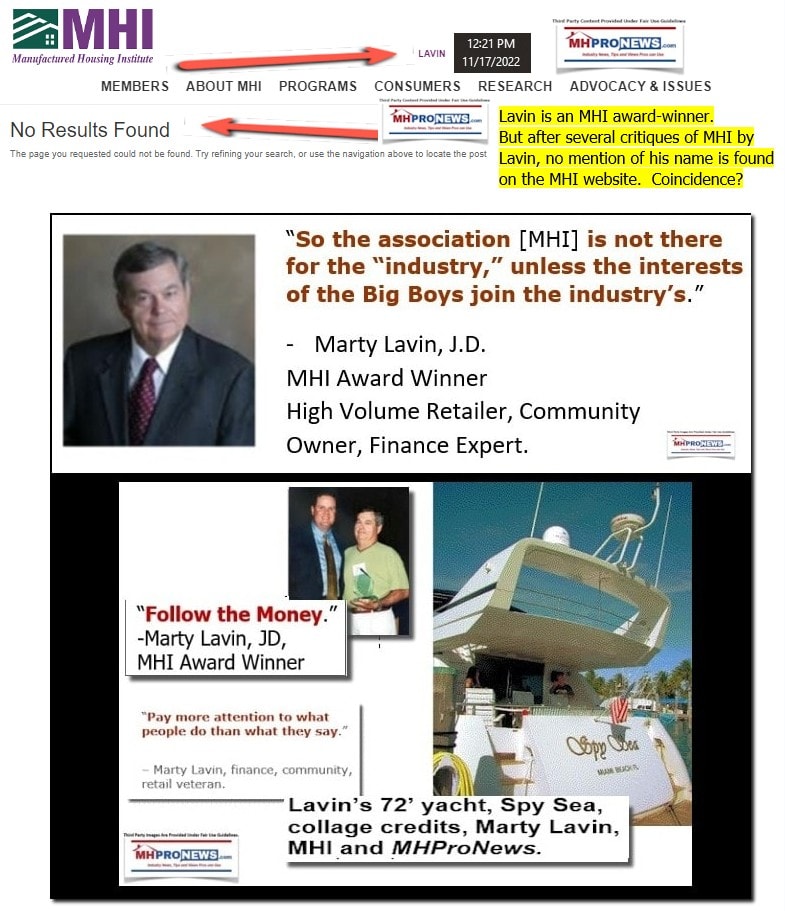 As a potentially relevant aside, unmentioned in the DOE document are the following: Darren Krolewski, Patrick Revere, Frank Rolfe, Dave Reynolds, Nathan Smith, Kevin Clayton, Tom Hodges, ManufacturedHomes.com, MHInsider, or George Allen to name some who either blog, publish, or whom one might think would submit a letter [see evidence linked here] if they really, truly wanted what MHARR and MHProNews have consistently sought. Namely, what DOE themselves said in their write up. That MHARR and "L.A. "Tony" Kovach[15] similarly stated that part 460 should be scrapped and redone, and that the standards are not cost-effective due to their effects on affordability. L.A. "Tony" Kovach also noted concerns of small manufacturers' ability to comply with DOE's standards and the role of such manufacturers, and larger manufacturers, in the rulemaking process."
Digital reams could be published, but let's draw to the simple and evidence-based conclusion. Without the DOE specifically saying what Kovach meant by "the role that such manufacturers, and larger manufacturers, [played] in the rulemaking process" a comments letter from Kovach to the DOE will detail that at this link here. That letter by this writer to the DOE has stood the test of time. Since then, reports like those referenced herein have been published. Per sources deemed reliable who work for the federal government in Washington, D.C., while some federal officials may not like what we have to say in our "Industry News, Tips, and Views Pros Can Use" © they nevertheless follow us closely. They may also recognize that we, like MHARR, don't quit. Federal officials, some who may like, others who may not, what is published here or on our MHLivingNews website recognize that we have the documented largest audience in manufactured housing.
MHI, their major brands, and the nonprofits supported by Clayton and Buffett are apparently attempting to deftly use their various resources and federal regulators for their own purposes. What are those purposes? They have said so in their own words. They are seeking to consolidate the manufactured home industry.
Put bluntly, properly understood, the DOE letter and the points made herein are a roadmap to an apparent conspiracy to monopolize in an oligopoly fashion the manufactured home industry.  What did the late Sam Zell say? Per Bloomberg, Time, and the Tampa Bay Times Zell said in reference to MHI member Equity LifeStyle Properties (ELS) about the manufactured home community sector that "We like the oligopoly nature of our business," (Italics added).
The DOE document explaining their reasons for delaying the implementation of the energy rule, with highlighting added but otherwise unchanged, is linked here. That same 5.2023 DOE document without highlighting is linked here. See the linked comments to DOE by Kovach and the related reports for more details.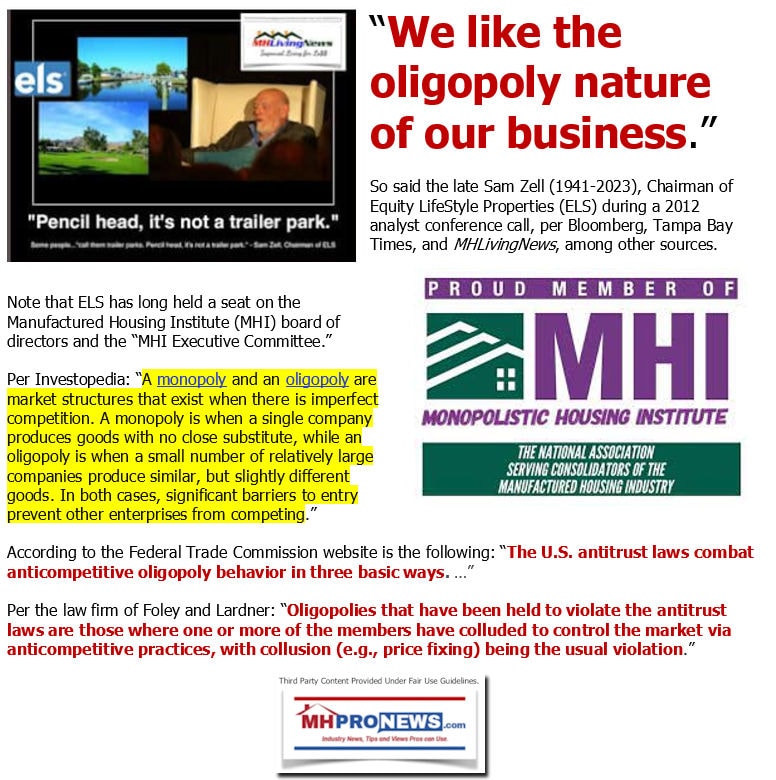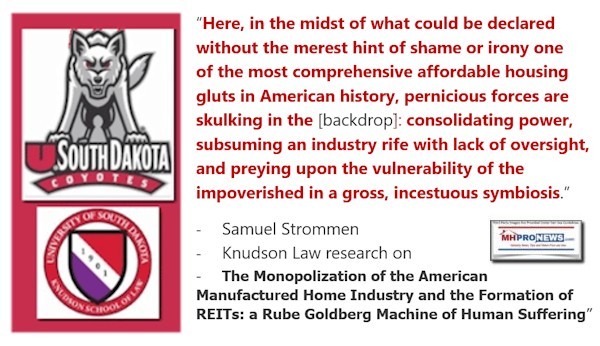 Programming Notice: two new MHI-MHI member connected revelations, one based on a tip to MHProNews, are pending. Watch for them in the days ahead. ##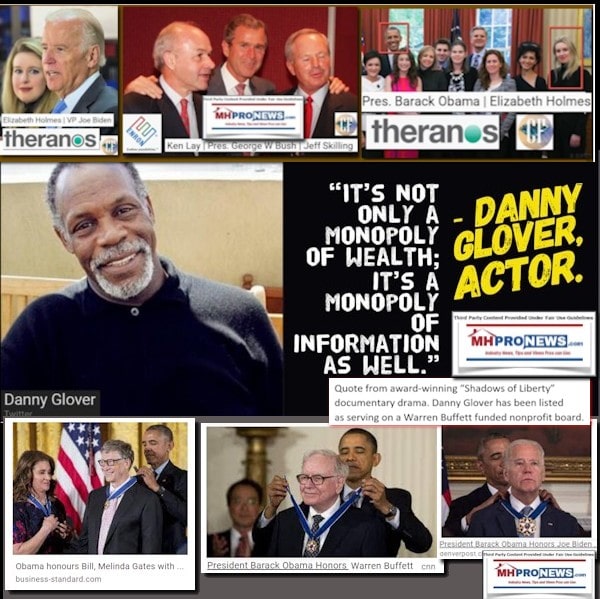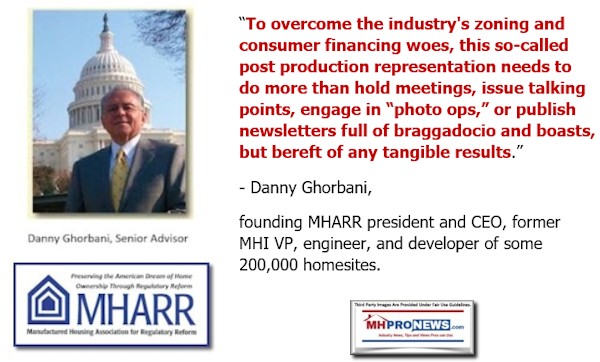 Manufactured Home 'Energy Rule Delayed'–Manufactured Housing Institute Aptly Says 'More Work to Be Done'–Clayton & Independent Builder Insights, Analysis-plus Sunday Weekly Headlines in Review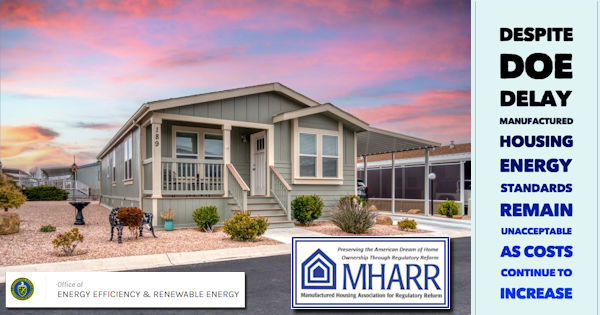 Part IV – Daily Business News on MHProNews Markets and Headline News Segment
The modifications of our prior Daily Business News on MHProNews format of the recap of yesterday evening's market report are provided below. It still includes our signature left (CNN Business) and right (Newsmax) 'market moving' headlines. The macro market moves graphics will provide context and comparisons for those invested in or tracking manufactured housing connected equities.
In minutes a day readers can get a good sense of significant or major events while keeping up with the trends that are impacting manufactured housing connected investing.
Reminder: several of the graphics on MHProNews can be opened into a larger size. For instance: click the image and follow the prompts in your browser or device to OPEN In a New Window. Then, in several browsers/devices you can click the image and increase the size. Use the 'x out' (close window) escape or back key to return.
Headlines from left-of-center CNN Business – from the evening of 5.26.2023
Cheaper road trips
Americans to spend $1.6 billion less on gas this Memorial Day weekend
JPMorgan is cutting about 500 jobs
US mortgage giants were placed on credit watch. Here's what that means for home buyers
Billionaire entrepreneur's space tourism company pulls off high-stakes crewed test flight
The Fed's favorite inflation gauge just heated up — and that could mean another rate hike
Dutch watchdog looking into alleged Tesla data breach
World's biggest investment fund takes on Exxon and Chevron over the climate crisis
Twitter debuts a mid-tier data access plan, to almost immediate backlash
'The mother of all crises.' A US debt default would ricochet around the world
Credit Suisse ordered to pay $926 million to Georgia's former prime minister
Why Wall Street cares more about Nvidia than the debt ceiling
Shein is about to return to India in a big way
Hyundai Motor Group, LG Energy to build $4.3 billion EV battery plant in US
Glitches, echoes and 'melting the servers' crash DeSantis' campaign launch on Twitter
JPMorgan is cutting about 1,000 First Republic Bank employees
Ford partners with Tesla to give customers access to EV Superchargers
Nasdaq threatens to delist the Trump SPAC from the stock market
Americans' outlook on retirement darkens to an 11-year low
Microsoft leaps into the AI regulation debate, calling for a new US agency and executive order
Mortgage rates rise as debt ceiling standoff drags on
How to protect your investments and finances as debt default worries grow
Shaq gets served — again — in FTX lawsuit
Germany falls into recession as consumers in Europe's biggest economy spend less
Notice: the graphic below can be expanded to a larger size.
See the instructions below the graphic below or click the image and follow the prompts.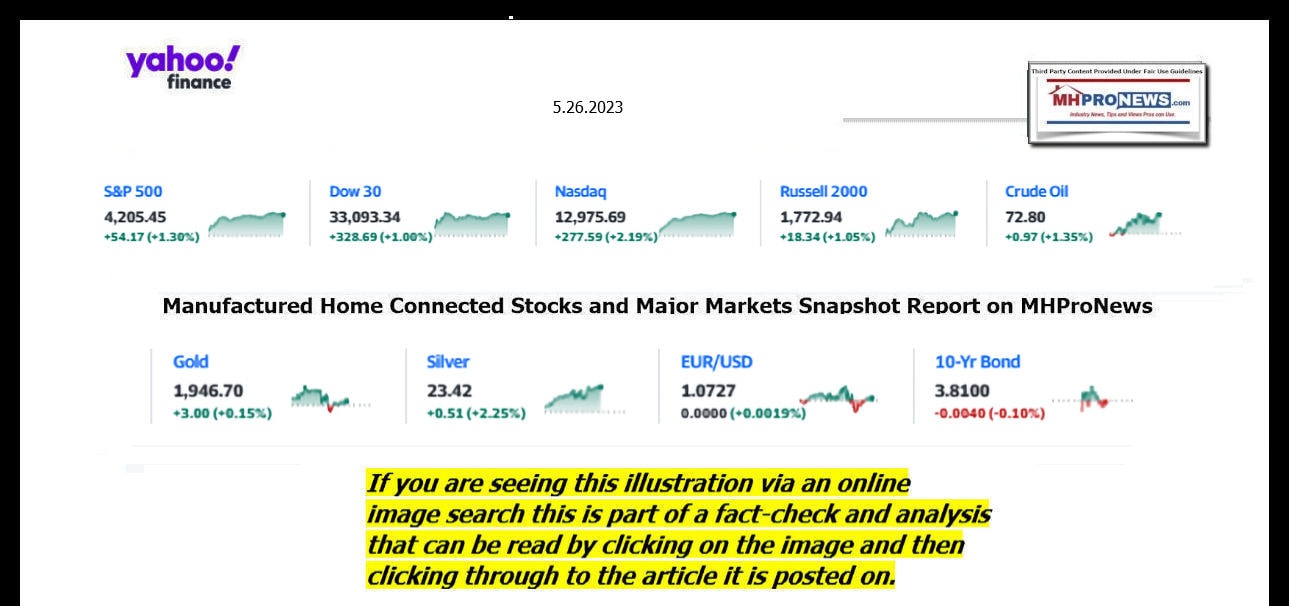 Headlines from right-of-center Newsmax 5.26.2023
Treasury Official: Biden Won't Invoke 14th Amendment
Some progressives have pressed Biden to invoke the 14th Amendment to raise the debt ceiling without the need for bipartisan compromise. [Full Story]
'Major Issues' Remain in Struggle Over Debt Ceiling
'Squad' Dem Bowman: Republicans 'Economic Terrorists'
Wall Street Jumps on Hopes of Debt Deal Breakthrough
If US Hits Debt Limit June 1, Not All Bills Will Be Paid
Negotiators Aim to Close Debt Ceiling Deal for 2 Years
Newsmax TV
Devin Nunes: Focus on What Wasn't in Durham Report
Barry Moore: Joint Chiefs Nominee Must Take New Direction | video
Matt Taibbi: IRS Excuses for Probe Suspicious | video
Devin Nunes: Likely 'Last' Twitter Campaign Launch | video
Scalise: Biden, Senate Lack Urgency | video
Lt Governor: DeSantis 'Broke the Internet' | video
Cline: Committee Will Hear From Durham on FBI | video
AG Moody: NAACP Advisory a 'Political Campaign' | video
Rabbi Schusterman: Turn to God 'When It Hurts Like Hell' | video
Memorial Day Travel Boom to Put Airlines to the Test
The upcoming Memorial Day weekend is expected to see millions of Americans travel despite tight budgets, kicking off the busy summer travel in the U.S on a high note…. [Full Story]
US Motorists Kick Off Summer With Gas at $3.56
Jason Turcotte of Southern California moved up a cross-country [Full Story]
Poll: Trump Holds 25-Point Lead on DeSantis in S.C.
Former President Donald Trump holds a 25-point lead over Florida Gov. [Full Story]
Poll: Trump, DeSantis Hold Leads Over Biden
Emerson Poll: Trump Up 42 Points on DeSantis, 11 on Biden in Iowa
Quinnipiac Poll: Trump Leads DeSantis by 31 Points
CPAC Accuses Target of Partnering With 'Satanist'
Conservative Political Action Coalition chair Matt Schlapp on [Full Story]
Texas House to Vote Saturday on AG Paxton Impeachment
The Republican-led Texas House of Representatives has set a historic [Full Story]
After DeSantis Launch, Trump Could Return to Twitter 'Soon'
With Florida Gov. Ron DeSantis deciding to turn to the power of [Full Story] | Platinum Article
Aide: N.D. Gov. Burgum Planning Run for GOP WH Nom
Two-term North Dakota Gov. Doug Burgum, a former computer software [Full Story]
Judge Pauses New S.C. Abortion Law
Judge Pauses New S.C. Abortion Law
A state judge put South Carolina's new law banning most abortions [Full Story]
Target Partners With Group Pushing Wokeness
Retailer Target, already feeling major backlash for its Pride Month [Full Story]
Russia's Medvedev: Ukraine Fight Could Last Decades
A senior ally of President Vladimir Putin said on Friday the conflict [Full Story]
Putin: Russia Is Open to Dialogue Over Ukraine
1 Killed in Russian Attack on Ukrainian Clinic: Zelenskyy
Russia: Ukraine Attacks Border Regions
Ukraine Harasses Russian Border Regions, Russia Strikes Dnipro Clinic
Pentagon: Allies to Unite to Train Ukrainians on F-16s; No 'Magic Weapons'
FDA Approves Neuralink Brain Implant Trials in Humans
Elon Musk's brain-implant company Neuralink said the U.S. Food and [Full Story]
Pride Month May Be 'Muted' After Bud Light, Target Fight
Companies rolling out campaigns in support of June's Pride Awareness [Full Story] | Platinum Article
Microbiome Changes Linked to Colon Cancer in Young
With colon cancer on the rise among younger Americans, researchers [Full Story]
Axios: Musk's Twitter Replacing Murdoch's Fox News
Elon Musk's Twitter has been replacing Rupert Murdoch's Fox News as [Full Story]
Megyn Kelly to Newsmax: Fox News 'Terrified' of Post-Tucker Viewer Loss |video
Tucker Carlson Rebuilds Studio Fox Dismantled
JPMorgan Cut 500 Jobs This Week: CNBC
JPMorgan Chase & Co. cut around 500 jobs this week, mostly among [Full Story]
FBI Files Reveal Plot to Kill Queen Elizabeth in Calif.
Newly-released FBI files reveal a possible plot to assassinate the [Full Story]
Gaetz: Bipartisan Debt Deal No Threat to McCarthy
Matt Gaetz, R-Fla., said he sees "no serious threat" to the [Full Story]
Manhattan DA Must Give JPMorgan Epstein Documents
The Manhattan District Attorney's office must give JPMorgan Chase & [Full Story]
Ron DeSantis to Newsmax: My Voters 'Appreciate' Trump, but Need Me to Win
Striking a contrast with the attacking style of former President [Full Story]
DeSantis: Florida 'Color Blind'; NAACP Leftist 'Farce' |video
DeSantis: Wouldn't 'Trade' Twitter Launch for Speech |video
DeSantis Surprised Trump Running to Left on Disney, Immigration |video
DeSantis: 'My Ceiling Is Higher' Than Trump in General
DeSantis: I'll Send 'Woke Ideology' to 'Dustbin of History' |video
DeSantis Defends Wife Casey From Attacks |video
DeSantis to Newsmax: Trump Prone to 'Rhetorical Flourishes' on Ukraine |video
DeSantis: I'll Pardon Trump, Other DOJ 'Weaponization' Victims
Trump, Boris Johnson Talk Ukraine Over Dinner
Former President Donald Trump and ousted British Prime Minister Boris [Full Story]
Menendez Investigated for Unreported Gifts
The FBI and federal prosecutors are determining if Sen. Robert [Full Story]
Negotiators Aim to Close Debt Ceiling Deal for 2 Years
The White House and congressional Republicans on Friday aim to put [Full Story]
Durham Testifying to House Committees June 20-21
Special Counsel John Durham will testify to members of the House [Full Story]
Celine Dion Cancels Tour Dates Due to Health Issues
Cline Dion has canceled all her scheduled tour dates through April [Full Story]
House GOP to Probe Bank of America
House Republicans will investigate reports that Bank of America [Full Story]
'Squad' Dem Bowman: Republicans 'Economic Terrorists'
Jamaal Bowman, D-N.Y., said President Joe Biden should stop [Full Story]
Florida Lobbyists Say DeSantis Admin Taps Them to Donate
Florida lobbyists say officials working for Gov. Ron DeSantis' [Full Story]
Politico Columnist: Anti-Trump GOP Forces Will Implode
A week that included two more additions to the crowded 2024 [Full Story]
WSJ: $279M Whistleblower Award Went for Tip on Ericsson
The Securities and Exchange Commission's record $279 million [Full Story]
DEA Revokes License of Large Distributor of Opioids
The U.S. Drug Enforcement Administration stripped one of the nation's [Full Story]
Doctor Fined for Speaking About 10-Year-Old's Abortion
Indiana's Medical Licensing Board voted to reprimand and fine a [Full Story]
Old Camera Found in the Deep Ocean Reveals Horrifying Titanic Photos
Target Partners With Group Pushing Wokeness
Retailer Target, already feeling major backlash for its Pride Month displays, has partnered with a group seeking gender ideology in all public-school classes, it was reported Friday…. [Full Story]
Dollar Set for 3rd Week of Gains as Debt Talks Loom
Expect Big Crowds & Prices This Summer Travel Season
US Airlines Gear up for 'Super Bowl' of Travel Season
Regulators Target AI to Protect Consumers, Workers
Health
Experts Devise Symptom Checklist to Define Long COVID
Notice: the graphic below can be expanded to a larger size.
See the instructions below the graphic below or click the image and follow the prompts.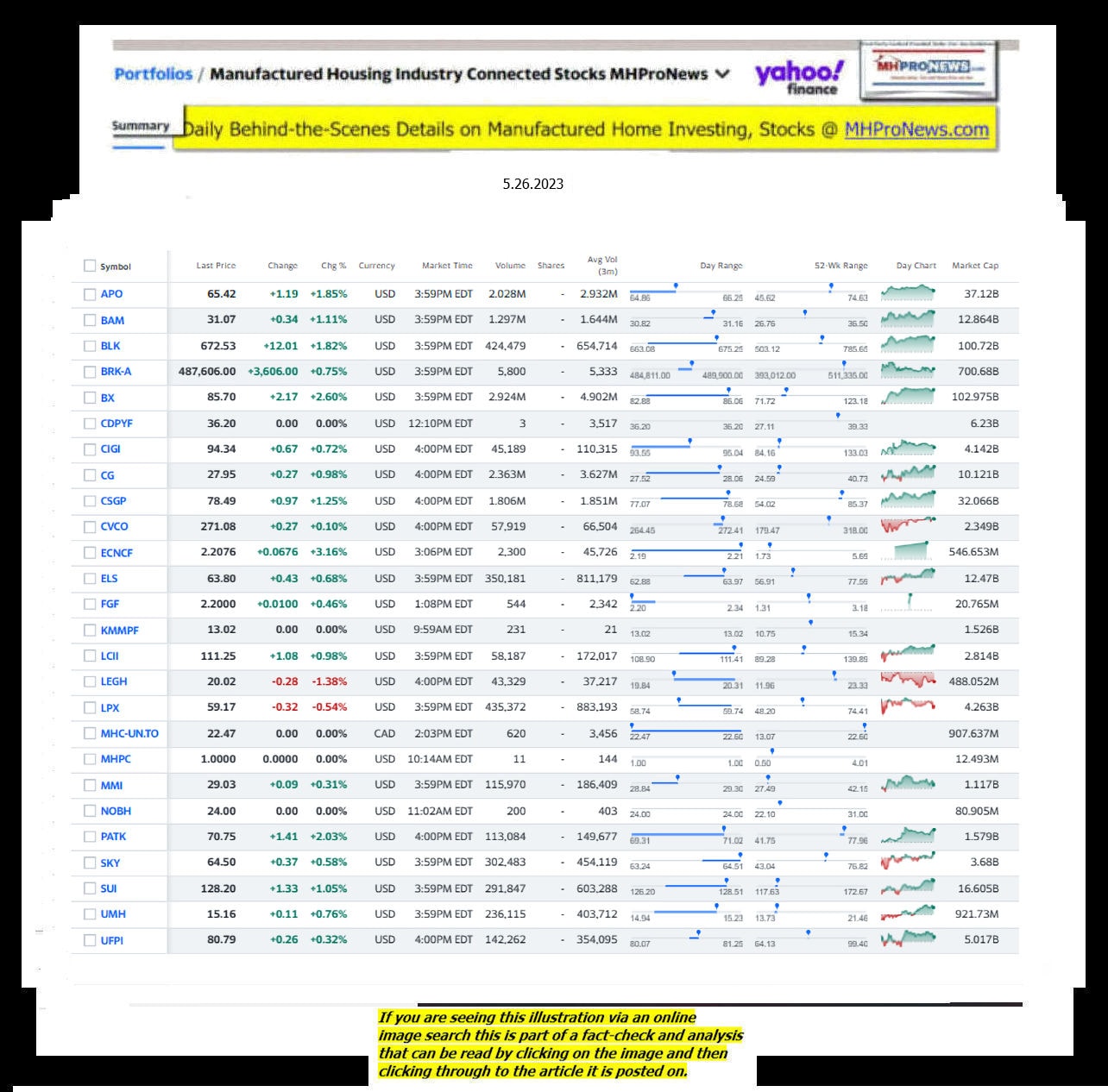 2022 was a tough year for many stocks. Unfortunately, that pattern held true for manufactured home industry (MHVille) connected stocks too.
See the facts, linked below.
'Stomach Churning Year' CNN-Wall Street 'Forget 2022' Down Year – Major Equities Data Compared to Manufactured Housing Stocks, Manufactured Home Community REITs, Performance for Year by Company
====================================
Updated
NOTE 1: The 3rd chart above of manufactured housing connected equities includes the Canadian stock, ECN, which purchased Triad Financial Services, a manufactured home industry finance lender.
NOTE 2: Drew changed its name and trading symbol at the end of 2016 to Lippert (LCII).
NOTE 3: Deer Valley was largely taken private, say company insiders in a message to MHProNews on 12.15.2020, but there are still some outstanding shares of the stock from the days when it was a publicly traded firm.  Thus, there is still periodic activity on DVLY.
Note 4: some recent or related reports to the REITs, stocks, and other equities named above follow in the reports linked below.
Q1-23 Manufactured Home Shipments YoY -29% Drop But Triad's Origination Up-ECN Capital's Triad Financial Services–5.15.2023 Q1-2023 Financial Results-Remarks, Corp Insights; plus MHMarkets Update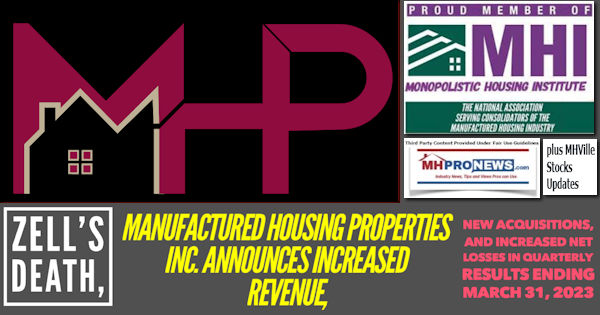 Legacy Housing Financial Results and Earnings Call 1Q 2023-'Sales Slowed but Margins Improved' Duncan Bates Boasts of Manufactured Housing 'Business Tailwinds' Official Data-Analysis
Manufactured Housing Institute Claims 'Effective Branding' for 'Manufactured Housing'-Seriously? Target Rich Satirical Saturday Examines MHI Claims, Messaging, RESULT$; plus MHVille Stocks Update
Sun Communities – 'Development in Our DNA,' ESG Stance, Q4 2022 Year End Results Earnings Call & PR – Facts, Insights Beyond PR and Official SUI Statements; plus MHVille REITs, Stocks Update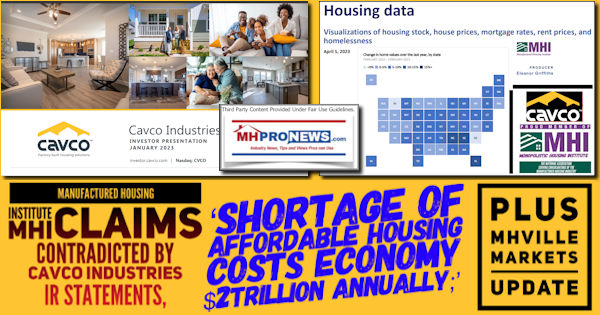 Nobility Homes, Inc. Sales and Earnings for its Fiscal Year 2022 Report, Result$ Best Inflation – Net After Taxes Up 34%, More Fact$; DeSantis ESG and NOBH; plus MHVille Stocks, Market Updates
'Killing's as Easy as Breathing' 'Bad Guys Know More Games' Warren Buffett Annual Berkshire Hathaway Letter, Clayton Homes, 21st, VMF-Manufactured Home Loans-Compelling MHVille Expert Views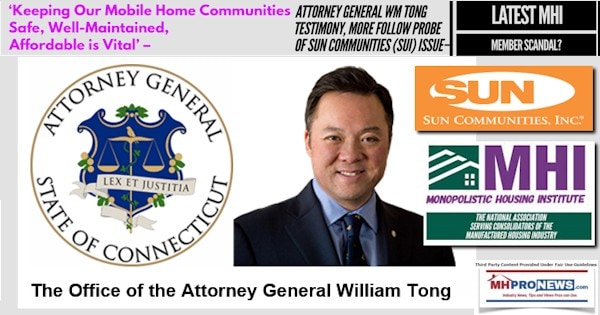 'Manufactured Housing in the News,' Unpacking UMH CEO Sam Landy Op-Ed' It's Time for Bi-Partisanship on Affordable Manufactured Housing Homeownership' in HousingWire; plus MHMarkets Updates
CEO Mark Yost, Skyline Champion Insiders SELL Million$ Value SKY Stock, Home Sales Drop-4th Q 2022 (3QFiscal2023), Official Result$-Facts, Analysis, Info Beyond PR; plus MHVille Stocks Update
BlackRock Document Exposes Central Banks like Federal Reserve on Recession; Manufactured Home Producer Cavco Industries 2022 Year End Results (CVCOQ3.23) Facts+Analysis; plus MHVille Stocks Update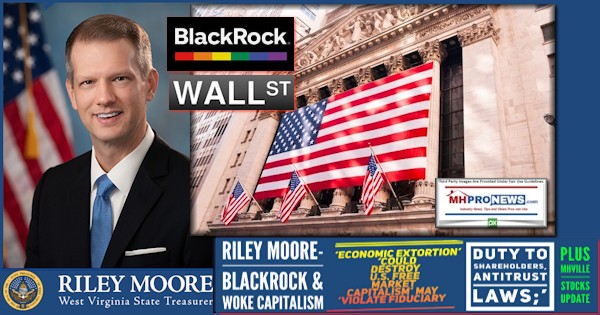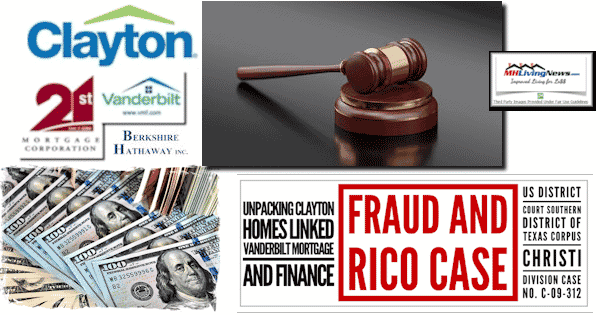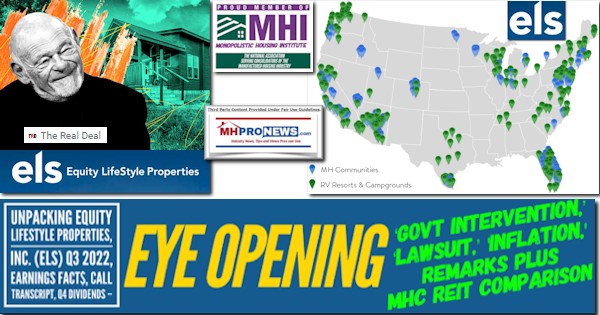 Manufactured Home Communities (a.k.a. 'Mobile Home Parks' – SIC) – Exploring UMH Properties; Fellow Manufactured Housing Institute Member Yes! Communities Suits and Settlements; plus MH Markets Updates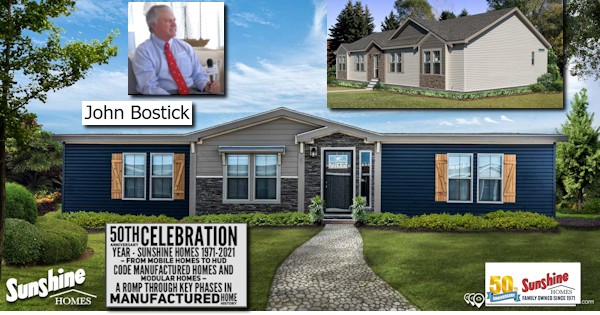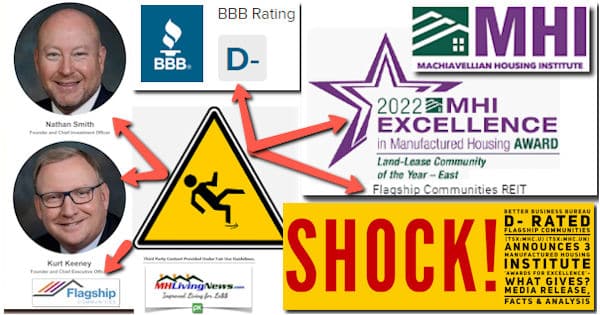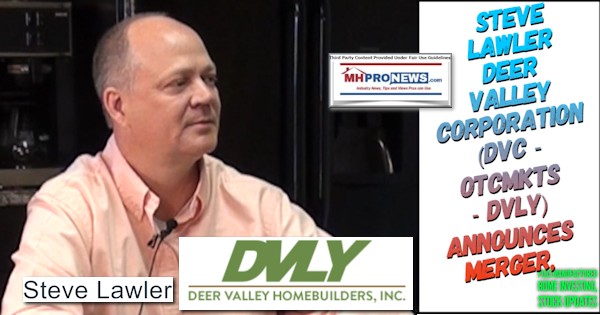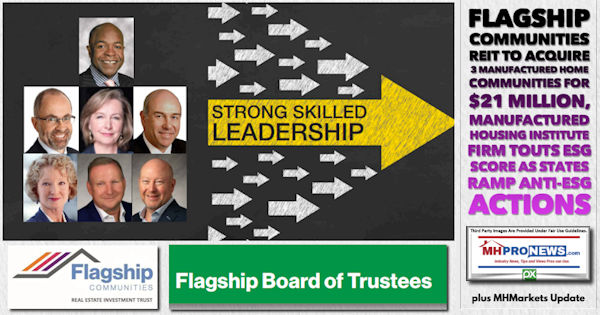 2023 …Berkshire Hathaway is the parent company to Clayton Homes, 21st Mortgage, Vanderbilt Mortgage and other factory-built housing industry suppliers.
· LCI Industries, Patrick, UFPI, and LP each are suppliers to the manufactured housing industry, among others.
· AMG, CG, and TAVFX have investments in manufactured housing related businesses. For insights from third-parties and clients about our publisher, click here.
Disclosure. MHProNews holds no positions in the stocks in this report.
· For expert manufactured housing business development or other professional services, click here.
· To sign up in seconds for our industry leading emailed headline news updates, click here.

Manufactured housing, production, factories, retail, dealers, manufactured home, communities, passive mobile home park investing, suppliers, brokers, finance, financial services, macro-markets, manufactured housing stocks, Manufactured Home Communities Real Estate Investment Trusts, MHC REITs.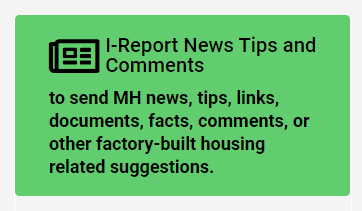 That's a wrap on this installment of "News Through the Lens of Manufactured Homes and Factory-Built Housing" © where "We Provide, You Decide." © (Affordable housing, manufactured homes, stock, investing, data, metrics, reports, fact-checks, analysis, and commentary. Third-party images or content are provided under fair use guidelines for media.) (See Related Reports, further below. Text/image boxes often are hot-linked to other reports that can be access by clicking on them.)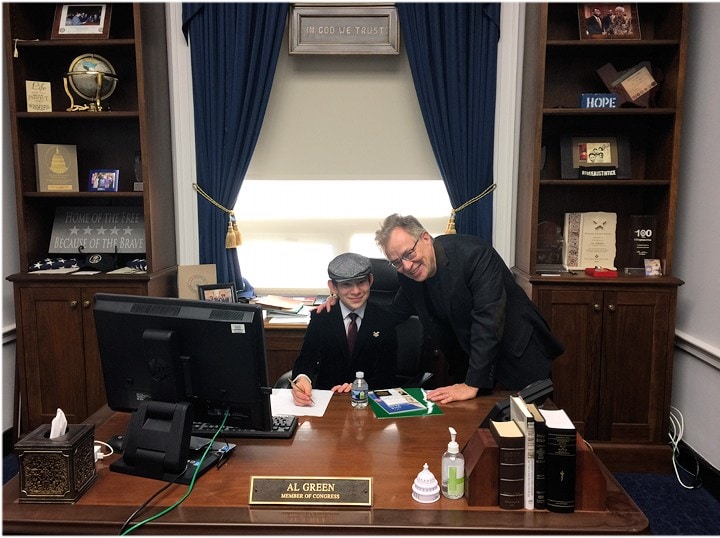 By L.A. "Tony" Kovach – for MHProNews.
Tony earned a journalism scholarship along with numerous awards in history. There have been several awards and honors and also recognition in manufactured housing. For example, he earned the prestigious Lottinville Award in history from the University of Oklahoma, where he studied history and business management. He's a managing member and co-founder of LifeStyle Factory Homes, LLC, the parent company to MHProNews, and MHLivingNews.com. This article reflects the LLC's and/or the writer's position and may or may not reflect the views of sponsors or supporters.
Anar Pitre-CEO Lotus Capital Partners-Vexing Manufactured Housing Institute Claims in Fact Check of Forbes 'What Manufactured Home Communities Investors Need to Know' – Inaccurate MHI Data Shown
Call for Congressional Oversight Hearings of Manufactured Home Industry Regulators Highlighted by Manufactured Housing Association for Regulatory Reform (MHARR); plus MHVille Markets Update
'Global Disinformation Index' Warren Buffett Ally Bill Gates' Microsoft Org Charged-Cutting Revenue to Conservative Views via Xandr, GDI; plus Sunday MHVille Headlines Recap
#1 Texas' Manufactured Housing Builders Survey Says They are 'Ready for a Rebound' But Data Point in Question, DOE MH Energy Rule Too – Facts, Analysis; plus, MHVille Stocks, Markets Update
Clayton-Next Step Off-Site Built 'White Paper'-Manufactured Homes, ThinkND 'Magic of the Mind-Everyday Illusion, Misdirection, Deception' MHI Members' Claims Analyzed; plus MHVille Markets Update
After Admitted Failure, Manufactured Housing Institute Doubles Down on CrossMods® in AP Terminology Doc Acquired by MHProNews–Are MHI Leaders Sabotaging MHVille Independents? Plus MHStocks Update
Manufactured Housing Institute Claims 'Effective Branding' for 'Manufactured Housing'-Seriously? Target Rich Satirical Saturday Examines MHI Claims, Messaging, RESULT$; plus MHVille Stocks Update