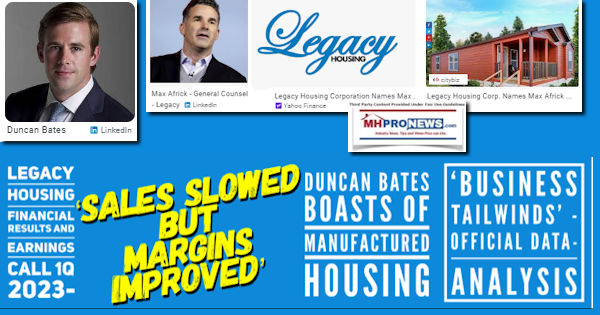 Legacy Housing Corporation (LEGH) is among the raft of quarterly reports which have emerged in MHVille from the remaining publicly traded companies in the once far larger manufactured housing industry. They have not only survived, but their announced corporate data reflects that Legacy has thrived. Some third-party researchers have taken note that the manufactured home industry could be doing better, as evidenced by recent remarks published on the Washington, D.C. Hill op-ed from Andrew Justus, J.D., Niskanen Center Housing Policy Analyst. True enough. A year ago, essentially all manufactured home producers that shared their information publicly boasted of long backlogs. But since then, industry production has fallen sharply.  It is in that factual and evidence-based light that this report and analysis will explore what Legacy Housing's fresh leadership team of President and CEO Robert Duncan Bates and General Counsel Max Africk had to say in their recent financial results and earnings call.
6 Month Manufactured Housing Industry Production Plunge Continues, Accelerates – Where Are Manufactured Housing Institute (MHI) Leaders, Cheerleaders? Facts and Manufactured Home Community Factor
According to their media release via Globe Newswire, and picked up on news and financial sites such as Yahoo, is the following per Legacy Housing.
Part I
Legacy Housing Corporation Reports First Quarter 2023 Financial Results
Tue, May 9, 2023 at 10:40 PM EDT
In this article:
Recommendation Rating
Buy (source: Yahoo)
Legacy Housing Corporation
BEDFORD, Texas, May 09, 2023 (GLOBE NEWSWIRE) — Legacy Housing Corporation (the "Company" or "Legacy," NASDAQ: LEGH) today announced its financial results for the first quarter ended March 31, 2023.
Financial Highlights
Net revenue for the first quarter of 2023 was $52.9 million, a decrease of 11.8% from the first quarter of 2022.
Income from operations for the first quarter of 2023 was $18.4 million, an increase of 0.5% from the first quarter of 2022.
Net income for the first quarter of 2023 was $16.3 million, an increase of 1.1% from the first quarter of 2022.
Basic earnings per share for the first quarter of 2023 was $0.67, an increase of 1.0% from the first quarter of 2022.
Book value for the first quarter of 2023 was $397.9 million, an increase of 4.1% from the fourth quarter of 2022.
Book value per share for the first quarter of 2023 was $16.32, an increase of 4.0% from the fourth quarter of 2022.
Duncan Bates, President and Chief Executive Officer, stated: "I am proud of our team's accomplishments this quarter. The market is challenging. We kept our heads down and focused on sales. Long-time customers have stepped up with orders to extend our backlog. Our loan portfolios continue to perform well, and we are deploying capital into our industry at high rates of return while other financing sources pull back. Georgia production and shipments were below historical levels during the first quarter but have recently gained momentum. Reducing costs and streamlining processes are our top priority. Since its inception, Legacy has operated in a conservative manner with low leverage and a laser focus on the bottom line. We will maintain this approach and invest as opportunities arise."
This shall not constitute an offer to sell or the solicitation of an offer to buy, nor shall there be any sale of the Company's securities in any state or jurisdiction in which such offer, solicitation or sale would be unlawful prior to registration or qualification under the securities laws of any such state or jurisdiction.
…
About Legacy Housing Corporation
Legacy builds, sells, and finances manufactured homes and "tiny houses" that are distributed through a network of independent retailers and company-owned stores. The Company also sells directly to manufactured housing communities. Legacy is the fifth largest producer of manufactured homes in the United States as ranked by the number of homes manufactured based on the information available from the Manufactured Housing Institute and the Institute for Building Technology and Safety. With current operations focused primarily in the southern United States, we offer our customers an array of quality homes ranging in size from approximately 395 to 2,667 square feet consisting of 1 to 5 bedrooms, with 1 to 3 1/2 bathrooms. Our homes range in price, at retail, from approximately $33,000 to $180,000.
Forward Looking Statements
This press release contains forward-looking statements within the meaning of the Securities and Exchange Act of 1934 and the Private Securities Litigation Reform Act of 1995. These forward-looking statements are subject to a number of risks and uncertainties, many of which are beyond our control. As a result, our actual results or performance may differ materially from anticipated results or performance. Legacy undertakes no obligation to update any such forward-looking statements after the date hereof, except as required by law. Investors should not place any reliance on any such forward-looking statements. … ##
Part II. Analysis in Brief of the Above Financial Results
Compare the sharp dip in national production reported by the Manufactured Housing Association for Regulatory Reform (MHARR) with the rather mild-by-comparison slide reported by Legacy. Quoting MHARR on May 3, 2023: "HUD Code manufactured housing industry year-over-year production has declined again in March 2023. Just-released statistics indicate that HUD Code manufacturers produced 7,646 homes in March 2023, a 32.2 % decline from the 11,279 new HUD Code homes produced in March 2022. Cumulative production for 2023 is now 21,174 homes, a 28.6% decrease from the 29,670 homes produced over the same period during 2022." The full MHARR report and related MHProNews analysis are linked here.
The dip at Legacy is smaller and as their earnings call exemplifies they feel that years of preparation has poised them to capitalize on this dip. As Bates pithily framed the remarks below about Curtis "Curt" Hodgson and Kenneth "Kenny" Shipley and a market like currently exists: "They have been waiting years for this."
Part III. Reuters – Yahoo
Q1 2023 Legacy Housing Corp Earnings Call (Note: highlighting and some edits in apparent errors in the earnings call transcript are by MHProNews.)
LEGH -1.10% (source: Yahoo)
Thu, May 11, 2023 at 1:33 AM EDT
In this article:
Participants
Max Africk; General Counsel; Legacy Housing Corporation
Robert Duncan Bates; President & CEO; Legacy Housing Corporation
Alexander John Rygiel; Associate Director of Research; B. Riley Securities, Inc., Research Division
DeForest Richard Hinman; Former Director of Research, Portfolio Manager & Research Analyst; Walthausen & Co., LLC
Leanne Hayden
Mark Eric Smith; Senior Research Analyst; Lake Street Capital Markets, LLC, Research Division
Unidentified Analyst
Presentation
Robert Duncan Bates
Good morning. This is Duncan Bates, Legacy's President and CEO. Thanks for joining our first quarter 2023 conference call. Max Africk, Legacy's General Counsel, will read the safe harbor disclosure before getting started.
Max Africk
Thanks, Duncan. Before we begin, may I remind our listeners that management's prepared remarks today will contain forward-looking statements, which are subject to risks and uncertainties, and management may make additional forward-looking statements in response to your questions. Therefore, the company claims the protection of the safe harbor for forward-looking statements that is contained in the Private Securities Litigation Reform Act of 1995. Actual results may vary or differ from management's current expectations, and therefore, we refer you to a more detailed discussion of the risks and uncertainties in the company's annual report filed with the Securities and Exchange Commission. In addition, any projections as to the company's future performance represent management's estimates as of today's call. Legacy Housing assumes no obligation to update these projections in the future unless otherwise required by applicable law.
Robert Duncan Bates
Thanks, Max. I'll run through our prepared remarks, then we'll open the call for Q&A. Product revenue decreased to $43.3 million or 16.4% in the first quarter of 2023 compared to the first quarter of 2022. The decrease primarily resulted from a reduction in shipments across all 3 plants. Also, we did not convert any independent dealer consignment agreements to floor plan financing agreements during this quarter as we did most quarters last year. The manufactured housing industry has slowed. According to MHI's March 2023 data, March shipments were up over February, but still well below 2022 numbers. We believe that our business has fared better than most. We made a big push on sales this year and have a nice backlog at all plants. Several long-time customers have stepped up with large orders. We have a small manufacturing footprint and continue to run near capacity. We anticipate having orders to feed all 3 plants. We also believe that there are several major tailwinds for our industry as housing affordability nears record lows. As we discussed on the prior call, we have been working hard on improvements at our Eatonton, Georgia manufacturing plant.
We rightsized the workforce, brought in a third priority to retrain and monitor the team and have significantly improved our product quality. Production during the first quarter of 2023 was still below historical levels in Georgia. However, we recently gained momentum on the manufacturing side and have secured several large orders for the plant. Our team continues to push production volume without sacrificing quality. Consumer and MHP loan interest income increased to $7.7 million or 13.9% during the 3 months ended March 31, 2023, as compared to the same period in 2022. This increase was driven by increased balances in the MHP and consumer loan portfolios. Other revenue primarily consists of dealer finance fees and commercial lease rents, which increased to $1.8 million or 33.3% during the 3 months ended March 31, 2023, as compared to the same period in 2022. Our financing business generates predictable recurring revenue. We now have over $350 million in principal outstanding across our loan portfolios. The portfolios are performing well and defaults remain near record lows. Selling, general and administrative expenses decreased $2.3 million or 29.3% during the 3 months ended March 31, 2023, as compared to the same period in 2022.
This decrease was primarily due to a decrease in salaries and incentive costs and a decrease in legal expense, partially offset by an increase in warranty costs. Net income increased 1.1% to $16.3 million in the first quarter of 2023 compared to the first quarter of 2022. Basic earnings per share grew $0.01 per share in the first quarter of '23, an increase of 1% from the same period in 2022. Legacy delivered an 18.7% return on equity over the last 12 months. At the end of the first quarter of 2023, [L]egacy's book value per basic share outstanding was $16.32, an increase of 20.3% from the same period in 2022. We continue to hold pricing and reduce our raw material inventory. Our top focus remains on sales, but we are also looking at ways to reduce SG&A and warranty costs. Legacy's balance sheet is healthy. We ended the quarter with $3.2 million in cash and $7.8 million drawn on our line of credit. We also own $8.5 million of treasuries yielding approximately 4.7%. As the economy slows, investors should start to see the beauty of our integrated business model. Sales were down during the first quarter, but margins and earnings improved.
From a strategic standpoint, I recently discussed the opportunities we are seeing in our industry with our founders. They have been waiting years for this. Our foundation is stable, and we are well positioned for growth. Operator, this concludes our prepared remarks. Please begin the Q&A.
Question and Answer Session
Operator
Thank you.
(Operator's Instructions)
Our first question comes from Alex Rygiel with B. Riley. Alex.
Alexander John Rygiel
A couple of quick questions here. First, can you sort of touch upon kind of the macro environment here? Obviously, we got a significant rise in mortgage rates. We had slowing demand for new home construction. Now that's kind of leaked into your space as well. So maybe talk just a little bit about the macro dynamic here. And it kind of feels like single-family homebuilders have kind of stabilized to kind of a lower level now, but going into sort of maybe normal seasonality. So do you feel like that's the case as well in the mobile industry.
Robert Duncan Bates
Yes. I think that's right, Alex. We certainly have seen demand slow — that said, we've got 3 plants. We feel very comfortable keeping them full. I think the most important thing that you pointed out is there are some real tailwinds for this business. You've got mortgage rates, right, that have doubled. You've got underwriting standards for mortgages that have really tightened. You've got home prices near all-time highs. And at the end of the day, you've got over 50% [of the] households in this country that make less than $75,000 a year. And those are our customers, and we tend to serve the lower end of this [housing] market. And I think that although there is slowing demand, we should see an uptick as this affordability problem worsens in our country.
Alexander John Rygiel
That's helpful. And then can you talk a bit about your land development activities. The company has had a number of properties sort of on its books, been making some investments and some water treatment facilities and whatnot through the years. Can you talk about that in conjunction with your comment earlier about pretty confident that you can keep your plants full.
Robert Duncan Bates
I personally believe that the largest headwind this industry faces is where do you put these things, and we've got 7 properties that we own outright that we have been developing into communities over the last few years. Our primary business is building, selling and financing mobile homes. But at the same time, we have made significant progress. And I'll tell you that based on discussions with other developers in our industry, there's a lot of value here. I think there are certain properties that make sense for us to push forward to — through full development. There's probably others that could make sense to partner on. But we're allowed to contribute homes and potentially financing and have some type of recurring cash flow stream. And look, there's others that we haven't made much progress on that are primarily entitled raw land that were — we bought right. And as you can imagine, land in Texas around major metropolitan areas has really increased in value. So there may be a couple of those that make sense to either sell or partner with somebody in the near term on.
Alexander John Rygiel
And then lastly, I think in the past, you've mentioned some geographic opportunities ahead. Can you maybe talk about that as it relates to sort of the business plan over the next kind of 1 to 3 years?
Robert Duncan Bates
Yes, sure. I think we're lining up for a pretty interesting and exciting time for our business. We've got a great balance sheet. We've got recurring earnings from the financing business. And this is a regional business. You typically don't ship these homes much outside of 200 to 300 miles from where your plants are. And COVID created some opportunities where — I mean, we shipped homes a lot farther, and we continue to do that. But there are certainly regions that we don't hit as economically as we'd like to. And look, there are — if you're a single plant manufacturer with no backlog and no balance sheet, I think there will really be some opportunities for us to move into some new geographic areas. But we're going to be conservative. We're not going out and participating in a bank process where we're really going to overpay for something. But we're definitely getting some looks on things, which is exciting for all of us.
Operator
Our next question comes from Mark Smith with Lake Street.
Mark Eric Smith
First question I've got, Duncan, is really just on kind of average selling price. What kind of price movement did we see here in the quarter?
Robert Duncan Bates
So Mark, our last price increase was in June of 2022. We have not raised prices since then, but we've also haven't dropped prices. So I'd say it's been in line with the past few quarters. I mean the — we primarily sell our park model homes are very, very basic homes. And typically single wides without a lot of bells and whistles, those have typically lower prices than some of the big more elaborate homes that we're selling to dealers. So there has been — recently, we've been building a lot of park model homes. And so I think when you see our — when you see the filing, you'll see that there could be some mix issues there, but overall, pretty much in line.
Mark Eric Smith
Okay. Then as we think about the pressure on the industry, any more detail you can give us? Is it really rates that are pressuring consumers? Is it just kind of general consumers being squeezed in today's environment? What is it that's really hurting them in? And if so, rates, can you guys use your lending arm as a lever with lower rates to incent more sales?
Robert Duncan Bates
Yes. I'll take it in 2 pieces, Mark. About half of our business is selling through dealers to retail customers. And I think there's been a lot of talk in the industry about that channel being backed up, right? You've got these dealers, whether they're company owned or they're independent dealers that have a decent amount of inventory sitting on their lots. And I think overall, what we're seeing and we're hearing is that foot traffic has picked up, but conversions are still below where they should be. And so I really think it's just — there's a lot going on in the economy and the consumers are being squeezed. This is an affordable product though, and we haven't raised our rates on the financing side of things. And so I think there's just some hesitation to go out and make a large purchase right now by most consumers. But I think that could change as other housing options, whether it's rent increasing or home prices, we already discussed the issues there of traditional stick-built homes.
So we're hoping to see more of a pickup on the dealer side of the business and that conversion rate get higher. On the park side of the business, which we sell homes directly at wholesale prices to community owners and developers, that's the other, say, half of our business. We typically serve a customer base that are — I would categorize as regional entrepreneurs. These are guys that have been in the industry for a long time. and have written [ridden] the ups and downs and a lot of them took chips off the table when you had big institutional backed guys paying astronomical prices. And so a lot of those guys are our customers, and a lot of them are deploying capital now, which has helped us out on orders. I think on the — if you're a large institutional backed player, I mean a lot of these guys went out and consolidated at all-time high prices on the park side. And if you're using variable rate debt and you can't raise the rents as much as you need to, the — some of their expansion plans may have changed. So that's — hopefully, that helps.
Mark Eric Smith
Just any additional breakdown you can give us on the inventory, just what kind of you're sitting on in finished goods versus kind of raw material and your comfort level with the inventory today?
Robert Duncan Bates
Yes. I have the number directly in front of me. I'll tell you our raw material inventory is around $17 million and the rest of the inventory is at our company-owned dealerships, — and so our company-owned dealerships or sitting in the lots, I think we've got more inventory than we would like across the board. That's really an area that we've been focused on, and we're making some progress on, especially on the raw material side. And — but we've got a ways to go there. And then company-owned dealerships, I think, are in similar boat as a lot of the other dealers where the inventory is not turning as quick as you'd like, and you've got some excess there.
Operator
Our next question comes from Tim Moore with EF Hutton.
Leanne Hayden
This is Leanne Hayden from E.F. Hutton, I'm filling in for Tim Moore. He is immersed in our annual conference right now. My first question is just a follow-up on pricing. Your pricing is still below your competitors despite their cuts. Do you plan to offer more promotions and online specials in order to preserve your ASPs? Or what do you plan for that?
Robert Duncan Bates
Yes. We have been able to hold our pricing. We certainly have seen our competitors start to cut pricing. I think pricing is important to discuss in the context of our integrated model. And what we've been able to do recently is offer financing specials. And so we've held pricing, but we're offering a few months with no payments or other incentives to sell homes and finance them at what we believe are good returns for our business without sacrificing the price increases that we've pushed through over the past couple of years. And so that will continue to be our strategy. I mean we hit on the call like sales were down this quarter. But at the same time, we have been able to secure a decent amount of large orders. So I mean, we're going to keep holding price as long as we can. And if we need to use our financing tools to do that, we will.
Leanne Hayden
My second question is regarding your more nimble manufacturing footprint with only 3 plants. If there's a sudden downturn in order volumes, what can you do to keep utilization up at your plants? And can you just reduce ship hours or retaining talented workers? How would something like that play out?
Robert Duncan Bates
Yes. I mean I think the typical ways are you can slow down production, whether it's not working as many hours in a week or cutting production days — we haven't missed a day of production yet this year. And I feel pretty good about where the backlog is moving forward. And so there are some tools, but hopefully, we're not planning to use them at this time and cut production days. We're trying to really make a push on the sales front and continue to grow the backlog. And I think we'll start to see demand picking up.
Leanne Hayden
How should we think about gross margin? It could be down this year versus last year when factoring in less of a pricing boost, but raw material cost deflation, lapping that compared to a year ago from the Georgia plant and efficient fees in the second half of this year? Would that be something that would help?
Robert Duncan Bates
Yes. I finally feel like we've got some momentum in Georgia. It's been a long road to get here, and the team has really stepped up and done a good job. We're still a little bit below where we'd like to be. I think, though, if we could get back to — if we could push through one additional house a day by the end of the quarter, I think that's a realistic goal, but also one that really helps us out from a cost efficiency standpoint. Again, holding prices and material prices are coming down. So I think as long as those 2 things continue to move in the same direction, and we're able to keep production up, margins still should continue to be strong.
Leanne Hayden
My last question is about the conversion of some dealers to a floor financing program. That seemed to boost your December 2022 quarter revenue by maybe $17 million. Does that mean that this year's December quarter would face a headwind decline for product sales as you lapped the year-ago benefit? Or what do you expect for that?
Robert Duncan Bates
Sure. So I'll give everyone just a quick reminder on the consignment to floor plan financing conversion. We have had a consignment program in place for years that I wouldn't say is necessarily market. And so we've moved over to a market floor plan financing program — and as we converted these dealers over, we essentially recognized the conversion as sales since there's no take back on the inventory. And so we — this was a project that started well over a year ago, and we're trying to push everybody to the new program, and we still have some dealers that have not converted over, but we had a big conversion during the first quarter of last year. And so I would not expect — we don't have the same volume that we had last — the fourth quarter of last year. But we will have conversions that happened this year, just — it's a smaller number and not something that we made a push on during the first quarter.
Operator
Our next question comes from DeForest Hinman, who's a private investor.
DeForest Richard Hinman
I'll bounce around a little bit. You talked about a rising rate environment, but then also some opportunities you're seeing and sort of specials on the financing. Generally speaking, on a forward basis relative to the first quarter, should we expect the interest income dollars to be kind of consistent? Or should those be moving directionally higher?
Robert Duncan Bates
Yes. They'll be moving directionally higher. The financing in this industry has — we've seen a pullback in financing in this industry, which I think creates a nice opportunity for us to deploy capital into the loan portfolios, we're not borrowing to lend and take a spread. So we've got some flexibility as far as where we set our rates and how long those rates are fixed for. The promotions that we've been we've been running include, say, a couple, say, 3 to 6 months without payments. And so while the interest revenue won't pick up immediately as we make new loans, toward the end of the year, you should start to see the benefits of all that cash that we've deployed into the loan portfolios.
DeForest Richard Hinman
Okay. That's helpful. And then you did some brief comments on the land portfolio on the development side, but just a little bit more color there. Is there anything in process in the sense like you're talking about transacting some of the land. Is that just hypothetical? Or you have had negotiations about actually doing something?
Robert Duncan Bates
Yes. Look, we continue to work on all of these developments in the background. And I think if you look out over the past year with the history in our business, right, we had some major challenges that we had to work through that took up a significant amount of management's time. And so we're back getting refocused on really pushing these developments forward. And I think if there are — like there are certainly people that are building parks in Texas, and they're looking for land that's entitled, and we have created significant value by pushing these forward that hasn't been realized yet. And so our plan, we don't have like a for sale sign on any of this stuff. But I mean, we have been approached, and I think we're always open to opportunities and here in offers and — but ultimately haven't made a decision to do anything yet. So it's kind of — we're back refocused on pushing the developments forward and creating value there. But if someone was interested in a certain piece, we'll certainly listen to them.
DeForest Richard Hinman
Okay. And I apologize if this was asked and answered, but on the backlog side, did we give any color or commentary there either on units or dollar amounts or directionally where that's been moving?
Robert Duncan Bates
Yes. We don't publish a backlog number. One area of our balance sheet that you can look to is we've got a liability for customer deposits. You'll see that's down a little less than $2 million over a quarter over — or since last quarter. That said, we — it's difficult to transition your sales team after going through 2 years of order taking to really selling. And that's something that I will tell you has been really the top focus for our management team. And it's amazing when you get people — you get a little bit momentum and you have the management team involved, and we've got long-time customer relationships, we've really been able to secure some nice orders, and we're planning to continue that. So we've got several months of homes to build.
DeForest Richard Hinman
And then just building on those customer relationships. I've asked about this in the past. Is there still ongoing discussions regarding any long-term supply agreements? Or do we already have some in place?
Robert Duncan Bates
No, none right now. We've talked with some larger players about it. I mean — but we'll — if we get a large order, so you get somebody wants 200 homes we'll sell them under our standard agreement, just space them out with the amount of production that they can handle or deliveries they can handle on a monthly basis. And so we do have customers that are taking significant volume from really all 3 of the factories, but they're not under any type of long-term supply agreement right now.
DeForest Richard Hinman
And then this is kind of a shorter question, but maybe more a longer answer. But can you help just shareholders, you came public a few years back. We had some issues on the accounting side. We've remedied those. But during that period of time, you weren't able to really discuss what was happening with shareholders while the financial results were quite good. But you talked about the ups and downs of the industry. Can you just give us an update in terms of what's the long-term strategy for this business? You've got 3 plants and you have some founders, they've been at this for a long time. They own a fair amount of stock. What's the long-term outlook for the business? And is there any desire to sell the entire company, which would probably entail a pretty nice return for everybody?
Robert Duncan Bates
Yes. No plans for any type of larger transaction at this time. We have worked through some issues on the SEC reporting side. I think some of that was caused by issues with our team internally, but we also had a large issue with the new or prior auditor. But we work[ed] through that, and we now have a team in place that can deliver accurate numbers in a timely manner. And so that's no longer the concern that it was. I think at this point, our founders would love to see this business continue to grow for years. And I'm very fortunate to have them as coaches and mentors in this business because they've both been in it for over 40 years and probably have combined more experience in this industry than anyone — any 2 people in the country. And so our goal is to continue growing the business. We're always bottom line focused, and we're focused on continuing to invest our profits at high rates of return to grow Legacy's book value.
And if you look at what we've done over the last 12 months, we're making almost 20% year-over-year on that money, which is pretty remarkable. And this business was started with less than $10 million, and they've grown that at 10% to 20% a year for 18 years. And then you look down and you're a $550 million market cap company. And so we're going to continue to operate this in a conservative manner. — investor cash. But we're now — we've got the foundation set where we're not afraid to be opportunistic as things arise. And we believe that we're out of time, and we're seeing it where opportunities are popping up, and we've got the team to actually execute. So a long way of saying we're going to keep growing the business and plan to stay a public company.
DeForest Richard Hinman
Maybe just a little bit more clarity there. When you talk about opportunities, is it organic? Is there facilities that are actively producing units or maybe a building we're looking at that is unfinished that we would put some production assets in there? Like how do you frame opportunity? Because — and I'm trying to be very respectful. I think you guys have done a fantastic job historically, but it's hard to know exactly what's going on when we're only getting quarterly updates, and you had this strategy for a period of time on the land development side that has taken some time on the permitting side and maybe we're looking for some partners, that's changed to some extent. But just any color you could provide to shareholders in terms of what that opportunity set is in terms of capital deployment?
Robert Duncan Bates
Yes, sure. I'd say, first of all, now that we are through some of these issues that taken up a lot of management time to get back on track. We do plan to have more of an IR presence and update the market on our strategy. But there are — when I talk about opportunities, I think we first have to start with the opportunities in our own business. I mean, our margins are great, but there are a lot of areas where we can improve those. We can do a better job on the sales side. We can do a better job on managing our inventory. We can do a better job on managing our costs and SG&A. And those are all things that we're aggressively focused on now. I think once we have all of those set and there are — there's other products that we like to manufacture.
There's other — there's other markets that we'd like to manufacture in. There's opportunities to realize value from these developments. And especially right now, there's opportunities to deploy capital on the financing side. And so we're looking at all of these through a lens that focuses strictly on returns. And there may be times when we feel like there's better returns generated by deploying all of our cash into land development. We think that there's times when the best return we can get is by deploying it on — in the financing businesses. And I think that there will be times when we feel like, hey, there are single plant operating businesses in this country in attractive geographies where we can make a return that may compare to what we currently do on the manufacturing side. And then that also gives us additional units to finance.
Operator
Our next question comes from Roman Nessa Private Investor.
Unidentified Analyst [Roman Nessa Private Investor]
Quick question on the land development side. Is the idea — if you do proceed with the plan for these various sites that you have that you guys own, is the idea then to build a business around it raised capital to — from JV partners? Like what's — how does this fit into the company's longer-term strategy on — like is this going to be a long-term hold? Are you going to be spinning them off? Like how do you think about that as you kind of near completion on some of the entitlements on these parcels.
Robert Duncan Bates
Yes, sure. So like I said, we continue to push forward with them. I can't tell you I have the answer for that yet. I think the plan is to to monetize them as we see fit. I think ultimately, what makes our business special is the stable recurring revenue side of it. And so as I look forward to growing the business, I don't think anyone wants to own a cyclical manufacturing company. They want to own something that generates predictable returns and has high margins. And so as I think — and we'll use that lens to look at the entire business. So we think about land development, and I think it's how do we how do we either develop or partner on these and create a business model that we can replicate and grow and generate recurring income from them.
Unidentified Analyst [Roman Nessa Private Investor]
Yes, I think that's exactly the right way to look at it. I think I would encourage you to think through it from effectively like a JV fund management route, right, where you bring capital in and like you said, collect either collect fees or JV with somebody to do this. So it's not so the capital outlay is not all on the company side, just a suggestion, but a good presentation, super excited about the business.
Operator
Yes. Thanks for the questions. And I'm not showing any further questions at this time. I'd like to turn the call back over to Duncan for any closing remarks.
Robert Duncan Bates
Perfect. Thank you. Two final comments. One, thank you to our customers. I mentioned during the call in the press release that certain long-time customers to place large orders. The orders keep our facilities full and keep our workers paid and we truly appreciate your business. And secondly, I'd like to thank everyone who joined today's earnings call. We appreciate your interest in Legacy Housing. Feel free to reach out to us with any follow-up questions. My contact information is at the bottom of the press release. Operator, this concludes our call.
Operator
Ladies and gentlemen, this does conclude today's presentation. You may now disconnect, and have a wonderful day. ##
MHProNews Note: the photo and quote below are an element in Part IV of this report and were not part of the official Legacy Earnings call transcript for Q1 2023.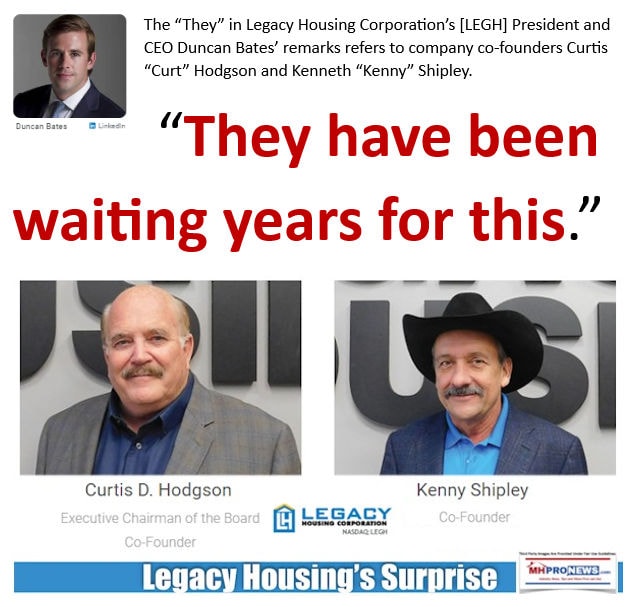 Part IV – Additional Information with More MHProNews Analysis and Commentary 
Curtis "Curt" Hodgson said just over three years ago to investors that Legacy Housing had its own financing "moat."  What CEO Bates recently described during their earnings call cited in the above remarks are arguably in some measure the fruits of that financing "moat." Newcomers should know that in Buffett-lingo, a "moat" is a durable competitive advantage. There is more to it, but that's sufficient for this Legacy focused report.
Legacy Housing's "Warren Buffett Type Moat" and COVID19 Response Plan Assailed by Company Whistleblowers
That "moat" is possible precisely because of the lack of competitive financing in the chattel manufactured home marketplace.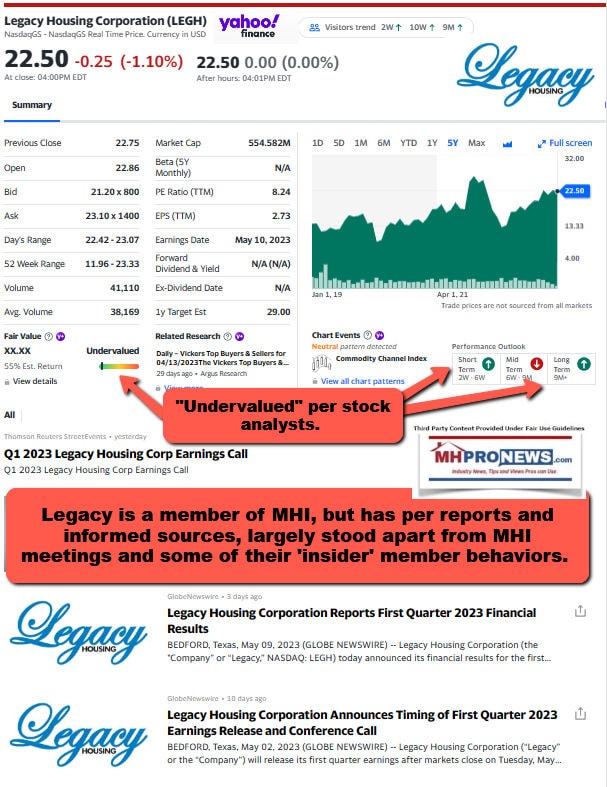 The Consumer Financial Protection Bureau (CFPB), Doug Ryan for CFED turned Prosperity Now, and the Manufactured Housing Association for Regulatory Reform (MHARR) are among those that have pointed out the limiting effects in the marketplace due to the dearth of competitive home only single-family manufactured home loans.  More recently, Andrew Justus, J.D., housing analyst for the Niskanen Center pointed to that limiting factor of a lack of competitive financing "holding back" manufactured housing.
The argument can be made that Hodgson and Shipley identified years ago that problems that a lack of chattel or home only financing would cause for manufactured housing. They dealt with that issue by 'solving' it for themselves.
Years later, as their portfolio of loans has long reportedly been performing profitably, Legacy CEO Bates says that segment of their business is a source of 'recurring revenue' where capital can be profitably deployed. In a sense, as a parallel for analysis purposes, what Legacy developed may be superior to what larger rival Clayton Homes did prior to selling out to Warren Buffett led Berkshire Hathaway. As Kevin Clayton said, he was 'begging' investors for money to put into loans for their home sales. Clayton no longer has to do that, as Buffett's Berkshire's credit rating and cash provide ample capital for lending.  According to Bates' remarks, apparently, Legacy Housing doesn't have to beg for capital  to make loans either.
Warren Buffett's Pledge to Kevin Clayton – 'You Can Access Plenty of Capital' for Projects – Quotes, Facts, Video, Transcript, and Implications for Manufactured Housing Industry
Bates seemed rather candid about several internal hurdles that they believe are now increasingly in their rearview mirror.
Beyond navigating production, quality, and manpower issues, what other takeaways are worth noting from their report above? In no particular order of importance are the following observations.
1) Bates said that they had work to do on the sales side. He thought conversions from shoppers to closed deals were too low.
2) Roughly half of Legacy's production is going into manufactured home communities (what Bates referred to as "parks"), per Bates' remarks. That is roughly analogous to what MHI has admitted is occurring in much of the rest of manufactured housing production. That's an issue that MHProNews has pointed out several times, but one that others in what passes for MHVille's bloggers and trade publications have for whatever reason have largely missed or ignored. More on that issue further below.
3) What Hodgson called the place to put issue is still dogging the industry, which has been explored in reports like the one linked below and others linked from it. Bates said that place to put challenge is the number one problem for the industry, in his view. Of course, given Legacy's lending "moat" – one that by definition many others in manufactured housing don't have – zoning/placement barriers would be the larger challenge since they have dealt with the financing hurdles internally years ago.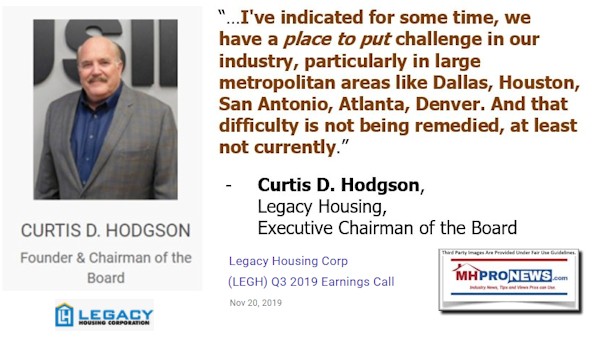 Manufactured Housing Institute Claims 'Effective Branding' for 'Manufactured Housing'-Seriously? Target Rich Satirical Saturday Examines MHI Claims, Messaging, RESULT$; plus MHVille Stocks Update
4) Regarding both "place to put," financing, and what obliquely amounts to image-education, Justus' thesis – and others like it – plus the related MHProNews analysis and commentary are relevant to the picture for Legacy.
Andrew Justus, J.D., Niskanen Center Housing Policy Analyst, Hill Op-Ed Asks and Answers – 'What's Holding Back Manufactured Homes?' Sunday Weekly MHVille Headlines in Review
5) In as much as manufactured housing is being 'held back' – as Justus, MHARR, Ryan, and others have said – it creates opportunities for Legacy. Legacy appears to be poised to buy out a smaller producer and/or develop a production center in an area that they don't feel is being properly served by their two existing plants in Texas and their large production center in Georgia.
The Importance of Publicly Traded Firm Reports for Insights into Manufactured Housing 
A quick series of facts as a background segue is relevant to better understanding Legacy Housing.
MHProNews has monitored and routinely reported on the publicly traded companies' quarterly reports and has done so with a depth unmatched by anyone else in what passes for the balance of the MHVille trade media beyond MHProNews/MHLivingNews. This is important on several levels, because public firms are supposed to give accurate information.  Given the fact that MHI behaves in ways that are in several respects different from the National Association of Realtors, the National Association of Home Builders, or the RVIA (each of which have certain analogies to MHI), and has produced problematic 'marketing' and 'research information,' it is important to dig into statements from public firms and compare them to what emerges from MHI. While painstaking in some ways, the insights from following that process are telling. Some examples are linked below. It should be noted that Legacy's leadership is not reportedly on board with the Clayton-backed and MHI branded CrossMods home scheme.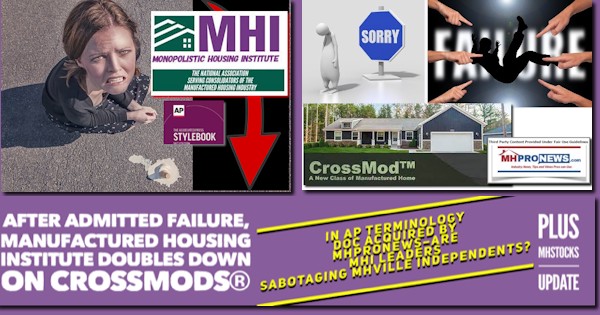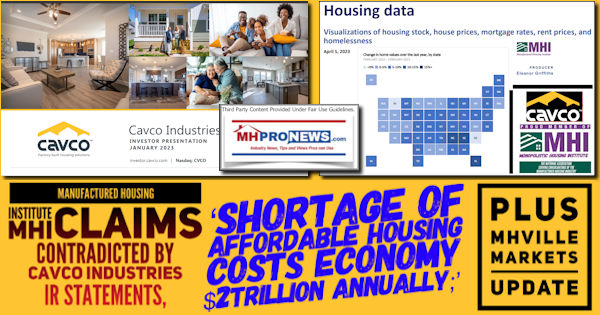 Manufactured Housing Institute Claims 'Effective Branding' for 'Manufactured Housing'-Seriously? Target Rich Satirical Saturday Examines MHI Claims, Messaging, RESULT$; plus MHVille Stocks Update
It is in part by examining public firm's published and verbal remarks that MHProNews/MHLivingNews has developed the evidence-based thesis that MHI is posturing representing "all segments" of the industry, but is arguably more on the side of the larger firms that are consolidating the industry.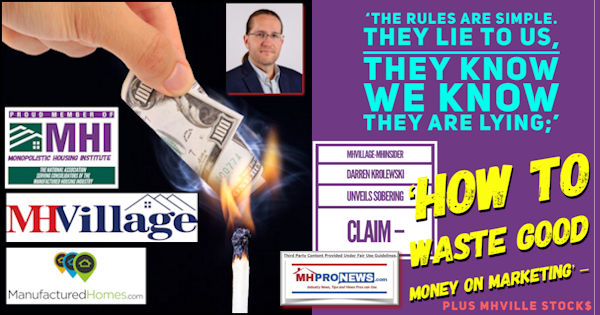 That too needs nuance. Legacy Housing (LEGH) is arguably not viewed by MHI leaders in the same way that Clayton Homes (BRK), Skyline Champion (SKY), or Cavco Industries (CVCO) has been for years.  There is evidence and sources that indicate that some non-public firms get more 'love' from MHI than publicly traded Legacy Housing does.
MHI might deny that Legacy is not on their 'insider' list, but a combination of evidence and well-placed sources make that clear to an objective and informed industry expert.
Clayton vs. Legacy?
Legacy and Clayton had what might politely be called battles some years back, which may be the subject of a special report at some point in time. For now, it is worth noting that neither side (Legacy or Clayton) speaks much about the other in recent years. But it is apparent that they are quite well aware of each other's place in the industry.
That noted, given Clayton's uber high profile at MHI, it should be apparent that even if chummy behavior were to be initiated by Clayton, the likelihood is that Hodgson and Shipley have not forgotten the lessons of their past experiences.
Clayton gets what they want from MHI, and from state associations. The quotable quote below is but one indication of that remark.

That there are insiders and outsiders in MHVille – notably at MHI – is also apparent from remarks made by Marty Lavin, J.D. and Neal Haney. A MHARR member producer quietly told MHProNews that Clayton and their allies at MHI may smile at their rivals, but MHARR members routinely recall what happened earlier in the 21st century.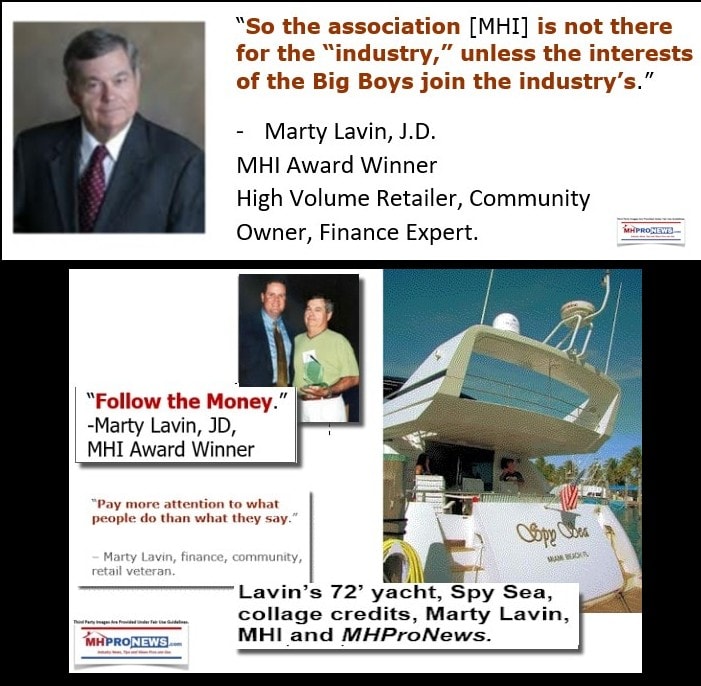 The numbers of so-called retailers have steadily dwindled for much of the 21st century. Kevin Clayton said as much, although he framed it in a fashion to Congress that might arguably be called paltering.  The more detailed report linked below the quote is packed with insights, along with Clayton's arguably cagey remarks.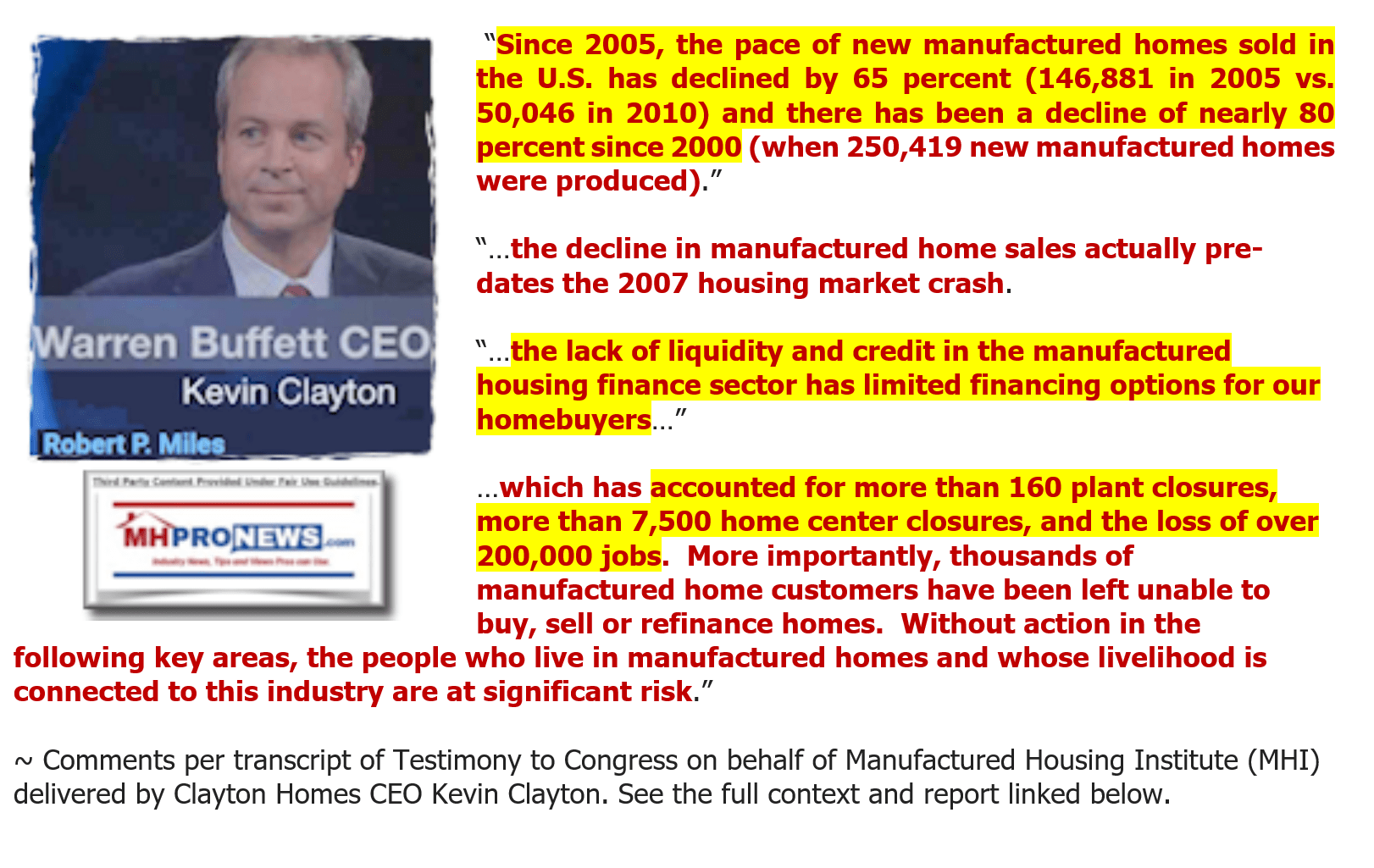 The number of producers has been cut in less than half from where it stood at the turn of the century.  A look at Cavco and Skyline Champion information makes it clear that they – and Clayton – have been picking up production and some retail as a result. This is the moat in action, and Clayton did not hide that in the video interview from which the quote below was obtained.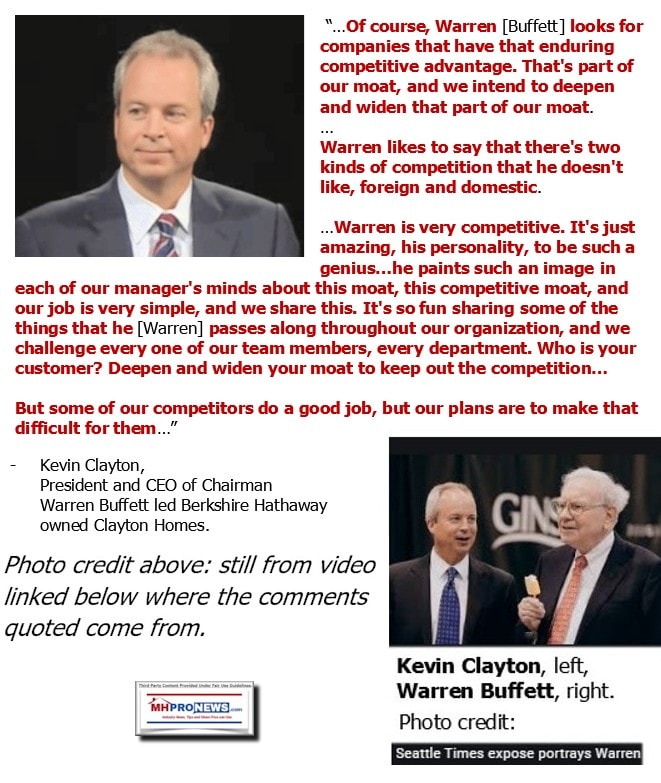 Against that backdrop, Hodgson previously told investors that many professionals in manufactured housing did not think long-term. Bates, who indicated above that he looks to the Legacy's founders as mentors and coaches, conveyed in his earnings call remarks the longer-term strategy of the firm.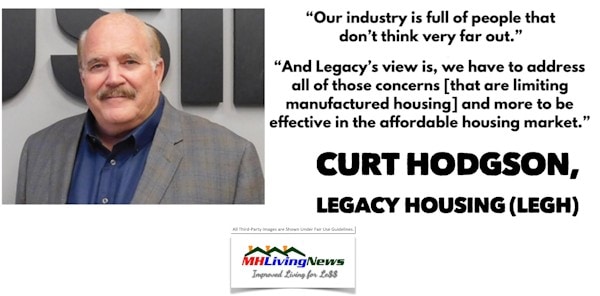 It would be bordering on irresponsible if Shipley and Hodgson lost focus on Berkshire owned Clayton's and 21st Mortgage's historic behavior in the 21st century. Which is why it is MHProNews' expert view that the odds are excellent that Hodgson and Shipley haven't suddenly begun to trust Clayton Homes et al beyond 'trusting' that Clayton and their sister brands have not changed their stripes.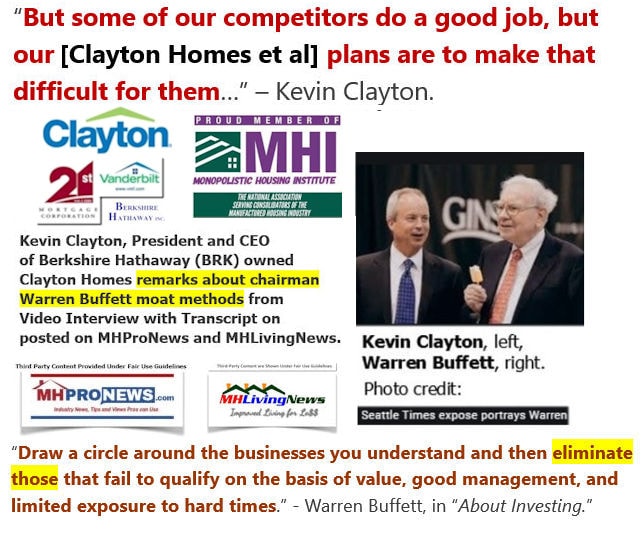 Legacy's co-founders have weathered several storms. They clearly grasp the moat method that Buffett, Clayton, and Clayton's Tom Hodges have each spoken about.
The fact that Clayton and their sister brands have such an outsized role at MHI is not to be overlooked. But per antitrust researcher Samuel "Sam" Strommen of Knudson Law, Clayton has shared that consolidation of production with Champion (SKY) and Cavco (CVCO). Strommen went on to note that MHI plays a key role in consolidation that in his view appears to violate antitrust law. Strommen backed up his pages of research with dozens of footnoted facts and legal points.
Additionally, other antitrust researchers at the Minneapolis Federal Reserve have their eyes on manufactured housing.  The fact that MHI, or their apparently allied bloggers and publication, routinely fail to address such antitrust probes in their 'reports' and 'news' is a shame for those readers of theirs who trust those outlets.
Be all that as it may, it is worth noting the following. With respect to MHI, perhaps because Legacy Housing has been focused on providing their own internal solutions to the hurdles the independents in manufactured housing face, multiple sources at Legacy have made it clear that they are not into attending meetings at MHI or other association events. What, if anything, that means to Bates, Africk, Shipley, and Hodgson is a subject for a good discussion or interview someday.
The Tidal Shift in Manufactured Housing in 2022 Going into 2023
Those points said, let's pivot back to a point Bates made during the Q1 2023 earnings call about the channels for their production mix.
49% of new manufactured homes are placed on private property and 51% are placed in manufactured home communities.
Contrast that with MHI's 2021 quick facts:
• 69% of new manufactured homes are placed on private property and 31% are placed in manufactured home communities.
Put bluntly, there has been tidal shift of some 20 percent away from sales by manufactured home retailers and towards communities that may be listed as 'retail' but more are community-based retail sales.  While MHI has 'reported' that trend in their occasionally view annual 'quick facts,' when was the last time that MHI mentioned that to industry members in their periodic emails to members? For far too many, when something is out of site it is out of mind. That's not a pitfall that Hodgson and his team are likely to fall into, precisely because they appear to be well aware of what it has required for their firm to arrive at this point in time and they have watched as dozens of others, including some their size and larger, that have fallen by the wayside in the 21st century.
The MHARR vs. MHI, Prosperity Now vs. MHI, Democratic Lawmakers vs. MHI Contrasts
It is MHARR, which has a singular focus of representing the interests of independent manufactured housing producers, that keeps the issue of zoning/placement, the DOE energy rule, and financing front and center in the industry among trade association sources.
CFED/Prosperity Nows Doug Ryan has also made it clear that he thought that MHI was playing favorites with Clayton and their affiliated lending.
Democratic lawmakers are also on record decrying Clayton Homes "near monopolistic" grip on manufactured home lending (see quote image below). Those lawmakers referred their concerns to the CFPB and Department of Justice (DoJ). It should be noted that Keith Ellison has since become the attorney general (AG) for the state of Minnesota. Ellison has manufactured housing on his radar. Democratic and Republican AGs in recent years have at times worked together on various issues.  So, while those referrals to the CFPB and DOJ may have seemingly gone nowhere other than into a filing cabinet and/or some computer's memory, that doesn't mean that it may not be activated at some point in time. Like it or not, that's how government at the federal and state levels all too often operates.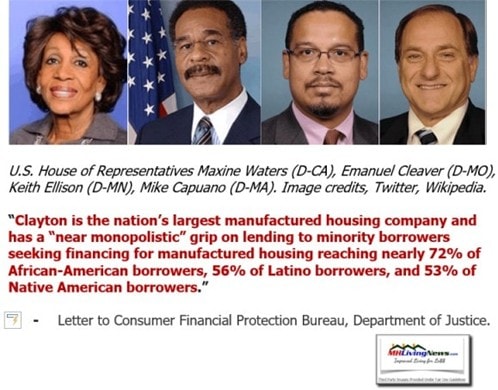 Why Aren't These Moat, Antitrust and Other Issues Routinely Reported by Other MHVille Trade Media?
Much of these facts, evidence-based history, and analysis are found only on MHProNews/MHLivingNews. That calls to mind award winning Washington, D.C. based pundit and prior award-winning CNN reporter, Chris Plante's remarks. Plante uses this one-liner weekly, sometimes more than once weekly.
"The most insidious power the media has is the power to ignore [relevant facts and/or a story]" – says Plante.
Cavco's Inaugural Environmental, Social and Governance (ESG) Report Examined – 'Ask Questions-Raise Concerns if They Exist' – BBB Rating, Corp History, Other Factual Insights and Evidence Explored
That "power to ignore" apparently is part of the M.O. for MHI and their closely allied bloggers/trade publisher.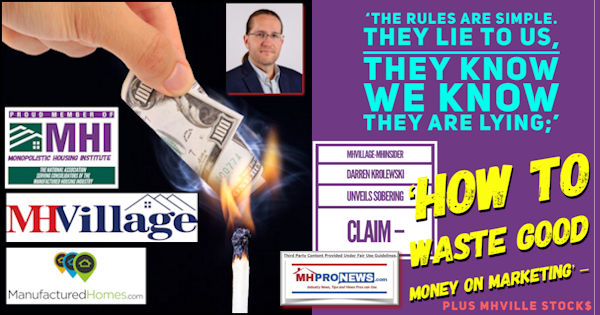 There is a case to be made that manufactured housing is underperforming due to issues that outsiders looking in have routinely identified. Are industry professionals, or investors, to believe that MHI is unable to learn from such research? Or is it more likely that MHI is posturing efforts while slyly working to consolidate the industry, as several of their own members have stated in their own investor relations presentations?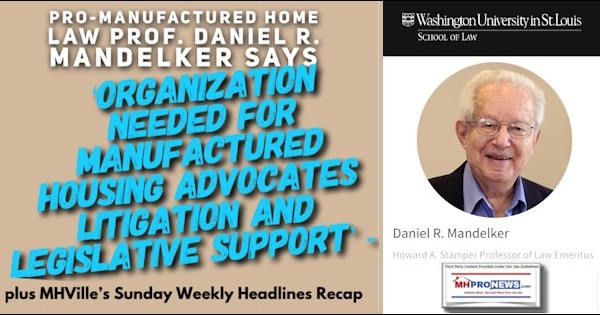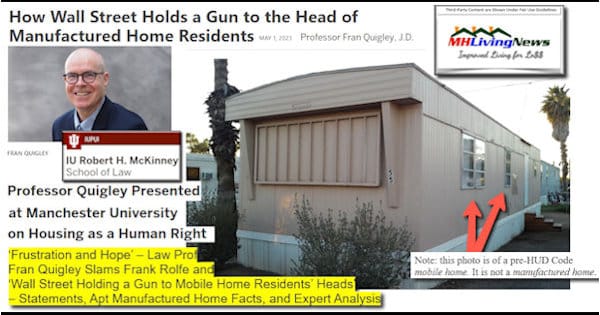 As MHProNews has extensively reported, and provided evidence for, and which MHI leaders have steadily dodged, the evidence for the true nature of MHI vs. their claim of working for all segments of the industry is becoming more apparent with each passing quarter.
Longtime MH Retail Sales Manager Asks Manufactured Home Leaders – Why are Manufactured Housing Production Levels Today About Half of 1980s When Interest Rates Hit 20.5% APR on ARM Loans?
Despite such internal industry hurdles, Legacy has been growing.
'Record Year' Says CEO Duncan Bates, Legacy Housing Names Max Africk, Changes in Beneficial Ownership, LEGH Provides Q4 and Year-End 2022 Results, Homes Priced at Retail Range from 33K to 180K
There are numerous possible takeaways from such facts, evidence, and apparent patterns.
For instance. There appears to be a pattern of rewards that are reminiscent of how the Madoff organization operated until that scheme was finally upended.  For years, it seemed that Bernie Madoff was untouchable. A high-level 500-word executive summary how that pattern has played out in numbers of once potent firm's histories are found at this link: https://www.wnd.com/2021/05/solution-big-tech-oligarchs/
Apply those lessons to MHI. Insiders benefit, outsiders get happy talk even as insiders' benefit.
The manufactured housing industry is underperforming by several measures. Legacy's history goes back to the roaring days of the 1990s when the industry had plenty of history.  By steadily preparing their own lending for years, Legacy has positioned itself for times like these.  Now, with talk by Bates of expanding into different regional markets it will be interesting to see how Legacy approaches organic or "opportunistic" acquisition opportunities. For those that aren't Legacy, it will be equally interesting to see if they will embrace the lessons to be learned, or not (click to see image). ##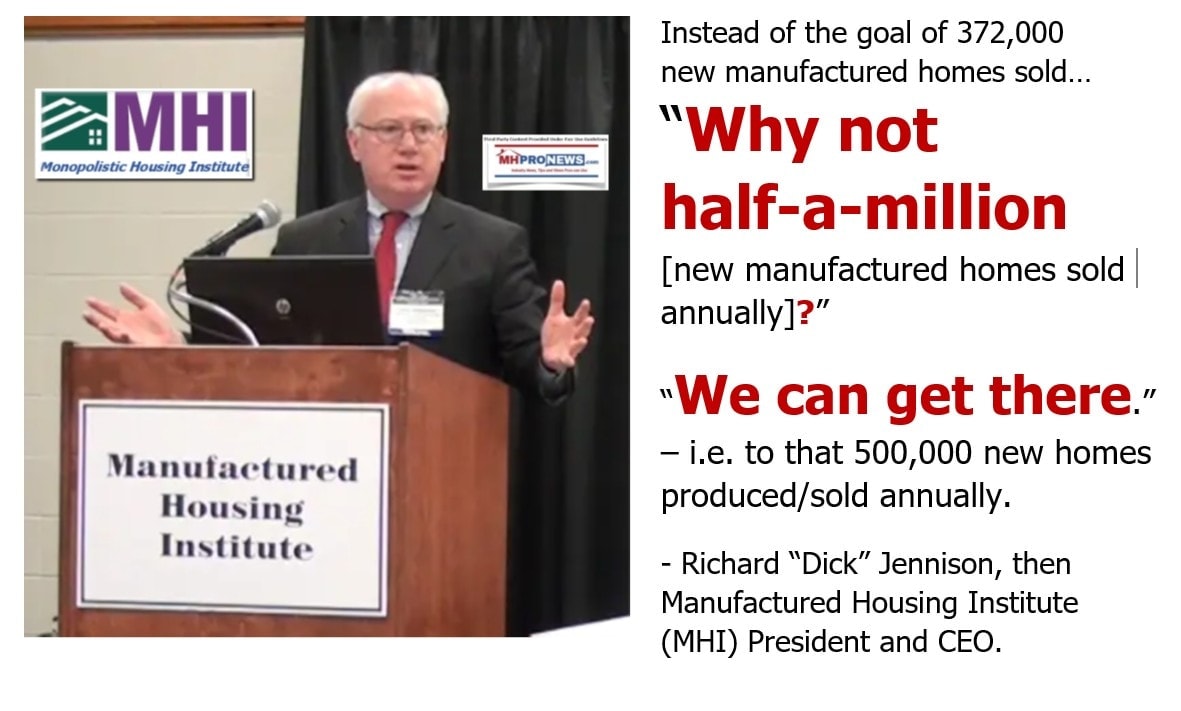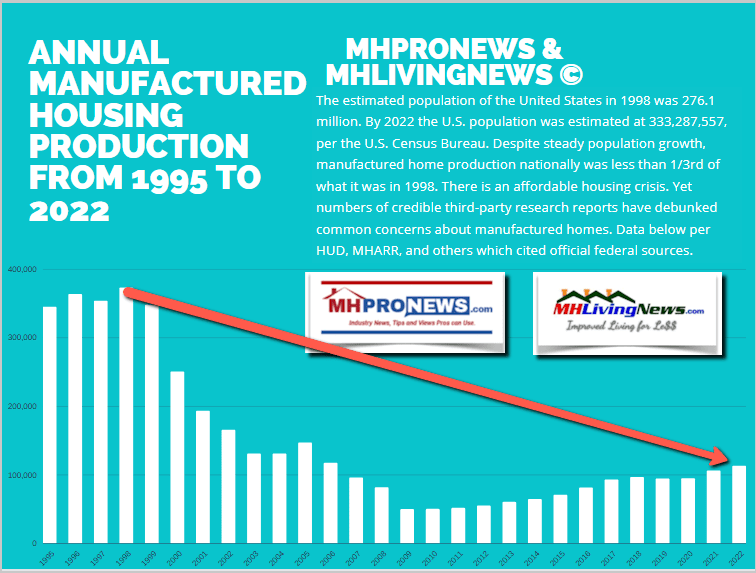 2023 'Excellence in Manufactured Housing Awards' – Claims, Facts, Op-Ed Practically Writes Satirical Saturday Column on Manufactured Housing Institute's Sly 'Awards' – plus, MHVille Markets Update
"Played"-Publicly Traded Manufactured Housing Institute (MHI) Members, MHI News Update Reveals True State of Manufactured Housing Industry in May 2023-Facts, Analysis, and MHVille Markets Update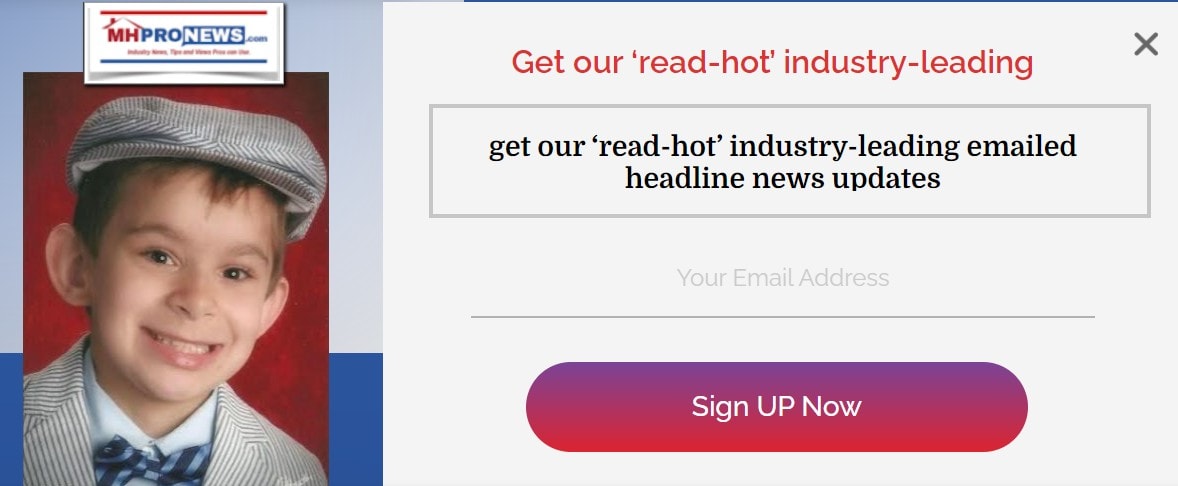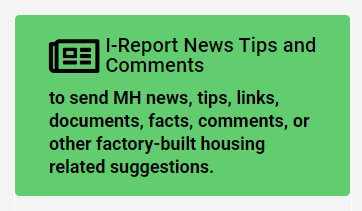 Again, our thanks to free email subscribers and all readers like you, as well as our tipsters/sources, sponsors and God for making and keeping us the runaway number one source for authentic "News through the lens of manufactured homes and factory-built housing" © where "We Provide, You Decide." © ## (Affordable housing, manufactured homes, reports, fact-checks, analysis, and commentary. Third-party images or content are provided under fair use guidelines for media.) (See Related Reports, further below. Text/image boxes often are hot-linked to other reports that can be access by clicking on them.)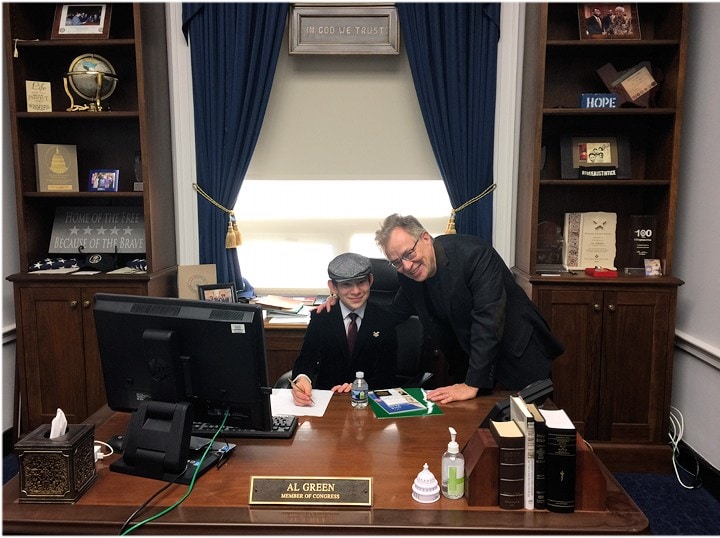 By L.A. "Tony" Kovach – for MHProNews.com.
Tony earned a journalism scholarship and earned numerous awards in history and in manufactured housing.
For example, he earned the prestigious Lottinville Award in history from the University of Oklahoma, where he studied history and business management. He's a managing member and co-founder of LifeStyle Factory Homes, LLC, the parent company to MHProNews, and MHLivingNews.com.
This article reflects the LLC's and/or the writer's position, and may or may not reflect the views of sponsors or supporters.
Connect on LinkedIn: http://www.linkedin.com/in/latonykovach
Related References:
The text/image boxes below are linked to other reports, which can be accessed by clicking on them.
Controversial Biden Housing Plan to 'Improve Equity' Draws Fire from States, Housing Experts – 'More Expensive For People With Good Credit To Buy Houses' Can 'Ravage' Retirement Savings, plus MHMarket Update
'Deception and Misdirection'-MHI Proxy Response to Concerns About "Awards" to BBB D- rated Flagship Communities – 'Facts are Stubborn Things' Commentary; plus Sunday Weekly MHVille Headline Recap
Manufactured Housing Institute 'Urges HUD Address Manufactured Housing in Affirmatively Furthering Fair Housing Rule'–Unpacked Evidence-Views, Tips, MHVille Insights on Manufactured Home Reality
'Trapped' – NBC Spotlights Fannie Mae-Freddie Mac-Fed Roles in 'Making Mobile Homes Less Affordable' Fueling 'Acquisition Spree' as 'New MHC Owners Hike Resident Costs;' plus MHVille Markets Update
Danny Ghorbani – Manufactured Housing's 'Elephant in the Room,' per Prior Manufactured Housing Institute Chair, Exclusive Q&A on Key MHIndustry Issues, plus Sunday Weekly MHVille Headlines Recap
'In the Business World, the Rear-View Mirror is Always Clearer than the Windshield'–Warren Buffett MHVille Leader Showcases Efforts to Renew American Dream; plus Sunday Weekly Headlines Recap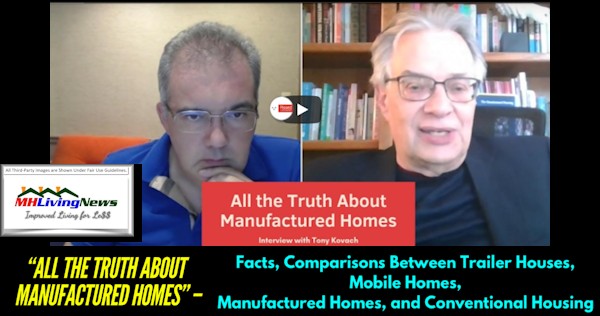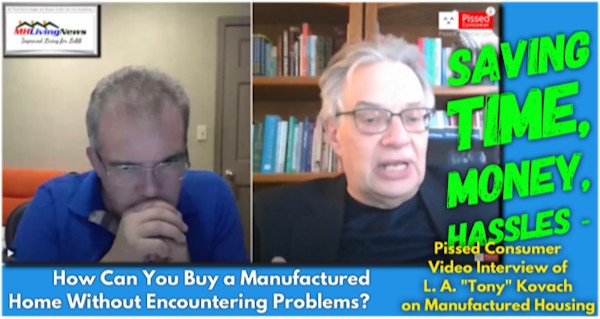 Flagship Communities – Hypocrisy, MHIndustry Corruption? 'Fragmented Industry with High Barriers to Entry and Imbalanced Supply and Demand Dynamics;' Plus Sunday MHVille Weekly Headlines Review
'Affordable Homes for Low Income Must Produce in Factory,' 'Years to Unravel Sabotage,' Grad Students Interest in Manufactured Housing, Factory-Home Solutions; plus Sunday Weekly Headlines Recap
No Kings in America? – John Sherman 'Speaks' to Manufactured Housing