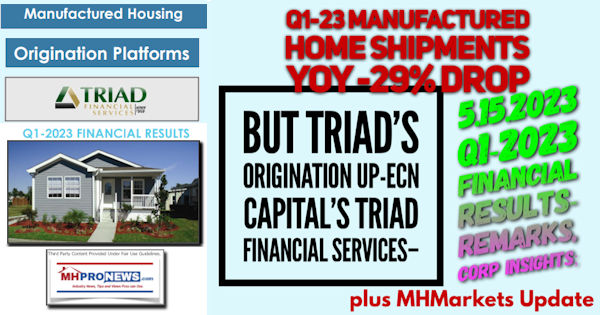 According to the information provided by ECN Capital (ECN) owned Triad Financial Services (TFS or Triad) company shown in this report: "Q1 2023 MH shipments -29%" (i.e.: down 29 percent)" which is in alignment with the data provided by the Manufactured Housing Association for Regulatory Reform (MHARR = "Cumulative production for 2023 is now 21,174 homes, a 28.6% decrease from the 29,670 homes produced over the same period during 2022"). That noted, ECN's Triad notably boasts that "Triad Q1 originations +11%" "significantly outperforming MH shipments." Given that Triad has a reputation for originating loans on generally higher quality credit score customers, it is one of several possible positive takeaways from the report that follows.
No two companies are exactly alike. Analogies between companies inevitably 'limp' at some point. Those stating the obvious disclaimers noted, Triad Financial Services and Legacy Housing – which to some extent are in different aspects of the manufactured housing industry – nevertheless have something in common. That would be that each is bucking the trends reported by the broader manufactured home industry. Both Triad and Legacy are Manufactured Housing Institute (MHI) members. But each have in some ways avoided some of the controversial aspects of that Arlington, VA based national manufactured housing trade association.
Part I of this report will include pages of information from the ECN Capital (ECN) investor relations (IR) 'pitch deck' (PowerPoint presentation).
Part II will provide additional information with more MHProNews analysis and commentary in brief.
Part III is our Daily Business News on MHProNews macro-markets and manufactured housing connected stocks update. Note that: "Dow drops for a fourth straight day on U.S. default worries as debt ceiling talks stumble," per left-leaning CNBC.
With that outline for this report it is time to jump into insights per Triad's parent company ECN Capital (ECN). Each of the quoted items are from the ECN Investor Relations pitch deck.
Part I – Official Financial Results, Per ECN's 5.15.2023 1Q 2023 Report
In no particular order of importance are the following data points about Triad Financial Services (TFS) per their parent company ECN.

Manufactured Housing
Founded in 1959
National lender licensed in 47 states
3,000+ dealer point-of-sale network
Low-cost customer acquisition
Only independent platform with a full product set
Superprime/Prime – Core
Near-Prime – Silver
Subprime – Bronze
~$4.7 billion managed assets
~$1.5 billion annual originations
Manufactured Housing Highlights
Select Metrics (US$, millions)
Q1

2023

Q1

2022

Originations
286.2
286.6
Period end managed portfolios
4,670.0
3,247.9
Origination revenue
18.0
19.8
Servicing & other revenue
24.7
10.4
| | | |
| --- | --- | --- |
| Revenue | 42.7 | 30.2 |
| Adjusted EBITDA | 24.5 | 15.3 |
| Adjusted operating income before tax | 11.2 | 12.6 |
Note that EBITDA means: earnings before interest, taxes, depreciation and amortization.

Manufactured Housing
Triad Q1 originations +11% Y/Y excluding portfolio purchased in Q1 2022
New programs driving growth; Land home, Silver, Bronze & Rental up more than 100% Y/Y
Lower gains on bulk loan sales reduced origination revenue by ~$6.3 million; Will normalize in Q3
Managed assets increased 44% in 2023 to ~$4.7 billion with 83.4% fully serviced
Fully funded for 2023 & into 2024
Q1 RESULTS 
Q1 Adj operating EPS of $0.01 MANUFACTURED HOUSING
Triad Q1 originations +11% Y/Y excluding portfolio purchased in Q1 2022
New programs driving growth; Land home, Silver, Bronze & Rental up more than 100% Y/Y
Lower gains on bulk loan sales reduced origination revenue by ~$6.3 million; Will normalize in Q3
Managed assets increased 44% in 2023 to ~$4.7 billion with 83.4% fully serviced
Fully funded for 2023 & into 2024
Q1 Consolidated Operating Highlights
SUMMARY
Total Originations were $465.1 million for the quarter, including $286.2 million of originations from Manufactured Housing Finance and $178.8 million from RV & Marine Finance
Balance Sheet
KEY HIGHLIGHTS
• Triad managed assets of $4.7 billion at the end of Q1
Notice: the graphic below can be expanded to a larger size.
See the instructions below the graphic below or click the image and follow the prompts.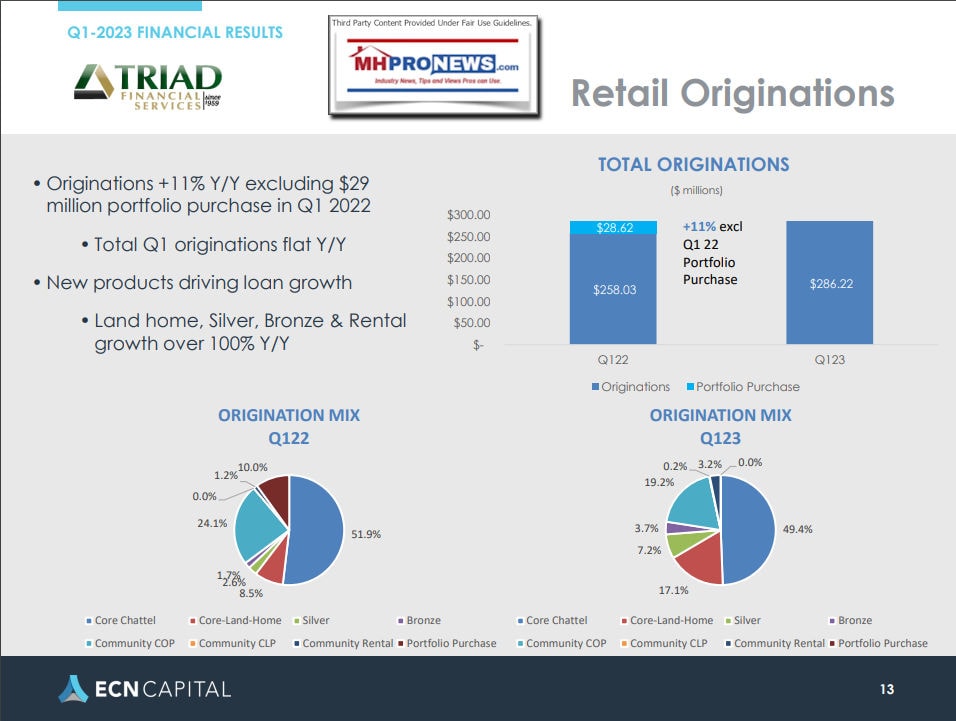 Notice: the graphic below can be expanded to a larger size.
See the instructions below the graphic below or click the image and follow the prompts.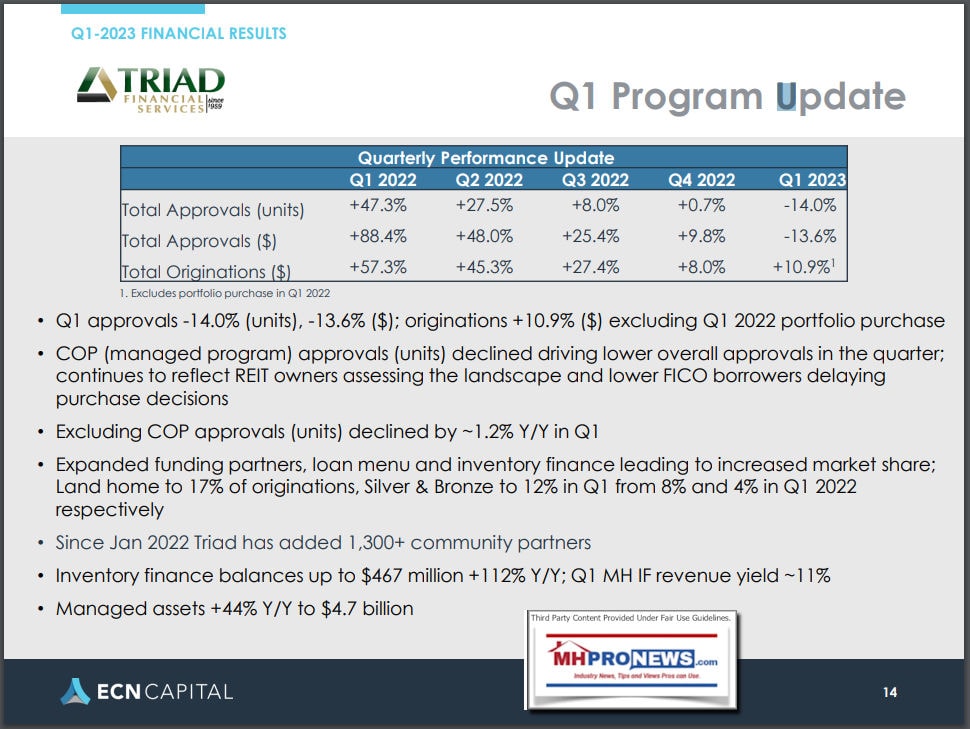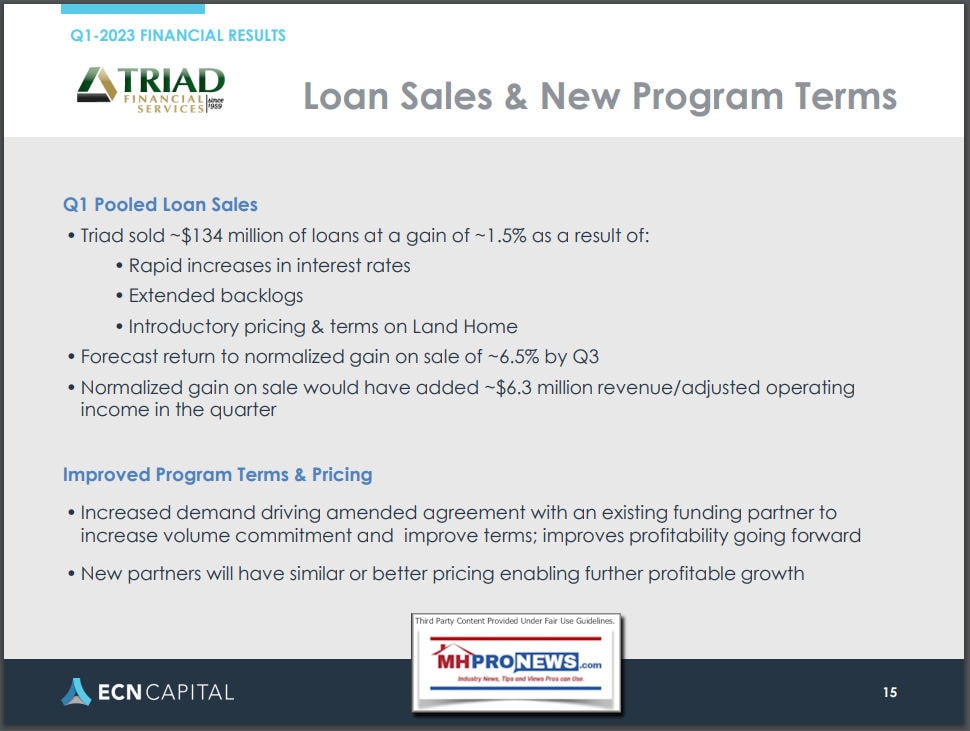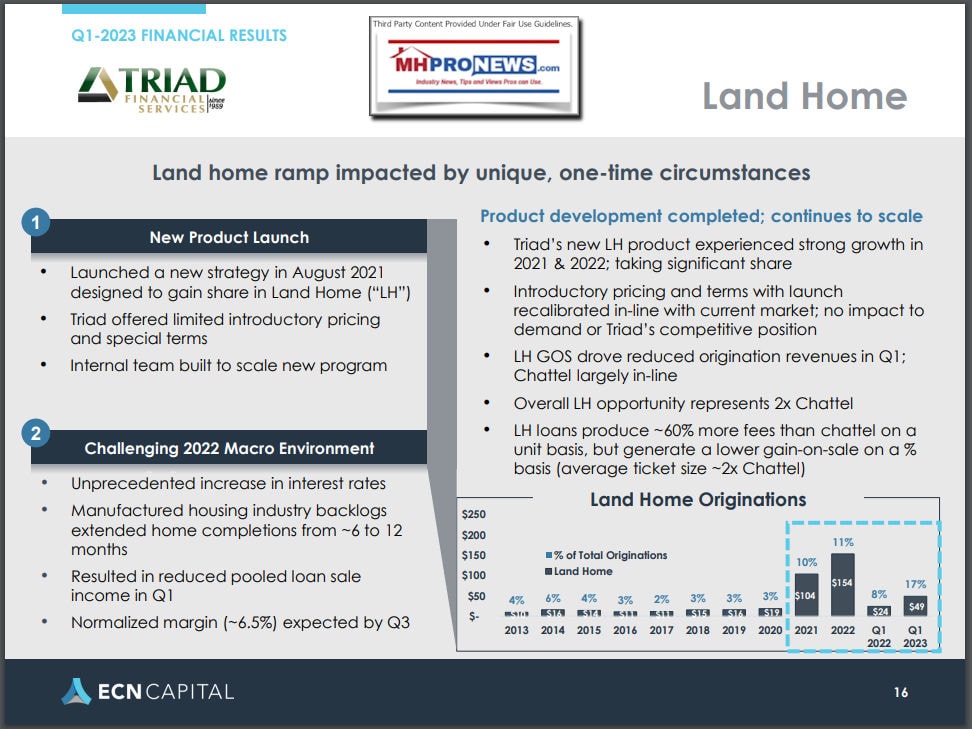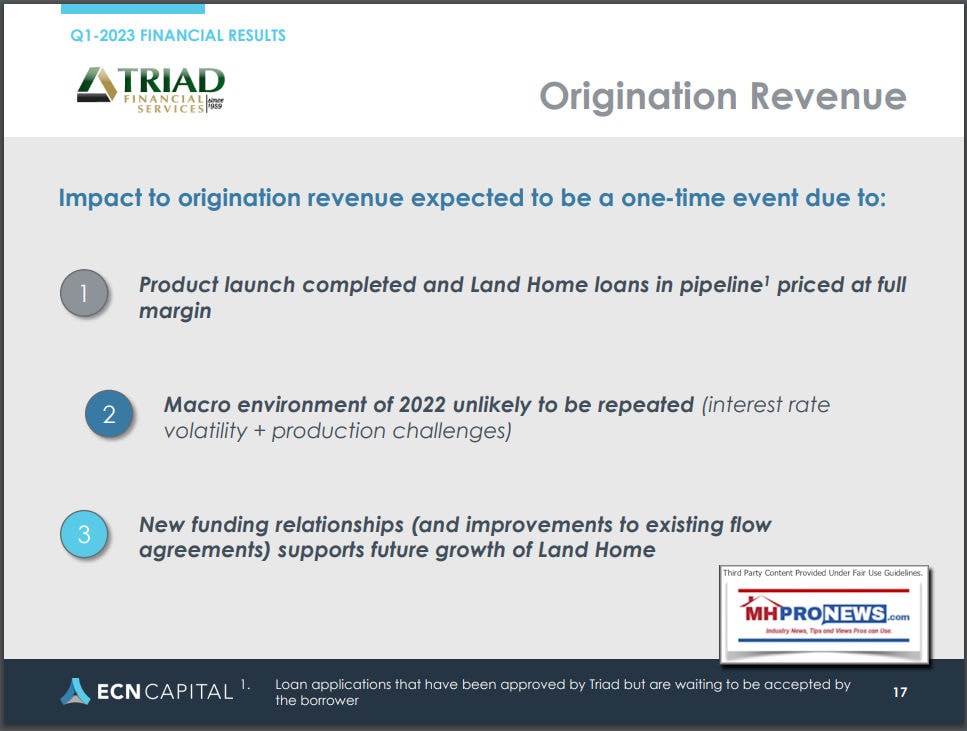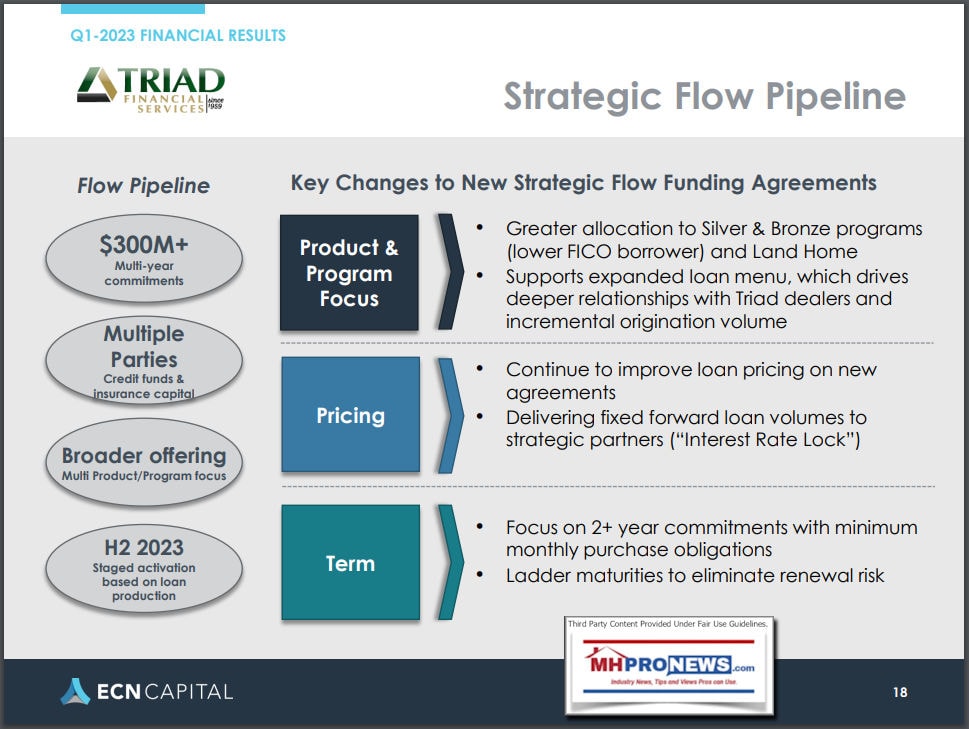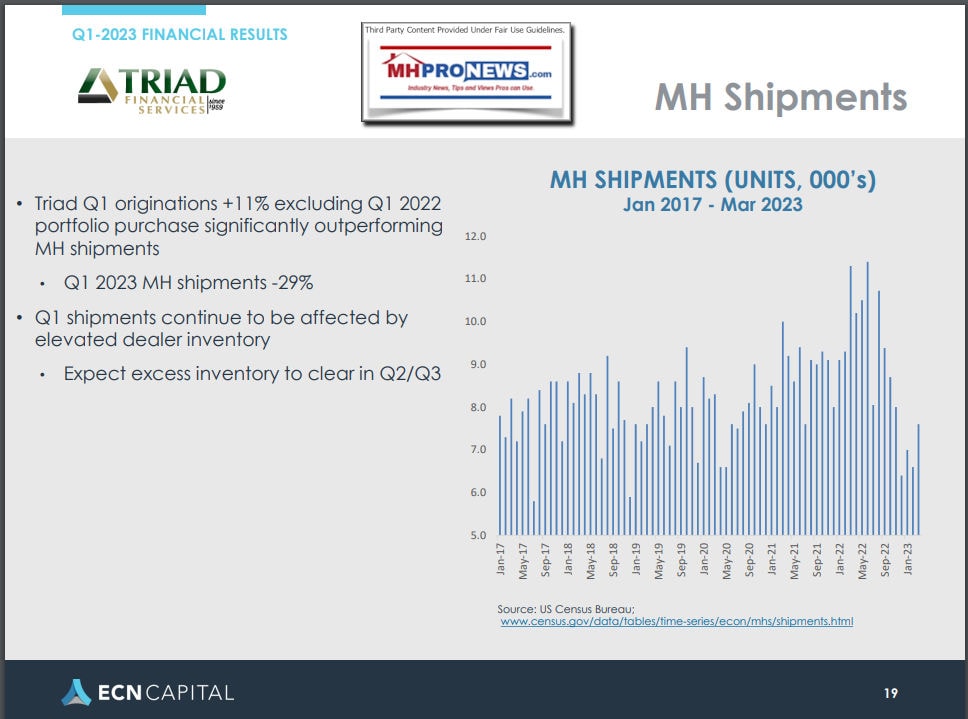 Operating Expenses (US$, thousands)
Q1

2023

Q1

2022

Manufactured Housing Finance
18,158
14,831
Q1 inventory finance assets ("IF") at ~$467 million (MH IF & Red Oak) +112% Y/Y
IF flow partner to launch in Q2 enabling accelerated growth
Triad fully funded for 2023 & into 2024
Additional funding partnerships in advanced discussions; launches expected in Q2/Q3 2023
The entire 1Q – 2023 ECN IR presentation is found as a download at this link here.
Part II – Additional Information with More MHProNews Analysis and Commentary 
As was noted above, the following merits emphasis. Quoting ECN/Triad. Emphasis added by MHProNews. Note that COP for Triad means:  Community Origination Program. As is noted below, these are land-lease communities that Triad has a "managed program" for manufactured home loans.
Q1 2022 portfolio purchase
COP (managed program) approvals (units) declined driving lower overall approvals in the quarter;

continues to reflect REIT owners assessing the landscape and lower FICO borrowers delaying purchase decisions

Excluding COP approvals (units) declined by ~1.2% Y/Y in Q1
Expanded funding partners, loan menu and inventory finance leading to increased market share; Land home to 17% of originations, Silver & Bronze to 12% in Q1 from 8% and 4% in Q1 2022 respectively

Since Jan 2022 Triad has added 1,300+ community partners

Inventory finance balances up to $467 million +112% Y/Y; Q1 MH IF revenue yield ~11%
Managed assets +44% Y/Y to $4.7 billion
Triad was asked by MHProNews to disclose the number of their 'retail' locations, but declined comment, perhaps because the request to the party contacted came too late in the business day. The fact that they have disclosed above adding 1300 new community partners could be understood as retail locations that are obviously not street retailers.
Also worth recapping from the above are these points from page 17 of ECN's Triad segment of their IR pitch deck. Regarding their relatively recently launched land home loan program is the following, not necessarily in the order chosen by ECN/Triad.

Land home ramp impacted by unique, one-time circumstances
Launched a new strategy in August 2021 designed to gain share in Land Home ("LH")
Triad offered limited introductory pricing and special terms
Internal team built to scale new program
Challenging 2022 Macro Environment
Unprecedented increase in interest rates

Manufactured housing industry backlogs extended home completions from ~6 to 12 months"
2022 'Production Backlogs' and Related
Before pressing on, regarding the highlighted item above. MHProNews has heard from the manufactured home street retail segment of the industry. There are self-stated reports of location closures due in part to the long delivery times. Should Congress, state AGs, antitrust regulators, or others decide to actively probe the manufactured housing industry for possible market manipulation, this is an arena that might prove of interest. Vertically integrated firms – those retail centers that are owned by the factory that produced the HUD Code manufactured homes – could prove more resilient in any disruption of the marketplace, including those caused by 'long delivery times.'
Longer delivery times pushed some so-called street retailers into buying more inventory. As rates rose and sales slowed due to what ECN/Triad identified as "borrowers delaying purchase decisions" pressures on marginal but previously profitable independently owned firms could tip them into selling out, closing, etc. Recall that tip to MHProNews regarding a well-placed source asserting knowledge that 21st Mortgage Corporation (BRK) keeps a close eye on cash flow and other developments for retailers. Market contractions – which to some extent could be artificially exacerbated by financial, zoning/placement, supply disruptions, etc. – can be used as part of a moat move by anyone willing to exercise that type of strategy. Recall Kevin Clayton's video recorded remarks, during what could be described as a pro-Berkshire softball interview, quoted below. The fourth paragraph is the punchline, but every phrase quoted ought to be of keen interest to numbers of industry professionals, attorneys, and public officials.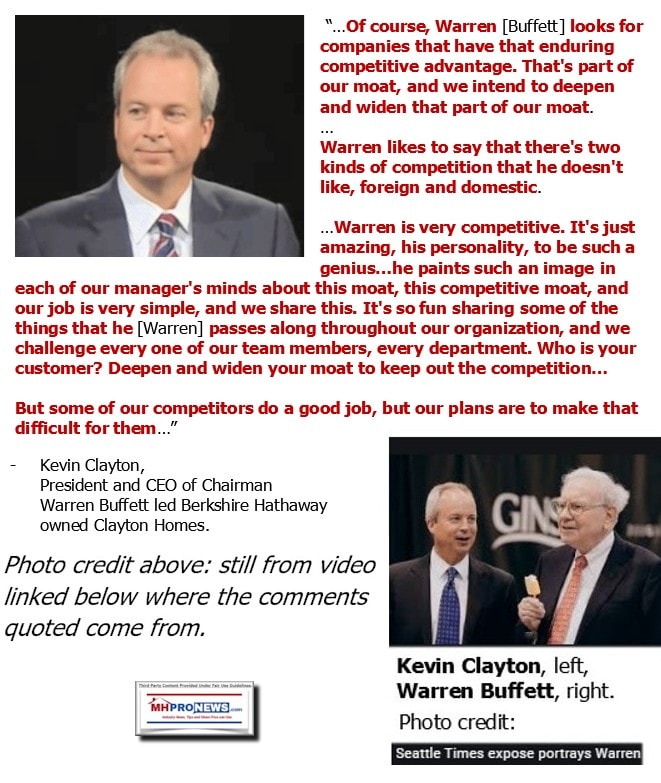 As to interest rates, those with a critical eye to the purported and evidence-based machinations of the Manufactured Housing Institute (MHI) and the role that their 'education' programs may play in the steady consolidation of manufactured housing into ever fewer hands.  As part of a May 24, 2023 email, MHI pitched to their readers the following.
"The Manufactured Housing Education Institute (MHEI) offers a wide variety of courses to further your knowledge and grow your business."
"Whether selling homes as part of a land-home package or in a land-lease community, an educated sales staff is extremely important. The Professional Housing Consultant (PHC) program is essential for manufactured home retailers who need to know what motivates today's home buyers and stay compliant with lending regulations, installation requirements, HUD Code regulations and more. Register for the PHC class here."  That word "here" links to a page on the MHI website that is NOT behind a "members only" login or paywall. Per MHI: "Registration Fee: $199."
MHI's 990 reveals several aspects of the organization that clarify that they get revenue from 'education' and 'events.'
Over $1 Million! Manufactured Housing Institute Doc Drop! Top MHI Staff Pay Revealed. Additionally, Unpacking Evidence of Perjury, Fraud, Other Possible Federal Crimes; plus MHVille Stocks Update
To the point of rising interest rates, anyone that recalls the President Jimmy Carter era and the 1980s know that interest rates were far higher then than now. Nevertheless, manufactured housing sales were much higher then than now.
Notice: the graphic below can be expanded to a larger size.
See the instructions below the graphic below or click the image and follow the prompts.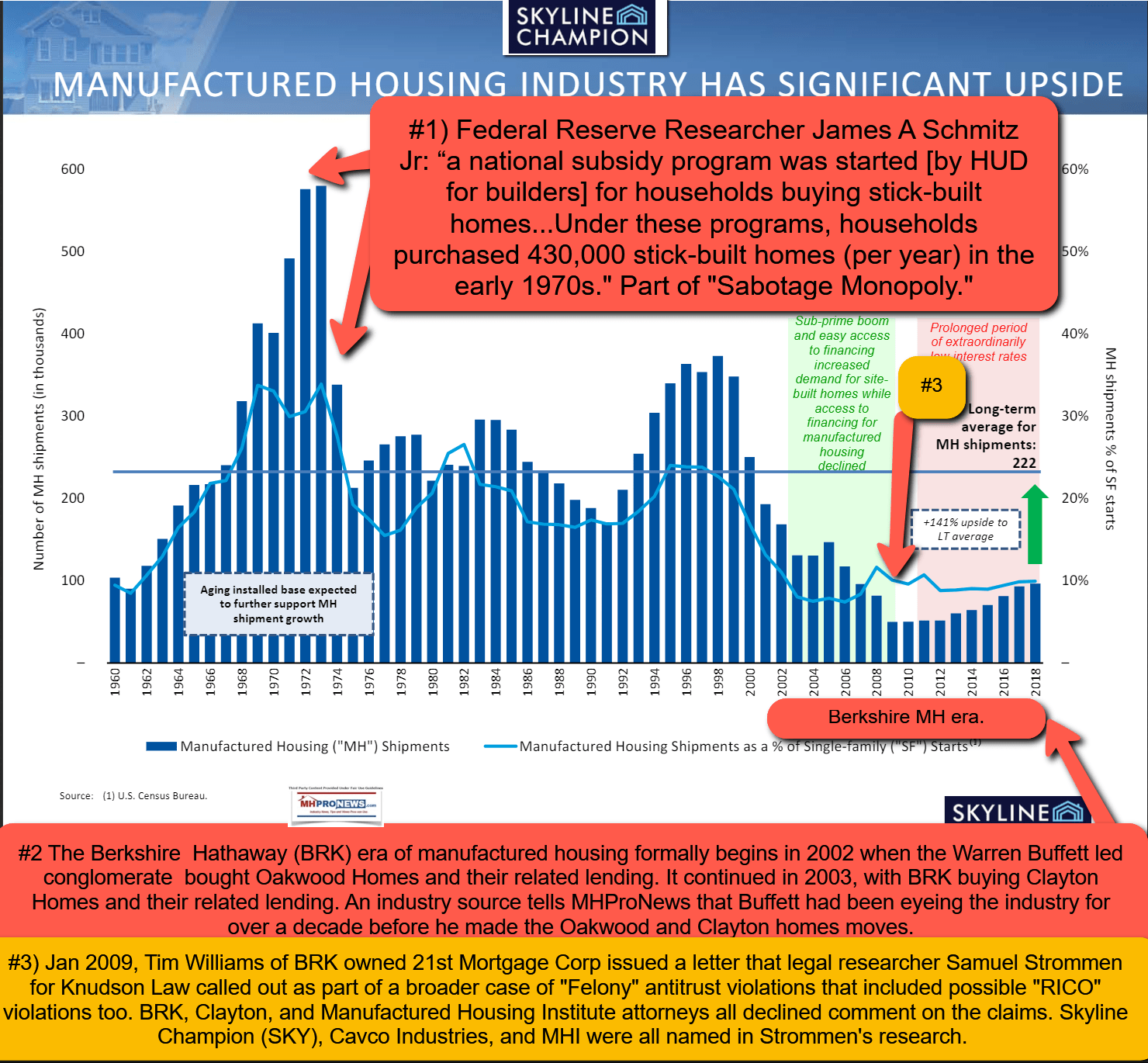 Longtime MH Retail Sales Manager Asks Manufactured Home Leaders – Why are Manufactured Housing Production Levels Today About Half of 1980s When Interest Rates Hit 20.5% APR on ARM Loans?
Learning how to discuss with retail customers interest rates and other concerns they have is part of successful sales in manufactured housing, or any other industry for that matter that faces similar wrinkles.  Yes, some people do delay purchases during periods of 'uncertainty.' But when a customer arrives at a retail center, they are to some degree asking to be sold. While all sorts of retailers – boat, RV, automotive, etc. – have day dreamers and 'tire kickers,' if someone is renting (for example) and rents are rising, it should be apparent that the proper guidance and engagement with a well trained sales professional should result in more closed deals.
In an arguably related remark, Legacy Housing's President and CEO Duncan Bates remarked that sales people have gone in numbers of cases from being order takers to having to sharpen their sales skills once more.
Legacy Housing Financial Results and Earnings Call 1Q 2023-'Sales Slowed but Margins Improved' Duncan Bates Boasts of Manufactured Housing 'Business Tailwinds' Official Data-Analysis
Restated, each publicly traded firm that produces information relevant to the manufactured housing industry can be viewed on several different and interrelated levels.  When public officials, for example, federal antitrust enforcement attorneys and staff, fail to intervene in a market when evidence of possible violations exists, over time, companies operating in that market recognize that they have to adapt to those market conditions.  During the Trump era, per two different sources to MHProNews, top antitrust officials met to discuss the manufactured housing market. Antitrust enforcers have been mute on that point. To illustrate that point, Bing's AI chat was asked the following.
Q: Did Trump Administration era antitrust officials meet to discuss manufactured housing industry?
The 4th link above is to this report linked below.
Justice Department Antitrust "Collusive Schemes" Probe Announced – Businesses Warned Against "Anticompetitive Conduct" – Housing Included – Exploring Manufactured Home Industry Effects; plus MHMarkets
Pivoting back to ECN/Triad's information.  When Triad stated:
Q1 shipments continue to be affected by elevated dealer inventory
That ought to be framed in the broader context. It can be argued that MHI has yet to address several internal industry issues in a meaningful and substantive way that might resemble the truth about the marketplace.  As MHProNews has repeatedly pointed out, and others in the MHI 'amen corner' of what passes for much of the balance of MHVille trade media, the market shifted dramatically in the destination of manufactured housing orders in 2022 vs. 2021 and 2020, per MHI's own data.
Quoting MHI's "Quick Facts" for 2022, 2021, and 2020.
Production:
49% of new manufactured homes are placed on private property and 51% are placed in manufactured home
communities. (2022)
69% of new manufactured homes are placed on private property and 31% are placed in manufactured home
communities. (2021)
63% of new manufactured homes are placed on private property and 37% are placed in manufactured home
communities.
Of course, it must also be stressed that some 'facts' in MHI's Quick Facts are arguably not accurate. It may take an expert to see what is or isn't true, for instance, on the count of manufactured home communities, MHI has understated that count for years. For more on that see the linked reports below. It will be interesting to see if MHI will opt to correct those apparent inaccuracies on the community count in their 2023 'quick facts' or not.
Fixing Errata – Lincoln Institute's George W. "Mac" McCarthy Corrects Manufactured Housing Industry Factual Record on Manufactured Home Communities, plus Sunday Weekly MHVille Headlines Recap
Federal officials have asserted that the total of manufactured home land lease communities (MHCs – sometimes inaccurately a.k.a. 'mobile home parks') of all sizes is over 50,000. Yet MHI has errantly reported totals of MHC locations in the thousands below that figure, including claiming in their 2020 quick facts that the total was some 40,000.  Quoting MHI: "Almost 40,000 land-lease communities." They had previously claimed that the total was 38,000. To those who monitor such 'information' but don't have a solid understanding of manufactured housing in general, or the manufactured home community sector more particularly, it may appear that the MHC count is growing. But it is actually falling in the 21st century. It is but one more example of the problems associated with MHI and several specific MHI brands. This flashback below reflects several errors in MHI reporting.  Oddly, MHI is at times contradicted by their own members published reports, which is why a careful look at figures from Triad or others is warranted. A company's claims may be more accurate than MHI's.
Notice: the graphic below can be expanded to a larger size.
See the instructions below the graphic below or click the image and follow the prompts.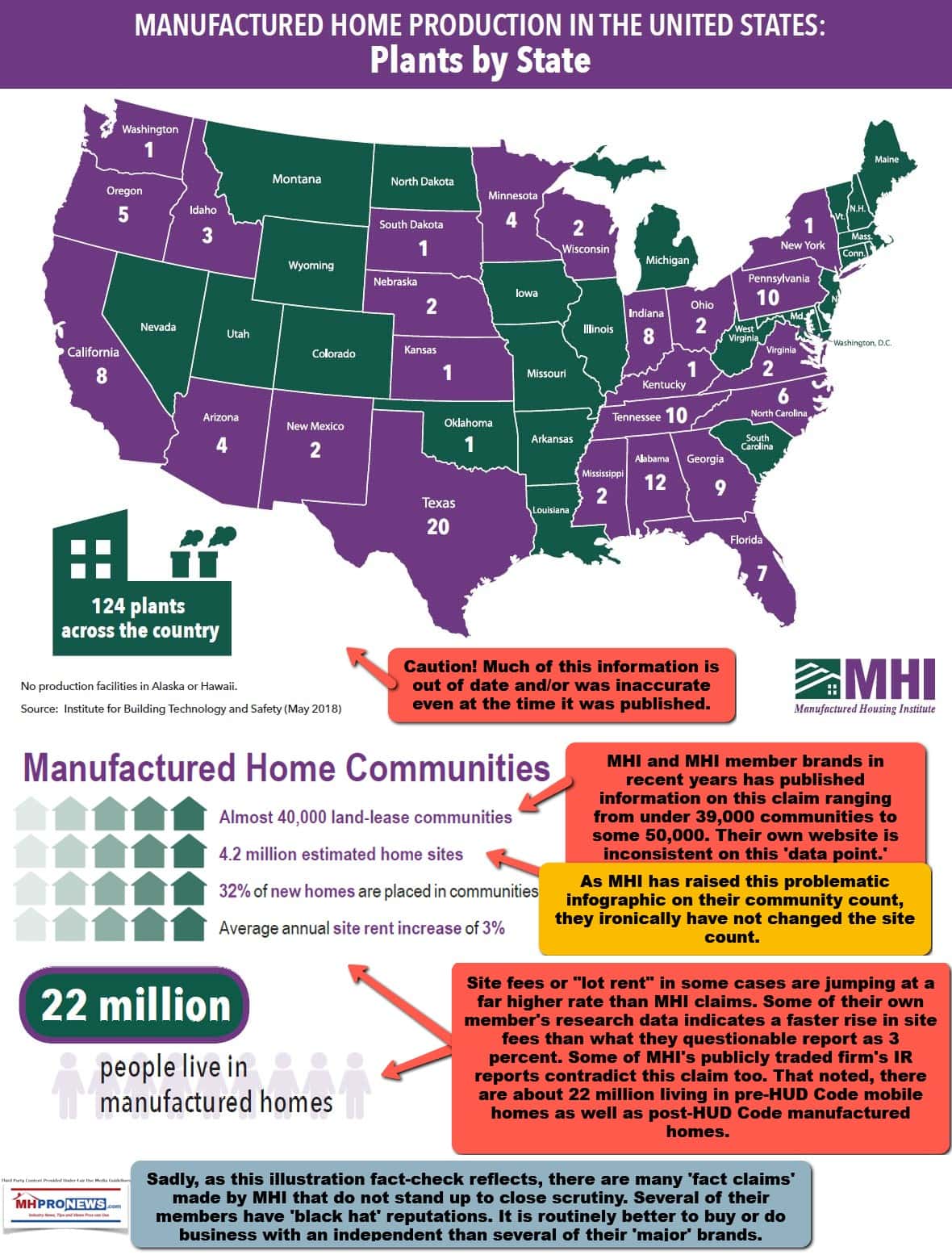 Triad is a potential example of a firm with a general 'white hat' reputation that is operating within a trade group that oddly hails so-called 'black hat' operations that have a poor reputation with the Better Business Bureau (BBB) or other consumer review organizations.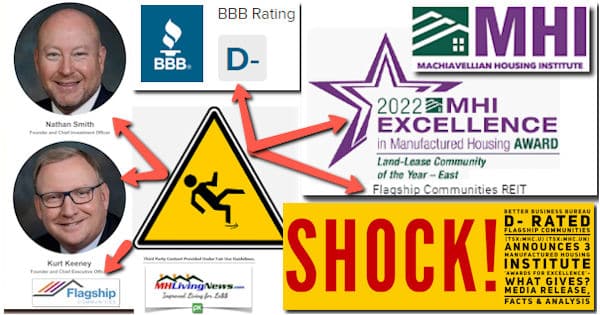 MHProNews may return to more insights from the ECN Capital (Triad parent) IR pitch and from other sources in the days ahead.  But in summary, Triad's data demonstrates that a firm can buck the trends successfully. Triad is also an example of why the Government Sponsored Enteprises (GSEs) of Fannie Mae and Freddie Mac arguably have no valid excuses for not fulling their Duty to Serve (DTS) manufactured housing, but that is another story for another time.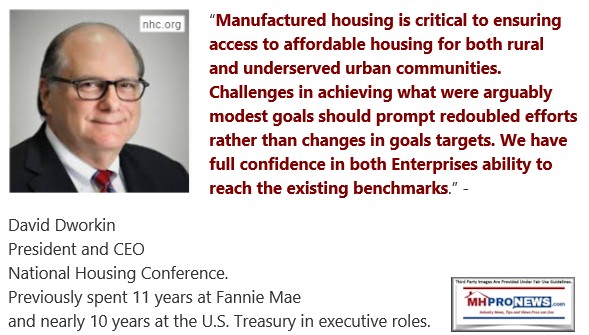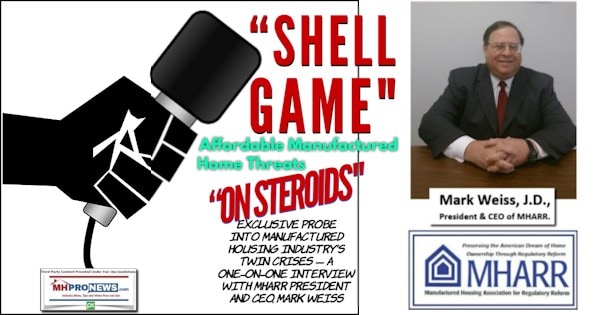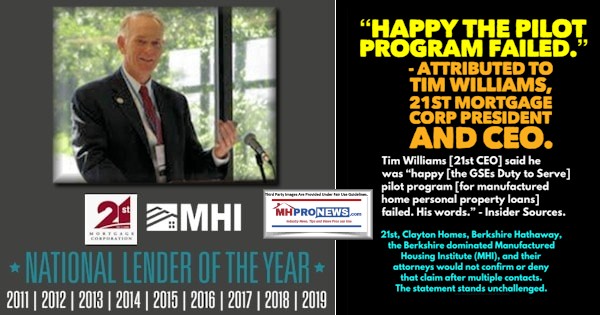 As with other manufactured housing industry tracked stocks, MHProNews has no position in this or other publicly traded firms. More to come from MHVille and beyond, stay tuned.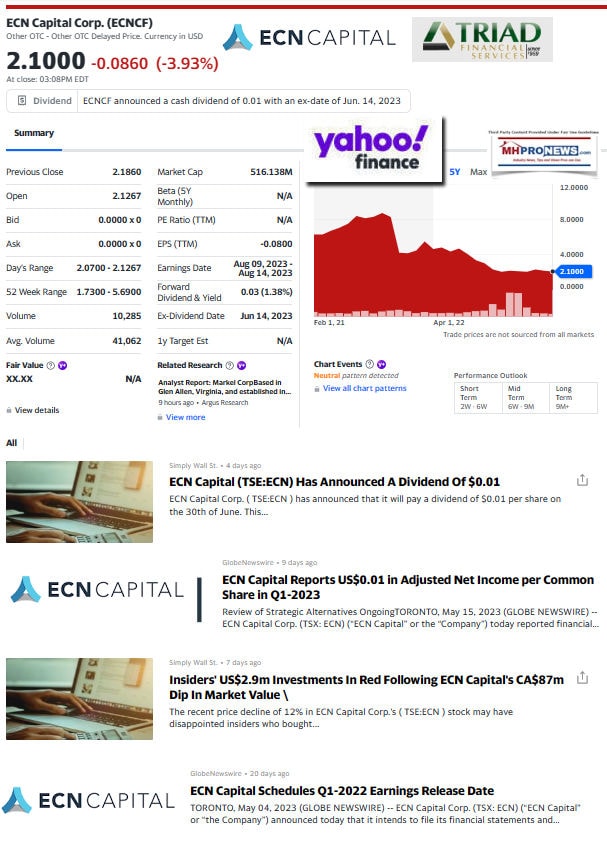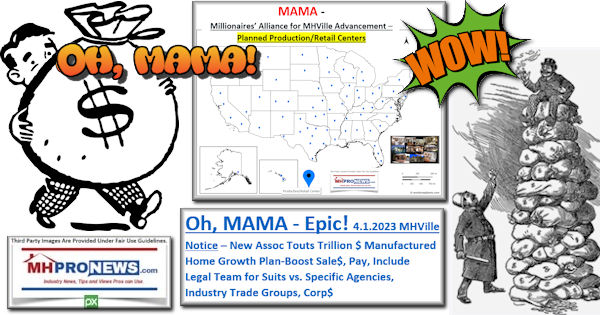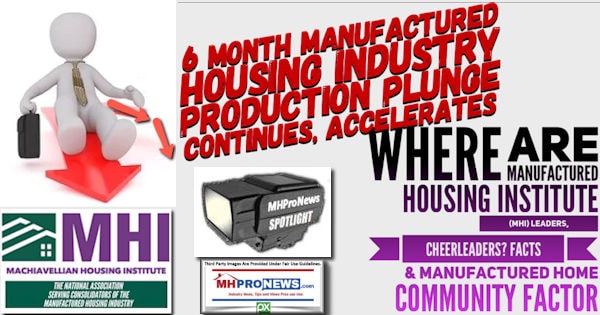 'Texas Production Through March was 5368 in 2022, 3455 in 2023=35.6% Drop. Hard to See That as Anything but Trouble" TRERC Admits MHProNews 'Correct-This is Sentiment Survey;' Plus MHMarkets Update
Andrew Justus, J.D., Niskanen Center Housing Policy Analyst, Hill Op-Ed Asks and Answers – 'What's Holding Back Manufactured Homes?' Sunday Weekly MHVille Headlines in Review
Berkshire Bank's Raymond Leech Says "Stunning Development" – Tim Williams-21st Mortgage Corp (BRK), DTS, FHFA, GSEs, Zoning, Manufactured Housing Enhanced Preemption-MHIA; plus MHMarkets Update
'Potential Homebuyers on Sidelines Increasing Demand for Rentals' – Which Markets UP, Metros Where Rents Fell – What Data Tells Affordable Manufactured Housing Pros; plus MHVille Stocks Update
PS: a fair question is – how can any truth seekers believe MHI after they put out drivel like they did in this recent statement they made?
'HUD Takes Action To Highlight and Research Land Use, Zoning Reforms' – Declares Manufactured Housing Institute (MHI) – 'HUD Highlighting Promising Reforms;' plus MHVille REITs, Stocks Update
Law Journal, Attorney General Statement on 'Judgement Against Manufactured Home Community Operators for Unfair-Illegal Rental Practices" – Has Momentum Grown for Legal Action vs 'Predators?'
Bing's AI Chat Function Answers-Why is the Manufactured Housing Industry Underperforming? Are Manufactured Homes (MH) a Good Value? More MHIndustry Questions Answered – Facts, Tips, Research Views
'Irreparable Harm,' 'Public Interest,' 'Legal Defects,' 'DOE Seeks to Avoid Judicial Review' Cited by MHI-TMHA Attorneys v Dept of Energy – Pleadings and Developments; plus MHVille Stocks Update
"Played"-Publicly Traded Manufactured Housing Institute (MHI) Members, MHI News Update Reveals True State of Manufactured Housing Industry in May 2023-Facts, Analysis, and MHVille Markets Update
Controversial Biden Housing Plan to 'Improve Equity' Draws Fire from States, Housing Experts – 'More Expensive For People With Good Credit To Buy Houses' Can 'Ravage' Retirement Savings, plus MHMarket Update
Bing Artificial Intelligence: James Schmitz Jr. on Manufactured Housing, Tom Hardiman on MHI Plan, How Many CrossMods? Manufactured Home Industry Facts, MHI-MHARR; plus MHVille Markets Update
Part III – Daily Business News on MHProNews Markets and Headline News Segment
The modifications of our prior Daily Business News on MHProNews format of the recap of yesterday evening's market report are provided below. It still includes our signature left (CNN Business) and right (Newsmax) 'market moving' headlines. The macro market moves graphics will provide context and comparisons for those invested in or tracking manufactured housing connected equities.
In minutes a day readers can get a good sense of significant or major events while keeping up with the trends that are impacting manufactured housing connected investing.
Reminder: several of the graphics on MHProNews can be opened into a larger size. For instance: click the image and follow the prompts in your browser or device to OPEN In a New Window. Then, in several browsers/devices you can click the image and increase the size. Use the 'x out' (close window) escape or back key to return.
Headlines from left-of-center CNN Business – from the evening of 5.24.2023
The so-called X-date
The US Treasury Department in Washington, DC, on May 8, 2023. – Treasury Secretary Janet Yellen said Monday that there is a "big gap" between the positions of US President Joe Biden and Republican leaders when it comes to a decision on raising the debt limit.
Time is running out for a debt ceiling deal, yet one key player is still 'confident' disaster will be averted
Fed officials debated need for rate hike at last meeting, minutes show
Abercrombie & Fitch shares rise 30% on stellar earnings report
Senate Democrats write to Google over concerns about abortion-seekers' location data
'It's going to be catastrophic:' The debt ceiling standoff is worrying for some Americans
From Social Security to your investments, here's how to prepare for a US default
Filled Broadway seats hit pre-pandemic levels in first full season since Covid
FTC investigates America's baby formula shortages
Don't expect markets to rejoice if a deal is reached on the debt ceiling
In a new BMW sedan, drivers can change lanes using just their eyes
Meta's business groups cut in latest round of layoffs
Target removing some Pride merchandise after anti-LGBTQ threats against staff
No surprises here: These are the top US consumer complaints, from cars to credit cards
Lowe's, scrambling for growth, has found a hot market: rural America
Netflix begins password sharing crackdown in the US
Will the debt ceiling debate finish the Fed's inflation fight?
Deutsche Bank and Citi admit anti-competitive activity in UK bond market
UK inflation surprises for all the wrong reasons
Cathay Pacific fires cabin crew over alleged discrimination against passenger from China
Russia predicts trade with China will hit record $200 billion in 2023
'Go to hell, Shell.' Climate protests disrupt oil company's shareholder meeting
How the technology behind ChatGPT could make mind-reading a reality
Former Fed Chair Bernanke argues economy must slow further to bring down inflation
Notice: the graphic below can be expanded to a larger size.
See the instructions below the graphic below or click the image and follow the prompts.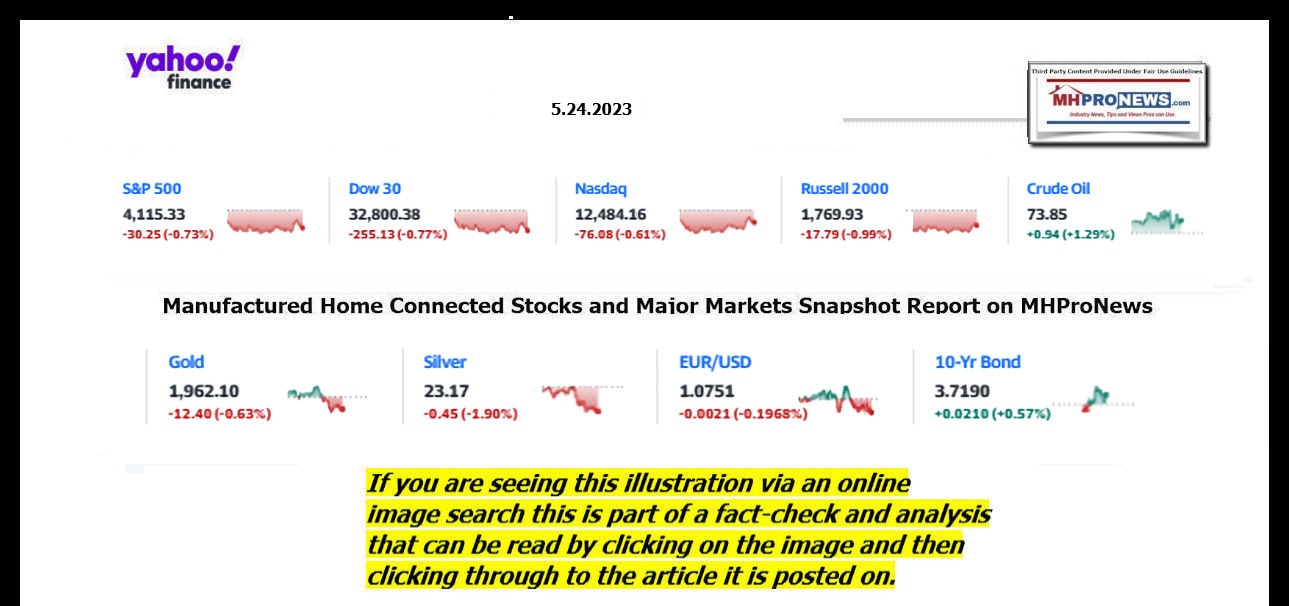 Headlines from right-of-center Newsmax 5.24.2023
Jumping In: DeSantis Files Paperwork for GOP's 2024 WH Primaries
Rick Perry: DeSantis Twitter Announcement 'Pretty Hip'
Huckabee: DeSantis Must Explain 2024 Decision | video
Whistleblower Attorney: Testimony Truthful | video
Allen: Hard to Trust Biden Administration | video
Meuser: Dems Want 'Blank Check' on Spending | video
FBI Whistleblower: Agency's Upper Echelon Must Go
Megyn Kelly: Fox 'Terrified' of Losing Tucker Viewers | video
Burgess: House Did Its Job on Debt Limit | video
Steve Forbes: Massive Debt Crippling Economy | video
Roger Stone: Trump 'Existential Threat' to Establishment | video
Alford: Biden Must 'Stay Off' Farmers | video
CNN Poll: 6 in 10 Say Cut Spending With Debt Limit Rise
A majority 60% of Americans say spending cuts should accompany a debt ceiling increase, according to a CNN poll…. [Full Story]
Biden Spending Freeze Would Save $1 Trillion: Treasury
McCarthy Sends Debt Negotiators to White House; Sides 'Far Apart'
Steve Forbes to Newsmax: Massive Debt Crippling Economy
Social Security, Health Care Likely Default Casualties
Trump Lawyers Want AG Meeting Over Unfair Treatment
Attorneys for Donald Trump complained to Attorney General Merrick [Full Story]
Florida Gov. DeSantis Files '24 GOP Primary Campaign
Florida Gov. Ron DeSantis entered the 2024 presidential race [Full Story]
DeSantis Launching '24 Run Wednesday With Musk on Twitter |video
Musk Wants Someone 'Fairly Normal' for President in '24
Allan Ryskind: The DeSantis-Trump Donnybrook |video
Megyn Kelly to Newsmax: Fox News 'Terrified' of Post-Tucker Viewer Loss
Journalist and commentator Megyn Kelly told Newsmax that her old [Full Story] | video
Trump: Turn Off Laura Ingraham, Watch Greg Kelly
Fox News Employee Handbook Embraces Woke Gender Rules
Bongino: Fox Firing Tucker 'Enormous Catastrophic Mistake'
Wall Street Sinks as Investors Eye Debt Ceiling
Wall Street fell again Wednesday as stocks tumbled worldwide on [Full Story]
Catholics Slam MLB Team's Capitulation to 'Hate Group'
The Los Angeles Dodgers took another swing and this time they [Full Story] | Platinum Article
Pro-Life Group Hails DeSantis' Record
Susan B. Anthony Pro-Life America hailed Florida Gov. Ron DeSantis' [Full Story] | video
NAACP's Florida Travel Ban 'Pure Partisan Activism'
Florida's sunshine, beaches, and theme parks typically sell the [Full Story] | Platinum Article
Tucker Carlson Rebuilds Studio Fox Dismantled
Fox News reportedly dismantled Tucker Carlson's Maine studio earlier [Full Story] | video
WHO Condemns Russia's Aggression in Ukraine
The World Health Organization assembly passed a motion on Wednesday [Full Story]
Related
Viktor Orbán: 'No Victory' for Ukraine on 'Battlefield'
Pentagon: Ukraine Has 'Strong Hand' for Counteroffensive
Kremlin: Ukraine Border Raiders Using Western-Made Military Hardware
EU: On Track for 1M Ammo Rounds to Ukraine
Medvedev: Western Arms to Ukraine Heighten Risk of 'Nuclear Apocalypse'
Fed Economists Still Expect 'Mild Recession'
US Federal Reserve economists still expected a "mild recession" at [Full Story]
On Anniversary of Uvalde, Biden Urges More Gun Control
As families and loved ones mourn the unimaginable loss of 19 children [Full Story]
Ethics Committee Ends Swalwell Probe: No Action Taken
The House Ethics Committee informed Rep. Eric Swalwell, D-Calif., [Full Story]
Luna Seeks $16M Fine Against Adam Schiff
Florida GOP Rep. Anna Paulina Luna has filed a privileged resolution [Full Story]
Texas AG Paxton Likely Broke Laws: GOP Investigation
A Republican-led investigation on Wednesday accused Texas Attorney [Full Story]
IRS Opened Matt Taibbi Probe Amid Twitter Files Exposé
Twitter Files journalist Matt Taibbi revealed he is under [Full Story] | video
'Queen of Rock 'n' Roll' Tina Turner Dies at 83
Tina Turner, the singer who left a hardscrabble American farming [Full Story]
MAGA PAC Ad: DeSantis Fought Trump's Agenda
The Make America Great Again PAC on Wednesday chided Florida Gov. Ron [Full Story]
Inflation Not Declining as Fast as Fed Would Like
Federal Reserve officials were divided earlier this month on whether [Full Story]
CNN: 53 Percent of Republicans Support Trump
More than half of Republican voters support former President Donald [Full Story]
Convicted Murderer Murdaugh Faces New Charges
Convicted murderer Alex Murdaugh is facing federal charges for the [Full Story]
FTC Probing Abbott, Other Formula Makers for Collusion
The U.S. Federal Trade Commission is investigating whether [Full Story]
Musk Signals Twitter's HQ May Leave San Francisco
Twitter might not keep its headquarters in San Francisco forever, its [Full Story]
Texas Ten Commandments Bill for Schools Dies in House
A bill that would have required Texas public school classrooms to [Full Story]
Oakland A's Reach Tentative Deal on Las Vegas Stadium
Nevada Republican Gov. Joe Lombardo announced Wednesday that his [Full Story]
JPMorgan Can Sue Former Exec Over Epstein Ties: Judge
A U.S. judge Wednesday rejected former JPMorgan Chase & Co. executive [Full Story]
Haley Spot Pans DeSantis as 'Echo' of Trump
Nikki Haley's presidential campaign, through a new advertising spot, [Full Story]
Biden Spending Freeze Would Save $1 Trillion: Treasury
President Joe Biden offered to freeze government spending at current [Full Story]
Target Says It's Pulling Back Some Pride Merchandise
Target said Wednesday that it's removing some of its Pride Month [Full Story]
Senior FBI Official Admits She Didn't Read Durham Report
A top FBI official appeared before a House panel and admitted that [Full Story]
Trump May Benefit From Growing GOP Primary Field
The more the 2024 Republican presidential primary field increases, [Full Story]
Old Camera Found in the Deep Ocean Reveals Horrifying Titanic Photos
DOJ to Clamp Down on Short Sellers
Yellen Calls Greater Bank Concentration Unwise
Bill Donohue: Drugs, Hard Core Criminals Real Threat to America
Yields on Treasury Bills Maturing in June Jump to 7%
More Finance
Health
Boost Your Health in Just 5 Minutes Daily
We can all spare five minutes throughout the day. Instead of mindlessly scrolling through social media posts, simply moving and breathing instead can reap huge health benefits. While many people say their busy schedules don't allow time for formal exercise, experts say a…… [Full Story]
Women More Likely Than Men to Die After Heart Attack
Illegal Use of Ketamine Rising Sharply in US
New Study Links Daily Multivitamins to Memory Boost
Jeff Bridges Reveals Tumor Has Shrunk to 'Size of a Marble'
Notice: the graphic below can be expanded to a larger size.
See the instructions below the graphic below or click the image and follow the prompts.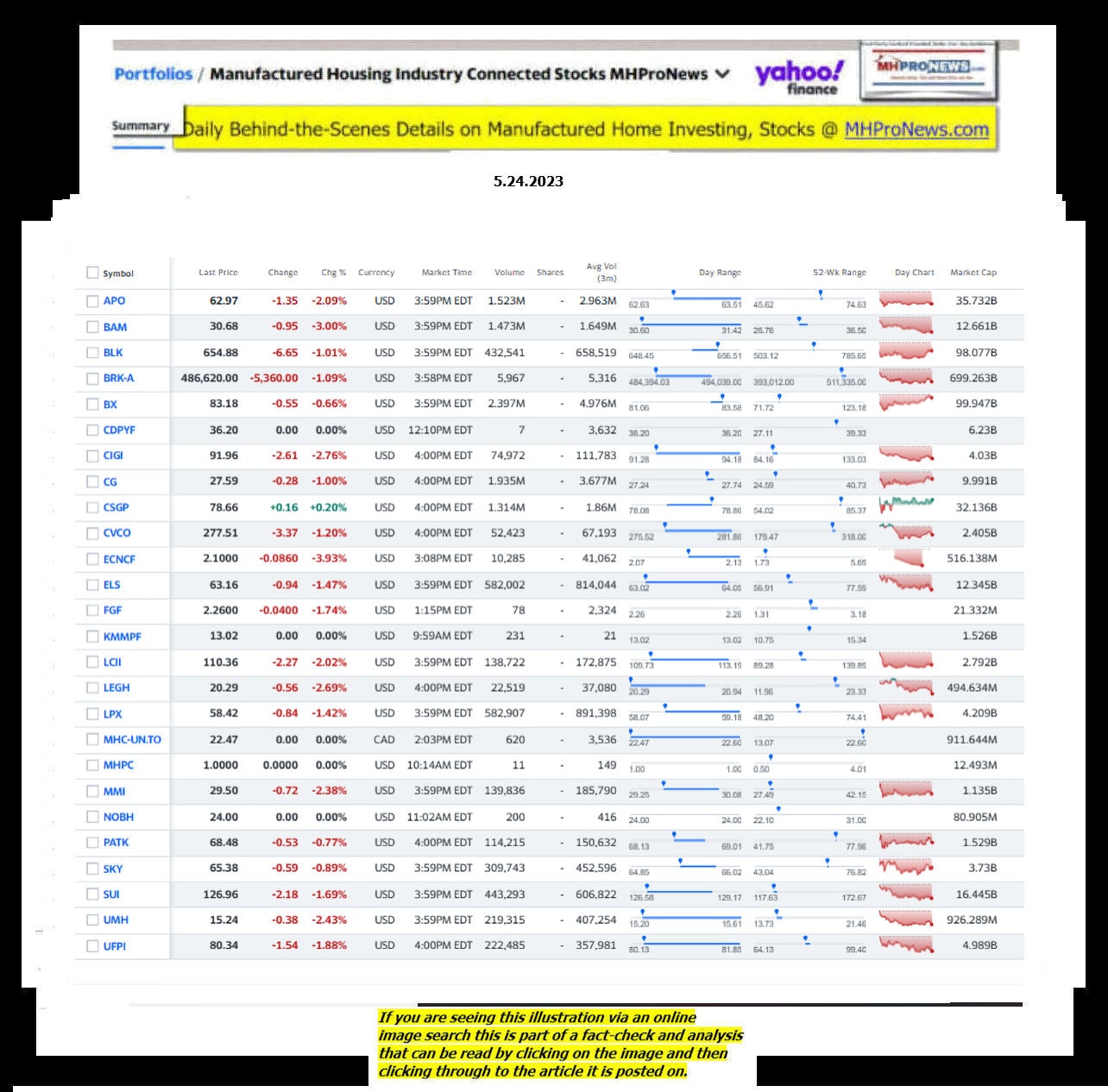 2022 was a tough year for many stocks. Unfortunately, that pattern held true for manufactured home industry (MHVille) connected stocks too.
See the facts, linked below.
'Stomach Churning Year' CNN-Wall Street 'Forget 2022' Down Year – Major Equities Data Compared to Manufactured Housing Stocks, Manufactured Home Community REITs, Performance for Year by Company
====================================
Updated
NOTE 1: The 3rd chart above of manufactured housing connected equities includes the Canadian stock, ECN, which purchased Triad Financial Services, a manufactured home industry finance lender.
NOTE 2: Drew changed its name and trading symbol at the end of 2016 to Lippert (LCII).
NOTE 3: Deer Valley was largely taken private, say company insiders in a message to MHProNews on 12.15.2020, but there are still some outstanding shares of the stock from the days when it was a publicly traded firm.  Thus, there is still periodic activity on DVLY.
Note 4: some recent or related reports to the REITs, stocks, and other equities named above follow in the reports linked below.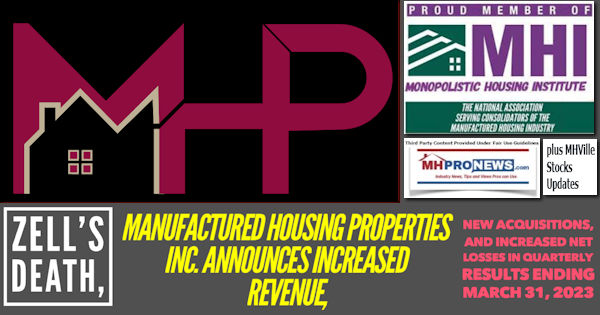 Legacy Housing Financial Results and Earnings Call 1Q 2023-'Sales Slowed but Margins Improved' Duncan Bates Boasts of Manufactured Housing 'Business Tailwinds' Official Data-Analysis
Manufactured Housing Institute Claims 'Effective Branding' for 'Manufactured Housing'-Seriously? Target Rich Satirical Saturday Examines MHI Claims, Messaging, RESULT$; plus MHVille Stocks Update
Sun Communities – 'Development in Our DNA,' ESG Stance, Q4 2022 Year End Results Earnings Call & PR – Facts, Insights Beyond PR and Official SUI Statements; plus MHVille REITs, Stocks Update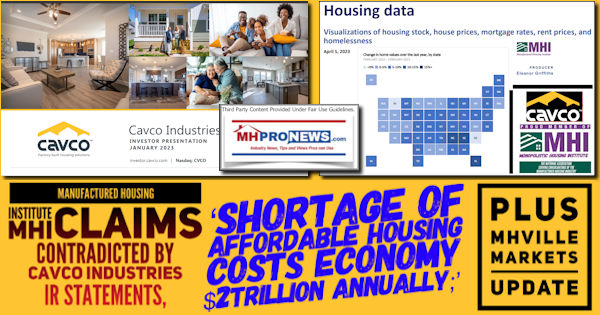 Nobility Homes, Inc. Sales and Earnings for its Fiscal Year 2022 Report, Result$ Best Inflation – Net After Taxes Up 34%, More Fact$; DeSantis ESG and NOBH; plus MHVille Stocks, Market Updates
'Killing's as Easy as Breathing' 'Bad Guys Know More Games' Warren Buffett Annual Berkshire Hathaway Letter, Clayton Homes, 21st, VMF-Manufactured Home Loans-Compelling MHVille Expert Views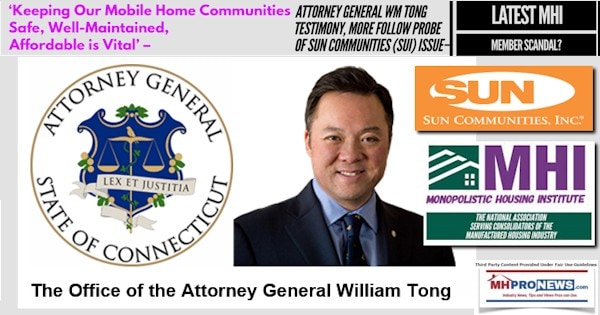 'Manufactured Housing in the News,' Unpacking UMH CEO Sam Landy Op-Ed' It's Time for Bi-Partisanship on Affordable Manufactured Housing Homeownership' in HousingWire; plus MHMarkets Updates
CEO Mark Yost, Skyline Champion Insiders SELL Million$ Value SKY Stock, Home Sales Drop-4th Q 2022 (3QFiscal2023), Official Result$-Facts, Analysis, Info Beyond PR; plus MHVille Stocks Update
BlackRock Document Exposes Central Banks like Federal Reserve on Recession; Manufactured Home Producer Cavco Industries 2022 Year End Results (CVCOQ3.23) Facts+Analysis; plus MHVille Stocks Update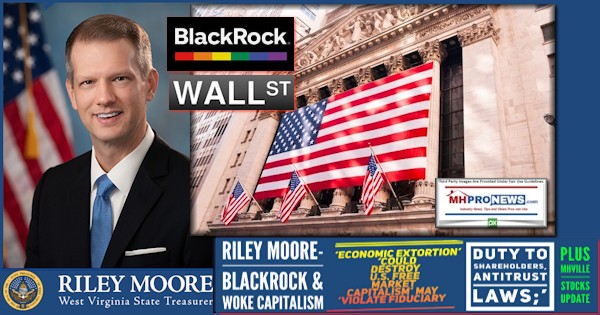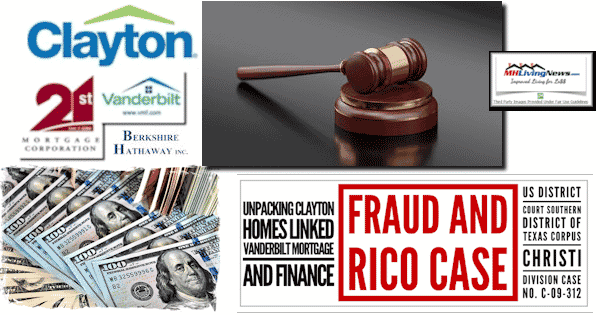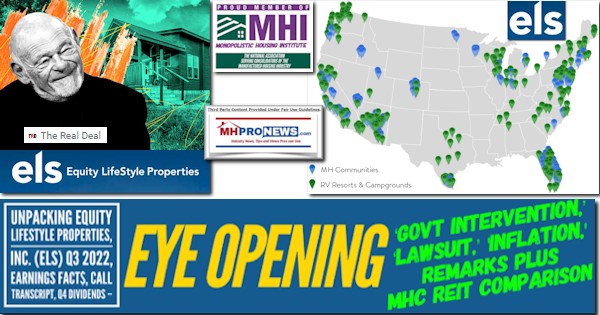 Manufactured Home Communities (a.k.a. 'Mobile Home Parks' – SIC) – Exploring UMH Properties; Fellow Manufactured Housing Institute Member Yes! Communities Suits and Settlements; plus MH Markets Updates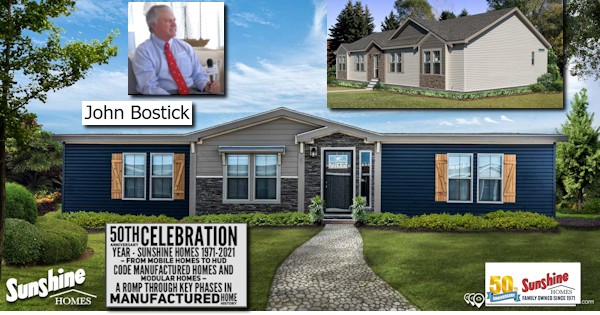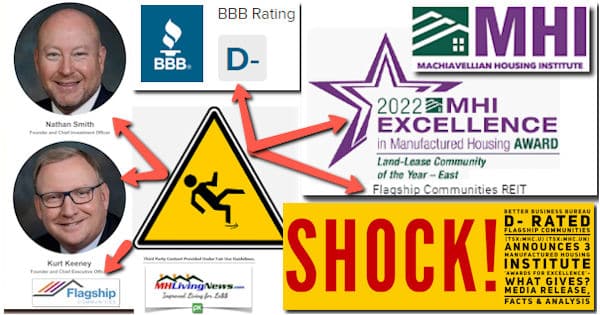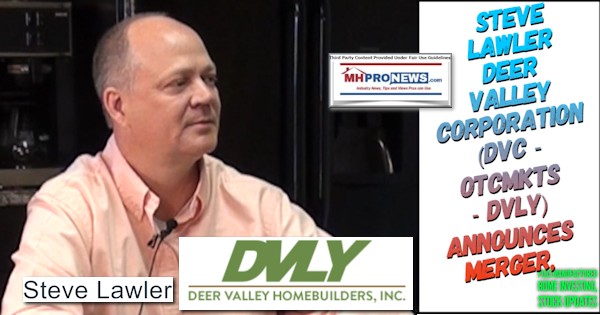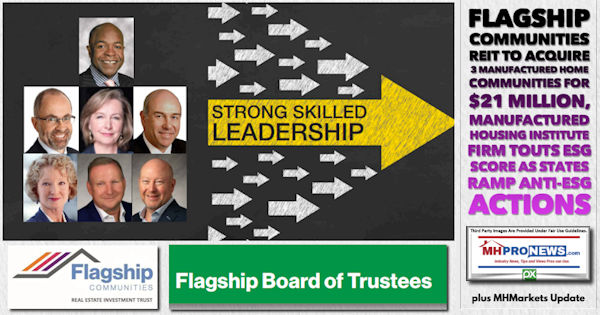 2023 …Berkshire Hathaway is the parent company to Clayton Homes, 21st Mortgage, Vanderbilt Mortgage and other factory-built housing industry suppliers.
· LCI Industries, Patrick, UFPI, and LP each are suppliers to the manufactured housing industry, among others.
· AMG, CG, and TAVFX have investments in manufactured housing related businesses. For insights from third-parties and clients about our publisher, click here.
Disclosure. MHProNews holds no positions in the stocks in this report.
· For expert manufactured housing business development or other professional services, click here.
· To sign up in seconds for our industry leading emailed headline news updates, click here.

Manufactured housing, production, factories, retail, dealers, manufactured home, communities, passive mobile home park investing, suppliers, brokers, finance, financial services, macro-markets, manufactured housing stocks, Manufactured Home Communities Real Estate Investment Trusts, MHC REITs.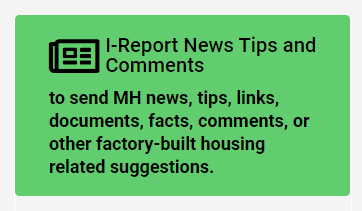 That's a wrap on this installment of "News Through the Lens of Manufactured Homes and Factory-Built Housing" © where "We Provide, You Decide." © (Affordable housing, manufactured homes, stock, investing, data, metrics, reports, fact-checks, analysis, and commentary. Third-party images or content are provided under fair use guidelines for media.) (See Related Reports, further below. Text/image boxes often are hot-linked to other reports that can be access by clicking on them.)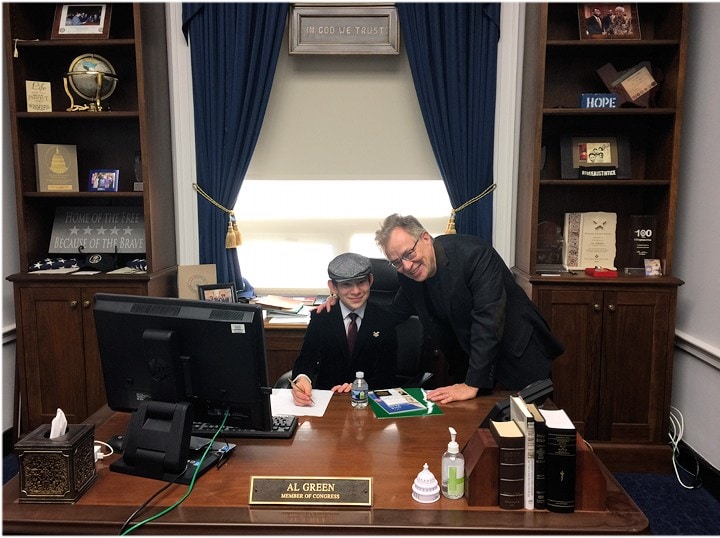 By L.A. "Tony" Kovach – for MHProNews.
Tony earned a journalism scholarship along with numerous awards in history. There have been several awards and honors and also recognition in manufactured housing. For example, he earned the prestigious Lottinville Award in history from the University of Oklahoma, where he studied history and business management. He's a managing member and co-founder of LifeStyle Factory Homes, LLC, the parent company to MHProNews, and MHLivingNews.com. This article reflects the LLC's and/or the writer's position and may or may not reflect the views of sponsors or supporters.
Anar Pitre-CEO Lotus Capital Partners-Vexing Manufactured Housing Institute Claims in Fact Check of Forbes 'What Manufactured Home Communities Investors Need to Know' – Inaccurate MHI Data Shown
Call for Congressional Oversight Hearings of Manufactured Home Industry Regulators Highlighted by Manufactured Housing Association for Regulatory Reform (MHARR); plus MHVille Markets Update
'Global Disinformation Index' Warren Buffett Ally Bill Gates' Microsoft Org Charged-Cutting Revenue to Conservative Views via Xandr, GDI; plus Sunday MHVille Headlines Recap
#1 Texas' Manufactured Housing Builders Survey Says They are 'Ready for a Rebound' But Data Point in Question, DOE MH Energy Rule Too – Facts, Analysis; plus, MHVille Stocks, Markets Update
Clayton-Next Step Off-Site Built 'White Paper'-Manufactured Homes, ThinkND 'Magic of the Mind-Everyday Illusion, Misdirection, Deception' MHI Members' Claims Analyzed; plus MHVille Markets Update
After Admitted Failure, Manufactured Housing Institute Doubles Down on CrossMods® in AP Terminology Doc Acquired by MHProNews–Are MHI Leaders Sabotaging MHVille Independents? Plus MHStocks Update
Manufactured Housing Institute Claims 'Effective Branding' for 'Manufactured Housing'-Seriously? Target Rich Satirical Saturday Examines MHI Claims, Messaging, RESULT$; plus MHVille Stocks Update