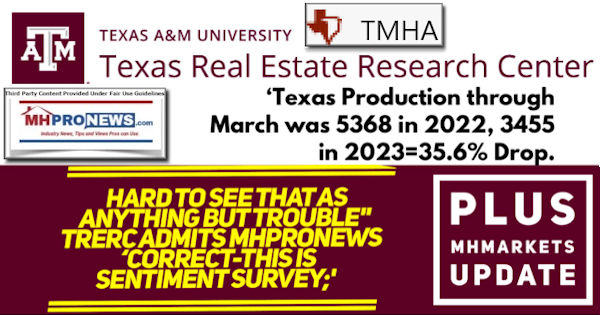 Give the Texas Real Estate Research (TRERC) full credit both for responding and for doing so in a timely and transparent fashion to this inquiry about their most recent media released report, posted further below. Unlike some operating in the dramatically diminished manufactured housing industry market compared to the late 1990s or the averages through the 20th century, manufactured home production and sales are dramatically lower now. That's despite the affordable housing crisis, a larger population now than two decades before, and a rush of millions in the Biden era crossing the border from Mexico and elsewhere "illegally." Less than a day after the inquiry show below was sent to TRERC, this response came in via email. "Good afternoon, Tony. You [MHProNews] are correct – this is a sentiment survey. We'll make sure future news releases are clear on that point to prevent any confusion. We appreciate the feedback."
From MHProNews to TRERC was the following inquiry about their latest media release.

I think you know we are the largest and most read trade publisher in MHVille.  This came in with respect to the most recent report.
"I don't know about their subjective "findings," but I do know that Texas production through the end of March was 5368 in 2022 and 3455 in 2023, a 35.6% decrease. Hard to paint that as anything other than trouble."
Can you clarify what your researchers are trying to convey? Is this still 'sentiment' or is this based on hard data?
Kindly confirm this inquiry. Please advise, thank you. …"
That tees up this media from Texas A&M University's TRERC release dated 5.15.2023.
Part I

Production increases and momentum builds in Texas' manufactured housing industry
COLLEGE STATION, Tex. (Texas Real Estate Research Center) – The outlook in Texas' manufactured-housing industry strengthened for the third consecutive month, according to the latest Texas Manufactured Housing Survey (TMHS) The April reading marked the largest improvement since last summer.
New orders continued to accelerate, and the TMHS production index moved positive after stalling during the second half of 2022.
"Housing manufacturers have been preparing to ramp up production for several months, and that came to fruition in April," said Wes Miller, senior research associate at the Texas Real Estate Research Center at Texas A&M University (TRERC). "As expected, companies expanded payrolls and lengthened workweeks to reach higher run rates."
"Through both retailer and community channels, manufacturers have seen increased placements of their homes in and around Harris County, out west in the Midland-Odessa area, and down south in Cameron County," said Rob Ripperda, vice president of operations for the Texas Manufactured Housing Association. "Placements are on pace to elevate further based on first-quarter shipment data, and that should pull Texas' aggregate inventory back to normal levels. If sales stay strong, manufacturers should continue to see those orders come in and those backlogs get longer."
TMHS respondents expressed that exact sentiment, with the sales-expectations index hovering around record highs, leading to backlogs.
"The optimism from housing manufacturers may be a result of stronger-than-expected performance by the Texas economy," said TRERC Research Economist Dr. Harold Hunt. "Although a recession is not yet off the table, Texas' job-growth expectations are ahead of where they were six months ago. Mortgage rates have come down from their highs as well, possibly giving buyers more confidence about the future."
Interest rates may stabilize further as the Federal Reserve contemplates an end to the current rate-hike cycle. … ##
Part II Additional Information with More MHProNews Analysis and Commentary in Brief
New readers should know, and returning readers may value the reminder that MHProNews has for multiple monthly reporting cycles questioned and pointed out the apparent disconnects between the remarks released from TRERC vs. the hard data known for the state of Texas.  A series of links to some of those previous reports will serve to illustrate.  For instance, just last month TRERC admitted the following.
'Production at Lowest Levels in a Decade' but 2023 Outlook 'Optimistic for Texas Manufactured Housing Industry,' says TRERC – Supply Chain, Finance, Report, Analysis; plus MHVille Stocks Update
TRERC has acknowledged that they have been reporting 'sentiments' in their research reports. That is a different way of saying that various' professionals apparently involved in production are being asked for their feelings or opinions – which may or may not be the same as the hard data generated by HUD's contractor that emerges for a given month or over a specific period of time.
'Firecracker for Scumbags' Remarks, While Manufactured Home Industry-Leading Texas Manufactured Housing Activity 'Stabilizes After 2022 Correction'
#1 Texas' Manufactured Housing Builders Survey Says They are 'Ready for a Rebound' But Data Point in Question, DOE MH Energy Rule Too – Facts, Analysis; plus, MHVille Stocks, Markets Update
What happened to that previously claimed 'rebound?'  The facts say otherwise.
"5368 in 2022 and 3455 in 2023, a 35.6% decrease."
'Manufactured Housing Closes Year on Cool Note, But Optimism Grows for 2023' Says TRERC, But TMHA VP Rob Ripperda Lets Cat Out of Proverbial Bag, Exposing MHI; plus MHVille Market, Stocks Update
Apparently Misleading Statements Emerge in #1 Manufactured Home Producer Texas Report, Why Do Texas Manufactured Housing Survey Contradictions Go Unresolved? Plus, Sunday Weekly Headlines Recap
So, as an eagle-eyed MHProNews reader who apparently has access to TRERC reports noted in an email on 5.15.2023 stated: "I don't know about their [TRERC] subjective "findings," but I do know that Texas production through the end of March was 5368 in 2022 and 3455 in 2023, a 35.6% decrease. Hard to paint that as anything other than trouble." To that core inquiry, TRERC's representative told MHProNews via email: "Good afternoon, Tony. You [MHProNews] are correct – this is a sentiment survey. We'll make sure future news releases are clear on that point to prevent any confusion. We appreciate the feedback."
That response from TRERC is to be applauded for the reasons previously stated.  But let's elaborate.
1) TRERC did not duck the issue raised by the MHProNews inquiry. They addressed it candidly and in a timely manner. They frankly admit that these are sentiments, which may or may not be based upon hard data.
2) There can be a range of reasons for some producer, say, one that is aligned with a company that is owned by a Manufactured Housing Institute (MHI) member, to say they 'feel' that things are 'improving' when the data is actually contradicting their 'sentiments.' See the reports linked herein for examples of that, not to mention the facts about Texas being down over 35 percent year over year through March 2023 vs. the same months in 2022.
3) This timely and candid response from TRERC stands in contrast to some manufactured housing associations – routinely MHI and several of those associated with MHI – and their corporate leaders in MHVille that in recent years have sadly either: not responded, or gave responses that were oblique, misleading, obscure, paltering, etc. rather than revealing the 'truth.' The truth may not always be pleasant, but merits being spotlighted so that industry professionals can made more informed decisions.
Who's Who at Manufactured Housing State Associations per Manufactured Housing Institute (MHI), Others with MHI 'Official' History per Al Hesselbart-Claims-Tips-Views; plus, MHVille Markets Update
Several MHI member producers have production centers in Texas. It is entirely possible that those MHI members outnumber independents producers who may give a different reply from the so-called "big three" producers who are MHI members.
Legacy Housing Financial Results and Earnings Call 1Q 2023-'Sales Slowed but Margins Improved' Duncan Bates Boasts of Manufactured Housing 'Business Tailwinds' Official Data-Analysis
As the new MHProNews report linked here revealed, since MHI consolidated several previous manufactured housing trade groups under the MHI 'umbrella,' manufactured housing in the 21st century has underperformed compared to 20th century. There are certainly other factors that contribute to manufactured housing underperformance, which that report reflected.
When someone compares the reports from Legacy Housing, Nobility Homes, with other larger publicly traded producers that are MHI members, various disconnects begin to emerge. MHProNews will continue to monitor and report on claims that may be paltering, inaccurate, or otherwise less than clear on issues that matter to manufactured housing. Such as the decline in sales during an affordable housing crisis.  It ought to be an embarrassment to MHI and MHI aligned 'news' sources (bloggers/publication) that fail to play the time-honored American media role of being a watchdog for possible corruption and wrongdoing.
NOBILITY HOMES INC 2022 Annual Report, 10Q Data Reveal Useful Insights for Manufactured Housing Investors, Career-Focused Pros, Trainees, and NOBH Shareholders; plus Dozens of MHVille Stocks, REITs Updates
Manufactured Housing Institute (MHI) Claims Contradicted by Cavco Industries IR Statements, 'Shortage of Affordable Housing Costs Economy $2Trillion Annually;' plus MHVille Markets Update
Cavco's Inaugural Environmental, Social and Governance (ESG) Report Examined – 'Ask Questions-Raise Concerns if They Exist' – BBB Rating, Corp History, Other Factual Insights and Evidence Explored
As but one example, prominent MHI member Cavco Industries (CVCO) made the point that 'January traffic was up.' Their corporate official expressed during an earnings call the notion that more traffic should be followed by more sales. That said, not only the Texas data, but the national data proved Cavco's claim on that 'sentiment' to be incorrect.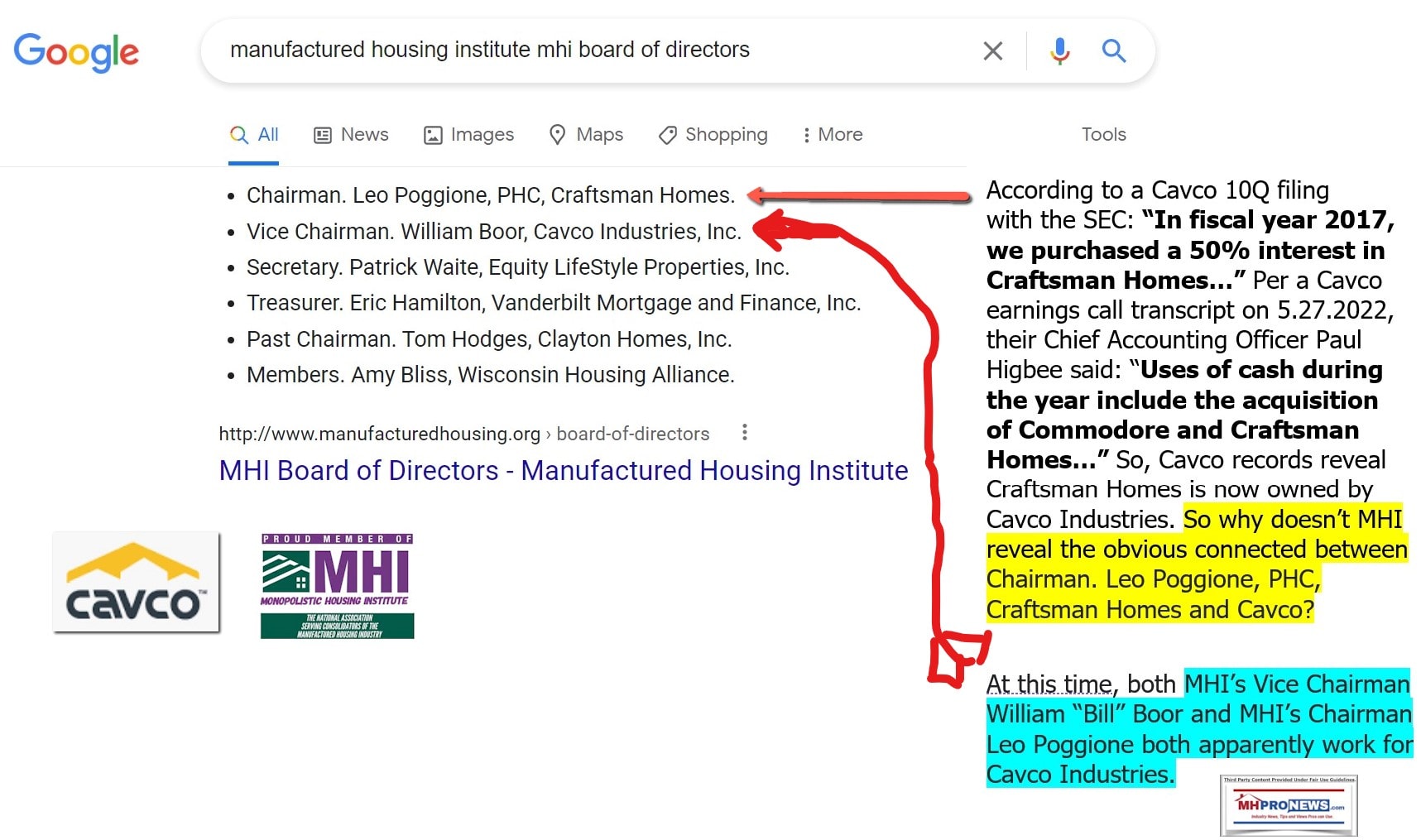 'Undervalued' Cavco Industries Touts Q Result$ 'Dire Need for Housing' 'January Traffic Up'- Rev Up 16%-Sales, Earnings, Mgmt Call Data–Analysis Beyond CVCO Statements; plus MHVille Stocks Update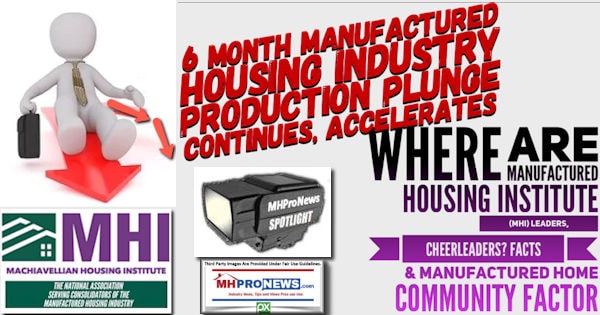 Watch for a fresh analysis on the current state of the manufactured housing market based in part upon arguably curious claims made by Tim Williams, President and CEO of Berkshire Hathaway owned 21st Mortgage Corp. That article is planned for the near term, watch for it.
In conclusion, TRERC's researchers face an issue that any organization that produces information or 'news' does. It could be summed up as analogous to the old computer programmer acronym of GIGO. Garbage In, Garbage Out.  Shame on anyone that is feeding TRERC or others 'garbage' sentiments instead of insights based on facts, evidence, and common sense.  Given that MHI has now twice told their members about their claims of momentum and then after that claim, the industry took a downturn is increasingly an apparent example of deception and misdirection.  The target? Those who may be trusting MHI for 'fighting' for their independents when their prominent members are apparently keen on consolidating their smaller competitors. ##
Manufactured Housing Institute Claims 'Effective Branding' for 'Manufactured Housing'-Seriously? Target Rich Satirical Saturday Examines MHI Claims, Messaging, RESULT$; plus MHVille Stocks Update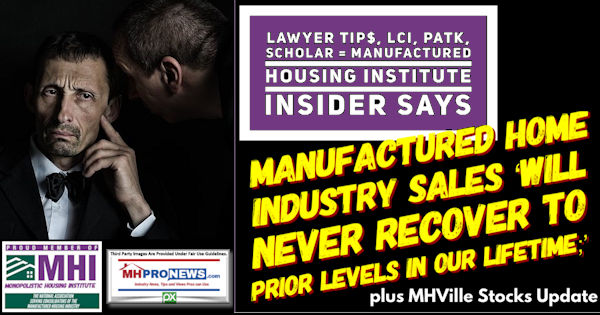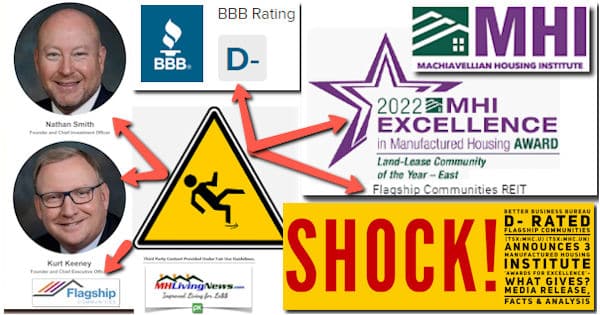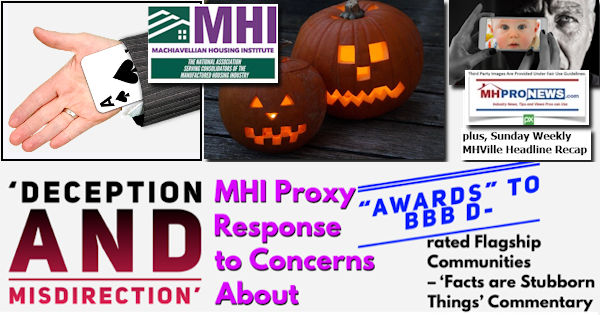 Part IV – Daily Business News on MHProNews Markets and Headline News Segment
The modifications of our prior Daily Business News on MHProNews format of the recap of yesterday evening's market report are provided below. It still includes our signature left (CNN Business) and right (Newsmax) 'market moving' headlines. The macro market moves graphics will provide context and comparisons for those invested in or tracking manufactured housing connected equities.
In minutes a day readers can get a good sense of significant or major events while keeping up with the trends that are impacting manufactured housing connected investing.
Reminder: several of the graphics on MHProNews can be opened into a larger size. For instance: click the image and follow the prompts in your browser or device to OPEN In a New Window. Then, in several browsers/devices you can click the image and increase the size. Use the 'x out' (close window) escape or back key to return.
Headlines from left-of-center CNN Business – from the evening of 5.16.2023
The iPhone can replicate your voice
An attendee holds a new iPhone Pro Max at an Apple event in Cupertino, California in September 2022
Brittany Hosea-Small/AFP/Getty Images
Apple's new voice tools are aimed at accessibility for all but some users are concerned about 'deep fakes'
Hertz apologizes after refusing rental to Puerto Rican
Google to delete accounts that have been inactive for at least two years
Retail spending rebounded in April
Yellen to meet with Jamie Dimon and other bank CEOs on Thursday as debt ceiling crisis looms
Graphic images of Texas mall shooting spread on Twitter, rekindling debate on how much to share
ChatGPT goes to Washington: OpenAI CEO Sam Altman testifies before Congress on AI risks
First strippers' union in a decade is expected to form this week
Home Depot hits the brakes: Three-year robust sales run ends amid pull back on home improvements
The New York Stock Exchange (NYSE) in New York, US, on Tuesday, March 28, 2023.
Dow falls over 250 points on debt ceiling worries and dreary Home Depot outlook
Elon Musk claims George Soros 'hates humanity.' The ADL says Musk's attacks 'will embolden extremists'
Comcast CEO says company will 'more likely than not' sell Hulu stake
First on CNN: CEOs warn of 'devastating scenario' if America defaults
Elon Musk said he must approve all hiring decisions at Tesla
Egg prices are crashing. Here's why
Wall Street's 'fear gauge' is rising as US debt talks drag on
Taco Bell is fighting to cancel the 'Taco Tuesday' trademark
Warren Buffett's Berkshire Hathaway sells entire stake in TSMC
A barbecue frenzy is gripping China. Can street food revive the economy?
US Virgin Islands subpoenas Elon Musk as part of lawsuit into Jeffrey Epstein sex trafficking ring
Vodafone plans 11,000 job cuts
Japan's top pop agency apologizes for alleged sexual abuse by late founder
Exxon settles Indonesia torture case that led to SEC official's ouster
Notice: the graphic below can be expanded to a larger size.
See the instructions below the graphic below or click the image and follow the prompts.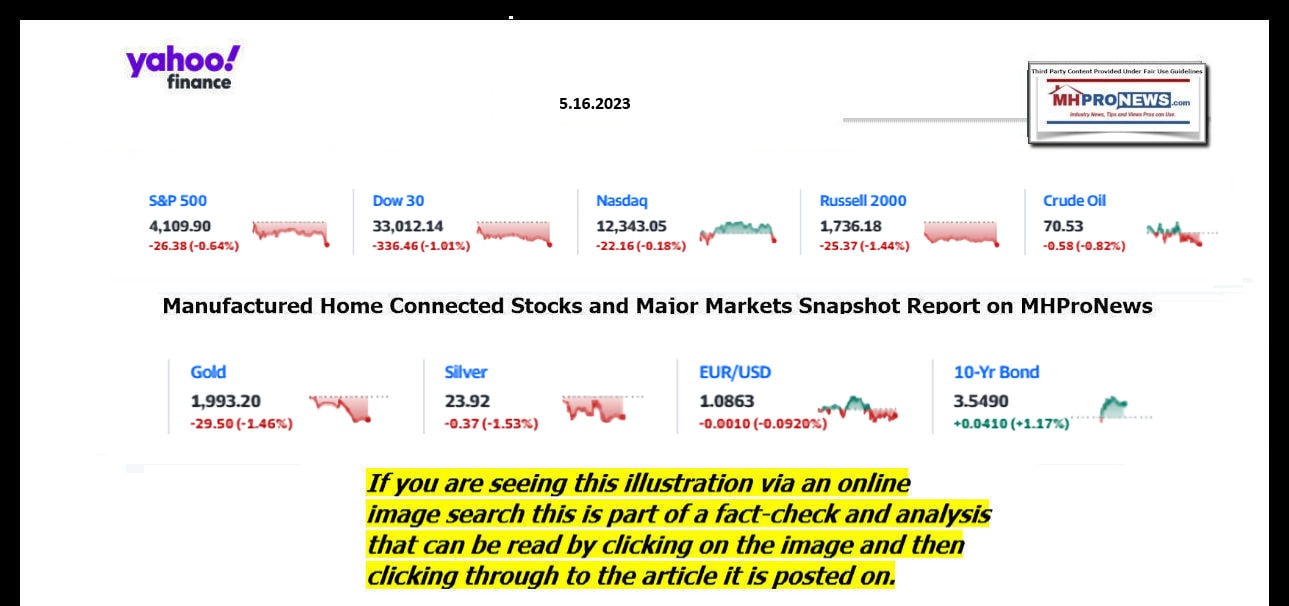 Headlines from right-of-center Newsmax 5.16.2023
Newsmax Beat CNN in Prime Time Friday: Read More Here
Biden Hosts Urgent Debt Limit Talks, Weighs Paring Back Foreign Trip
Newsmax TV
Pam Bondi: 'Damaged' FBI Agents Should Pay Targets' Legal Fees
Ric Grenell: Not Buying FBI's Durham Response
Rick Perry: Americans Want 'Visionary' Leader | video
Meuser: Biden Must Compromise on Debt Limit | video
Dershowitz: Durham, Biden Letter Shows 'Get Trump' Push | video
Fred Fleitz: Durham Report '4 Years Too Late' | video
Asa Hutchinson: FBI Reforms Needed | video
Issa: Wray's Reaction to Durham Report Lacking | video
Jason Miller: 'DeSantis Is Going to Have Very Tough Headwind'
Sarah Palin: Putting Migrants Over Veterans Is Sickening | video
Newsfront
Rasmussen Poll: Most Say There's a Crisis at Border
Two-thirds of likely voters say the current immigration situation at the U.S. southern border is a crisis, according to a new Rasmussen Reports poll…. [Full Story]
Disney: Dismiss Lawsuit Voiding Development Deals
Disney requested Tuesday that a Florida court dismiss a lawsuit by the [Full Story]
Newsmax Beat CNN in Prime Time Friday
Newsmax is crushing the competition and last Friday became the [Full Story]
Trafalgar Poll: Most Want Spending Cuts in Debt Deal
A majority of voters oppose raising the debt ceiling or say it should [Full Story]
How Govt Default May Pinch Consumers
Biden, McCarthy Aides Discuss Work Requirements in Debt Ceiling Talks
Yellen: US Default Would Cause 'Worldwide Panic, Runs'
Biden: Default 'Not an Option,' Could Cost 8 Million Jobs
Biden Hosts Urgent Debt Limit Talks, Weighs Cuts to Foreign Trip
Rubio: Dodgers' Award to Drag Nun Troupe Insults Christians
Marco Rubio, R-Fla, is questioning whether Major League Baseball [Full Story]
Russia Launches Heavy Airstrike on Kyiv
Loud explosions sounded above Kyiv early Tuesday as Russia launched [Full Story]
White House: Russia Looks to Buy More Attack Drones From Iran
South Korea's President Vows to Expand Nonlethal Aid to Kyiv
Council of Europe Summit in Iceland Seeks to Hold Russia to Account
African Nations to Send Peace Mission to Ukraine, Russia
Desperate NYC Might House Migrants in School Gyms
New York City is considering housing some migrants in about two dozen [Full Story]
Durham: FBI Had No Evidence of Trump Collusion
The FBI lacked evidence to investigate Donald Trump's 2016 [Full Story]
Devin Nunes to Newsmax: Durham Report Should 'Scare Living Hell Out of Everyone' |video
Report: FBI Whistleblowers to Testify Against Agency
Trump: 'Heavy Price to Pay' for Dems, Comer After Damning Durham Report
Flynn: Durham Calls Out Probe That Never Should Have Been
Fired Capitol Architect Has $12K Withheld From Final Check
Chuck Grassley, R-Iowa, the ranking member of the Senate Budget [Full Story]
Roger Ailes' Wife Rips Murdochs for Wreaking 'Havoc' at Fox News
Roger Ailes' widow took to social media to wish her late husband a [Full Story]
Abbott: Dominion Must Address Tucker Carlson Axing
Why Megyn Says Irena Briganti Behind Tucker Smears |video
Czerniawski: Carlson's Twitter Move a Statement on Free Speech
Feds Overpay Navy Retirees, Now Want Money Back
The federal government is reportedly trying to get back $6.8 million [Full Story]
Wells Fargo Settles Defrauding Lawsuit for $1B
Wells Fargo & Co. has agreed to pay $1 billion to settle a lawsuit [Full Story]
Karine Jean-Pierre's 10 Biggest Gaffes as Press Secretary
Critics contend that White House press secretary Karine Jean-Pierre's [Full Story] | Platinum Article
USDA Weighs Ban on Flavored Milk in Schools
The Department of Agriculture is considering a ban on flavored milk, [Full Story]
Giving China a 'Pass' on Spy Balloon Is 'Misguided' Policy
Recent revelations about the Biden administration's willingness to [Full Story] | Platinum Article
Teenage Migrant Died in US Custody of Possible Seizure
A 17-year-old Honduran who was placed in a Florida holding center [Full Story]
Kari Lake Election Case Going to Trial Wednesday
One count in Kari Lake's Arizona 2022 gubernatorial election lawsuit [Full Story]
Salman Rushdie Warns Free Expression Under Attack
Nine months after being seriously injured in a public knife attack, [Full Story]
CDC Warns That Mpox Could Make a Summer Return
Public health officials are urging people at risk of contracting [Full Story]
Top OB-GYN Organization: Abortion Is 'Settled Science'
The leader of the American College of Obstetricians and Gynecologists [Full Story]
DeSantis Could Be Days From Presidential Candidacy
Florida Gov. Ron DeSantis could be just days from announcing his bid [Full Story]
Migrants, Crime Drive Mayor Adams Away From Biden
The relationship between New York City Mayor Eric Adams and President [Full Story]
Kentucky Teacher Suspended Over Pupil's KKK Project
A Kentucky middle school teacher was suspended this week after [Full Story]
Biden: Default 'Not an Option,' Could Cost 8 Million Jobs
President Joe Biden warned Tuesday, as the standoff continues between [Full Story]
Siena Poll: DeSantis in Single Digits in N.Y.
Former President Donald Trump fled New York for Florida, where his [Full Story] | video
Senators Grill Failed Bank Execs on CEO Pay, Risk
Executives from two of three banks that recently failed appeared in [Full Story]
Court Keeps Obamacare Preventive Healthcare for Now
A U.S. appeals court has temporarily halted a federal judge's ruling [Full Story]
Emerson Poll: Trump Getting Strong Backing From Women
President Donald Trump continues to receive strong support from women [Full Story]
Trump Expands GOP Primary Lead in New Poll
A new Morning Consult poll shows former President Donald Trump [Full Story]
CIA Urges Russians to Spy for US
The Kremlin said Tuesday its agencies were tracking Western spy [Full Story]
China Vows to 'Resolutely Smash' Taiwan Independence
China is prepared to "resolutely smash any form of Taiwan [Full Story]
Default Fallout: Job Cuts, No Social Security Checks
All the hand-wringing in Washington over raising the debt limit can seem far removed from the lives of everyday Americans, but they could end up facing huge consequences…. [Full Story]
ChatGPT Chief: US or Global Agency Must Regulate AI
IRS to Launch Free US Direct Tax Filing Pilot in 2024
Jefferson Weaver: Benefits of Illegal Migrant Labor Outweighed by Costs
US Bank Regulators Vow Tougher Rules, Oversight
More Finance
Health
How to Build Healthy Habits That Stick
The Centers for Disease Control and Prevention say that 6 out of 10 adults suffer from a chronic disease. The main causes are poor diet, lack of physical activity, and excessive alcohol. Making lifestyle changes can improve your overall health and long-term well-being… [Full Story]
Study: Older Adults More Easily Distracted
FDA Review Finds Pfizer RSV Vaccine Safe in Pregnancy
WHO Warns Against Using AI in Healthcare
What to Know About Bats and Pandemics
Notice: the graphic below can be expanded to a larger size.
See the instructions below the graphic below or click the image and follow the prompts.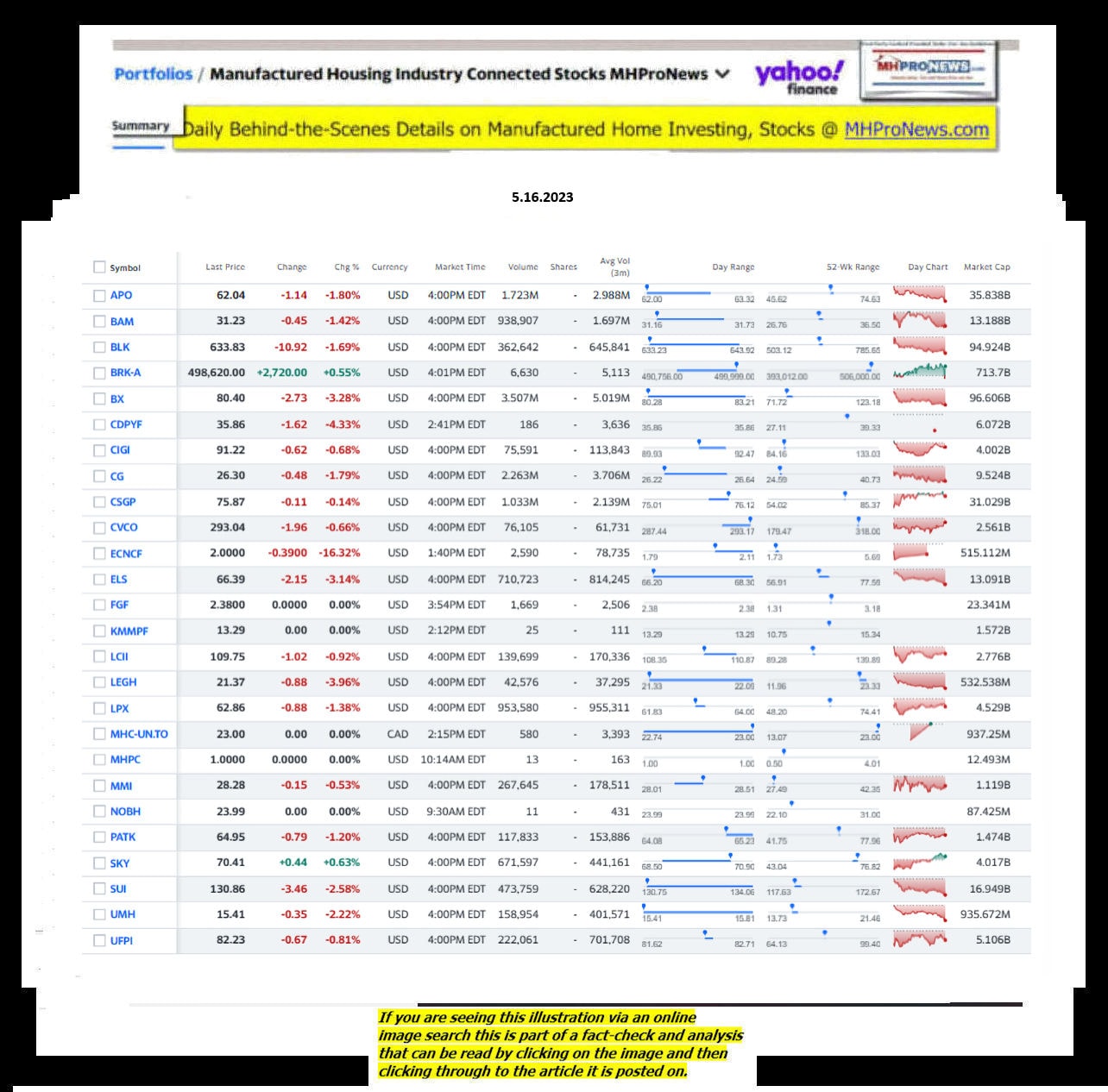 2022 was a tough year for many stocks. Unfortunately, that pattern held true for manufactured home industry (MHVille) connected stocks too.
See the facts, linked below.
'Stomach Churning Year' CNN-Wall Street 'Forget 2022' Down Year – Major Equities Data Compared to Manufactured Housing Stocks, Manufactured Home Community REITs, Performance for Year by Company
====================================
Updated
NOTE 1: The 3rd chart above of manufactured housing connected equities includes the Canadian stock, ECN, which purchased Triad Financial Services, a manufactured home industry finance lender.
NOTE 2: Drew changed its name and trading symbol at the end of 2016 to Lippert (LCII).
NOTE 3: Deer Valley was largely taken private, say company insiders in a message to MHProNews on 12.15.2020, but there are still some outstanding shares of the stock from the days when it was a publicly traded firm.  Thus, there is still periodic activity on DVLY.
Note 4: some recent or related reports to the REITs, stocks, and other equities named above follow in the reports linked below.
Legacy Housing Financial Results and Earnings Call 1Q 2023-'Sales Slowed but Margins Improved' Duncan Bates Boasts of Manufactured Housing 'Business Tailwinds' Official Data-Analysis
Manufactured Housing Institute Claims 'Effective Branding' for 'Manufactured Housing'-Seriously? Target Rich Satirical Saturday Examines MHI Claims, Messaging, RESULT$; plus MHVille Stocks Update
Sun Communities – 'Development in Our DNA,' ESG Stance, Q4 2022 Year End Results Earnings Call & PR – Facts, Insights Beyond PR and Official SUI Statements; plus MHVille REITs, Stocks Update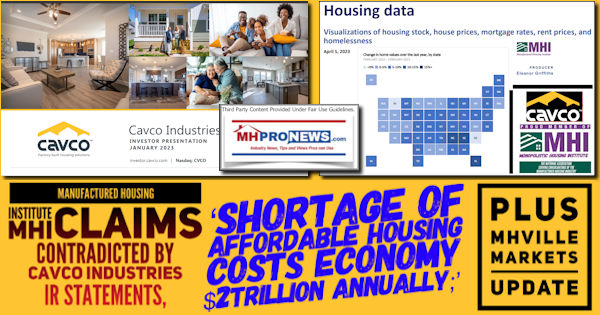 Nobility Homes, Inc. Sales and Earnings for its Fiscal Year 2022 Report, Result$ Best Inflation – Net After Taxes Up 34%, More Fact$; DeSantis ESG and NOBH; plus MHVille Stocks, Market Updates
'Killing's as Easy as Breathing' 'Bad Guys Know More Games' Warren Buffett Annual Berkshire Hathaway Letter, Clayton Homes, 21st, VMF-Manufactured Home Loans-Compelling MHVille Expert Views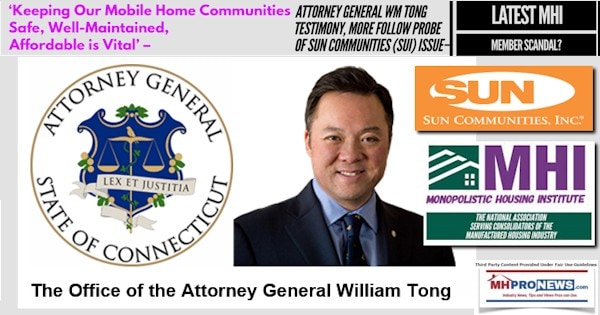 Nobility Homes, Inc. Sales and Earnings for its Fiscal Year 2022 Report, Result$ Best Inflation – Net After Taxes Up 34%, More Fact$; DeSantis ESG and NOBH; plus MHVille Stocks, Market Updates
'Manufactured Housing in the News,' Unpacking UMH CEO Sam Landy Op-Ed' It's Time for Bi-Partisanship on Affordable Manufactured Housing Homeownership' in HousingWire; plus MHMarkets Updates
Manufactured Housing Properties-Results for Three and Nine Months Ending September 30.2022–Exploring 'Mobile Home Park' Manufactured Home Community Investing; plus MHVille REITs, Stocks Update
CEO Mark Yost, Skyline Champion Insiders SELL Million$ Value SKY Stock, Home Sales Drop-4th Q 2022 (3QFiscal2023), Official Result$-Facts, Analysis, Info Beyond PR; plus MHVille Stocks Update
Triad Financial Services Q2-2022 FINANCIAL RESULTS, per ECN Capital – Several Bright Spots in Manufactured Home Market Highlighted, Including Communities, Retail, Land-Home, Floor; MHStocks Update
BlackRock Document Exposes Central Banks like Federal Reserve on Recession; Manufactured Home Producer Cavco Industries 2022 Year End Results (CVCOQ3.23) Facts+Analysis; plus MHVille Stocks Update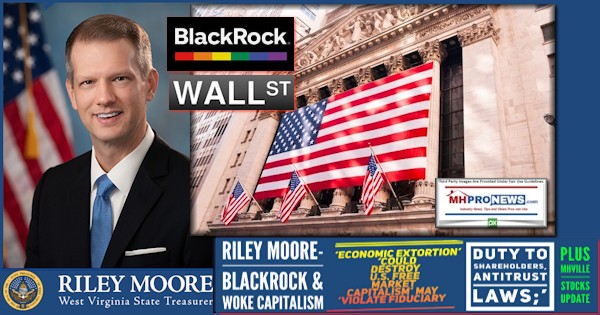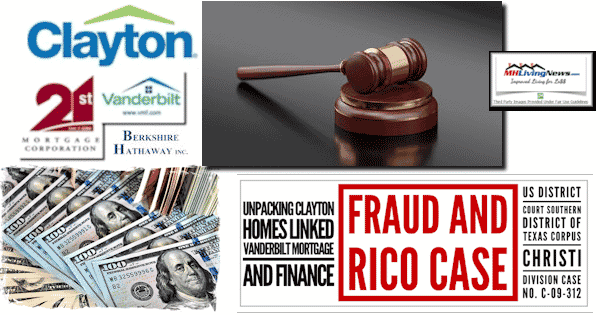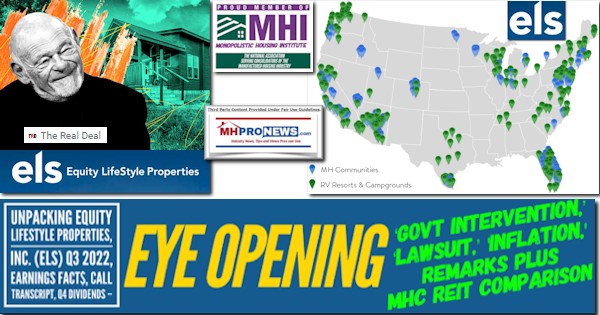 Manufactured Home Communities (a.k.a. 'Mobile Home Parks' – SIC) – Exploring UMH Properties; Fellow Manufactured Housing Institute Member Yes! Communities Suits and Settlements; plus MH Markets Updates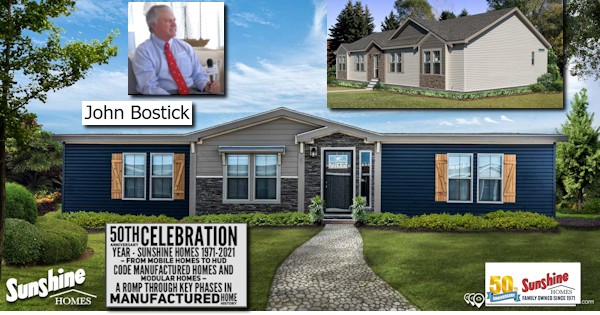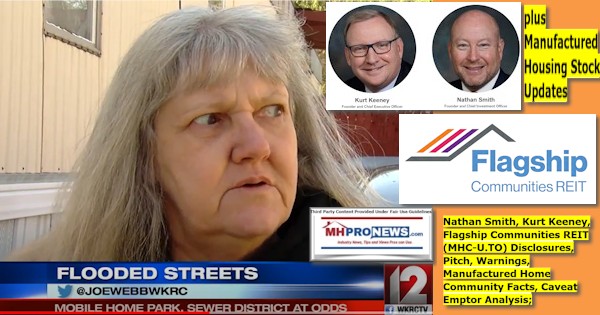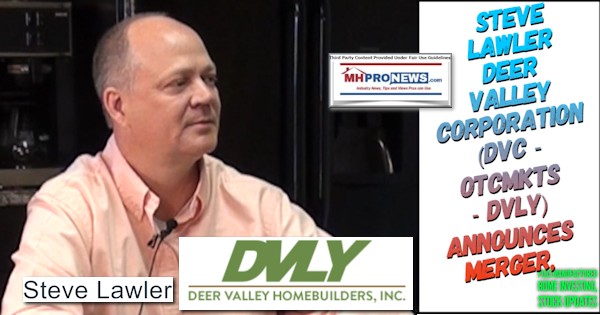 2023 …Berkshire Hathaway is the parent company to Clayton Homes, 21st Mortgage, Vanderbilt Mortgage and other factory-built housing industry suppliers.
· LCI Industries, Patrick, UFPI, and LP each are suppliers to the manufactured housing industry, among others.
· AMG, CG, and TAVFX have investments in manufactured housing related businesses. For insights from third-parties and clients about our publisher, click here.
Disclosure. MHProNews holds no positions in the stocks in this report.
· For expert manufactured housing business development or other professional services, click here.
· To sign up in seconds for our industry leading emailed headline news updates, click here.

Manufactured housing, production, factories, retail, dealers, manufactured home, communities, passive mobile home park investing, suppliers, brokers, finance, financial services, macro-markets, manufactured housing stocks, Manufactured Home Communities Real Estate Investment Trusts, MHC REITs.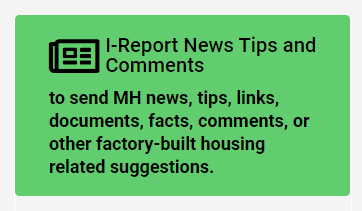 That's a wrap on this installment of "News Through the Lens of Manufactured Homes and Factory-Built Housing" © where "We Provide, You Decide." © (Affordable housing, manufactured homes, stock, investing, data, metrics, reports, fact-checks, analysis, and commentary. Third-party images or content are provided under fair use guidelines for media.) (See Related Reports, further below. Text/image boxes often are hot-linked to other reports that can be access by clicking on them.)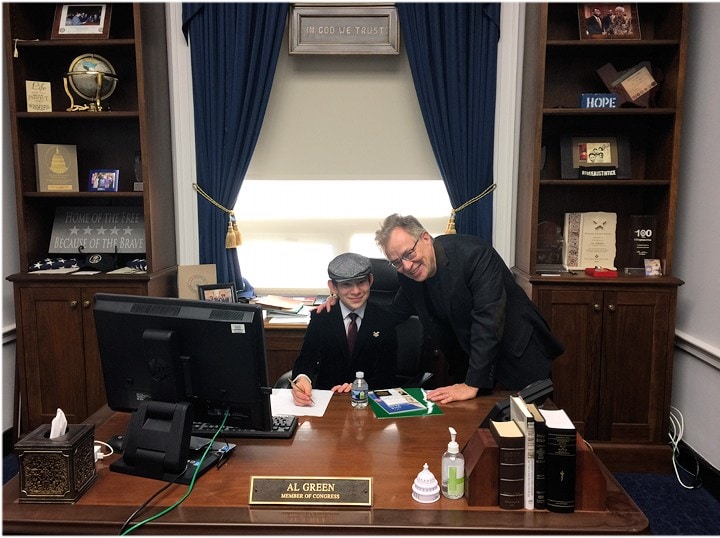 By L.A. "Tony" Kovach – for MHProNews.
Tony earned a journalism scholarship along with numerous awards in history. There have been several awards and honors and also recognition in manufactured housing. For example, he earned the prestigious Lottinville Award in history from the University of Oklahoma, where he studied history and business management. He's a managing member and co-founder of LifeStyle Factory Homes, LLC, the parent company to MHProNews, and MHLivingNews.com. This article reflects the LLC's and/or the writer's position and may or may not reflect the views of sponsors or supporters.
"Played"-Publicly Traded Manufactured Housing Institute (MHI) Members, MHI News Update Reveals True State of Manufactured Housing Industry in May 2023-Facts, Analysis, and MHVille Markets Update
Anar Pitre-CEO Lotus Capital Partners-Vexing Manufactured Housing Institute Claims in Fact Check of Forbes 'What Manufactured Home Communities Investors Need to Know' – Inaccurate MHI Data Shown
Call for Congressional Oversight Hearings of Manufactured Home Industry Regulators Highlighted by Manufactured Housing Association for Regulatory Reform (MHARR); plus MHVille Markets Update
'Global Disinformation Index' Warren Buffett Ally Bill Gates' Microsoft Org Charged-Cutting Revenue to Conservative Views via Xandr, GDI; plus Sunday MHVille Headlines Recap
#1 Texas' Manufactured Housing Builders Survey Says They are 'Ready for a Rebound' But Data Point in Question, DOE MH Energy Rule Too – Facts, Analysis; plus, MHVille Stocks, Markets Update
Clayton-Next Step Off-Site Built 'White Paper'-Manufactured Homes, ThinkND 'Magic of the Mind-Everyday Illusion, Misdirection, Deception' MHI Members' Claims Analyzed; plus MHVille Markets Update
After Admitted Failure, Manufactured Housing Institute Doubles Down on CrossMods® in AP Terminology Doc Acquired by MHProNews–Are MHI Leaders Sabotaging MHVille Independents? Plus MHStocks Update
Concessions by Speaker Kevin McCarthy in House Speaker's Battle Called 'Most Significant Win for Conservatives in a Decade' By Federalist's Emily Jashinsky Report; plus MHVille Stocks Updates
Manufactured Housing Institute Claims 'Effective Branding' for 'Manufactured Housing'-Seriously? Target Rich Satirical Saturday Examines MHI Claims, Messaging, RESULT$; plus MHVille Stocks Update