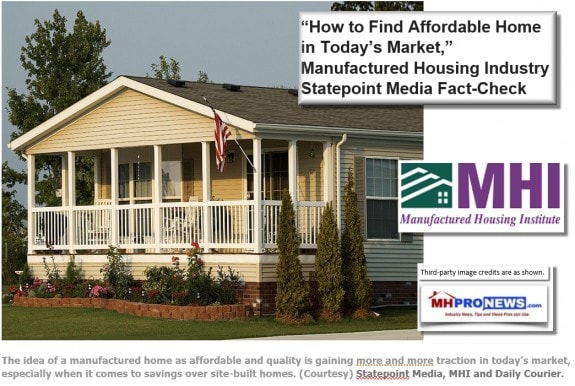 To cure a problem, one must first recognize that a problem exists.
A recent message to the Daily Business News on MHProNews from an award-winning Manufactured Home (MH) industry executive read in part, "…you are rapidly becoming the industry's institutional memory…"
The MH Industry, as is true for most professions, is in routine state of flux and transition. A new generation of professionals is and has been entering the MH space for years. Thousands of MH professionals have little or no actual experience with the industry's most recent peaks in the 1990s.
Thousands in MHVille – including some big-time investors – have even less experience with the industry's heydays, reflected in the roaring shipment levels of the 1970s. See those respective new home shipment graphics, below.
Institutional Memory and It's Importance to MH Pros, Investors
"Institutional Memory" is a significant issue.
Because without that sense of history and 'institutional memory,' there are no baselines and experiences that can aide the industry's professionals and investors to understand just what the industry's accomplishments in the past have been.
Without that baseline of experience, it's harder for some to believe that similar or far greater results are possible.
Celebration, and Accountability 
In that context, reliable information becomes valuable.
As has often been noted, not just Warren Buffett, but other industry leaders like investor Sam Zell have spelled out the opportunities in MHLand that they are confident in, while also noting the challenges that the MH Industry faces.
Two related an MHProNews exclusive Sam Zell interviews are linked below.
http://MHProNews.com/featured-articles/december-2017/sam-zell-the-point-of-the-spear-and-you-ve-got-to-have-confidence
http://MHProNews.com/featured-articles/december-2017/sam-zell-says-our-way-of-life-is-very-much-threatened
The graphic below is based on a quote from one of those 2 linked parts of the Zell interview.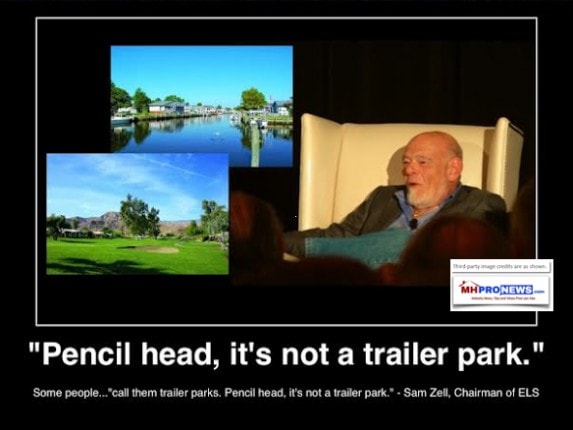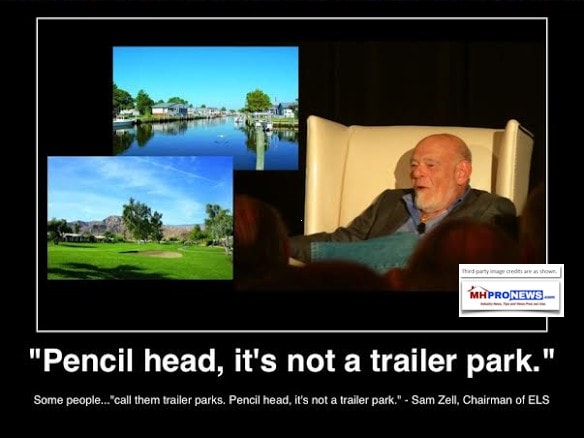 Expert insights and views – across the spectrum of good, bad, or 'meh' toward MH – must routinely be examined.
Where critiques about the industry are valid, they reasonably ought to be taken seriously and addressed.
When criticism is invalid, they ought to be fact-checked and exposed.
As prior Daily Business News and MHLivingNews features have showcased, some reports by mainstream media or third-party researchers glow about today's manufactured homes.
A some examples are linked below.
https://www.manufacturedhomelivingnews.com/bloomberg-housingwire-realtor-and-fox-all-suggest-manufactured-homes-as-important-solution-for-affordable-housing-in-america/
"Some had lower rates of crime than you would expect, because they had pride of ownership and the shared backgrounds of residents." – Researcher William P. McCarty Homeowners love them. Affordable housing advocates laud them. Municipal planners approve them.
https://www.manufacturedhomelivingnews.com/not-your-grandfathers-trailer-house/
When there are problems in mainstream media or third-party research reports, we as pro-industry trade media strive to select some of those and then do a fact-check and analysis.
MHProNews and MHLivingNews – often in concert with other industry professionals, such as MHARR – have engaged third-party researchers and media. 
A pair of examples are linked below.
Writer Joe Dyton quotes Brena Swanson with HousingWire, who said, "Despite the negative stigma that surrounds mobile homes [sic], it doesn't mean the manufactured houses don't have a role to play in the housing process, especially when it comes to affordability."
Every unplanned, uncontrolled fire outside of a fireplace, grill or pit is often a story about tragic injuries, deaths and/or property damaged or destroyed. A recent fire reported in Champaign County, Ohio, was no different.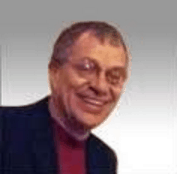 "Manufactured home professionals don't have to exaggerate at all to home buyers, the media, researchers, or public officials.  The truth well told is powerful," said MHProNews publisher, L. A. "Tony" Kovach. "When someone in the industry fails to convey the truth in a proper fashion – with no spin, and using [the] correct terminology – that professional, and industry, gains credibility.  Its a proven fact that a consistent educational effort leads to greater trust, interest, and over-time to more qualified manufactured home buyers."
Just as media must be held accountable, so too must problematic behavior – or questionable media efforts – by those in the MH Industry.
Holding all to account is a traditional role in American media, including in independent industry trade media. Consistently holding others accountable enhances credibility, and thus also aids the industry-at-large in establ8shing and/or regaining the trust lost in recent years.
The example below is a report that held both media and the industry professional involved to account.
"Jail Him!" NPR's "Mobile Home Park Owners Can Spoil An Affordable American Dream" Refuted
The following is another example of holding anti-MH bias/ignorance/media spin to account.
The REAL Truth, vs. Fake News, About Modern Manufactured Homes
It is against this backdrop of the traditional role of media as a watchdog for accountability that MHI's latest advertorial must be fact-checked and examined.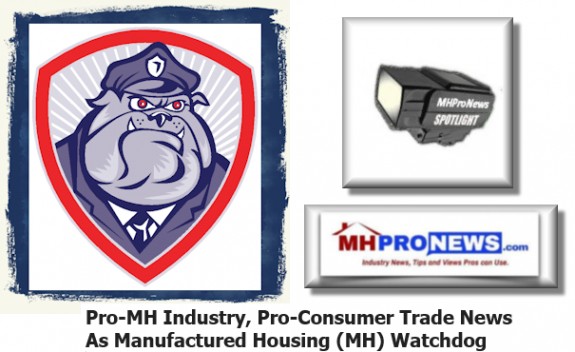 As a disclosure, MHProNews has not been commissioned to do an examination of the latest MHI advertorial, which is found here as a download. We will focus on only 2 of several possible points.
1)    The Advertorial Approach is a Problematic Method for a Manufactured Housing Trade Association.
2)    Holding MHI to Account Has Proven to Be Effective Over Time.
Let's examine each in sequence.
MHI's Advertorial Approach
Marty Lavin, Frank Rolfe, Bob Crawford and Titus Dare are just a few of the many manufactured housing industry professionals who have criticized or blasted MHI for their media engagement – and/or lack thereof – practices. So, while many of those critiques are found on MHProNews, Rolfe and Crawford are among those who have both used other communications vehicles to convey their concerns about MHI.  Admittedly, as the top-read MH industry trade publications, they are more easily spotted here.
Marty Lavin Lashes the Manufactured Housing Institute's (MHI) Latest Initiative
Frank Rolfe: Pressured into Silence? Manufactured Housing Industry, and Journalism
MHI's Advertorials, Plus Failure to Respond to MSM Reports, Leads to Ongoing MH Image Issues, as the example below demonstrates.  Where is MHI's response to this problematic report by Bloomberg, which will get far more play than their recent advertorial will?
Bloomberg, Rising "Mobile Home" Prices, and the Manufactured Housing Institute (MHI)
Anyone in the mainstream media who reviews MHI's prior advertorials and releases, and compares them to their current one, will likely spot immediate inconsistencies and contradictions.
An important example is the prior advertorials and MHI statements claimed savings in buying a manufactured home that ranges from 1o percent "up to 35 percent," "per the U.S. Census Bureau."  MHI's most recent advertorial shows a very different – and more accurate one – of 5o percent savings.
Won't any intelligent person wonder, which is it?
How could the largest manufactured home national trade association not get such an important fact wrong?
To rephrase, inconstancies and errors by MHI beg questions like the following, questions that any good journalist or researcher will ask.
Which savings number are correct? 
What other contradictions or possible errors are in MHI's claims?
If a researcher bothers to dig and discover the correct answer, then '

Why did MHI understate before, and only later correct their error months later

?' 
Why is MHI using advertorials at all?
Given their advertorial approach, are the MHI-Next Step-Clayton-Cavco-Champion homes videos staged ads too?
MHI Video Segue
Speaking of the MHI sponsored videos, as it is related, how are they doing?
The Daily Business News looked at just one of them at random, to prepare this report.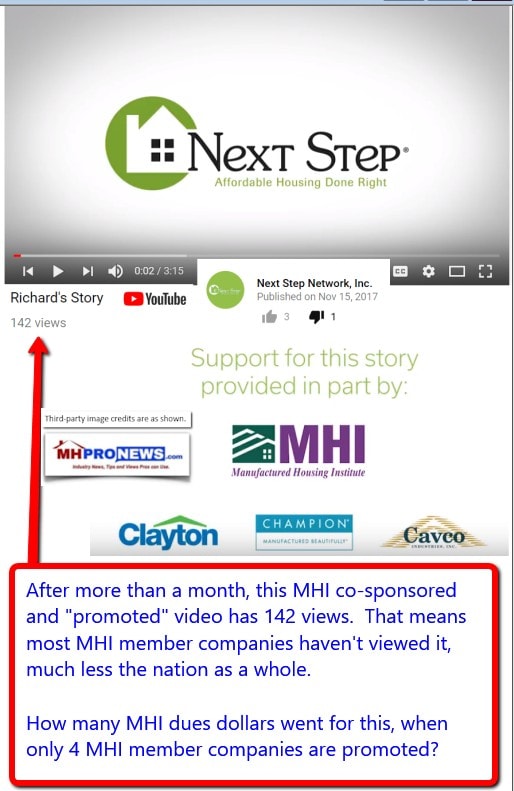 The screen capture above reflects what the facts are on the total views of the videos, per YouTube.  A little more than a month after they launched, 142 views. Note that some of those are our views, to analyze the video and its content.  Some views – one would think – are from MHI staffers, and then other views will be from those who produced the video, or who are one of the four named companies being promoted by them.
Part of what that means is that not even one person from every MHI member company has viewed this video, even though MHI made a specific ask to their members to promote their videos.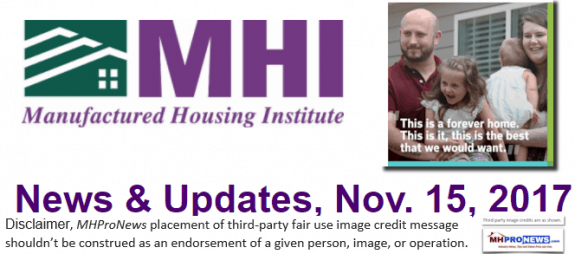 The Bottom Lines Are…?
Those who love MHI – and those who are indifferent or oppose the national association – should all be able to agree that the national trade body can't be effective for the industry – nor has it been during the term of Richard "Dick" Jennison as its president – so long as they keep making avoidable mistakes.
In fairness to Jennison, he is widely seen as doing what MHI's 4 person executive committee tells him to do.  So aren't both staff and leadership ultimately responsible for MHI "performance?"
With two of the four MHI executive committee members working for Berkshire Hathaway companies, and a third – and the current MHI chairman – Joe Stegmayer being a former Clayton Homes division president, is there any escaping the impression that MHI is an allegations-and-problem-plagued puppet of Warren Buffett led Berkshire Hathaway?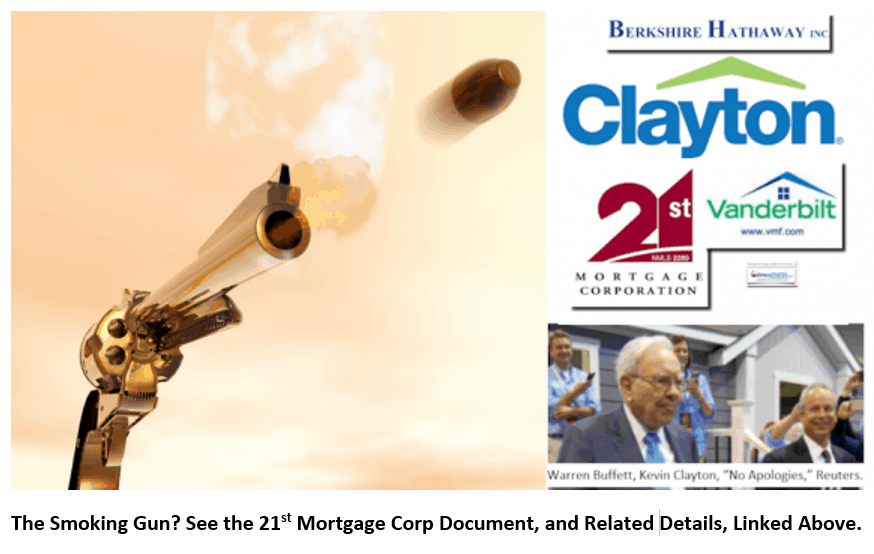 Fraud, Class Action, CFPB-Warren Buffett, Berkshire Hathaway, Clayton Homes, Vanderbilt Mortgage & Finance, 21st Mortgage, Manufactured Housing Institute, and the Manufactured Homes Industry
While commentators will be picking over the remains of the 2012 elections for weeks to come and discussing what the political landscape will look like over the coming year and what impact the elections will have as Congress prepares to return for a lame-duck session, MHI wanted to provide members with some feedback and analysis of the immediate aftermath and outlook for the coming weeks.
There is Hope…
The thin hope for MHI logically rests on the following realities.
They do respond to repeated fact-based pressure, as MHARR and MHProNews have demonstrated. They will over-time pivot to a better position, but often only after they've held a previous problematic one. So, take-away one is that MHI needs those outside pressures to hold them accountable, and force their pivots.
Exclusive – HUD's Manufactured Housing Program Administrator Pam Danner, Update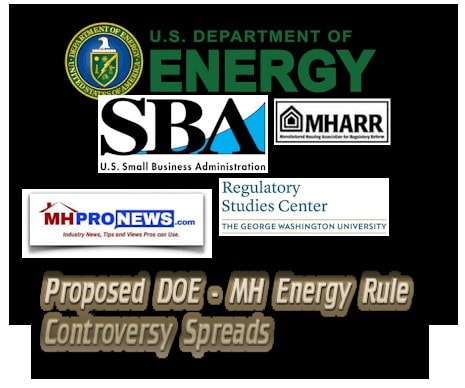 http://mhmarketingsalesmanagement.com/blogs/tonykovach/?p=14160
2. The Arlington, VA based MHI trade association needs to be reformed, and/or supplanted by a new-post production association. It must become more representative to the industry at large, rather than promote the interests of a few favored companies, which are obviously being paid for by all of their members.
Study Recommending New Manufactured Housing Association for Independent Retailers, Communities, Lenders, Others Released
It is axiomatic.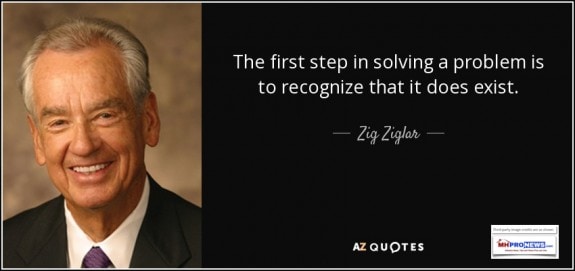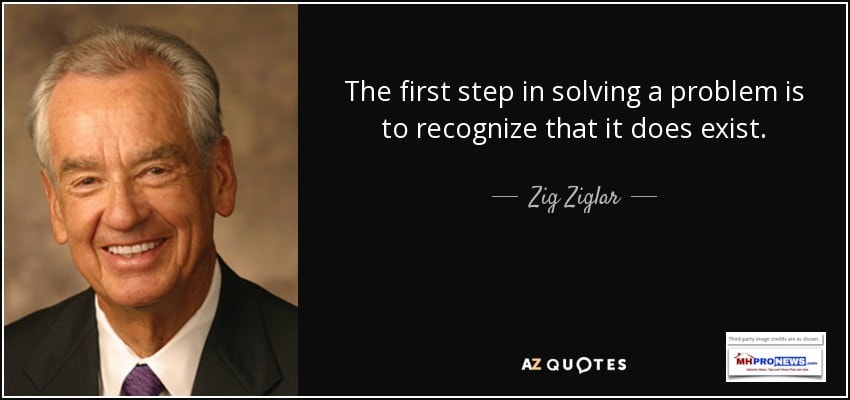 The only way to correct a problem is to first admit that it exists.
Then, once the reality that a problem exists has set in, fact-based changes are required.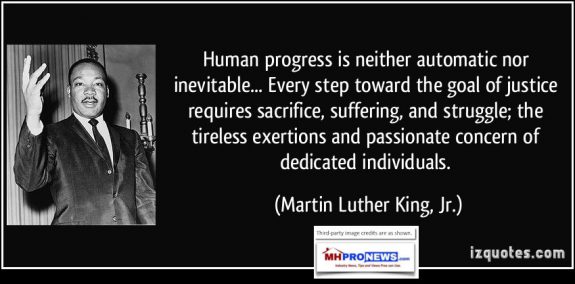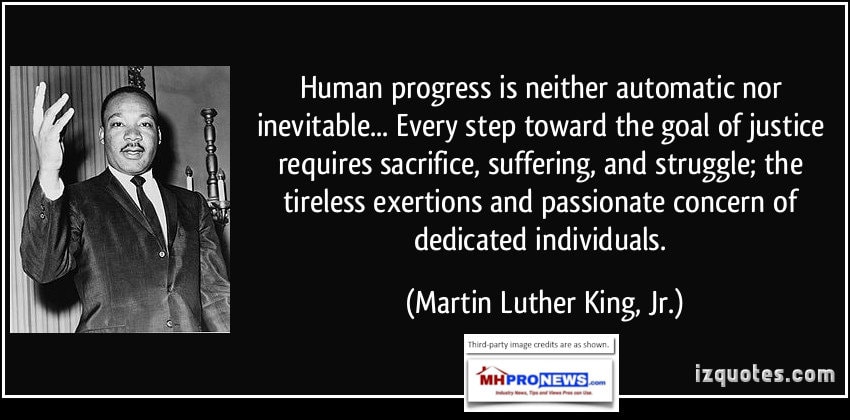 Anything else is the popular definition of insanity, that was advanced by Albert Einstein, in the quote below.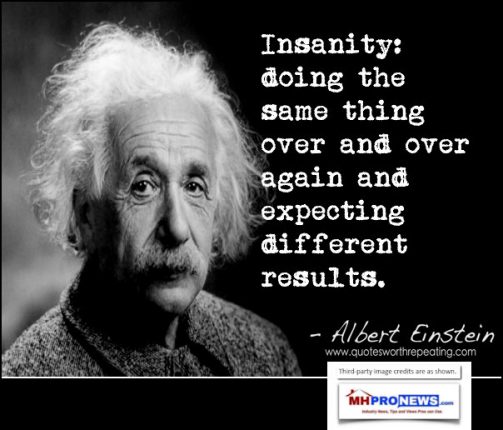 Failure to act logically only prolongs the industry's communications and image woes. Agree?  Disagree?
"We Provide, You Decide." © ## (News, fact checks, analysis, P.E.P. MH Educational, commentary.)
Notice 1: Looking for our emailed MH Industry headline news updates? Click here to sign up in 5 seconds. You'll see in the first issue or two why big, medium and 'mom-and-pop' professionals are reading them by the thousands, typically delivered twice weekly.
Notice 2:  Want sustainable growth?  Join the Manufactured Housing Revolution team's proven marketing and other MH Professional Services, click here.
(Image credits are as shown above, and when provided by third parties, are shared under fair use guidelines.)

Submitted by Soheyla Kovach to the Daily Business News for MHProNews.com.