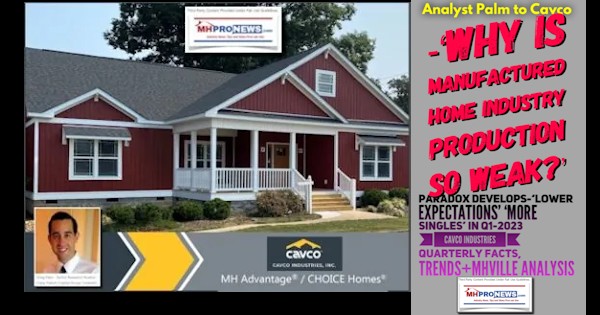 Analyst Gregory William Palm is described by Reuters as a "Senior Research Analyst; Craig-Hallum Capital Group LLC, Research Division" and he asked the headline and following question from Cavco Industries (CVCO) President and CEO William "Bill" Boor during their recent corporate quarterly earnings call. "I think everybody is trying to get a sense for why at least [manufactured housing] industry production data was so weak. And not just calendar Q1, but March [2023] specifically." Hold that inquiry by Palm in mind, because it is a sobering remark that will be explored in depth among several other issues found further below. To frame Palm's headline concern, it should be apparent that contradictions have been observed between remarks previously made by corporate officials who are often involved in the Manufactured Housing Institute (MHI). Some of those officials have been engaged in legal woes which may shed more light on Palm's concern. For instance. According to a U.S. Securities and Exchange Commission (SEC) (highlighting in this preface is added): "Under our federal securities laws, public companies are required to disclose certain financial and other information to investors. The basic premise of this disclosure-based regulatory regime is that if investors have timely, accurate, and complete financial and other information, they can make informed, rational investment decisions." So said the SEC's Acting Chief Accountant Paul Munter (3.9.2022). The question of materiality – or what is material and ought to be of interest – to an investor arises.
In a prior SEC remark on that topic: "Materiality refers to the matter of whether a piece of information would likely be important to the reasonable investor."
The McNeese Law website, in addressing that topic of materiality, did so in a post with this headline: "What is Material? The SEC Says You Decide." A focused review of that topic will help frame this preview of the following quarterly reporting and earnings call information from Cavco Industries (CVCO), which is provided and explored in depth herein.
From that same McNees Wallace & Nurick LLC. website on the issue of materiality, they cite two U.S. Supreme Court cases. The second one and some related said the following.

More than a decade later, in Basic Inc. vs. Levinson, 485 U.S. 224 (1988), the Supreme Court reiterated the TSC Industries standard of materiality, stating that something is material if there is "a substantial likelihood that the disclosure of the omitted fact would have been viewed by the reasonable investor as having significantly altered the 'total mix' of information made available." Id. at 231-32. In this case, the Court ultimately concluded that materiality "will depend at any given time upon a balancing of both the indicated probability that the event will occur and the anticipated magnitude of the event in light of the totality of the [entity's] activity." Id. at 238.
Using these seminal cases as their guidepost, the SEC has adopted a similar definition of materiality in the context of financial statements, providing that "[a] matter is 'material' if there is a substantial likelihood that a reasonable person would consider it important…The omission or misstatement of an item…is material if, in the light of the surrounding circumstances, the magnitude of the item is such that it is probable that the judgment of a reasonable person relying upon the report would have been changed or influenced by the inclusion or correction of the item." U.S. Securities and Exchange Commission Staff Accounting Bulletin No. 99 – Materiality, 17 C.F.R. §211, Sbpt. B (Aug. 12, 1999).
According to the SEC, judgments of materiality "can properly be made only by those who have all the facts." Id."
Note that legal opinion focuses on the impact of "the disclosure of the omitted fact…" and again "The omission or misstatement of an item…" That could be reworded as paltering or spin, each of which MHProNews has hammered on in recent years. It is significant because paltering is an apt description of what is arguably all too common in manufactured housing circles when it comes to MHI and some of their leading brands. Newcomers should know, and industry veterans are reminded, that Cavco effectively holds two board seats on the MHI "executive committee."
Disclosures: as part of this preface, MHProNews notes anew that our reports are by a non-attorney, but various legal sources are cited herein. It is up to the prudential judgment of the individual, perhaps with the benefit of counsel – rather than this publication – that should be considered by industry professionals, investors, public officials, researchers, and others in what they do with these insights. Bluntly, MHProNews is arguably not liable for information and expert editorial analysis on this or any other article. Our logo appears on the top left of virtually every page and article and it is clear: our reports are manufactured housing "Industry News, Tips, and Views Pros Can Use." © The Digital Media Law Project (DMLP.org) points out the safeguards from liability emerge from "Section 230" or more specifically: section 230 of the Communications Decency Act ("Section 230"). This important federal law protects you from certain types of liability…" There are other safeguards under the law for publications like this one.
That said, for our part, MHProNews strives to provide top quality insights, much like we would offer to a client as an expert witness or as an industry expert consultant.
An inquiry from an industry professional yesterday was used as a reminder that this writer and our firm have decades of direct, hands-on experience in a range of successful manufactured housing connected realms. Again, put bluntly, we don't just burp out words because they sound good, will tickle someone's fancy, or to merely get more clicks. Our views are based on facts, evidence, and decades of practical and praised experience in manufactured housing. As a result of that experience, combined with a working knowledge of interrelated historic events, this platform has emerged and remained the standout in MHVille for grasping what has gone wrong. It is some of our rivals and people in the MHI camp that have said so.
Those disclosures made, as Palm put it quoted above and in full context below: "I think everybody is trying to get a sense for why at least [manufactured housing] industry production data was so weak." Bingo and kudos to Palm. The fact that virtually all others that claim to 'report' news or offer 'expert' insights into manufactured housing are either ignorant or perhaps full of it for ducking that key topic.
When not only Palm, but outsiders like attorney Andrew Justus, Niskanen Center Housing Policy Analyst in his recent The Hill Op-Ed Asks and Answers – 'What's Holding Back Manufactured Housing?' the wonder is that there aren't more questions like Palm's being asked of public companies.
Palm and attorney Justus are to be encouraged in their inquiries.
That said, each are still relative outsiders looking in while this publication offers unique insights, combined with third-party materials under fair use or other legal provisions, that result in a potent blend of relevant understandings. Historically thousands, perhaps tens of thousands or more, will read this specific report. They are routinely industry professionals who know which way is up in MHVille. They will have a sense of what is fluff, weird, or just plan old BS versus what may make sense. And like this writer, there are numbers in MHVille that don't think – they KNOW that something has gone dreadfully wrong in manufactured housing. And that 'something' has arguably infected Cavco Industries and other MHI members too. When Cavco itself admits there is a "dire" need for affordable housing, and the results are so puny that ought to make truth seekers lean in. As but one example of oddities that are observable with MHI is that organization handing out awards to companies – including, but not limited to Cavco Industries – which have a D- Better Business Bureau (BBB) rating. Yet MHI calls their curious prizes 'excellence' in manufactured housing awards? It sounds absurd on its face.
MHProNews has struck an important balance in the aim of being truly useful and informative to readers while safeguarding our own rights to freedom of expression.
That useful segue and disclosures aside, back to what McNees Law said: "Id. Additionally, industry experts have also advised that issuers and other obligated persons should maintain a record of the analysis that was undertaken in making the materiality decision. If an event is ultimately determined to be material, an event notice must be filed within ten (10) business days of the date the "financial obligation" is incurred."
MHProNews for months has increasingly hammered away at the theme that manufactured housing is underperforming during an affordable housing crisis. That claim, if true (and arguably it obviously is, based on an array of facts and evidence), has potential consequences or relevance to professionals in our industry.
More specifically, for a publicly traded firm, they have legal obligations relevant to disclosures of information of "material" importance to actual or potential investors.
By examining past and present remarks and behaviors by officials involved with the Manufactured Housing Institute (MHI) – both staff and corporate board members – apparent and arguably legally significant disconnects have been identified in large numbers of our reports. A reasonable person who is invested in a manufactured housing industry firm may believe those representations to be "material."
Other types of investment structures may also have their own potential vulnerabilities to various federal or state actions and other legal claims.
The headline and first paragraph question above quoting analyst Palm is a long overdue hinge that may expose questions of liability for a firm that has only recently emerged from a multi-year SEC cloud.
Once more for emphasis – Palm probed Cavco CEO Boor with: "I think everybody is trying to get a sense for why at least [manufactured housing] industry production data was so weak. And not just calendar Q1, but March specifically." Recall it was only a few months ago, during their prior quarterly report, that Boor was talking about January traffic and quotes were up and those were supposed to be early indicators of a coming uptick. More recently in Boor's reported May 2023 response to Palm, which is given in full below, Boor answered in part: "But that's really a couple of months leading indicator to the extent it's correlated to orders because it takes people time to make their decisions."
So, based on Boor's own words that it takes "a couple of months" for people "to make their decisions" then that claimed rise in January 2023 of traffic and quotes Cavco disclosed should have meant a March 2023 boost in sales and production, right?
But as Palm pointedly implied, March 2023 production for manufactured housing fell sharply.
Furthermore, March production and sales fell despite evidence that more costly conventional housing had a kind of rebound. So, once again – as Palm and others have wondered: what happened to the manufactured housing industry?
That inquiry begs several questions. Among them? Are new shareholder, federal and/or state legal actions possible in the light of seeming material (mis)representations that look like omissions, misstatements and/or improper actions at the time some made them?
Hold those thoughts, each of which – along with others – will be addressed following the context of Palm's and Boor's remarks in the earnings call transcript that follows.
Part I of today's report is what Cavco oddly calls their Q4 2023 earnings call, which actually covers the first quarter of 2023. One wonders why Cavco uses a quarterly system other than the calendar, as well as other oddities. But that might be relatively minor compared to the serious questions hinted at in the preface above and will be explored in Part II of today's report.
Part II of this column will provide additional information with more MHProNews Analysis and Commentary. It will probe questions put to Bing's AI last week about why manufactured housing is underperforming, among other relevant issues.
Don't miss the quick snapshot at the end of this detail report for the latest national data, which sheds a troubling light on much of what follows.
Part I – per Reuters is the Following about Cavco (CVCO)
Q4 2023 Cavco Industries Inc Earnings Call
May 20, 2023
Participants
Allison K. Aden; Executive VP, CFO & Treasurer; Cavco Industries, Inc.
Mark Fusler; Director of Financial Reporting & IR; Cavco Industries, Inc.
Paul W. Bigbee; CAO; Cavco Industries, Inc.
William C. Boor; President, CEO & Director; Cavco Industries, Inc.
Daniel Joseph Moore; MD of Research; CJS Securities, Inc.
Gregory William Palm; Senior Research Analyst; Craig-Hallum Capital Group LLC, Research Division
Jay McCanless; SVP of Equity Research; Wedbush Securities Inc., Research Division
Presentation
Operator
Thank you for standing by, and welcome to the Cavco Industries Fourth Quarter Fiscal Year 2023 Earnings Call and Webcast. (Operator Instructions) As a reminder, today's program is being recorded.
And now, I'd like to introduce your host for today's program, Mr. Mark Fusler, Corporate Controller and Investor Relations. Please go ahead, sir.
Mark Fusler
Good day, and thank you for joining us for Cavco Industries Fourth Quarter and Fiscal Year 2023 Earnings Conference Call. During this call, you'll be hearing from Bill Boor, President and Chief Executive Officer; Allison Aden, Executive Vice President and Chief Financial Officer; and Paul Bigbee, Chief Accounting Officer.
Before we begin, we'd like to remind you that the comments made during this conference call by management may contain forward-looking statements, including statements of expectations or assumptions about Cavco's financial and operational performance, revenues, earnings per share, cash flow or use, cost savings, operational efficiencies, current or future volatility in the credit markets or future market conditions.
All forward-looking statements involve risks and uncertainties, which could affect Cavco's actual results, and could cause its actual results to differ materially from those expressed in any forward-looking statements made by or on behalf of Cavco. I encourage you to review Cavco's filings with the Securities and Exchange Commission including, without limitation, the company's most recent Forms 10-K and 10-Q, which identify specific factors that may cause actual results or events to differ materially from those described in the forward-looking statements.
This conference call also contains time-sensitive information that is accurate, only as of the date of this live broadcast, Friday, May 19, 2023. Cavco undertakes no obligation to revise or update any forward-looking statement whether written or oral, to reflect events or circumstances after the date of this conference call, except as required by law.
Now I would like to turn the call over to Bill Boor, President and Chief Executive Officer. Bill?

William C. Boor
Thanks, Mark. Welcome, and thank you for joining us today to review our results for the fourth quarter of 2023. This quarter saw the full impact of the economic pressures and retail inventory issues we've been experiencing through the latter months of calendar 2022 and into this year.
Our volumes were down 10% year-over-year. Revenue dropped approximately 6% or $29 million and pretax profit was down about 15%. So, it's clearly been a challenging operating environment. On the positive side, we have seen improvement in order rates with net orders up meaningfully compared to the last 2 quarters. In fact, on a same plant basis, net orders were about double what we saw in Q3. We spoke last quarter about watching orders, as we entered the seasonally stronger selling season and it's a good sign that we also saw that order rate improve throughout the fourth quarter.
And while average selling price is off sequentially, pricing has held up well despite the drop in industry shipments. Overall, our average selling price was down about 6% sequentially. However, the majority of that decline was mix driven as opposed to price reduction.
A very important component of our business model and something we focus on in downturns is keeping our cost structure as variable as possible, so we can maintain profit and cash flow at lower volumes. This is something that can be seen in this quarter's results. Factory-built gross margins remained high at 24.4%, essentially flat year-over-year despite the negative impact of Solitaire purchase accounting. Certainly, this was helped by pricing and commodity cost improvement compared to last year. However, it's also due to outstanding cost management in our plants, as they transition to reduce schedules.
Despite same plant production rates being off 24% from the peak last summer, gross margins have held. And on a comparable basis, excluding onetime items in Solitaire, SG&A was lower than last year's quarter. Our leaders have adjusted quickly and very well, and we are demonstrating a focus on cost and efficiency we consider to be key to our success. The bottom line is that in a challenging demand environment, we posted operating income of $54.3 million in similar free cash flow generation. I'm very proud of these results that demonstrate the expertise, resilience and nimbleness of our operating teams.
Regarding market conditions, it's difficult to generalize across the system in an environment like this, but I'll try. For some time, we've been facing a retail inventory issue that has kept wholesale orders below actual industry retail sales. We're nearing the end of that issue and getting closer to a 1:1 ratio of home hire demand and manufacturer orders. I've commented before that this issue will not go away suddenly. And my comment here is not to say that every local area and dealer has gotten to their target inventory. However, in general, this issue is largely behind us, and that's a positive for order rates going forward.
As I've kept in touch with both independent retailers and our own stores, there's a lot of optimism. Retailers are seeing healthy traffic. Quotes have remained at a high level, frankly, higher than we saw over the previous 2 years. We watch quotes, as a leading indicator of future deposits. The traffic and quote data support the view that to the extent interest rates and macroeconomic factors allow, the fundamental need for our homes is building positive pressure for future order improvement.
We've seen in the total housing industry that new home sales are starting to improve, further indicating that buyers are adjusting to the interest rate changes and in many cases, adjusting their expectations of the home they can afford. Supporting this view after several years of product mix shifting toward multi-section homes, we're now seeing that trend reverse towards single section homes.
As Allison will cover in more detail, this quarter, we completed the Solitaire acquisition and continued share repurchases, while maintaining a strong cash balance. So our capital allocation approach remains unchanged by the current order environment.
I want to express my sincere appreciation to all of the folks at Solitaire and within Cavco who have worked on various aspects of the integration. It's hard work, and they've made really great progress. I've spoken in the past about the really — the very real benefit of rounding out product offerings, both in the Solitaire and Cavco-owned stores, our retail team has moved quickly and this is well underway. We're also focused on product updates and product development, particularly aimed at lower price point homes. So through a lot of hard work, everything is moving forward with a very good combination.
Let me switch gears. Last quarter, I talked about the milestone achieved in January, when we went live with cavcohomes.com, our new customer-facing digital home marketplace. I won't repeat all the aspects involved in this game-changing improvement, and how we support our dealers and our prospective homebuyers, but I do want to give a sense of our progress.
Early traffic and lead generation has been strong and is expected to continue growing. We've been very happy with the reaction of our retailers, particularly our smaller retailers have been enthusiastic about having an easy-to-use website they can update with prices, photos and videos. And all retailers are benefiting from the additional exposure and leads being funneled to them for follow-up. With the site now in place and fully functional, we will be continuing the process of adding more Cavco brands and expanding the suite of customization options to support our retailers and homebuyers.
With that, I'd like to turn it over to Allison to discuss the financial results in more detail.
Allison K. Aden
Thank you, Bill. Net revenue for the period was $476.4 million, down 5.8% or $29.1 million compared to $505.5 million during the prior year's fourth fiscal quarter.
Within the factory-built healthy segment, net revenue was $456.1 million, down 6.6% or $32.2 million from $488.3 million in the prior year quarter. Decrease was primarily due to a decline in base business units, partially offset by a 4.4% increase and average revenue per home sold and $28 million for the Solitaire acquisition.
Financial services segment net revenue increased 18.4% to $20.3 million from $17.2 million, primarily due to the more insurance policies in force and higher premium rates, partially offset by lower interest income earned on the acquired consumer loan portfolio that continues to amortize.
Consolidated gross profit as a percent of net revenue was 25.3%, down 30 basis points from the 25.6% in the same period last year. In the factory-built housing segment, the gross profit decreased slightly to 24.4% in Q4 of 2023 versus 24.5% in Q4 of 2022, primarily due to Solitaire purchase accounting adjustments on acquired inventory. Under accounting rules, the inventory acquired is recorded at fair value, which approximately to sales cost. Therefore, when acquired inventories sold low revenue is recognized, this reduced the factory-built and consolidated gross margin percentages by 40 basis points in the fourth quarter.
Gross margin and its percentage revenue in financial services decreased to 45.7% in Q4 of 2023 and 58.5% in Q4 of 2022, as a result of weather events in Texas and in Arizona.
Selling, general and administrative expenses were $66.4 million or 13.9% of net revenue compared to $59.7 million or 11.8% of net revenue, during the same quarter last year. The increase is primarily due to higher expenses incurred, in leveraging third-party consultants assisting with energy tax credit projects, higher legal costs, specifically related to an indemnified former officer and his ongoing SEC litigation costs, deal costs related to Solitaire and the addition of Solitaire SG&A costs in Q4 of 2023.
Interest income for the fourth quarter was $3.9 million, up 212% in the prior year quarter. The increase is primarily due to higher interest rates on our invested cash balances and increased lending under our commercial loan program. Net other income this quarter was $0.7 million compared to negative $2.5 million of expense in the prior year quarter. This increase is primarily driven by gains on corporate equity securities in the current year compared to losses incurred in the prior year.
Pretax profit was down 14.6% this quarter to $58.6 million from $68.6 million for the prior year period. The effective income tax rate was 19.1% for the fourth fiscal quarter compared to 22.1% in the same period last year. The lower rate was the result of tax credits related to the sale of energy-efficient homes, available under the Internal Revenue Code Section 45L in the current quarter.
Net income attributable to Cavco shareholders was $47.3 million compared to net income of $53.6 million in the same quarter of the prior year. Diluted earnings per share this quarter was $5.39 per share versus $5.80 per share in last year's fourth quarter.
Before we discuss the balance sheet, I'd like to highlight that we continue to execute on our capital allocation priorities with the recently closed acquisition of Solitaire Homes and share repurchases of $30 million in the fourth quarter. The purchase of Solitaire Homes utilized approximately $106 million in net cash, leaving us with over $270 million of cash subsequent to the purchase. We will continue to appropriately deploy this capital in keeping with our strategic priorities.
Now I'll turn it over to Paul to discuss the balance sheet.
Paul W. Bigbee
Allison. Comparing the April 1, 2023 balance sheet, April 2, 2022, our cash balance was $271.4 million, up $27.2 million from the end of the prior fiscal year. The increase is due to net income adjusted for noncash items and changes in working capital, partially offset by the acquisition of Solitaire Homes, common stock buybacks and purchases of property plant equipment, primarily related to the purchase and development of our Hamlet, North Carolina facility and continued development of our Glendale, Arizona facility.
Investments, including short term, are down primarily due to the return of capital from a joint venture and sale of corporate marketable equity securities. Inventories increased from the Solitaire acquisition, offset by declines in raw materials and home sales at our retail locations.
Prepaid and other assets are higher, resulting from prepaid taxes associated with higher taxable income in the current year and timing of estimated payments. Property, plant and equipment is up primarily due to the Solitaire acquisition and the purchase of our facility in Hamlet, North Carolina and the development of our Glendale, Arizona facility, as previously discussed.
Accrued expenses and other current liabilities increased from higher rebates payable, more set up freight and foundation work and higher warranty reserves. Lastly, stockholders' equity was approximately $976.3 million as of April 1, 2023, up $145.8 million from $830.5 million as of April 2, 2022.
This completes the financial report and now I'll turn it back to Bill.
William C. Boor
Thanks, Paul. As Allison and Paul explained, our balance sheet remains very healthy, and this supports a continuation of a consistent strategy and capital allocation path we've been delivering upon. The demand downturn and need to work through industry inventory fits within our expectation that manufactured housing as a cyclical business. However, these cycles are within the broader context of an increasing need for our homes.
With a strong balance sheet of proven ability to adjust as needed and against the backdrop of the dire need for affordable housing, we're staying focused on the bigger picture and opportunity to positively impact that housing crisis. We will continue to invest in operational improvements and growth, and we will continue using share buybacks to responsibly manage the balance sheet.
With that, Jonathan, please open the line for questions.
Question and Answer Session
Operator
(Operator Instructions) And our first question comes from the line of Daniel Moore from CJS Securities.
Daniel Joseph Moore
Maybe ask one or two extras today, given a lot of moving parts. But, you touched on the order rates. Maybe a little more clarity on kind of cadence of new order rates sitting in Q4 and thus far into Q1. In other words, do you have enough net new orders coming in to maintain the level of production and sales we saw in Q4, over the next few quarters? Or do we anticipate needing to further curtail production at least in the near term?
William C. Boor
Yes. We pulled back on production, as I indicated, with the decline in production rate. And certainly, as the order rates are coming in now, I think we're kind of in a balance. In fact, I always will point out that there are differences, plant to plant, region to region. We've got some plants that have gone down to a 4-day work week that are feeling optimistic and getting ready to go back to 5. So, it's differential. But I'd say across the whole system, we're in the seasonally stronger period of time as well. So I'm feeling pretty good about the balance we have right now.
Daniel Joseph Moore
Got it. So at least in the short term, I wouldn't expect further declines and maybe start to pick up a little bit in terms of production.
William C. Boor
Yes. That's where I think we're trending. Everything is subject to kind of a shaky economic environment, but we're feeling pretty optimistic. And as I said, I take a little bit from everything you're picking up. We were at an industry [event?] than a couple of weeks ago. And I'll tell you the tone was very positive there as I talk to retailers. So, getting the inventory behind us is a big deal. We talked about that and then suddenly kind of disappears from a conversation when it's no longer an issue. But even that 1:1 ratio creates a pickup in manufacturing orders, that I think will be really helpful.
Daniel Joseph Moore
Very helpful. It may be difficult to answer, but you produced, let me get the number here, including Solitaire, 4,477 homes in the quarter. Any sense for what the underlying retail demand for your businesses and factories look like? Obviously, we were still in a destock period from inventory. So I wonder, if you have any sense for that?
William C. Boor
I'm not sure how to answer that. I think it's kind of similar to your first question, right, about where is the balance? Sorry — I mean, I guess, yes, I don't think I can give you anything with any precision. What I can tell you is that as we — you might remember the last quarter, we said, "Hey, the thing to watch is whether orders pick up, as we get into the stronger selling season." And consistent with my comments, you look at the if you dissect the quarter a little bit, we left the quarter at a much higher order rate than we entered it</span..
So again, I feel like we're — we've done a good job of pulling back production rate, keeping costs variable. And now, with the optimism we're seeing in retailer activity and the subsiding of the inventory issue, I think we're in pretty good shape. I'm not sure, I can give you anything more than that.
Daniel Joseph Moore
No, that's helpful. And now that we're through Solitaire, the purchase accounting, how should we think about gross margins, at least in the factory-built housing portion of your business over the next 1 to 2 quarters, say, relative to Q4?
Allison K. Aden
I think, if we think about gross margins consistent with what we've talked about before, and we've got you think about kind of 3 areas. In pricing, I think, we touched on that we're holding our own — still seeing some pressure, but certainly holding our own. From a cost perspective of raw materials and the commodities are still somewhat consistent, and partly offset by non-commodity items.
With regards to the Solitaire, the 40 basis points for the purchase accounting, we do expect that, as we anticipated when we made the purchase to continue to in a couple of quarters. But long term, Solitaire will perform to our manufacturing gross margin and ASP rates.
William C. Boor
Yes. It's important on the new home sale that I saw out there, there's no negative margin impact. It's just getting through 0 margin homes from purchase accounting, and that will take us a little while, as Allison said.
Daniel Joseph Moore
Very helpful. Then it dovetails into my next question, which is just in terms of Solitaire, do you expect it to begin to contribute positively to pretax income this quarter? Or might that take a little bit longer? And what's the glide path to getting to your average margins factory-built housing margins?
Allison K. Aden
I think, we can think of it kind of in a life path associated with moving through the purchase accounting. The other thing is that we talked about was we have a site at Dunkin [Duncan] that has just come online during the purchase, and we will see that ramp up that will help add and be accreted.
Daniel Joseph Moore
Got it. Do you have the capacity utilization in the quarter? I didn't see that in the release?
William C. Boor
Yes. Can you talk about that (inaudible) one more?
Mark Fusler
Yes. So kind of on a just full operating days available, we were just about at 60%. As Bill mentioned, we did have those scheduled down days on the 4-day work week. So we're just about 70% considering those.
Daniel Joseph Moore
That's helpful, Mark. Okay. And lastly for me, I appreciate the commentary about cavcohomes.com. Where do you see that maybe 2, 3 years out, in terms of is there a target percentage of homes that you see coming from that sales channel? Or just a kind of incremental to growth over time? Any color on that would be helpful.
William C. Boor
And Dan, I don't know if I have any merit target, but I'd put it in a bigger context than even what you're posing the question because we know how much everyone is doing their homework for any significant purchase online. So, I think it's really kind of central to our strategy. I would not be surprised if the vast majority of home sales a couple of years from now, I kind of — we believe that are happening today that they're starting with that online experience.
So we think it's right at the core of how homes are going to be marketed, and we also think that it's a huge benefit to us in our relationship with dealers because we're really supporting the dealers. As I said in my comments, and I didn't want to be too long-winded in them, but for many small dealers, their eyes are lighting up, when our folks talk to them and say, "Hey, it would be very easy for you to have a micro site that markets your dealership with all of our automated data behind it. And you can add photos and you can add information." So they're going to be so much more effective, and our relationship with them is that much deeper.
And then, as we continue to — we've gotten good results in the early days on visitors and conversions. Conversions, meaning a visitor who actually ask for more information or it's a button and calls the dealer that site provides for them. So we're seeing good early numbers on that. And what that's all about is kind of funneling targeted leads to those dealerships. So I know I'm talking a little bit in concepts, but I think, I think this is the starting point for the vast majority of home sales for us, possibly now, but definitely as time progresses. So as far as targets, I don't know what to say, except most.
Operator
(Operator Instructions) And our next question comes from the line of Greg Palm from Craig-Hallum.
Gregory William Palm
I maybe wanted to follow-up along some of the earlier questions about just kind of overall activity levels, demand environment. Bill, you said order rates ended the quarter at a much higher rate in the beginning. Any way you can sort of quantify that? And just to be clear, what have you seen in April and May specifically as well? Have those order rates continued to increase in the whatever, 6 or 7 weeks post quarter end?
William C. Boor
Yes, I'm just looking at some data to see what I can frame for you. I can tell you, I mean, one thing talk in net, and I'm not saying this is the biggest driver. But one thing, when I talk about order rates, I'm talking about net of cancellations. Cancellations have basically fallen back down to not being an important part of the conversation. So part of that, to be fair, is because we — our backlogs in many places are very short. So folks place an order, it's going to go into production. So not taking too much credit for cancellation reduction is kind of natural. But we're talking about net orders.
And, just I bought it or looking at some data, March was on a plant basis was well higher than we've seen in nearly a year. And you're asking me about numbers in April. I'll just tell you that directionally, our net orders on the same plant basis are up over March. Some of that's seasonal, but the significance of the pickup is, I think, bigger than seasonal in my opinion. And also, being able to say, we got a really good seasonal pickup in wholesale orders, while inventories are reducing is a pretty large statement, I believe.
Gregory William Palm
Yes. And that's interesting. And I know maybe order rates aren't even a great approximation of the actual activity levels.
Because I think what you said is, whether you look at traffic or quoting has been really strong. Why hasn't that maybe resulted in higher order rates to date and more importantly, higher production levels?
I mean, is it just as simple as the inventory levels were just a little bit higher and it took a little bit longer to work through because I think everybody is trying to get a sense for why at least industry production data was so weak. And not just calendar Q1, but March specifically. I know that there is some sort of a lag involved, but maybe you can just tie that back out to the production, if you're able to?
William C. Boor
Yes. I mean you're hitting all the points that I can make to be honest. I mean, you do have — we've had the inventory thing. So that's the — an order of home that leaves the retail lot is not getting replaced because the retailer wants to get inventory down. So that does not turn into an order, when you got an inventory problem. And I commented that I feel like that discussion is about ready to be over. And then, I mean that's one big factor.
And then, when we look at traffic and close traffic has actually been, in my view, pretty healthy throughout, right? And I've always said that — what I think that indicates is the underlying need. There are people out there trying to figure out, can I afford a home? My family needs a home. They're trying to do that work, and they were just kind of put on their heels by the interest rate increases on top of dramatic increases for our products, but the traffic has consistently been there.
The order strength over the last several months — I'm sorry, not orders, the close strength over the last several months, I view as a positive indicator. But that's really a couple of months leading indicator to the extent it's correlated to orders because it takes people time to make their decisions</span.. And — so it's easy to be talking to a number of retailers and ask for quotes.
It indicates a high level of activity of shopping, trying to figure out how to make the purchase, but it won't result in the correlation between quotes and true order is not quick. It can be a couple of months. So I'm not bothered by the fact that we're seeing those positive indicators, but we're not — but we haven't seen the pickup in wholesale orders. I think, it's very explainable by those factors. And I think it's common.
Gregory William Palm
Yes. And I just wanted to be sure I heard you right. You talked about, at least I think some plants move into a 5-day work schedule. Are any of them at 5 days today? Or how many are going to 5 days? I mean, I assume that alone would mean all else equal, higher rates of production going forward versus what we've seen, but maybe you can just confirm that?
William C. Boor
Yes. Our plants have been kind of changing schedules based on their unique circumstances. And my comment was generally that, as we talk to our plants, which we stay in very close contact with them, they're on their own situation. I would say the majority had reduced the 4-day schedules in the last couple of months. And my comment was that now those conversations are turning where they're saying, hey, we're thinking about whether we're seeing enough out of retail right now, that we might be able to find back the 5.
So I don't have a number to tell you out of our entire plant system, whose on the verge of going back to 5. It's just the conversation has shifted in that direction, which is a positive.
Gregory William Palm
Understood. Okay. On pricing, I think you said the majority of the ASP decline sequentially was just due to mix. Do you foresee that being in kind of an ongoing trend? Or do you think sort of the bulk of that was basically witnessed this quarter? And to be clear, any change in ASP from Solitaire or was it pretty consistent?
William C. Boor
You're saying Solitaire period-to-period or Solitaire's impact on our average selling price?
Gregory William Palm
Solitaire's impact on overall selling prices, correct.
William C. Boor
Yes, I don't — I think we looked at that and they weren't a meaningful plus or negative to the average selling price across the company. And, you can actually watch from our — the data that we provide because we give both units and floors. So you can kind of do the algebra and figure out that we had a pretty significant move toward single-wide sales from the multi-section. And, I don't necessarily think that's a bad thing. I think, that's indicative of the affordability issues that people are facing</span..
So people are kind of lowering their expectations. They're moving down in the house, they might have been able to afford in previous periods. And they're starting to get off their heels and try to make those decisions and place orders. So, and I've talked in the past, we can track the average selling price obviously an important piece. But in my opinion, and when we look at the data at an operating level, we price our products.
I said this before, I don't know if you completely get what I'm saying, but we price our products, so that our time in our factory is at a consistent profitability, whether we're making a single module home or a multi-section. So I don't view it as a profit issue, to see that mix shift. But, it certainly can have an impact on average selling price.
Operator
(Operator Instructions) And our next question comes from the line of Jay McCanless from Wedbush.
Jay McCanless
Could you give us a sense of where Chattel rates are today, and maybe where they were this time last year?
Mark Fusler
Yes, sure, Jay. I can do that. So right now, our Chattel rates are running just a little bit over 9%. So they're going to be between 9% and 9.75%. So that's up roughly from about 7.5%, a year ago.
Jay McCanless
And then — so Bill, just to drill down some more because I was intrigued by your comments around more single section, there isn't going to be a profitability drop off any more, if you're building more singles versus multi. Is that what you're trying to get across?
William C. Boor
That's what we aim for with pricing and operating our plants because, again, I kind of view it as we're selling time. We're selling time and capacity in our plants. And so, you've got a lot of complexity in this discussion because you're going to have challenging to make single edge, you can have easier to make double edge, some products flow through the plant easier than others. But in general, our pricing approach tries to equalize the profitability we get for the use of our capacity is kind of the concept that I'm trying to explain.
Jay McCanless
I think one topic we haven't talked about are the park operators, what type of demand and pricing pushback are you seeing from them?
William C. Boor
Yes, that's a good catch. And I probably should a comment on it earlier. We actually have seen community operators drop off a bit recently in their wholesale orders. And, I was initially really puzzled by it. I took the opportunity to talk to a few of them. And initially, I was struggling with the answer, but they convinced me</span.. The comments I got basically summarized where we would be ordering more homes right now, if we could get them permitted and set in the field.
So they have been very clear that their issue is placement of the homes, not the need for the homes. But, it has been an issue because we can use the orders, of course. But they have — whereas they've been a source of strength in orders relative to dealers in past quarters, and we have seen a drop off more recently. I'm hoping that we'll figure out how to solve this permitting and set issue as an industry because it's a silly thing to be getting in the way of orders right now, in my opinion.
Jay McCanless
Got it. And then just to kind of clarify, because it seems like at the beginning, you talked about how we're through the worst of the destocking. But then, when you were talking about the retail channel, you said some dealers, I think, are still hesitant to replace homes. I guess, where — in talking to the retail operators, where do you think they are in terms of their inventory levels, and more importantly, their floor plan lenders comfort with where their inventory levels are now?
William C. Boor
Yes, I'm not sure what I said that picking up there. My comment, I think, was intended to say there are probably dealers out there, that are still saying my inventory is too high. But in general, when you look at it across the system, it's really — in my opinion, it's gotten to the point where it's not really a factor at this point on the 1:1 ratio.
So, I was just kind of acknowledging that there's still some to be done probably in isolated situations, but I think we're through it. I have not — and I have thought about talk to folks about this floor plan availability. I have not seen or heard that to be a constraint really. We've talked before, dealers are destocking for good business reasons. They're managing their turn rates. They don't — their cost of funds on floor planning has gone up. So, they're trying to get their inventory down on their own. But, I have not noted any dramatic forcing function coming from the floor plan lenders.
Operator
This does conclude the question-and-answer session of today's program. I'd like to hand the program back to Bill Boor for any further remarks.
William C. Boor
Okay. Thanks, Jonathan. I think, our results this quarter highlight the ability of the organization to manage costs, and to generate cash, even when conditions are challenging. And everyone at Cavco is ready for the inevitable return of demand, so that we can help more families get the homes they need. So with that, I'll thank you, as always, for your interest in Cavco, and we look forward to keeping everyone updated on our progress.
Operator
Thank you, ladies and gentlemen, for your participation in today's conference. This does conclude the program. You may now disconnect. Good day. ##
Part II – Additional Information with More MHProNews Analysis and Commentary
Palm's question was and remains important – "I think everybody is trying to get a sense for why at least [manufactured housing] industry production data was so weak." But it's hardly the only significant comments and reaction that merits attention based on the remarks above. But not to be overlooked in importance was the inquiry by Jay McCanless on the mix of products going into communities. While every inquiry may have merit, inquiries by Palm and McCanless led to insights that are likely to be of significant interest for some time to come.
That noted, in no specific order of importance are the following that merit exploration.
1) The stated shift to single sections and related explanations belies the continued promotion of CrossMod® manufactured homes by MHI. The fact that Kevin Clayton and others keep pushing their talking points on CrossMods in the face of the reality of poor results is questionable on several ethical and legal levels. How many more years is MHI going to be empowered to leave that tired featured image of a CrossMod on their homepage? It is absolutely relevant in the context of Cavco, which once again effectively holds two seat on the MHI "executive committee."
2) Similarly, why has Cavco bothered to push CrossMods, or allowed MHI to do so, at their Homes on the Hill as part of the Innovative Housing Showcase (IHS) with HUD and the National Association of Home Builders (NAHB)? Given Samuel "Sam" Strommen's allegation that a "felony" oligopoly style monopolization of manufactured housing is underway, and that it involves MHI, Cavco, Skyline Champion, and Berkshire Hathaway's Clayton Homes, PLUS given James A. "Jim" Schmitz's and his fellow Minneapolis Federal Reserve economists' concerns about "sabotaging monopoly" tactics in manufactured housing, thinkers ought to wonder if keeping CrossMods 'alive' is part of a scheme to undermine the industry and keep it underperforming? Why doesn't MHI, Cavco, or others answer direct questions on that or other relevant concerns? CrossMods aren't even mentioned by Cavco above, yet MHI – with Cavco's apparent support – keep pushing after MHI admitted that developers are 'moving away' from CrossMods. Investors and industry professionals alike should demand answers on this, and so too should public officials and shareholders' attorneys. Why keep a program that has arguably harmed the industry and some rejected over 5 years ago as a possible Trojan Horse? CrossMods have long defied logic, unless it is part of an unstated agenda that the Big Three are apparently colluding on.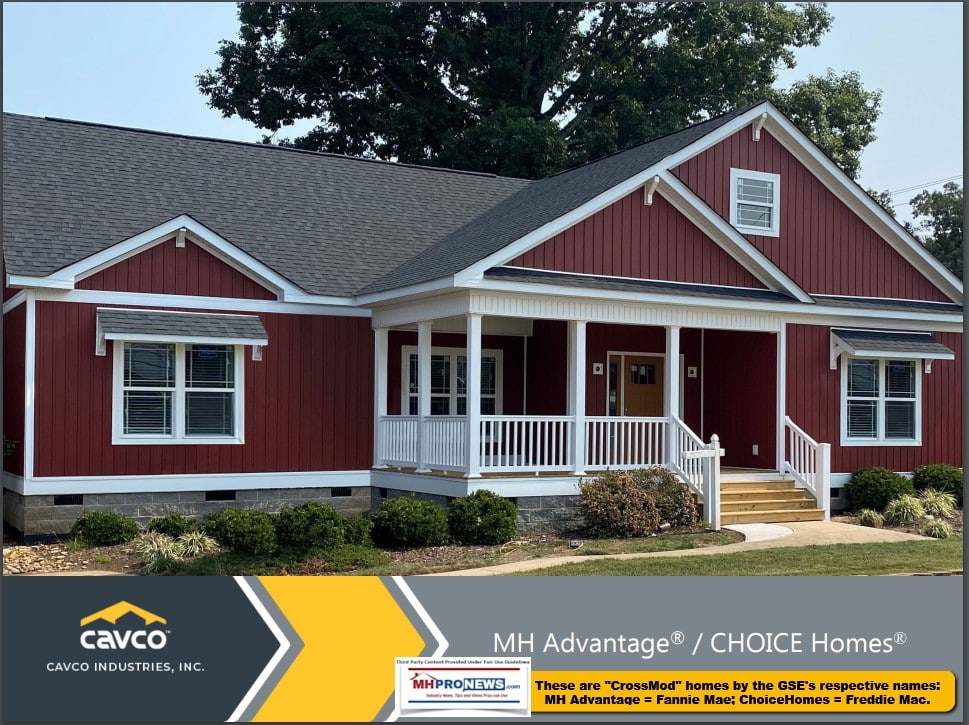 Bombshells! Former HUD Manufactured Housing Program Administrator Bill Matchneer, Cavco's Manuel Santana Statements
4) If this writer had been part of that earnings call Q&A, follow-up questions were warranted on several topics addressed above and herein. What does Boor mean that community operators are having a permitting issue? Pardon me, but that seems paradoxical if not nonsensical. Especially since the largest real estate investment trusts (REITs) and portfolio operators have had years to systematically develop and refine placements in their own communities. Indeed, judging strictly from the transcript rather than the audio, it seems that Boor was hemming and hawing more than normal. He appeared to be searching for expressions in several points during the discussion above that might steer clear of possible admissions that could become liability landmines.
5) For instance, in his effort to close on a positive, Boor said: "And everyone at Cavco is ready for the inevitable return of demand." What? The word "demand" was used 7 times in the above, per an MS Word search of the transcript. Cavco and Boor expressed that demand was approaching 1 to 1, meaning, most of the destocking of inventory was behind retailers and now when a home is sold by a retailer another home is ordered. And Boor said earlier: "Retailers are seeing healthy traffic. Quotes have remained at a high level, frankly, higher than we saw over the previous 2 years. We watch quotes, as a leading indicator of future deposits." If true, that two years remark would cover the period when virtually all manufactured home producers were roaring with supposedly long so-called backlogs. Within that same earnings call Boor expressed a hopeful "inevitable return of demand" but also a claim that quotes were "frankly, higher than we saw over the previous 2 years. We watch quotes, as a leading indicator of future deposits." It is disconnects like those which begs further questions. Because as Strommen and others have observed, there are reasons to believe that Cavco and some other 'leading' MHI firms have to some degree potentially colluded in a fashion that resulted in this bizarre fall of manufactured housing during a timeframe when conventional housing rebounded. Restated, Boor's reply to Palm's headline and earnings call inquiry is insufficient at best or perhaps indicative of duplicity that may be actionable for some interested parties. One again for clarity and emphasis: Palms said: "I think everybody is trying to get a sense for why at least [manufactured housing] industry production data was so weak. And not just calendar Q1, but March [2023] specifically."
6) With fixed interest rates on chattel loans for manufactured homes still – per Boor – hovering under 10 percent, that is half of the interest rates in hit at one point during the early 1980s, when ARM loans were closed at 20.5 percent rates. Yet the manufactured home industry was selling at more than double the rate of production than is currently being experienced.
Longtime MH Retail Sales Manager Asks Manufactured Home Leaders – Why are Manufactured Housing Production Levels Today About Half of 1980s When Interest Rates Hit 20.5% APR on ARM Loans?
7) It was not so long ago that Boor boasted that manufactured housing could 'catch up with [conventional] building.' That would imply a growth potential to several times manufactured housing's then-current levels. What happened to all that tall talk? How serious was it then if the reality now supposedly is that community operators are having a problem permitting homes into their own land lease communities? Similarly, if that was the potential, then why didn't Cavco deploy more capital and build more production and retail capacity? Why even consider deploying capital on stock buybacks instead? Again, they can't have it both ways.
Seeking Alpha – Cavco Industries (NASDAQ:CVCO) Data Sheds Light on Recent Manufactured Housing Institute Controversies, plus, Manufactured Home Investing, Stock Updates
"Bring That Demand Forward" – William "Bill" Boor, Cavco Industries CEO, What's Next for CVCO and Manufactured Home Industry Growth, plus, Manufactured Housing Investing, Stock Updates
8) Boor and his colleagues have arguably stepped in it several times on arguably material issues. To briefly compare and contrast Cavco with two of their smaller rivals.  Legacy Housing (LEGH)  in their recent remarks by CEO Duncan Bates in their most recent earnings call said that their salespeople needed some retraining from being order takers to becoming sellers again. Nobility Homes (NOBH) while noting a dip, also appears to have performed in some ways better than resource rich Cavco. Two smaller firms, one an MHI member, the other not, are in various ways as vertically integrated as Cavco is. So why did Legacy and Nobility seem to outperform Cavco, while Cavco is cutting back considerably from where they were only a year ago? Even if some of Cavco's assertions are to some degree 'true' they are still arguably paltering. It is management's job to maximize returns in legal ways. But Cavco, in purported collusion (per legal researcher Strommen and others) with Skyline Champion (SKY) and Clayton Homes (BRK), are mouthing platitudes that leave out critical details.  That arguably strikes near the heart of omissions in the context of material information that ought to be disclosed (see the above).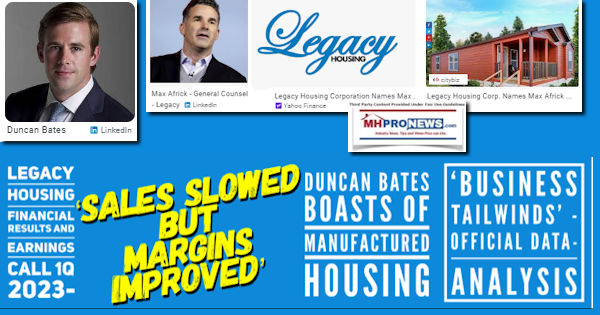 'Controlling Our Future Through Vertical Integration' – Unlike Larger Firms, Big Growth at Nobility Homes-1Q 2023 Results–Facts, Analysis, Expert Commentary; plus MHVille Stocks Update
9) The obvious ties between Cavco Industries and MHI are arguably a potential nose around their proverbial necks. On the one hand, Cavco is making statements that contradict MHI, and vice versa. Cavco's investor pitch speaks of huge potential, and correctly so. Freddie Mac said that some 25-26 million American rental households were now mortgage ready and living in manufactured home friendly areas. Then, why is Cavco operating on a 4 days workweek?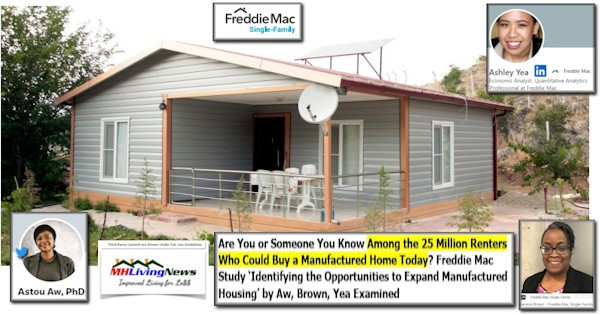 Manufactured Housing Institute (MHI) Claims Contradicted by Cavco Industries IR Statements, 'Shortage of Affordable Housing Costs Economy $2Trillion Annually;' plus MHVille Markets Update
from:
L. A. Tony Kovach (for MHProNews)
to:
dgoch@wc-b.com [MHI outside counsel]
Leo Poggione @forahouse
William "Bill" Boor@cavco.com,
Patrick Waite @equitylifestyle.com>,
"Tom Hodges@Clayton Home,
Lesli Gooch CEO at @mfghome.org
bcc:
info@mfghome.org
date:
May 22, 2023, 11:50 AM
MHI leaders and attorneys,
The Bing AI chat function on 5.21.2023 at about 3:49 AM answered the following question.

Searching for: why is the manufactured housing industry underperforming during an affordable housing crisis?
According to a report by Knudson Law's Samuel Strommen, the manufactured housing industry is underperforming during an affordable housing crisis due to "pernicious forces" that are consolidating power and subsuming an industry rife with lack of oversight 1 2.
However, there are reasons to believe that manufactured housing could outperform the rest of the housing market in 2021. Rents are strong, and the industry's demand is as high as ever3.
Manufactured homes are less expensive and of higher quality than in the 1990s and could help solve the affordable housing crisis. However, three reasons why manufactured housing production remains low are: home prices and rents outpacing family incomes, zoning/placement barriers, and finance-related challenges 4.
Learn more:
You are hereby being provided with an opportunity to respond or react via email to that response by Bing's AI chat function.
You are also hereby being invited to respond or react to other evidence-based published reports with industry expert editorial commentary on MHProNews/MHLivingNews that have raised concerns about purported antitrust and other legal violations that involve MHI and some of their key members and staff.
Your response would be considered on the record unless it is specifically stated that some part of it is off the record.
Please see forward, but you are not limited to those reports. Thank you.
Tony …"
Days have elapsed since that documented inquiry by MHProNews. Neither Cavco's Boor nor the others responded. Each part of that reply by Bing AI is relevant. Bing picked Yardi's remark to say that "manufactured housing could outperform the rest of the housing market…" But Bing's AI might have just as easily quoted Bill Boor's remark, cited below.  Boor's remark, as MHProNews and MHLivingNews have pointed out, was almost an echo of a remark previously cited by MHI on their website by then Harvard fellow Eric Belsky. Belsky said that "…there are multiple reasons to expect manufactured housing to do better than site built housing in the [current or upcoming] decade." That decade was the then looming first decade of the 21st century. With advantages made possible by the Manufactured Housing Improvement Act (MHIA), improvements in quality, appeal, placement/installation, consumer safeguards, etc., there was every reason to think that manufactured housing could boom. That boom might see it roar past conventional housing.  That was doubtlessly the hope of some industry professionals who worked to enact the MHIA. So, why did MHI cull Belsky and other documents from public access some point in time years ago? Why did they remove the reference from Eric Belsky, which is now some 23 years in the rear-view mirror? Why did they remove reference to the MHIA's enhanced preemption provision implementation? Or MHI's joint pro-growth efforts with MHARR on zoning/placement barriers and for improved financing?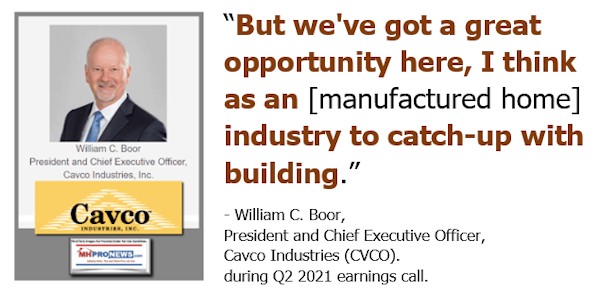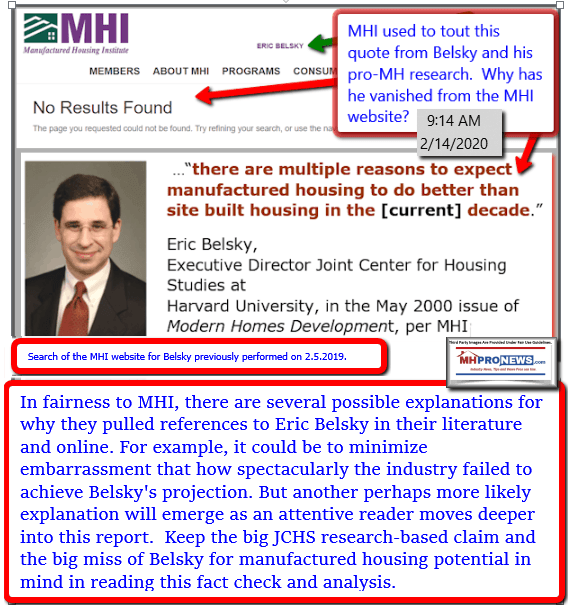 Yet the Bing AI response goes to the heart of Palm's concerns that manufactured housing is underperforming during an affordable housing crisis. And Bing AI cited MHProLivingNews, Sam Strommen's pages and well footnoted evidence-based allegations, and two media releases by MHProNews as relevant to the topic.
11) Summing up to this point, there are material questions that need to be asked and answered for Cavco's investors. See the preface above, these bulleted topics, and the linked/related reports.
12) Summing up for those who may not be investors, but are nevertheless impacted by Cavco and the "Big Three" there are questions about MHI and their state association affiliates. To the extent that state associations also have ties to publicly traded firms which may sit on the various organizations' boards, there may be further material issues. Certainly, there are issues that merit questioning if board members are working for the best interests of all state or MHI members, or if they are rather in fact working for the interests of the consolidation focused segment of the manufactured home industry.
13) Additionally, there ought to be inquiries into how the Texas Real Estate Research Center (TRERC) and the Texas Manufactured Housing Association has been producing their information. Texas is the runaway #1 state for manufactured housing. What occurs there is roughly one out of five of all manufactured home production and shipments. For several reasons, industry professionals follow news out of Texas for that and other reasons. That said, after months of questions and probing by MHProNews of how TRERC reports are framed when compared to other known facts, TRERC told MHProNews last month that they would revise their reporting methodology.  Time will tell, but it appears to confirm that MHProNews' pointed questioning was not only well made but may well have paid off.  Additionally, it must be noted that unlike MHI or Cavco in recent years, TRERC routinely responded to MHProNews inquiries and concerns and did so in a timely manner. That's how it ought to be with others in MHVille that truly want to be transparent.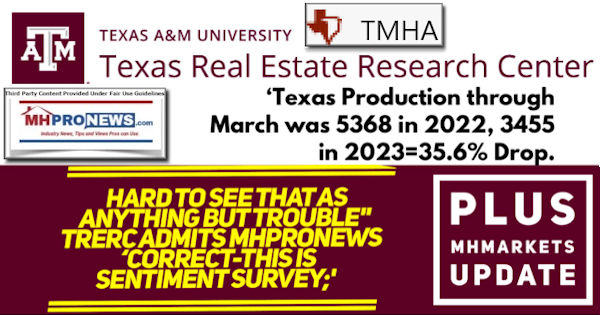 As detailed as this has been, it is still just scratching the surface of what could be said and written.  For a few parting examples, consider this from the recent Cavco IR pitch deck which was published in the same month as the earnings call above. At a glance, this is arguably an example of paltering in action. There is a strong case to be made that the industry SHOULD be soaring. But instead, it is per the latest data (see further below) falling off a proverbial cliff.  But if investors didn't happen to be readers of this publication, would they know it from what Cavco and others in the MHI cheerleading circle know that to be so?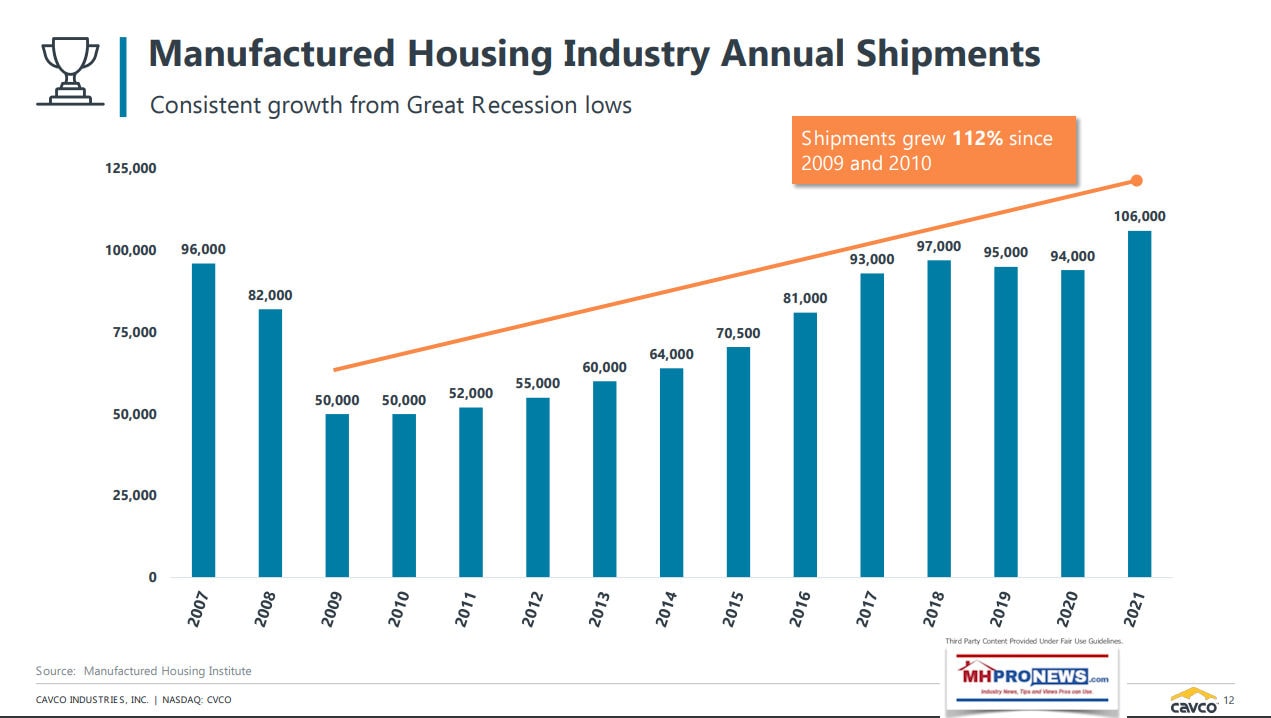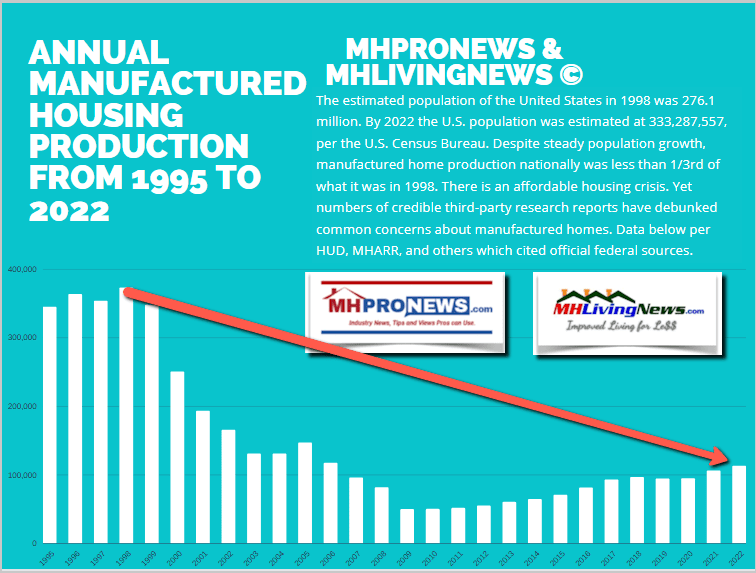 Or consider this as another example of what is arguably paltering in action that could be viewed as important material issues that may sway independent investors and others.
Every topic Cavco picked could be inverted and stood on its head. For example, why wasn't their digital marketing platform launched years before?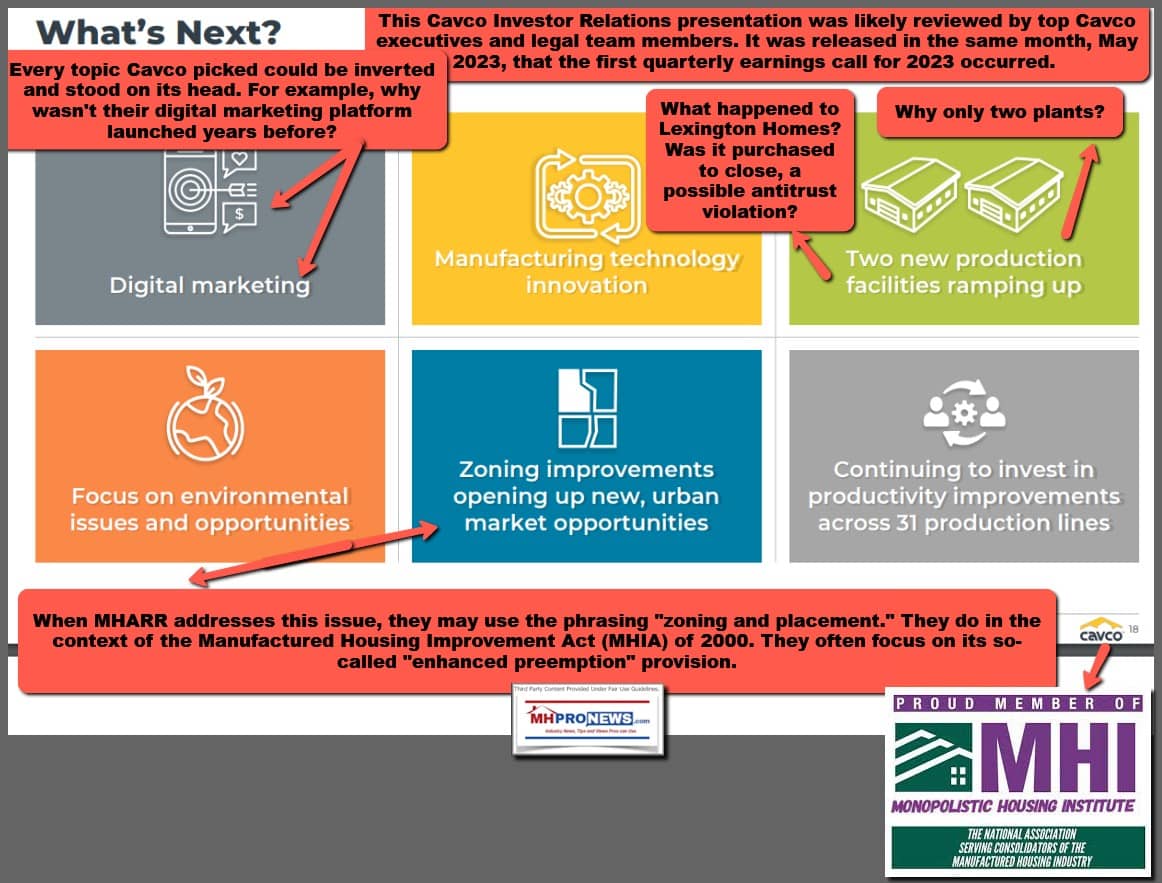 It is human nature to put one's best foot forward. It is understandable that Cavco, or any other brand, will attempt to frame their decisions in a manner that will be the most favorable for management.  That said, when the totality of the evidence from Cavco, their peers at MHI, MHI itself is gathered and examined and that is compared to other sources – and each other – then numerous disconnects begin to appear. Then there are evidence-based and common-sense focused contrarians in MHVille (MHARR, MHProNews/MHLivingNews) who believe in robust growth with proper consumer service. What emerges is a picture that the manufactured housing industry should be many times larger than it is.  Boor suggested as much himself, as was quoted above. There is now a pattern of acting as if Joe Stegmayer et al never existed, yet it was only months ago that the multi-year SEC investigation, suit, and subsequent settlement negotiations ensued.  When the SEC pleadings against Cavco in the Stegmayer era are examined, it reads somewhat like an industrial spy novel. One must ask, despite the window dressing of cleaning up the corporate culture at Cavco, isn't paltering, spin, and incomplete information evidence that the current Cavco leadership (new logo and all) is not so different than the old Cavco leadership? Note: as in all organizations, there are fine people working at Cavco. MHProNews knows several of them. But a range of people at Cavco may have little say over what has been occurring, despite window dressing to the contrary.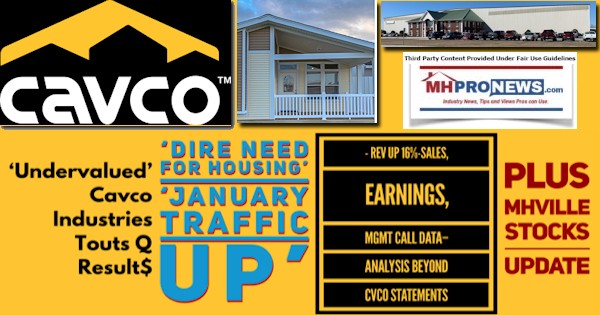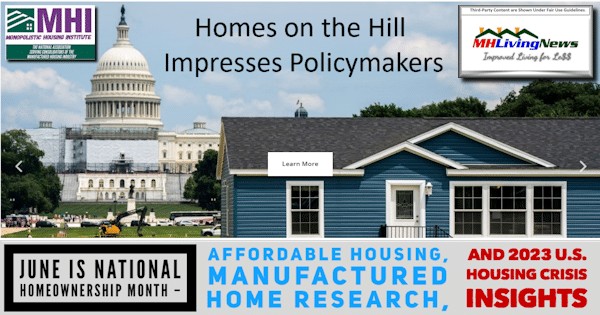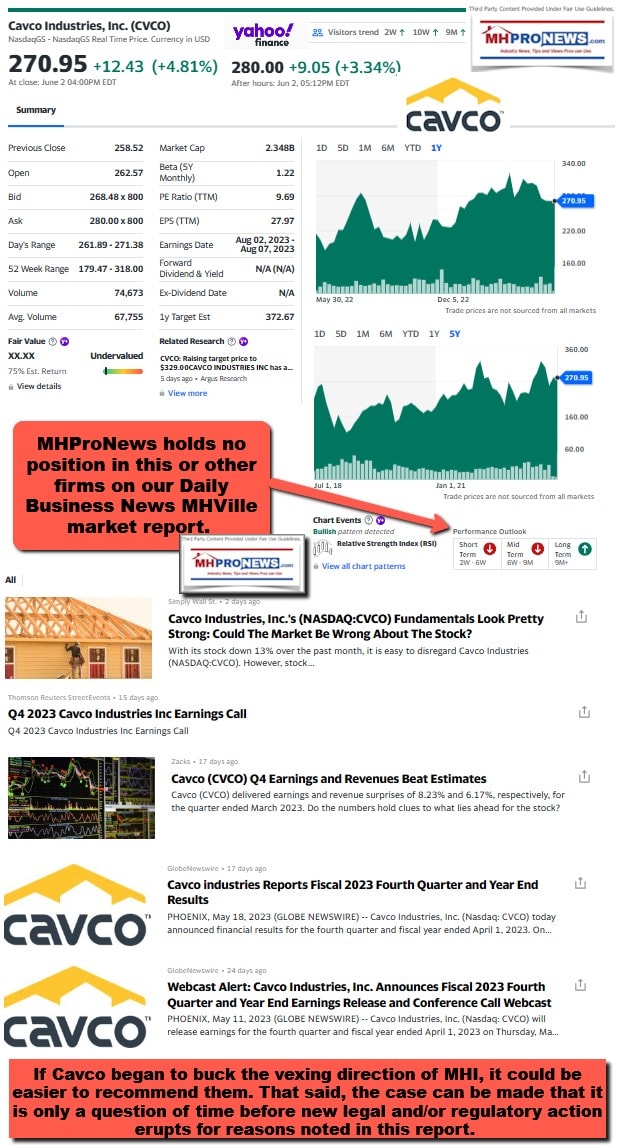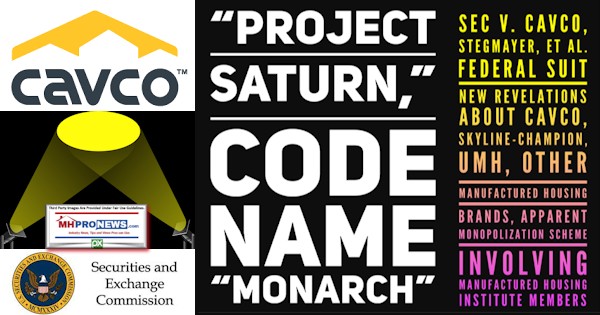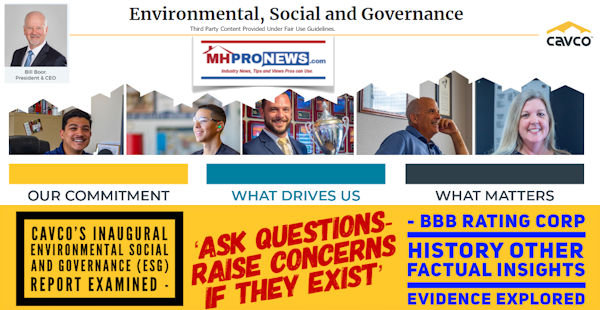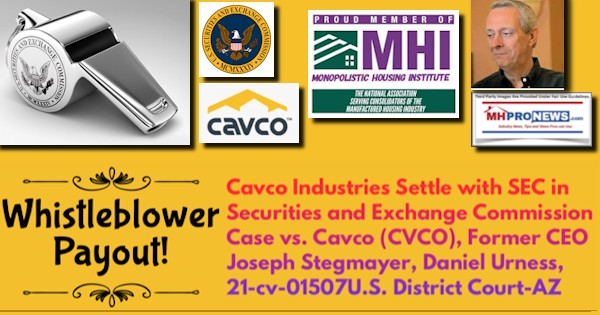 We said near the end of the preface at the top the following.
Don't miss the quick snapshot at the end of this detail report for the latest national data, which sheds a troubling light on much of what follows.
According to an informed source, there were "6676 for April 23. 10165 in April 22." That's roughly 66 percent of last year's national data. Compare that to the hemming and hawing by Bill Boor above when he said in part: "And you're asking me about numbers in April. I'll just tell you that directionally, our net orders on the same plant basis are up over March." Boor also said: "And also, being able to say, we got a really good seasonal pickup in wholesale orders, while inventories are reducing is a pretty large statement, I believe." Does that national snapshot, if Cavco's portion of it looks similar, appear to be a seasonal pickup?  MHProNews will plan a report in the next 48 hours on the national data, which may shed more light on these seemingly contradicted by several sources remarks by Cavco in their latest earnings call. Isn't it time to bring on the forensic investigators?  ##
'Go to Independent Sales Lot, Spend a Week There During Busy Season and Report on Reality of the Manufactured Housing Industry its Primary Level;' Sunday MHVille Weekly Headlines Recap
Investopedia's Cautionary Post on Illusory Truth Effect. What Is the Illusory Truth Effect? How Does Illusory Truth Effect Apply in MHVille? Fact Check, Analysis, Viewpoints Plus MH Stocks Update
6 Month Manufactured Housing Industry Production Plunge Continues, Accelerates – Where Are Manufactured Housing Institute (MHI) Leaders, Cheerleaders? Facts and Manufactured Home Community Factor
'Production at Lowest Levels in a Decade' but 2023 Outlook 'Optimistic for Texas Manufactured Housing Industry,' says TRERC – Supply Chain, Finance, Report, Analysis; plus MHVille Stocks Update
Name Calling, Evidence, Facts, and Manufactured Housing's Primary 'Muckraker' Shed Light on Manufactured Home Industry Underperformance; plus Sunday Weekly Headlines Recap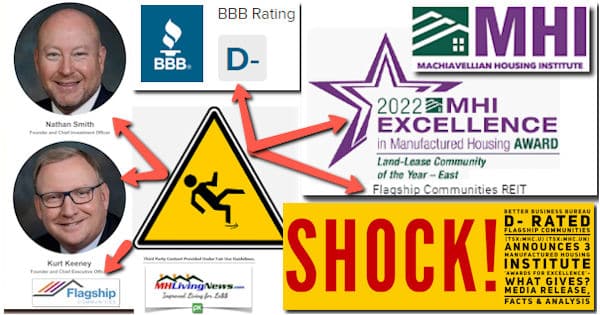 'Trapped' – NBC Spotlights Fannie Mae-Freddie Mac-Fed Roles in 'Making Mobile Homes Less Affordable' Fueling 'Acquisition Spree' as 'New MHC Owners Hike Resident Costs;' plus MHVille Markets Update
Andrew Justus, J.D., Niskanen Center Housing Policy Analyst, Hill Op-Ed Asks and Answers – 'What's Holding Back Manufactured Homes?' Sunday Weekly MHVille Headlines in Review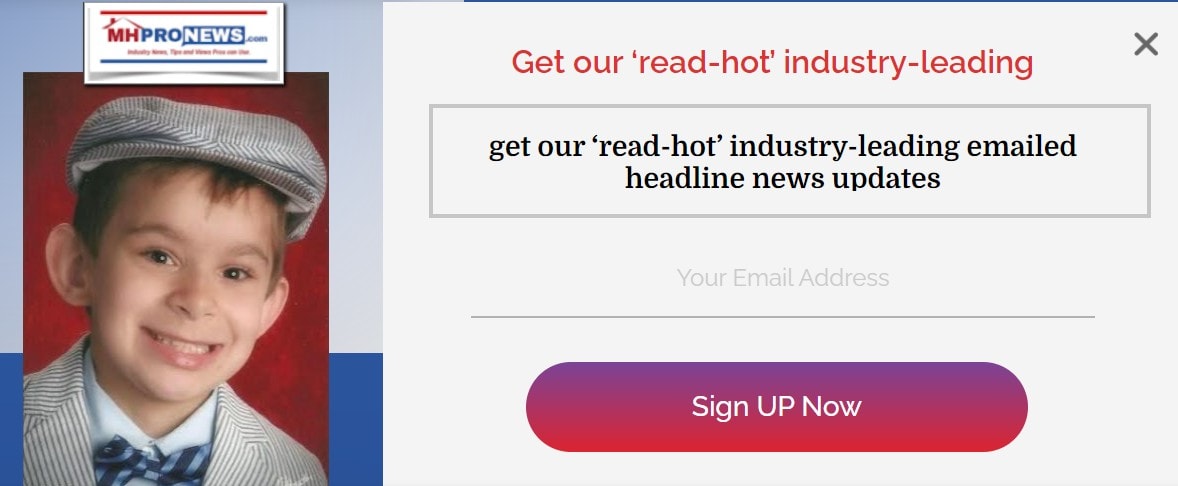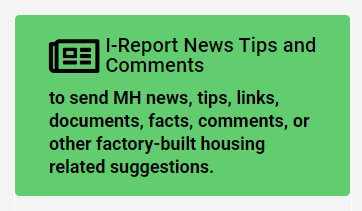 Again, our thanks to free email subscribers and all readers like you, as well as our tipsters/sources, sponsors and God for making and keeping us the runaway number one source for authentic "News through the lens of manufactured homes and factory-built housing" © where "We Provide, You Decide." © ## (Affordable housing, manufactured homes, reports, fact-checks, analysis, and commentary. Third-party images or content are provided under fair use guidelines for media.) See Related Reports, further below. Text/image boxes often are hot-linked to other reports that can be access by clicking on them.)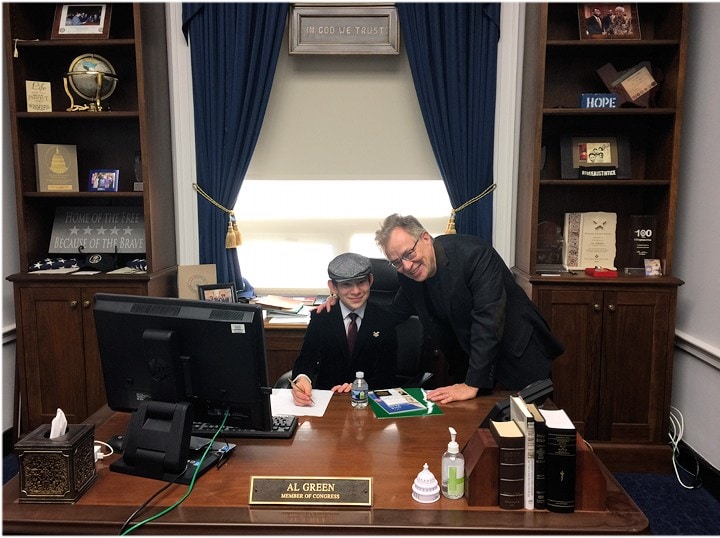 By L.A. "Tony" Kovach – for MHProNews.com.
Tony earned a journalism scholarship and earned numerous awards in history and in manufactured housing.
For example, he earned the prestigious Lottinville Award in history from the University of Oklahoma, where he studied history and business management. He's a managing member and co-founder of LifeStyle Factory Homes, LLC, the parent company to MHProNews, and MHLivingNews.com.
This article reflects the LLC's and/or the writer's position and may or may not reflect the views of sponsors or supporters.
Connect on LinkedIn: http://www.linkedin.com/in/latonykovach
Related References:
The text/image boxes below are linked to other reports, which can be accessed by clicking on them.'
'Potential Homebuyers on Sidelines Increasing Demand for Rentals' – Which Markets UP, Metros Where Rents Fell – What Data Tells Affordable Manufactured Housing Pros; plus MHVille Stocks Update
Warren Buffett Led Berkshire Hathaway has Over $100 Billion Available for Investing, Why That Matters to Manufactured Housing, MHEC Members Know How Gold Rules; plus Sunday Weekly Headlines Recap
2023 'Excellence in Manufactured Housing Awards' – Claims, Facts, Op-Ed Practically Writes Satirical Saturday Column on Manufactured Housing Institute's Sly 'Awards' – plus, MHVille Markets Update
"Played"-Publicly Traded Manufactured Housing Institute (MHI) Members, MHI News Update Reveals True State of Manufactured Housing Industry in May 2023-Facts, Analysis, and MHVille Markets Update
Aging Warren Buffett Led Berkshire Hathaway Invests Billions in Asian Firm, Soon Sells Most in 'Red Flag' Issue for Dozens of Manufactured Housing Producers; plus Sunday Weekly Headlines Recap
True State of the Manufactured Housing Industry in March 2023 Based on Facts, Not Clever Agenda-Driven 'Fiction$' – plus Sunday Weekly MHVille Headlines Recap
MHI 'Special Bulletin' DOE MH Energy Regs Lawsuit 'Effort to Ensure Consistent Industry Message,' Will Manufactured Housing Institute Launch More Suits? Plus Sunday Weekly MHVille Headlines Recap
Danny Ghorbani – Manufactured Housing's 'Elephant in the Room,' per Prior Manufactured Housing Institute Chair, Exclusive Q&A on Key MHIndustry Issues, plus Sunday Weekly MHVille Headlines Recap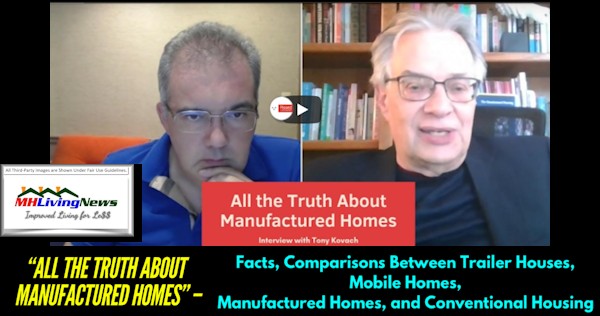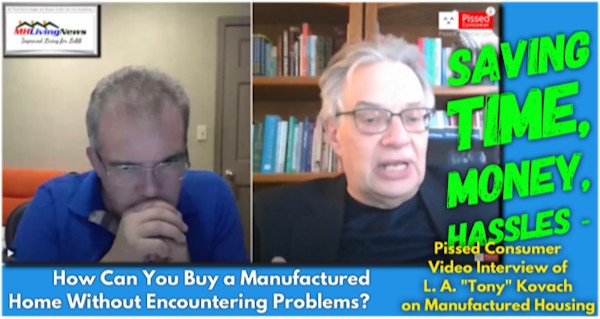 'Affordable Homes for Low Income Must Produce in Factory,' 'Years to Unravel Sabotage,' Grad Students Interest in Manufactured Housing, Factory-Home Solutions; plus Sunday Weekly Headlines Recap