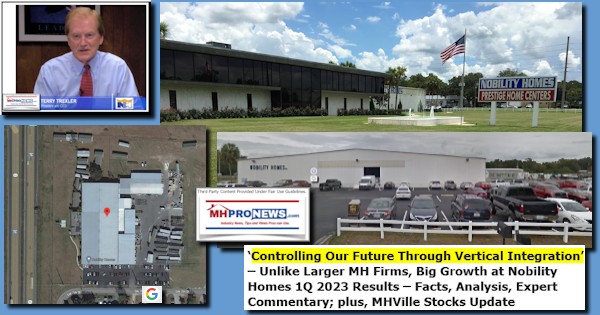 Perhaps Nobility Homes did not get 'the memo.'  Ocala, Florida based Nobility (OTCQX: NOBH) is not per a prior report by the Manufactured Housing Institute (MHI) a member of that organization, which may prove to be relevant.  While some larger members of MHI are reporting an odd 'downturn' due to retail 'inventory' changes, higher interest rates, and other factors, Nobility Homes' latest quarterly report indicates that firm comparatively continues its steady climb higher. While #1 Texas, which has numbers of MHI member brands, Florida more prominently features independent producers that are member of the Manufactured Housing Association for Regulatory Reform (MHARR). Based on information that follows from NOBH, there is an overall stability in production and sales are reported at elevated levels despite rising interest rates and other headwinds that Nobility disclosed.
Part I of this report will provide Nobility's most recent quarterly report, dated March 10 and published on 3.13.2023 by MarketScreener and others.
Part II will provide more information with MHProNews analysis and expert commentary in brief.
Part III of this article will be the manufactured housing stocks and REITs snapshot that includes CNN Business and Newsmax (left-right) market moving headlines recap.
Part I Nobility Homes Results of Operations and Financial Condition – Form 8-K
Highlighting below is added by MHProNews. Otherwise the information is as provided by Nobility.
Nobility Homes: Results of Operations and Financial Condition – Form 8-K
03/13/2023
| | |
| --- | --- |
| | Controlling Our Future through Vertical Integration |
NOBILITY HOMES, INC. ANNOUNCES SALES AND EARNINGS FOR ITS FIRST QUARTER 2023
Ocala, FL…March 10, 2023 – Today Nobility Homes, Inc. (OTCQX: NOBH) announced sales and earnings for its first quarter ended February 4, 2023. Sales for the first quarter of 2023 increased 59% to $17.2 million compared to $10.8 million recorded in the first quarter of 2022. Income from operations for the first quarter of 2023 was up 192% to $3.8 million versus $1.3 million in the same period a year ago. Net income after taxes was up 164% to $3.1 million as compared to $1.2 million for the same period last year. Diluted earnings per share for the first quarter of 2023 were $0.91 per share compared to $0.33 per share last year.
Nobility's financial position during first quarter 2023 remains very strong with cash and cash equivalents, certificates of deposit and short-term investments of $24.3 million and no outstanding debt. Working capital is $36.5 million and our ratio of current assets to current liabilities is 3.4:1. Stockholders' equity is $51 million and the book value per share of common stock increased to $15.13.
The Board of Directors declared a one-time cash dividend of $1.00 per common share for the fiscal year 2022. The cash dividend is payable on April 3, 2023, to stockholders of record as of March 20, 2023. Nobility Homes has distributed one-time cash dividends of $1.00 for the last four fiscal years ending 2018 through 2021.
The Company has no defined dividend policy. The Board of Directors maintains the authority to declare distributions at their discretion. The Board performs a thorough and extensive evaluation of the Company's balance sheet, cash flow, operating performance, and future earnings prospects when considering the declaration of any common dividend.
Terry Trexler, President, stated, "The current demand for affordable manufactured housing in Florida and the U.S. is slowing as a result of the increased interest rate environment driven by the Federal Reserve. Although net sales increased during the three months ended February 4, 2023, as compared to the same period last year, we continued to experience some limitations being placed on certain key production materials from suppliers, the delay or lack of key components from vendors as well as back orders, delayed shipments, price increases and labor shortages. These supply chain issues have caused delays in the completion of the homes at the manufacturing facility and the set-up process of retail homes in the field, resulting in decreased net sales due to our inability to timely deliver and setup homes to customers. We expect that these challenges will continue for most of the fiscal year 2023 or until the industry supply chain normalizes. The Company has continued to experience inflation in some building products resulting in increases to our material and labor costs which may increase the wholesale and retail selling prices of our homes. In addition, potential customers may delay or defer purchasing decisions in light of the rising interest rate environment. According to the Florida Manufactured Housing Association, shipments for the industry in Florida for the period from November 2022 through January 2023 were approximately a breakeven from the same period last year.
Maintaining our strong financial position is vital for future growth and success. Our many years of experience in the Florida market, combined with home buyers' increased need for more affordable housing, should serve the Company well in the coming years. Management remains convinced that our specific geographic market is one of the best long-term growth areas in the country."
On June 5, 2022, the Company celebrated its 55th anniversary in business specializing in the design and production of quality, affordable manufactured and modular homes. With multiple retail sales centers in Florida for over 32 years and an insurance agency subsidiary, we are the only vertically integrated manufactured home company headquartered in Florida.
MANAGEMENT WILL NOT HOLD A CONFERENCE CALL. IF YOU HAVE ANY QUESTIONS, PLEASE CALL TERRY OR TOM TREXLER @ 800-476-6624 EXT 121 OR TERRY@NOBILITYHOMES.COM OR TOM@NOBILITYHOMES.COM
Certain statements in this report are unaudited or forward-looking statements within the meaning of the federal securities laws. Although Nobility believes that the amounts and expectations reflected in such forward-looking statements are based on reasonable assumptions, there are risks and uncertainties that may cause actual results to differ materially from expectations. These risks and uncertainties include, but are not limited to, the potential adverse impact on our business caused by the COVID-19 pandemic or other health pandemics, competitive pricing pressures at both the wholesale and retail levels, inflation, increasing material costs (including forest based products) or availability of materials due to supply chain interruptions (such as current inflation with forest products and supply issues with vinyl siding and PVC piping), changes in market demand, increase in interest rates, availability of financing for retail and wholesale purchasers, consumer confidence, adverse weather conditions that reduce sales at retail centers, the risk of manufacturing plant shutdowns due to storms or other factors, the impact of marketing and cost-management programs, reliance on the Florida economy, impact of labor shortage, impact of materials shortage, increasing labor cost, cyclical nature of the manufactured housing industry, impact of rising fuel costs, catastrophic events impacting insurance costs, availability of insurance coverage for various risks to Nobility, market demographics, management's ability to attract and retain executive officers and key personnel, increased global tensions, market disruptions resulting from terrorist or other attack, any armed conflict involving the United States and the impact of inflation.
NOBILITY HOMES, INC.
Condensed Consolidated Balance Sheets
February 4,
November 5,
2023
2022
(Unaudited)
Assets
Current assets:
Cash and cash equivalents
$
17,849,343
$
16,653,449
Certificates of deposit
5,853,611
3,903,888
Short-term investments
571,129
589,071
Accounts receivable – trade
1,923,352
1,288,645
Note receivable
23,905
23,905
Mortgage notes receivable
4,197
16,191
Inventories
23,319,061
23,457,493
Prepaid expenses and other current assets
1,925,767
2,172,675
Total current assets
51,470,365
48,105,317
Property, plant and equipment, net
8,102,965
7,915,695
Note receivable, less current portion
10,898
16,599
Mortgage notes receivable, less current portion
143,320
131,514
Other investments
1,871,719
1,848,893
Deferred income taxes
43,778
43,778
Cash surrender value of life insurance
4,187,060
4,143,035
Other assets
156,287
156,287
Total assets
$
65,986,392
$
62,361,118
Liabilities and Stockholders' Equity
Current liabilities:
Accounts payable
$
798,894
$
1,119,188
Accrued compensation
1,054,664
1,132,423
Accrued expenses and other current liabilities
1,873,724
1,742,696
Income taxes payable
1,161,041
229,200
Customer deposits
10,082,580
10,214,078
Total current liabilities
14,970,903
14,437,585
Commitments and contingencies
Stockholders' equity:
Preferred stock, $.10 par value, 500,000 shares authorized; none issued and outstanding
–
–
Common stock, $.10 par value, 10,000,000 shares authorized; 5,364,907 shares issued; 3,370,912 shares outstanding, respectively
536,491
536,491
Additional paid in capital
10,884,676
10,849,687
Retained earnings
66,498,779
63,441,812
Less treasury stock at cost, 1,993,995 shares
(26,904,457
)
(26,904,457
)
Total stockholders' equity
51,015,489
47,923,533
Total liabilities and stockholders' equity
$
65,986,392
$
62,361,118
NOBILITY HOMES, INC.
Condensed Consolidated Statements of Income
(Unaudited)
Three Months Ended
February 4,
2023
February 5,
2022
Net sales
$
17,164,753
$
10,808,270
Cost of sales
(11,293,157
)
(8,080,042
)
Gross profit
5,871,596
2,728,228
Selling, general and administrative expenses
(2,035,477
)
(1,416,543
)
Operating income
3,836,119
1,311,685
Other income (loss):
Interest income
140,033
74,680
Undistributed earnings in joint venture – Majestic 21
22,826
12,557
Proceeds received under escrow arrangement
–
118,045
Decrease in fair value of equity investment
(17,942
)
(4,093
)
Miscellaneous
7,772
13,556
Total other income
152,689
214,745
Income before provision for income taxes
3,988,808
1,526,430
Income tax expense
(931,841
)
(369,396
)
Net income
$
3,056,967
$
1,157,034
Weighted average number of shares outstanding:
Basic
3,370,912
3,532,803
Diluted
3,371,418
3,544,584
Net income per share:
Basic
$
0.91
$
0.33
Diluted
$
0.91
$
0.33
Attachments
Disclaimer
Nobility Homes Inc. published this content on 13 March 2023 and is solely responsible for the information contained therein. Distributed by Public, unedited and unaltered, on 13 March 2023 21:24:45 UTC. ##
Part II Additional Information with More MHProNews Analysis and Commentary in Brief
First, Nobility's management should take a level of pride in their results when compared to some others in MHVille.
Nobility Homes, Inc. Sales and Earnings for its Fiscal Year 2022 Report, Result$ Best Inflation – Net After Taxes Up 34%, More Fact$; DeSantis ESG and NOBH; plus MHVille Stocks, Market Updates
'Undervalued' Cavco Industries Touts Q Result$ 'Dire Need for Housing' 'January Traffic Up'- Rev Up 16%-Sales, Earnings, Mgmt Call Data–Analysis Beyond CVCO Statements; plus MHVille Stocks Update
CEO Mark Yost, Skyline Champion Insiders SELL Million$ Value SKY Stock, Home Sales Drop-4th Q 2022 (3QFiscal2023), Official Result$-Facts, Analysis, Info Beyond PR; plus MHVille Stocks Update
HUD Code Manufactured Home Production Decline Worsens in January 2023 per MHARR – Cavco Wm 'Bill' Boor Remark on Manufactured Housing Comes Into Sharper Focus; Sunday MHVille Headlines Recap
That noted, and based on Nobility's remarks above, their report ought to be a cause of concern for an array of manufactured housing independents and investors in MHVille across the country. UMH Properties, for instance, stated that they had trouble accessing new inventory in 2022. Why did other MHI members not report a similar experience?
UMH Properties Surprise$, 4th Q2022 Result$, Earnings Call Transcript, Demand Strong-But Sales Drop, Nuveen, Fannie Factor, 58K per Site, Israel $ Deal Taylor Swift & Springsteen; plus
Comparing official data prepared for HUD by IBTS for the top 3 states in the U.S. during the timeframes as shown below reveals that Florida seemed to outperform Texas and North Carolina not necessary in total units (Texas is #1, Florida is #2, North Carolina is #3), but rather in production and shipment trends.  The degree to which Nobility influenced those trends would be precisely related to their market share in the Sunshine State. Quoting Trexler for Nobility (above): "Although net sales increased during the three months ended February 4, 2023, as compared to the same period last year, we continued to experience some limitations being placed on certain key production materials from suppliers, the delay or lack of key components from vendors as well as back orders, delayed shipments, price increases and labor shortages."
Shipments of HUD Code Manufactured Homes
Production of HUD Code Manufactured Homes
State
SW
MW
Total
Floors
State
SW
MW
Total
Floors
Florida
185
505
690
1,197
 Florida
41
322
363
687
Jan-23
North Carolina
211
217
428
645
 North Carolina
118
221
339
561
Texas
521
560
1,081
1,644
 Texas
719
605
1,324
1,932
Florida
231
496
727
1,229
 Florida
45
270
315
588
Jan-22
North Carolina
256
264
520
784
 North Carolina
101
265
366
632
Texas
832
823
1,655
2,488
 Texas
1,161
959
2,120
3,089
Florida
167
400
567
976
 Florida
67
242
309
556
Dec-22
North Carolina
189
192
381
573
 North Carolina
131
170
301
472
Texas
514
567
1,081
1,655
 Texas
697
599
1,296
1,902
Florida
232
453
685
1,143
 Florida
51
227
278
510
Dec-21
North Carolina
219
258
477
736
 North Carolina
87
237
324
563
Texas
677
797
1,474
2,278
 Texas
973
923
1,896
2,827
Florida
272
460
732
1,198
 Florida
44
284
328
618
Nov-22
North Carolina
300
208
508
716
 North Carolina
205
211
416
628
Texas
616
681
1,297
1,987
 Texas
883
750
1,633
2,392
Florida
214
502
716
1,224
 Florida
96
233
329
566
Nov-21
North Carolina
239
269
508
777
 North Carolina
99
286
385
672
Texas
800
811
1,611
2,432
 Texas
1,068
964
2,032
3,004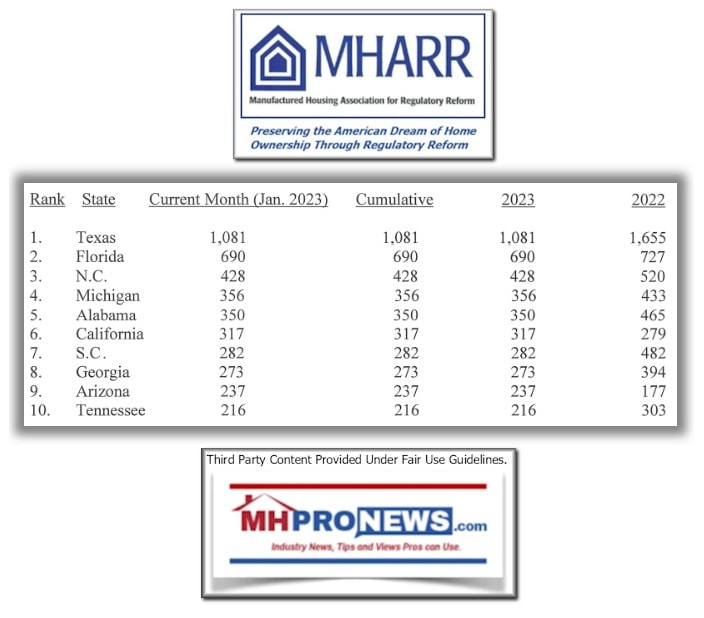 If all manufacturers experienced a similar impact, what then explains Nobility's seemingly superior handling of these hurdles when compared to larger companies that are MHI members?  Note that Nobility's stock performed better yesterday than most other MHVille connected equities. See the third-graphic in Part III below.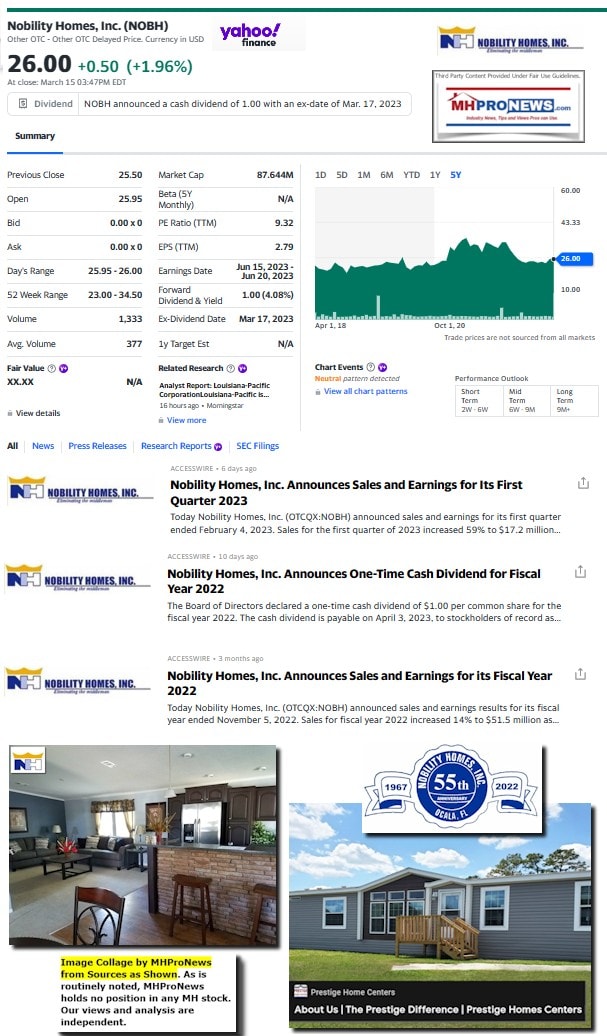 The facts and remarks above, when compared to reports out of Texas and by prominent MHI member producers begs several questions.
For example:
Why is the #1 manufactured housing producing/shipment state of Texas in a sharp decline? Most of those producers shipping into Texas are reportedly MHI members.
By contrast, the #2 manufactured home shipment state of Florida reportedly has a larger mix of MHARR members producing and shipping into that state than many others.
That raises the question. Are MHI members, at some level, colluding to slow production and shipments?
MHProNews plans to continue to monitor the data and raise concerns as the evidence appears to warrant.
As longtime MHProNews readers know, this publication and our MHLivingNews sister site have been exploring a range of evidence that points to concerns connected to MHI and prominent MHI members.
'Firecracker for Scumbags' Remarks, While Manufactured Home Industry-Leading Texas Manufactured Housing Activity 'Stabilizes After 2022 Correction'
Regulatory, shareholders, and concerns for those who are seeking affordable housing but are being apparently thwarted in their efforts by circumstances beyond an individual's, couple's, or family's control warrants a formal probe. Additionally, arguably related questions raised by the DOE and other issues are likewise important to explore. See the MHARR report for their take on several of the key issues that appear to be a drag on the industry as a whole.
Beware! 'The Ides of March' – 7 Point Washington, D.C. Update from MHARR Includes IECC, DOE, Finance, Zoning, Other Issues Restricting Affordable Manufactured Housing Production in U.S.; plus MHVille Stocks Update
MHProNews will continue to monitor and report on the various publicly traded companies to see what insights can be gleaned which shed light on the manufactured housing industry's underperformance during an affordable housing crisis. A fresh look at a Clayton connected exposé and other MHVille exclusives are planned for the near term. With respect to Nobility, they are arguably relatively outperforming some of their larger competitors, based on the information shown and linked. See the Nobility Homes column in the third graphic in Part III below for additional information. There are apparent silver linings in the dark clouds that have caused manufactured housing to underperform as a whole during an affordable housing crisis.  This report sheds light on the notion that the overall status quo need not be so. The industry could and should be growing robustly. Given that MHI claims to represent "all segments" of the industry and sales are a post-production issue, surely they and their board bear some responsibility for the current state of the industry? See the linked and related reports for more details.
True State of the Manufactured Housing Industry in March 2023 Based on Facts, Not Clever Agenda-Driven 'Fiction$' – plus Sunday Weekly MHVille Headlines Recap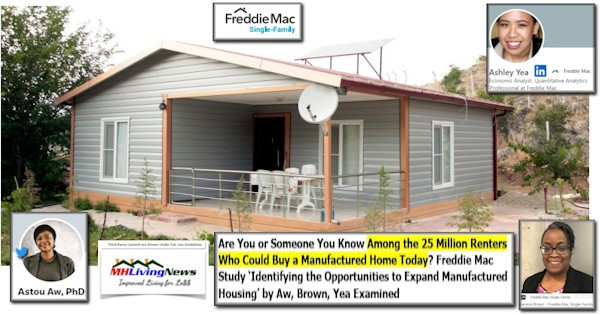 McCarthy: 'Missions of Fannie Mae and Freddie Mac to Help Preserve Affordable Housing-They're Doing Exactly the Opposite'–Updated 2023 MH Communities Total, New Manufactured Housing Infographics
#1 Texas' Manufactured Housing Builders Survey Says They are 'Ready for a Rebound' But Data Point in Question, DOE MH Energy Rule Too – Facts, Analysis; plus, MHVille Stocks, Markets Update
Part III. Daily Business News on MHProNews Markets Segment
The modifications of our prior Daily Business News on MHProNews format of the recap of yesterday evening's market report are provided below. It still includes our signature left (CNN Business) and right (Newsmax) 'market moving' headlines. The macro market moves graphics will provide context and comparisons for those invested in or tracking manufactured housing connected equities.
In minutes a day readers can get a good sense of significant or major events while keeping up with the trends that are impacting manufactured housing connected investing.
Reminder: several of the graphics on MHProNews can be opened into a larger size. For instance: click the image and follow the prompts in your browser or device to OPEN In a New Window. Then, in several browsers/devices you can click the image and increase the size. Use the 'x out' (close window) escape or back key to return.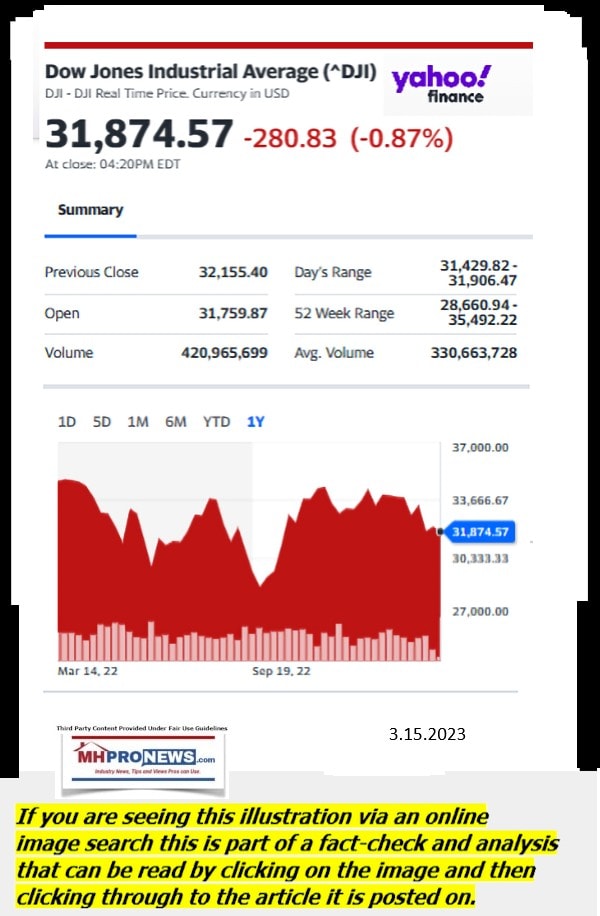 Headlines from left-of-center CNN Business – from the evening of 3.15.2023 
Backstop
Switzerland's central bank says it is ready to provide support to Credit Suisse if necessary
Dow falls 500 points as banking fears spread
'Revolutionary act of resistance': See why Black men are frolicking on TikTok
Cheez-It and Pringles company gets a new name
Americans pulled back on their spending in February, after a strong January
Why banking fears just came roaring back
First Republic Bank stock tumbles on credit downgrade and deposit worries
UK tries to juice its economy once again as banking storm clouds gather
Inflation fell for the eighth-straight month in February
A Brinks armored truck sits parked in front of the shuttered Silicon Valley Bank (SVB) headquarters on March 10, 2023 in Santa Clara, California. Silicon Valley Bank was shut down on Friday morning by California regulators and was put in control of the U.S. Federal Deposit Insurance Corporation. Prior to being shut down by regulators, shares of SVB were halted Friday morning after falling more than 60% in premarket trading following a 60% declined on Thursday when the bank sold off a portfolio of US Treasuries and $1.75 billion in shares to cover declining customer deposits.
LIVE UPDATES
Stocks end the trading session mostly down as banking troubles put pressure on markets
Can the Fed help fend off a banking crisis while also cooling the economy?
South Korea to build 'world's largest' chip center with $230 billion investment from Samsung
The technology behind ChatGPT is about to get even more powerful
China's economic recovery is on track. But youth unemployment is getting worse
'Harry Potter' tour heads to Tokyo as Warner Bros courts more Asia fans
Masatoshi Ito, Japanese billionaire behind the rise of 7-Eleven, dies at 98
Do you have questions about the Silicon Valley Bank collapse?
Argentina's inflation tops 100% for the first time since 1991
DOJ and SEC are investigating Silicon Valley Bank's failure
Bank panic subsides on Wall Street. Next up: Fed panic
Tyson is laying off nearly 1,700 poultry plant workers
SVB collapse was driven by 'the first Twitter-fueled bank run'
Lunchables are going to be rolled out directly to students. Here's what's in them
Moody's sees harder times ahead for all US banks and puts six on 'downgrade' watch
Notice: the graphic below can be expanded to a larger size.
See the instructions below the graphic below or click the image and follow the prompts.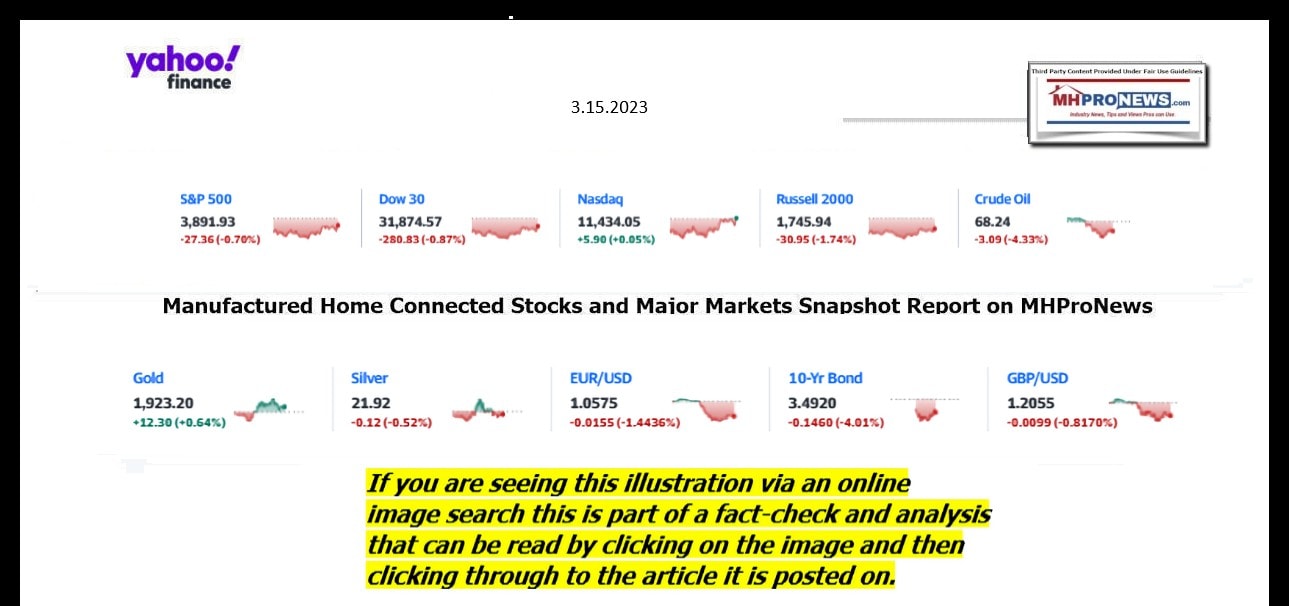 Headlines from right-of-center Newsmax 3.15.2023
Tensions With Russia Bubble as Moscow Races to Salvage US Drone Debris
A Russian officer watches a recent flyby of fighter jets like those that the Pentagon says brought down a drone over the Black Sea. (AP)
Russia also delivered a stark warning against "hostile" U.S. flights as it continued to deny that its Su-27 military aircraft had clipped the propeller of the unmanned Reaper drone and forced a crash in the Black Sea. [Full Story]
DirecTV Censors Newsmax
LaTurner: Silencing of Conservatives 'Unacceptable'
Fitzgerald: 'Disappointed' by DirecTV Censorship | video
Lindsey Graham: 'Making Progress' With DirecTV | video
More Stories on AT&T DirecTV Censorship
Comer: Many Banks Funneled Money to Bidens
Mark Green: Blame Mayorkas, WH for Border | video
Barney Frank: 'Not Worried' on Banking Industry | video
Blaine Holt: Drone Downing Shows Perilous Threat | video
Wayne: US Border Needs 'Serious' Attention | video
Luna: Jane Fonda Should Be 'Blacklisted' | video
Comer: 4 Bidens Peddled Influence Globally | video
Erich Pratt: Blame Dem Cities for Crime, Not Guns | video
Mark Esper: This Wasn't First Russian Aircraft Incident | video
DOJ Probed Signature Bank Before Collapse
Before the New York Department of Financial Services seized Signature Bank on Sunday, officials with the DOJ and SEC were investigating the institution to examine whether it took adequate measures to detect potential money laundering by its clients…. [Full Story]
Dems, GOP Spar Over US Budget Amid Bank Strains
The U.S. Senate Budget Committee debated Democratic President Joe [Full Story]
Related
Barney Frank to Newsmax: 'Not Worried' on Banking Industry |video
Credit Suisse Unease Sparks World Stock Sell-Off
Icahn: 'Our Economy Is Breaking Down'
Wholesale Inflation Unexpectedly Falls to 4.6%
Retail Sales Slip 0.4 Percent in February
US Taps Piper Sandler in New Bid to Sell SVB
Swiss Central Bank Ready to Back Credit Suisse
Wall St Down as Credit Suisse Sparks Bank Selloff
S. stocks pared losses late Wednesday but the Dow and S&P 500 still [Full Story]
Graham: Reagan Would Have Shot Russian Planes Down
During a Tuesday appearance on Fox News, Sen. Lindsey Graham, R-S.C., [Full Story]
Russia Flexes Hypersonic Muscle as US Test Flops
Russia Flexes Hypersonic Muscle as US Test Flops
Just days after the U.S. scrubbed a planned hypersonic weapon test in [Full Story] | Platinum Article
Related
Blaine Holt to Newsmax: Drone Incident Exposes Dangers |video
Russia Warns US Relations in Dire State After Downing Drone |video
Turkey Plans to Ratify Finland's NATO Bid Before May
WH: Downed Drone May Not Be Recovered From Black Sea |video
Poland to Send MiG Jets to Ukraine
Pope Urges 'Respect' for Ukraine Orthodox Monastery
US Approves Sale of Tactical Vehicles to Romania
Navalny 'Terribly Glad' Documentary About Him Won an Oscar
Saudi-Iran Deal a 'Setback' for Israel, 'Slap' to US
A surprising rapprochement between regional rivals Iran and Saudi [Full Story] | Platinum Article
Related
Video Report: Israel Preparing for Violent Palestinian Uprising |video
Russia Races to Salvage US Drone Wreckage in Black Sea
Moscow said Wednesday it would try to retrieve the wreckage of a U.S. [Full Story]
Trump Allies File Ethics Complaint Against Gov. DeSantis
Allies of former President Donald Trump have filed a complaint with [Full Story]
Study: Coffee Cuts Risk for Obesity, Type 2 Diabetes
Your morning cup of coffee may do more than wake you up. According to [Full Story]
US Charges Exiled Chinese Businessman With $1B Fraud
The U.S. government on Wednesday charged Guo Wengui, an exiled [Full Story]
Russia, China, Iran Hold Joint Drills in Gulf of Oman
Russia, China and Iran are holding joint drills this week in the Gulf [Full Story]
Honduras Will Seek Ties With China, Spurning Taiwan
Honduras President Xiomara Castro announced Tuesday that her [Full Story]
Tech Stocks Emerge as Haven in Sell-Off
Investors are gravitating toward big technology stocks as banking [Full Story]
DOJ: Peter Navarro Cannot Claim Executive Privilege
The Department of Justice said Peter Navarro, a trade and coronavirus [Full Story]
Musk Brought Internet to Brazil's Amazon. Criminals Love It.
Brazilian federal agents aboard three helicopters descended on an [Full Story]
Florida Gov May Cover The Cost Of Solar With Battery If You Live In St. Petersburg
Smart Solar Install
Ohio Group Fights Abortion Amendment
The organization Protect Women Ohio announced a $5 million [Full Story]
BlackRock CEO Fink Warns of Financial Risks
BlackRock Inc. Chief Executive Laurence Fink warned Wednesday the [Full Story]
Mediterranean Diet Cuts Women's Heart Risks
Steering clear of red meat, dairy and processed foods in favor of [Full Story]
Business Inventories Fall for 1st Time in Two Years
U.S. business inventories fell for the first time in nearly two years [Full Story]
Gold Rallies 1@ as Credit Suisse Dulls Risk Demand
Gold prices climbed over 1% to their highest since early February on [Full Story]
More Additives Being Added to Americans' Food
Americans are eating more food additives, according to a new study [Full Story]
Senate Advances to Vote on Garcetti as Amb. to India
President Joe Biden's long-delayed nomination of former Los Angeles [Full Story]
Pressure Increasing on Congress for Broad FISA Changes
Pressure is building on both parties in Congress to use a deadline on [Full Story]
Michael J. Fox: Pity a 'Benign Form of Abuse'
Actor Michael J. Fox isn'tholding back in speaking about living with [Full Story]
Buttigieg: US Cannot Wait for Next Air Event
Transportation Secretary Pete Buttigieg said Wednesday the United [Full Story]
CNN Poll: DeSantis Tops Trump in 2024 Race
While Florida Gov. Ron DeSantis has not declared a 2024 presidential [Full Story]
US: Would Handle Extradition Request for Bolsonaro 'Expeditiously'
A senior U.S. official declined on Wednesday at a Senate hearing to [Full Story]
Schumer Urges Federal Rail Safety Probe
Senate Majority Leader Chuck Schumer on Wednesday urged the National [Full Story]
Video Report: Israel Fearing Violent Palestinian Uprising
As Israel is preparing for a violent Palestinian uprising, on [Full Story] | video
Texas Judge to Consider US Ban on Abortion Pills
A U.S. judge in Texas is set to hear arguments Wednesday in a bid by [Full Story]
Pentagon: NKorea Regime Will 'End' if It Uses Nukes
There will be dire consequences for North Korean leader Kim Jong Un's [Full Story]
More Newsfront
Finance
BlackRock CEO: Regional Banks Still at Risk
BlackRock Inc. Chief Executive Laurence Fink warned Wednesday the U.S. regional banking sector remains at risk after the collapse of Silicon Valley Bank and that inflation will persist and rates would continue to rise…. [Full Story]
Swiss Central Bank Ready to Back Credit Suisse
DOJ Probed Signature Bank Before Collapse
United Airlines Invests in Algae for Jet Fuel
US Treasury Reviewing Credit Suisse Exposure
More Finance
Health
Study: Coffee Cuts Risk for Obesity, Type 2 Diabetes
Your morning cup of coffee may do more than wake you up. According to a new study published in the journal BMJ Medicine, drinking coffee regularly could reduce body fat and the risk of getting Type 2 diabetes. But don't think that swigging an Irish coffee this St. Patrick's…… [Full Story]
Diabetes Plus Tooth Loss Ups Dementia Risk
Yoga Boosts Lower-body Strength, Walking in Seniors
New Breast Scanning Technology Spots More Cancers
FDA Expands Authorization of Kids' COVID Booster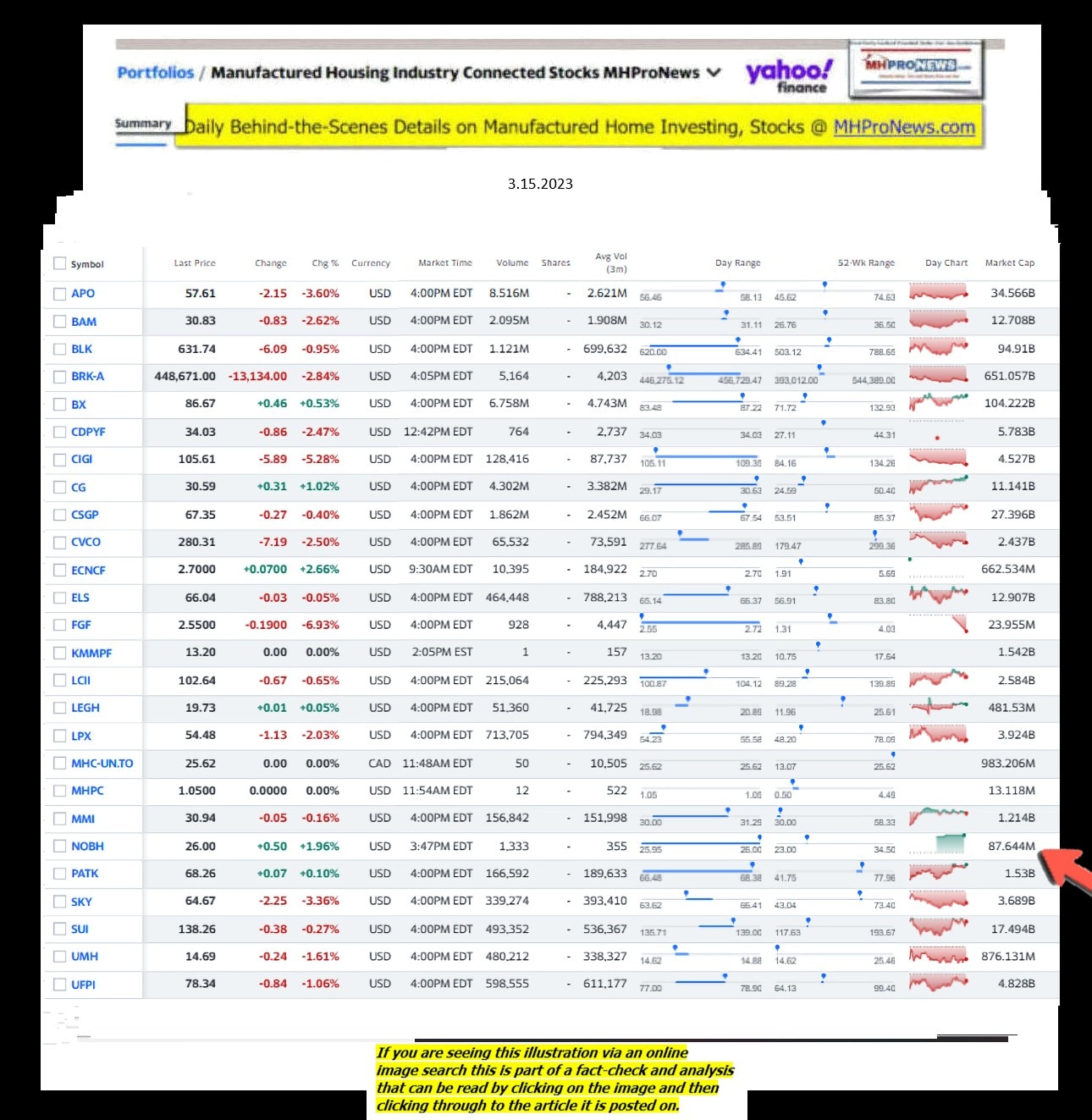 2022 was a tough year for many stocks. Unfortunately, that pattern held true for manufactured home industry (MHVille) connected stocks too.
See the facts, linked below.
'Stomach Churning Year' CNN-Wall Street 'Forget 2022' Down Year – Major Equities Data Compared to Manufactured Housing Stocks, Manufactured Home Community REITs, Performance for Year by Company
====================================
Updated
NOTE 1: The 3rd chart above of manufactured housing connected equities includes the Canadian stock, ECN, which purchased Triad Financial Services, a manufactured home industry finance lender.
NOTE 2: Drew changed its name and trading symbol at the end of 2016 to Lippert (LCII).
NOTE 3: Deer Valley was largely taken private, say company insiders in a message to MHProNews on 12.15.2020, but there are still some outstanding shares of the stock from the days when it was a publicly traded firm.  Thus, there is still periodic activity on DVLY.
Note 4: some recent or related reports to the REITs, stocks, and other equities named above follow in the reports linked below.
Sun Communities – 'Development in Our DNA,' ESG Stance, Q4 2022 Year End Results Earnings Call & PR – Facts, Insights Beyond PR and Official SUI Statements; plus MHVille REITs, Stocks Update
'Undervalued' Cavco Industries Touts Q Result$ 'Dire Need for Housing' 'January Traffic Up'- Rev Up 16%-Sales, Earnings, Mgmt Call Data–Analysis Beyond CVCO Statements; plus MHVille Stocks Update
'Killing's as Easy as Breathing' 'Bad Guys Know More Games' Warren Buffett Annual Berkshire Hathaway Letter, Clayton Homes, 21st, VMF-Manufactured Home Loans-Compelling MHVille Expert Views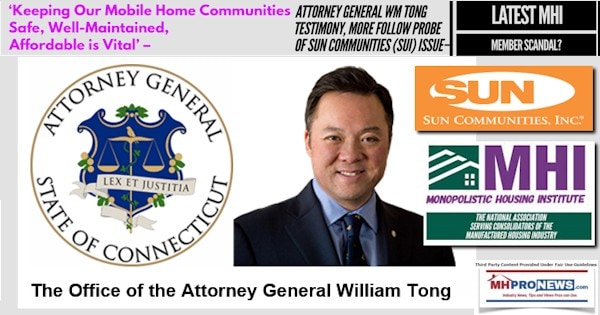 Nobility Homes, Inc. Sales and Earnings for its Fiscal Year 2022 Report, Result$ Best Inflation – Net After Taxes Up 34%, More Fact$; DeSantis ESG and NOBH; plus MHVille Stocks, Market Updates
'Manufactured Housing in the News,' Unpacking UMH CEO Sam Landy Op-Ed' It's Time for Bi-Partisanship on Affordable Manufactured Housing Homeownership' in HousingWire; plus MHMarkets Updates
Manufactured Housing Properties-Results for Three and Nine Months Ending September 30.2022–Exploring 'Mobile Home Park' Manufactured Home Community Investing; plus MHVille REITs, Stocks Update
'Changes Will Benefit Customers,' Boost Sales-Legacy Homes CEO Duncan Bates – LEGH 'Delivered 22.5% Return on Equity in 1 Yr' – Corp Q3 2022 Insights, Analysis; plus MHVille REITs, Stocks Update  
CEO Mark Yost, Skyline Champion Insiders SELL Million$ Value SKY Stock, Home Sales Drop-4th Q 2022 (3QFiscal2023), Official Result$-Facts, Analysis, Info Beyond PR; plus MHVille Stocks Update
Triad Financial Services Q2-2022 FINANCIAL RESULTS, per ECN Capital – Several Bright Spots in Manufactured Home Market Highlighted, Including Communities, Retail, Land-Home, Floor; MHStocks Update
BlackRock Document Exposes Central Banks like Federal Reserve on Recession; Manufactured Home Producer Cavco Industries 2022 Year End Results (CVCOQ3.23) Facts+Analysis; plus MHVille Stocks Update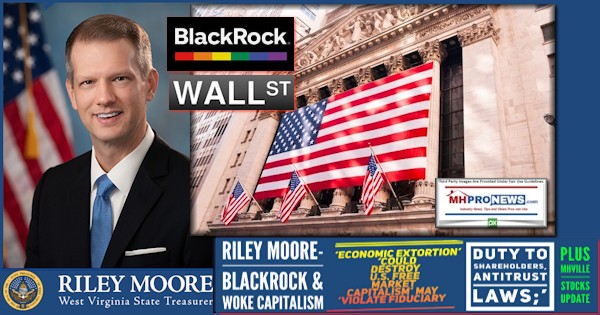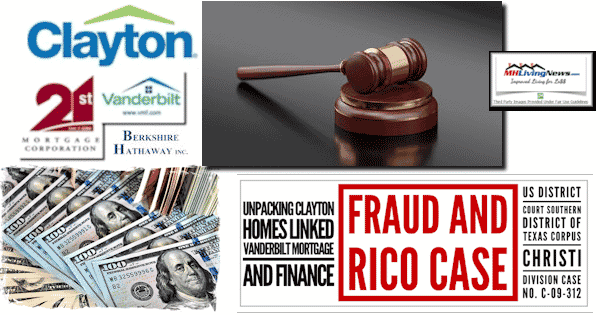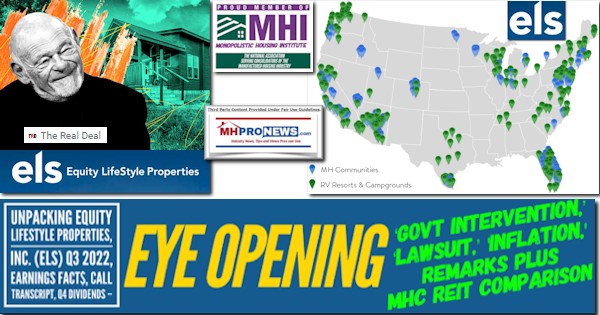 Manufactured Home Communities (a.k.a. 'Mobile Home Parks' – SIC) – Exploring UMH Properties; Fellow Manufactured Housing Institute Member Yes! Communities Suits and Settlements; plus MH Markets Updates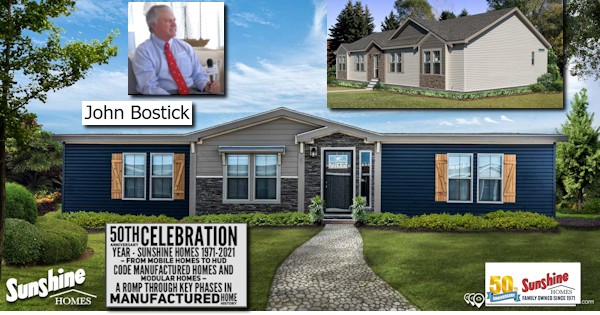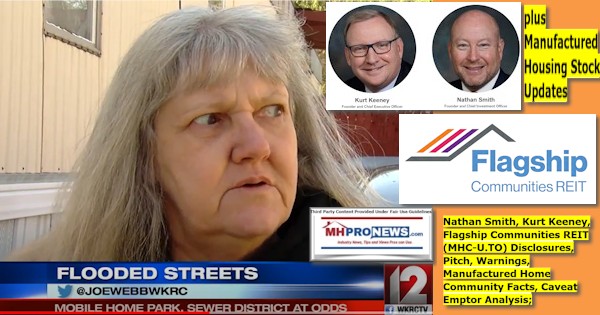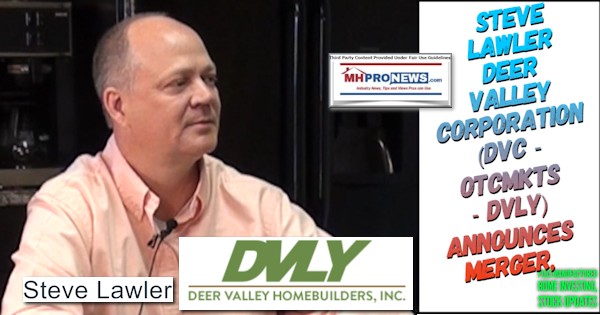 2023 …Berkshire Hathaway is the parent company to Clayton Homes, 21st Mortgage, Vanderbilt Mortgage and other factory-built housing industry suppliers.
· LCI Industries, Patrick, UFPI, and LP each are suppliers to the manufactured housing industry, among others.
· AMG, CG, and TAVFX have investments in manufactured housing related businesses. For insights from third-parties and clients about our publisher, click here.
Disclosure. MHProNews holds no positions in the stocks in this report.
· For expert manufactured housing business development or other professional services, click here.
· To sign up in seconds for our industry leading emailed headline news updates, click here.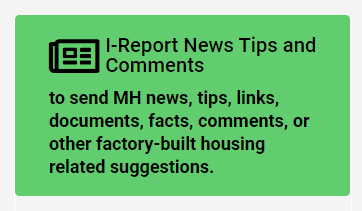 That's a wrap on this installment of "News Through the Lens of Manufactured Homes and Factory-Built Housing" © where "We Provide, You Decide." © (Affordable housing, manufactured homes, stock, investing, data, metrics, reports, fact-checks, analysis, and commentary. Third-party images or content are provided under fair use guidelines for media.) (See Related Reports, further below. Text/image boxes often are hot-linked to other reports that can be access by clicking on them.)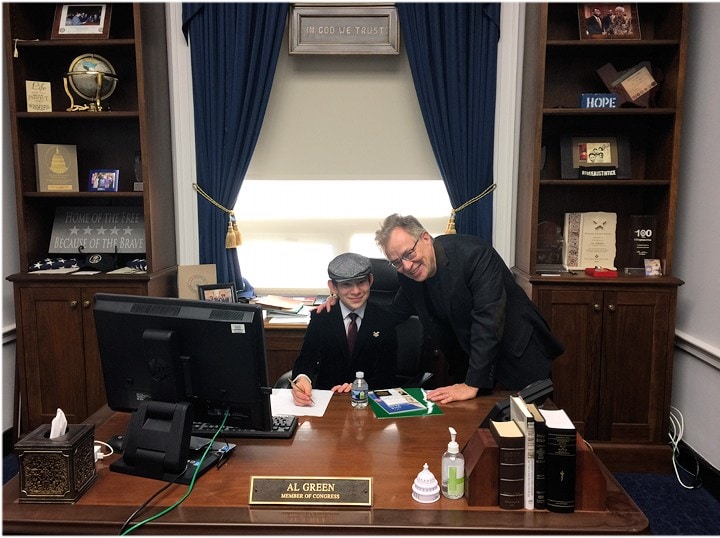 By L.A. "Tony" Kovach – for MHProNews.
Tony earned a journalism scholarship along with numerous awards in history. There have been several awards and honors and also recognition in manufactured housing. For example, he earned the prestigious Lottinville Award in history from the University of Oklahoma, where he studied history and business management. He's a managing member and co-founder of LifeStyle Factory Homes, LLC, the parent company to MHProNews, and MHLivingNews.com. This article reflects the LLC's and/or the writer's position and may or may not reflect the views of sponsors or supporters.
Call for Congressional Oversight Hearings of Manufactured Home Industry Regulators Highlighted by Manufactured Housing Association for Regulatory Reform (MHARR); plus MHVille Markets Update
Official HUD Manufactured Housing Production Facts for Dec 2022 plus 2022 Year End Totals Explored by Manufactured Housing Association for Regulatory Reform (MHARR)-"Millions" Needed – Analysis
Facts You Didn't Know – Martin Luther King Jr – Videos, Insightful Quotes, Surprising Revelations, Videos, Reports, and Illustrations in Champion for Human Rights Including Affordable Housing
'Global Disinformation Index' Warren Buffett Ally Bill Gates' Microsoft Org Charged-Cutting Revenue to Conservative Views via Xandr, GDI; plus Sunday MHVille Headlines Recap
#1 Texas' Manufactured Housing Builders Survey Says They are 'Ready for a Rebound' But Data Point in Question, DOE MH Energy Rule Too – Facts, Analysis; plus, MHVille Stocks, Markets Update
Clayton-Next Step Off-Site Built 'White Paper'-Manufactured Homes, ThinkND 'Magic of the Mind-Everyday Illusion, Misdirection, Deception' MHI Members' Claims Analyzed; plus MHVille Markets Update
After Admitted Failure, Manufactured Housing Institute Doubles Down on CrossMods® in AP Terminology Doc Acquired by MHProNews–Are MHI Leaders Sabotaging MHVille Independents? Plus MHStocks Update
Concessions by Speaker Kevin McCarthy in House Speaker's Battle Called 'Most Significant Win for Conservatives in a Decade' By Federalist's Emily Jashinsky Report; plus MHVille Stocks Updates