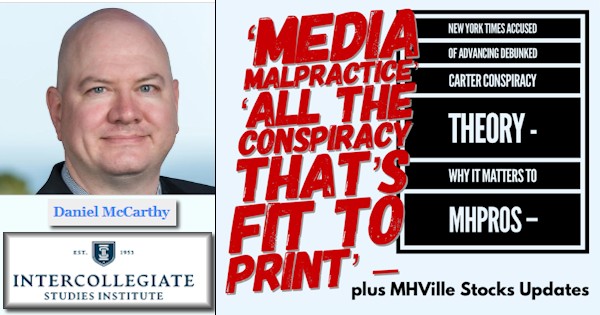 It is a truism that there are so-called 'conspiracy theories' advanced by people on the left and the right. It is also true that some things are called 'conspiracy theories' by detractors of those reports as a tactic used to diffuse or deflect from a problematic reality. Some of the wealthiest professional people in America deftly keep one eye on politics – with their corporate, nonprofit, and personal finger on those winds of political change scales – because they recognize that politicians clearly influence or craft public policy. Public policy, in the form of regulations and the enforcement – or lack thereof – of existing laws influences the business environment. While MHProNews can't and doesn't try to compete with mainstream media in efforts to shed light on politically connected issues, we have for years provided a left-right headline rundown as part of our market report. In perhaps 2 minutes a day someone can get a sense on this platform of what left-leaning CNN and right-leaning Newsmax articles are reporting and with what slant.
Daniel McCarthy's an editor and the commentary that follows courtesy of the WND News Center to MHProNews is his in part 1 of today's article to readers.
Part 2 provides some MHProNews perspective – pro and con – to what McCarthy wrote with additional information, analysis and commentary in brief. Strengths or weaknesses to his column aside, Part 2 lays out the case why McCarthy's topic is a timely one, regardless of a given reader's personal politics.
Part 3 of this article is our Daily Business News on MHProNews headlines summary from CNN Business and Newsmax. Those market-moving headlines are interlaced with the graphics that sum up the most recent stocks, equities, and REITs (Real Estate Investment Trusts) market activity. It is a feature that has set this platform apart from all other trade media in MHVille. It is part of the combination of features that has made and kept this platform the demonstrably runaway most read trade media in modern manufactured housing history.
Part 1.
COMMENTARY| MEDIA MALPRACTICE
All the conspiracy that's fit to print
Daniel McCarthy rips Old Gray Lady for 1-sourced story about Jimmy Carter's failed reelection
By Daniel McCarthy
Published March 20, 2023 at 6:54pm
When is a single-source story good enough for The New York Times? When it appears to confirm a 40-year-old Democratic conspiracy theory.
Peter Baker, the Times' chief White House correspondent, published Saturday a bombshell report, "A Four-Decade Secret: One Man's Story of Sabotaging Carter's Re-Election."
It was indeed merely one man's story. An 85-year-old Democrat, Ben Barnes, claims to have personal knowledge of efforts by Ronald Reagan allies to delay the release of U.S. hostages from Iran until after the 1980 election.
A reader has to plow through 10 paragraphs of this sensational story before encountering a concession that "confirming Mr. Barnes's account is problematic."
But not to fear – Baker assures us Barnes "has no obvious reason to make up the story."
Suppose an octogenarian Republican from Arkansas comes forward tomorrow to provide a personal account of Bill Clinton's involvement in drug trafficking in the 1980s, a notion long promoted in certain GOP circles. No corroboration, just his word for it.
In all the worlds of the widest cinematic multiverse imaginable, is there any in which the Times would publish such a piece?
The new standard for "news that's fit to print" is when a source "has no obvious reason to make up the story." As long as that source is from the right party.
People less sophisticated than a Times White House correspondent might classify partisanship as an obvious motive. Yet Baker tells readers Barnes was afraid of how his fellow Democrats would react to his claims.
Come again? Nothing in Baker's report explains this counterintuitive assertion. The myth that Jimmy Carter lost the 1980 election because Reagan committed a misdeed tantamount to treason is in fact an enduringly popular conspiracy theory among liberals.
As Baker recounts, a Democratic-controlled Congress investigated the story in the 1980s but was unable to prove it. A former Carter administration official published a book "advancing the theory" (as Baker writes) in 1991, promoting it with a "guest essay" in – where else? – The New York Times.
Baker, in a remarkable line, bolsters Barnes' credibility by telling us what he is not: "Mr. Barnes is no shady foreign arms dealer with questionable credibility" like certain earlier proponents of the "October surprise" storyline.
Instead Barnes is a career Democratic politician who was once the protege of Texas Gov. John Connally. By 1980, Connally had become a Republican, and he sought the GOP presidential nomination that year but lost to Reagan. Barnes remained close to Connally, however, and accompanied him on trips around the Middle East that summer.
Barnes says Connally told Arab leaders to send a message to Iran urging the Shiite revolutionaries to keep their American hostages until after the election. This would prolong a crisis that weakened Carter, and a newly elected President Reagan would look kindly on Tehran in return.
Barnes has waited until anyone who might contradict his story is dead. Connally died in 1993, and William Casey, the Reagan campaign manager and later CIA director to whom Connally supposedly reported on return from his Middle East excursions, died in 1987.
In the absence of testimony from anyone who could authenticate Barnes' account, Baker pads the narrative by citing four men who have no direct knowledge about Barnes' claims but who did hear the tale from Barnes himself over the years. Although none is identified as a Democrat, three of the four have ties to Lyndon Johnson and his legacy.
Jimmy Carter lost the 1980 presidential election resoundingly. He carried only six states and the District of Columbia. He finished 9.8 points behind Ronald Reagan in the popular vote.
With numbers like that, a partisan denial of election results has to go beyond questioning returns from individual districts or states. To discredit Reagan's victory, and excuse Carter for the multitude of failures that led to his defeat, requires a different kind of conspiracy theory. One that projects the taint of Iran-Contra back to Reagan before he even became president, and redeems Carter for the greatest shame of his presidency, is irresistibly seductive to liberals. Even if the whole thing comes down to one politician's word.
Journalists write the first draft of history and, in this case, perhaps the second or third as well. As a profession, academic historians are hardly less biased than the legacy media in their preference for one of our major parties. When liberals boast of being on the right side of history, it does not mean time has proved them right. It means their conspiracy theories and inadequately sourced stories have passed for truth in the textbooks and paper of record. ##
Daniel McCarthy is the editor of Modern Age: A Conservative Review. To read more by Daniel McCarthy, visit www.creators.com.
Part II. Additional Information with More MHProNews Analysis and Commentary in Brief
That partisanship routinely infects or otherwise influences news media is part of the premise of award-winning independent journalist Sharyl Attkisson in producing the graphic routinely linked or posted below on MHProNews. As the industry's most-read trade media, MHProNews has periodically informed and reminded readers of the obvious lack of balance found in numbers of mainstream media accounts, be it left- or right-leaning, that report about manufactured housing. The lens grasped by a journalist and their editor(s) routinely influences writers and therefor readers. That said, it is a fair issue to muse about as McCarthy has. Are even major legacy media brands like the left-leaning (or when applicable, by implication, right-leaning sources too) New York Times guilty of bias to the point that the so-called rules of journalism go out the window?
The award-winning documentary video Shadows of Liberty probed that through a largely, but not wholly, left-leaning perspective. Part of what makes Shadows of Liberty compelling and insightful is that it made the very direct connection with how advertisers, not just political views, influences media reporting. Furthermore, Shadows showed how media on the left and right were tricked by politicos into buying into what became the Middle Eastern military conflicts that stunningly have lasted some 20 years during both Democratic and Republican administrations' leadership. In essence, the notion of a free press is undermined to some degree when news reports fail to objectively question what a given administration claims in as neutral a manner as possible.
Fiction has become reality in a "Wag the Dog" (the 1997 political comedy movie) fashion. As left-leaning Wikipedia says: "The film centers on a spin doctor and a Hollywood producer who fabricate a war in Albania to distract voters from a presidential sex scandal." For those who wonder, the President Bill Clinton-Monica Lewinski scandal, per Wikipedia, "News of the scandal first broke on January 17, 1998, on the Drudge Report." "The story broke in the mainstream press on January 21 in The Washington Post." It was "In July 1992, [then Governor] Bill Clinton adopted the idea of lift and strike as part of his call for "real leadership" in Bosnia…"
The influence of big tech and big media over what American journalism is remarkable. MHProNews and our MHLivingNews sister site have made these occasional features because thinking Americans looking for affordable housing when they are properly introduced to manufactured housing often wonder silently or out loud: 'why didn't I know (such and such) about manufactured housing before?' 'Bad news' about manufactured housing is sadly all too common in mainstream media. But what about fair and balanced reporting about the good news about manufactured homes?
Darren Krolewski, MHVillage-MHInsider 'One Challenge is Not Enough Positive News About Manufactured Housing to Counter Negative' News; Frank Rolfe, Brad Nelms ManufacturedHomes, George Allen, Kurt Kelley, Sunday Headlines Review – Facts & Analysis
One arguably need not look far beyond the influences and lessons learned from examining the corporate and media behavior of Warren Buffett led Berkshire Hathaway to begin to grasp how the 'powers that be' in manufactured housing have behaved. Berkshire owned dozens of newspapers for years. Why didn't Buffett use synergy between his corporate owned media outlets to debunk the false notions about manufactured homes? Berkshire reportedly 'holds the paper' on those newspapers they sold to Lee Enterprises. Geico Insurance and other Berkshire-owned brands could be used to influence, ala the lessons of Shadows, mainstream media if they so desired. A logical deduction is that they did not desire it.
More recently, the Berkshire and big-brand dominated Manufactured Housing Institute (MHI) announced that they were doing an outreach to the Associated Press (AP) Stylebook. Their announcement came about a year after MHLivingNews published the article linked below.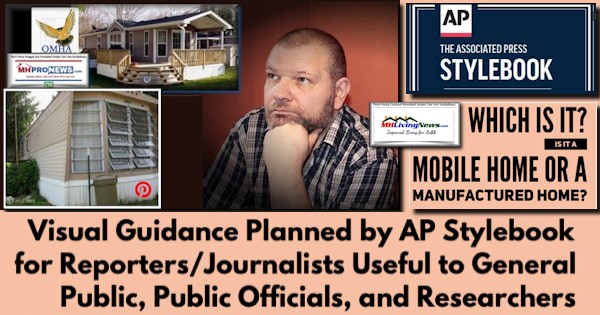 As MHProNews has reported, MHI problematically made their pitch to AP that their failed CrossMods scheme somehow merited a separate category of reporting by journalists. What was that all about? MHProNews unpacked in the article below why MHI's pitch is fundamentally flawed. By MHI engaging on the terminology issue recently, it begged the question – why didn't MHI engaged years or decades earlier? That noted, it should be apparent that MHI ought to have reached out to AP on this issue decades ago. To be clear, MHI should press this but without pushing CrossMods in the process.  Not only have they not led, MHI followed the efforts by our twin platforms (MHProNews-MHLivingNews) to some degree speaks for itself.
After Admitted Failure, Manufactured Housing Institute Doubles Down on CrossMods® in AP Terminology Doc Acquired by MHProNews–Are MHI Leaders Sabotaging MHVille Independents? Plus MHStocks Update
"Trailers," "Trailer Parks," "Mobile Homes" and Associated Press "Not Aware…This Request [About Manufactured Housing] Before" – How Did Manufactured Housing Institute Miss This? Plus, 12th Anniversary Celebration Kudos
That quick romp through media and manufactured housing related insights on news and views can be summed up like this.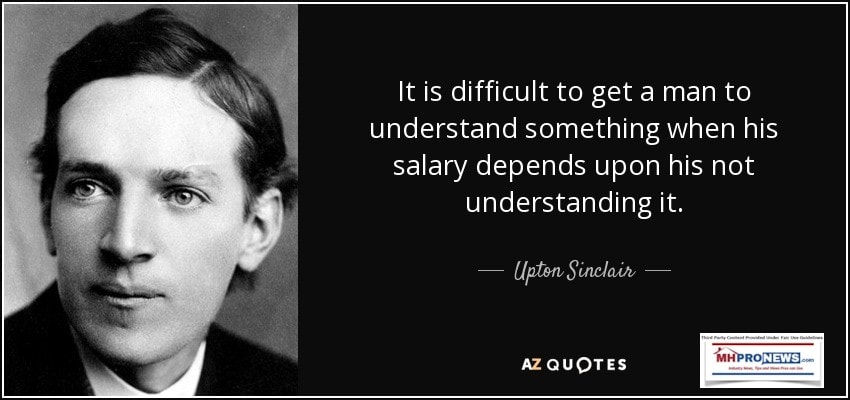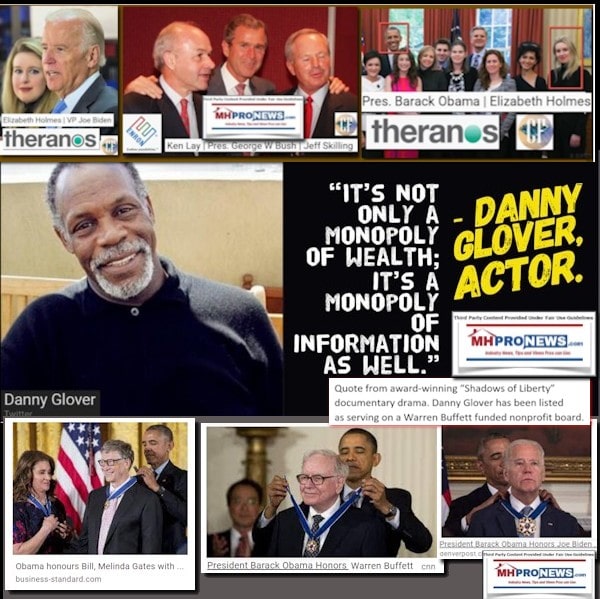 The evidence is clear for those who desire seeing objective reality. Manufactured housing is underperforming during an affordable housing crisis. The industry has obviously been underperforming for essentially all of the 21st century.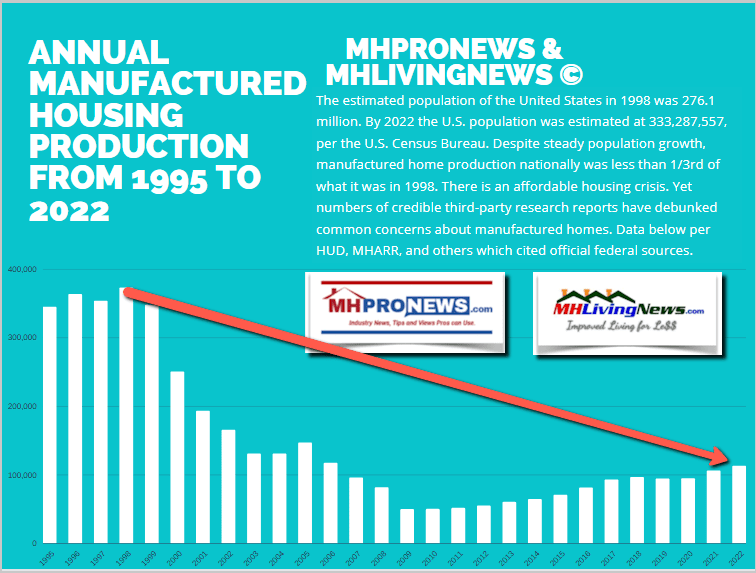 True State of the Manufactured Housing Industry in March 2023 Based on Facts, Not Clever Agenda-Driven 'Fiction$' – plus Sunday Weekly MHVille Headlines Recap
The so-called corporate and dominating national trade group clearly have a significant level of responsibility for the status quo and the various events which brought the industry to its currently low ebb. When far more costly conventional housing is outselling manufactured housing by a factor of some 9 to 1 during an affordable housing crisis that fact speaks volumes.
Big Media and Big Tech have enormous influence in our society. Like Buffett himself, or for that matter, for the private equity giant BlackRock, much of big tech, big media, and big corporate influence demonstrably leans left politically. Donor dollars are but one way of measuring that statement. It isn't just media bias. It is corporate bias. Evidence for that is found in the documents and facts found below.
BlackRock Sounds Alarm-Financial Cracks Emerge from Interest Rate Hikes, CEO Larry Fink 'Polycrisis'-Signals De-Emphasis on ESG 'Not Environmental Police' Govs PushBack;plus MHVille Stocks Update
What was deemed 'conspiracy theories' about the origins of COVID19 3 years ago or regarding concerns about the Big Pharma mRNA treatments that were rebranded as a 'vaccine' some 2 years ago have since proven to be far more accurate than those who scoffed. What is the lesson to be learned?
Largely Pro-Biden Washington Post Expose Big Errors in Biden-Era Fed COVID19 Policies that Impacted Housing and Businesses, Including Manufactured Home Industry, Millions of Current and Would Be Homeowners
In no particular order of importance.
It is risky to rely on one source of information only. Though we are demonstrably the largest trade media (see links above) serving manufactured housing, we periodically dip the toe into reports made by others and examine them in the light of known facts. Savvy professionals and investors should do similarly.
Professionals who want to be well informed should try to compare and contrast the claims made by differing groups.
The fact that supporters of MHI and their dominating big brands have gone out of their way not to debate or publicly discuss their performance is a red flag for those groups who dodge accountability.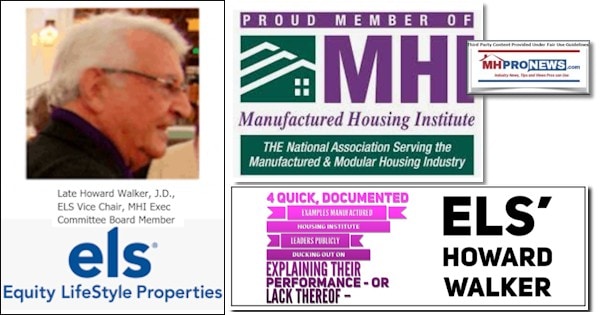 Daniel McCarthy's analysis is an interesting one, and he thoughtfully provided the flip side of the argument. By way of analogy, when MHProNews provides an analysis, we often use much or all of the quoted source's claims on a topic. That gives readers a chance to see what that source said in their own words. It makes our analysis more balanced because a reader can see 'each side' and weigh the evidence in the light of a more complete report.
For years, MHProNews did something somewhat similarly to what the now defunct Journal of Manufactured and Modular Housing did. Namely, provide statements by the Manufactured Housing Association for Regulatory Reform (MHARR) and MHI. Let readers compare and contrast themselves. That and our left-right media summary inspired the tag line, "We Provide, You Decide." © We treat adults like adults.
As an understanding of the political and corporate phenomenon of expression that included paltering, spin, deception, and misdirection grew, MHProNews increasingly provided a topical analysis and commentary. Because they are fact- and evidence-based, they still respect the readers: "We Provide, You Decide." ©
That noted, from early on, our tag line: "Industry News, Tips, and Views Pros Can Use" ©
An official for Facebook admitted during a deposition that their essentially sponsored 'fact checks' are still someone's opinions. As the New York Post editorial board's headline on that framed it on 12.14.2021: "Facebook admits the truth: 'Fact checks' are really just (lefty) opinion" Those editors said in part: "That's thanks to a lawsuit brought by celebrated journalist John Stossel, which has exposed the left's supposed battle against  "misinformation" as a farce. Stossel posted a pair of videos that touched the third rail of liberal politics — climate change."
There is a potentially historic 2024 primaries for both Democrats and Republicans which may be coming into focus. If Robert F. Kennedy Jr., J.D., (D) seriously runs for the Democratic Presidential nomination, as he has signaled he might, it could bring a unique perspective to that party's debates that have been lacking in recent years. Kennedy is a liberal, from the political left. But he accepts some notions his party has made centerpieces while rejecting others. Like Kennedy's views or not, he doesn't mind 'bringing it' against the big donors behind Democratic politics.
Coming Clash of Corporate and Political Titans?
Some on the right hope that Governor Ron DeSantis (FL-R) and others will essentially bow out and surrender the field to deposed President Donald J. Trump (R). Well run campaigns by serious candidates that stops short of 'nuking' the party's eventual nominee could be useful for both major parties, and more importantly, for voters.
MHProNews has noted that there is a case to be made that some 70 percent (+/-) of voters could be united on an agenda that would benefit the vast majority of Americans and would also benefit manufactured housing by providing opportunities for affordable home ownership seekers.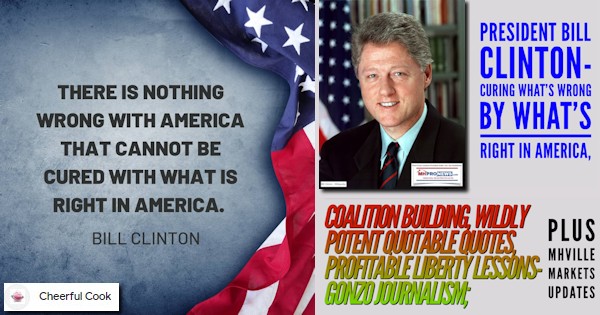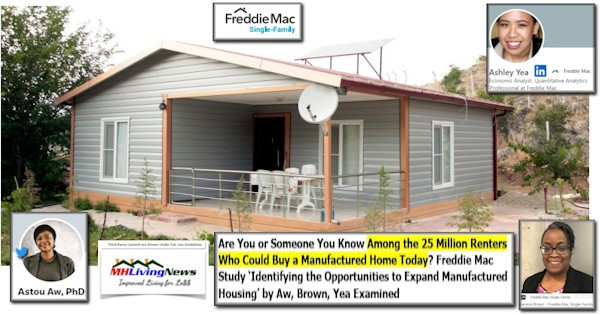 Regrettably, media has long had an agenda. Frankly, we do too. But ours is rather upfront and has been from our earliest days of publishing. MHProNews/MHLivingNews are pro-manufactured housing. We are pro-sustainable and ethically driven manufactured home industry growth. We editorially believe in the product while insisting that consumers and residents must be treated fairly and honestly. That editorial viewpoint is not so different than the stated position of prior MHI president Chris Stinebert.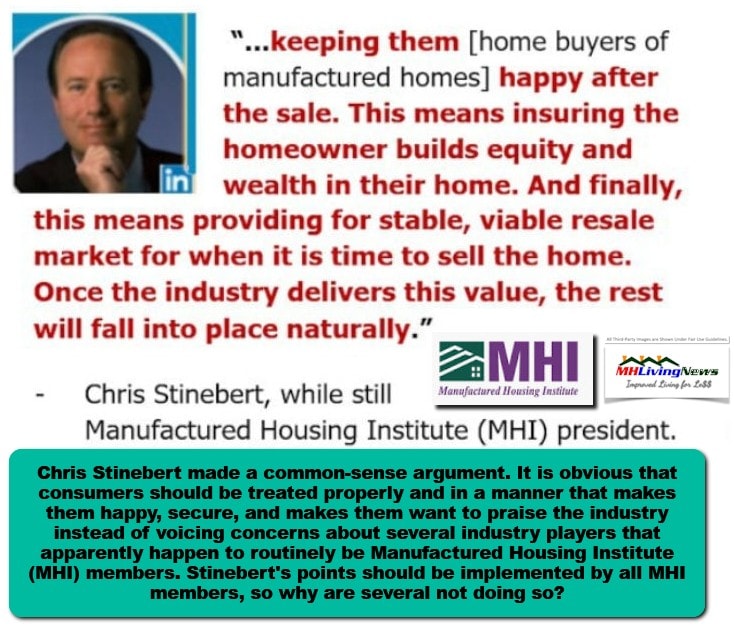 Since Loss of Stinebert at Manufactured Housing Institute (MHI) 'Empowered F-cking Greedy, Selfish Leaders of Companies to Make MHI a Tool for Themselves'-plus MHVille Markets Update
It is our evidence-based editorial perspective that MHARR has been consistent and sincere in their efforts. It is our fact- and evidence based conviction that MHI has been dominated by a few big brands that despite their claims are focused on industry consolidation. That drive toward consolidation helps explain several of the oddities that exist in MHVille in the 21st century.
The fact that MHI corporate and nonprofit staff leaders and their mouthpieces won't discuss or debate their performance publicly ought to speak volumes to thinking professionals. For those who don't yet look at the facts and evidence, there is still time to look anew.
For investors, this MHVille scenario is arguably similar in effect to the ESG debate that is growing in America.  Meaning, are investors in some of the dominating MHI brand connected equities interests being properly pursued by corporate leaders?
'Alter Conceptual Model of Corporation and Bases of Corporate Law and Corporate Finance Collapse' Attorney Bruce Abramson Explains Legal, Financial Risks – 'What is ESG, and Why Should we Care?'
McCarthy's article is one of numerous possible examples of how media bias has shifted the understanding of reality for literally tens of millions of Americans. That ability to influence perceptions is part of the dynamic that explains why manufactured housing is underperforming. See the linked reports in the market segment to learn more about those questions.
Kevin Clayton Video, Interview w/Transcript 'Historic' Claims, Clayton's Call 'Double' Production–Illumines Decades of Manufactured Housing Industry Underperformance; plus MHVille Stocks Update
Part III. Daily Business News on MHProNews Markets Segment
The modifications of our prior Daily Business News on MHProNews format of the recap of yesterday evening's market report are provided below. It still includes our signature left (CNN Business) and right (Newsmax) 'market moving' headlines. The macro market moves graphics will provide context and comparisons for those invested in or tracking manufactured housing connected equities.
In minutes a day readers can get a good sense of significant or major events while keeping up with the trends that are impacting manufactured housing connected investing.
Reminder: several of the graphics on MHProNews can be opened into a larger size. For instance: click the image and follow the prompts in your browser or device to OPEN In a New Window. Then, in several browsers/devices you can click the image and increase the size. Use the 'x out' (close window) escape or back key to return.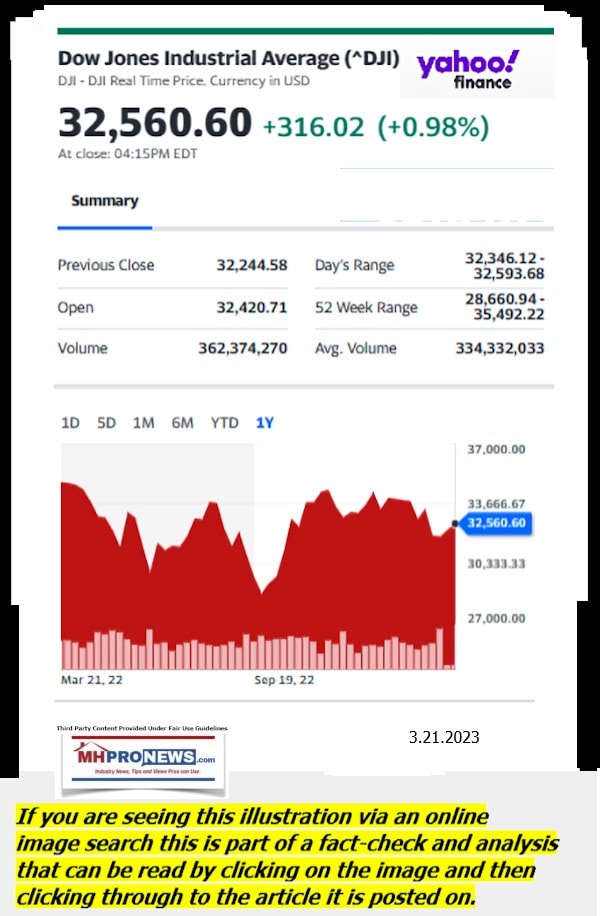 Headlines from left-of-center CNN Business – from the evening of 3.21.2023 
Google releases Bard
Google is rolling out its ChatGPT rival Bard
The tech giant is opening up access to its new AI chatbot tool set to rival ChatGPT. Here's what we know
Fox bosses 'shut down' fact checking with 2020 conspiracies, Dominion lawyer says
Fox News producer files explosive lawsuits against the network, alleging she was coerced into providing misleading Dominion testimony
Credit Suisse went the way of Bear Stearns in 2008. But this crisis is different
Russia will keep cutting oil output through June
Global stocks rise as investor worries about banking turmoil ease
Home prices just broke a decade-long streak
Lawmakers say TikTok is a national security threat, but evidence remains unclear
TikTok says it has 150 million US users amid renewed calls for a ban
Traders work on the floor of the New York Stock Exchange (NYSE) on March 16, 2023 in New York City.
LIVE UPDATES
Dow closes up more nearly 300 points as regional banks rebound
Sri Lanka agrees $3 billion IMF loan in boost for crisis-hit economy
Hollywood braces for potential strike as writers begin high-stakes talks with studios
Goodbye, Howard Schultz: New Starbucks CEO steps in early
Last Dodge Challenger makes 1,025 hp, has optional parachute attachments
Magic Johnson joins bid to buy the NFL's Washington Commanders
Foot Locker is closing 400 stores by 2026
First Republic shares tumble to a new low
Amazon to lay off 9,000 more workers
Long Covid disabled them. Then they met a 'broken' Social Security disability process
Global banking crisis: One big problem down, too many others left to go
What are AT1 bonds and why are Credit Suisse's now worthless?
Rupert Murdoch is engaged to marry Ann Lesley Smith
European markets recover on a wild day for bank stocks
Global banking crisis: What just happened?
Notice: the graphic below can be expanded to a larger size.
See the instructions below the graphic below or click the image and follow the prompts.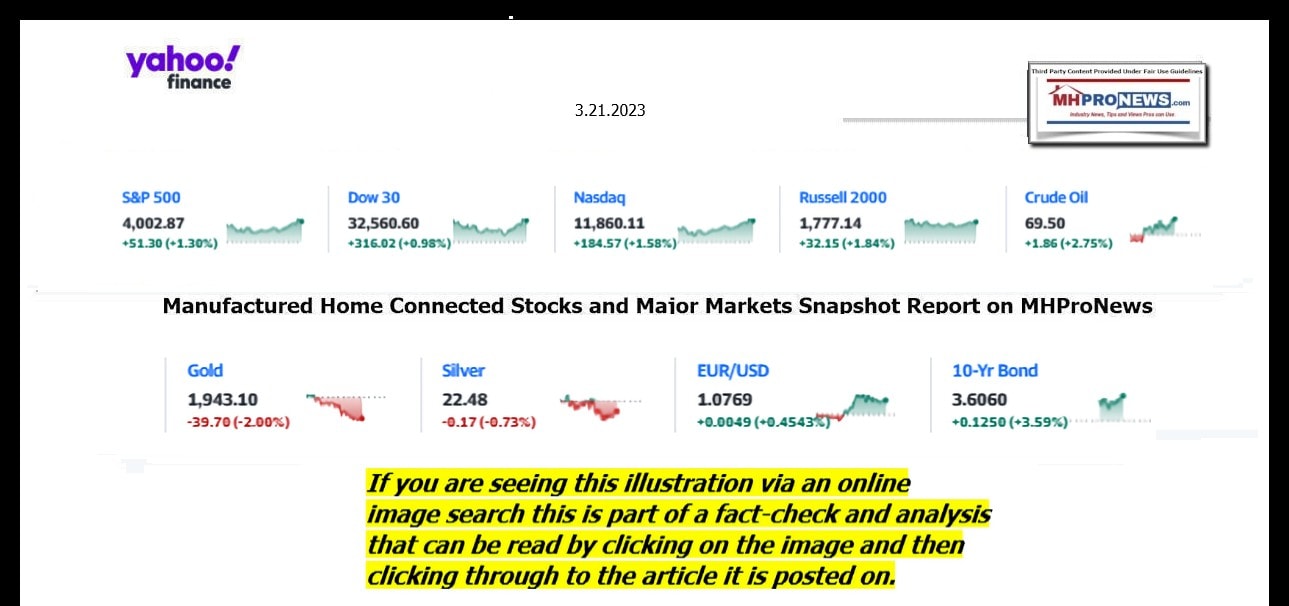 Headlines from right-of-center Newsmax 3.21.2023
Trump Indictment Now Expected Wednesday; Arraignment Next Week
Trump's Legal Issues
McCarthy: Trump Case 'Just Political,' Was 'Personal Money'
Indictment Now Likely Wednesday; Arraignment Next Week
Trump Lawyer Tacopina: They Want Him in Cuffs | video
Tenney: Dems Want Reason to Get Trump | video
Mullin: Bragg Should Defend Findings | video
Steil: Probe Should Raise Questions for Everyone | video
Paul: Jail DA Bragg for 'Abuse of Power'
Newsmax's Schmitt: Case Marks Slide to 'Banana Republic' | video
Dershowitz: We're 'Losing Our Rule of Law' | video
Giuliani: Bragg Probe 'Final Straw' on Dem Corruption | video
Rosendale: Investments Should Be 'Sound,' Not ESG-Based
Biggs: Witnesses to Testify on Bidens, Chinese Funds | video
Fred Fleitz: Zelenskyy Won't Accept Xi-Putin Cease-Fire | video
Reschenthaler: D.C. Bureaucrats Lost Iraq War | video
Blaine Holt: We Must Urge Calm If Trump Arrested | video
Ben Carson: Trump Charges Should Worry Everyone | video
Giuliani: I'd Say 'Go to Hell' on Trump Charges | video
Grenell: Trump Charges a Distraction for Biden | video
John McLaughlin: Trump Beating Biden 'Like Drum' in Polls | video
State Dept. Threatened on Delivering Afghanistan Docs
The State Department faces a subpoena if it doesn't deliver on repeated document requests related to the tumultuous U.S. withdrawal from Afghanistan, said House Foreign Affairs Committee chair Rep. Michael McCaul, R-Texas…. [Full Story]
Wall Street Ends Green on Bank Bounce
Wall Street closed sharply higher Tuesday as widespread fears over [Full Story]
34% of Americans Would Consider Buying an EV
Just over one-third of Americans would consider buying an electric [Full Story]
Mexican President Calls US State Dept. 'Liars' Over Rights Report
Mexican President Andres Manuel Lopez Obrador on Tuesday forcefully [Full Story]
Trump's Social Media Comeback Helps 'Mobilize' Base
More than two years after being booted from popular social media [Full Story] | Platinum Article
Morning Consult Poll: DeSantis Support Slips
Ron DeSantis has sunk to his lowest level of support since tracking [Full Story]
Related
Morning Consult Poll: Voters Split on DeSantis' Ukraine Views
US Speeds Up Tank Delivery to Ukraine
The U.S. is working to get Abrams tanks to Ukraine faster than [Full Story]
Related
Putin Ally: US Has Become Participant in Ukraine Conflict
Japan PM Makes Surprise Kyiv Visit to Meet Zelenskyy
Ukraine Claims Russia's Advance on Bakhmut Halted
Republicans Urge Biden to Send Ukraine Banned Bombs
Trump Indictment Likely Wednesday; Arraignment Next Week
Trump Indictment Likely Wednesday; Arraignment Next Week
Former President Donald Trump, 76, is likely to be indicted [Full Story]
Israeli Move to Lift Ban on Return to West Bank Settlements Troubles US
Washington is "extremely troubled" by a move by the Israeli [Full Story]
US, China Vie for Pacific Dominance
The Biden administration plans to open new diplomatic missions in the [Full Story] | Platinum Article
Video Report: NYC on Call for Possible Trump Indictment
New York City is gearing up for possible upcoming indictment of [Full Story] | video
Patriot Missile Defense Systems Delivery to Ukraine Quickens
Patriot missile defense systems reportedly will be deployed to [Full Story]
Google Rolls Out AI Rival Bard for Testing
Google Tuesday invited people in the United States and Britain to [Full Story]
Winnie the Pooh Film 'Mysteriously' Canceled in Hong Kong
The screening of "Winnie the Pooh: Blood and Honey," a British [Full Story]
Report: TikTok Trackers Used by 30 State Govt Sites
Thirty U.S. state government websites contain a web-tracking code [Full Story]
Yellen Vows to Safeguard Small Bank Deposits
S. Treasury Secretary Janet Yellen told bankers Tuesday that she is [Full Story]
Related
US Officials Explore FDIC Coverage for All Deposits
Putin, Xi Vow 'Strategic Cooperation' in Kremlin Talks
President Vladimir Putin hailed Russia's growing trade, energy and [Full Story]
McCarthy: Trump Case 'Just Political,' 'Personal Money'
House Speaker Rep. Kevin McCarthy, R-Calif., told reporters Tuesday [Full Story]
Gallup Survey: Americans Favor Canada, Great Britain
Americans rate Canada and Great Britain as favorite countries but [Full Story]
Justice Jackson Writes Solo Dissent in Abortion Ruling
Supreme Court Justice Ketanji Brown Jackson wrote in her solo dissent [Full Story]
Widespread Deadly Drug Combo Prompts DEA Alert
The U.S. Drug Enforcement Administration (DEA) has issued a public [Full Story]
Oklahoma Supreme Court: Abortion Allowed to Save Life
The Oklahoma Supreme Court ruled 5-4 Tuesday that abortion is [Full Story]
Rasmussen Poll: 64 Percent Expect Biden-Trump Rematch
The latest Rasmussen Reports survey finds that nearly two-thirds of [Full Story]
Nikki Haley: 'If Russia Wins in Ukraine, China Wins'
Nikki Haley, who is seeking the 2024 Republican presidential [Full Story]
Report: European Union Sending 1M Ammo Rounds to Ukraine
The European Union has reached a deal to send Ukraine 1 million [Full Story] | video
Sanders Signs Bill Memorializing Aborted Babies
Arkansas Governor Sarah Huckabee Sanders signed into law last week [Full Story]
'Rob Schmitt Tonight': US Becoming 'Banana Republic' With Trump Case
On Monday's episode of "Rob Schmitt Tonight," the Newsmax host [Full Story] | video
US B52 Bomber Intercepted by Russian Jet
A U.S. Air Force B-52H Strategic Bomber was intercepted by a Russian [Full Story]
Rasmussen Ariz. Poll: Trump Holds Big Lead Over Biden
A new poll last week revealed that if the 2024 presidential election [Full Story]
Hawley: End China's Normal Trade Relation Status
Republican Sen. Josh Hawley of Missouri will introduce legislation [Full Story]
US: China, Russia Blocking UN Action on NKorea
The United States accused China and Russia on Monday of shielding [Full Story]
The End of Knee Pain: New Device Stuns Surgeons and Changes Lives
Health Insight Journal
More Newsfront
Finance
34% of Americans Would Consider Buying an EV
Just over one-third of Americans would consider buying an electric vehicle for their next model, a new Reuters/Ipsos poll found…. [Full Story]
Switzerland Curbs Bonus Payouts at Credit Suisse
20-Something Learns to 'Enjoy Life for Free'
Ben Stein: Ignorance Is Expensive
Bob Ciura: 3 Quality REITs for Long-Term Passive Income
More Finance
Health
Foods That Work Like Ozempic Without the Side Effects
There has been a lot of controversy over the drug Ozempic being used off-label for weight loss. The medication, designed primarily to treat Type 2 diabetes, has become the latest rage among those willing to pay $1,000 a month to shed pounds. According to Study Finds, the…… [Full Story]
FDA to Soon Decide on Second Round of Omicron Boosters
Post-Op Delirium Linked to Faster Mental Decline
Dangerous Drug-Resistant Fungal Infection Spreading
Gerber Baby Formula Recalled Due to Bacteria Concerns
Notice: the graphic below can be expanded to a larger size.
See the instructions below the graphic below or click the image and follow the prompts.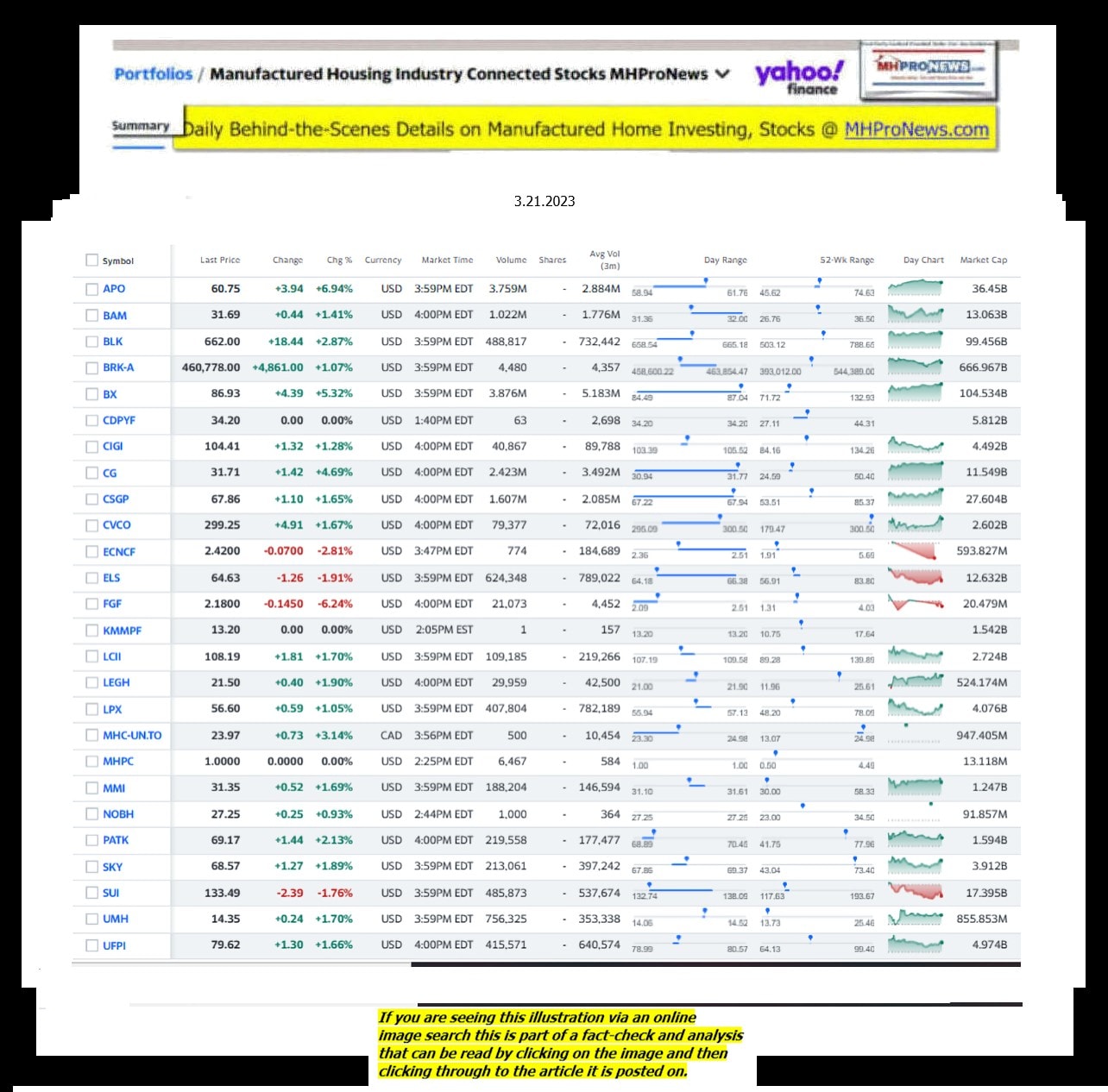 2022 was a tough year for many stocks. Unfortunately, that pattern held true for manufactured home industry (MHVille) connected stocks too.
See the facts, linked below.
'Stomach Churning Year' CNN-Wall Street 'Forget 2022' Down Year – Major Equities Data Compared to Manufactured Housing Stocks, Manufactured Home Community REITs, Performance for Year by Company
====================================
Updated
NOTE 1: The 3rd chart above of manufactured housing connected equities includes the Canadian stock, ECN, which purchased Triad Financial Services, a manufactured home industry finance lender.
NOTE 2: Drew changed its name and trading symbol at the end of 2016 to Lippert (LCII).
NOTE 3: Deer Valley was largely taken private, say company insiders in a message to MHProNews on 12.15.2020, but there are still some outstanding shares of the stock from the days when it was a publicly traded firm.  Thus, there is still periodic activity on DVLY.
Note 4: some recent or related reports to the REITs, stocks, and other equities named above follow in the reports linked below.
Sun Communities – 'Development in Our DNA,' ESG Stance, Q4 2022 Year End Results Earnings Call & PR – Facts, Insights Beyond PR and Official SUI Statements; plus MHVille REITs, Stocks Update
'Undervalued' Cavco Industries Touts Q Result$ 'Dire Need for Housing' 'January Traffic Up'- Rev Up 16%-Sales, Earnings, Mgmt Call Data–Analysis Beyond CVCO Statements; plus MHVille Stocks Update
'Killing's as Easy as Breathing' 'Bad Guys Know More Games' Warren Buffett Annual Berkshire Hathaway Letter, Clayton Homes, 21st, VMF-Manufactured Home Loans-Compelling MHVille Expert Views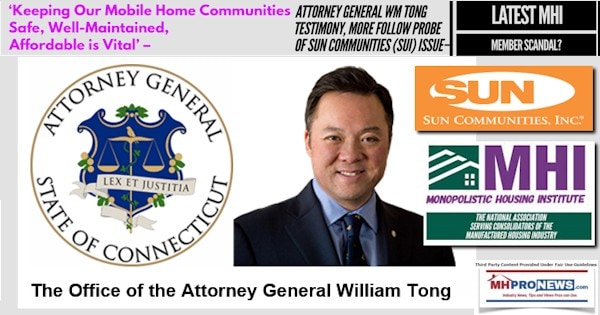 Nobility Homes, Inc. Sales and Earnings for its Fiscal Year 2022 Report, Result$ Best Inflation – Net After Taxes Up 34%, More Fact$; DeSantis ESG and NOBH; plus MHVille Stocks, Market Updates
'Manufactured Housing in the News,' Unpacking UMH CEO Sam Landy Op-Ed' It's Time for Bi-Partisanship on Affordable Manufactured Housing Homeownership' in HousingWire; plus MHMarkets Updates
Manufactured Housing Properties-Results for Three and Nine Months Ending September 30.2022–Exploring 'Mobile Home Park' Manufactured Home Community Investing; plus MHVille REITs, Stocks Update
'Changes Will Benefit Customers,' Boost Sales-Legacy Homes CEO Duncan Bates – LEGH 'Delivered 22.5% Return on Equity in 1 Yr' – Corp Q3 2022 Insights, Analysis; plus MHVille REITs, Stocks Update  
CEO Mark Yost, Skyline Champion Insiders SELL Million$ Value SKY Stock, Home Sales Drop-4th Q 2022 (3QFiscal2023), Official Result$-Facts, Analysis, Info Beyond PR; plus MHVille Stocks Update
Triad Financial Services Q2-2022 FINANCIAL RESULTS, per ECN Capital – Several Bright Spots in Manufactured Home Market Highlighted, Including Communities, Retail, Land-Home, Floor; MHStocks Update
BlackRock Document Exposes Central Banks like Federal Reserve on Recession; Manufactured Home Producer Cavco Industries 2022 Year End Results (CVCOQ3.23) Facts+Analysis; plus MHVille Stocks Update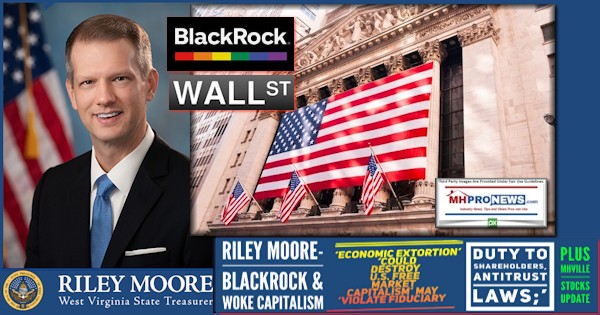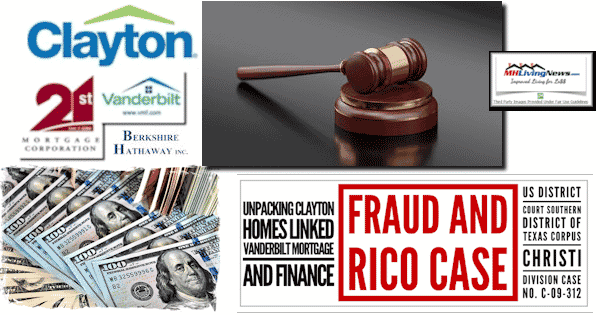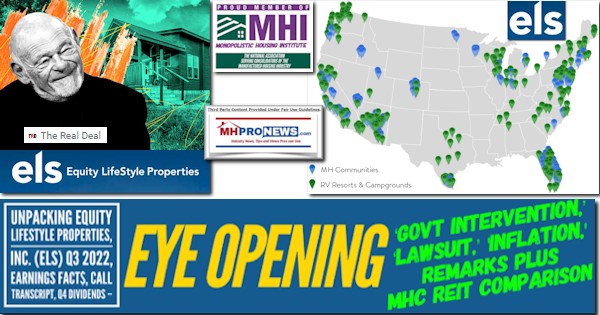 Manufactured Home Communities (a.k.a. 'Mobile Home Parks' – SIC) – Exploring UMH Properties; Fellow Manufactured Housing Institute Member Yes! Communities Suits and Settlements; plus MH Markets Updates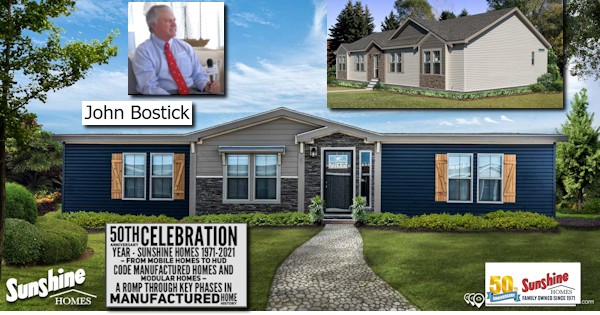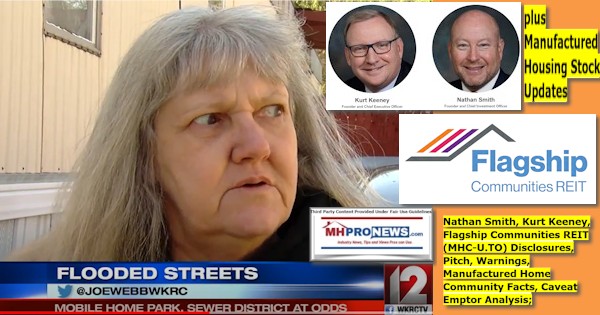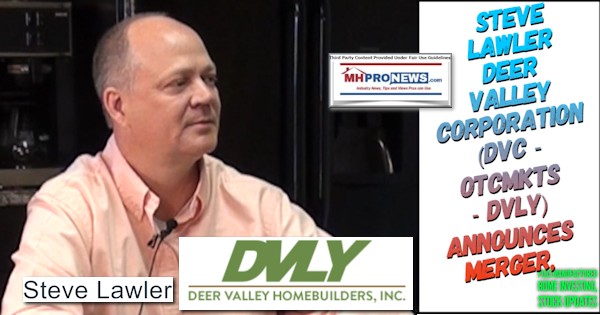 2023 …Berkshire Hathaway is the parent company to Clayton Homes, 21st Mortgage, Vanderbilt Mortgage and other factory-built housing industry suppliers.
· LCI Industries, Patrick, UFPI, and LP each are suppliers to the manufactured housing industry, among others.
· AMG, CG, and TAVFX have investments in manufactured housing related businesses. For insights from third-parties and clients about our publisher, click here.
Disclosure. MHProNews holds no positions in the stocks in this report.
· For expert manufactured housing business development or other professional services, click here.
· To sign up in seconds for our industry leading emailed headline news updates, click here.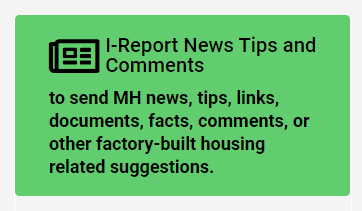 That's a wrap on this installment of "News Through the Lens of Manufactured Homes and Factory-Built Housing" © where "We Provide, You Decide." © (Affordable housing, manufactured homes, stock, investing, data, metrics, reports, fact-checks, analysis, and commentary. Third-party images or content are provided under fair use guidelines for media.) (See Related Reports, further below. Text/image boxes often are hot-linked to other reports that can be access by clicking on them.)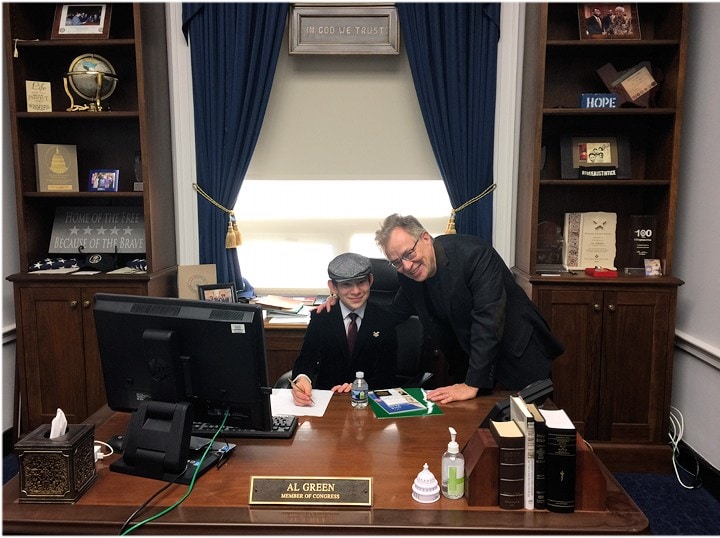 By L.A. "Tony" Kovach – for MHProNews.
Tony earned a journalism scholarship along with numerous awards in history. There have been several awards and honors and also recognition in manufactured housing. For example, he earned the prestigious Lottinville Award in history from the University of Oklahoma, where he studied history and business management. He's a managing member and co-founder of LifeStyle Factory Homes, LLC, the parent company to MHProNews, and MHLivingNews.com. This article reflects the LLC's and/or the writer's position and may or may not reflect the views of sponsors or supporters.
Call for Congressional Oversight Hearings of Manufactured Home Industry Regulators Highlighted by Manufactured Housing Association for Regulatory Reform (MHARR); plus MHVille Markets Update
Official HUD Manufactured Housing Production Facts for Dec 2022 plus 2022 Year End Totals Explored by Manufactured Housing Association for Regulatory Reform (MHARR)-"Millions" Needed – Analysis
Facts You Didn't Know – Martin Luther King Jr – Videos, Insightful Quotes, Surprising Revelations, Videos, Reports, and Illustrations in Champion for Human Rights Including Affordable Housing
'Global Disinformation Index' Warren Buffett Ally Bill Gates' Microsoft Org Charged-Cutting Revenue to Conservative Views via Xandr, GDI; plus Sunday MHVille Headlines Recap
#1 Texas' Manufactured Housing Builders Survey Says They are 'Ready for a Rebound' But Data Point in Question, DOE MH Energy Rule Too – Facts, Analysis; plus, MHVille Stocks, Markets Update
Clayton-Next Step Off-Site Built 'White Paper'-Manufactured Homes, ThinkND 'Magic of the Mind-Everyday Illusion, Misdirection, Deception' MHI Members' Claims Analyzed; plus MHVille Markets Update
After Admitted Failure, Manufactured Housing Institute Doubles Down on CrossMods® in AP Terminology Doc Acquired by MHProNews–Are MHI Leaders Sabotaging MHVille Independents? Plus MHStocks Update
Concessions by Speaker Kevin McCarthy in House Speaker's Battle Called 'Most Significant Win for Conservatives in a Decade' By Federalist's Emily Jashinsky Report; plus MHVille Stocks Updates