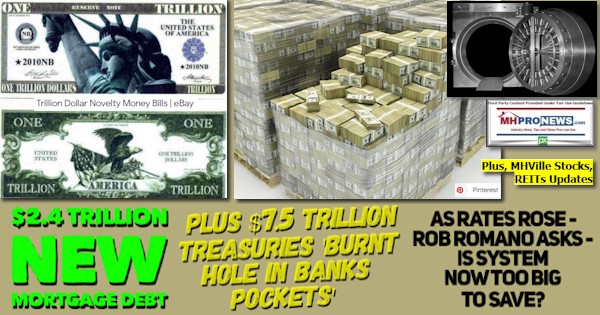 "Right now, we're already seeing the stress that regional banks like Silicon Valley Bank and big ones like Credit Suisse are put under when interest rates have risen because of the inverse relationship between bond values and rates," said Rob Romano in his fact- and evidence-packed column on the Daily Torch which is provided by them to MHProNews and is posted below. On the other side of the political spectrum, former Democratic presidential candidate Andrew Yang has pointed to some similar concerns that Romano has. See Yang's tweets below. Per Romano, "But that's not the only thing collapsing. Don't look now, but home values are just starting to collapse, according to latest readings of the Freddie Mac Home Price Index, after skyrocketing at rates even greater than they did during the 2000s housing bubble."
If only all publicly traded MHVille companies and the Manufactured Housing Institute (MHI) that most of them support had been pushing an educational- and legal-campaign in recent years to enforce good federal laws that benefit manufactured housing.  IF, if, if those pro-manufactured home laws were being properly enforced, manufactured housing may well be growing at a faster pace during such looming downturns. But no. More on that in Part II.
Part I of today's report are the tweets from Yang and the insights from the Daily Torch's Romano.
Part II will be additional information with more MHProNews analysis and commentary in brief.
Part III is our Daily Business News on MHProNews manufactured housing connected stocks and macro-market graphics, facts and figures, plus left-right market-moving headlines recap.
Part I – Two Looks at Developing Banking Financial Crisis
SVB is just the beginning. https://t.co/EVVD88hU8V

— Andrew Yang🧢⬆️🇺🇸 (@AndrewYang) March 20, 2023
It's going to be a rocky time. https://t.co/EVVD88hU8V

— Andrew Yang🧢⬆️🇺🇸 (@AndrewYang) March 20, 2023
03.20.2023
$7.5 trillion of treasuries and $2.4 trillion of new mortgage debt burnt a hole in banks' pockets when interest rates rose. Is the system now too big to save?
Since the beginning of 2020, marketable U.S. treasuries have increased by $7.5 trillion as the total national debt ballooned to $31.4 trillion, and mortgage debt has increased by $2.4 trillion to $11.92 trillion, according to the latest data compiled by the U.S. Department of Treasury and the New York Federal Reserve.
Of the $7.5 trillion, $3 trillion was bought by the Federal Reserve, which took its holdings up to $5.3 trillion since the beginning of 2020 and about $600 billion was bought by foreign financial institutions including foreign central banks since then. The foreign exposure on treasuries had been up to $900 billion as of Dec. 2021, but they appear to have divested by about $300 billion since then.
Which means the other $3.9 trillion was bought by U.S. financial institutions, at a time when interest rates were much lower than they are today. Banks are said to be sitting on more than $620 billion of unrealized losses.
But one curious feature of the federal takeovers of the Silicon Valley Bank and Signature Bank has been that treasuries that had been held at that bank are being purchased by the Fed for 100 pennies on the dollar. The new Bank Term Funding Program (BTFP), according to its terms states "the collateral valuation will be par value. Margin will be 100% of par value."
As explained by Bloomberg columnist Matt Levine, "if you bought Treasury bonds a year ago at 100 cents on the dollar, and they're worth 80 cents on the dollar today, and you're a bank, you can put them into the BTFP and borrow 100 cents against them. This means that BTFP is not a perpetual program to let banks ignore mark-to-market accounting forever: It is a way for banks to roll off their existing portfolios of Treasuries that have lost value in the current rate-hiking cycle, to transition to a steady state where (you hope!) banks are less at risk from interest-rate increases."
So rather than purchasing treasuries on the open market as the Fed normally does, in the case of these banks, while shareholders and bondholders of the banks themselves are getting nothing, the treasuries bondholders are being made whole for about the next year or so. Until that's not enough.
The same thing happened with the Fed's program to purchase mortgage-backed securities after the financial crisis. We started with the Troubled Asset Relief Program (TARP) which was supposed to make loans to banks until they could get on the right side of their balance sheets. But thanks to the Fed audit ordered in Dodd-Frank, it was revealed that in its $1.25 trillion of full-on bailouts of financial institutions, mortgage-backed securities were also bought for 100 cents on the dollar and a whopping $442.7 billion went to foreign banks to bail them out, too.
Undoubtedly, another audit of the Fed's rescue programs will need to be done after this recession as well to see the full extent of the quantitative easing was used to obtain a 100 percent bailout to prevent banks from experiencing losses. In the meantime, the losses the American people will experience in this recession, including higher unemployment—as many as 2 million jobs could be lost—foreclosures and other fallout will be real enough.
The current growth in treasuries was predicated upon a massive government spending program from 2020 through 2022 on the Covid pandemic in a bid to boost demand at a time when there were economic lockdowns, production halts as people were paid to stay home and a huge spike in unemployment at 25 million jobs were temporarily lost.
As a result of all the spending, borrowing and printing, inflation skyrocketed, leading to the inflation spike, where consumer inflation reached 9.1 percent in June 2022. By the time Russia invaded Ukraine in Feb. 2022—further worsening global supply issues—consumer inflation was already north of 7.5 percent. Now it's down to 6 percent as consumer begin to max out on credit.
And so is the the M2 money supply, which peaked at $22 trillion after it increased dramatically from $15.3 trillion in Feb. 2020 to a peak of $22 trillion by April 2022, a massive 43.7 percent, after more than $6 trillion was printed, borrowed and spent into existence for Covid, has now decreased a bit to $21.1 trillion, and is down 1.9 percent over the past 12 months. One has to go back to the Great Depression and the banking crises of the late 1800s the last time that happened.
But that's not the only thing collapsing. Don't look now, but home values are just starting to collapse, according to latest readings of the Freddie Mac Home Price Index, after skyrocketing at rates even greater than they did during the 2000s housing bubble. Quarterly growth of home values peaked at 3.29 percent in the fourth quarter of 2002, whereas the quarterly growth in the most recent cycle peaked at 4.96 percent in the second quarter of 2021. That is absolutely massive.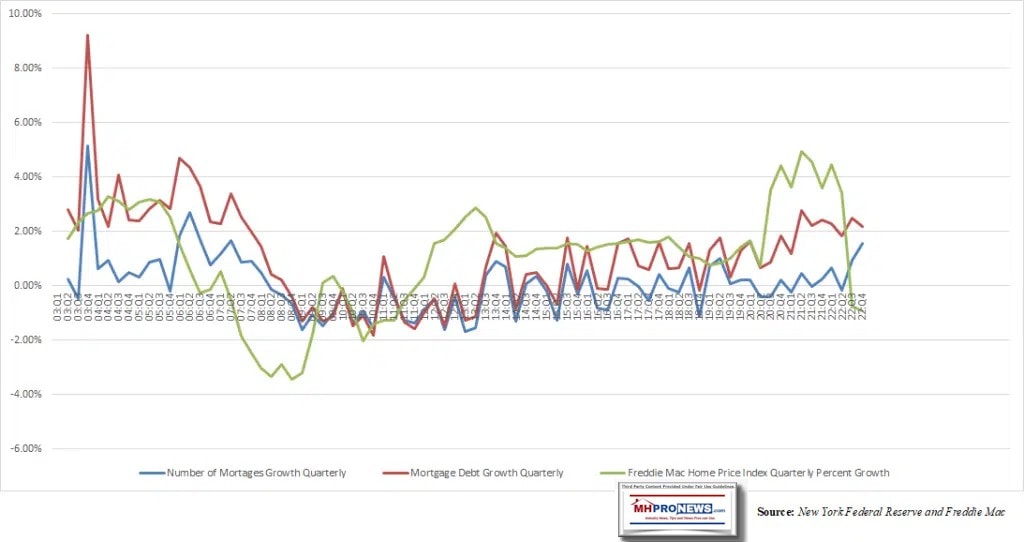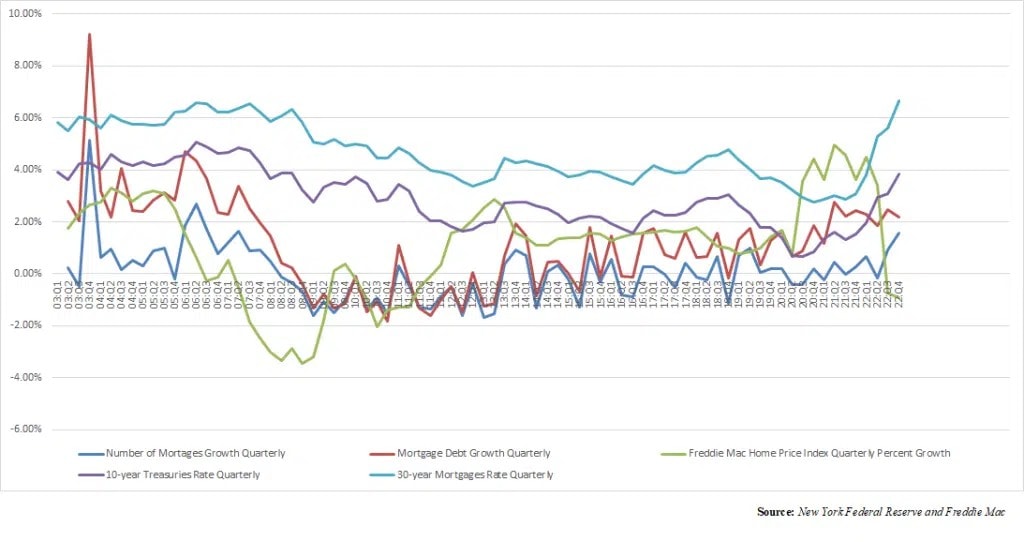 I compiled these charts with the New York Federal Reserve and Freddie Mac data, plus interest rates, into a spreadsheet into a spreadsheet so you can see for yourself.
The declines have come just as interest rates have been increasing, which they inevitably were going to in order to tame the inflation that was caused by printing more than $6 trillion in the first place. 30-year mortgages peaked at more than 7 percent in Nov. 2022 and 10-year treasuries peaked at 4.25 percent in Oct. 2022.
It was because of all the funny money. Checks to households, continued unemployment claims for millions of households, continued Medicaid enrollment for an additional 20 million Americans that nobody in Washington, D.C. likes to talk about (well, Democrats do to their constituents, that was their socialized medicine scheme), more deficit spending subsidies for green energy and so forth.
The news comes as existing home sales have collapsed from an annualized rate of 6.3 million in Jan. 2022 to 4 million in Jan. 2023, according to data compiled by the National Association of Realtors, a dramatic collapse of 36 percent in just a year as prices peaked and got too expensive, plus interest rates hike upwards.
What a difference too much spending and then subsequent inflation and higher interest rates can make. In the 2000s, the bubble was predicated by Fannie Mae, Freddie Mac and other mortgage lenders—a massive injection of credit as mortgage debt nearly doubled from $4.9 trillion in 2003 to $9.29 trillion by the end of 2008, according to the New York Federal Reserve data. The number of mortgage holders had skyrocketed from 80 million in 2003 to 98 million in 2008.
Today, the size of residential mortgage lending has not grown by nearly that much, although it is still substantial, growing 48 percent in the past decade from $8 trillion to its current level $11.92 trillion.
The real growth has come in the way of commercial and multifamily real estate lending, which has grown from about $2.5 trillion a decade ago to $4.45 trillion, a 78 percent increase, according to the Mortgage Bankers Association. And whereas residential lending has not one but two explicit government backstops—Fannie and Freddie have been in conservatorship since 2008 and the Federal Reserve has never stopped buying mortgage backed securities, of which it owns now $2.6 trillion—commercial real estate has more of an implicit backing.
That is thanks to rules that allow for 35 percent of Delegated Underwriting and Servicing (DUS) multifamily apartments to be occupied by commercial tenants or they can derive 20 percent of income from commercial sources. Implicit backing of residential mortgages and mortgage-backed securities in the 2000s preceded explicit government backing when prices went south and there was a negative equity crisis in the 2000s.
Today, we're potentially headed into negative equity and the commercial real estate bubble is another source of potential problems.
Once you get beyond the multifamily lending, there is no government backstop for the commercial real estate lending industry per se. Should we have another full blown mortgage and then financial crisis, the pressure will become for the Federal Reserve to not only buy residential mortgage backed securities, but the commercial real estate ones as well.
Right now, we're already seeing the stress that regional banks like Silicon Valley Bank and big ones like Credit Suisse are put under when interest rates have risen because of the inverse relationship between bond values and rates. When rates go up, the value of the bonds you bought yesterday go down. It's impacting big and small banks alike.
What a stupid system. And a misallocation of resources. We could be investing in boosting production in America, fixing our crumbling infrastructure, improving our schools and so forth, but our financial system for more than a century is built on making supposedly private banks profitable by chasing the dollar and interest rates around boom to bust economic cycles.
If the system were well capitalized and could withstand a hit, then treasuries holders would not need 100 pennies on the dollar for the bonds they bought when interest rates were low. That should be as alarming as it was more than a decade ago when the same thing happened for mortgage-backed securities. Again, this is a well-known flaw of the fractional banking system, that banks lend out far more than they keep either on deposit or via capitalization.
And when that system fails, as it has continually done, the result is only ever more consolidation of the financial system, socializing the risk of too big to fail, but ultimately leading to a public-based financial system as the quasi-public-private one we have becomes too big to save.
Robert Romano is the Vice President of Public Policy at Americans for Limited Government Foundation. ##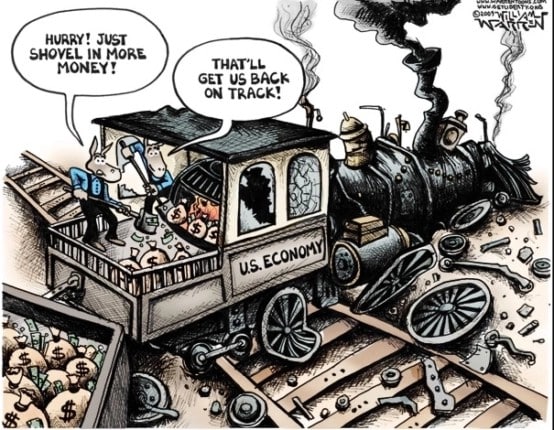 Part II Additional Information with More MHProNews Analysis and Commentary
As noted above in the caption of that political cartoon, a person who had a profound influence on the Democratic Party's presidential primaries in 2020, James Clyburn (SC-D), admitted last fall that his party's policies helped fuel inflation.  That inflation, per Yang and Romano, is one of the underlying issues that is disrupting the U.S. banking system.
Straight from Top Democrat's Lips to Your Eyes, Ears – 'We Knew Recovery Plan Would Cause Inflation' – Thank James Clyburn for Some Straight Talk – Sunday Weekly MHVille Headlines Recap
Just as the mantra 'elections have consequences' has a point, there is similar wisdom in the claim that public policies (and corporate policies) also have consequences. Whatever happens with the widely speculated 'Trump Indictment' tomorrow, some have mused that it is in part a hoped for distraction from a series of conflating crises that BlackRock's CEO Larry Fink has referred to as a "polycrisis." As the report below documents, Fink led BlackRock has a recent record of supporting Democrats more than Republicans.
BlackRock Sounds Alarm-Financial Cracks Emerge from Interest Rate Hikes, CEO Larry Fink 'Polycrisis'-Signals De-Emphasis on ESG 'Not Environmental Police' Govs PushBack;plus MHVille Stocks Update
Like it or not, manufactured housing has been impacted by the rising interest rates in a mildly similar fashion as conventional housing has. That said, in decades gone by, there were times when manufactured housing performed better when interest rates rose and 'priced out' conventional housing customers from buying site-built housing. For instance, when inflation was running hot at the end of the Carter Administration and in the early part of the Reagan Administration, manufactured home shipments were about double (+/-) where they are today. The percentage of single family housing starts that manufactured homes represented during that period were also higher then today.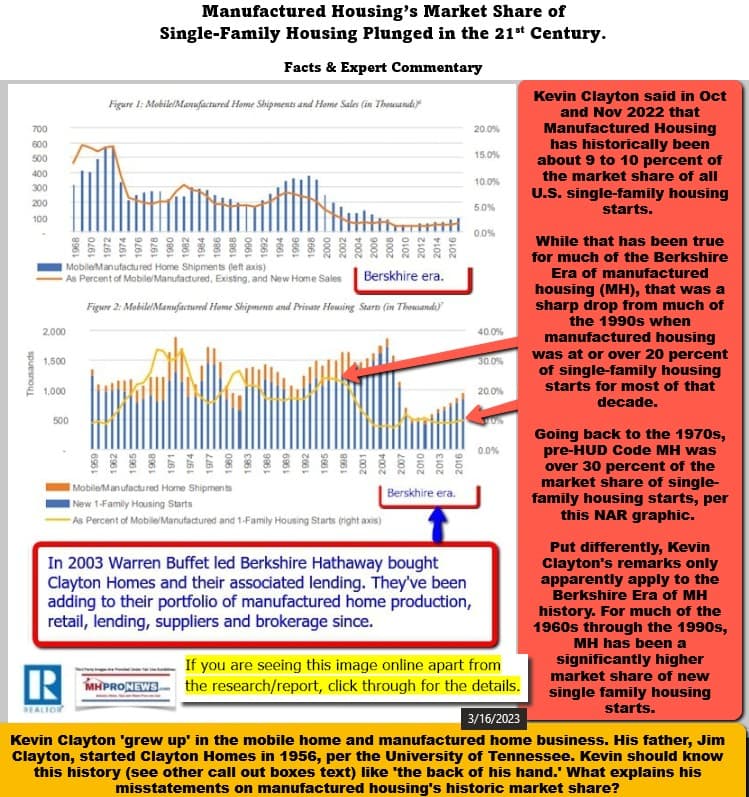 Kevin Clayton Video, Interview w/Transcript 'Historic' Claims, Clayton's Call 'Double' Production–Illumines Decades of Manufactured Housing Industry Underperformance; plus MHVille Stocks Update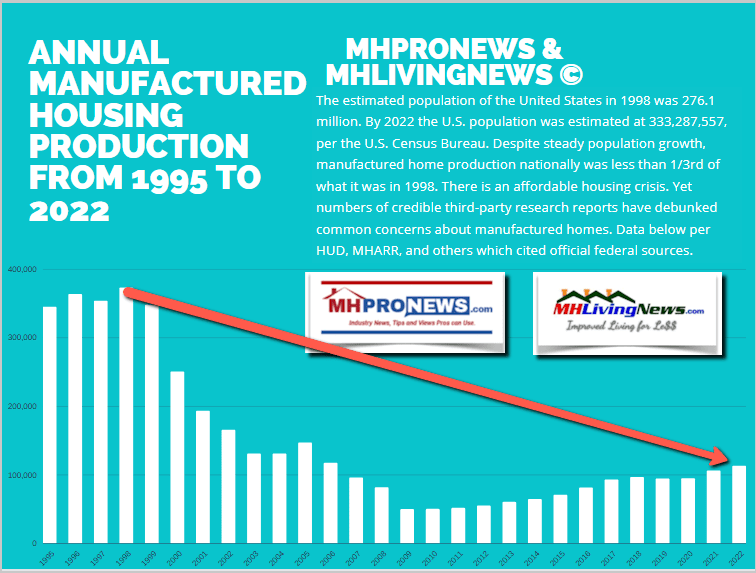 Manufactured housing is demonstrably underperforming. To better understand why, see the linked and related reports to learn more.
Beware! 'The Ides of March' – 7 Point Washington, D.C. Update from MHARR Includes IECC, DOE, Finance, Zoning, Other Issues Restricting Affordable Manufactured Housing Production in U.S.; plus MHVille Stocks Update
McCarthy: 'Missions of Fannie Mae and Freddie Mac to Help Preserve Affordable Housing-They're Doing Exactly the Opposite'–Updated 2023 MH Communities Total, New Manufactured Housing Infographics
'Firecracker for Scumbags' Remarks, While Manufactured Home Industry-Leading Texas Manufactured Housing Activity 'Stabilizes After 2022 Correction'
HUD Code Manufactured Home Production Decline Worsens in January 2023 per MHARR – Cavco Wm 'Bill' Boor Remark on Manufactured Housing Comes Into Sharper Focus; Sunday MHVille Headlines Recap
'Killing's as Easy as Breathing' 'Bad Guys Know More Games' Warren Buffett Annual Berkshire Hathaway Letter, Clayton Homes, 21st, VMF-Manufactured Home Loans-Compelling MHVille Expert Views
DOE Weakness on MH Energy Rule Case? Attorney Weighs in on DOE Notice Pertaining to DOE Announced Compliance Date for Manufactured Housing Energy Standards; plus Sunday Weekly Headlines Recap
Part III. Daily Business News on MHProNews Markets Segment
The modifications of our prior Daily Business News on MHProNews format of the recap of yesterday evening's market report are provided below. It still includes our signature left (CNN Business) and right (Newsmax) 'market moving' headlines. The macro market moves graphics will provide context and comparisons for those invested in or tracking manufactured housing connected equities.
In minutes a day readers can get a good sense of significant or major events while keeping up with the trends that are impacting manufactured housing connected investing.
Reminder: several of the graphics on MHProNews can be opened into a larger size. For instance: click the image and follow the prompts in your browser or device to OPEN In a New Window. Then, in several browsers/devices you can click the image and increase the size. Use the 'x out' (close window) escape or back key to return.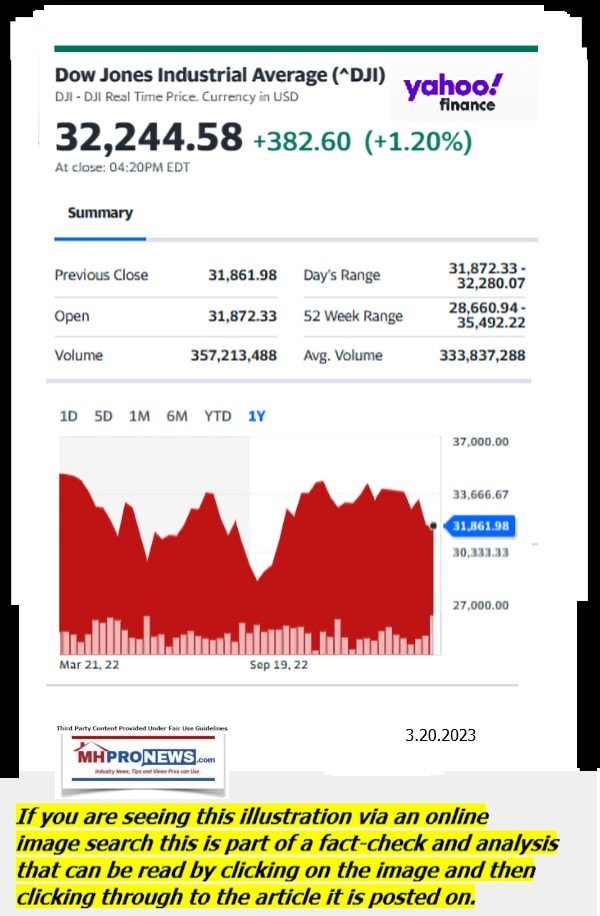 Headlines from left-of-center CNN Business – from the evening of 3.20.2023 
Stunned employees
Google was beloved as a workplace for years. Then it laid off thousands by email
First Republic shares tumble to new intraday low
Amazon to lay off 9,000 more workers
Goodbye, Howard Schultz: New Starbucks CEO steps in early
Long Covid disabled them. Then they met a 'broken' Social Security disability process
Global banking crisis: One big problem down, too many others left to go
What are AT1 bonds and why are Credit Suisse's now worthless?
Rupert Murdoch is engaged to marry Ann Lesley Smith
European markets recover on a wild day for bank stocks
Traders work on the floor of the New York Stock Exchange (NYSE) on March 16, 2023 in New York City.
Stocks waver as Fed's next interest rate decision remains uncertain
The way we work is about to change
Price hikes are double whammy for pet owners who are crushed by inflation
Dollar Tree can't afford to sell eggs anymore
The US government is once again threatening to ban TikTok. What you should know
US government launches criminal investigation into TikTok parent, reports say
First Republic is a hot mess. The reason has a lot to do with its wealthy clientele
Meta rolls out paid verification option for Facebook and Instagram users in US
Credit Suisse got its lifeline. Investors are unconvinced
YouTube restores Donald Trump's channel
YouTube TV will soon cost $72.99 a month
First Republic secures $30 billion rescue from large banks
Silicon Valley Bank's former parent company has filed for bankruptcy protection
FCC cracks down on spammy text messages
Why American whiskey is the real winner of St. Patrick's Day
Notice: the graphic below can be expanded to a larger size.
See the instructions below the graphic below or click the image and follow the prompts.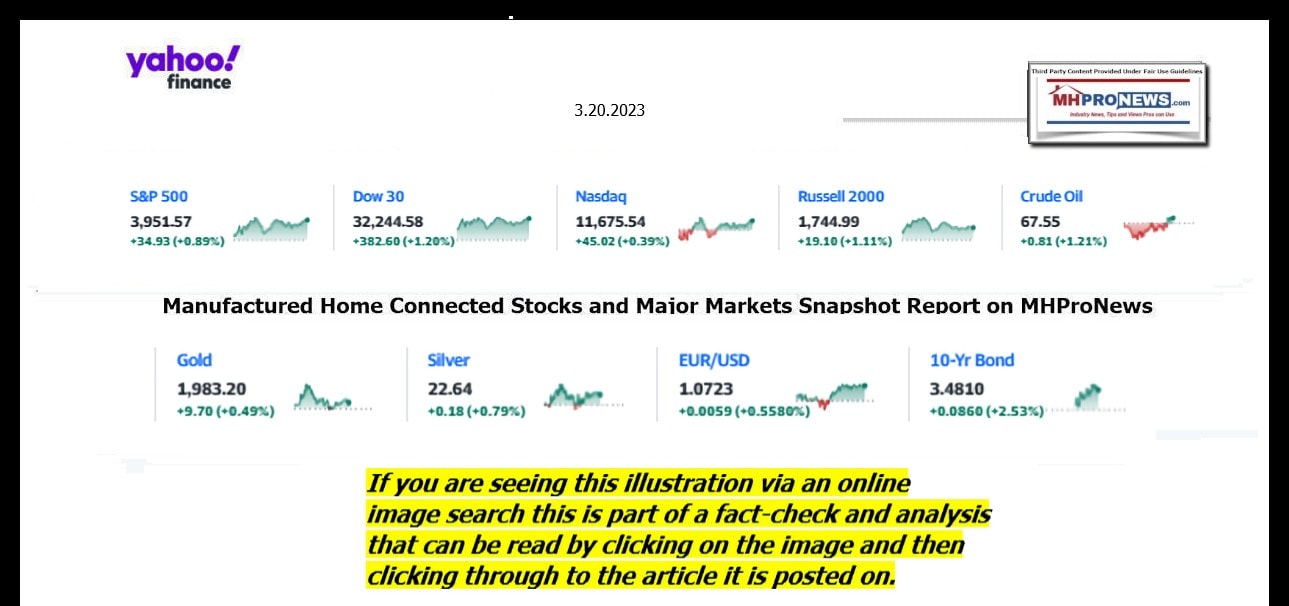 Headlines from right-of-center Newsmax 3.20.2023
DeSantis Blasts 'Manufactured Circus' by the Manhattan DA
Florida GOP Gov. Ron DeSantis, widely seen as a leading Trump challenger for the 2024 GOP presidential nomination, on Monday denounced the "manufactured circus" behind Manhattan District Attorney Alvin Bragg's investigation of the ex-president, rebuking the DA as a George Soros-funded prosecutor pandering to a political base. [Full Story]
Trump's Legal Issues
3 GOP House Chairs Seek DA' Testimony
Insider: Trump Could Be Indicted as Soon as Monday
Claudia Tenney: Trump Prosecution 'Malicious' | video
Trump Lawyers Attack Georgia Grand Jury
Speaker McCarthy: Avoid Protests on Trump Indictment
Parody Site Mocks Manhattan DA's Trump Probe
Bernie Kerik: Dem 'Conspiracy' to 'Take Trump Out' | video
Matt Whitaker: Charge May Be 'Wag the Dog Moment' | video
Blaine Holt: We Must Urge Calm If Trump Arrested | video
Lawyer Robert Costello to Testify Before Grand Jury
Alan Dershowitz: Trump Probe Is 'Prosecutorial Abuse' | video
Trump: This Is Unprecedented 'Election Interference'
More Trump's Legal Issues
Newsmax TV
Biggs: Witnesses to Testify on Bidens, Chinese Funds
Fred Fleitz: Zelenskyy Won't Accept Xi-Putin Cease-Fire | video
Tenney: Trump Prosecution 'Malicious' | video
Reschenthaler: DC Bureaucrats Lost Iraq War | video
Blaine Holt: We Must Urge Calm If Trump Arrested | video
Ben Carson: Trump Charges Should Worry Everyone | video
Giuliani: I'd Say 'Go to Hell' on Trump Charges | video
Grenell: Trump Charges a Distraction for Biden | video
John McLaughlin: Trump Beating Biden 'Like Drum' in Polls | video
More Newsmax TV
Newsfront
Biden's First Veto Stops GOP Restriction on ESG Investing
President Joe Biden on Monday vetoed his first bill, a Republican proposal to prevent pension fund managers from basing investment decisions on factors like climate change…. [Full Story]
Related Stories
Uncertainty Reigns as Fed Weighs Interest Rate Hike
Fed, Central Banks Announce Emergency Cash Measures Sunday
Goldman Sachs No Longer Expects Fed Rate Hike in March
New York Community Bank to Buy Failed Signature
Manchin Irked as Biden Defends ESG Investing
Joe Manchin, D-W.Va., on Monday chided President Joe Biden for a [Full Story]
White House: More Immigrants Key to Economic Growth
Boosting immigration and public spending on childcare could help [Full Story]
Philadelphia Paying $9.25M in Floyd Protest Lawsuits
Philadelphia has agreed to pay $9.25 million to more than 300 people [Full Story]
China Could Pressure Kyiv Into 'Checkmate' Peace Pact
China, a "no-limits" ally of Russia, is pitching itself as peacemaker [Full Story] | Platinum Article
Related
China's Xi Arrives in Russia to Meet Putin Over Ukraine War
Kyiv Urges China to Press Russia to End War in Ukraine
Putin: Russia-China Alliance Stronger Than During Cold War
WH Urges China's Xi to Press Putin on Ukraine
Russia's Secret Mobilization of 400,000 New Troops |Platinum Article
US to Send $350M in Ammunition, Tanker Trucks to Ukraine |video
Russia Defies Putin Arrest Warrant, Opens Case Against ICC
France: EU Must Help Ukraine Quickly
Rasmussen Poll: 58 Percent Say US on Wrong Track
According to a Rasmussen Reports national telephone and online [Full Story]
Macron's French Govt Survives No-Confidence Motion
President Emmanuel Macron's government narrowly survived a [Full Story]
Boston School Asks Kids About Oral Sex, Transgenderism
A Boston public school raised the ire, and the eyebrows, of parents [Full Story]
Jury Convicts 4 Oath Keepers for Jan. 6 'Conspiracy'
Four associates of the far-right Oath Keepers group were found guilty [Full Story]
Trump Lawyers Attack Georgia Grand Jury
Lawyers for former President Donald Trump are asking a state court to [Full Story]
Conservative Coalition: Debt Ceiling Approval Must Include Spending Reductions
Conservative groups in a recent open letter called on Congress to [Full Story]
Insider: Trump Could Be Indicted as Early as Monday
Former President Donald Trump could be indicted as early as Monday on [Full Story]
Let DirecTV know you want Newsmax back on!
DirecTV: Sign the 'I Want Newsmax' Petition
Let DirecTV know you want Newsmax back on! [Full Story]
Cornyn to Newsmax: Biden WH Not Prioritizing Biggest Threats
John Cornyn, R-Texas, wasn't thrilled with some responses from [Full Story]
Related
Major Jewish Leaders Demand AT&T's DirecTV Return Newsmax
Burchett to Newsmax: Rioting Would Ensue If CNN Deplatformed |video
Cruz to Newsmax: 'I Think Viewers Ought to Have a Choice' for News |video
Google Denies Destroying 'Chat' Evidence
Alphabet Inc's Google has denied intentionally destroying evidence in [Full Story]
JPMorgan, Deutsche Must Face Epstein Tie Lawsuits
A U.S. judge on Monday said JPMorgan Chase & Co must face a lawsuit [Full Story]
DeSantis Blasts 'Manufactured Circus' by Manhattan DA
Florida GOP Gov. Ron DeSantis weighed in on former President Donald [Full Story] | video
House GOP Seeks Manhattan DA Testimony
The Republican chairmen of three U.S. House committees on Monday [Full Story]
Amazon to Lay Off 9,000 More Workers
com Inc. is laying off an additional 9,000 employees, CNBC [Full Story]
Miami Beach Sets Spring Break Curfew After Shootings
Miami Beach officials imposed a curfew beginning Sunday night during [Full Story]
Video Report: Israel Bill Would Outlaw Talk About Jesus
Israel lawmakers have controversially introduced a new bill that [Full Story] | video
Related
Netanyahu Softens Judicial Overhaul After Biden Call
Parody Site Mocks Manhattan DA's Trump Probe
The Babylon Bee, a website that satirizes the news from a [Full Story]
EU Executive: $1.07B to Rebuild Turkey After Earthquake
The EU executive will give 1 billion euros ($1.07 bln) to help [Full Story]
Texas Border Sheriff Says His County Is 'Under Siege'
A Texas border sheriff told the House Homeland Security Committee his [Full Story] | video
Top US Diplomat for Europe Karen Donfried Steps Down
The top U.S. diplomat to Europe Karen Donfried will step down to [Full Story]
Israel, Palestinians Pledge to Curb Violence
Israeli and Palestinian officials agreed on Sunday to establish a [Full Story]
WHO Advisers Urge China to Share All COVID Data
Advisers to the World Health Organization have urged China to release [Full Story]
Berkshire Hathaway Accelerates Stock Buybacks
Warren Buffett's Berkshire Hathaway Inc. has stepped up its pace of [Full Story]
Rick Scott: Biden Takes CCP Money, but Trump Gets Indicted
Rick Scott, R-Fla., said on Sunday that there is a double [Full Story]
Sharks Goalie Declines to Wear Pride Jersey
San Jose Sharks goalie James Reimer declined to wear the National [Full Story]
Dershowitz to Newsmax: Trump Probe Is 'Prosecutorial Abuse'
Harvard Law Professor Emeritus Alan Dershowitz, while speaking about [Full Story] | video
Finance
Fed, Central Banks Announce Emergency Cash Measures
The U.S. Federal Reserve on Sunday said it had joined with the Bank of Canada, Bank of England, Bank of Japan, European Central Bank, and Swiss National Bank to enhance the provision of liquidity through the standing U.S. dollar swap line arrangements…. [Full Story]
Morningstar Rates Berkshire Hathaway a 'Buy'
Banks Should Boost Liquidity, Curb Risk: Morgan
Peter Reagan: Your Social Security Money Was Never Yours … and Anyway It's Long Gone
Global Banking Crisis Fears Continue to Swirl
More Finance
Health
Exercise Beats Drugs, Therapy for Alleviating Depression
Depression and anxiety are leading causes of the global mental health burden and the COVID-19 pandemic exacerbated the situation. In 2019, the World Health Organization said that one in eight people, or 970 million people, around the world were living with a mental health…… [Full Story]
Foods That Work Like Ozempic Without the Side Effects
Lower-Carb, Plant-Based Diet Best for Diabetes
New Injectable Drug Effective Against Eczema
Higher Cancer Rates Among Military Pilots, Ground Crews
Notice: the graphic below can be expanded to a larger size.
See the instructions below the graphic below or click the image and follow the prompts.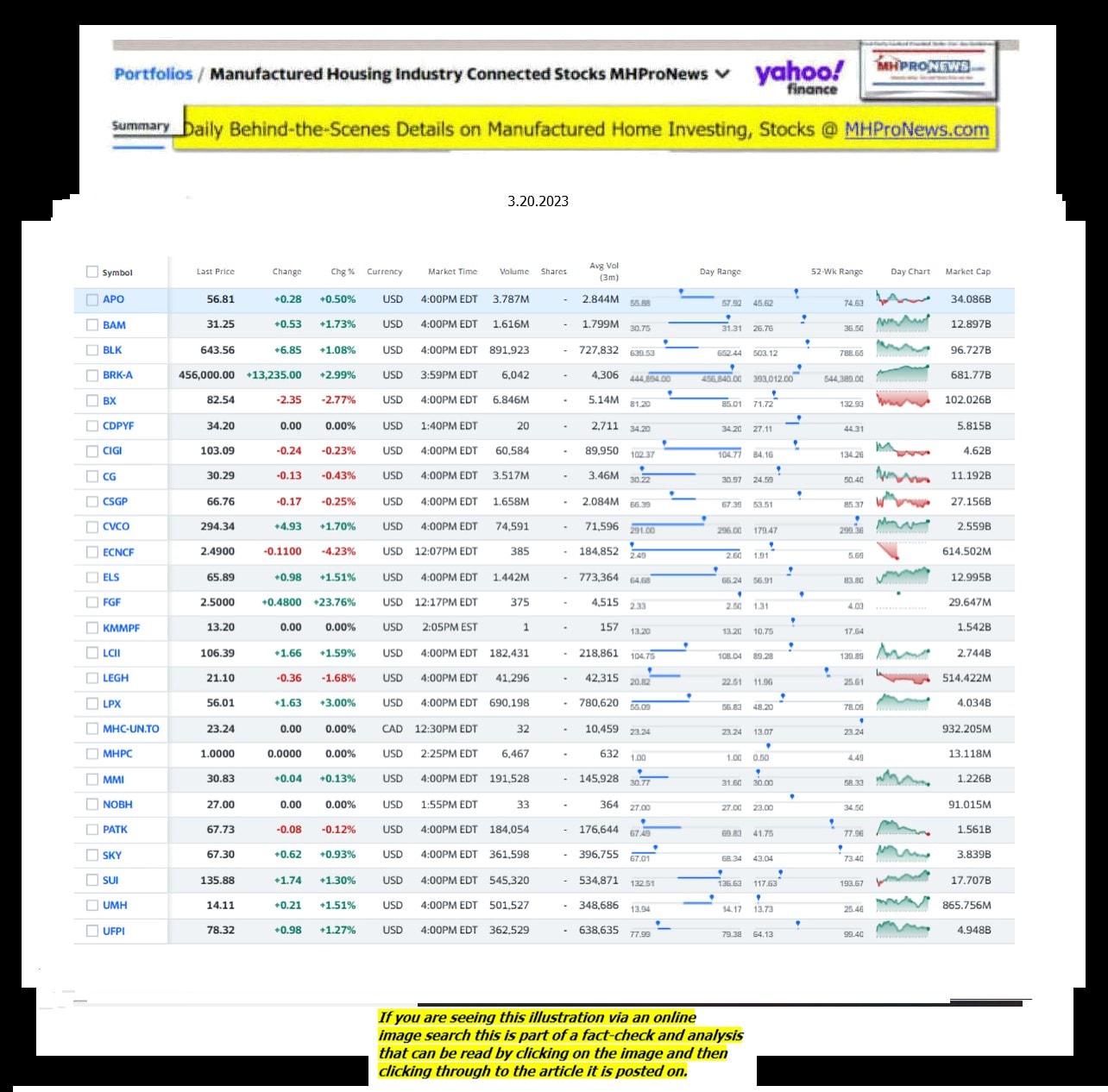 2022 was a tough year for many stocks. Unfortunately, that pattern held true for manufactured home industry (MHVille) connected stocks too.
See the facts, linked below.
'Stomach Churning Year' CNN-Wall Street 'Forget 2022' Down Year – Major Equities Data Compared to Manufactured Housing Stocks, Manufactured Home Community REITs, Performance for Year by Company
====================================
Updated
NOTE 1: The 3rd chart above of manufactured housing connected equities includes the Canadian stock, ECN, which purchased Triad Financial Services, a manufactured home industry finance lender.
NOTE 2: Drew changed its name and trading symbol at the end of 2016 to Lippert (LCII).
NOTE 3: Deer Valley was largely taken private, say company insiders in a message to MHProNews on 12.15.2020, but there are still some outstanding shares of the stock from the days when it was a publicly traded firm.  Thus, there is still periodic activity on DVLY.
Note 4: some recent or related reports to the REITs, stocks, and other equities named above follow in the reports linked below.
Sun Communities – 'Development in Our DNA,' ESG Stance, Q4 2022 Year End Results Earnings Call & PR – Facts, Insights Beyond PR and Official SUI Statements; plus MHVille REITs, Stocks Update
'Undervalued' Cavco Industries Touts Q Result$ 'Dire Need for Housing' 'January Traffic Up'- Rev Up 16%-Sales, Earnings, Mgmt Call Data–Analysis Beyond CVCO Statements; plus MHVille Stocks Update
'Killing's as Easy as Breathing' 'Bad Guys Know More Games' Warren Buffett Annual Berkshire Hathaway Letter, Clayton Homes, 21st, VMF-Manufactured Home Loans-Compelling MHVille Expert Views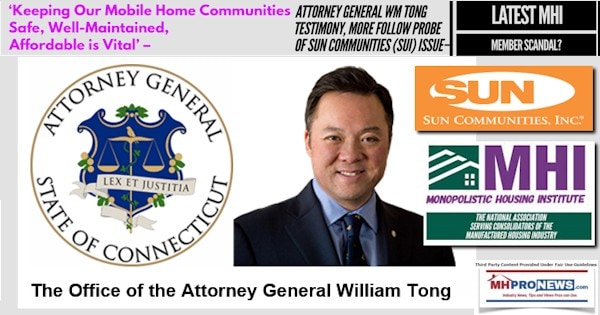 Nobility Homes, Inc. Sales and Earnings for its Fiscal Year 2022 Report, Result$ Best Inflation – Net After Taxes Up 34%, More Fact$; DeSantis ESG and NOBH; plus MHVille Stocks, Market Updates
'Manufactured Housing in the News,' Unpacking UMH CEO Sam Landy Op-Ed' It's Time for Bi-Partisanship on Affordable Manufactured Housing Homeownership' in HousingWire; plus MHMarkets Updates
Manufactured Housing Properties-Results for Three and Nine Months Ending September 30.2022–Exploring 'Mobile Home Park' Manufactured Home Community Investing; plus MHVille REITs, Stocks Update
'Changes Will Benefit Customers,' Boost Sales-Legacy Homes CEO Duncan Bates – LEGH 'Delivered 22.5% Return on Equity in 1 Yr' – Corp Q3 2022 Insights, Analysis; plus MHVille REITs, Stocks Update  
CEO Mark Yost, Skyline Champion Insiders SELL Million$ Value SKY Stock, Home Sales Drop-4th Q 2022 (3QFiscal2023), Official Result$-Facts, Analysis, Info Beyond PR; plus MHVille Stocks Update
Triad Financial Services Q2-2022 FINANCIAL RESULTS, per ECN Capital – Several Bright Spots in Manufactured Home Market Highlighted, Including Communities, Retail, Land-Home, Floor; MHStocks Update
BlackRock Document Exposes Central Banks like Federal Reserve on Recession; Manufactured Home Producer Cavco Industries 2022 Year End Results (CVCOQ3.23) Facts+Analysis; plus MHVille Stocks Update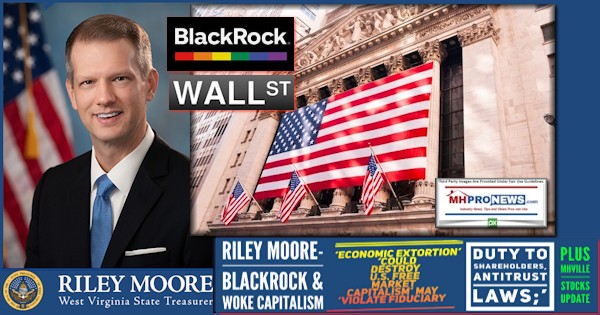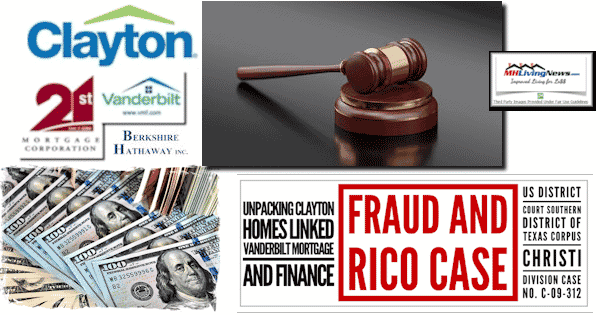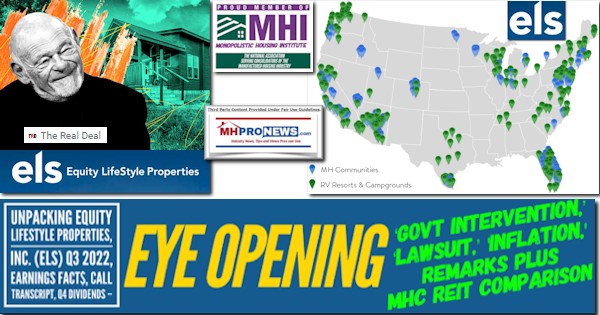 Manufactured Home Communities (a.k.a. 'Mobile Home Parks' – SIC) – Exploring UMH Properties; Fellow Manufactured Housing Institute Member Yes! Communities Suits and Settlements; plus MH Markets Updates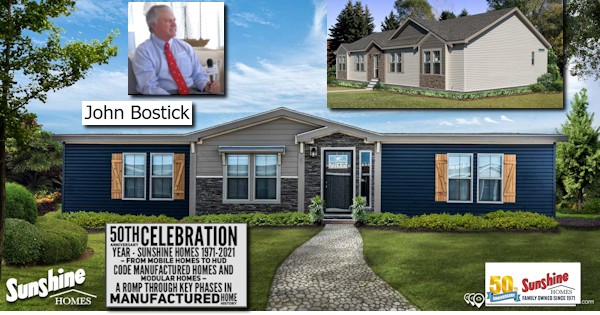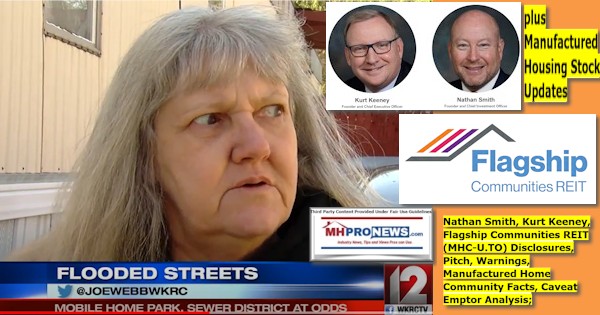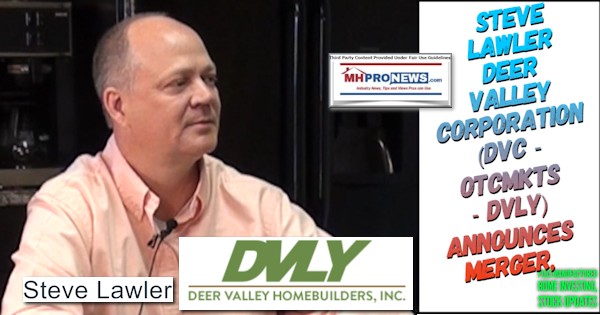 2023 …Berkshire Hathaway is the parent company to Clayton Homes, 21st Mortgage, Vanderbilt Mortgage and other factory-built housing industry suppliers.
· LCI Industries, Patrick, UFPI, and LP each are suppliers to the manufactured housing industry, among others.
· AMG, CG, and TAVFX have investments in manufactured housing related businesses. For insights from third-parties and clients about our publisher, click here.
Disclosure. MHProNews holds no positions in the stocks in this report.
· For expert manufactured housing business development or other professional services, click here.
· To sign up in seconds for our industry leading emailed headline news updates, click here.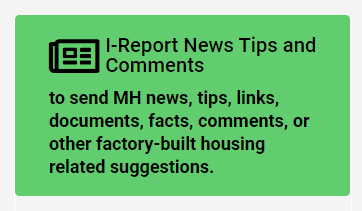 That's a wrap on this installment of "News Through the Lens of Manufactured Homes and Factory-Built Housing" © where "We Provide, You Decide." © (Affordable housing, manufactured homes, stock, investing, data, metrics, reports, fact-checks, analysis, and commentary. Third-party images or content are provided under fair use guidelines for media.) (See Related Reports, further below. Text/image boxes often are hot-linked to other reports that can be access by clicking on them.)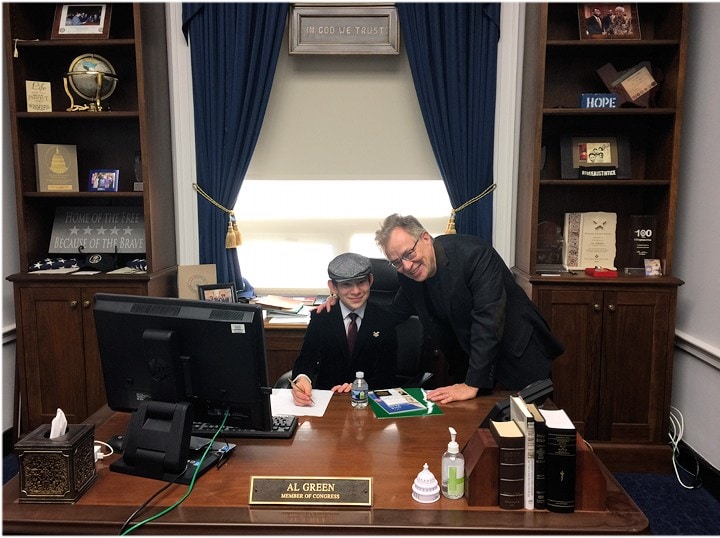 By L.A. "Tony" Kovach – for MHProNews.
Tony earned a journalism scholarship along with numerous awards in history. There have been several awards and honors and also recognition in manufactured housing. For example, he earned the prestigious Lottinville Award in history from the University of Oklahoma, where he studied history and business management. He's a managing member and co-founder of LifeStyle Factory Homes, LLC, the parent company to MHProNews, and MHLivingNews.com. This article reflects the LLC's and/or the writer's position and may or may not reflect the views of sponsors or supporters.
Call for Congressional Oversight Hearings of Manufactured Home Industry Regulators Highlighted by Manufactured Housing Association for Regulatory Reform (MHARR); plus MHVille Markets Update
Official HUD Manufactured Housing Production Facts for Dec 2022 plus 2022 Year End Totals Explored by Manufactured Housing Association for Regulatory Reform (MHARR)-"Millions" Needed – Analysis
Facts You Didn't Know – Martin Luther King Jr – Videos, Insightful Quotes, Surprising Revelations, Videos, Reports, and Illustrations in Champion for Human Rights Including Affordable Housing
'Global Disinformation Index' Warren Buffett Ally Bill Gates' Microsoft Org Charged-Cutting Revenue to Conservative Views via Xandr, GDI; plus Sunday MHVille Headlines Recap
#1 Texas' Manufactured Housing Builders Survey Says They are 'Ready for a Rebound' But Data Point in Question, DOE MH Energy Rule Too – Facts, Analysis; plus, MHVille Stocks, Markets Update
Clayton-Next Step Off-Site Built 'White Paper'-Manufactured Homes, ThinkND 'Magic of the Mind-Everyday Illusion, Misdirection, Deception' MHI Members' Claims Analyzed; plus MHVille Markets Update
After Admitted Failure, Manufactured Housing Institute Doubles Down on CrossMods® in AP Terminology Doc Acquired by MHProNews–Are MHI Leaders Sabotaging MHVille Independents? Plus MHStocks Update
Concessions by Speaker Kevin McCarthy in House Speaker's Battle Called 'Most Significant Win for Conservatives in a Decade' By Federalist's Emily Jashinsky Report; plus MHVille Stocks Updates