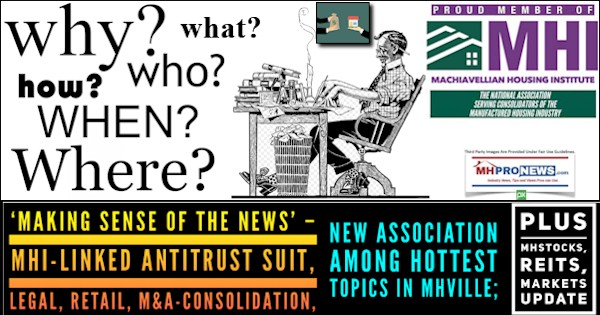 Per decades of research, manufactured homes are seemingly the right product at the right time. Which begs the question, given the tremendous savings possible with modern manufactured housing, plus years of positive research that debunks the myths and misconceptions that have hampered manufactured housing, then why has HUD Code manufactured homes underperformed in much of the 21st century? Washington D.C.'s WMAL has a clever tag line: "Making Sense of the News." Talk radio and other pundits across the left-center-right divide purport to do just that – help people 'Make Sense of the News' by providing facts, evidence, and commentary that help sort out the who, what, when, where, what and the why behind the headlines. In manufactured housing, as well as with mainstream news, there is arguably an ongoing need to provide professionals, advocates, public officials, and others added insights to sort out what used to be considered journalistic basics in manufactured housing which could explain the poorly performing MHVille industry during a well-documented affordable housing crisis. Why were there over 40,000 more manufactured homes sold in 2002 than in 2022? In this news-analysis-commentary, the case can be made that the 'refreshed' Manufactured Housing Institute (MHI) website, which appears in some ways to be 'responding' to some prior critiques and fact checks found exclusively on MHProNews/MHLivingNews, has not changed in some of the most important things that sparked the critiques in the first place. The look is hardly grand, the prior site may have looked better. But that's another topic for another time. It is mentioned only because MHI now has a section that they are making more prominent called 'news' which has no news posts since July 14, and July 18, 2023.  Today is 9.9.2023. The only other 'news' article shown on this date visible on MHI's website 'news' landing page is from February 2023. By contrast with them or any other source focused on manufactured housing, MHProNews is the first and still only information source in manufactured housing that provides new information literally daily, 365 days a year. Is it any wonder that SimilarWeb reports that MHI's traffic is steadily falling? Based on what's visible from MHI 'news' on this date, there is no apparent reason to see engagement increasing with MHI any time soon.
Yet, MHI's refreshed 'news' page has the gall to say:
"POSTS


News Feed

 
"The latest news to give you a full perspective on the manufactured housing industry. From manufacturers to land-lease communities, retail to financial services, and suppliers to installers, we help you keep abreast of what's happening in every aspect of the industry."
"
Ha! That quote from the MHI website may fit the definition of gaslighting. MHARR with a small fraction of the MHI staff and budget, but MHARR may provide more news in a month than MHI has so far this year.
MHProNews provides about double the MHI news with analysis in a week than MHI has posted year-to-date on their 'news' landing page.
Until MHI can begin producing daily industry related news with a "full perspective" how can they claim to "keep you abreast of what's happening in every aspect of the industry?" It is an apparently deceptive and misleading claim on its face. Where, for example, is MHI's data on manufactured housing industry shipment trends for the public to see? MHARR provides it free publicly each month, usually on the same day that the official federal data is announced.
Note: to expand this image below to a larger or full size, see the instructions
below the graphic below or click the image and follow the prompts.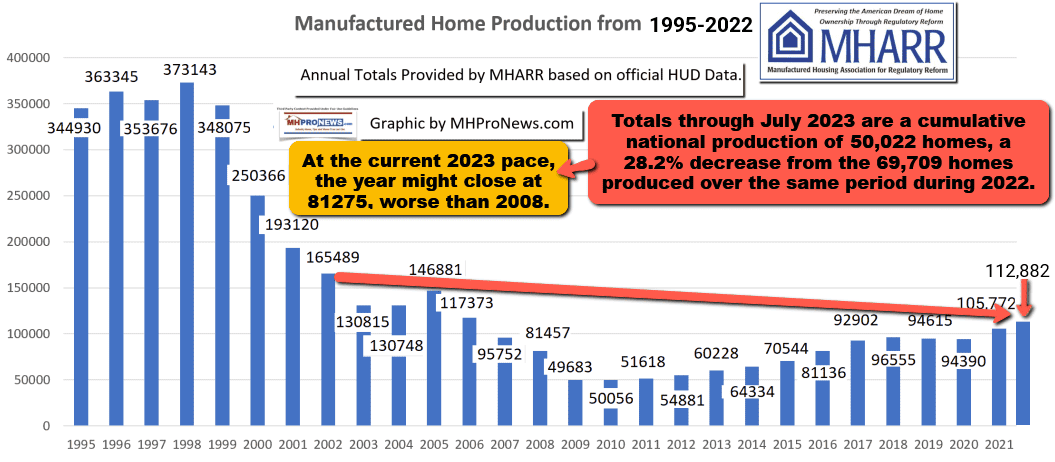 Many of the articles that are the hottest read by manufactured housing industry professionals on MHProNews don't appear in any form on competitive 'news' and 'views' platforms. This report with analysis and commentary will provide the top read statistics as reported by third-party Webalizer of 9.8.2023 per the largest of a bakers' dozen cPanels that serve industry-leading MHProNews.
The first week of September 2023 appears to be the hottest engagement so far year to date on MHProNews.
So, the subjects that follow are 'readers choice.' It is clicks and views by readers like you that made these the most-read. The fact that our wanna-be rivals, or MHI itself, fails to do something similar speaks volumes. Because when the most-read articles are clearly often about why manufactured housing is underperforming, and what can be done about it, that ought to be copied. All this begs questions. For example: what are all those people working at MHI doing with their time?
The home page on MHProNews, or most other websites, are almost always the top accessed webpage. So that is not shown in the listing of top articles below. Two items are omitted for proprietary reasons. Otherwise, the list of articles are as ranked by Webalizer reports for MHProNews.com. Note too that MHLivingNews.com is a separate site, and that data is not included in the below. Note that some of the top articles were published weeks, months, or years ago. That is a testament to the fact that MHProNews has a depth of content that turns up in searches for researchers peering into the manufactured home industry. MHProNews cross-links related reports on a routine basis. The top ranked story so far this month is related to the legal action taken against several MHI members. Numbers of the 'older' reports that have been accessed are about firms mentioned in that article. Inquiring minds want to know more.
To illustrate how 'inquiring minds want to know, MHI, per SimilarWeb, has about 1.13 page view per visit. Meaning, people barely get past their landing or home page – they don't see what they are looking for on their website. By contrast, for roughly the past 12 months, with surging traffic, the average engagement by visitors on MHProNews is 7.73 pageviews per visit, that's nearly 6x the engagement that MHI experiences, per SimilarWeb. As a further comparison, MHProNews engagement over the almost 12 months is about double what CNN or Fox news often report, also per SimilarWeb. People find what they are looking for here, and they keep on reading to learn more.
Part I –
Today's date is 9.9.2023. Per Webalizer, these are the top read reports as of the time the report was "Generated 08-Sep-2023 07:04 CDT." 
#1 most read was posted on 9.7.2023.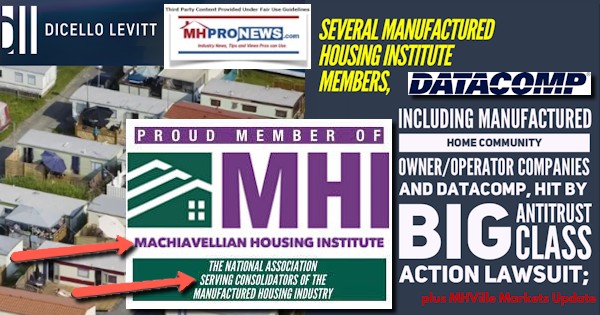 #2 was posted on 9.4.2023.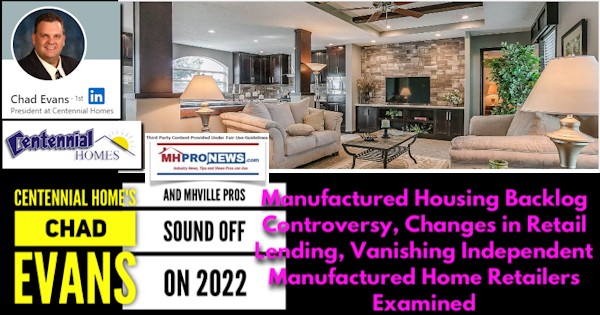 #3 was posted on 9.3.2023.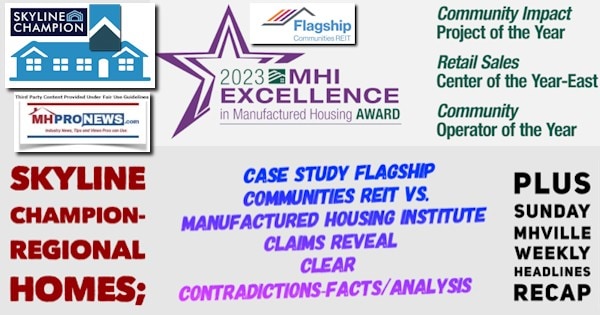 #4 was posted on Dec 21, 2022.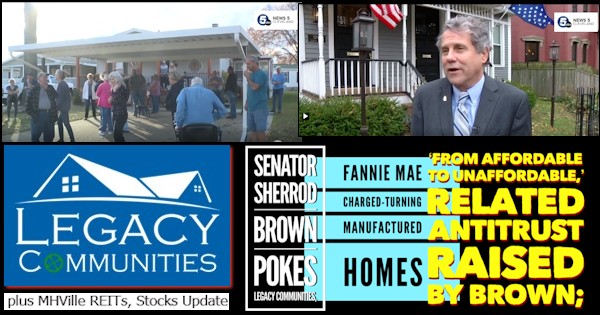 #5 was posted on August 21, 2023.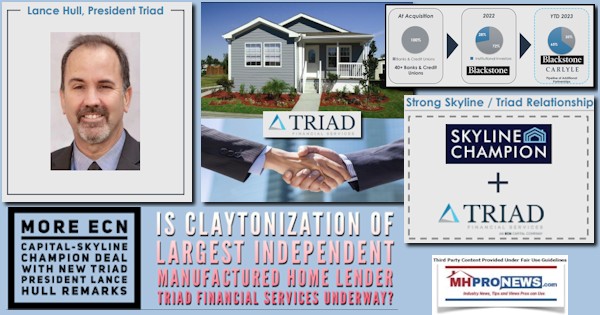 #6 most read was posted on June 13, 2023 – this likely surged due to the big antitrust suit mentioned in the top report, linked above and here.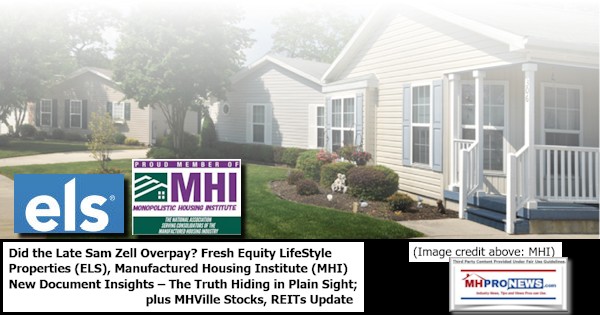 #7 June 1, 2023, Sun is one of the firm's named in the antitrust suit, see that linked above or here.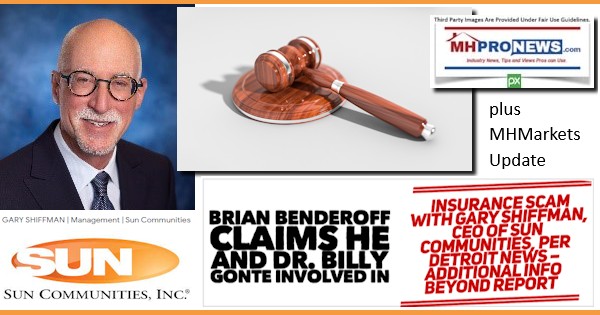 #8 August 18, 2022, RHP one of the firm's named in the antitrust suit, see that linked above or here. Inquiring minds want to know…more.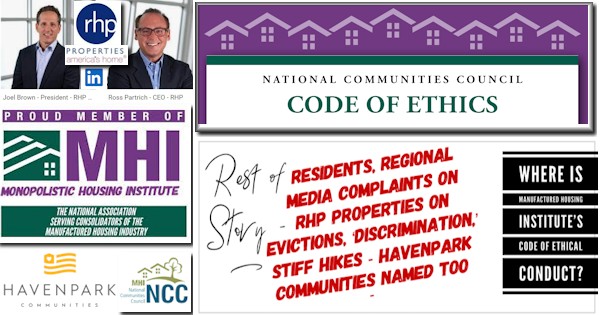 #9 June 26, 2023 – Sun Communities is one of the firm's named in the antitrust suit, see that linked above or here. Inquiring minds want to know...more.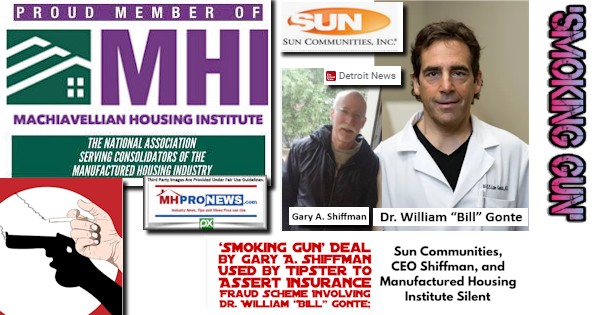 #10 September 3, 2023.  Explores solutions to the problems facing manufactured housing.  As with virtually all of our reports in the last 6 years, there are facts, evidence, and then applied common sense from the vantage point of an informed manufactured home industry professional(s).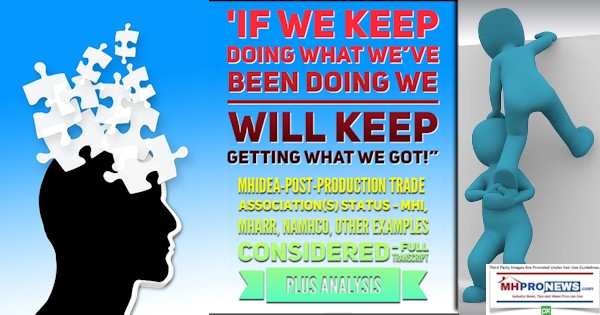 #11. August 28, 2023 – file thus article under you can't make this stuff up. Actual Skyline Champion remarks by CEO Mark Yost and other Skyline Champion generated facts and information carefully examined.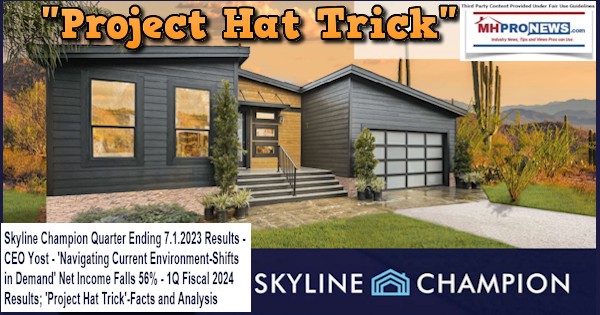 #12 Sept 5, 2023. Award winning documentary on housing that includes a famous example of factory-built housing. The video and related are explored through the lens of the steadily 'shrinking' American Dream, and various techniques of misdirection.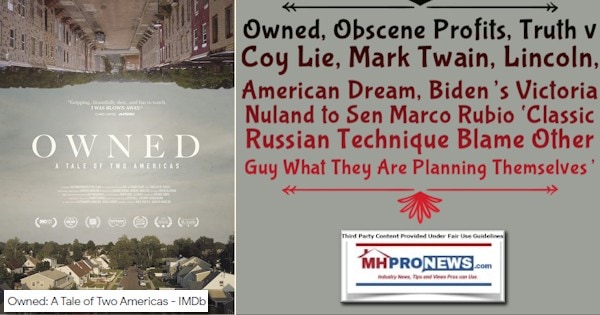 #13 HR 5198 is an MHI backed bill which is examined along with the headlines for that week in review. How much have you heard or read about this, other than on MHProNews?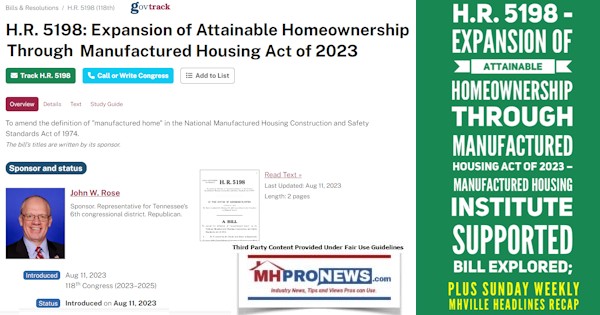 #14 March 28, 2022. Among the related articles linked from the antitrust case linked above and here, is this one below. Inquiring minds want to know more. Odds are good that you and others have read little or nothing from other MHVille sources about this case below (or the new antitrust case linked above) other than on MHProNews (and/or MHLivingNews).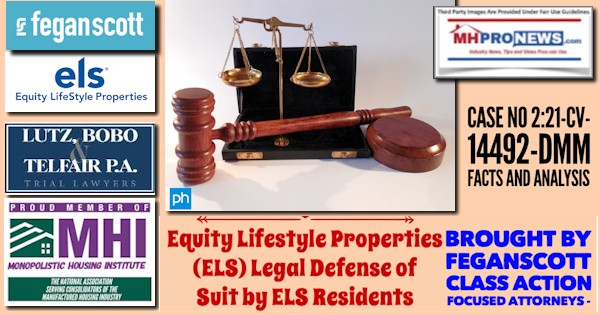 #15 April 18, 2022. This is another example of an article linked from the antitrust case linked above and here. Inquiring minds want to know more. Odds are good that you and others have read little or nothing from other MHVille sources about this case below (or the new antitrust case linked above) other than on MHProNews (and/or MHLivingNews).  By the way, what happened to Clayton Homes' annual reports? That's a placeholder question for a future topic.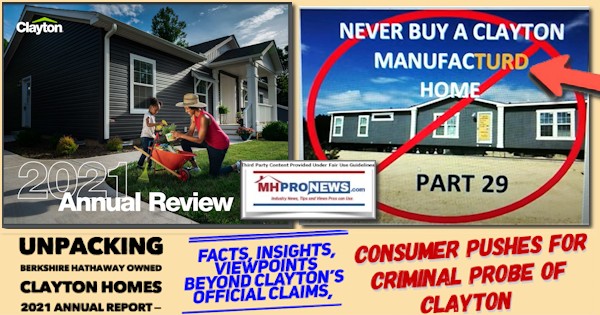 #16 November 12, 2020. Yet another example of an article linked from the antitrust case linked above and here. Inquiring minds want to know more. Odds are good that you and others have read little or nothing from other MHVille sources about this case below (or the new antitrust case linked above) other than on MHProNews (and/or MHLivingNews).  Approaching 3 years old, this report is timeless, as are hundreds of those posted on our website, because it brings together evidence and information that provides a snapshot in time which can shed light on current events.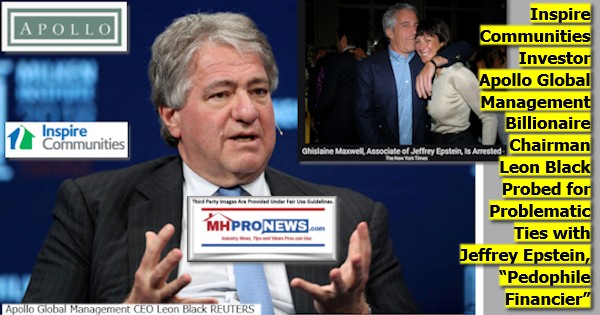 #17 August 29, 2023.  Recent, visible on the home page slider, report, but almost guaranteed to be a report not covered by others in MHVille. So, of course, MHProNews publishing on this is a draw for us that others missed.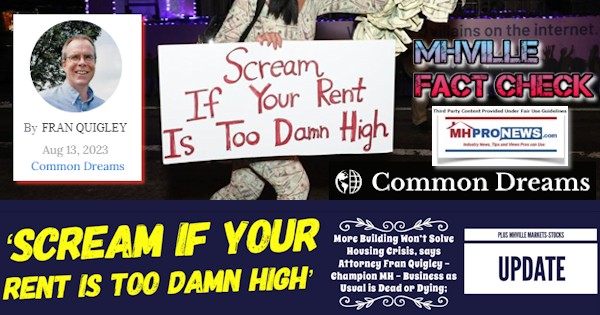 #18 May 7, 2019 – this flashback report may be influenced by the new antitrust suit. Beyond cross-linking relevant articles, the MHProNews and/or MHLivingNews search tools provide tremendous resources for those who want to understand whatever subject in manufactured housing. To illustrate the point that hundreds of articles on MHProNews are reports on topics not covered by few if any others who claim to be providers of relevant and timely manufactured housing industry news and views, the following question was put to Bing's AI chat function.

Q-> What manufactured housing industry trade media have published on the topic of the mobile home militia?

I found a couple of articles that mention the "Mobile Home Militia" in the context of the manufactured housing industry. One article from Manufactured Home Pro News discusses allegations made by retail/production sources against Clayton Homes, a manufactured housing company, regarding new "anti-competitive practices" 1. The article quotes a post on Facebook by the so-called "Mobile Home Militia," which claims that Clayton Homes has engaged in anti-competitive behavior by cutting off their largest independent dealer relationship in the country because he invested in a factory that took some of their people 1. The same article mentions that this is not the only time such allegations have been made against Clayton Homes 1.
Another article from Manufactured Home Pro News describes the "Mobile Home Militia" as a group of manufactured housing industry independents who sell, build pads, transport, install, and service factory-built homes 2. The article notes that they use the handle "Mobile Home Militia" or #MHM for swagger's sake and are looking for people to join their revolution 2.
So, this four-year-old report on MHProNews is obviously still relevant to scores of industry pros. Among thousands of 'referral paths' (routinely, but not always articles) accessed on MHProNews so far this month, this one is #18. Fascinating, isn't it?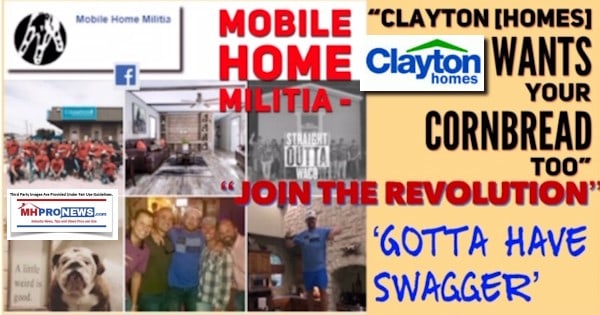 #19. January 19, 2022. Linked or sparked by the new MHI members et al linked antitrust case which is posted above and is #1.  The one linked below includes the case pleadings, which provides 'the facts' of the case against ELS as presented by the plaintiffs attorneys.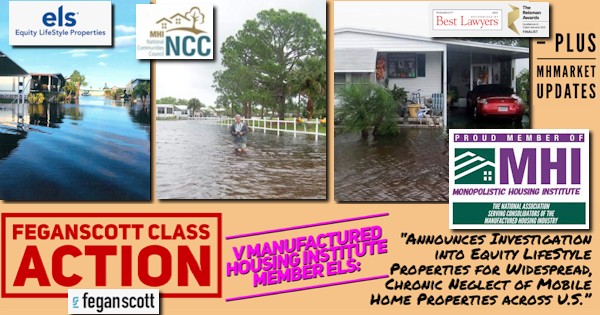 #20. June 24, 2023 the Gary Shiffman articles have been popular for weeks even before the new MHI-linked class action lawsuit, which named Sun as a defendant, which doubtlessly sparked renewed interest.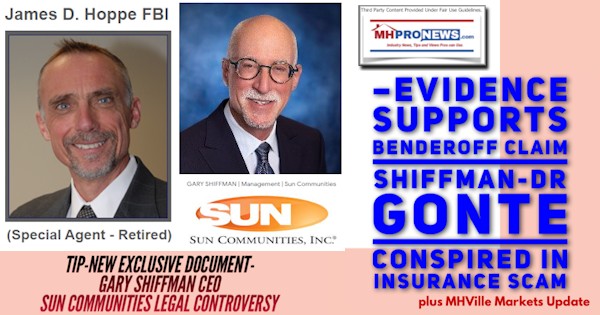 21. September 24, 2020.  Note that RHP is named in the antitrust lawsuit involving multiple MHI members.  Note that one of the purported problems with increasing monopolization or consolidation of an industry, per researchers and experts, is that service gets poorer.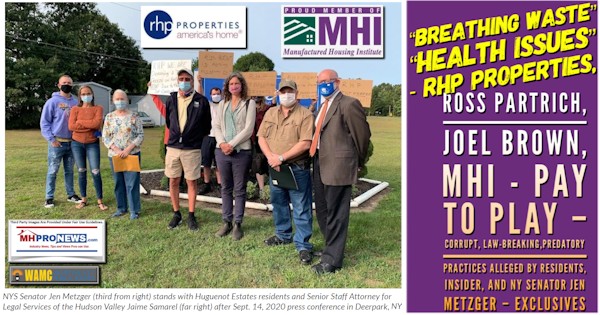 22. September 6, 2023.  Even without Trump's "mug shot" this report is among the thousands of reports/referral paths accessed on MHProNews so far this month.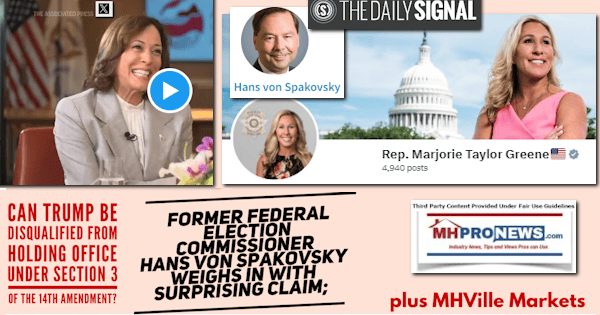 23 July 9, 2023. This alleged scam by Chimene Van Gundy, per the search result from Bing AI on this date, appears to have been only reported so far by MHProNews. Even though it was and remains a well-read issue, others fail to shed any light on it. Why not? The Van Gundy story is arguably insightful for those with questions about Lesli Gooch, or other MHI leaders. See the report on an investment that may have begun innocently, but allegedly went sidewise in a big way.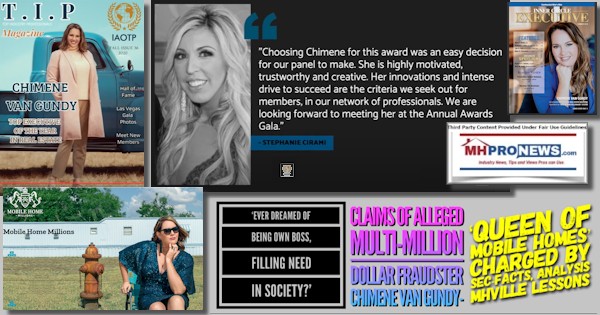 24 October 18, 2021. Years before the antitrust suit involving RHP and other MHI members, MHProNews pointed out mainstream and other sourced reports like this one.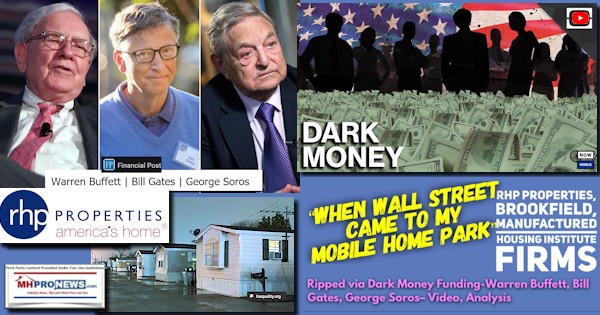 25 September 26, 2022. This report surged following the report on MHI linked firms being hit by an antitrust lawsuit.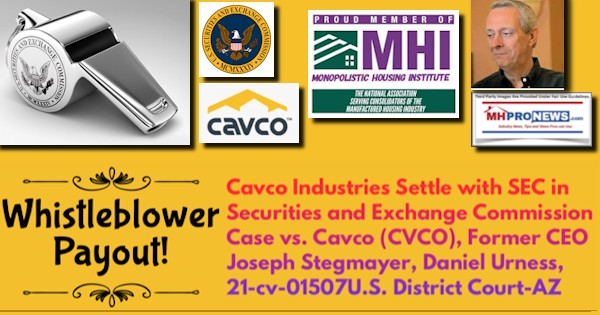 26 August 12, 2023. Perhaps like the "mobile home militia," Legacy Housing may be viewed by some as part of the "resistance" to the industry's Big Three consolidators.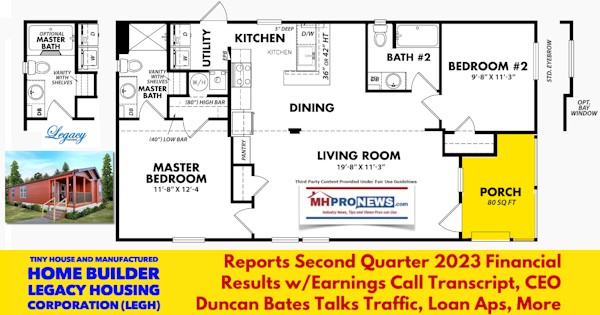 27 August 10, 2023. Recent but also timely with respect to the MHI linked antitrust suit.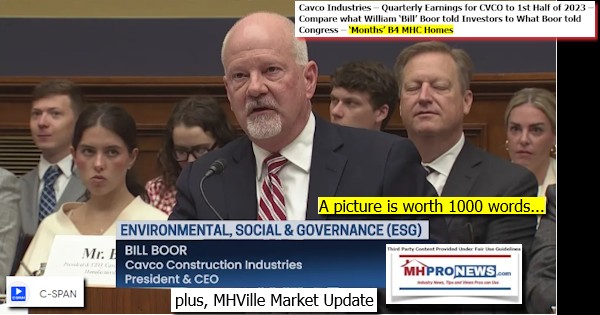 28 June 1, 2018. This is a perennial favorite of readers and researchers.  Thousands of posts and referrals paths get accessed monthly, and this one is routinely in the top 30 to 50, month in and month out.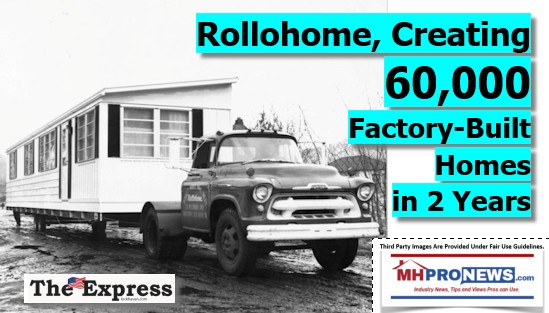 29 June 5, 2022, months before the Trump indictments, MHProNews published this report.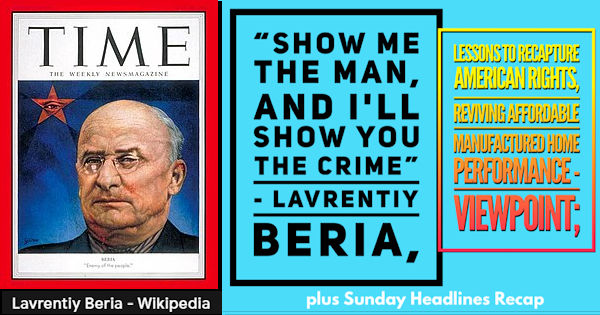 30 August 24, 2023. This wildly popular song and related report speaks for itself.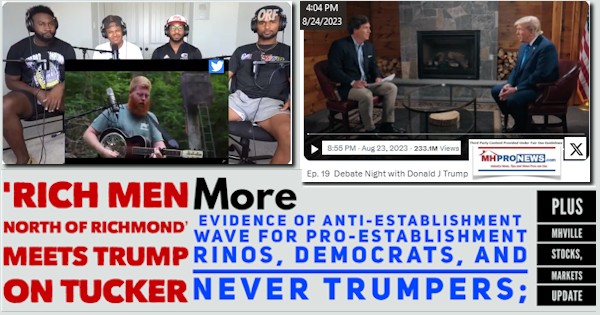 31 July 1, 2013.  This is a historic report by Matthew Silver, a longtime writer for MHProNews before he 'retired.'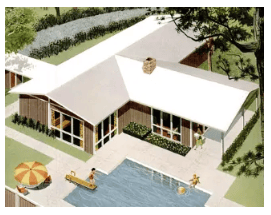 32 August 27, 2023 – a recent report that brings information that mainstream media might miss.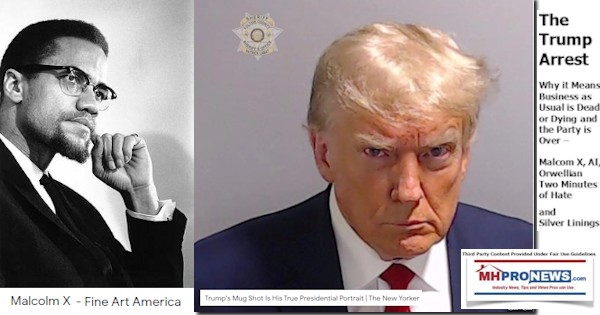 Part II Additional Information with More MHProNews Analysis and Commentary
Programming Note: Stay tuned for a planned follow up with more information on the antitrust suit, which is the #1 subject linked above. That may appear on MHLivingNews. Watch for it.
The following inquiry was made by MHProNews to Bing's AI Chat function on 9.8.2023 at about 4:04 PM ET.
>> What manufactured housing trade media have reported on antitrust issues?

I found an article on Manufactured Home Pro News that discusses antitrust issues in the manufactured housing industry. The article highlights the impact of alleged violations of deceptive trade practices, RICO, and antitrust on affordable housing and manufactured home owners1.
I did not find any other relevant articles on this topic in my search results.
1: L.A. 'Tony' Kovach, "Deceptive Trade Practices, RICO, Antitrust, Affordable Housing, Manufactured Home Owners and Small Businesses," Manufactured Home Pro News, October 21, 2019, source.
Learn more:
Cleary, the above indicates that MHProNews is not 'johnny come lately to this antitrust topic. In fact, we and our MHLivingNews sister site have demonstrably been the industry's leader on antitrust related concerns. The report below was posted on December 28, 2019.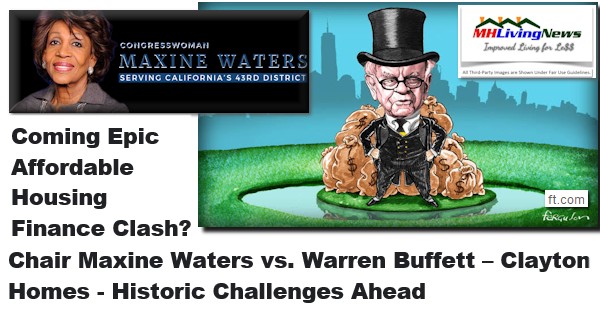 Other reports on antitrust issues date back to late 2017. The one directly below is dated: December 15, 2017. That report is as relevant today as it was then, and it shows how MHProNews began breaking the news on this topic once EVIDENCE was presented. Another report with a different document is shown at this link here.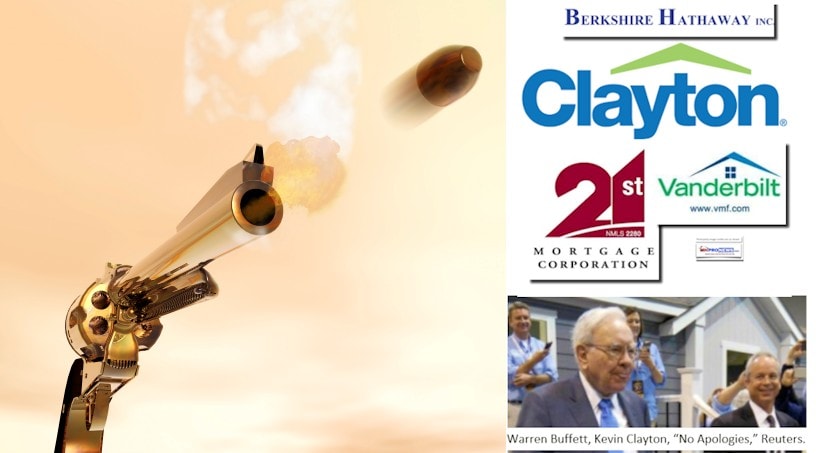 Next, the following inquiry was made by MHProNews to Bing's AI Chat function on 9.8.2023 at about 4:07 PM ET.
>> What manufactured housing trade media have reported on Case No. 1:23-cv-6715?

I found a news article on the website Manufactured Home Pro News that reports on Case No. 1:23-cv-6715. The article states that several Manufactured Housing Institute (MHI) members, including manufactured home community owner/operator companies and Datacomp, have been hit by a big antitrust lawsuit 1. The lawsuit alleges that nine mobile home community management companies and a mobile home market data provider conspired to fix, raise, and systemically inflate mobile home lot rental prices as more than 150 locations across the United States. The lawsuit was filed on behalf of mobile home community residents impacted nationwide and alleges that since 2019, the mobile community management companies have used competitively sensitive, non-public market data provided by Michigan-based Datacomp Appraisal Systems Inc. to exchange pricing information and conspire to systematically devise mobile home lot rent increases 1.
The article further states that several of the firms involved are known to be Manufactured Housing Institute (MHI) members 1.
I did not find any other news articles on this topic in my search results.
Learn more:
The fact that other bloggers and trade publishers in MHVille have not tackled these items, per Bing, ought to speak volumes to the industry's readers and outsiders looking in.
ManufacturedHomes.com, MHVillage owned MHInsider, and bloggers like George Allen or Frank Rolfe, are all MHI members.
Per Bing's search results, neither MHI nor their blogging members have apparently bothered to inform their readers about the suit or possible ramifications for thousands employed and investors in firms that are the subject of that antitrust suit. Perhaps that is why many if not most of their readers are MHProNews readers? Where else in MHVille can someone turn to for the news, tips, and views that others obscure, ignore, or otherwise hide?
The fact that another hot topic is the creation of a new-post production trade group is also of keen interest. Bing's chat was asked the following.
>> What manufactured housing trade media or bloggers have reported on the need to create a new post-production trade association?

I found an article on the website of the Manufactured Housing Association for Regulatory Reform (MHARR) that reports on the formation of a new, independent association called the National Association of Manufactured Housing Community Owners (NAMHCO). The article states that NAMHCO represents a key post-production constituency in the manufactured housing industry and aims to better and more effectively represent this sector in Washington, D.C1.
I did not find any other sources that specifically address the need to create a new post-production trade association. However, you may find more information on this topic by exploring the websites of other trade media or bloggers that cover the manufactured housing industry 2.
I hope this helps!
Learn more:
While that phrasing by Bing's AI chat is less than ideal, it is MHARR and MHProNews that are linked by Bing in response that inquiry. Indeed, it is MHARR that has championed that notion for well over a decade. MHProNews has similarly offered digital support for the creation of a new post-production national trade group.
The total pageviews on MHProNews primary cPanel on the date shown was already over 11.7 million with over 1.51 million visits. If SimilarWeb's data is correct, MHI during that similar time period, per SimilarWeb on this date (9.9.2023), MHI's website averaged 26,400 visits monthly or about 316,800 visit per year. So, MHProNews has some 5 times the visitors and many more times than that number in pageviews.  Why? In a word, "Content." More specifically, two words: relevant content.
Note: to expand this image to a larger or full size, see the instructions
below the graphic below or click the image and follow the prompts.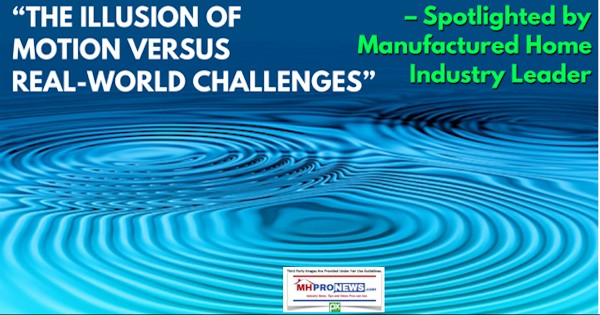 For those who blindly trust MHI and MHI linked bloggers and trade publications, the antitrust lawsuit that is the runaway number 1 topic above might be a total shock. But for detail-minded MHProNews readers, it was to be expected.
Several Manufactured Housing Institute Members, Including Manufactured Home Community Owner/Operator Companies and Datacomp, Hit by Big Antitrust Lawsuit; plus MHVille Markets Update
Note that MHProNews provided MHI leaders and MHI connected attorneys an opportunity to respond to the above. So far, silence. Surprised? Regular MHProNews readers who pay attention to the details won't be.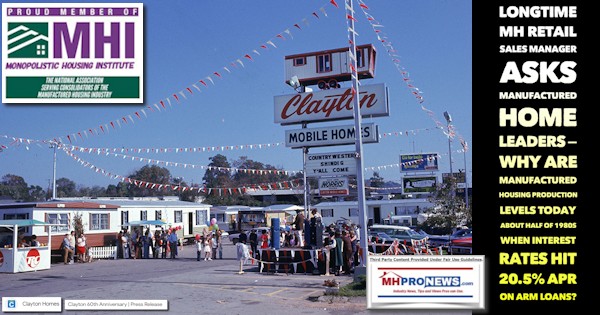 People in manufactured housing, and those outside looking in are routinely going to find the deeper dive, fact- and evidence-driven reports, analysis, tips, and commentary that matter on this site than MHI and MHI linked bloggers and trade publications. The known evidence suggests that our visitors' collective engagement as measured by pageviews dwarfs all of our rivals plus MHI combined.
'Alarming Year-Over-Year Manufactured Home Production Declines Continue' per Manufactured Housing Assoc as Deceptive Trade Practice Concerns about ManufacturedHomes.com, MHInsider, MHI Raised
Want to understand and 'make sense of the news' impacting MHVille? You and thousands of others logged on today to look at tens of thousands of pages on our site, per the latest statistics. No one else in manufactured housing trade media, per the known evidence, even comes close. Indeed, the evidence suggests that our platform has more traffic and engagement than all the other known.
Millions of pageviews annually on MHProNews attest to the relevance and value of the information and commentary found here. The fact that others hide their 'news' traffic data only tends to confirm the point that our site is the runaway-number one. Our thanks to our readers, sources, sponsors, tipsters, God, and all who make that statement and this work possible.
Part III. Daily Business News on MHProNews Markets and Headline News Segment
Headlines from left-of-center CNN Business – from the evening of 9.8.2023
Big change ahead
Apple is set to unveil the iPhone 15 next week with one key difference. Here's what we know
A photo shows the logo on the facade of the headquarters of Dutch medical and consumer electronics manufacturer Philips in Amsterdam on October 23, 2022. – Dutch medical device manufacturer Philips said on October 24, 2022, it will slash 4,000 jobs after a massive financial hit for a recall of faulty sleep respirators pushed it into loss. The 1,3-billion-euro (1,28 billion USD) write-down for the defective machines pushed the firm, which currently has nearly 80,000 employees worldwide, into a net loss of the same amount.
CPAP maker Philips agrees to pay at least $479 million to users over recalled devices
ANAHEIM, CALIFORNIA – APRIL 24: People walk toward an entrance to Disneyland on April 24, 2023 in Anaheim, California. Disney will lay off several thousand workers this week amid an overall push by the media giant to cut 7,000 total jobs in an effort to save $5.5 billion in costs. (Photo by Mario Tama/Getty Images)
Disney agrees to $9.5 million settlement over Magic Key annual pass dispute
Ryan Petersen, chief executive officer of Flexport, participates in a panel discussion during the Milken Institute Global Conference in Beverly Hills, California, U.S., on Wednesday, May 4, 2022.
Logistics startup rescinds dozens of job offers amid messy executive drama
An airplane lands at the Phoenix Sky Harbor International Airport during a heat wave on July 15, 2023 in Phoenix, Arizona. Weather forecasts today are expecting temperatures to reach 115 degrees. The Phoenix area is grappling with record-breaking temperatures as prolonged heat waves continue soaring across the Southwest.
Phoenix cleaners working on brutally hot planes without air conditioning file a complaint
A worker delivers groceries to a customer's vehicle outside a Walmart Inc. store in Amsterdam, New York, U.S., on Friday, May 15, 2020.
Walmart cut starting pay for some new jobs
A power substation operates in Houston, Texas, US, on Thursday, Sept. 7, 2023. Texas declared its first power emergency since a deadly winter storm two years ago and came close to rolling blackouts as soaring temperatures roasted the second-largest US state.
Texas heat wave: US Energy Department declares power emergency
Coco Gauff, of the United States, waves to fans after defeating Karolina Muchova, of the Czech Republic, during the women's singles semifinals of the U.S. Open tennis championships, Thursday, Sept. 7, 2023, in New York.
US Open ticket sales soar for Coco Gauff's debut in the final
Person using phone STOCK
Google to require disclosures of AI content in political ads
A shopper visits Albertsons at 3901 Crenshaw Blvd on Friday, Oct. 14, 2022 in Los Angeles, CA.
Kroger and Albertsons sell 400 stores to Piggly Wiggly's parent company
The US dollar is king again. Here's why
Have you run into difficulty getting a loan recently?
Dating app Grindr loses nearly half its staff after trying to force a return to office
It will be more confusing than ever to watch an NFL game this season
Chevron Australia workers begin strike, threatening global LNG supply
The case for owning stocks over bonds is crumbling
China's automakers take the world by storm with electric vehicle push
Norway's $1.4 trillion investment fund is shutting its China office
South Korea's Hynix is looking into how its chips got into Huawei's controversial smartphone
Digital payments company Square experiences outage
Paqui voluntarily removing One Chip Challenge product from shelves
Disney drops part of its lawsuit against DeSantis to focus on free speech claims
Former FTX executive Ryan Salame will forfeit $1.5 billion after pleading guilty to criminal charges
Note: to expand this image to a larger or full size, see the instructions
below the graphic below or click the image and follow the prompts.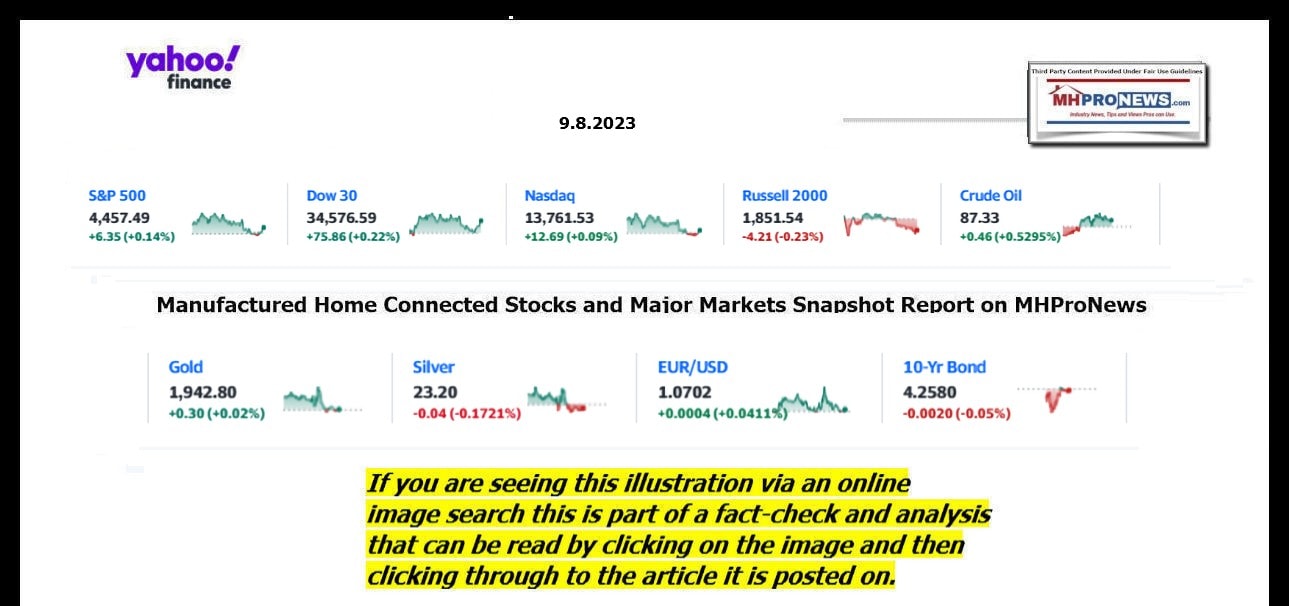 Headlines from right-of-center Newsmax 9.8.2023
Graham 'Surprised' at Prosecution Recommendation
"If it ever becomes impossible or politically dangerous or legally dangerous for a United States senator to call up people to find out how the election was wrong, God help us all. The next election, if I have questions, I'll do the same thing." [Full Story]
Related Stories
Georgia Grand Jury Recommended Charges Against Current, Former US Senators
Trump: DA Willis Wanted to Indict Anybody 'Breathing'
Dershowitz: Trump Georgia Trial Should Be Moved | video
Dershowitz: Grand Jury Reports 'Worthless' | video
Trump Raises $1+ Million for Giuliani Defense Fund
Jordan Seeks Docs From Special Counsel
DA Willis Accuses Rep. Jordan of Investigation Interference
Trump May Seek to Move Georgia Election Case to US Court
Report: DA Willis Seeks Juror Protection
Lake: Trump 'Greatest Defendant' to Testify in Docs Case | video
Trump Says He Would Testify at Classified Documents Trial
Greene: Dem Party 'Conspiring' With Trump Prosecutors
Mar-a-Lago IT Worker, Jack Smith Strike Deal
More Trump Indictments
Newsmax TV
Donalds: Obama Should Release Pseudonym Emails
Pence: Trump and I 'Parted Amicably' | video
Tenney: Impeachment Inquiry Likely This Fall
GOP Chair Derides Bid to Keep Trump Off Ballot | video
Cline: Biden Impeachment Inquiry 'Proper' | video
Pence: 'Right to Life More Important Than Politics' | video
Kelly Ayotte: US Can't Have Biden as President Again | video
Comer: Impeachment Inquiry Vote Possible Mid-Sept. | video
Lara Trump: 'Jig Is Up' for Mainstream Media | video
Fallon: Biden 'Made Every State a Border State' | video
More Newsmax TV
Newsfront
Y. AG Now Claims Trump Inflated Net Worth by Up to $3.6B
New York state's attorney general Friday said Donald Trump may have fraudulently inflated his fortune by far more than previously thought, her latest salvo in preparation for trial in her civil lawsuit against the former U.S. president and his family business…. [Full Story]
Wall Street Closes Out Its 1st Losing Week in 3
Stocks drifted to a slightly higher close on Wall Street but still [Full Story]
FBI Director Wray Warns of Russian Spies in US
FBI Director Christopher Wray this week warned that the threat of [Full Story]
Trump Raises $1+ Million for Giuliani Defense Fund
President Trump helped Rudy Giuliani raise over a $1 million for his [Full Story]
Graham 'Surprised' at Prosecution Recommendation
Lindsey Graham, R-S.C., said he was "surprised" to learn a [Full Story]
Related
Georgia Grand Jury Recommended Charges Against Current, Former US Senators
Bob Brooks Named Anchor, Correspondent at Newsmax
Newsmax announced today that Bob Brooks has been named an anchor and [Full Story]
A United Auto Workers Strike Would Pose Risk for Biden
President Joe Biden's habit of describing himself as "the most [Full Story]
Apple Endorses Calif. Bill on Reporting Carbon Footprint
Apple has endorsed a California Senate bill that would require large [Full Story]
Newsom Says He Won't Run Against Biden
California Democrat Gov. Gavin Newsom, looking to end speculation he [Full Story]
Russian Attack Damages Ukraine's Izmail Port in Odesa
Russian drone strikes overnight damaged port infrastructure, a grain [Full Story]
Related
Ukraine Primes Air Defenses for Russia's Winter Assault on Power Grid
Kremlin Warns US on Giving Ukraine Depleted Uranium Shells
Russian Officials Say 5 Drones Were Shot Down, Including 1 That Targeted Moscow
British Air Force Protecting Ukraine Grain Ships in Black Sea
Musk Blocked Ukraine Attack on Russia's Black Sea Fleet
Russian Missile Attack Kills Policeman, Injures 44 Others in Zelenskyy's Hometown in Central Ukraine
G20 Draft Declaration Leaves Paragraph on Ukraine Blank
'Deepfakes' Have 'Extreme Potential' to Sway Elections
Election officials who say they're already facing threats from [Full Story] | Platinum Article
Hawley, Blumenthal Release Bipartisan AI Regs
As Congress races to regulate artificial intelligence (AI), Sens. [Full Story]
Niger Coup a Blow for US Counterterror Effort, Win for Russia
This summer's coup in Niger, the most active jihadist hotspot in the [Full Story] | Platinum Article
Supreme Court's Alito Rejects Recusal in Tax Case
Supreme Court Justice Samuel Alito on Friday rejected a push by [Full Story]
Biden Unveils, Tours Renovated $50M Situation Room
President Joe Biden this week toured the newly renovated Situation [Full Story] | video
Pelosi Running for Reelection to Congress
Nancy Pelosi, the former speaker of the House of Representatives, on [Full Story]
Report: Garland's Claim of 'Full Authority' to Weiss in Doubt
Amid the trove of documents turned over by the Department of Justice [Full Story] | video
Trump's Bronx Golf Course Lease Going to Bally's
Former President Donald Trump's name is coming off a New York [Full Story]
Gun Owners Win New Bid to Challenge Calif. Restrictions
A federal appeals court on Thursday gave two gun owners another shot [Full Story]
SpaceX Can't Launch Again Until Fixes Are Made: FAA
SpaceX must take a series of steps before it can launch its mega [Full Story]
6th Recent Death at Ga. Jail Where Trump Booked
A Fulton County Jail inmate died at an Atlanta hospital this week, [Full Story]
Hungary's Foreign Minister Slams Attempts to Exclude Trump From Election
Minister of Foreign Affairs and Trade Pter Szijjrt on Thursday [Full Story]
Biden Admin Mulls Keeping Migrant Families in Texas
The Biden administration is mulling a change to force migrant [Full Story]
Paxton's Defense: Republicans Plotted Ouster
Texas Attorney General Ken Paxton has long denied corruption [Full Story]
Hawley Calls for McConnell to Step Down as Leader
Josh Hawley, R-Mo., called this week for his conference's floor [Full Story]
43 Firefighters' Names Added to 9/11 Memorial Wall
The names of 43 firefighters who died from 9/11-related illnesses [Full Story]
Miami-Dade School Board Rejects LGBTQ History Month
Amid a marathon 12-hour meeting that commenced on Wednesday and [Full Story]
King Charles Will Quietly Mark His Mother's Death
King Charles will on Friday privately mark the first anniversary of [Full Story]
Court Temporarily Lets Texas Keep Floating Border Barriers in Place
A U.S. appeals court on Thursday granted a temporary stay allowing [Full Story]
DeSantis on COVID Protocols: Not in Florida
Florida Gov. Ron DeSantis on Thursday criticized recent efforts [Full Story]
D. Gov. Noem Expected to Endorse Trump
South Dakota Gov. Kristi Noem is expected to endorse Donald Trump's [Full Story]
SpaceX Can't Launch Again Until Fixes Are Made: FAA
SpaceX must take a series of steps before it can launch its mega rocket again after its debut ended in an explosion, federal regulators said Friday…. [Full Story]
FDIC: Should've Supervised First Republic More Closely
The Fed Is Flying America Into an Economic Storm
Hearst TV Pulls Local Channels for Dish Customers
Kroger to Pay up to $1.4B to Settle Opioid Lawsuits
Health
Early Concussion Tied to Memory Issues Later in Life
Your thinking and memory skills may take a hit decades after recovering from a concussion, a new study indicates. Scientists who studied male twins, from an average age of 67, found that earlier concussions were tied to lower scores on tests of thinking and memory. These men…… [Full Story]
Large Study Finds Opposites May Not Attract After All
Exercise-Induced Hormone Protects Against Alzheimer's
You Could Have Glaucoma and Not Realize It
Birth Control, Painkiller Combo May Raise Clot Risk
Note: to expand this image to a larger or full size, see the instructions
below the graphic below or click the image and follow the prompts.