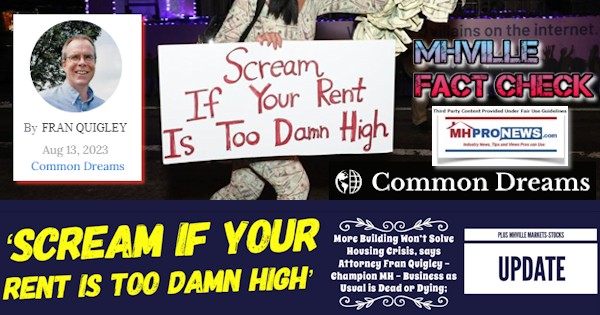 "A Lack of Supply Isn't Causing Our Housing Crisis," says attorney Fran Quigley, who added that: "Millions of people simply do not make enough money to consistently afford market-rate housing." Quigley directs the Health and Human Rights Clinic at Indiana University McKinney School of Law. Quigley shared his thoughts published on 8.13.2023 in left-leaning Common Dreams. Quigley advocates a perspective advanced by authors Alex Schwartz and Kirk McClure. Schwartz, a professor at the New School, literally wrote the book on U.S. housing, Housing Policy in the United States. According to Bing's AI Chat function Schwartz mentions manufactured housing. But Quigley's Common Dreams article does not. It is hard to champion manufactured housing when you don't even mention it, but fortunately for the industry's professionals, investors, and affordable housing advocates, MHProNews will unpack what Quigley said as well as what he missed in Part II of this report and analysis. That noted, Quigley's claims are noteworthy and are provided in Part I, which follows. Note that the base featured image above was the featured image used by Common Dreams, sans the additions by MHProNews.
Part I
A Lack of Supply Isn't Causing Our Housing Crisis
Millions of people simply do not make enough money to consistently afford market-rate housing.
A few weeks ago, I drove through my hometown of Indianapolis to a court session which had nearly 200 eviction cases set on the docket. On the way, I passed multiple construction projects, several of them building apartments or other housing.
Contrary to popular belief, all that construction won't help the hundreds of families I saw facing eviction. Nor will it be of any benefit to almost any of the 13 million other households currently behind on their rent or mortgage or the 600,000 people who are homeless in this country.
You wouldn't know that from listening to the Biden administration, state governors, and think tanks, all of whom trumpet the virtues of building more housing. The New York Times diagnoses homelessness as a simple "supply-and-demand problem."
Schwartz and McClure put it plainly: "Nationally, there is no shortage of housing, and adding to the surplus won't resolve the nation's affordability problems."
The Atlantic writes that "The Obvious Answer to Homelessness" is, you guessed it, building more housing. Earlier this summer, when tenants brought their concerns about high rents to the National Multifamily Housing Council, the largest corporate landlord lobby in the country, they too were told that their struggles to afford rising rents could be solved if we just build additional housing.
How did such a powerful consensus come together? As the saying goes, follow the money. Government subsidies and tax breaks for housing construction makes real estate developers fabulously wealthy. Banks, realtors, and corporate builders prosper from new construction, too. These industries' fingerprints are all over the reams of reports and articles claiming that we must build our way out of the housing crisis. As Politico reported in November, "Lobbyists are scrambling to get help from Washington to goose the housing market."
Maybe we should listen instead to the housing experts whose bank accounts don't get a boost every time a crane goes up. Take Alex Schwartz and Kirk McClure. Schwartz, a professor at the New School, literally wrote the book on U.S. housing, Housing Policy in the United States, now in its fourth edition from Routledge Press. McClure is professor emeritus in urban planning at the University of Kansas. Like Schwartz, he is a widely-published, highly-decorated expert on housing markets.
In a recent Barron's article, Schwartz and McClure decided to look past the housing-supply hype and crunch the numbers. Those numbers show that 21st century housing construction has produced a surplus of 3.5 million units, including a surplus in virtually every metropolitan area. New York, for example, has a quarter-million more units than are needed to house its population.
Schwartz and McClure put it plainly: "Nationally, there is no shortage of housing, and adding to the surplus won't resolve the nation's affordability problems." …
The balance of Quigley's thesis is found on Common Dreams or on the linked attachment. But a few more pull quotes are useful for illustrating Quigley's bottom-line push.
"Past the profit-focused cacophony insisting on building more housing, Schwartz's and McClure's warning is being repeated by others. Allan Mallach, a senior fellow at the Center for Community Progress and the National Housing Institute, concurred in large part with Schwartz and McClure in a Shelterforce article earlier this year. While Mallach does think building modestly-priced housing will help middle-income families, he rejected out of hand the notion that housing construction will solve the crisis experienced by the very low-income people who are homeless or housing insecure." …
"So, if a lack of supply is not the problem, what is causing our housing crisis? Schwartz, McClure, Mallach, and others offer the straightforward explanation that is also reported annually by the National Low-Income Housing Coalition's Out of Reach reports, which is the same explanation our clients tell us time after time: Millions of people simply do not make enough money to consistently afford market-rate housing. We routinely represent people who fell behind on rent because it amounted to 80% and more of their entire incomes from low-wage work or disability checks. As the title of a 2019 Mallach article pointed out, "Rents Will Only Go So Low, No Matter How Much We Build."" …
"New construction won't fix that problem. But other approaches will, including expanded and improved public housing and rent control." …
"Schwartz, McClure, Mallach, and others call for universal housing vouchers, a fast, straightforward remedy for the shameful fact that 3 of every 4 eligible households are blocked from transformative housing subsidies simply because we don't fund the program adequately. Universal vouchers, featured in President Joe Biden's 2020 campaign platform, should be an interim step on the path to social housing freed of the for-profit market."
Quigley notes that building more housing does have a side benefit of "creating good-paying jobs and providing more options for middle-income households." But he concludes by arguing "let's stop pretending that it will solve the affordability crisis faced by our clients and millions of other low-income Americans."##
Part II – Additional Information with More MHProNews Analysis and Commentary
This analysis part of the report will be in two segments following this preface. Part II, #1 will focus on some background information that is manufactured housing focused which is obliquely raised by Quigley's column. #2 will further probe what the lack of mention of manufactured housing has to do with the value, or lack thereof, of Quigley's thesis.
#1
A word search of the above by the colorfully apparently pro-leftist Quigley has no mentions of "manufactured housing," "manufactured home," or even the dated term "mobile home."  It is hard to imagine how an attorney involved in affordable housing policy can fail to mention manufactured homes, but Quigley has managed to do so.  As noted in the preface of this article, MHProNews asked Bing's AI chat function: "Does Housing Policy in the United States by Alex Schwartz mention manufactured housing?"

"Yes, the book "Housing Policy in the United States" by Alex F. Schwartz does mention manufactured housing. The book covers the full range of federal housing policies for renters, owners, and special needs populations. It remains accessible to all readers, from the layman to the seasoned housing policy expert12.
Learn more:
It is even more interesting that Quigley failed to mention manufactured housing in the above article, when he previously authored an article that included "mobile home residents" as part of his headline on the left-leaning Jacobin website.  When Bing's AI was asked this follow up question, here was the response. The EINNews.com item linked below points readers to both MHLivingNews and MHProNews. The featured and top result on that question is an article on Mobile and Manufactured Home Living News (MHLivingNews.com).
Note: to expand this image to a larger or full size, see the instructions
below the graphic below or click the image and follow the prompts.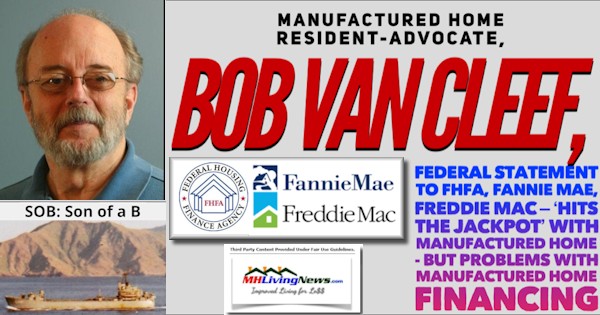 MHProNews has itself cited the NLIHC Gap Report numerous times, which Quigley also referenced. The GAP Report has much useful research and information. But unfortunately, the NLIHC too have downplayed the possible remedy that more manufactured housing could provide in the marketplace. Like Quigley, the NLIHC favors more government subsidies that haven't worked for decades.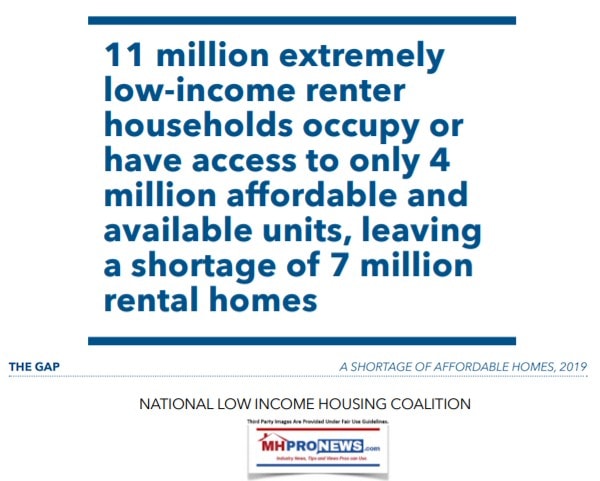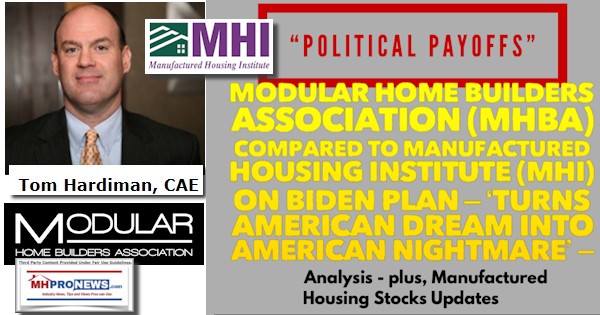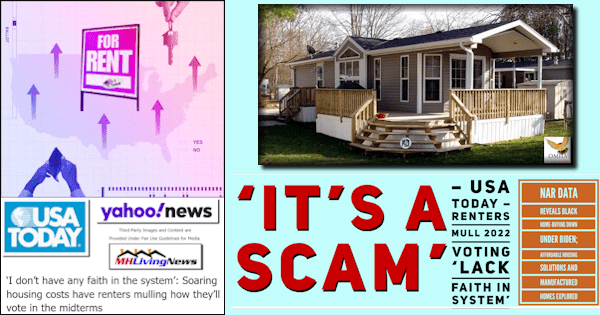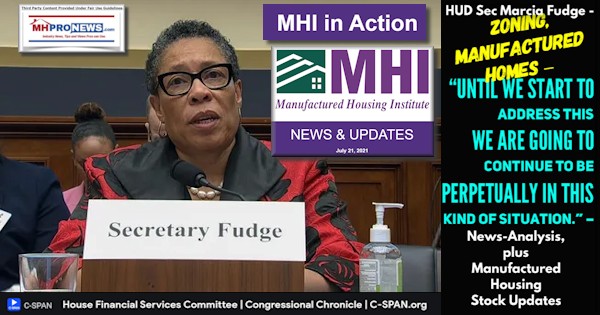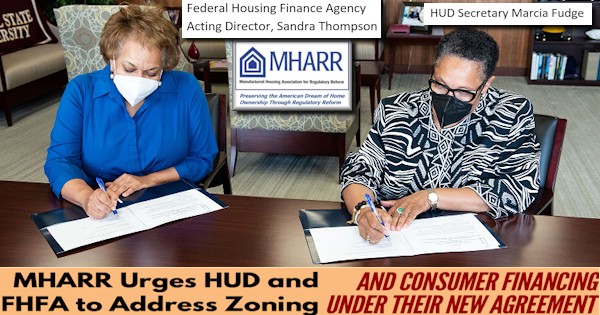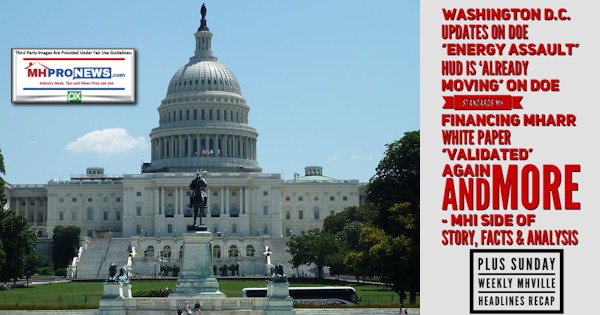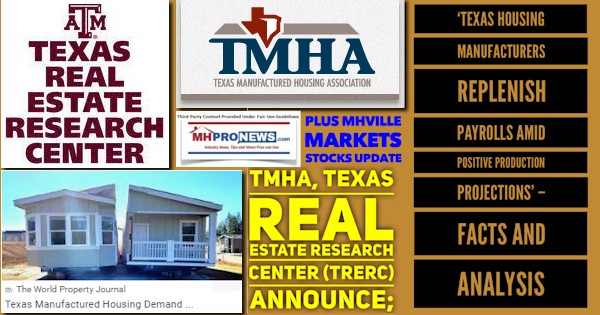 Note: to expand this image to a larger or full size, see the instructions
below the graphic below or click the image and follow the prompts.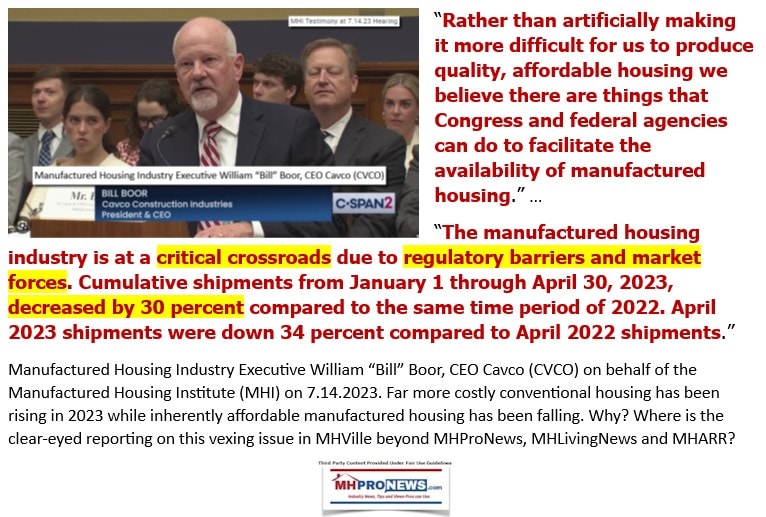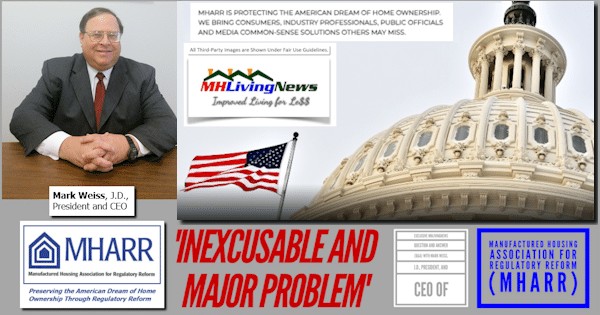 Loyal MHI member Darren Krolewski has said that one of the problems limiting the industry is that there is more bad news than good news. Isn't that a call to look in the mirror? Isn't it time for MHI and their supporters to push the organization into doing its self-proclaimed claimed job properly and successfully?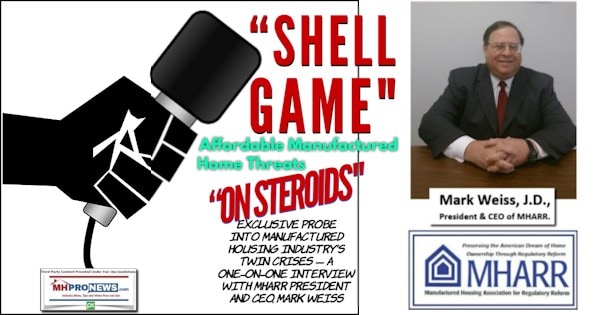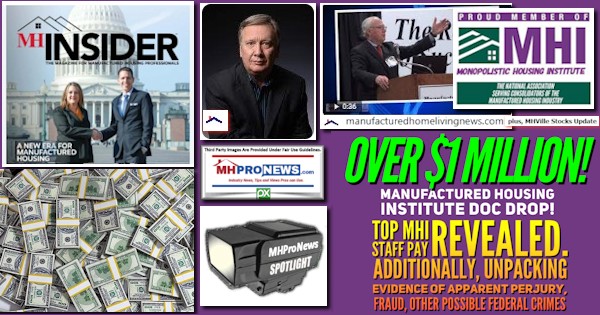 Cavco (CVCO) and Skyline Champion (SKY) – with or without Clayton Homes – could jointly or individually fund the needed litigation and/or Congressional action necessary to get good existing laws enforced.  Yet, neither are doing so. They are not alone. By failing to energetically press the issues that limit manufactured housing, aren't those leaders failing in their fiduciary duty to investors and stakeholders?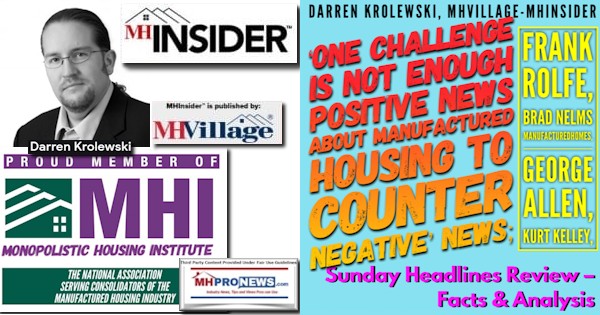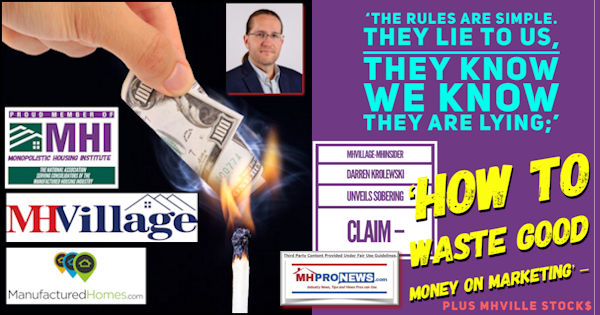 A key solution to the affordable housing crisis has been hiding in plain sight for years. Quigley has a limited point that if properly applied could makes sense.
Namely, that there is a need for not just more housing, but there is a need for more affordable housing.
Quigley was logically wrong not to point out manufactured housing's possible role in solving the problem he claims to care so deeply and understandably about. Perhaps some citizens might need subsidies for a time until sufficient new affordable housing is built.  But as MHLivingNews pointed out during the Obama Administration, a proper use of millions of more new manufactured homes could in time eliminate the need for subsidized housing programs. MHLivingNews also documented, in part by using HUD's own research, that for 50 years politicians have been talking about zoning and financing solutions without actually implementing the needed reforms.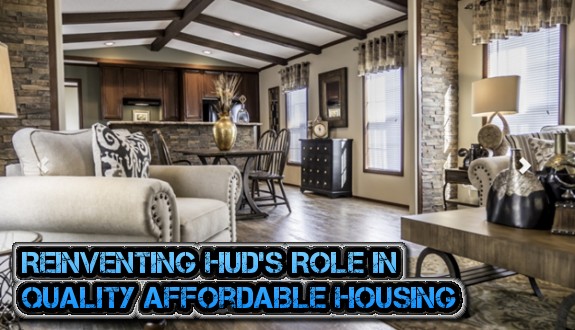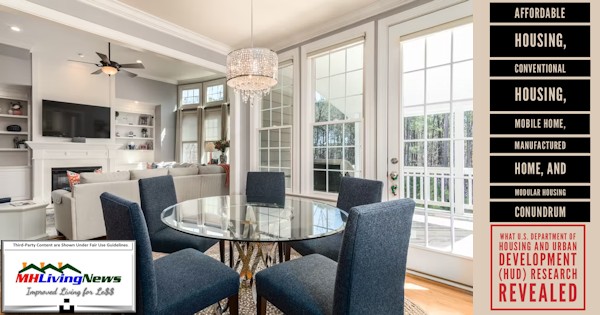 The only ones who can rapidly and positively impact the affordable housing crisis by potentially millions of new homes are members of factory-built housing industry.
More specifically, the manufactured housing industry is proven to be the most affordable option.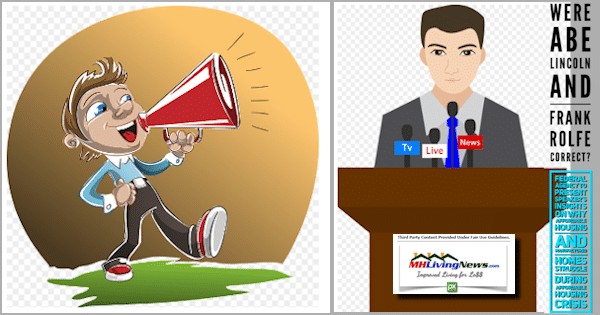 HUD ironically is the primary regulator of HUD Code manufactured homes, yet they have failed for decades to be part of the solution. Who said? Not just Cavco's Bill Boor in his recent remarks to Congress. But also Cavco's Manny Santana in comments to Congress in 2012 regarding HUD's failure to properly implement the Manufactured Housing Improvement Act of 2000 (MHIA) and its enhanced preemption provision. Such authentic and accurate history of the manufactured housing industry's actions and inactions in the 21st century are crucial to understand in order to actually achieve the claimed goal. Namely, more affordable housing. Because Quigley is right to this extent, millions can't afford the conventional housing that is currently being built.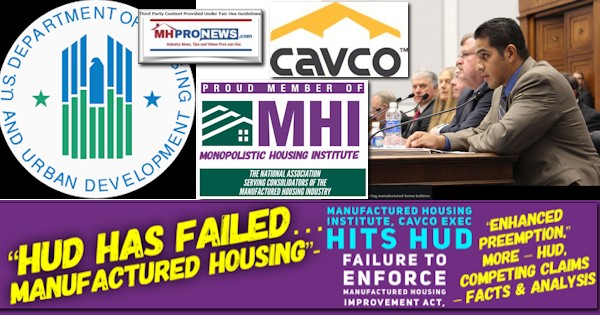 Yet, MHI's insiders appear to be more focused on consolidation than organic growth.
Until those issues are resolved – by legal, regulatory, or other action – the status quo will likely continue or grow worse. That's reality.
Screaming if the rent is too 'd-mn' high might feel good for a few moments. But solutions require the hard work of implementation that goes beyond whatever smokescreens that powerful special interests which obviously like the status quo generate. They do so because they think they are profiting from it.  The irony is that they could potentially profit still more if only they were willing to do the necessary heavy lifting.  Oddly, they know that more developing and production are useful and profitable. But they still don't do it. That may require serious inquiries and legal action to accomplish the needed remedy.  Because business as usual is dead or dying, as more people are wising up to the various ways that the system is protecting their own. ##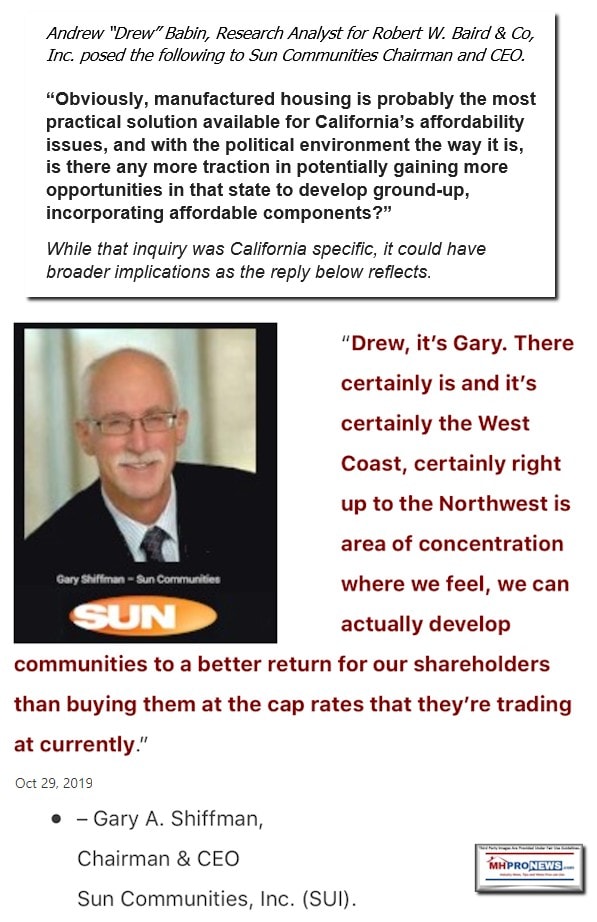 Note: to expand this image to a larger or full size, see the instructions
below the graphic below or click the image and follow the prompts.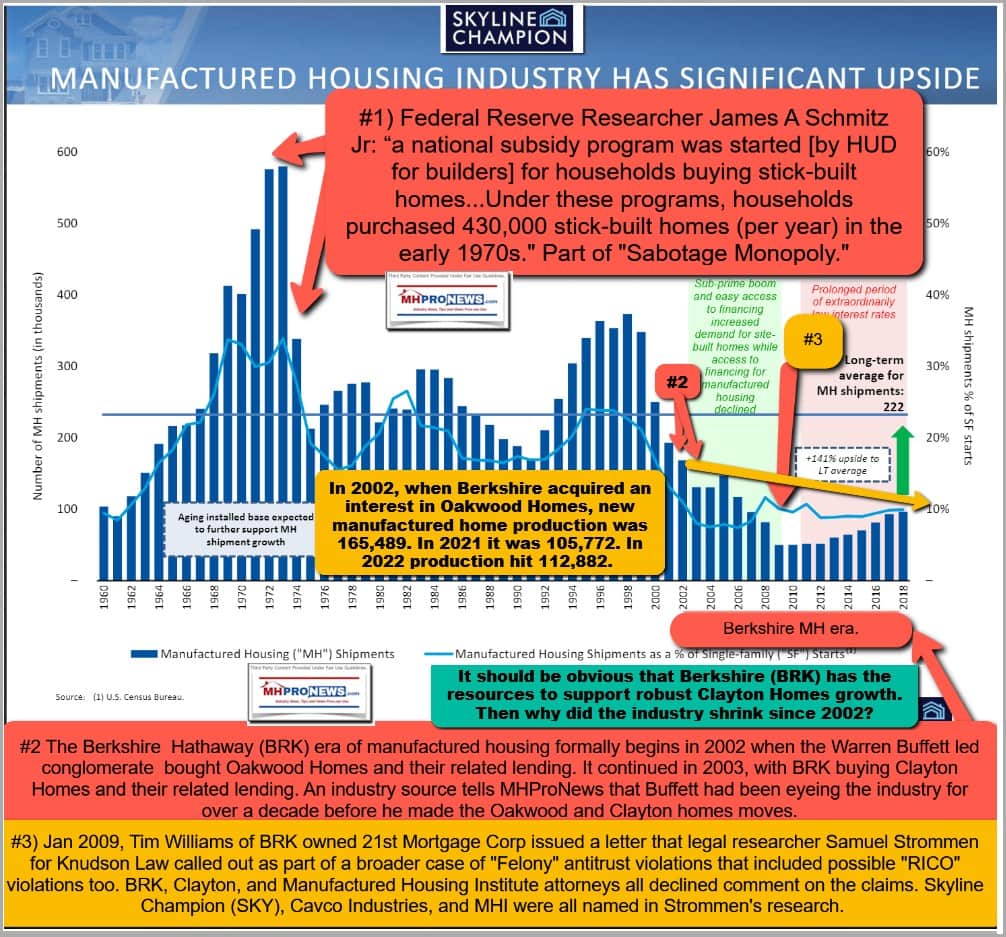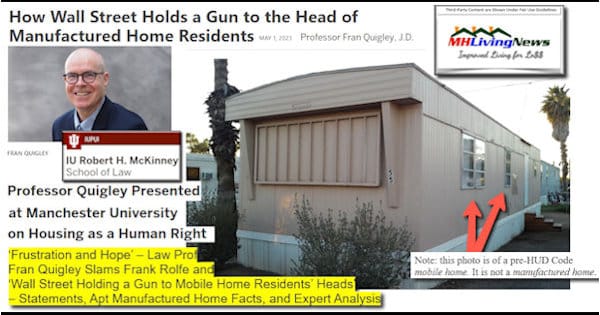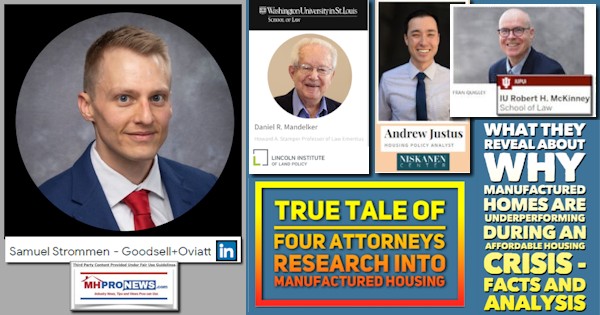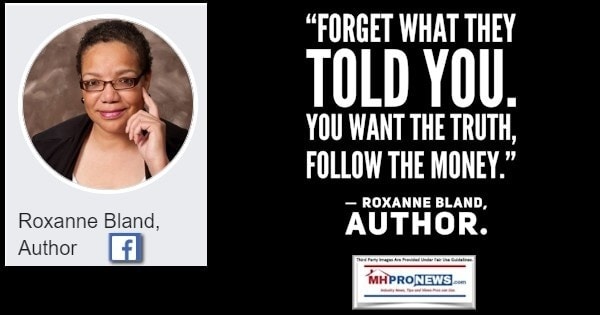 Part III. Daily Business News on MHProNews Markets and Headline News Segment
Headlines from left-of-center CNN Business – from the evening of 8.28.2023
Largest fine ever
American Airlines hit with a $4.1 million penalty by the Department of Transportation for tarmac delays as long as six hours
Walt Disney Pictures VFX workers file for unionization
Rite Aid stock is experiencing extreme turbulence: Here's why
EMBARGOED Starbucks PSL 2023
Starbucks' Pumpkin Spice Latte is back, and it's celebrating its 20th anniversary
Large US tech companies face new EU rules
LONDON, ENGLAND – JULY 14: An Ultra Low Emission Zone (ULEZ) sign is displayed at the entrance to the zone on July 14, 2023 in London, England. The expansion of London Mayor Sadiq Khan's Ultra Low Emission Zone (ULEZ) scheme, due to be in operation by the end of August 2023, is facing legal opposition from outer London boroughs with the results of a Judicial Review due by the end of July.
London is about to become a very expensive place for polluting cars
US Commerce Secretary Gina Raimondo (R) speaks next to US Ambassador to China Nick Burns (L) during a meeting with China's Minister of Commerce Wang Wentao at the Ministry of Commerce in Beijing on August 28, 2023.
US Commerce Secretary Raimondo offers China more dialogue at 'very open' talks in Beijing
SAN FRANCISCO, CALIFORNIA – AUGUST 26: A sign is posted outside of Nordstrom's flagship store at the San Francisco Centre on August 26, 2023 in San Francisco, California. Nordstrom will close its flagship store this Sunday after more than three decades at the San Francisco Centre. The Covid pandemic and rising crime in the area has contributed to a 25 percent sales decline at the mall and stores in the surrounding area.
Nordstrom closes its San Francisco store after 35 years
Jerome Powell, chairman of the US Federal Reserve, at the Jackson Hole economic symposium in Moran, Wyoming, US, on Friday, Aug. 25, 2023. Powell said the US central bank is prepared to raise interest rates further if needed and intends to keep borrowing costs high until inflation is on a convincing path toward the Fed's 2% target. Photographer: David Paul Morris/Bloomberg via Getty Images
The Fed is 'flying blind' on the economy. Will this week's jobs data help?
Move over Wordle, the New York Times might have found its next hit game
Chinese stocks get brief uplift from first share dealing tax cut since 2008
The spiraling cost of war means growing economic pain for Russia
Evergrande shares plunge 70%. The Chinese developer is still losing billions
China says its ban on Japanese seafood is about safety. Is it really?
BYD unit buys US firm Jabil's China mobility business for $2.2 billion
Celebrity video site sees a surge of actor sign-ups in the wake of the strike
National Cinema Day is back with $4 movie tickets
US consumer spending is expected to cool further but not fall off a cliff
Americans are being asked to consider tipping more often, but is it really required?
Why do we say tall instead of small? How Starbucks created its own language for ordering coffee
Fox News apologizes to Gold Star family after facing backlash over false story
Personal emergency kits are a growing market in an uncertain world
What happens in Jackson Hole doesn't stay in Jackson Hole
Note: to expand this image to a larger or full size, see the instructions
below the graphic below or click the image and follow the prompts.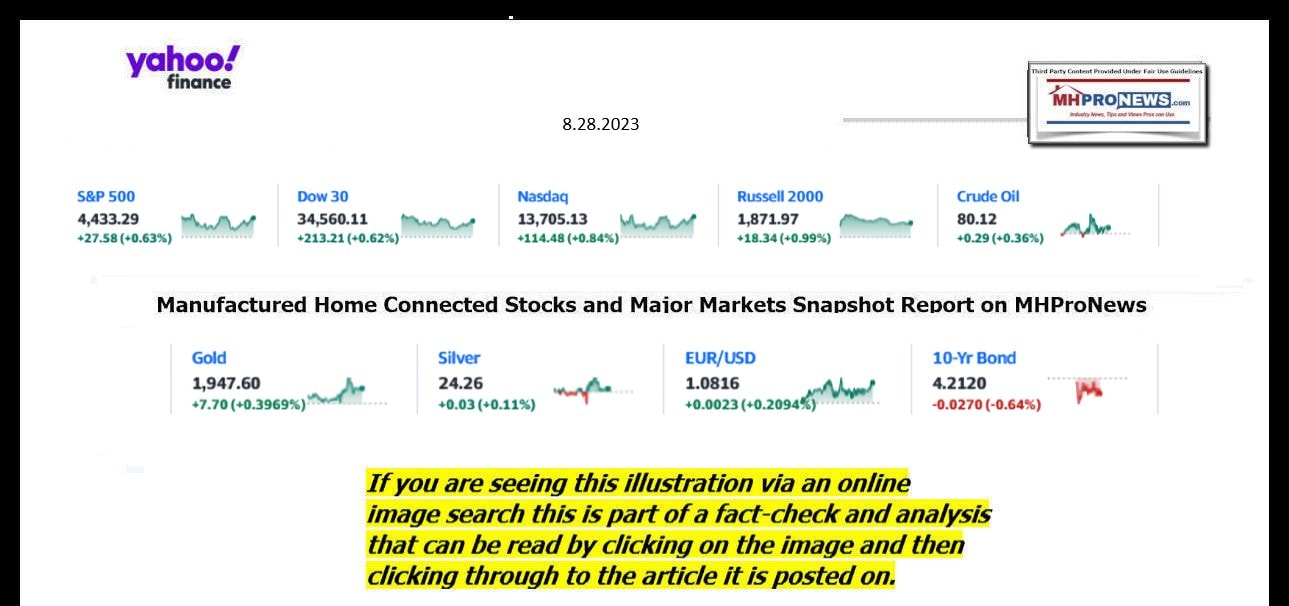 Headlines from right-of-center Newsmax 8.28.2023
Trump: I'll Appeal Trial Date Given in Federal Election Case
"I will APPEAL," Trump said in a post on his Truth Social platform. He did not mention further details of how or when the appeal will be made and called the probe politically motivated. [Full Story]
Related Stories
Judge Chutkan Sets March 4 Trial Date for Trump in DC Case
Trump Lawyers Seek April 2026 Trial Date in Federal Election Case
Trump Indictments
Lawmaker Aims to Defund Trump Prosecutions
Mark Meadows Takes Stand at Hearing to Move Georgia Case
Trump Says He'll Appeal Trial Date Given in Federal Election Case
Judge Chutkan Sets March 4 Trial Date for Trump in DC Case
Pollster Soltis Anderson: Indictments 'Galvanized' Support for Trump | video
Fmr Ga. Prosecutor: Changing Georgia Case Venue to Feds 'Game Changer' | video
Tenney: Trump Cases Equal Election Interference | video
Trump's Georgia Arraignment Set for Sept. 6
PAC: Biden Has 'No Shame' Fundraising on Indictments
More Trump Indictments
Newsmax TV
Millbrae, Calif., Mayor: Tiny Town on Hook for 20% of Homeless
Rosendale: Biden 'Shut Down' US Energy | video
Larry Elder: Debate Ban Over Poll 'Bizarre' | video
RFK Jr.: DNC Opposes Me as I'm Threat to Biden | video
Holt: Prigozhin Has 'Earmarks of Revenge Hit' | video
Dick Morris: First Debate Was Beneath Trump | video
Burchett: 'Hell Yes' on Impeachment Inquiry | video
Mark Morgan: No Endgame to Migrant Influx | video
Rosendale: Biden Probes Drive Get Trump Push | video
More Newsmax TV
Newsfront
Florida Braces for Idalia Hitting as Category 3 Hurricane
Tropical Storm Idalia intensified and was expected to be a major hurricane when it reaches Florida's Gulf Coast later this week, the National Hurricane Center said Monday… [Full Story]
Related Stories
Biden, DeSantis Discuss Idalia, Jacksonville Shooting
Hurricane Franklin Now Category 4, Takes Aim at Bermuda
Audit: FEMA Misspent Nearly $27M in COVID Funeral Funds
Federal Emergency Management Agency (FEMA) officials approved [Full Story]
UNC Warns of Armed Person on Campus
The University of North Carolina at Chapel Hill sent out an alert [Full Story]
Tucker Carlson: 'Christian' Hungary Targeted by Biden
Tucker Carlson took the Biden administration's "dangerous and [Full Story]
Renowned Astrophysicist: 'We Would Know' About UFOs
Astrophysicist Neil deGrasse Tyson told TMZ that while he supports [Full Story]
Mother of Spanish Soccer Chief Starts Hunger Strike Over Kiss Flap
The mother of Spanish soccer federation president Luis Rubiales [Full Story]
Stefanik Vows Plan to Lead GOP Victories in N.Y.
Elise Stefanik insists she has a plan that will help the [Full Story]
Reuters/Ipsos Poll: Trump Lead Increased After Debate
Former President Donald Trump leads Ron DeSantis by nearly 40 [Full Story]
Related
DeSantis Camp Rejects Trump 'Fake News' on Senate |video
Burgum Says He Would Reject Trump's VP Offer
'Joe the Plumber,' Who Challenged Obama on Taxes, Dies
Joe Wurzelbacher, also known as "Joe the Plumber," passed away over [Full Story]
San Francisco Restaurant Denies Service to Armed Police
Reem's California, located in San Francisco, announced last week that [Full Story]
Criminals Target Cash-Only Pot Dispensaries Amid Banking Unease
Despite its emergence as a multi-billion-dollar business, marijuana's [Full Story] | Platinum Article
US Veteran Suicides Jumped 10-Fold Since 9/11
Suicide has become an urgent issue among American military veterans, [Full Story]
Russia Downs Ukrainian Cruise Missile Over Black Sea
Russian air defenses downed a Ukrainian cruise missile over the Black [Full Story]
Related
4 Killed in Russian Attacks in Ukraine
Ukrainians Torn by Evacuation Order Amid Conflict
The Ukraine War, Propaganda-style, Is Coming to Russian Movie Screens
Zelenskyy Needs West's Help to Hold '24 Election
Dead Ukrainian Pilot Petitioned US Lawmakers |video
Biden, Harris Meeting With MLK's Family
President Joe Biden and Vice President Kamala Harris are meeting with [Full Story]
Jack Lew's Links to China Questioned
Jack Lew, President Joe Biden's top candidate for ambassador to [Full Story]
Pro-life Groups: Abortion on Ballot Threatens Progress
Pro-life advocates warn that ballot initiatives pushed by pro-choice [Full Story] | Platinum Article
Pollster Soltis Anderson: Indictments 'Galvanized' Support for Trump
A Republican pollster is hailing former President Donald Trump's 2024 [Full Story] | video
Mulvaney Jokes About Bud Light To-Do in Award Speech
Transgender activist and social media influencer Dylan Mulvaney joked [Full Story]
James Has Congenital Heart Defect, Back on Court Soon
Bronny James, the teenage son of NBA great LeBron James, is expected [Full Story]
2 Dead After Florida Helicopter Crash
Four people were hospitalized after a fire rescue helicopter crashed [Full Story]
Elton John Hospitalized After Fall at Villa in France
Music icon Elton John, 76, was rushed to the hospital after suffering [Full Story]
NYC Anti-migrant Rally Erupts in Violence
In an unprecedented crisis gripping the city, protesters representing [Full Story]
Trump Co-defendant Smith Appears in Atlanta Court
Donald Trump's co-defendant Ray Smith was set to appear in an Atlanta [Full Story]
Scientists Trap Light Inside a Magnet
Light has been successfully trapped inside a metamaterial by [Full Story]
WSJ: SALT Cap Costs Federal Govt $20 Billion a Year
Some business owners avoid paying higher taxes by exploiting legal [Full Story]
Simone Biles Wins Record 8th US Gymnastics Title
A decade later, Simone Biles is still on top. [Full Story]
Japan Suspends Moon Lander Rocket Launch
Japan's space agency suspended a planned launch on Monday of an H-IIA [Full Story]
Biden: 'White Supremacy Has No Place in America'
President Joe Biden came out Sunday to "forcefully" condemn the [Full Story]
Politico: DeSantis Down, Ramaswamy Up Post-debate
The pundits at Politico have reshuffled their rankings of Republican [Full Story]
Trump to GOP: 'Impeach the Bum or Fade Into Oblivion'
In a Sunday post on Truth Social, Donald Trump called on House [Full Story]
DeSantis' S.C. Trip PPD Amid Storm, Shooting
Florida Gov. Ron DeSantis canceled a day of presidential campaign [Full Story]
Make Your Chainsaw As Razor Sharp As New Within Minutes
Sherem
More Newsfront
Finance
Why Right Has Been Losing America's Culture Wars
Will conservatives throughout the nation have the fortitude to spend years fighting on the culture battlefields to restore America's Founding principles?… [Full Story]
Goldman Sachs Strikes Wealth Advisory Deal
Hawaiian Electric Denies Claims About Cause of Wildfire
Alarmists Turn Up Heat With Climate, Weather 'Records'
FTX's Bankman-Fried Appeals Jailing as Trial Nears
More Finance
Health
Spending on Mental Health Services Rose 53 Percent
When the pandemic began, spending on mental health services skyrocketed and it continues to rise even as use of telehealth services leveled off. That's the key takeaway from a new study published Aug. 25 in JAMA Health Forum. Some rules for expanded payment for telehealth…… [Full Story]
Study: Cancer Screening Tests May Not Extend Lives
Don't Ask Siri or Alexa How to Perform CPR
Parkinson's Stem Cell Therapy Improves Symptoms
COVID Virus Evolving Three Times Faster in Deer
Note: to expand this image to a larger or full size, see the instructions
below the graphic below or click the image and follow the prompts.