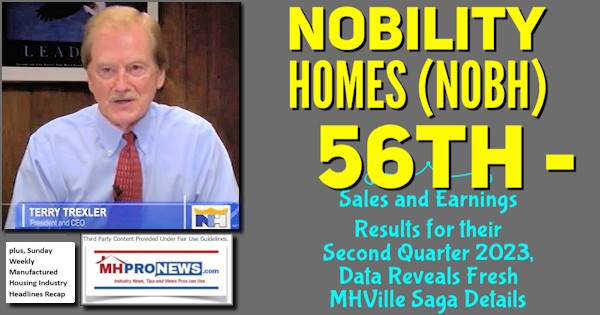 The latest information from Nobility Homes Inc (NOBH) apparently challenges the narrative advanced by the Manufactured Housing Institute (MHI) and several of their dominating brands regarding the now 7 month manufactured housing industry downturn. MHVille is the affectionate term used by some to describe the artificially limited manufactured home industry when compared to historic performance and the industry's apparent potential. Part I of today's report will be the press release from Nobility Homes, including their earnings and sales.  Part II provides additional information with more MHProNews analysis that includes our headlines for the week that was in review 6.18.2023), which will be followed by Part III – the postscript – MHProNews' expert analysis of Nobility's revelations and possible takeaways in the light of remarks by the Manufactured Housing Institute (MHI) and the Manufactured Housing Association for Regulatory Reform (MHARR).
Highlighting in what follows is added by MHProNews, but the text is as in the original Nobility Homes release. In such a relatively focused report, virtually every word may be significant, so the highlighting should be understood as items that in MHProNews expert editorial view deems of more importance to a greater number of professionals.
Part I
Nobility Homes, Inc. Announces Sales and Earnings for its Second Quarter 2023
Monday, June 5, 2023 2:35 PM
OCALA, FL / ACCESSWIRE / June 5, 2023 / Today Nobility Homes, Inc. (OTCQX:NOBH) announced sales and earnings for its second quarter ended May 6, 2023.
Sales for the second quarter of 2023 increased 58% to $16.8 million as compared to $10.6 million recorded in the second quarter of 2022. Income from operations for the second quarter of 2023 increased 127% to $3.7 million versus $1.6 million in the same period a year ago. Net income after taxes increased 96% to $2.9 million as compared to $1.5 million for the same period last year. Diluted earnings for the second quarter of 2023 were $0.85 per share compared to $0.42 per share last year.
For the first six months of fiscal 2023, sales increased 58% to $33.9 million as compared to $21.5 million in the second quarter of 2022. Income from operations for the second quarter of 2023 increased 156% to $7.6 million versus $3.0 million in the same period last year. Net income after taxes increased 126% to $5.9 million versus last year's results of $2.6 million. Diluted earnings were $1.75 per share compared to $0.74 per share last year.
Nobility's financial position for the first six months 2023 remains strong with cash and cash equivalents, certificates of deposit and short-term investments of $23.5 million and no outstanding debt. Working capital is $35.6 million and our ratio of current assets to current liabilities is 3.6:1. Stockholders' equity is $50.5 million and the book value per share of common stock of $14.98.
Terry Trexler, President, stated, "The primary reason that sales and net income increased was due to the severe supply chain challenges experienced during in the first six months of fiscal 2022 that impacted our ability to complete and deliver homes to customers. During the first six months of fiscal 2023, the supply chain challenges eased compared to the prior period and we were able to complete and deliver more retail customers' homes, which included us selling thirty-nine (39) ($6,558,882) new homes during the first six months of 2023 from other manufacturers</span?, to help reduce our long backlog. Although net sales increased during the three and six months ended May 6, 2023, as compared to the same period last year, we continue to experience limitations being placed on certain key production materials from suppliers, the delay or lack of key components from vendors as well as back orders, delayed shipments, price increases and labor shortages. These issues continue to cause delays in the completion of the homes at the manufacturing facility and the set-up process of retail homes in the field, resulting in decreased net sales due to our inability to timely deliver and set up homes to customers. We expect that these challenges will continue throughout 2023 and potentially beyond. The Company also continues to experience inflation in some building products resulting in increases to our material and labor costs which may increase the wholesale and retail selling prices of our homes. Additionally, potential customers may delay or defer purchasing decisions considering the rising interest rate environment.
The current demand for affordable manufactured housing in Florida and the U.S. is slowing because of the increased interest rate environment driven by the Federal Reserve. According to the Florida Manufactured Housing Association, shipments for the industry in Florida for the period from November 2022 through April 2023 were a decline of approximately 10% from the same period last year.
Maintaining our strong financial position is vital for future growth and success. Our many years of experience in the Florida market, combined with home buyers' increased need for more affordable housing, should serve the Company well in the coming years. Management remains convinced that our specific geographic market is one of the best long-term growth areas in the country."
On June 5, 2023, the Company will celebrate its 56th anniversary in business specializing in the design and production of quality, affordable manufactured and modular homes. With multiple retail sales centers in Florida for over 33 years and an insurance agency subsidiary, we are the only vertically integrated manufactured home company headquartered in Florida.
MANAGEMENT WILL NOT HOLD A CONFERENCE CALL. IF YOU HAVE ANY QUESTIONS, PLEASE CALL TERRY OR TOM TREXLER @ 800-476-6624 EXT 121 OR TERRY@NOBILITYHOMES.COM OR TOM@NOBILITYHOMES.COM
Certain statements in this report are unaudited or forward-looking statements within the meaning of the federal securities laws. Although Nobility believes that the amounts and expectations reflected in such forward-looking statements are based on reasonable assumptions, there are risks and uncertainties that may cause actual results to differ materially from expectations. These risks and uncertainties include, but are not limited to, the potential adverse impact on our business caused by competitive pricing pressures at both the wholesale and retail levels, inflation, increasing material costs (including forest based products) or availability of materials due to supply chain interruptions (such as current inflation with forest products and supply issues with vinyl siding and PVC piping), changes in market demand, increase in interest rates, availability of financing for retail and wholesale purchasers, consumer confidence, adverse weather conditions that reduce sales at retail centers, the risk of manufacturing plant shutdowns due to storms or other factors, the impact of marketing and cost-management programs, reliance on the Florida economy, impact of labor shortage, impact of materials shortage, increasing labor cost, cyclical nature of the manufactured housing industry, impact of rising fuel costs, catastrophic events impacting insurance costs, availability of insurance coverage for various risks to Nobility, market demographics, management's ability to attract and retain executive officers and key personnel, increased global tensions, market disruptions resulting from terrorist attacks or other events such as a pandemic, any armed conflict involving the United States and the impact of inflation.
NOBILITY HOMES, INC.
Condensed Consolidated Balance Sheets
May 6,
November 5,
2023
2022
(Unaudited)
Assets
Current assets:
Cash and cash equivalents
$
15,167,269
$
16,653,449
Certificates of deposit
7,861,355
3,903,888
Short-term investments
460,054
589,071
Accounts receivable – trade
988,570
1,288,645
Note receivable
23,905
23,905
Mortgage notes receivable
4,286
16,191
Inventories
23,329,664
23,457,493
Prepaid expenses and other current assets
1,723,686
2,172,675
Total current assets
49,558,789
48,105,317
Property, plant and equipment, net
8,236,805
7,915,695
Note receivable, less current portion
5,181
16,599
Mortgage notes receivable, less current portion
143,142
131,514
Other investments
1,897,341
1,848,893
Property held for resale
26,590
–
Deferred income taxes
126,475
43,778
Cash surrender value of life insurance
4,231,085
4,143,035
Other assets
156,287
156,287
Total assets
$
64,381,695
$
62,361,118
Liabilities and Stockholders' Equity
Current liabilities:
Accounts payable
$
1,234,033
$
1,119,188
Accrued compensation
1,235,691
1,132,423
Accrued expenses and other current liabilities
1,674,052
1,742,696
Income taxes payable
995,286
229,200
Customer deposits
8,773,811
10,214,078
Total current liabilities
13,912,873
14,437,585
Commitments and contingencies
Stockholders' equity:
Preferred stock, $.10 par value, 500,000 shares
authorized; none issued and outstanding
–
–
Common stock, $.10 par value, 10,000,000
shares authorized; 5,364,907 shares issued;
3,368,829 shares outstanding, respectively

3,368,829 shares outstanding, respectively

536,491
536,491
Additional paid in capital
10,906,313
10,849,687
Retained earnings
65,986,716
63,441,812
Less treasury stock at cost, 1,996,078 and
1,993,995 shares, respectively
(26,960,698
)
(26,904,457
)
Total stockholders' equity
50,468,822
47,923,533
Total liabilities and stockholders' equity
$
64,381,695
$
62,361,118
NOBILITY HOMES, INC.
Condensed Consolidated Statements of Income
(Unaudited)
Three Months Ended
Six Months Ended
May 6,
May 7,
May 6,
May 7,
2023
2022
2023
2022
Net sales
$
16,779,597
$
10,645,046
$
33,944,350
$
21,453,316
Cost of sales
(10,826,286
)
(7,623,128
)
(22,119,443
)
(15,703,170
)
Gross profit
5,953,311
3,021,918
11,824,907
5,750,146
Selling, general and administrative expenses
(2,215,198
)
(1,378,606
)
(4,250,675
)
(2,795,149
)
Operating income
3,738,113
1,643,312
7,574,232
2,954,997
Other income (loss):
Interest income
169,982
39,577
310,015
114,257
Undistributed earnings in joint venture – Majestic 21
25,622
12,665
48,448
25,222
Proceeds received under escrow arrangement
94,165
115,454
94,165
233,499
Decrease in fair value of equity investment
(111,075
)
(19,681
)
(129,017
)
(23,774
)
Gain on disposal of property, plant and equipment
–
88,936
–
88,936
Miscellaneous
18,590
12,352
26,362
25,908
Total other income
197,284
249,303
349,973
464,048
Income before provision for income taxes
3,935,397
1,892,615
7,924,205
3,419,045
Income tax expense
(1,076,548
)
(435,789
)
(2,008,389
)
(805,185
)
Net income
$
2,858,849
$
1,456,826
$
5,915,816
$
2,613,860
Weighted average number of shares outstanding:
Basic
3,370,157
3,476,508
3,370,534
3,504,655
Diluted
3,373,036
3,487,516
3,372,417
3,515,994
Net income per share:
Basic
$
0.85
$
0.42
$
1.76
$
0.75
Diluted
$
0.85
$
0.42
$
1.75
$
0.74
SOURCE: Nobility Homes, Inc.
Part II Additional Information with More MHProNews Analysis, Commentary and Sunday Weekly Headlines Review
Three years and three months after the remarks quoted below, Nobility Homes President and CEO Terry Trexler's remarks proved to be quite correct. He said that at about the time the declared Covid19 pandemic was ramping up in the news and in public policy measures.  Despite – and because of – Covid19, Florida has become a top destination for people leaving 'blue states' and other locales.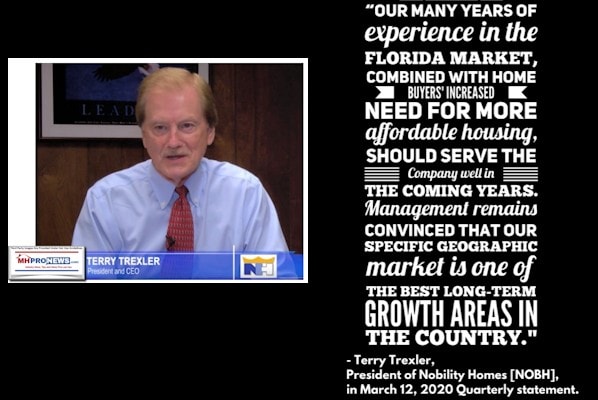 The one-year snapshot per Yahoo Finance at the close of business on 6.16.2023 reflects that Nobility's (OTC:NOBH) stock is near its one-year high.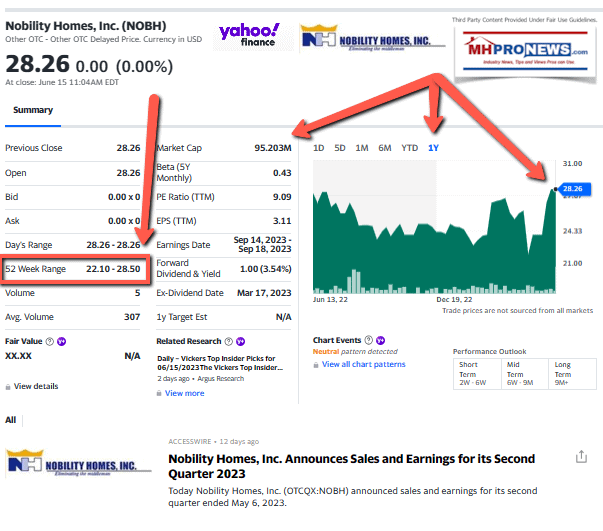 While Nobility's President Terry Trexler acknowledged the various drags on their business and the Florida housing market, noting remarks from the Florida Manufactured Housing Association (FMHA), one reasonable takeaway from their report is that they have nevertheless increased sales, earnings, and profits.  That growth should be compared and contrasted with the same or similar factors which are hitting every manufactured housing producer to various degrees. What that arguably means is that Nobility is in some ways outperforming larger brands that are associated with the Manufactured Housing Institute (MHI). Nobility is not, per reports, an MHI member.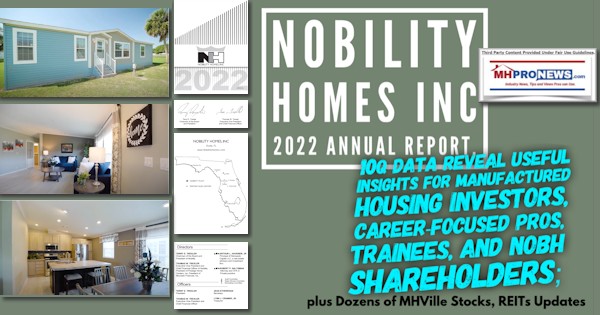 Despite allegations of search bias, Google recognizes MHProNews as a top source for information on Nobility Homes as well as other manufactured home industry firms too.
Notice: the graphic below can be expanded to a larger size.
See the instructions below the graphic below or click the image and follow the prompts.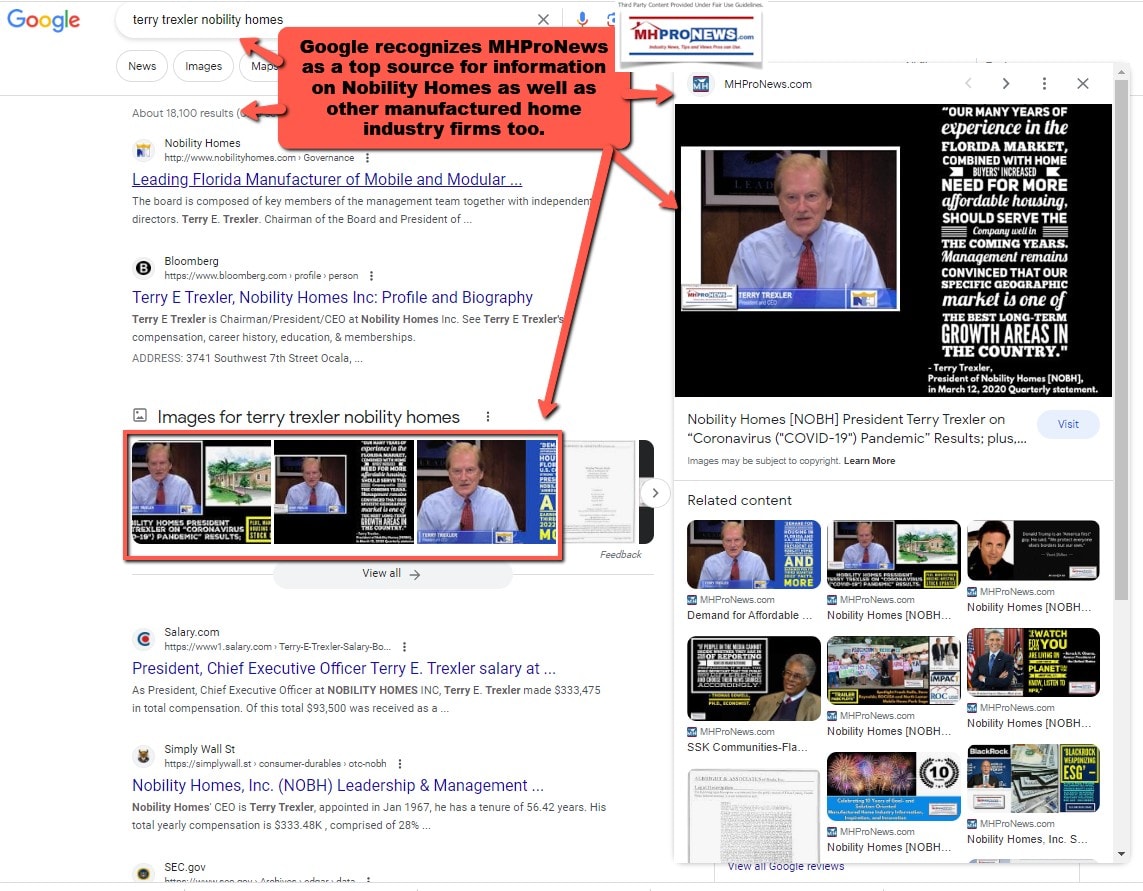 No two companies are precisely alike. That said, there is a kind of similarly to Nobility from the detailed report about Legacy Housing (LEGH), linked below. "Duncan Bates, President and Chief Executive Officer, stated: "I am proud of our team's accomplishments this quarter. The market is challenging. We kept our heads down and focused on sales. Long-time customers have stepped up with orders to extend our backlog. Our loan portfolios continue to perform well, and we are deploying capital into our industry at high rates of return while other financing sources pull back. Georgia production and shipments were below historical levels during the first quarter but have recently gained momentum." Legacy is, per a source at that firm, a member of both MHI and the Manufactured Housing Association for Regulatory Reform (MHARR).
Legacy Housing Financial Results and Earnings Call 1Q 2023-'Sales Slowed but Margins Improved' Duncan Bates Boasts of Manufactured Housing 'Business Tailwinds' Official Data-Analysis
So, two non-Big Three MHI producers – Nobility and Legacy when compared to the Big Three – i.e. Clayton Homes (BRK), Skyline Champion (SKY), and Cavco Industries (CVCO) – are seemingly beating the MHI narrative about the industry's downturn.  To catch that difference, the report below about Cavco is useful. Why are two smaller independents (i.e.: not one of the Big Three) able to achieve in some ways better results than a larger firm like Cavco Industries (CVCO), which is actively engaged in leadership at MHI? Hold those thoughts.
Analyst to Cavco-'Why is Manufactured Home Industry Production So Weak?' Paradox Develops-'Lower Expectations' 'More Singles' in Q1-2023 Cavco Industries Quarterly Facts, Trends+MHVille Analysis
TMHA VP Rob Ripperda's Tell Damages Manufactured Housing Institute Claim, While Dr. Harold Hunt Remarks Undercut Cavco's Bill Boor Statements on Manufactured Housing? Plus MHVille Markets Update
Against that backdrop are the headlines for the week that was.
Among them is the report on Clayton Homes' employee views. The popularity of that report is rising fast in the ranking, as the Saturday report in the weekly review demonstrated. Those who read that report, should return to the insights from Nobility and Legacy and ask themselves and others in their circle plenty of questions.
While MHProNews brings numbers of third-party information weekly – corporate, research, federal, news and views, etc. – those reports are combined with our exclusive analysis. Restated, we don't just burp out someone else's information, or talking points, without considering them in the light of other known information. That cross check between sources have yielded in recent years an amazing level of accuracy that makes the insights found on MHProNews valuable months or even years later. For those who seek what's behind the curtain rather than swallow the spoon feed narratives that aim to benefit those who produce their talking points, there is simply nothing else in MHVille trade media like MHProNews/MHLivingNews. Who says? Even our would be rivals and some of those we have scrutinized have said so in their own words.
Don't miss today's postscript.
With no further adieu, here are the headlines for the week that was from 6.11.2023 to 6.18.2023.
What's New on MHLivingNews
What's New from Washington, D.C. from MHARR
SHOCKING NUMBERS — Manufactured Housing Production Decline Steepens as Industry Impediments Multiply
Department of Energy (DOE) Publishes 'Unacceptable' Manufactured Housing Energy Rule Extension
The Latest Views from the Masthead
True Tale of Four Attorneys Research into Manufactured Housing – What They Reveal About Why Manufactured Homes Are Underperforming During an Affordable Housing Crisis – Facts and Analysis
What's New on the Daily Business News on MHProNews
Saturday 6.17.2023
'The Way Everyone Should Do It'-Ron Kovach, Press Secretary at FAIR Exclusive–'Under Biden, Citizens Compete with Non-Citizens' – Housing, Jobs and Manufactured Homes; plus MHVille Markets Update
Friday 6.16.2023
'Vexing Dozen' Led by Gary Shiffman, Sun Communities CEO 'Insurance Scam' Claim by Brian Benderoff-Legal Action Report, Other MHVille News, Reports Follow; plus MHMarkets Update
Thursday 6.15.2023
Hypothetically Speaking-Imagine You're Among Thousands in Sales or Management at Clayton Homes–'Gaslighting' by Clayton Leaders, Buffett-Berkshire-Clayton Moat and MHI–plus MHVille Market Update
Wednesday 6.14.2023
Troubling, Surprising Big Bucks Fact$ – POTUS Donald Trump v Modern Presidents Obama, Bush, Clinton, Tucker Carlson Other Views in Time for Flag Day Birthday; MHVille View, plus MHMarkets Update
Tuesday 6.13.2023
Did the Late Sam Zell Overpay? Fresh Equity LifeStyle Properties (ELS), Manufactured Housing Institute New Document Insights – The Truth Hiding in Plain Sight, plus MHVille Stocks, REITs Update
Monday 6.12.2023
As Woke Warfare Spreads, What New Poll Says About Americans Identifying as Liberal-Leftist, Conservative or Independent – What Other Tips, Survey, and Headlines Mean for MHVille – Facts, Analysis
Sunday 6.11.2023
'Dark Triad' – Researchers Detect '5 Key Characteristics of BILLIONAIRES' – Evidence how Billionaires, Super Wealthy Think Differently Than Most-Takeaways and Lessons; plus Sunday MHVille Weekly Headlines Recap
Postscript – Can You Still Become an American Success Story? Is it Too Dark to Say – a Tapestry of Lies in a Rigged System? What's the Truth of the American Dream, and What About that Dream in MHVille? 
Napoleon Hill. Zig Ziglar. Charlie "Terrific" Jones. W. Clement Stone. (Rev.) Dr. Norman Vincent Peale. Dale Carnegie. There are just some of the 'self-help' 'the power of positive thinking' 'see you at the top' thinkers once popular for decades during the 20th century. Dr. Steve R. Covey's 7 Habits of Highly Successful People was published in 1988 and continues to be a perennial favorite in the 21st Century. Tony Robbins is among the 21st Century writer-speakers that have made their 'get to the top' advice big. So too has Robert Kiyosaki. Rhonda Byrne. Don Miguel Ruiz and others. Is their advice still relevant? Yes.
And No.
To the degree that America has become an increasingly 'rigged system,' significant challenges exist that are barriers of entry, persistence, and exit to businesses of many types, including manufactured housing. That doesn't mean that the American Dream is dead. It does mean that the American Dream is in some ways under attack or on life support. The fact that political candidates run on the promise of 'restoring the American dream,' 'Make America Great Again,' and the like only underscores the there is a 'battle,' 'struggle' or 'class warfare.' It is the likes of Warren Buffett, Bill Gates, Jeff Bezos, Mark Zuckerberg, George Soros, and others who have been accused of finding ways of rigging the system in their own favor.
Certainly, one can agree or disagree with that notion.
But as thinkers and pundits from across the left-right spectrum noted during the declared Covid19 pandemic, the 'lockdowns' were a break with traditional notions of medicine. Instead of locking down the sick and most vulnerable, large swatches of American businesses were declared 'essential' or non-essential. A combination of elected officials and un-elected bureaucrats made those decisions. Why was Walmart, Sam's Club, Costco, Amazon, and certain grocery giants deemed essential, but the mom-and-pop restaurants and shops that were in some ways local competitors for corporate giants had a hard time in numerous states getting that same status?  No offense to authors like Hill, Jones, or Stone. But what did they have to say about becoming or staying a success during the barrier of a governmental mandated lockdown?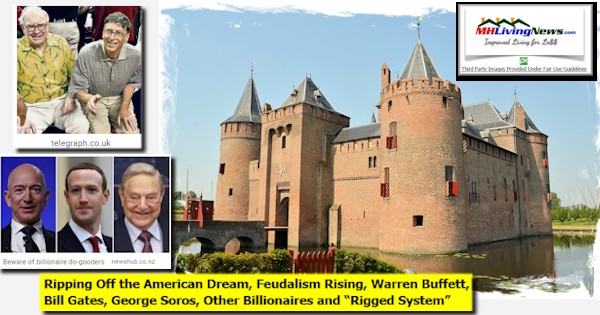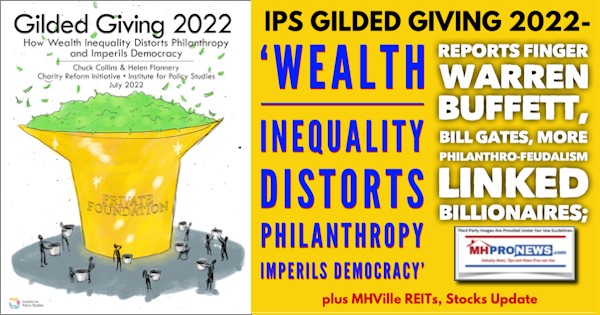 But pull back the veil on that fact pattern. A common theme is that those who successfully burrowed their way into key relationships with local, state, or federal officials had an advantage over those who did not. While it is still an oversimplification, the notion of 'its not what you know, but who you know' appears to hold some validity.
And where is the news media in much of what has gone wrong with the American Dream? As MHProNews/MHLivingNews has stressed, not all news is fake news. But there are certainly news outlets that take agenda-driven spin to new heights.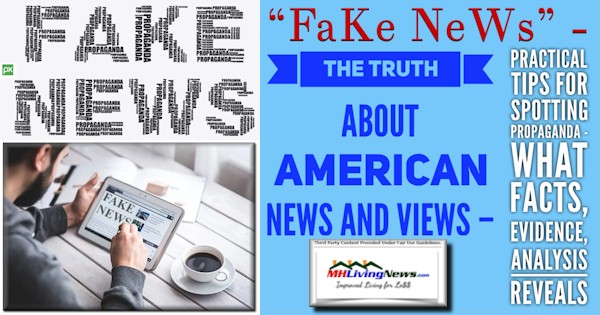 To be crystal clear, manufactured housing is in some ways the victim of less than a less than Pollyanna ideal of objective, always factual, news coverage. Look no further than the latest tornado or change of season to see reports that the Manufactured Housing Institute (MHI) is not known to have directly challenged for some years. Periodic spot checks by MHProNews of local/regional media doing manufactured housing related post-tornado stories has established the pattern that MHI is not known to have become involved post any major weather event.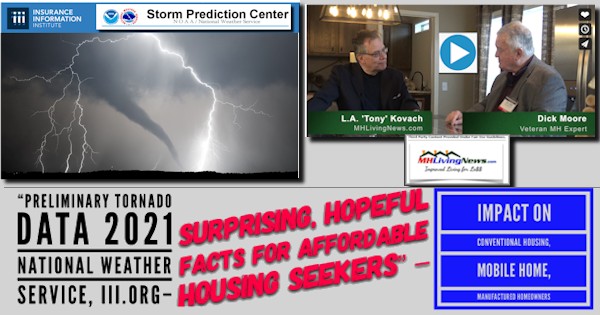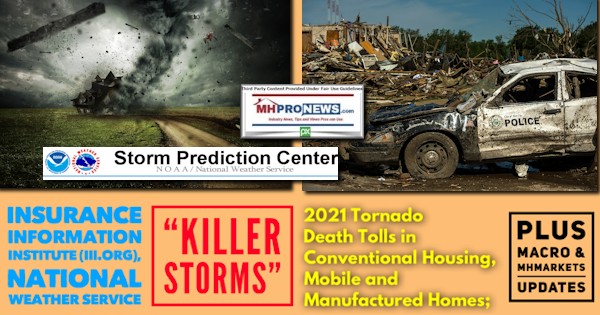 MHProNews/MHLivingNews contacted the Associated Press (AP) Stylebook. We bluntly looked into the question, has MHI ever contacted your organization to clear up the terminology issue? MHProNews was told flatly, no. There was no known contact by MHI. See the report on MHLivingNews posted the below. We did so following some back-and-forth engagement with the AP Stylebook team. Months later,  suddenly MHI appears and muddies the waters by injecting their failed market failed CrossMods scheme into the discussion?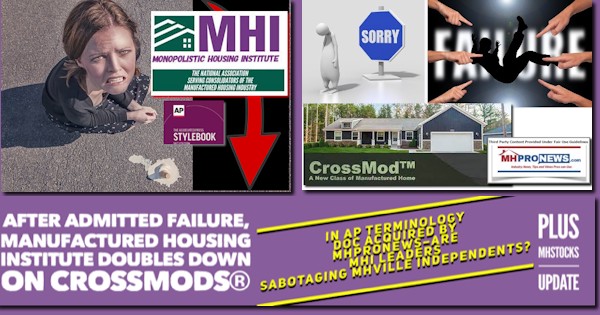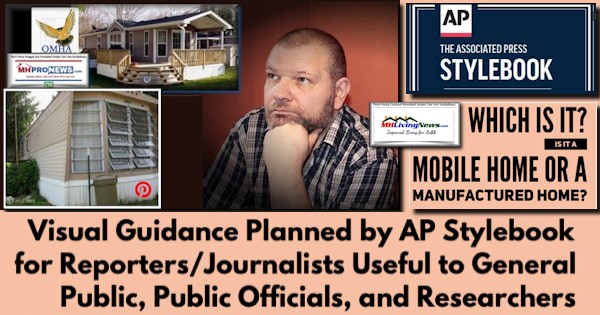 What was planned to be a done deal, per AP Stylebook to MHProNews is now in limbo. Now, instead of advancing, the matter may be at a standstill. Thanks, MHI.
Can anyone, or any organization, be so consistently ineffective and apparently corrupt unless it was intentional?
But that only begs the question. Why didn't MHI get involved years earlier with the AP Stylebook management? After all, Berkshire Hathaway owned Tim Williams of 21st Mortgage Corporation flatly told MHProNews in an exclusive that three is a good case to be made that the industry (i.e.: in their view, that routinely means MHI – see specific quote further below) should respond to every inaccurate piece of information. Common-sense, intellectually, and editorially MHProNews would agree with that posture. So, why didn't MHI do what Williams himself said they should? After all, they hired a professional to do media engagement for MHI. What happened to that plan?
Meanwhile, manufactured housing continues to struggle at levels now less than 30 percent of where the industry stood some 25 years ago.
Notice: the graphic below can be expanded to a larger size.
See the instructions below the graphic below or click the image and follow the prompts.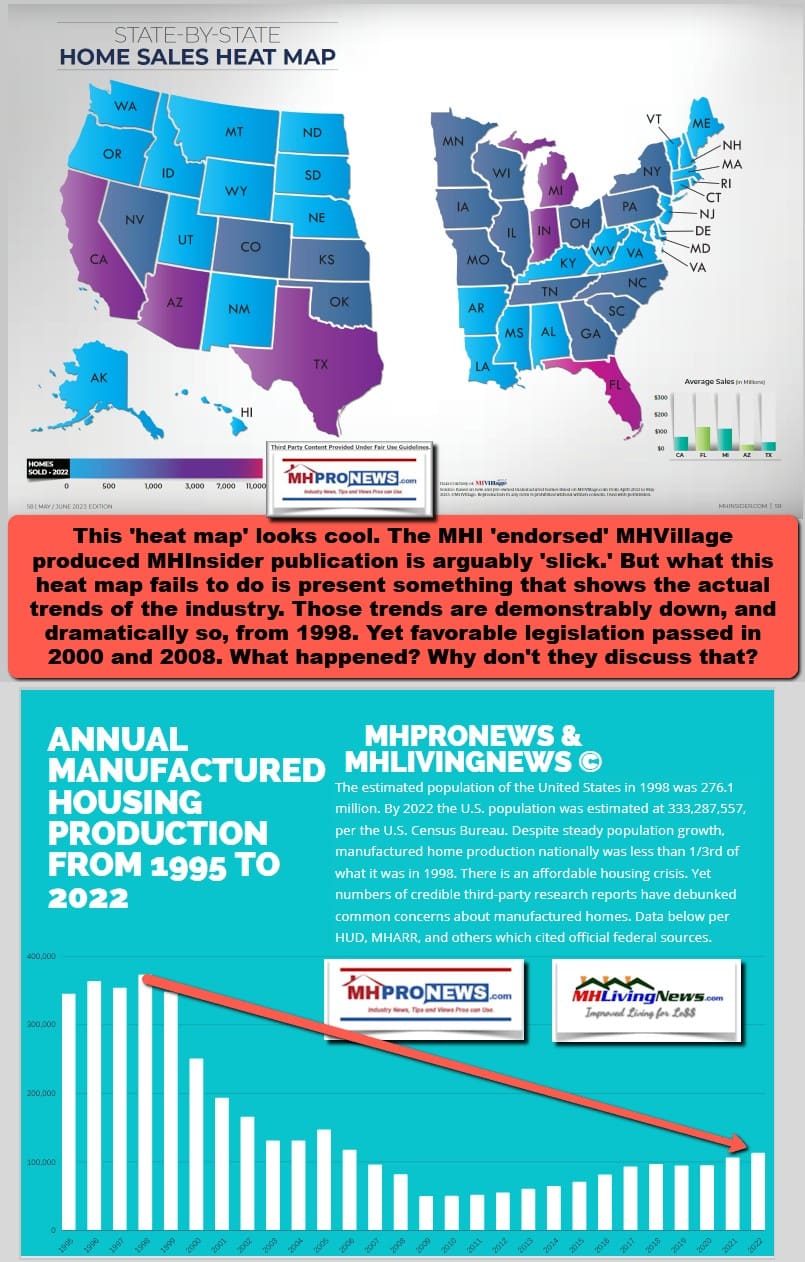 These are each elements of the big picture. Another element is how the illusory truth effect is used to cover up some of the biggest financial, accounting, business, and regulatory scandals of the 21st century. FTX is only the latest example that includes, Theranos, Bernie Madoff, Enron, WorldCom, Volkswagen, the 2008 financial crisis players, and so on. Where were the regulators? Why did only a few stalwart in our out of media act as whistleblowers? Why were those whistleblowers often ignored?
That there are grand illusions at work in America and in nations around the world is troubling, but demonstrable. As Tucker Carlson recently claimed, the great sin of Donald Trump as a candidate was to publicly challenge the Big Lies told during the Bush Administration. But it wasn't just fellow Republican and President George W. Bush (R), it was President Barack Obama, the Biden family, and the Clintons that Trump took on.
Ep. 3 America's principles are at stake pic.twitter.com/eJNSUVvvqY

— Tucker Carlson (@TuckerCarlson) June 13, 2023
The post above has had 98.2M Views as of 7:59 AM on 6.18.2023.
With all due respect to Carlson, he was not the first to say that Trump challenged the establishment narrative. Trump said it himself, and others aid it about him. Across the left-center-right, Trump went from being a celebrity that was embraced by people of all backgrounds and political groups to suddenly being derided. While it isn't an exact science as to when that shift against Trump occurred, it certainly didn't help his status that he publicly questioned Barack Obama's birth certificate. But when Trump exited NBC's The Apprentice to run for the White House, that show's ratings slumped. A Google search reminds us that the show which Trump made famous was cancelled on 2.13.2017. Left-leaning Wikipedia says a variation of the show was revived in 2021. That segue reminds us that Trump went from being embraced by politicos and celebrities for decades, until he took on the 'established' order.
Challenging a rigged system, to paraphrase Carlson, is a good way of getting yourself into hot water with the Establishment.
But if you are one of those who have had your livelihood diminished or upended by a rigged system, are you just supposed to take it? That is obviously an individual, personal decision. Speaking only for our own operation, when the reality set in that MHI was part of a rigged system in manufactured housing, for some time, we tested the waters to see if what was being claimed and experienced was true. While a precise date for that 'awakening process' can't be set in stone, by 2015, MHProNews was calling out MHI leaders for misinformation about what was happening in Washington, D.C. about the Preserving Access to Manufactured Housing Act.
Preserving Access, the behavior of Warren Buffett, Kevin Clayton and others isn't just yesterday's news. It is rather part of an apparent pattern of behavior that has a goal of limiting competition in the industry while consolidation occurs.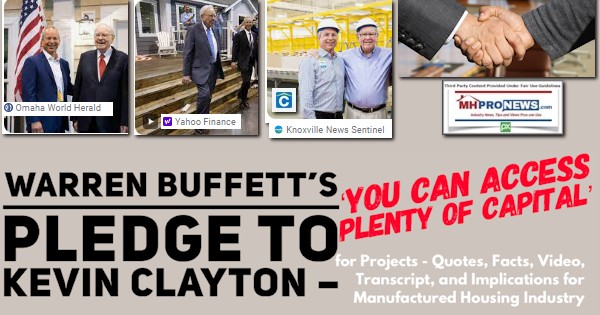 That apparent pattern hurts real people. Just because MHInsider, ManufacturedHomes.com, MHReview, 'Frank and Dave,' or blogger and Semper Fi vet George F. Allen in recent years don't routinely blow the whistle, does that mean that bad things aren't happening in manufactured housing? Of course not (notice: to learn more on these and some of the following topics, see the linked reports herein). By accident and/or design, they have each apparently aligned themselves with 'the narrative' of MHI. They are and have been MHI members in some form or fashion. If someone relies on them for all of their industry news, good luck with that.
That MHI narrative has had numerous holes poked in it by the Manufactured Housing Association for Regulatory Reform (MHARR), outside researchers, and of course, MHProNews/MHLivingNews.
The case can be made that it is always better to know than not to know. That said, some don't have the stomach for the truth, especially if the truth makes them look bad or foolish. Nobility Homes (NOBH) and Legacy Housing (LEGH) are interesting for several reasons. Among them, is that they have successfully bucked a rigged system, and not only have survived, but they have also overall grown. They are not alone, but they are publicly traded and thus it is easier to track their activities in a reasonably objective manner.
But how many more firms like theirs could there be in manufactured housing today if the system had not been rigged by the likes of Clayton and their allies at MHI?
MHI is not the root problem, but they are arguably a tool in the toolchest of the market rigging consolidators.
Is it hopeless? No. Absolutely not. On the political left, Robert F. Kennedy Jr. is calling out the kleptocracy that he used to describe a rigged system where corporate and governmental power has been many ways been joined together. Deposed President Trump has carried a similar message for years. So, some on the left and right have been raising the issues of a rigged system that covers up the truth, says former award-winning CNN reporter-turned satirical pundit Chris Plante, as much as it reports on it. Plante also says he is a former Democrat. Plante's following appears to be rising in the talk radio world. He has also obtained a panel discussion show on Newsmax at 9 PM weekdays. The point is that there are voices on the left and right that are pointing to similar concerns. Another possible takeaway is that an awakening is occurring in the U.S.A. We'd like to think that MHProNews has been leading the charge in our corners of America and have been for years. Kennedy, like Trump did in that clip that Carlson featured, has called out members of his own party for their collusion with corrupt corporate and governmental officials who are threatening a 'new feudalism' in the U.S.A.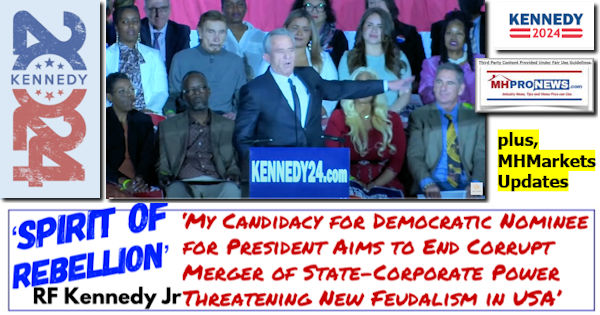 In MHVille, MHI's leaders – corporate and staff – continue to decline responding to the evidence-based allegations against them. That is their constitutionally protected right. It is our constitutionally protected right to pursue and expose those who have waged war against the American Dream.
There will be an exclusive report tomorrow morning on a fresh topic that will once more spotlight an issue that no one else in MHVille is reporting on. It may surprise or even shock some. Stay tuned, because there is regrettably always more behind the curtain that helps explain why manufactured housing is underperforming during an affordable housing crisis, despite the fact that good federal laws exist that were intended to support industry growth in the 21st century. You can't make this stuff up.  But you can seek to understand it. See how it impacts you and your interests and then take the steps needed to protect your part of the American Dream. Without understanding, the will, and wit to do what it takes, you might as well join the list of firms that closed their doors despite an affordable housing crisis raging in America. ###
Notice: the graphic below can be expanded to a larger size.
See the instructions below the graphic below or click the image and follow the prompts.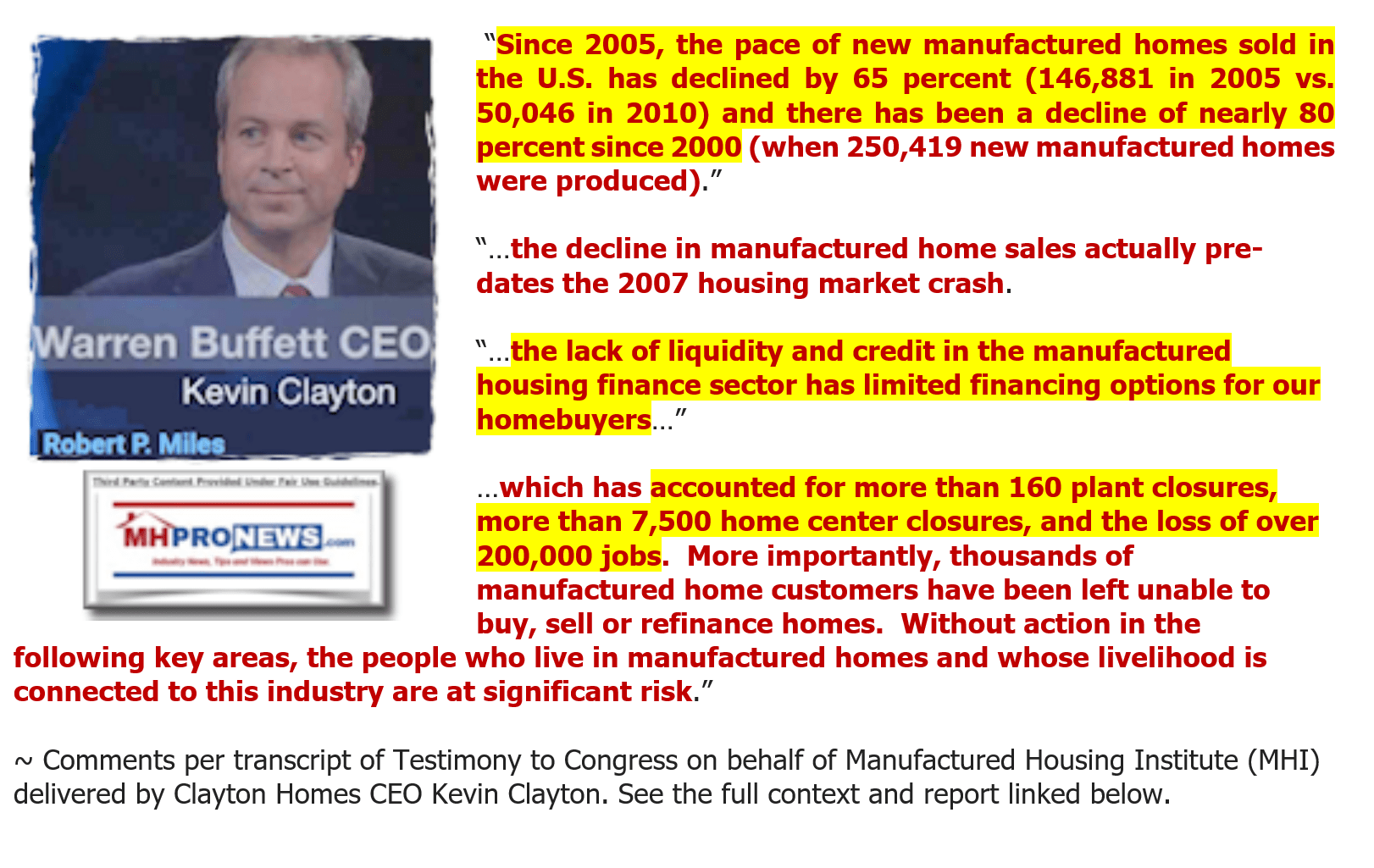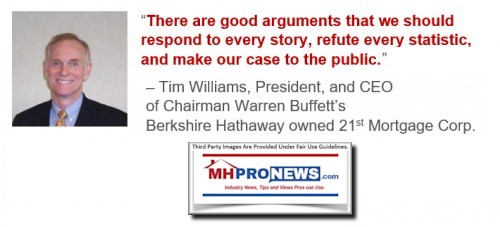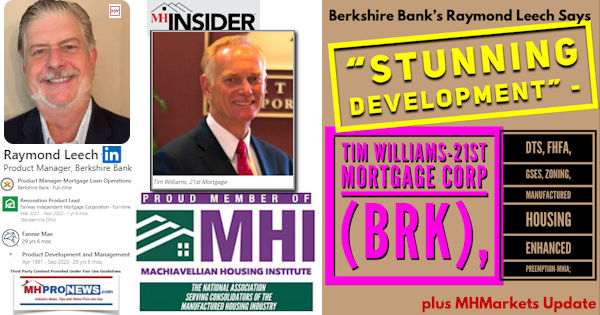 Notice: the graphic below can be expanded to a larger size.
See the instructions below the graphic below or click the image and follow the prompts.

'Go to Independent Sales Lot, Spend a Week There During Busy Season and Report on Reality of the Manufactured Housing Industry its Primary Level;' Sunday MHVille Weekly Headlines Recap
Andrew Justus, J.D., Niskanen Center Housing Policy Analyst, Hill Op-Ed Asks and Answers – 'What's Holding Back Manufactured Homes?' Sunday Weekly MHVille Headlines in Review
Name Calling, Evidence, Facts, and Manufactured Housing's Primary 'Muckraker' Shed Light on Manufactured Home Industry Underperformance; plus Sunday Weekly Headlines Recap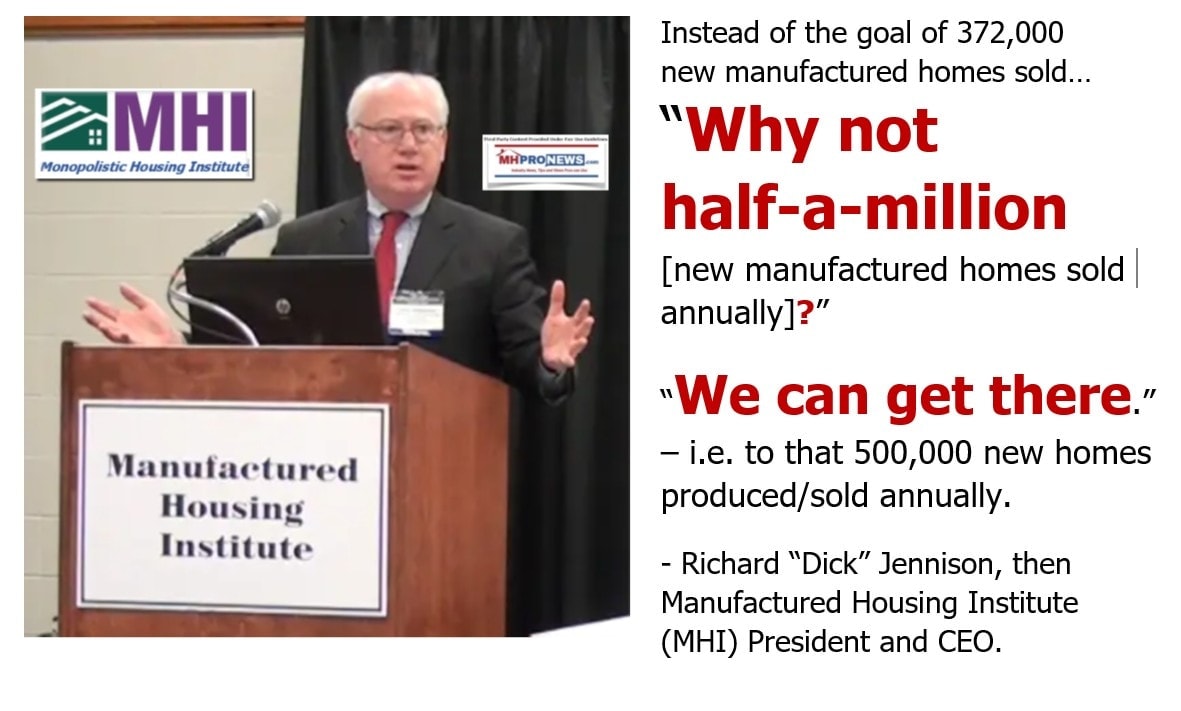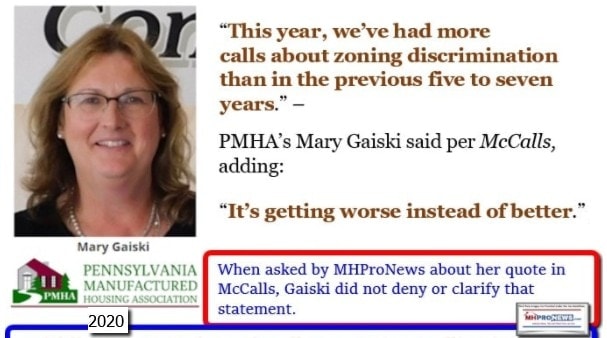 PS: you expect competitors to compete. But one should be able to count on the industry's self-proclaimed leading trade group to do its own self-proclaimed job.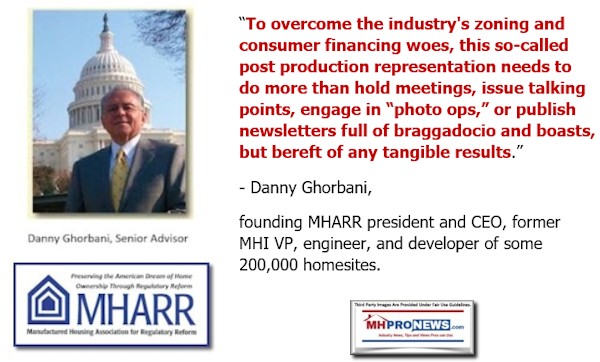 'Production at Lowest Levels in a Decade' but 2023 Outlook 'Optimistic for Texas Manufactured Housing Industry,' says TRERC – Supply Chain, Finance, Report, Analysis; plus MHVille Stocks Update
PS 2: it is time for public officials to investigate. It is also time for industry professionals to organize litigation against MHI and their dominating brands. Some law firms could do it on contingency. What is needed is the willingness to step up and fight the apparent corruption that has eroded manufactured housing from within.
Has the Manufactured Housing Industry Become a Target-Rich Environment for Plaintiffs' Attorneys? Facts, News & Views; plus, Sunday Weekly Manufactured Home Industry (MHVille) Headlines Recap
Longtime MH Retail Sales Manager Asks Manufactured Home Leaders – Why are Manufactured Housing Production Levels Today About Half of 1980s When Interest Rates Hit 20.5% APR on ARM Loans?
Over $1 Million! Manufactured Housing Institute Doc Drop! Top MHI Staff Pay Revealed. Additionally, Unpacking Evidence of Perjury, Fraud, Other Possible Federal Crimes; plus MHVille Stocks Update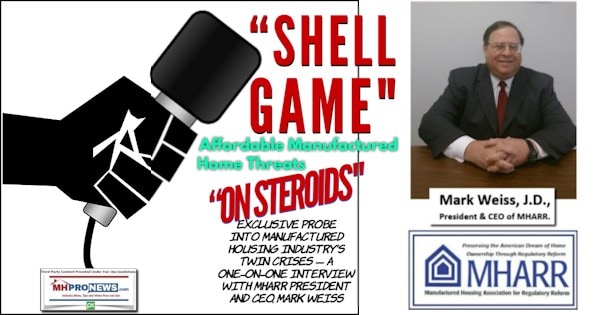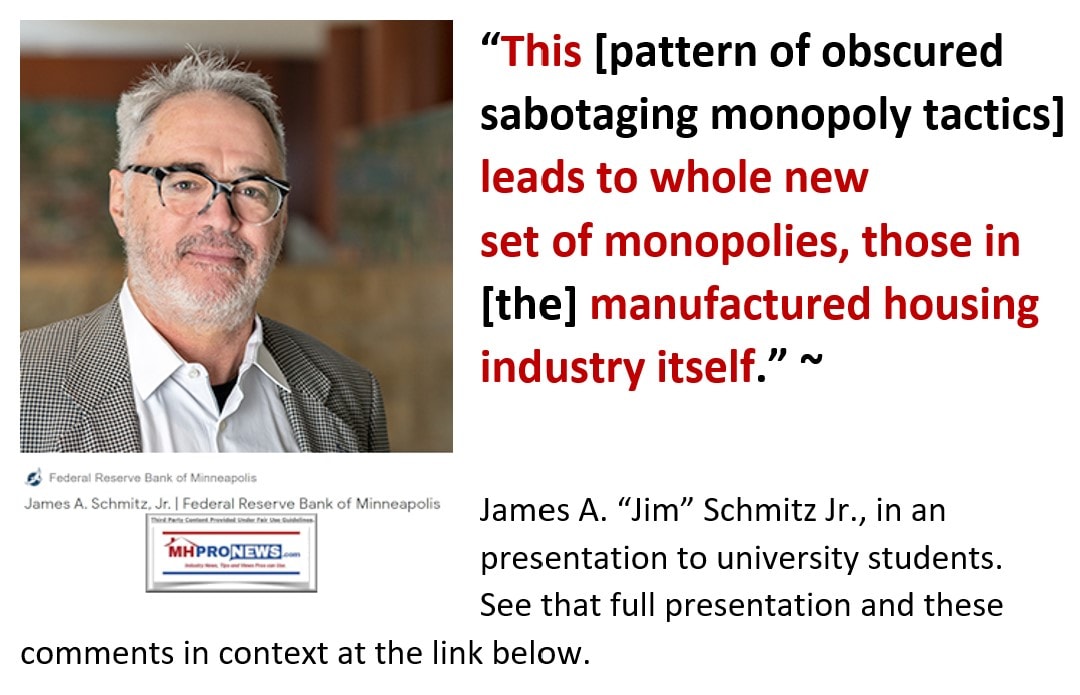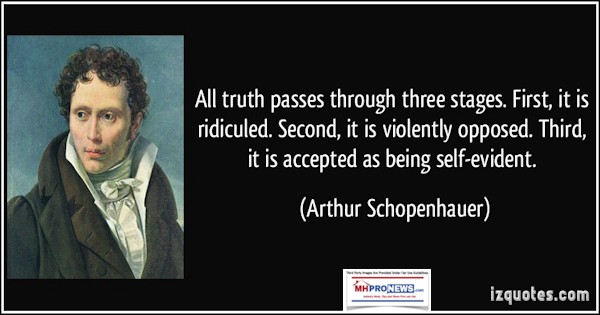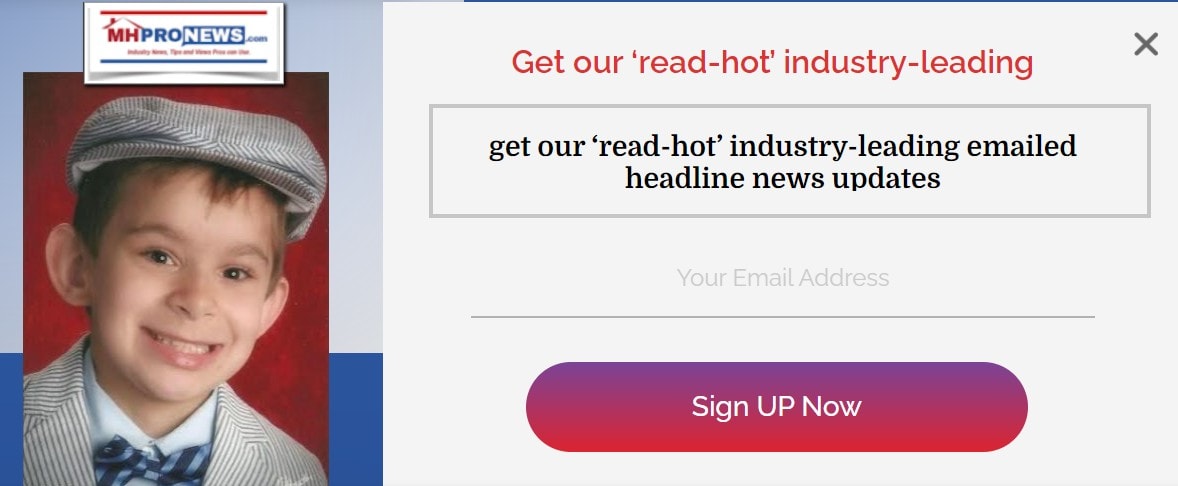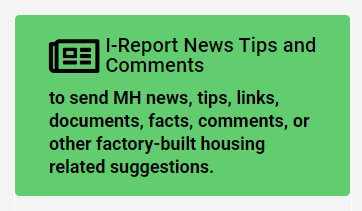 Again, our thanks to free email subscribers and all readers like you, as well as our tipsters/sources, sponsors and God for making and keeping us the runaway number one source for authentic "News through the lens of manufactured homes and factory-built housing" © where "We Provide, You Decide." © ## (Affordable housing, manufactured homes, reports, fact-checks, analysis, and commentary. Third-party images or content are provided under fair use guidelines for media.) See Related Reports, further below. Text/image boxes often are hot-linked to other reports that can be access by clicking on them.)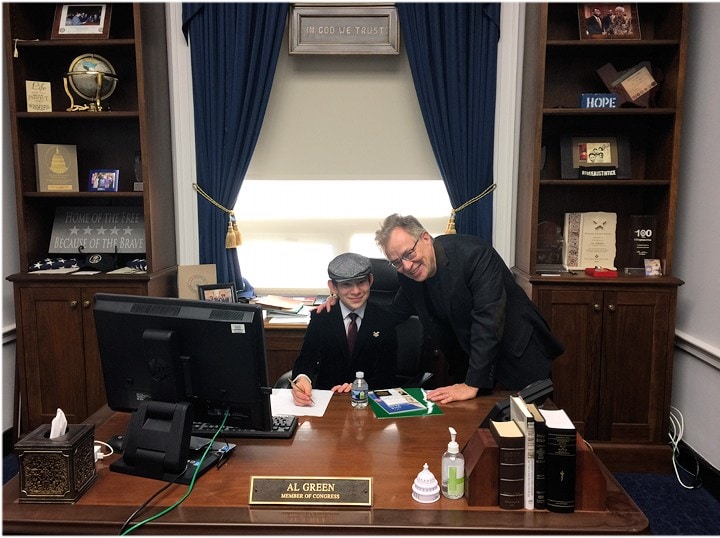 By L.A. "Tony" Kovach – for MHProNews.com.
Tony earned a journalism scholarship and earned numerous awards in history and in manufactured housing.
For example, he earned the prestigious Lottinville Award in history from the University of Oklahoma, where he studied history and business management. He's a managing member and co-founder of LifeStyle Factory Homes, LLC, the parent company to MHProNews, and MHLivingNews.com.
This article reflects the LLC's and/or the writer's position and may or may not reflect the views of sponsors or supporters.
Connect on LinkedIn: http://www.linkedin.com/in/latonykovach
Related References:
The text/image boxes below are linked to other reports, which can be accessed by clicking on them.'
2023 'Excellence in Manufactured Housing Awards' – Claims, Facts, Op-Ed Practically Writes Satirical Saturday Column on Manufactured Housing Institute's Sly 'Awards' – plus, MHVille Markets Update
"Played"-Publicly Traded Manufactured Housing Institute (MHI) Members, MHI News Update Reveals True State of Manufactured Housing Industry in May 2023-Facts, Analysis, and MHVille Markets Update
Aging Warren Buffett Led Berkshire Hathaway Invests Billions in Asian Firm, Soon Sells Most in 'Red Flag' Issue for Dozens of Manufactured Housing Producers; plus Sunday Weekly Headlines Recap
True State of the Manufactured Housing Industry in March 2023 Based on Facts, Not Clever Agenda-Driven 'Fiction$' – plus Sunday Weekly MHVille Headlines Recap
Danny Ghorbani – Manufactured Housing's 'Elephant in the Room,' per Prior Manufactured Housing Institute Chair, Exclusive Q&A on Key MHIndustry Issues, plus Sunday Weekly MHVille Headlines Recap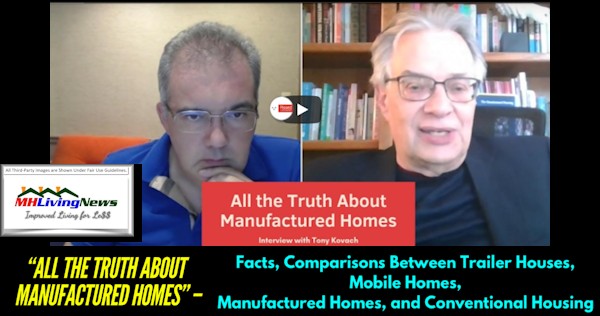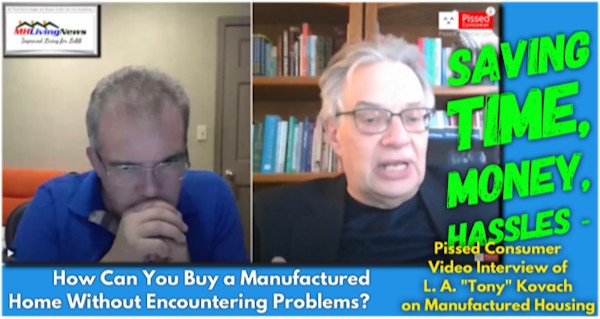 'Affordable Homes for Low Income Must Produce in Factory,' 'Years to Unravel Sabotage,' Grad Students Interest in Manufactured Housing, Factory-Home Solutions; plus Sunday Weekly Headlines Recap