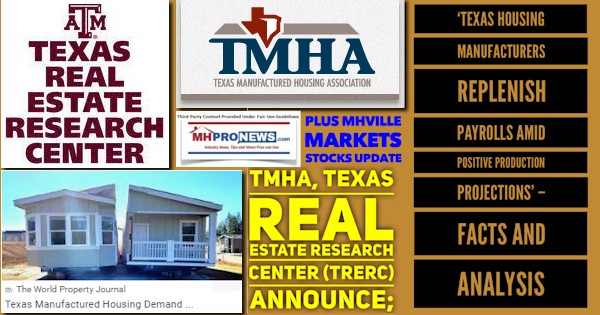 On 8.24.2023 MHProNews publicly challenged manufactured housing trade media to investigate and report on certain issues that have negatively impacted manufactured housing in 2022 and 2023. Information released by UMH Properties may have been technically fine, but they nevertheless shed light on issues that other publicly traded firms, the Manufactured Housing Institute (MHI), and MHI connected state associations have passed on to industry members without questioning potentially problematic, actionable if not illegal activities. Given litigation launched against Equity LifeStyle Properties (ELS) in 2022, and the multi-year U.S. Securities and Exchange Commission against Cavco Industries (CVCO)– among other governmental legal actions in MHVille – there are recent examples of issues that come to mind when pondering why manufactured housing oddly took a year over year (YoY) downturn in the last quarter of 2022 and continuing into 2023 during a widely acknowledged affordable housing crisis. Given that Cavco Industries President and CEO William "Bill" Boor has told Congress that the industry is at a "crossroads" due to regulatory and other headwinds, yet there appears to be disconnects between what Manufactured Housing Institute (MHI) linked leaders are saying to public officials vs. what they are saying to shareholders, investors, and others.
Note: to expand this image to a larger or full size, see the instructions
below the graphic below or click the image and follow the prompts.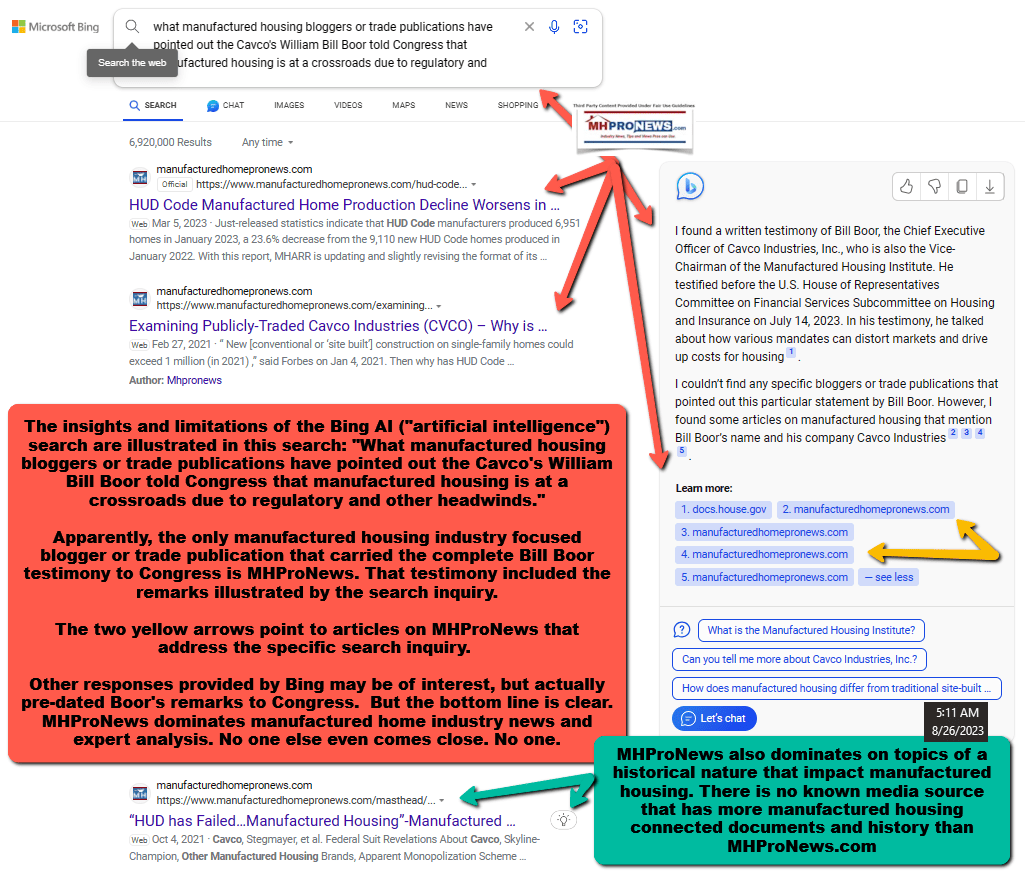 With that brief background, Part I of this article is the Texas Real Estate Research Center (TRERC) monthly report issued in conjunction with the Texas Manufactured Housing Association (TMHA).
Part II is additional information on related issues with more MHProNews analysis and commentary.
Part III is the Daily Business News on MHProNews macro- and manufactured housing connected market reports, which include left (CNN) right (Newsmax) headline news items. In seconds, a person can grasp the potentially 'market moving' items across the left-right spectrum. Our regular readers know more and save time doing so.
Part I
Texas housing manufacturers replenish payrolls amid positive production projections
COLLEGE STATION, Tex. (Texas Real Estate Research Center) – The production of manufactured homes in Texas increased for the fourth consecutive month in July, according to the latest Texas Manufactured Housing Survey (TMHS), and additional acceleration is expected through year end.
Housing manufacturers responded by increasing hiring activity, pushing the TMHS employee index to an annual high.
"These payroll expansions closely track the current industry outlook," said Wes Miller, senior research associate at the Texas Real Estate Research Center at Texas A&M University (TRERC). "Business activity has rebounded despite ongoing interest rate increases that shocked demand last year. In addition to new hiring, average employee workweeks have picked up over the last few months."
The cost environment remained relatively tame in July, with the TMHS suggesting no change in labor costs as well as declines in prices of raw materials. Price pressures, however, are expected to build as we enter the fall.
"After a significant decline since its December 2021 peak, the New York Federal Reserve Bank's Global Supply Chain Pressure Index has increased the past two months," said Dr. Harold Hunt, TRERC research economist. "There is nothing to panic about yet since the index is below its historical average, but it does indicate that supply-chain problems are showing signs of escalating again."
Housing manufacturers experienced a similar uptick in supply chain disruptions, and they expect these challenges to persist for at least the next six months. Upstream bottlenecks could elevate input costs and increase backlogs. The TMHS backlog index ended a 21-month decline in March and climbed upward through July, impacting retailers and consumers.
"Retailers sold more homes than they received during the first half of the year," said Rob Ripperda, vice president of operations for the Texas Manufactured Housing Association, "and that trend should extend into July as manufacturing plants typically close for a week to celebrate Independence Day. Last year there wasn't a single month when retail sales beat shipments. Solid consumer demand for affordable housing continues to drive new orders and has brought manufacturing production rates back to where they were during the last calendar quarter of 2022."
TMHS respondents plan on accelerating production over the next six months but anticipate falling further behind new orders.
All TMHA members with manufacturing facilities in the state were invited to participate in the sentiment survey, and the survey panel represents 89 percent of HUD-code homes produced in Texas.
Funded by Texas real estate licensee fees, TRERC was created by the state legislature to meet the needs of many audiences, including the real estate industry, instructors, researchers, and the public.
—30—
Part II Additional Information with More MHProNews Analysis and Commentary in Brief
Since others in what passes for the balance of manufactured housing trade news and MHVille bloggers either don't understand or don't properly report/analyze many of the trends and occurrences in manufactured housing, MHProNews issued a public challenge for them to report on what appears to be a major issue that sheds light on the current manufactured housing industry downturn. While there are several factors, one of them has not been given much attention, save previously by MHProNews. See the report linked below and look carefully at the remarks from TRERC above.
Q2 2023 UMH Properties Inc – 'National Growth Opportunities via Increased Rents and Vacant Land' – Inventory and Zoning Battles ~ $2 Bil Market Cap, More Facts and Analysis; plus MHMarkets Update
Accepting the UMH data as presented, we stated in the above that MHProNews would give rival trade media at least a week to figure out what UMH may have inadvertently revealed in their remarks above. Genuine reporters with an eye for news should see the problem. After all, the inherently affordable manufactured housing industry is in a troubling and steep downturn in 2023, while far more costly conventional housing has been recovering in recent months. But fluffers and apparently thinly veiled and de facto rewarded publicists in MHVille that carry water for MHI and their leading brands may not notice (or care to report).
Thus, this test announced in the report linked above and here that is being conducted by MHProNews will reveal much of what has gone wrong in manufactured housing, including some potential clues about the current manufactured housing downturn.  Because part of the problem that Boor described as a "crossroads" issues have arguable been fueled by a lack of understanding of why manufactured housing is in a downturn after Congress passed favorable laws in 2000 and 2008. Having highlighted several possible topics raised by UMH, we've given our trade rivals in trade media an opportunity to demonstrate their journalistic chops, or their lack thereof.
Note: to expand this image to a larger or full size, see the instructions
below the graphic below or click the image and follow the prompts.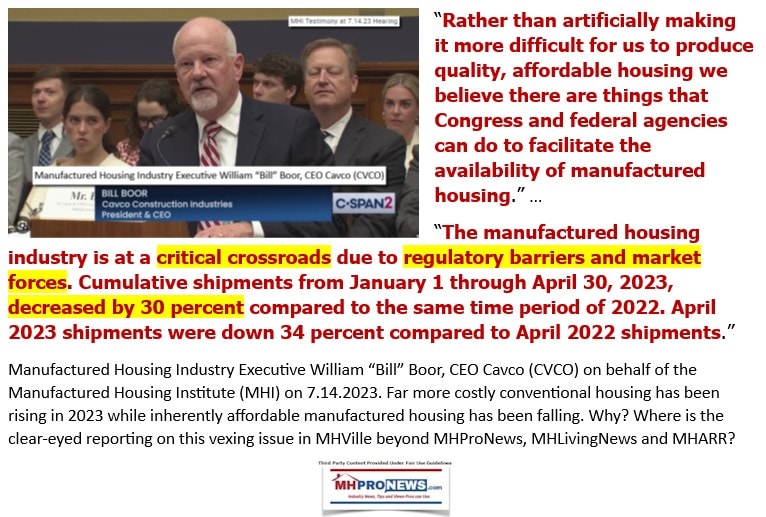 More ECN Capital-Skyline Champion Deal with New Triad President Lance Hull Remarks – is Claytonization of Largest Independent Manufactured Home Lender Triad Financial Services Underway?
Manufactured Housing Production-Shipment Data for All 50 States – Compare and Contrast MHI's and MHARR's Remarks About the Most Recent National Manufactured Home Data; plus MHStocks Update
Cavco Industries – Quarterly Earnings for CVCO to 1st Half of 2023 – Compare what William 'Bill' Boor told Investors to What Boor told Congress – 'Months' B4 MHC Homes; plus MHVille Market Update
Sun Communities, Inc. (SUI) Reports 2023 Second Quarter and Year-to-Date Results Through June 30, 2023, What CEO Gary Shiffman Did, Didn't Say; plus MHVille Stocks, REITs Updates
'Like No Place Else!' in MHVille – Research-Reports-Analysis Reveal and Yield Understanding for News and Trends Keeping Manufactured Home Production at Historically Low Levels
One more hint to our boastful but apparently lacking in key details publishing rivals. TRERC has provided a piece of the puzzle.
MHProNews has at various times has had to correct TRERC, but this time, they have yielded something that may be potentially groundbreaking to those who pay attention to the details.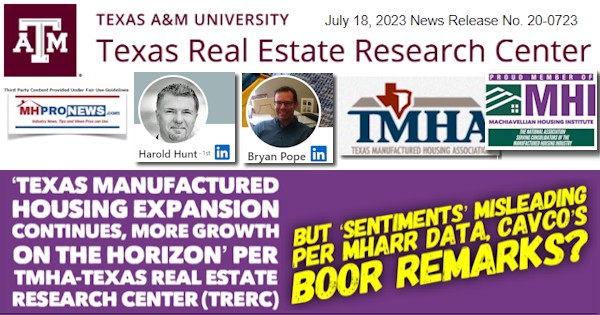 TMHA VP Rob Ripperda's Tell Damages Manufactured Housing Institute Claim, While Dr. Harold Hunt Remarks Undercut Cavco's Bill Boor Statements on Manufactured Housing? Plus MHVille Markets Update
Stay tuned for that test result. MHI itself is naturally invited to weigh in. MHProNews is gathering inputs from other industry members. ##
Part III. Daily Business News on MHProNews Markets and Headline News Segment
Headlines from left-of-center CNN Business – from the evening of 8.25.2023
1% down payment program
For buyers facing affordability challenges getting into a home of their own, Zillow Home Loans is rolling out this new option
The Grand Tetons rise above the clouds in Grand Teton National Park where financial leaders from around the world are gathering for the Jackson Hole Economic Symposium, outside Jackson, Wyoming, U.S., August 25, 2022.
How should central banks coordinate when their economies are headed in opposite directions?
European Commissioner for Internal Market, Thierry Breton, speaks during a news conference at the European Union office in San Francisco, California, on June 22, 2023.
Large US tech companies face new EU rules
Jerome Powell, chairman of the US Federal Reserve, during a Senate Banking, Housing and Urban Affairs Committee hearing in Washington, DC, US, on Thursday, June 22, 2023. Powell yesterday said policymakers expect interest rates will need to move higher to reduce US growth and contain price pressures, even though they held rates steady at their meeting last week. Photographer: Nathan Howard/Bloomberg
Federal Reserve Chair Jerome Powell hints at more bad news for borrowers
UAW members approve possible strikes at GM, Ford and Stellantis
CHICAGO, ILLINOIS – AUGUST 09: Grocery items are offered for sale at a supermarket on August 09, 2023 in Chicago, Illinois. Despite inflation starting to settle, food inflation continues to climb in the double digits in many counties.
Consumers are growing slightly more cautious about the economy
NEW YORK, NEW YORK – JANUARY 10: People walk past a Wells Fargo branch on January 10, 2023 in New York City. Wells Fargo agreed the bank would pay $3.7 billion to settle with a U.S. consumer finance watchdog, for years of mistakenly freezing accounts, wrongly repossessing cars and illegally charging customers fees.
Wells Fargo overcharged nearly 11,000 investment accounts with advisory fees, SEC alleges
Shein partners with Forever 21 in fast-fashion deal that will expand reach of both companies
The Hawaiian Electric logo is displayed outside the electric power utility company's office in the aftermath of the Maui wildfires in Kahului, Hawaii on August 15, 2023. A class-action lawsuit has been filed against Hawaiian Electric, the state's biggest power firm, claiming the company should have shut off its power lines to lower the risk of fire.
Maui government files lawsuit, accuses Hawaiian electric company of causing Lahaina wildfires
NEW YORK, NEW YORK – AUGUST 25: Federal Reserve Chairman Jerome Powell's speech is seen on a television screen as traders work on the New York Stock Exchange floor during morning trading on August 25, 2023 in New York City. Stocks opened higher as Wall Street prepared for Federal Reserve Chairman Powell's speech at the Jackson Hole Economic Symposium
LIVE UPDATES
Key takeaways from Fed Chair Jerome Powell's speech
What happens in Jackson Hole doesn't stay in Jackson Hole
Frozen vegetables sold at Food Lion and Kroger are being recalled
Jackson Hole: Fed policy collides with reality in the most unequal county in America
A mariner accused of raping college student loses ability to work at sea, but escapes criminal charges
Heineken sells Russian business for $1 as it completes exit
IMF chief says Africa must do these three things to increase trade
Subway has sold itself to a private equity firm
Why some are calling Germany 'the sick man of Europe' once again
The future of CNN is coming into view as the network regains its footing following a rocky period
Saudi Arabia, UAE and Iran among six countries invited to join BRICS group
The US needs a stable Chinese economy. Will Biden's commerce secretary offer help?
North Carolina Hooters sued for racial discrimination against employees
Gap reports mixed second quarter and decline in sales across all brands
Note: to expand this image to a larger or full size, see the instructions
below the graphic below or click the image and follow the prompts.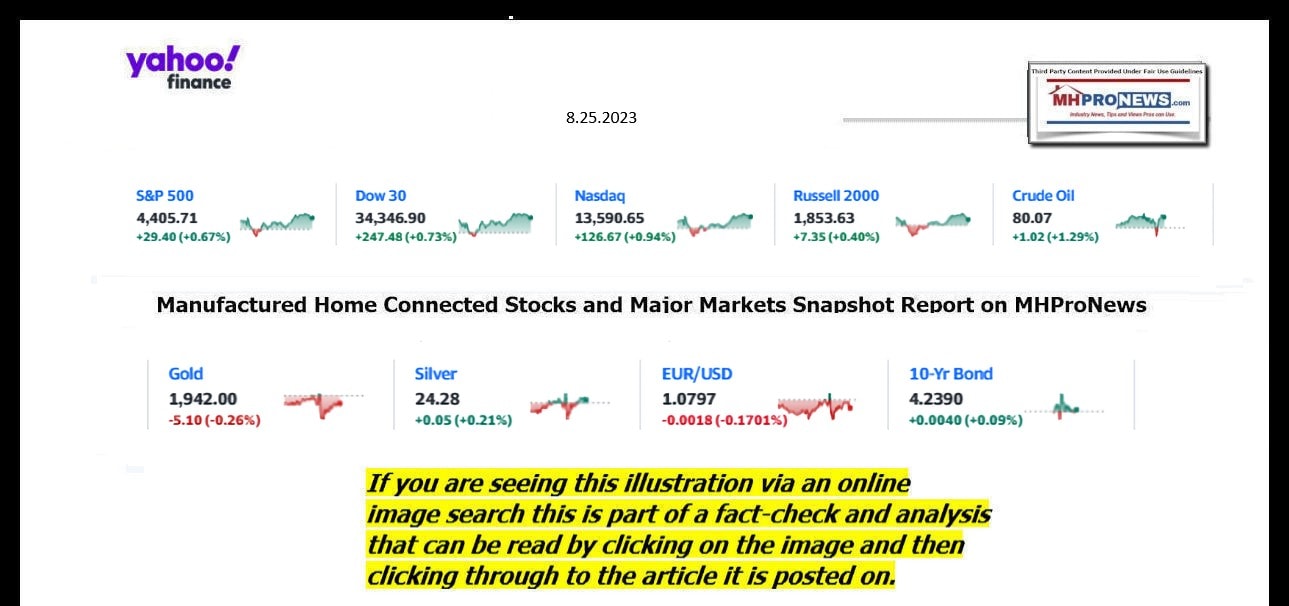 Headlines from right-of-center Newsmax 8.25.2023
Fox's Debate Ratings Disaster! 50% Drop Without Trump, See More
Trump: Fox 'Humiliated by Anemic Debate Ratings'
The campaign for former President Donald Trump went on the offensive against Fox News on Friday, trolling the network over its "anemic debate ratings" while Trump's interview with Tucker Carlson — aired the same night — passed 250 million views. [Full Story]
Trump Indictments
Trump Wastes No Time Selling Mug Shot Merch
Poll: Majority Say Trump Should Be Tried Before '24 Elections
1 Trump Co-defendant Left to Surrender in Georgia Case
Trump Posts Mug Shot in Return to X: 'Never Surrender!'
Trump: Going After Me All for Nothing | video
Trump: Backlash Over Georgia Indictment Pervasive | video
Trump: Mug Shot Was 'Terrible Experience' | video
Trump Denounces 'Travesty of Justice' After Mug Shot
MTG: Will Vote for Trump From Jail If I Have To
John Gizzi: Ga. Sen. Calls for Defunding Fulton County DA
Change of Venue to Federal Court Hearing in September | video
More Trump Indictments
Newsmax TV
Fmr Notre Dame Coach Holtz: I've Seen Loss of Free Speech
Burgum: 'We've Got to Win' Cold War With China | video
Waltz: House Wants Accountability for Afghan Withdrawal
Trump: 'I Got Charged for Telling People to Watch Newsmax' | video
Trump: 'I Do Sleep Soundly' | video
Trump: No Problems With McDaniel, RNC | video
Trump: Want to Be President for All the People | video
Guilfoyle: Fox Denied Me, Trump Jr. From Spin Room | video
Rudy Giuliani: America No Longer a 'Just Country' | video
Donald Trump Jr.: DeSantis' Campaign Is in Decline | video
James Comer: Oversight Documents Biden Lies | video
Newsfront
Tuberville Vows to Continue Military Holds
Tommy Tuberville, R-Ala., said he will continue to block "specific" Department of Defense nominees due to the Pentagon's woke policies…. [Full Story]
Kari Lake to Newsmax: Seriously Considering US Senate Run
Kari Lake, a former Republican Arizona gubernatorial candidate, told [Full Story]
Trump: Fox 'Humiliated by Anemic Debate Ratings'
The campaign for former President Donald Trump went on the offensive [Full Story] | video
Fox's Debate Ratings Disaster: 50% Drop Since '16
Fox News first Republican primary debate got a terrible response from [Full Story]
Related
Trump to Newsmax: DeSantis 'Dropped Like an Ailing Bird' |video
Poll: DeSantis Performed Best in GOP Debate |video
Experts Share Their Views on Victor in GOP Debate
Elder Files Complaint With FEC Over Debate Snub
GOP presidential candidate Larry Elder on Thursday filed a complaint [Full Story]
Related
Larry Elder to Newsmax: I'm Suing Fox, RNC |video
Jennifer Kerns to Newsmax: People Should Burn RNC Cards |video
Perry Johnson to Newsmax: RNC Used Different Polling Criteria |video
Trump to Newsmax: No Problems With RNC, Chair McDaniel |video
Stefanik Blasts Migrant Proposal by N.Y. Governor
Stefanik Blasts Migrant Proposal by N.Y. Governor
Elise Stefanik, R-N.Y., ripped into a proposal from Democrat [Full Story]
Pentagon: No Intel of Missile Strike on Prigozhin Plane
The U.S. Department of Defense on Thursday said there was currently [Full Story]
Related
Putin Delivers Mixed Tribute to Wagner Boss After Plane Crash
Pro-Kyiv Russians Urge Wagner Group to Revenge Prigozhin's Death
Kremlin: Wagner Group Has No Formal Legal Existence
Kremlin Calls Accusations It Killed Wagner Boss an 'Absolute Lie'
Many Kremlin Foes Have Been Attacked or Killed
GOP Picks Houston for Site of 2028 Convention
The Republican National Committee has selected Houston as the site [Full Story]
New Gun Law Uses 'Flawed Logic' to Violate Constitution
Illinois has a problem with violent crime, so the politicians leading [Full Story] | Platinum Article
Tester Hit by Challenger for 'Woke Crap' in Military
Republican Tim Sheehy, running to unseat Sen. Jon Tester, D-Mont., [Full Story]
LIV Golf Execs: PGA Merger 'Turbocharged' Business
The surprise announcement of a planned merger with the PGA Tour this [Full Story]
Kevin McCarthy: Is Biden Afraid of Losing to Trump?
House Speaker Kevin McCarthy, R-Calif., on Friday wondered whether [Full Story]
Updated COVID Vaccines to Roll Out Mid-September
New COVID-19 booster shots, reworked to target variants circulating [Full Story]
'Eco-Friendly' Paper Straws Contain Harmful Chemicals
Paper straws, meant to be an eco-friendly alternative to plastic, may [Full Story]
Judge Dismisses RNC Lawsuit Over Emails Sent to Spam
A federal judge on Thursday dismissed a lawsuit filed by the [Full Story]
Dems Release Ad Targeting GOP Nominees on Abortion
The Biden campaign on Friday released a new ad on abortion rights, an [Full Story]
UAW Members Authorize Strike at Detroit Big Three
Members of the United Auto Workers (UAW) union voted in favor of [Full Story]
Judge: Md. Parents Can't Opt Out of LGBTQ Curriculum
Parents in Montgomery County, Maryland, who object to curriculum [Full Story]
Capitol Officer Who Shot Ashli Babbitt Promoted
The Capitol Police officer, who shot and killed demonstrator Ashli [Full Story]
Mutated COVID-19 Variant Spotted in Wastewater Tests
Public health officialsdetected the new BA.2.86 variant of COVID-19 [Full Story]
'Blind Side' Producers Defend Film Amid Oher Lawsuit
The producers of "The Blind Side" have defended their film from [Full Story]
Fed's Powell: Unclear Rates High Enough to Beat Inflation
The U.S. Federal Reserve may need to raise interest rates further to [Full Story]
Opposition Expressed to Removing Arlington Confederate Memorial
The Biden administration has initiated the process for removal and [Full Story]
Poll: Majority Say Trump Should Be Tried Before '24 Elections
About three in five Americans say former President Donald Trump [Full Story]
Federal Judge: West Virginia Can Restrict Abortion Pill Sales
West Virginia can restrict the sale of the abortion pill, despite its [Full Story]
France's Sarkozy Faces Trial for Libyan Campaign Funding
French investigative magistrates on Friday ordered former president [Full Story]
JetBlue Leak: Prices Might Rise After Spirit Merger
JetBlue Airways estimates it could raise fares on some routes by up [Full Story]
Alice Cooper: 'Woke' Ideology 'Laughable'
Legendary rock star Alice Cooper called "woke" ideology "laughable" [Full Story]
DeSantis Gets More State Endorsements After Debate
Florida Gov. Ron DeSantis earned another 21 endorsements from state [Full Story] | video
C. Governor Vetoes Election Bill, Faces GOP Supermajority
North Carolina Gov. Roy Cooper vetoed a sweeping Republican elections [Full Story]
Maui County Sues Utility Over Fires, Alleging Negligence
Maui County sued Hawaiian Electric Company on Thursday over the fires [Full Story]
Orlando Homeowners Are Getting Their Roof Replaced with This Special Program
Finance
Fed's Powell: Unclear Rates High Enough to Beat Inflation
The U.S. Federal Reserve may need to raise interest rates further to ensure inflation is contained Fed Chair Jerome Powell said Friday in remarks that balanced declines in the pace of price increases over the past year with the surprising overperformance of the United States… [Full Story]
Bidenomics Makes Poverty Great Again
Why Has Biden Declared War on Natural Gas?
Adult Education Classes Could Stave Off Alzheimer's
US Consumer Sentiment Slips on Inflation Angst
More Finance
Health
Extreme Heat Linked to Faster Cognitive Decline
With 2023 predicted to be the hottest year on record, a new study is pointing to another potential consequence of heat waves: faster declines in older adults' memory and thinking skills. The study, of nearly 9,500 older U.S. adults, found that those with greater exposure to… [Full Story]
Adult Education Classes Could Stave Off Alzheimer's
Gut Issues Could Be Early Sign of Parkinson's Disease
Canadian Wildfires Led to Spike in Asthma ER Visits
AI Not Reliable When Answering Cancer Questions
Note: to expand this image to a larger or full size, see the instructions
below the graphic below or click the image and follow the prompts.