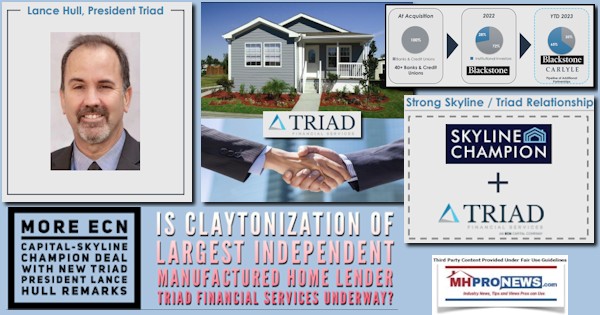 To set the stage for this news analysis, on 8.20.2023 the #3 article on MHProNews was the report on the ECN Capital, parent company to Triad Financial Services strategic deal with Skyline Champion to forge a new captive finance company. In some 3 days that Triad Financial Services-Skyline Champion connected report was closing the reader pageviews gap with the top reports, each of which featured Sun Communities, linked here on their quarterly financial results, and the second involving the purported felony insurance scandal involving SUN CEO Gary Shiffman with Brian Benderoff and Dr. Billy Gonte, linked here. Put differently, the Triad-Skyline Champion deal is one of the hottest topics in manufactured housing in August 2023, as well it should be. And the headline question – is the Claytonization of the largest independent manufactured home lender underway? – is not a mere rhetorical or click-bait device. Because the ECN Capital 8.14.2023 PowerPoint Presentation provided below gives the following strong statement that is an apparent clue to their answer. "Berkshire Hathaway's Clayton Homes, Vanderbilt & 21st Mortgage subsidiaries (3.5x larger than Triad) have experienced growth in aligning independent and captive financing for the manufactured housing industry." Furthermore, a significant part of their presentation is focused on Triad's new president, Lance Hull, who spent years with Berkshire Hathaway owned Clayton Homes and 21st Mortgage Corporation.
New reader should know, and others should be reminded of what Kevin Clayton said during a video interview with pro-Berkshire Hathaway Robert Miles.  "Its so fun sharing some of the things that he [Warren Buffett] passes along throughout our organization, and we challenge every one of our team members, every department. Who is your customer? Deepen and widen your moat to keep out the competition…"
Lance Hull spent decades at Clayton Homes and Clayton's sister brand in the finance realm, 21st Mortgage Corporation. Which is to say that per Kevin Clayton, Hull has heard the moat speeches numerous times.  Said Clayton in video recorded remarks: "Warren [Buffett] likes to say that there's two kinds of competition that he doesn't like, foreign and domestic." That's a tongue in cheek sort of expression which means that Buffett hates competition. "The moat" has been described as a colloquial expression that suggests antitrust skirting methods that may appear benign to the uninitiated. "Of course, Warren looks for companies that have that enduring competitive advantage. That's part of our moat, and we intend to deepen and widen that part of our moat," Kevin said. "But some of our competitors do a good job, but our plans are to make it difficult for them."
When an ex-Clayton personality turns up at another manufactured housing operation – especially in a leadership role – it would be naive to think that such a person hasn't been thoroughly imbued with that moat mentality of making things harder on competitors. So be it Lance Hull, or anyone else with years of Clayton experience, that's who is now president of Triad Financial Services.  See Hull's roughly 25+ years of time in Buffett led and Berkshire Hathaway owned Clayton Homes and 21st Mortgage Corporation in his LinkedIn profile below.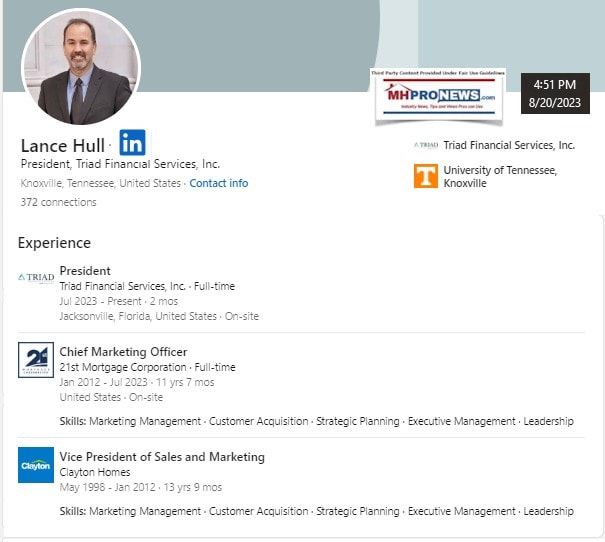 The Transformation of ECN is Underway…
Additionally, according to that same 8.14.2023 ECN presentation, that pitch to investors lays out a planned corporate "simplification plan" for ECN Capital.
Integrate ECN Corp into Triad's operating structure
ECN Capital Corp to be renamed Triad Financial Services Corporation
Primary focus on manufactured housing finance (existing independent channel and new captive finance company)
So, in other words, the ECN corporate name and structure will retire and will be replaced in favor of the name: Triad Financial Services Corporation. Ex-Clayton executive and new Triad President Hull is going to be in an important role indeed.
Other elements of that ECN simplification plan are as follows, per ECN's investor pitch dated 8.14.2023.
Significant reduction of corporate overhead
First phase to reduce expenses by ~$6 million completed
Second phase – additional expense reduction following full integration in 2024
The third phase is under the heading: "RV & Marine Business Under Review"
ECN continues to review various strategic alternatives related to its RV & Marine business; operational improvements, cost reduction and strategic alternatives remain under consideration
Institutional flow funding transition underway with new funding partnerships expected in Q3/Q4 2023
"Under review" could mean several things, including possibly spinning that division off, as well as possible parallel deals for RV and Marine akin to the Skyline Champion deal, to name but two possibilities.
New Funding Agreements at ECN-Triad
On page 17 of the ECN pitch is the following under the heading of "New Funding Agreements."
"Significant expansion of institutional investor funding capacity in H2 2023
New and expanded loan programs with leading institutional investors for both MH retail loans and floorplan"
With Blackstone's logo prominently shown are the following bullets
Triad has expanded its longstanding relationship with Blackstone's Asset Based Finance Group
Original agreement was upsized to total funding of $1.14Bn
Retail loans: $840M towards a multi product (Chattel, Land Home, Land Plus) and program (Core, Silver, Bronze) strategy
Floorplan: $300M targeting a diversified dealer and OEM base
All loans to be serviced on Triad's platform
With Carlyle's logo prominently shown are the following statements by ECN.
New funding relationship with Carlyle entered into post quarter end
$150M program focused on super-prime and prime retail loans
Insurance and institutional capital supporting Carlyle's investment; rated program is highly capital efficient •
All loans to be serviced on Triad's platform
Further expansion of funding capacity already in process
Note that according to Blackstone's (BX) website: "Blackstone is the world's largest alternative asset manager, with $1 trillion in AUM." Note that MHProNews has long provided in our Daily Business News recaps Blackstone stock trends and related data. MHProNews has similarly provided Carlyle and ECN stock trading and financial data for some years.
The next page explains what is deemed part of the evolution of Triad's funding.

Triad's Funding Evolution
Triad has accelerated its transition to institutional funding Moving from bank/credit unions to institutional investors provides Triad with term commitments & tighter spreads
ECN deliberately began the evolution of Triad's funding in 2020 to diversify sources, extend term and have larger and more flexible pools of capital
In this environment, ECN's decision to expand funding has been invaluable with slower demand from traditional funding partners"
 Triad Operating Enhancements
New executive leadership at Triad to oversee next phase of growth Industry veteran, Lance Hull, named President of Triad"
So, growth at the transforming Triad is going to be achieved via "new executive leadership" to "oversee the next phase of growth" by manufactured home industry veteran, Lance Hull, named President of Triad."
Flashback and Fastforward
With the above thoughts in mind, recall that the 'read hot' report on the Skyline Champion-ECN-Triad deal to create a new 'captive' lender drew some sharp cautionary words from other manufactured housing industry leader-personalities from with the Manufactured Housing Institute (MHI) camp. Exclusive remarks to MHProNews included the following.
"But the loss of an independent finance company may chill the market some, depending on Champion's operation."

"What these two companies are doing is very dangerous."
Those remarks came from two different leaders with significant manufactured housing industry finance backgrounds. That and more are to be found in our in depth report that included other Triad statements and more from manufactured housing industry professionals who weighed in on that this deal and the 'evolution' of Skyline Champion and ECN-Triad could mean for them and for the manufactured housing industry writ large.
'May Chill MH Market' 'Possible Danger' in Finance per MHI Linked Sources – Skyline Champion-ECN Capital Announce Strategic Triad Deal – Facts and Analysis beyond PR; plus MHVille Markets Update
Note: the image below is a larger version of the tweeted letter shown above.
To expand this image to a larger or full size, see the instructions
below the graphic below or click the image and follow the prompts.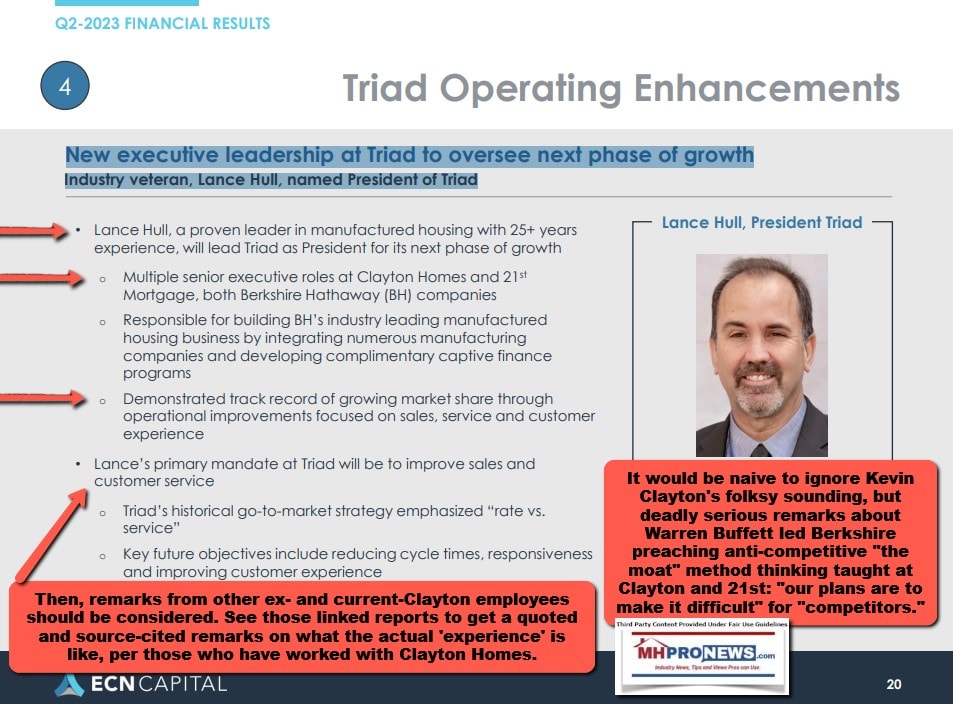 Other slides that are the source of the ECN quoted information above are as follows.
Note: the image below is a larger version of the tweeted letter shown above.
To expand this image to a larger or full size, see the instructions
below the graphic below or click the image and follow the prompts.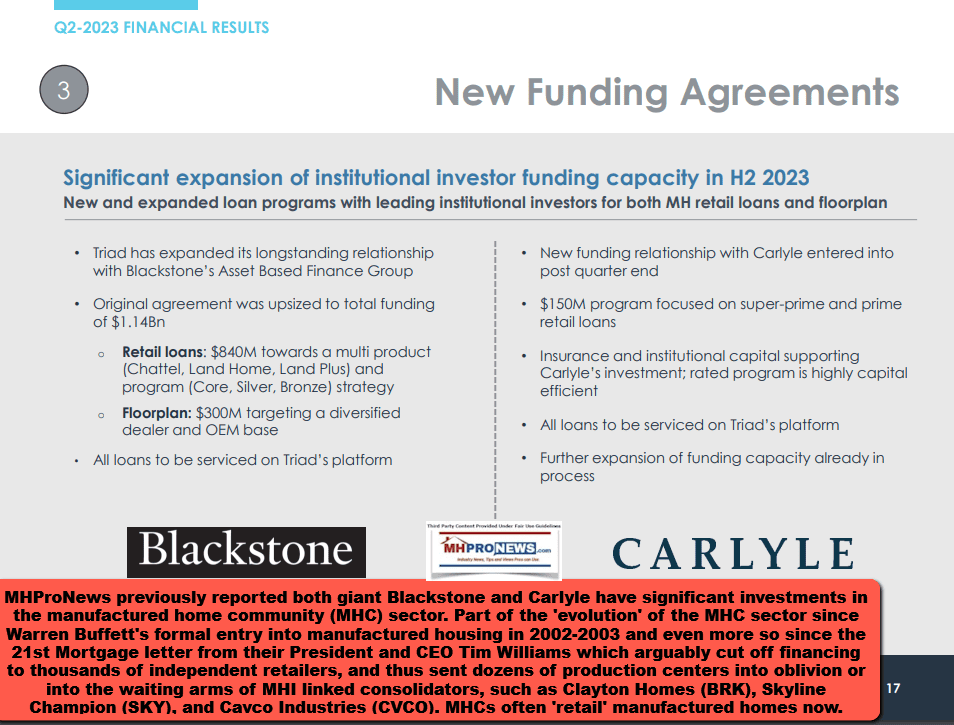 Institutional firms, says ECN Capital's investor pitch, have largely supplanted the funding which used to come via local banks and credit unions. Years before the Duty to Serve (DTS) manufactured housing mandate was enacted by Congress via the Housing and Economic Recovery Act (HERA) of 2008 – pre-ECN Capital – Triad Financial Services (TFS) was essentially providing a similar service to local banks and credit unions that the Government Sponsored Enterprises (GSEs or Enterprises) of Fannie Mae and Freddie Mac were supposed to be providing. These is no question that the GSEs can do the job, because much smaller Triad and Berkshire owned 21st and Vanderbilt Mortgage and Finance (VMF) have been doing so for years. Ex-Fannie Mae executive, and now President of the National Housing Conference (NHC – of which MHI is a member) David Dworkin said in his formal comments that his organization has full confidence that "both Enterprises" (i.e. Fannie and Freddie) can do the job Congress mandated and which the Federal Housing Finance Agency (FHFA) is supposed to be enforcing.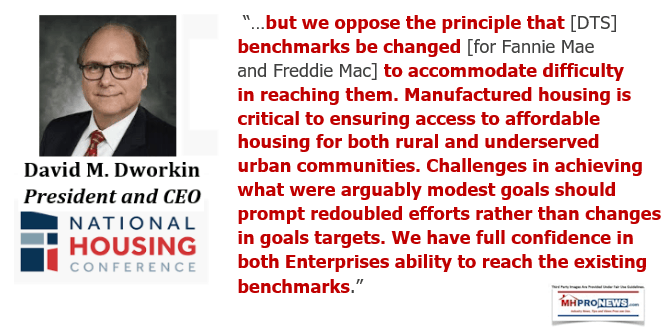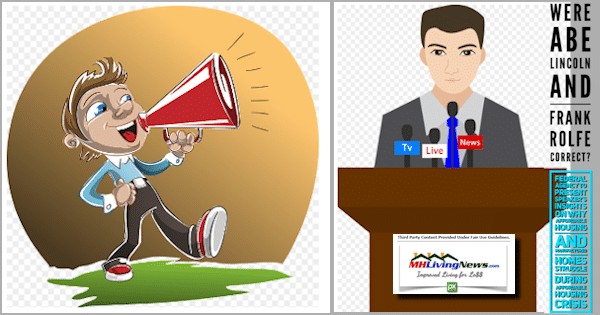 The reason that some MHI-linked insiders have sounded cautionary-alarm-sounding notes about the Skyline Champion and ECN Capital-Triad deal ought to be viewed through this broader lens and such specific details as are noted herein.
Triad's team once cheered their many ties with dozens of local banks and credit unions.  Now under the ECN Capital umbrella, they are cheering a Clayton-21st forged moat-minded Lance Hull's being elevated to president of Triad. Their presentation specifically names the Berkshire owned models of Clayton Homes, 21st and VMF. This is the truth not only hiding in plain sight, it is being celebrated and promoted as such to investors.  And among those investors are larger institutional firms such as Blackstone and Carlyle. They may not have specifically said, we don't need little banks and credit unions anymore, but haven't they all but said so?
And while they are celebrating what is possible in this evolving world of manufactured housing given these new ties with Skyline Champion, Blackstone, Carlyle and Hull's "leadership" – manufactured housing independents must grasp the full history of what has happened in the industry in the 21st century, since the formal entry of Berkshire Hathaway into the manufactured housing industry market has occurred. Manufactured housing has never recovered to the level that it was in 2002 and 2003, much less to the level it was in 1998 or the early 1970s.  The significance of 2002 and 2003 are the years that Buffett led Berkshire invested in Oakwood manufactured homes and Clayton Homes and their affiliated lending.
Note: the image below is a larger version of the tweeted letter shown above.
To expand this image to a larger or full size, see the instructions
below the graphic below or click the image and follow the prompts.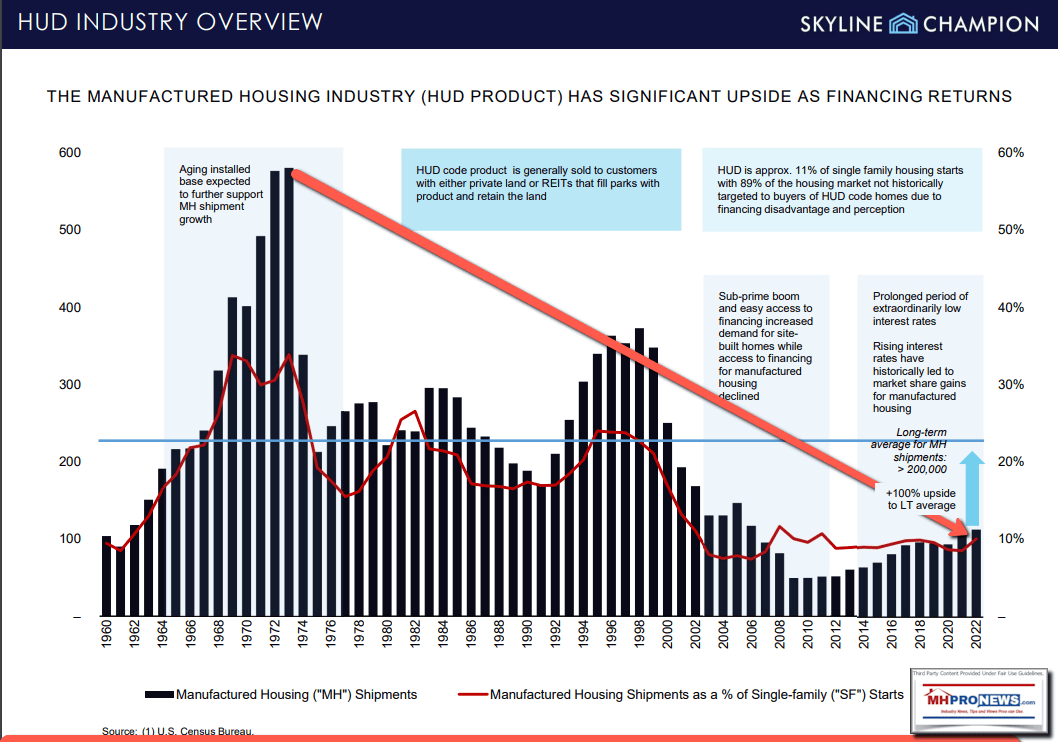 These deals may prove positive for certain industry players, which include Skyline Champion, but others could obliquely benefit too. But as several voices referenced in the exclusive MHProNews report linked here stated last week, "time will tell" but this could spell big trouble for manufactured housing industry independents. And as mentioned above, it may not augur well for the employees of several MHI connected brands.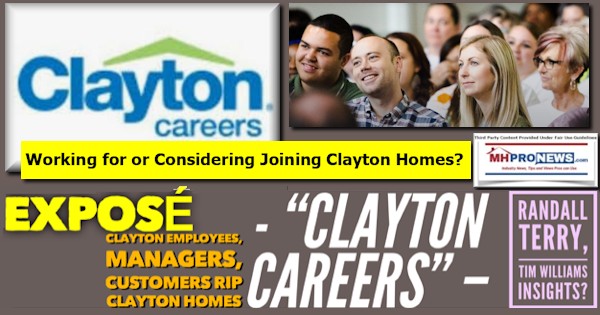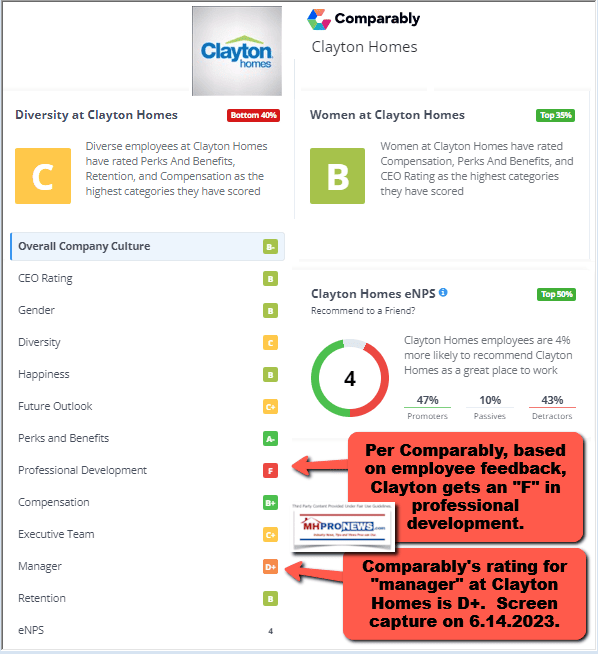 1000s Unhappy Working at Clayton Homes, Skyline Champion, Cavco, Sun, ELS, RHP, Flagship, Impact, Yes!, Havenpark Communities-What Will They Do? Facts, WalkOut Threat Op-Ed; plus MHMarkets Update
Keep in mind that federal and other research indicates that as consolidation occurs, employee pay and satisfaction often suffer in the aftermath.  While some at the top may benefit financially, others are routinely harmed. The paltering Biden regime may be dead wrong on several things, but they have an evidence-based point about their remarks on the harm done to consumers and employees from consolidation.  And there are numerous tell-tale signs that the Buffettization of Claytonization of Triad Financial Services is apparently underway.  The best way to see where Triad may be heading is to look into the rearview mirror that Warren Buffett so cherishes and see what has occurred at Clayton and their affiliates.  Clayton's once highly touted Case McGee, the 'Chief People Officer' for Clayton Homes (think HR, recruiting, etc.) only lasted about a year at the firm.  The 'legend' of the 'culture' at Clayton Homes may be just that…a series of myths and misconceptions that have been deployed to mask the parasitic nature of the moat.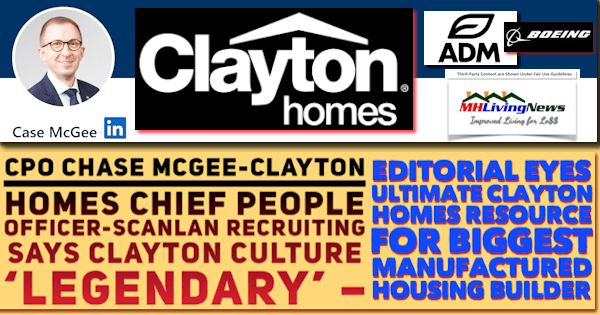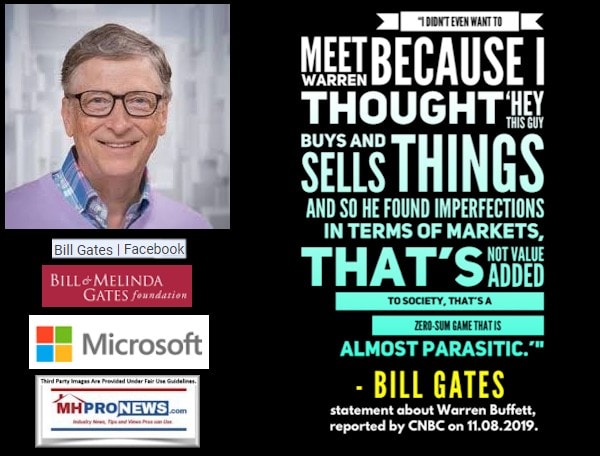 That Berkshire-Clayton culture that ECN's presentation is praising should be understood from the realities that are detailed in the reports outlined herein.
Once more for clarity and effect, this may explain why some of those asked for remarks last week about the Skyline Champion-ECN-Triad deal were sounding cautionary and evening 'alarm' notices. Others thought it more benign.
As usual, every page, and every word of an investor pitch has significance. These items have been brought to the forefront in this report and analysis because they pull back the veil on what could be the start of an upcoming round of consolidations in MHVille. Those bloggers, and publications in the MHI orbit, or MHI itself, when they fail to point out such in-your-face and evidence-based insights are either revealing their ignorance and/or they are playing the game that consolidators cherish.
Note, not every consolidator is per se predatory. Not every MHI member is part of this dark picture of undermining the industry's potential from within. Certainly, not every MHI member employee is to be faulted for working at a brand that was sold to them one way, and when they arrived, they discovered a quite different reality. As MHI hands out 'awards' for excellence to brands that have poor Better Business Bureau (BBB) ratings, or poor ratings from apparently thousands of their own employees, that suggests that 'workers' don't always like what they see or experience, but they may not feel like they have much choice.
The entire ECN Triad pitch deck is linked below. It should be viewed and understood through the lens of the other evidence noted herein.
https://www.manufacturedhomepronews.com/wp-content/uploads/2023/08/ECN-Q2.23-Financial-Results-Final-Aug14.2023-TriadFinancialServices-SkylineChampionDealLanceHullPresident-MHProNews.pdf
Note: the image below is a larger version of the tweeted letter shown above.
To expand this image to a larger or full size, see the instructions
below the graphic below or click the image and follow the prompts.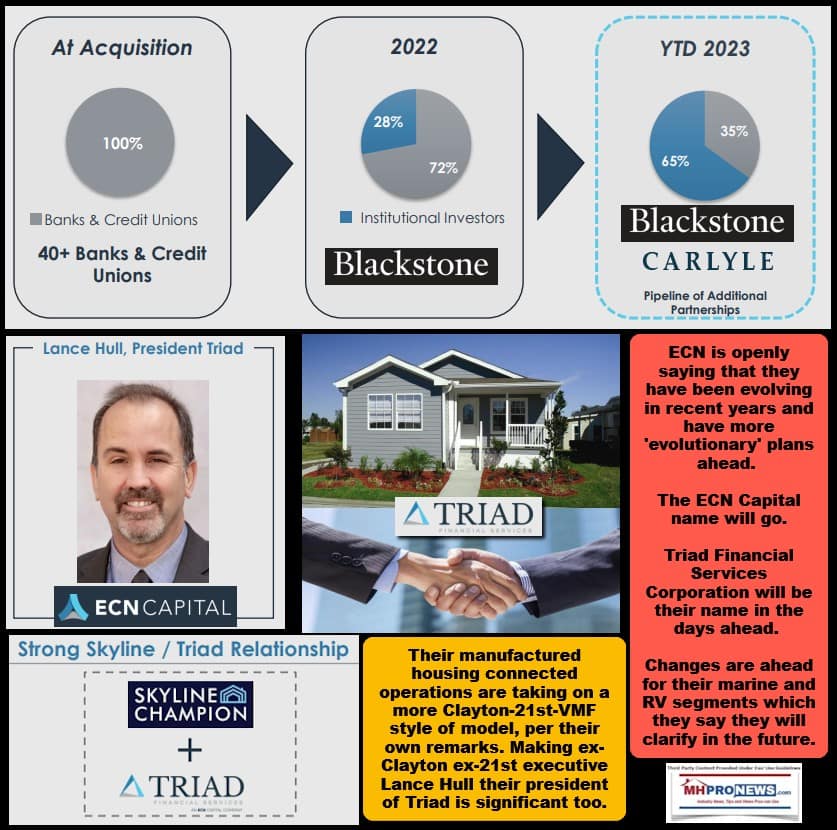 Note that in the presentation above, the Skyline Champion – ECN Capital – Triad Financial specific items begin on page 6. Click the link above, select open in a new window, and view their presentation which includes the items shown above herein, but also much more.  A follow up is planned by MHProNews that will dive into further details and insights.
The Manufactured Housing Association for Regulatory Reform (MHARR) has not weighed in on these specific developments between Skyline Champion-ECN Triad, and this new deal.  But MHARR is on record supporting the full implementation of DTS, specifically with respect to chattel lending.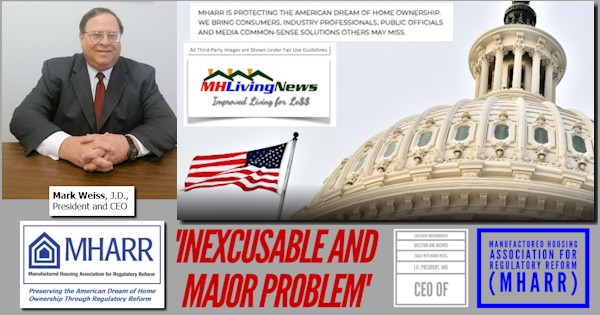 Note that Triad was given an opportunity by MHProNews to sound off on these items prior to last week's report.  There are no known responses to our inquiries at this time.
That said, in the expert views of MHProNews, based on the known evidence, these developments should be seen as all the more reason that manufactured housing pros should seek to get the full and proper implementation of DTS and to see the proper implementation of needed reforms for the FHA Title I manufactured home loan program.  During the pre-ECN Capital era at Triad, Don Glisson Jr. was known for efforts to promote DTS and more access to capital for manufactured housing.
Without a secure base of funding, manufactured housing pros involved in even apparently successful firms are potentially on shaky ground. Apparently paltering Kevin Clayton laid out part of the history, but missed mentioning the role that Warren Buffett led Berkshire Hathway apparently played in kneecapping of manufactured housing lending.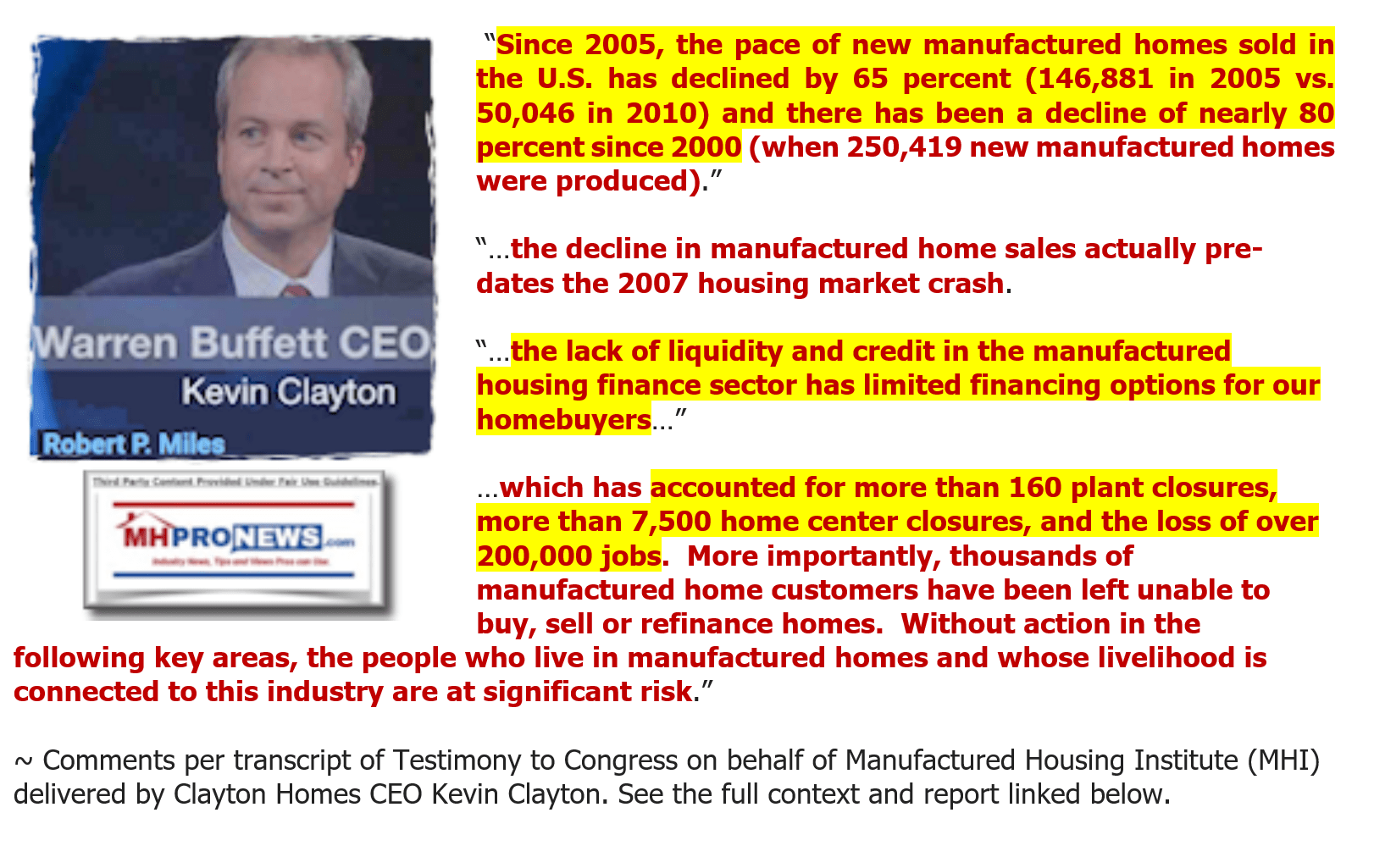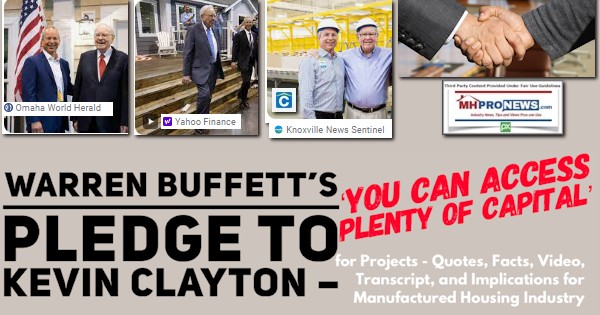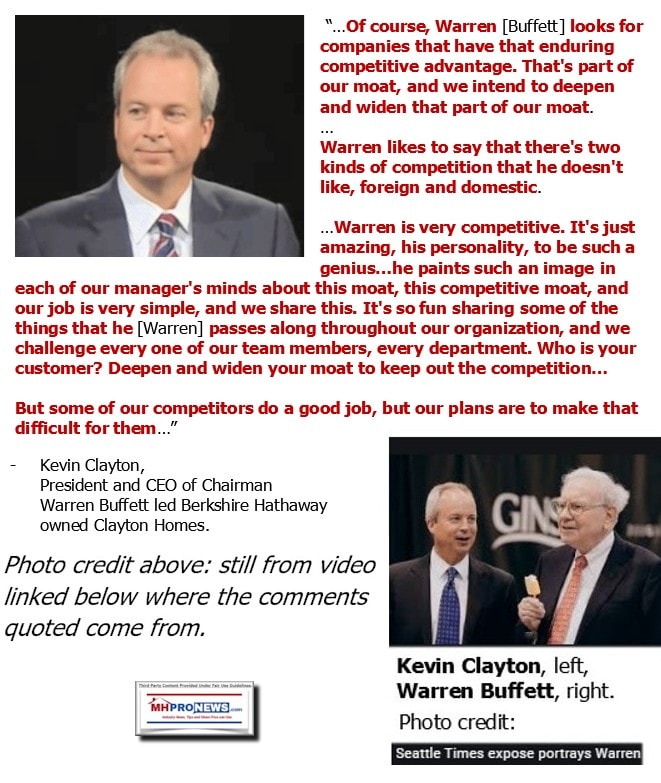 Related Notions, Wrap Up and Conclusion 
Bernie Madoff was thought to be an investment genius by many for years. But during some of those years, Harry Markopolos and a relatively small group of others were sounding the alarm. Madoff died in federal prison. As left-leaning CBS News put it on 7.23.2021: "Madoff had served 12 years of a 150-year sentence in a federal prison in North Carolina when he died in prison at 82 in April."
Buffett and his cronies may or may not die in prison, time will tell. But just as Madoff was once celebrated – while their methods are different – some see "Warren" not as the savior of capitalism, but as the killer of the free enterprise nature of capitalism. There ought to be a bright line distinction made between true free enterprise and crony, corrupt capitalism. Why? Because as Madoff, Enron, WorldCom, Theranos, and possibly Buffettism may one day be seen in a similarly sinister light. That taint of Buffettism has been openly embraced by ECN Capital.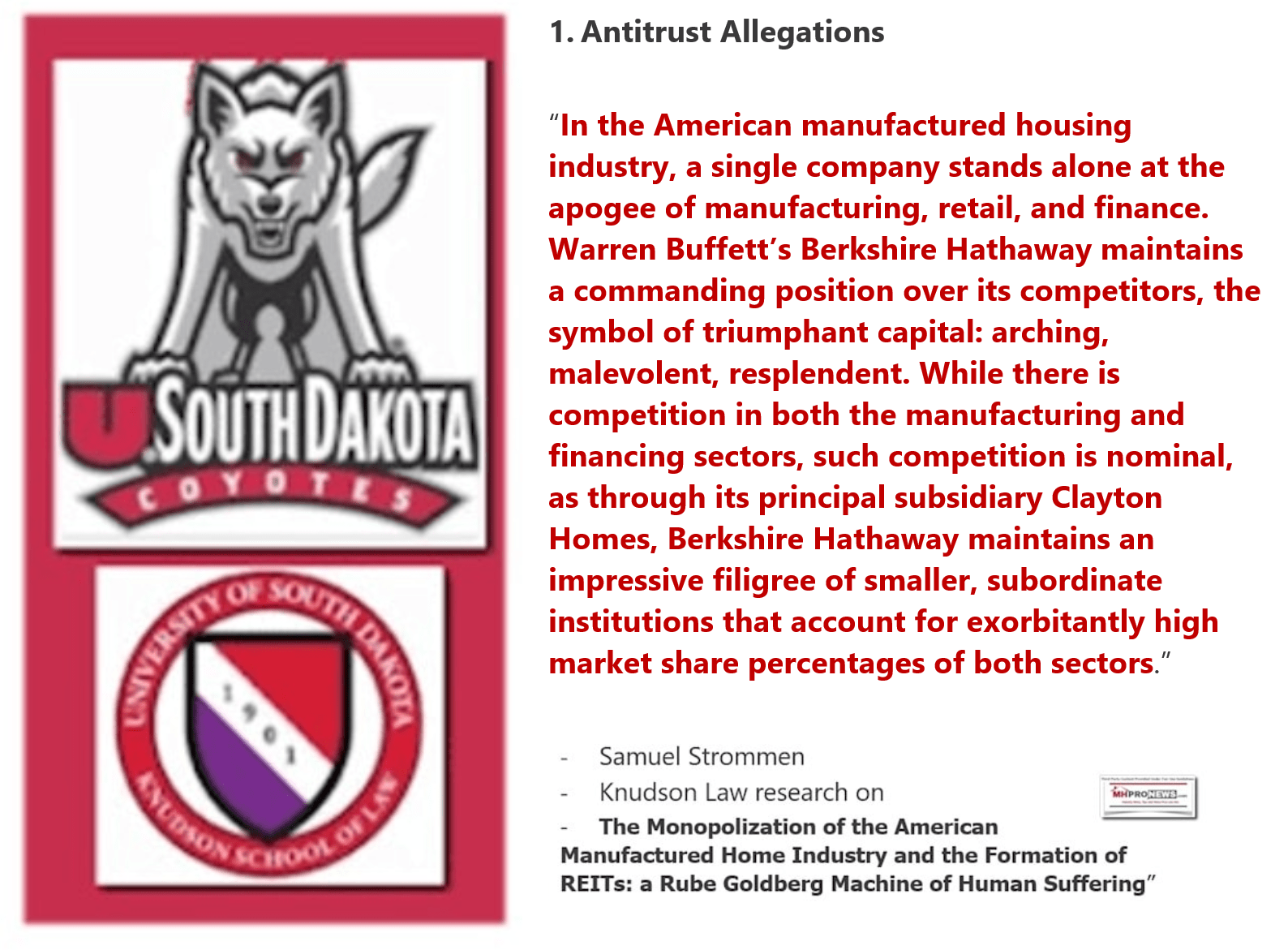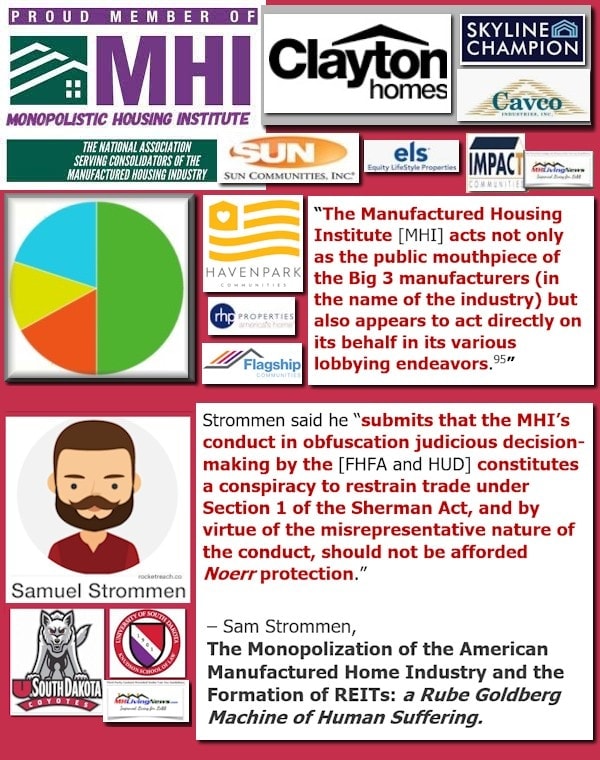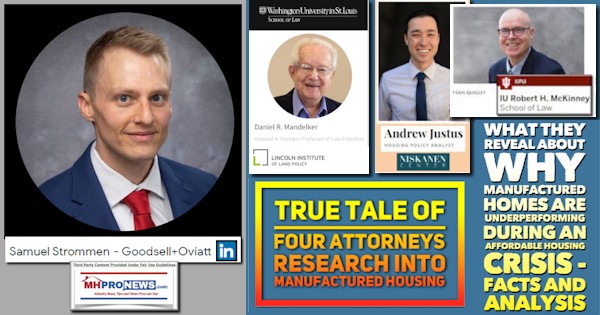 There are reasons why MHProNews bobs and weaves between manufactured housing specific topics and broader U.S. issues. Among them is the obvious need for public officials to probe manufactured housing, more specifically, MHI and their related dominating and consolidating brands.
'It Was the Best of Times, It Was the Worst of Times' – Make the Current U.S. Crisis Pay – How to Beat Corrupt Leftists at Their Own Game; plus Sunday Weekly MHVille Headlines Recap
"The government wants high-quality low-cost housing and manufactured housing provides that product" Warren Buffett said per Manufactured Housing Institute–Facts-Analysis; plus MHVille Stocks Update
Georgia Lawmaker Colton Moore Wants Emergency Session 'America Under Attack' – Fulton County District Attorney Fani Willis, GOP Preps Biden Lawfare Counterstrokes; plus, MHStocks Update
Warren Buffett led Berkshire Hathaway 'Fat Finger' Other Exits and Buys Included Conventional Builders – Truth Hiding in Plain Sight Facts-Analysis, What to Know; plus MHVille Stock Updates
'What Really Matters?' The Aggrandizement of Madam, CEO, Dr. Lesli Gooch, Ph.D. – Almost a Woman of Influence Two Years Running; plus Sunday Weekly Manufactured Housing Industry Headlines Review
Backdoor U.S. Rent Control via GSEs Looms – Manufactured Housing Institute and Broad Housing Coalition Push FHFA-Revelations Emerge – Bidenland Obstacles-Opportunities; plus MHMarkets Update
Don't Just Be a Victim! Sales Guru Anthony Iannarino Explains "How to Beat a Rigged System" Unpacking and Exploring Success Principles, Takeaways and Tactics; plus, MHVille Markets Update
'Floorplan Crisis'- Manufactured Housing Chattel Finance Battles – Barry McCabe Plug – Manufactured Housing Institute 21st Century Female President and CEO – Gail Cardwell – Industry Update on Financing; plus MHVille Stocks Update
See the above linked and other related items to learn more. A follow up to this report based on more information is planned for the foreseeable future. Stay tuned. Because new pages are being written in the manufactured housing industry in our time that will be 'historic' in the days to come. What has occurred are lessons to be learned from for those who want to see manufactured housing recover to its true potential.  ##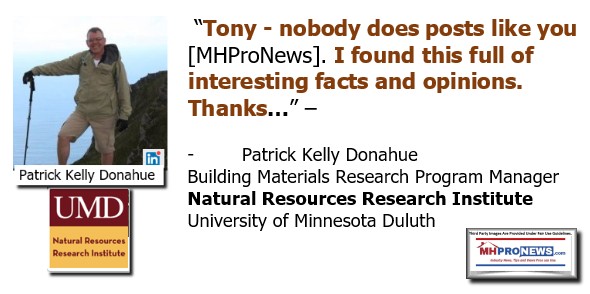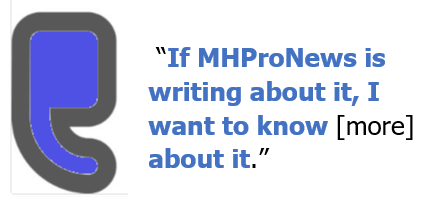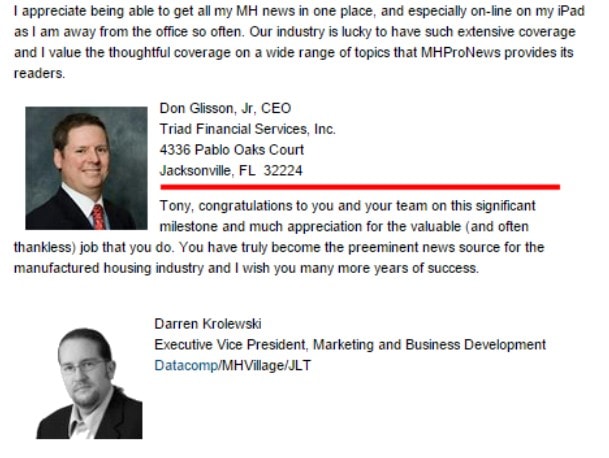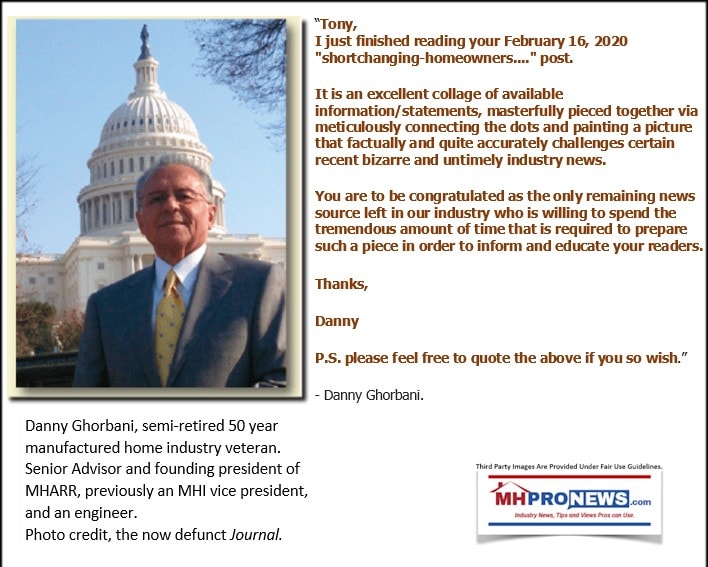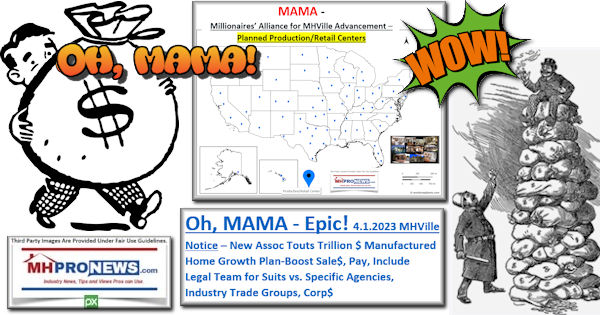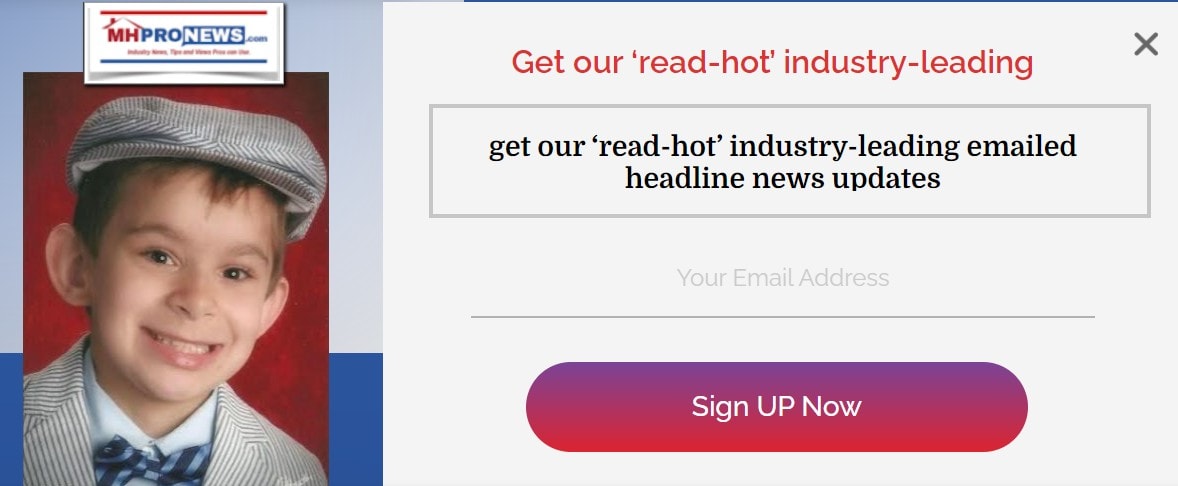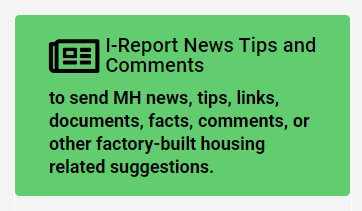 Again, our thanks to free email subscribers and all readers like you, as well as our tipsters/sources, sponsors and God for making and keeping us the runaway number one source for authentic "News through the lens of manufactured homes and factory-built housing" © where "We Provide, You Decide." © ## (Affordable housing, manufactured homes, reports, fact-checks, analysis, and commentary. Third-party images or content are provided under fair use guidelines for media.) See Related Reports, further below. Text/image boxes often are hot-linked to other reports that can be access by clicking on them.)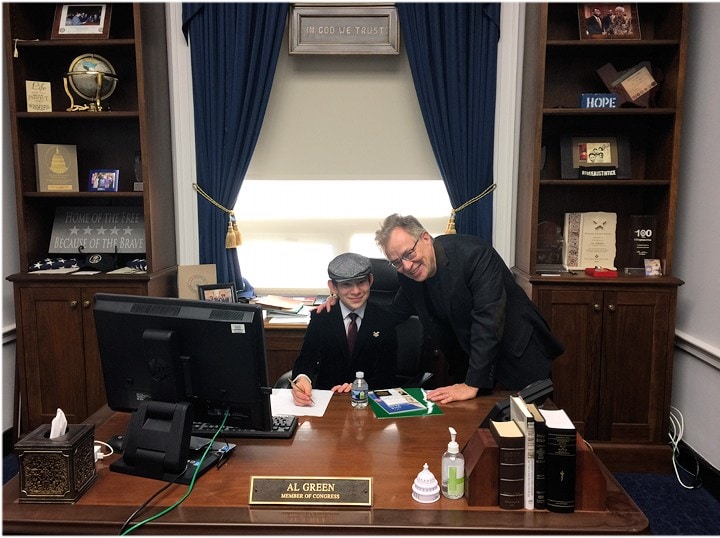 By L.A. "Tony" Kovach – for MHProNews.com.
Tony earned a journalism scholarship and earned numerous awards in history and in manufactured housing.
For example, he earned the prestigious Lottinville Award in history from the University of Oklahoma, where he studied history and business management. He's a managing member and co-founder of LifeStyle Factory Homes, LLC, the parent company to MHProNews, and MHLivingNews.com.
This article reflects the LLC's and/or the writer's position and may or may not reflect the views of sponsors or supporters.
Connect on LinkedIn: http://www.linkedin.com/in/latonykovach
Related References:
The text/image boxes below are linked to other reports, which can be accessed by clicking on them.'
Manufactured Housing Apology, Multi-Billion Manufactured Housing Institute Correction by MHI, Industry Reality Checks -What's Hot Among MHVille Pros; plus MHMarkets Update
Manufactured Housing's Rorschach Test – How You See the Facts, Visuals, Narratives and Evidence Speaks Volumes; plus Sunday Weekly Manufactured Home Industry (MHVille) Headlines in Review
Warren Buffett Success Tip 'Lighter or Darker World Ahead,' 'Is Obama's World a Utopian Myth?' As 7.4 Approaches Revisiting Buchanan's Historic Lessons; plus Sunday Weekly MHVille Headlines Recap
MHARR Washington Update – Fannie, Freddie, Duty to Serve and Latest Concerns on Manufactured Housing Institute Energy Litigation – Facts and Analysis, plus Sunday Weekly MHVille Headlines Recap
'Dark Triad' – Researchers Detect '5 Key Characteristics of BILLIONAIRES' – Evidence how Billionaires, Super Wealthy Think Differently Than Most-Takeaways and Lessons; plus Sunday MHVille Weekly Headlines Recap
'Go to Independent Sales Lot, Spend a Week There During Busy Season and Report on Reality of the Manufactured Housing Industry its Primary Level;' Sunday MHVille Weekly Headlines Recap
Name Calling, Evidence, Facts, and Manufactured Housing's Primary 'Muckraker' Shed Light on Manufactured Home Industry Underperformance; plus Sunday Weekly Headlines Recap
Manufactured Home 'Energy Rule Delayed'–Manufactured Housing Institute Aptly Says 'More Work to Be Done'–Clayton & Independent Builder Insights, Analysis-plus Sunday Weekly Headlines in Review
Andrew Justus, J.D., Niskanen Center Housing Policy Analyst, Hill Op-Ed Asks and Answers – 'What's Holding Back Manufactured Homes?' Sunday Weekly MHVille Headlines in Review
Warren Buffett Led Berkshire Hathaway has Over $100 Billion Available for Investing, Why That Matters to Manufactured Housing, MHEC Members Know How Gold Rules; plus Sunday Weekly Headlines Recap
U.S. Housing Market Snapshot April 2023, Manufactured Housing News Includes Eye Popping $500 Million Offer to Manufactured Home Residents; plus Sunday Weekly MHVille Headlines Recap
Danny Ghorbani – Manufactured Housing's 'Elephant in the Room,' per Prior Manufactured Housing Institute Chair, Exclusive Q&A on Key MHIndustry Issues, plus Sunday Weekly MHVille Headlines Recap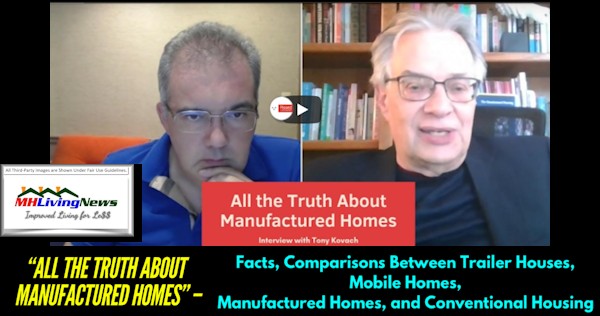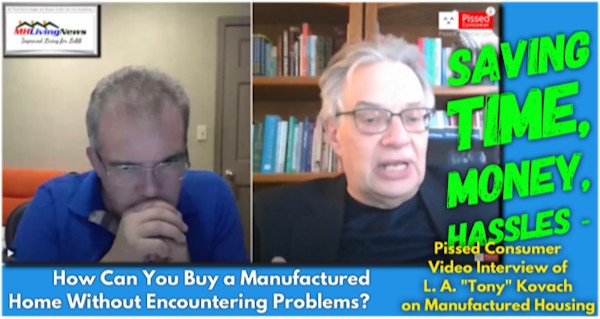 'Affordable Homes for Low Income Must Produce in Factory,' 'Years to Unravel Sabotage,' Grad Students Interest in Manufactured Housing, Factory-Home Solutions; plus Sunday Weekly Headlines Recap