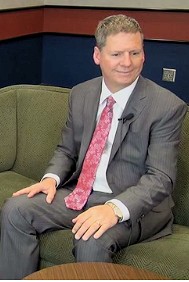 As some 1500 attendees know, it was cold outside, but climate controlled inside the 2016 Louisville Manufactured Housing Show.
MHProNews caught up with Don Glisson Jr., Chairman of Triad Financial Services during the show, and found a quiet room to do the exclusive video interview you see below. Triad originates some $400 million in manufactured home loans a year, including loans on privately owned home sites as well as in and for manufactured home land-lease communities.
In this episode of Inside MH Road Show, Don Glisson Jr. shares insights into successful manufactured home lending.
We learned about an increasingly popular program of theirs that is focused on CFPB compliant manufactured home community lending and servicing.
This is one of several new videos and stories that will be featured in the rapidly approaching February 2016 issue of MHProNews.com.  Don's interview will also be part of a featured article, one of the many in the February 2016 issue of MHProNews. 
The new issue may go live as soon as Monday evening, February 1, but the target for the new articles to go live on the home page is by noon on February 2nd. Until then, please enjoy the 16 featured articles now on the home page, or you can learn more at this link. ##
(Image credit: Inside MH Road Show, MHProNews.com)