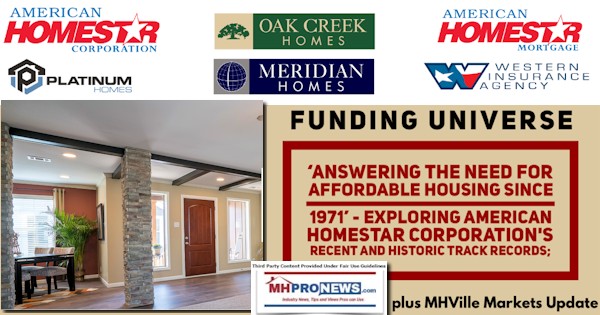 According to their website: "American Homestar Corporation is a vertically integrated factory built housing company, with operations in manufacturing, retailing, finance and insurance." Also per their website: "American Homestar Corporation (AHC), headquartered in League City, Texas has over forty-five years' experience in sales, production, installation, insurance, transportation and financing of various types of residential and commercial manufactured and modular homes and structures in Texas and the surrounding states. Since its founding AHC has been recognized for innovative manufacturing practices and design and has built over 56,500 homes. AHC is proud to be an employee owned business. The seven-hundred plus employees and management own 90 percent of the Company." But for some years, AHC was a publicly traded firm, and some of that history will be examined further below. That said, additional insights from their site are as follows.
Part I

AHC homes are built in two plants in Texas and one in Alabama. Its retail division operates nineteen retail home display centers in Texas, Louisiana and Oklahoma. Homes are also sold through a network of independent retail dealers in twelve states surrounding its manufacturing centers. Regional builder/developers look to AHC for homes to feature in their neighborhoods.
Since 2005 AHC has participated in a number of government projects to rebuild homes for families impacted by the Gulf Coast hurricanes. AHC has built in excess of 1,100 homes for families from Mississippi, Louisiana and Texas who have received new homes from the government to replace the homes they lost in the storms. The Company was awarded a five-year contract to build short term disaster housing for FEMA in fall 2014. Production of the homes will be dependent upon the needs of FEMA as it responds to natural disasters that may occur.
The Company actively builds and is a leading supplier of a number of structures to support domestic oil and gas production. This opportunity while currently limited due to oil prices is expected to improve as demand returns.
AHC has also been involved in building homes for U.S. Customs and Border Protection (CBP) working with a small disadvantaged minority business who has a contract with the U.S. General Services Administration (GSA).
Bringing affordable, quality solutions in a timely way to all customers is and will remain the primary focus of the company."
American HomeStar Corporation includes the brand-labels Oak Creek, Platinum, Meridian Homes, and of course American HomeStar.
More Insights and Comparisions
MHVillage's MHInsider has demonstrably been errant on several of their reports, an evidence-based assertion which their leadership has opted not to dispute when asked for reaction and comments. That said, they listed the following insights that included AHC in the #7 spot.
"Thirty-four U.S. manufactured home builders operating from 145 plants (growth of one builder and four plants compared with 2021) across the country produced 112,865 housing units during 2022." That total number of homes produced was reported by the Manufactured Housing Association for Regulatory Reform (MHARR) to be 112,882 homes in 2022. So MHInsider was close, but there is a difference which may be explained by the Manufactured Housing Institute (MHI) use of "destination pending" units. Production is production, regardless of why it was built, who built it, or where and when the produced units may go. AHC is an MHI member. That said, MHInsider claimed the following are the top 10 builders of HUD Code manufactured homes by market share.
Top Manufacturers
What are the top manufactured home builders by market share?
Clayton Homes — 45.7 percent
Skyline Champion — 16.8 percent
Cavco Industries — 12.06 percent
Live Oak Homes — 4.14 percent
Hamilton Homebuilder 3.17 percent
Legacy Homes — 2.86 percent
American Home Star — 2.25 percent
Jessup Housing — 1.91 percent
Elliott MH MFG — 1.47 percent
Adventure — 1.28 percent"
The Clayton Homes (BRK), Skyline Champion (SKY), and Cavco Industries portions of the above will be reviewed another time.  But as a reminder to illustrate the use of data and claims in MHVille by MHInsider and others, a prior set of claims by that source were disputed by the provider of the information, namely, Statistical Surveys. See the graphic below.   Note that there was no mention by MHVillage's MHInsider that Elliot (Solitaire Homes) was acquired by Cavco Industries in late 2022.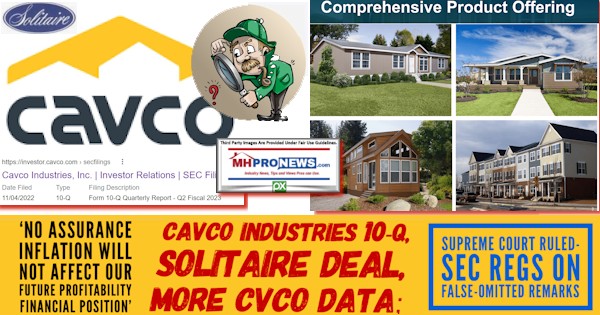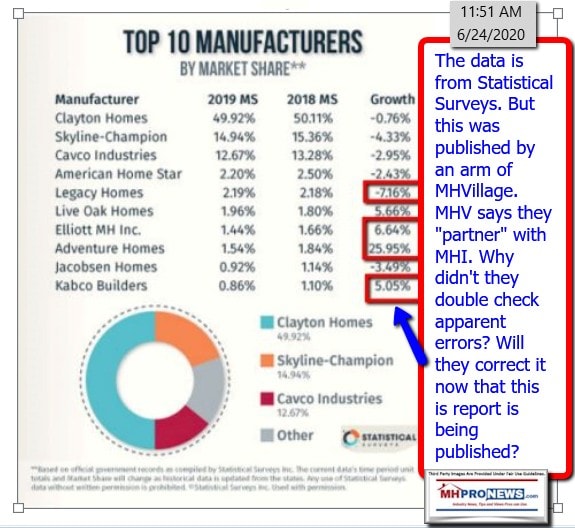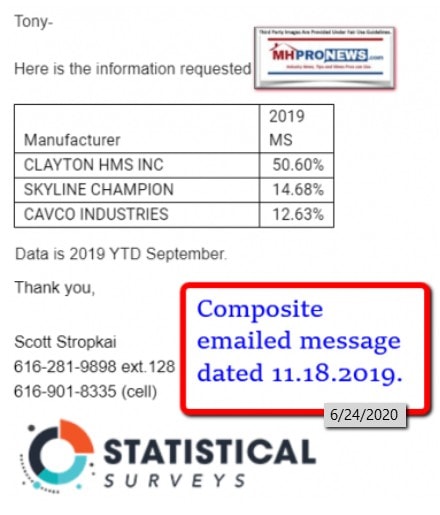 In fairness to MHInsider, which along with MHVillage and Datacomp are now owned by Equity LifeStyle Properties, there is evidence that Skyline Champion has also at times provided inaccurate information which apparently understated the market share of Clayton Homes.  Knudson Law legal researcher Sam Strommen cited the example below as being potential evidence for antitrust violations.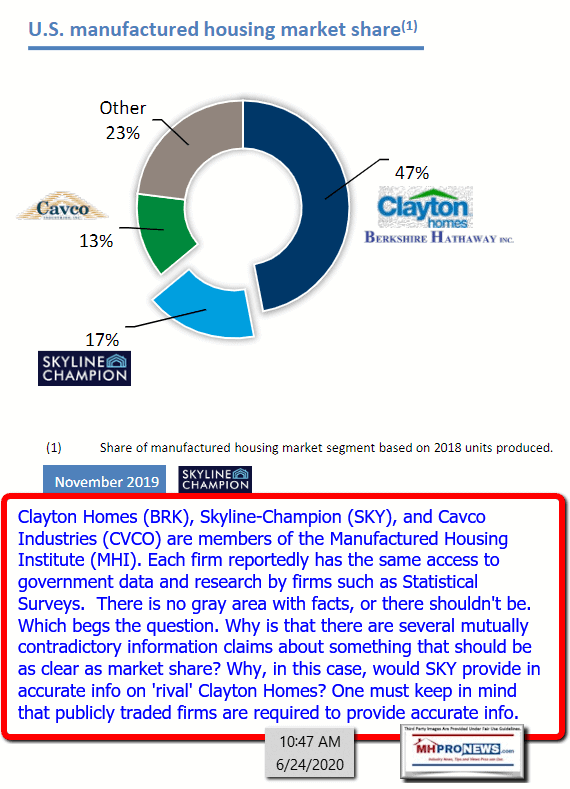 Those points noted, the significance of the information is not merely dry data. When apparently multiple members of the Manufactured Housing Institute (MHI) are providing inaccurate information that often appears to be similar to each other, it begs several legal/ethical/regulatory questions. Strommen said the evidence indicates "a conspiracy to restrain trade" which he said is a possible "felony" violation of the Sherman Antitrust Act. Market manipulation is a serious crime that can harm the interests of employees, investors, shareholders, stakeholders, taxpayers, and affordable housing seekers among others.
That said, there may be reasons to believe that American HomeStar has about a 2.25 percent market share in 2022, which is the most recent full year for which total production data would be available.   That would mean that AHC built about 2539.845 new HUD Code manufactured homes in 2022
Flashing back to the year 2003 here is what the now defunct MH Merchandiser reported for that year. AHC produced 1043 homes that year. So, AHC can take a measure of pride in growing their production by more than double their 2003 results. As a reminder, as troubling as it is to some manufactured housing professionals, the industry produced more homes in 2003 than the industry collectively produced in 2022.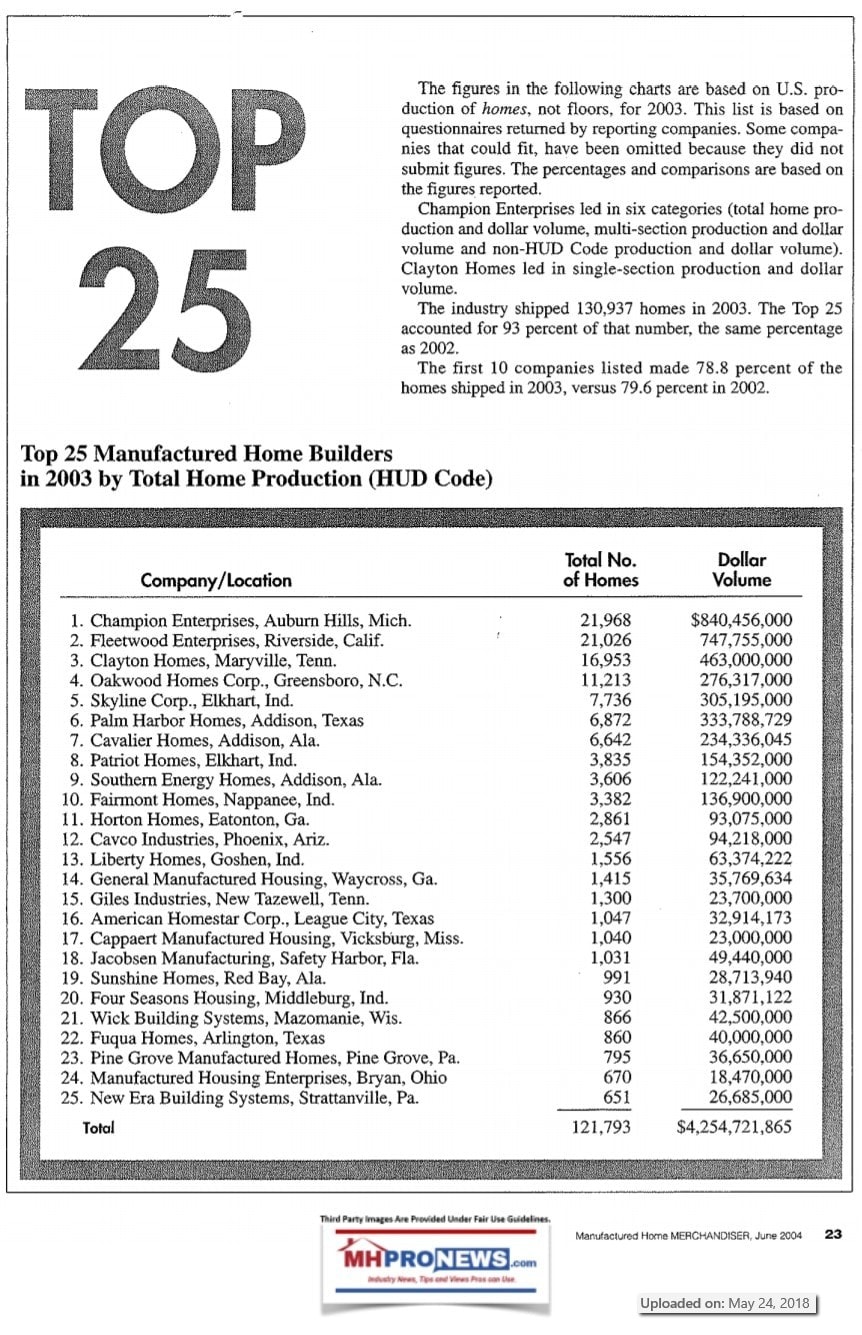 Part II
Prior, Historic Insights from FundingUniverse about AHC
Per Funding Universe was the following 'historic' information. Most of this is 20th century, but still relevant and of interest. Note that there are a few typos in the original and at least one factual error, which is addressed further below in Part III.
Address:
2450 South Shore Boulevard
Suite 300
League City, Texas 77573
U.S.A.
Telephone: (281) 334-9700
Fax: (281) 334-9737
Website: www.americanhomestar.com
Public Company
Incorporated: 1971 as Mobile America Housing Corporation
Employees: 3,934
Sales: $574 million (2000)
Stock Exchanges: NASDAQ
Ticker Symbol: HSTR
NAIC: 321991 Manufactured Home (Mobile Home) Manufacturing; 45393 Manufactured (Mobile) Home Dealers; 52421 Insurance Agencies and Brokerages; 524126 Direct Property and Casualty Insurance Carriers; 52413 Reinsurance Carriers
Company Perspectives:
American Homestar Corporation is one of the nation's leading, vertically integrated manufactured housing companies. The company designs, produces, and retails manufactured homes. Through its subsidiaries, the firm provides installment financing, insurance, and transportation services. Key Dates:
Key Dates:
1971:
Mobile America Housing Corp. is established.
1983:
The firm reincorporates as American Homestar Corporation.
1992:
American Homestar Corporation gains controlling interest in Roadmaster Transport Company and merges with Oak Creek Homes.
1994:
The company goes public.
1996:
The company purchases a 50 percent stake in 21st Century Mortgage and acquires three firms.
1999:
The company begins joint venture with HomeMax Inc. and purchases R-Anell Homes.
2000:
Due to a decline in the industry, the firm begins restructuring operations.
2001:
American Homestar Corporation declares Chapter 11 bankruptcy.
Company History:
American Homestar Corporation, one of the leading producers of site-assembled manufactured housing in the United States, was forced to declare Chapter 11 bankruptcy in early 2001, due to an industry-wide slump. Reorganization ensues, and the company hopes to resume its design, construction, and marketing of pre-constructed homes.
Manufactured homes are complete single-family housing units fabricated in sections, or 'floors.' Constructed in a factory and then trailered to a site of their owner's choosing, they offer amenities comparable with those of site-built homes. Although manufactured homes were once the focus of ridicule within the housing construction industry, in the 1990s they managed to shed their association with the tacky, disordered trailer parks of the 1960s and 1970s. In fact, the quality and design of manufactured (as opposed to mobile) homes improved to such an extent that the more upscale models have became almost indistinguishable from homes being constructed in newer, moderate-cost, single-family subdivisions in many parts of the country. The growing popularity of the manufactured housing trend came to an abrupt halt at the end of the 1990s, however. Whereas in the mid-1990s, manufactured homes made up the fastest-growing segment of home sales in the United States accounting for 33 percent of all single-family home sales in 1996–by the late 1990s the industry began to experience a sharp decline; sales at American Homestar dropped 24 percent between 1999 and 2000, and the company floundered.
Answering the Need for Affordable Housing Since 1971
Responding to the changing requirements of U.S. homebuyers, American Homestar Corporation was founded in 1971 as Mobile America Housing Corporation. Company founder and Texas native Finis Teeter, who had been selling manufactured housing since hiring on at Mobile Home Industries in 1969, decided to focus his area of operations in the southwest region. Establishing a 137,000-square-foot manufacturing facility in Fort Worth, Teeter began marketing middle-priced homes within the five-state area that has remained the company's core market. Teeter responded to the obviously unsatisfied need for affordable housing by setting up a retail network throughout the Southwest. The year 1971 proved to be a banner one for both Teeter and the manufactured housing industry as a whole as unit sales peaked throughout the nation.
The company reincorporated as American Homestar Corporation in 1983. Whereas the next few years would be rocky, indeed–the industry as a whole saw shipments of manufactured homes drop nationwide from 295,079 in 1983 to only 179,713 in 1991–Teeter and his company kept their footing until economic conditions across the nation began to stabilize.
It was not only a national recession, however, that affected the company. During the late 1980s, Texas experienced a dramatic decline in its own economic fortunes as the state's oil industry went through the 'bust' cycle after its earlier boom years. Within American Homestar's core market area, the number of manufactured home-makers shrank from 54 in 1984 to six by the early 1990s. The state began a financial comeback, however; along with other southern states, which have traditionally served as the manufactured home industry's strongest sales territory, Texas returned to its former glory, once again providing American Homestar with a lucrative market for its product.
Early 1990s: Developing Manufacturing and Sales Networks and Achieving Vertical Integration
By 1994, despite the setbacks caused by the local Texas economy, American Homestar ran three manufacturing plants located throughout the Dallas/Fort Worth area. Under the umbrella of National Housing Systems, Inc., the company retailed its homes in Arkansas, Colorado, Kansas, Louisiana, Missouri, New Mexico, Oklahoma, and Texas via 34 company-owned retail centers. These company-owned centers were supplemented by 103 independent retailers in the same core market area.
Due to the high cost of materials and storage, as well as the cyclical nature of the construction industry, factory-built homes were usually not manufactured until an order had been received, either from an independent retailer or one of American Homestar's own sales centers. The average rate of production in the company was 23 floors per day; the decline in orders experienced by the slump in housing demand over the winter months was balanced by a corresponding increase in production during warmer weather. Sixty percent of total sales was generated by company-owned retailers, with the remainder written by its network of independents. New company-manufactured homes–medium- to upper-priced houses that vary in features and design–comprised more than 60 percent of the homes sold by American Homestar, which also sold used homes and homes from other manufacturers. In the early 1990s, company goals continued to focus on increasing this percentage to 80 percent through enlargement of American Homestar's own manufacturing facilities.
The implementation of a management strategy known as vertical integration–the ability to design, manufacture, market, deliver, and finance its product–was the key to the success of several competitors in the manufactured home industry, notably the Knoxville, Tennessee-based Clayton Homes. Teeter also recognized the benefits of this means of developing structural efficiency early on, and he guided American Homestar in the direction of vertical integration. In light of Teeter's success in this area, analysts praised American Homestar as possessing one of the best-managed corporate organizations in the manufactured housing industry.
The company obtained a controlling interest in the newly formed Roadmaster Transport Company in 1992 as its first step toward vertical integration. Because of the specialized trucking needs of the manufactured home industry, Roadmaster was organized as a means of providing transit from factory to homesite. Deriving only a small percentage of its revenue from American Homestar–26 percent in 1996–Roadmaster generated most of its income by servicing other home manufacturers within its transit area. Under efficient management, it had become one of the largest transporters of manufactured homes in the southwest region.
1992: Merger with Oak Creek Homes
The year 1992 was significant, not only for the company's diversification into the transport business, but also for its timely merger with another home manufacturer. Recognizing the increased potential for profits with an increase in production and retail size, CEO Teeter formed a joint venture with Oak Creek Homes, a major supplier of homes to American Homestar retailers. Under the joint name of American Homestar, Oak Creek CEO and primary shareholder Laurence A. Dawson, Jr., worked with Teeter to open two new manufacturing plants to capture the still-increasing demand for manufactured homes. The Lancaster manufacturing facility was opened in December 1992 to produce lower-priced homes; upper medium- and higher-priced homes would be constructed at the 94,000-square-foot Burleson plant beginning in May 1993. Oak Creek Homes was acquired by American Homestar in August 1993. Under the acquisition, all corporate operations were combined; Dawson was named co-CEO and director alongside Chairman and CEO Teeter.
Providing its customers with adequate long-term financing for home purchases also contributed to American Homestar's goal of vertical integration. Through its 50 percent ownership of 21st Century Mortgage, which was formed in early 1996, the company reaped the profits of $47 million in home mortgages by the end of its first fiscal year. Approximately half of the homes purchased through American Homestar retailers would eventually be financed by 21st Century. Through its ownership of Western Insurance Agency and Lifestar Reinsurance Ltd., the company was able to service its customers' property/casualty and credit life insurance needs and profit from yet another financial transaction on the way to owning a home.
Going Public in 1994
Company management's efforts toward vertical integration paid off. Although sales in 1992 had contributed only $27 million to revenues of $28.7 million, by 1994 they had reached $109 million, an increase of more than 400 percent. Such rapid growth enabled American Homestar to consider an expansion of its sales territory through the acquisition of smaller manufactured home producers. Expansion into these new markets, however, would necessitate an influx of capital. Accordingly, in July 1994 the company went public, offering two million shares on the New York over-the-counter market. While Teeter and Dawson retained 45 percent of the company stock, the sale of the remaining 1.1 million shares generated sufficient revenues to continue the implementation of their acquisition plans.
Formulating reorganization strategies was only a means to an end. American Homestar approached the year 2000 with several strategic goals, which included opening new retail centers, expanding its current network of independent retailers and strengthening retailer loyalties to its product, and further expanding its manufacturing capacity. The company also focused on maximizing the profit opportunities inherent in its vertical structure through earning manufacturing, retailing, and financial service profits on every home sold. Management felt that the company's continued policy of aggressive acquisitions would ensure ever-increasing market opportunities for both its mortgage and insurance sectors.
By the mid-1990s, American Homestar was reporting annual average growth rates of between 15 and 18 percent, with 1995 revenues of $187 million and sales in its core market area cresting between 35 and 45 percent. Sales of new homes for 1995 were reported at 3,127 units, evenly distributed between single- and multifloored home models. Branching out into its first retail sales location in the state of Louisiana, the company worked toward its goal of establishing 40 new retail centers by 1997. The September 1995 investment of $2.5 million in 21st Century Life, a venture with partners Vanderbilt Mortgage & Finance and Clayton Homes, reaped $22,000 in net income by the following year.
Reaping Rewards Through Aggressive Expansion in the Mid-1990s
In 1996, American Homestar more than doubled the size of its manufacturing capacity through the acquisition of three firms: Guerdon Homes, Inc., which sells and produces manufactured homes within a 13-state region; Henderson, North Carolina's Heartland Homes, Inc.; and the 15-member Manu-Fac, Inc., retailer network, also located in North Carolina. This expansion made the company a major industry presence in 24 states through the addition of 215 new independent retailers and five additional manufacturing locations to its operations. Guerdon and Heartland, both manufacturers of upscale double-section homes, were predicted to especially enhance the company's overall sales figures. The trend within the manufactured home industry had been toward such larger, multisection homes, which accounted for almost half of the industry's 1996 sales. These more upscale homes–sometimes boasting three bedrooms, luxury amenities, or innovative architectural elements–had become an increasingly attractive alternative to buyers considering more expensive site-built homes. With American Homestar's traditional mid-priced homes serving both ends of the country's new homebuyer demographic profile (first-time homebuyers and retirees), the addition of multi-section homes was seen to be an effective way to expand company market share.
Reflecting an industrywide trend toward consolidation, the acquisitions of Guerdon and Heartland made American Homestar an industry leader, not only in its core southwest and south central regions, but in the Pacific Northwest, Rocky Mountain area, and the southeastern United States as well. By the second quarter of fiscal 1997, with the multistage acquisition of Guerdon Homes completed, the company had diversified its geographical base to the point where it could boast 48 company-owned retail centers and 300 independent dealerships servicing customers in 24 states, with eight manufacturing plants at their disposal. Through this dramatic increase in its sales base, coupled with a 100 percent increase in its manufacturing capabilities, American Homestar seemed poised on the brink of rapid financial growth.
In both 1996 and 1997, American Homestar announced a five-for-four split of its stock, increasing its common shares outstanding and generating new funds for the continued implementation of its plan for aggressive expansion. Praising the company's stock–one of the lowest-valued stocks in the industry&mdash one of the best picks of 1997, industry analysts expected the company's earnings to rise at an annual rate of 20 percent into the next century. Company goals for fiscal 1997, which included the addition of ten new retail facilities, reflected such an optimistic outlook. By the first quarter of fiscal 1997, three new retail outlets already had been established; by the second quarter American Homestar had reported record gains as revenues rose 76 percent from 1996 levels to $89.3 million.
According to the industry's Manufactured Housing Institute, the 370,000 manufactured homes shipped in 1996–a 9 percent increase over the previous year and a 37 percent increase over the previous decade–generated $14 billion in sales for the industry. American Homestar's piece of this growing pie was $208 million, generated through the manufacture and sale of 3,593 new homes. Housing analysts noted, however, that fluctuations in the interest rate, as well as excess inventories caused by slow orders, would begin to affect the manufactured home industry as it began its process of maturation.
Nevertheless, American Homestar continued to introduce new manufactured home models in 1997, including the Celebration Model 487 and the Galaxy Model 694. By 1998, the company's revenues had grown to $514 million, an increase of 26 percent over the previous year. The firm operated 86 retail centers and served 40 franchisees and 300 independent retailers in 28 states.
Continuing with its acquisition strategy, American Homestar purchased R-Anell Custom Homes Inc.–known for its manufactured and modular homes–in January 1999. Included in the deal were Gold Medal Homes Inc. and Gold Medal Homes of North Carolina Inc. The company also began a joint venture with HomeMax, Inc., a subsidiary of Zaring National Corporation. HomeMax operated 12 retail sales centers, called model home villages, in North and South Carolina and in Kentucky. As part of the venture, American Homestar homes would be sold in the model home villages.
Industry Decline in the New Millennium
Although the company had pursued an aggressive acquisition strategy, it entered the new millennium with an uncertain future. Housing analysts' predictions rang true as the manufactured housing industry, which had grown quickly in the 1990s, began to experience sharp declines in demand. American Homestar was forced to take action. Production in its Alabama and North Carolina plants was consolidated in an effort to improve profits. At the same time, the company sold its interest in 21st Century Mortgage and instead began a joint venture with the firm. The new entity, Homestar 21 LLC, operated as a loan originator for American Homestar customers, franchisees, and dealers.
Revenue for fiscal 2000 dropped to $574 million from $654 million recorded in the previous year. In August 2000, Dawson, Jr., resigned as CEO, president, and director of the company. Teeter remained chairman but relinquished his operating responsibilities. The company continued to consolidate operations as means of controlling costs. The decline in the industry continued with nearly 40,000 unsold mobile homes left on dealer lots in 2000. Many independent dealers were forced to go out of business, and American Homestar was left having to repurchase the unsold homes. In December 2000, retail sales in the industry declined by 32 percent over the previous year and shipments fell by 47.1 percent.
By early 2001, almost 80 manufacturing housing factories had been shut down throughout the industry. Despite the company's efforts at cutting costs, American Homestar, was forced to declare Chapter 11 bankruptcy in January. The firm, stating that the decline was the worst it had seen in two decades, was left with few options and felt that Chapter 11 was the best solution. Craig Reynolds, American Homestar's executive vice-president and chief financial officer, stated in a company press release, 'If we're going to have the opportunity to reorganize at all, we have to resort to this measure; otherwise we would just sit and run right out of cash.' At the time of the filing, the company had $363 million in assets and nearly $280 million in debt. Management planned to file a reorganization plan to restructure operations in early summer 2001 and remained optimistic that the industry would bounce back, as it had in the past.
Principal Subsidiaries: First Value Homes Inc.; R-Anell Custom Homes Inc.; Associated Retailers Group Inc.; Nationwide Housing Systems; Oak Creek Homes Inc.; Roadmaster Transport Company.
Principal Competitors: Champion Enterprises Inc.; Fleetwood Enterprises Inc.; Oakwood Homes Corporation.
Further Reading:
'American Homestar Corporation Announces Results for Fiscal 2000, 'Business Wire, August 15, 2000.
'American Homestar Corporation Further Expands Its Retailing Operations Through a Joint Venture with HomeMax Inc.,' Business Wire, February 25, 1999.
'American Homestar to Consolidate Production in Alabama,' Business Wire, March 15, 2000.
'American Homestar to Consolidate Production in North Carolina,' Business Wire, May 26, 2000.
Apte, Angela, 'King of the Doublewide,' Houston Business Journal, January 22, 1999, p. 14A.
'Bankruptcy Filing,' Houston Business Journal, January 19, 2001, p. 22.
Byrne, Harlan S., 'Once a Joke, Manufactured Housing Has Gained Respect,' Dow Vision, January 6, 1997.
Fowler, Tom, 'Sales Slump Leads Texas-Based Mobile Home Firm into Bankruptcy,' Knight-Ridder/Tribune Business News, January 12, 2001.
'Mobile Home Company's Revenue Up 26%,'American Banker, June 29, 1998, p. 17.
'Spring Festival of Homes,' Manufactured Home Merchandiser, March 1997, p. 34.
Timmons, Heather, 'Home Manufacturer with Finance Affiliate Seeks Wider Horizons,' American Banker, March 11, 1996, p. 10.
Trager, Cara S., 'Mobile Houses Provide Path to Affordability, 'Newsday, November 22, 1996.
Source: International Directory of Company Histories, Vol. 41. St. James Press, 2001.
Part III
Additional Information with More MHProNews Analysis and Commentary in Brief
Note that Funding Universe's history pre-dates the entry of Warren Buffett led Berkshire Hathaway (BRK) into the manufactured housing industry. The above is imperfect, in as much as they cited MHI as follows: "According to the industry's Manufactured Housing Institute, the 370,000 manufactured homes shipped in 1996–a 9 percent increase over the previous year and a 37 percent increase over the previous decade–generated $14 billion in sales for the industry." The actual production for 1996 and other years since 1990 to 2021 is as shown below.
Note: to expand this image to a larger or full size, see the instructions
below the graphic below or click the image and follow the prompts.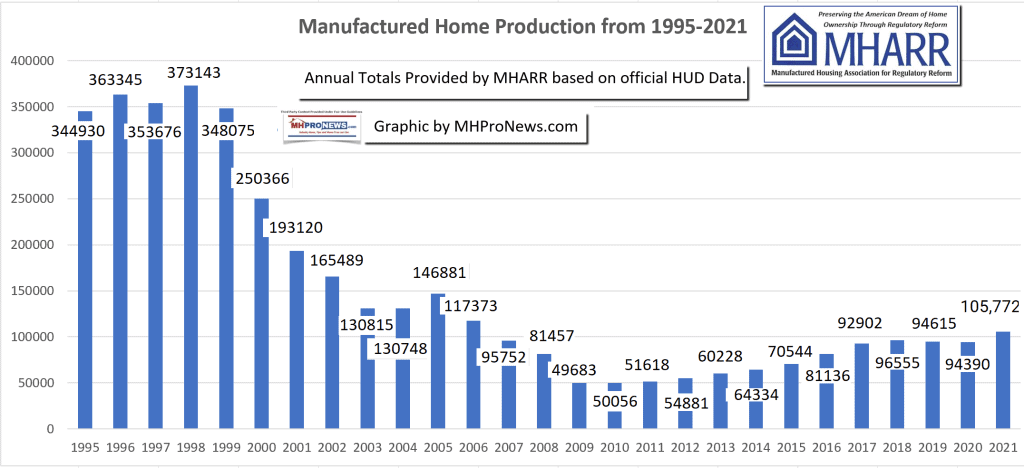 Which also begs the question about why MHI and some MHI member brands seem to have a problem with producing reliable data. Data – facts – should be consistently correct.
Buffett's Berkshire bought a stake in Oakwood Homes Corporation in 2002. In a controversial episode the Kevin Clayton called "ugly," Jennifer Reingold for Fast Company made the claim that the story given by Buffett-Berkshire-Clayton was not historically accurate.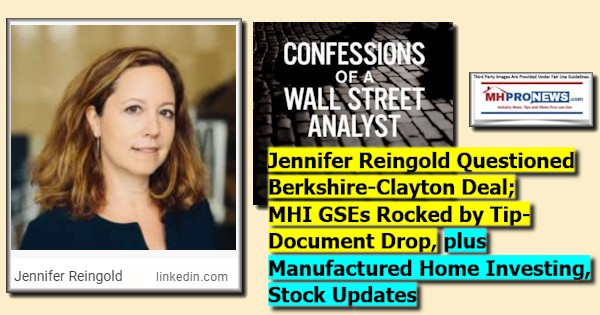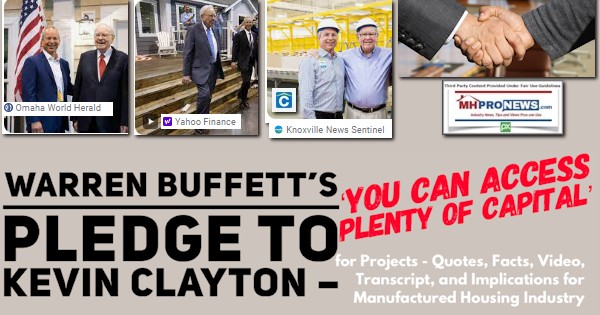 MHProNews may circle back to additional insights on AHC, its relationship with MHI, and other relevant topics in the foreseeable future.  But for now, it should be stressed that for a largely employee-owned company ought to be concerned about the details that may be keeping their potential compensation artificially reduced.  To learn more about that and other topics, see the linked reports herein.
As an interesting aside to be explored more at a later date, leading MHI member firms explored in a recent report indicate that thousands of employees in firms that does NOT include AHC are apparently unhappy. Restated, some of MHI's largest members employees are unhappy.  See that in the report and analysis linked below.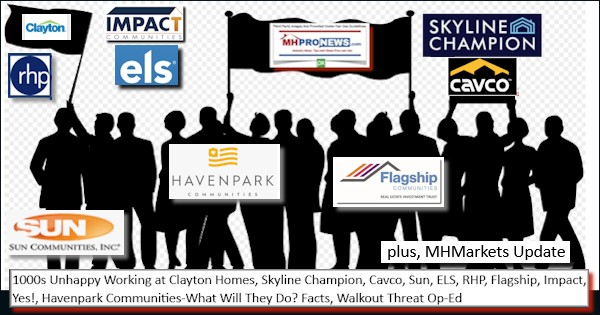 MHARR leaders have pointed out facts that ought to be of concern to shareholders and investors in the industry. Those concerns from MHARR are sometimes raised in concert with MHProNews/MHLivingNews, sometimes independently of our platforms. Those issues ought to be of particular concern to independents such as AHC, but others in MHVille too. To learn more about those issues, see those related reports.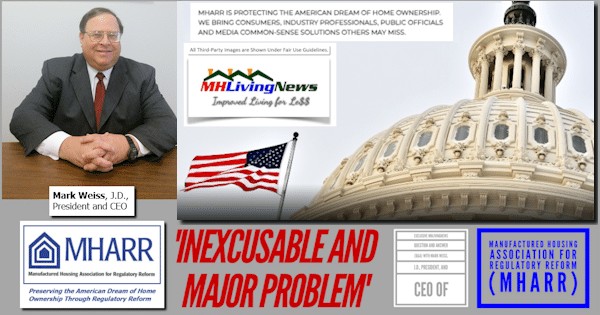 Note: to expand this image to a larger or full size, see the instructions
below the graphic below or click the image and follow the prompts.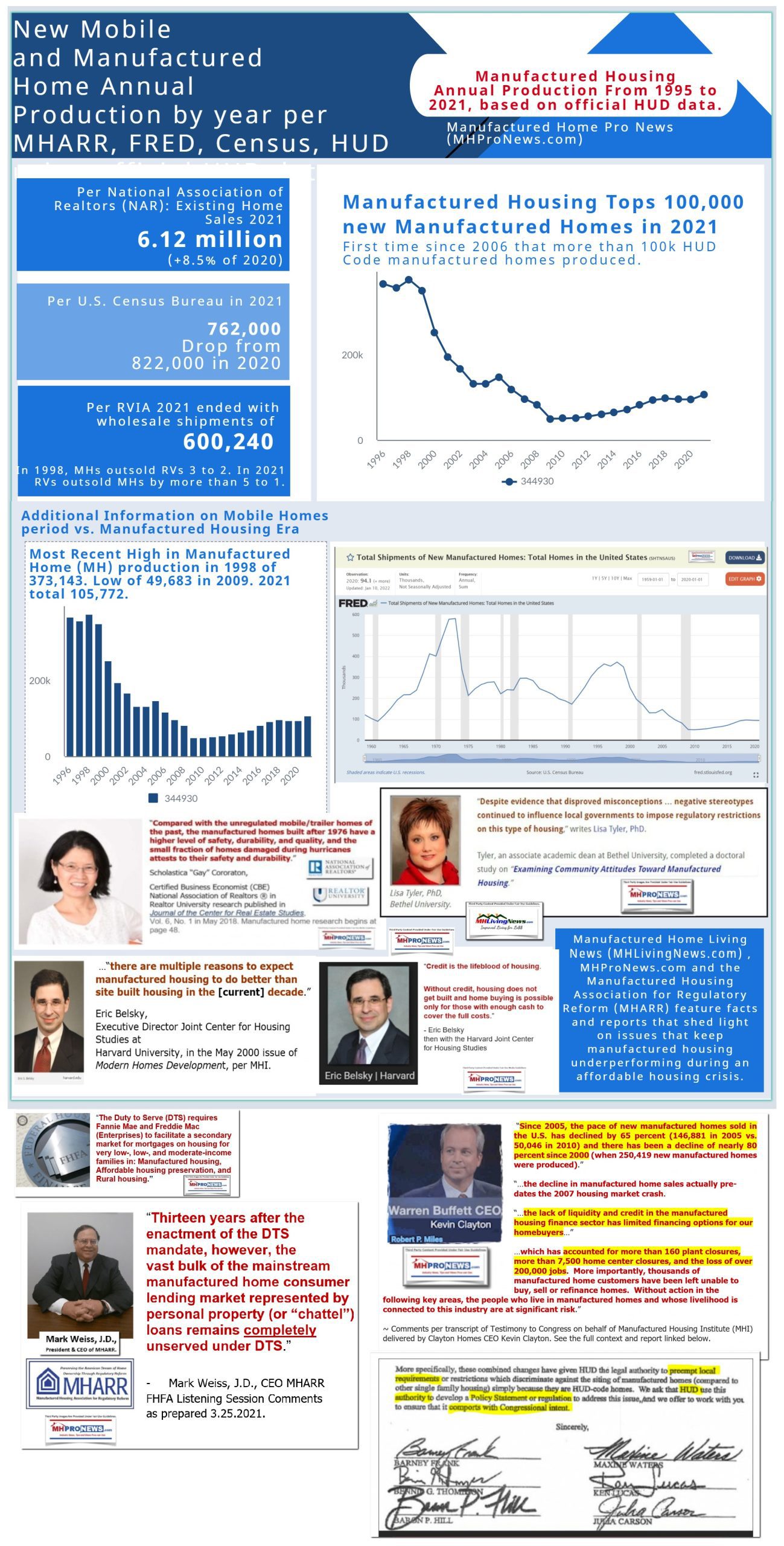 H.R. 5198 – Expansion of Attainable Homeownership Through Manufactured Housing Act of 2023 – Manufactured Housing Institute Supported Bill Explored; plus Sunday Weekly MHVille Headlines Recap
Part IV. Daily Business News on MHProNews Markets and Headline News Segment
Headlines from left-of-center CNN Business – from the evening of 8.29.2023
An ultimatum
Amazon CEO tells employees to return to the office or their days may be numbered
Employers could offer you tax-free help with your student loan payments. Most are not
G2599K National Association of Realtors – Washington, DC USA
Head of powerful real estate trade group resigns amid sexual harassment allegations
A laptop keyboard and ChatGPT on AppStore displayed on a phone screen are seen in this illustration photo taken in Krakow, Poland on June 8, 2023
AI tools make things up a lot, and that's a huge problem
Apple expected to unveil new iPhone at 'Wonderlust.' special event
Furniture store Mitchell Gold + Bob Williams is shutting down
Hundreds of flights are canceled as Hurricane Idalia disrupts air travel
Gold plated souvenir Bitcoin coins are arranged for a photograph in London on November 20, 2017.
Crypto assets soar as US court clears a path for bitcoin ETFs
The UK economy still can't cope with the consequences of Brexit
Facebook, X and Instagram icons are seen displayed on a phone screen in this illustration photo taken in Krakow, Poland on August 21, 2023.
X will allow political ads again and hire for safety and election teams ahead of 2024 elections
Key San Francisco Fed official who oversaw supervision of SVB will retire
US consumers' mood soured at the end of summer on inflation worries
Amazon launches message-based virtual clinic for allergies, acne and hair loss
US job openings fall below 9 million for the first time since March 2021
3M agrees to pay $6 billion after US military said faulty earplugs led to hearing loss
Home prices rose for the fifth straight month in June
Best Buy expects tech demand to hit a low this year
Farmers Insurance to lay off 2,400 workers across its entire business
Schumer to host AI forum with major tech CEOs including Zuckerberg and Musk
Toyota will resume production in Japan Wednesday after system malfunction
Hurricane Idalia and Labor Day could send gas prices and inflation higher
US isn't trying to hold China's economy back, says Commerce Secretary Raimondo
Florida's already-volatile insurance industry is bracing for Hurricane Idalia
Note: to expand this image to a larger or full size, see the instructions
below the graphic below or click the image and follow the prompts.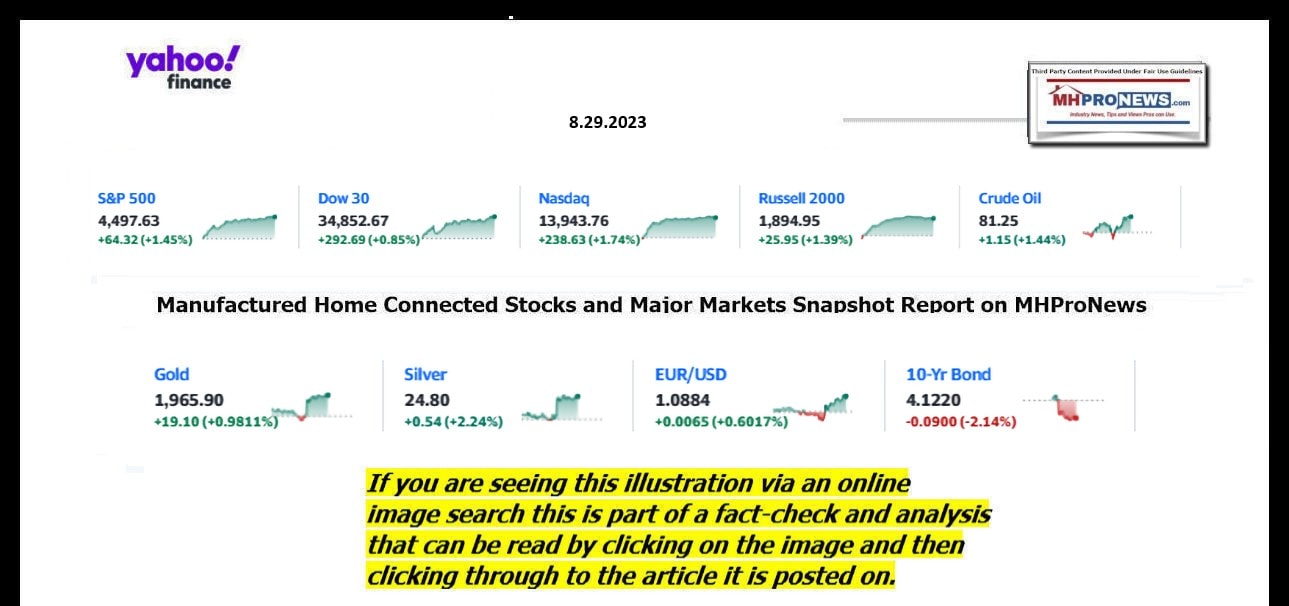 Headlines from right-of-center Newsmax 8.29.2023
McLaughlin Poll: Trump Beats Biden in Electoral Landslide
The race between Joe Biden and Donald Trump is no longer close. Trump is clearly leading, veteran pollsters John McLaughlin and Jim McLaughlin find in their latest national survey. [Full Story]
Trump Indictments
Eric Bolling: They're Using 'Race Card' to Stop Trump
AJC Poll: 94% See Trump Charges as 'Political' | video
Judge Napolitano: 'Political' to Start Trump Trial March 4 | video
Trump Chief of Staff Meadows Denies 2 Allegations in Ga. Indictment
John Bolton: Guilty Verdict Could Be 'Fatal' Blow to Trump
Clyde Seeks to Defund Trump Prosecutions
Trump: I'll Appeal Trial Date in Federal Election Case
Judge Chutkan Sets March 4 Trial Date for Trump in D.C. Case
Pollster Anderson: Indictments 'Galvanized' Trump Support | video
Ex-Ga. Prosecutor: Moving Ga. Case Would Be 'Game Changer' | video
Tenney: Trump Cases Equal Election Interference | video
More Trump Indictments
Newsmax TV
Comer: Biden Was Most 'Corrupt' VP in History
Mast: Biden Used Military as 'Pawns' Leaving Afghanistan
Stella Weaver: Baseball 'More Fun and More Challenging' | video
Burgum: Focus on Cleaning Biden's Mess | video
Beth Van Duyne: Start Biden Impeachment Now
Millbrae, Calif. Mayor: Tiny Town on Hook for 20% of Homeless | video
Rosendale: Biden 'Shut Down' US Energy | video
Larry Elder: Debate Ban Over Poll 'Bizarre' | video
RFK Jr.: DNC Opposes Me as I'm Threat to Biden | video
More Newsmax TV
Newsfront
National Archives Has 5,400 Biden Emails With Pseudonyms
The National Archives and Records Administration acknowledged it has about 5,400 emails that potentially show President Joe Biden hid behind phony names while vice president, the New York Post is reporting…. [Full Story]
Hurricane Idalia to Lash Fla. Wednesday as Category 3
Much of Florida was in disaster mode on Tuesday with only hours to go [Full Story]
After Court Curtails Federal Power, Biden WH Weakens Clean-Water Protections
The Biden administration weakened regulations protecting millions of [Full Story]
'Hollywood on the Hudson' Coming to NYC
Blackstone and Vornado Realty Trust are joining forces to build a [Full Story]
Climate Activists 'Fearmongering' With Heat-Related Death Warnings
Climate activists contend that the sweltering summer weather has been [Full Story] | Platinum Article
McLaughlin Poll: Trump Beats Biden in Electoral Landslide
The race between Joe Biden and Donald Trump is no longer close. Trump [Full Story]
Related
Miami Mayor Suarez Quits 2024 GOP White House Race
Ramaswamy Rebuked for 'Grand Wizard' Comparison
Morning Consult Poll: Trump Up After Debate, Mug Shot
AJC Poll: Trump Dominates Georgia at 57 Percent |video
Trump Takes Victory Lap on Skipping 'Boring' Debate |video
HarrisX Poll: 87 Percent of GOP Would Back Trump
Disney Stock Hits 9-Year Low; Anti-woke Boycott Continues
The slogan go woke, go broke appears to be coming true at the Walt [Full Story]
White House Suggests Kremlin Was Behind Prigozhin Death
The White House on Tuesday came close to declaring that the Kremlin [Full Story]
Canada Warns LGBTQ Travelers to US
Canada, citing the risk of potential dangers, is advising LGBTQ [Full Story]
At $3.82, Gas Prices Take New Inflation Toll
The average price for a gallon of gas rose to $3.82 nationally [Full Story]
Navy Needs a Heavy-Lift Fleet Before Potential China Conflict
With storm clouds brewing in the Western Pacific, more attention and [Full Story] | Platinum Article
Consumer Confidence Wanes on Signs of Cooling Jobs
Americans are feeling less confident financially as summer comes to a [Full Story]
3M to Pay $6 Billion to Settle Military Earplug Lawsuit
Chemical and consumer product manufacturer 3M has agreed to pay $6 [Full Story]
Diabetes, Cancer, Heart Drugs on Medicare Price List
The Biden administration on Tuesday named the first 10 medicines that [Full Story]
Report: Accounting Firms Paying IRS Agents
Large accounting firms and corporations have paid almost 500 Internal [Full Story]
CNN: FBI Investigating ISIS-Tied Smuggling Operation
The FBI is investigating a potential terrorist trafficking operation [Full Story] | video
Record 22% of Americans Plan to Travel Abroad
More than one-in-five Americans plan on vacationing in a foreign [Full Story]
Denver Settles Suit With Black Lives Matter Protesters
City officials in Denver have approved a $4.7 million settlement with [Full Story]
Republicans Demand Answers on COVID-19 Relief Fraud
A Republican-led House panel calledon Attorney General Merrick [Full Story]
US Given OK to Enforce Maritime Law Around Palau
The United States signed a new agreement with Palau that gives [Full Story]
Pro-Manchin Ad Highlights Senator's Work With Trump
A new ad by a Democrat-aligned group aimed at boosting Sen. Joe [Full Story]
San Francisco Official Resigns After Pitching 'Doom Loop'
A San Francisco city official reportedly was forced to resign after [Full Story]
Meta Ends China, Russia Sites Attacking Democracy
Meta says Chinese and Russian influence operations the company [Full Story]
Colorado Student Told Gadsden Flag Patch Not Allowed
A 12-year-old middle schooler at a Vanguard School in Colorado [Full Story]
Miami Mayor Suarez Quits 2024 GOP White House Race
Miami Mayor Francis Suarez on Tuesday suspended his bid for the [Full Story]
AMA Slammed for Paper on Uterus Transplants for Men
A paper in the American Medical Association (AMA) Journal of Ethics [Full Story]
North Carolina Grad Student Charged With Murder
University of North Carolina at Chapel Hill grad student Tailei Qi [Full Story]
GOP Eyes Huge Campaign Finance Win
Republicans are hopeful about their prospects ina lawsuit that would [Full Story]
Sorority's Lawsuit to Oust Trans Sister Dismissed
A federal judge in Wyoming dismissed a lawsuit filed by members of a [Full Story]
Surgeon Plucks 3-Inch Worm Out of Woman's Brain
A neurosurgeon investigating a woman's mystery symptoms in an [Full Story]
Report: King Charles Chopping 20 Percent of Staff
King Charles III is cutting 20% of his royal household staff to [Full Story]
Finance
Record 22% of Americans Plan to Travel Abroad
More than one-in-five Americans plan on vacationing in a foreign country in the near future, the highest share ever recorded, even as overall consumer confidence was dragged down by worsening inflation expectations in August. Conference Board data published Tuesday…… [Full Story]
Apple iPhone 15 Event Set for September 12
The Paradox of Greed: Unraveling Its Role in the Modern Economy
Walmart Cuts Pharmacists' Pay, Hours – Not Workload
Nickki Haley Is Right About Raising Retirement to 70
More Finance
Health
Spending on Mental Health Services Rose 53 Percent
When the pandemic began, spending on mental health services skyrocketed and it continues to rise even as use of telehealth services leveled off. That's the key takeaway from a new study published Aug. 25 in JAMA Health Forum. Some rules for expanded payment for telehealth…… [Full Story]
Women Who Keep Weight Stable After 60 Live Longer
Why the US Is Negotiating the Price of 10 Drugs
Why Testosterone Declines in Aging Men
Study: CTE Affecting Athletes Younger Than Thought
Note: to expand this image to a larger or full size, see the instructions
below the graphic below or click the image and follow the prompts.