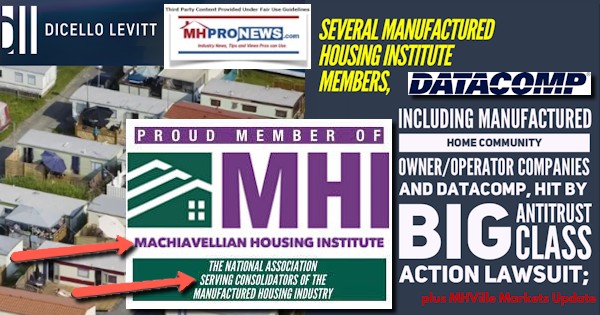 In one of a pair of communications to MHProNews from an attorney with a law firm involved in a large, new antitrust case was the following statement. "Nine mobile home community management companies and a mobile home market data provider conspired to fix, raise, and systemically inflate mobile home lot rental prices as more than 150 locations across the United States, according to antitrust class action lawsuit filed today. The first-of-its-kind lawsuit, filed on behalf of mobile home community residents impacted nationwide, alleges that since 2019, the mobile community management companies have used competitively sensitive, non-public market data provided by Michigan-based Datacomp Appraisal Systems Inc. to exchange pricing information and conspire to systematically devise mobile home lot rent increases." Several of the firms involved are known to be Manufactured Housing Institute (MHI) members, a point which will be further developed herein and in a planned follow up to this initial report and analysis with commentary.
Defendants include, but may not be limited to,
Datacomp Appraisal Systems, Inc. ("Datacomp"),
Equity LifeStyle Properties, Inc. ("ELS"),
Hometown America Management, L.L.C. ("Hometown America"),
Lakeshore Communities, Inc. ("Lakeshore"),
Sun Communities, Inc. ("Sun Communities"),
RHP Properties, Inc. ("RHP"),
YES! Communities, Inc. ("YES! Communities"),
Inspire Communities, L.L.C. ("Inspire Communities"),
Kingsley Management, Corp. ("Kingsley"),
Cal-Am Properties, Inc.'s ("Cal-Am"),
together called the "Defendants" in Case: 1:23-cv-06715 filed on 08/31/23 – an 85-page document that suggests that others may be added to the suit.
The suit alleges violations of federal antitrust laws and common law.
Note most are either directly members of MHI and/or are members of an MHI linked "state affiliate."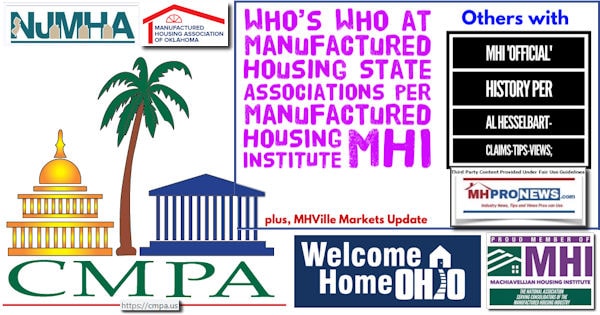 Part I of this report will include the formal press release by DiCello Levitt, Hausfeld, and Myron M. Cherry & Associates which filed the suit on 9.1.2023.
Part II will provide additional information and commentary, including but not limited to facts and insights not found in their press release. It will also begin to explore how this information appears to confirm several concerns raised by MHProNews and/or MHLivingNews in previous reports. As a teaser, besides the named firms, the pleading suggests other possible "unnamed" parties may yet be added to this class action suit. Part II will therefor tee up a planned deeper dive report which may be published as soon as next week.
Note some of the parties involved in the suit have been directly contacted by MHProNews for comments.
Part III will be our Daily Business News on MHProNews macro- and MHVille-specific stocks, REITs, and equities market reports update, including our signature left (CNN) right (Newsmax) headline time-saving and insight creating market-moving news recap.
Part I – Press Release from Plaintiffs Attorneys (MHProNews note: note terminology errors are in the original)
Mobile home park owners accused of rental price-fixing in new US lawsuit
DiCello Levitt, Hausfeld File Significant Lawsuit Against Corporate Landlords Over Nationwide Price Fixing Scheme Affecting Residents of Manufactured Homes
In a case of nationwide significance  against nine manufactured home community management companies and one manufactured home market data provider, the plaintiffs allege that they suffered substantial financial losses due to their landlords' conspiracy to fix, raise, and systematically inflate manufactured home (also referred to as mobile home) lot rental prices at more than 150 locations across the United States.
"With nearly one-third of the 10.3 million adults living in manufactured homes being over the age of 60, the corporate greed of these manufactured home community management companies targeted some of our nation's most vulnerable citizens," DiCello Levitt Partner and Chair of the Firm's Antitrust and Competition Litigation Group Gregory S. Asciolla said. "In the face of these significant manufactured home lot rent increases, some manufactured home residents were not only facing severe financial pressures, but even the threat of eviction."
"These individuals–whose median annual household income is approximately $35,000–were overcharged for what was meant to be affordable housing," DiCello Levitt Co-Founding Partner Adam J. Levitt added.
"Manufactured home lot rental prices were blatantly inflated at a staggering rate of 9.1% per year between 2019 and 2021."
"Manufactured home parks now comprise one of the largest sources of low-income housing in the country. Many residents are senior citizens, veterans, and people with disabilities," said Hausfeld LLP Partner Reena Gambhir. "These communities should not be the targets of anticompetitive and coordinated excessive rent hikes."
The complaint details how the large corporate manufactured home community management companies have bought up these communities across the United States and used competitively sensitive market data provided by Michigan-based Datacomp Appraisal Systems Inc. to exchange pricing information and conspire to systematically devise manufactured home lot rent increases.
The case is Ronald Kazmirzak and Carla Hajek v. Datacomp Appraisal Systems Inc., et al. Case No. 1:23-cv-6715 in the United States District Court for the Northern District of Illinois. …##
Part II – Additional Information with More MHProNews Analysis and Commentary in Brief
The essence of the suit could be boiled down to this notion.  The plaintiffs' attorneys have advanced the thesis that Datacomp is being used by the named parties in a collusive scheme to drive up site fees of residents in violation of antitrust laws. They seek triple damages for residents and other injunctive relief.
When the sheer number of residents in the class are considered, and the large sums involved in aggressively hiked lot rents are considered, this suit could involve perhaps record sums for a manufactured housing industry litigation.
The pleadings in suit No. 1:23-cv-6715 in some respect confirms prior concerns raised by MHProNews and/or our MHLivingNews sister-site about apparent antitrust violations involving several Manufactured Housing Institute (MHI) member firms. More on that further below.
From a report by Reuters about the suit cited in case no. 1:23-cv-6715 are the following additional insights not necessarily found in the law firms press release.

The defendants include Chicago-based Equity LifeStyle Properties (ELS.N), which bought Datacomp in 2021 for $43 million; Michigan-based RHP Properties, which bills itself as the country's largest privately-held manufactured home community owner with assets of more than $6 billion; and Michigan's Sun Communities (SUI.N), a real estate investment trust.
Other defendants include Lakeshore Communities in Illinois; YES! Communities in Denver, which the lawsuit said was partially owned by private equity firm Stockbridge Capital Group; and Inspire Communities in Phoenix, owned by private equity firm Apollo Global Management.
Representatives from Datacomp and the other corporate defendants did not immediately respond to requests for comment."
Case Pleadings in Case No. 1:23-cv-6715 in the United States District Court for the Northern District of Illinois.
MHProNews has obtained a copy of the pleadings, which will likely be provided in the planned follow up report as we did the pleadings in the Cavco suit.
Editorially speaking, MHProNews initial analysis of the pleadings has, as noted herein, hit on antitrust and other legal/business ethics concerns raised in recent years of reports on our platforms involving several MHI member firms.
The pleadings tend to confirm prior reports and analysis by MHProNews that detail-minded and longer-term readers here will recall suggested that manufactured housing was becoming a target rich environment for plaintiffs' attorneys.
There have been contacts made by attorneys to MHProNews and/or by our parent firm's service providers regarding expert witness ("consulting") services in developing and pending cases. Suffice it to say for now that law firms as well as by public officials which have engaged with our platform have said that they found the evidence developed in reports and analysis published on MHProNews/MHLivingNews to be compelling and relevant. That is mentioned because some newer readers may wonder about the connection between past reports and this most recent case.  There are, in our expert view, issues that attorneys and others will find relevant and of interest.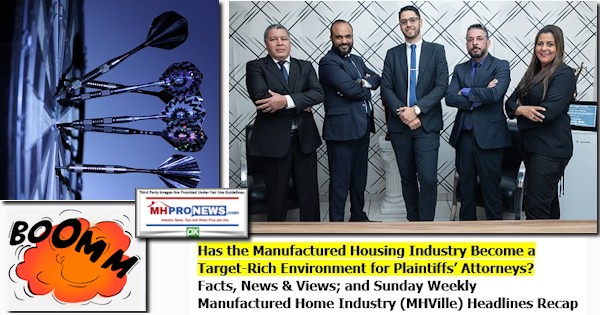 That disclosure noted, MHProNews reached out to MHVillage/Datacomp and MHI for remarks. As of 7.06 AM ET, neither MHI nor Datacomp/MHVillage have not responded. But in fairness, the outreach was after normal business hours. Some are good about responding to MHProNews promptly – even on weekends – regardless of the time or day, but others are less so.  MHProNews plans to contact other defendants to offer them an opportunity to respond to the allegations involved in this case.
Having read the pleadings, there are modest areas of terminology or other possible errors in them. But those errors appear to be modest and common in nature. They likely won't make much difference for the defendants. Possible errors in pleadings could be important, as ELS – for example – has a known history of fighting such cases involving residents and others 'tooth and nail.'
Virtually every defendant, as well as possible 'unnamed' parties that the pleadings indicate are on the plaintiffs' attorneys' radar, have been the subject of prior MHProNews and/or MHLivingNews reports for business ethics, "predatory" practices allegations, and antitrust concerns. Some prior reports involving the firms named in this legal action are as follows.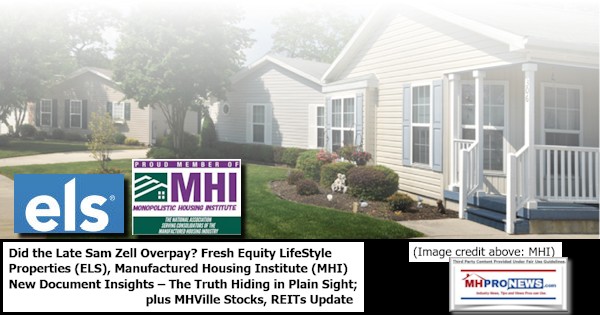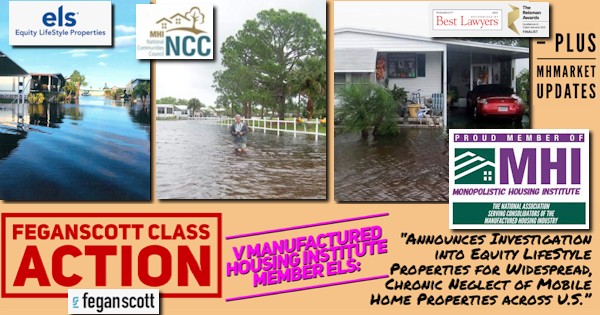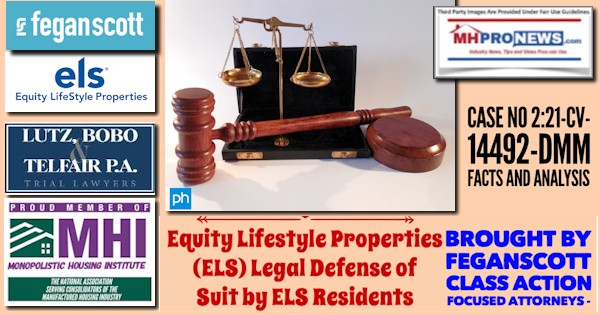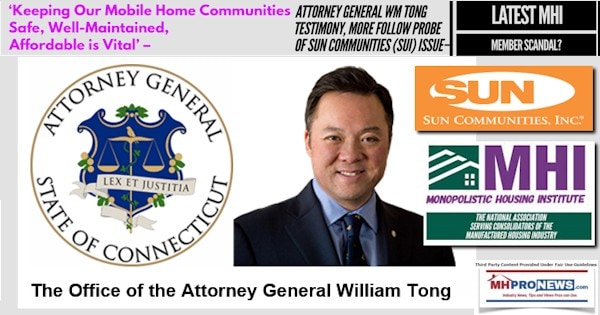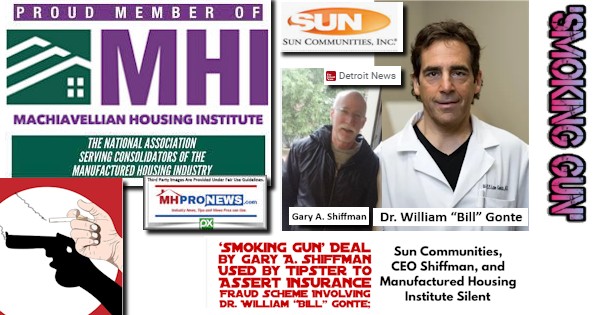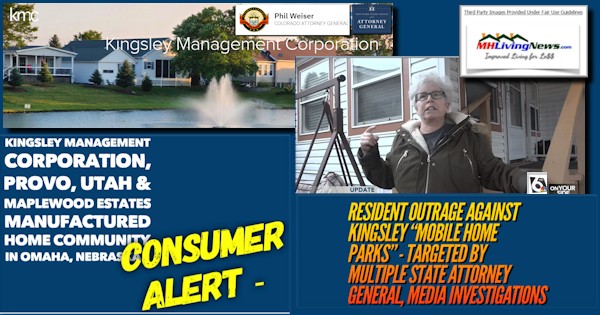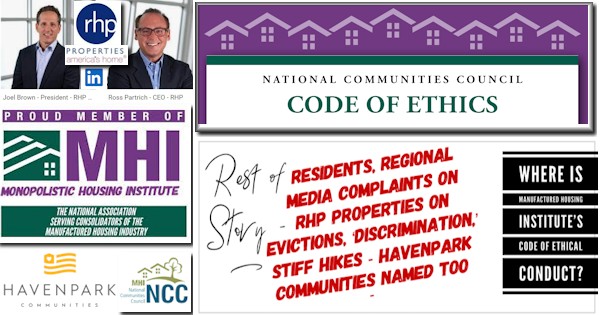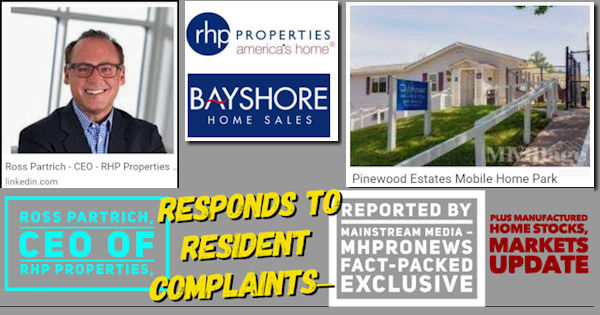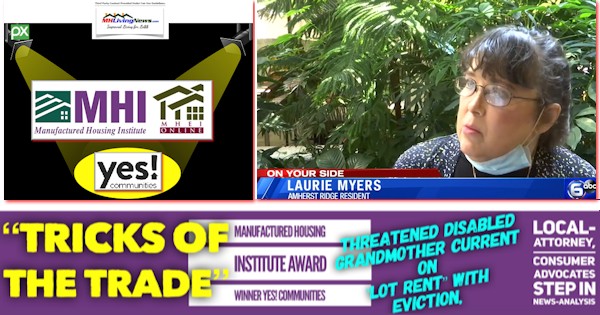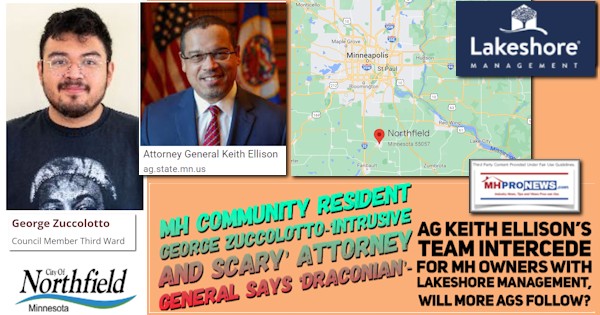 MHI and Frank Rolfe (et al) have not (as yet) been formally named in the pleadings. However, they have been mentioned in the pleadings filed in Case No. 23-cv-6715.
MHI has been mentioned in ways that are arguably in line with legal concerns raised by our reports and by the remarks made by others cited by our publications.
Rolfe has also been mentioned in a quotation that MHProNews/MHLivingNews has cited previously. But perhaps oddly, the plaintiffs' attorneys have not as yet cited some of Rolfe's arguably more egregious remarks by Rolfe and Dave Reynolds which could prove quite useful to plaintiffs in Case No. 23-cv-6715. Put differently, it would not be a surprise if MHI and/or Rolfe, and possibly one or more state associations and others could be drawn into the case. More on that in our planned follow up.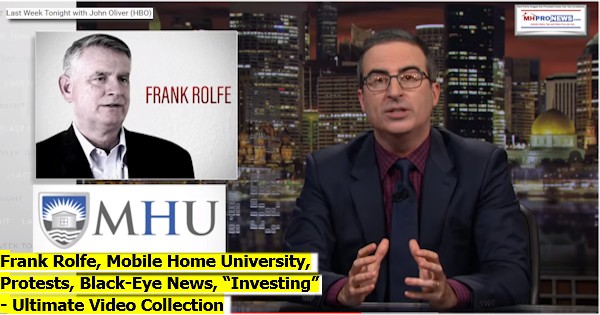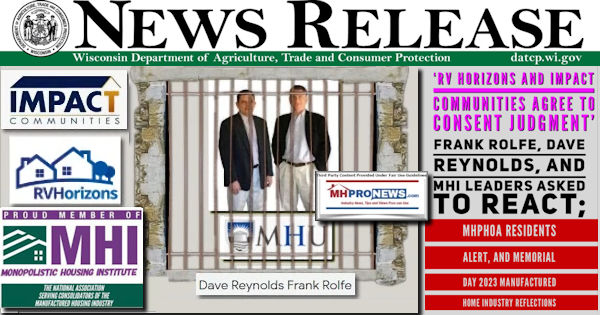 Reuters noted that: "Plaintiffs' attorneys at DiCello Levitt and Hausfeld, who said they filed the lawsuit based on their own investigation, estimated a class size of "hundreds of thousands" of members in the U.S." While the initial messages from that law firm which contacted MHProNews indicated certain numbers of locations involved, in our professional and expert view, this suit could easily blossom into something much larger.  Other defendants added and/or new and related suits be brought. As noted, it may become the largest case to date in terms of dollar figures.
Given that aggressive site fee hikes and other 'predatory' practices at times results in de facto evictions that may cost some manufactured home owners who were residents their homes, the sums could be substantially beyond the mere difference in lot rents that were being charged vs. what resulted from the purported conspiracy to collude and rig prices.
Furthermore, recall that in the case of Cavco Industries (CVCO), they had several shareholders 'probes' and related legal actions, beyond that of the U.S. Securities and Exchange Commission (SEC). There are several ways that this case could morph and/or draw other law firms into the manufactured home industry arena.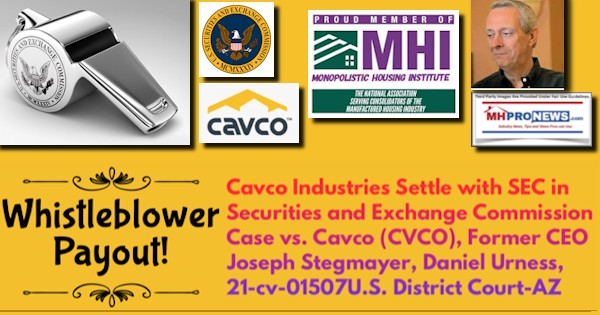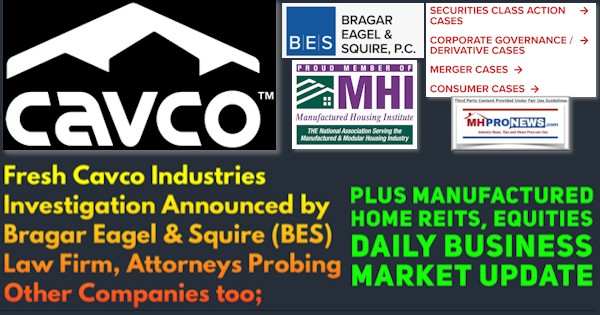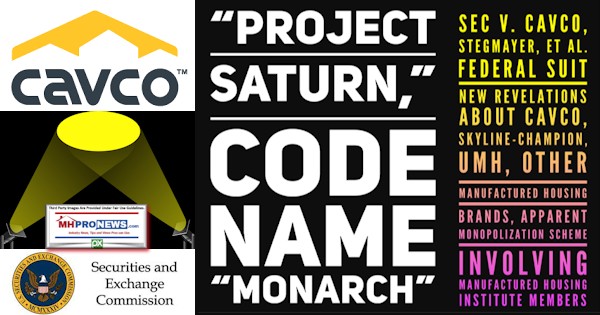 Legal Woes and MHI Oriented Trade Associations
MHProNews has observed that not all MHI member firms are 'black hats' with predatory or collusive intent. But given that this case could blossom into something far more extensive, it may fuel the efforts to form a new post-production trade group that is 'white hat' oriented. Why? Because MHI is arguably increasingly tainted in the minds of those 'in the know.'
This Case No. 23-cv-6715 could add to that 'tainting' of MHI, precisely because MHI has been referenced by attorneys in their case pleadings.
Firms that wish to avoid the various legal, business ethics, and related pitfalls that MHI's 'insiders' have arguably crafted could thus desire to distance themselves, hedge their bets or bail out on MHI. Some MHI members may keep a foot in both worlds, just as some have been both Manufactured Housing Association for Regulatory Reform (MHARR) members and MHI members, but may seek to avoid doing business in a fashion that has sparked the litigation in Case No. 23-cv-6715.
At this point, based on the known pleadings and allegations, it would appear that the plaintiffs' attorneys are just at the tip of the proverbial iceberg for possible items to be discovered and wrinkles that may result in this or other attorneys and/or public officials diving into the dark underbelly of the once far larger and more noble manufactured housing industry. See the related reports to learn more and stay tuned to the only trusted source for such information in all of the known trade media and bloggers in MHVille. ##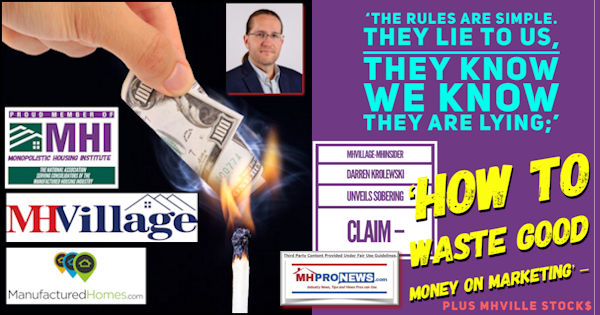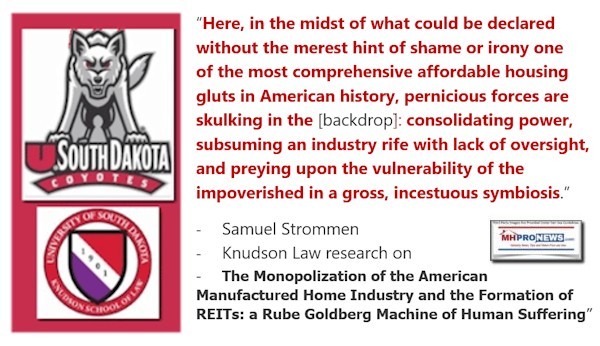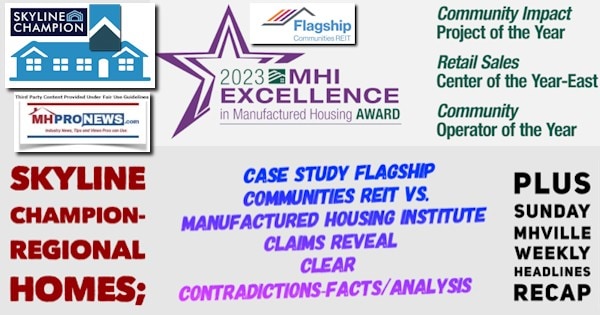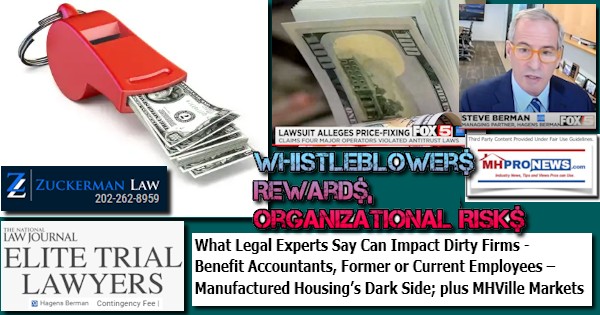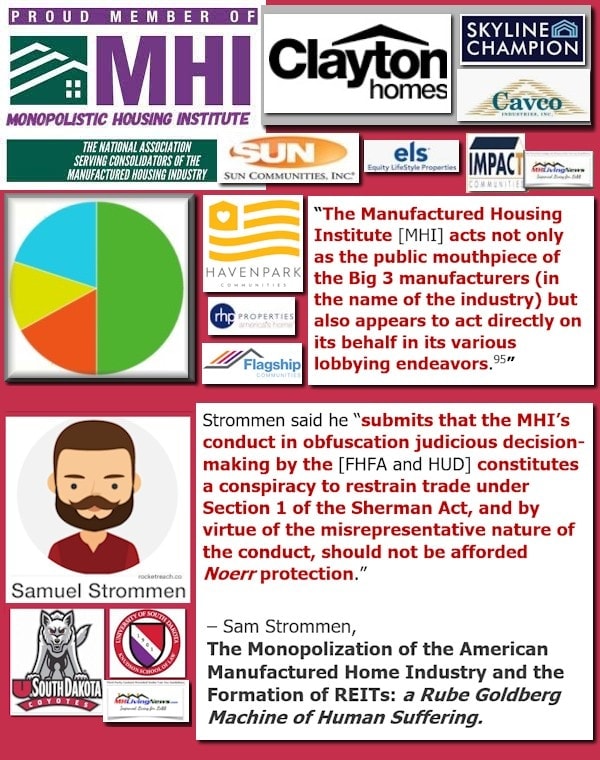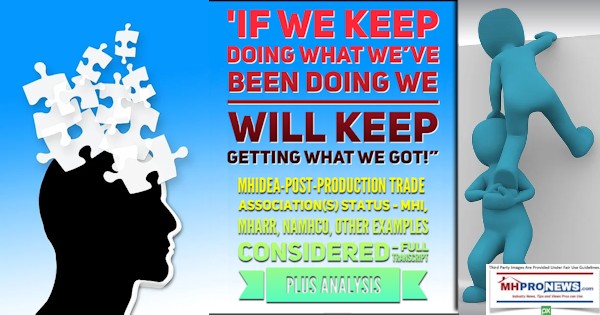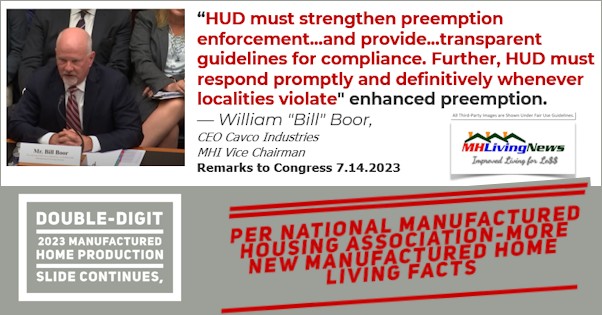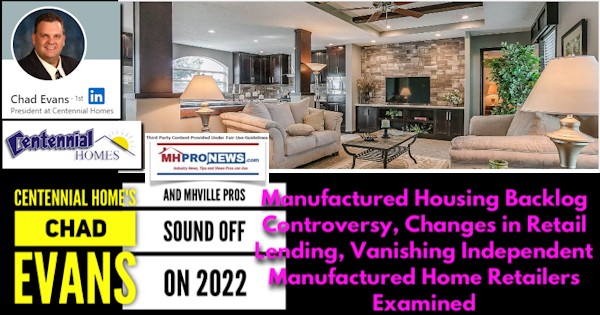 Part III. Daily Business News on MHProNews Markets and Headline News Segment
Headlines from left-of-center CNN Business – from the evening of 9.6.2023
Tom Brady has a new job
The seven-time Super Bowl champion is joining Delta Air Lines as a 'strategic advisor'
A view shows oil pump jacks outside Almetyevsk in the Republic of Tatarstan, Russia June 4, 2023. REUTERS/Alexander Manzyuk
Oil could hit $107 due to Saudi Arabia's and Russia's supply cuts, Goldman Sachs warns
Bill Gates, co-chairman of the Bill and Melinda Gates Foundation, recently bought 1.7 million worth of shares of Anheuser-Busch.
Bill Gates made a nearly $100 million bet on Bud Light
Wendy's new Pumpkin Spice Frosty and Pumpkin Spice Frosty Cream Cold Brew.
Wendy's newest Frosty tastes like a fan-favorite flavor
TikTok may be looking to grow its messaging features, job listings suggest
Customers experience the newly released Huawei Mate 60 Pro flagship phone at Huawei's flagship store in Shanghai, China, September 5, 2023.
The US government is investigating China's breakthrough smartphone
Steering wheel hands STOCK
52 million air bags should be recalled because of explosion risk, safety regulator warns
Roku is laying off 10% of its workforce
Manchester United shares plunge on report the Glazers won't sell
Climate change is hurting Six Flags, SeaWorld and Disney World
A severe drought is affecting the Panama Canal. That's not a good sign for supply chains — or your holiday shopping
Wall Street Journal: China bans use of iPhones for government officials
Why Cup Noodles is going 'gamer-friendly'
Trump's Truth Social merger partner granted key extension to avoid liquidation
The auto strike deadline is close, but any deal has 'a long way to go'
She's conquered the silver screen. Now Barbie's new career has more in common with Messi
Reese Witherspoon sells her fashion brand, Draper James
What's going on with China's shadow banking system?
Ukraine says its war-torn economy is beginning to recover
Britain's second-largest city effectively declares itself bankrupt amid $950 million equal pay claims
China's biggest homebuilder just dodged default. It faces a rocky road ahead
How the ultra-wealthy infiltrated anti-capitalist Burning Man
Note: to expand this image to a larger or full size, see the instructions
below the graphic below or click the image and follow the prompts.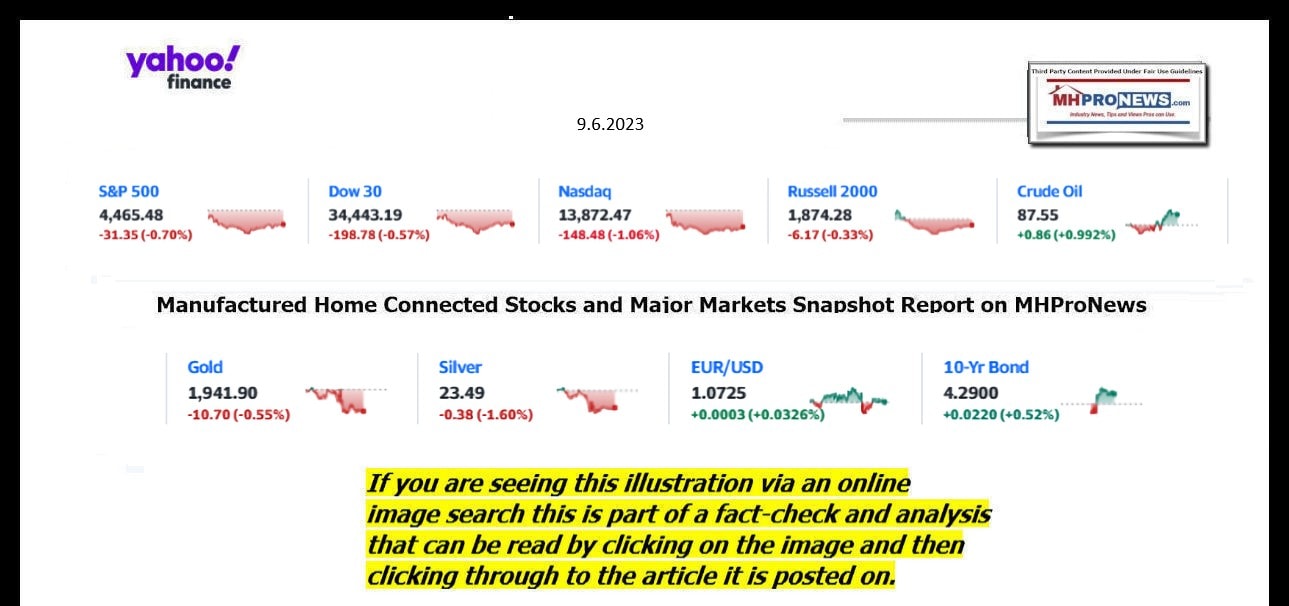 Headlines from right-of-center Newsmax 9.6.2023
(Note: our headline capture for yesterday evening failed, but the headlines for pre-dawn on 9.7.2023 are provided instead. MHProNews regrets the error.).
Mar-a-Lago IT Worker, Special Counsel Pursuing Trump Made a Deal
It was already known that Yuscil Taveras retracted his original statement, leading to the indictment of former President Donald Trump and his close aide, Walt Nauta, over Trump's alleged mishandling of classified information. A filing from attorney Stanley Woodward, who represents Nauta and other witnesses in the special counsel probe, says Taveras will not face prosecution on perjury charges in exchange for testimony in special counsel Jack Smith's case. [Full Story]
Trump Indictments
Trump Says He Would Testify at Classified Documents Trial
Ga. Prosecutors: Trump Trial Would Take 4 Months
Witness in Trump Docs Case Reached Deal With Prosecutors
Mark Meadows Pleads Not Guilty in Georgia Election Case
Special Counsel: Trump's Comments Risk Tainting Jury Pool
Ron Johnson: No Two-Tiered Justice System Without Media | video
Hakes, Town: Garland Must Close Fulton County Jail | video
Alina Habba: 'Hit' Trump, He Only Gets Stronger | video
Trump: Election 'Rigging' by Indictment 'Won't Hold Up'
Giuliani: 'Never Had a Strained Relationship' With Trump | video
Sen. Lankford: Biden 'Facilitating Immigration'
Actor Voight: KGB Divided US by Taking Out God | video
San Diego Official: Bring Back DNA Testing at Border | video
Christie 'Can't Afford to Lose' to Biden Again | video
KT McFarland: Russia-NKorea Talks Point to Cold War | video
Palin: J6 Sentences Can't Make Us Feel 'Helpless' | video
Tuberville: 'Going to Have Holds for a Long Time' | video
Jason Miller: Biden 'Weak and Incompetent' | video
Habba: Without Fix Soon, Won't Recognize US | video
Newsfront
GOP Reps. Want to Reduce Mayorkas' Salary to $1
Reps. Claudia Tenney and Chip Roy are leading a push to reduce Homeland Security Secretary Alejandro Mayorkas' salary to just $1 over the border crisis using the Holman rule, which allows lawmakers to cut the salaries of federal officials, reports Fox News…. [Full Story]
GOP Sens. Seek to Block Biden's New Student Loan Plan
Republican senators, led by Sens. Bill Cassidy of Louisiana and John [Full Story]
Biden Admin Cancels Oil Leases in Alaskan Refuge
President Joe Biden's administration is tabling seven oil and gas [Full Story]
Wall Street Slides on Inflation, Interest Rate Worries
Wall Street's three major averages closed lower on Wednesday with the [Full Story]
ADL CEO Fires Back at Musk Over 'Killing X' Comments
Anti-Defamation League (ADL) CEO Jonathan Greenblatt fired back at [Full Story]
Related
Musk Threatens to Sue Anti-defamation Group for Falling Revenue
Upcoming FEMA Alert System Test 'Critical,' Expert Says
An upcoming nationwide test of the government's emergency alert [Full Story] | Platinum Article
Zelenskyy Condemns Russian Strike; At Least 16 Dead
A reported Russian attack on a city in eastern Ukraine that killed at [Full Story]
Related
Blinken Announces Over $1B in New Ukraine Aid
US Sending Depleted Uranium Munitions to Ukraine
Blinken Visits Kyiv in Show of Support for Ukraine
UK to Declare Russia's Wagner a Terrorist Organization
Russia's Spy Chief Says Contacts With CIA Rare but Regular
Romanian President: Russian Strikes Very Close to Our Border
Ukraine Parliament Approves Rustem Umerov as New Defense Minister
Russia: Return of US Nukes to UK Would Be an Escalation
US Warns NKorea: Pay 'Price' If You Give Russia Arms
Sharansky: Putin Must Be Stopped
Calif. Poll: Trump Lead Projects State Delegates Sweep
California's new GOP primary distribution, which grants all its [Full Story] | video
Related
Christie: DeSantis Put Politics Before Job by Not Seeing Biden During Hurricane Visit
US Moves Nuclear-Capable Jets to Britain
Two squadrons of new, nuclear-capable F-35 stealth fighter jets [Full Story] | Platinum Article
House Oversight: Joe Biden, Hunter's Partners Colluded
The Republican-led House Oversight and Accountability Committee on [Full Story]
Coach Who Got Job Back After Supreme Court Ruled He Could Pray on Field Resigns
A high school football coach in Washington state who won his job back [Full Story]
NY Judge Denies Trump Request to Delay Trial
A New York state judge on Wednesday denied Donald Trump's request to [Full Story]
Trump: Biden's Body 'Shot,' Mind is Worse
President Joe Biden's body is "shot, and his mind is worse," former [Full Story]
Pentagon to Counter China With AI Systems
The Pentagon is planning to develop a network of AI-powered drones, [Full Story]
Bankman-Fried Loses Bid to Get Out of Jail
Sam Bankman-Fried Wednesday lost his bid to be freed immediately from [Full Story]
San Francisco Tops US in Plunging Home Value
Homes in San Francisco are declining in value more than in other U.S. [Full Story]
Video Report: Israel Says Butt Out of Judicial Reform
As the Israeli government pushes back against criticism from the [Full Story]
Group Sues to Block Trump From 2024 Ballot in Colorado
A Washington-based watchdog group on Wednesday filed suit seeking to [Full Story]
Tom Brady to Be a Delta Air Strategic Advisor
Delta Air Lines says it's bringing former star quarterback Tom Brady [Full Story]
Air Canada Apologizes for Booting Agitated Passengers
Air Canada reportedly apologized for booting two passengers from a [Full Story]
Terror Victim Families Sue Over Biden's Iran Prisoner Deal
The families of Iranian terror victim are suing to block the Biden [Full Story] | video
Sen. Paul Doubts McConnell Doctor's Diagnosis
Sen. Rand Paul, R-Ky., doubts the diagnosis given by Senate Minority [Full Story]
Rasmussen Poll: 52 Percent Say Economy Worse Under Biden
The latest Rasmussen Reports survey finds that 52% of likely U.S. [Full Story]
Trump Loses Key Ruling Ahead of Writer Carroll's Defamation Trial
A federal judge on Wednesday said the writer E. Jean Carroll's second [Full Story]
Nikki Haley to Sign 'Parent Pledge'
Former U.N. Ambassador and South Carolina Gov. Nikki Haley will sign [Full Story]
DOJ, House Panel Still Discussing Possible Weiss Appearance
The House Judiciary Committee and the Justice Department continue to [Full Story]
GOP Ad Spending Tops $100M in Early Voting States
Ad spending in the fight for the Republican presidential nomination [Full Story]
Musk Borrowed $1B From SpaceX as Twitter Deal Closed
Elon Musk withdrew a loan of $1 billion from SpaceX – the [Full Story]
4 Roman Swords Found in Dead Sea Cave in Israel
Four Roman-era swords, their wooden and leather hilts and scabbards [Full Story]
Putin Speaks With Saudi Prince on Oil Supply Cuts
The Kremlin on Wednesday said Russian President Vladimir Putin had [Full Story]
Lawyers: TV, Phone Services Responsible in Maui Fires
Lawyers for Lahaina residents and business owners told a court [Full Story]
Classic Cars That Are Practically Worthless Today, Ranked in Order
Finance
Economic Activity Modest, Job Growth Subdued: Fed
U.S. economic growth was "modest" in recent weeks, job growth was "subdued," and inflation slowed in most parts of the country, a Federal Reserve report published on Wednesday showed…. [Full Story]
Liberty Safe Gives FBI Code During Raid on J6 Customer
Warner Bros. to Offer Live Sports for Free on Max
Inflation Under Biden Has Soared by 16.9%
Google Settles With 36 States, DC Over App Store
More Finance
Health
VA Hospitals See Steep Rise in Heat-Related Illnesses
Heat domes and extreme heat waves have been battering the United States for years now, and a new study shows that increasing temperatures are doing real harm to humans. A significant increase in heat-related illnesses like heat stroke and heat exhaustion has occurred during…… [Full Story]
J&J Drug Combo Stops Lung Cancer Spread for Longer
How to Stay Safe From Flesh-Eating Bacteria
Many Foodborne Bacteria Strains Antibiotic-Resistant
US Heart Deaths Linked to Obesity Have Tripled
Note: to expand this image to a larger or full size, see the instructions
below the graphic below or click the image and follow the prompts.