In a media release by the Bragar Eagel & Squire (BES), P.C., law firm, an announcement was made of a fresh and repeated investigation of Cavco Industries on behalf of stockholders and other possibly aggrieved parties. The same BES press release names other firms too that are not directly involved in the manufactured home industry. In the release below, the items related after the opening paragraph are omitted in order to focus on Cavco Industries (CVCO) focused items. MHProNews includes the additional linked information about Cavco found on the BES website.
Bragar Eagel & Squire, P.C. Is Investigating TD, Cavco, Discover, and the WWE and Encourages Investors to Contact the Firm
July 25, 2022 21:00 ET | Source: Bragar Eagel & Squire
NEW YORK, July 25, 2022 (GLOBE NEWSWIRE) — Bragar Eagel & Squire, P.C., a nationally recognized shareholder rights law firm, is investigating potential claims against Toronto-Dominion Bank (NYSE: TD), Cavco Industries, Inc. (NASDAQ: CVCO), Discover Financial Services (NYSE: DFS), and World Wrestling Entertainment, Inc. (NYSE: WWE). Our investigations concern whether these companies have violated the federal securities laws and/or engaged in other unlawful business practices. Additional information about each case can be found at the link provided.
…
Cavco Industries, Inc. (NASDAQ: CVCO)
On November 8, 2018, Cavco revealed in an SEC filing that it had "received a subpoena from the SEC's Division of Enforcement requesting certain documents relating to, among other items, trading in the stock of another public company."
On this news, Cavco share prices fell $49.48 per share, or over 23%, to close at $165.20 per share on November 9, 2018.
On February 4, 2019, revealed that it had received requests for additional documents. Cavco further disclosed spending, and expecting to spend, millions of dollars on legal and insurance expenses in relation to the SEC's subpoenas and the Company's independent investigation into the matter.
On this news, Cavco share prices fell $26.92 per share or about 16.7% to close at $134.37 per share on February 5, 2019.
On September 2, 2021, the SEC filed a complaint against Cavco, former CEO Joseph Stegmayer, and former CFO and Chief Compliance Officer Daniel Urness. The SEC complaint alleged that Stegmayer and Urness caused Cavco to purchase shares of publicly traded companies on material non-public information.
On this news, Cavco share prices fell $6.59 per share, or about 2.5%, to close at $252.48 per share on September 3, 2021.
For more information on the Cavco investigation go to: https://bespc.com/cases/CVCO
…
About Bragar Eagel & Squire, P.C.:
Bragar Eagel & Squire, P.C. is a nationally recognized law firm with offices in New York, California, and South Carolina. The firm represents individual and institutional investors in commercial, securities, derivative, and other complex litigation in state and federal courts across the country. For more information about the firm, please visit www.bespc.com. Attorney advertising. Prior results do not guarantee similar outcomes.
Contact Information:
Bragar Eagel & Squire, P.C.
Brandon Walker, Esq.
Melissa Fortunato, Esq.
(212) 355-4648
investigations@bespc.com
www.bespc.com
Tags
TD Bank Cavco Discover WWE securities class action stockholder rights litigation legal lawyer lawsuit litigate investor investigation Class Action##
From the link here – https://bespc.com/cases/CVCO – is the following information which is posted below.
Cavco Industries, Inc.
SECURITIES CLASS ACTION
Under the BES overview tab is the following apparently additional information not found in their press release above.
Date:
7/25/2022
Company Name:
Cavco Industries, Inc.
Stock Symbol:
CVCO
Status:
Investigating
The firm said that it is open to investigating other types of claims beyond securities issues noted above. Meaning, possible consumer or independent retailer claims may be explored by BES if it is brought to their firm's attention that seems to assert a credible claim against Cavco.
"If you purchased or otherwise acquired Cavco shares and suffered a loss, are a long-term stockholder, have information, would like to learn more about these claims, or have any questions concerning this announcement or your rights or interests with respect to these matters, please contact Brandon Walker or Melissa Fortunato by email at investigations@bespc.com, by telephone at (212) 355-4648, or by filling out the form below.  There is no cost or obligation to you.
The individual or institution below ("Plaintiff") has reviewed and agrees to the Bragar Eagel & Squire, P.C. ("BESPC") retainer agreement and authorizes BESPC to prosecute an action on Plaintiff's behalf under the federal securities laws or applicable state laws to recover damages on behalf of investors in Cavco Industries. BESPC will prosecute the action on a full contingency basis and will forward all costs and expenses."
Retainer Agreement
 This will confirm that you have retained Bragar Eagel & Squire, P.C. ("BESPC") to represent you in connection with potential litigation against Cavco Industries (the "Company") and its directors and officers.  BESPC has conducted an investigation and believes that there is a valid basis to assert claims against the Company and its directors and/or officers for violation of federal or state securities laws.
In making this agreement, BESPC is relying upon your representation that you purchased the Company's shares during the period from (the "Relevant Period").  Please provide us with documentation of your trading history in the Company's stock by emailing a relevant copies of your brokerage statements to investigations@bespc.com.  If you have any questions or need assistance, please call us at (212) 308-5858.
The terms under which we will represent you and your responsibilities as a potential representative plaintiff are set forth below.
YOUR RESPONSIBILITIES AS A REPRESENTATIVE PLAINTIFF
As a representative plaintiff, you will have a duty to represent the interests of similarly situated shareholders, i.e., the "Class," and to participate in the prosecution of this litigation.  You may also be asked to provide documents concerning your trading in Company stock and may be asked to sit for a deposition.  Accordingly, you should preserve all documents that relate to this case until it has concluded or we inform you otherwise.  Relevant documents include any information you have about the Company or your trading in Company stock, no matter how it is recorded or who is keeping it for you.  If you have any questions about whether information should be retained, please contact us.
You will have an obligation to remain knowledgeable about the litigation and participate in decisions concerning the progress of the litigation.  If BESPC is appointed as lead counsel or in a similar capacity in the action, we will provide you with copies of all pleadings in the litigation for your review and approval, circumstances permitting, before they are filed with the court.  BESPC will also promptly advise you of any significant developments in the litigation.
As a representative plaintiff, you cannot have any interest antagonistic to or in conflict with other Class members or the Company, as applicable, concerning the claims we are pursuing or any relationships with any of the named defendants that would in any way impair your ability or incentive to obtain the best possible result.  You agree that neither you nor any of your affiliates or agents will trade stocks while in the possession of any material non-public information you may receive in connection with the litigation.  In addition, as a representative plaintiff, you may be required to continue holding Company shares.  Please contact us before buying or selling Company shares.
CONTINGENCY FEE AND ADVANCEMENT OF EXPENSES
BESPC will prosecute this litigation on a contingency basis.  You will not be responsible for paying any legal fees, costs, or out-of-pocket expenses arising out of or related to the prosecution of this litigation, regardless of the outcome of the matter.  If there is a monetary recovery in this action, BESPC will, at the conclusion of the litigation or any segment thereof, apply to the court for approval of an award of attorneys' fees and reimbursement of expenses.  BESPC may also seek a fee if we obtain substantial non-monetary relief for the Class or the Company.  The court will then award fees and disbursements (if any) from the proceeds of any judgment or settlement obtained in this litigation, based on factors considered relevant by the court.  Such fees, costs, and disbursements will be paid from the entire settlement amount and not only from your share of the settlement amount.
ASSOCIATION WITH COUNSEL
BESPC may associate with other counsel to assist in the prosecution of this litigation.  Any recovery of fees and costs will be shared with such counsel, determined on a percentage basis or based upon the time spent on the matter, as approved by the court if applicable.  The division of work and or fees among co-counsel will not affect the amount of fees received upon a successful completion of the litigation.  From time to time, BESPC may utilize contract attorneys to supplement the work of its own employed attorneys.  BESPC will supervise the work of all contract attorneys and adopt their work product as its own.  You authorize BESPC, as we deem appropriate, to associate with other counsel and to hire experts and consultants to assist in the handling of your claims.
OTHER ACTIONS
It is possible that you will not be appointed as a lead plaintiff or class representative in the action.  However, we may wish to represent you in other litigation related to the wrongful acts giving rise to this case.  In such event, we will contact you to discuss the scope of such representation and obtain your approval before moving forward.  You also agree that we may contact you with respect to other potential matters on your behalf.
NO SPECIAL TREATMENT
You understand that in the event we secure a recovery for a Class in a class action, you will only be entitled to your proportional share of such recovery as a Class member.  You understand that you will not receive any special treatment or receive a greater share of any class-wide recovery based on your service as a named plaintiff or class representative.  However, we may ask the Court to approve an additional award to you to compensate you for the time and effort you expend on this matter.  Any such award is solely within the discretion of the Court.
SETTLEMENT
BESPC will consult with you regarding any settlement negotiations and seek to obtain your approval for any proposed resolution of this litigation before entering into a final settlement agreement with defendants.
NO GUARANTEE OF SUCCESS
You expressly acknowledge that we have not made any representation to you, express or implied, concerning the outcome of any litigation or other matter in which we represent you.
TERMINATION OF THIS AGREEMENT
If you are not chosen as a representative plaintiff and we do not choose to pursue other related litigation on your behalf, we will provide you with notification and this Agreement shall terminate.  Otherwise, this Agreement shall remain in effect until the conclusion of the relevant litigation.  However, you may terminate this Agreement at any time.
Upon termination, BESPC's files and papers compiled in connection with its investigation and prosecution of this matter constitute the work product and property of BESPC over which it has complete control with respect to its use and/or disclosure.
This agreement sets forth the entire agreement between the parties and supersedes all other oral or written communications.
Please feel free to contact us at any time should you have any questions or comments in this regard. ##
Additional Information with More MHProNews Analysis and Commentary
MHProNews, as well as our sister site MHLivingNews, has noted several times in recent years this notion. From a legal perspective, manufactured housing is arguably a target rich environment for public officials and/or plaintiffs/class action type contingency-fee representation attorneys.
Cavco (CVCO) is but one example of that pattern, that and other possible examples follow.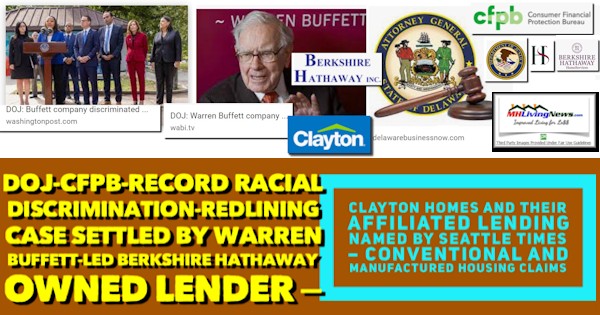 Cavco Industries (CVCO) Named by WilmerHale Law, JD Supra-SEC Suit Insights-EIN Names Cavco, Skyline-Champion (SKY), Clayton Homes (BRK), and MHI in Antitrust Probe – plus, Markets MH Stock Updates
Equity Lifestyle Properties (ELS) Legal Defense of Suit by ELS Residents Brought by FeganScott Class Action Focused Attorneys – Case No 2:21-CV-14492-DMM Facts and Analysis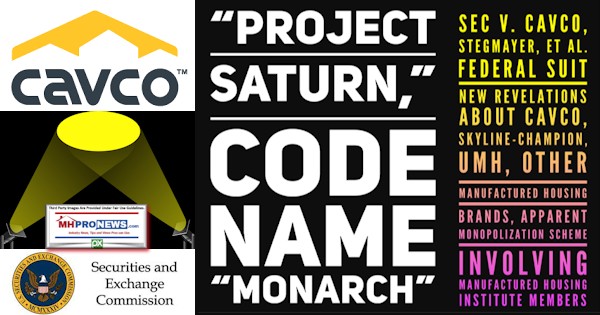 Ross Partrich, CEO of RHP Properties, Responds to Resident Complaints Reported by Mainstream Media – MHProNews Fact-Packed Exclusive – plus Manufactured Home Stocks, Markets Update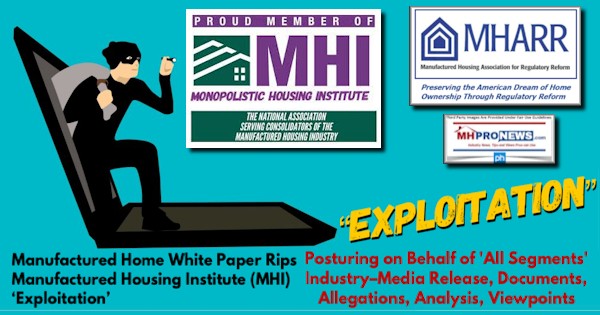 Next up is our daily business news recap of yesterday evening's market report, related left-right headlines, and manufactured housing connected equities.
The Business Daily Manufactured Home Industry Connected Stock Market Updates.  Plus, Market Moving Left leaning CNN and Right-leaning (Newsmax) Headlines Snapshot. While the layout of this daily business report has been evolving over time, several elements of the basic concepts used previously are still the same. For instance. The headlines that follow below can be reviewed at a glance to save time while providing insights across the left-right media divide. Additionally, those headlines often provide clues as to possible 'market-moving' news items.
Market Indicator Closing Summaries – Yahoo Finance Closing Tickers on MHProNews…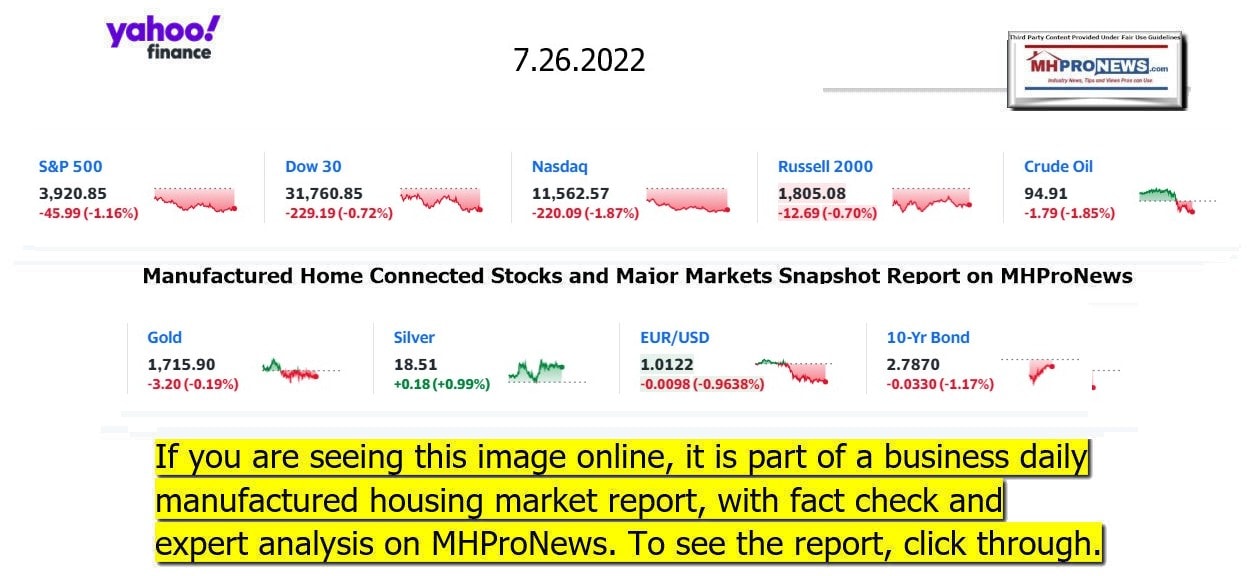 Headlines from left-of-center CNN Business – from the evening of 7.27.2022
The upside
How to take advantage of rising interest rates
Fed makes history with second massive rate hike in as many months
LIVE UPDATES: Stocks soar after Fed hikes rates again
Is the US in a recession? Hear what Jerome Powell thinks
The stock market really wants someone to please just call a recession already
Electric truck maker Rivian laying off 6% of its workforce
Sprite will no longer be sold in green bottles
Opinion: The toughest part of the Fed's job may already be done
CEOs spent $100k on lotto tickets for their employees. No one won, so they're doing it again
This counts as good news for Boeing
South Korean giant SK Group is pouring $22 billion into the United States
FTC files to block Facebook-parent Meta from buying a VR app
DOJ reaches redlining settlement with mortgage lender accused of discriminating against communities of color
Ford F-150 Lightning pickup trucks sit on the production line at the Ford Rouge Electric Vehicle Center on April 26, 2022 in Dearborn, Michigan.
Ford earnings and revenue soar, helped by high car prices
An aerial photo made with a drone shows a house for sale in Round Lake Heights, Illinois, USA, 21 January 2021.
What another Fed rate hike means for you
In this Friday, Oct. 25, 2019, file photo, Facebook CEO Mark Zuckerberg speaks about "News Tab" at the Paley Center, in New York.
Facebook-parent posts first revenue decline as a public company
STREAMING
GREEN BAY, WISCONSIN – JANUARY 22: Aaron Rodgers #12 of the Green Bay Packers throws the ball as Jaquiski Tartt #3 of the San Francisco 49ers defends during the NFC Divisional Playoff game at Lambeau Field on January 22, 2022 in Green Bay, Wisconsin.
The NFL is debuting a streaming service — with some major caveats
R-rated movies have come to Disney+
Dave Chappelle's Netflix special nabs Emmy nominations
Netflix loses subscribers, but stops the bleeding
Netflix's vision for the future of streaming: More expensive or less convenient
ENERGY
25 July 2022, Mecklenburg-Western Pomerania, Lubmin: Pipe systems and shut-off devices at the gas receiving station of the Nord Stream 1 Baltic Sea pipeline and the transfer station of the OPAL (Ostsee-Pipeline-Anbindungsleitung – Baltic Sea Pipeline Link) long-distance gas pipeline. (to dpa "Gazprom cuts supply through Nord Stream 1 to 20 percent")
The EU has agreed to ration gas, but some countries put up a fight
Why diesel is more expensive than regular gas
IEA director: Europe needs to lower gas consumption
Germany bails out its biggest natural gas importer
Relief in Europe as Russia restarts Nord Stream 1. But it's not out of the woods yet
Headlines from right-of-center Newsmax 7.27.2022
Fed Makes Massive Rate Hike Again, 75 Points, More Here
Ronny Jackson, 53 Other Republicans Press Biden to Take Cognitive Test
The issue of Biden's cognition and advanced age has dogged his administration from Day 1, Thanks to a long string of gaffes, verbal flubs and moments of apparent confusion, it hasn't gone away. [Full Story]
Russian Invasion of Ukraine
In Rare Contact, US Offers Russia Deal for Griner, Whelan
Russia Requiring Regions Muster New Battalions for Ukraine War
Video Report: Newsmax Tours Battalion Headquarters in Northeastern Ukraine | video
US Rocket System Enables Ukraine to Strike Key Supply Bridge
Pentagon Approves Plan to Treat Ukrainian Troops at US Hospital in Germany
Russian FM Denies 'So-Called Food Crisis'
Russia Doing Better Than Expected Despite Sanctions: IMF
Monitoring Center for Ukrainian Grain Exports Opening in Istanbul
Newsmax TV
Loudermilk: AG's Threats a 'Prop' for 1/6 Panel's Failures | video
Ferguson: Saw 'Brutal' Conditions on Border Trip | video
Dick Morris: Trump Is 'Clearly Running' in 2024 | video
Blackburn: Americans See Past Economy Denials | video
Cline: Nation in 'Bad Situation' With Biden's Economy | video
Grassley: Whistleblowers Allege Selective Prosecuting at DOJ | video
Ron Johnson: DOJ Whistleblowers 'Fed Up' With Corruption | video
Betsy DeVos: Forgiving Student Debt Solves No One's Problems
Newsfront
Parade Attack Suspect Indicted for Murder, Attempted Murder
The man accused of opening fire on an Independence Day parade in suburban Chicago has been indicted by a grand jury on 21 first-degree murder counts, 48 counts of attempted murder and 48 counts of aggravated batteryProsecutors previously filed seven murder charges against…… [Full Story]
Video Report: Americans 'Less Safe' With Biden's Border
Newsmax border correspondent Jaeson Jones reports on the dangers at [Full Story] | video
Trump, National Guard and Jan. 6: The Truth
If former President Donald Trump's word is not enough, an official [Full Story]
Newsmax TV Signs With Verizon in Major Deal
Newsmax announced today that it has signed a multi-year carriage deal [Full Story]
Massachusetts Lawmakers Approve Bill to Protect Abortion
Legislators in Massachusetts this week approved a bill providing [Full Story]
'Blue to Red' Sunday on Newsmax Examines Population Shifts
The trend of population migration Democratically dominated blue [Full Story]
Fed Unleashes Another Big Rate Hike, of 0.75 Percentage Points
The Federal Reserve on Wednesday raised its benchmark interest rate [Full Story]
Related
Video Report: Federal Reserve Raises Interest Rates by 75 Basis Points |video
Congress Strikes Bipartisan Blow Against 'Woke' Pentagon Policies
A recent Senate recommendation that controversial Department of [Full Story] | Platinum Article
Cruz Backs Wisconsin Challenger to Trump-chosen Candidate in Gov. Race
Texas Sen. Ted Cruz announced on Wednesday that he is endorsing [Full Story]
Newsmax TV Now Across 3 Continents
Newsmax announced today that it has signed multiple deals for [Full Story]
Kinzinger Slams Harris For Stating Pronouns
Republican congressman Adam Kinzinger uncharacteristically joined [Full Story]
Video Report: Biden COVID Free, Urges Mask Wearing
President Joe Biden appeared in the Rose Garden to announce he is [Full Story] | video
Meta Posts 1st-Ever Revenue Drop as Inflation Throttles Ad Sales
Meta Platforms Inc. issued a gloomy forecast after recording its [Full Story]
Russia Requiring Regions Muster New Battalions for Ukraine War
The Russian army is seeking new recruits to replace battle losses [Full Story]
Video Report: Newsmax Tours Battalion in NE Ukraine
The Sumy 3rd Regional Battalion is fighting on the frontlines in [Full Story] | video
Ferguson to Newsmax: I Saw 'Brutal' Migrant Conditions on Border Trip
Drew Ferguson, R-Ga., recounted his recent trip to the southern [Full Story] | video
Y. Man Arrested for Collecting Celebs' Absentee Ballots
Police arrested a New York man for allegedly acquiring more than 100 [Full Story]
Report: Video Game Company Rockstar 'Changing Culture' Likely Impacting GTA VI Release
The highly anticipated new version of the popular Grand Theft Auto [Full Story]
Doctor Suing Indiana AG for Calling Her 'Abortion Activist'
The Indiana doctor who performed an abortion for the 10-year-old girl [Full Story]
Wyoming Judge Temporarily Blocks State's Abortion Ban
A Wyoming judge on Wednesday temporarily blocked the state's abortion [Full Story]
Man Accused in Assault of Capitol Officer Sicknick Pleads Guilty to Lesser Charges
George Tanios, one of two men who had been accused of assaulting [Full Story]
US Army to Launch 'Prep Course' for Substandard Recruits
The U.S. Army is expanding itshorizonswith personnel recruiting, [Full Story]
Biden Knocks Trump for Getting 'Helicoptered to Walter Reed'
President Joe Biden on Wednesday remarked that he "worked from [Full Story]
Jackson, 53 Other Republicans Ask Biden to Take Cognitive Test
Ronny Jackson, R-Texas, is renewing his calls for President Joe [Full Story]
House Dems Shelve Votes on Assault Weapons Bans, Funding Police Until August
House Democrats have scrapped imminent plans to introduce [Full Story]
In Rare Contact, US Offers Russia Deal for Griner, Whelan
The Biden administration has offered a deal to Russia aimed at [Full Story]
CBO: Federal Debt Lower in 2022, But Still Poised to Climb
The Congressional Budget Office said Wednesday that the end of [Full Story]
Ex-Cops Kueng, Thao Sentenced for Violating George Floyd's Rights
The last two former Minneapolis police officers who were convicted of [Full Story]
Poll: 62 Percent Back Law Stating VP Can't Reject Electoral Votes
A strong majority of Americans said they would support Congress [Full Story]
Meta Raises Work Standards as Share Price Plummets
The stock markets havedroppedabout 20% this year, but Meta, formerly [Full Story]
Finance
Renting Now Beats Owning Your Own Castle
Even with rents soaring to astronomical levels nationwide, renting a home is now more affordable than owning one…. [Full Story]
Spirit Ends Deal With Frontier as JetBlue Talks Continue
Ford Sticks With Full-year Profit Despite Surging Costs
Video Report: Federal Reserve Raises Interest Rates by 75 Basis Points
Rivian to Cut Headcount by 6%
More Finance
Health
How to Know if You Have Long COVID
According to the Centers for Disease Control and Prevention, one in 13 adults – that's 7.5% ─ have symptoms from COVID-19 that last at least three months after infection. Earlier reports found that one in five COVID-19 survivors between the ages of 18 and 64, and one in…… [Full Story]
New Report: Medical Debt More Widespread Than Previously Thought
Common Diabetes Drug Eases Bipolar Disorder
Cassava Sciences Faces Criminal Probe Tied to Alzheimer's Drug, Sources Say
Scientists: Wuhan Market 'Epicenter' of COVID Pandemic
MHProNews has pioneered in our profession several reporting elements that keep our regular and attentive readers as arguably the best informed in the manufactured housing industry. Among the items shared after 'every business day' (when markets are open) is our left-right headline recap summary. At a glance in two to three minutes, key 'market moving' news items are covered from left-of-center CNN Business and right-of-center Newsmax. "We Provide, You Decide." © Additionally, MHProNews provides expert commentary and analysis on the issues that others can't or won't cover that help explain why manufactured housing has been underperforming during the Berkshire era while an affordable housing crisis and hundreds of thousands of homeless in America rages on. These are "Industry News, Tips, and Views Pros Can Use" © features and others made and kept us the runaway #1 in manufactured housing trade publisher for a dozen years and counting.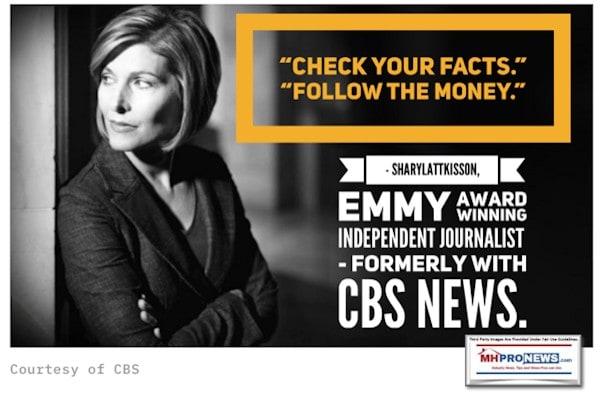 Manufactured Housing Industry Investments Connected Equities Closing Tickers
Some of these firms invest in manufactured housing, or are otherwise connected, but may do other forms of investing or business activities too.
NOTE: The chart below includes the Canadian stock, ECN, which purchased Triad Financial Services, a manufactured home industry lender
NOTE: Drew changed its name and trading symbol at the end of 2016 to Lippert (LCII).
NOTE: Deer Valley was largely taken private, say company insiders in a message to MHProNews on 12.15.2020, but there are still some outstanding shares of  the stock from the days when it was a publicly traded firm.  Thus, there is still periodic activity on DVLY.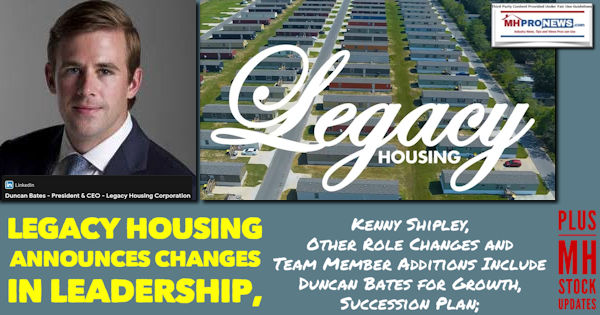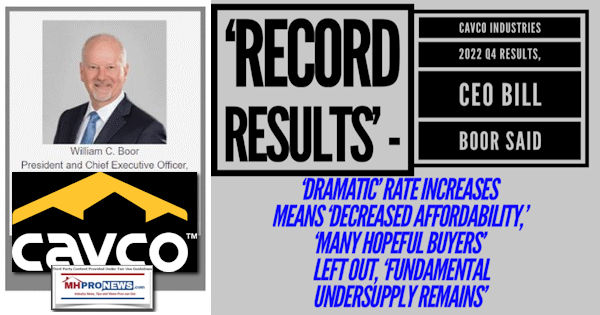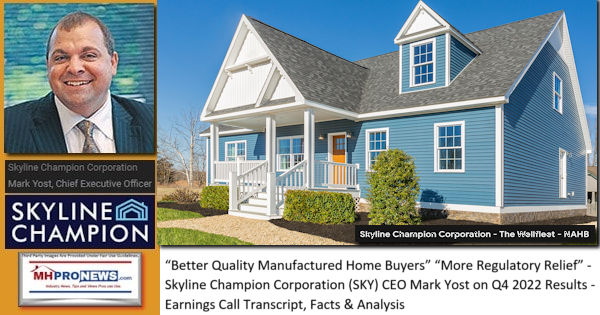 Manufactured Home Communities (a.k.a. 'Mobile Home Parks' – SIC) – Exploring UMH Properties; Fellow Manufactured Housing Institute Member Yes! Communities Suits and Settlements; plus MH Markets Updates
'Announcing!' 'Manufactured Community Owners' Association of America' 'Finally Bringing Fight To Manufactured Home Community Sector of the Industry' – plus Sunday Weekly Manufactured Housing Headlines Review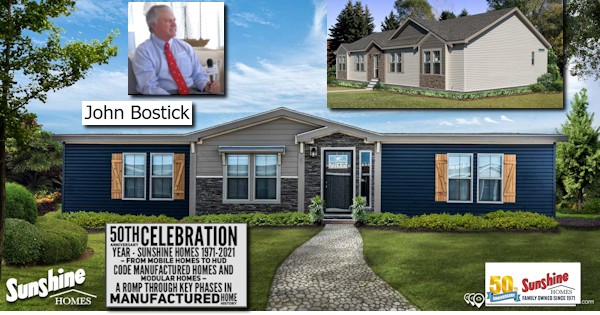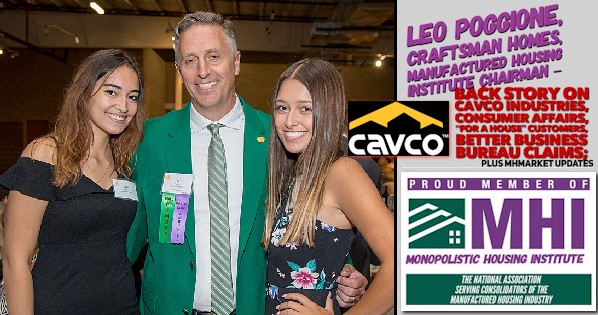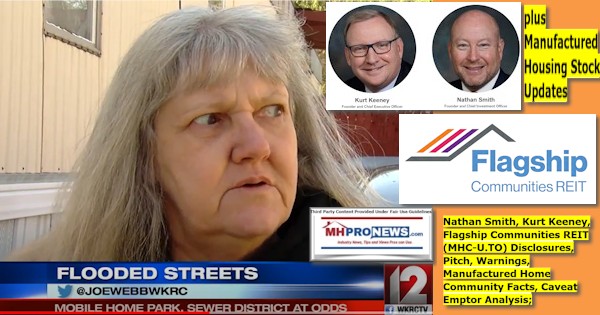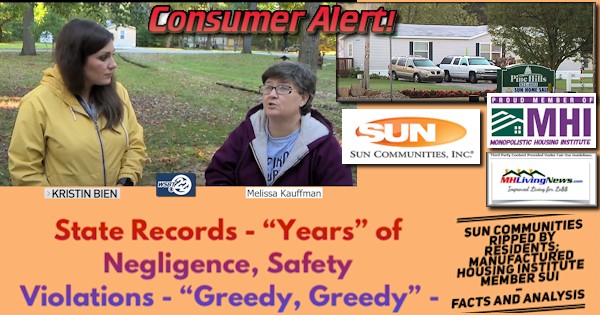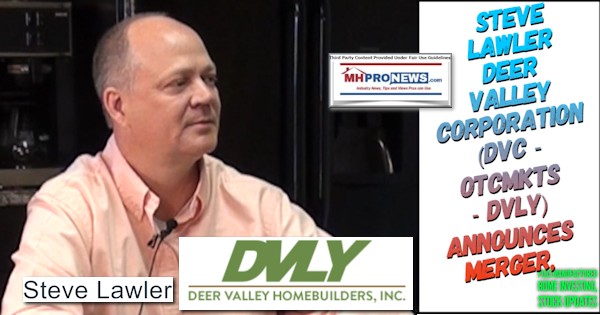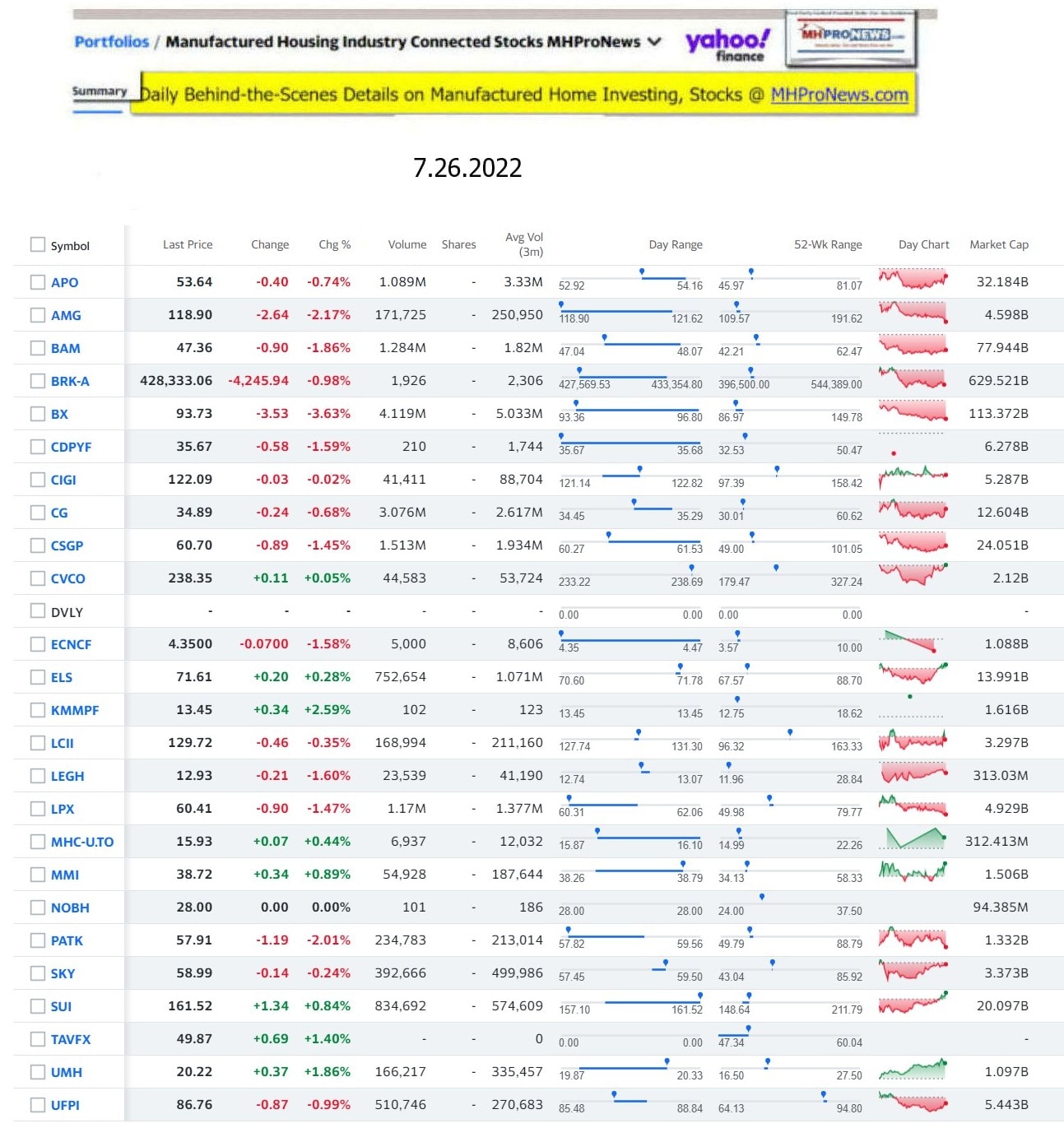 2022

…

Berkshire Hathaway is the parent company to Clayton Homes, 21st Mortgage, Vanderbilt Mortgage and other factory-built housing industry suppliers.


·

LCI Industries, Patrick, UFPI, and LP each are suppliers to the manufactured housing industry, among others.




·

AMG, CG, and TAVFX have investments in manufactured housing related businesses.

For

insights from third-parties and clients about our publisher

, click here.


Enjoy these 'blast from the past' comments.

MHProNews. MHProNews – previously a.k.a. MHMSM.com – has celebrated our 11th year of publishing and have completed over a dozen years of serving the industry as the runaway most-read trade media.
Sample Kudos over the years…
It is now 12+ years and counting…
Learn more about our evolutionary journey as the industry's leading trade media, at the report linked below.
· For expert manufactured housing business development or other professional services, click here.
· To sign up in seconds for our industry leading emailed headline news updates, click here.

Disclosure. MHProNews holds no positions in the stocks in this report.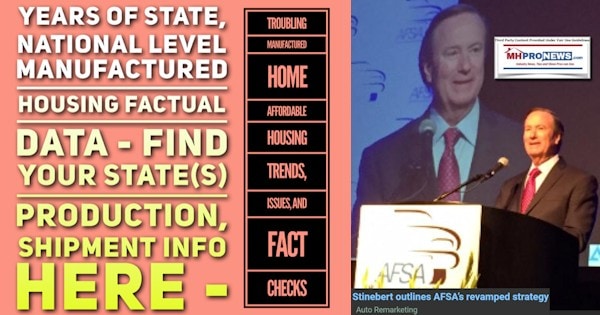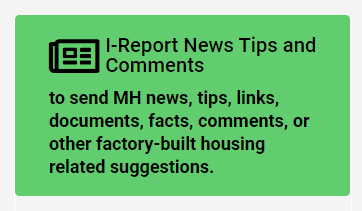 That's a wrap on this installment of "News Through the Lens of Manufactured Homes and Factory-Built Housing" © where "We Provide, You Decide." © (Affordable housing, manufactured homes, stock, investing, data, metrics, reports, fact-checks, analysis, and commentary. Third-party images or content are provided under fair use guidelines for media.) (See Related Reports, further below. Text/image boxes often are hot-linked to other reports that can be access by clicking on them.)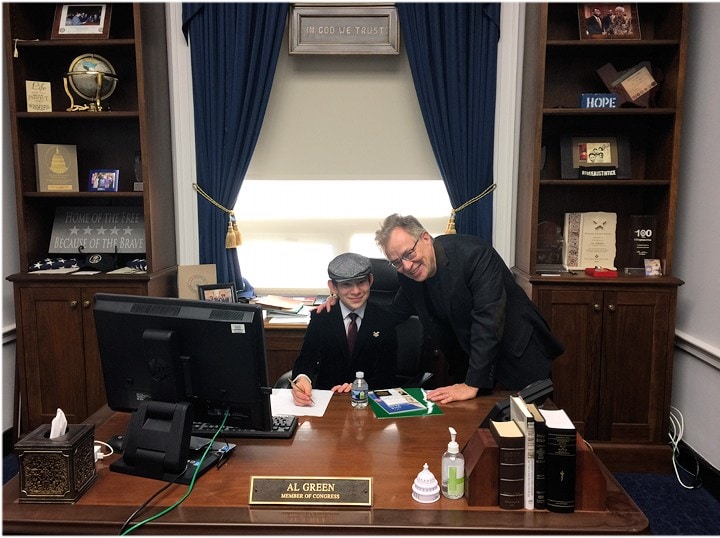 By L.A. "Tony" Kovach – for MHProNews.
Tony earned a journalism scholarship along with numerous awards in history. There have been several awards and honors and also recognition in manufactured housing. For example, he earned the prestigious Lottinville Award in history from the University of Oklahoma, where he studied history and business management. He's a managing member and co-founder of LifeStyle Factory Homes, LLC, the parent company to MHProNews, and MHLivingNews.com. This article reflects the LLC's and/or the writer's position and may or may not reflect the views of sponsors or supporters.