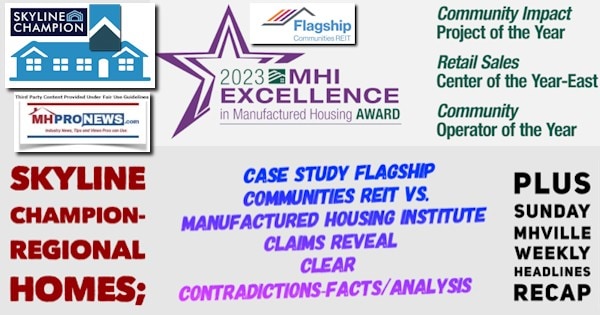 Skyline Champion (SKY) and Regional Homes announced on 8.28.2023 that the later (Regional) was being acquired by the former. More on that in a planned special report next week. But suffice it to say for now that if mentioned at all, the deal was handled like 'business as usual' among pro-Manufactured Housing Institute (MHI) bloggers and trade publishers. Perhaps they are right; for good or ill, consolidation is business as usual in 21st century manufactured housing, isn't it? Per the Skyline Champion (SKY) press release, via Berkshire Hathaway owned BusinessWire, was the following.

Champion Home Builders and Champion Retail Housing, subsidiaries of Skyline Champion Corporation (NYSE: SKY) ("Skyline Champion") today announced a definitive agreement to acquire Regional Enterprises LLC, and related companies (collectively, "Regional Homes"). Regional Homes is the fourth largest HUD manufacturer in the United States and operates three manufacturing facilities in Alabama and 43 retail sales centers across the southeast. They sold approximately 5,000 new homes and had estimated revenue of approximately $523 million for the year ended December 31, 2022, and generated estimated EBITDA of approximately $84 million for the same period.
"We are excited to welcome Regional Homes and its 1,200 employees to the Skyline Champion family," said Mark Yost, Skyline Champion's President and Chief Executive Officer. "We believe Regional Homes is an excellent fit given their customer-centric selling approach which goes hand-in-hand with our on-going efforts to enhance our customers' buying experience. The transaction is expected to accomplish several objectives within our strategic framework for profitable growth. Notably, Regional Homes' strong presence in the large markets of Alabama and Mississippi helps expand our captive retail and manufacturing distribution in that region. We expect this transaction to generate solid returns over time with meaningful stakeholder value creation from day one, supported by Regional Homes' attractive margin profile, its talented team, as well as available synergy capture."
Heath Jenkins, owner of Regional Homes commented, "We couldn't be more excited to partner with a company that not only has a reputation of excellence in our industry, but one that perfectly complements our business model and strategic goals. And with Skyline Champion's recent announcement of their partnership with ECN Capital Corporation, our capacity to provide tangible value to our customers has increased exponentially. This transaction provides a significant opportunity to make a positive impact for our customers and employees. The team at Skyline Champion has been able to witness the unique culture we have developed at Regional Homes firsthand. Their leadership has shown tremendous support in our abilities, but most of all, our people – who are what make this company so special. I'm confident that with these alliances, we are on the path to something great."
The purchase price will be approximately $328 million plus assumed debt, primarily related to inventory floor plan liabilities, of $130 million. In addition to the purchase price, the transaction is subject to an earnout provision as well as customary net working capital adjustments. Skyline Champion expects to fund the acquisition with cash on hand and $30 million of the Company's common stock, which is subject to certain restrictions. The transaction is subject to regulatory approval and is expected to close during the Company's fiscal 2024 third quarter. …"
Briefly flashback to 2016. The Manufactured Housing Institute (MHI) was personally invited by MHProNews' leadership to participate in an educational panel discussion with a live audience of manufactured housing professionals about manufactured housing issues in Tunica, MS. At that time, MHProNews was still an MHI member and had been elected to serve on the MHI Suppliers Division board. Recall that was prior to the 'document drop' from an informed tipster later (circa 2018) which provided MHProNews with what has since been described as documentary evidence for a felony antitrust violation by an MHI member and which arguably involved MHI. The significance of that timing of the 2016 panel discussion is this. If MHI was ever going to make their best possible argument for their effectiveness, strategies, and methods, 2016 could have been a pivotal year. That said, fast forward to 2023. MHI has skipped numerous opportunities to respond in writing or publicly in a live audience setting to the questions and concerns that have dogged the Arlington, VA based MHI association for much of the industry's history in the 21st century.
Ironically, a leading MHI figure and member – Flagship Communities REIT – published on their own website information that properly understood calls into question – and arguably is hard evidence that makes a case – that refutes much of what MHI claims it supports. Besides obvious moral issues, these items could prove to be legal issues as well.
More bluntly, a key and influential MHI member (Flagship) contradicts MHI's claims. A look at the trends in the production, retail, and communities sector paints a picture that others downplay, spin, or ignore. But here in the RealVille section of MHVille, we call it as we see the evidence.
Between the Skyline Champion-Regional Homes deal, the Skyline Champion ECN-Triad deal, other transactions by Cavco, Skyline, Clayton, community consolidators, and what follows, is there any question or doubt left among industry professionals about what is occurring in manufactured housing?
Consolidation. The Biden Administration claims that is bad for America, yet they allow it to continue? But aren't contradictions and disconnects between claims and behavior also par for the course in D.C. in recent years? If you ask leftist attorney Fran Quigley, cited among the headlines in review this week in Part III below, based on the evidence, he essentially answered that with a 'yes.' Fellow Democrats disagreeing?
Examining Joe Biden's White House FACT SHEET on 'Executive Order on Promoting Competition in the American Economy' – EO #14036 – plus Sunday MHVille (Manufactured Home Industry) Headlines in Review
The industry year to date is functioning at perhaps 25 percent of the 1998 total production level. That low level of current production is as some economists and industry pros explain it as 'a barrier to entry, persistence, and exit' and that low level of production is a key factor that explains what may be accelerating manufactured home industry consolidation.  How does it impact independents? What can be done about it? More via one of the headlines for the week that was, linked further below in Part III of today's report.
Part I 
MHI has claimed for years to be working to implement the Manufactured Housing Improvement Act of 2000 (MHIA or what the Manufactured Housing Association for Regulatory Reform (MHARR) sometimes refers to as the 2000 Reform Law) and its key "enhanced preemption" provision. For clarity, the term "enhanced preemption" is not found in the language of the law itself but is implied because the original manufactured housing act passed by Congress in 1974 also had a federal preemption provision. Thus, informed industry professionals refer to the MHIA's language as "enhanced preemption" in order to emphasize that the 200 Reform Law specifically strengthened the federal preemption provision.
Here are examples of what MHI and MHARR leaders have each said in formal comments.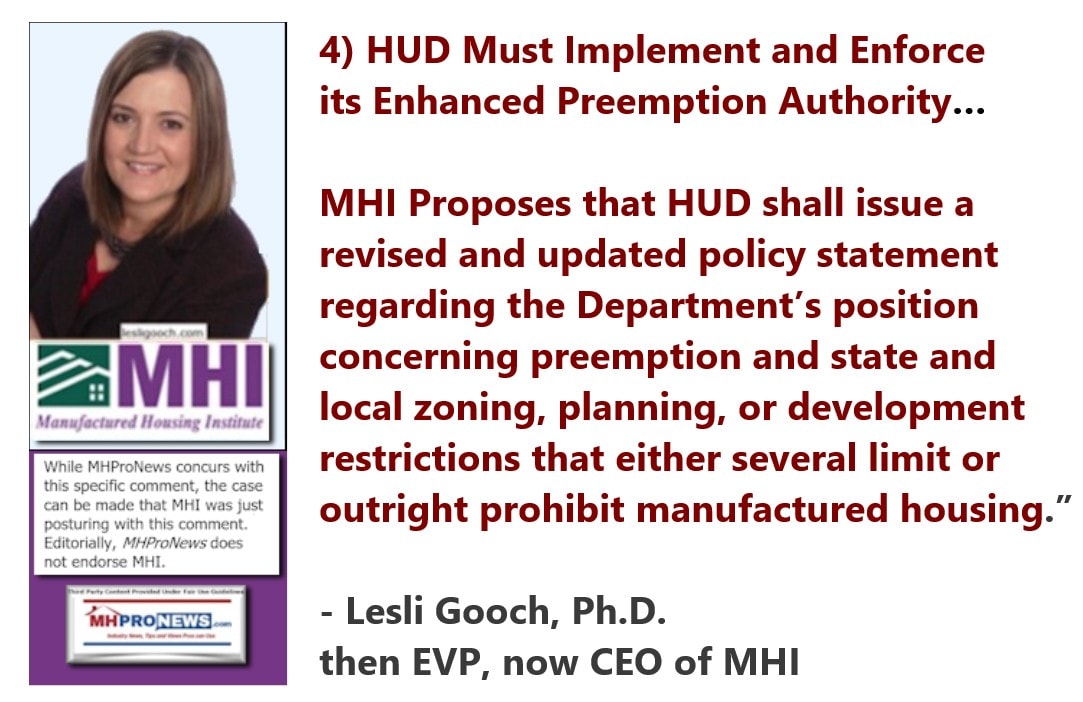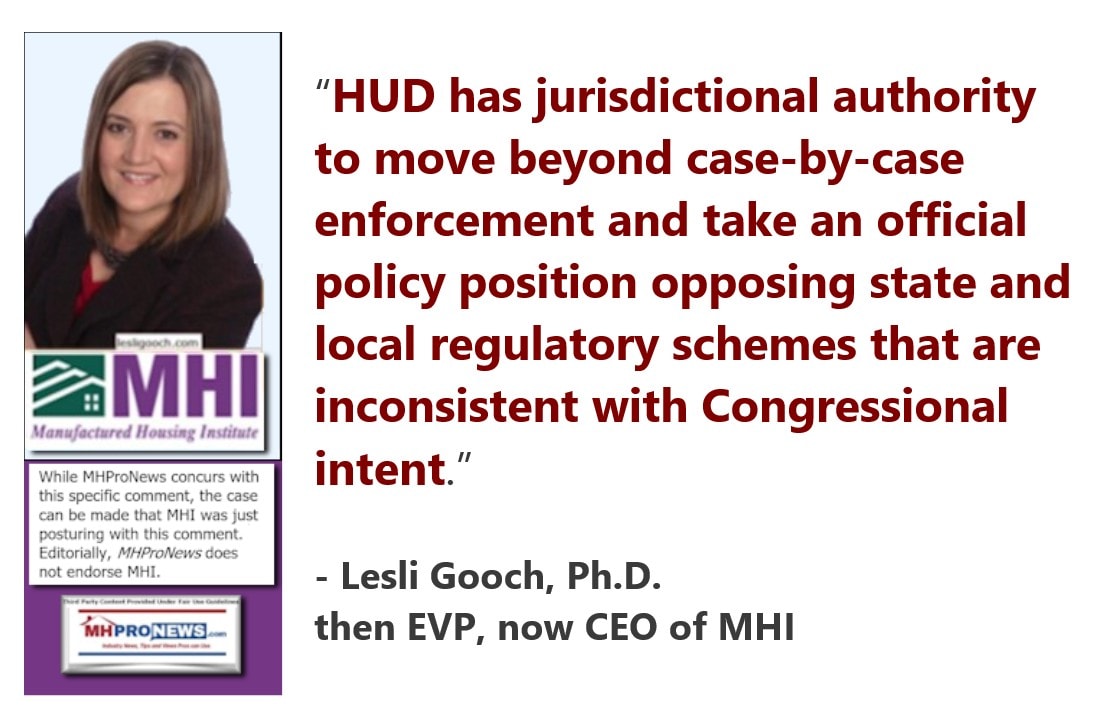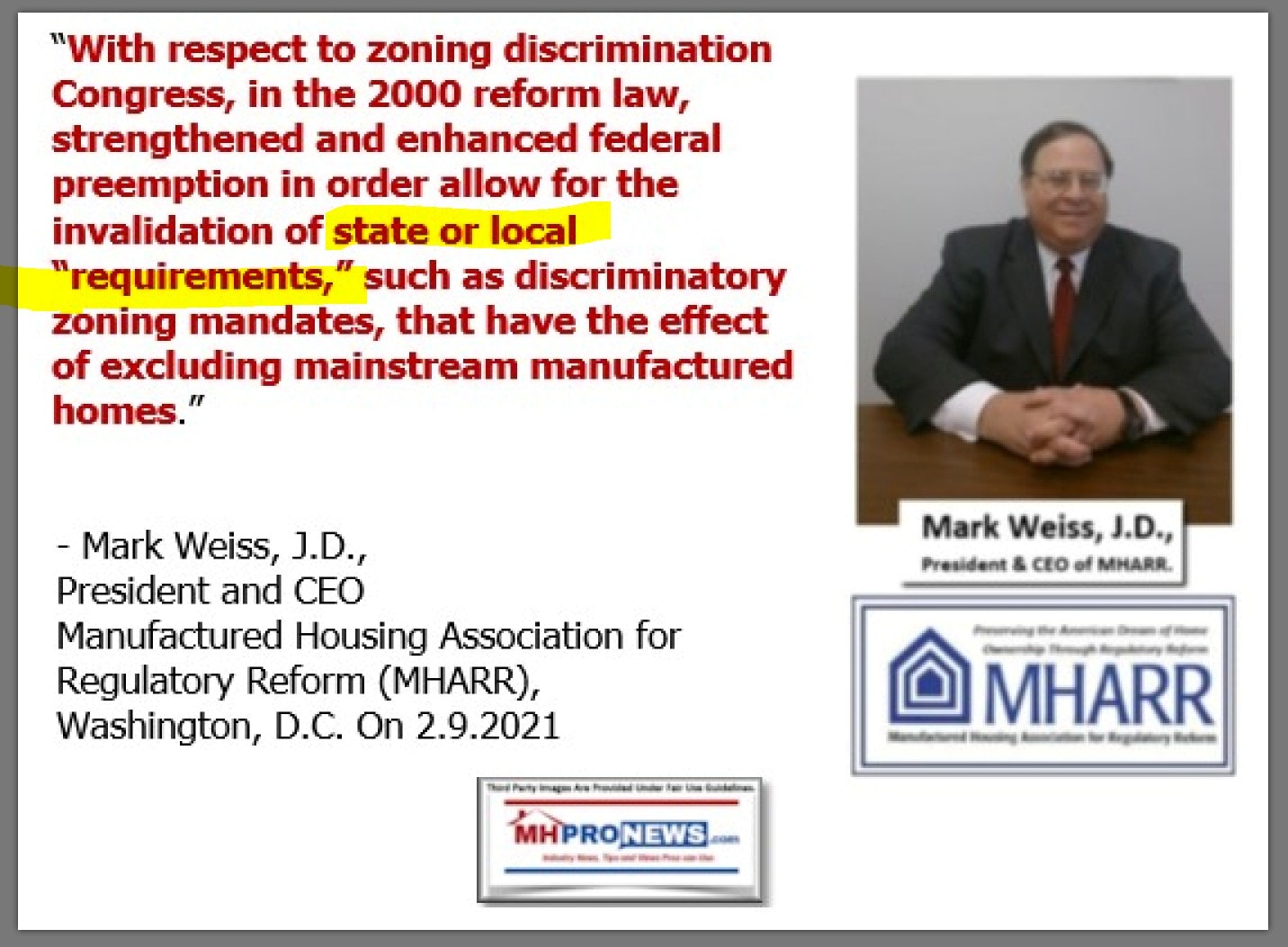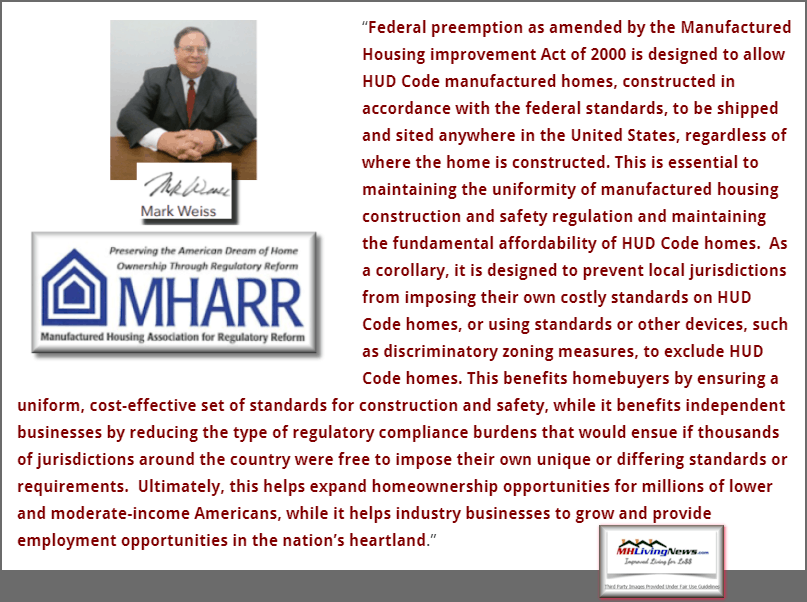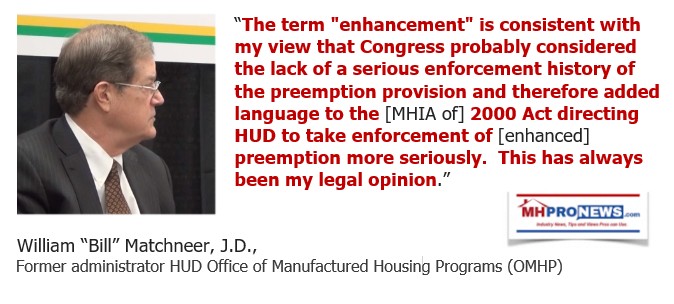 More recently, as MHProNews exclusively reported in depth and detail, Cavco's William "Bill" Boor said that the industry was at a "critical crossroads." Editorially, MHProNews could agree with that specific remark. Boor called on Congress to press HUD for federal preemption enforcement. This was part of Boor's introductory remarks, with the full comments on federal preemption and more linked below.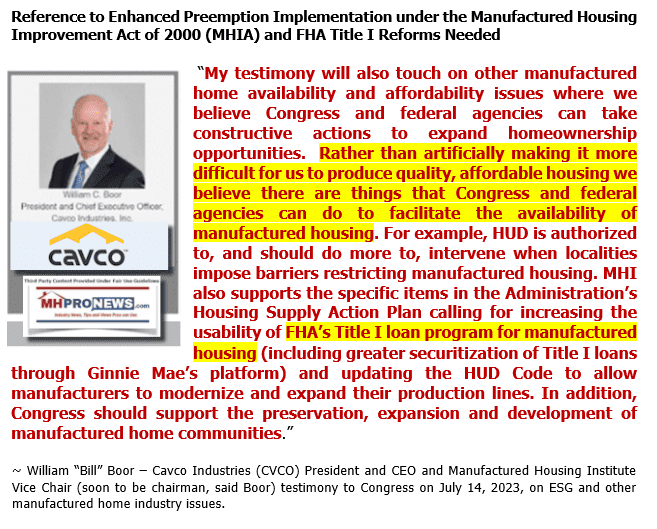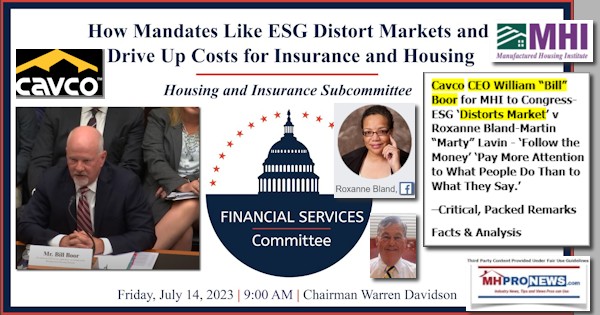 That said, MHARR has argued for some time that what MHI is engaged in is a "shell game." They previously called out MHI for what they called "the illusion of motion." During the first year of MHARR's website launch, they posted a detailed study of the need for a new post-production trade group. More on that further below in the Masthead linked from our Sunday weekly MHVille headlines recap.
The dramatically diminished manufactured home industry can't be properly understood apart from a clear grasp of the notions of paltering, posturing, and propaganda, among other terms MHProNews has carefully unpacked and illustrated in recent years.
That said the case can be made that MHI and their sly and apparent apologists keep up the ruse that the Arlington, VA based "Institute" wants:
That MHI wants the MHIA's enhanced preemption provision enforced.
That MHI wants more competitive lending for the industry, especially more competitive chattel lending.
That MHI cares about the conduct of their members by publishing their so-called Code of Ethical Conduct.
Notice. The following from Flagship Communities Investor Relations page is NOT intended in any way of being an endorsement of the firm, their business practices, etc. Rather, it is what it is. What follows is an extended direct quotation of their words from the Flagship website, unedited.
What Flagship said can be compared to MHI's remarks cited above or linked here. Because MHI's claims and Flagship's remarks – each properly understood at 'face value' are arguably irreconcilable. Taken in conjunction with under industry events, the trend toward increasingly consolidation in MHVille are difficult if not impossible to deny. Nevertheless, MHI continues to posture as if they want industry 'growth.'
But if MHI leaders sincerely wanted more organic growth, as MHARR does, then Flagship's claims and 'awards' are explicit examples of the opposite of MHI's claims. The highlighting in their text is added by MHProNews.
Part II – per Flagship Communities IR page on 9.2.2023

REIT Overview
Profile
Flagship Communities Real Estate Investment Trust ("Flagship Communities REIT" or the "REIT") is an internally managed, unincorporated and open-ended real estate investment trust established pursuant to a declaration of trust under the laws of the Province of Ontario. The REIT owns and operates a high-quality portfolio of 67 income-producing manufactured housing communities ("MHC") comprising 11,876 lots, located in attractive Midwest U.S. markets. The REIT is positioned as a consolidator in the fragmented MHC industry.
Strategy
Flagship Communities REIT is positioned to accelerate its growth by executing on its proven growth strategies. Organic growth initiatives include aligning lot rents with prevailing market conditions, leasing vacant lots, converting renter-occupied lots to homeowner-occupied lots, implementing value-enhancing investments, optimizing revenue and expenses, and expanding established communities by developing excess land. External growth will come through acquisitions. The MHC industry is highly fragmented, and comprised primarily of local owner-operators. With approximately 5,300 manufactured housing communities in the REIT's existing markets, there is a substantial opportunity for continued growth in the REIT's own backyard.
Investment Highlights
Opportunity to Gain Exposure to a Niche Asset Class with a Track Record of Outperformance
Flagship Communities Real Estate Investment Trust is the only pure-play, publicly traded manufactured housing investment vehicle in Canada. It represents a unique opportunity to invest in U.S. manufactured housing communities ("MHCs"). The MHC industry has demonstrated a strong track record of outperformance throughout all economic cycles, having achieved 20 consecutive years of positive same community net operating income growth. The U.S. MHC industry's net operating income has experienced an average growth rate of approximately 4% per year over this period, outperforming all other real estate sectors.
Defensive Asset Class with a Favourable Business Model that Outperforms Throughout the Economic Cycle
The MHC industry is characterized by stable and growing financial performance, with attractive investment returns and low operational volatility. Manufactured housing is predominately a land lease business model, whereby residents are owner-occupiers of their homes and rent a lot on which to place their home within a community. As a result, maintenance capital expenditures borne by MHC owners are generally minor and limited to community infrastructure. MHCs typically have a large, diverse and entrenched resident base with long tenure, low turnover, and minimal delinquency. Given the continued appreciation of single-family housing prices at a rate exceeding household income growth in the United States, management believes that demand for MHCs will remain strong from residents seeking affordable housing.
Fragmented Industry with High Barriers to Entry and Imbalanced Supply and Demand Dynamics
The MHC industry is highly fragmented and primarily consists of local owner-operators, public real estate investment trusts and institutional investors. The top 50 MHC investors are estimated to control only 17% of the 4.2 million manufactured housing lots estimated to be available for rent in the United States, presenting an opportunity for consolidation. Factors such as regulatory restrictions, competing land uses and scarcity of land zoned for manufactured housing development have limited new supply, causing an imbalance in supply and demand and creating high barriers to entry for new market participants. The REIT's management is unaware of any new MHCs having been built within its current operational footprint during the past 15 years.
Contiguous, High Quality Portfolio with Regional Footprint in Stable Markets
The REIT's communities are located in markets with stable population growth, stable employment trends and favourable regulatory environments. The communities are strategically concentrated within four contiguous U.S. states and are conveniently located near interstate highways, necessity-based retail centres, post-secondary institutions, healthcare facilities and major metropolitan employment centres. The regional footprint has enabled management to develop deep market insights and intelligence, build enduring relationships with market participants and establish a market-leading position. In addition, the geographic proximity of the communities allows the REIT to generate significant economies of scale and expense savings.
Well Positioned to Capitalize on Strategic Growth Opportunities
The REIT has identified four strategic avenues for growth:
Organic cash flow growth through improving occupancy, increasing lot rents, and expense optimization initiatives;
Targeted value-enhancing investments and community improvements;

Third party acquisitions

; and
Expansion of certain communities through the development of excess land.
Management's extensive relationship network, deep knowledge of local markets and regular dialogue with local owner-operators supports the execution of off-market acquisitions within the REIT's current operational footprint and other target markets. The REIT can offer potential vendors tax-deferred Class B Units, providing them with an additional incentive to transact. The REIT can also access numerous sources of debt financing including government agency debt, commercial mortgage-backed securities and life insurance companies, providing significant flexibility to pursue acquisitions. In addition, the REIT has a preferential right to purchase MHCs offered by Empower Park, LLC, an entity controlled by the REIT's Chief Executive Officer and Chief Investment Officer. The MHCs owned by Empower will be offered at a discount to appraised value.
Vertically Integrated Platform Led by an Experienced and Aligned Internal Management Team
The REIT's management platform is composed of a fully integrated team of seasoned professionals with more than 50 combined years of experience across the full spectrum of the manufactured housing industry. The REIT's vertical integration will enable it to actively control, manage and execute across all aspects of MHC investment management. The REIT's executive officers collectively own an approximate 22.2% effective interest in the REIT, providing a significant alignment of interests with other Unitholders. " … ##
Part III – Additional Information with More MHProNews Analysis and Commentary in Brief, plus Sunday Weekly MHVille Headlines Recap
While each highlighted item is of interest in the above, carefully consider the contrast between what MHI said in terms of wanting to see HUD enforce the MHIA's "enhanced preemption" clause and what Flagship said: "regulatory restrictions, competing land uses and scarcity of land zoned for manufactured housing development have limited new supply, causing an imbalance in supply and demand and creating high barriers to entry for new market participants. The REIT's management is unaware of any new MHCs having been built within its current operational footprint during the past 15 years." It is precisely the lack of enhanced preemption that makes this business model and investment thesis deployed by Flagship (and others) possible.
Sun Communities, Inc. (SUI) Reports 2023 Second Quarter and Year-to-Date Results Through June 30, 2023, What CEO Gary Shiffman Did, Didn't Say; plus MHVille Stocks, REITs Updates
Note that this investment thesis deployed by Flagship and others that are routinely MHI members should not be misunderstood as the only possible path towards profits.  A five star example of that point is the following remarks by Gary Shiffman, who has controversies of his own. That noted, Shiffman pointed out that greater profits are possible in several parts of the country given the current 'cap rates' on deals in the land lease manufactured home community sector.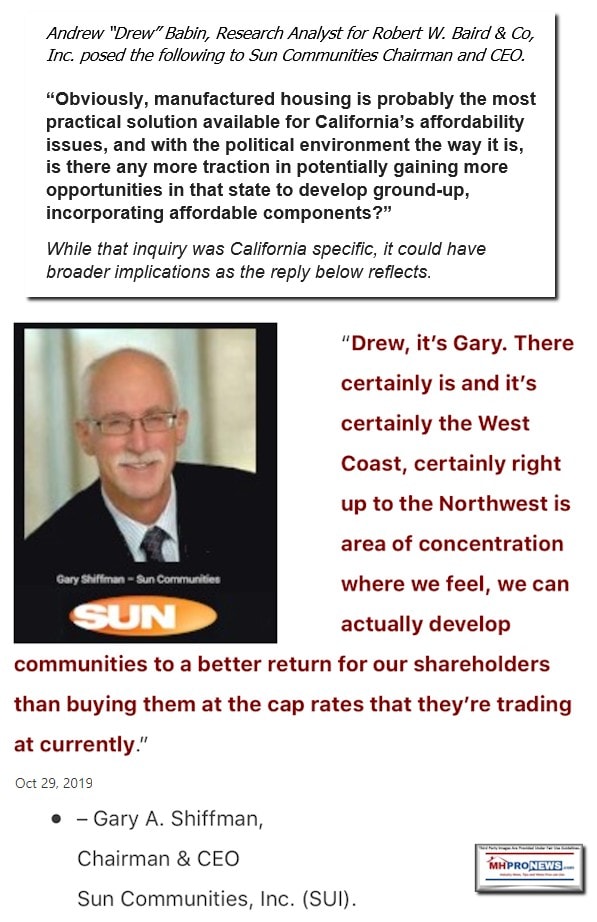 Let's do a mini-summary for clarity.
MHI claims it has a code of ethical conduct, but several of their own members seem to violate that code of conduct with impunity. There are no known examples of MHI taking any enforcement action for violations of their so-called 'code of conduct.' Indeed, apparent violators like Flagship are given MHI "excellence" awards!
Flagship's investment thesis leans on a sector where new developments are rare. Consider that Flagship's Nathan Smith sits on an MHI board and is a prior MHI chairman. Enhanced preemption, on paper at least, is a tool to get more developing accomplished at a lower cost. But in Flagship's and other MHI consolidator's thesis, that would not drive consolidation.
So, even though the CEO of one of the top MHC operators in the country in size – i.e.: Sun's Shiffman – has said that they could be more profitable developing in many cases, they still tend to lean towards consolidation and the development of adjacent property in their current holdings. Flagship says in their states, they know of none, zero, zip new developments in 15 years.
Then consider the scores of companies that paid dues in good faith to MHI and MHI state affiliates. Where they victims of a slow-moving con (fraud) that used associations to foster consolidation?
File Under "You Can't Make This Up" – Wacky Wednesday Explores Manufactured Housing Institute (MHI) Excellence Award-Winners and their Legal Challenges, plus MHMarkets Updates
Who's Who at Manufactured Housing State Associations per Manufactured Housing Institute (MHI), Others with MHI 'Official' History per Al Hesselbart-Claims-Tips-Views; plus, MHVille Markets Update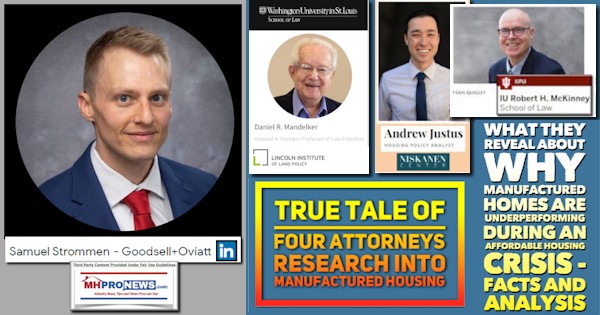 The Truth is Hiding in Plain Sight for Those Who Know Where to Look
Flagship's IR page cited above dovetails with the graphic previously published by MHProNews, shown below.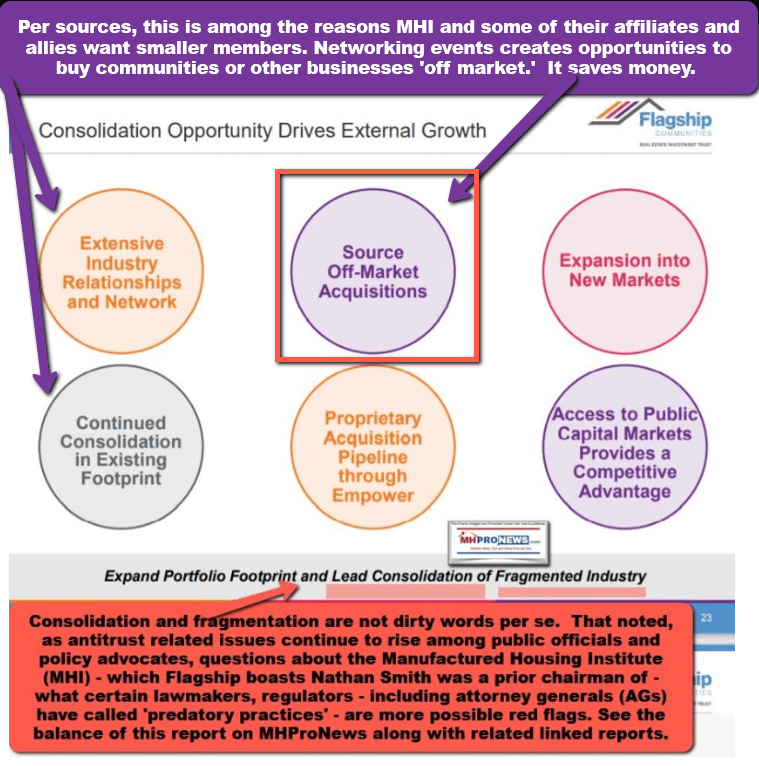 And as to the Skyline Champion deals of late, weren't they foreshadowed by the remark previously referenced by that firm's Laurie Hough, reported by MHProNews? Where was the balance of the MHI-aligned trade media?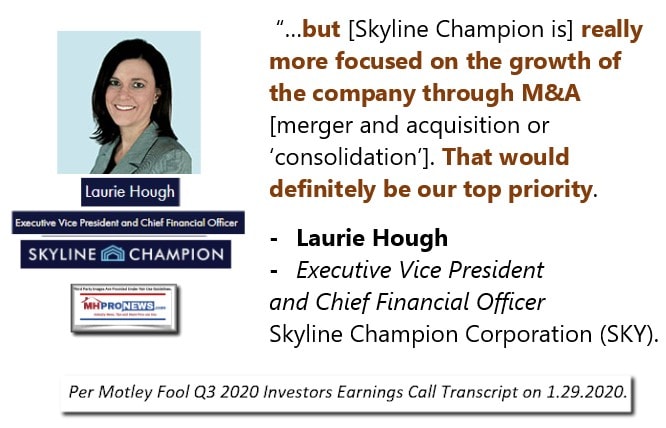 Like Cavco, or a more modest version of Berkshire Hathaway owned Clayton Homes, Skyline has amassed a pile of capital that could readily fund organic growth, legal efforts to enforce favorable existing federal laws, and more. But instead, the MHI "Big Three" are steadily consolidating the production, retail, and recently the finance segments of the industry too. Both of the reports below have been 'read hot' ('red hot' reads). No one else in MHVille has presented this information in anything like this level of detail and related insights.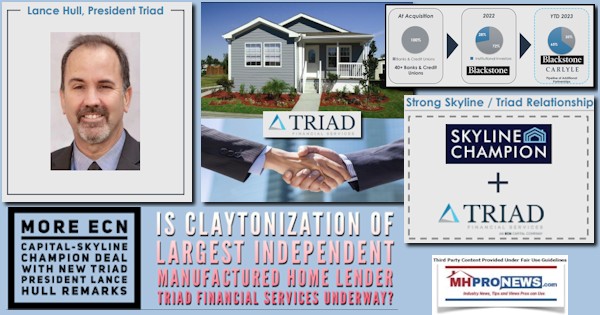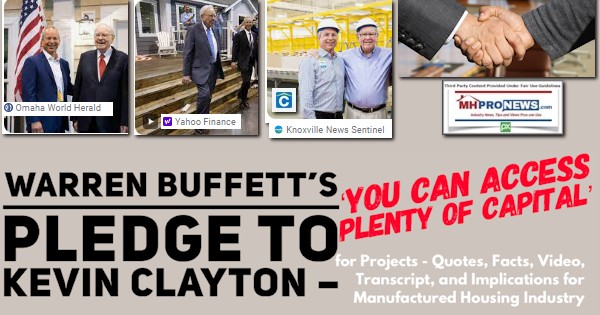 By keeping the industry underperforming, while posturing efforts to 'promote growth,' MHI has become a tool in the consolidator's toolbox.  What else explains MHI's 21st century failures at achieving their own agenda, while MHI staff leaders can reportedly get paid bonuses and MHI's Gooch can double dip with conventional housing associations?
No fictional story could be as bizarre as the sobering realities documented by MHProNews. But it is precisely that brazen level of chutzpah that has allowed the manufactured home industry to get to this new recent low point during an affordable housing crisis.
Could so much consolidation have been accomplished without MHI? See the weekly headlines recap that follows in Part III to learn more.
An Opportunity to Respond to Apparent and Alleged Legal Violations
MHProNews has provided MHI staff and corporate leaders and/or their attorneys with repeated opportunities to respond to allegations and concerns that MHI is failing at their own claims and is contradicted by some of their own members formal remarks and statements.
The Flagship example above is not new, it is merely a current example of that pattern.
The fact that MHI and an MHI affiliate has once again given Flagship another 'award' when the firm seems to have clearly contradicted the MHI-NCC standards in their "Code of Ethical Conduct" points to the notion that MHI is capable of saying one thing but doing something quite different. As a relevant segue, note that while MHProNews periodically quotes Marty Lavin, J.D., and applies his quotes to specific scenarios, that should not be construed as Lavin publicly making that specific implied use. Lavin is free to change his mind about his past remarks about MHI – which he has criticized at various times over a period of years. Restated, MHProNews believes that our use of Lavin's remarks are fair and consistent. But not every use of Lavin's remarks was uttered at that time in that specific instance.
That noted, Lavin is not the first nor the last to use some of those pithy and insightful remarks, as another attorney has made a similar use of the principles Lavin which formulated and applied in MHVille.
Once one of the largest and oldest manufactured home retailers in the country was Dick Moore Housing. Dick Moore Housing dates back to the trailer house era. They have sold more homes than are found in numbers of towns across the fruited plain. Robert "Bob" Crawford was serving as their president at the time he said the following.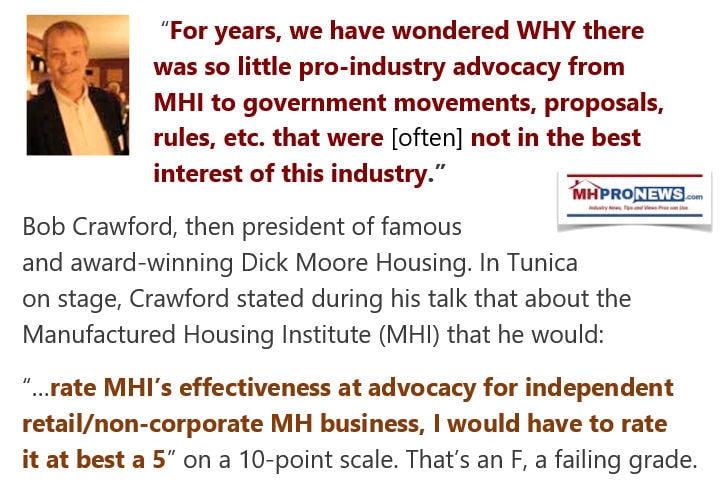 How is it possible that over a period of years in the 21st century that MHI could so efficiently say one thing, and yet accomplish another? For example, how can Lesli Gooch manage to fail up? Does anything other than the notion that MHI's corporate board wants the 21st century pattern explain the known facts? Oh, by the way. A new board will be seat soon. Don't be surprise if as the 'names change' (modestly) if the new board is the same in behavior as the current or prior 21st century boards in the post-Berkshire era.
Don't Miss Today's Postscript Which Will Announce a Special and Exclusive Report
With no further adieu, here are the headlines for the week that was from August 27 to September 3, 2023.
Part III
What's New on MHLivingNews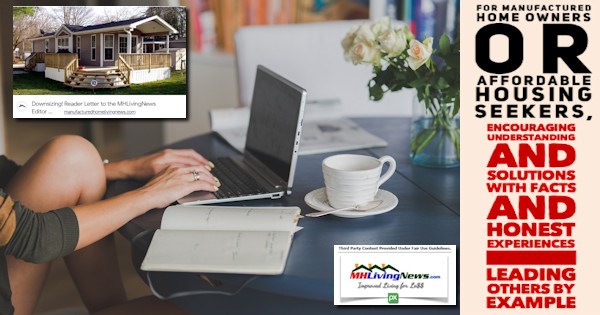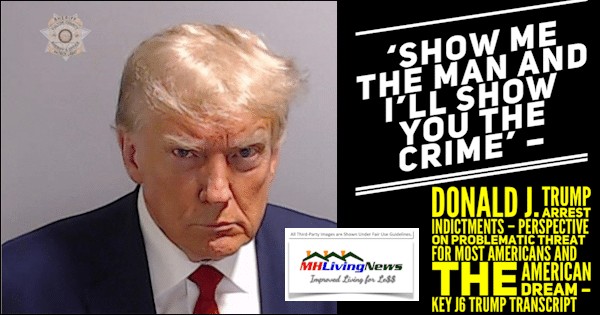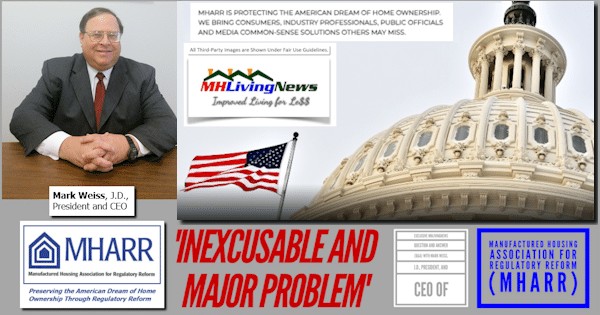 What's New and Recent on the Masthead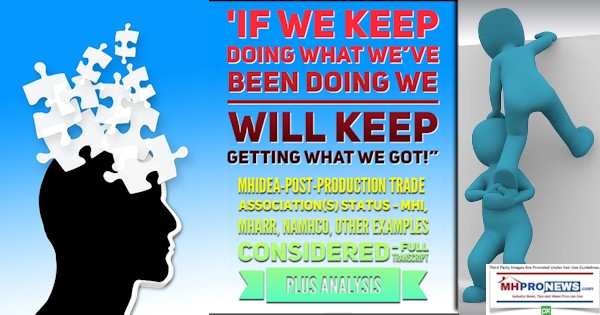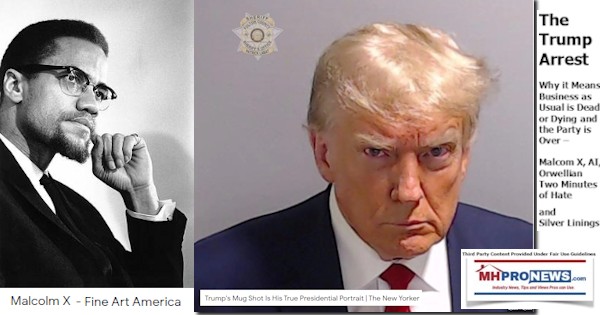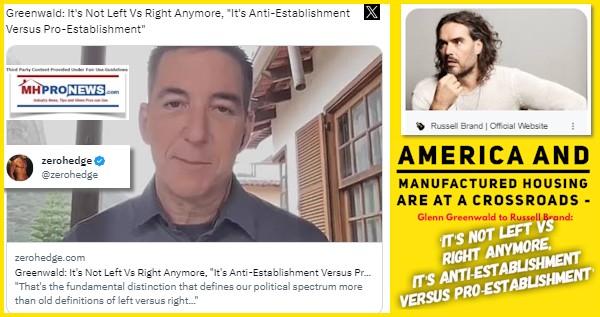 What's New from Washington, D.C. from MHARR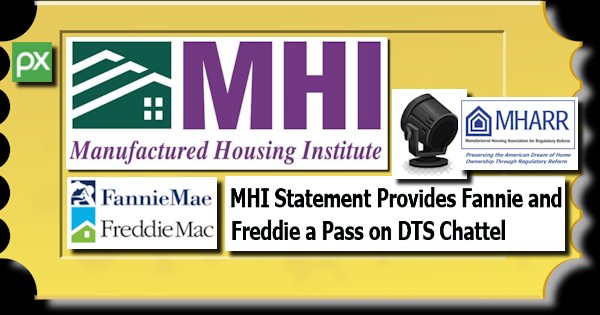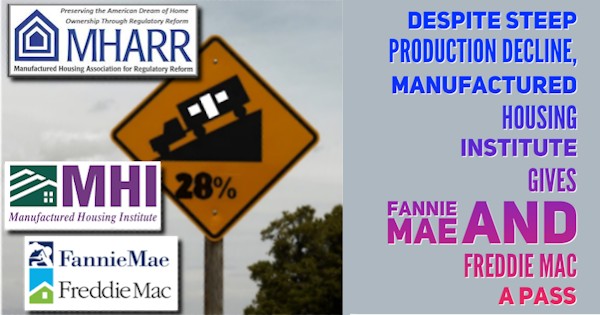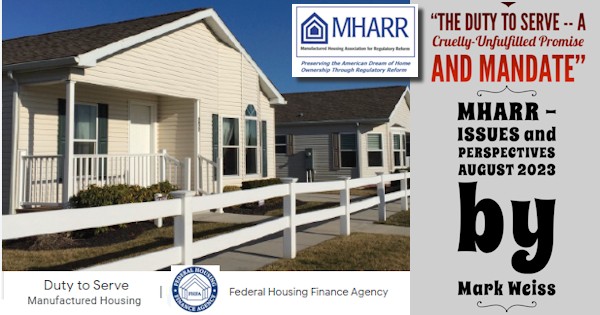 What's New on the Daily Business News on MHProNews
Saturday 9.2.2023
F-U = Fed Up Doc Video = Improve Your, Loved Ones, Colleagues Health – Save Money, Avoid Medical Debts, Med Bankruptcy – Facts and 5 MD Tips for Better Health; plus MHVille Markets Update
Friday 9.1.2023
'Inflation a Barrier to the American Dream' – Unpacking GDDY Small Business Owners plus National Federation of Independent Business (NFIB) Surveys Results; and MHVille Markets-Stocks Updates
Thursday 8.31.2023
U.S. Commerce Secretary Gina Raimondo Warns China 'UnINVESTABLE' – 'All Time Low' Biz Confidence – Supply Chain, U.S. Banking, More Red Flags – Facts and MHVille Analysis; plus MHMarkets Update
Wednesday 8.30.2023
Funding Universe – 'Answering the Need for Affordable Housing Since 1971' Exploring American HomeStar Corporation's Recent and Historic Track Records; plus MHVille Markets Update
Tuesday 8.29.2023
'Scream If Your Rent is Too Damn High' More Building Won't Solve Housing Crisis, says Attorney Fran Quigley – Champion MH – Business as Usual is Dead or Dying; plus MHVille Markets-Stocks Update
Monday 8.28.2023
Skyline Champion Quarter Ending 7.1.2023 Results – CEO Yost – 'Navigating Current Environment-Shifts in Demand' Net Income Falls 56% – 1Q Fiscal 2024 Results; 'Project Hat Trick'-Facts and Analysis
Sunday 8.27.2023
H.R. 5198 – Expansion of Attainable Homeownership Through Manufactured Housing Act of 2023 – Manufactured Housing Institute Supported Bill Explored; plus Sunday Weekly MHVille Headlines Recap
Postscript
Baring the unforeseen, MHProNews plans to publish on Labor Day a report that will expose evidence of MHI member firms apparently undermining independent manufactured housing retailers.  It will include on the record remarks by an independent retailer, and other on and off the record insights that merit an investigation by public officials, shareholders in certain brands, stakeholders, and/or plaintiffs' attorneys.
Also this week, we plan a more detailed report on the Skyline Champion – Regional Homes deal. Stay tuned for the type of evidence-based and clear-thinking content not found anywhere else in the manufactured housing industry's trade media.  ###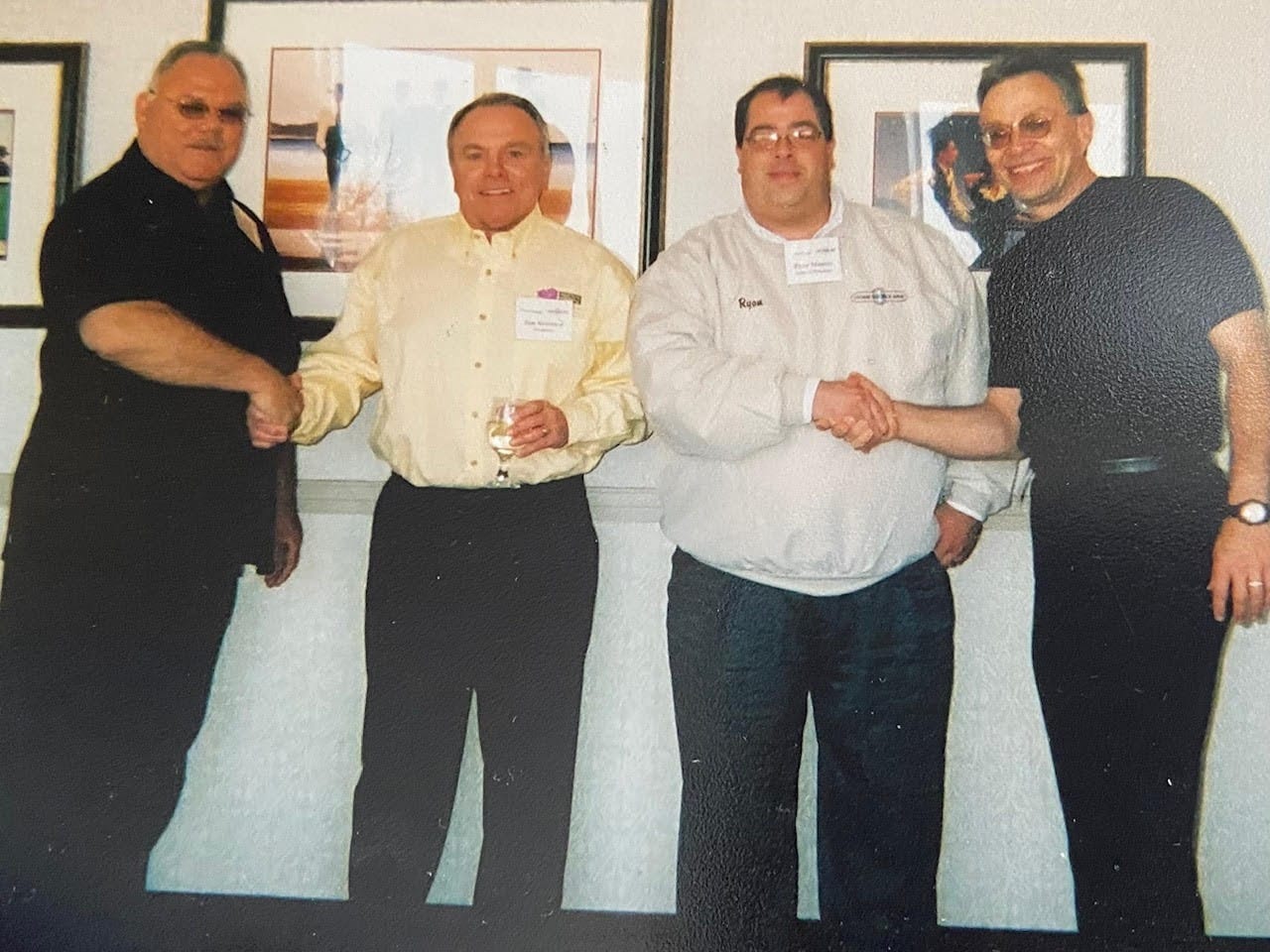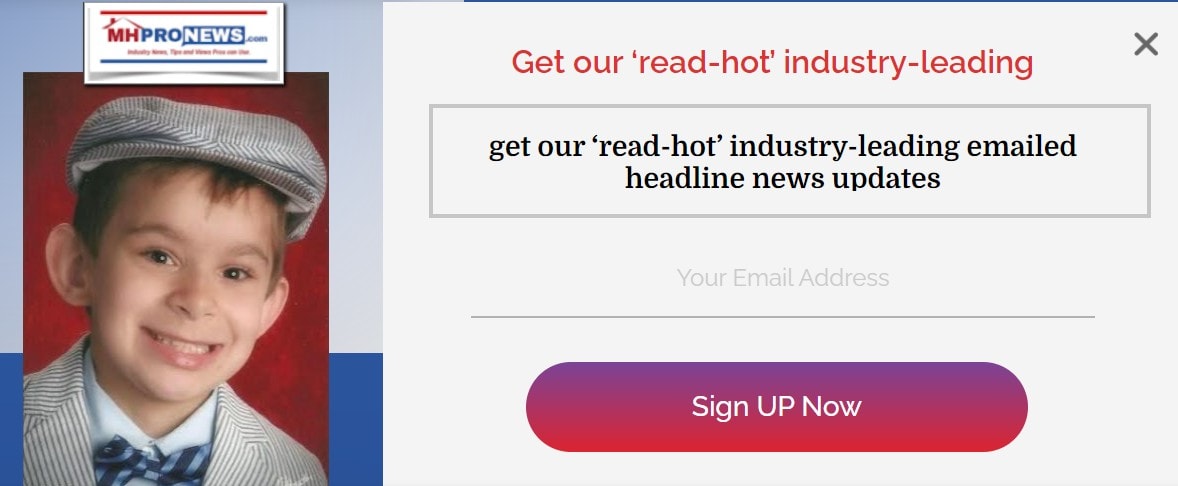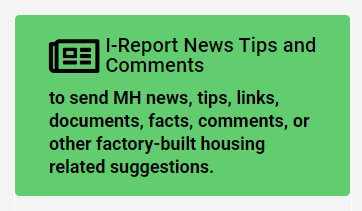 Again, our thanks to free email subscribers and all readers like you, as well as our tipsters/sources, sponsors and God for making and keeping us the runaway number one source for authentic "News through the lens of manufactured homes and factory-built housing" © where "We Provide, You Decide." © ## (Affordable housing, manufactured homes, reports, fact-checks, analysis, and commentary. Third-party images or content are provided under fair use guidelines for media.) See Related Reports, further below. Text/image boxes often are hot-linked to other reports that can be access by clicking on them.)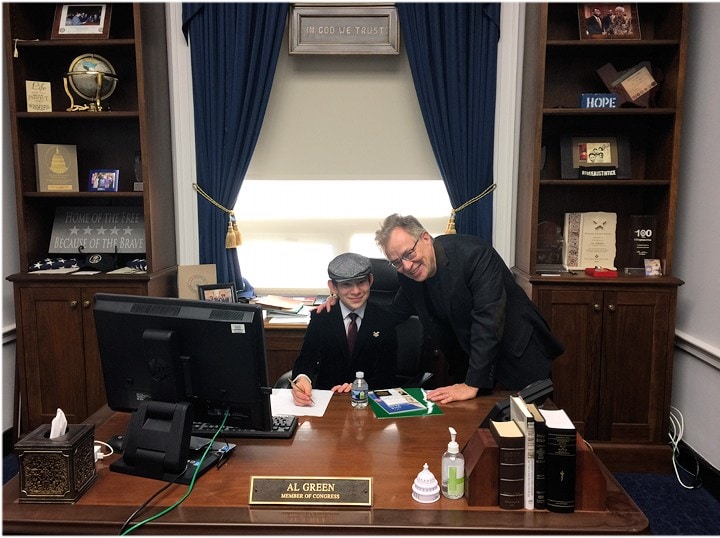 By L.A. "Tony" Kovach – for MHProNews.com.
Tony earned a journalism scholarship and earned numerous awards in history and in manufactured housing.
For example, he earned the prestigious Lottinville Award in history from the University of Oklahoma, where he studied history and business management. He's a managing member and co-founder of LifeStyle Factory Homes, LLC, the parent company to MHProNews, and MHLivingNews.com.
This article reflects the LLC's and/or the writer's position and may or may not reflect the views of sponsors or supporters.
Connect on LinkedIn: http://www.linkedin.com/in/latonykovach
Related References:
The text/image boxes below are linked to other reports, which can be accessed by clicking on them.'
Manufactured Housing's Rorschach Test – How You See the Facts, Visuals, Narratives and Evidence Speaks Volumes; plus Sunday Weekly Manufactured Home Industry (MHVille) Headlines in Review
Warren Buffett Success Tip 'Lighter or Darker World Ahead,' 'Is Obama's World a Utopian Myth?' As 7.4 Approaches Revisiting Buchanan's Historic Lessons; plus Sunday Weekly MHVille Headlines Recap
MHARR Washington Update – Fannie, Freddie, Duty to Serve and Latest Concerns on Manufactured Housing Institute Energy Litigation – Facts and Analysis, plus Sunday Weekly MHVille Headlines Recap
'Dark Triad' – Researchers Detect '5 Key Characteristics of BILLIONAIRES' – Evidence how Billionaires, Super Wealthy Think Differently Than Most-Takeaways and Lessons; plus Sunday MHVille Weekly Headlines Recap
'Go to Independent Sales Lot, Spend a Week There During Busy Season and Report on Reality of the Manufactured Housing Industry its Primary Level;' Sunday MHVille Weekly Headlines Recap
Name Calling, Evidence, Facts, and Manufactured Housing's Primary 'Muckraker' Shed Light on Manufactured Home Industry Underperformance; plus Sunday Weekly Headlines Recap
Manufactured Home 'Energy Rule Delayed'–Manufactured Housing Institute Aptly Says 'More Work to Be Done'–Clayton & Independent Builder Insights, Analysis-plus Sunday Weekly Headlines in Review
Andrew Justus, J.D., Niskanen Center Housing Policy Analyst, Hill Op-Ed Asks and Answers – 'What's Holding Back Manufactured Homes?' Sunday Weekly MHVille Headlines in Review
Warren Buffett Led Berkshire Hathaway has Over $100 Billion Available for Investing, Why That Matters to Manufactured Housing, MHEC Members Know How Gold Rules; plus Sunday Weekly Headlines Recap
U.S. Housing Market Snapshot April 2023, Manufactured Housing News Includes Eye Popping $500 Million Offer to Manufactured Home Residents; plus Sunday Weekly MHVille Headlines Recap
Danny Ghorbani – Manufactured Housing's 'Elephant in the Room,' per Prior Manufactured Housing Institute Chair, Exclusive Q&A on Key MHIndustry Issues, plus Sunday Weekly MHVille Headlines Recap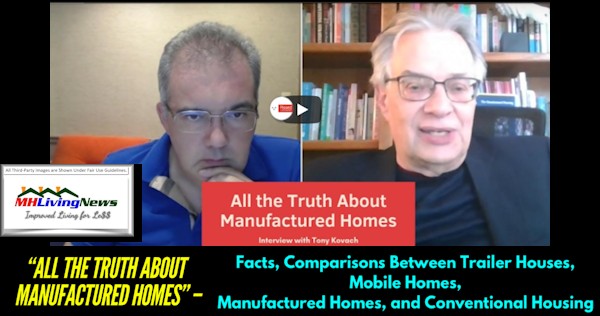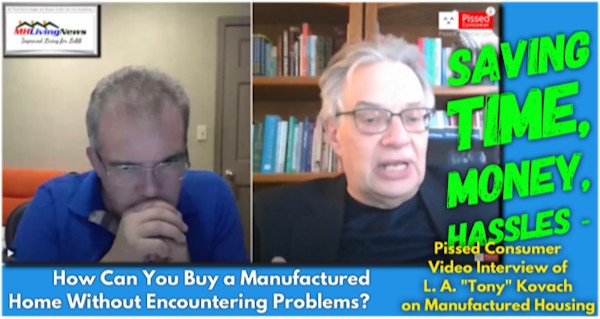 'Affordable Homes for Low Income Must Produce in Factory,' 'Years to Unravel Sabotage,' Grad Students Interest in Manufactured Housing, Factory-Home Solutions; plus Sunday Weekly Headlines Recap