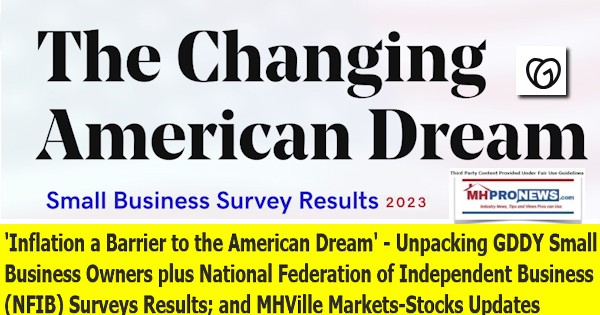 A recent survey from GoDaddy (NYSE: GDDY) of small business sentiments revealed that almost three-quarters (74%) of U.S. small business owners say their perception of the American Dream has changed. Small business owners today define their achievement of the American Dream as living a comfortable lifestyle (56%), feeling happy with their life (54%) and having the freedom to pursue their passions and interests (49%). While most think they can still achieve that, 80% percent think that inflation is a barrier to that goal. Given that small businesses are routinely perceived as being led by people who are self-starters and can do minded, the fact that they believe that homeownership is getting harder to attain is significant.
Part I – Go Daddy and NFIB Insights
"63% currently own a home," "yet 45% of entrepreneurs view [home ownership important] in achieving the American Dream." So said Go Daddy's recent survey of small business owners that generated the following results.
In your opinion, which of the following

indicate that you have achieved the

American dream?

%
Living a comfortable lifestyle
56.4 %
Feeling happy with your life
54 %
Freedom to pursue your own passions

and interests

49.2 %
Owning your own home
45.2 %
Being your own boss
38.7 %
Having money/assets to leave to your

children

33.7 %
Being able to pay off your debt obligations
27.2 %
Having equal rights and access to

opportunities

26.1 %
Owning a car
18.1 %
Earning enough to move into a higher

income bracket

17.5 %
Getting a better education than previous

generations in your family

14.9 %
Sending your children to college
14.3 %
Feeling like you belong in the USA
14.3 %
Becoming or being an American citizen
9.1 %
Improve your social status
8.8 %
Going to college
8.6 %
More insights from the GoDaddy survey are as follows.

74% of U.S. small business owners say their perception of the American Dream has changed.
However, 39% of small business owners do believe that being their own boss represents an achievement of the American Dream. This link is more pronounced among male (43%) than female (36%) small business owners. It is also particularly resonant for business owners who identify as Black (46%) and of Hispanic, Latino or Spanish origin (43%). Despite this, just 6% of people cited that as a 'top three' reason that they started their own business, with reporting women slightly higher than men (7% vs 5.5%).
While the majority of American small business owners believe that being a successful entrepreneur is a key way to create new generational wealth (78%), many have modest business aspirations, wanting to either stay a 'solo entrepreneur' (28%) or maintain being a small business with some employees and maybe a physical location (35%). Only 12% aspire to one day become a corporate business with a large employee base and headquarters. While revenue growth (63%) is unsurprisingly a top indicator of small business success, according to the survey respondents, other indicators point to the importance of emotional contentment rather than material accomplishments. For example, achieving happiness (60%) and a healthy work-life balance (60%) rounded out the top three indicators of success.
Just under two-thirds (62%) of American small business owners are confident they will achieve what they perceive as the American Dream, with male business owners showing more confidence than female (71% vs. 55%) and Millennials reporting themselves as the most confident generation (66%).
Small business owners do, however, face daunting economic concerns. For instance, 80% of small business owners agree that inflation is currently impeding entrepreneurs trying to achieve the American Dream. When reflecting on their biggest financial challenges:
42% rated some level of difficulty in access to financial capital when starting their business
23% pointed to rising costs of wages and materials
23% cited lack of personal wealth, which is notable when 55% used personal savings to start
Other top barriers to the American Dream for small business owners include:
Lack of access to technology (33%)
Lack of access to free/affordable healthcare (32%)
Lack of education (28%)
Discrimination (28%)
Inadequate language/communication skills (24%)
"This survey data shows that American small business owners are thinking beyond revenue and sales growth when they consider what the American Dream means to them – today it's more about feeling a sense of belonging, freedom, happiness, and work-life balance," said GoDaddy Chief Marketing Officer Fara Howard. "Whatever their interpretation is of the American Dream, GoDaddy is committed to helping these entrepreneurs achieve success on their terms." ##
The July 2023 NFIB survey results of small business optimism, or lack thereof, are as follows.
Note: to expand this image to a larger or full size, see the instructions
below the graphic below or click the image and follow the prompts.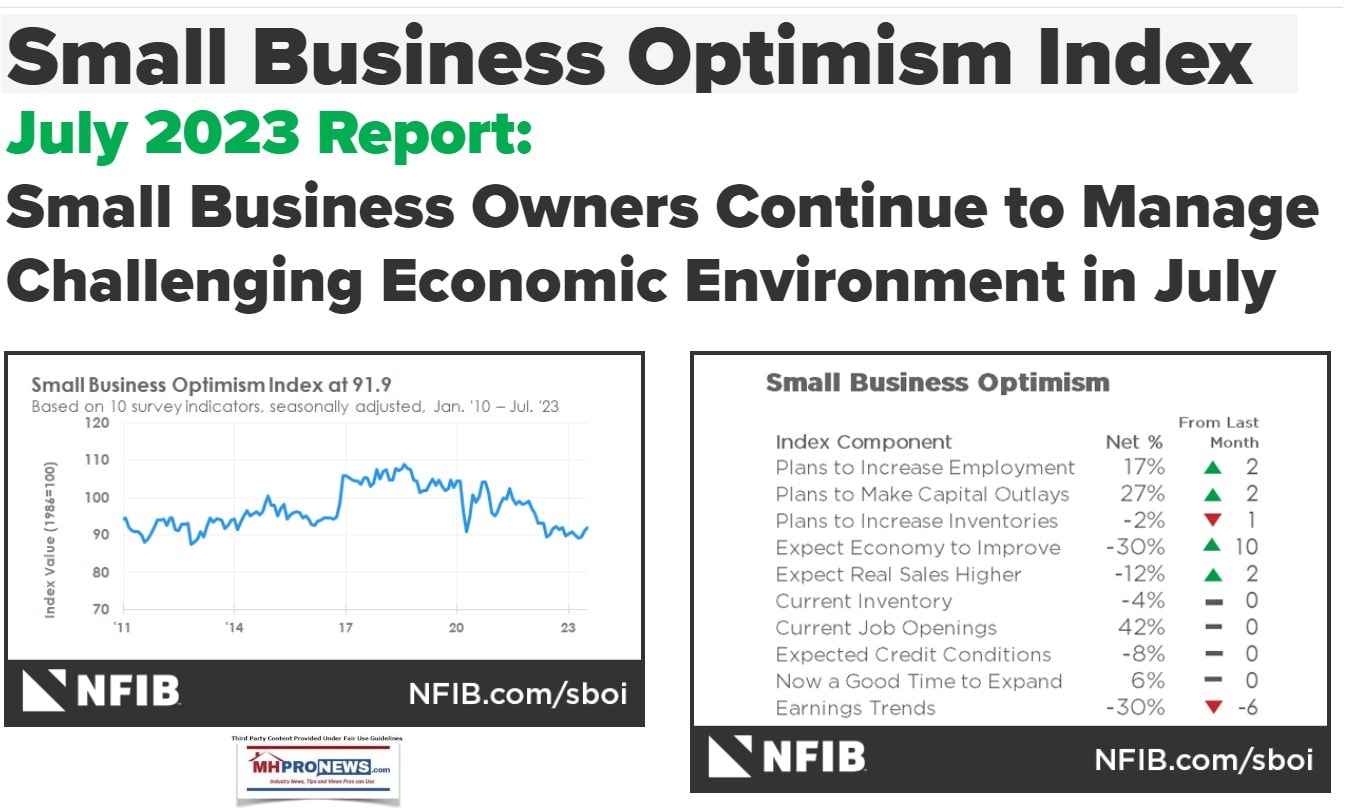 Note that small business optimism, per the NFIB's long running survey soared during the Trump years but have been significantly lower under both Obama and Biden.
Per the NFIB are the following.
"With small business owners' views about future sales growth and business conditions dismal, owners want to hire and make money now from solid consumer spending," said NFIB Chief Economist Bill Dunkelberg. "Inflation has eased slightly on Main Street, but difficulty hiring remains a top business concern."
The NFIB previously reported to MHProNews that several hundred manufactured home industry connected locations were members of their trade group.

Key findings include:
Owners expecting better business conditions over the next six months improved 10 points from June to a net negative 30%, 31 percentage points better than last June's reading of a net negative 61%. This is the highest reading since August 2021 but historically very negative.
Forty-two percent of owners reported job openings that were hard to fill, unchanged from June but remaining historically very high.
The net percent of owners raising average selling prices decreased four points to a net 25% seasonally adjusted, still a very inflationary level but trending down. This is the lowest reading since January 2021.
The net percent of owners who expect real sales to be higher improved two points from June to a net negative 12%, a very pessimistic perspective.
As reported in NFIB's monthly jobs report, 61% of owners reported hiring or trying to hire in July, up two points from June. Of those hiring or trying to hire, 92% of owners reported few or no qualified applicants for the positions they were trying to fill. Thirty-three percent of owners reported few qualified applicants for their open positions and 23% reported none.
Fifty-five percent of owners reported capital outlays in the last six months, up two points from June. Of those making expenditures, 38% reported spending on new equipment, 22% acquired vehicles, and 15% improved or expanded facilities. Eleven percent spent money on new fixtures and furniture and 6% acquired new buildings or land for expansion. Twenty-seven percent of owners plan capital outlays in the next few months.
A net negative 13% of all owners (seasonally adjusted) reported higher nominal sales in the past three months, down three points from June and the lowest reading since August 2020. The net percent of owners expecting higher real sales volumes improved two points to a net negative 12%.
The net percent of owners reporting inventory gains was unchanged at a net negative 3%. Not seasonally adjusted, 14% reported increases in stocks and 14% reported reductions. A net negative 4% of owners viewed current inventory stocks as "too low" in July. By industry, shortages are reported most frequently in retail (15%), transportation (14%), manufacturing (11%), and services (9%). Shortages in construction (6%) have been reduced. A net negative 2% of owners plan inventory investment in the coming months, up one point.
Falling four points from June, the net percent of owners raising average selling prices dropped to a net 25% (seasonally adjusted), the lowest since January 2021. Twenty-one percent of owners reported that inflation was their single most important problem in operating their business. Unadjusted, 14% reported lower average selling prices and 40% reported higher average prices. Price hikes were the most frequent in finance (53% higher, 13% lower), retail (52% higher, 10% lower), wholesale (44% higher, 15% lower), and construction (43% higher, 6% lower). Seasonally adjusted, a net 27% plan price hikes.
Seasonally adjusted, a net 38% reported raising compensation. A net 21% plan to raise compensation in the next three months, down one point from June. Ten percent of owners cited labor costs as their top business problem, up two points. Twenty-three percent of owners said that labor quality was their top business problem.
The frequency of reports of positive profit trends was a net negative 30%, down six points from June. Among owners reporting lower profits, 30% blamed weaker sales, 19% blamed the rise in the cost of materials, 18% cited labor costs, 9% cited lower prices, 5% cited usual seasonal change, and 4% cited higher taxes or regulatory costs. For owners reporting higher profits, 44% credited sales volumes, 34% cited usual seasonal change, and 9% cited higher selling prices.
Three percent of owners reported that all their borrowing needs were not satisfied. Twenty-five percent reported all credit needs were met and 62% said they were not interested in a loan. A net 6% reported their last loan was harder to get than in previous attempts. Four percent reported that financing was their top business problem. A net 23% of owners reported paying a higher rate on their most recent loan. To date, Fed policies raising interest rates and reducing their portfolio have not had a significant impact on small firms.
The NFIB Research Center has collected Small Business Economic Trends data with quarterly surveys since the fourth quarter of 1973 and monthly surveys since 1986. …"
Antitrust 
Among the issues that NFIB members feel strongly about is increasing competitiveness against the tech giants and the impact of "Anti-competitive behavior and a lack of transparency on the part of Pharmacy Benefit Managers (PBMs) have resulted in significant barriers to affordable healthcare." Obviously, healthcare costs impact virtually everyone and every profession, including but not limited to, manufactured housing. Something similar can be said about the impact of big tech on smaller businesses.
Per the NFIB: "Take Action: Join other small business owners in telling Congress to support the Pharmacy Benefit Manager Transparency Act and its price transparency to small businesses through PBM reform."
According to the NFIB is an example of what their trade group is doing to boost their members ability to compete against giant firms.

Big Tech Antitrust
Big Tech companies like Amazon and Google, which run online marketplaces, engage in practices that are biased against small businesses, which lack bargaining power and alternative choices. For small business sellers using marketplace platforms, competition between the operator's own products and third-party sellers creates conflicts of interest and has been shown to lead to unfair business practices.
On Nov. 17, 2022, NFIB members Mark Faulkner and Deeannah Seymour made the case for Big Tech antitrust legislation in front of a U.S. Senate briefing and explained their concerns in brief video testimonies. NFIB also hosted a virtual briefing with a panel of five small business owners and Rep. Ken Buck (R-CO) who is a principal U.S. House author of the American Innovation and Choice Online Act. Each of the five panelists spoke to their experience using big tech across a variety of platforms.
In an NFIB member ballot, 84% of NFIB members favor Congress taking legislative action to control dishonest and anticompetitive practices of large tech companies.
2992, the American Innovation and Choice Online Act, introduced in the previous Congress, would ensure equality for small businesses and options for consumers. NFIB supports preventing companies like Amazon and Google from engaging in practices such as promoting their products over higher reviewed products from a small business and adding accountability so small business owners can trust their products will be sold impartially."
Additionally, according to their website: "NFIB Small Business Legal Center has argued repeatedly in antitrust cases…" Their Legal Center page says in part that: "We advocate and fight for small businesses in state and federal courts and before the U.S. Supreme Court." They also 'educate and assist' small business owners on legal matters. ##
Recall that earlier this year, MHLivingNews and MHProNews reported that apparently pro-manufactured housing law professor Daniel R. Mandelker J.D., had advocated that manufactured housing professionals and advocates create an organization (think, nonprofit) to boost the industry through litigation and lobbying.  Per Mandelker: "A support organization is needed that can provide litigation and legislative support to help manufactured housing advocates with zoning reform."
Attorney and Niskanen Center housing policy advocate Andrew Justus noted in May 2023 that according to their research that what was "holding back" manufactured housing was zoning and financing barriers.
Andrew Justus, J.D., Niskanen Center Housing Policy Analyst, Hill Op-Ed Asks and Answers – 'What's Holding Back Manufactured Homes?' Sunday Weekly MHVille Headlines in Review
While the Manufactured Housing Institute (MHI) did launch litigation earlier this year in the pending Department of Energy (DOE) rule, they did so late and only under extended public pressure from MHARR and MHProNews. The Texas Manufactured Housing Association (TMHA), which joined MHI in that suit, has indicated that MHI may de facto be accepting the rule, a concern that MHARR has strongly opposed.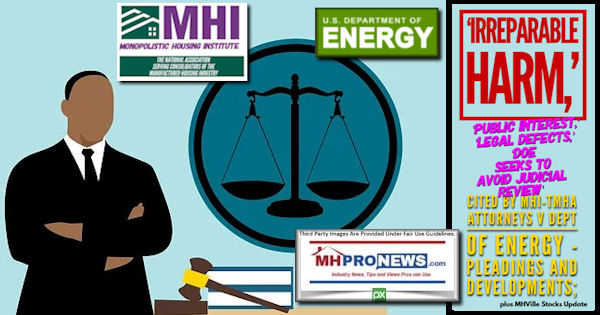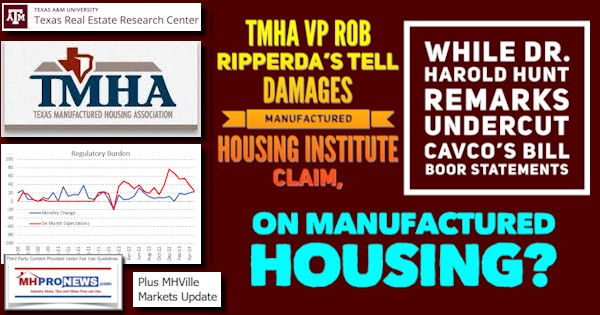 In his Knudson Law thesis that probed problems causing manufactured housing industry underperformance, attorney Samuel "Sam" Strommen advocated for antitrust action that would include targeting MHI.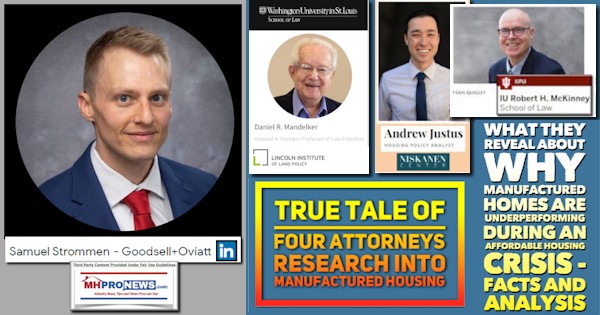 Note: to expand this image to a larger or full size, see the instructions
below the graphic below or click the image and follow the prompts.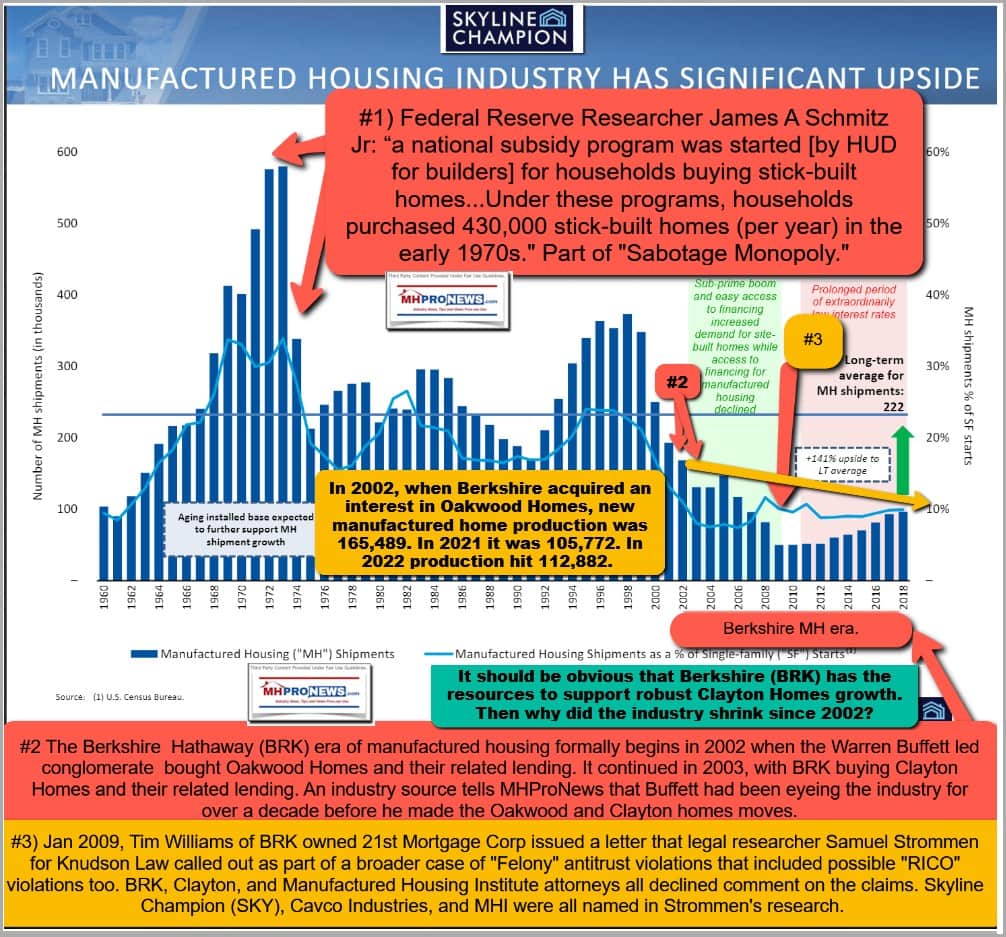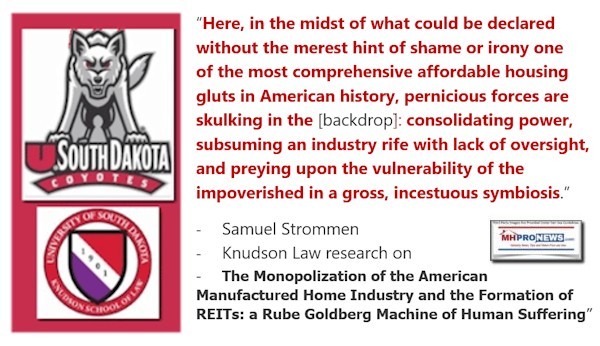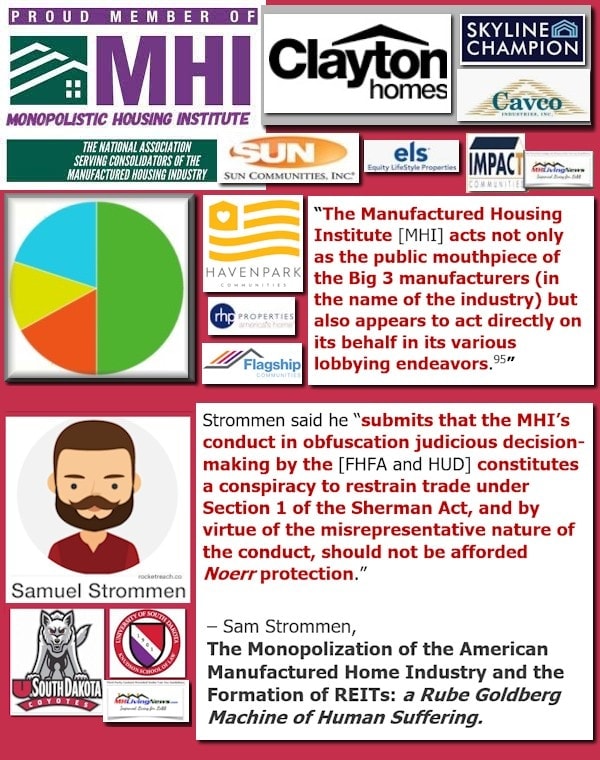 An MHProNews illustration and quote infographics on the antitrust concerns in MHVille are linked here and here. By contrast, the evidence reflects that MHI's pro forma antitrust letter arguably appears to be window dressing and that MHI linked bloggers and trade media are routinely silent on the evidence for these concerns.
A special report is pending on manufactured housing challenges and proposed cures the Masthead that is planned for publication in early September 2023, perhaps before Labor Day. Watch for it. ##
Part II. Daily Business News on MHProNews Markets and Headline News Segment
Headlines from left-of-center CNN Business – from the evening of 8.31.2023
It's not just crime
What's really going on as retailers flee San Francisco's shrinking shopping district
The logo of Gannett Co is seen outside their corporate headquarters in McLean, Virginia, July 23, 2013.
Gannett to pause AI experiment after botched high school sports articles
The company logo of Chinese developer Country Garden at the Shanghai Country Garden Center in Shanghai, China, August 9, 2023.
Chinese homebuilder Country Garden warns it could default after posting $7 billion loss
American Airlines flight attendants vote to authorize a strike
Hundreds of flights are canceled as Hurricane Idalia disrupts air travel
Amazon CEO tells employees to return to the office or their days may be numbered
Google launches watermarks for AI-generated images
Apple expected to unveil new iPhone at 'Wonderlust' special event
US pending home sales rose in July for the second month in a row
AURORA, COLORADO – AUGUST 17: A general view of the atmosphere as Nordstrom Rack opens a new store on August 17, 2023 in Aurora, Colorado.
The US economy grew more slowly in the second quarter than previously estimated
Mark Thompson named CNN chief executive and chairman at critical juncture in news network's history
Warm words but little 'real action' as US commerce secretary ends China visit
Rising labor costs are making AI stocks even more attractive
Climate change has ravaged India's rice stock. Now its export ban could deepen a global food crisis
Head of powerful real estate trade group resigns amid sexual harassment allegations
3M agrees to pay $6 billion after US military said faulty earplugs led to hearing loss
Key San Francisco Fed official who oversaw supervision of SVB will retire
Hawaiian Electric says power lines started morning fire on August 8, but not afternoon Lahaina Fire
US financial regulators green lit new rules aimed at reducing the cost of bank failures
Crypto assets soar as US court clears a path for bitcoin ETFs
'Barbie' is Warner Bros.' highest-grossing global release ever
Employers could offer you tax-free help with your student loan payments. Most are not
AI tools make things up a lot, and that's a huge problem
Note: to expand this image to a larger or full size, see the instructions
below the graphic below or click the image and follow the prompts.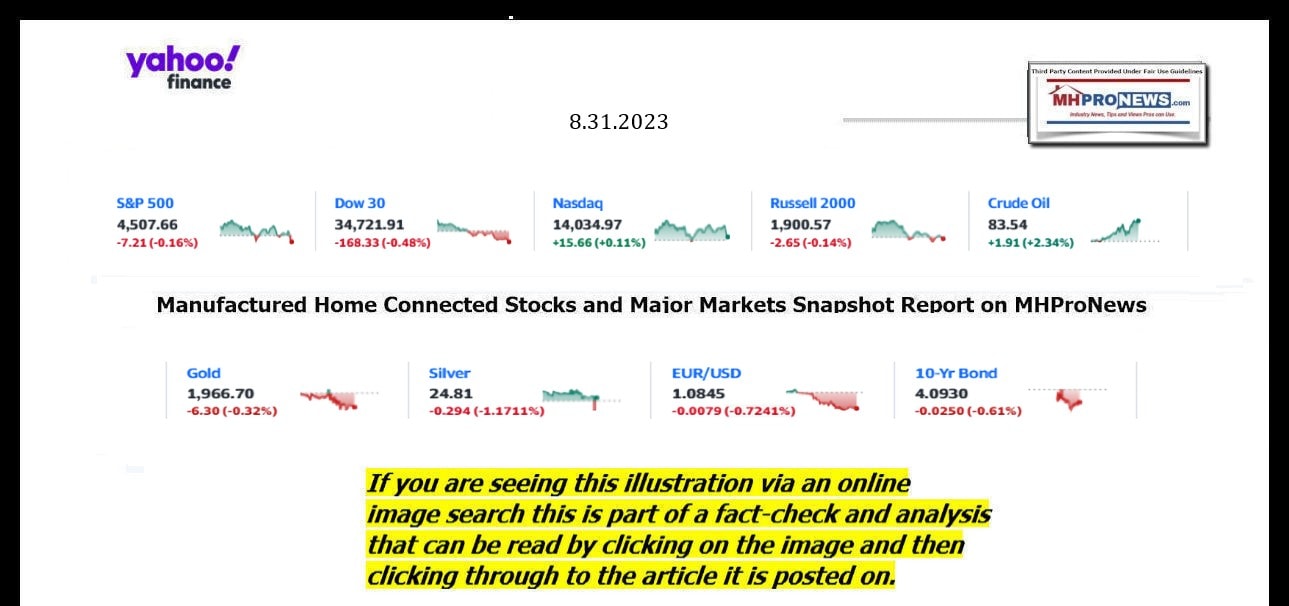 Headlines from right-of-center Newsmax 8.31.2023
(Note: the headline capture for last night failed, so these are the pre-dawn headlines)
Ga Judge: Trump Hearings, Trial Will Be Livestreamed Via YouTube
Trump Indictments
Report: IT Chief Who Flipped on Trump a Registered Dem
Hakes: DOJ Needs to Shut Down Fulton County Jail | video
Georgia Judge Allows Streaming of Trump Hearings, Trial | video
Bill Barr Pans Idea of Trump Trials as Election Interference | video
Gov. Kemp Rejects Call to Remove DA | video
Trump Pleads Not Guilty, Waives Arraignment in Ga.
Harrison Floyd: Jail a 'Wake-up' Call for Action | video
Bobb, Binnall to Newsmax: DOJ No Longer Feigning Justice | video
Sole Ga. Defendant to Spend Time in Jail Is Out on Bond
Clyde: Amendments Would End Trump Prosecutions | video
DA Willis Seeks to Expedite All 19 Cases in Georgia | video
More Trump Indictments
Newsmax TV
Comer: Concerned That Impeachment Could Backfire
Frank Pavone: Catholics Must Embrace Conservatism | video
Whitaker: Biden Knew About Son's Business Dealings | video
Fry: Is There a Cover-Up in Maui? | video
Rep Alford: Tie Ukraine Aid to Clarity on Endgame | video
Van Drew: Digital Watchdog Must Comply | video
Fla State Sen.: High Alert Kept State Safe | video
KT McFarland: Putin 'Stronger' After Failed Coup | video
Gov. Stitt: Border Control Now 'Bipartisan Issue' | video
Newsfront
Judge Orders Status Report on Gun Charge Against Hunter Biden
A federal judge in Delaware ordered prosecutors and defense attorneys on Thursday to provide a status report regarding a felony gun charge against Hunter Biden. Judge Maryellen Noreika directed lawyers to provide the report by next Wednesday, including any …… [Full Story]
National Review: McConnell Should Leave Leadership
Conservative magazine National Review called Thursday for Sen. Mitch [Full Story]
Pentagon Announces New Website for UFO Reporting
Pentagon Announces New Website for UFO Reporting
The Pentagon on Thursday announced the launch of a new website that [Full Story] | video
Trump Expresses Support for Idalia Storm Victims
Former President Donald Trump expressed his support for the victims [Full Story]
Related
Red Cross to Newsmax: Florida Shelters Remain Open After Idalia |video
Tropical Storm Idalia Descends on North Carolina
DeSantis' Warning: 'You Loot, We Shoot'
Mayor to Newsmax: Residents 'Heeded Warnings' With Hurricane |video
Florida State Sen. to Newsmax: High Alert Kept State Safe |video
More Than 170K Without Power in Ga., Fla., After Idalia
Biden Will Head to Florida After Hurricane Idalia
Handful of GOP Senators Mull Meeting on McConnell
A handful of rank-and-file Senate Republicans are considering calling [Full Story]
Related
Capitol Doctor: Mitch McConnell 'Medically Clear'
Former RNC Chair Steele Tamps Down 'Noise' Over McConnell
Ukraine Cracks Russia Front Line
There is renewed hope for the crawling Ukrainian counteroffensive [Full Story] | video
Related
Russian State TV: UK Plotting to Assassinate Zelenskyy |video
Ukrainian FM: Critics of Counteroffensive Must 'Shut Up'
Kyiv Targeted by 'Most Powerful' Aerial Attack Since Spring
Ukrainians Finish Tank Training; Kyiv Makes Gains
Newsmax's Ruddy Sees Ratings Boom, Praises Murdoch
Related
Beth Ailes to Newsmax: Fox News Out of Touch, Sees Ratings Drop |video
Under Fire for Hold on Military Promotions, Tuberville Stands Firm
A strong 58% of likely voters in Alabama believe Republican Sen. [Full Story]
Does NKorea Have 'Explosive' Plans for 75th Anniversary?
Pyongyang has recently ratcheted up its provocations – a list of [Full Story] | Platinum Article
Justice Clarence Thomas Cites Security for Private Jet Flights
US Supreme Court Justice Clarence Thomas accepted flights by [Full Story]
Related
Clarence Thomas' Legal Team Rips Left-Wing Attacks
Alito Releases Financial Disclosure Form
September Watch: Fall, Football, Oktoberfest
Although fall doesn't begin until later in the month, the Labor Day [Full Story] | Platinum Article
Disney Cuts Feed on Charter Spectrum
Disney-affiliated stations are going dark on Charter Spectrum cable [Full Story]
Tech CEO Warns of Pulling Convention From Liberal S.F.
Marc Benioff, founder and CEO of software giant Salesforce, has [Full Story]
Shooting at Texas Shopping Center Kills at Least 2
Two people were killed and another person was critically wounded [Full Story]
US Homeowners Ditching Solar Panels for This – Powers Your Entire Home [Watch]
Easy DIY Power Plan
Xi's G20 Absence Dims Prospects for Biden Encounter
Reports suggest that Chinese President Xi Jinping is poised to [Full Story]
Judge Disallows Trump Rule Allowing Logging of Old-Growth Forests
A federal judge has found that a Trump-era rule change that allowed [Full Story]
DOJ: Election Workers Have Gotten Death Threats
More than a dozen people nationally have been charged with [Full Story]
Top Russian Space Scientist Dies From Food Poisoning
Vitaly Melnik, 77, a leading rocket scientist for Russia's space [Full Story]
Alaska Set to Ban Trans Girls From High School Teams
The Alaska state board of education on Thursday voted to bar [Full Story]
'Walking Dead' Spinoffs, 'Interview With the Vampire' Can Resume With Actors' Union OK
A pair of spinoffs of "The Walking Dead" and the next season of [Full Story]
WH Moves Toward 5.2 Percent Raise for Federal Workers
The White House is moving forward with a proposed 5.2% pay raise for [Full Story]
Judge Blocks Ark. Social Media Parental Consent Law
A federal judge on Thursday temporarily blocked Arkansas from [Full Story]
NYPD Deploys Drones to Monitor Weekend Parties
Amid the backdrop of outdoor parties and barbecues that define the [Full Story]
School District Removes Dozens of Books
Several dozen books have been removed from libraries in a Florida [Full Story]
Texas Federal Judge Blocks State's Drag Show Ban
In a victory for LGBTQ rights proponents, a temporary injunction has [Full Story]
US Charges Man in Scheme to Get Tech to Russia
A Russian-German national has been criminally charged in Manhattan [Full Story]
Biden Plan Calls for Thousands More Gun Dealers to Run Background Checks
The Biden administration is proposing a rule that would require [Full Story]
Judge Rules Man to Stand Trial for Shooting Black Teen
A Missouri judge ruled Thursday that the 84-year-old white homeowner [Full Story]
Alice Cooper Dropped From Deal After Trans Comments
Rock star Alice Cooper was dropped from an upcoming makeup deal with [Full Story]
S&P 500 Ends Lower as Inflation Data Buoys Optimism
The S&P 500 ended lower and the Nasdaq higher Thursday after U.S. [Full Story]
Elon Musk Says X to Offer Voice, Video Calls
Elon Musk said Thursday his social network X, formerly known as [Full Story]
Finance
UBS Estimates Idalia Insured Losses to Cost $9.36B
Insurers were expected to face claims for billions of dollars from Hurricane Idalia which made landfall in Florida on Wednesday, adding to a challenging year for the industry that could result in higher premiums for customers…. [Full Story]
Expect Crowded Airports, Full Flights This Labor Day
UPS Offers Pilot Buyouts to Reduce Labor Costs
Shopify Strikes 'Buy with Prime' Deal With Amazon
Late-Night Hosts' Podcast Benefits Out-of-Work Staff
More Finance
Health
Airports Make Flying Easier For Those With Dementia
Andrea Nissen is trying to prepare her 65-year-old husband, who has Alzheimer's disease, for a solo flight from Arizona to Oklahoma to visit family. She worries about travelers and airport officials misinterpreting his forgetfulness or habit of getting in people's personal…… [Full Story]
Promising New Pill Kills Cancer, Spares Healthy Cells
Statins Reduce Stroke Risk After a 'Bleeding' Stroke
Infertility Treatment Increases Women's Stroke Risk
Experimental Gene Therapy May Cure Alcoholism
Note: to expand this image to a larger or full size, see the instructions
below the graphic below or click the image and follow the prompts.