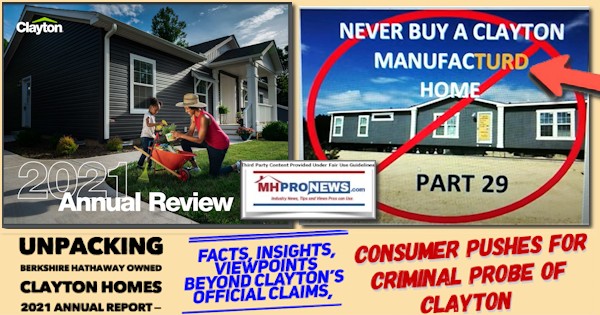 Annual reports or annual reviews, of necessity, are backward looking recap documents. In this regard, Berkshire Hathaway owned Clayton Homes 2021 Annual Report is similar to numbers of others, although they merit higher marks then some for their design, colorful layout and stylish messaging. In the case of Clayton, their annual report provides facts that may be accurate in some sense. But Clayton's 2021 Annual Report also arguably leave out information that is publicly available – often from Clayton or Berkshire insiders, as well as third party published reports – that could shed a different light on their information claims. In this fact- and evidence-packed expert viewpoint (op-ed, opinion) column, several of Clayton's claims will be quoted verbatim. Their quoted items will be followed by questions and/or additional information that for objectively minded people may or should shed a different light on Clayton claims advanced in their corporate document.
In the sequenced found in their 2021 corporate report, are claims such as those below their linked report.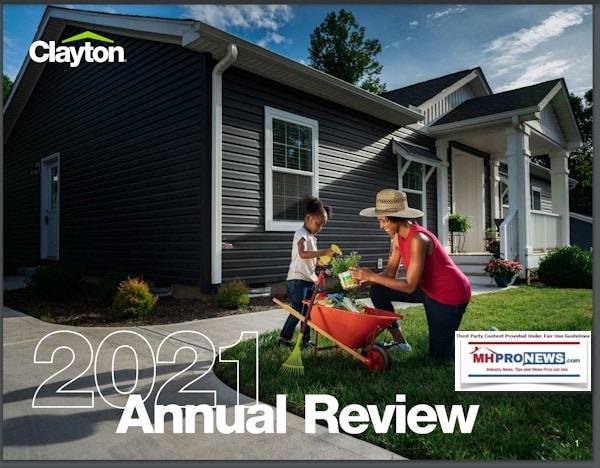 "Our 21,000 team members helped more than 60,000 families and individuals across the country become homeowners. 49,836 Off-site built homes constructed 10,865 Site-built homes constructed"
"We are blessed with the purpose of opening doors to a better life, and have engaged team members who are driven to develop innovative housing solutions and further democratize attainable housing for all." – Kevin Clayton, CEO
In the Clayton Homes 2020 annual report, are these factoids: "46,765 Off-site built homes 9,474 Site-built homes."
While Clayton reported an increase in both factory-built ("off site") and site built ("on site") constructed housing, there were no apparent breakdowns offered on how many of their "off site" built homes were traditional HUD Code manufactured homes, how many were CrossModTM homes, and what the number of modular coded housing was built.
Why not make that clarifying disclosure?
By turning to the data credited by MHVillage/MHInsider to Statistical Surveys, a better sense of what the total of HUD Code homes (which should include so-called CrossMods) is for 2020.
Because the total number of HUD Code homes is known, applying the percentage above (50.4%) to that total of 94,390 should yield 47,572.56 (47,653) HUD Code manufactured homes produced by Clayton in 2020. Oops. That represents a problem.  Clayton's figures in their annual report for 2020 doesn't align with what MHVillage/MHInsider says Statistical Survey's data indicates.

So, which operation(s) is/are errant in their data? Good and fair question. While these contradictory sources could all conceivably be wrong, they can't all be correct.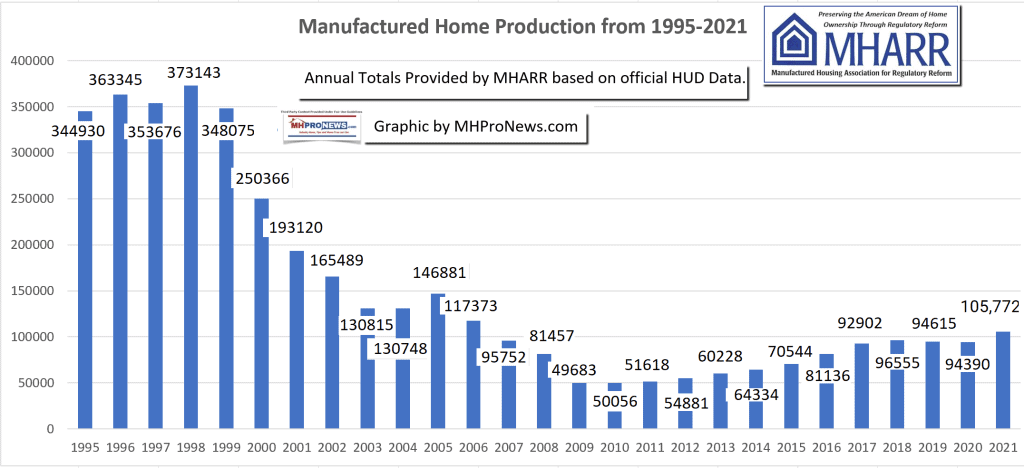 In Clayton's 2021 Annual Review, they have a section dedicated to their "philanthropy." Pay close attention to the wording used below. The highlighting is added by MHProNews.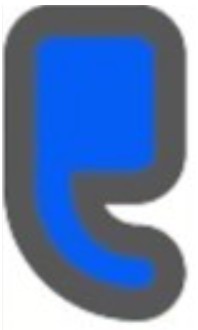 "Philanthropy
In 2021, Clayton® contributed more than $11.9 million to nonprofits across the country. Additionally, team members across the company contributed close to $680,000."
"At Clayton, we are opening doors to a better life by empowering nonprofit organizations to change the lives of people in our communities. We do this through national and local partnerships and by supporting our team members as they volunteer and engage in their communities." – Susan Brown Director of Philanthropy
The term "philanthropy" certainly can be associated with donations of time, talent, and treasure to nonprofits. But that isn't precisely what Clayton said, is it? After all, the Manufactured Housing Institute (MHI) is a nonprofit, but MHI is not a charity. Something similar could be said about dozens of other state manufactured housing associations – they are nonprofits, but aren't charities.
To clarify the issue, MHProNews contacted Clayton Media and Clayton's Audrey Saunders. According to ZoomInfo, which often uses corporate sources: Saunders is the "Manager, Corporate Communications at Clayton based in Maryville, TN."
Here was the inquiry to Saunders and Clayton media dated 4.16.2022: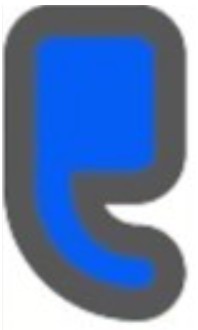 Audrey/Clayton media,
We have been provided a copy of a new Clayton document that makes this statement:
"In 2021, Clayton® contributed more than $11.9 million to nonprofits across the country. Additionally, team members across the company contributed close to $680,000."
Please provide a breakdown of that $11.9 million paid to nonprofits. How much of that went to MHI? State Associations in manufactured housing? Other association involved with Clayton's site built units? Or how much went to NextStepUSA, the RV-MH Hall of Fame, etc.?
We plan a report in the near term, so a timely reply this weekend would be valued. Thank you.
Tony …" As of 10:24 AM on 4.18.2022, there has been no response, although various forms of confirmation of delivery was achieved.
Any response by Clayton to the questions should be clarifying.  Note others at Clayton and/or in the Clayton orbit, such as MHI, were blind copied. It is highly unlikely that they are unaware of the inquiry.
Here is how Oxford Languages defines philanthropy, "the desire to promote the welfare of others, expressed especially by the generous donation of money to good causes." As the Council on Foundations (CoF.org) explains, there are legal definitions for different types of nonprofits, because some nonprofits are not charitable organizations in a legal sense.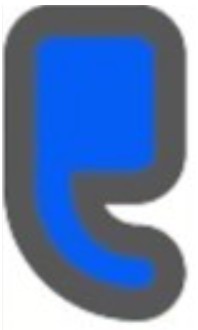 501(C)(3):
Section of the Internal Revenue Code that designates an organization as charitable and tax-exempt. Organizations qualifying under this section include religious, educational, charitable, amateur athletic, scientific or literary groups, organizations testing for public safety or organizations involved in prevention of cruelty to children or animals.
This isn't the first time Clayton has made a similar claim in their annual report. Note that ProPublica says that MHI is not a 501 (C) (3), but rather MHI is a 501 (C) (6):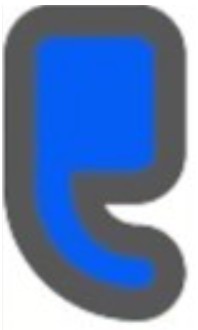 Manufactured Housing Institute – Nonprofit Explorer – ProPublica
https://projects.propublica.org › organizations
MANUFACTURED HOUSING INSTITUTE. ARLINGTON, VA 22209-3108 | Tax-exempt since Aug. 1942. EIN: 36-2085558; Nonprofit Tax Code Designation: 501(c)(6)
Based on known evidence, one is left with the troubling notion that Clayton may be exaggerating or misrepresenting their self-proclaimed philanthropy by counting contributions made to trade associations, which are not charities in the legal sense.
Documents like annual reports are routinely reviewed by corporate counsel before publication. So, if this is a case of exaggeration, deception and misdirection, has one or more attorneys signed off on a legally misleading claim? Or did Clayton in fact give $11.9 million to charitable nonprofits?
Because the Berkshire umbrella provides them with a level of opaqueness in their required reporting, it is not easy to say with certainty, absent proof from Clayton which groups they gave how much to and which of those may be philanthropic as opposed to merely professional advocacy.
As noted, MHProNews has asked for an explanation. Let's see what they do, or fail, to say.
Another section of the Clayton 2021 Annual Review is under the headline of "Retail."  It says the following.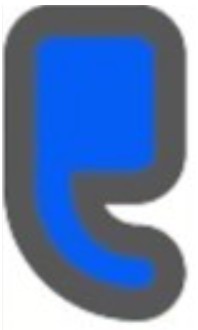 "Retail
Creating a positive, more seamless customer experience is at the forefront of what team members at home centers do each day as they assist home buyers, from choosing a home to move-in day and beyond. 364 Clayton home centers. 2,768 Clayton Homes Retail team members."
Close to a decade ago, Kevin Clayton said in the video interview posted at the link below that they had some 450 company owned retail centers. So, based on their own claims, the firm has quietly closed a net 19 percent of their retail locations in 10 years.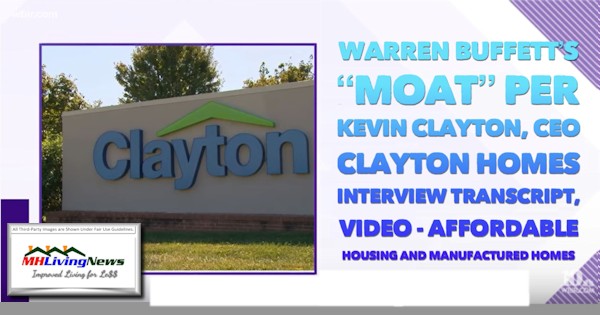 Clayton's 2021 pitchbook says those 364 sales centers: "Clayton Retail team members helped welcome 22,223 families into their new Clayton Built® homes." Doing the math, 22,223 homes divided by 364 sales centers yields 61.05 homes sold a year per sales center. That's marginally over 5 homes a month per location. While that may be superior to some, it is certainly less than others achieve.
They also brag about winning an MHI award for one of their sales centers.
"Clayton Homes of Chino Valley was awarded Manufactured Housing Institute's® 2021 Retail Sales Center of the Year for the West region. In 2020, the Chino Valley team organized a new development where CrossMod™ homes were sold." What they fail to say is how many CrossModTM homes were sold.
Common sense suggests that if they had robust sales, they would be stating the precise numbers of the highly touted campaign to get CrossMods to a meaningful sales level. But what is known is that when Fannie Mae and Freddie Mac data is examined, nationally, only a couple of handfuls of such units are sold a year. Single digit to lower twin digit sales a year is all that has occurred, through Fannie and Freddie's highly touted programs.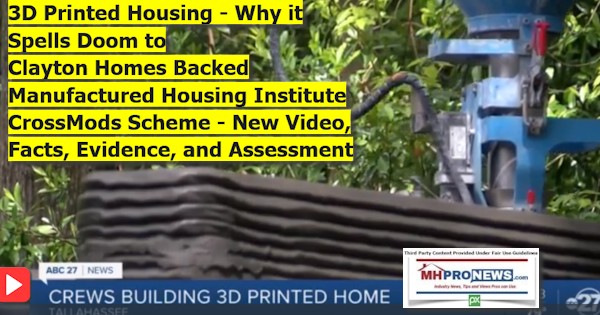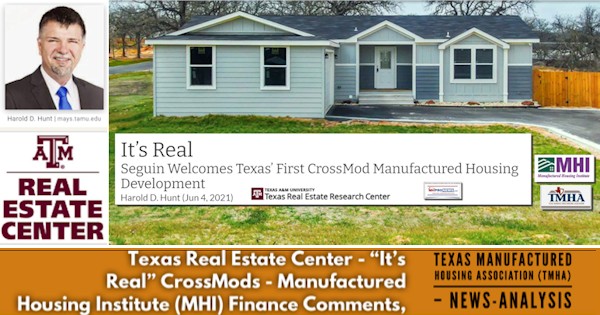 Financing
Note that 21st Mortgage is shown in the Clayton 2021 Annual report. There are "916 21st team members," while with Vanderbilt Mortgage and Finance [VMF] – which serves Clayton owned sales centers there are "898 Vanderbilt team members." For their site-built focused Silverton Mortgage arm, there are "560 Silverton team members." The numbers seem to suggest that a high percentage of Clayton customers finance through Clayton and a similar number gets insurance policies. But to be objective, the data is provided absent clarifying information. Like much of their report, it would be easy to make an incorrect presumption. Is that the reason for lumping information together that ought to be broken out for clarity?
"54,543 Loans originated." How many of those loans were VMF? How many were 21st? How many were Silverton?
"52,554 New insurance policies sold." Similar questions to the above ought to be answered. It seems
52,554/54,543 = .9635, or over 96 percent of their loans apparently have a corresponding insurance policy sold. That's a high ratio. One should keep in mind the allegations of improper sales tactics made by the Seattle Times and others with regard to Clayton's financing and financial services.
Net Promoter Scores
Clayton's pitchbook defines their Net Promoter Score system like this:
"The Net Promoter Score (NPS) is one of the most telling internal measurement tools Clayton uses. The internationally recognized systems boils down customer satisfaction to one important question: How likely would you be to recommend us to friends and family? Based on their rating, customers are classified in 3 categories: detractors (1-6 rating), passives (5-7) and promoters (9- 10). Scores range from -100 to 100 and a score higher than 0 is typically considered good while scores above 50 are considered excellent." The odds are good that this description is in part a response to past fact-checks by MHProNews.  Previously, MHProNews noted in an earlier Clayton annual report the following.
Annual Net Promoter
In bolder text, their pitchbook proclaims that "Clayton Retail rolling 12-month average through Dec. 31" is "75.49." Sorry, but in traditional grading systems on a 1 to 100 sale, a 75.49 is a "C." Average.
Let's presume that based on the above claim that 3 out of 4 Clayton customers are in that 'net promoter' category.
In their 2020 annual report, Clayton claimed "46,765" "off-site built" or factory built homes, which the bulk of which would have been HUD Code manufactured homes.
If their NPS claim is accurate, let's do some math.
Out of 46,765 homes sold, if 3 out of 4 (.75) successfully recommended to a third party that they buy a Clayton manufactured home, that would be equivalent to "35,073.75" homes that year [46,765 x.75 = 35073.75]. If a similar number of homes were sold without referrals, 2021 sales should have been over 81,000 units. But instead, they claim they sold 49,836, a data point that we noted above may be contradicted by MHVillage/MHInsider/Statistical Surveys sourced information. What does it mean?
At best, the NPS is a smokescreen.
Their NPS claims may provide some 'feel-good' data which Clayton management can call "metrics" and then use in their annual reports ("annual reviews"). But the math reflects that relatively modest gains in year-over-year sales of HUD Code manufactured homes by Clayton is at a lower pace of growth than what the Manufactured Housing Association for Regulatory Reform (MHARR) reported for the overall industry's production increase of 2021 over 2020.
Specifically, per MHARR which cites official HUD data: "2021 ends with a cumulative production total of 105,772 homes, a 12% increase over the 94,390 homes produced over the same period in 2020."
https://manufacturedhousingassociationregulatoryreform.org/manufactured-housing-industry-production-exceeds-100000-manufactured-homes-for-first-time-in-15-years/
Here is what the math should look like.
If Clayton increased at that same 12 percent increase, then 46,765 (2020) sales would yield at 112% for 2021, a total of 52,376.8 new factory-built homes produced by Clayton.
But the math is actually presented like this: 46,765/49,836 = 0.93837787944. So, while the manufactured housing industry overall grew at 12 percent, Clayton's portion of sales grew at lower rate of 9.38%.
Flashing back to their 2019 annual report ("review"), Clayton was bragging about their "Prefabulous" campaign. Here are their claims that year.
39 million households Reached across 159 DMA's [A designated market area (DMA)]
23% increase in website traffic compared to last year's national campaign.
2 million more visitors claytonhomes.com compared to 2017.
Once again, they fail to provide enough information to paint a clear picture. But using the data provided above, they claim to have reached 39 million households in 2019 with this campaign. That year, Clayton sales centers – they said – sold 22,356 families. So, the math looks like this: 22,356/39,000,000 = 0.00057323076.
Taken at face value, a tiny sliver of a fraction of under 1 percent of those exposed to their campaign actually bought a Clayton at Clayton retail. Even if all Claytons sold were used, it is still a sliver of well under 1 percent of those exposed to Clayton marketing bought a new Clayton Home that year – from anyone.
Put differently, Clayton's data above tells us just how much work manufactured housing professionals has to do. This is a pattern that MHProNews and MHLivingNews have used other third-party data to drive home for years.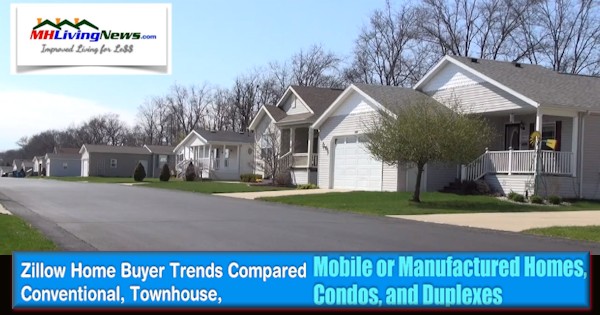 Let's note before closing this report that just because Clayton may have an image problem, which to some extent seems to carry over to others in manufactured housing, honest 'white hat' brands have an option to overcome this pattern. Despite seemingly impressive claims, once they are peeled back, they often reveal questions at a minimum, or vexing concerns that they are hiding or masking the truth of their tepid total performance.
After all, Warren Buffett told Kevin Clayton, said Kevin, that 'Clayton could rest assured knowing that whatever he needs, he can have in the way of financial support from Berkshire Hathaway.' That's a potentially huge blank check.
But given that big blank check offered, instead of manufactured housing soaring to new heights, the industry required 15 tortured years to get back over the 100,000 annual shipment level nationally.
If Clayton wanted to do so, based on Kevin's assertion from "Warren," they could be adding enough new retail and production centers needed to themselves produce and sell 500,000 new homes a year. They could come up with a market and educational approach that would have people lined up at the doors every morning to buy a new manufactured home.
But instead, there is more negative news than positive news in mainstream media about manufactured housing. Who said? Pro-MHI member Darren Krolewski. Without a sense of irony, Krolewski's comment apparently supported MHProNews' evidence-based op-eds. Krolewski's remarks also appear to be a quietly expressed, but interesting, statement. Krolewski's assertion, if acknowledged as accurate and born out by the evidence, is apparently a blast at MHI members who are often the brands directly associated with the negative news. Who says? The mainstream media and other research cited above also found at this link here.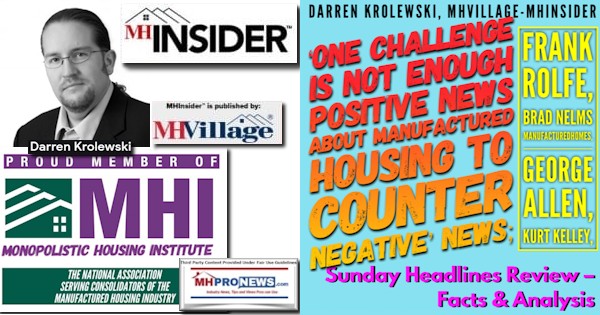 That reflects on the seemingly low numbers of souls that appear to buy a Clayton home based upon a referral, because if bad news outweighs good news, then no sale is often made. Check out the insight from a previous MHProNews fact check cited below. Following that report, Clayton has since tweaked their NPS pitch as shown further above.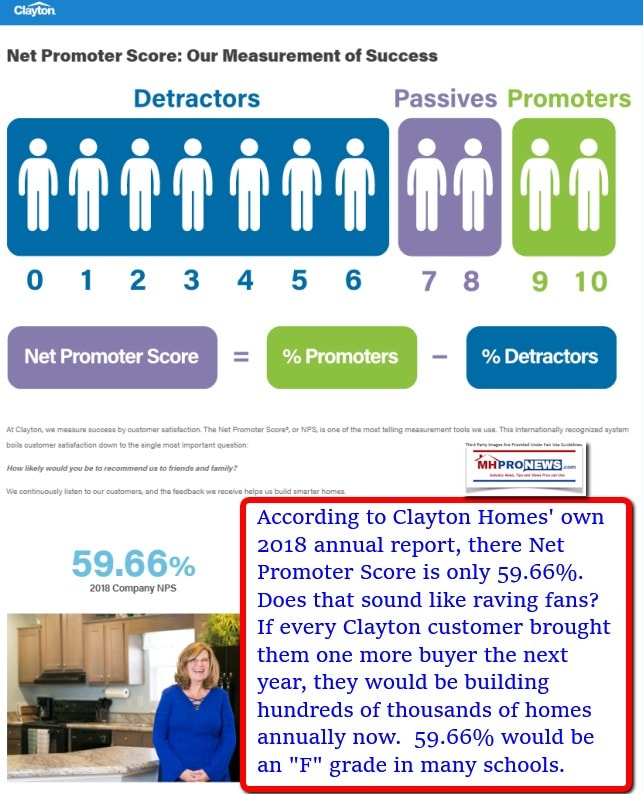 Being the biggest fish in what can be described as an artificially limited, and therefore small pond, is what Clayton can honestly claim. But isn't that what Kevin Clayton wanted? Isn't that what deploying the Warren Buffett moat means? In the most authentic debate in modern manufactured housing on these topics, Andy Gedo – "a proud" MHI member – authentically reasoned as follows. Lining up Gedo's remarks with Clayton's closes the evidence and logical circle.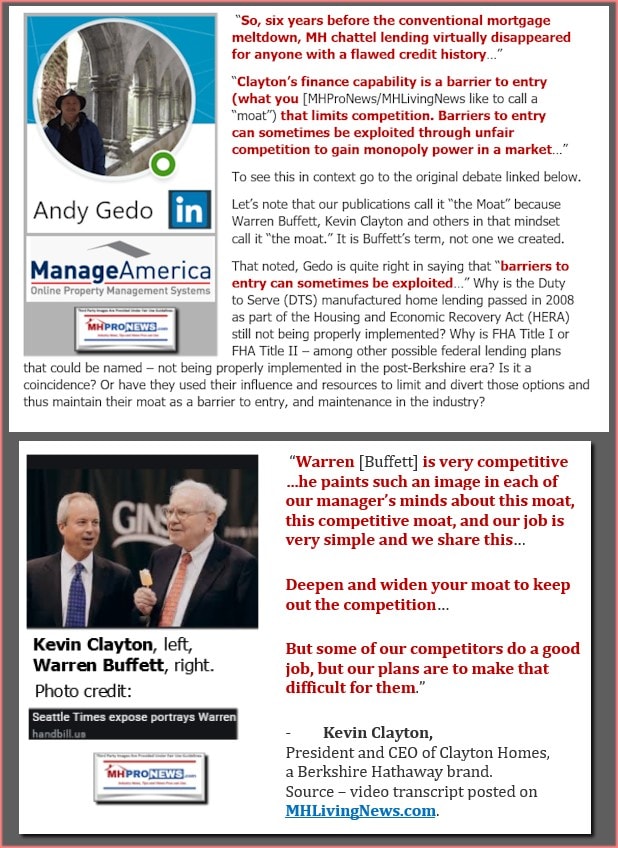 Keep in mind it is a Berkshire team member that went on camera to deny the rosy picture that Clayton claims.
But this just begins to scratch the surface of Buffett-Berkshire-Clayton's apparent treachery. Buffett, via the dark money stream that traces through the Tides nonprofit, has financially supported MHAction. MHAction in turn was part of the research group that fed information that John Oliver used to rip Buffett, Clayton, and their lending.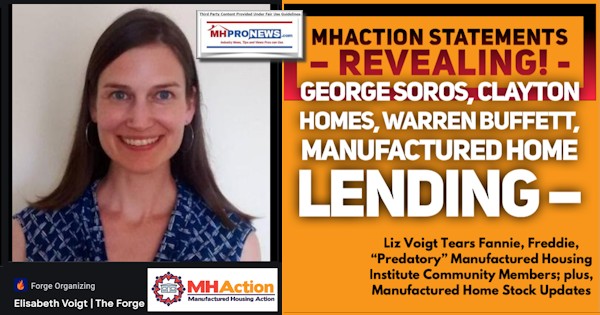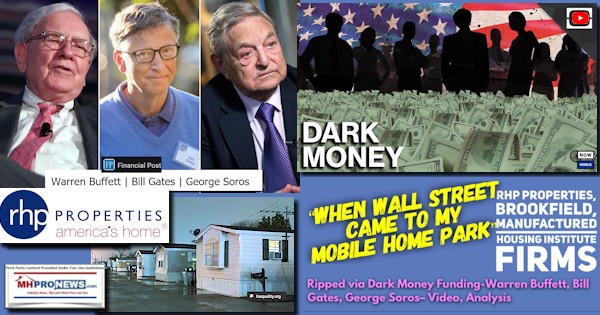 If Clayton wanted to see the industry, or even their own sales soar, they would be backing a legal effort to get enhanced preemption fully and properly enforced.
But there is no such known legal effort being made by Clayton. Why not, if they really wanted to see sales soar? Why are tiny houses lining up legal action to promote their housing, when they have no similar federal law that Clayton and/or MHI could be deploying to grow sales?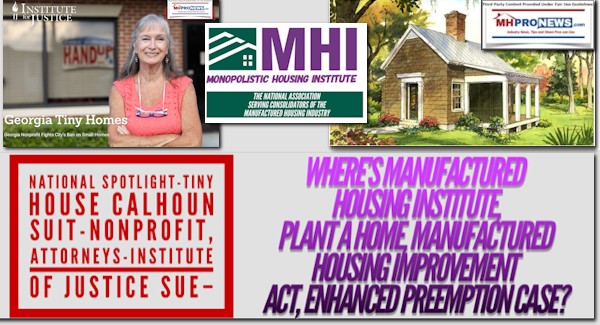 The claims, facts, and logic should be treated like pieces of a puzzle. When those puzzle pieces are laid out and fitted together, they reveal a series of baffling if not troubling realities. Some of the largest brands in manufactured housing appear to be failing at what logic says is necessary for the industry to truly recover to its last 1998 high and beyond. The topic of finance is but one more example of that vexing but apparent pattern.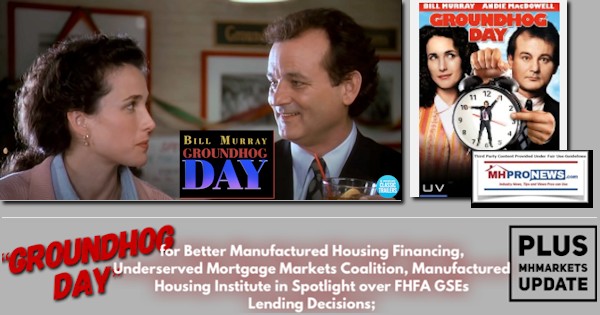 The above evidence and fact pattern are why the following legal concepts and insights are a possible solution to what is arguably limiting manufactured home's image and sales.
Francis Boyle, J.D., Human Rights Lawyer
Dr. Francis Boyle, J.D., is described by Wikipedia as follows. "Francis Anthony Boyle is a human rights lawyer and professor of international law at the University of Illinois College of Law. He has served as counsel for Bosnia and Herzegovina and has supported the rights of Palestinians and indigenous peoples." The law.Illinois.edu website says of Boyle that: "He received an AB (1971) in Political Science from the University of Chicago, then a JD degree magna cum laude from Harvard Law School, and AM and PhD degrees…" To say that Boyle is well educated is obvious. To note that he has taken positions that tend to lean left, but occasionally reflect views held on the political right is relevant.
For example, Wikipedia notes that "In October 1992, Boyle participated in the International Tribunal of Indigenous Peoples and Oppressed Nationalities in the United States of America that convened in San Francisco. Boyle, acting as a "special prosecutor", petitioned the tribunal to issue the following:
In the conclusion of a 37-point legal brief, Boyle wrote that the Federal Government of the United States:
is hostis humani generis: The enemy of all humankind! For the good of all humanity, this Tribunal must condemn and repudiate the Federal Government of the United States of America and its grotesque vision of a New World Order that is constructed upon warfare, bloodshed, violence, criminality, genocide, racism, colonialism, apartheid, massive violations of fundamental human rights, and the denial of the international legal right of self-determination to the Indigenous Peoples and Peoples of Color living in North America and elsewhere around the world.[13]"
In a not directly related to Clayton Homes report, Boyle is cited by conservative LifeSiteNews advocating a legal strategy to prosecute cases that the federal government, due to apparent politics and corruption, has not pressed during the current de facto Biden administration.
The possible relevance of what follows with respect to Clayton, Berkshire Hathaway, 21st Mortgage Corporation, the Manufactured Housing Institute (MHI) and others will be explained further below. And why this is being submitted in connection with the Clayton Homes 2021 Annual Reveiw (report) will be presented too.
Referring to the frustrations over federal officials not doing their jobs on issues where sufficient evidence exists to open a formal investigation, LifeSiteNews wrote the following, which specifically cites Dr. Boyle, J.D., and his comments during a video interview.

"The good news is, by focusing on locally elected prosecutors, we can work around this dilemma. Depending on the state, they may go by titles such as district attorney, state attorney, prosecuting attorney or county attorney.2 In that interview, Boyle explained the plan:
"My proposal is this: The American people, at a state, local community basis, have to go to our local prosecutors, that is states' attorneys, district attorneys, county attorneys, any local prosecutor. And the last I read there were well over 400 of these in the country.
These local prosecutors are not part of the federal system. They have been empowered by the 10th Amendment to the United States Constitution. They are democratically elected by the people of their community.
Federal judges are not elected by anyone. They're appointed by the president and once they're on their bench with life tenure, they can only be removed by impeachment, which is almost impossible, and their salaries cannot be reduced. They're like God Almighty up there sitting on these federal benches.
Not so with state and local prosecutors. They're accountable to the people of the community … I think that if we can even get one out of 400 local prosecutors to convene a grand jury and return indictments for murder and conspiracy to commit murder, this whole house of cards will collapse."
The current article includes an up-to-date interview with the renowned Dr. Francis Boyle addressing shocking claims about the US-funded biolabs in Ukraine and Russia's accusations about them," said the LifeSiteNews post, which began with a disclaimer that it may or may not reflect their views. The fact that a largely traditional conservative minded publication presents an article with such statements suggests that they are at least open to the notion that Boyle is correct. But how do concerns over murder or conspiracy to commit murder relate to Clayton?
Why does Boyles Thesis on Using State/Local Prosecutors and Getting a Grand Jury Convened Matter in the Context of Berkshire Hathaway, Berkshire-backed MHI, Clayton Homes, and their Affiliated Lending?
This isn't about conspiracy to commit murder, but it is about an apparent conspiracy hiding in plain site to manipulate the manufactured home industry in a fashion that results in national underperformance. That later claim implies violations of laws and regulations involving the DoJ, FTC, CFPB, or other federal agencies could legitimately probe.  Indeed, there have been such probes, but the results have been muzzled or muted.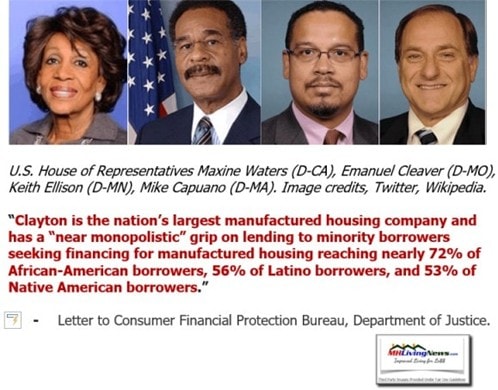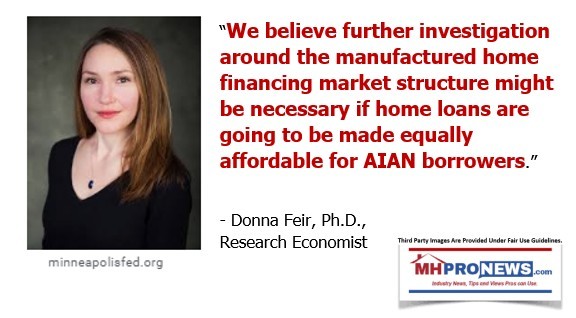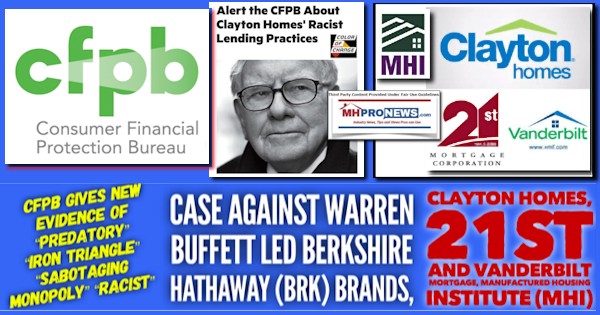 Clayton Homes' "Racist" Lending-Credit Unions, ABA React–MHI Mute on Manufactured Home Loan Exposé-Greater Risks to "Black, Indigenous, and Hispanic families, as well as rural and lower-income families of all races and ethnicities" – CFPB's Uejio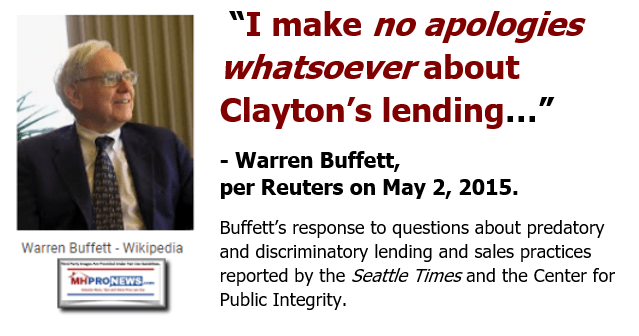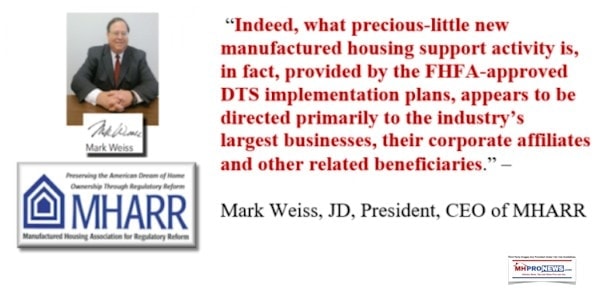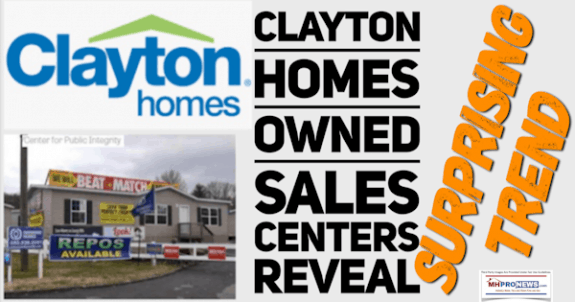 Center for Public Integrity – Stunning Clayton Homes-Warren Buffett-Berkshire Hathaway Manufactured Home Lending Truth Outs
When looking more closely at the Clayton Homes Annual Reviews (reports), near the end of their current 2021 document links to the 2020 and 2019 annual reports by Clayton. Their 2020 annual report links the 2019 issue. But the 2019 Clayton pitch links to no other such document. Odd that they didn't link to the 2018 one, which MHProNews fact-checked, as is reflected in the NPS score posted above.
Before and since 2018, MHProNews and/or MHLivingNews published several reports that neither Clayton, their affiliated lending, nor MHI directly addressed or responded to in writing.
But as has been periodically observed, that should not be construed to mean that these organizations haven't taken steps to respond indirectly. The appearance of an annual report in 2020 for the year 2019 may be understood as a formal response to their critics, which by no means are limited to MHARR, MHProNews, and MHLivingNews. There have been several mainstream reports that landed heavy blows against Clayton and their lending.
To support the potential or actual efforts by third-party researchers who want to understand what has gone wrong in manufactured housing that explains why the industry is underperforming during an affordable housing crisis, MHLivingNews published an updated version of a prior report. That report is linked below. It is the largest known collection of largely third-party generated research, media, and other studies on various topics related to manufactured housing.
https://www.manufacturedhomelivingnews.com/research-data-stats-media-investigator-resources-mobile-homes-manufactured-homes-manufactured-housing-research-hud-univ-studies-cfpb-nonprofits-gao-nfpa-exec-summary-definiti/
A subsection of the report linked above includes this segment under the following subheading.
Partial List of Mainstream Media with Evidence-based Concerns About Berkshire Hathaway Owned Clayton Homes, Their Related Lending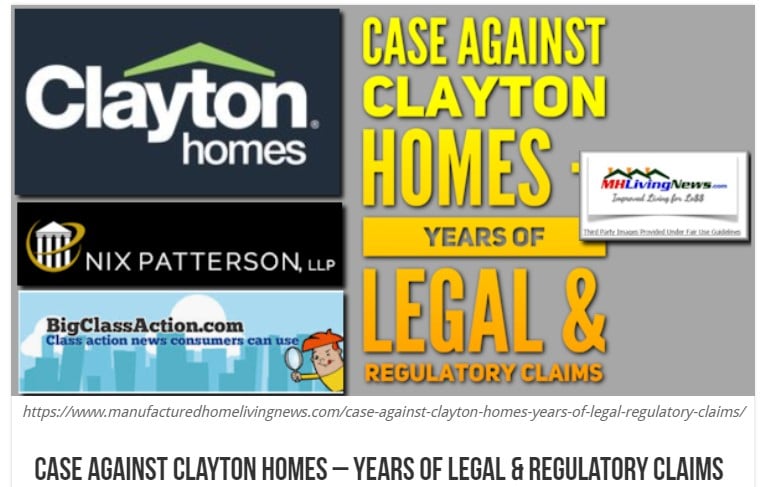 https://www.manufacturedhomelivingnews.com/case-against-clayton-homes-years-of-legal-regulatory-claims/
That article linked above has been perhaps the most read article on MHLivingNews since it was first published, per WordPress, on 2020/05/28 at 7:48 pm. It has experienced millions of hits. At a minimum, it calls into question the rosy claims made by Claytons varied annual reports, including the most recent one. If Clayton customers are so happy overall, then why has that article drawn almost 2 years of 6 figures and routinely at or near the top in the most read article for any given month?
The 7 mainstream items linked above that report on MHLivingNews are clear signs that others in media have at least on occasion raised issues about predatory and possibly illegal practices to bear.
The individual below posed a video on YouTube that is part of a series of such videos that said person has dubbed "Never Buy a Clayton Manufactured Home." In it, he indicates he has turned to federal and state officials, seeking a redress of his concerns and grievances.
"This is part 29 of our Never Buy A Clayton ManufacTURD Home. In this video we were going to document the fraudulent Inspection Report of the criminal Vice President of NTA LLC Eric Tompos, but got sidetracked and wound up documenting the email that we had sent to the Attorney General and the District Attorney." Ouch.
SpeakRJ.com says in an update on 4.18.2022 of that video series the following.  There are only 424 subscribers, but there are some 163,689 views for 35 total videos. That total viewer engagement blows away what MHI's videos seem to achieve.
A look at one of the earlier videos in the series seems to indicate that the individual making these videos is upset with a manufactured home he bought that was built by Clayton Homes. Contrast that with what the 2021 annual review claimed, in the quotation shown below.
"Norman Harrop "The experience through Clayton was fabulous. No matter what you wanted, they did it for you." U.S. Army veteran Norman Harrop's home in a new East Tennessee neighborhood is the perfect place for him to stay active in his garden."
If the "Never buy a Clayton Manufactured Home" producer had that kind of experience that Harrop is credited with saying, why would he have gone to the trouble of making dozens of videos that mock the Berkshire owned brand?
How much has upsetting that one customer cost Clayton?
How many more manufactured homes might they have sold had they satisfied this one customer?
Or, perhaps more to the point made earlier above, how many such customers does Clayton have that the companies year-over-year increase in production is lower than the overall manufactured housing market for 2021?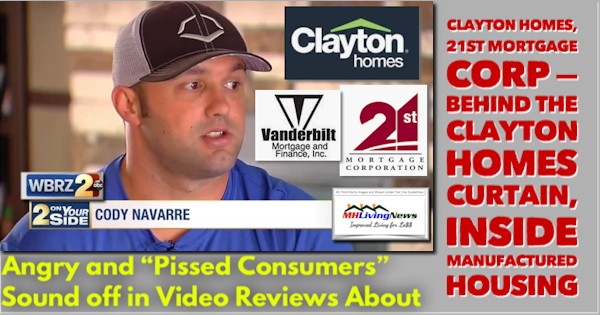 SpeakRJ.com also said about "Never Buy a Clayton Manufactured Home receives an average of 39 likes & 0 dislikes per video on YouTube."
Where are the defenders of Clayton Homes, including Clayton's own employees? The case can be made that rather than address such consumer or media complaints directly, what Clayton has done is produce this annual report that paints a glowing image of the company, including perhaps embellished claims of nearly $12 million in philanthropy. Did most of those millions of Clayton/Berkshire bucks go to trade groups that are nonprofits? Clayton has yet to say.
The object here is not to belabor the point that there are clearly large numbers of those that dislike Clayton, their business practices, their 'service,' or that believe that they are engaged in potentially illegal activities. Nor should it be thought that Clayton makes only problematic housing with poor service. Based upon available evidence, there is no doubt there are Clayton built houses that have happy customers as well as those who are obviously not satisfied.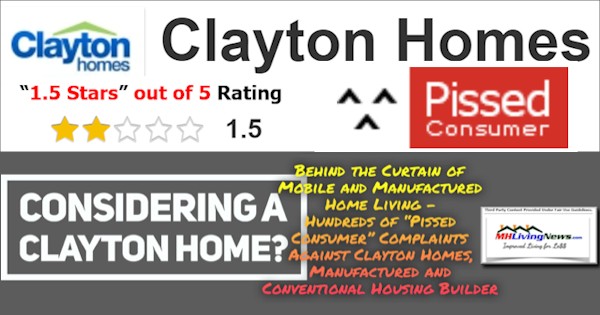 The first point is that these annual reports follow in the wake of a growing body of evidence of negative reviews and negative media that dates back several years. MHProNews/MHLivingNews are unique among manufactured housing industry trade media (or bloggers like Suzanne Felber or George F. Allen) that are willing to actually report what others have said about this wholly owned Berkshire subsidiary.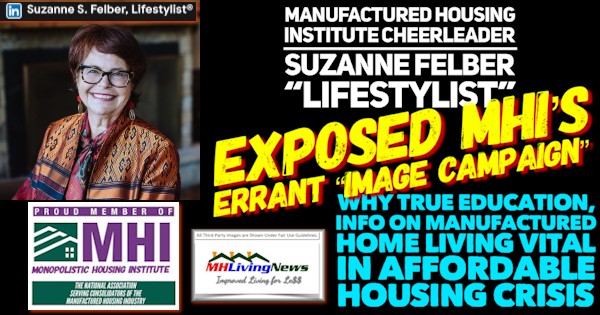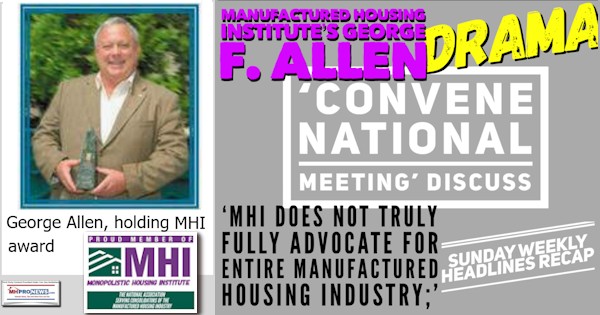 Someone using the name Bodhi Zafa posted this comment on the "Never Buy a Clayton" video:
"Watching these videos makes me think that the whole industry is corrupt. Everyone involved should be ashamed of their actions. Good for this guy for bringing this out to anyone looking at these homes. You have been warned what could happen to you." That comment is an example of why this writer and MHProNews has for years advocated what MHARR and some in or out of MHI have also at various times called for, namely, a new post-production trade group. It is too easy for some with limited information to think, if Clayton is the biggest and they are corrupt, then maybe the entire industry is corrupt too?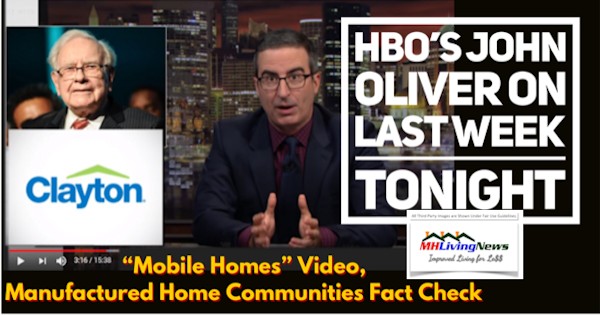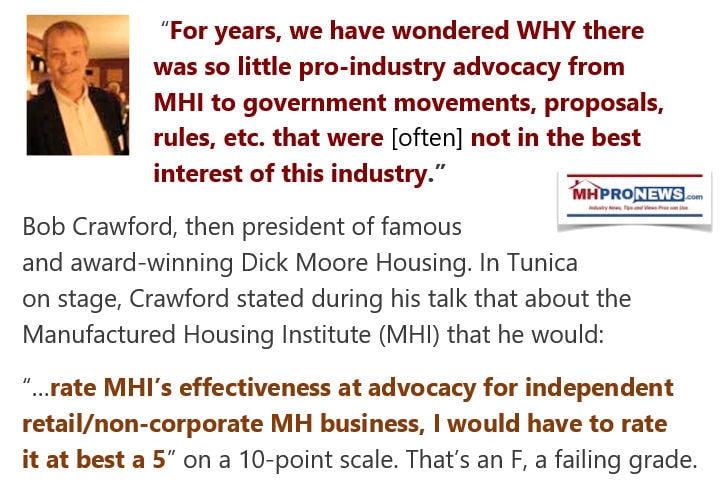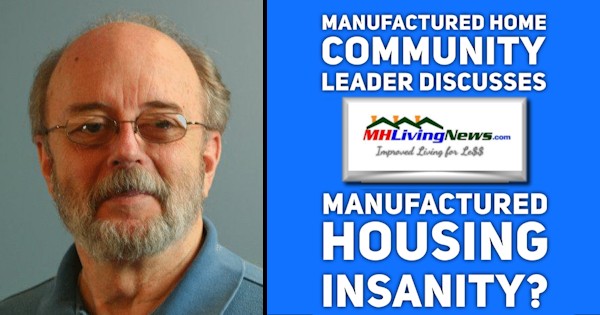 In order to battle that conception of Clayton's ethics, or lack thereof, is reflective of all in manufactured housing, white hat professionals need to step up.  They can individually or collectively speak out for authentic growth via honorable operations while decrying the bad or possibly illegal behaviors of brands or individuals who appear to be guilty of predatory, abusive or even illegal behavior.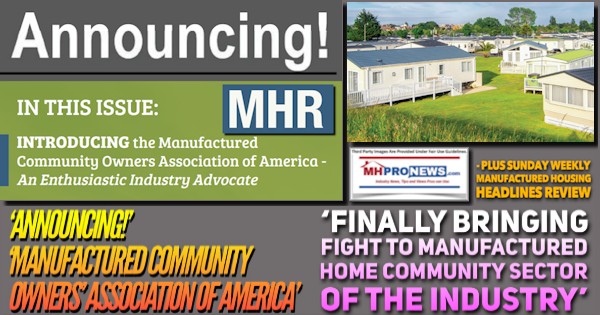 A relatively small group of consumers and/or professionals in a specific state or market area could organize and press a state or local prosecuting attorney to empanel a grand jury and formally investigate Clayton Homes, applying the notion that Dr. Boyle outlined above. Nor is it necessary to do so only on manufactured housing. Something similar could occur over concerns over the 2020 election, the ties between various U.S. officials and businesses and the Wuhan Institute of Virology where the COVID19 virus appears to have originated, the Hunter-Joe Biden related scandals, and so on. If federal officials, for apparently political reasons, fail to do their job, the very purpose of having a diversified government system is to create several options for citizens of good will to get justice served.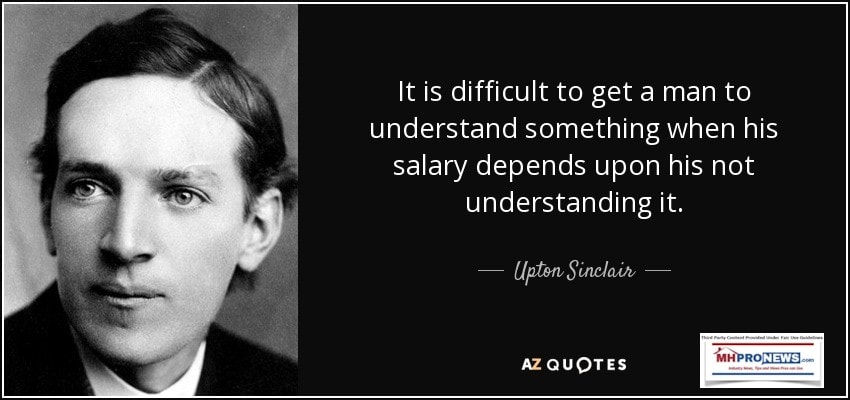 Upton Sinclair thought that people often will not call out the source of their own paychecks. While that has a point grounded in the human experience, it is also true that in American and other history, there are plenty of examples of people who did precisely that – meaning, blow the whistle on corruption and possible illegalities in their own organization.
As the report linked below reminds readers, monopolization of a segment of an economy harms the earning power of individual workers.
'Monopolies Take a Fifth of Your Wages' -Treasury Report Asserts Employee Harms, Says, FTC, DOJ to 'Improve Competition' by 'Vigorously Enforcing Antitrust Laws;' plus MHVille Updates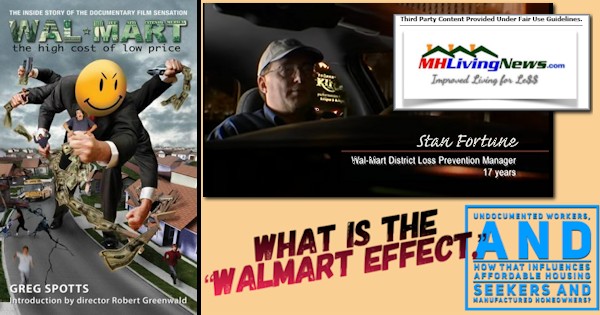 So, the notion that only competitors of Clayton or 21st have a 'dog in this hunt' would arguably be mistaken. The majority of Clayton or other Berkshire employees have their own reasonable motivations for becoming whistleblowers. Here is an example of a whistleblower, which drew a Clayton Homes response.
Slick annual reports or other pieces of what could be labeled corporate propaganda can and should be examined in the light of other available information. As this relatively brief report reflects, unpacking the Clayton 2021 Annual Report leads to several apparent concerns, contradictions, and red flags when other evidence is examined.
While it is a tongue in cheek comment, Buffett and his Berkshire vice chairman Charlie Munger have jested about being "partners in crime." Some of these factoids are so unusual or even bizarre at first blush, it is reason to lean into, not away from, the evidence of scandalous behavior.  In the featured image of the report linked below, is former President William "Bill" Clinton with Kevin Clayton in Haiti. Recall that scandal that is one of several not mentioned in the Clayton 2021 Annual Report?
"Partner in Crime" "Get Access" "Gain Trust" v "Scapegoating" – Maxwell Trial Begins – Bill Gates, Leon Black, Clinton, More Big Names Could Shakeup Big Biz, Politics & MHVille – Plus, MHMarket Updates
The $64-billion-dollar questions are,
will enough people of good will step up and create a bright line distinction between brands with a problematic reputation, in the case of a dominating MHI member brand like Clayton Homes and white hat professionals?
Similarly, when an apparent history of problematic behavior the Strommen and others seem to think is criminal in nature is connected to Berkshire, Clayton and their lending, will enough people of good will come together in an area or state to press a prosecuting attorney to empanel a grand jury with subpoena powers to investigate and prosecute wrongdoing as necessary?
For some 5 years, MHProNews has said that pretty pictures, fancy websites, 3D tours, or even quality videos alone will not cause manufactured housing to reach its true potential. That potential will only be achieved when sufficient numbers of people of good will organize, expose, and set themselves apart as the white hat alternative in an industry that has several larger firms that are periodically accused of predatory and/or illegal behavior.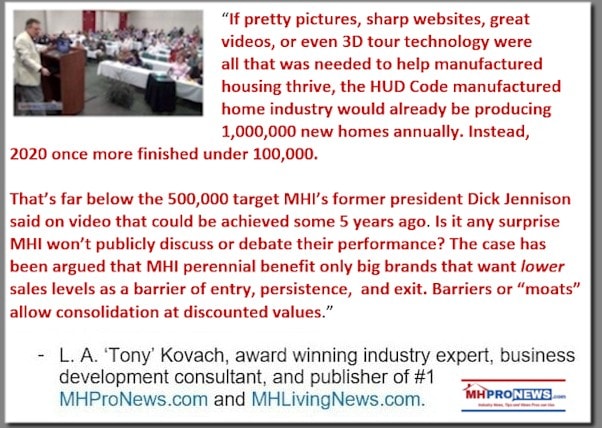 Note that this outline produced data that indicates that such an approach could prove quite profitable, for those who have the guts to do so. And it will require a level of courage, because 21st lending has become quite important in manufactured housing. But using ourselves as an apparent example, for years, we have publicly challenged the powers that be in manufactured housing to come clean in a public debate or discussion. We have laid out facts and evidence that they can't or won't attempt to publicly discuss. So instead, they create slick looking pitchbooks and videos that gloss over any negativity around their brand. They use MHI awards, as if MHI was an organization which an award is worth bragging about.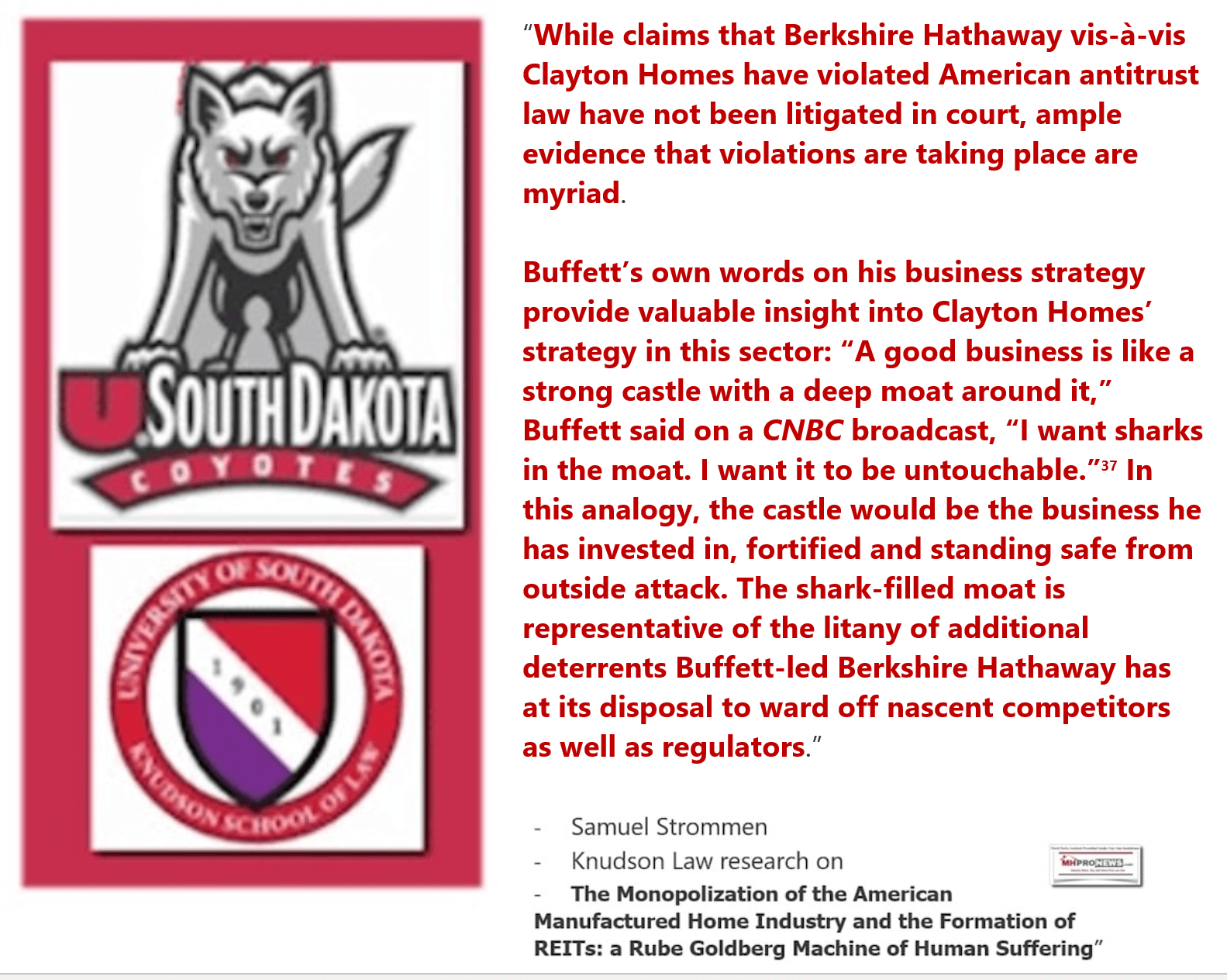 Perhaps the pre-Berkshire MHI awards had more authentic meaning?
But certainly, in recent years, when several of the 'award winners' have turned out to be brands that have their own dark tales, the questions are serious indeed.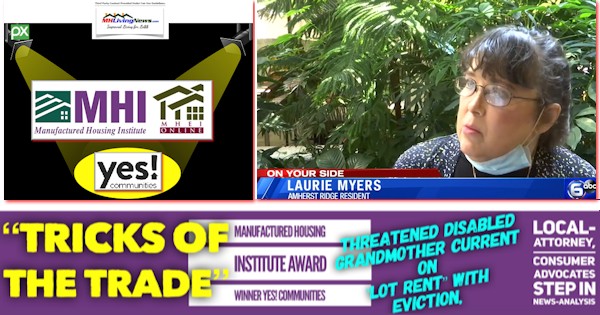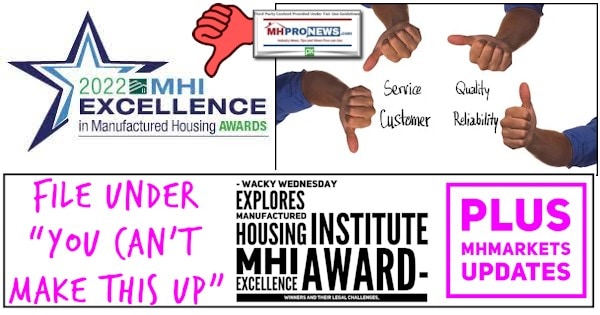 The fact that MHI's part-time defender, part time detractor Allen has said that others question the authenticity of MHI – and by extension, their dominating brands – speaks volumes, even if it is in a fashion a bid different than Allen apparently intended.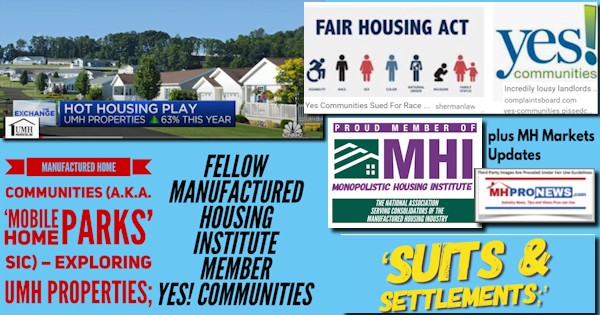 Stay tuned for what's next in this evolving saga over the future of manufactured housing. Until next time, for those willing to look the facts and evidence square in the eye, see the reports linked above and below for more insights. ##
Sandy Garrett, J.D., Chief Disciplinary Counsel TBPR.org Supreme Court of Tennessee-Tom Hodges, J.D.; How Manufactured Housing Could Achieve Higher Sales, Profits; Sunday Weekly Headlines Recap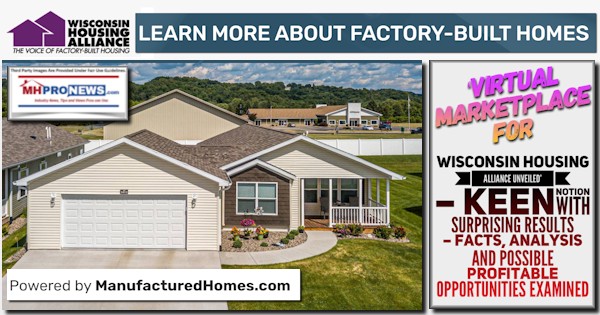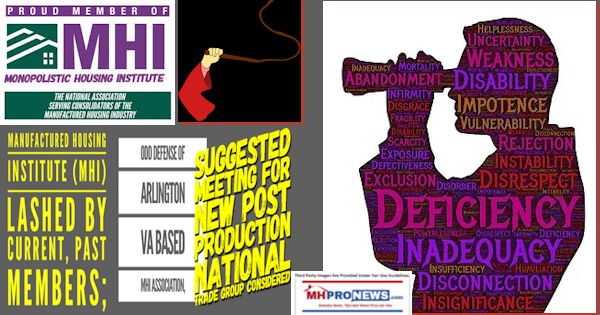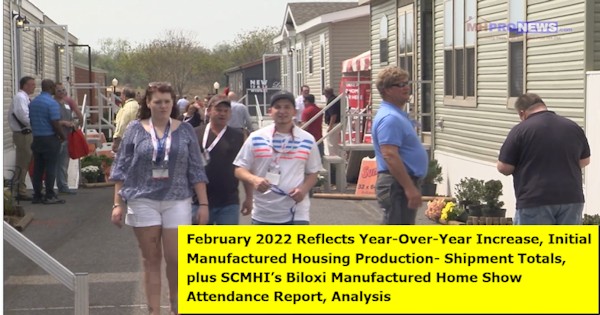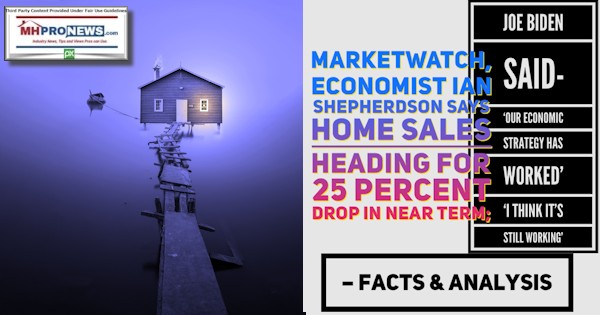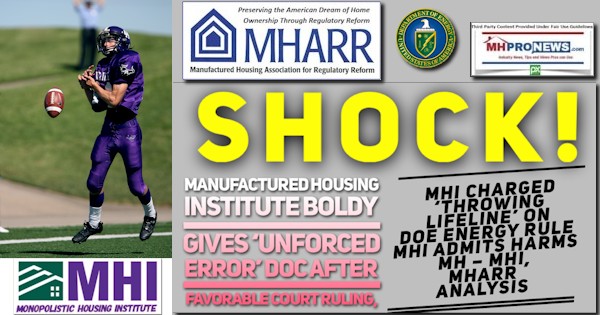 The Manufactured Housing Association for Regulatory Reform (MHARR) has consistently and persistently attempted to hold MHI to account and has long called for a new post-production trade group. Their announced 'white paper' is pending.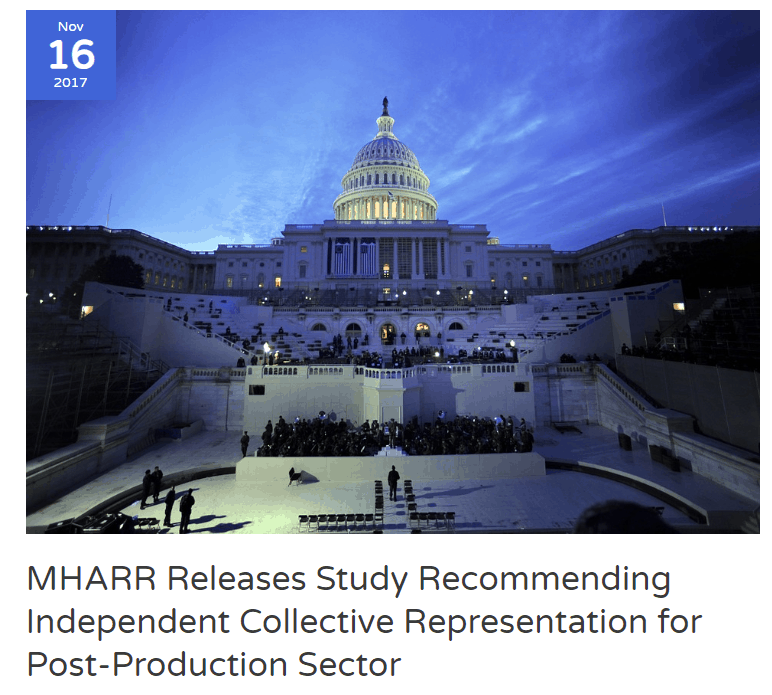 The reason that there have been periodic calls for a new post-production trade group is arguably a vote of no-confidence in MHI. Given industry underperformance and a range of troubling image and legal issues, perhaps the only wonder is that a group of white hats with sufficient chutzpah and horsepower haven't already done what has been tentatively tried several times in recent years.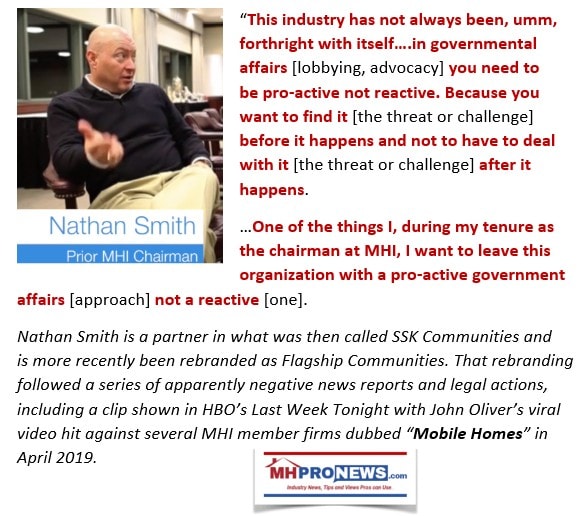 'Announcing!' 'Manufactured Community Owners' Association of America' 'Finally Bringing Fight To Manufactured Home Community Sector of the Industry' – plus Sunday Weekly Manufactured Housing Headlines Review  
The clock is ticking… …stay tuned for what is to come, which you can count on finding right here at your home for manufactured home "Industry News, Tips, and Views Pros Can Use" © where "We Provide, You Decide." ©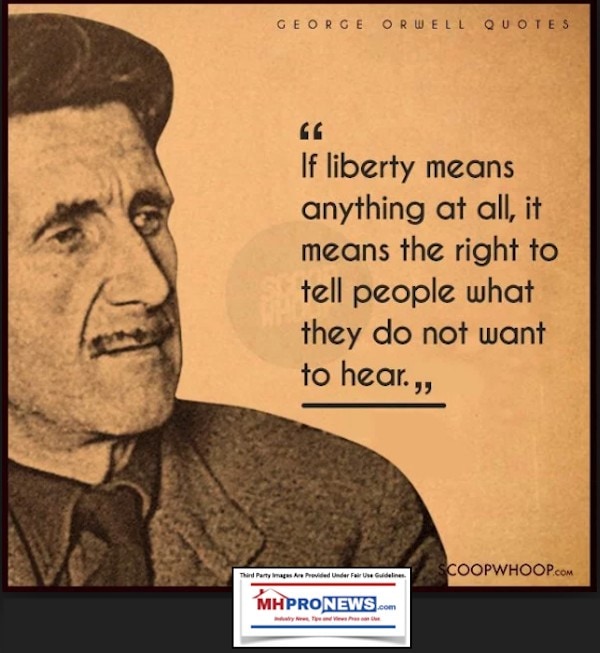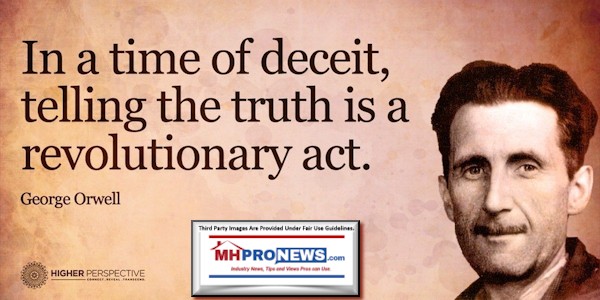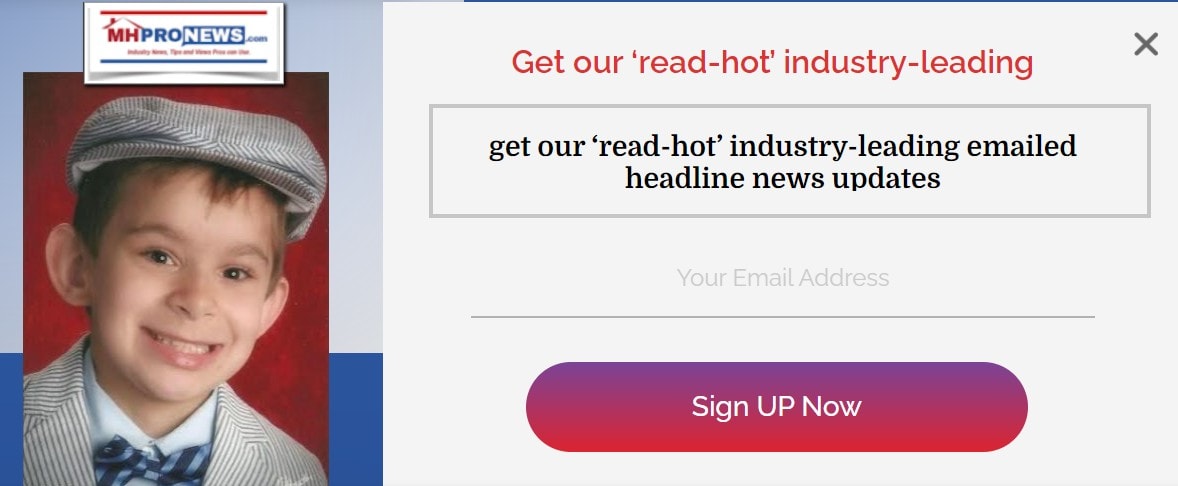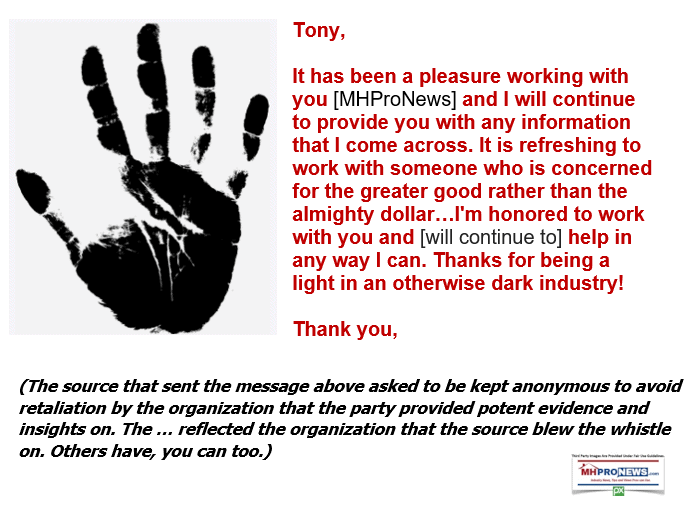 Again, our thanks to you, our sources, and sponsors and God for making and keeping us the runaway number one source for authentic "News through the lens of manufactured homes and factory-built housing" © where "We Provide, You Decide." © ## (Affordable housing, manufactured homes, reports, fact-checks, analysis, and commentary. Third-party images or content are provided under fair use guidelines for media.) (See Related Reports, further below. Text/image boxes often are hot-linked to other reports that can be access by clicking on them.)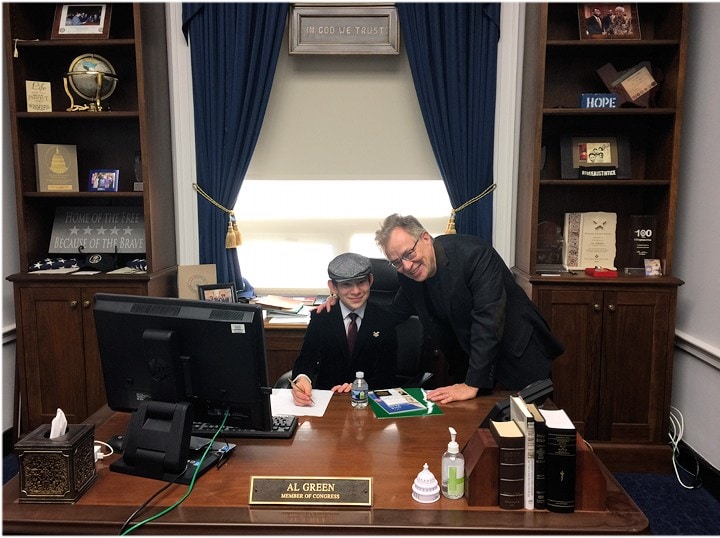 By L.A. "Tony" Kovach – for MHProNews.com.
Tony earned a journalism scholarship and earned numerous awards in history and in manufactured housing.
For example, he earned the prestigious Lottinville Award in history from the University of Oklahoma, where he studied history and business management. He's a managing member and co-founder of LifeStyle Factory Homes, LLC, the parent company to MHProNews, and MHLivingNews.com.
This article reflects the LLC's and/or the writer's position, and may or may not reflect the views of sponsors or supporters.
Connect on LinkedIn: http://www.linkedin.com/in/latonykovach
Related References:
The text/image boxes below are linked to other reports, which can be accessed by clicking on them.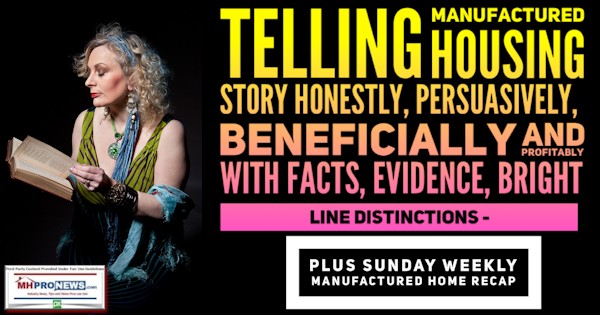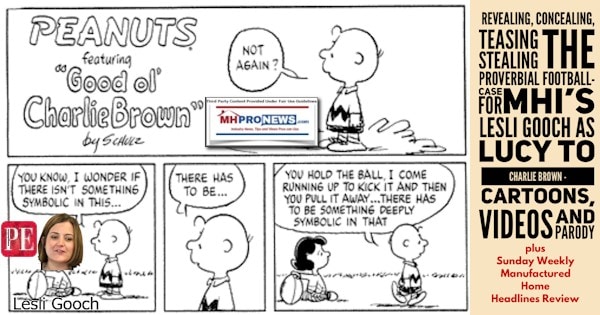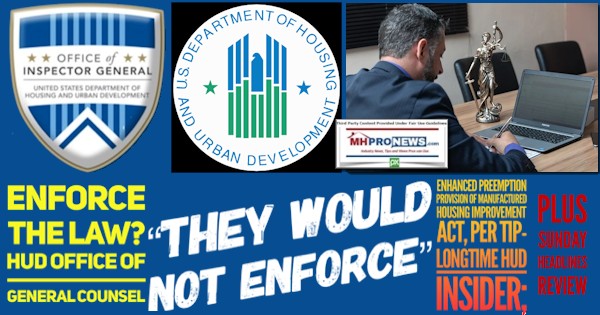 https://www.manufacturedhomepronews.com/enforce-the-law-hud-office-of-general-counsel-they-would-not-enforce-enhanced-preemption-provision-of-manufactured-housing-improvement-act-per-tip-longtime-hud-insider-plus-sunday/