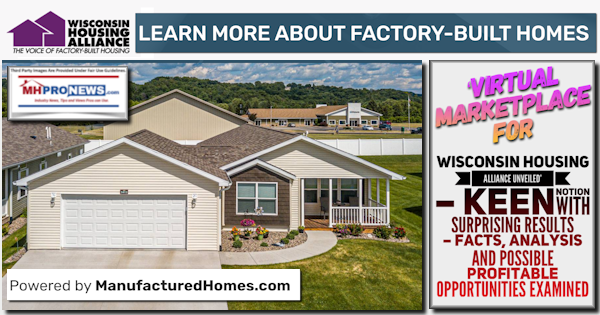 Cison and PRNewswire published the following press release for the Wisconsin Housing Alliance (WHA – https://HousingAlliance.us), a Manufactured Housing Institute (MH) affiliate on 5.17.2021. Almost 11 months have gone by, so there is sufficient data available to see how this fine sounding initiative which launched https://www.FactoryBuiltWisconsin.com has performed in the real world. There are potentially profitable lessons to be found for those who are willing to sift through the facts, claims, laws, or policies (and platitudes?) involved. First, this Masthead on MHProNews viewpoint will provide the WHA's full press release, which appears to include blogging/marketing brand and MHI member ManufacturedHomes.com. Then this report, analysis, and commentary will then explore the significant potential for profitable lessons learned from the WHA initiative on https://www.FactoryBuiltWisconsin.com. Those insights will include thoughts from MHI member-advocate Darren Krolewski, MHVillage Co-President and Chief Business Development Officer who also oversees and launched MHInsider. Krolewski is also an official at pro-Manufactured Housing Institute (MHI) sister brand Datacomp. Tip – a common thread through this introduction includes three letters – MHI.
Part I. Virtual Marketplace For Wisconsin Housing Alliance Unveiled
MADISON, Wis., May 17, 2021 /PRNewswire/ — Amy Bliss, President of the Wisconsin Housing Alliance today unveiled a state of the art online virtual marketplace of factory built homes available in the Beaver State. The platform allows Wisconsin homebuyers the capability to browse, select and tour manufactured homes & modular homes for sale online.
Its new website, www.factorybuiltwisconsin.com will allow people shopping for a home to learn more about Wisconsin manufactured and modular homes, view floorplans, get price quotes, find lenders and communities and even take 3-Dimensional tours of new homes available for sale.
"The virtual shopping showroom for homes is no longer some future pipe dream," said Bliss. "For Wisconsin, it's happening now."
About The Wisconsin Housing Alliance
The Wisconsin Housing Alliance is a business trade group that represents manufacturers, retailers of and lenders for manufactured and modular homes in Wisconsin. It also represents community owners and operators.
The members of the Wisconsin Housing Alliance are dedicated to providing safe, affordable, high-performance homes to individuals and families in communities across Wisconsin. WHA supports its members with training, continuing education, and information — ensuring that the people who design, build, install, sell, and factory built homes have access to the best industry practices available. This site is powered by Manufacturedhomes.com.
Contact: Amy Bliss
(608) 255-3131
SOURCE: The Wisconsin Housing Alliance ##
Part II. Additional Information, more MHProNews Analysis and Commentary
1). Including their headline, date, source, and location, the above WHA press release is a scant 227 words.
2). The notion for what WHA executive director Amy Bliss described above as "The virtual shopping showroom for homes is no longer some future pipe dream. For Wisconsin, it's happening now." was pitched about a decade ago nationally by this writer in a plan to MHI affiliates in a GoToMeeting PowerPoint presentation. It clearly wasn't accepted, which can be explored another time. But one point to note is that conceptually, MHProNews editorially supports good, authentic marketing online and offline.
3). Some facts to explore the above are in order. The bottom line for any marketing and advertising can be measured various ways, but certainly the most important metric is how many homes were actually sold before and after this plan was launched?
A precise number for that is not in hand, but a close stand in are the numbers of wholesale HUD Code manufactured homes shipped into Wisconsin. That data is shown below in the categories of single section and multiple section (so called 'single-wide' or 'double-wide' manufactured homes, as there hasn't been what were commonly called mobile homes built in the U.S. since June 15, 1976). Note that the press release failed to mention the mistaken terminology 'trailer house' or 'mobile home,' which are arguably one of several obvious misses that will be noted further below. But next up are the data summarized by the Manufactured Housing Association for Regulatory Reform (MHARR) monthly which IBTS collects under contract for the U.S. Department of Housing and Urban Development (HUD).
What follows are the raw data for the categories. That will be analyzed based on internal and external additional insights that will be provided in this Masthead on MHProNews.
For calendar year 2020 (highlighting added), with totals at the bottom of each year shown.
| | | | | |
| --- | --- | --- | --- | --- |
| Mo-Year | Single Section | Multi Section | Total | Floors |
| 1.2020Yr | 65 | 12 | 78 | 91 |
| 2.2020Yr | 18 | 17 | 35 | 52 |
| 3.2020Yr | 39 | 12 | 51 | 63 |
| 4.2020Yr. | 26 | 20 | 46 | 66 |
| 5.2020Yr. | 38 | 25 | 63 | 88 |
| 6.2020Yr | 42 | 24 | 66 | 90 |
| 7.2020Yr. | 54 | 21 | 75 | 96 |
| 8.2020Yr. | 54 | 27 | 81 | 108 |
| 9.2020Yr. | 31 | 22 | 53 | 75 |
| 10.2020Yr | 46 | 30 | 76 | 106 |
| 11.2020Yr. | 54 | 24 | 78 | 102 |
| 12.2020Yr. | 32 | 26 | 58 | 84 |
| | 499 | 260 | 760 | 1021 |
For calendar year 2021 (note: May 17, 2021 is the date for the WHA media release).
| | | | | |
| --- | --- | --- | --- | --- |
| Mo-Year | Single Section | Multi Section | Total | Floors |
| 1.2021Yr. | 42 | 27 | 69 | 96 |
| 2.2021Yr. | 42 | 31 | 73 | 104 |
| 3.2021Yr. | 47 | 30 | 77 | 107 |
| 4.2021Yr. | 59 | 26 | 85 | 111 |
| 5.2021Yr. | 48 | 22 | 70 | 92 |
| 6.2021Yr. | 29 | 46 | 75 | 121 |
| 7.2021Yr. | 54 | 21 | 75 | 96 |
| 8.2021Yr. | 43 | 37 | 80 | 117 |
| 9.2021Yr. | 29 | 34 | 63 | 97 |
| 10.2021Yr. | 46 | 30 | 76 | 106 |
| 11.2021Yr. | 32 | 26 | 58 | 84 |
| 12.2021Yr. | 30 | 22 | 52 | 74 |
| | 501 | 352 | 853 | 1205 |
For the first two months of data in calendar year 2022.
| | | | | |
| --- | --- | --- | --- | --- |
| Mo-Year | Single Section | Multi Section | Total | Floors |
| 1.2022Yr. | 30 | 22 | 52 | 74 |
| 2.2022Yr | 35 | 25 | 60 | 85 |
| | 65 | 47 | 112 | 159 |
4). Based primarily upon internal data, meaning for the wholesale shipments of within Wisconsin of HUD Code manufactured homes, the official information for HUD indicates the following.
a). There was a modest increase in May 2021 over May 2020 of 4 floors.
b). There was a 31-floor jump in June 2021 over June 2020.
c). By July both 2020 and 2021 data is the same on total floors shipped in WI.
d). The next two months (August and September) 2021 outpaced 2020.
e). In October 2021 the total floors were identical to 2020 at 106 floors.
f). In November and December 2021, the total floors in those months trailed 2020.
g). Now comes the sobering news for the WHA and fellow MHI member and service-provider ManufacturedHomes.com. In 2022, with the conventional housing market running at multiple year record pace, the WHA's www.FactoryBuiltWisconsin.com is down. Before comparing and contrasting the WI specific data, note that the external but relevant national manufactured housing production – per MHARR, which cites HUD's data – stated: "Cumulative production for 2022 now totals 18,391 homes, an 11.6% increase over the 16,471 homes produced during the same period in 2021."
h). In Wisconsin? 2021 – months before the WHA press release – had 200 floors in January and February. But 2022 had only 159 floors.
i). Note, more national data is available via the report linked below, which reflects the point that top states routinely grew over 2022, unlike the WHA, which retreated.
February 2022 Reflects Year-Over-Year Increase, Initial Manufactured Housing Production- Shipment Totals, plus SCMHI's Biloxi Manufactured Home Show Attendance Report, Analysis
5). There are several other factoids that would be useful to know, but which can be generically grasped. Per MHI, some 31 percent of all HUD Code manufactured homes are being shipped into land-lease communities. While some of those are being sold, significant numbers of those are being leased, perhaps most notably by the public REITs and private consolidators of communities that are part of the group that dominate MHI board and thus MHI.
6) MHProNews previously reported that manufactured housing shipments went into decline in the last quarter of 2018 after MHI launched its so-called new class of manufactured homes which they later rebranded as CrossModTM homes. It wasn't until the post-COVID19 pandemic was declared and a national tidal press for more single family housing occurred that conventional builders simply could not meet the demand that manufactured housing production/shipments finally reversed back toward modest growth.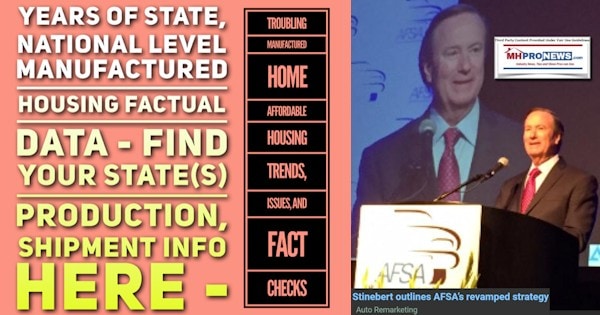 7) MHProNews will not – at this time – note all that is missing from the WHA and ManufacturedHomes.com "powered" site is lacking. In fairness, the site is eye appealing. But it clearly has not resonated with the home buying public in anything like a sustained, much less robust, way. Why not?
a). Here is where admissions from MHVillage's Krolewski, fellow (and some say, "notorious") MHI member Frank Rolfe, and others that include the 'newly announced' community-focused trade organization come into focus.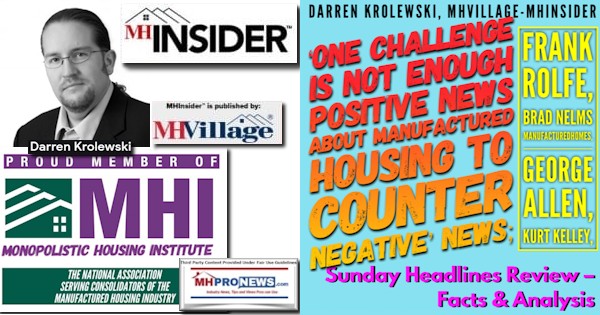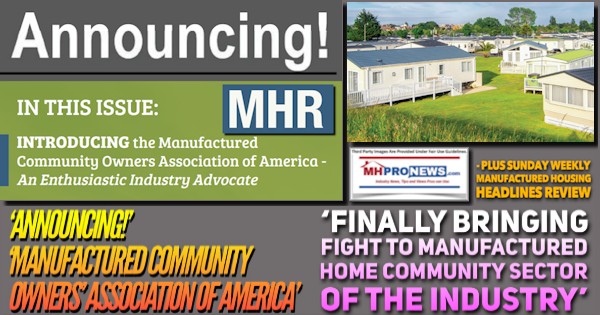 b). Even if the new trade group ends up a bigger dud than NAMHCO, both sent an arguably important message. MHI is not getting the job done in the post-production side of the industry. On the production side, MHARR's efforts contrasted with that of MHI on the DOE energy issue makes it plain that the industry's independents would be better off without MHI than with it.
Shock! Manufactured Housing Institute Boldy Gives 'Unforced Error' Doc After Favorable Court Ruling, MHI Charged 'Throwing Lifeline' to DOE Energy Rule MHI Admits Harms MH – MHI, MHARR Analysis
8) This Masthead will weigh in at about 1800 words, shorter than numbers of our reports in recent years, but routinely longer than what MHInsider or ManufacturedHomes.com publish as blog posts or 'articles.'  But try to find a single article written by MHInsider or ManfuacturedHomes.com that critiques MHI. Try to find a single post written by them that clearly lays out the facts and evidence that explains why the industry is struggling after the enactment of the Manufactured Housing Improvement Act (MHIA) of 2000 or the Housing and Economic Recovery Act (HERA) of 2008. The MHIA gave manufactured housing so-called "enhanced preemption." But the lack of enforcement of federal preemption, which once more among trade media has been all but ignored save by MHProNews and our MHLivingNews sister site, is one of the real underlying causes for the lack of sales and thus production or shipments of new homes. The other factors are financing, which like zoning/placement are post-production issues.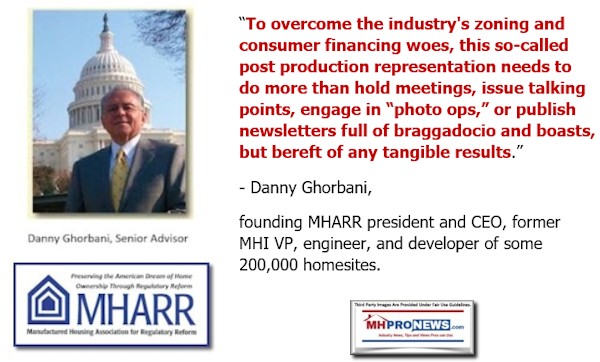 "Where is the 'Equity' for Manufactured Homes and Consumers of Affordable Housing?" – Unpacking Manufactured Housing Association for Regulatory Reform CEO Mark Weiss "Issues and Perspectives"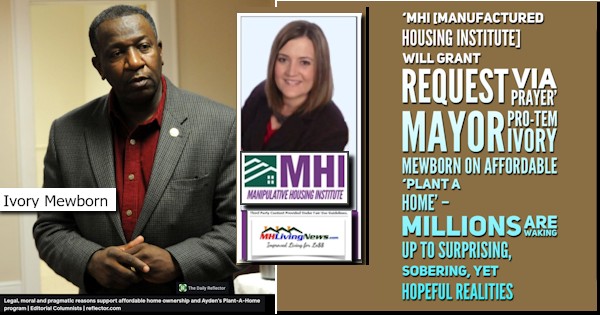 Another factor is image. Despite another occasional blogger, but dependable MHI cheerleader is Suzanne Felber, who managed to reveal once again MHI's failure to address the image issue in a meaningful fashion.
https://www.manufacturedhomelivingnews.com/manufactured-housing-institute-cheerleader-suzanne-felber-lifestylist-exposed-mhis-errant-image-campaign-why-true-education-info-on-manufactured-home-livi/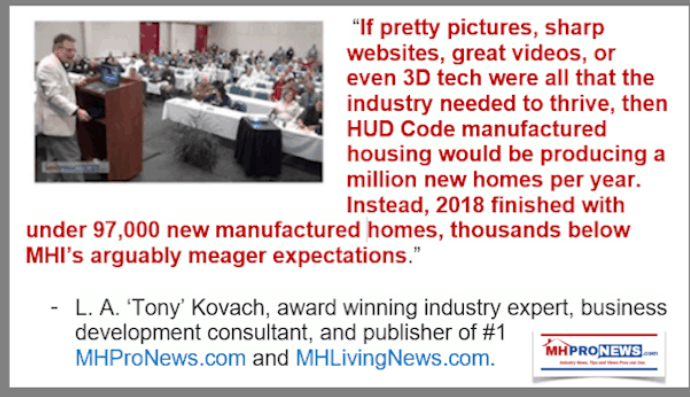 Summary and Conclusion
The bottom line could be summed up like this. Not unlike the Florida Manufactured Housing Association's (FMHA) BowStern effort, this effort by WHA and ManfuacturedHomes.com is a dud as measured by retail market effectiveness.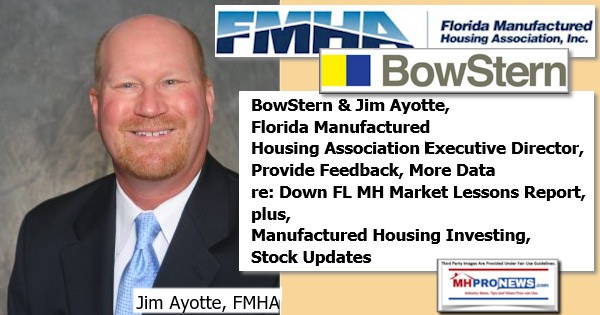 What this writer said in the quote below in 2018 (as well as before and since) has demonstrably been proven true. Pretty pictures, sharp videos, or 3D tours are obviously not what is lacking in manufactured housing. There is a lot of negative news that is routinely generated by MHI and/or MHI state affiliate members that some of their own customers, mainstream media and some politicos have labeled as "predatory." Because MHI has clearly not enforced its own fig leaf of a "Code of Ethical Conduct," there ought to be a new post-production trade group that has good resident/customer relations. That group should paint a bright line distinction from so-called "proud" MHI members that are apparently predatory. Properly structured, just being a member of such a post-production trade group would be the only 'award' needed.
As matters stand, several of MHI's members are not only predatory, but are arguably in violation of federal and/or state antitrust and RICO laws. Warren Buffett said it well. You can't make a good deal with a bad person. Nor can you make a good deal with a bad or flawed organization. Whatever MHI used to be in the 20th century, MHI stopped being in the 21st century sometime after the dawn of the Berkshire era.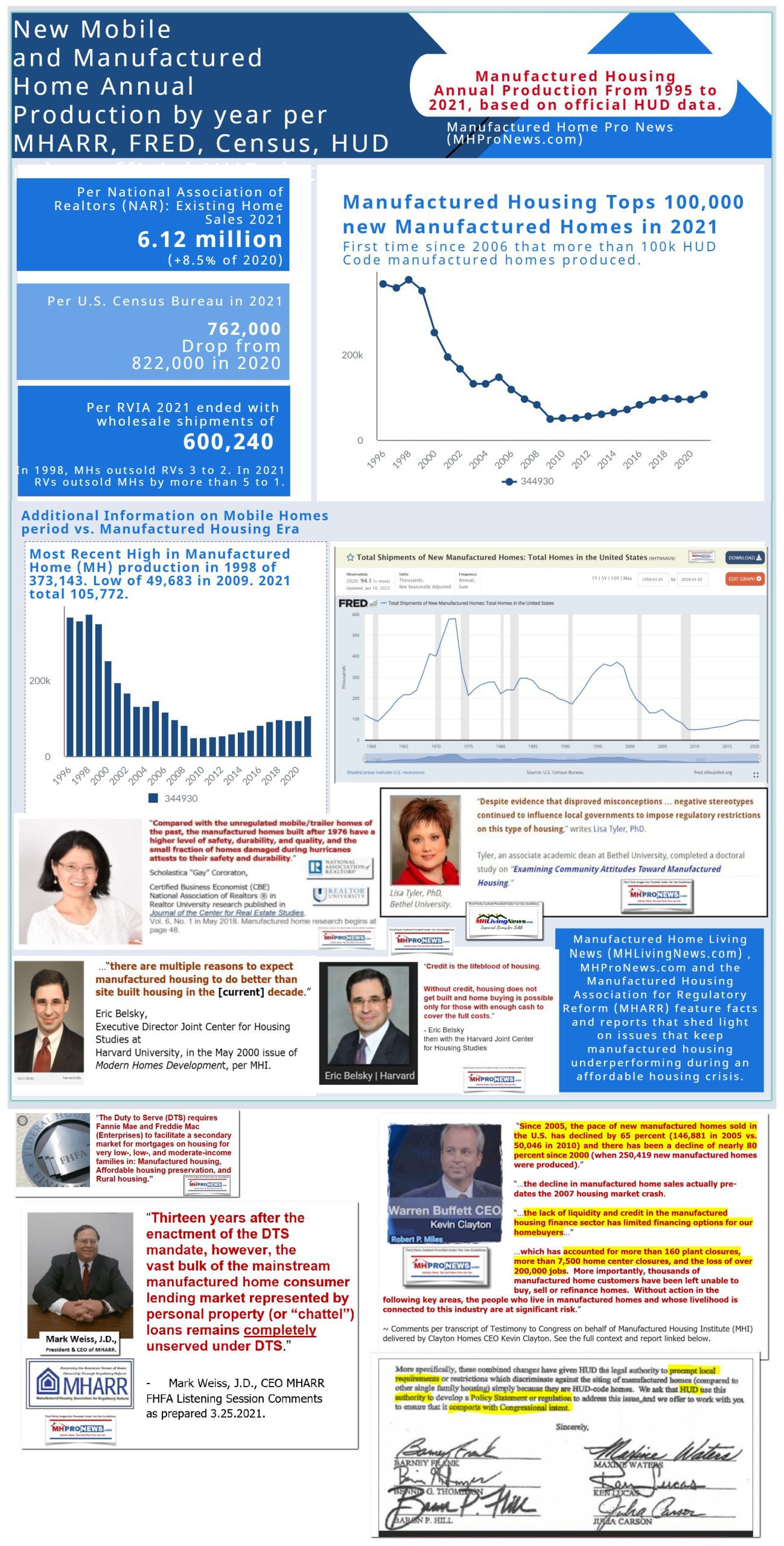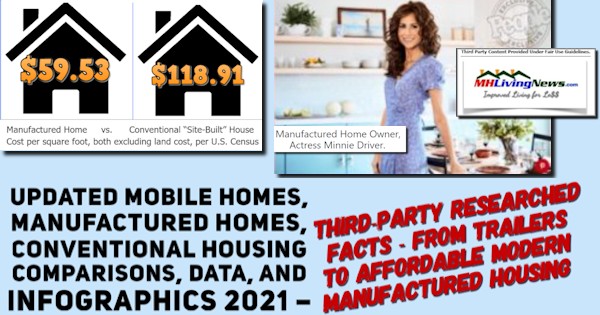 The data doesn't lie.
We may be politically incorrect from time to time on MHProNews, but will always aim to tell the truth like it is based on the evidence and commonsense reflection. Much more could be said, but in 10 minutes or so (for the typical reader, less) of reading, the facts, evidence and expert analysis provided in this MHProNews Masthead speak loudly enough. ##
MarketWatch, Economist Ian Shepherdson Says Home Sales Heading for 25 Percent Drop in Near Term; Joe Biden said- 'Our Economic Strategy Has Worked' 'I think it's still working' – Facts & Analysis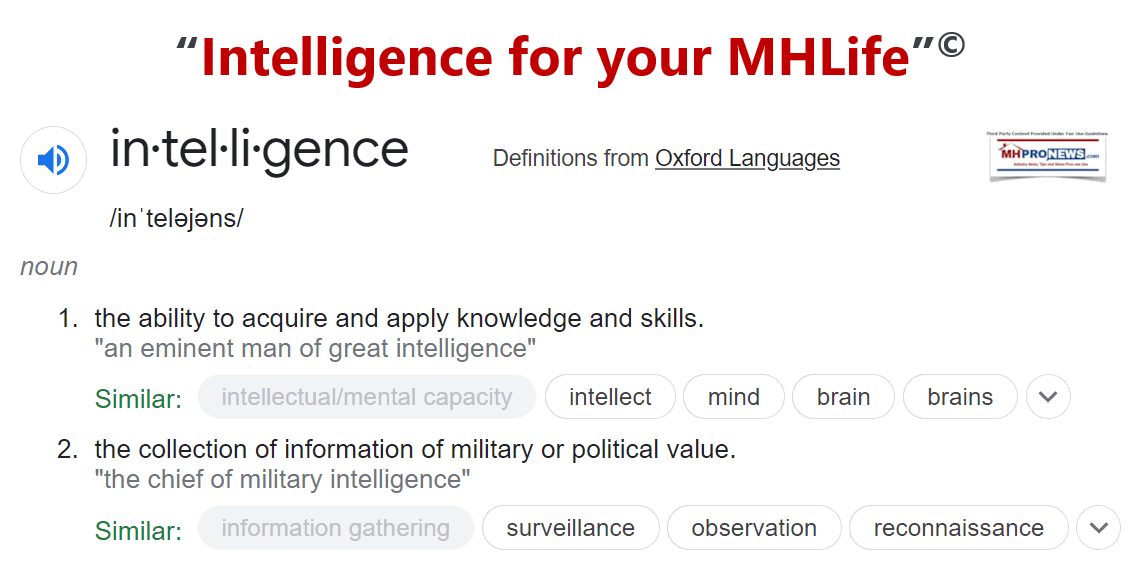 Shock! Manufactured Housing Institute Boldy Gives 'Unforced Error' Doc After Favorable Court Ruling, MHI Charged 'Throwing Lifeline' to DOE Energy Rule MHI Admits Harms MH – MHI, MHARR Analysis
###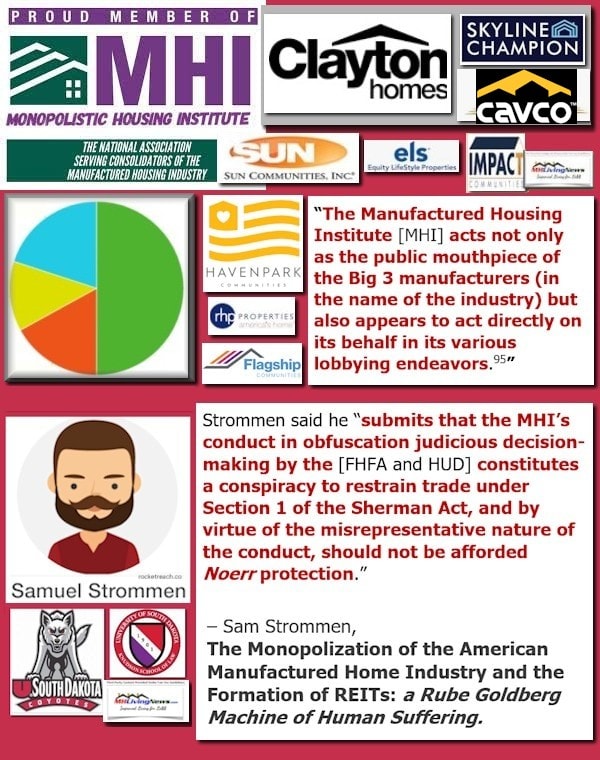 Stay tuned for more of what is 'behind the curtains' as well as what is obvious and in your face reporting that are not found anywhere else in MHVille. It is all here, which may explain why this is the runaway largest and most-read source for authentic manufactured home "News through the lens of manufactured homes and factory-built housing" © where "We Provide, You Decide." © ## (Affordable housing, manufactured homes, reports, fact-checks, analysis, and commentary. Third-party images or content are provided under fair use guidelines for media.) (See Related Reports, further below. Text/image boxes often are hot-linked to other reports that can be access by clicking on them.)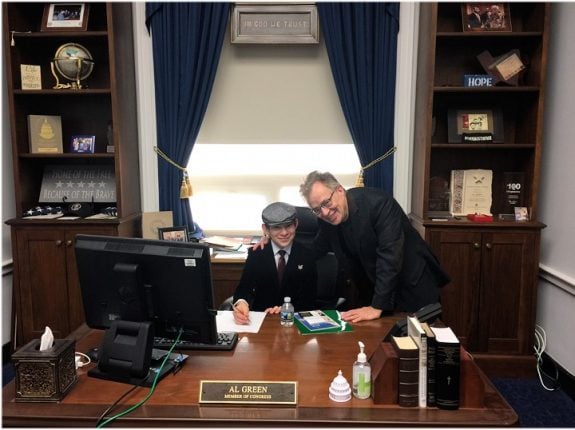 By L.A. "Tony" Kovach - for MHProNews.com.
Tony earned a journalism scholarship and earned numerous awards in history and in manufactured housing.
For example, he earned the prestigious Lottinville Award in history from the University of Oklahoma, where he studied history and business management. He's a managing member and co-founder of LifeStyle Factory Homes, LLC, the parent company to MHProNews, and MHLivingNews.com.
This article reflects the LLC's and/or the writer's position, and may or may not reflect the views of sponsors or supporters.
Connect on LinkedIn: http://www.linkedin.com/in/latonykovach
Related References:
The text/image boxes below are linked to other reports, which can be accessed by clicking on them.
ATR, AMAC Sign Coalition Letter on New IRS Funding – "Intelligence for your MHLife"© Making Sense of the News
Persuading Americans to Consider Different Housing Options During a Growing Affordable Housing Crisis
Biloxi Manufactured Housing Show Compared to Louisville, Tunica, and Prior Manufactured Housing Industry Trade Shows – Show Ways Unlimited Tips – Lessons, Tips, Facts of Import for Brighter MH and Trade Show Future
December 2021 Monthly New Manufactured Housing Data with 2021 Annual Manufactured Home Production Totals, Compare to NAR, Conventional Housing Starts, RVs – Opportunities & Obstacles Special Analysis
FHFA Signals Better Manufactured Home Loans in 2022 – Prosperity Now, Manufactured Housing Assoc for Regulatory Reform v Manufactured Housing Institute – Official Statements, Facts & Analysis
"Trailerpalooza" to Manufactured Homes "Boomerang" Effect – Affordable Housing Crisis, Nov 2021 Manufactured Housing Production Data – 2022 SWOT Analysis – Housing Crisis Spells Danger and Opportunity
Darren Krolewski, Co-President at MHVillage and publisher of their MHInsider magazine made another bold claim in their most recent issue. As regular and close readers of MHProNews fact-checks may recall, a problematic claim was made in their prior issue too, and no known correction of that factual error took place.