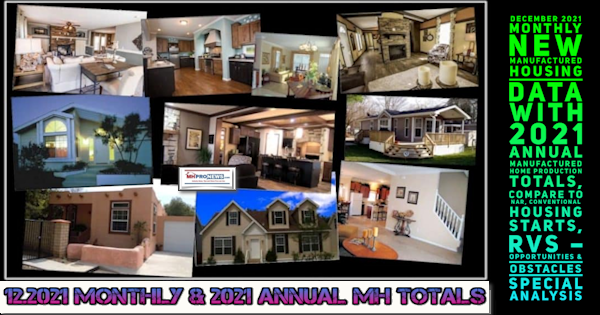 The December 2021 monthly and 2021 annual data for new HUD Code manufactured housing has been announced and is provided below. To unpack the facts, this special report will make comparisons to other industries. Comparison of facts are a marvelous method that can be used to discern the truth in sometimes perplexing and competing claims. By looking at official data provided by the Manufactured Housing Association for Regulatory Reform (MHARR), or from the National Association of Realtors (NAR), the National Association of Home Builders (NAHB), from the Recreational Vehicle Industry Association (RVIA), and comparing it to what is provided by the Manufactured Housing Institute (MHI), several insights and realities come into focus.

 MANUFACTURED HOUSING INDUSTRY PRODUCTION
EXCEDES 100,000 HOMES FOR FIRST TIME IN 15 YEARS
Washington, D.C., February 3, 2022 – The Manufactured Housing Association for Regulatory Reform (MHARR) reports that manufactured housing industry production in 2021 has exceeded 100,000 homes annually for first time since 2006. According to official statistics compiled on behalf of the U.S. Department of Housing and Urban Development (HUD), HUD Code manufactured housing industry year-over-year production increased in December 2021, ensuring an annual production tally in excess of 100,000 homes. Specifically, just-released statistics indicate that HUD Code manufacturers produced 8,014 homes in December 2021, a 5% increase over the 7,633 new HUD Code homes produced during December 2020. As a result, 2021 ends with a cumulative production total of 105,772 homes, a 12% increase over the 94,390 homes produced over the same period in 2020
A further analysis of the official industry statistics shows that the top ten shipment states from the beginning of the industry production rebound in August 2011 through December 2021 — with cumulative, monthly, current year (2021) and prior year (2020) shipments per category as indicated — are: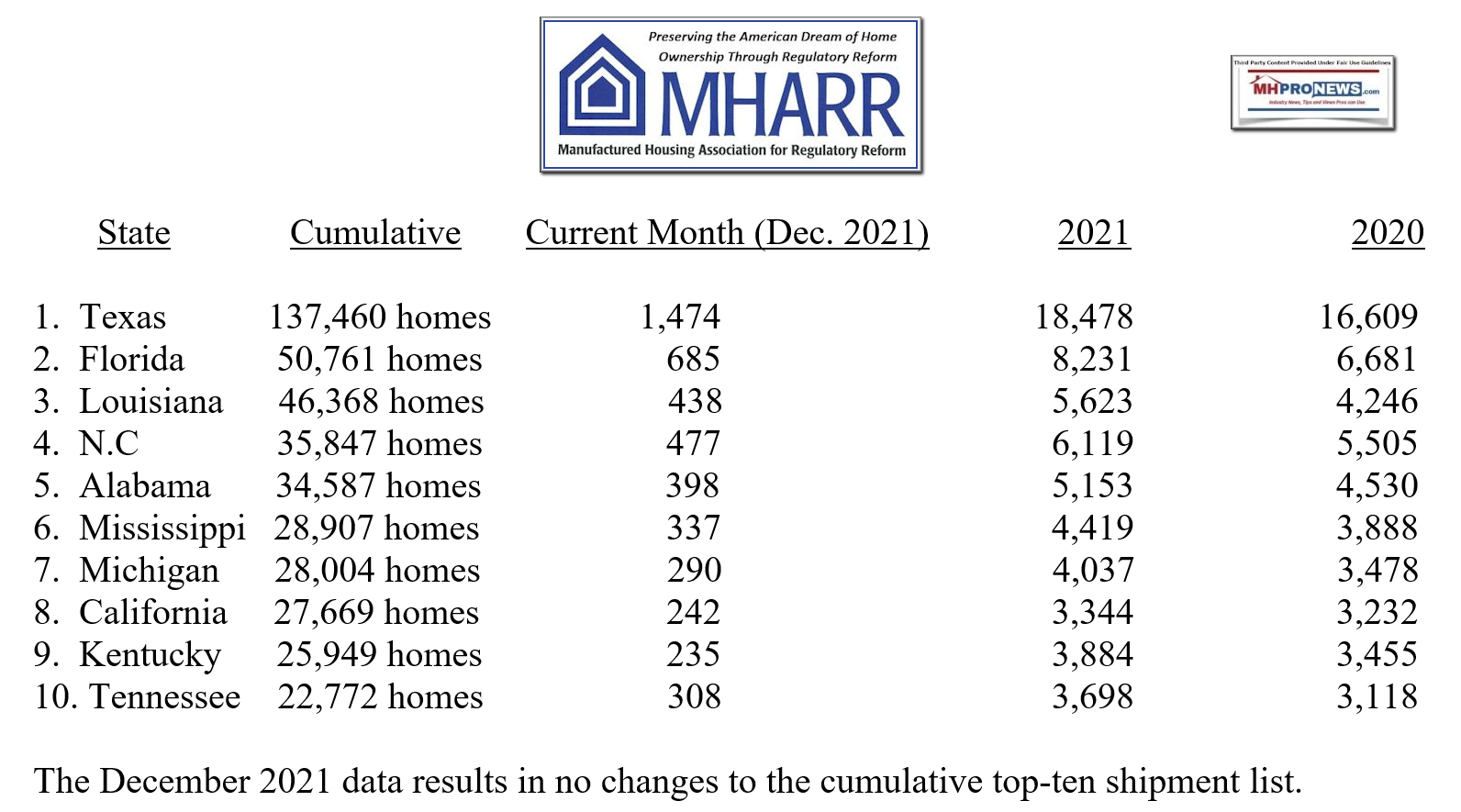 The December 2021 data results in no changes to the cumulative top-ten shipment list.
In Washington, D.C., MHARR President and CEO, Mark Weiss, stated: "While annual production in excess of 100,000 homes is significant and stands as a tribute to all those across the United States who work hard every day to produce and provide to Americans at all income levels, high-quality HUD Code homes that are safe and  affordable, manufactured housing could and should be performing even better." Weiss continued, "In a nation facing an affordable housing crisis where millions of additional homes are needed, but not currently available, inherently affordable manufactured housing should routinely have annual production levels in the hundreds-of-thousands of homes, but does not, due primarily to discriminatory zoning exclusions and restrictions, and the ongoing unavailability of secondary market and securitization support by Fannie Mae and Freddie Mac for the vast bulk of the manufactured housing consumer financing market. The entire industry, and most particularly its post-production sector – where these problems reside – must make their resolution and correction a top and continuing priority."
The Manufactured Housing Association for Regulatory Reform is a Washington, D.C.-based national trade association representing the views and interests of independent producers of federally-regulated manufactured housing.
— 30 –
Unlike the Manufactured Housing Institute (MHI), the National Association of Realtors (NAR) produces a month press release for the public of existing home sales data.  MHI has for some time just made such information available for members who need to login. Fortunately, the Manufactured Housing Association for Regulatory Reform (MHARR) has filled this information gap on manufactured housing sales by month and annually for years.
Per the NAR, the following highlights, infographic, and report details.
Key Highlights
In 2021, existing-home sales totaled 6.12 million – an increase of 8.5% from the prior year and the highest annual level since 2006.
At the end of December, the inventory of unsold existing homes fell to an all-time low of 910,000, which is equivalent to 1.8 months of the monthly sales pace, also an all-time low since January 1999.
In December, existing-home sales on a seasonally adjusted annualized rate slowed to 6.18 million, a 4.6% decrease from November.
Here is the NAR release obtained by MHProNews.
WASHINGTON (January 20, 2022) – Existing-home sales declined in December, snapping a streak of three straight months of gains, according to the National Association of Realtors®. Each of the four major U.S. regions witnessed sales fall in December from both a month-over-month and a year-over-year basis. Despite the drop, overall sales for 2021 increased 8.5%.
See and share this infographic.
Total existing-home sales,1 https://www.nar.realtor/existing-home-sales, completed transactions that include single-family homes, townhomes, condominiums and co-ops, dropped 4.6% from November to a seasonally adjusted annual rate of 6.18 million in December. From a year-over-year perspective, sales waned 7.1% (6.65 million in December 2020).
"December saw sales retreat, but the pull back was more a sign of supply constraints than an indication of a weakened demand for housing," said Lawrence Yun, NAR's chief economist. "Sales for the entire year finished strong, reaching the highest annual level since 2006."
Yun, however, does expect existing-home sales to slow slightly in the coming months due to higher mortgage rates, but noted that recent employment gains and stricter underwriting standards ensure home sales are in no danger of crashing. He forecasts rates to remain below 4% by year-end and wages to hold firm due to a tight labor market.
"This year, consumers should prepare to endure some increases in mortgage rates," Yun cautioned. "I also expect home prices to grow more moderately by 3% to 5% in 2022, and then similarly in 2023 as more supply reaches the market."
Total housing inventory2 at the end of December amounted to 910,000 units, down 18.0% from November and down 14.2% from one year ago (1.06 million). Unsold inventory sits at a 1.8-month supply at the present sales pace, down from 2.1 months in November and from 1.9 months in December 2020.
"We saw inventory numbers hit an all-time low in December," Yun said. "Home builders have already made strides in 2022 to increase supply, but reversing gaps like the ones we've seen recently will take years to correct."
The median existing-home price3 for all housing types in December was $358,000, up 15.8% from December 2020 ($309,200), as prices rose in each region. The South witnessed the highest pace of appreciation. This marks 118 straight months of year-over-year increases, the longest-running streak on record.
Properties typically remained on the market for 19 days in December, one day more than the 18 days seen in November, and down from 21 days in December 2020. Seventy-nine percent of homes sold in December 2021 were on the market for less than a month.
First-time buyers were responsible for 30% of sales in December, up from 26% in November and down from 31% in December 2020. NAR's 2021 Profile of Home Buyers and Sellers – released in late 20214 – reported that the annual share of first-time buyers was 34%.
"There was a significant surge in first-time buyers at the end of the year," Yun said. "With mortgage rates expected to rise in 2022, it's likely that a portion of December buyers were intent on avoiding the inevitable rate increases."
Individual investors or second-home buyers, who make up many cash sales, purchased 17% of homes in December, up from 15% in November and up from 14% in December 2020. All-cash sales accounted for 23% of transactions in December, down from 24% in November, and up from 19% from December 2020.
Distressed sales5 – foreclosures and short sales – represented less than 1% of sales in December, equal to the percentage seen in both November 2021 and December 2020.
Realtor.com®'s Market Trends Report(link is external) in December shows that the greatest year-over-year median list price growth occurred in Las Vegas (+32.4%), Austin (+28.8%), and Tampa (+25.4%). Austin also registered the highest growth in the number of homes which had their prices reduced compared to last year (+3.4 percentage points), followed by Pittsburgh (+3.2 percentage points) and Buffalo (+2.1 percentage points).
According to Freddie Mac, the average commitment rate(link is external) for a 30-year, conventional, fixed-rate mortgage was 3.10 in December, up from 3.07 in November. The average commitment rate across all of 2021 was 2.96%.
Single-family and Condo/Co-op Sales
Single-family home sales dropped to a seasonally adjusted annual rate of 5.52 million in December, down 4.3% from 5.77 million in November and down 6.8% from one year ago. The median existing single-family home price was $364,300 in December, up 16.1% from December 2020.
Existing condominium and co-op sales were recorded at a seasonally adjusted annual rate of 660,000 units in December, down 7.0% from 710,000 in November and down 9.6% from one year ago. The median existing condo price was $305,100 in December, an annual increase of 11.9%.
"We wrapped up the year witnessing home sales exceed the previous year's total and saw millions of families secure housing," said NAR President Leslie Rouda Smith, a Realtor® from Plano, Texas, and a broker associate at Dave Perry-Miller Real Estate in Dallas. "I think the positive momentum will continue as the market prepares to finally see more supply in the coming months, meaning more buyers will be able to land their dream home."
Regional Breakdown
Existing-home sales in the Northeast fell 1.3% in December, registering an annual rate of 750,000, a 15.7% decrease from December 2020. The median price in the Northeast was $384,600, up 6.3% from one year ago.
Existing-home sales in the Midwest slid 1.3% to an annual rate of 1,500,000 in December, a 2.6% decline from a year ago. The median price in the Midwest was $256,900, a 10.0% climb from December 2020.
Existing-home sales in the South retreated 6.3% in December, posting an annual rate of 2,700,000, a drop of 5.3% from one year ago. The median price in the South was $323,000, a 20.2% ascension from one year prior.
Existing-home sales in the West decreased 6.8%, reporting an annual rate of 1,230,000 in December, down 10.2% from one year ago. The median price in the West was $507,100, up 8.4% from December 2020.
The National Association of Realtors® is America's largest trade association, representing more than 1.5 million members involved in all aspects of the residential and commercial real estate industries.
The National Association of Home Builders (NAHB) also publishes free data on new conventional housing starts and sales monthly with annual summaries. Per their website: "Housing Statistics – NAHB publishes free housing and market data on Housing Economics and subscription-based housing and market data on Housing Economics PLUS." One might think that MHI could follow that model, which for some years they did, but have since abandoned the free public monthly data.
Per the NAHB are the following headlines in recent weeks.
Existing Unsold Inventory Sits at All-Time Low
December Gains for Private Residential Spending
Year-over-Year Gains for Construction Job Openings
Home Prices Discourage a Growing Segment of Prospective Buyers
Home Buyers' Perceptions of Affordability Deteriorated Throughout 2021
Buyers' Perceptions of Housing Inventory Worsened Throughout 2021
Some of the NAHB's recent tweets are as follows
The construction labor market remains tight, with the number of job openings rising year over year. There were 337,000 open construction positions in December, significantly higher than the 267,000 count recorded a year ago. https://t.co/QQ8miqOHy6 | #CareersinConstruction

— NAHB (@NAHBhome) February 2, 2022
NAHB welcomes the Biden administration's move to reduce duties from 17.99% to 11.64% on softwood #lumber from Canada. Reducing these #tariffs is an important step to addressing the #housingaffordability crisis and easing extreme swings in lumber prices. https://t.co/DSYlQTiU9t

— NAHB (@NAHBhome) January 31, 2022
Total private residential construction spending rose 1.1% in December to an annual rate of $810.3 billion, 15% higher than a year ago. Spending on single-family home construction increased 2.1% to a $435 billion annual pace. https://t.co/KAWHmhpSOW

— NAHB (@NAHBhome) February 1, 2022
February is Career and Technical Education Month (#CTEMonth). Career and technical education prepares students for high-wage, in-demand careers. NAHB is highly focused on workforce development and encouraging young people to pursue #CareersinConstruction. https://t.co/KpYGVowIOl

— NAHB (@NAHBhome) February 1, 2022
At the conclusion of its January policy meeting, the Federal Open Market Committee strongly signaled that it will undertake its first post-COVID increase of the federal funds rate in March, which would raise consumer interest rates. https://t.co/9IGISARuQm #mortgagerates

— NAHB (@NAHBhome) January 28, 2022
The share of #GDP attributable to housing was 16.4% in Q4 2021, down from a 14-year high of 17.8% in Q2 2020, but still significantly higher than the post-Great Recession average, underscoring the importance of the housing industry to the American #economy https://t.co/GSb7PJFxor

— NAHB (@NAHBhome) January 27, 2022
Solid gain in Dec for new home sales, up 11.9% to 811k annual rate. Sales ended 2021 as a whole lower by 7.3% as builders slowed some sales due to supply-chain concerns. Prices up 16.6% for the year. Sales likely helped in December over concerns of rising 2022 rates. @NAHBhome

— Robert Dietz (@dietz_econ) January 26, 2022
NEW #HOMESALES: Sales of newly built single-family homes jumped 11.9% in December to an annual rate of 811,000. An estimated 762,000 new homes were sold in 2021, 7.3% below the 2020 figure. | #realestate #economy pic.twitter.com/LNWWiSSa7k

— NAHB (@NAHBhome) January 26, 2022
Compare MHI tweets with those of MHI. Oh, pardon us. MHI hasn't been tweeting since the fall of 2020. Why not? Is it because as MHProNews increased the fact checks and analysis on MHI? Is that why they stopped tweeting? Is that a coincidence? If so, then why don't MHI leaders just do their self-proclaimed job of working for "all segments" of the industry instead of for consolidators?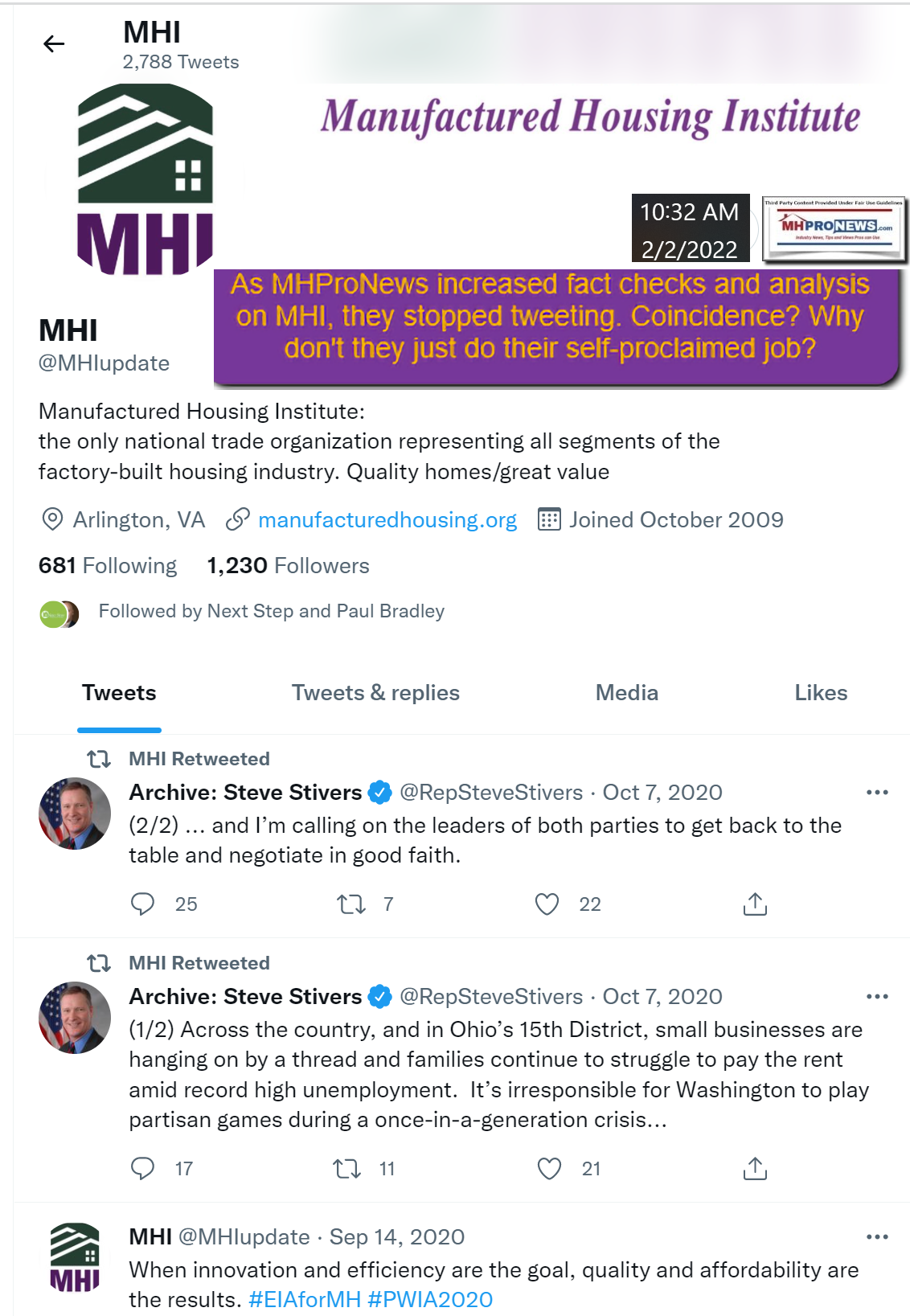 RV Industry Shipments (Sales), per the RVIA for 2021
Summary
Results for the RV Industry Association's December 2021 survey of manufacturers determined that total RV shipments for 2021 ended with a record 600,240 wholesale shipments, surpassing the 2017 total of 504,599 shipments by 19%.
"For decades, the RV industry has been growing with more and more people turning to RVs as the perfect way to experience the great outdoors. While the demand for RVs has been amplified over the past two years, the pandemic also created several obstacles and challenges for our industry," said RV Industry Association President & CEO Craig Kirby. "But through their hard work and innovation, our manufacturers and suppliers are rising to meet these challenges, building a record 600,000 RVs this past year, sending more RVs to dealer lots across North America than ever before, and allowing more people to experience the joys of RVing."
Total RV shipments for 2021 increased 39.5% over the 430,412 units shipped in 2020. Towable RVs, led by conventional travel trailers, ended 2021 up 39.6% against 2020 with 544,028 wholesale shipments. Motorhomes finished the year up 37.8% compared to 2020 with 56,212 units. Park Model RV finished the year up 5.7% compared to 2020 with 3,923 units shipped.
December Results
Results from the RV Industry Association's December 2021 survey of manufacturers also determined that total RV shipments ended the month with 40,347 units, a decrease of (-0.1%) compared to the 40,382 units shipped during December 2020. Towable RVs, led by conventional travel trailers, ended the month up 1.1% against last December with 36,908 wholesale shipments. Motorhomes finished the month down (-11.3%) compared to the same month last year with 3,439 units. Park Model RVs ended the month down (-9.0%) compared to December 2020 with 244 wholesale shipments. ##
Once upon a time the Manufactured Housing Institute (MHI) used to provide data, at least for those on their email list. But as MHProNews fact checks continued to highlight what the facts were indicating, sometime after this example from 2019, MHI suspended that service. Now, unlike other trade associations shown above, MHI only gives such data to members who must login to see it.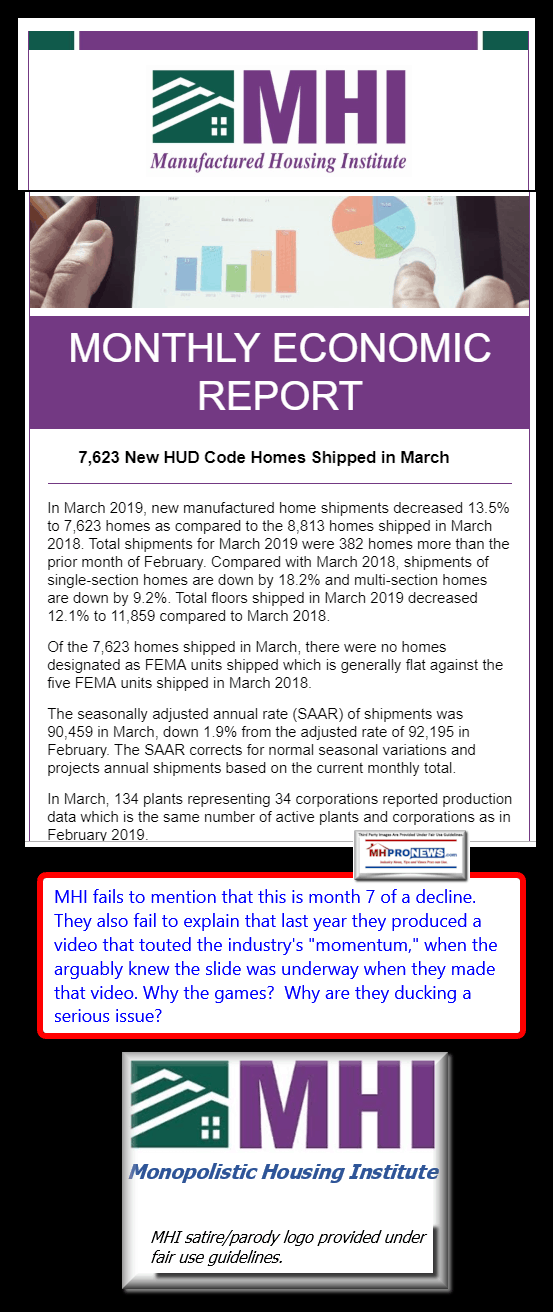 Additional Facts, More MHProNews Analysis and Commentary
Let's sum the above up.
The RV industry in 2021 was operating at about 6 times the annual sales level as the manufactured housing (MH) industry. Note that while some acquire an RV for full time living, most – per that industry – are for recreational use only. They are used about 3 to 4 weeks a year, per RV industry sources. These are luxury items, not a necessity. Apparently because RVs have been intelligently marketed since the late 1990s, they have been more resilient during downturns and their growth surpassed HUD Code manufactured housing (MH).
In 1998, MH outsold RVs by some 3 to 2. Now, that ratio is closer to 6 RVs to 1 MH.
RVs have celebrated record production and shipments. By contrast, MH is having to admit that it has finally crossed the 100,000 manufactured home production/shipment mark for the first time since 2006. Note: this graphic below will be updated soon with the latest data.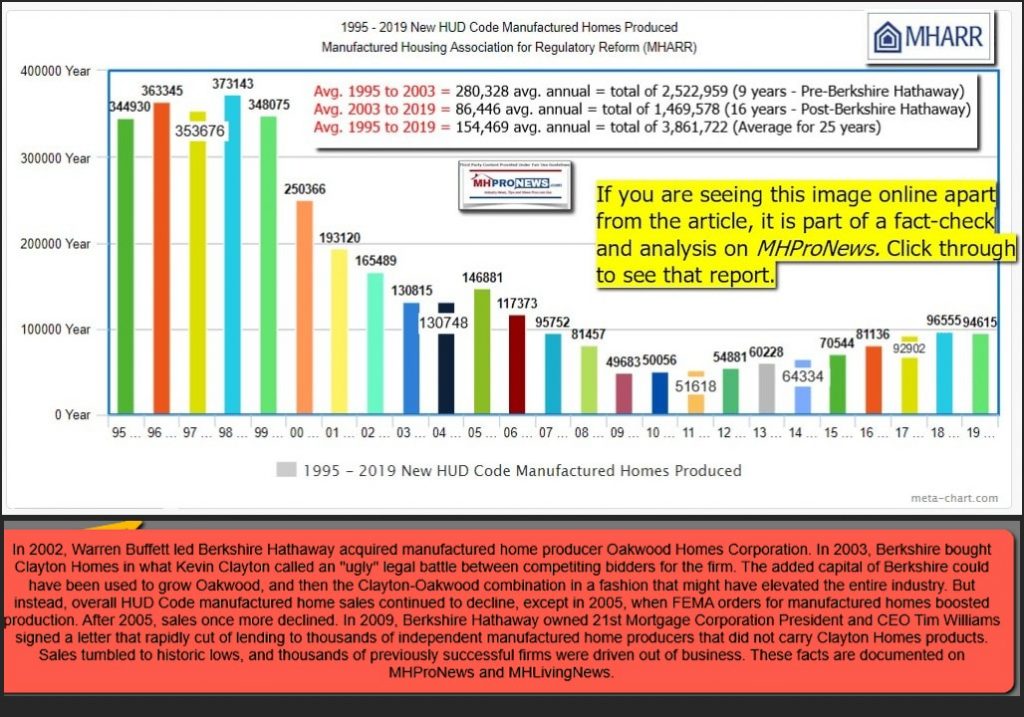 Note that like manufactured housing, Berkshire Hathaway (BRK) and a small circle of giants or larger players dominate the production side of the industry. But for whatever reasons, RVs deployed sound marketing while MHI has apparently not follow that same path. It is inexplicable unless this was desired by MHI's dominating players.
NAHB admits that they have builders who have 'throttled' sales, as MHProNews exclusively highlighted months among our industry's trade media.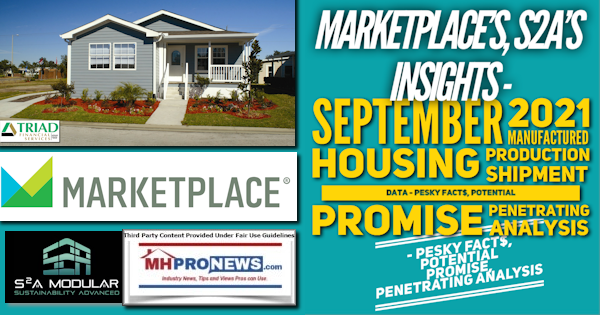 NAHB said an estimated "762,000 new homes were sold in 2021." So more than 7 new conventional housing units are built for every 1 far more affordable HUD Code manufactured home.
NAR said that "In 2021, existing-home sales totaled 6.12 million – an increase of 8.5% from the prior year and the highest annual level since 2006."
Thank God that MHARR provides their data and reports, because MHI does not.  That is despite the fact that MHARR is a production focused trade group, while MHI claims to be representing "all segments" of manufactured housing, which would be production and post-production. Many of the issues raised here and by MHARR are post-production issues.
Zoning and placement is a post-production topic.
Financing of single family manufactured home sales are post-production issue.
Image, education, and marketing are post-production issues.
The facts are clear. Manufactured housing is operating at only about 30 percent of the last high of 1998.
MHI and MHARR worked jointly to get the Manufactured Housing Improvement Act (MHIA) of 2000 enacted, in conjunction with specific MHEC members.
Similarly, the Duty to Serve manufactured housing made law as part of the Housing and Economic Recovery Act (HERA) of 2008 was a joint effort between MHI and MHARR.
MHI's website used to reflect some of those realities, as the illustration below – which used to be publicly available on the MHI website – has since been removed and/or hidden behind a paywall.
In recent years, MHI acts as if MHARR doesn't exist. Is it because MHARR has been pressing them to do their stated jobs for years?
In recent years, MHI has acted as if MHProNews/MHLivingNews doesn't exist. Why is that, given that MHI, several of their state affiliates and corporate members have previously praised our pro-industry and pro-consumer trade platforms?
MHI's prior president and CEO, Chris Stinebert, made it clear that what MHI outside counsel David Goch called "the Institute" should focus on customer satisfaction. In essence, Stinebert made the obviously point that there should be not disconnect between being pro-consumer (as MHProNews/MHLivingNews have always been) and being pro-industry.
But what is occurring is what longtime and award-winning MHI member Marty Lavin, J.D., said was the industry's "other image campaign." Meaning, all of the negative news that even pro-MHI member and mouthpiece Darren Krolewski said is a cause of industry underperformance. Meaning, the barrage of negative news with very little comparative good news.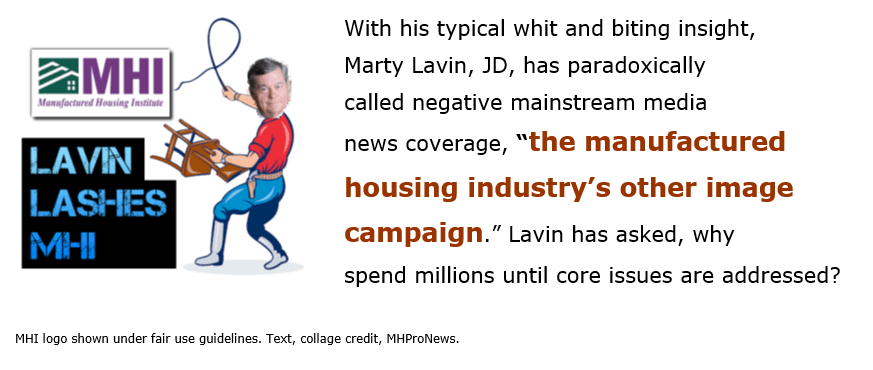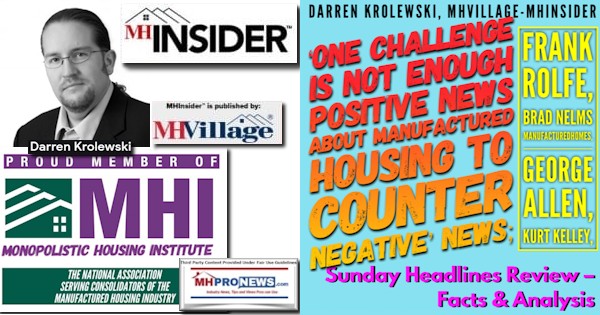 Ironically, Krolewski and his father long sang the praises of our pro-industry work, as have others. They did so in reports they were contracted to do an analysis of our practical marketing, sales, and community management systems comparing this writer's work quite favorably with all others in an mid-sized MHI member community operator's other corporate regions. That pattern could be exemplified by others who praised our work. It was only after MHI and some of their key members were called to account for their respective and arguably problematic behaviors that they finally pulled their ads, and finally pretended that we too no longer exist.
If MHI and their dominating corporate brands could reasonably defend their behaviors, wouldn't they do so?
If they had a track record worth bragging about, wouldn't they make the industry's production and sales efforts public instead of private?
If MHI and their dominating brands had the facts on their side and the chutzpah to debate their performance, wouldn't they do so? But instead, they have duck such an engagement for the last several years. They engage instead in what Danny Ghorbani called a campaign of photo and video ops that produce no tangible results while MHI posturers about their access to public officials.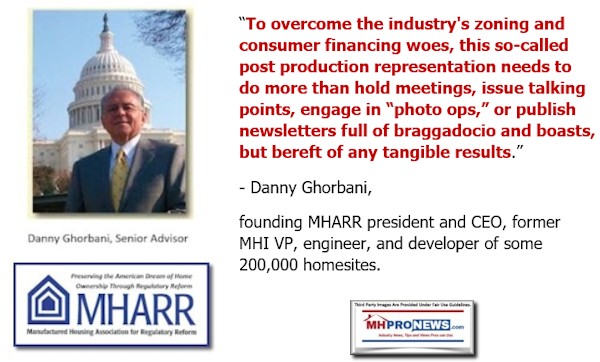 But that very access is precisely why MHI should have long ago made implementing favorable federal laws they claim to support reality.
These issues are not victimless. See the report linked below which contains numerous cross links to added information.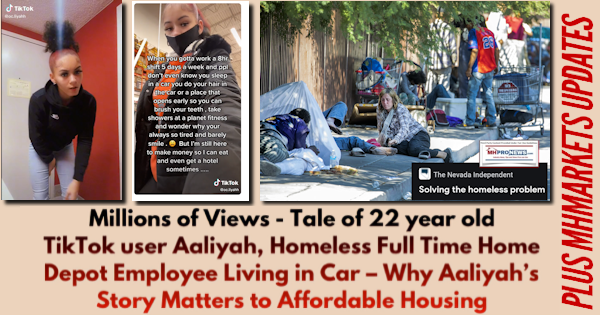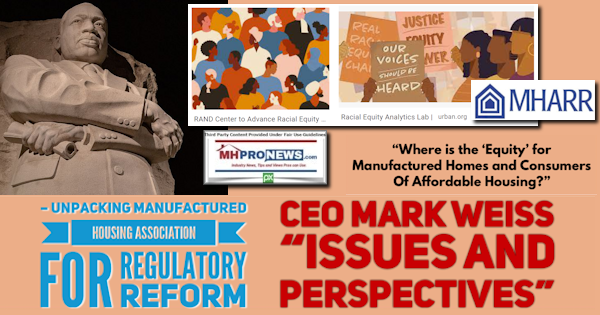 The link found in the report above explore very aspects of these concerns. MHI staff and corporate leaders along with their outside and in-house counsels have been asked to respond or react to those evidence-based allegations and concerns. MHI and their mouthpieces has exercised their 5th Amendment right to remain silent. By not speaking directly and publicly they have potentially thereby avoided implicating themselves in various illegalities.
The facts are what they are. The analysis and commentary almost write's itself for objective thinkers willing to speak truth to power, once the facts are objectively laid out.
There are reasons to think that MHI and their dominating brands could become increasingly exposed to legal, oversight, and other probes.
The sad reality is that many of the obstacles that face manufactured housing are tolerated, and in some ways, actively advanced, by powers within the manufactured housing industry. Sure, there are zoning, placement, financing, and image issues. But each of those point the finger at the industry's self-proclaimed leaders that have failed to address these issues for decades. The good news? There are potentially millions of new manufactured home sales possible. By doing what industry leaders won't do, the future for doers willing to challenge the status quo could be bright.
If Samuel Strommen from Knudson Law and others are correct in saying that there are apparent examples of "felony" illegal antitrust and RICO violation, these troubling issues are not victimless crimes. For more on that, see the linked reports that follow.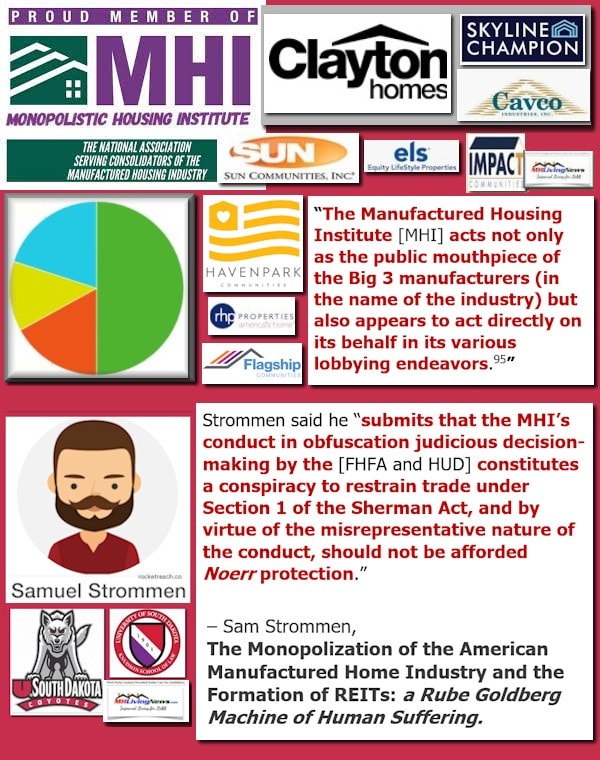 To end on a positive note, manufactured housing has finally recrossed the 100,000 homes per year line. But that is a mere shadow of what the industry achieved decades ago. Additional information that shed light on how this tragedy occurred will be part of a planned exclusive report, analysis, and commentary found only on MHProNews. Stay tuned and if you aren't already on our industry-leading x2 weekly emailed news updates, you can sign up for free via the link below. ##
###
"Where is the 'Equity' for Manufactured Homes and Consumers of Affordable Housing?" – Unpacking Manufactured Housing Association for Regulatory Reform CEO Mark Weiss "Issues and Perspectives"
Stay tuned for more of what is 'behind the curtains' as well as what is obvious and in your face reporting that are not found anywhere else in MHVille. It is all here, which may explain why this is the runaway largest and most-read source for authentic manufactured home "News through the lens of manufactured homes and factory-built housing" © where "We Provide, You Decide." © ## (Affordable housing, manufactured homes, reports, fact-checks, analysis, and commentary. Third-party images or content are provided under fair use guidelines for media.) (See Related Reports, further below. Text/image boxes often are hot-linked to other reports that can be access by clicking on them.)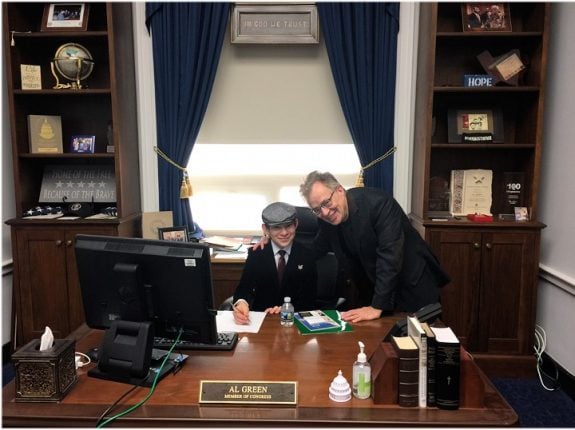 By L.A. "Tony" Kovach – for MHProNews.com.
Tony earned a journalism scholarship and earned numerous awards in history and in manufactured housing.
For example, he earned the prestigious Lottinville Award in history from the University of Oklahoma, where he studied history and business management. He's a managing member and co-founder of LifeStyle Factory Homes, LLC, the parent company to MHProNews, and MHLivingNews.com.
This article reflects the LLC's and/or the writer's position, and may or may not reflect the views of sponsors or supporters.
Connect on LinkedIn: http://www.linkedin.com/in/latonykovach
Related References:
The text/image boxes below are linked to other reports, which can be accessed by clicking on them.