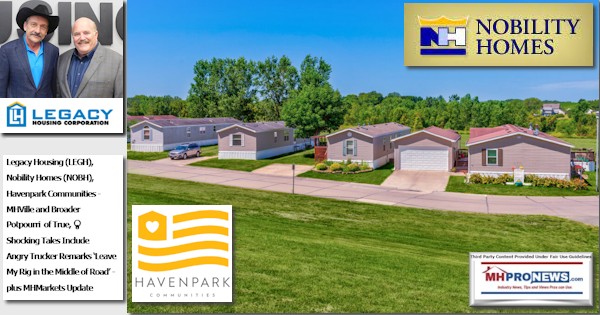 Interesting insights on Legacy Housing (LEGH), Nobility Homes (NOBH), Havenpark Capital and the various topics in the headline will each be addressed systematically following this preface.
Unless you personally know a trucker and have taken the time to sit and listen to hours of their personal experiences and watch their work closely firsthand, it may be difficult for everyday Americans or pros in MHVille to grasp just how challenging and amazing their work – and the work of manufactured housing installers – is.
So, Part III of this report will feature manufactured housing from the vantage point of installers and drivers. The story we heard this week – while plausible, is so shocking, we have to dig deeper before giving the details. Part III will feature some MHVille videos on the subject of installation and transport. It was a veteran driver with a reportedly great record that said he was so frustrated this past week that he was tempted to 'leave my rig' and load 'in the middle of the road.' For the sake of other drivers on the road, he said he didn't, but he was just that angry about the game playing at a noteworthy company.
Part I and Part II segments of this article will have briefs on executive chairman Curt Hodges of Legacy Housing (LEGH) and one on the stock track of Nobility Homes since our Monday featured report.
Part IV. In what might be called "Has America Gone Mad?" or "Have U.S. Business and Political Leaders Lost Their Minds?" MHProNews will provide a series of relative reports and articles that may lead you to have an "aha!" "Now I get it!" moment.
Part V. In a flashback video of a complete documentary video is "The Enemies Within" featuring a series of short segments of interviews with real people – insiders who are named – talking about other insiders that you know. Joe Biden, Hillary Clinton, Barack Obama, are among prominent Democrats and some Republicans or minor party candidates as well as public officials, reporters, ex-federal agents who have blown the whistle in a well knitted together tale. Having rewatched this video recently, it was interesting to see so many familiar names and faces who are part of the broader tale of what seems to be madness that has swept across America in the last few decades.
Part VI. That video is followed by another one that some will have seen, but a few of us with some gray hair will recall from our youth. Ronald Reagan's "A Time for Choosing" is shared further below. Watch it and you will see why it's paired with yet another video entitled "The Enemies Within the Church."
The headline says this column is a potpourri. That word can be defined as "a mixture of things" or "a collection of unrelated or disparate items; miscellany."
Notice
Unlike most of our articles which are meant to be read in a single sitting, this information is in some ways a resource. You can read some, watch a video before or after work (or for those whose job allows for it) during time available for reflection, or on a day off. Come back, read, view and digest some more.
But once you have digested all of the content, it is recommended that you come back and re-read all that you find herein. Just glance at each video, and some items from it will likely come to mind. The 'aha!' lightbulb 💡 will go off in (over) your proverbial head.
Part VII. There is no one thing that has gone wrong or is off course in so many American lives, or in MHVille. There are many. Included herein is a teaser for book, "The Marketing of Evil." It is interesting and found further below.
Part VIII – is our Daily Business News on MHProNews stock market recap which features our business-daily at-a-glance update of over 2 dozen manufactured housing industry stocks. It also features are time saving, insight generating left (CNN) right (Newsmax) 'market moving' news headlines. We are the first and still only known source in MHVille that carries such a fact-driven and useful report.
Other Outreaches and Responses to MHProNews Articles, Topics, Messages
MHI has its defenders. MHI has its detractors. While it is wrong to make an apples-to-apples comparison between MHI and MHARR, there are some like blogger and MHI member George Allen that routinely have often lumped the MHARR independent producers trade group in with MHI in his posts, which are arguably meant to obscure reality.  By obscuring reality, Allen by accident/and or design is giving cover to the consolidators and MHI, which he periodically posturers railing against. Pardon me, but that tactic works on some, but it no longer does on MHProNews. Thanks be to God for tips from others, plus years of first-hand knowledge of and interactions with Allen, Frank Rolfe, Dave Reynolds, Nathan Smith, Tim Williams ('both' 21st's and OMHA's) has given this writer for MHProNews a level of objective insights few in MHVille have.
We in turn periodically share those insights with you. Because knowing may protect some from falling into a costly, harmful and often avoidable trap.
Going gonzo, I could tell you why Rolfe, Reynolds, Allen, Darren Krolewski, or others may be popular. As a quick aside, as a believer, I have no doubt that each one could be saved and redeemed. I don't wish ill on them, but I do hope and work to stopped each of them from their various and arguably interconnected charades (see links further below on them and the evidence-allegations-facts, replies, etc.). Perhaps one or more of them (errantly) thinks that they personally are 'once saved and so always saved' which they may mentally use as an excuse to continue down their chosen path. That phrase, 'once saved always saved,' is a phrase not found in any normal translation of the Bible. As Bing's AI replied to an MHProNews inquiry on that topic: "The phrase "once saved, always saved" is not explicitly mentioned in the Bible." There are verses that clearly indicate that anyone can by bad choices lose their salvation (e.g: Matthew 5:18). Personal blindness is a terrible thing. Each of us must admit that we too have been personally ignorant about many things until something or someone caused us to wake up to some new understanding of what is reality and true.
A Supporter of Manufactured Housing that Believes a Serious Clean Up is Needed to Fix What's Off-Track
Few have been as 'rah rah' in favor of manufactured housing as this writer and our operation is. For instance. We could have purchased a conventional house, but we for a variety of reasons we think prudent, bought a manufactured home instead. John Bostick, of Sunshine Homes fame, is one of those few men in our profession who understands why buying and living in your own product makes sense.
A recent call from another professional included a quick update on that person's growing family. He is an industry pro who lived for years in his own land lease community. That property did not have the kind of sad drama that makes the news in a negative way for our industry.
We have the young, the middle aged, and the silver set among our readers.
We have hundreds of owners, thousands of managers and employees among our readers.
There are investors, public officials, attorneys, researchers, media, and marketing pros among our readers.
The rich and famous – and those who could be if not for the 'Sabotage Monopoly' tactics described by James A. "Jim" Schmitz Jr and his Minneapolis Federal Reserve colleagues – are also among our readers. We didn't just cover Schmitz et al in a 'one and done' fashion where their important work is forgotten, we periodically do updates and remind readers, because their work is that important in understanding the reality of why manufactured housing is underperforming. Retail. Communities. Finance and insurance. Production. Developers.  Trucking. Service and installation. Why do they all come and then come back?
The reason is simple. It is because pros and others find insights and information here on MHProNews and/or MHLivingNews they may literally not find anywhere else from bloggers or publishers in our industry.
Some of our readers hate what we expose and are therefore diametrically opposed to our topics, fact checks, reports and themes, but they come and read anyway.
A few have told me they can't believe I'm not dead and buried because we have exposed information no one else has exposed about the inner workings of the manufactured housing industry. One pro from up north who has known us for years touched base when he heard in the news that there was a drive by shooting in Lakeland, FL. (He didn't recall that we had moved, and Google has errantly reported old info ;-).
We have a passion FOR and BELIEVE in manufactured homes! Being pro-honest, free enterprise means that we expose treacherous behavior discovered in our industry, which is part of what good media is supposed to do. Because the devious are the reason our industry isn't outselling new conventional construction!! It doesn't take a rocket scientist to figure it out. Here is how simple it is to know that our industry is being subverted and stunted. Some of the richest, most powerful, businesses and centi-billionaires in the world have investments in manufactured housing. That being true, why is the industry underperforming during an affordable housing crisis?
Andrew Justus, J.D., Niskanen Center Housing Policy Analyst, Hill Op-Ed Asks and Answers – 'What's Holding Back Manufactured Homes?' Sunday Weekly MHVille Headlines in Review
There are those in MHVille who are understandably fighting for their piece of the American Dream.
They include thousands of souls who find the aggressive and often devious tactics of 'the consolidation crowd' that apparently dominate MHI to be unethical, immoral, and in several instances arguably illegal. That helps explain why a team of attorneys has sued several MHI members in a big class action lawsuit, which is the runaway top article on MHProNews. So, why is MHProNews and MHLivingNews the places in manufactured housing trade media that someone can find accurate information about that suit and who has been sued and for what cause of action?
Some of those evil doers and their de facto allies may think they are committed. They no longer have a choice but to double down and keep doing what they are doing. They may well know the story of the 'good thief' who hung on the cross near Jesus who 'stole' his way into heaven. But in grasping for that hope, they may overlook that there was another thief on the third cross that wasn't so lucky. Eternal damnation in the next life is a heavy price to pay for even several years of 'good living' in this life. That's not this writer's imagination, that comes straight out of the Good Book (ref: Luke 23:39-43 and other examples).
America is a grand nation which like every other country has its good, bad, and meh people and stories. Some of those stories and videos follow.
Can our industry be reclaimed from twisted souls? Yes.
Will it ever be a perfect industry? No, not unless there are manufactured homes inside the pearly gates.
Can our industry's great potential be thwarted? Obviously. It has been for some 50 years. It has been particularly so in the last two decades.
Can something be done about changing the current dynamics of our industry and nation? Yes. We can't do it solo, but we can each play a key role in that process.
Note: to expand this image to a larger or full size, see the instructions
below the graphic below or click the image and follow the prompts.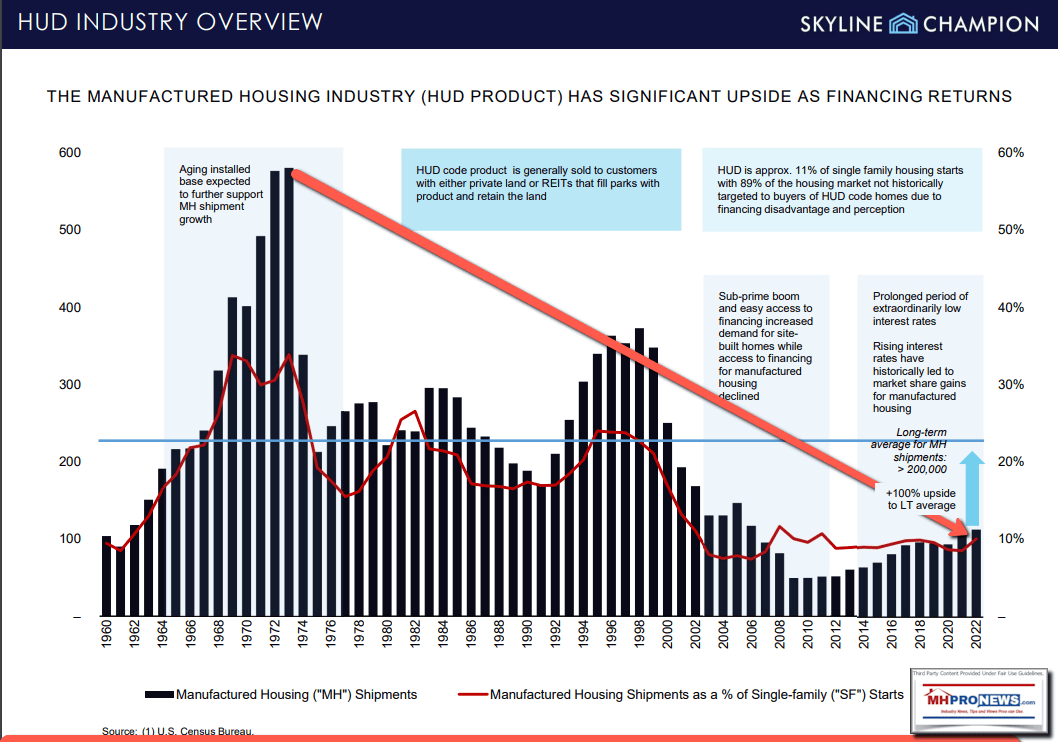 News Tips and Stating the Obvious
One of my favorite sayings is that stating the obvious can be clarifying.
We get some tips that are pure BS.
But often, those tips and remarks that come in are silver or golden in terms of information that is accurate, significant, and merits a wider audience.
Because tipsters can stay anonymous, we have broken more meaningful exclusives than perhaps all of the self-serving bloggers and trade publishers connected to MHVille have combined. They know it, which is why they read our content and signed up for our free x2 weekly emailed updates. Just drop your preferred email address in once you click this link here.
Several of our exclusives have been the result of tips, documents, and remarks that came from insiders that had knowledge which they shared. Once it passes the smell test, we run it. Some popular recent examples are shown below. Note in the case of Gary Shiffman, that his firm is one of those linked to MHI that has been named in the big new class action suit.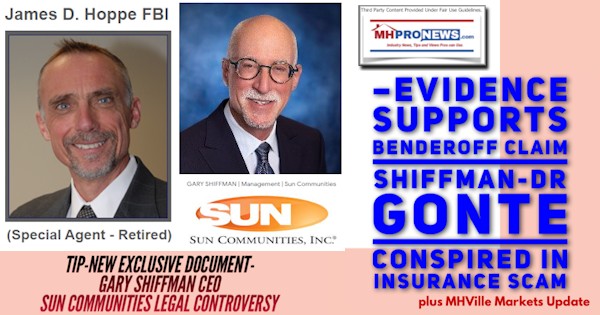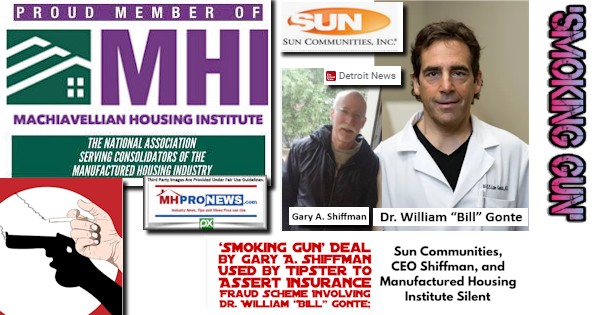 Facebook, LinkedIn, Twitter (X) etc…
By the way, at some point we will return to more routinely posting on Facebook, LinkedIn, and Twitter (Now Elon Musk rebranded "X"). We don't accept connections from purported women who obviously dress like (pardon my French) a whore or slut, nor from men who act the male equivalent.
But if someone is an authentic person and wants to connect, fine, but then don't follow up with an inane 'how are you?' or something like it. Time is valuable, and don't waste yours or mine, fair enough? That said…
Got something to say? Then spit it out in a written and coherent fashion. Use a headline that says NEWS TIP or NEWS FEEDBACK or something EYE CATCHing, because we get TONS of messages. Better not to DM or text first, please start with an email.  Use ireportMHNewsTips@mhmsm.com for such contacts, because it goes to all of us here, and is less likely to be missed.
Genuine attachments are ok, but don't send a message that says, read the attached. That's how some viruses are spread, and we won't do it. Instead, give a personalized cover message of whatever length that makes it clear that we have a reason to open the attached. Tell us what you are writing about, what you want to say, if it is on or off the record (i.e.: do you wanted to be named as the source of the information or not). Be prepared for follow up questions that will help us authenticate whatever it is you are sending. I'm also happy to speak to people, but better you and we are better off doing so after I have had a chance to read an email that tells me what the topic is. Don't pitch me on stocks, precious metals, crypto, or whatever.
We would not exist without sponsors and clients. But our content is our own, their content is clearly labeled.
We would not be writing so much if not for the fact that we apparently have the runaway largest, most meaningful, evidence-based and fact-packed content in America. If SimilarWeb data on the Manufactured Housing Institute (MHI) is accurate, then we routinely have 8 to 10 times the page views per visitor, and many times more visits monthly than they get. As a possible advertiser was told yesterday, we routinely have well north of a million pageviews monthly. In the artificially smaller and underperforming manufactured home industry, that DWARFs MHI. For August 2023, SimilarWeb data compared to our Webalizer 2.23 data tells us we get more than x times the page views and X times the visitors. Their budget makes ours look small, and their staff makes us look smaller too. So why is the better funded, larger staff, institutionally backed MHI shamed by us in terms of site performance? How about our vastly superior content as the obvious reason?
Note our readers are global (often from nations that have investors looking for info or places to park cash), but our various third-party metrics tell us that something like 93-97 percent (it fluctuates) are from right here in the U.S. Our top (of 13) cPanels reports on 20-Sep-2023 07:02 CDT the following key visitor (think reader) engagement metrics. 12096694 pageviews /1,580,172 visits = 7.65 pageviews per visit.  Based solely on our largest cPanel data, in that same month MHProNews has more than 6.16 times the visitors. Comparing MHI pageviews for that month to our MHProNews average for a year, our visitors engaged with 9.96104578393 times more content than those who visited MHI. If MHI leaders were capable of being embarrassed, they would be. 
At some point, they will either get devious and pay someone overseas to click and view pages to up the data on their troubled website.  We don't have to do that, because our readers include their top members/leaders, their rank and file, and those who think that MHI is full of it and are working for the primary benefit of a small number of consolidators who drive that organization's agenda. We've repeatedly given them and their attorneys an opportunity to respond to such critiques in recent years. They haven't.
Havenpark Communities
That said, as an update, an MHI linked source has told MHProNews Havenpark is no longer an MHI member. But there are reasons to believe that Havenpark is still the member of one or more MHI-linked state affiliates.  More as additional information is developed.
It is worth noting that when updated information in uncovered or advised to MHProNews, we aim to update readers accordingly. That is what good media is supposed to do.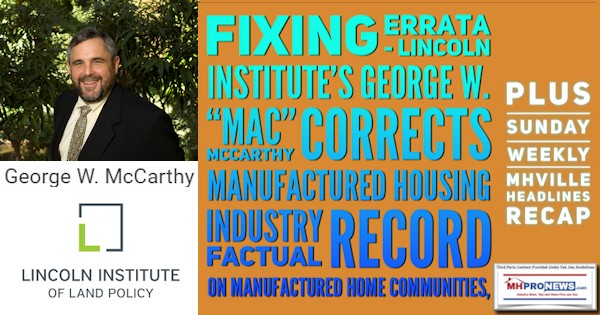 Which begs the question. Why doesn't MHI disclose when information that they previously reported turned out to be…dead wrong?
Manufactured Housing Apology, Multi-Billion Manufactured Housing Institute Correction by MHI, Industry Reality Checks -What's Hot Among MHVille Pros; plus MHMarkets Update
New Curtains – Surprise! Manufactured Housing Institute 'Newly Updated' Website – What's Changed, What's the Same at U.S. Manufactured Home Association Website? Analysis plus MHVille Market Update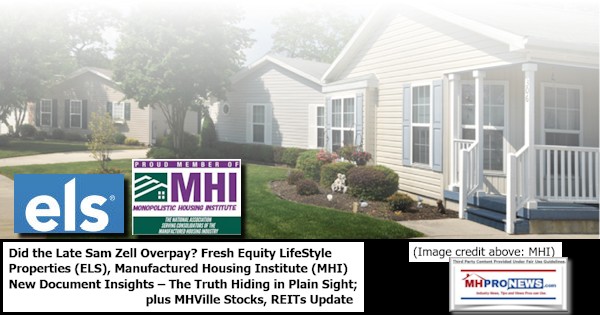 With that preface, here are the headline and other named topics and videos, as promised above. Learn. Enjoy. Benefit. Share it. Share back what is meaningful and quotable, on or off the record. When enough people of good will work together, we can fix much of what has gone wrong in our industry and for the sake our American Republic too.
Part I – Insider Selling of Legacy Housing (LEGH) Stock – Insights and Considerations (source: Best Stocks)

As of September 21, 2023, Curtis D. Hodgson, a member of the board at Legacy Housing (NASDAQ: LEGH), made a significant move by selling 17,400 shares of the company's stock. The total value of this transaction amounted to $365,899. This insider sell was officially reported through a Form 4 filing with the U.S. Securities and Exchange Commission.
It is worth noting that insider transactions, such as this one, can provide valuable insights for investors. While insider purchases often indicate a positive outlook on the stock, insider sells can occur for various reasons and may not necessarily indicate a negative sentiment towards the company's future performance. Therefore, it is crucial for investors to consider multiple factors when making investment decisions and not solely rely on insider transactions.
In legal terms, an "insider" refers to any shareholder who owns at least 10% of a company, including top executives and large hedge funds. These insiders are obligated to disclose their transactions to the public by filing a Form 4 within two business days of the transaction."
MHProNews notes: Legacy Housing has been on one heck of a ride. They have had several issues that we dutifully reported, some of which were exclusives.  That said, the company has made several reported adjustments, and appears to be moving forward in positive and profitable directions. See the linked reports to learn more.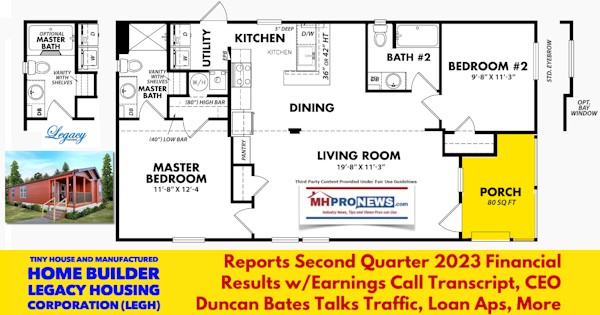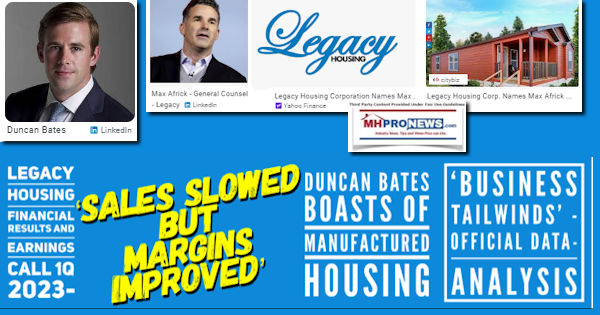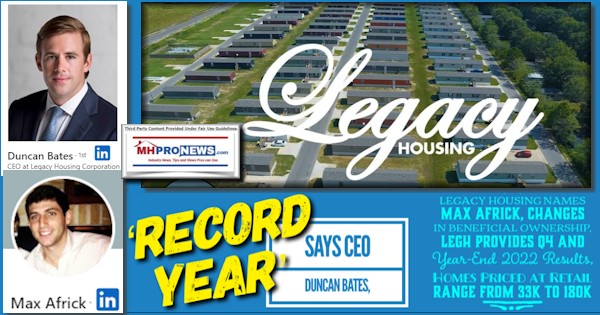 Part II – Nobility Homes (NOBH) (Base graphic Source – Yahoo Finance)
On Monday, 9.18.2023, a dip in share value in Nobility Homes suddenly reversed. It may be coincidence, but following our Monday morning report on MHProNews featured the latest facts, figures and insights into Nobility Homes. The result? The stock has bounced upward since.
Note: to expand this image to a larger or full size, see the instructions
below the graphic below or click the image and follow the prompts.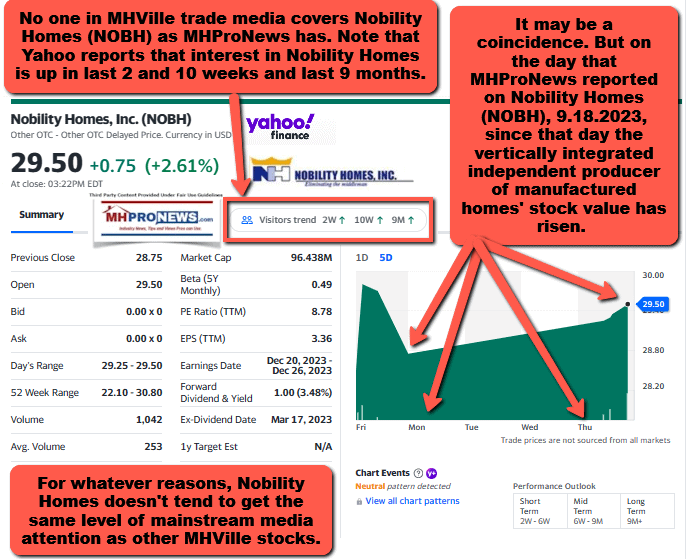 Note that in our final segment near the end of this column, all other manufactured housing linked stocks EXCEPT Nobility declined. Only Nobility, per that report from Yahoo Finance, rose for the day. Interesting, isn't it?
That report and some others related to Nobility Homes are linked below.
Nobility Homes (NOBH) Bucks National Trends by Revealing Year Over Year Growth in New Quarterly Data While Expressing Cautionary Notes – Q3 2023 Insights, Facts and Analysis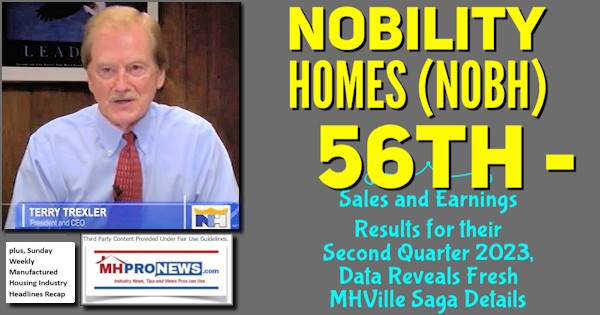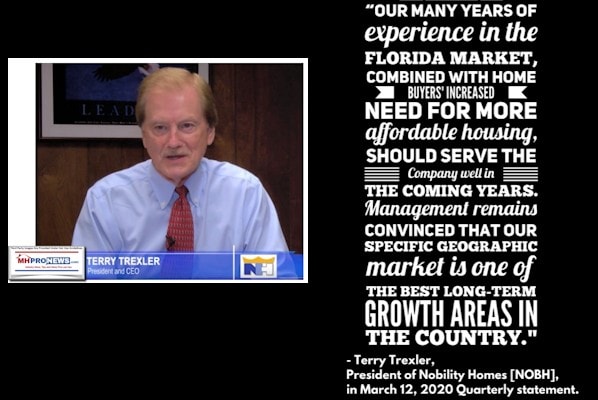 But note that in his own words, Nobility President and CEO Terry Trexler previously noted that despite the good market dynamics, manufactured housing in Florida, per the Florida Manufactured Housing Association (FMHA) had been lagging. Since that comment, it has been lagging again. But Nobility, in an attractive state, has been advancing their interests despite the various hurdles. That may explain their short-term share growth since our recent report. There, in a nutshell, is the proverbial problem and potential for manufactured housing in the 21st century. See the linked reports to learn more.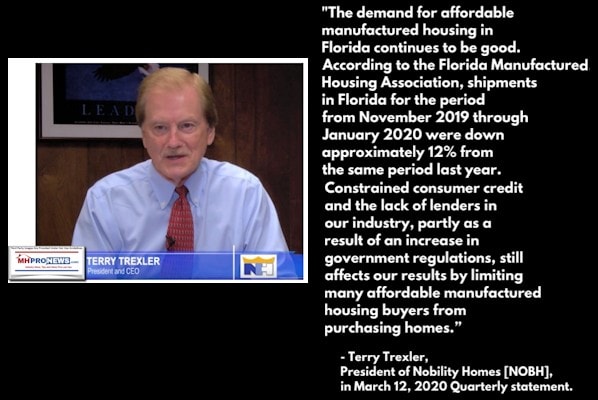 Part III – Manufactured housing from the vantage point of installers, drivers and sales professionals.
Note that MHProNews encourages the principle of separating the wheat from the chaff. Providing this information is not a fact-check or analysis. So, providing the following is not necessarily an endorsement of the firm or their claims. Rather, these are their statements in their own words. That said, these do have several useful points in them. It should stand as a reminder of how important the work performed by transporters and installation crews in our industry is. Indeed, without them, there would be no manufactured housing industry as we know it today.
Without commenting on the videos above per se, let's make the following observations. Each are stating the obvious.
A) There is an affordable housing crisis.
B) Manufactured housing has a great story to tell.
C) While there is story telling going on, there is so much more than can and should be done. For more on that, see this link.
Part IV – Has America's Leaders Gone Mad? When Trillions are Spent Annually, Why are so many Local, State, Federal Government Programs Doing so Poorly?
Education in the U.S.A. is a HUGE industry and profession. Some industry business pros have told MHProNews that they have at various times struggled to find educationally qualified employees.  With that in mind, MHProNews asked this question of Bing's AI Chat function.
> How much is spent in the U.S. annually on local, state, and federal levels for education?

According to the National Center for Education Statistics, the total expenditure for public elementary and secondary schools in the United States was $870 billion in the 2019-2020 school year, which amounts to an average of $17,013 per public school pupil enrolled in the fall of that school year 1.
The fiscal year 2021 President's Budget Request includes $66.6 billion in new discretionary budget authority for the Department of Education, which is an 8.4 percent reduction below the fiscal year 2020 appropriation 2.
It is also worth noting that in 2020, the US spent more than $1.3 trillion on education, with private education expenditure of $354 billion and public education expenditure of $984 billion 3."
Anyone who thinks that government is the answer to a given problem could start by looking at education. As an example of the problem is this report made available to MHProNews by the WND News Center and one of their news media partners.
'Educational homicide': Zero students proficient in math at 40% of major city's high schools
One pupil passed 3 classes in 4 years, achieving a GPA of 0.13, ranking near middle of his class
The next post is also from the WND News Center on the topic of identifying patterns. Much of what occurs in manufactured housing could be reduced to certain patterns of actions and inactions that have left our industry underperforming.  Cronyism, favoritism, corruption, etc. can often be spotted with objective thinking and common sense. That is true inside or beyond MHVille. With that in mind, the following.
Part V. The Enemies Within 
MHProNews reported on this video some years ago and is resharing it today for several timely reasons. Joe Biden has become quite unpopular with tens of millions of members of his own political party, including millions of those who voted for him.  While he was 'pitched' as a moderate, he has governed like a leftist.  For example, once pro-life, he is now in favor of abortion on demand, often with taxpayer funding, which he also previously opposed.  Biden's big donor backers doubtlessly knew what they were getting, but polling indicates that voters did not. Evidence of corruption in family influence peddling deals was hardly news to MHProNews, because as political independents, we do our homework before we report.  As a matter of policy, MHProNews believes that affordable housing ought to be a nonpartisan or bipartisan issue. That said, if a party – whichever party – is standing in the way of more affordable housing, then that ought to be publicly exposed. We do so on MHProNews/MHLivingNews, while others who claim to be 'trade media' or bloggers often look the other way. With that quick backdrop, the video below turned out to be prescient.  For those who stay 'up' with the news, you will recognize figures that were relatively unknown that have since emerged as big time leftists in the pockets of often left-leaning corporate and centi-billionaires. Both major parties have deep pocket donor influences. But even Democratic leaning media have admitted that their favored party (i.e.: the Democratic Party) has been largely captured by big corporate donors and their deep pocket interests. By definition, that means that hypocrisy is in evidence, because Democrats are often pitching the message that they are the party for the little guy, women, minorities, etc. Really? If so, then why do so many of the policies (see the reports above and below) harm the interests of people of color, women, and the marginalized? Clever lies are still lies. Propaganda is what it is, regardless of who is preaching or spreading that propaganda.
Trevor Loudon is an author, columnist, and a documentary filmmaker. This next video is eye opening. There are reasons to believe that YouTube has censored this video before, and may do so again, but were are reposting it now. Hopefully, it won't be pulled down as Google-linked YouTube has at various times reportedly done. "Exposing the Communists, Socialists, and Progressives within the U.S. Congress."  Barack Obama, Bernie Sanders, Hillary Clinton and others are among those featured.
Note that we previously reported on the above and related on 2.23.2018 and 7.8.2020.
Sabotage isn't just a tactic deployed by sabotage monopolists. Some are willing to sell out their own country, and that has been known for centuries in countries around the world. 
MHProNews/MHLivingNews has been reporting examples for years of how bad policies, poor actions/inactions occur and then months or years later, the problematic results of those policies occur.  One example is how zoning barriers steadily resulted in increased homelessness and crime.  While some have made that point in MHVille before, no one in manufactured housing have done so as consistently and persistently as MHProNews. Some linked reports that follow are examples of that statement.
It is madness to for the U.S. to trade with the nation that may well represent the single greatest threat to the U.S. While Russia may have more nukes than China, China's military and navy are said to be the largest in the world.  Russia is an obvious problem for Ukraine and other nations, but have we seen any Russian spy balloons floating over the U.S. in 2023? Is fentanyl produced in Russia coming to the U.S., as it is from Communist China?
DIVERSIONS U.S. WND NEWS CENTER
WND EXCLUSIVE
New 'Marketing of Evil' illuminates Biden-era mass psychosis
Just-released expanded edition of controversial bestseller takes on evils never before seen in U.S.
By David Kupelian
Published May 20, 2022 at 7:17pm
Dear friends,
For years it's been viciously attacked as "hate speech," "despicable," "the worst book ever" and "serving the Antichrist" – even formally condemned by faculty vote at one university, resulting in lawsuits, campus hysteria and national news coverage. Others say it has genuinely changed their lives for the better, with one conservative leader calling it "one of the most important books of the last 20 years."
In any event, I'm pleased to announce that "The Marketing of Evil" has just been re-released in an expanded paperback edition including brand-new chapters explaining exactly how today's truly unprecedented level of insanity, psychosis and evil has been skillfully sold to America.
In case you're unfamiliar with it, "The Marketing of Evil" essentially explains why and how so many millions of today's Americans have come to strongly embrace and defend ideas and behaviors that horrified every previous generation of Americans since its founding.
As I write in the book's introduction, "Within the space of our lifetime, much of what Americans once almost universally abhorred has been packaged, perfumed, gift-wrapped, and sold to us as though it had great value. By skillfully playing on our deeply felt national values of fairness, generosity, and tolerance, these marketers have persuaded us to embrace as enlightened and noble that which every other generation has regarded as grossly self-destructive – in a word, evil."
The book has had a storied and sometimes tumultuous history, including, for example, becoming the focal point of a national scandal when several openly homosexual professors at Ohio State University brought "sexual harassment" charges against head librarian Scott Savage, a Christian, after he recommended "The Marketing of Evil" as required reading for all incoming freshmen. The gay profs maintained that merely recommending the book constituted an act of "harassment due to sexual orientation." (Chapter 1 documents, in LGBT leaders' own words, their brilliant but little-known strategies for mainstreaming total sexual/gender anarchy in what was a largely Christian country.)
The other faculty members were so intimidated by the enraged gay professors that they either voted in agreement with them or abstained out of fear. It was so bizarre that major media exposure by Sean Hannity, Brit Hume on Fox's "Special Report," the New York Post, Human Events and others – plus strong legal pressure from the Alliance Defending Freedom – caused the university to cave and drop the absurd charges.
As a direct consequence of being publicly branded "hate literature" and "homophobic tripe" by the OSU faculty, "The Marketing of Evil" immediately became one of the hottest-selling books in the country, topping Amazon's daily "Current Events" bestseller chart.
'It changed my life!'
On Amazon the controversial book has garnered over 600 five-star reader reviews, plus a few nasty one-star reviews describing the book as "horrendous" and "truly despicable" and accusing me personally of being a "Nazi," "scum" and "social blight." Whatever. The vast majority are much kinder:
"Opening this book is like turning on the Sun. … Mr. David Kupelian has written a remarkable book that reveals how the American public has been taken down the slippery slope of moral relativism."
"I finished 'The Marketing of Evil' over a month ago. It absolutely changed my life."
"Prepare to see your world with new eyes!"
"The way Kupelian writes is phenomenal. … Give this book to everyone you know, you'll thank me."
"This book has put a powerful voice to many things that truth-loving people in America have felt in their spirits for a long, long time. … I for one am forever changed."
Pastors fired up
As a result of such notoriety, both positive and negative, "The Marketing of Evil" eventually lit a fire in a place where it was more welcome – the nation's churches. From small-town churches and prayer groups to one of America's largest congregations, Christian leaders and laymen started getting hold of the book, sometimes by the case, to hand out to fellow churchgoers.
The late D. James Kennedy, who until his death was perhaps the world's most influential Presbyterian minister and founder of D. James Kennedy Ministries (formerly Coral Ridge Ministries) in Fort Lauderdale, Fla., called "The Marketing of Evil" a "powerful new book that I wish every Christian in America could read." He even took the dramatic step of printing 15,000 special-edition softcover copies which he sent to thousands of supporters.
'A magician's secrets'
Despite the ongoing controversy over this book, many conservative and Christian voices have been kind enough to single out "The Marketing of Evil" as essential reading:
"Every parent in America needs to read this book."– Michelle Malkin, columnist, cable news pundit and bestselling author
"David Kupelian is one of the most thought-provoking and iconoclastic writers I know."– Sean Hannity, host of Fox News' "Hannity" and "The Sean Hannity Radio Show"
"If you really want to understand the adversary's thinking and help turn the tide of battle, read this book!"– David Limbaugh, columnist and bestselling author
"Like the dazzling disclosures in the final page of a gripping whodunit or the fascinating revelation of a magician's secrets, 'The Marketing of Evil' irresistibly exposes how it was done."– Rabbi Daniel Lapin, American Alliance of Jews and Christians
"David Kupelian is one of the very few must-read writers in the 21st Century."–  Ted Baehr, Chairman, Christian Film and Television Commission
The big screen
One more quick story: In 2017, "The Marketing of Evil" was featured in the Hollywood movie "I am Michael" starring James Franco and Zachary Quinto.
In this amazing true story, Franco, playing the lead role of high-profile LGBT activist Michael Glatze, is shown reading "The Marketing of Evil" during the pivotal scene in which Glatze publicly renounces his "gay" identification and reveals he wants to live for God. The real-life Glatze, who left the homosexual lifestyle in 2007 and become a happily married Christian pastor, has said reading "The Marketing of Evil" played a significant role in helping him in his dramatic personal journey.
So, those are some highlights of my own journey with this book. As I said at the outset, I'm happy to announce that the new, expanded edition of "The Marketing of Evil" is now available on Amazon, Barnes & Noble and elsewhere. In the brand-new chapters, I dive right into the Trump and Biden eras, shining a bright light on the secret workings of today's "marketers of evil" who figured out how to convince so many Americans that the least racist nation on earth is somehow actually the most racist, that Trump is comparable to Hitler, and so on. But even more fundamentally, I explore and document how the Left is able to brainwash huge numbers of people into believing – and acting on –  literally anything, no matter how obviously insane, destructive or evil.
Fortunately, once the light goes on, their dark games don't work so well. And believe me, we need the light to shine in our country right now, more than ever.
Thank you!
* GET THE BRAND-NEW EXPANDED EDITION OF "THE MARKETING OF EVIL" NOW!
* ALSO, GET THE JUST-RELEASED, REVISED AND EXPANDED PAPERBACK EDITION OF DAVID KUPELIAN'S MOST RECENT BESTSELLER, "THE SNAPPING OF THE AMERICAN MIND: HEALING A NATION BROKEN BY A LAWLESS GOVERNMENT AND GODLESS CULTURE."
##
MHProNews
has not read this book. But it has been praised, and denounced, by those whom make
MHProNews
believe that it may be an insightful read. If you get it, send
MHProNews a book review about it, okay
?
Part VIII – is our Daily Business News on MHProNews stock market recap which features our business-daily at-a-glance update of over 2 dozen manufactured housing industry stocks.
This segment of the Daily Business News on MHProNews is the recap of yesterday evening's market report, so that investors can see at glance the type of topics may have influenced other investors. Thus, our format includes our signature left (CNN Business) and right (Newsmax) 'market moving' headlines.
The macro market move graphics below provide context and comparisons for those invested in or tracking manufactured housing connected equities. Meaning, you can see 'at a glance' how manufactured housing connected firms do compared to other segments of the broader equities market.
In minutes a day readers can get a good sense of significant or major events while keeping up with the trends that are impacting manufactured housing connected investing.
Reminder: several of the graphics on MHProNews can be opened into a larger size. For instance: click the image and follow the prompts in your browser or device to OPEN In a New Window. Then, in several browsers/devices you can click the image and increase the size. Use the 'x out' (close window) escape or back key to return.
Headlines from left-of-center CNN Business – from the evening of 9.21.2023
Black creators built TikTok. But Black employees say they experience 'toxicity and racism'
Lachlan Murdoch, Executive Chairman of 21st Century Fox speaks at the New York Times DealBook conference on November 1, 2018 in New York City.
Who is Lachlan Murdoch, the new chairman of Fox and News Corp?
Miss Hawaii 1964, Leinaala Teruya Drummond.
Face of the iconic Hawaiian Airlines logo has died
Rupert Murdoch, Executive Chairman of News Corp and 21st Century Fox, takes part as a judge during a global start up showcase at the Wall Street Journal Digital Live (WSJDLive) conference at the Montage hotel in Laguna Beach, California, October 20, 2015.
Rupert Murdoch steps down as Fox and News Corp. chairman, sending shockwaves through media and politics
An aerial view shows a subdivision that has replaced the once rural landscape on July 19, 2023 in Hawthorn Woods, Illinois. With homeowners reluctant to sell their homes and give up their existing low mortgage rates the demand for new homes has spiked.
Mortgage rates linger above 7% for another week
Striking WGA (Writers Guild of America) members picket with striking SAG-AFTRA members outside Paramount Studios on September 18, 2023 in Los Angeles, California. The Writers Guild of America and Alliance of Motion Picture and Television Producers (AMPTP) are set to meet for a new round of contract talks this week in the four-months long writers strike.
Writers Guild and studio bigwigs make progress to end strike — but don't expect filming to resume
Wallet credit cards bills STOCK
Interest rates are high. These are the best places to park your cash
From left to right: writers John Grisham, George R.R. Martin, Jodi Picoult, Michael Connelly.
George R. R. Martin, Jodi Picoult and other famous writers join Authors Guild in class action lawsuit against OpenAI
Jerome Powell, chairman of the US Federal Reserve, during a news conference in Washington DC on September 20, 2023. Photographer: Sarah Silbiger/Bloomberg via Getty Images.
Interest rates have stopped rising. Is the inflation fight over?
Job offer pay transparency STOCK
Looking for work? Here's where employers have to tell you what they're willing to pay
Home prices continued to climb in August, even as sales dropped
Russia curbs gasoline and diesel exports to ease shortages
McDonald's once again sued after customer burns herself on hot coffee
In pictures: Media mogul Rupert Murdoch
Bank of England pauses historic rate hikes as UK inflation falls
Budweiser won't cut off the tails of its famous Clydesdale horses
Hollywood chiefs and writers to resume negotiations Thursday after attendees 'encouraged' by talks
Investors riddled with FOMO might be re-entering the US stock market
China just stopped exporting two minerals the world's chipmakers need
Live sports is migrating to streaming, taking with it a superpower of the cable TV bundle
Toshiba is set to delist in Japan after 74 years as part of $14 billion deal
Huawei wants to go all in on AI for the next decade
Zelensky huddled Wednesday night with Wall Street CEOs and business leaders to discuss rebuilding Ukraine
Note: to expand this image to a larger or full size, see the instructions
below the graphic below or click the image and follow the prompts.
Headlines from right-of-center Newsmax 9.21.2023
Trump Nudges GOP on Leveraging Government Shutdown
Van Drew: 'Climate' Under Garland Allowed FBI's Actions
Graham to Newsmax: Venezuelan Work Permits Will Bring 'Another Million' to US | video
Brookhaven Official: NYC Statues Welcome Here | video
Marshall: Chinese Who Crossed Border Could Be Spies | video
Blackburn: Schumer 'Cheering' for Shutdown | video
Meuser: Fed 'Walking a Tightrope' on Inflation | video
Gov. Stitt: GOP Can Still Be '2 or 3-Horse Race' | video
Steube: Must Reduce Spending, Protect Border | video
Dershowitz: Biden Clueless on Israeli Democracy | video
Zelenskyy to Newsmax: US Investment Helping to Save Democracy
Ukraine President Volodymyr Zelenskyy said in an exclusive interview with Newsmax on Wednesday night that while the U.S. has sent billions in taxpayer dollars to Kyiv in its war against Russia, the cost could be even greater if Vladimir Putin prevails…. [Full Story] | video
Related Stories
Zelenskyy to Newsmax: Putin Wants Cease-Fire to Rebuild Forces
Ukraine Suspends 'Transgender' Spokesperson: Not Our Citizen
McCarthy Denied Zelenskyy's Wish to Address Congress
Biden to Announce New Military Aid, Air Defense for Ukraine
McCaul Vows to Get Ukraine More Aid
Israel Unveils Fifth-Generation Merkava Tank
Israel's Ministry of Defense and the Israel Defense Forces unveiled [Full Story]
Texas Gov. Sends Troops to Border to Repel 'Invasion'
Texas Gov. Greg Abbott is sending Texas National Guard troops to the [Full Story]
'Possible' for F-35 Jets to Be Vulnerable to Cyberthreat
The F-35 Lightning II stealth fighter jet may be the most lethal and [Full Story] | Platinum Article
Trump Urges GOP on Leveraging Govt Shutdown
As House Speaker Kevin McCarthy, R-Calif., struggles to hold up to [Full Story]
Shutdown Looms as House Republicans Block Own Spending Bill
Buttigieg Urges Congress: Avert Shutdown or Face Flight Delays
DuckDuckGo CEO: Google Tie Ups Thwart Competition
Appearing in the biggest antitrust trial in a quarter century, [Full Story]
Texas AG Paxton Teases Senate Run After Acquittal
Republican Texas Attorney General Ken Paxton said Wednesday that he [Full Story]
Russia Strikes Ukraine Cities, Starting Fires and Killing at Least 2
Russian missiles and artillery pounded cities across Ukraine early [Full Story]
Ukraine Says it Struck Russian Air Base in Crimea
WH Urges Congress to Approve More Military Aid for Ukraine
Turkey's Erdogan Says Putin Seeks Quick End to War
McCarthy Denied Zelenskyy's Wish to Address Congress |video
Tuberville Helps Confirm Army Chief of Staff
Despite claims of military "holds" by Senate Democrats, the Biden [Full Story]
Biden Administration Sued Over FTC Twitter Records
The Biden Administration faces a lawsuit from a conservative legal [Full Story]
DeSantis Vows to Defund COVID Vaccines
Florida GOP Gov. Ron DeSantis did not hold back in his criticism of [Full Story] | video
Related
Trump Vows Massive Deportation Plan If Elected
Trump Promises 'Full Fentanyl Blockade' on US Waters
Law School Accreditor Considers New Academic Freedom Standard
The primary accreditor of American law schools wants to make sure the [Full Story] | Platinum Article
New COVID-19 Vaccine Rollout Hits Hurdles
The new COVID-19 vaccine rollout is off to a rocky start, with [Full Story]
Rupert Murdoch Steps Down, Son Lachlan Takes Over Fox
Rupert Murdoch has stepped down as the chairman of Fox Corp and News [Full Story]
Bloomberg Says He's Made Succession Plans for His Company
Durbin Breaks With Schumer Over Senate Dress Code
Dick Durbin, D-Ill., is not aligned with Senate Majority Leader [Full Story] | video
Amazon Left Scrambling As Shoppers Find out About Secret Deals
Online Shopping Tools
Iraq PM Envisions Oil Price of No Less Than $85 to $95
Iraqi prime minister Mohammed Shia Al-Sudani said in an interview [Full Story]
Y. No Longer a Sanctuary? Gov. Hochul: Go Elsewhere
New York State might finally have reached a watershed moment, [Full Story] | video
Alex Murdaugh to Plead Guilty to Financial Crimes
Convicted murderer Alex Murdaugh is expected to stand before a judge [Full Story]
Taylor Swift Fans Slam Elon Musk's X Music Suggestion
Taylor Swift's fans have slammed Elon Musk after he urged the pop [Full Story]
Tuberville Vows Hold Will Remain: 'They Blinked'
After the Senate confirmed Gen. Charles Quinton Brown as the next [Full Story] | video
Biden, Governors Push for Efficient Heating, AC by 2030
A group of 25 state governors that make up the U.S. Climate Alliance [Full Story]
White House to Ambassador: Stop Taunting China
The White House asked Rahm Emanuel, U.S. ambassador to Japan, to stop [Full Story]
Man Set to Be Executed for 1996 Slaying of Dance Student
Oklahoma is set to execute an inmate Thursday morning for the 1996 [Full Story]
Catholic Priests Bless Same-Sex Couples as Form of Protest
Several Catholic priests held a ceremony blessing same-sex couples [Full Story]
1st Private Rail Line in 100 Years Links Miami, Orlando
The first big test of whether privately owned high-speed passenger [Full Story]
NY Post: DHS Taps 'Spies Who Lied' for New Intel Group
The Department of Homeland Security issued a press release detailing [Full Story]
Biden Crosses Himself While Meeting With Netanyahu
President Joe Biden, while meeting one-on-one with Israeli Prime [Full Story]
US Weekly Jobless Claims Unexpectedly Fall
The number of Americans filing new claims for unemployment benefits [Full Story]
Navarro: I'm 'Figure in History' in Supreme Court Case
Former White House trade adviser Peter Navarro has no regrets on [Full Story] | video
Trump in Iowa: Support Exceptions to Abortion Bans
Former President Donald Trump said Wednesday that Republicans could [Full Story]
Judge: Doctor's First Amendment Rights Violated
A federal appeals court ruled that the White House, the Centers for [Full Story]
Here Are the Coolest Gifts of 2023
Trending Gadgets
More Newsfront
Equities in the Next 100 Years
Over the last 100 years, the US equity market has returned about 9% annually. What will it return over the next 100 years?… [Full Story]
Chicago Pays Firm $30M to Move Migrants to Camps
Bob Ciura: 3 Dividend Challengers With 3%+ Yields
Microsoft Announces Unified AI Assistant, Copilot
Google Keeping Ties With AI Chip Supplier Broadcom
More Finance
Health
Cardiac Rehab Lowers Risk for Second Heart Attack
Cardiac rehabilitation is a key part of recovery from a heart attack, helping to prevent another, perhaps more severe one. About 800,000 people in the United States have a heart attack every year, about one-quarter of whom have already had a heart attack, according to the…… [Full Story]
Consuming Aspartame Could Harm Memory of Offspring
Wildfire Smoke Pollution a Growing Health Threat
Suppressing Negative Thoughts May Be Healthy
Millions Unknowingly Exposed to Secondhand Smoke
Note: to expand this image to a larger or full size, see the instructions
below the graphic below or click the image and follow the prompts.