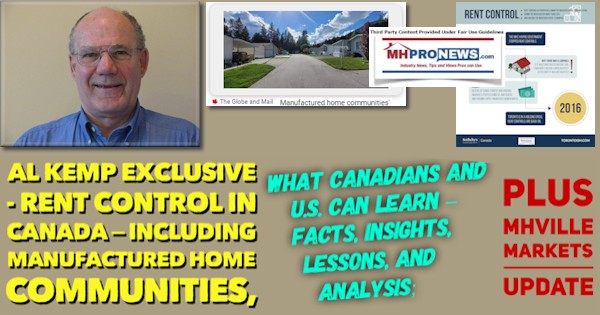 When millions of people are saying, protesting or "screaming" that "the rent is too d-mn high" it is no surprise if discussions or demands for rent control are not far behind. As issues in the U.S. related to skyrocketing rents connected to manufactured home community operations deemed "predatory" by numbers of their own residents, affordable housing advocates, mainstream media, public officials, and others spread, along with inflation– and market-driven rental housing rising in the Bidenomics-era, the push for more rent control in the U.S. has spread. They include those who want national rent control and "tenant" of a manufactured home community resident 'bill of rights.' Canada has had its own experiences with rent control, and the economics and politics of the matter have value to those on both sides of the Canadian-U.S. border. Al Kemp has been a long time professional engaged in manufactured housing and other types of conventional housing advocacy and instruction in Canada.  Per Kemp's bio: "Al Kemp has spent over 25 years informing, advising, and educating rental housing providers, property management companies, and manufactured home communities (MHCs) in BC (British Columbia)." MHProNews reached out to Kemp recently to ask him for insights about the topic of rent control in Canada. Kemp provided the following remarks that are provided in Part I of today's report. Part II will be additional information with some analysis and commentary by MHProNews.  Part III of this article will be our signature Daily Business News on MHProNews
Part I – Rent Control in Canadian Housing Facts, Insights, and Lessons Learned
by Al Kemp
Five of Canada's ten provinces have some permanent form of rent control, limiting the amount of annual rent increases.  For calendar 2024 these limits are:
British Columbia (BC) – 3.5%
Manitoba – 3% with some exceptions
Ontario – 2.5% only on units that came to market before November 2018; no controls on those built since.
Quebec – 2.3% to 7.3% dependent on type of building heating (electric, natural gas, oil)
Prince Edward Island (PEI) – 3%
Nova Scotia (NS) has temporary rent controls of 5%, due to expire Dec. 31, 2025.
It is important to understand the difference between rent control and vacancy control.  No province has vacancy control where rents cannot increase between tenancies, as well as during tenancies.
Inflation in Canada seasonally adjusted July 2022 to July 2023 was 3.3%.  The same number in BC was 5.6%.
Do rent controls work?  Do they protect tenants?  Do they create affordable housing?  Do they stimulate or impede new purpose-built rentals construction or the creation/expansion of manufactured home communities?  Do they negatively affect rental housing providers' ability to maintain their properties and provide competitive tenant services?
These and many other questions have been asked, studied, and reported on since the 1950s.
The consensus from objective studies is rent controls protect tenants in the short term, but reduce the quality and availability of rental stock and cause increased rents in the long term.  Let's look at this from a practical, rather than academic perspective.
British Columbia's Rent Controls
In BC, rent controls were introduced by the Liberal (centrist) government in 2004.  The formula was a base of 2% to allow for minor maintenance, plus the seasonally adjusted average annual inflation rate to the previous July 31.  Between 2018 and 2023 with an NDP (socialist) government in power, the formula was abolished; first the 2% was removed, then the inflation rate was replaced by an annual political decision ranging from 0% to the 2024 rate of 3.5%. The average annual rent control rate from January 2018 to December 2023 was 2.0%, considerably below the annual inflation rate in each of those years.
This 2% limit has of course "protected" tenants from higher increases.  Is rental housing more affordable today than it was under the previous government?  Definitely not.  Annual average rents for site-built properties have been rising by double digits for the last two years.  Vancouver and Victoria, BC's two major cities, have rents among the highest in Canada.
How is that possible with rent controls?  Politicians, statisticians, and the media all miss an important distinction; there are two residential rental markets: existing, continuing tenancies and new tenancies.  Rental housing providers have been forced into incomes below inflation for several years for existing tenancies.  Annual costs including 7% to 10% property tax increases and 10% to 25%+ insurance premium increases, are among every service or product going up by well over 2%. Their only ability to realize rents that enable them to cope with these increases is to set rents for new tenancies at a higher rate than they would otherwise.  Whether those with a basement suite mortgage helper or national companies with tens of thousands of rental units, all rental housing providers face the same inflationary situation; therefore, market rents have increased at relatively the same rate for all types of properties.
The obvious result: over several years, new tenancies generate rents several hundred dollars above long term tenancies.  However, these new rents are now the base for increases where rent controls exist.  These rents are higher than they would have been without rent controls; consequently, these tenants face higher annual increases.  For this reason, the well-known economists' mantra, "the market will always be the market" dominates in jurisdictions with multi-year rent controls.  Multi-year rent controls equal higher rents!
Do rent controls cause other negative results? 
Remember the 2% rent increase base the current BC government removed?  This was intended by the then government to go to minor maintenance, thus helping keep properties under rent controls in good rental condition.  Nothing has replaced that 2%.
The relatively recent term, "renovictions" – ending tenancies to raise rents to market – has increased questionable tenancy endings in the recent regime of rent controls.  Renovictions are illegal, but sadly, as in any industry, those few who choose to break the law will find a way to do so.
Another recent phenomenon is the advent of Airbnb and other short term rental websites. How do rent controls relate to short term rentals?   Many small landlords have converted their properties to short term rentals, rather than try to continue long term renting under rent controls.  Like most service industries, the vast majority of landlords are those with less than four rental units, the equivalent of small business in any industry.  Moving from long term to short term rentals has reduced rental stock in BC.  Another economists' maxim we learned in about grade 8 is called supply and demand. Reduced supply and increased demand inevitably result in higher prices.
We need not answer the question, do rent controls create affordable housing?  The answer is obvious.  Over the past few years, the construction boom of purpose-built rental housing – modern units with market rents – has resulted from pent up demand, exacerbated by Canada's federal tax laws and immigration policies that fail to recognize 500,000 annual immigrants need somewhere to live in a country of only 40 million.  Given today's inflationary construction costs, it is impossible to build "affordable" housing by most definitions of affordable.
An anecdote from Alberta, a province that has never had rent controls:  A few years ago, when Alberta's economy was suffering from an oil industry downturn, an apartment building owner unilaterally reduced all his rents by $300, both good tenant relations and good business, as rents for new tenancies had declined.  Is the market always the market?
Manufactured Home Communities (MHCs)
BC and Alberta are the only provinces with separate legislation governing manufactured home communities.  In BC, the same rent control legislation applies to MHCs.  Are the results different?  Yes, as different as MHCs are from apartment buildings.
The average turnover in a BC rental apartment building is about 2.5 years.  There are no comparable statistics for MHCs; our guess is about 25 years as the residents own their homes.  Also, the average rent for an MHC site is about a quarter of the rent for a two-bedroom apartment. This difference is a combination of the length of tenancies during which rent controls apply and the fact only the land is being rented.
One might say rent controls work in MHCs because the home owners pay the costs of maintaining their homes.  Not so!  The same as fixed building landlords, the two most expensive cost items are property taxes and MHC insurance.
Do rent controls work in the long term?  Perhaps for politicians hungry for votes; but not for those who provide homes for about a third of Canadians and close to 40% of British Columbians, nor for the families and individuals who live in those homes.
– 30 –
Al Kemp's Bio
Al Kemp has spent over 25 years informing, advising, and educating rental housing providers, property management companies, and manufactured home communities (MHCs) in British Columbia (BC), Canada.  His experience includes 16 years as CEO of the Rental Owners and Managers Society of BC and 8 years as Executive Director of the Manufactured Home Park Owners Alliance of BC, Canada's only association exclusively dedicated to owners and managers of MHCs.  He adds to this a background in leading a large commercial property management organization, contract law, labour relations, and his first career as an RCMP officer.
Al's reputation is one of outstanding knowledge and service.  He is recognized as the person outside government with the most knowledge of the Tenancy Acts, Regulations, Policies, etc. – and how they work!  He was a major contributor to the total rewrite of BC's tenancy legislation in 2004, and continues to work with the Residential Tenancy Branch, providing advice on planned regulatory or policy changes.  He is also qualified as an Expert Witness on rental tenancy matters.
Currently owner and president of A. G. Kemp & Associates Inc., Al provides services, assistance, and "boots on the ground" education to rental housing providers ranging from owners of basement suites to a few of Canada's largest ownership and property management companies, to MHC owners and managers. help4landlords.ca
Part II – Additional Information with More MHProNews Analysis and Commentary
The graphic that follows was sourced online via a search for rent control in Canada. It happens to make some points similar to Al Kemp's.
Note: to expand this image to a larger or full size, see the instructions
below the graphic below or click the image and follow the prompts.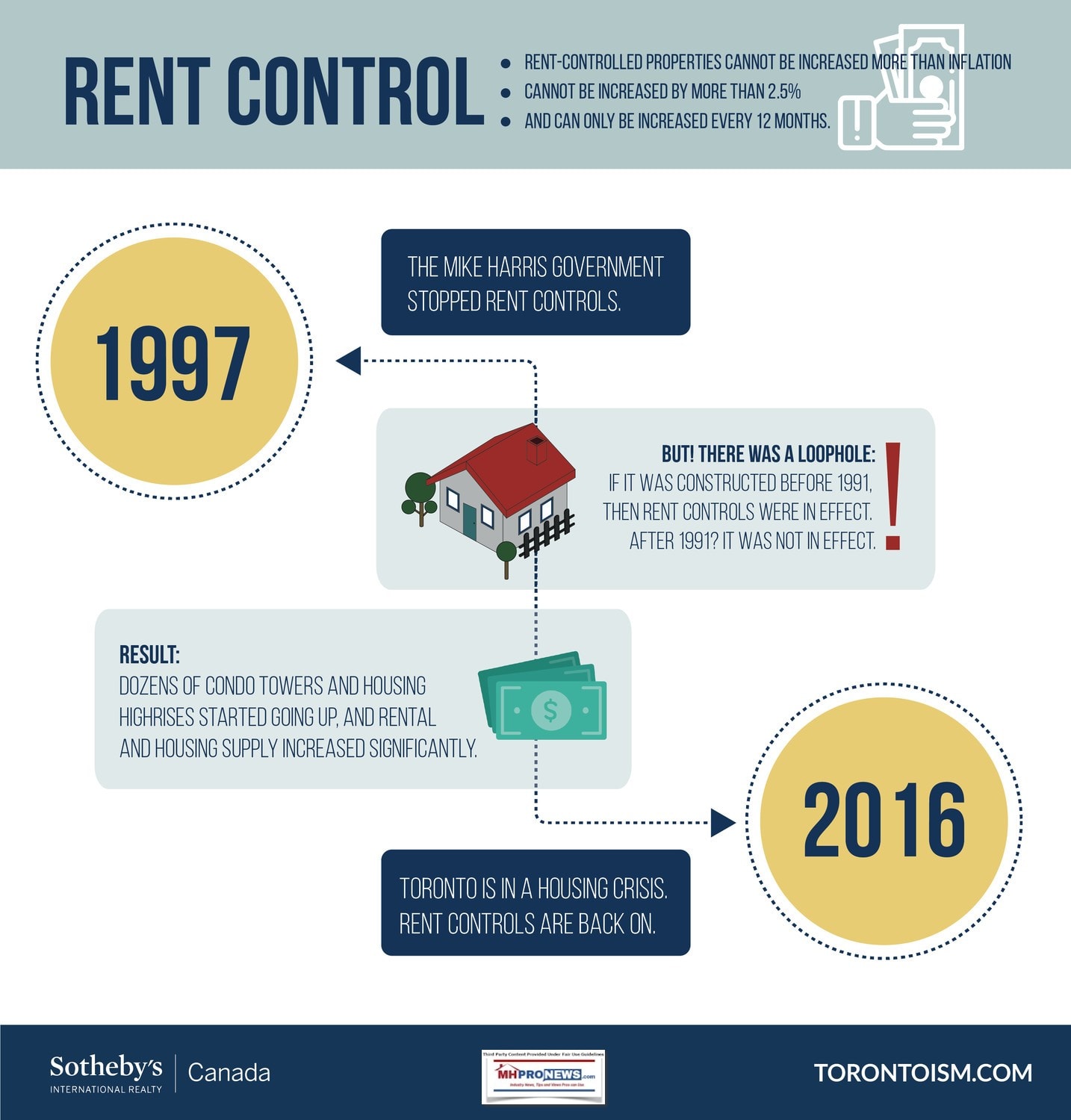 As was noted in the preface to this report, there is a common and even understandable reaction on the part of those impacted by rapidly escalating rents to turn to the notion of rent control. MHProNews and MHLivingNews have viewed this issue from several angles, including the resident perspective that is linked below which advocates for 'temporary' rent control until market forces can be reinstated that will cure the underlying pressures.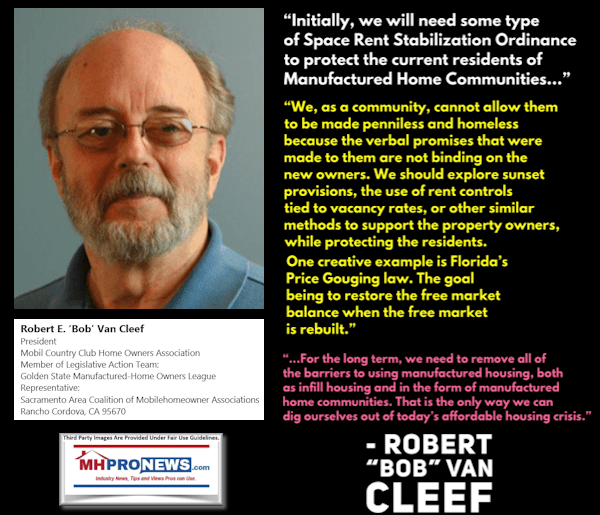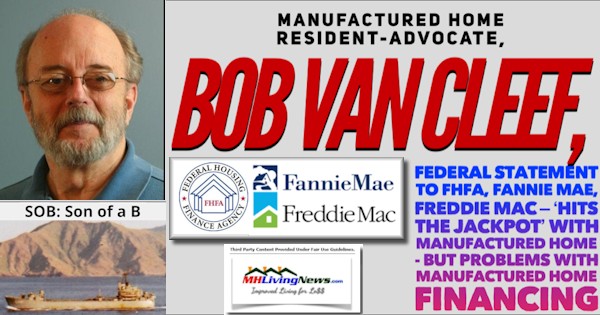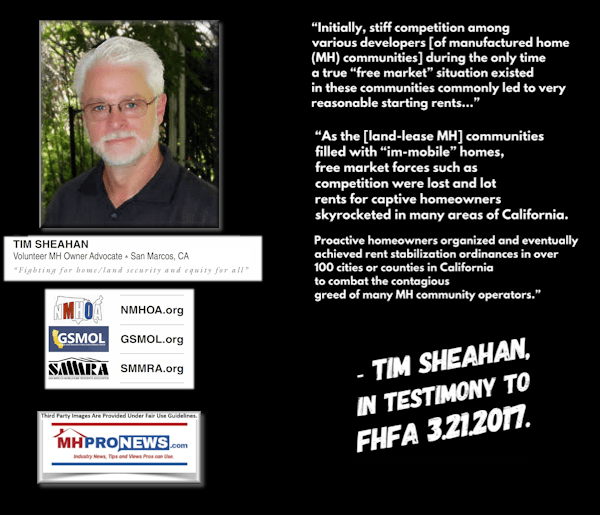 Ironically, rent control is not seen by Equity LifeStyle Properties (ELS) as a big challenge to navigate. Here below are the words of ELS President and CEO Marguerite Nader from a earnings call when the issue of rent control was raised.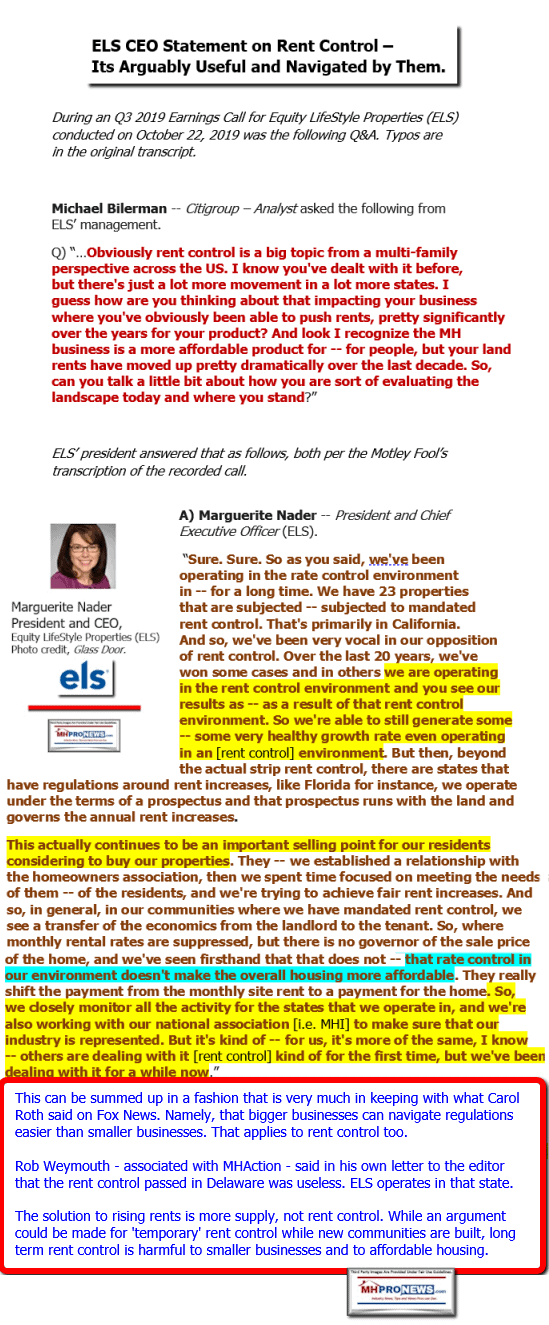 Nader's remarks don't mean that rent control and other regulations can't or don't create challenges for property owners and possible developers. They do. What Nader's words reflect is the reality that big businesses are better able to navigate the challenges. Larger firms also have the resources to fight back against those who seek to impose rent control.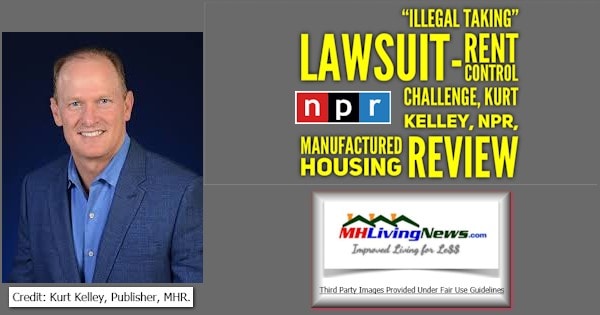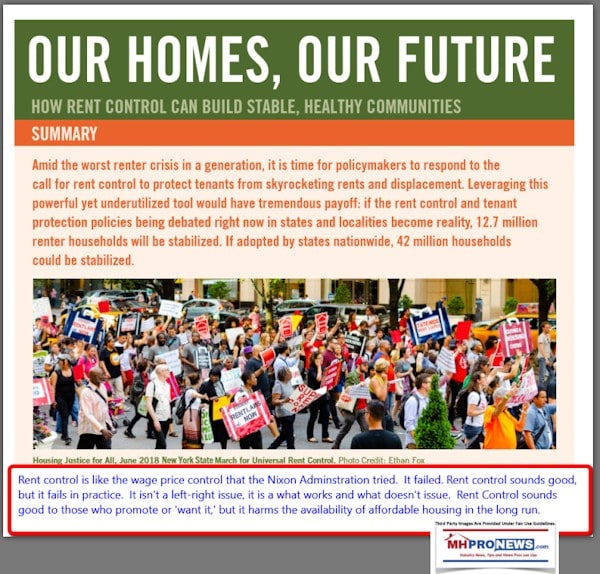 Manufactured home communities (MHC) resident-owned communities (ROC) advocate, Paul Bradley with ROC USA has told MHProNews that he sees rent control as a false solution.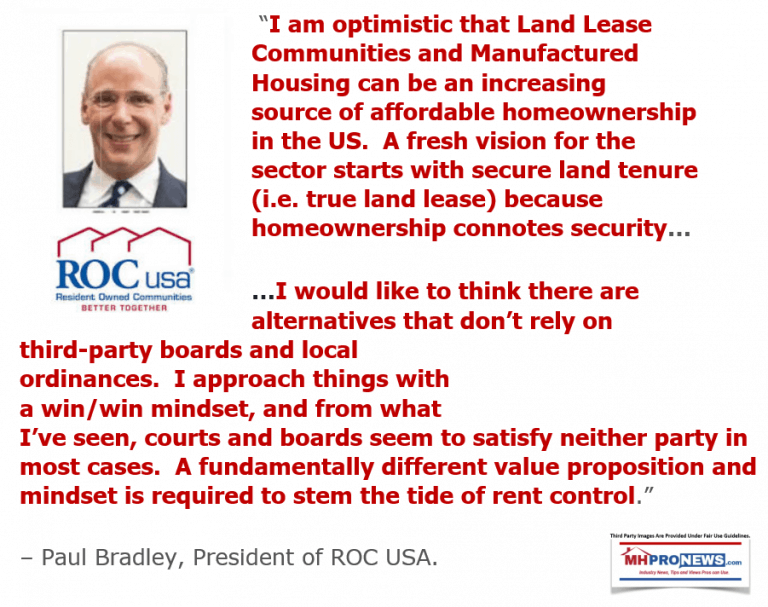 While a few deny there is a housing shortage, upon closer examination, what they deny is that there is an affordable housing shortage.
'Scream If Your Rent is Too Damn High' More Building Won't Solve Housing Crisis, says Attorney Fran Quigley – Champion MH – Business as Usual is Dead or Dying; plus MHVille Markets-Stocks Update
See the linked and related reports to learn more about the issue of rent control.
MHProNews Programming Notes:
Several special reports are pending and being developed. Among them?
Verbal and written indications to MHProNews of interest in a new national post-production manufactured housing trade group. It is early, but hopeful. Stay tuned.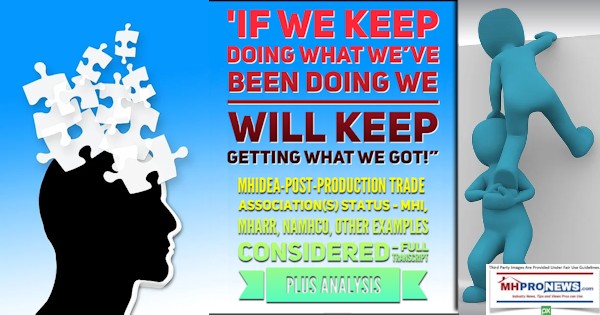 The runaway hottest topic in MHVille continues to be the new antitrust suit. It has dominated here on MHProNews, and is being picked up by others too.
Some examples of third-party feedback that we plan to explore in an upcoming report:
MHProNews has received a detailed response to how that suit might be defended by a land-lease communities professional with ties to the MHI orbit.
Next, among posted remarks by others included these which will be explored in greater depth in an upcoming report.
"We have become an industry with no backbone and little initiative to fight for meaningful representation as a valuable and affordable housing provider. "
"Positive press is not created or facilitate [SIC] by industry associations. We have the ability to create as much positive press as we want…" but the post-production industry sector isn't promoting the good and fighting back what the commentor said are 'false narratives.'
"We are not doomed to continue to endure this beating from media and misinformation, but we are in a rut, and we MUST do something to get out of it!"
Another set of remarks about the antitrust concerns and class action suit included these.
"This would not have happened if land lease communities were far better represented, and said matters addressed"
Given the fact that three large firms dominate the manufactured housing production sector and "Given the manufacturer-dominated nature of our national advocacy…" at MHI "…there is very little that other segments of the MH industry can do to combat this restraint on competition."
With any respect that may be due, that last bulleted remark is logically nonsense, of course, and it will be carefully unpacked in a report that provides those pull quotes in their fuller context. One reason that it is nonsense is because the writer failed to mention that the reason for a new post-production trade group is precisely to counter the issues that the writer appeared to lament which are harmful to the interests of manufactured home independents.
By implication, though they may not admit or directly say, each is providing reasons for a new post-production trade group, because MHI is obviously not doing the job.
Pivoting briefly back to the rent control topic. The solution, as Bob Van Cleef and Tim Sheahan each noted in reports linked further above, is more affordable housing supply with more affordable financing.  While a new post-production trade group is not a panacea, the history of manufactured housing in the 50 states tells us that when there was a post-production trade group in the U.S.A., manufactured housing production and sales averaged more than double their current pace. That positive bit of history of post-production trade groups for manufactured housing should not be overlooked, because anything that has happened before can happen again. ##
'The Great MH Boycott' vs 'The Illusion of Motion Versus and Real-World Challenges' – Manufactured Housing Industry Paradoxes and Stumbling Blocks, plus Sunday Weekly MHVille Headlines Recap
Texas Real Estate Research Center 'Sentiments' vs. Manufactured Housing Association for Regulatory Reform 'Official Data' – Facts and Analysis, plus MHVille Markets Update
Part III. Daily Business News on MHProNews Markets and Headline News Segment
Headlines from left-of-center CNN Business – from the evening of 9.20.2023
Latest updates as Wall Street parses key Fed interest rate decision
The Fed hits pause on interest rate hikes while it reviews more data
Neuralink, Elon Musk's brain implant startup, set to begin human trials
The UK is delaying the switch to electric cars. Automakers are furious
Kanye 'didn't mean what he said' about Jews, Adidas CEO says
Mortgage applications rose last week, despite stubbornly high rates
Electric vehicle jobs are booming in the anti-union South. UAW is worried
Donald Trump, Jr. looks on upon arrival at General Mitchell International Airport, with US President Donald Trump, in Milwaukee, Wisconsin on July 12, 2019. – Trump will be in Milwaukee to visit an aerospace company and attend a fundraiser.
Donald Trump Jr.'s X account was hacked, his spokesman says
The new Apple Watch Series 9 is displayed during an Apple event on September 12, 2023 in Cupertino, California. Apple revealed its lineup of the latest iPhone 15 versions as well as other product upgrades during the event.
Apple Watch's new gesture control feature will have everyone tapping the air
How Wall Street makes money by predicting the Fed's decisions
US says it has no evidence that Huawei can make advanced smartphones 'at scale'
Gas is rapidly approaching $6 in one state
US debt rises to $33 trillion as government shutdown looms
Kraft recalls faulty American cheese singles that might be 'unpleasant' or make you gag
WhatsApp adds rival in-app payment options in India commerce push
Insurance premiums could surge in these American cities because of climate disasters, new data shows
Michael Wolff's juicy book on Fox News is set to hit shelves. Here's why readers should be cautious when diving into it
Canadian autoworkers union reaches tentative labor deal with Ford, averting strike
Stanford University says it will return all gifts from bankrupt crypto exchange FTX
Disney is doubling its investment into parks
Christmas is on hold: Stores' holiday hiring plans are the lowest since 2008
Fortnite players can now apply for a portion of its $245 million FTC settlement
Note: to expand this image to a larger or full size, see the instructions
below the graphic below or click the image and follow the prompts.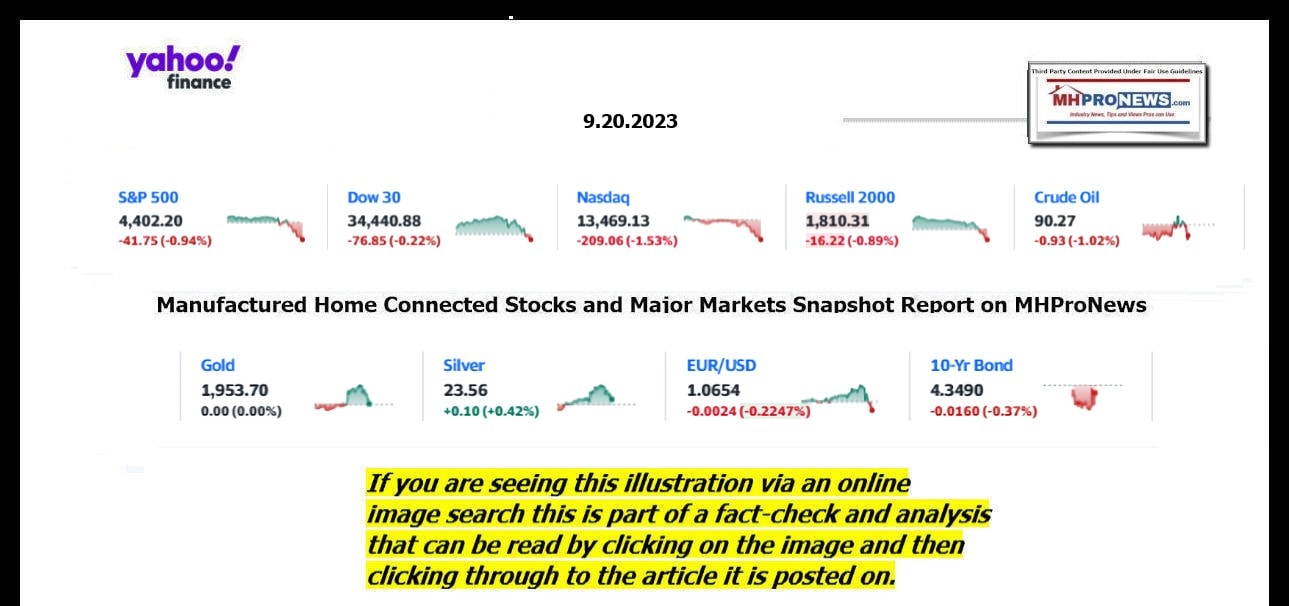 Headlines from right-of-center Newsmax 9.20.2023
AG Garland Fumes During Grilling on Anti-Catholic Memo
Okla. Gov. Stitt: GOP Can Still Be '2- or 3-Horse Race'
Ric Grenell: 'Dumb' for UN to Censor Israel's Protest | video
Rep. Biggs: Garland to Face 'Very Pointed Questions' | video
Sen. Lee: 'Best Path Forward' Is for House to 'Pass Something' | video
Grenell: Biden Lives in Walled Garden | video
Trump Jr.: Media Won't Even Ask If Biden Is Compromised | video
Rep. Cline: GOP Lawyers 'to Press' Garland for Answers | video
Matt Schlapp: Working Class Moving Rightward | video
Rep. Biggs: Hunter Biden Testimony 'My Goal' | video
Rep. Mast: House Needs to Go With Stopgap Bill | video
With Cloture Move, Schumer Targets Tuberville's Pentagon Block
Senate Majority Leader Chuck Schumer, D-N.Y., on Wednesday filed cloture to advance the nominations of three senior military officials. The move comes amid Alabama Republican Sen. Tommy Tuberville's blocking of more than 300 military nominations due to the Pentagon's abortion travel…… [Full Story]
AG Garland Fumes During Grilling on Anti-Catholic Memo
Attorney General Merrick Garland lost his temper in a heated exchange [Full Story]
Congressional Republicans Hammer AG Garland on Hunter Biden Investigation
Wall Street Closes Lower After Fed Holds Rates Steady
U.S. stocks slumped Wednesday after the U.S. Federal Reserve held key [Full Story]
Google Sued After Man Dies Following Map Directions
The family of a North Carolina man who died after driving his car off [Full Story]
GM, Stellantis Lay Off 2,370 Due to UAW Strike
General Motors and Stellantis Wednesday laid off 2,000 and 370 [Full Story]
McCarthy: Ukraine Funds Not Part of Any Stopgap Deal
Funding for Ukraine will not be a part of any stopgap continuing [Full Story]
Sen. Paul Puts Foot Down on Ukraine Spending
Government Shutdown Could Halt Weapons to Ukraine
Rep. Perry to Newsmax: Time to Put Americans' Needs Ahead of Ukraine's |video
Rep. Barry Moore to Newsmax: No Aid for Ukraine Without Oversight |video
IRS Official: Lack of Help Frustrates Weiss
David Weiss, the special counsel overseeing the Hunter Biden criminal [Full Story]
YouGov Poll: Trump Tied With Biden, Up 46 Points in GOP
Former President Donald Trump's surge against President Joe Biden in [Full Story] | video
Biden Faces Reelection Challenge From Pro-life Democrat
Trump's N.Y. Hush-Money Trial Could Overlap With State's Presidential Primary
Putin Accepts Invite to Visit China in October
Russian President Vladimir Putin on Wednesday formally accepted an [Full Story]
Russia Plans to Expand North Korean Ties in All Areas
Zelenskyy Tells World It Has Stake Against Russia 'Genocide'
Fed Officials See 5.1% Policy Rate at End of 2024
U.S. central bankers expect that after a final interest-rate hike [Full Story]
Fed's Powell Says Path to Soft Landing Is Still There
Detained Israeli Ambassador: UN Lost Its Moral Compass
Israel's ambassador to the United Nations, Gilad Erdan, was detained [Full Story]
UN Detains Israeli Ambassador After Protesting Iran's President |video
China's $700 Billion Defense Budget 'Extremely' Concerning
China is reportedly spending nearly $700 billion on its military – [Full Story] | Platinum Article
Autopsy Shows Patriots Fan Did Not Die From Beating
An autopsy of New England Patriots fan Dale Mooney has revealed that [Full Story]
New Initiative Exposes 'Bias' Reporting in Public Schools
A new project seeks to shine a light on the numerous school districts [Full Story] | Platinum Article
US Awards $45M for Long COVID Clinics
The U.S. government is awarding $45 million in grants to help clinics [Full Story]
Late-Night TV Void Hurting Politicians on Both Sides
The lack of late-night talk show television due to the ongoing [Full Story]
Zelenskyy to Trump: Share Peace Plan 'Now'
Ukraine President Volodymyr Zelenskyy called on former President [Full Story]
Trump Endorses Rep. Banks for Indiana Senate Seat
Former President Donald Trump on Wednesday endorsed Rep. Jim Banks, [Full Story]
Sen. Vance: House Impeachment Must 'Follow the Evidence'
Sen. J.D. Vance, R-Ohio, said House Republicans need to "follow the [Full Story]
Disney's Iger on Woke Pushback: We'll 'Quiet the Noise'
Walt Disney CEO Bob Iger told investors the company will "quiet the [Full Story]
Grisham, Top Authors Sue OpenAI Over Copyrights
A trade group for U.S. authors has sued OpenAI in Manhattan federal [Full Story]
Pence Slams Trump for Skipping Second Debate
Former Vice President Mike Pence on Wednesday slammed former [Full Story]
Netflix Can be Sued by Ex-Central Park Five Prosecutor
Netflix has been ordered by a federal judge to face a defamation [Full Story]
Trump Slams Special Counsel Smith's Gag Order Request
Donald Trump lashed out on Wednesday at the request by Special [Full Story]
Fla. School District Bans 5 Books After Complaints
Florida's Pinellas County school district, reflectinga trend taking [Full Story]
Adidas CEO: Kanye Didn't Mean Antisemitic Remarks
Adidas CEO Bjorn Gulden has defended the artist formerly known as [Full Story]
Trump Jr. Account Hacked, Says Father 'Passed Away'
The X account of Donald Trump Jr. was apparently hacked Wednesday [Full Story]
Catch-and-Release Illegal Charged With Texas Murder
A 64-year-old illegal immigrant from Peru, who was released by [Full Story]
UAW Strike Expands to 4th Plant, in Alabama
The United Auto Workers strike expanded Wednesday to a drivetrain [Full Story]
Emerson Poll: Trump's 47-point Lead Biggest Yet
Former President Donald Trump holds a 47-point lead in the Republican [Full Story]
Migrants Hitching Rides Force Mexican Trains to Stop
A Mexican firm has been forced to stop sending its freight trains [Full Story]
Fed Officials See 5.1% Policy Rate at End of 2024
U.S. central bankers expect that after a final interest-rate hike this year, to 5.6%, they will end next year with short-term borrowing costs at 5.1%, reflecting fewer interest rates cuts than they anticipated three months ago…. [Full Story]
Fed's Powell Says Path to Soft Landing Is Still There
Sen. Blackburn: Why the US Must Win AI Race
Health Care Costs to Jump as High as 8.5% in 2024
Consumers Rise Up Against Woke Agendas
More Finance
Health
Cardiac Rehab Lowers Risk for Second Heart Attack
Cardiac rehabilitation is a key part of recovery from a heart attack, helping to prevent another, perhaps more severe one. About 800,000 people in the United States have a heart attack every year, about one-quarter of whom have already had a heart attack, according to the…… [Full Story]
Highly Processed Foods May Increase Depression Risk
Health Care Costs to Jump as High as 8.5 Percent
Why C. Difficile Infection Common in Hospitals
Food Safety Experts Avoid These Supermarket Choices
Note: to expand this image to a larger or full size, see the instructions
below the graphic below or click the image and follow the prompts.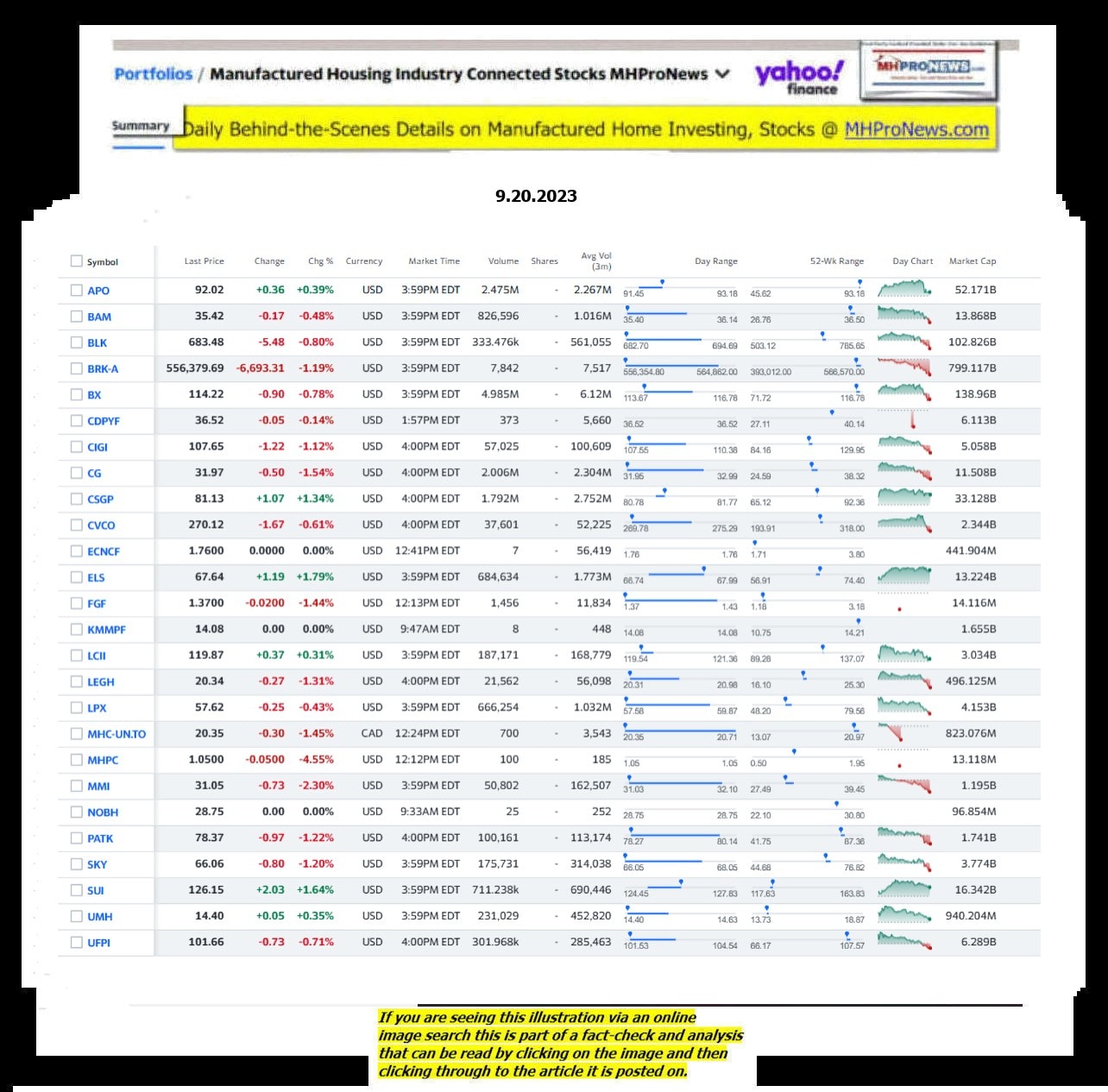 Nobility Homes (NOBH) Bucks National Trends by Revealing Year Over Year Growth in New Quarterly Data While Expressing Cautionary Notes – Q3 2023 Insights, Facts and Analysis
More ECN Capital-Skyline Champion Deal with New Triad President Lance Hull Remarks – is Claytonization of Largest Independent Manufactured Home Lender Triad Financial Services Underway?