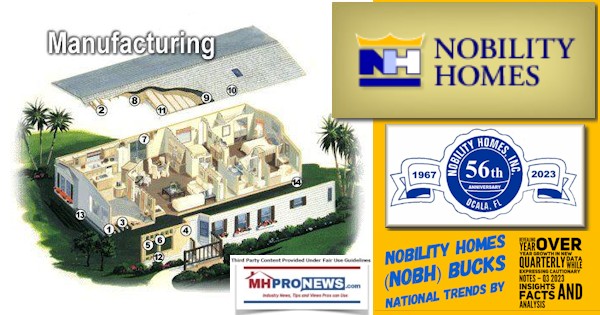 From their headquarters in Ocala, Florida Nobility Homes (NOBH) released their most recent quarterly report on 9.15.2023. The company noted that it celebrated its 56th anniversary in business during their most recent quarter, an uncommon achievement in many professions, but perhaps particularly so in multiple decades of vertically integrated manufactured housing production and retail. Nobility's retail arm is Prestige Homes and they reportedly have 10 sales centers located in the following places shown below. Nobility Homes' quarterly remarks are posted in Part I of this report. Part II features additional information with more MHProNews analysis and commentary in brief.
Per their website: "Prestige Home Centers, a renowned manufactured home retailer, has ten retail sales centers across Florida. These centers are located in the following cities:
North Ocala
South Ocala
Chiefland
Auburndale
Inverness
Hudson
Tavares
Yulee
Panama City
Punta Gorda
On this date, their website also says: "Please note that our home models on-site at each model center lot are not for sale. At this time, the Corporate Office located in Ocala does not have any model homes available for touring or for sale." So, Nobility's Prestige retail arm sells "custom ordered" homes.
Part I
Nobility Homes, Inc. Announces Sales and Earnings for Its Third Quarter 2023
Nobility Homes, Inc.
Fri, September 15, 2023 at 10:00 AM EDT
In this article:
Sales for the third quarter of 2023 increased 6% to $14.7 million as compared to $13.8 million recorded in the third quarter of 2022. Income from operations for the third quarter of 2023 increased 39% to $3.1 million versus $2.2 million in the same period a year ago. Net income after taxes increased 41% to $2.7 million as compared to $1.9 million for the same period last year. Diluted earnings for the third quarter of 2023 were $0.80 per share compared to $0.56 per share last year.
For the first nine months of fiscal 2023, sales increased 38% to $48.6 million as compared to $35.3 million in the third quarter of 2022. Income from operations for the third quarter of 2023 increased 106% to $10.7 million versus $5.2 million in the same period last year. Net income after taxes increased 91% to $8.6 million versus last year's results of $4.5 million. Diluted earnings were $2.56 per share compared to $1.30 per share last year.
Nobility's financial position for the first nine months 2023 remains strong with cash and cash equivalents, certificates of deposit and short-term investments of $20.9 million and no outstanding debt. Working capital is $35.5 million and our ratio of current assets to current liabilities is 3.8:1. Stockholders' equity is $50.4 million and the book value per share of common stock of $15.41.
Terry Trexler, President, stated, "The primary reason that sales and net income increased in fiscal 2023 over fiscal 2022 was due to the severe supply chain challenges experienced during the first nine months of fiscal 2022 that impacted our ability to complete and deliver homes to customers. During the first nine months of fiscal 2023, the supply chain challenges eased compared to the prior period and we were able to complete and deliver more retail customers' homes, which included us selling forty-eight ($8.2 million) new homes during the first nine months of 2023 from other manufacturers, to help reduce our long backlog. Although net sales increased during fiscal 2023, as compared to last year, we continue to experience limitations being placed on certain key production materials from suppliers, the delay or lack of key components from vendors as well as back orders, delayed shipments, price increases and labor shortages. These issues continue to cause delays in the completion of the homes at the Company's manufacturing facility and the set-up process of retail homes in the field, resulting in decreased net sales due to our inability to timely deliver and set up homes to customers. We expect that these challenges will continue throughout 2023 and potentially beyond. The Company also continues to experience inflation in some building products resulting in increases to our material and labor costs which may increase the wholesale and retail selling prices of our homes. Additionally, potential customers may delay or defer purchasing decisions when considering the rising interest rate environment.
The current demand for affordable manufactured housing in Florida and the U.S. is slowing, which we believe is because of the increased interest rate environment driven by the Federal Reserve. According to the Florida Manufactured Housing Association, shipments for the industry in Florida for the period from November 2022 through July 2023 declined by approximately 15% from the same period last year.
Maintaining our strong financial position is vital for future growth and success. Our many years of experience in the Florida market, combined with home buyers' increased need for more affordable housing, should serve the Company well in the coming years. Management remains convinced that our specific geographic market is one of the best long-term growth areas in the country."
On June 5, 2023, the Company celebrated its 56th anniversary in business specializing in the design and production of quality, affordable manufactured and modular homes. With multiple retail sales centers in Florida for over 33 years and an insurance agency subsidiary, we are the only vertically integrated manufactured home company headquartered in Florida.
MANAGEMENT WILL NOT HOLD A CONFERENCE CALL. IF YOU HAVE ANY QUESTIONS, PLEASE CALL TERRY OR TOM TREXLER @ 800-476-6624 EXT 121 OR TERRY@NOBILITYHOMES.COM OR TOM@NOBILITYHOMES.COM
Certain statements in this report are unaudited or forward-looking statements within the meaning of the federal securities laws. Although Nobility believes that the amounts and expectations reflected in such forward-looking statements are based on reasonable assumptions, there are risks and uncertainties that may cause actual results to differ materially from expectations. These risks and uncertainties include, but are not limited to, the potential adverse impact on our business caused by competitive pricing pressures at both the wholesale and retail levels, inflation, increasing material costs (including forest based products) or availability of materials due to supply chain interruptions (such as current inflation with forest products and supply issues with vinyl siding and PVC piping), changes in market demand, increase in interest rates, availability of financing for retail and wholesale purchasers, consumer confidence, adverse weather conditions that reduce sales at retail centers, the risk of manufacturing plant shutdowns due to storms or other factors, the impact of marketing and cost-management programs, reliance on the Florida economy, impact of labor shortage, impact of materials shortage, increasing labor cost, cyclical nature of the manufactured housing industry, impact of rising fuel costs, catastrophic events impacting insurance costs, availability of insurance coverage for various risks to Nobility, market demographics, management's ability to attract and retain executive officers and key personnel, increased global tensions, market disruptions resulting from terrorist attacks or other events such as a pandemic, any armed conflict involving the United States and the impact of inflation.
NOBILITY HOMES, INC.
Condensed Consolidated Balance Sheets
August 5,
November 5,
2023
2022
(Unaudited)
Assets
Current assets:
Cash and cash equivalents
$
12,973,685
$
16,653,449
Certificates of deposit
7,347,913
3,903,888
Short-term investments
541,132
589,071
Accounts receivable – trade
2,596,300
1,288,645
Note receivable
–
23,905
Mortgage notes receivable
4,411
16,191
Income tax receivable
157,827
–
Inventories
22,743,349
23,457,493
Prepaid expenses and other current assets
1,820,579
2,172,675
Total current assets
48,185,196
48,105,317
Property, plant and equipment, net
8,307,867
7,915,695
Note receivable, less current portion
–
16,599
Mortgage notes receivable, less current portion
142,969
131,514
Other investments
1,925,169
1,848,893
Property held for resale
26,590
–
Deferred income taxes
38,159
43,778
Cash surrender value of life insurance
4,275,110
4,143,035
Other assets
156,287
156,287
Total assets
$
63,057,347
$
62,361,118
Liabilities and Stockholders' Equity
Current liabilities:
Accounts payable
$
1,144,548
$
1,119,188
Accrued compensation
982,112
1,132,423
Accrued expenses and other current liabilities
1,410,429
1,742,696
Income taxes payable
–
229,200
Customer deposits
9,146,699
10,214,078
Total current liabilities
12,683,788
14,437,585
Commitments and contingencies
Stockholders' equity:
Preferred stock, $.10 par value, 500,000 shares
authorized; none issued and outstanding
–
–
Common stock, $.10 par value, 10,000,000
shares authorized; 5,364,907 shares issued;
3,269,075 and 3,370,912 shares outstanding, respectively
536,491
536,491
Additional paid in capital
10,938,966
10,849,687
Retained earnings
68,653,044
63,441,812
Less treasury stock at cost, 2,095,832 and
1,993,995 shares, respectively
(29,754,942)
(26,904,457)
Total stockholders' equity
50,373,559
47,923,533
Total liabilities and stockholders' equity
$
63,057,347
$
62,361,118
NOBILITY HOMES, INC.
Condensed Consolidated Statements of Income
(Unaudited)
Three Months Ended
Nine Months Ended
August 5,
August 6,
August 5,
August 6,
2023
2022
2023
2022
Net sales
$
14,654,789
$
13,846,698
$
48,599,139
$
35,300,014
Cost of sales
(9,540,399)
(9,948,638)
(31,659,842)
(25,651,808)
Gross profit
5,114,390
3,898,060
16,939,297
9,648,206
Selling, general and administrative expenses
(1,987,782)
(1,653,200)
(6,238,457)
(4,448,349)
Operating income
3,126,608
2,244,860
10,700,840
5,199,857
Other income (loss):
Interest income
203,972
62,449
513,987
176,706
Undistributed earnings in joint venture – Majestic 21
27,828
15,488
76,276
40,710
Proceeds received under escrow arrangement
115,641
52,140
209,806
285,639
Increase (decrease) in fair value of equity investment
81,078
(57,022)
(47,939)
(80,796)
Gain on disposal of property, plant and equipment
–
–
88,936
Miscellaneous
16,404
161,157
42,766
187,065
Total other income
444,923
234,212
794,896
698,260
Income before provision for income taxes
3,571,531
2,479,072
11,495,736
5,898,117
Income tax expense
(905,203)
(594,313)
(2,913,592)
(1,399,498)
Net income
$
2,666,328
$
1,884,759
$
8,582,144
$
4,498,619
Weighted average number of shares outstanding:
Basic
3,323,874
3,370,912
3,354,981
3,460,074
Diluted
3,328,875
3,376,771
3,357,424
3,469,769
Net income per share:
Basic
$
0.80
$
0.56
$
2.56
$
1.30
Diluted
$
0.80
$
0.56
$
2.56
$
1.30
SOURCE: Nobility Homes, Inc.
Part II – Additional Information with More MHProNews Analysis and Commentary in Brief
From a stock performance perspective, the following data from Yahoo Financial ought to be of interest to investors. Nobility Homes closed on Friday at $29.70, up $1.05 and up 3.66 percent. Simply Wall Street noted that: "Earnings grew by 87.1% over the past year." That same source noted: "Return vs Market: NOBH exceeded the US Market which returned 12.7% over the past year." MHProNews previously noted that 2022 was a tough year on many manufactured housing stocks, or as CNN Business put it, it was 'a stomach churning year.' Outperforming the market in such circumstances is therefore significant reflection on management. Or as the financial news site Seeking Alpha framed it, Nobility Homes is a 'hidden away builder of manufactured housing with a large margin of safety' for investors.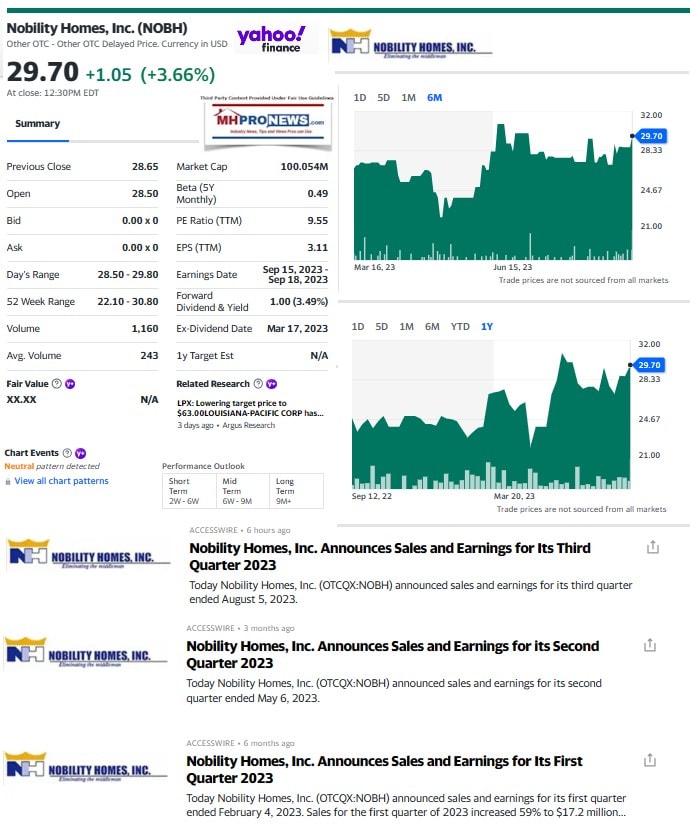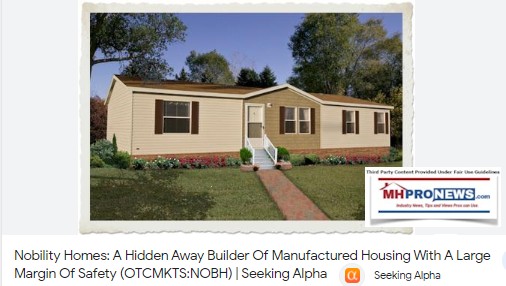 Disclosures are a necessary staple for publicly traded companies, and routinely attempt to cover as many risk factors as can be anticipated.
That said, the final sentence in the Nobility disclosures has remarks which merits some pause for the nation in general, not just manufactured housing: "increased global tensions, market disruptions resulting from terrorist attacks or other events such as a pandemic, any armed conflict involving the United States and the impact of inflation." MHProNews periodically provides insights on national and international topics for reasons perhaps related to those Nobility cautionary comments. Rephrased, they are apt remarks that others may miss. Note these Part II thoughts and observations are ours, not Nobility's.
For instance. With what is often described as an "open" southern border with Mexico, the risks of terrorism are reportedly rising.  Per left-leaning NBC on 9.14.2023: "So far in fiscal year 2023, 160 migrants whose identities match those on the [terror watch] list have been stopped trying to cross the U.S.-Mexico border, compared to 100 in 2022." So, Nobility's management has an apt point.
Increased "global tensions" include those involving Communist China. For those who dig into the report that follows, another apt concern.
U.S. Commerce Secretary Gina Raimondo Warns China 'UnINVESTABLE' – 'All Time Low' Biz Confidence – Supply Chain, U.S. Banking, More Red Flags – Facts and MHVille Analysis; plus MHMarkets Update
The circumstances in the Russian-Ukrainian conflict are deteriorating, per some sources. And as some in the U.S. are 'masking up' again – ahead of the 2024 primary election process – the concerns over pandemic policies well ought to be on the minds of businesses. So, it is prudent for Nobility's management to mention such factors in their remarks, especially since pandemic and other policies are being discussed by major candidates as the 2024 primary season heats up.
Next, and perhaps of greater interest to potential investors and stakeholders.
The following inquiry was put to Bing's AI Chat function. The Bing AI response follows.
> How does Nobility Homes Compare to other Publicly Traded firms in Manufactured Housing Production?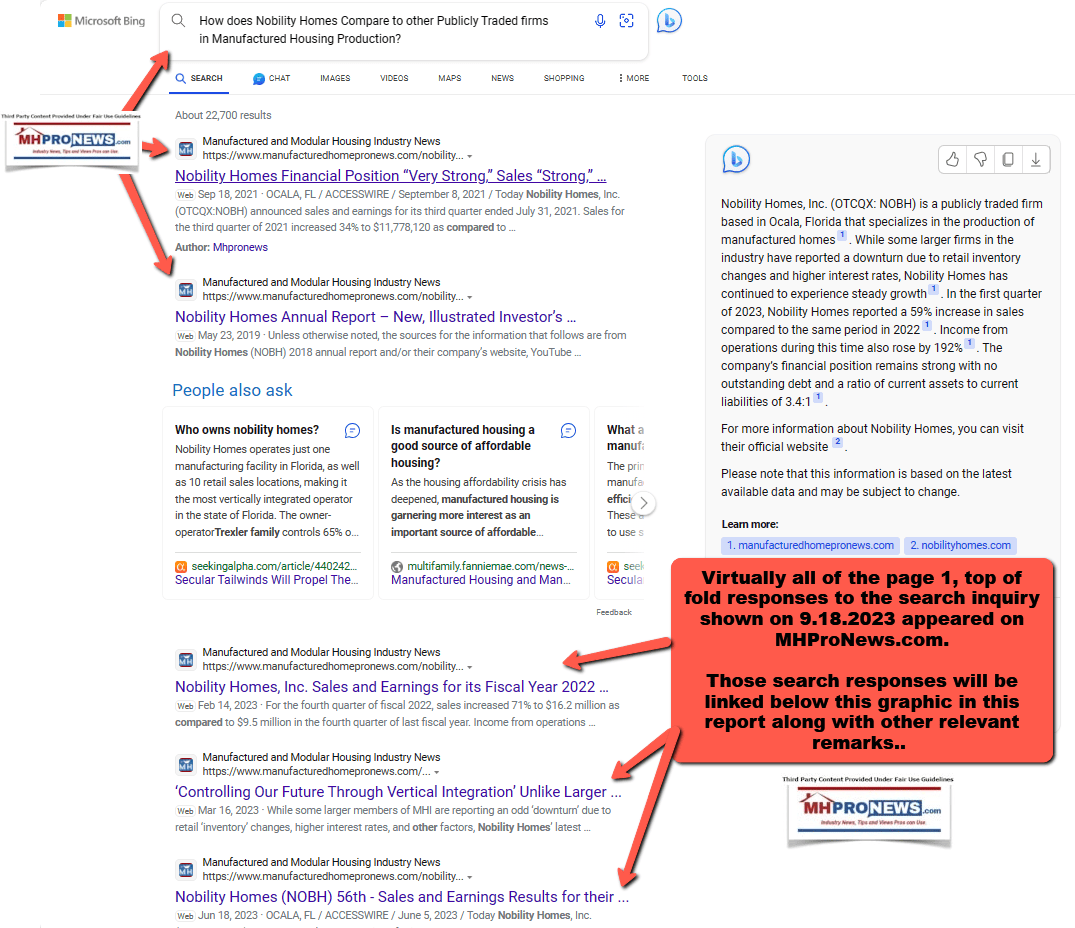 Nobility Homes, Inc. Sales and Earnings for its Fiscal Year 2022 Report, Result$ Best Inflation – Net After Taxes Up 34%, More Fact$; DeSantis ESG and NOBH; plus MHVille Stocks, Market Updates
'Controlling Our Future Through Vertical Integration' – Unlike Larger Firms, Big Growth at Nobility Homes-1Q 2023 Results–Facts, Analysis, Expert Commentary; plus MHVille Stocks Update
Nobility Homes (NOBH) 56th – Sales and Earnings Results for their Second Quarter 2023, Data Reveals Fresh MHVille Saga Details; plus Sunday Weekly Manufactured Housing Industry Headlines Recap
Nobility Homes Financial Position "Very Strong," Sales "Strong," But Challenges Including Lending and Others Examined; Plus Manufactured Housing Stocks Update
Insider Trades, New Cavco Industries Investigation, Selling – Plus More Manufactured Housing Stock Updates
Note, that Nobility Homes appears to have had a different – and perhaps arguably better experience in some sense – in the manufactured housing industry 2022 backlog controversy. While several firms reported backlogs, there are reasons to think that NOBH was as stated, while others – per insiders – may have 'fluffed' their numbers. That fluffing may have later contributed to the current industry downturn, per sources cited in the report below. Restated, Nobility's management seems to have 'shot straight' while some of the so-called 'Big Three' may not have done so. That too is a positive checkmark next to Nobility's management and team performance.
Centennial Home's Chad Evans and MHVille Pros Sound Off 2022 Manufactured Housing Backlog Controversy, Changes in Retail Lending, Vanishing Independent Manufactured Home Retailers Examined
MHProNews also asked Bing's AI Chat function:
> Is Nobility Homes (NOBH) a member of the Manufactured Housing Institute?
The top result on the normal Bing search said: "According to information created by the Manufactured Housing Institute (MHI), which used to be available publicly but no longer is, Nobility Homes Inc is not an MHI member." The source of that result is linked here and Bing's AI chat responded as follows.