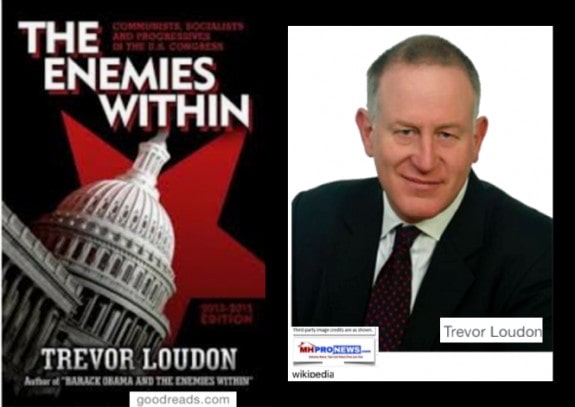 "I'm a political researcher from Christchurch New Zealand. I believe in freedom…" says author Trevor Loudon about himself.
Loudon's book, "Barack Obama and the Enemies Within" currently gets 4.1 stars from readers on Amazon.
His next book, "Enemies Within: Communists, Socialists and Progressives in the U.S. Congress," enjoys a 4.4 star rating among Amazon readers. It is this second book, a whopping 700 page read, that the 78 minute video posted with this article is based upon.
"The Enemies Within" is designed to show American voters exactly how modern communism works and how it impacts on your life, every single day. Just how do the communists win big on things like Obamacare and immigration "reform," which go completely against the wishes of the American people?" – says the review on Goodreads.
"Trevor Loudon's research has been cited by Glenn Beck, Rush Limbaugh, countless articles, blog posts and in books by well known authors Paul Kengor, Aaron Klein and Jerome Corsi. He has given countless radio interviews and addressed audiences in more than 30 states in his four tours of the United States," per Goodreads.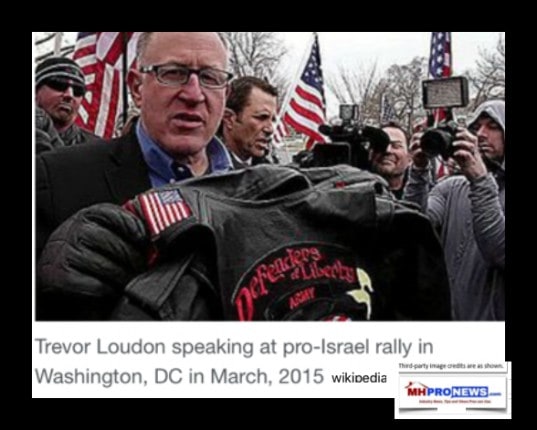 "Trevor Loudon speaks on internal subversion, communism and socialism, national security, culture and constitutional conservatism," that review concludes.
"Could your congressman pass an FBI security check? That's the question anti-communist researcher, author, and now filmmaker Trevor Loudon from New Zealand poses in his documentary The Enemies Within," writes Christian Gomez in the New American.
"Based upon his second book, The Enemies Within: Communists, Socialists and Progressives in the U.S. Congress, Loudon's film exposes the far-left and outright communist connections, as well as radical Islamic ties, of numerous Democratic members of Congress," says Gomez.
The Daily Business News has done some basic background checks on this author and his video, as the above reflects.
The left-of-center Washington Post has a review by columnist Dana Milbank of Loudon's Obama analysis that said in part, "The charges [against Obama] ranged from the absurd to the merely questionable."
Keep in mind that Amazon's Jeff Bezos own the Washington Post, and had Warren Buffett on their board of directors for 37 years, until he stepped down a few years ago.
To say it The Enemies Within is controversial would be accurate.  The interviews below contains clips from the full length movie, which is available on Amazon Prime and iTunes.
There are several facts known from other sources that readily confirm Loudon's thesis.
For a documentary style video, it makes good use of numerous, short, hard-hitting interview and video clips, all of which naturally support Loudon's premise. Several of those interviewed have expert level experience in American intelligence.
The Pacific Freedom Foundation's (PFF)  LinkedIn Page reads in part, "The Pacific Freedom Foundation is a nonprofit organization that is dedicated to unlocking the covert side of US and global politics."
"We want to expose those in American politics who are ideologically corrupt and not worthy of the public trust. We primarily focus on the backgrounds and records of American politicians who support progressives ideals rather than maintain our Constitutional government in its original intent and purpose as setforth by the Freedom fighters of yesteryear," per the PFF LinkedIn page.  The video below is not the documentary, but is an in depth discussion by Loudon in front of a live audience.
Many of these are elected and appointed officials who those who follow American political and economic activities that you would or should know by name.
They influence or drive the policies that influence your business.
Instead of three thirty minute sit coms, or other television viewing, why not watch this video one evening?
You may not look at politics in America quite the same again.
"We Provide, You Decide."  © ## (News, analysis, and commentary.)
Related Insights, Similar to the Enemies Within:
Buffett, Bezos – Time Announcement to Drop Market Ahead of SOTU? Plus MH Market Update$
Former President Barack Obama recently said something relevant to the nation. But it was particularly and profoundly insightful to manufactured housing professionals. According to the Hill, " Former President Obama said in an interview that Fox News viewers and NPR listeners are living on different planets in terms of what news they consume.
Toxic Combination of Big Business in Bed with Big Government, Rules for Radicals, Generation Zero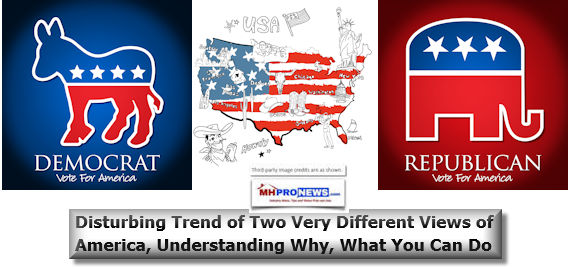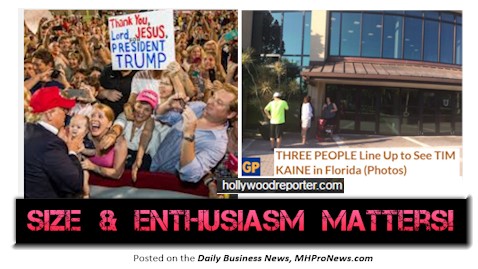 MH Industry Background, and Solution Related:
There are over 8 million affordable housing units needed in America today. Third-party research reveals that the most affordable kind of quality, safe, durable, and economical homes in America today are manufactured homes. The vast majority of Millennials want to own, but don't want to sacrifice quality and green features.
HUD Comment Letter – FR-6075-N-01 Regulatory Review of Manufactured Housing Rules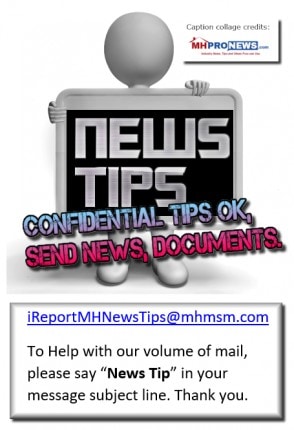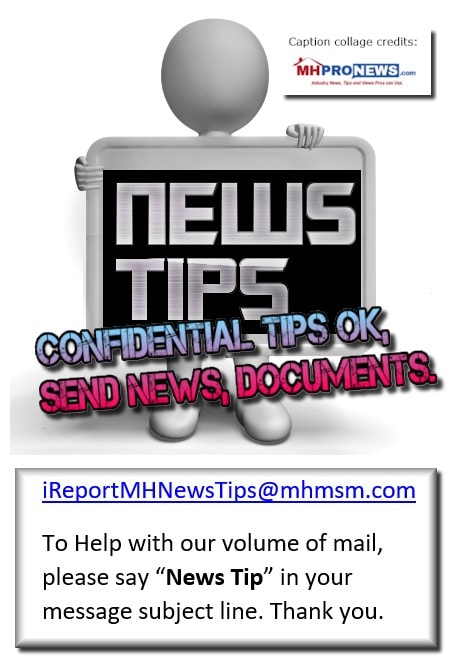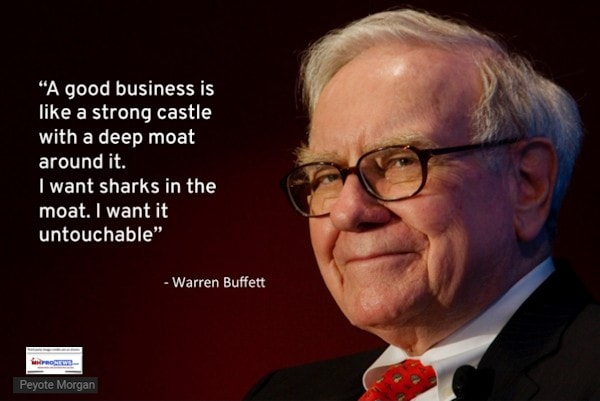 Thousands "Get It."
Sign Up Today! Click here to sign up in 5 seconds for the manufactured home industry's leading – and still growing – emailed headline news updates. You'll see in the first issue or two why big, medium and 'mom-and-pop' professionals are reading them by the thousands. These are typically delivered twice weekly to your in box.
(Third party images, and cites are provided under fair use guidelines.)
Follow us on Twitter:
ManufacturedHomes
@mhmsmcom

Submitted by Soheyla Kovach to the Daily Business News for MHProNews.com.
Soheyla is a managing member of LifeStyle Factory Homes, LLC, the parent company to MHProNews, and MHLivingNews.com.