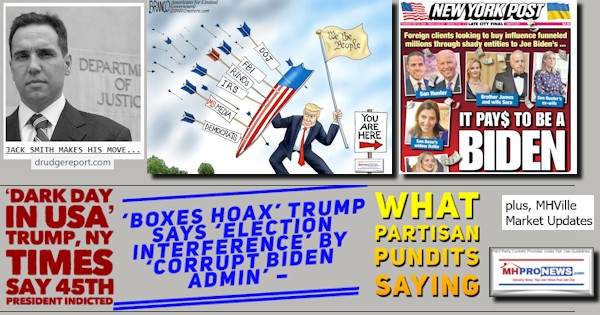 Deposed 45th President of the United States (POTUS) Donald J. Trump (R) posted on his Truth Social account Thursday that he's been indicted, "seemingly over the Boxes Hoax," and that he's been summoned to appear at the Federal Courthouse in Miami on Tuesday at 3pm. ZeroHedge and others points to the New York Times report for the left-leaning media perspective on what is said to be seven federal charges that Special Counsel Jack Smith's investigation into the deposed president's possession of what's being called "classified documents." Trump has repeatedly said he declassified the material, as have other presidents.  Under U.S. law it is widely viewed that presidents have "absolute" powers to declassify material. Trump supporters are saying that the timing of this announced indictment when purported President Joe Biden (D) is being accused with evidence of taking $5 million dollars in bribes while he was Vice President under 44th President Barack Obama (D) is no coincidence.
The left leaning New York Times said:
Here's what to know:
The indictment reaches back to the end of Mr. Trump's term in January 2021, when the documents — many of which were said to be in the White House residence — were packed in boxes along with clothes, gifts, photos and other material, and shipped by the General Services Administration to Mar–a-Lago.
After lengthy efforts by the National Archives throughout much of 2021 to get Mr. Trump to turn over the material he had taken with him — considered government property under the Presidential Records Act — Mr. Trump turned over 15 boxes of material in January 2022. The boxes turned out to contain highly sensitive material with classified markings, prompting a Justice Department investigation.
Last August, federal agents descended on Mar-a-Lago to conduct an extraordinary search that turned up material that Mr. Trump had failed to turn over in response to a subpoena months earlier demanding the return of any classified documents still in his possession.
The Justice Department has repeatedly questioned Mr. Trump's level of cooperation with the efforts to recover the documents, saying that it had recovered more than 100 documents containing classified markings even after an attestation by one of Mr. Trump's lawyers that a "diligent search" by his legal team had not turned up any further materials.
Trump still faces other ongoing criminal investigations. They include Mr. Smith's inquiry into Mr. Trump's efforts to hold onto power following his election loss — and how they led to the Jan. 6, 2021, assault on the Capitol — and an investigation by a prosecutor in Georgia into his attempts to reverse his 2020 election loss in that vital swing state. Mr. Trump is scheduled to go on trial in the Manhattan criminal case next March.
Part I of today's report will be the WND News Center report to ManufacturedHomeProNews (MHProNews), which said the following.
Part I
WND
'Dark day': Trump says he's indicted over 'boxes hoax'
'I never thought it possible that such a thing could happen to a former president'
By Joe Kovacs
Published June 8, 2023 at 8:08pm
PALM BEACH, Florida – Former President Donald Trump said Thursday he has been indicted on federal charges emerging out of Special Counsel Jack Smith's investigation into Trump's possession of classified documents.
America's 45th president has been summoned to appear at federal court in Miami on Tuesday.
"The corrupt Biden Administration has informed my attorneys that I have been Indicted, seemingly over the Boxes Hoax, even though Joe Biden has 1850 Boxes at the University of Delaware, additional Boxes in Chinatown, D.C., with even more Boxes at the University of Pennsylvania, and documents strewn all over his garage floor where he parks his Corvette, and which is 'secured' by only a garage door that is paper thin, and open much of the time," Trump said in a post on his Truth Social.
"I have been summoned to appear at the Federal Courthouse in Miami on Tuesday, at 3 PM.
"I never thought it possible that such a thing could happen to a former President of the United States, who received far more votes than any sitting President in the History of our Country, and is currently leading, by far, all Candidates, both Democrat and Republican, in Polls of the 2024 Presidential Election. I AM AN INNOCENT MAN!"
"This is indeed a DARK DAY for the United States of America. We are a Country in serious and rapid Decline, but together we will Make America Great Again!"
Trump also posted a video of himself, including the following caption:
"THE BIDEN ADMINISTRATION IS TOTALLY CORRUPT. THIS IS ELECTION INTERFERENCE & A CONTINUATION OF THE GREATEST WITCH HUNT OF ALL TIME. MAKE AMERICA GREAT AGAIN!!!"
In November, Smith was appointed by Attorney General Merrick Garland to probe Trump's alleged improper retention of classified records at his Mar-a-Lago home in Palm Beach, Florida.
Despite the indictment, Trump can legally continue his campaign for president in the upcoming 2024 election.
"Nothing stops him. It becomes practically harder because he has to make court dates," said Rick Klein, the political director of ABC News.
"The time line here is very inconvenient, but he is allowed to run for president even while under indictment, even, even if he were to be convicted."
As news of the indictment was breaking Thursday evening, the Drudge Report conducted a poll asking if Trump will serve jail time. As of 8:30 p.m. ET Thursday, with more than 5,300 votes, 55% answered No, 36% said Yes, and 8% were unsure.##
MHProNews Note: that same Drudge Report online poll referenced by WND.com as of 3:12 AM on 6.9.2023 has the results as shown.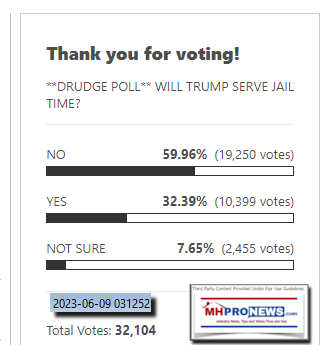 Part II Additional Information with More MHProNews Analysis and Commentary
There has been buzz for days that this indictment was coming. Another may emerge from Georgia in the near term. Pror to the announced indictment, the deposed 45th President Trump said the following via his Truth Social account.
Some Tweets and social media posts from various sources will shed light on the topic as it is viewed by various parties and partisans. Some Democratic reactions are as follows.
Happy Trump Indictment Day Number Two for those who celebrate!https://t.co/yi2yIKjqkJ

— Democratic Coalition (@TheDemCoalition) June 8, 2023
This is the most important job in the world, the most important seat in the world. Only the best in this country should occupy it. Only someone duly elected by "We the People". Only someone with the highest integrity. Only someone who cares about all of us. Only someone who… pic.twitter.com/miQaN5P7IC

— Maria Shriver (@mariashriver) June 9, 2023
I prefer presidents who haven't been indicted twice. https://t.co/H6WtTJn4Ny pic.twitter.com/NgQ9VCDtJ3

— Jack Cocchiarella (@JDCocchiarella) June 9, 2023
Left leaning Axios' Jonathan Swan noted the following.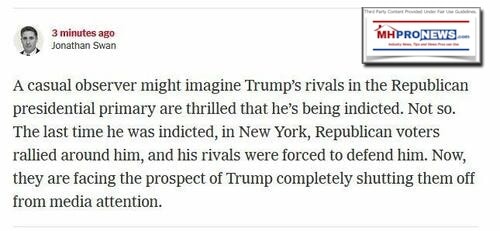 While it is likely that Trump's serious Republican rivals will try to use this against him, Turning Point USA (TPUSA) leader Charlie Kirk said the following.
Pete Hegseth is 100% right:

"I think every single Republican nominee should be down in Miami on Tuesday night standing for justice in the country."
pic.twitter.com/zlZkge9XH1

— Charlie Kirk (@charliekirk11) June 9, 2023
They indict Trump the same day that credible evidence emerges that Biden took a $5 million bribe to alter US foreign policy while he was VP.

Do you understand what is happening yet?

— George Papadopoulos (@GeorgePapa19) June 9, 2023
— Lady (@lovingit111) June 9, 2023
Very sad day in America. Yet another political hit job trotted out by the Biden Administration & institutions totally corrupted at the top by the radical left.

Sickening to watch how far America has fallen. Pray for President Trump & his family. https://t.co/hzSYcClVGA

— Sean Parnell (@SeanParnellUSA) June 9, 2023
Yes and here's a recap of the #Biden #impeachment evidence that's been produced 👇 pic.twitter.com/vTDsaQvA7w

— Ian Corzine (@iancorzine) June 9, 2023
Currently Trump's leading GOP (Grand Old Party or Republican Party) opponent per polling is Florida Governor Ron DeSantis. He tweeted the following.
The weaponization of federal law enforcement represents a mortal threat to a free society.

We have for years witnessed an uneven application of the law depending upon political affiliation.

Why so zealous in pursuing Trump yet so passive about Hillary or Hunter?

The DeSantis…

— Ron DeSantis (@RonDeSantis) June 9, 2023
Announced Republican presidential hopeful Vivek Ramaswamy said this.
We can't have two tiers of justice: one for Trump, another for Biden. One for Assange, another for Manning. One for BLM/Antifa, another for peaceful protesters on Jan 6.

I never thought we'd see the day when the U.S. President deputizes the DOJ to arrest his lead rival in the…

— Vivek Ramaswamy (@VivekGRamaswamy) June 9, 2023
It pisses me off that the true criminals in Washington, DC can start wars, launder billions of dollars, take bribes, and rig our elections with no consequences

But the good guys trying to stop them get indicted and imprisoned

This is unsustainable

— DC_Draino (@DC_Draino) June 8, 2023
In Joe Biden's America, the federal government is mobilized against political enemies in an unprecedented abuse of prosecutorial power.

— Harriet Hageman (@HagemanforWY) June 8, 2023
WITCH HUNT.

— House Judiciary GOP (@JudiciaryGOP) June 8, 2023
The Daily Torch's Rob Romano wrote the following report, which summarizes some of the polling data pre-indictment in an analysis earlier this week.
As Trump leads Biden in polls, Justice Department plans to indict him over documents he says he declassified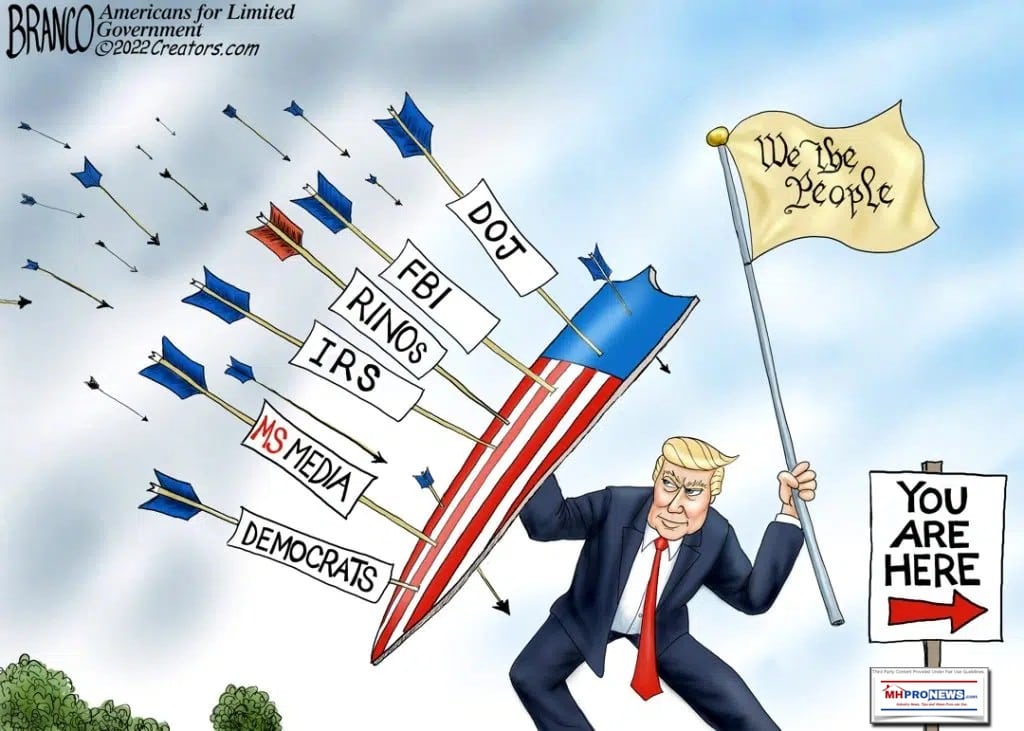 The U.S. Justice Department appears poised to indict former President Donald Trump over documents he says he declassified before he left office, with possible allegations of Espionage Act and obstruction of justice charges pending according to U.S. news outlets.
The news comes as former President Trump has been leading President Joe Biden in national polls of the imminent 2024 presidential election. The latest RealClearPolitics.com average of the head-to-head matchup between Trump and Biden has Trump leading 45.5 percent to 43.7 percent, and it's not even 2024 yet.
Trump is also easily leading the pack in the Republican nomination, averaging almost a 31-point lead over his closest challenger, Florida Republican Gov. Ron DeSantis, including in early states like Iowa and New Hampshire.
The indictment therefore cannot be separated from the political ramifications that are likely to ensue from the optics of the sitting President and his administration taking down his top opponent in the presidential election.
On Truth Social, Trump issued a statement on June 7, calling the imminent federal case "election interference" on  a scale never seen. He's not wrong.
Trump stated, "Wow, this is turning out to be the greatest & most vicious instance of ELECTION INTERFERENCE in the history of our Country. Remember, I'm leading DeSanctimonious BIG in the Polls but, more importantly, I'm leading Biden by a lot. Also, & perhaps most importantly, they are launching all of the many Fake Investigations against me RIGHT SMACK IN THE MIDDLE OF MY CAMPAIGN, something which is unheard of & not supposed to happen. DOJ, FBI, NEW YORK A.G., NEW YORK D.A., ATLANTA D.A. FASCISTS ALL!"
And it might not even be that strong of a case.
The day before he left office, former President Trump declassified a trove of documents related to the Justice Department's botched investigation of Trump that falsely accused him and his 2016 presidential campaign of being Russian agents.
In the memorandum, entitled, "Memorandum on Declassification of Certain Materials Related to the FBI's Crossfire Hurricane Investigation," Trump outlined how the materials were presented to him to be declassified: "At my request, on December 30, 2020, the Department of Justice provided the White House with a binder of materials related to the Federal Bureau of Investigation's Crossfire Hurricane investigation.  Portions of the documents in the binder have remained classified and have not been released to the Congress or the public.  I requested the documents so that a declassification review could be performed and so I could determine to what extent materials in the binder should be released in unclassified form. I determined that the materials in that binder should be declassified to the maximum extent possible."
But not before the FBI complained about the need for redactions, with Trump granting the redactions: "In response, and as part of the iterative process of the declassification review, under a cover letter dated January 17, 2021, the Federal Bureau of Investigation noted its continuing objection to any further declassification of the materials in the binder and also, on the basis of a review that included Intelligence Community equities, identified the passages that it believed it was most crucial to keep from public disclosure.  I have determined to accept the redactions proposed for continued classification by the FBI in that January 17 submission."
The Trump memorandum continued, "I hereby declassify the remaining materials in the binder.  This is my final determination under the declassification review and I have directed the Attorney General to implement the redactions proposed in the FBI's January 17 submission and return to the White House an appropriately redacted copy."
That redacted copy was never returned to the White House as ordered. In May, former Trump administration official Kash Patel said he witnessed the declassification himself in a phone interview with Breitbart.com, but that the documents remained unaltered and had retained their classified markings: "The White House counsel failed to generate the paperwork to change the classification markings, but that doesn't mean the information wasn't declassified. I was there with President Trump when he said 'We are declassifying this information.'"
Apparently, the Justice Department simply refused to comply with the declassification order, even with the redactions accepted by Trump, and so Trump was left with a decision. Leave it to Biden, or declassify everything and take them with him. Here, Patel appears to be saying that Trump simply decided to declassify the documents in toto and take his chances.
And the Biden Administration Justice Department led by Attorney General Merrick Garland never complied with the Trump memorandum either, Senate Judiciary Committee Ranking Member Chuck Grassley (R-Iowa) and Sen. Ron Johnson (R-Wis.) revealed in a Feb. 15, 2022 letter to Garland. It was a follow-up to an Oct. 2021 letter on the same complaining about the lack of disclosure.
These appear to be the same documents the FBI raided from Trump's residence in Palm Beach, Fla., Mar-a-Lago, on Aug. 8, 2022. On Truth Social, on Aug. 12, 2022, Trump noted that "it was all declassified," referring to the documents seized.
The President's inherent powers to declassify military and other national security information derives from the Constitution's Article II, Section 1 vesting clause: "The executive power shall be vested in a President of the United States."
In 1988, in Department of Navy v. Egan, the U.S. Supreme Court outlined the contours of the President's primary responsibility for classification of sensitive national security documents as deriving directly from Article II, not from any Congressional statute: "The President, after all, is the 'Commander in Chief of the Army and Navy of the United States.' U.S. Const., Art. II, 2. His authority to classify and control access to information bearing on national security and to determine whether an individual is sufficiently trustworthy to occupy a position in the Executive Branch that will give that person access to such information flows primarily from this constitutional investment of power in the President and exists quite apart from any explicit congressional grant."
The years-long, top secret investigation began in July 2016 following false allegations by Clinton campaign operatives that Trump had somehow supported a Russian plan to hack the Democratic National Committee (DNC) email server and post them on Wikileaks, and then was carried over into the Trump administration in 2017, leading to the recusal of former Attorney General Jeff Sessions, the firing of former FBI Director James Comey and the appointment of former Special Counsel Robert Mueller, who found no such conspiracy.
The Mueller report ultimately stated, "[T]he investigation did not establish that members of the Trump Campaign conspired or coordinated with the Russian government in its election interference activities," and "the evidence does not establish that the President was involved in an underlying crime related to Russian election interference."
The problems with the Justice Department investigation were further outlined by Special Counsel John Durham in his devastating report outlining the Justice Department, State Department, intelligence agencies and FBI's "confirmation bias" that led to the investigation of Trump's 2016 presidential campaign, transition and then administration falsely alleging that Trump and his campaign were Russian agents who had helped Moscow hack the Democratic National Committee (DNC) and put their emails onto Wikileaks despite the fact that the FBI could not "corroborate a single substantive allegation in the [Christopher] Steele dossier reporting," which was sourced to the Hillary Clinton campaign and the DNC.
During the course of the investigation, the Justice Department obtained surveillance against the Trump campaign and the GOP, first by targeting campaign foreign policy advisor George Papadopoulos via foreign agency efforts beginning in mid-2016, and then with Foreign Intelligence Surveillance Act (FISA) warrant applications on campaign foreign policy advisor Carter Page beginning in Oct. 2016, fueled by the DNC-Steele dossier falsely accusing President Donald Trump, Page and Paul Manafort of being Russian agents, that was renewed after the election and then finally the fateful strike on former National Security Advisor Michael Flynn in Jan. 2017, spying on his Dec. 2016 phone call with the Russian ambassador where Flynn attempted to deescalate tensions with Moscow, leaking it to the Washington Post on Jan. 12, 2017, sending the FBI to ask about it on Jan. 24, 2017 — all encompassing the bedrock of a three-year-long Justice Department investigation, undertaken under the mistaken belief that the nation had just elected a Manchurian Candidate, and risking nuclear war as matters continue to escalate in Ukraine following Russia's invasion there.
And now it's all coming to a head on the eve of the 2024 election. After 2020, former President Trump decided that he was not going to leave office lightly. He was going to take the truth with him. And as Kash Patel noted in the Breitbart.com interview, "he thought the American public should have the right to read [it] themselves."
Instead, President Biden has apparently decided to reclassify those documents and continue to hide the truth from the American people, using the same Article II authority former President Trump used to declassify them in the first place.
The real question that might be asked is "What is Biden hiding?" We might find out soon, but ultimately, it will be for the American people to decide it this is all worth overturning the nation's two-party system to prop up a failing president who appears to dread a head-to-head matchup with his former rival, and instead seeks to imprison him. This is dangerous, but politically, as the polls indicate, it could be benefitting Trump in unanticipated ways, predictable to see outside the Beltway, but less so for an entrenched political establishment and permanent state too blinded by their own power — and their desperation to keep it.
Robert Romano is the Vice President of Public Policy at Americans for Limited Government Foundation.
##
MHProNews plans to monitor developments and report as deemed prudent in both major parties as it relates to the 2024 election cycle.  As the DOE energy rule, the decline of housing in general despite the Biden Housing Plan, and the decline of manufactured housing in particular is increasingly evident, it should matter who is sitting in the White House. If it has to be a Democrat, why not Robert F. Kennedy Jr.? Per polling, he's at about 20 percent, one said 27 percent. That's akin to what Governor Ron DeSantis ranged vs. Trump prior to recent events. Among Republican hopefuls, the indictment in New York only boosted Trump's popularity and fund raising. Time will tell for all. Stay tuned, because your business, career, or lifestyle will be impacted by the results. ##
Update: 6.9.2023 at 8:43 AM – former Trump Administration official Kash Patel on Washington's WMAL said that he thinks that the actual charge may be mishandling of national security documents. That will be made clear (confirmed or corrected) next Tuesday. That said, Patel asserts that if that is the case, that charge can't properly applied to a president in this situation.  He said that is why former presidents Obama, Bush, and Clinton haven't been similarly charged.
##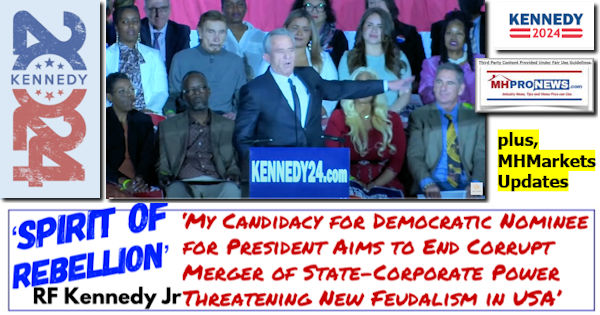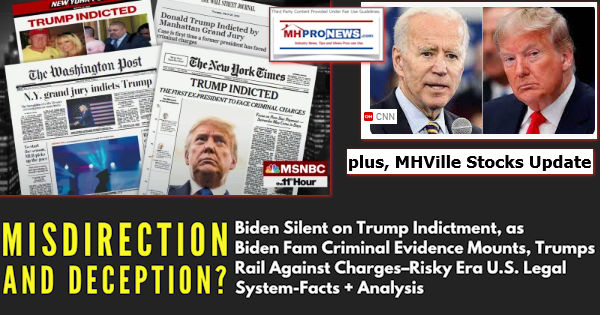 Time to Negotiate 'Long Gone'-Former Official Explains Why FBI Raided Trump, Trump Supporters Voice Outrage – "Unprecedented"–Watergate Analogy, Biden, Clinton Questions; plus MHStock Updates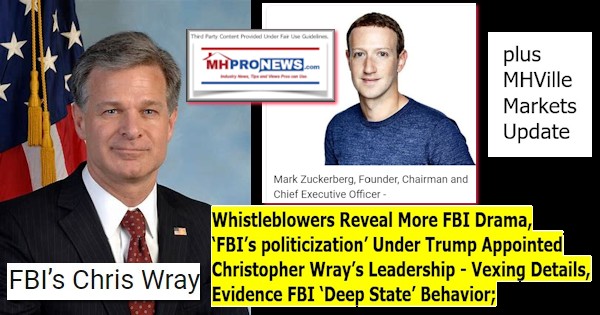 Exposed by Harvard Grad Dr Robert Epstein Interview on Google's True Power, Massive Influence on Business, Public Policy, More – 'The Creepy Line' Deux Viewpoint for Affordable Manufactured Housing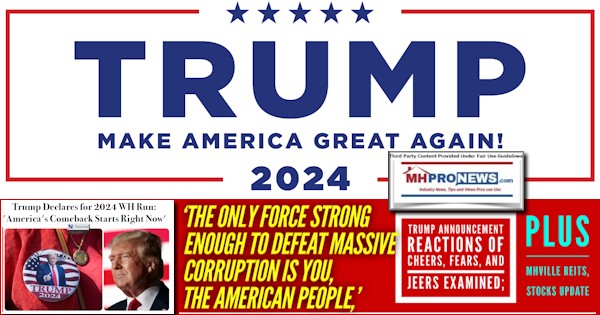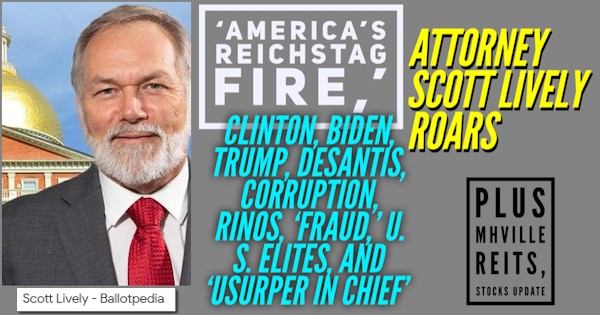 III. Daily Business News on MHProNews Markets and Headline News Segment
The modifications of our prior Daily Business News on MHProNews format of the recap of yesterday evening's market report are provided below. It still includes our signature left (CNN Business) and right (Newsmax) 'market moving' headlines. The macro market moves graphics will provide context and comparisons for those invested in or tracking manufactured housing connected equities.
In minutes a day readers can get a good sense of significant or major events while keeping up with the trends that are impacting manufactured housing connected investing.
Reminder: several of the graphics on MHProNews can be opened into a larger size. For instance: click the image and follow the prompts in your browser or device to OPEN In a New Window. Then, in several browsers/devices you can click the image and increase the size. Use the 'x out' (close window) escape or back key to return.
Headlines from left-of-center CNN Business – from the evening of 6.8.2023
The bull market is back
Pedestrians wear protective masks due to poor air quality from wildfires in Canada outside the New York Stock Exchange in New York, US, on Thursday, June 8, 2023. The US Northeast will continue to breathe in choking smoke from fires across eastern Canada for the next few days, raising health alarms across impacted areas.
The S&P 500 rallied, buoyed by gains in big technology stocks
First on CNN: Janet Yellen tells top CEOs the US wants to work with China to tackle urgent global challenges
GM wants to adopt Tesla's charging network as 'the standard'
Middle-income buyers face the most severe housing shortage
Americans' wealth rises by $3 trillion but remains below early 2022 peak
White House hails the end of the supply chain nightmare
The US Senate is working to get up to speed on AI basics ahead of any legislation
Louisiana lawmakers approve parental consent bill for kids' social media use and other online services
'We no longer know what reality is.' How tech companies are working to help detect AI-generated images
Lionel Messi's signing sparks sharp rise in Inter Miami ticket prices
'Labor hoarding' is gaining steam as businesses brace for a recession
Mask and air filter sales spike on Amazon as Northeast still lives with smoke
EU official to confront Zuckerberg after damning report on company's handling of child sexual abuse material
Mortgage rates fall for the first time in three weeks
FAA lifts ground stop at NYC airport but delays flights due to smoke
FAA delays flights into New York and Newark airports as Canadian wildfire smoke spreads
US stocks are in the firing line if China's economy stalls further
Analysis: There is now some public evidence that China viewed TikTok data
The average wedding just hit $29,000
Eurozone slips into recession as revised data shows two quarters of falling output
Coinbase CEO: Win or lose, our clash with regulators is good for crypto
Prince Harry's cross-examination is over. How did he fare?
The world's biggest companies have made almost no progress on limiting global warming since 2018
Notice: the graphic below can be expanded to a larger size.
See the instructions below the graphic below or click the image and follow the prompts.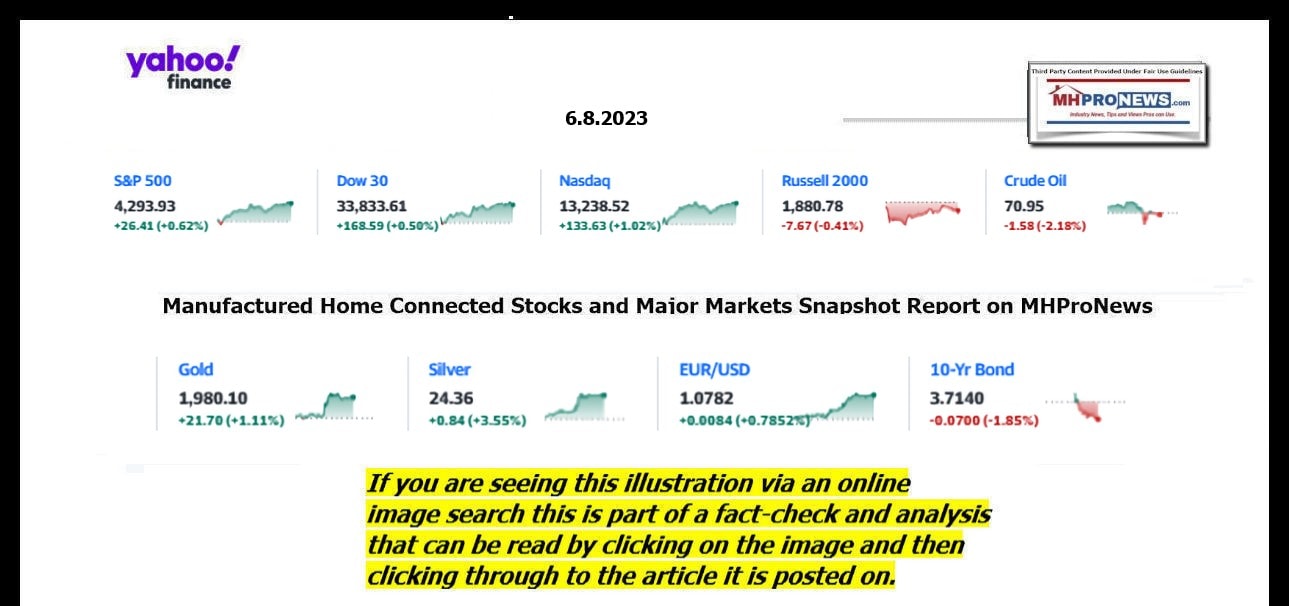 Headlines from right-of-center Newsmax 6.8.2023
Trump Braces for US Charges After Document-Probe Warning
Former President Donald Trump and his aides are bracing for a potential indictment in the classified documents investigation as prosecutors handling the probe were spotted Thursday at a Miami courthouse where a grand jury has been hearing from witnesses. [Full Story]
Dershowitz: Trump Indictment Worrying
Self: 'More Conversations' Loom on McCarthy | video
Haley: Won't Do Petty Exhanges With Trump | video
Huckabee: Pat Robertson a 'Visionary'
Alford: 'No Way to Defend' Close Call in Taiwan Strait | video
Blackburn: DNA Testing Needed at Border | video
Cline: FBI Biden Document Still Not Made Public | video
Alina Habba: Trump Indictment Would Be DOJ Abuse | video
LaTurner: House Has Right to See FBI Doc | video
Meuser: Freedom Caucus 'Wrong' on Rules Vote | video
Kari Lake: 'Little Rays of Hope' in Youth | video
Newsfront
NRA Hits Newsom's Call for Gun Safety Amendment
The National Rifle Association skewered California Gov. Gavin Newsom on Thursday after the liberal Democrat called for a constitutional amendment on gun safety, saying his state is a "beacon of violence" because of his policies that favor criminals over law-abiding …… [Full Story]
Related Stories
GOP Gov. Reeves Calls Out Newsom for Gun Debate
Newsom Pushes 28th Amendment to Restrict Gun Rights
Fox Tells Tucker to Stop Twitter or Else!
Fox News said former host Tucker Carlson breached his contract [Full Story]
Related
Publisher: Fox News Censoring Jeanine Pirro on Book Tour
Tucker Carlson's Twitter Show Garners Nearly 80M Views
Tuberville: Space Command Wants HQ in Ala.
Tommy Tuberville, R-Ala., has taken the ongoing debate over [Full Story]
Christian Broadcaster Pat Robertson Dies at 93
Pat Robertson, a religious broadcaster who turned a tiny Virginia [Full Story]
Trump Accuses DOJ Prosecutor of Attempted Bribery
Former President Donald Trump late Wednesday, in a pair of all-caps [Full Story]
Related
Trump Braces for Possible US Charges After Warning on Docs Probe
GOP Mulls FBI Funding Chop If Trump Indicted
US Prosecutors Told Trump He's Target of Classified Docs Probe
Alina Habba to Newsmax: Trump Indictment Would Be 'Mishandling,' 'Weaponization' of DOJ |video
Report: DOJ Set to Ask Grand Jury to Indict Trump for Docs
Ex-Trump Aide Bannon Subpoenaed in US Capitol Attack Probe
Scalise: 'Lot of Anger' for Speaker McCarthy 'to Resolve'
With House conservatives having shut down the chamber over House [Full Story]
Related
Conservative Revolt Pauses House Votes Till Next Week
Burchett to Newsmax: 'We Made a Stand' With Rule Vote |video
Wagner Chief: Russia Will 'Suffer Serious Losses'
The head of the mercenary Wagner Group said he is certain there will [Full Story]
Related
Ukraine Denies Report Counteroffensive Has Begun
5 Dead After Ukraine Dam Burst: Report
Russia Accuses Ukraine of Lies About Crimea, MH17
Kremlin Accuses Ukraine of Shelling Russian Rescuers in Flooded Area
Zelenskyy Visits Flood-Hit Kherson Region
Ukraine: Flooding Forces Russian Retreat in Kherson
Russia Says Top UN Court Should Dismiss Ukraine's Case over Crimea and Terrorism Funding
Russia Shells Ukrainian City Inundated by Dam Collapse after Zelenskyy Visit
Biden Preps for Court to Nix Student Loan Plan
Biden Preps for Court to Nix Student Loan Plan
President Joe Biden and his administration are gearing up for the [Full Story]
Pence to Newsmax: Choose Me, Constitution Over Trump
Former Vice President Mike Pence announced his candidacy for [Full Story]
Related
Mike Pence to Newsmax: I'll 'Stand Strong' for 'Interests of the Unborn'
Mike Pence to Newsmax: DOJ 'Recognized' My 'Innocent Mistake' on Docs
Pence: Jan. 6 Events Disqualify Trump From Another Term
North Dakota Gov. Doug Burgum Enters Presidential Race
Christie Kicks Off WH Bid With Swipes at Trump; Trump Swipes Back
Mike Pence Launches His 2024 Presidential Bid
Hinson to Newsmax: 'Excited' to See 'Great Conservatives' in 2024 Field |video
Joran Van Der Sloot Arrives in US to Face Charges
Joran Van Der Sloot Arrives in US to Face Charges
Joran van der Sloot, the chief suspect in the 2005 disappearance of [Full Story]
What Will Be the Next Landmark Supreme Court Decision?
As it nears the one-year anniversary of perhaps the biggest high [Full Story] | Platinum Article
US Suspends All Ethiopia Food Aid as Probe Finds 'Widespread' Theft
US Suspends All Ethiopia Food Aid as Probe Finds 'Widespread' Theft
The United States Agency for International Development said Thursday [Full Story]
Vatican Looks to Rein In Catholic Leaders' Social Media Use
While a new Vatican-directed push for Catholic leaders to be more [Full Story] | Platinum Article
Greene on Doc: FBI Thought Americans Not 'Worthy' to Know
After viewing the FBI's unclassified document as a member of the [Full Story] | video
Find out Which National Banks Are Paying Record High Interest
Savings Pro
Iowa GOP Poll: Trump Has 15-Point Lead Over DeSantis
Former President Donald Trump is holding a double-digit lead of 15 [Full Story]
Heart Dangers From Wildfires Smoke
As a huge plume of smoke from over 400 Canadian wildfires swept south [Full Story]
House to Hold Hearing on UFO Claims
The House Oversight Committee will hold a hearing to investigate [Full Story]
US Weekly Jobless Claims Most Since October 2021
The number of Americans filing new claims for unemployment benefits [Full Story]
Supreme Court Backs Black Voters in Ala. Voting Rights Case
The U.S. Supreme Court on Thursday handed a major victory to Black [Full Story]
Schumer Seeks More US Help to Battle Canada Fires
Senate Majority Leader Chuck Schumer on Thursday pressed for [Full Story]
FCC Imposing $5.1M Fine for 2020 Election Robocalls
Conservative activists Jack Burkman and Jacob Wohl, along with J.M. [Full Story]
Biden Unveils LGBT Proposals in Bid to Counter States' Rollback
President Joe Biden unveiled new initiatives Thursday to protect [Full Story]
'AI Doctor' Better at Predicting Patient Outcomes
Overall, NYUTron identified an unnerving 95 percent of people who [Full Story]
Pope in Good Condition After Surgery: Vatican
Pope Francis is in "good general condition" and is breathing [Full Story]
House GOP Pulls Back Contempt Charge Against FBI's Wray
The Republican chairman of the House Oversight Committee on Wednesday [Full Story]
Pentagon: LGBTQ+ 'Under Attack' by State Laws
Department of Defense officials warned during a Pride month event on [Full Story]
Pence: Will Back '24 GOP Nominee, Even If Trump
Even though former Vice President Mike Pence told a gathering in Iowa [Full Story]
Canadian Wildfires' Smoke Endangers Millions in US
Smoke from Canadian wildfires poured into the U.S. East Coast and [Full Story]
Hawaii's Kilauea Erupts, Spews Lava 200 Feet Into Air
The Kilauea volcano on Hawaii's big island erupted Wednesday after a [Full Story]
Bipartisan Bill Tackles Visa-Mastercard Oligopoly
On Wednesday, a bipartisan coalition of lawmakers reintroduced a bill [Full Story]
Newsom Pushes 28th Amendment to Restrict Gun Rights
California Democrat Gov. Gavin Newsom is proposing a 28th Amendment [Full Story] | video
The Most Misunderstood Song Lyrics of All Time
Definition
More Newsfront
Finance
US Weekly Jobless Claims Most Since October 2021
The number of Americans filing new claims for unemployment benefits surged to the highest level in more than 1½ years last week, but most economists were not convinced that layoffs were accelerating, noting that the data can be volatile…. [Full Story]
Rasmussen Poll: 47 Percent of GOP Voters Likely Off Target
Boeing Delays 90 Dreamliner Jets Over Horizontal Stabilizer Defect
Israeli Finance Minister Meets Global Companies in Paris
Dylan Mulvaney Says More Trans Partnerships Needed
More Finance
Health
Amino Acid Found in Energy Drinks May Slow Aging
An amino acid found in meat, fish and energy drinks might be a key regulator of aging in animals, a new study suggests. However, experts warn that no one should start seeing Red Bull as a fountain of youth. Researchers found that deficiencies in the amino acid, called…… [Full Story]
Effective, Drug-Free Relief From Migraines
New Heart Transplant Method Increases Donor Hearts
Chemotherapy Shortage Causing Treatment Complications
More States Legalize Fentanyl Test Strips
Notice: the graphic below can be expanded to a larger size.
See the instructions below the graphic below or click the image and follow the prompts.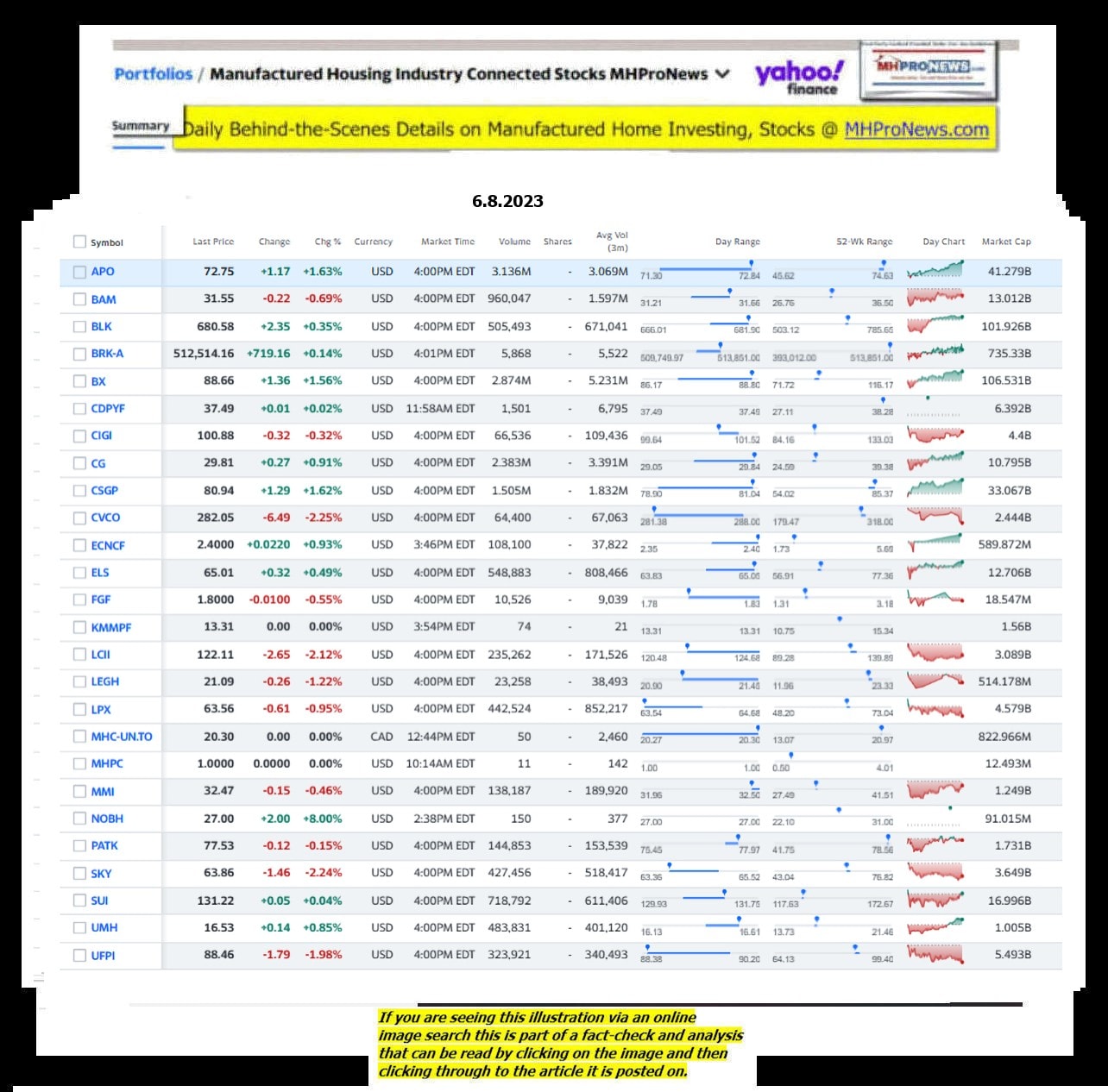 2022 was a tough year for many stocks. Unfortunately, that pattern held true for manufactured home industry (MHVille) connected stocks too.
See the facts, linked below.
'Stomach Churning Year' CNN-Wall Street 'Forget 2022' Down Year – Major Equities Data Compared to Manufactured Housing Stocks, Manufactured Home Community REITs, Performance for Year by Company
====================================
Updated
NOTE 1: The 3rd chart above of manufactured housing connected equities includes the Canadian stock, ECN, which purchased Triad Financial Services, a manufactured home industry finance lender.
NOTE 2: Drew changed its name and trading symbol at the end of 2016 to Lippert (LCII).
NOTE 3: Deer Valley was largely taken private, say company insiders in a message to MHProNews on 12.15.2020, but there are still some outstanding shares of the stock from the days when it was a publicly traded firm.  Thus, there is still periodic activity on DVLY.
Note 4: some recent or related reports to the REITs, stocks, and other equities named above follow in the reports linked below.
Analyst to Cavco-'Why is Manufactured Home Industry Production So Weak?' Paradox Develops-'Lower Expectations' 'More Singles' in Q1-2023 Cavco Industries Quarterly Facts, Trends+MHVille Analysis
Q1-23 Manufactured Home Shipments YoY -29% Drop But Triad's Origination Up-ECN Capital's Triad Financial Services–5.15.2023 Q1-2023 Financial Results-Remarks, Corp Insights; plus MHMarkets Update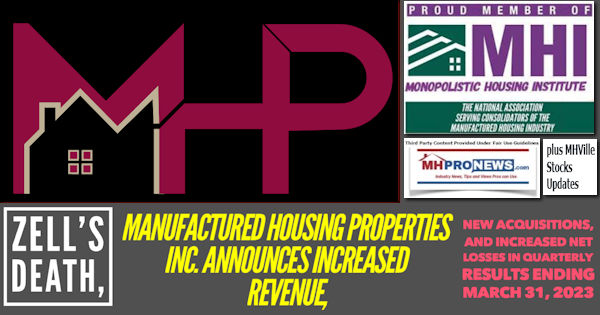 Legacy Housing Financial Results and Earnings Call 1Q 2023-'Sales Slowed but Margins Improved' Duncan Bates Boasts of Manufactured Housing 'Business Tailwinds' Official Data-Analysis
Manufactured Housing Institute Claims 'Effective Branding' for 'Manufactured Housing'-Seriously? Target Rich Satirical Saturday Examines MHI Claims, Messaging, RESULT$; plus MHVille Stocks Update
Sun Communities – 'Development in Our DNA,' ESG Stance, Q4 2022 Year End Results Earnings Call & PR – Facts, Insights Beyond PR and Official SUI Statements; plus MHVille REITs, Stocks Update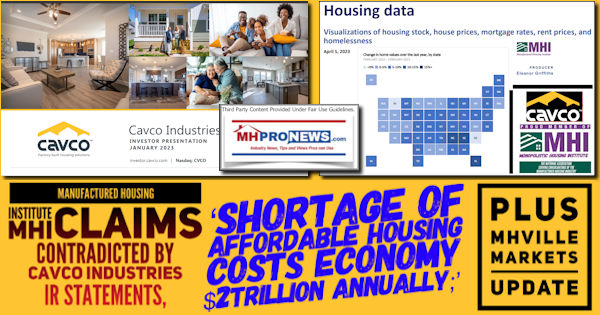 Nobility Homes, Inc. Sales and Earnings for its Fiscal Year 2022 Report, Result$ Best Inflation – Net After Taxes Up 34%, More Fact$; DeSantis ESG and NOBH; plus MHVille Stocks, Market Updates
'Killing's as Easy as Breathing' 'Bad Guys Know More Games' Warren Buffett Annual Berkshire Hathaway Letter, Clayton Homes, 21st, VMF-Manufactured Home Loans-Compelling MHVille Expert Views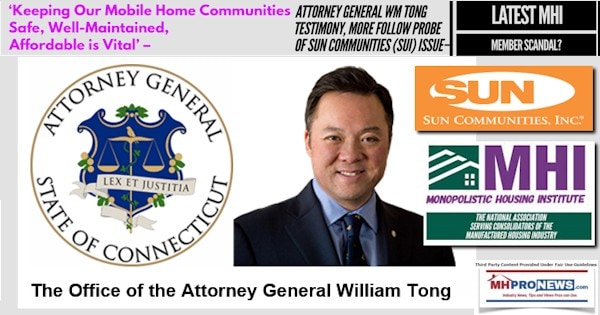 'Manufactured Housing in the News,' Unpacking UMH CEO Sam Landy Op-Ed' It's Time for Bi-Partisanship on Affordable Manufactured Housing Homeownership' in HousingWire; plus MHMarkets Updates
CEO Mark Yost, Skyline Champion Insiders SELL Million$ Value SKY Stock, Home Sales Drop-4th Q 2022 (3QFiscal2023), Official Result$-Facts, Analysis, Info Beyond PR; plus MHVille Stocks Update
BlackRock Document Exposes Central Banks like Federal Reserve on Recession; Manufactured Home Producer Cavco Industries 2022 Year End Results (CVCOQ3.23) Facts+Analysis; plus MHVille Stocks Update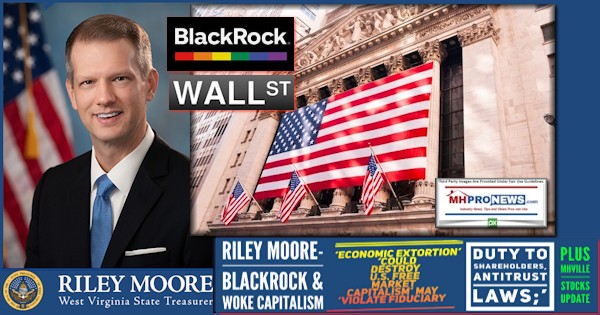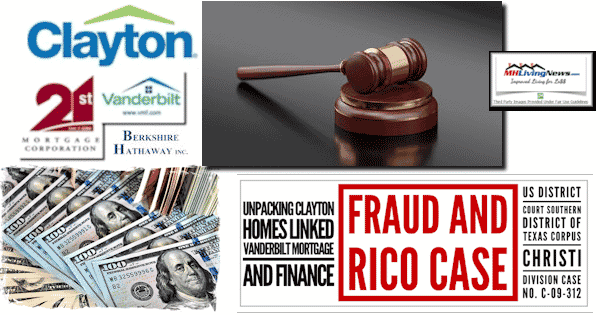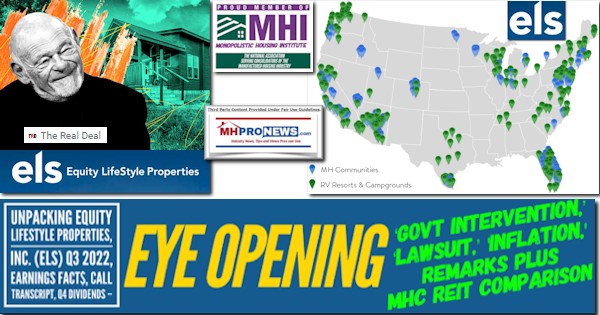 Manufactured Home Communities (a.k.a. 'Mobile Home Parks' – SIC) – Exploring UMH Properties; Fellow Manufactured Housing Institute Member Yes! Communities Suits and Settlements; plus MH Markets Updates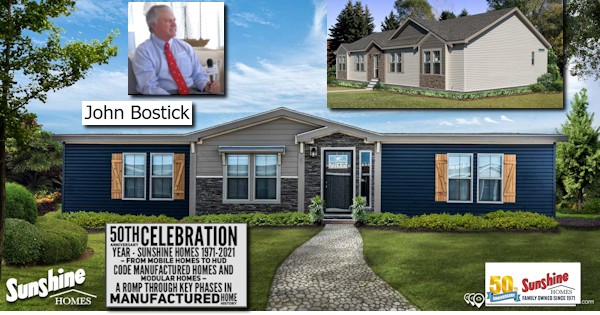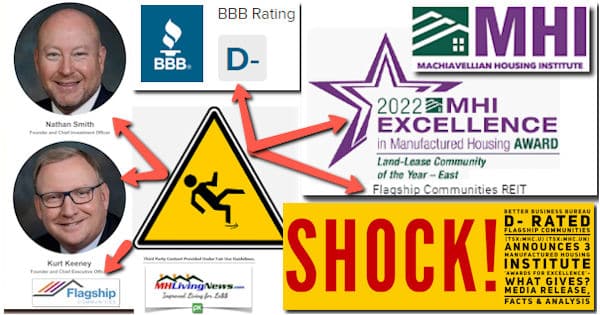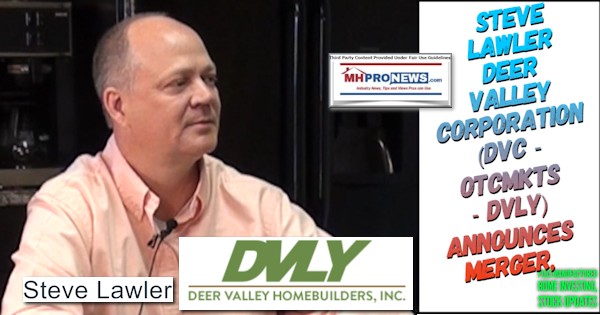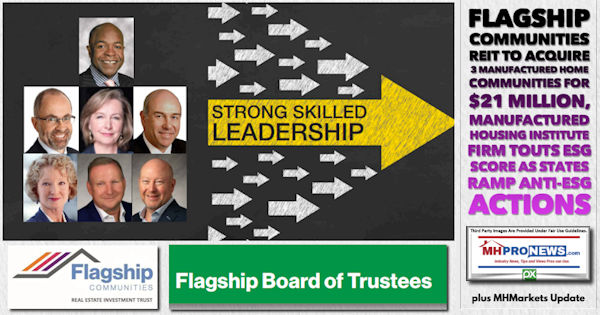 2023 …Berkshire Hathaway is the parent company to Clayton Homes, 21st Mortgage, Vanderbilt Mortgage and other factory-built housing industry suppliers.
· LCI Industries, Patrick, UFPI, and LP each are suppliers to the manufactured housing industry, among others.
· AMG, CG, and TAVFX have investments in manufactured housing related businesses. For insights from third-parties and clients about our publisher, click here.
Disclosure. MHProNews holds no positions in the stocks in this report.
· For expert manufactured housing business development or other professional services, click here.
· To sign up in seconds for our industry leading emailed headline news updates, click here.

Manufactured housing, production, factories, retail, dealers, manufactured home, communities, passive mobile home park investing, suppliers, brokers, finance, financial services, macro-markets, manufactured housing stocks, Manufactured Home Communities Real Estate Investment Trusts, MHC REITs.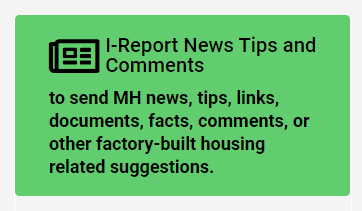 That's a wrap on this installment of "News Through the Lens of Manufactured Homes and Factory-Built Housing" © where "We Provide, You Decide." © (Affordable housing, manufactured homes, stock, investing, data, metrics, reports, fact-checks, analysis, and commentary. Third-party images or content are provided under fair use guidelines for media.) (See Related Reports, further below. Text/image boxes often are hot-linked to other reports that can be access by clicking on them.)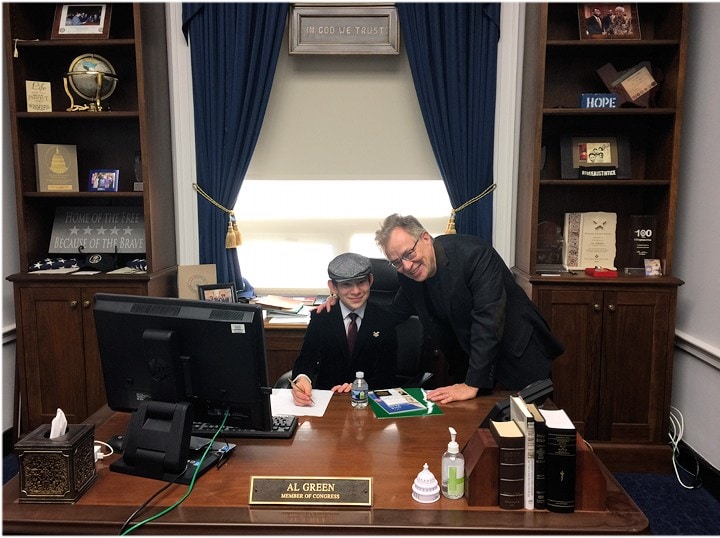 By L.A. "Tony" Kovach – for MHProNews.
Tony earned a journalism scholarship along with numerous awards in history. There have been several awards and honors and also recognition in manufactured housing. For example, he earned the prestigious Lottinville Award in history from the University of Oklahoma, where he studied history and business management. He's a managing member and co-founder of LifeStyle Factory Homes, LLC, the parent company to MHProNews, and MHLivingNews.com. This article reflects the LLC's and/or the writer's position and may or may not reflect the views of sponsors or supporters.
Anar Pitre-CEO Lotus Capital Partners-Vexing Manufactured Housing Institute Claims in Fact Check of Forbes 'What Manufactured Home Communities Investors Need to Know' – Inaccurate MHI Data Shown
Call for Congressional Oversight Hearings of Manufactured Home Industry Regulators Highlighted by Manufactured Housing Association for Regulatory Reform (MHARR); plus MHVille Markets Update
'Global Disinformation Index' Warren Buffett Ally Bill Gates' Microsoft Org Charged-Cutting Revenue to Conservative Views via Xandr, GDI; plus Sunday MHVille Headlines Recap
#1 Texas' Manufactured Housing Builders Survey Says They are 'Ready for a Rebound' But Data Point in Question, DOE MH Energy Rule Too – Facts, Analysis; plus, MHVille Stocks, Markets Update
Clayton-Next Step Off-Site Built 'White Paper'-Manufactured Homes, ThinkND 'Magic of the Mind-Everyday Illusion, Misdirection, Deception' MHI Members' Claims Analyzed; plus MHVille Markets Update
Department of Energy Publishes 'Unacceptable' Manufactured Housing Energy Rule Extension, MHI Remarks, Ex-MHI and MHARR's Danny Ghorbani Offers Focused Praise – plus MHVille Stocks, REITs Updates
Manufactured Housing Institute Claims 'Effective Branding' for 'Manufactured Housing'-Seriously? Target Rich Satirical Saturday Examines MHI Claims, Messaging, RESULT$; plus MHVille Stocks Update
50 State YTD 2023 Manufactured Home Production, Shipment Data Compared to NAR, NAHB Insights –Stick Builders Up While MH Falls – NAR Says 'More Inventory Critical' – Obstacles and Opportunities in MHVille Snapshot