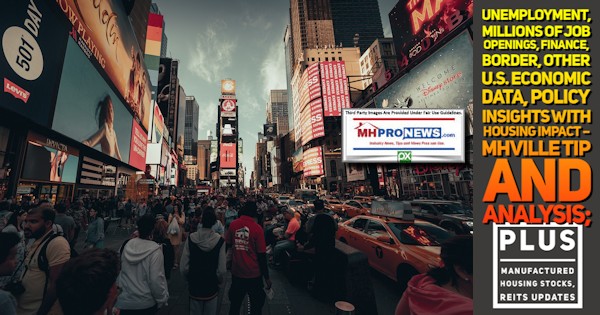 Before the recent 7 straight months of downturn in manufactured housing production, manufactured home producers were among those who said that getting qualified labor has been a challenge for the industry during parts of the Trump Administration and early in the Biden era. While numbers of Democratic politicos are better known in the Biden era for essentially favoring an 'open borders' policy, there are still some Establishment (vs. Trump or MAGA) Republicans who will still bow to the corporate donor-masters in de facto okay with open borders because it brings 'cheap labor' that some businesses want into the country. This report will review several economic topics, including the labor market, the still low unemployment rate, finance, and the wink-and-a-nod U.S. border policy in the Biden era where administration officials deny that the border is open while millions have flowed across from Mexico into the U.S. since Joe Biden moved into the White House. MHProNews participated in a presentation on 6.8.2023 by AMAC.us and NumbersUSA that laid out some sobering border facts. While checking information from across the left-right spectrum – an MHProNews custom that ought to be a standard journalistic practice – that fact check from an array of sources still yields a picture that is frankly less than perfectly clear. There are some things that do not 'add up.'  That disclosure made, this report will provide some data and insights that may prove useful to several sectors of the manufactured housing industry.
Part I of today's report is a snapshot by the Daily Torch's Robert "Rob" Romano, Vice President of Public Policy at Americans for Limited Government.
Part II includes insights from left- and right-leaning sources on some of the same topics, including the border issue. Among the questions that will be asked is this. Given that millions have crossed the southern U.S.-Mexican border, why are there still an estimated 10 plus million unfilled jobs in the U.S.A.?
Part I
Unemployment rate ticks up to 3.7 percent in May as job openings swell back to 10.1 million
The unemployment rate has ticked up off of historic lows to 3.7 percent in May, as 310,000 fewer Americans reported having jobs and those saying they were unemployed increased by 440,000, the latest data by the Bureau of Labor Statistics shows.
That's still pretty low by historic standards, but nothing lasts forever. Following periods of peak employment and high inflation, the economy can tend to overheat, consumer spending slows down and on a periodic basis, recessions occur, resulting in jumps in unemployment. The questions include when and to what extent that upheaval in labor markets will be.
Similar drops in the household survey reports of employment were felt in 2022, with 257,000 and 66,000 fewer Americans reported having jobs in the BLS household survey in Oct. 2022 and Nov. 2022, respectively, offset by gains through the first half of 2023—until now. There were also dips of 346,000 in April 2022 and 242,000 in June 2022 that were offset by gains in May 2022 and July 2022.
Which, is usually what happens during peak employment, where the unemployment rate really cannot go much lower, and so the level of employment begins clanking around the top, often followed by a drop that is significant. For example, by 2024, the White House Office of Management and Budget (OMB) has projected that the unemployment rate will rise to about 4.6 percent. That's an implied 2 million jobs lost or so, and much of it remains on the horizon.
On inflation, which peaked at 9.1 percent in June 2022 and was down to 5 percent in March. Usually peak inflation followed by a slowdown in the increase in prices also precedes a downturn. As it continues to normalize, watch for more upheaval in labor markets.
In the meantime, job openings measured by the Bureau of Labor Statistics increased by 358,000 to 10.1 million. That's still more than 15.9 percent below the 12 million peak in March 2022. Although a recent addition to the BLS plethora of data, job openings in the past three recessions have tended to dip significantly.
But as the number of Americans retiring has steadily increased over the past decade, so have the number of job openings. Americans not in the labor force 65 years old and older has increased 3.27 million since Feb. 2020, from 28.3 million to 31.4 million today. In Jan. 2009 it was just 20.1 million. That's the Baby Boomer retirement wave, coupled with comparatively lower fertility rates as more women entered the workforce in subsequent generations — and it continues to have massive ripple effects throughout the economy.
The question is whether those job openings will be enough to forestall job losses in labor markets indefinitely or at least through a period that would have otherwise resulted in the unemployment rate steadily ticking upward.
The situation could be similar to that of Japan whose demographic decline the past few decades with a rapidly aging population followed very low fertility rates. During the financial crisis and Great Recession of 2008 and 2009, the unemployment rate only reached 5.7 percent (here it reached 10 percent in Oct. 2009), and just 3.2 percent during the Covid recession.
There is also the spread between 10-year treasuries and 2-year treasuries, an inversion of which usually predicts a recession on the horizon as long term growth is perceived to be lower than short term growth. The 10-year, 2-year inverted briefly in March 2022 and then succumbed fully in July 2022, where it has remained. Usually, as the economy turns into a recession, the yield curve will tend to uninvert itself as the Federal Reserve ramps up purchases of treasuries and drops interest rates. The Fed hasn't done that yet, after hiking interest rates for the past year, and may not until inflation returns to more normal levels.
Other troubling signals include the recent regional bank failures: First Republic Bank, Silicon Valley Bank and Signature Bank all were placed into FDIC receivership in the past few months—the second, third and fourth largest bank failures in American history.
These have come as interest rates have risen by the Federal Reserve and private banks to combat sticky inflation in the U.S., thereby lowering the book value of trillions of dollars of U.S. treasuries that banks and other financial institutions hold onto. There could be as much as $620 billion of unrealized losses sitting on bank balance sheets.
Overall, the SPDR S&P Regional Banking ETF is down 38 percent since February. Shares of PacWest have collapsed nearly 76 percent since February, Western Alliance Bancgroup by 56 percent and Zions Bancorpation by 49.4 percent. Similar drops in the stock values of First Republic, Silicon Valley and Signature banks signaled their ends too, and could point to more financial stress on the horizon.
These are all things that tend to happen during recessions. They might be offset to some degree by the spare labor markets we are currently experiencing, with millions of job openings even as the economy is slowing down. That could spare the American people from the worst of what would otherwise be a steep increase in unemployment. Time will tell.
Robert Romano is the Vice President of Public Policy at Americans for Limited Government. ##
Part II – Additional Information with More MHProNews Analysis and Commentary
Without disputing the broad brush of what Romano outlined above – because he cites the sources he has used, there are some things that simply don't add up – be it federal or partisan media sources. The left-leaning Pew research center said on Jan 11, 2022 "Since Joe Biden took office in 2021, his administration has acted on a number of fronts to reverse Trump–era restrictions on immigration. the left-leaning Associated Press (AP) said on 5.10.2023 that: "Biden: US-Mexico border will be 'chaotic for a while'." Left-leaning Newsweek said that border crossings are three times the level experienced during the Trump years. The left-leaning New York Times said that there has been "record levels" of "migration" under Joe Biden.
Left-leaning
Politico
has as a
download this document
from Senate Republicans. It outlines some more data and areas of concern about the Biden de facto "open borders" policy. 
BIDEN'S BORDER CRISIS IS THE WORST IN AMERICAN HISTORY
HIS POLICIES CONTINUE TO MAKE IT WORSE
KEY TAKEAWAYS:
1. Under Joe Biden, America is facing the worst border crisis in our history.
2. President Biden has undermined America's border security and the integrity of our immigration
system at every turn.
3. Biden's border policies are creating a growing national security crisis, and threatening the safety of
Americans across the country.
MHProNews posed the following inquiry to Bing's AI chat function.  "How many jobs have illegal migrants taken during the Biden Administration?"
Bing's AI response was as follows.


PS – here is a key tip: there is an important difference between conflict or natural disagreement and getting screwed.  Disagreements are inevitable. But so long as disagreements are honest, they can be dealt with and overcome. By contrast, some in MHVille literally aim to screw other people out of what is rightfully theirs. Who says? Informed sources that had to win this writer over on that point.  There are some people who are trustworthy and others who are not.  For evidence or to learn more, check out some of the related reports.
'The Rules Are Simple. They Lie to Us, They Know We Know They Are Lying;' MHVillage/MHInsider Darren Krolewski Unveils Sobering Claim – 'How to Waste Good Money on Marketing' – plus MHVille Stock$
Investopedia's Cautionary Post on Illusory Truth Effect. What Is the Illusory Truth Effect? How Does Illusory Truth Effect Apply in MHVille? Fact Check, Analysis, Viewpoints Plus MH Stocks Update
TMHA VP Rob Ripperda's Tell Damages Manufactured Housing Institute Claim, While Dr. Harold Hunt Remarks Undercut Cavco's Bill Boor Statements on Manufactured Housing? Plus MHVille Markets Update
Doc Drop – As Sales, Production Fall During Affordable Housing Crisis Why Won't the Manufactured Housing Institute Fight for Good of All Segments of the Manufactured Home Industry? Plus MHMarkets Update
Headlines from left-of-center CNN Business – from the evening of 6.9.2023
It's an odd time for a bull market
Charging Bull bronze sculpture in the Financial District of Manhattan, New York, United States, on October 23, 2022. The sculpture was created by Italian artist Arturo Di Modica in the wake of the 1987 Black Monday stock market crash.
Why are stocks surging during a bearish economy? Two letters: AI
Blue Apron shares rebound on job cuts and a plan to juice its stock price
Tesla stock charges upwards on deal with GM
Lawyers for Epstein victim suing JPMorgan Chase ask to recall Jamie Dimon and others for depositions
Mark Zuckerberg has thoughts on Apple's new mixed reality headset
Why do businesses keep raising their prices?
Walgreens unveils Chicago store with only two aisles and most products kept out of sight
UBS and Swiss government sign Credit Suisse loss-sharing deal, clearing way for takeover to close
Netflix password crackdown boosts new subscribers to highest level since Covid began
First on CNN: Raj Shah out at Fox in wake of historic Dominion settlement
Deciding what to do when your employer changes the rules on remote work
America has lost half its public companies since the 1990s. Here's why
OpenAI CEO calls for global cooperation to regulate AI
The UK will scrap windfall tax on energy firms if prices keep falling
China to clamp down on AirDrop and Bluetooth file sharing for national security reasons
People in China are so worried about the economy they're asking for divine intervention
Right-wing media wages war on U.S. justice system after Trump's historic federal indictment
First on CNN: Janet Yellen tells top CEOs the US wants to work with China to tackle urgent global challenges
GM wants to adopt Tesla's charging network as 'the standard'
It's official. We're in a bull market
Middle-income buyers face the most severe housing shortage
Americans' wealth rises by $3 trillion but remains below early 2022 peak
White House hails the end of the supply chain nightmare
Headlines from right-of-center Newsmax 6.9.2023
Prosecutor Heading Trump Case: 'One Set of Laws' That 'Apply to Everyone'
Smith said prosecutors would seek a speedy trial. The case was filed in Florida. [Full Story]
Trump Federal Indictment
Explainer: What Happens Next?
Trump Indictment Unsealed
Biden: Have Not Spoken With AG About Trump Indictment
Trump's Valet Is Indicted
Corey Lewandowski: Trump Case Forced to Miami | video
Taibbi, Chris Cuomo Question Trump Indictment
Pence 'Deeply Troubled' by Trump Indictment
Trump Case Assigned to Judge He Appointed to the Bench
Comer: Biden Bribe Case at Same Time 'No Coincidence' | video
Trump Shifts Lawyers in Classified Documents Case
RNC's McDaniel: Biden Has 'Weaponized the Government'
Trump Says He Will Plead Not Guilty
Trump Lawyer: Indictment Designed to 'Injure' Campaign | video
Whitaker: AG Garland 'Weaponized' DOJ Against Trump | video
Lawyer Trusty: Trump 'Factually Innocent'
Gaetz: Trump Charges Are 'Severe Election Interference'
Trump Team: Smith Has 'History of Targeting Conservatives'
Virginia Gov. Youngkin: Trump a Victim of Selective Prosecution
CNN: Trump Admitted to Not Declassifying 'Secret' Info
McCarthy, Other Lawmakers Tweet Indictment Anger
Giuliani: 'We're a Banana Republic,' 'Fascist' | video
DeSantis Scolds Biden WH on Indictment
Burchett: Consider Cutting DOJ Funding
Peter Navarro: DOJ No Better Than Pakistan Govt | video
Steil: ACE Act 'Essential' for Election Integrity | video
Self: 'More Conversations' Loom on McCarthy | video
Haley: Won't Do Petty Exhanges With Trump | video
Huckabee: Pat Robertson a 'Visionary' | video
Alford: 'No Way to Defend' Close Call in Taiwan Strait | video
Blackburn: DNA Testing Needed at Border | video
Meuser: Freedom Caucus 'Wrong' on Rules Vote | video
Kari Lake: 'Little Rays of Hope' in Youth | video
Newsfront
Poll: Trump Holds 23-Point Lead Over DeSantis in Iowa
A full 44% of likely Republican caucus participants in Iowa say they support former President Donald Trump, giving him a 23 percentage point lead over Florida Gov. Ron DeSantis, who is favored by 21%, according to a new Victory Insights poll…. [Full Story]
FBI Doc: Burisma Exec Paid Biden $5M in Alleged Bribe
An executive of the Ukrainian natural gas firm Burisma Holdings paid [Full Story]
Man at Center of AG Paxton's Impeachment Faces Charges
Federal prosecutors on Friday leveled charges of making false [Full Story]
Dems Must Take Young Voters' Shift to Right 'Seriously'
Millennial voters who were responsible for delivering Democrats an [Full Story] | Platinum Article
Ex-CNN Boss Chris Licht Spotted Out With Nancy Pelosi
Former CNN chief executive Chris Licht was spotted at a swanky New [Full Story]
Former British PM Johnson Standing Down From Parliament
Former British PM Johnson Standing Down From Parliament
Former British Prime Minister Boris Johnson is stepping down as an [Full Story]
Kirby: Reports of China Spy Base in Cuba 'Not Accurate'
John Kirby, the National Security Council's coordinator for strategic [Full Story]
Related
Haley to Newsmax: 'Not Surprising' China to Build US Spy Base in Cuba |video
China to Open US Spy Base in Cuba
Ukraine: Fighting in Donetsk Region, Front Line Tense
Ukrainian deputy defense minister Hanna Maliar said on Friday the [Full Story]
Related
Kyiv Says It Intercepted Call Showing Russia Blew Up Kakhovka Dam
Putin: Russia Will Deploy Tactical Nuclear Weapons in Belarus in July
Russia Accuses Ukraine of Killing Flood Victims in Shelling Attacks
Thunberg Criticizes Russia Over Ukraine Dam 'Ecocide'
Russia Shells Ukrainian City Inundated by Dam Collapse after Zelenskyy Visit
Wagner Chief: Russia Will 'Suffer Serious Losses'
Ukraine Denies Report Counteroffensive Has Begun
Russia Calls Japan Amb. to Protest Military Supplies to Ukraine
SPONSOR: Overstock Giza sheet sets as low as only $29.98!
Mike Lindell's Best Bed Sheet Prices Ever Save 50%!'
SPONSOR: Overstock Giza sheet sets as low as only $29.98! [Full Story]
Why Are US Military 'Trainers' on the Ground in Taiwan?
Why Are US Military 'Trainers' on the Ground in Taiwan?
As tensions mount between China and Taiwan – and amid fears that [Full Story] | Platinum Article
Texas to Use Floatable Border Barrier in Rio Grande
Texas Republican Gov. Greg Abbott announced a new tool in trying to [Full Story]
Suspect in Holloway Disappearance Pleads Not Guilty
Joran van der Sloot, the chief suspect in the 2005 disappearance of [Full Story]
Walgreens Makes $500M Opioid Deal With New Mexico
Walgreens Boots Alliance has agreed to pay $500 million to New Mexico [Full Story]
PRRI Poll: Gender Opinion Set by Party, Religion
A new poll examining Americans' views on gender identity, pronoun [Full Story]
Biden Fines Big Pharma Over Inflated Drug Prices
The Biden administration on Friday announced it would impose [Full Story]
Vanguard Vs. Fidelity Vs. Schwab
FDA Panel Weighs OK of Alzheimer's Drug Leqembi
A panel of experts on Friday will discuss whether to recommend [Full Story]
Related
FDA Panel Backs Preventive RSV Therapy in Infants
Fox Tells Tucker to Stop Twitter or Else!
Fox News said former host Tucker Carlson breached his contract [Full Story]
Related
Publisher: Fox News Censoring Jeanine Pirro on Book Tour
Tucker Carlson's Twitter Show Garners Nearly 80M Views
Joe Rogan: Target Shoving Trans Agenda 'Down Our Throats'
Podcaster Joe Rogan slammed Target for "shoving" transgender ideology [Full Story]
How to Check Air Safety and What the Numbers Mean
How can you check the air quality in your area and what do the [Full Story]
Chinese Warplanes Penetrate Taiwan Air Defense Zone
More than 30 Chinese aircraft crossed into Taiwan's air defense [Full Story]
Related
China Envoy in SKorea Warns of 'Wrong Bets' Over Sino-US Rivalry
Christian Broadcaster Pat Robertson Dies at 93
Pat Robertson, a religious broadcaster who turned a tiny Virginia [Full Story]
Biden COVID Response Head Ashish Jha Departing
Ashish Jha, coordinator of the White House COVID-19 Response Team, is [Full Story]
Bud Light No Longer America's No. 1 Beer
Bud Light is no longer America's top-selling beer following the [Full Story]
Rule May Classify Law-Abiding Gun-Owners as Felons
On Jan. 13, the attorney general signed a Bureau of Alcohol, Tobacco, [Full Story]
Senate Confirms Top-Ranked Muslim in Govt After Earlier GOP Block
The Senate on Thursday confirmed Dilawar Syed as deputy administrator [Full Story]
Former AG Barr: Dem Rep. Raskin Spread Disinformation
House Oversight Committee ranking member Jamie Raskin, D-Md., spread [Full Story] | video
Tuberville: Space Command Wants HQ in Ala.
Tommy Tuberville, R-Ala., has taken the ongoing debate over [Full Story]
Jordan Says FTC's Actions Against Twitter Political
The Federal Trade Commission and its chairwoman, Lina Khan, delayed [Full Story]
GOP Gov. Reeves Calls Out Newsom for Gun Debate
California Democrat Gov. Gavin Newsom is leading a charge for a 28th [Full Story]
Joran Van Der Sloot Arrives in US to Face Charges
Joran van der Sloot, the chief suspect in the 2005 disappearance of [Full Story]
Schumer Seeks More US Help to Battle Canada Fires
Senate Majority Leader Chuck Schumer on Thursday pressed for [Full Story]
US Suspends All Ethiopia Food Aid as Probe Finds 'Widespread' Theft
The United States Agency for International Development said Thursday [Full Story]
More Newsfront
Finance
'Aspirational' Shoppers Spend Less on Fashion, Jewelry
A gulf in spending patterns between wealthy Americans and so-called "aspirational" shoppers is driving luxury retailers to search out new sources of revenue and, in some cases, to shift their merchandise strategies, several retailers said…. [Full Story]
57%: After Debt Ceiling Deal, Congress Should Cut More
US Halts Dollar Deposits
Bryan Kuderna: Financial Planning in 5 Simple (But Not Easy) Steps
Baumann: Don't Look for a Recession Prior to '24 Election
More Finance
Health
Amino Acid Found in Energy Drinks May Slow Aging
An amino acid found in meat, fish and energy drinks might be a key regulator of aging in animals, a new study suggests. However, experts warn that no one should start seeing Red Bull as a fountain of youth. Researchers found that deficiencies in the amino acid, called…… [Full Story]
Study Determines How Space Travel Affects the Brain
Study: Common Sugar Substitute May Damage DNA
Diabetes Med Metformin May Help Prevent Long COVID
FDA Panel Backs Preventive RSV Therapy in Infants