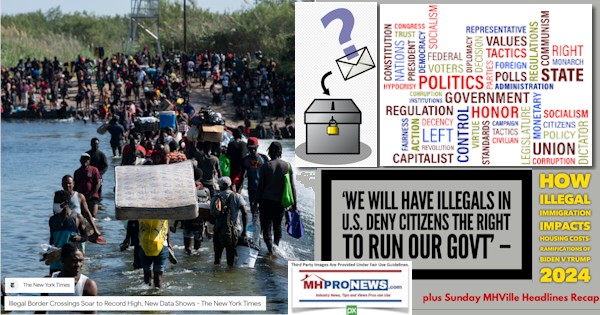 While inflation may well be the hottest topic for tens of millions, immigration related issues are high on the radars of millions too. The photo and caption at the top left are from the left-leaning New York Times. Texas Lt. Governor Dan Patrick (R) said: "We now will have illegals in this country denying citizens the right to run our government. Because our government, our representatives that we elect, can't even vote because there's so much fraud." That was on a Fox News statement dated 9.17.2021 while Patrick was "criticizing the Biden administration for blocking Texas from closing its border with Mexico," said Bing AI's chat function. Left-leaning CBS News said on 9.15.2023 that: "Latino voters want Biden to take more aggressive action on immigration, polls find which added that: "enthusiasm among Latinos to reelect Mr. Biden dwindles by 9 percentage points, the survey found, when they are told he will focus on border security without offering legal status to immigrants already in the U.S."  Various questions put to Bing AI on how many estimated illegal border crossings have occurred stress that the exact number of "got aways" is not known because they did get away from border patrol and other federal or state agents (duh). Those entering the U.S. illegally, by whatever means, obviously increase burdens on taxpayers and all of those who are seeking affordable housing. Minorities and the financially disadvantaged are often those who are harmed the most by so-called 'open border' policies.
With that preface, in the Daily Signal, Victor Davis Hansen had a column dated 9.22.2023 that made the following impassioned as well as factual statements, claims, and evidence linked remarks.
Here's How Biden Admin Destroyed Our Immigration Law
Victor Davis Hanson / @VDHanson / September 22, 2023
Since early 2021 we have witnessed somewhere between 7 million and 8 million illegal entries across the now-nonexistent southern border of the U.S.
The more the border vanished, the more federal immigration law was rendered inert, and the more Homeland Security Secretary Alejandro Mayorkas spun fantasies that the "border is secure." He is now written off as a veritable "Baghdad Bob" propagandist.
But how and why did the Biden administration destroy immigration law as we knew it?
The Trump administration's initial efforts to close the border had been continually obstructed in the Congress, sabotaged by the administrative state, and stymied in the courts. Nonetheless, it finally had secured the border by early 2020.
Yet almost all the Trump administration's successful initiatives were immediately overturned in 2021.
Construction of the wall was abruptly stopped, its projected trajectory canceled. The disastrous Obama-era "catch and release" policy of immigration nonenforcement was resurrected.
Prior successful pressure on Mexican President Andres Manuel Lopez Obrador to stop the deliberate export of his own citizens northward ceased.
Federal Border Patrol officers were forced to stand down.
New federal subsidies were granted to entice and then support illegal arrivals.
No one in the Democratic Party objected to the destruction of the border or the subversion of immigration law.
However, things changed somewhat once swamped southern border states began to bus or fly a few thousand of their illegal immigrants northward to sanctuary city jurisdictions—especially to New York and Chicago, and even Martha's Vineyard.
The sanctuary-city "humanists" there who had greenlighted illegal immigration into the southern states suddenly shrieked. They were irate after experiencing the concrete consequences of their own prior abstract border agendas. After all, their nihilism was always supposed to fall upon distant and ridiculed others.
New York Mayor Eric Adams went from celebrating a few dozen illegal immigrants bused into Manhattan to blasting his own party for allowing tens of thousands to swamp his now bankrupt city.
But why did the Biden administration deliberately unleash the largest influx across the southern border in U.S. history?
The ethnic chauvinists and Democratic Party elites needed new constituents, given their increasingly unpopular agendas.
They feared that the more legal Latino immigrants assimilated and integrated into American society, the less happy they became with left-wing radical abortion, racial, transgender, crime, and green fixations.
Democratic grandees always had bragged that illegal immigration would create what they called "The New Democratic Majority" in "Demography Is Destiny" fashion. Now they slander critics as "racists" who object to left-wing efforts to use illegal immigration to turn southwestern red states blue.
Mexico now cannot survive as a modern state without some $60 billion in annual remittances sent by its expatriates in America. But many illegal immigrants rely on American state and federal entitlements to free up cash to send home.
Mexico also encourages its own abject poor and often indigenous people from southern Mexico to head north as a safety valve of sorts. The Mexican government sees these mass exoduses northward as preferable to the oppressed marching on Mexico City to address grievances of poverty and racism.
The criminal cartels now de facto run Mexico. An open border allows them to ship fentanyl northward, earn billions in profits—and kill nearly 100,000 Americans a year. Illegal immigrants pay cartels additional billions to facilitate their border crossings.
Don't forget American corporate employers. Record labor nonparticipation followed the COVID-19 lockdown. In reaction to the dearth of American workers, the hospitality, meat packing, social service, health care, and farming industries were desperate to hire new—and far cheaper—labor.
Human rights activists insist that the borders themselves are 19th-century relics. And the global poor and oppressed thus have a human right to enter the affluent West by any means necessary.
Many in the tony suburbs and in universities do not live anywhere near the southern border. So they pontificate on the assurance that thousands of unaudited illegal immigrants will never enter their own enclaves or campuses.
The result is elite bottled piety—but not firsthand experience with the natural consequences of millions chaotically fleeing one of the poorest countries in the world to pour into the wealthiest. Without background checks, vaccinations and health audits, legality, high school diplomas, English facility, skill sets, or capital, the result is an abject catastrophe.
Polls continue to show that the American people support measured, diverse, legal, and meritocratic immigration as much as they oppose mass illegal immigration into their country and the subsequent loss of American sovereignty on the border.
They understand what the Biden administration does not: No nation in history has survived once its borders were destroyed, once its citizenship was rendered no different from mere residence, and once its neighbors with impunity undermined its sovereignty.
Ending illegal immigration now depends solely on the American people overriding the corrupt special interests and leaders who profit from the current chaos and human misery.
The Daily Signal publishes a variety of perspectives. Nothing written here is to be construed as representing the views of The Heritage Foundation. [Something similar could be said about MHProNews]. 
On the same theme of immigration, The Daily Signal also spotlighted just days ago a little-known program where illegals are entering the U.S. via American airports.
Federal Government Program Allows More Than 200,000 Illegal Aliens to Fly Right Over the Border
Virginia Allen / @Virginia_Allen5 / September 21, 2023
Not all illegal aliens are entering the U.S. along the southern or northern border, according to the Center for Immigration Studies.
Over the past year, "more than 200,000 people from four countries" used a direct-flight parole program to enter the United States illegally, says Todd Bensman, senior national security fellow at the Washington-based think tank devoted to researching immigration issues.
Those 221,456 illegal aliens are from Haiti, Venezuela, Cuba, and Nicaragua, Bensman writes in a report published Thursday.
Through a Freedom of Information Act request, or FOIA, Bensman says, he learned of the federal government's "CBP One" mobile application parole program, which "permits inadmissible aliens to make an appointment to fly directly to airports in the interior of the United States, bypassing the border altogether."
The Biden administration introduced the CBP One mobile app to illegal aliens as a way to schedule an appointment at a port of entry and be paroled into the interior of the United States. (The acronym CBP refers to U.S. Customs and Border Protection, an agency within the Department of Homeland Security.)
President Joe Biden said the program was part of an effort to form "lawful pathways" for illegal aliens to enter the country and seek asylum. Illegal border crossings between ports of entry at the southern border appeared to decline in June as more illegal aliens presented themselves at a port of entry.
But, according to Bensman's findings, migrants also are presenting themselves at ports within the interior of the country.
One of the "least noticed, mysterious, and potentially the most controversial of the new rechanneling programs that use the CBP One app allows migrants to take commercial passenger flights from foreign countries straight to their American cities of choice, flying right over the border—and even over Mexico," Bensman writes in the Center for Immigration Studies report titled "New Records: Biden DHS Has Approved Hundreds of Thousands of Migrants for Secretive Foreign Flights Directly Into U.S. Airports."
Through the CBP One app, "Cubans, Venezuelans, Nicaraguans, Haitians, and Colombians … [can] request 'advance travel authorizations,'" Bensman writes, and then fly "directly into U.S. airports, where U.S. Customs officers parole them into the nation, sight unseen, and in numbers publicly unknown."
The documents obtained by the Center for Immigration Studies, he adds, show that "between late October 2022 and mid-September 2023, the administration approved a total of 221,456 Venezuelans, Haitians, Cubans, and Nicaraguans for 'travel mode: air' into still-unspecified interior U.S. ports."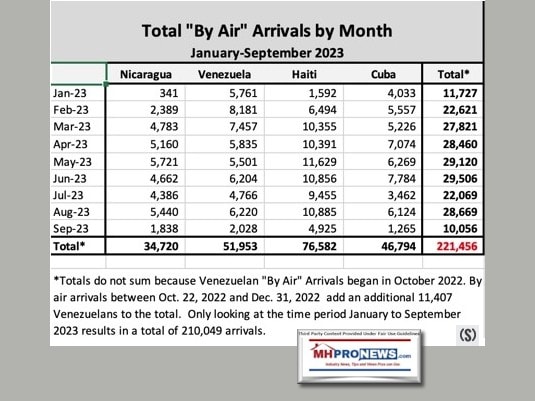 The illegal aliens are required to pay for their own flight into the U.S.
Details of the Biden administration's flight program for illegal aliens come as U.S. Customs and Border Protection encounters with illegal immigrants along the U.S. border with Mexico are nearing record highs and the administration is granting migrants from Venezuela "temporary protected status."
The change protects hundreds of thousands of Venezuelans from deportation if they were in America unlawfully before July 31, and makes it easier for those illegal immigrants to gain U.S. work permits.
"Temporary protected status provides individuals already present in the United States with protection from removal when the conditions in their home country prevent their safe return," Homeland Security Secretary Alejandro Mayorkas said Wednesday in a written statement.
The Biden administration is "granting them the protection that the law provides," Mayorkas said. "However, it is critical that Venezuelans understand that those who have arrived here after July 31, 2023, are not eligible for such protection, and instead will be removed when they are found to not have a legal basis to stay."
U.S. Customs and Border Protection has reported encountering more than 460,000 illegal aliens from Venezuela on America's borders since Biden's presidency began on Jan. 20, 2021.  ##
In contrast to the de facto open borders policies of the Biden Administration are the latest remarks on the subject from the top GOP contender for the Republican Party's presidential nomination, which is deposed President Donald J. Trump.
Trump says he will carry out the 'largest domestic deportation operation in American history' if elected
"Following the Eisenhower Model, we will carry out the largest domestic deportation operation in American history," Trump said, per Fox News and other sources.
"I will make clear that we must use any and all resources needed to stop the invasion—including moving thousands of troops currently stationed overseas to our OWN southern border," Trump said, stressing that "before we defend the borders of foreign countries, we must secure the border of our country."
Trump went on to say he plans to deploy the U.S. Navy to "impose a full Fentanyl Blockade on the waters of our region—boarding and inspecting ships to look for fentanyl and fentanyl precursors."
The latest interactive poll shows Trump has a commanding lead over other GOP candidates in Iowa.
The video embedded in this next Truth Social post is one that MHProNews has provided before, so it is interesting that the 45th President of the United States (POTUS) has shared it.
There are pundits and political operatives who believe that the 'open borders' is a strategy to disrupt American society in a way that favors the long-term political interests of the Democratic Party while also bringing in more 'cheap labor' that benefits allies of the Biden regime.
Immigration and Housing
Issues are routinely interconnected because life itself is a series of interconnected events and occurrences. We don't just eat, drink, or sleep. We work, clean, shop, worship, live, relax, and love too.
You, the reader and others are likely in two broad camps or two sub camps when it comes to housing.
You generally either own a home or rent, and those are the two biggest categories.
But there are two significant subcategories. This includes those who don't own, who are adults, and who live with parent(s) or friend(s). Millions moved back in with parents in 2022 alone.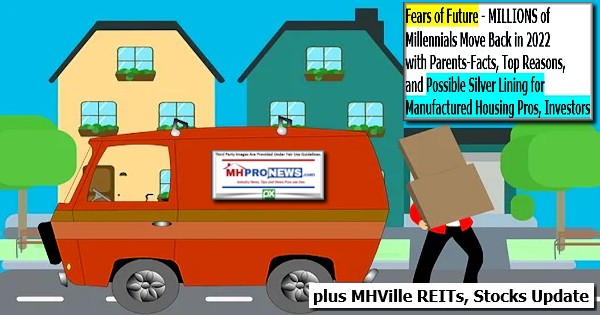 2a) Then there are the hundreds of thousands of homeless.
Officially, the homeless are some 600,000+ strong. Despite the hype, the Biden-Harris administration economic and housing plans – even with record federal 'non-war time' spending – has nevertheless admitted an increase in homelessness per the Biden-Harris HUD annual report. While it isn't the only factor, the case can be made that a lack of sufficient numbers of new HUD Code manufactured homes being produced every year is part of the problem that is fueling the lack of housing affordability. Too few manufactured homes, means less affordable housing. In the competition for housing – which those competitors for housing may often include illegal immigrants – the result is less available housing and higher housing costs due to supply and demand.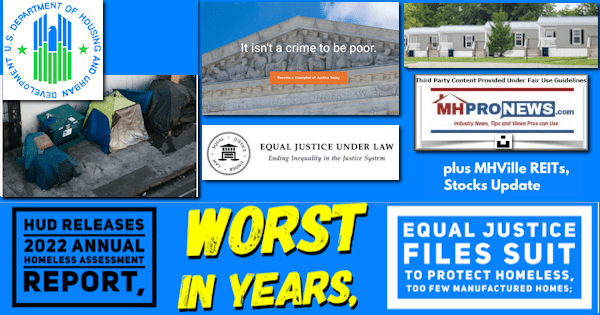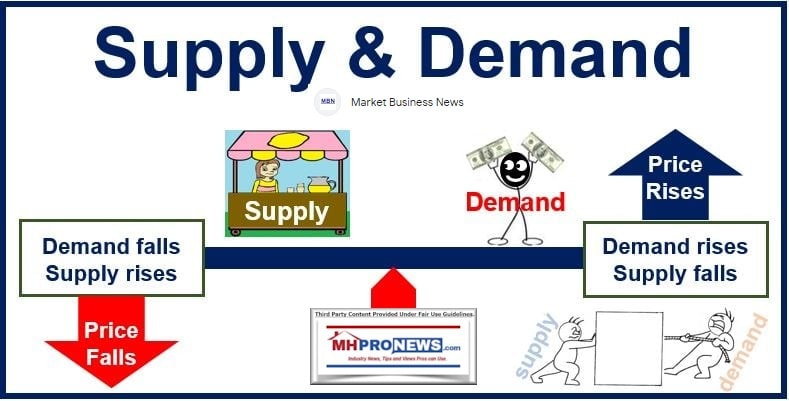 At the year-to-date pace shown below, there may be less new manufactured homes built than there were in 2008. There will be significantly fewer total new HUD Code homes built than there were in the first year of the Trump Administration (2017).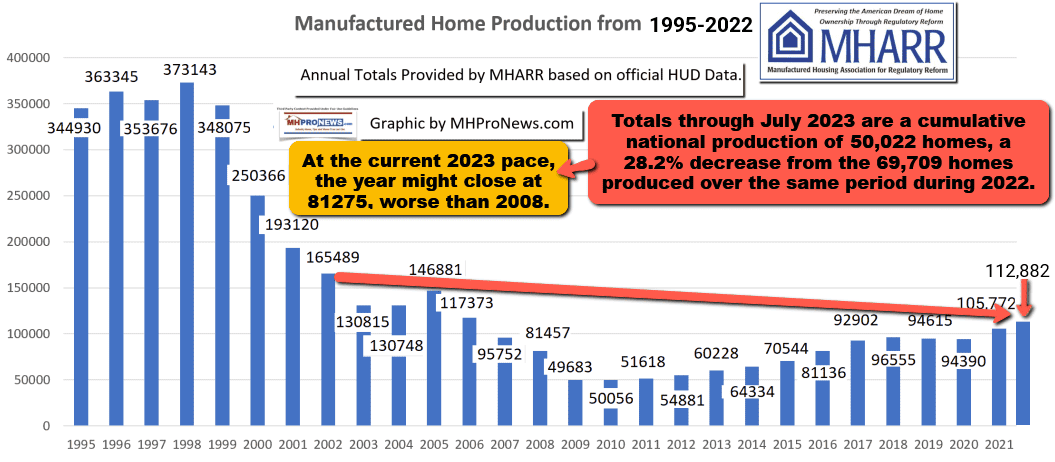 Those living with mom, dad, or friends are in the millions, with reportedly some 8 million that returned home in 2022 alone because the rents had gotten 'too d-mn high.'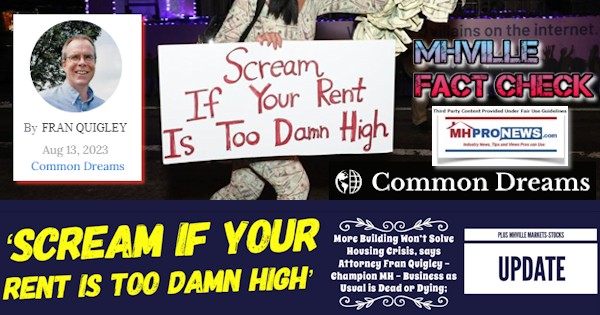 Ironically, there are leftists like Professor Frank Quigley who are saying that Biden's policies have failed. But in their view, they may claim that still more money must be spent on subsidized housing, even though record HUD spending resulted in even higher homelessness. How does that make sense? Especially when manufactured housing is often omitted from their analysis of the housing crisis?
Depending on the source, an estimated 7 to 11 million people have illegally crossed the border into the U.S. since Biden took office.  A Texas border town Democratic city mayor said that the Biden-Harris Administration have offered no help or solutions. Clearly, when thousands are surging into Texas and other parts of the U.S., that obviously has an impact on housing/shelter availability.
That added need for housing to shelter migrants means they are driving up housing costs for all other Americans who were already living here in the U.S.
Restating the facts and evidence, there are a series of interconnected issues driving housing prices up. But there may be a dip ahead, regardless of who wins or loses the next presidential election in 2024.
Housing Dip Ahead?
Evidence based allegations of self-serving corruption by Joe Biden's family
are serious enough where some Democrats, numbers of Independents, and most Republicans believe them.
Left-
leaning
Huffington Post
on 9.7.2023 said that most Americans believe the allegations of Obama era VP Biden-involved corruption. That may not help Democrats in the same way that Republicans have benefited from the boomerang effect of how dozens of indictments have boosted the favorability of Trump.
Biden-Harris era Democratic policies
have
fueled inflation
which was far lower under deposed President Trump. The charges against Trump are seen by tens of millions as being largely political. Despite the 9o+ pending charges, Trump is the runaway favorite to be the next GOP presidential nominee, as polls shown earlier in this column reflect the indications that he leads the Republican field in virtually all polls.
Regardless of who wins, let's be clear. There will be some pain for millions ahead. There is no way to avoid it. For example.
First imagine if Biden, Kamala Harris, or another candidate like them is selected to lead Democrats (e.g.: Governor Gavin Newsome (CA-D) problem-ridden state is hardly as appealing to live in as Governor Ron DeSantis (R) run Florida, and the former First Lady Michelle Obama will invite scrutiny on the Biden family corruption during the Obama-Biden years). Several of those potential candidates will appear to be linked to the status quo which has caused the highest inflation, rising crime, the border crisis, and more economic and foreign policy problems than the U.S. has seen in years will continue.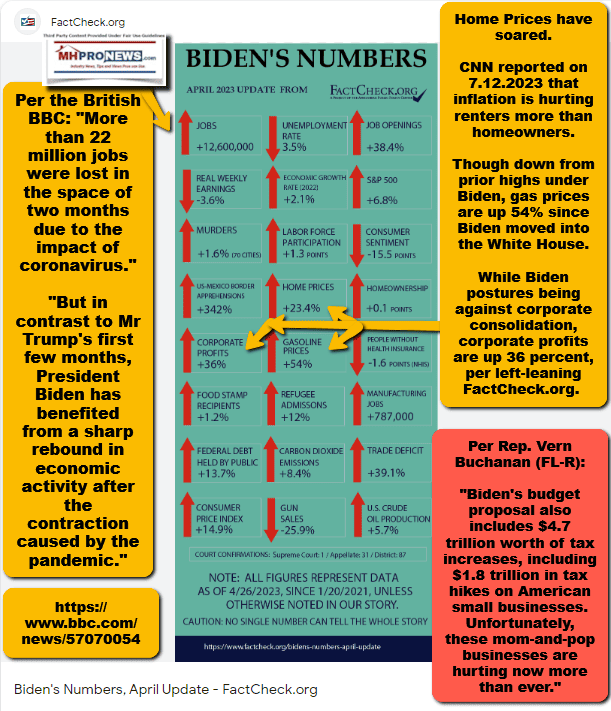 If Trump wins, he said he will set the wheels in motion to deport millions of illegals in this country (see above). Deportation by whatever means would not be pleasant for those illegals. But it will open up X amount of housing. That in turn could get those living with parents and friends – or some of the homeless – back into a place of their own. Costs may for a time drop on rentals if migrants were to suddenly be sent packing to their respective homelands in high numbers.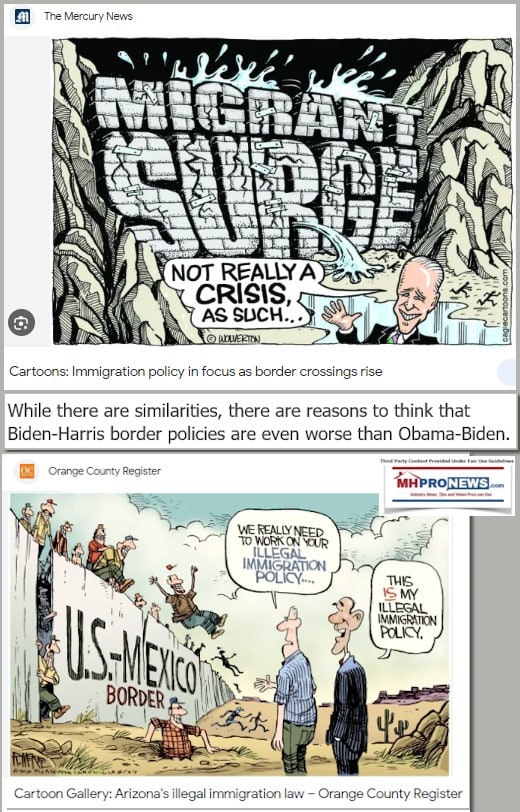 So, either way, housing may slump regardless of who wins in 2024. But given pro-small business policies, the odds are that the outcome will be far more favorable for native born and naturalized Americans if Trump regains the White House. Small business, per the Small Business Administration (SBA) has historically been the largest creator of new jobs in the U.S. Per the SBA (4.26.2022): "Small businesses have generated 12.9 million net new jobs over the past 25 years, accounting for two out of every three jobs added to the economy."
The Saturday report linked in the headlines recap below used the theme "a stich in time saves 9." That maxim is illustrated in hindsight by the Biden era. While the declared COVID19 pandemic was massively disruptive, there is evidence that the economic and tax policies put in place during the Trump years also helped foster a rapid rebound.
Among those reports in the week in review are those which detailed what MHProNews predicted based on known facts about Biden, his backers, and allies. Even die-hard Democrats ought to see that if their party's White House occupant and a Senator like Bob Menendez (NJ-D) have been, or soon may, face charges for public corruption, that even beyond inflationary, border, lax law enforcement and other policies, that something has gone terribly wrong in that party. Will Republicans successfully tap into those themes enough to counter the left's information dominance? Time will tell, and we all have a say and vote in those issues.
Don't miss today's postscript.
With no further adieu, here are the headlines for this Sunday's week in review from 9.17.2023 to 9.24.2023.
What's New and Recent on MHLivingNews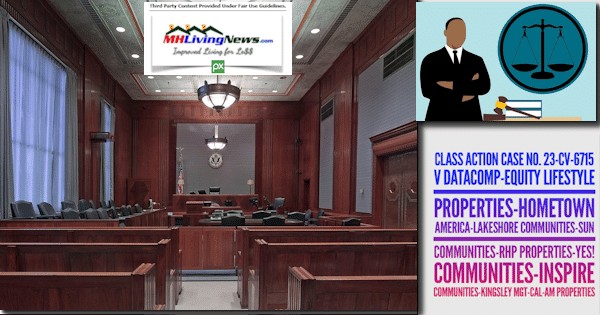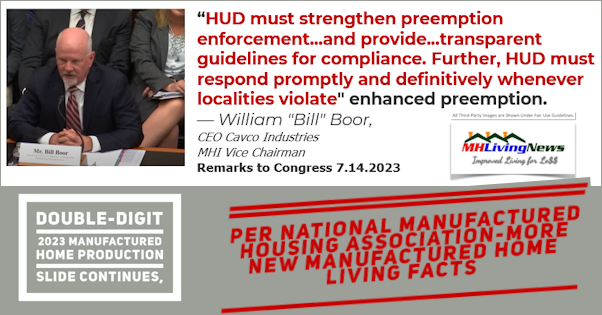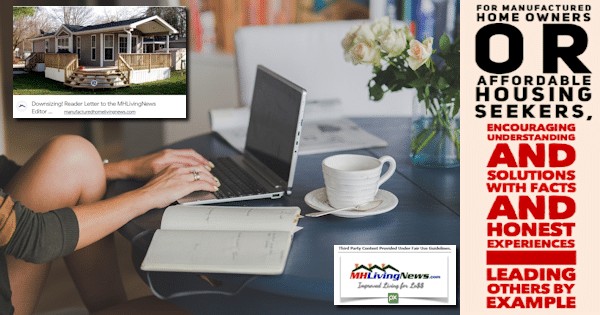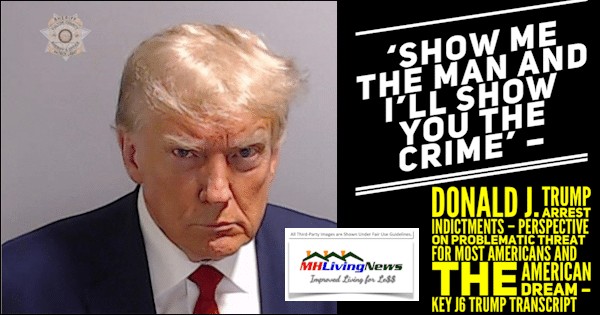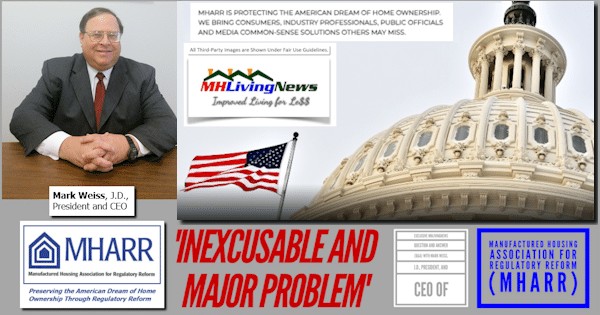 What's the Latest from Washington, D.C. based MHARR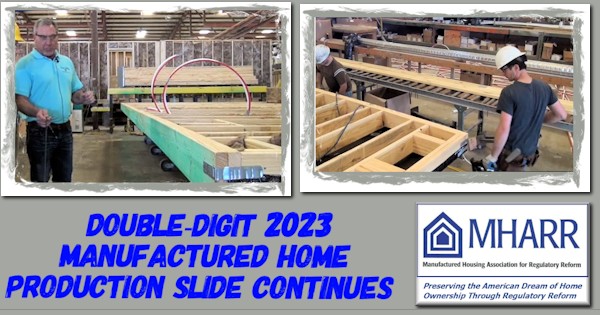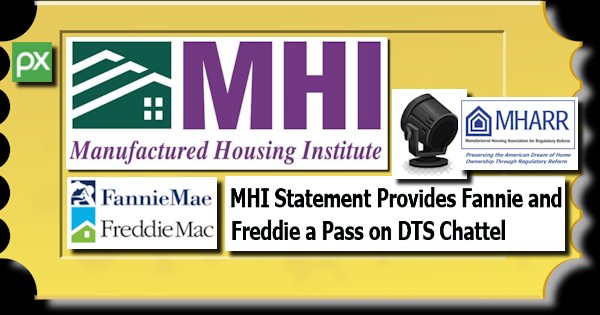 What's New on the Masthead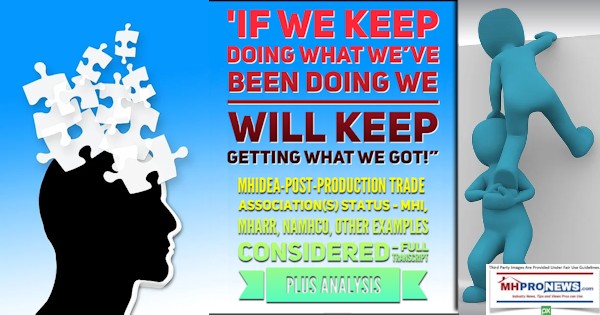 What's New on the Daily Business News on MHProNews
Saturday 9.23.2023
Stitch in Time Saves Nine Demonstrated by Two Different Democrats – Republicans Score Just 2 of 10 U.S. Major Cities – plus MHVille Markets, REITs, Stocks Updates
Friday 9.22.2023
More ECN Capital-Skyline Champion Deal with New Triad President Lance Hull Remarks – is Claytonization of Largest Independent Manufactured Home Lender Triad Financial Services Underway?
Thursday 9.21.2023
Al Kemp Exclusive – Rent Control in Canada – Including Manufactured Home Communities, What Canadians and U.S. Can Learn – Facts, Insights, Lessons, and Analysis; plus MHVille Markets Update
Wednesday 9.20.2023
ALG President Rick Manning '5 Easy-Not So Easy Steps to Drain the Swamp' – Why It Matters to Growth Minded Manufactured Home Pros-Investors-Affordable Housing Seekers; plus MHVille Markets Update
Tuesday 9.19.2023
Texas Real Estate Research Center 'Sentiments' vs. Manufactured Housing Association for Regulatory Reform 'Official Data' – Facts and Analysis, plus MHVille Markets Update
Monday 9.18.2023
Nobility Homes (NOBH) Bucks National Trends by Revealing Year Over Year Growth in New Quarterly Data While Expressing Cautionary Notes – Q3 2023 Insights, Facts and Analysis
Sunday 9.17.2023
'Warren Buffett Apparently Has Eye on New Double-Wide' MarketWatch-Fast Company Reports on Clayton Homes and Related Manufactured Housing Acquisitions, plus Sunday Weekly MHVille Headlines Recap
Postscript 
There may well be more favoritism, cronyism, and corruption in the Biden-Harris era than there was before, despite their campaign pledges of transparency and honesty.  For whatever reason, longtime Warren Buffett ally William "Bill" Gates III tapped the breaks on his support of the climate change agenda.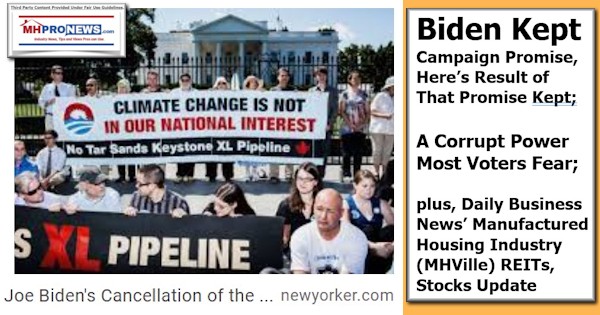 Per ZeroHedge on 9.23.2023: "Microsoft co-founder…and climate alarmist Bill Gates has backtracked on 'climate doom' prophecies. The writing is on the wall for the political and financial elites, who have long championed imminent climate doom, realizing that the public sees through the charades. 
In 2021, Gates previously warned about apocalyptic consequences if the world does not achieve zero net carbon emissions by the year 2050. He also promoted his new book, "How to Avoid a Climate Disaster" (fear sells). 
On Thursday, Gates made a sudden U-turn on his climate doom narrative and now expects "No temperate country is going to become uninhabitable."
…Gates' U-turn comes as BlackRock CEO Larry Fink abandoned the term "ESG" (environment, social, and governance). And the 'green bubble' is imploding." 
.@BillGates has a brush with sanity:

1. "No temperate country is going to become uninhabitable."

2. "If you try to do climate brute force, you will get people who say, 'I like climate but I don't want to bear that cost and reduce my standard of living."

3. Dismisses planting… pic.twitter.com/FfAg5iqAIf

— Steve Milloy (@JunkScience) September 22, 2023
Science and citizenship are not about mindless agreement. Authentic science and good citizenship can, should, and ought to embrace honest evidence-based debate.
"There is no climate emergency." So said Clientel.org, "A global network of over 1750 scientists and professionals has prepared this urgent message. Climate science should be less political, while climate policies should be more scientific. Scientists should openly address uncertainties and exaggerations in their predictions of global warming, while politicians should dispassionately count the real costs as well as the imagined benefits of their policy measures." Their latest declaration from late August 2023 echoes points previously raised by MHProNews for years.
Big News! The 2022 Nobel Prize winner in Physics, John F. Clauser, has signed the Clintel World Climate Declaration, with its central message "there is no climate emergency (or crisis)". We welcome Dr Clauser in the growing Clintel community!https://t.co/tvLfImklyu

— CLINTEL.ORG (@ClintelOrg) August 12, 2023
Read and weep. An in-depth article on the death of humpback and right whales on the US Atlantic coast. Deaths have increased 400% since sonar surveys from many ships began. Wind industry is permitted to kill them.https://t.co/QBLYBQa8TE

— Patrick Moore (@EcoSenseNow) September 16, 2023
This Dump Site Of Wind Turbine Blades Exposes The Myth of "Clean" Energy #greenenergy #cleanenergy #wind #windenergy #windturbine #alternativeenergy #texas #dump #recycling pic.twitter.com/nvgTnd1PzB

— Robert Bryce (@pwrhungry) September 11, 2023
"We investigate the number of near-equatorial (originating between 5-11°N) tropical cyclones over the north Indian Ocean during post-monsoon season (Oct to Dec) over the past 60 years. The study reveals a marked 43% decline in the number of such cyclones"https://t.co/8MrKkK6AqC pic.twitter.com/S0QwPq77hX

— The Honest Broker (@RogerPielkeJr) September 9, 2023
People trust climate scientists least

Study finds significantly higher trust in "less politicized natural scientists"

2022 study from Norway: https://t.co/2D9nvhJ684 pic.twitter.com/8pUzBxh3oS

— Bjorn Lomborg (@BjornLomborg) September 10, 2023
Why are governments pushing wind and solar? They clearly aren't economic without subsidies. Kickbacks?
Wind Power's Unraveling: A Tale of Bribes and Misguided Ambitions https://t.co/JvVm8bZYvG via @wattsupwiththat

— Andy May (@Andy_May_Writer) September 8, 2023
It's time to put the ridiculous assertion that 1.5C of warming will cause a "climate emergency". During the Eocene Thermal Maximum 50M yrs ago the seas were 16C warmer, mainly towards the poles. The ancestors of all life today lived through that. 1.5 C is a hoax. #CelebrateCO2!! pic.twitter.com/8PgTvEYm8u

— Patrick Moore (@EcoSenseNow) September 2, 2023
Mugged by reality, the tide is turning https://t.co/Q3mHoaMnvX pic.twitter.com/TyraccpVMj

— Net Zero Watch (@NetZeroWatch) August 24, 2023
Because issues like inflation, immigration, tax, regulatory, economic, and 'climate' policy are obvious impacts on housing and manufactured housing, MHProNews has for years led the charge on covering these issues.  That's "News through the lens of manufactured homes and factory–built housing" © where "We Provide, You Decide." © No one else in MHVille trade media or known bloggers even attempts to give this range of coverage. Perhaps that's why the evidence reflects we have the runaway largest and most-read trade media in our industry. But these items are presented in part to allow independents and others to look in and see why some industry advocates are apparently leading the industry down a false path.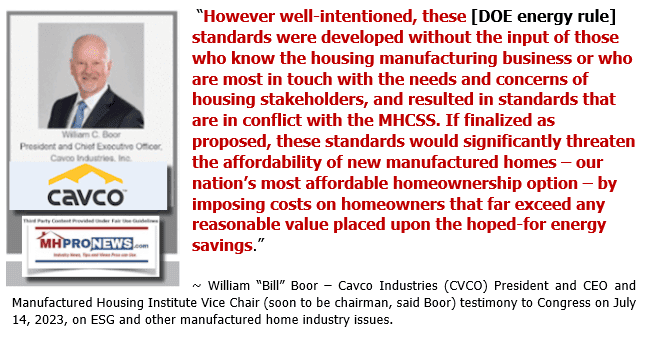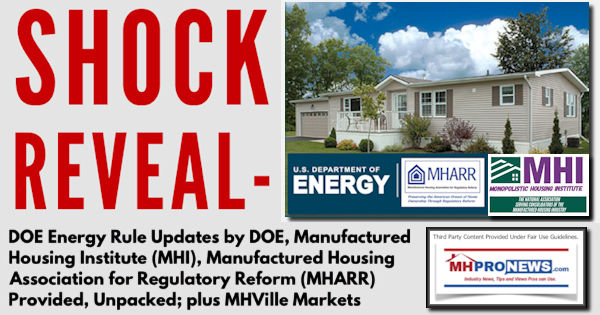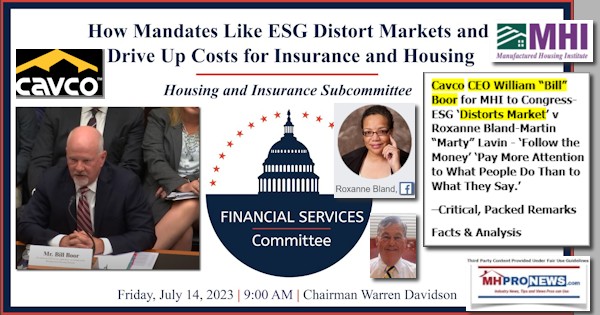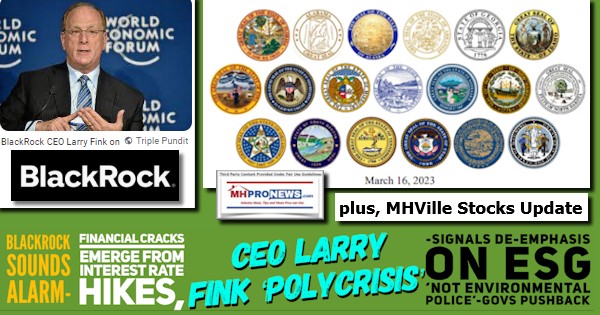 While some in MHVille uncritically accepted – or even did cheerleading – on the so-called 'climate crisis' and ESG, MHProNews considered the historic and commonsense examples that ought to have stopped such policies in their tracks years ago. The climate has always changed, thousands of years before manmade CO2 emissions.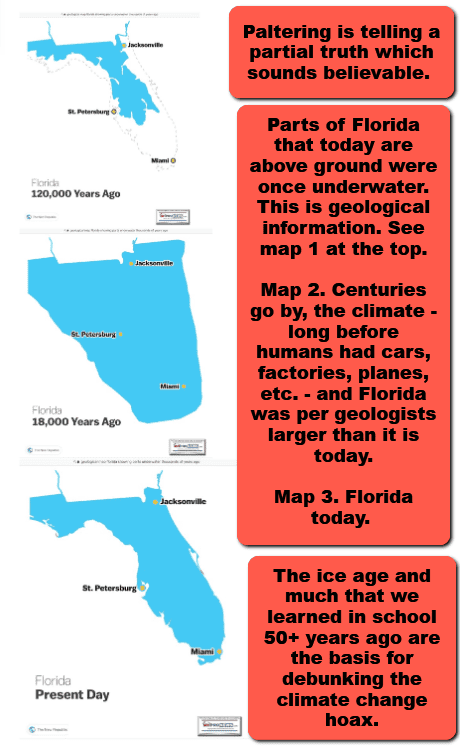 There could be a wave of investor-shareholder pushback against those in the automotive industry who for whatever reasons embraced the EV craze, despite known reasons to question the climate crisis hysteria. There is much that the political right can teach to those who have long often habitually supported Democrats.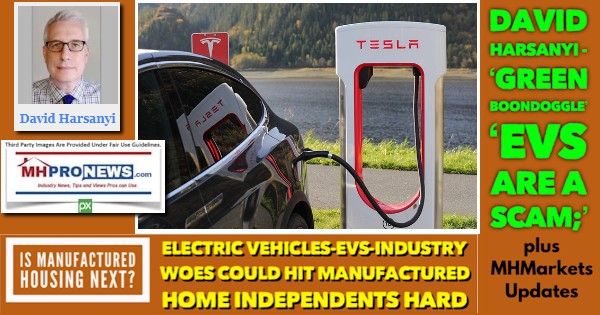 Who's Right? Climate Claims-DOE Slam 'Mobile Homes' 1100+Scientists-World Climate Declaration Say CO2 'Essential to Earthly Life'-Decry 'Solutions for Nonproblem' Led by Grant$; plus MHStocks Update
Larry Tomczak–WSJ Electric (EVs) vs Gas Powered Vehicles Test, Like Telling Struggling Renter to Buy House? Lessons for MHVille From Green Agenda Examined, plus Manufactured Housing Stocks Update
But even some on the left, like documentary film maker Michael Moore, have questioned aspects of the EV car push as not being environmentally friendly.
The video above doesn't deny climate change, but it does question the types of vehicles and 'solutions' that have been pushed.  Planet of the Humans recalls previous electric vehicles (EVs) efforts and why they didn't take hold. As parts of the electrical grid are stretched near their limits, and since there is sound science that says 'there is no climate emergency,' why are Democrats and some "RINO" Republicans willing to go along with the climate agenda nonsense?
Because of the all-too-common practice of paltering and agenda-driven spin, there is a need to embrace the age old wisdom of separating the proverbial wheat from the chaff. MHProNews has been applying that principle for years.
As we approach the end of our 14th year of publishing, MHProNews remains the industry's leader in factual, evidence-based reports with clearly labeled analysis and commentary.  The top left logo says: "Industry News, Tips, and Views Pros Can Use." © Knowledge is potential power is based on the ancient Latin maxim: "scientia potentia est." A big area law firm advertises that truth is powerful. Quite so. On issue after issue, we seek to hammer away with the truth, evidence, to accurately cite our sources and to use applied common sense.
As some programming notes, we have specials coming up about a defense offered by an industry source of the antitrust lawsuit involving several MHI members. We have a detailed federal document that involves an MHI member producer. We will unpack and critique some of the agenda-driven nonsense published by bloggers and trade media rivals in our industry which could be summed up by saying – too bad they can't keep their own self-serving stories straight. And a state association executive has apparently missed an opportunity, but has nevertheless backhanded MHI, perhaps without realizing it. Watch for those and more in the days ahead. More people are waking up. We do our part by calling balls, fouls, and strikes. Happy Sunday. To our Jewish friends, happy Yom Kippur. ###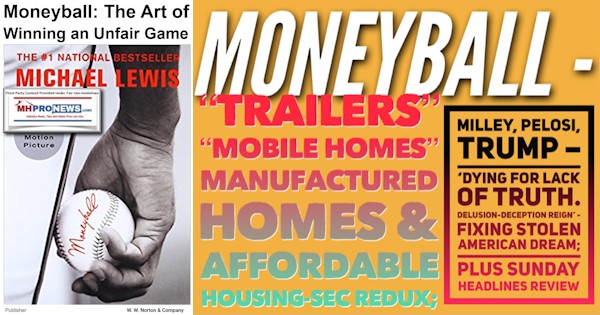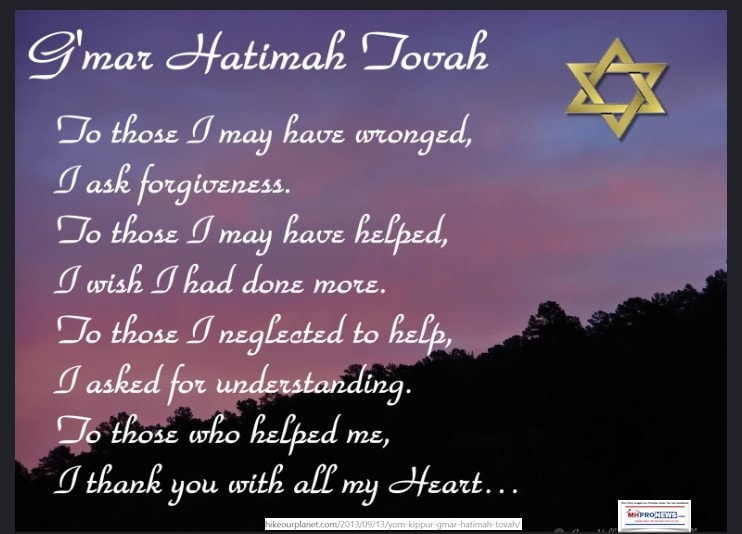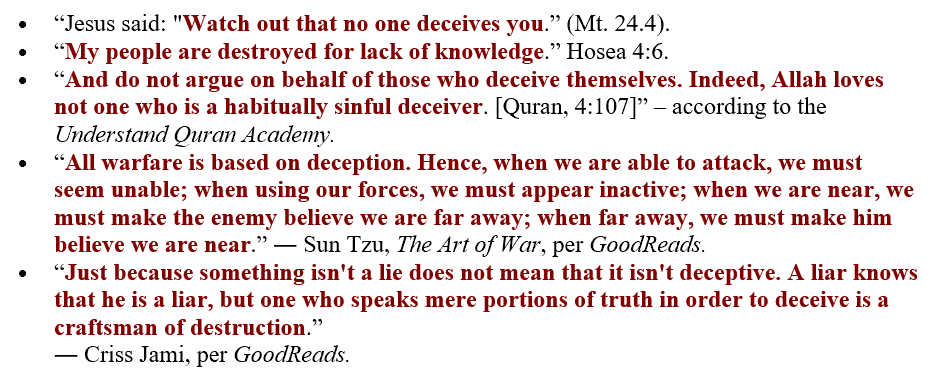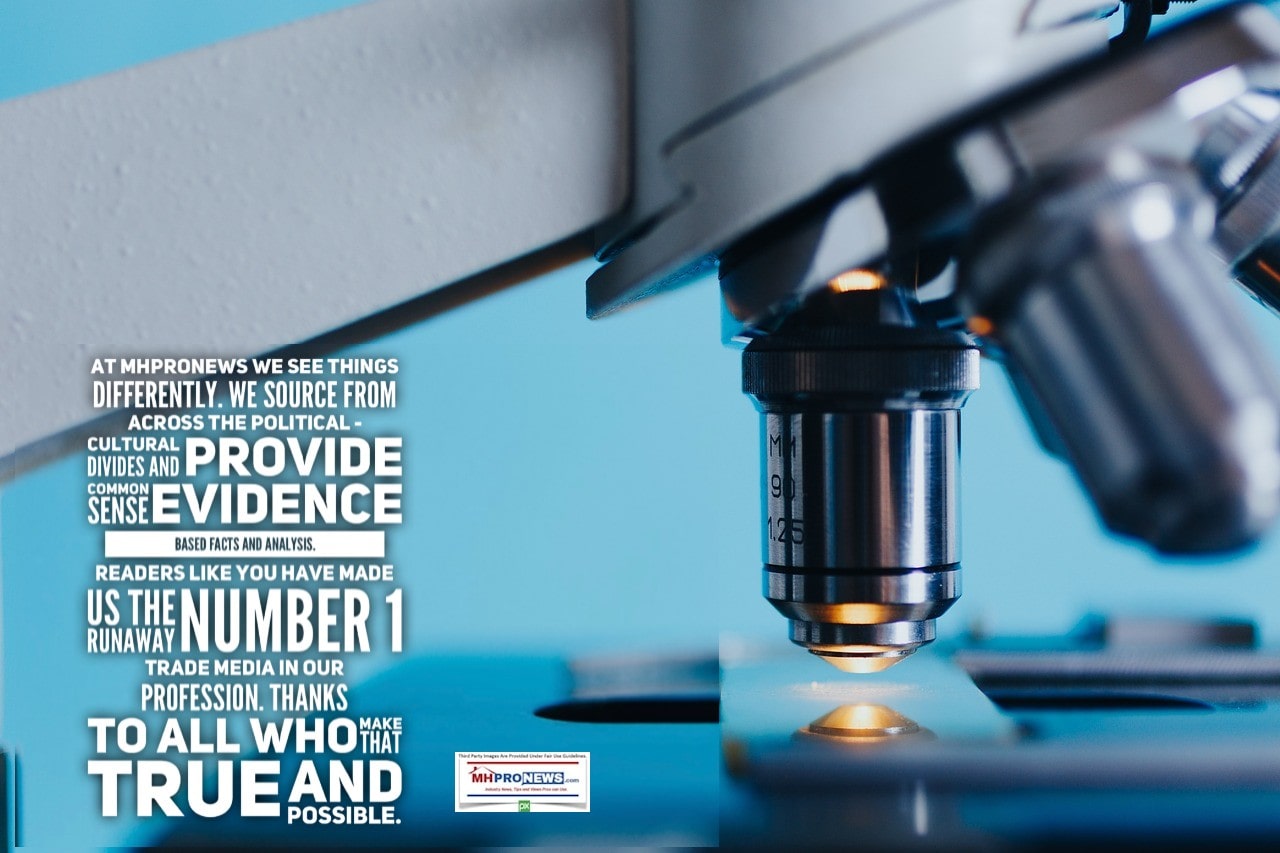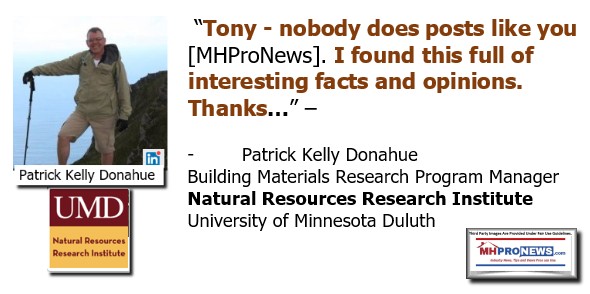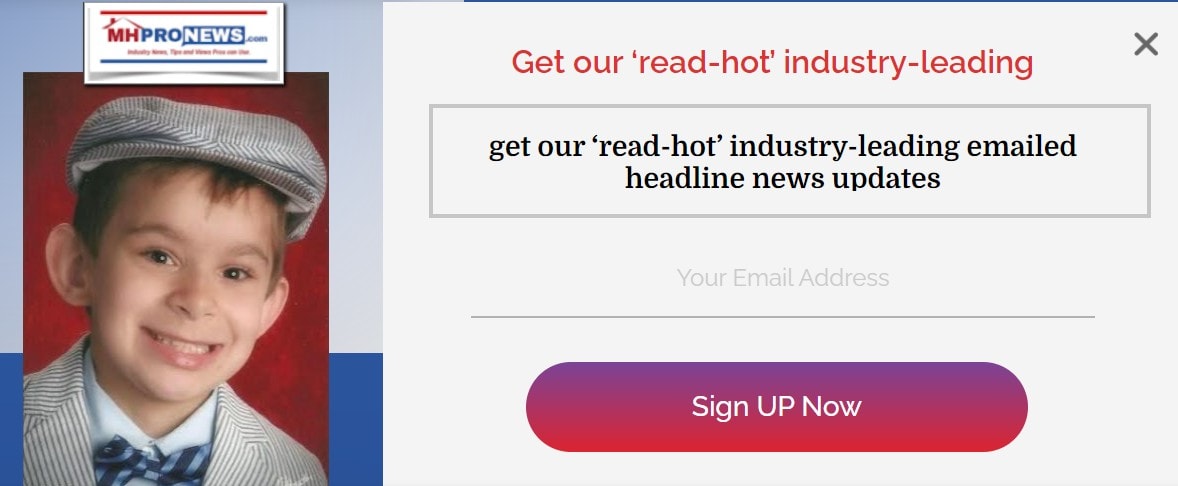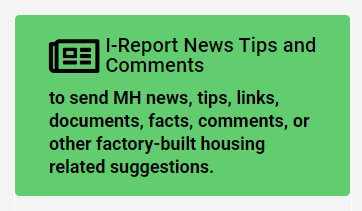 Again, our thanks to free email subscribers and all readers like you, as well as our tipsters/sources, sponsors and God for making and keeping us the runaway number one source for authentic "News through the lens of manufactured homes and factory-built housing" © where "We Provide, You Decide." © ## (Affordable housing, manufactured homes, reports, fact-checks, analysis, and commentary. Third-party images or content are provided under fair use guidelines for media.) See Related Reports, further below. Text/image boxes often are hot-linked to other reports that can be access by clicking on them.)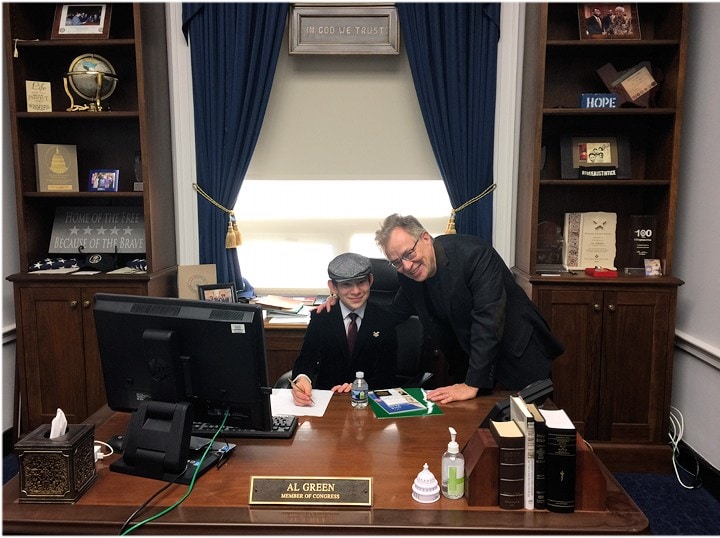 By L.A. "Tony" Kovach – for MHProNews.com.
Tony earned a journalism scholarship and earned numerous awards in history and in manufactured housing.
For example, he earned the prestigious Lottinville Award in history from the University of Oklahoma, where he studied history and business management. He's a managing member and co-founder of LifeStyle Factory Homes, LLC, the parent company to MHProNews, and MHLivingNews.com.
This article reflects the LLC's and/or the writer's position and may or may not reflect the views of sponsors or supporters.
Connect on LinkedIn: http://www.linkedin.com/in/latonykovach
Related References:
The text/image boxes below are linked to other reports, which can be accessed by clicking on them.'
Manufactured Housing's Rorschach Test – How You See the Facts, Visuals, Narratives and Evidence Speaks Volumes; plus Sunday Weekly Manufactured Home Industry (MHVille) Headlines in Review
Warren Buffett Success Tip 'Lighter or Darker World Ahead,' 'Is Obama's World a Utopian Myth?' As 7.4 Approaches Revisiting Buchanan's Historic Lessons; plus Sunday Weekly MHVille Headlines Recap
MHARR Washington Update – Fannie, Freddie, Duty to Serve and Latest Concerns on Manufactured Housing Institute Energy Litigation – Facts and Analysis, plus Sunday Weekly MHVille Headlines Recap
'Dark Triad' – Researchers Detect '5 Key Characteristics of BILLIONAIRES' – Evidence how Billionaires, Super Wealthy Think Differently Than Most-Takeaways and Lessons; plus Sunday MHVille Weekly Headlines Recap
'Go to Independent Sales Lot, Spend a Week There During Busy Season and Report on Reality of the Manufactured Housing Industry its Primary Level;' Sunday MHVille Weekly Headlines Recap
Name Calling, Evidence, Facts, and Manufactured Housing's Primary 'Muckraker' Shed Light on Manufactured Home Industry Underperformance; plus Sunday Weekly Headlines Recap
Manufactured Home 'Energy Rule Delayed'–Manufactured Housing Institute Aptly Says 'More Work to Be Done'–Clayton & Independent Builder Insights, Analysis-plus Sunday Weekly Headlines in Review
Andrew Justus, J.D., Niskanen Center Housing Policy Analyst, Hill Op-Ed Asks and Answers – 'What's Holding Back Manufactured Homes?' Sunday Weekly MHVille Headlines in Review
Warren Buffett Led Berkshire Hathaway has Over $100 Billion Available for Investing, Why That Matters to Manufactured Housing, MHEC Members Know How Gold Rules; plus Sunday Weekly Headlines Recap
U.S. Housing Market Snapshot April 2023, Manufactured Housing News Includes Eye Popping $500 Million Offer to Manufactured Home Residents; plus Sunday Weekly MHVille Headlines Recap
Danny Ghorbani – Manufactured Housing's 'Elephant in the Room,' per Prior Manufactured Housing Institute Chair, Exclusive Q&A on Key MHIndustry Issues, plus Sunday Weekly MHVille Headlines Recap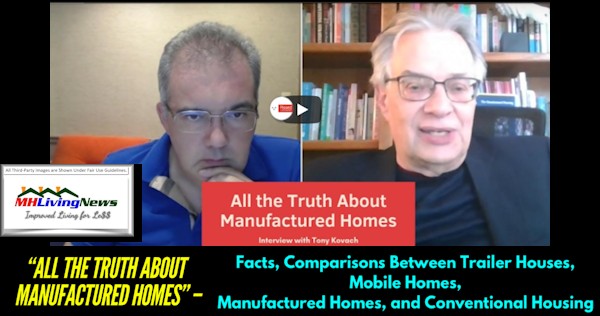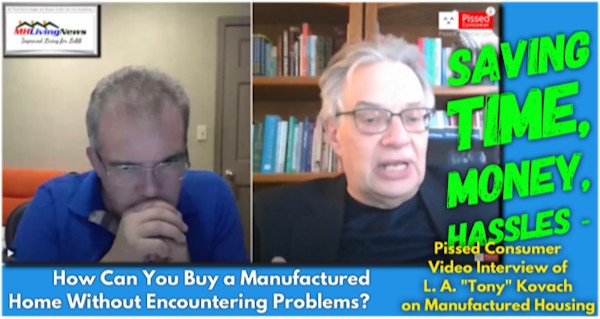 'Affordable Homes for Low Income Must Produce in Factory,' 'Years to Unravel Sabotage,' Grad Students Interest in Manufactured Housing, Factory-Home Solutions; plus Sunday Weekly Headlines Recap