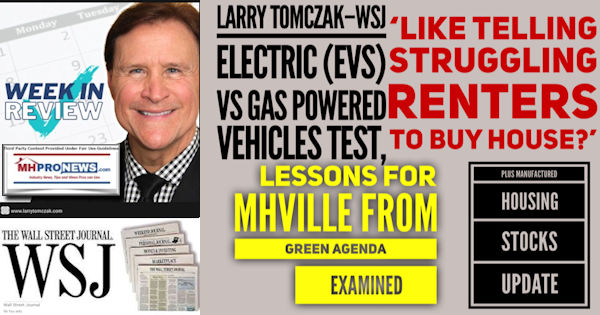 Author and public policy advisor Larry Tomczak and a recent Wall Street Journal test trip in an electric vehicle (EV) and related analysis – provided further below – merit additional background. For instance. Fuel and transportation costs effects everything, but in some ways, manufactured housing can be more impacted than several other areas of the economy. Next, according to Newsmax's Wake Up America on 7.20.2022, even with the recent decline in gas prices fuel at the pump prices are still 35c per gallon higher than the last all-time high in July 2008 during the financial crisis. Later, higher gas prices became a feature of the Obama-Biden Administration. Then President Obama said that moving away from fossil fuels 'necessitated' higher gas prices. A recent AP Fact Check acknowledged those points, though they claimed the facts are 'missing context.' No doubt, as the development and deployment of fracking technology – particularly in the last decade – helped U.S. oil producers capture crude at costs and from areas that were previously considered too costly to achieve. Manufactured housing companies in states like North Dakota, Oklahoma, Texas, and Pennsylvania often planned significant parts of their strategies around the blossoming of domestic oil drilling in shale deposits using fracking.
Obama and Biden both tout 'climate change' and have at times admitted the higher energy costs 'needed' to 'fight' climate change by transitioning to a 'greener' economy. Deposed President Donald J. Trump denied that contention, pulling the U.S. out of the Paris Climate Accords, and 'unleashing' domestic energy production through more favorable regulatory policies.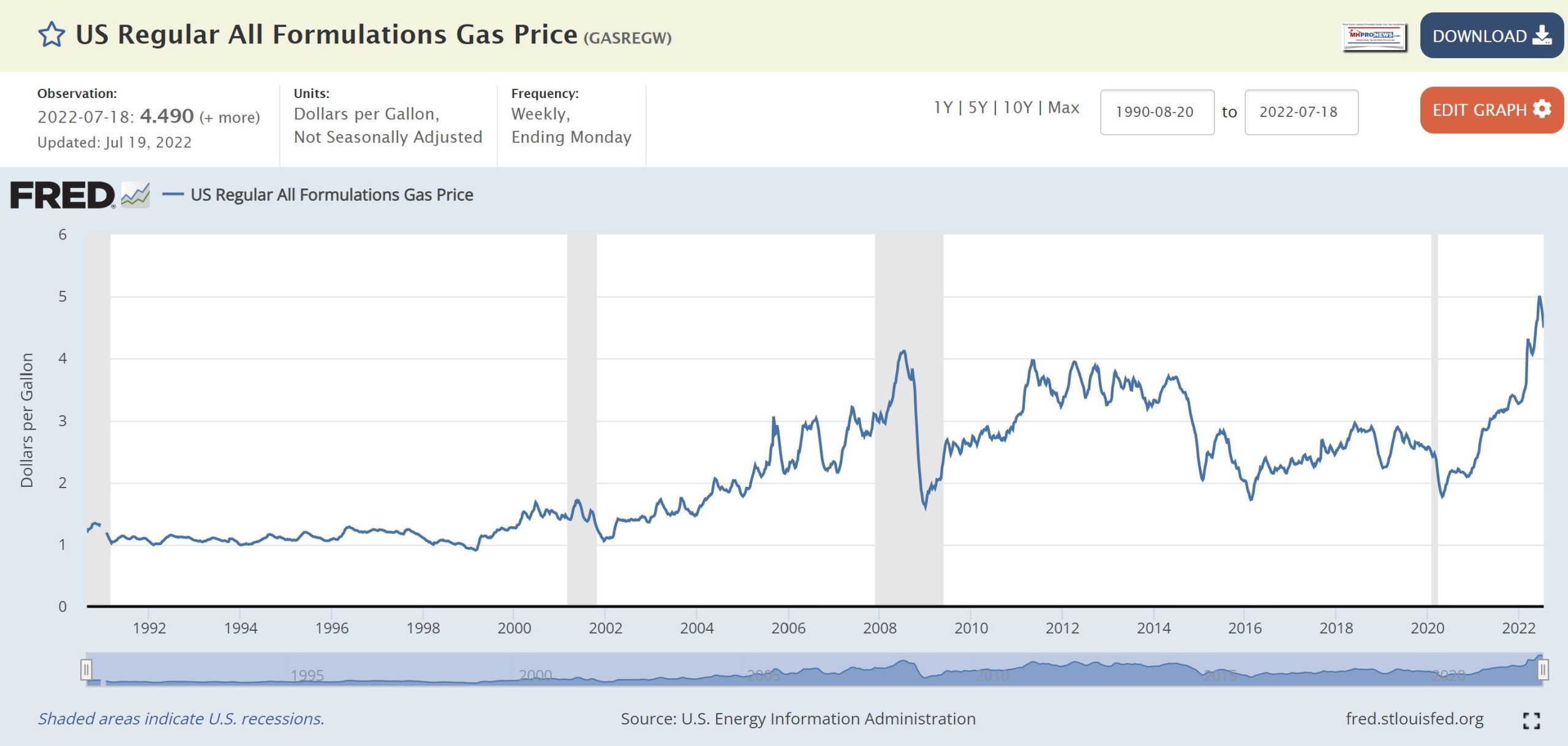 It should be noted that repetition is often a tool by propagandists and advertisers. Some things are repeated because they are true, such as 1+1=2. But some things are repeated because the illusion of truth is desired.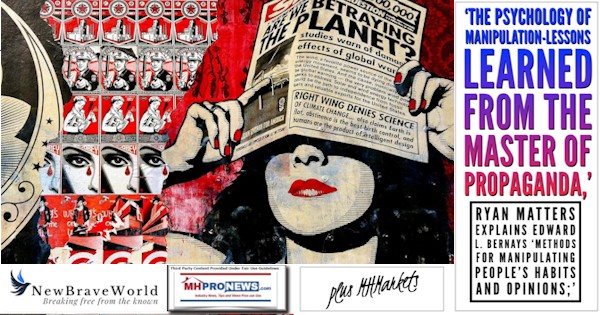 With that backdrop, Tomczak's column from the WND NewsCenter to MHProNews is as follows.
Should I buy an electric car?
Larry Tomczak urges Americans to count the cost
By Larry Tomczak Published July 19, 2022 at 2:52pm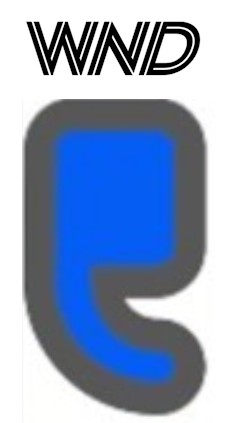 While president of the student body at Cleveland State University, I led an initiative for a healthy environment. Stopping pollution, cleaning up Lake Erie and raising awareness were top priorities.
As a Christian, the Bible directs us to be stewards of the earth (Genesis 1:28). So, should we believe the Biden/Buttigieg global warming game plan emphasizing buying an electric vehicle?
The Bible tells us to "test all things; hold fast what is good" (1 Thessalonians 5:21). Pain sharpens perception as gas prices have gotten our attention. Recently the Biden administration's secretary of transportation, Pete Buttigieg, said, "Families who buy electric vehicles never have to worry about gas prices again!" Biden's goal is "50% of U.S. car sales be electric vehicles by 2030." Green New Deal zealots are ecstatic.
Not so fast
Less than 6% of new sales are EV, and with 250 million cars on the road, less than 1% are electric (Reuters: "The long road to electric cars"). Climate alarmists desperately want to do whatever they can to accelerate things. Seventeen million new cars are sold yearly, and Pew Research shows "half of American adults say they are unlikely to seriously purchase an electric vehicle." With skyrocketing gas prices and inflation, telling folks to go out and get an EV is like telling a struggling renter, "Just go buy a house!"
Is it coincidental that gas and inflation are being cited as reasons to reject fossil fuels and get with the Green New Deal agenda?
All this began when Biden caved to climate change activists and from day one halted the XL Pipeline and instituted new restrictions on harvesting oil. This strangled our energy industry and launched escalating prices from gas companies, truckers, supermarkets, retail stores and restaurants trapped in the supply-and-demand disaster.
Multitudes suspect this unfolding debacle is part of the radicalized Democratic Party's plan to topple our free market capitalist society and transform it into a socialist system.
We're told to "bite the bullet" and get with Big Government's game plan emphasizing solar panels, wind turbines and electric vehicles (primarily powered by batteries made in communist China!).
Are you ready to jump on board with Biden, Buttigieg, Al Gore, AOC, Pelosi and the rest of the "One World Government" social engineers?
I tried an electric car
Recently a Wall Street Journal reporter, Rachel Wolfe, engaged in an experiment regarding electric vehicles. Her article was enlightening, "I Rented an Electric Car for a 4 Day Road Trip. I Spent More Time Charging It Than I Did Sleeping."
Rachel and a friend chronicled their experience trying out a new Kia EVG, driving from New Orleans to Chicago. They wanted to test the vehicle and the public charging infrastructure. It was an unpleasant experience.
Some of their problems were similar to issues other EV owners share.
Shorter driving range than anticipated, resulting in "range anxiety."
Under-delivery at charging stations.
Challenges with charging cords.
Scarcity of charging stations.
Wasted hours waiting to access charging stations.
Charging times (fully) of two to three hours.
Unanticipated battery drains due to changing highway speeds and differing altitudes.
Deceptive advertising promising "fast charges" that were inaccurate, resulting in loss of hotel reservations.
Consuming lots of unwanted calories from junk food due to extended waiting periods.
Sacrificing sleep due to having to check out early from hotel to make up time.
Other electric vehicle owners share what I'd call the "big one."
What do you do with inevitable unexpected occurrences along the way? An accident causing a backup. Road construction slowing and delaying traffic. Inclement weather causing slow-moving traffic.  It's one thing when you discover your charger drained with a shaver, mower or iPhone, but it's another when it happens on the highway … alone … at night … stuck in the middle of nowhere. Gulp.
The Epoch Times recently reported:
No. 1 reason not to buy EV: charging logistics
No. 2 reason: miles EV can go
No. 3 reason: cost
No. 4 reason: no financial incentives
J.D. Powers reported: EV and plug-in hybrids have more problems.
What's in your wallet?
What about the expense, especially in times of unbelievable economic uncertainty? Pete Buttigieg (who is wealthy and aspires to be president) may not think twice about spending $50,000 to $60,000 for an electric vehicle, but in these shaky times, is that wisdom? It was hilarious that right after "Mayor Pete" posed with his new EV. all "charged up and ready to go." that Ford recalled all of his model with a defect in the battery contactor.
Also charging is not free – there are fees. Repairs and replacements are still necessary for essentials such as batteries, blades, tires, brakes, etc., and you can't simply go to your "local shop," as electric vehicles require specific maintenance and service procedures with high standards.
On the positive side, electric cars should save people money in the long run in addition to helping develop a cleaner environment. They have zero emissions, don't need oil changes and probably are best for shorter travel around town versus longer trips.
The Kelley Blue Book said the average price of a new EV was about $55,000 as of November last year. There are some basic models for $30,000 to  $40,000 (be aware that additional "items" add considerable cost to the base price!); some SUVs and  pickup trucks come in at around $40,000 and up; and, there are nicer models from $45,000 to $100,000.
Count the cost
Jesus instructed us in any venture to "count the cost" (Luke 14:28). We should never operate out of fear, which climate change/Green New Deal zealots capitalize upon (I encourage you to read "10 Reasons to Reject Al Gore's Phony Baloney Climate Sequel").
We are to "owe no man anything" (Romans 13:8), so we shouldn't go into debt nor hope for government handouts making us more dependent upon them, which is what "progressive" socialists want! Brian Deese, Biden's national economic council director, said June 30, "High gas prices are part of the future of the liberal world order, and we have to stand firm."
Here's the deal: Examining the track record of Biden, Buttigieg and their Big Government band, I prefer to wait and watch how technology will make improvements with electric vehicles before I would ever take the plunge. In the meantime, pray that God has mercy on our nation and gives us godly leaders to lead us into a cleaner future where even China and India (the two worst polluters in the world) do their part. ##
Watch Larry's most recent Week in Review video
Larry Tomczak is a cultural commentator about to celebrate his 50th anniversary in vocational ministry, Intercessors for America board member, bestselling author and a public policy adviser with Liberty Counsel. His new, innovative video/book, "BULLSEYE," develops informed influencers in 30 days (see www.bullseyechallenge.com), and he has a variety of resources on his website (see www.larrytomczak.com). You can also hear his weekly podcast here." ##
Note, as with all sources, MHProNews advocates applying the principle of separating the wheat from the chaff.  Where facts, evidence, and sound reason is in evidence, go with it.  But if that is lacking, questions, further investigation, and skepticism are merited.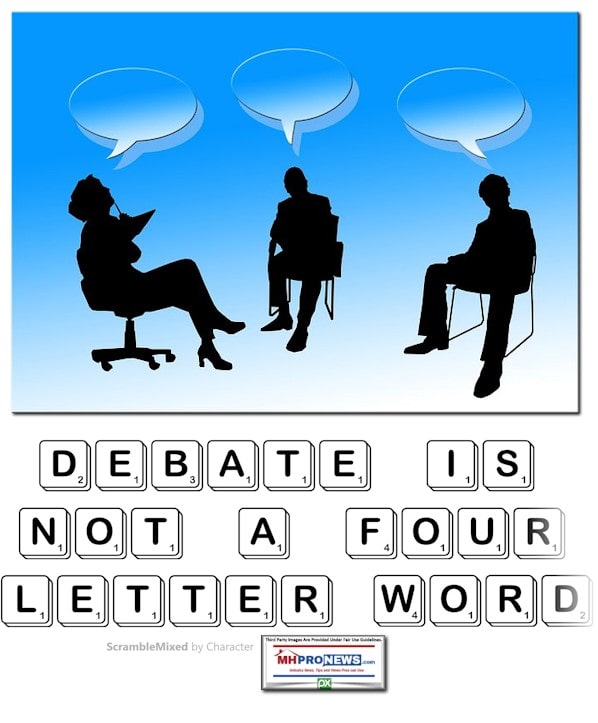 Additional Information with More MHProNews Analysis and Commentary
MHProNews has noted before that debate is not a 4-letter word. The essence of science involves vigorous debate. The Socratic method used by attorneys, philosophers and others ideally involves respectful but robust debate.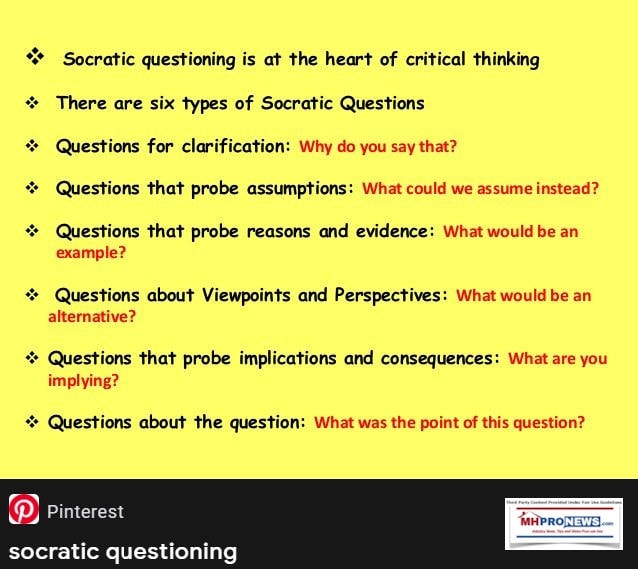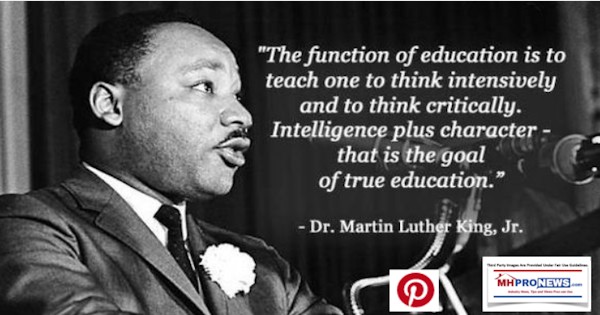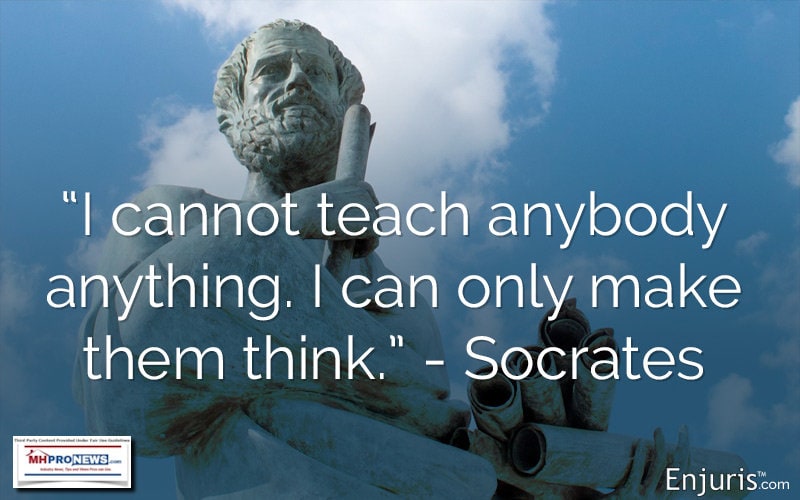 Energy usage and costs and the climate change debate are behind much of the struggle over the recently decreed Department of Energy manufactured housing energy rule. That rule will go into effect in less than 10½ months. That means that any serious effort to stop the implementation by the DOE of that rule must occur swiftly, because manufactured home factories will otherwise have to start preparing new designs, and may need to make possible changes in plants, components, and even with staff processes. One source tells MHProNews that such retooling and preparations will have to start by the first of next year in order to meet the DOE imposed deadline.
MHProNews has editorially long been in the category of skepticism about claims of so-called manmade climate change. The climate has always changed on planet earth, before or since the Industrial era and the rise of man-made pollution. A reasonable stance is that all forms of toxic pollution should be mitigated and avoided. With respect to 'climate change,' there are competing claims despite the assertion by climate activists that it is 'settled science.' That is simply not true. An evidence based case can be made that so-called climate change is cover for other agendas.
But perhaps as important, even climate change believers doubt the effectiveness of the efforts launched to 'stop' the fear-mongered claimed 'threat' of 'man-made climate change.' A detailed look at that is found from pro-Democratic filmmaker Michael Moore and his controversial but often viewed documentary, Planet of the Humans. That video – posted below – was banned for a time by YouTube. But since the ban was lifted, it has been viewed over 8 million times. The thesis of the Jeff Gibbs and Moore documentary is that the steps taken to mitigate climate change are ineffective at best. Nevertheless, climate activists continue to push their narrative, blasting the controversial video.
The four shorter videos that follows from Prager U shed additional light on points since the video above was produced.
The documentary below, "Who Killed the Electric Car" is also from the perspective of the left and pro-green agenda. It reflects another interesting point that manufactured housing professionals should take note of – namely, that among those aligned against earlier efforts for the electric car were auto producers in Detroit. For those who wonder why manufactured housing's 'Big Three' (Big 3) producers might be pushing the elimination of the lower end and promotion of more costly – and still market failure – models such as the notorious Manufactured Housing Institute branded CrossMod homes, look no further than the lessons from this next video. Follow the money, follow the evidence, and deduce the authentic reasons based on evidence, facts and Occam's Razor. Note: these videos reflect insights from the left and right.
With that backdrop, a first or second look at the evidence in the reports linked below may produce that 'aha' moment for manufactured housing professionals.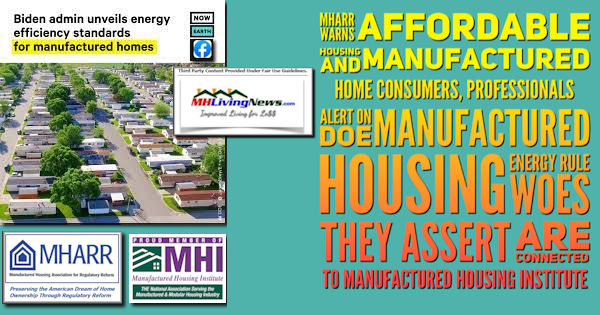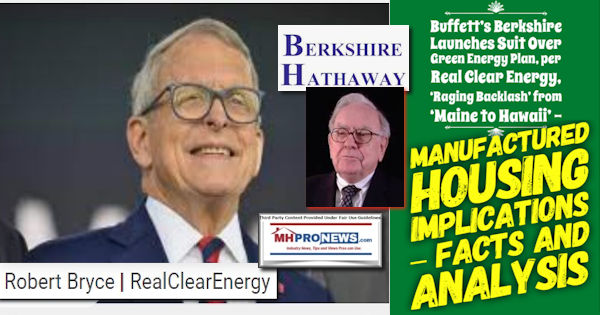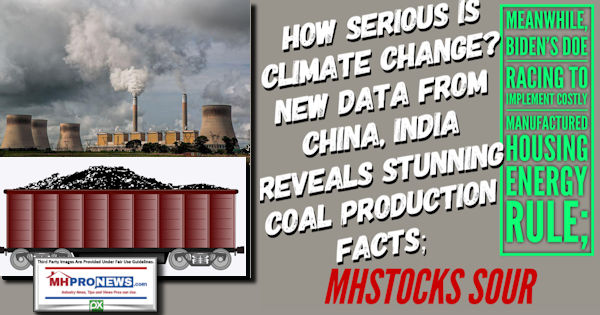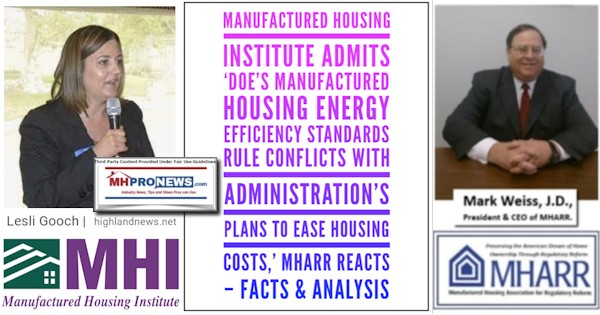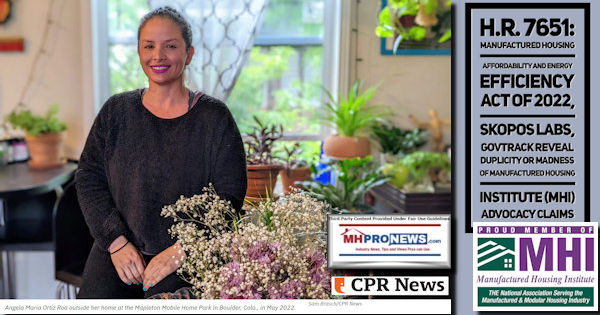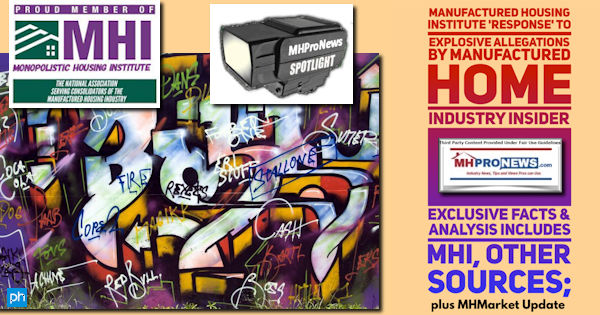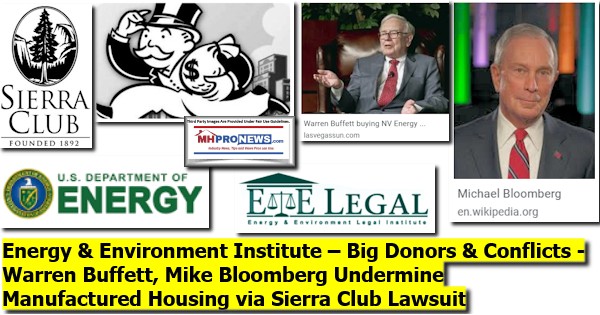 Additionally, those who wonder if the perpetrators of such schemes will ever be held to account, should consider the recent fraud conviction of once high-flying fraudsters involved in the Theranos matter.
Fear, Foibles, Fraud, Folly – Latest Theranos Fraud Conviction Holds Lessons for Manufactured Home Independents, Employees, Investors, Consumers; plus Manufactured Housing Stocks Update
The billionaire class – the so-called 'elites' or 'ruling class' – have the resources to flex information and capital dominance. It is not the first time in our nation's history that this occurred, as something similar occurred during the Robber Baron era and the so-called Gilded Age. Antitrust laws and public pushback successfully brought those robber barons of the past to heel, or at least put them in check. The middle class and smaller businesses thrived. With the rise of the new robber barons of the last several decades, the middle class and smaller businesses have once more been hammered. This is a reasonable lesson from history. Manufactured housing professionals that plan to be long-term should look at such facts, evidence, and lessons objectively and act accordingly.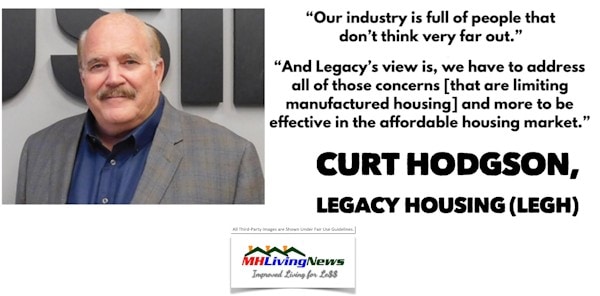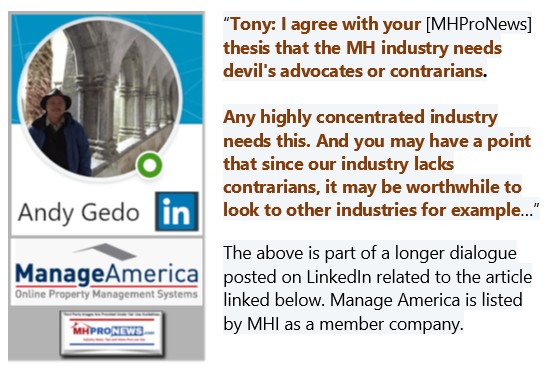 Homebuilder and Home Buyer Confidence Collapsed in July 2022 Explored in 3 Graphs – Bloomberg, ZeroHedge, NAHB; plus, Manufactured Housing Stocks Update
'Excuses' – Manufactured Housing Finance 'Restrictive or Unavailable' 'One of Main Impediments' to More Manufactured Home Sales – Experts Cited in Federal Talk; Sunday Weekly MH-Headlines Recap
Next up is our daily business news recap of yesterday evening's market report, related left-right headlines, and manufactured housing connected equities.
The Business Daily Manufactured Home Industry Connected Stock Market Updates.  Plus, Market Moving Left leaning CNN and Right-leaning (Newsmax) Headlines Snapshot. While the layout of this daily business report has been evolving over time, several elements of the basic concepts used previously are still the same. For instance. The headlines that follow below can be reviewed at a glance to save time while providing insights across the left-right media divide. Additionally, those headlines often provide clues as to possible 'market-moving' news items.
Market Indicator Closing Summaries – Yahoo Finance Closing Tickers on MHProNews…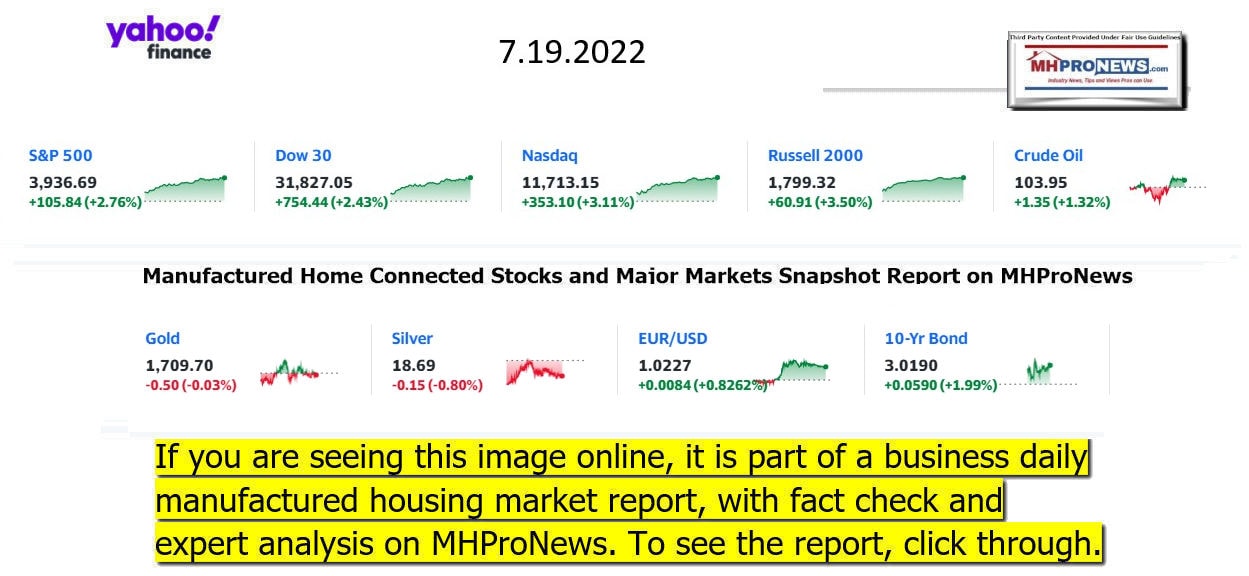 Headlines from left-of-center CNN Business – from the evening of 7.19.2022
Electricity bills are soaring
Empty water jugs are seen on a porch on June 10, 2022 in Houston, Texas. Texas is under a heatwave alert as portions of the state are projected to see record high temperatures throughout the weekend.
Not everyone can afford air conditioning during a brutal heat wave. Here's how they cope
America's CEOs made 324 times more than you last year
A company called Meta says Facebook rebrand 'obliterated' its business
Home building stalls as the real estate market cools
Judge orders October trial for lawsuit between Elon Musk and Twitter
This is the key to getting the global economy working again
Opinion: The pilot shortage is about to get a lot worse
Amazon sues administrators of more than 11,000 Facebook groups that allegedly brokered fake online reviews
The Chevy Blazer EV will be GM's new mass-market electric SUV
CNN reporter shows how products are shrinking but keeping same price
He went to orbit on a SpaceX rocket. Now, he's working for its arch rival
KFC just rolled out a new menu item to attract a younger crowd
STRANGER THINGS. (L to R) Natalia Dyer as Nancy Wheeler, Charlie Heaton as Jonathan Byers, Finn Wolfhard as Mike Wheeler, Noah Schnapp as Will Byers, David Harbour as Jim Hopper, Winona Ryder as Joyce Byers, and Millie Bobby Brown as Eleven in STRANGER THINGS.
Netflix loses subscribers, but stops the bleeding
22 June 2022, Baden-Wuerttemberg, Rottweil: The logo of the cryptocurrency Bitcoin is seen on a symbolic "Bitcoin coin" in an office.
Crypto is making a big comeback. Will it last?
A Starbucks branded coffee cup inside a shop in San Francisco, California, U.S., on Thursday, July 22, 2021.
Starbucks CEO on store closings: 'There are going to be many more.'
GROCERIES
Shoppers use self checkout machines at a Kroger Co. supermarket in Louisville, Kentucky, U.S., on Tuesday, March 5, 2019.
Nobody likes self-checkout. Here's why it's still everywhere
The truth, and strategy, of food expiration dates
Wait, Trader Joe was a real guy?
Shopping in stores is back and thriving. Here's why
Pepsi is making big money on smaller portions
HEAT WAVE
LUBMIN, GERMANY – JULY 11: In this aerial view the receiving station for the Nord Stream 1 natural gas pipeline stands on July 11, 2022 near Lubmin, Germany. The pipeline, which transports natural gas from Russia to Germany, is undergoing maintenance for ten days as of today, meaning that gas deliveries have halted. German authorities are unsure whether gas flows will resume after July 21, when the maintenance work is scheduled to end, given current tensions between Germany and Russia over Russia's ongoing war in Ukraine. Germany is seeking to ween itself off Russian gas and oil imports, though it will remain dependent for the near future. Concerns have grown whether Germany will face natural gas shortages this coming winter.
Europe braces for a potential gas crisis as historic heatwave boosts demand
Heat wave threatens power shortages in China
Lights go out as weatherman warns of blackouts
Opinion: The heat waves are a wake-up call
India bans wheat exports as heat wave hurts crop
Headlines from right-of-center Newsmax 7.19.2022
House Set to Pass Bill Providing Federal Protection for Same-Sex Marriages
The House is set to pass legislation on Tuesday that will give federal protections for same-sex marriages as part of a strategy by the Democratic Party to demonstrate its commitment to other rights that could be at risk after the Supreme Court overturned Roe v. Wade's federal right to an abortion. [Full Story]
Russian Invasion of Ukraine
Putin Visits Iran, Shoring Up Ties With Tehran
1 Killed in Russian Missile Attack on Ukrainian City of Kramatorsk: Governor
IMF Says Russian Gas Embargo Could Hit Central Europe Hard
Putin Admits Sanctions Causing 'Colossal' Problems
Turkey Warns It Can 'Freeze' Sweden, Finland on NATO
Resolution for Sweden, Finland to Join NATO Gets House Approval
Report: Russia Struggling to Protect Tanks in Ukraine War
Ukrainian First Lady to Visit Jill Biden
Oil Jumps on Russia Gas Supply Jitters, Weaker Dollar
More Russian Invasion of Ukraine
Newsmax TV
Meuser: Dems Aim Same-Sex Marriage Bill at Their Base
Donalds: Biden's Energy Policies 'Simply Do Not Work'
Lankford: China Buying US Assets to 'Spy' | video
Dick Morris: Trump Will Face Hillary in 2024, 'Win Handily'
Goya CEO: High Food Prices Will 'Stick Around'
Comer: Nancy Pelosi Is 'Ultimate Stock Insider'
Tenney: Administration 'Lying' About Record Gas Prices
Ron Johnson: 'Nothing Humane' About Biden Border Policy | video
John Ondrasik: Song's Proceeds Go to Group Aiding Ukraine | video
More Newsmax TV
Newsfront
FDA Weighs Oversight Changes after Juul, Formula Troubles
The head of the Food and Drug Administration said Tuesday he has commissioned an independent review of the agency's food and tobacco programs following months of criticism over its handling of the baby formula shortage and e-cigarette reviews.The announcement comes as FDA…… [Full Story]
Dick Morris: Hillary Clinton Will Run Against Trump Again
It will be one of the great political re-matches of all time. Hillary [Full Story]
Related
Dick Morris to Newsmax: Trump Will Face Hillary in 2024, 'Win Handily'
Musk Loses Bid to Delay Trial in Twitter Takeover Battle
Elon Musk lost a fight to delay Twitter's lawsuit against him as a [Full Story]
Simpson: Why Gun Bans Aren't the Answer to Mass Shootings
The debate over gun legislation has risen to a fever pitch following [Full Story] | Platinum Article
Stocks Sweep Higher on Wall Street as Profit Reports Roll in
Wall Street rallied Tuesday to its best day in three weeks as more [Full Story]
Election 2022: Maryland Voting for Successor to Gov. Hogan
With Maryland Gov. Larry Hogan term-limited, the highly competitive [Full Story]]
GOP Aims to Be Party for Working Class, Minorities
Hundreds of thousands of voters in nearly three dozen states are [Full Story] | Platinum Article
AOC, Congress Members Arrested at Supreme Court Protest
At least 16 Democratic Party members of Congress were arrested [Full Story]
CDC Advisers Back Novavax COVID Vaccine for Adults
Advisers to the U.S. Centers for Disease Control and Prevention (CDC) [Full Story]
'Law & Order' TV Crew Worker Shot, Killed in NYC
'Law & Order' TV Crew Worker Shot, Killed in NYC
A crew member from TV's "Law & Order: Organized Crime" was shot and [Full Story]
CDC: Overdose Deaths Disproportionately Impact Minorities
While the number of overdose deaths rose 30% in the overall [Full Story]
Reward Offered for Man Freed by Mistake in Lady Gaga Dog Walker Shooting Case
The United States Marshals Service is offering a $5,000 reward for [Full Story]
De Blasio Drops Out of House Race, Quits Electoral Politics
Former New York City Mayor Bill de Blasio said Tuesday that he is [Full Story]
Gallup: Americans' Confidence in News Media Drops to Low Point
Americans' confidence in newspapers and television newshas fallen to [Full Story]
Ohio Top Court Orders New District Map Before '24 Vote
Ohio's Supreme Court on Tuesday ruledthe state's current [Full Story]
Rick Scott: Iran 'Just Sanctioned Me'
Rick Scott, R-Fla. said Iran sanctioned him for his support of [Full Story]
Price Cap on Russian Oil Could Drive Oil to $140
Putting a price cap on Russian oil to reduce Vladimir Putin's Ukraine [Full Story]
Google Maps Where Biden Fell Off Bike: 'Brandon Falls'
The place where President Joe Biden fell off his bicycle last month [Full Story]
DA Dismisses Murder Charges Against Bodega Worker
After weeks of protests over the arrest of a Hamilton Heights bodega [Full Story]
Biden to Announce Executive Orders on Climate Wednesday
President Joe Biden plans to announce new executive orders aimed at [Full Story]
Leaked Video: Starbucks' Boss Blames Store Closures on Elected Officials
Starbucks CEO Howard Schultz said actions by local elected leaders [Full Story]
Video Report: Russian State TV Tries to Spin Ukraine Troop Losses
A Russian state TV broadcast highlighted a couple's new car bought [Full Story] | video
Chief Justice Roberts Paves Way for Indiana to Implement Parental Notification Abortion Law
Chief Justice John Roberts agreed to bypass normal procedures on [Full Story]
US Thwarts North Korean Hackers That Targeted Hospitals
The FBI and Justice Department recently disrupted the activities of a [Full Story]
Angry Uvalde Parents Confront School Board
Parents ripped into Uvalde, Texas school board members after a report [Full Story]
DOD, Commerce, WH, Pushing Congress for CHIPS Bill Funding
The administration of President Joe Biden is putting pressure on [Full Story]
US Housing Starts Drop to Lowest in Nine Months
New U.S. home-building activity fell to a nine-month low in June and [Full Story]
Vatican Imposes New Investment Policy Amid Financial Scandal
The Vatican has overhauled its investment strategy after a botched [Full Story]
House GOP Plans Multiple Probes of Biden Administration
House Republicans, preparing for a likely takeover of the chamber [Full Story]
No Charges for 'Late Show' Crew Arrested on Capitol Hill
Federal prosecutors said Monday they have declined to bring charges [Full Story]
Putin Visits Iran on First Trip Outside Former Soviet Union Since Ukraine War
Russian President Vladimir Putin will visit Tehran on Tuesday for [Full Story]
Finance
Musk Loses Bid to Delay Trial in Twitter Takeover Battle
Elon Musk lost a fight to delay Twitter's lawsuit against him as a Delaware judge on Tuesday set an October trial, citing the "cloud of uncertainty" over the social media company after the billionaire backed out of a deal to buy it…. [Full Story]
Netflix Predicts Return to Customer Growth, Shares Jump
Buffett's Berkshire Buys More Occidental, Edges Close to a 20% Stake
Chipotle Closes Store in Maine, Thwarting Union Efforts
US Health Insurers Raise Rates to Match Increase in Usage
More Finance
Health
Even a Drink a Day Might Raise Brain Risks
Even moderate drinking may be related to higher iron levels in the brain – a potentially risky situation for memory and thinking skills, a new study suggests. Researchers found that among nearly 21,000 middle-aged and older adults, those who drank as little as a few beers a…… [Full Story]
FDA Weighs Oversight Changes after Juul, Formula Troubles
New Brain Implant Allows ALS Patients to Communicate With Thoughts
Scientists Discover How Meditation Alters the Brain to Ease Pain
Study: Car Crash Deaths Rose After States Legalized Marijuana
MHProNews has pioneered in our profession several reporting elements that keep our regular and attentive readers as arguably the best informed in the manufactured housing industry. Among the items shared after 'every business day' (when markets are open) is our left-right headline recap summary. At a glance in two to three minutes, key 'market moving' news items are covered from left-of-center CNN Business and right-of-center Newsmax. "We Provide, You Decide." © Additionally, MHProNews provides expert commentary and analysis on the issues that others can't or won't cover that help explain why manufactured housing has been underperforming during the Berkshire era while an affordable housing crisis and hundreds of thousands of homeless in America rages on. These are "Industry News, Tips, and Views Pros Can Use" © features and others made and kept us the runaway #1 in manufactured housing trade publisher for a dozen years and counting.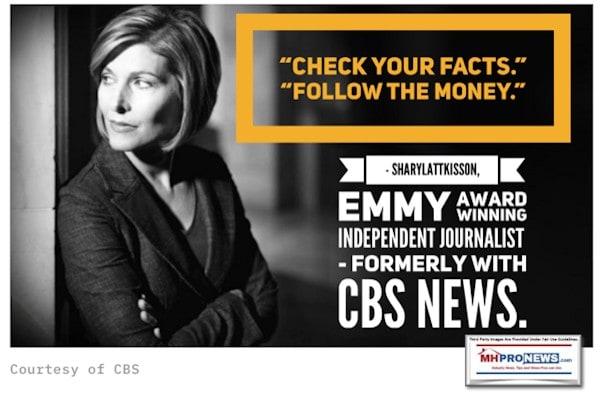 Manufactured Housing Industry Investments Connected Equities Closing Tickers
Some of these firms invest in manufactured housing, or are otherwise connected, but may do other forms of investing or business activities too.
NOTE: The chart below includes the Canadian stock, ECN, which purchased Triad Financial Services, a manufactured home industry lender
NOTE: Drew changed its name and trading symbol at the end of 2016 to Lippert (LCII).
NOTE: Deer Valley was largely taken private, say company insiders in a message to MHProNews on 12.15.2020, but there are still some outstanding shares of  the stock from the days when it was a publicly traded firm.  Thus, there is still periodic activity on DVLY.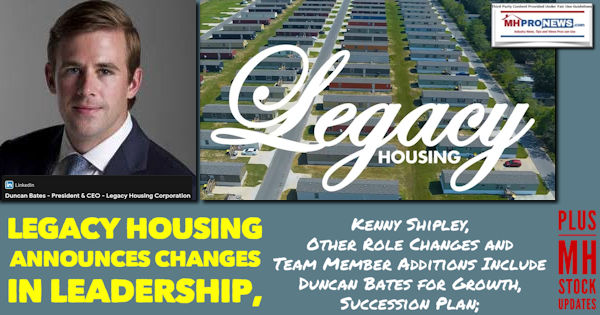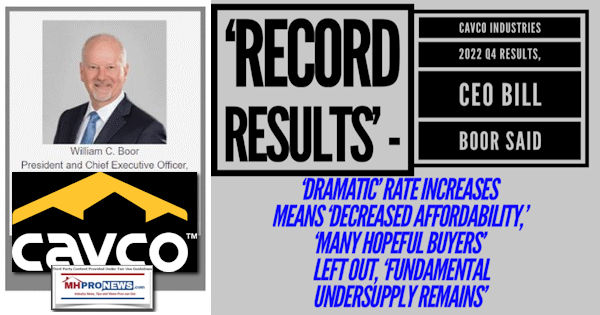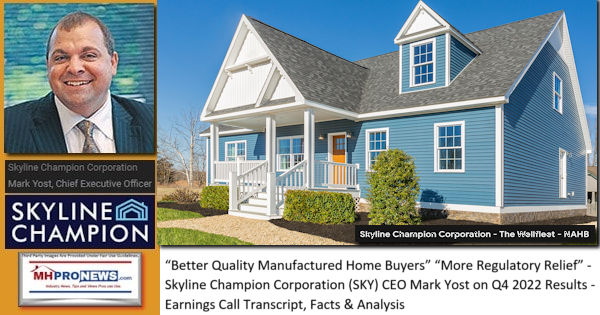 Manufactured Home Communities (a.k.a. 'Mobile Home Parks' – SIC) – Exploring UMH Properties; Fellow Manufactured Housing Institute Member Yes! Communities Suits and Settlements; plus MH Markets Updates
'Announcing!' 'Manufactured Community Owners' Association of America' 'Finally Bringing Fight To Manufactured Home Community Sector of the Industry' – plus Sunday Weekly Manufactured Housing Headlines Review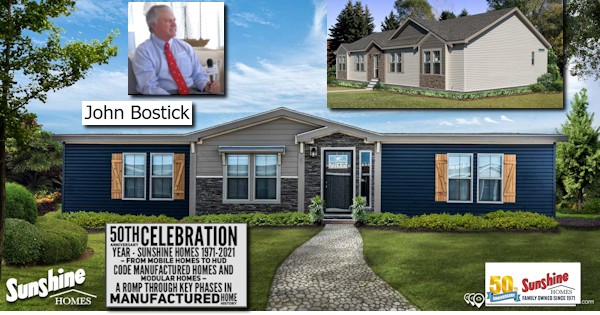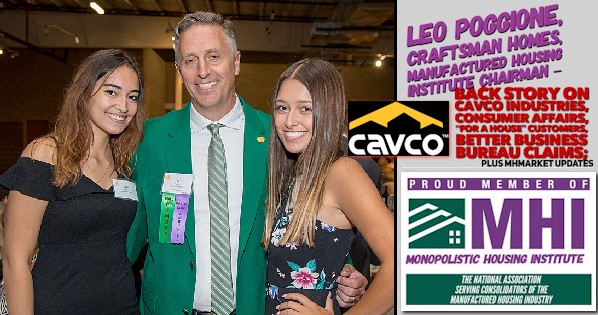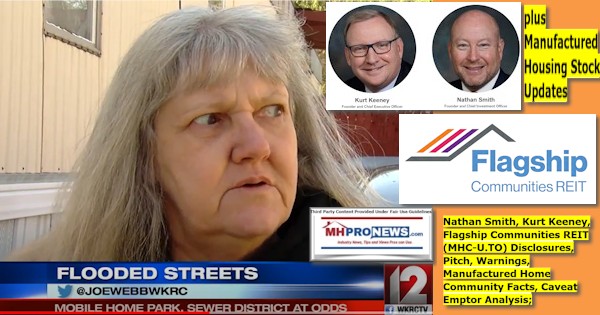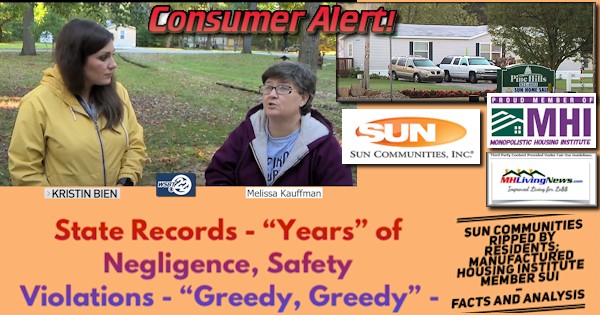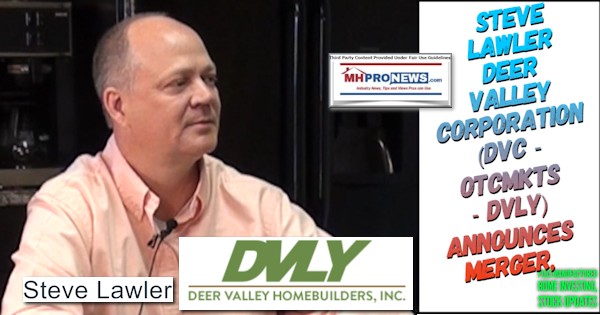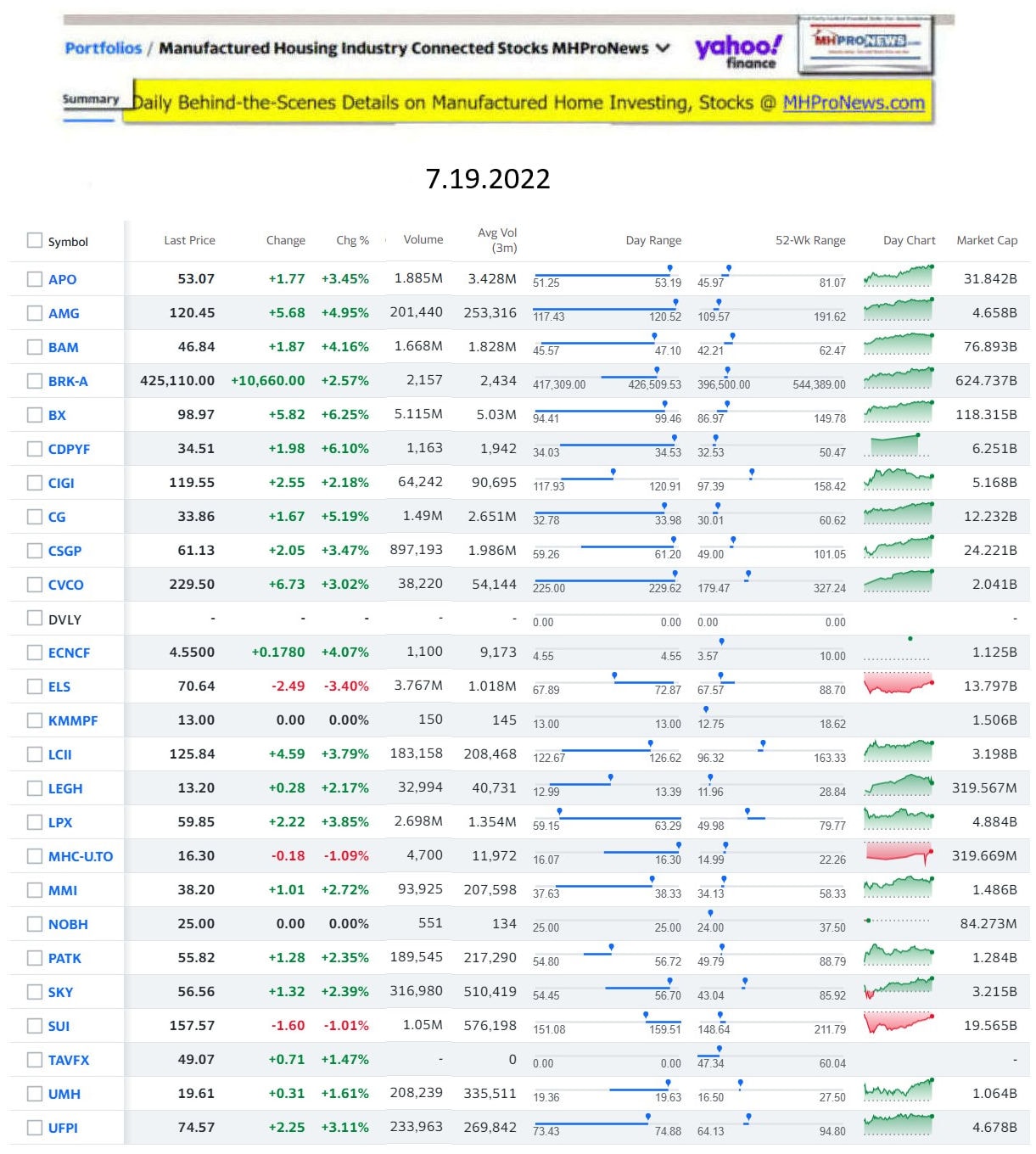 2022

…

Berkshire Hathaway is the parent company to Clayton Homes, 21st Mortgage, Vanderbilt Mortgage and other factory-built housing industry suppliers.


·

LCI Industries, Patrick, UFPI, and LP each are suppliers to the manufactured housing industry, among others.




·

AMG, CG, and TAVFX have investments in manufactured housing related businesses.

For

insights from third-parties and clients about our publisher

, click here.


Enjoy these 'blast from the past' comments.

MHProNews. MHProNews – previously a.k.a. MHMSM.com – has celebrated our 11th year of publishing and have completed over a dozen years of serving the industry as the runaway most-read trade media.
Sample Kudos over the years…
It is now 12+ years and counting…
Learn more about our evolutionary journey as the industry's leading trade media, at the report linked below.
· For expert manufactured housing business development or other professional services, click here.
· To sign up in seconds for our industry leading emailed headline news updates, click here.

Disclosure. MHProNews holds no positions in the stocks in this report.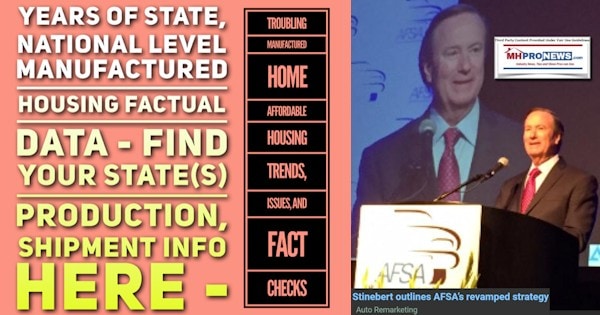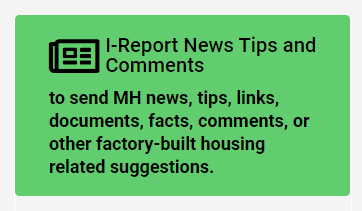 That's a wrap on this installment of "News Through the Lens of Manufactured Homes and Factory-Built Housing" © where "We Provide, You Decide." © (Affordable housing, manufactured homes, stock, investing, data, metrics, reports, fact-checks, analysis, and commentary. Third-party images or content are provided under fair use guidelines for media.) (See Related Reports, further below. Text/image boxes often are hot-linked to other reports that can be access by clicking on them.)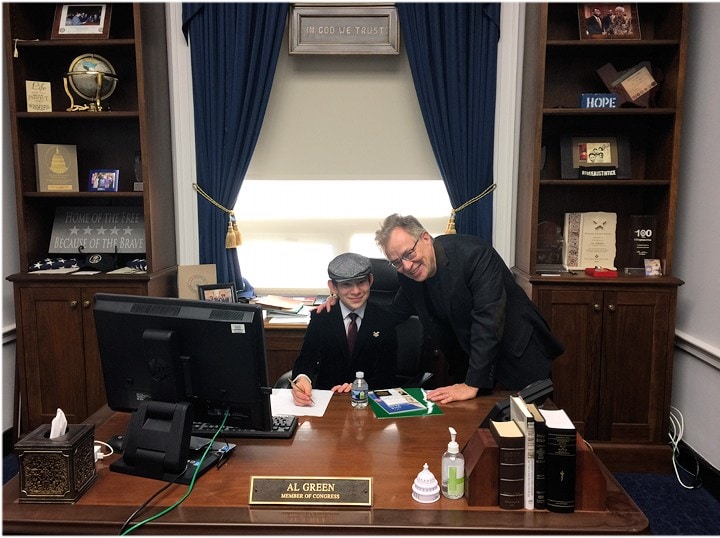 By L.A. "Tony" Kovach – for MHProNews.
Tony earned a journalism scholarship along with numerous awards in history. There have been several awards and honors and also recognition in manufactured housing. For example, he earned the prestigious Lottinville Award in history from the University of Oklahoma, where he studied history and business management. He's a managing member and co-founder of LifeStyle Factory Homes, LLC, the parent company to MHProNews, and MHLivingNews.com. This article reflects the LLC's and/or the writer's position and may or may not reflect the views of sponsors or supporters.