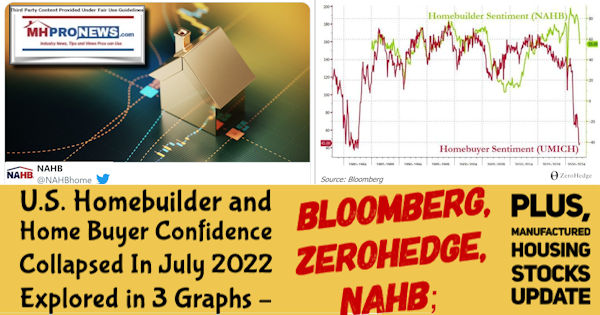 Depending on the recent national survey, some 80+ percent of the public believes that the nation is heading in the wrong direction. So, perhaps it is no surprise that recent July 2022 data from left-leaning Bloomberg and right-leaning ZeroHedge reveals that home builder confidence "collapses" this month vs. June 2020. Per the National Association of Home Builders (NAHB), their index fell from a rating of 67 in June to 55 in July. That 12 point drop is the largest on record, said ZeroHedge, other than the Covid19 collapse in the spring of 2020.  According to the NAHB website: "This marks the lowest HMI reading since May 2020 and the largest single-month drop in the history of the HMI, except for the 42-point drop in April 2020."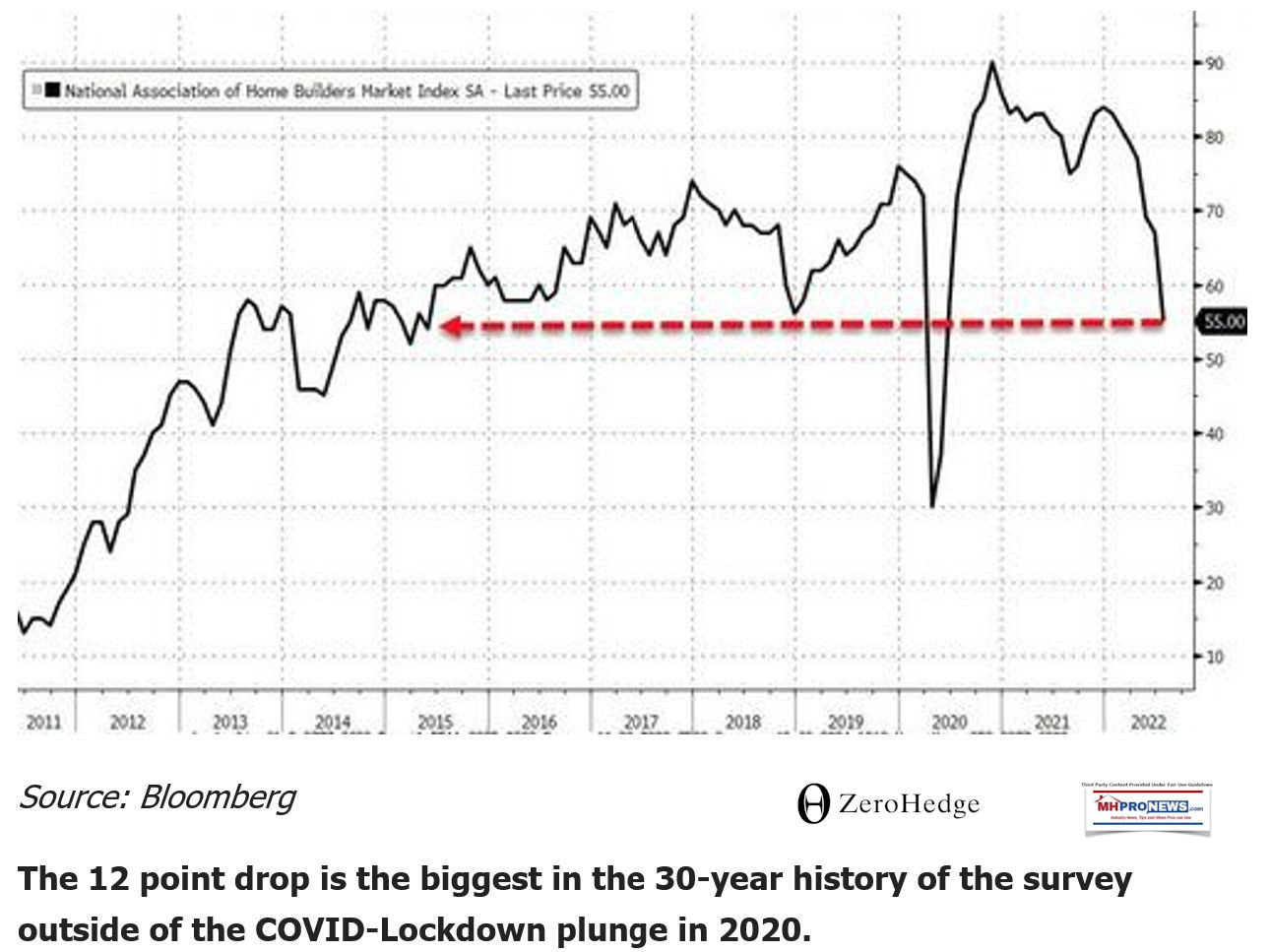 Per the NAHB on 7.18.2022:
"Production bottlenecks, rising home building costs and high inflation are causing many builders to halt construction because the cost of land, construction and financing exceeds the market value of the home," said NAHB Chairman Jerry Konter, a home builder and developer from Savannah, Ga. "In another sign of a softening market, 13% of builders in the HMI survey reported reducing home prices in the past month to bolster sales and/or limit cancellations."
"Affordability is the greatest challenge facing the housing market," said NAHB Chief Economist Robert Dietz. "Significant segments of the home buying population are priced out of the market. Policymakers must address supply-side issues to help builders produce more affordable housing."
Derived from a monthly survey that NAHB has been conducting for more than 35 years, the NAHB/Wells Fargo HMI gauges builder perceptions of current single-family home sales and sales expectations for the next six months as "good," "fair" or "poor."
That troubling news for conventional housing and the nation as a whole might normally be a sliver lining for the far more affordable manufactured home sector. Indeed, the latest manufactured home data reveals an increase in production in the May 2022 national data. More on that side of this MHProNews report and analysis further below.
State-by-State, Regional, National Manufactured Housing Data for Production, Shipments for May 2022, Compare Manufactured Home to Conventional Housing, Other Research Reports; and MHStock Updates
ZeroHedge noted that "All three components" of the NAHB data "plunged."
Measure of present single family sales fell to 64 vs 76
Future single family sales gauge fell to 50 vs 61
Prospective buyers traffic measure fell to 37 vs 48
Home builder confidence plunged in July as the NAHB/Wells Fargo Housing Market Index (HMI) fell 12 points to 55, the largest drop besides April 2020 at the pandemic onset. Soaring interest rates and inflation have slowed sales and buyer traffic. https://t.co/poDQ67WRn4 #economy

— NAHB (@NAHBhome) July 18, 2022
The next two graphics from Bloomberg via ZeroHedge rounds out with their closing commentary to Fed Chair Jerome Powell.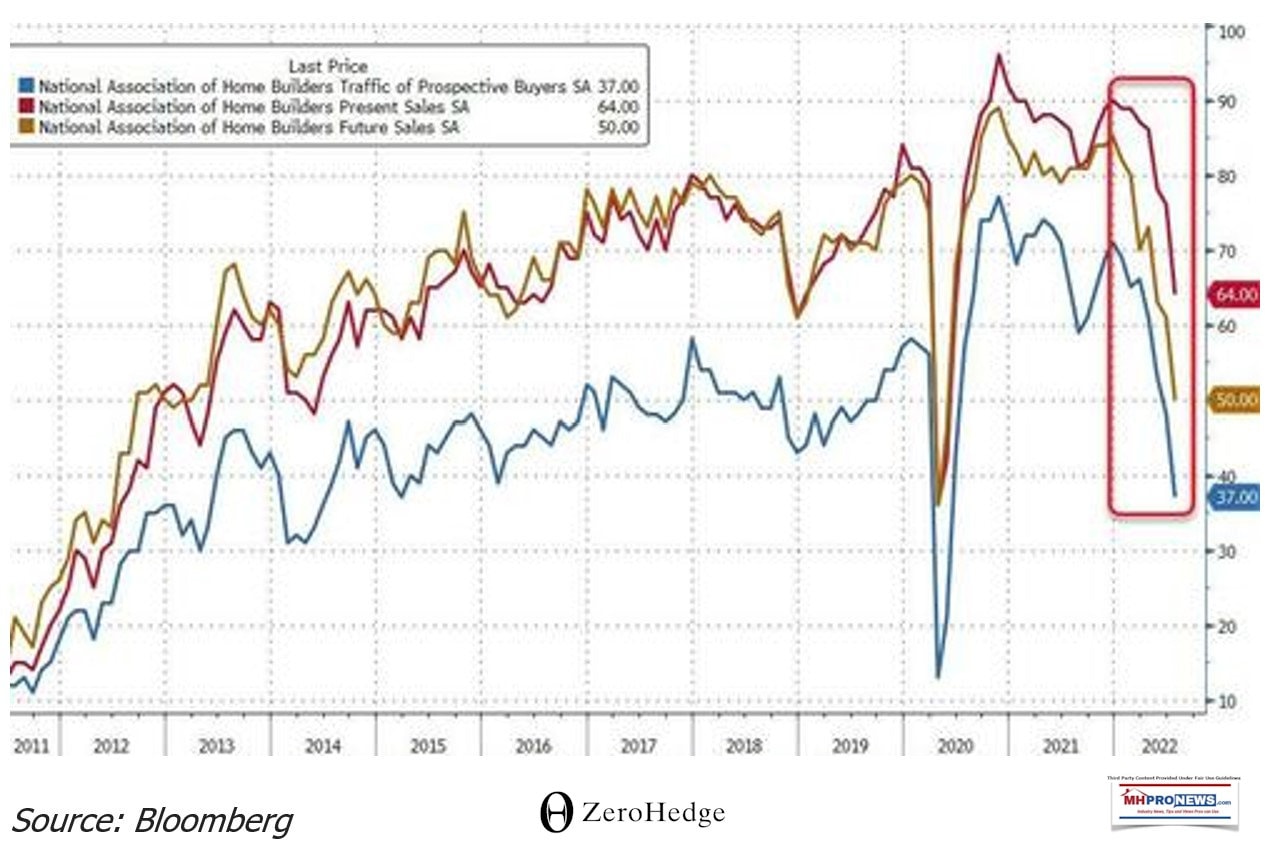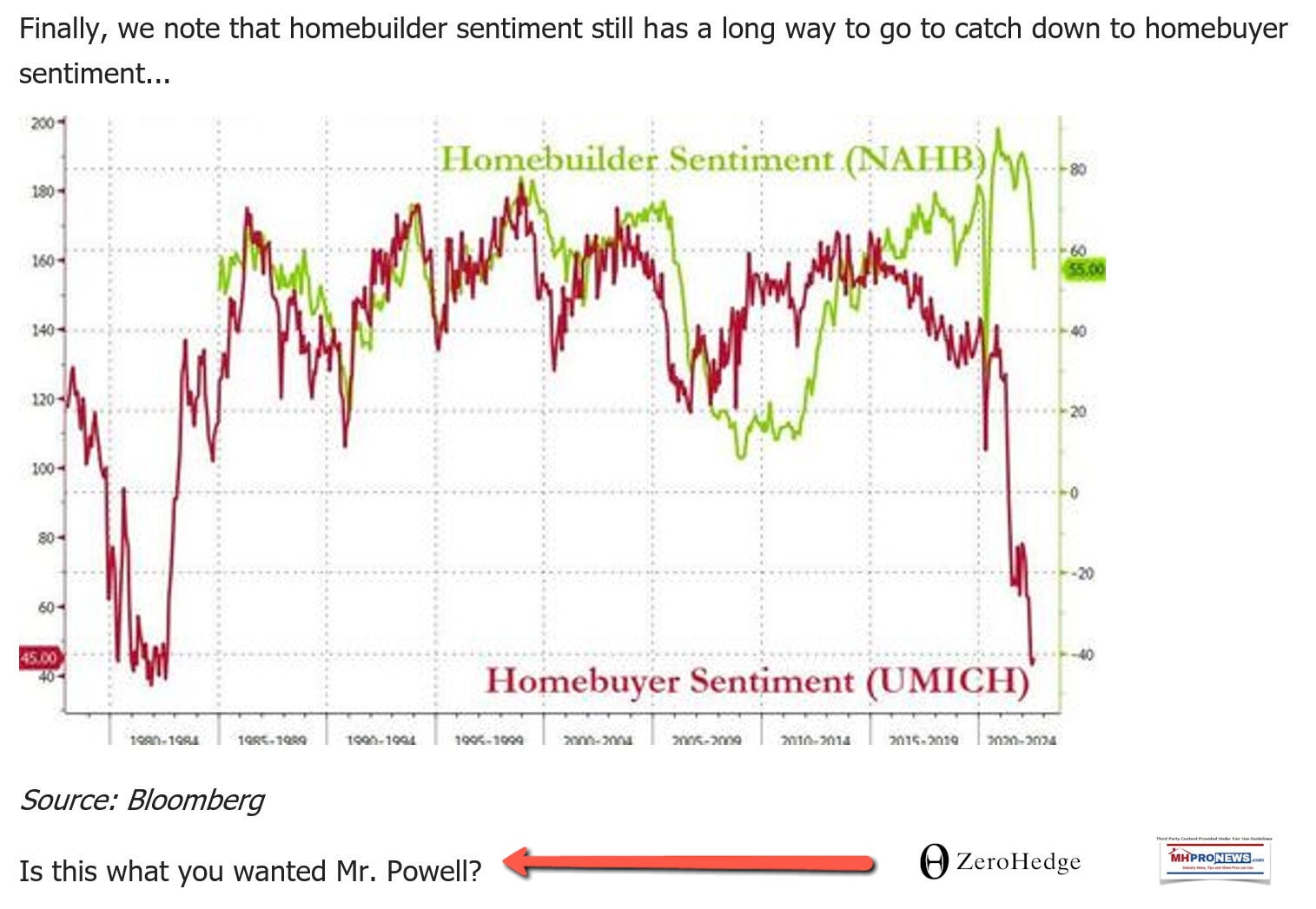 While that is certainly a factor, no less so are the housing and economic policies currently in place from Washington, D.C. As HUD Secretary Marcia Fudge soberingly noted with respect to manufactured housing, the situation will remain the same until the laws in place are clarified.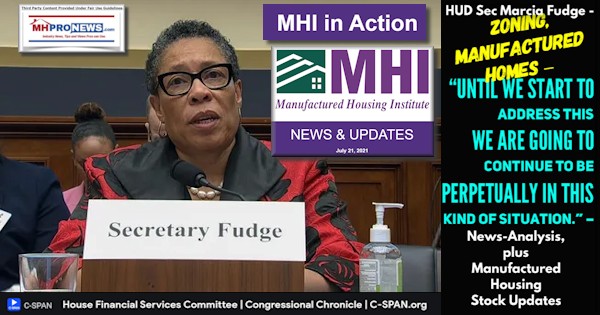 While the Manufactured Housing Institute (MHI) linked Texas Manufactured Housing Association (TMHA) noted that retail traffic is slowing in their state too, as MHProNews observed – based upon the national data – the overall manufactured home production is still rising. Why?
'Quite Obvious U.S. Economy Slowing,' TRERC Research Economist Harold Hunt, Ph.D. Manufactured Housing Demand in #1 Texas Slips, Slowdown in 2nd Half of 2022 Expected; plus, MHStocks Updates
As the report above detailed, it is true in part because the community sector of the manufactured housing industry is in a position to pick up the slack caused by a retail slowdown.
'Excuses' – Manufactured Housing Finance 'Restrictive or Unavailable' 'One of Main Impediments' to More Manufactured Home Sales – Experts Cited in Federal Talk; Sunday Weekly MH-Headlines Recap
The bottom line at this time is this. Manufactured housing could be soaring while conventional housing is plunging. But unfortunately, due to the problematic nature of the industry's post-production national 'leader' – the Manufactured Housing Institute – the good laws that could boost the industry are not being properly enforced. MHI has said as much. Also, the looming enforcement of the DOE manufactured housing energy rule is a barrier to more sales. See what MHI says in their own words, in the report and analysis linked below.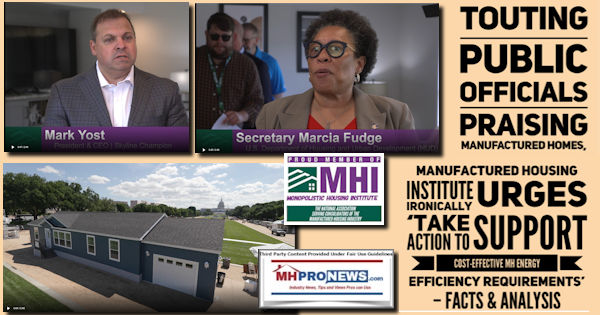 Without an authentic and effective post-production trade group, the status quo for manufactured housing is unlikely to change. That's not simply the factual and evidence based view of this publication, but also from several voices from within the manufactured housing industry.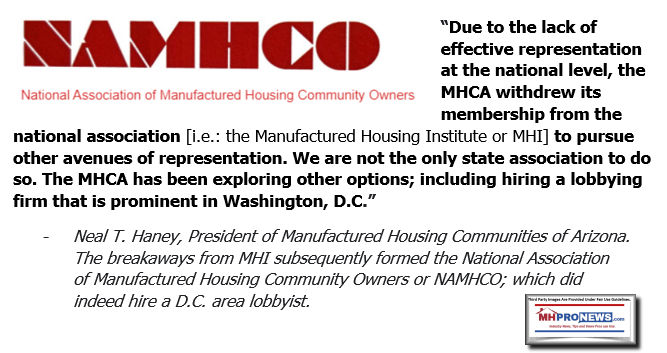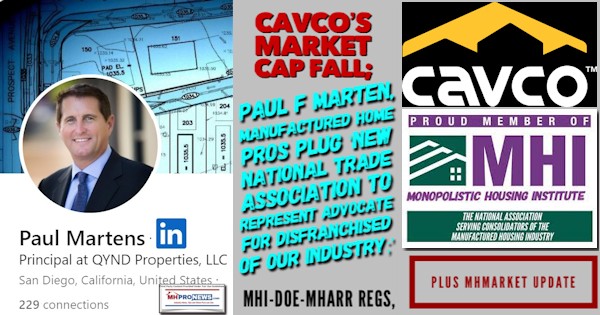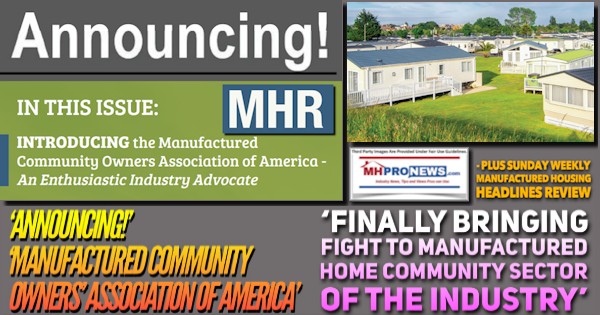 See the linked reports for additional facts, information, analysis and related details.
State-by-State, Regional, National Manufactured Housing Data for Production, Shipments for May 2022, Compare Manufactured Home to Conventional Housing, Other Research Reports; and MHStock Updates
Next up is our daily business news recap of yesterday evening's market report, related left-right headlines, and manufactured housing connected equities.
The Business Daily Manufactured Home Industry Connected Stock Market Updates.  Plus, Market Moving Left leaning CNN and Right-leaning (Newsmax) Headlines Snapshot. While the layout of this daily business report has been evolving over time, several elements of the basic concepts used previously are still the same. For instance. The headlines that follow below can be reviewed at a glance to save time while providing insights across the left-right media divide. Additionally, those headlines often provide clues as to possible 'market-moving' news items.
Market Indicator Closing Summaries – Yahoo Finance Closing Tickers on MHProNews…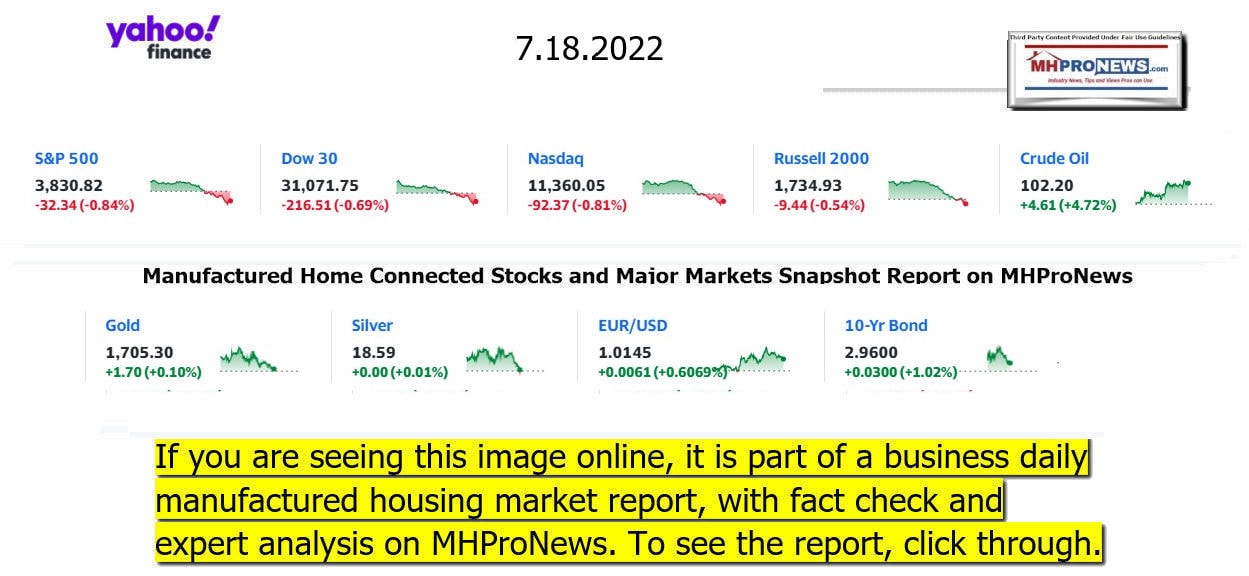 Headlines from left-of-center CNN Business – from the evening of 7.18.2022
Whisper network
She warned other women on TikTok about her ex-boyfriend. Then she received a cease-and-desist
Google's stock just got a lot cheaper
What recession? America's banks reveal few signs of trouble
Staten Island ferry cuts service due to uptick of Covid-19 cases among staff members
Goldman Sachs still rules Wall Street: Earnings blow away forecasts
Foreign buyers are slowly returning to the US housing market
France is facing a looming energy crisis. Here's how the UAE could help as its president touches down in Paris
Europe is bracing for the potential of a full-blown gas crisis
British Airways passengers get mid-air email canceling their connecting flight
Democrats plan new legislation to establish net neutrality rules
Zoom has an unlikely new competitor — Snapchat
Netflix is in rough shape. This week will determine its future
The truth, and strategy, of food expiration dates
The unintended consequences of Tide Pods
Car company unveils high-performance truck inspired by desert racing
Toys 'R' Us is coming back. Soon, it'll be almost everywhere
A guest wears a brown jacket, holds a Starbucks coffee cup, during London Fashion Week Fall Winter 2020 on February 16, 2020 in London, England.
Starbucks is reportedly considering selling its UK business
KFC is testing a chicken nugget aimed at Gen Z
INNOVATE
This supercharged tree might help fight climate change
Uber to test delivering food with robots
You will soon be able to use Bitcoin to buy Gucci
Metaverse expert predicts the future of the internet
This startup has reinvented the instant noodle
CORNER OFFICE
FILE PHOTO: Mukesh Ambani, Chairman and Managing Director of Reliance Industries, attends a convocation at the Pandit Deendayal Petroleum University in Gandhinagar, India, September 23, 2017. REUTERS/Amit Dave//File Photo
Billionaire Mukesh Ambani is bringing Pret A Manger stores to India
Jeff Bezos blasts Biden tweet about gas prices
TikTok executive speaks to CNN regarding security
Hong Kong's leader pledges to strengthen city's role
Bed, Bath & Beyond's CEO is out as sales tumble
Headlines from right-of-center Newsmax 7.18.2022
Fauci to Retire
D.C. Dems Urging Federal Response to Texas Gov. Abbott's Migrant Buses
Poll: 41% Say Armed Citizens Are Best Protection Against Mass Shootings
About 4 in 10 Americans think that armed citizens are the best protection in the event of a mass shooting, according to a poll released Monday. [Full Story]
Related Stories
Witness to Indiana Mall Shooting Praised for Killing Gunman
Armed 'Good Samaritan' Kills Gunman in Indiana Mall Shooting
Uvalde Video Shows Children Scrambling While Chief Fumbles With Keys
Russian Invasion of Ukraine
Amid Russia Shelling, Zelenskyy Seeks to Strengthen Ranks
Gazprom Blames EU Gas Halt on 'Extraordinary' Events
Ukraine's Zelenskyy Fires Top Security Chief and Prosecutor
US Trade Panel Revokes Duties on Fertilizers From Russia
EU Foreign Ministers Zoom in on Tightening Russia Sanctions
Russia's Medvedev: Attack on Crimea Will Ignite 'Judgment Day' Response
UK Defense Chief: Putin Assassination Talk 'Wishful Thinking' | video
'Evil Cannot Win:' Killed by Russian Missile, Liza Is Buried
More Russian Invasion of Ukraine
Newsmax TV
Ernst: 'Shocked and Appalled' During Border Visit | video
Carter: Dems Fear November, Focus on Jan. 6 | video
Blackburn: Manchin Right to Block Biden's Spending | video
Dick Morris: 'Only Trump Can Win This Election' in '24 | video
Fmr Israeli PM: US Has Military Play on Iran Nukes | video
Mullin: Biden Trip to Middle East 'an Embarrassment' | video
McClain: Biden 'Out of Touch,' Gas Prices 'Doubled' | video
Dershowitz: Fighting Back, Exposing Cancel Culture | video
Dick Morris: Trump Will Focus on Hispanics, Early Voting in 2024 | video
More Newsmax TV
Newsfront
Joe Manchin Rejects Minimum Tax on Multinational Companies
Joe Manchin, D-W.Va., refused to back congressional Democrats' economic package partly due to a provision that would impose a 15% minimum tax on multinational corporations…. [Full Story]
Related Stories
Manchin Stance Forces Dems to Consider Deal on Health Legislation
Blackburn to Newsmax: Manchin Right to Block Biden's Spending
Simon Wiesenthal Center: Croatia Should Open WWII Site to Serb Leader
An iconic Jewish organization dedicated to Holocaust research, [Full Story]
Fleitz: Biden Saudi Visit Does More Harm Than Good
There's a certain protocol when leaders of friendly nations meet. In [Full Story]
Related
Paul: 'Shocking' Ignorance to Be 'Begging, Bowing' for Saudi Oil
Breakthroughs Elude Biden on Fraught Middle East Tour
Mullin to Newsmax TV: Biden Trip to Middle East 'an Embarrassment' |video
Washington Post Blasts 'Shameful' Biden Fist Bump With MBS
Video Report: Zelenskyy Makes Startling Announcement
Ukrainian President Volodymyr Zelenskyy made a startling announcement [Full Story] | video
Trans Woman Who Impregnated 2 Prison Inmates Transferred
A transgender woman prisoner in New Jersey was transferred to another [Full Story]
Biden's Israel Trip Full of Gaffes, Confusion
President Joe Biden's propensity for making gaffes on the big stage [Full Story] | Platinum Article
Jury Selection Underway for Ex-Trump Adviser Steve Bannon
Jury selection is underway Monday in the trial of Steve Bannon, a [Full Story]
Aging Musicians Learn About Rockin' in the Free Market
It turns out that comedian/podcaster Joe Rogan may actually be [Full Story] | Platinum Article
Prince Harry Challenges Divided World to Reclaim Democracies
Britain's Prince Harry challenged people everywhere Monday to adopt [Full Story]
Witness to Indiana Mall Shooting Praised for Killing Gunman
A 22-year-old bystander who witnessed a deadly shooting over the [Full Story]
Gavin Newsom Explains His Florida Ad That Attacks DeSantis
California Democrat Gov. Gavin Newsom and Florida Republican Gov. Ron [Full Story]
C. Democrats Call for Federal Response to Abbott's Migrant Buses
As the buses containing migrants from the southern border continue to [Full Story]
Y. Reaches Multibillion Deal for New Penn Station
A funding agreement was reached for the multibillion-dollar [Full Story]
Poll: 41% Say Armed Citizens Are Best Protection Against Mass Shootings
About 4-in-10 Americans think that armed citizens are the best [Full Story]
Jody Hice Subpoenaed in Georgia Election Investigation
Jody Hice, R-Ga., has been subpoenaed to testify before a [Full Story]
Trump Slams PGA, Calls It 'Very Disloyal'
Former President Donald Trump called the PGA "very disloyal" in a post [Full Story]
Flight Attendant Fired in Abortion Dispute Wins $5.1M Verdict
A former Southwest Airlines flight attendant who was fired after [Full Story]
Buffalo Supermarket Shooter Arraigned on Federal Charges
The white gunman charged with killing 10 Black people in a racist [Full Story]
Pence Versus Trump by Proxy in Arizona Gov. Primary
With two weeks to go before Arizona's heated Republican primary for [Full Story]
Video Report: Dem Firm's Poll of DeSantis Education Policies Sends Shockwaves
A poll by the Democrat firm Hart Research found vast support for the [Full Story] | video
White House: Iran to Supply Russia With Hundreds of Drones
Revelations that Russia is seeking to source hundreds of [Full Story]
Tipp Poll: Americans Want Cheap Oil, Less Green Policies
Only 32% of Americans back President Joe Biden's climate change [Full Story]
Manchin Stance Forces Dems to Consider Deal on Health Legislation
Although Sen. Joe Manchin has infuriated fellow Democrats by [Full Story]
Anthony Fauci to Retire by End of Biden's Term
Dr Anthony Fauci, the infectious disease expert who is the chief [Full Story]
Armed 'Good Samaritan' Kills Gunman in Indiana Mall Shooting
Authorities in Indiana report that a gunman and three other people [Full Story]
Biden Official: Gas Could Fall Below $4 a Gallon Soon
Gas prices could drop below $4 per gallon on average in the coming [Full Story]
Uvalde's Acting Police Chief Suspended
The acting police chief for the city of Uvalde, Texas, was suspended [Full Story]
Betsy DeVos Calls for Abolishing Education Department
Betsy DeVos, a cabinet member in the Trump administration, is calling [Full Story]
Millions in Jewels Stolen From Armored Truck in California
Millions of dollars worth of gems and jewelry were stolen in an [Full Story]
Birx: COVID Was 'Ready to Infect' Out of the Box
Deborah Birx, who coordinated the Trump administration's [Full Story]
SAS and Pilots to Resume Negotiations on Monday After 14 Days of Strike
Ailing Scandinavian airline SAS and striking pilot unions will resume [Full Story]
Finance
NY Reaches Multibillion Deal for New Penn Station
A funding agreement was reached for the multibillion-dollar redevelopment of New York's aging Penn Station, the country's busiest rail hub. Gov. Kathy Hochul and Mayor Eric Adams announced details of the deal Monday…. [Full Story]
Wall Street Rally Fades as Corporate Profit Reports Ramp up
Oil Jumps on Russia Gas Supply Jitters, Weaker Dollar
The Chainsmokers to Perform at the Edge of Space
US Trade Panel Revokes Duties on Fertilizers From Russia, Trinidad, Tobago
Health
Even a Drink a Day Might Raise Brain Risks
Even moderate drinking may be related to higher iron levels in the brain – a potentially risky situation for memory and thinking skills, a new study suggests. Researchers found that among nearly 21,000 middle-aged and older adults, those who drank as little as a few beers a…… [Full Story]
Underactive Thyroid Linked to Increased Risk for Dementia
COVID Public Health Emergency Extended Another 3 Months
US, UK Ill-prepared for Monkeypox After Sexual Health Clinics Financially Neglected
Gottlieb Says US Has 'Failed To Contain' Monkeypox Outbreak
MHProNews has pioneered in our profession several reporting elements that keep our regular and attentive readers as arguably the best informed in the manufactured housing industry. Among the items shared after 'every business day' (when markets are open) is our left-right headline recap summary. At a glance in two to three minutes, key 'market moving' news items are covered from left-of-center CNN Business and right-of-center Newsmax. "We Provide, You Decide." © Additionally, MHProNews provides expert commentary and analysis on the issues that others can't or won't cover that help explain why manufactured housing has been underperforming during the Berkshire era while an affordable housing crisis and hundreds of thousands of homeless in America rages on. These are "Industry News, Tips, and Views Pros Can Use" © features and others made and kept us the runaway #1 in manufactured housing trade publisher for a dozen years and counting.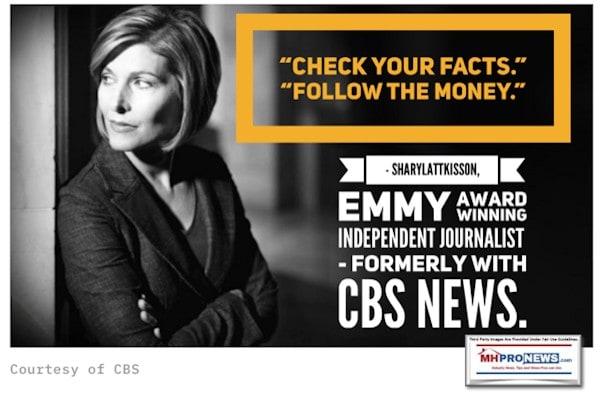 Manufactured Housing Industry Investments Connected Equities Closing Tickers
Some of these firms invest in manufactured housing, or are otherwise connected, but may do other forms of investing or business activities too.
NOTE: The chart below includes the Canadian stock, ECN, which purchased Triad Financial Services, a manufactured home industry lender
NOTE: Drew changed its name and trading symbol at the end of 2016 to Lippert (LCII).
NOTE: Deer Valley was largely taken private, say company insiders in a message to MHProNews on 12.15.2020, but there are still some outstanding shares of  the stock from the days when it was a publicly traded firm.  Thus, there is still periodic activity on DVLY.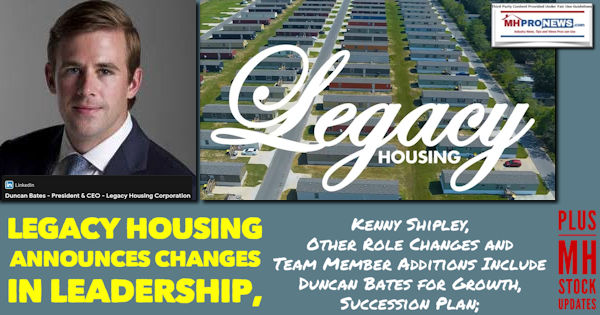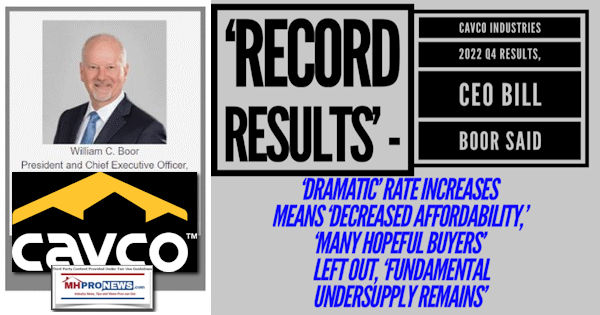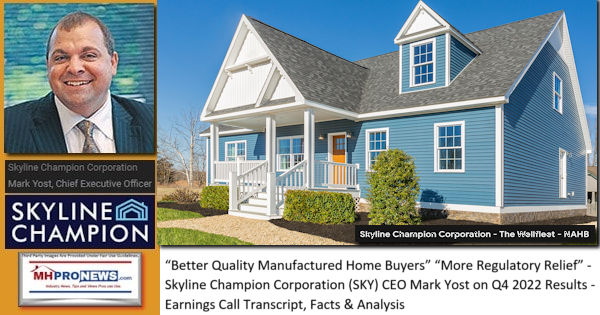 Manufactured Home Communities (a.k.a. 'Mobile Home Parks' – SIC) – Exploring UMH Properties; Fellow Manufactured Housing Institute Member Yes! Communities Suits and Settlements; plus MH Markets Updates
'Announcing!' 'Manufactured Community Owners' Association of America' 'Finally Bringing Fight To Manufactured Home Community Sector of the Industry' – plus Sunday Weekly Manufactured Housing Headlines Review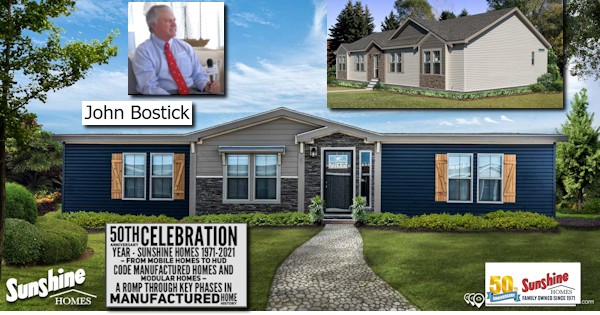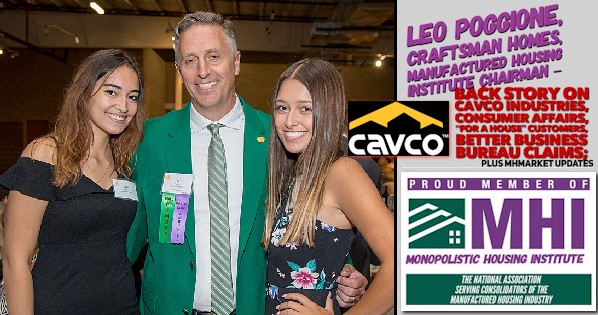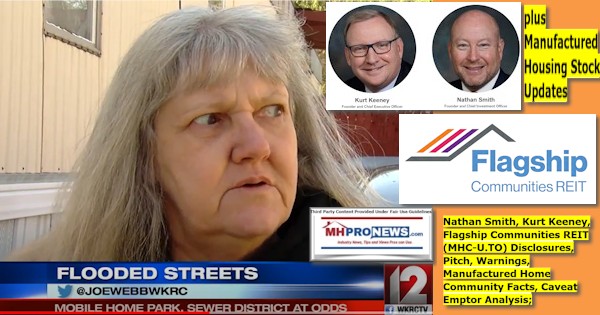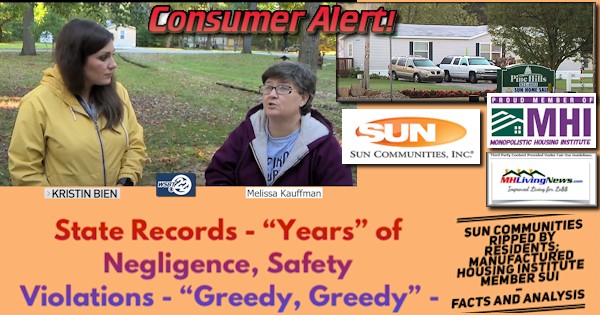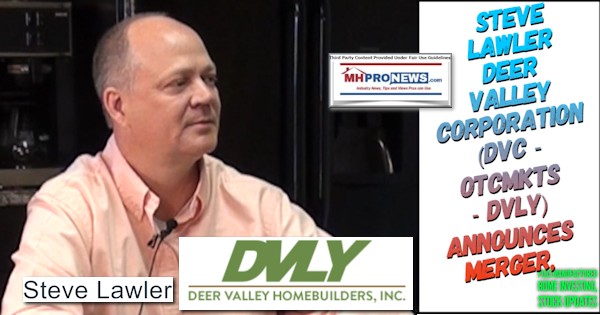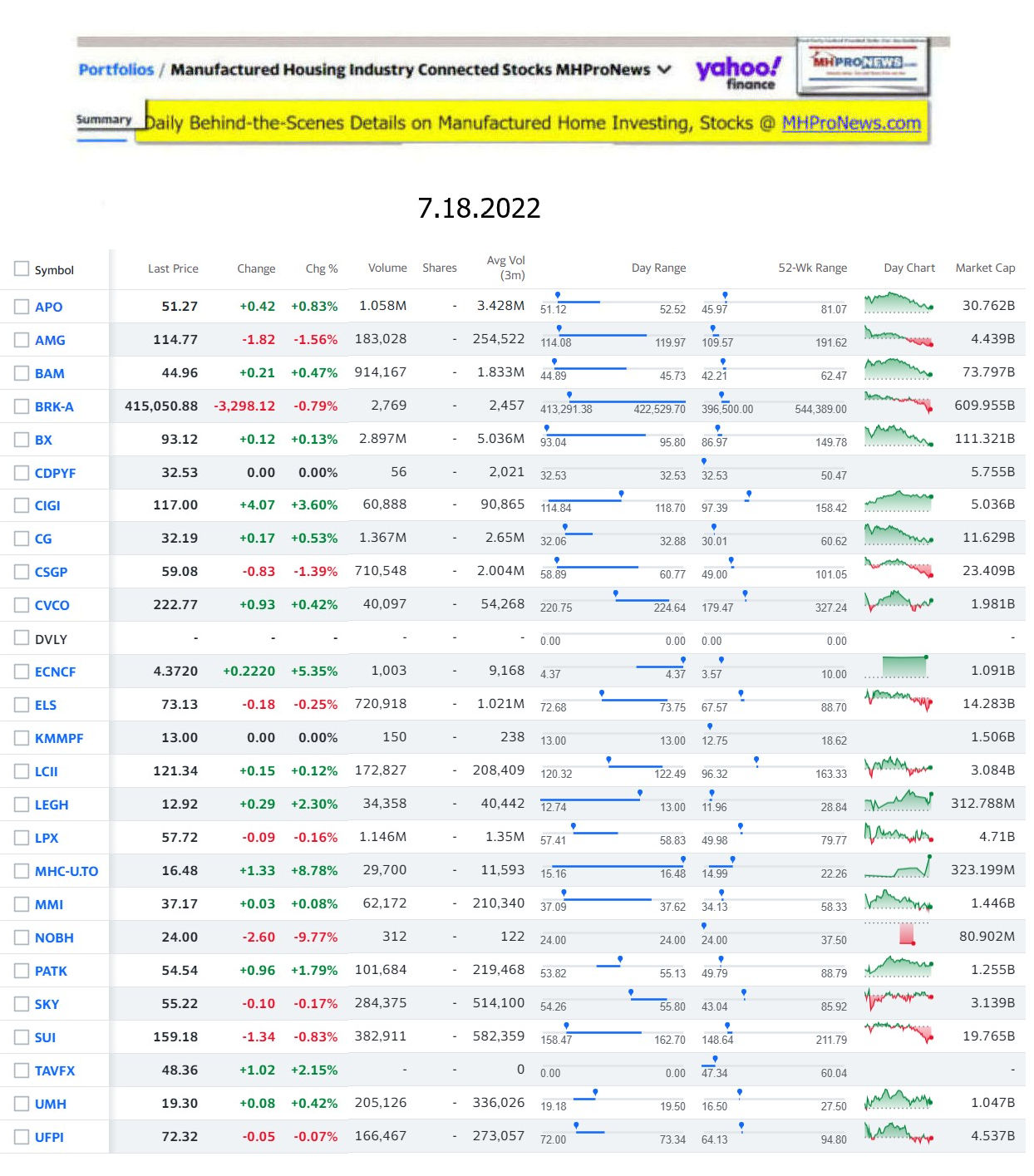 2022

…

Berkshire Hathaway is the parent company to Clayton Homes, 21st Mortgage, Vanderbilt Mortgage and other factory-built housing industry suppliers.


·

LCI Industries, Patrick, UFPI, and LP each are suppliers to the manufactured housing industry, among others.




·

AMG, CG, and TAVFX have investments in manufactured housing related businesses.

For

insights from third-parties and clients about our publisher

, click here.


Enjoy these 'blast from the past' comments.

MHProNews. MHProNews – previously a.k.a. MHMSM.com – has celebrated our 11th year of publishing and have completed over a dozen years of serving the industry as the runaway most-read trade media.
Sample Kudos over the years…
It is now 12+ years and counting…
Learn more about our evolutionary journey as the industry's leading trade media, at the report linked below.
· For expert manufactured housing business development or other professional services, click here.
· To sign up in seconds for our industry leading emailed headline news updates, click here.

Disclosure. MHProNews holds no positions in the stocks in this report.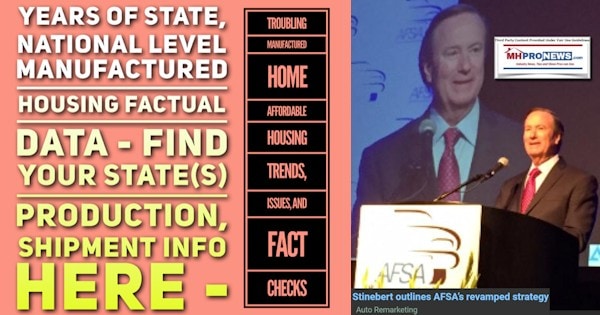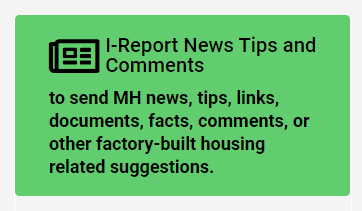 That's a wrap on this installment of "News Through the Lens of Manufactured Homes and Factory-Built Housing" © where "We Provide, You Decide." © (Affordable housing, manufactured homes, stock, investing, data, metrics, reports, fact-checks, analysis, and commentary. Third-party images or content are provided under fair use guidelines for media.) (See Related Reports, further below. Text/image boxes often are hot-linked to other reports that can be access by clicking on them.)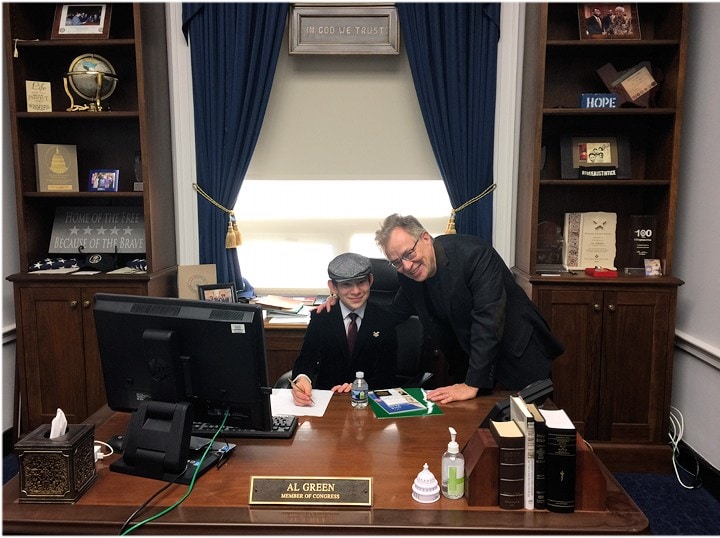 By L.A. "Tony" Kovach – for MHProNews.
Tony earned a journalism scholarship along with numerous awards in history. There have been several awards and honors and also recognition in manufactured housing. For example, he earned the prestigious Lottinville Award in history from the University of Oklahoma, where he studied history and business management. He's a managing member and co-founder of LifeStyle Factory Homes, LLC, the parent company to MHProNews, and MHLivingNews.com. This article reflects the LLC's and/or the writer's position and may or may not reflect the views of sponsors or supporters.