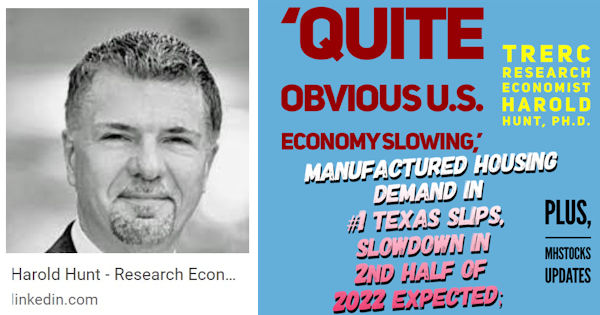 It is not all 'bad news' according to Dr. Harold Hunt, Ph.D., at the Texas Real Estate Research Center at Texas A&M University (TRERC). "While raw-materials prices fell for the first time in eight months," said the TRERC media release below. The Texas Manufactured Housing Association's Vice President of Operations, Rob Ripperda, said that the woes at retail have not yet slowed production or payrolls. While the TRERC release does not explain why, previous reports by MHProNews have spelled it out rather neatly. As retail traffic and deliveries slow, said publicly traded Manufactured Housing Institute (MHI) members, community sales going into land-leases have picked up that slack.
The TRERC release is below. It will be followed by additional information, more analysis and commentary, plus our Daily Business News on MHProNews stock updates on a day when equities largely retreated.
Texas' manufactured housing demand slips, could slow in second half of 2022
COLLEGE STATION, Tex. (Texas Real Estate Research Center) – Recent recessionary concerns suggest a possible slowdown in manufactured housing sales for the remainder of 2022, according to industry experts and the Texas Real Estate Research Center at Texas A&M University (TRERC).
"It is now quite obvious that the U.S. economy is slowing," said TRERC Research Economist Dr. Harold Hunt. "Mortgage rates are significantly higher than they were a year ago, and that is already putting a damper on the housing market."
The latest Texas Manufactured Housing Survey (TMHS) sales index registered its lowest reading on record (the series began in June 2020), and activity is expected to slow in the second half of the year.
"There is a wide disparity between economists, however, regarding how much the economy will slow in the months ahead, and employment growth remains strong," said Hunt.
Manufactured-housing output and payrolls held firm in June, but TMHS respondents contemplated pulling back production as they adjust to weaker demand.
While raw-materials prices fell for the first time in eight months, supply-chain issues continued both upstream and downstream from manufacturers.
"Market dynamics have shifted from supply constraints at the plant level to demand constraints at the retail level," said Rob Ripperda, vice president of operations for the Texas Manufactured Housing Association. "Texas retailers are battling a lack of transportation and install services to deliver sold homes, falling foot traffic from new customers, and increased inventory costs on any deals that fall through."
These challenges, combined with impending regulatory changes from the Department of Energy, resulted in heightened uncertainty and a more moderate outlook after a bullish start to the year. Expectations of future interest-rate increases suggest that these headwinds may persist for the foreseeable future.  ##
Funded by Texas real estate licensee fees, TRERC was created by the state legislature to meet the needs of many audiences, including the real estate industry, instructors, researchers, and the public. 
—30—
Additional Information, More MHProNews Analysis and Commentary
The TRERC release above is dated 7.5.2022. It is about brevity as opposed to more robust detail. That's simply a statement of fact, as the report – while brief – supports the concerns raised by this publication in various reports, analysis, and commentaries in recent months. In no particular order of importance:
An economic slowdown is per several sources and a range of evidence already here. The Atlanta Federal Reserve said the U.S. economy contracted in the 2nd quarter of 2022. The economy also contracted in the first quarter, and if those preliminary numbers hold, that fits the definition of a recession.
As Hunt said, the question is how serious will this downturn be?
For manufactured housing, that issue isn't as easy to answer as it is for site builders. As MHI has periodically admitted, there are zoning and placement barriers to manufactured housing installations. But unlike the Manufactured Housing Association for Regulatory Reform (MHARR), MHI appears to have no interest in using litigation to enforce the industry's rights under the Manufactured Housing Improvement Act (MHIA) of 2000. Nor is there any known indication that a state association is interested in suing to get the industry's rights under the MHIA's principle of "enhanced preemption" over local zoning barriers enforced.
Then, as TRERC lightly noted, the DOE manufactured housing energy rule is coming in less than a year. Despite the invitation and encouragement by MHARR for MHI to use litigation to stop the implementation of this rule, which both trade groups agree will harm the sales of entry level and other manufactured housing, there is no indication yet that MHI is even thinking about doing so. Instead, MHI is posturing mere fig-leaf efforts, their bill that has far too few so-sponsors and none of which are Democrats. Given that Joe Biden sits in the White House and he appears unwilling to waiver from his commitments to the questionable 'green new deal' agenda, even if MHI obtained sufficient numbers in both House and Senate – highly unlikely, per GovTrack and Skopos Labs – the odds are slimmer still that they would have a veto-proof majority. Put differently, MHI's sponsored bill to modify the DOE manufactured housing energy rule – which if MHI had thought ahead and were serious about it should have been filed two years ago – is unlikely to ever become law.
After years of 'battling' for the enforcement of Duty to Serve (DTS), the MHIA and "enhanced preemption" and now to stop the DOE manufactured housing energy rule, it is obvious that only litigation and a public relations/educational campaign remains. These are post-production issues, which means it falls under MHI's umbrella of representing – so they claim – "all segments" of the manufactured home industry.
MHI leaders have to date shown no interest in the path of litigation. This despite the fact that Tim Williams, during an MHI meeting said in response to a question from MHProNews that litigation may become necessary at some point in time. But, said Williams, they want to try other things 'first.' Well, after roughly a decade since that remark, where is the MHI follow up? Was that response sincere, or more theatrics to buy time while more independents fail under the weight of regulatory and other artificial barriers?
Meanwhile, the consolidation of various parts of the manufactured home industry continues. This appears to be the genuine function of MHI, though it is not the one that they admit to embracing.
Manufactured Housing Institute 'Response' to Explosive Allegations by Manufactured Home Industry Insider – Exclusive Facts & Analysis Includes MHI, Other Sources; plus MHMarket Update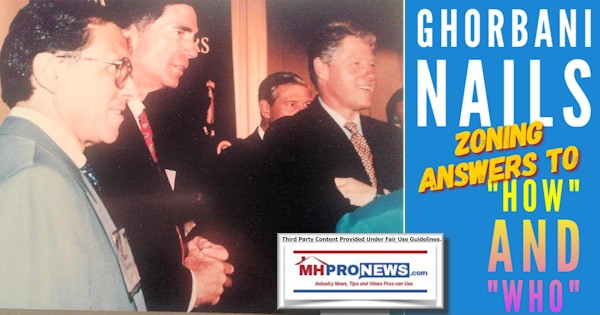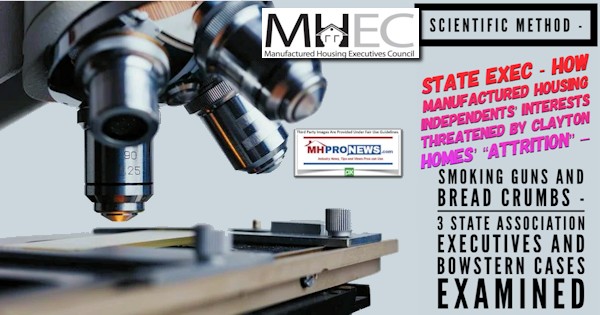 There are, in theory, other possible paths. For example. One option could involve 'white hat' independents organizing and pressing public officials for a probe of MHI and apparent antitrust, RICO, and other possible violations of federal and/or state laws. But that too would depend on several factors that take time and effort. Those looking for a quick easy fix won't like it.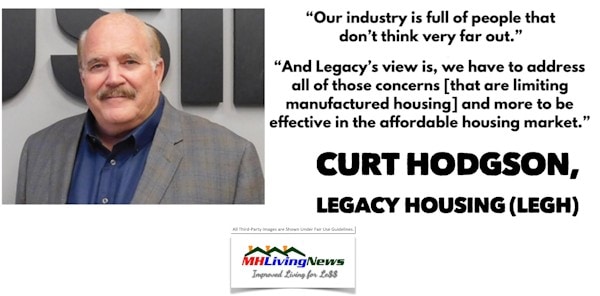 Meanwhile, the countdown clock for the enforcement of the DOE energy rule is ticking. While MHARR's efforts and keeping the industry informed are noble and highly useful, as the reports linked below make clear, they also admit that MHI has to get involved in stopping the DOE rule, or in getting DTS and the MHIA's "enhanced preemption" enforced.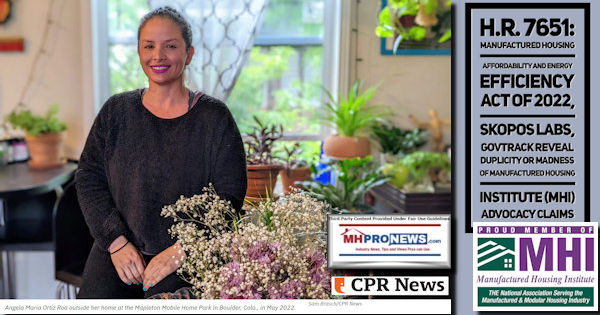 Based on the years of evidence of what looks like two-faced "deception and misdirection" – a term used by the Capital Research Center (CRC) – it will take a serious push-back by independents that are part of state associations and MHI to cause a course correction. But given that the status quo is profitable to MHI's larger and publicly traded brands, perhaps it is no surprise that there is no progress being made.
Or as a Manufactured Housing Executive Committee (MHEC) member told MHProNews some months ago, 'this is not a fighting industry.' While the case could be made that there are obvious exceptions to that, such as MHARR or our trade publications, the fact that most grumble or trust but do not press for what is obviously necessary regrettably makes the point of that MHEC member one that should be considered. Perhaps even more independents are ready to sell out to the 'big boys' and simply escape the head aches and heart aches?
Time will tell. Until it does, MHProNews will continue to report and provide expert, independent analysis regardless of who says or does what. Facts and evidence matter. To base business decisions on mere hope is not a strategy. Or as YourDictionary says that one of the most legendary coaches in professional football framed it: "Hope is not a strategy. Fear is not an option." Vince Lombardi.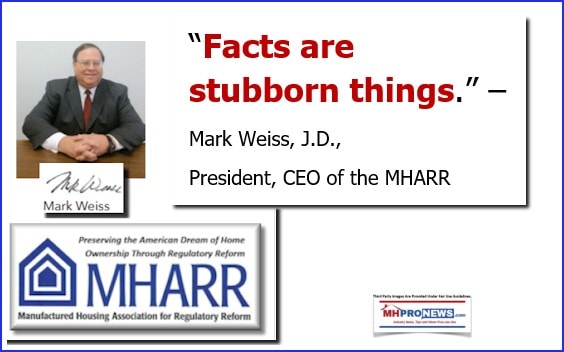 NAR or NAHB vs. Manufactured Housing Institute – Latest Housing Data Demonstrates, Say MHI Critics, Superior NAR-NAHB Reports to MHI's, w/MHARR Comparison; plus Sunday Weekly Headline Recap
Next up is our daily business news recap of yesterday evening's market report, related left-right headlines, and manufactured housing connected equities.
The Business Daily Manufactured Home Industry Connected Stock Market Updates.  Plus, Market Moving Left leaning CNN and Right-leaning (Newsmax) Headlines Snapshot. While the layout of this daily business report has been evolving over time, several elements of the basic concepts used previously are still the same. For instance. The headlines that follow below can be reviewed at a glance to save time while providing insights across the left-right media divide. Additionally, those headlines often provide clues as to possible 'market-moving' news items.
Market Indicator Closing Summaries – Yahoo Finance Closing Tickers on MHProNews…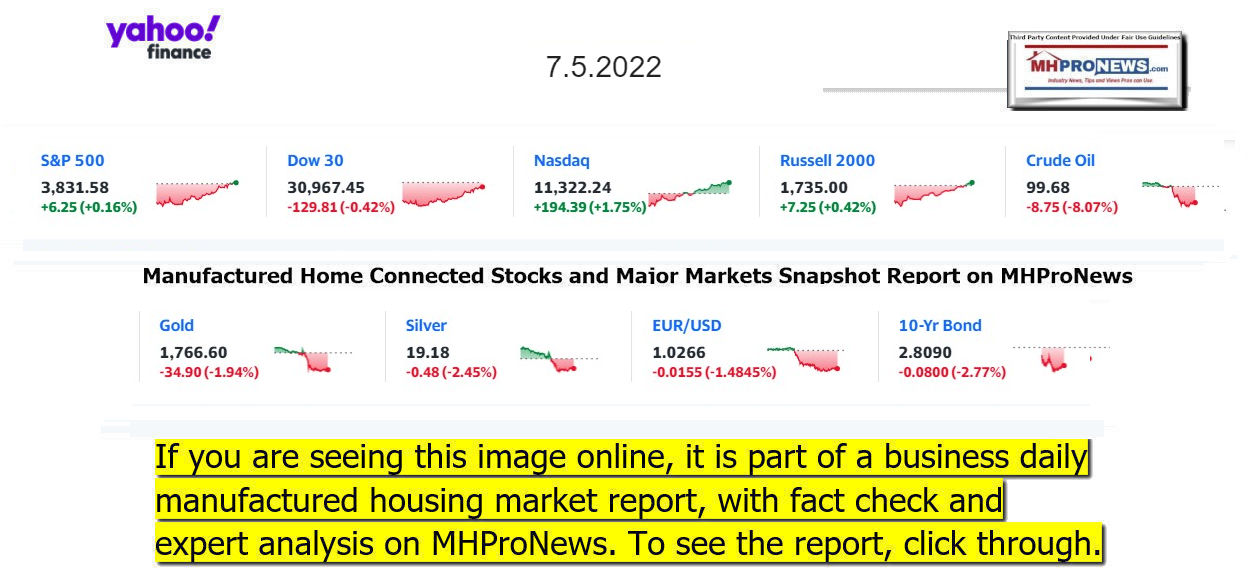 Headlines from left-of-center CNN Business – from the evening of 7.5.2022
Oil worker strike
An aerial view taken on February 16, 2022 shows the headquarters of Equinor in Fornebu, Baerum, Norway. – Norway's state-owned energy giant Equinor said on February 28, 2022 it would stop its investments in Russia and pull out of its joint ventures in the country following Moscow's invasion of Ukraine.
Europe braces for another energy shock as Norwegian gas fields close
Dow falls more than 500 points as investors fear that recession is looming
Oil drops below $100 a barrel for first time since early May
US and China discuss economic challenges amid talk of tariff rollback
Scandinavian airline SAS files for bankruptcy as pilots strike
Tesla posts rare drop in sales in second quarter
China's real estate crisis deepens as big Shanghai developer defaults
Fertility app data could lead to prosecution of women in certain states
Inflation soars to nearly 80% in Turkey as food prices double
The surprising reason the United States is so hurt by the formula shortage
The surprising reason supermarkets sell flowers
US and China discuss economic challenges as talk of tariff rollback swirls
22 June 2022, Baden-Wuerttemberg, Rottweil: The lettering Euro can be seen on a 1-Euro coin next to a 20-Euro Schin in an office.
Italy, Greece and Spain haven't been this cheap for Americans in decades
'Minions: The Rise of Gru' breaks box office records
Subway is redesigning its menu
ELECTRIC CARS
Toyota is recalling its first electric car because the wheels can fall off
The electric Cadillac Lyriq is the company's best SUV yet
This robot can reserve parking and charge your EV
Two killed as Nio electric car crashes from third floor
Teslas using driver-assist systems involved in 273 crashes
ROE V. WADE
'Stranger Things' star Maya Hawke shares her mom's abortion story
How personal data could enforce anti-abortion laws
Online abortion pill interest soars after new decision
These US companies will cover abortion travel costs
A big question for tech companies post-Roe
Headlines from right-of-center Newsmax 7.5.2022
Police: Parade Gunman Fired More Than 70 Shots; Attack Planned for Weeks
Brooke and Matt Strauss, who were married Sunday, pause Tuesday after leaving their wedding bouquets in downtown Highland Park, Ill., near the scene of Monday's deadly parade shooting.
The man accused of attacking an Independence Day parade in a Chicago suburb bought his rifle legally, fired more than 70 rounds from a roof, and dressed in women's clothing in order to blend into the fleeing crowds afterwards, authorities said Tuesday. [Full Story]
Related Stories
Mexican Grandfather, Synagogue Teacher Among Victims of July 4 Shooting
Accused Shooter's Uncle: He Was Acting 'Normal' Night Before
Highland Park Mayor: Gun Used in Shooting Was 'Legally Obtained'
Suspect in Deadly July 4 Parade Shooting in Custody
Russian Invasion of Ukraine
Ukrainian Gov Urges Evacuation of 350,000 Residents
Russian Parliament Speaker: Ukraine Has Become a 'Terrorist' State
High Cost of Russian Gains in Ukraine May Limit New Advance
Ukrainian Mathematician Awarded Prestigious Fields Medal
Russian Cosmonauts Celebrate Capture of Ukraine's Luhansk Region
Ukraine: Over 36K Russian Forces Killed So Far
Putin Orders Russians to Fight On After Key Ukraine City Falls
Russian Lawmaker Wants US Declared 'Terrorist State'
More Russian Invasion of Ukraine
Newsmax TV
Lt. Gov. Nunez: Biden 'Ineptitude' Worsens Border Crisis | video
Mace: Abortion Clinics on Federal Land 'Insane' | video
Mullin: Mental Health, Not Gun Control, Essential | video
Nebraska Gov. Ricketts: Shootings Show Need For Mental Health Focus | video
Rushan Abbas: Fighting for Uyghurs After China Imprisoned Sister
State Sen. McDugle: Oklahoma Death Row Inmate Innocent | video
Cloud: Consider Border Situation an Invasion
Van Drew: Mayorkas Lying With 'Good Job' Comments
RNC's Dennard: Dems Make American Dream Look 'Like a Nightmare' | video
Newsfront
Trump Highlights Net 52 Percent Nasdaq Gain Over Biden
Former President Donald Trump re-posted a tweet by InteractivePolls on his Truth Social platform Tuesday showing a net gain of 52% in the Nasdaq compared to the same point in President Joe Biden's term…. [Full Story]
Mexico Leader to End Daylight Saving, Keep
Mexico Leader to End Daylight Saving, Keep "God's Clock"
Mexico's president submitted a bill Tuesday to end daylight saving [Full Story]
2 Key UK Cabinet Ministers Quit Boris Johnson's Government
Britain's finance and health ministers resigned on Tuesday in what [Full Story]
Bradford Freeman, Last 'Band of Brothers' Survivor, Dead at 97
Former U.S. Army Pvt. First Class Bradford "Brad" Freeman, the last [Full Story]
Top 100 U.S. Brands: 'Non-woke' Most Popular
The 2022 Axios Harris Top 100 poll of the most popular brands in [Full Story]
Mexican Grandfather, Synagogue Teacher Among Victims of July 4 Shooting
A teacher at a synagogue and a grandfather in his 70s who came from [Full Story]
Brittney Griner's Wife: Biden Hasn't Responded to Letter
The wife of Brittney Griner says President Joe Biden has not [Full Story]
Harvard-Harris Poll: Trump Most Popular Politician in America
Americans hold nearly unanimously unfavorable views of political [Full Story]
Florida Government is Giving Homeowners Solar Panels.
Solar Sesame
Afghan Resistance Hits Taliban in Kabul for First Time
The National Resistance Front of Afghanistan carried out its first [Full Story] | Platinum Article
California Repeals Loitering Law Targeting Prostitutes
California Democrat Gov. Gavin Newsom signed a state bill that [Full Story]
Prime is Now $139, but Seniors Can Save with This Hack
Online Shopping Tools
Sharpton Asks Biden to Set Up Visit With Brittney Griner in Russia
Al Sharpton urged the Biden administration to arrange a meeting [Full Story]
Musk Parodies Paul Revere on Twitter in 1775
If the American Revolution had happened in the age of Twitter, Paul [Full Story]
New Solar Rebates Throw Power Company A Curveball
Solar Sesame
Americans Buy 1M Guns for Record-Setting 35th Straight Month
More than 1 million civilian guns were sold during June in the United [Full Story]
Pompeo: US Should Drop Strategic Ambiguity Toward Taiwan
During an event organized by Policy Exchange, a British conservative [Full Story]
Poll: Most Expect Gas Prices to Jump in Next 6 Months
Seventy-eight percent of Americans say it'slikely gas will continue [Full Story]
Fourth of July Cookout Costs Soar
President Joe Biden wasn't able to celebrate a price reduction of any [Full Story] | Platinum Article
Police: Parade Gunman Fired Over 70 Rounds in Attack Planned for Weeks
Police: Parade Gunman Fired Over 70 Rounds in Attack Planned for Weeks
The man accused of attacking an Independence Day parade in a Chicago [Full Story]
San Francisco Fines Couple $1,542 for Parking in Their Own Driveway
Parking in San Francisco can be tricky, with the steep hills that the [Full Story]
New Jersey Governor Commends Newsom for Attacking DeSantis, Florida
New Jersey Gov. Phil Murphy supported a Fourth of July weekend ad in [Full Story]
Gallup: Americans' Institutional Trust at Record Low
New Gallup poll results published Tuesday found Americans' trust of [Full Story]
Biden Awards Medal of Honor to 4 for Vietnam Heroism
President Joe Biden on Tuesday bestowed the nation's highest military [Full Story]
Pentagon Boosts Budget for Balloon Projects
The Pentagon plans to spend almost 10 times as much on balloon [Full Story]
FEC Ruling Could Help DeSantis Use Funds for Presidential Run
A recent Federal Election Commission ruling could benefit Florida [Full Story]
Highland Park Mayor: Gun Used in Shooting Was 'Legally Obtained'
Highland Park, Illinois Mayor Nancy Rotering says the gun used in the [Full Story]
UK Climate Protesters Glue Themselves to Constable Frame
Two climate change protesters were arrested after they glued [Full Story]
Philadelphia Mayor: Gun Violence Makes Me Look Forward to Leaving Office
Philadelphia Mayor Jim Kenney said gun violence had made him yearn to [Full Story]
Inflation Crisis: Biden Warned Not to Repeat the Same Mistakes as Jimmy Carter
Veterans of former President Jimmy Carter's administration are [Full Story]
Poll: 55 Percent of Americans Want Biden to Broker Israel-Saudi Peace
Next week, President Joe Biden will make his first visit to the [Full Story]
Virginia Gov. Youngkin Expanding Political Profile Amid Hints He'll Run for WH
Virginia Gov. Glenn Youngkin is looking to expand his political clout [Full Story]
AP-NORC Poll: Half Say They'll Stop Using Virtual Options After COVID
Many Americans don't expect to rely on the digital services that [Full Story]
US F-35 Fighters Arrive in South Korea as Joint Military Drills Ramp Up
U.S. Air Force F-35A stealth fighters arrived in South Korea on [Full Story]
Finance
Trump Highlights Net 52 Percent NASDAQ Gain Over Biden
Former President Donald Trump re-posted a tweet by InteractivePolls on his Truth Social platform Tuesday showing a net gain of 52% in the NASDAQ compared to the same point in President Joe Biden's term…. [Full Story]
Dow Down Nearly 600 Points, as Recession Fears Mount
Wall St Boosts Exxon Forecasts as Refining Margins Soar
Online Groceries Boom Expands Access to Fresh Food
Ford's US Car Sales Rise Despite Semiconductor Crunch
More Finance
Health
AP-NORC Poll: Half Say They'll Stop Using Virtual Options After COVID
Many Americans don't expect to rely on the digital services that became commonplace during the pandemic after COVID-19 subsides, according to a new poll, even as many think it's a good thing if those options remain available in the future…. [Full Story]
Study: High Heat, Heavy Smog Combo Deadly for Older Adults
Proven Ways to Relieve Swollen Feet and Ankles
Online Groceries Boom Expands Access to Fresh Food
FDA to Reconvene Experts' Meeting to Review ALS Drug
MHProNews has pioneered in our profession several reporting elements that keep our regular and attentive readers as arguably the best informed in the manufactured housing industry. Among the items shared after 'every business day' (when markets are open) is our left-right headline recap summary. At a glance in two to three minutes, key 'market moving' news items are covered from left-of-center CNN Business and right-of-center Newsmax. "We Provide, You Decide." © Additionally, MHProNews provides expert commentary and analysis on the issues that others can't or won't cover that help explain why manufactured housing has been underperforming during the Berkshire era while an affordable housing crisis and hundreds of thousands of homeless in America rages on. These are "Industry News, Tips, and Views Pros Can Use" © features and others made and kept us the runaway #1 in manufactured housing trade publisher for a dozen years and counting.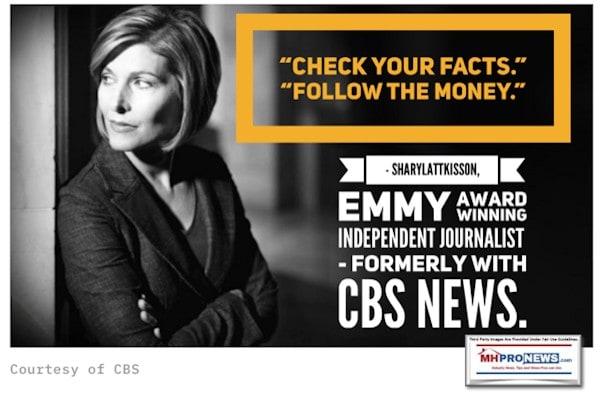 Manufactured Housing Industry Investments Connected Equities Closing Tickers
Some of these firms invest in manufactured housing, or are otherwise connected, but may do other forms of investing or business activities too.
NOTE: The chart below includes the Canadian stock, ECN, which purchased Triad Financial Services, a manufactured home industry lender
NOTE: Drew changed its name and trading symbol at the end of 2016 to Lippert (LCII).
NOTE: Deer Valley was largely taken private, say company insiders in a message to MHProNews on 12.15.2020, but there are still some outstanding shares of  the stock from the days when it was a publicly traded firm.  Thus, there is still periodic activity on DVLY.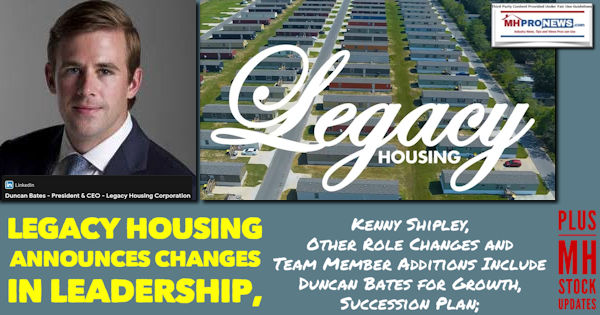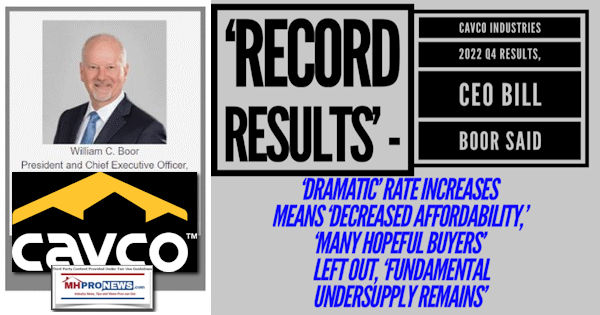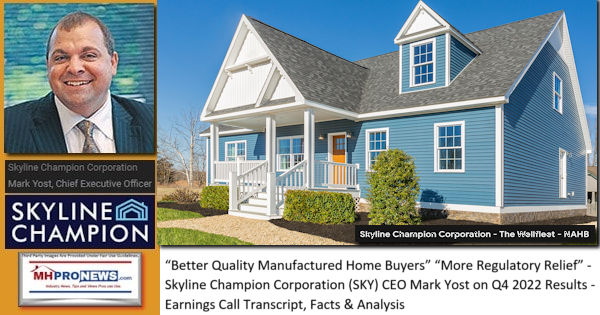 Manufactured Home Communities (a.k.a. 'Mobile Home Parks' – SIC) – Exploring UMH Properties; Fellow Manufactured Housing Institute Member Yes! Communities Suits and Settlements; plus MH Markets Updates
'Announcing!' 'Manufactured Community Owners' Association of America' 'Finally Bringing Fight To Manufactured Home Community Sector of the Industry' – plus Sunday Weekly Manufactured Housing Headlines Review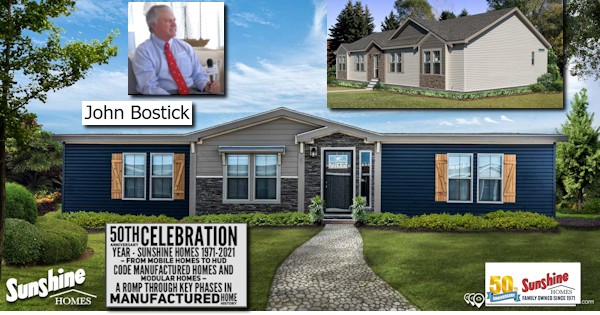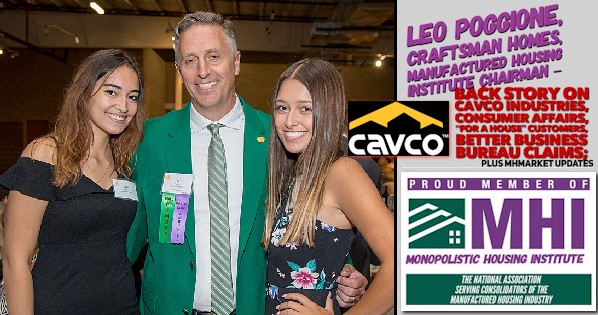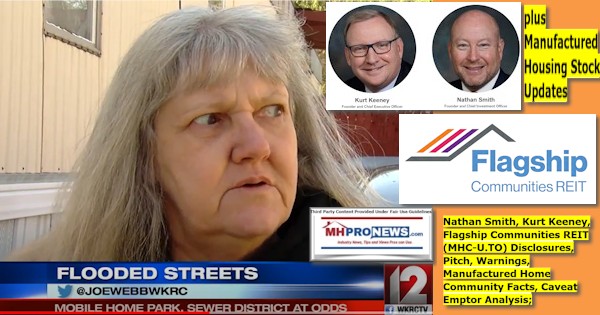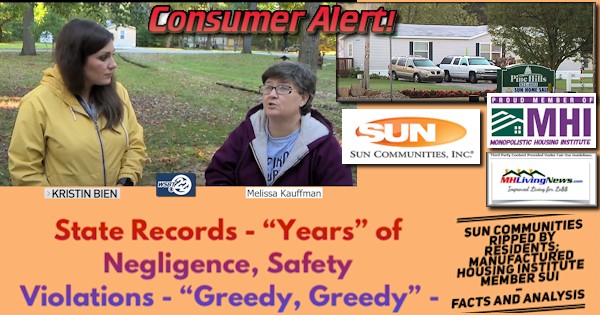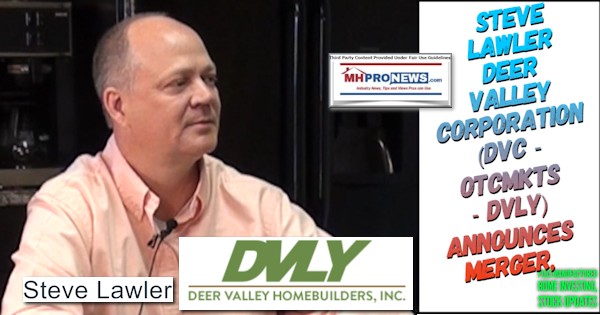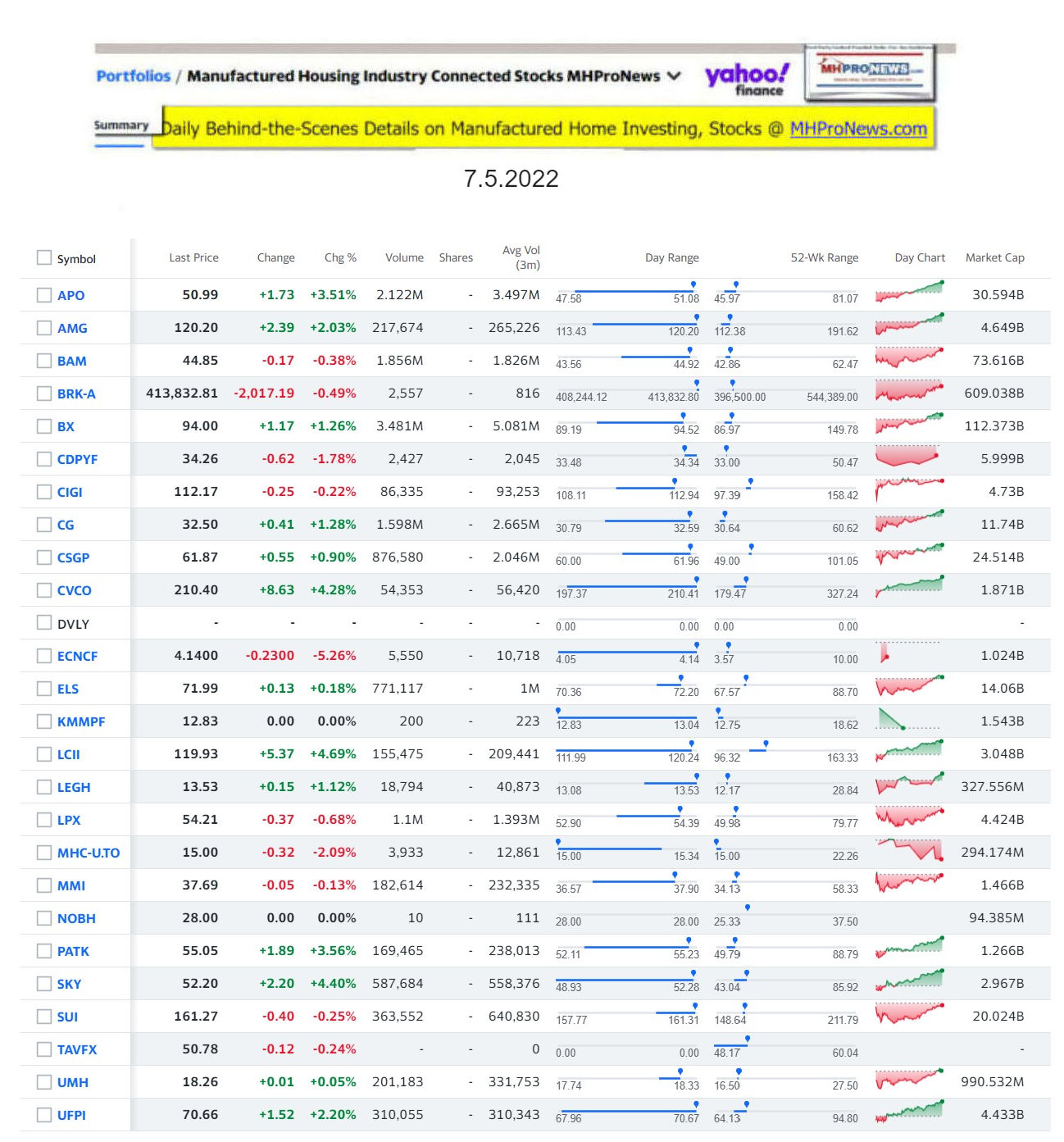 2022

…

Berkshire Hathaway is the parent company to Clayton Homes, 21st Mortgage, Vanderbilt Mortgage and other factory-built housing industry suppliers.


·

LCI Industries, Patrick, UFPI, and LP each are suppliers to the manufactured housing industry, among others.




·

AMG, CG, and TAVFX have investments in manufactured housing related businesses.

For

insights from third-parties and clients about our publisher

, click here.


Enjoy these 'blast from the past' comments.

MHProNews. MHProNews – previously a.k.a. MHMSM.com – has celebrated our 11th year of publishing and have completed over a dozen years of serving the industry as the runaway most-read trade media.
Sample Kudos over the years…
It is now 12+ years and counting…
Learn more about our evolutionary journey as the industry's leading trade media, at the report linked below.
· For expert manufactured housing business development or other professional services, click here.
· To sign up in seconds for our industry leading emailed headline news updates, click here.

Disclosure. MHProNews holds no positions in the stocks in this report.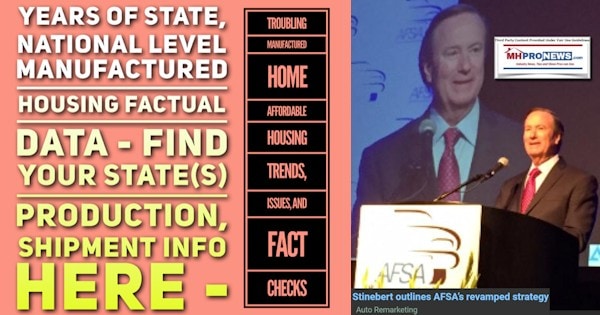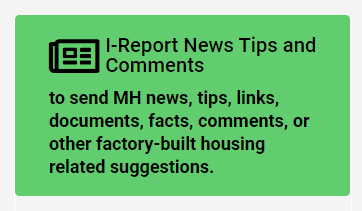 That's a wrap on this installment of "News Through the Lens of Manufactured Homes and Factory-Built Housing" © where "We Provide, You Decide." © (Affordable housing, manufactured homes, stock, investing, data, metrics, reports, fact-checks, analysis, and commentary. Third-party images or content are provided under fair use guidelines for media.) (See Related Reports, further below. Text/image boxes often are hot-linked to other reports that can be access by clicking on them.)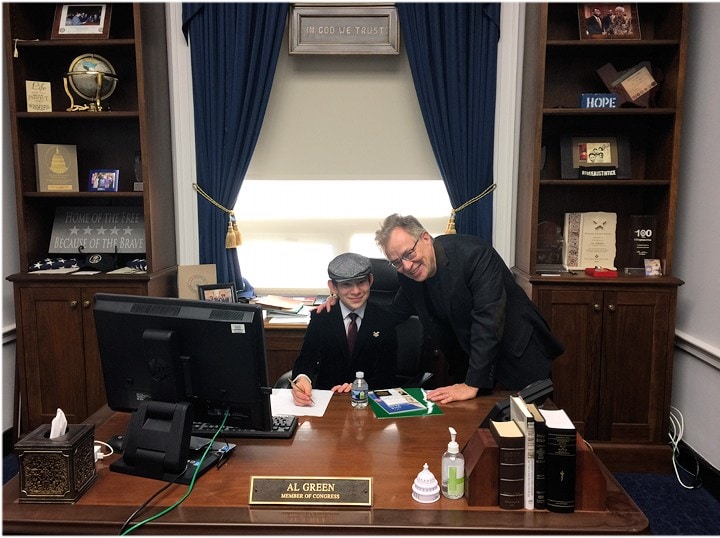 By L.A. "Tony" Kovach – for MHProNews.
Tony earned a journalism scholarship along with numerous awards in history. There have been several awards and honors and also recognition in manufactured housing. For example, he earned the prestigious Lottinville Award in history from the University of Oklahoma, where he studied history and business management. He's a managing member and co-founder of LifeStyle Factory Homes, LLC, the parent company to MHProNews, and MHLivingNews.com. This article reflects the LLC's and/or the writer's position and may or may not reflect the views of sponsors or supporters.