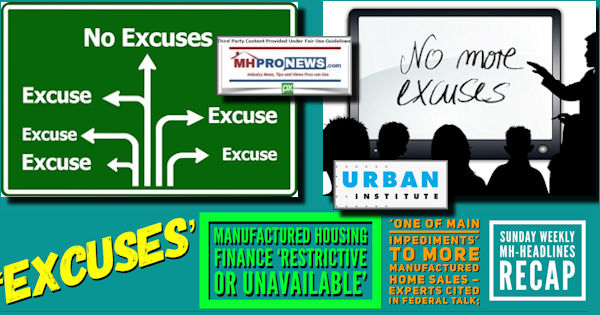 Facts and evidence can be revealing to those curious or impacted by what factors are keeping manufactured housing underperforming during an all-too-obvious affordable housing crunch. On 7.12.2022 the Federal Housing Finance Agency (FHFA) held its latest discussion of the 2022-2024 Duty to Serve Underserved Markets (DTS) plans filed by federally regulated mortgage giants Fannie Mae and Freddie Mac (Government Sponsored Enterprises, GSEs, or Enterprises.) The GSEs have been under FHFA conservatorship since 2008. Per the FHFA website: "On September 6, 2008, with the consent of both Fannie Mae's and Freddie Mac's (the Enterprises) board of directors, FHFA used its authorities to place each Enterprise into conservatorship."
Because part of the Duty to Serve (DTS) plan established by the Housing and Economic Recovery Act (HERA) of 2008 was supposed to provide support for manufactured home lending activity through the Enterprises by giving manufactured home loans access to the 'secondary mortgage market,' it is useful to better understand FHFA's role in conservatorship over the GSEs. Note, once Fannie and/or Freddie exit conservatorship, they will still be 'regulated' entities. So, FHFA's role in manufactured home lending through interaction with the GSEs – at least in technical terms – will be ongoing.
FHFA's self-declared narrative continues: "FHFA established two conservatorships in response to a substantial deterioration in the housing markets that severely damaged each Enterprise's financial condition and left both of them unable to fulfill their missions without government intervention.
The Federal Housing Enterprises Financial Safety and Soundness Act of 1992 as amended by the Housing and Economic Recovery Act of 2008, authorizes FHFA as conservator to "take such action as may be: (i) necessary to put the regulated entity in a sound and solvent condition; and (ii) appropriate to carry on the business of the regulated entity and preserve and conserve the assets and property of the regulated entity." …
"FHFA as conservator has broad authority over the Enterprises, but the focus of the conservatorships is not to manage every aspect of their operations. Instead, FHFA leadership reconstituted Fannie Mae and Freddie Macs' boards of directors in 2008 and charged them with ensuring that normal corporate governance practices and procedures are in place, subject to FHFA review and approval on critical matters. Overall, the Enterprises continue to operate legally as business corporations, and FHFA has informed the Enterprises which areas of decision-making FHFA as conservator has designated to be performed by the boards and management teams. This division of functions represents the most efficient structure for FHFA to carry out its duties as conservator."
"Initially, the conservatorships focused on reducing the Enterprises' losses, reducing their operational and credit risk, and stabilizing the mortgage and housing markets." …
"Once the Enterprises returned to profitability, FHFA turned its focus to more long-term issues."
"Long-term, continued operation in government-run conservatorships is not sustainable for Fannie Mae or Freddie Mac. Each company has a small capital reserve, is operating on a remaining, finite financial commitment from taxpayers, and cannot rebuild capital under the terms of support from Treasury. Until Congress determines the future of Fannie Mae and Freddie Mac and the housing finance market, FHFA will continue to carry out its responsibilities as Conservator."
Part of the process put in place to give 'feedback' from 'stakeholders' in manufactured housing lending – with respect to the FHFA, Fannie or Freddie – are public 'listening sessions.' While perhaps anyone might be allowed to address the group if they ask those in charge of speakers, the reality is that it is typically 'stakeholders' – people with obvious ties to manufactured home lending related topics that are allowed to speak.
It is with that factual background that the following media release by the Manufactured Housing Association for Regulatory Reform (MHARR) to MHProNews is provided.
JULY 14, 2022
TO:                 MHARR MANUFACTURERS
                        MHARR STATE AFFILIATES
                        MHARR TECHNICAL REVIEW GROUP (TRG)
FROM:         MHARR
RE:                MHARR PRESENTS COMMENTS AT FEDERAL HOUSING FINANCE AGENCY DUTY TO SERVE "LISTENING SESSION"
The Manufactured Housing Association for Regulatory Reform (MHARR) provided comments to the Federal Housing Finance (FHFA) at a July 12, 2022 "Listening Session" regarding the 2022-2024 Duty to Serve Underserved Markets (DTS) plans filed by federal mortgage giants Fannie Mae and Freddie Mac (Enterprises).
While FHFA sought to target the listening session toward manufactured housing community "tenant lease protections," MHARR, in its comments, again stressed the urgent need for market-significant securitization and secondary market support by the Enterprises for the entire spectrum of manufactured home personal property or "chattel" loans. Such loans, according to U.S. Census Bureau data, comprise nearly 80% of consumer loans for manufactured home purchases and provide access to the industry's most affordable homes for otherwise qualified lower and moderate-income purchasers. The availability of chattel financing loans, moreover, through market-significant DTS support, is necessarily antecedent to any consideration of alleged "tenant protection" mechanisms.
However, since the adoption of the DTS mandate in 2008 and the subsequent inception of DTS oversight by FHFA, the Enterprises' federal regulator, neither Fannie Mae nor Freddie Mac has ever implemented any program for the support of the market-dominant chattel loan sector. This has had the effect of limiting participation and competition within the chattel financing sector, allowing it to be dominated by a relative handful of portfolio lenders. Thus, in turn, has led to higher interest rates for such loans than would otherwise be the case with DTS-based market-significant securitization and secondary market support, resulting in needless borrowing costs for those able to qualify for such financing, disproportionately-high loan rejection levels, and needless exclusion of otherwise qualified purchasers from the market, thus helping to fuel the ongoing national shortage of affordable housing and ownership.
While chattel loan "pilot" programs have previously been proposed by the Enterprises under DTS in the past, those programs were ultimately dropped in subsequent revisions and updates, and the same pattern is evident in the 2022-2024 DTS implementation plans. Fannie Mae's plan, for example, offers no proposals whatsoever regarding DTS support for manufactured home chattel loans. Freddie Mac's plan, meanwhile, does offer the prospect of a chattel "pilot program" in its third and final year, but that program is too small and too long delayed to provide the type of support envisioned by Congress under DTS, even if it is ultimately established and not simply eliminated in subsequent plan updates.
Accordingly, MHARR stated, in relevant part:
The vast bulk of the manufactured housing consumer financing market has thus effectively been left untouched by DTS. Consequently, by any objective parameter, the failure of the Enterprises to serve the manufactured housing market has continued unabated regardless of DTS, and the DTS mandate, by definition, remains unfulfilled with respect to manufactured housing. Moreover, reporting the contrary to Congress, as FHFA has repeatedly done, constitutes a fundamental misrepresentation and a breach of FHFA's responsibilities under EISA relating to DTS.
At first, the excuse from Fannie Mae and Freddie Mac – which was accepted by FHFA – was that there was insufficient information and data regarding the performance of manufactured housing chattel loans to include them within DTS, even though Congress expressly envisioned and authorized their inclusion. (Thus making any parallel "examination" and/or "analysis" by the Enterprises superfluous.)
This delay, based on an ostensible lack of relevant market information, was despite the fact that multiple private lenders within the manufactured housing market obviously have been – and remain – profitable within the existing chattel-dominated market.
Based on this alleged lack of information and data, chattel "pilot" programs originally included in the Enterprises' initial DTS plans were ultimately eliminated, again with FHFA's acceptance.
Subsequently, despite chattel loan performance data apparently being provided or becoming available, personal property loans continued to be excluded from the extended DTS implementation plans filed – and accepted by FHFA – during the 2020 – 2021 timeframe.
And now, in the latest DTS plans, chattel loans are once again relegated – in Freddie Mac's plan – to a small out-year "pilot" program, while they continue to be completely excluded from Fannie Mae's plan altogether.
With new leadership at FHFA, this needs to change. If the Biden Administration is intent on fulfilling its pledge to advance housing and homeownership for all Americans, including low, lower and moderate-income families, then the DTS mandate must be met and fulfilled with respect to the inherently affordable manufactured housing financed through personal property loans.
In 2018, a team of scholars from the Urban Institute (UI), including now-Ginnie Mae President Alanna McCargo … found that "restrictive or unavailable financing" was one of the main impediments to the greater utilization of affordable manufactured housing.
The same team, in a separately-published UI study, pointed out that appreciation rates for HUD Code manufactured homes and site-built homes "are actually similar after adjusting for geographic differences."
Put simply, if the Urban Institute team could reach these critical conclusions some four years ago, there is no legitimate reason to further delay programs at both Enterprises to provide market-significant support for manufactured home chattel lending.
Such support is essential to the growth of the HUD Code market and to addressing the affordable housing shortage that President Biden has pledged to tackle through, among other things, his Housing Supply Action Plan.
MHARR, in its comments, therefore, urged FHFA to re-visit the entire issue of DTS support for the chattel sector as an urgent priority if the nation's extreme and growing need for affordable housing and homeownership is to be addressed and President Biden's recently-announced Housing Supply Action Plan is to be effectively implemented.
MHARR will continue to work for the full and market-significant implementation of DTS within the manufactured housing market and will keep you apprised of further developments.
cc: Other Interested HUD Code Industry Communities, Retailers and Finance Companies
Manufactured Housing Association for Regulatory Reform (MHARR)
1331 Pennsylvania Ave N.W., Suite 512
Washington D.C. 20004
Phone: 202/783-4087
Fax: 202/783-4075
Email: MHARR@MHARRPUBLICATIONS.COM
Website: manufacturedhousingassociation.org
##
Additional Information with more MHProNews Analysis and Commentary
Among the reports below in our Sunday morning weekly headlines review on MHProNews is another set of sharp, fact, and evidence-based comments also presented on 7.12.2022.
But as is the case in every week of publishing, MHProNews is not only the largest and most popular manufactured housing professional trade media, this is also demonstrably the most diverse in terms of topics covered. Despite the fact that the Manufactured Housing Institute (MHI) asked MHProNews to stop reporting their news, after years of MHI wanting or even sponsoring this publication's publishing of their news. MHProNews continues to bring MHI content, as one of the reports below for the week in review reflects. That public sharing of MHI content is provided despite the fact that MHI threatened legal action, through an outside attorney, because MHProNews providing some of their 'news' after having credited them as the source of the 'report.' MHProNews called MHI out publicly for their legal threat. That brief snapshot is sufficient to tee up the following.
Ponder MHI's legal threat for sharing their 'news' and 'updates' despite giving them credit as the source  for a few moments. The case can be made that MHI has stubbornly avoided using attorneys or legal action as a tool to get – for example – the FHFA and/or the GSEs to do what HERA 2008 MANDATED for them.

Keep in mind that Doug Ryan, hardly an 'ally' of chattel lending (or this writer), publicly accused MHI of foiling the DTS implementation of chattel lending. Why? Per Ryan, to benefit Clayton Homes' affiliated lending arms, both owned – as is Clayton – by Berkshire Hathaway.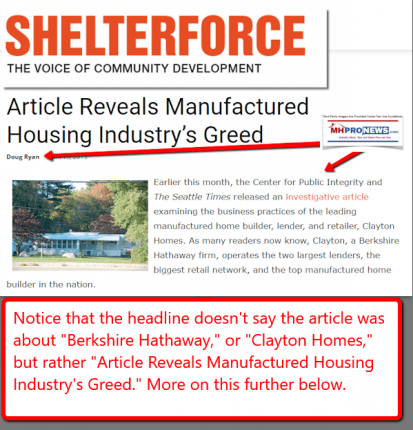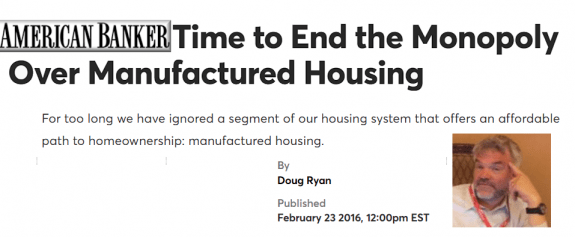 MHI's Lesli Gooch denied Ryan's allegation. But words and people can be cheap, misleading, or deliberately deceptive. What has MHI done in practice besides 'talk' or 'use words' – why haven't they sued – or threatened to sue – FHFA, Fannie Mae, or Freddie Mac to get DTS enforced? If they are serious about getting more manufactured home lending, why have they withheld the same tool – threat of a lawsuit – that MHI used against this (and other) prior MHI members?
Rephrasing that for clarity and impact – MHI has demonstrably legally threatened their own past or prior members for sharing their own words or questioning MHI's behavior.
There is no known evidence that MHI has ever threatened legal action against:
FHFA, Fannie Mae, or Freddie Mac to get the Duty to Serve (DTS) manufactured home lending enforced. Why not? If they have made such a threat, has it been kept secret? If so, why? Where is MHI's evidence that they are representing "all segments" of manufactured housing by threating or launching a legal action that could succeed in increasing manufactured home sales by obtaining more competitive manufactured home lending.
HUD and/or local jurisdictions. MHI was repeatedly asked by Ayden, N.C. Mayor Pro-Tem Ivory Mewborn to engage in a legal action against that town due to their apparent violation of the Manufactured Housing Improvement Act of 2000 (MHIA), notably, it's "enhanced preemption" clause. MHARR previously offered to team up with any MHI 'state affiliate' in a legal action to get "enhanced preemption" over local zoning and placement barriers enforced. But said there were no takers. Why not, if MHI is serious about benefiting "all segments" of manufactured housing? Perhaps the better question was answered by former MHI VP and MHARR founding president and CEO, Danny Ghorbani. Ghorbani has been hammering away at the message that MHI should take legal action, in support of their own stated mission and claims. Once more, there is no known MHI legal move. Why not?
Most recently, MHARR has pressed MHI with their own apparently two-faced history on the countdown to the enforcement of the Department of Energy (DOE) costly and harmful manufactured housing energy rule. More on that is found in a report below that cites MHI in their own words on that topic.
Summing up the above, MHI seems perfectly willing to threaten (and presumably engage in) legal action if it suits their self-image within manufactured housing. Outside MHI attorney David Goch has said as much.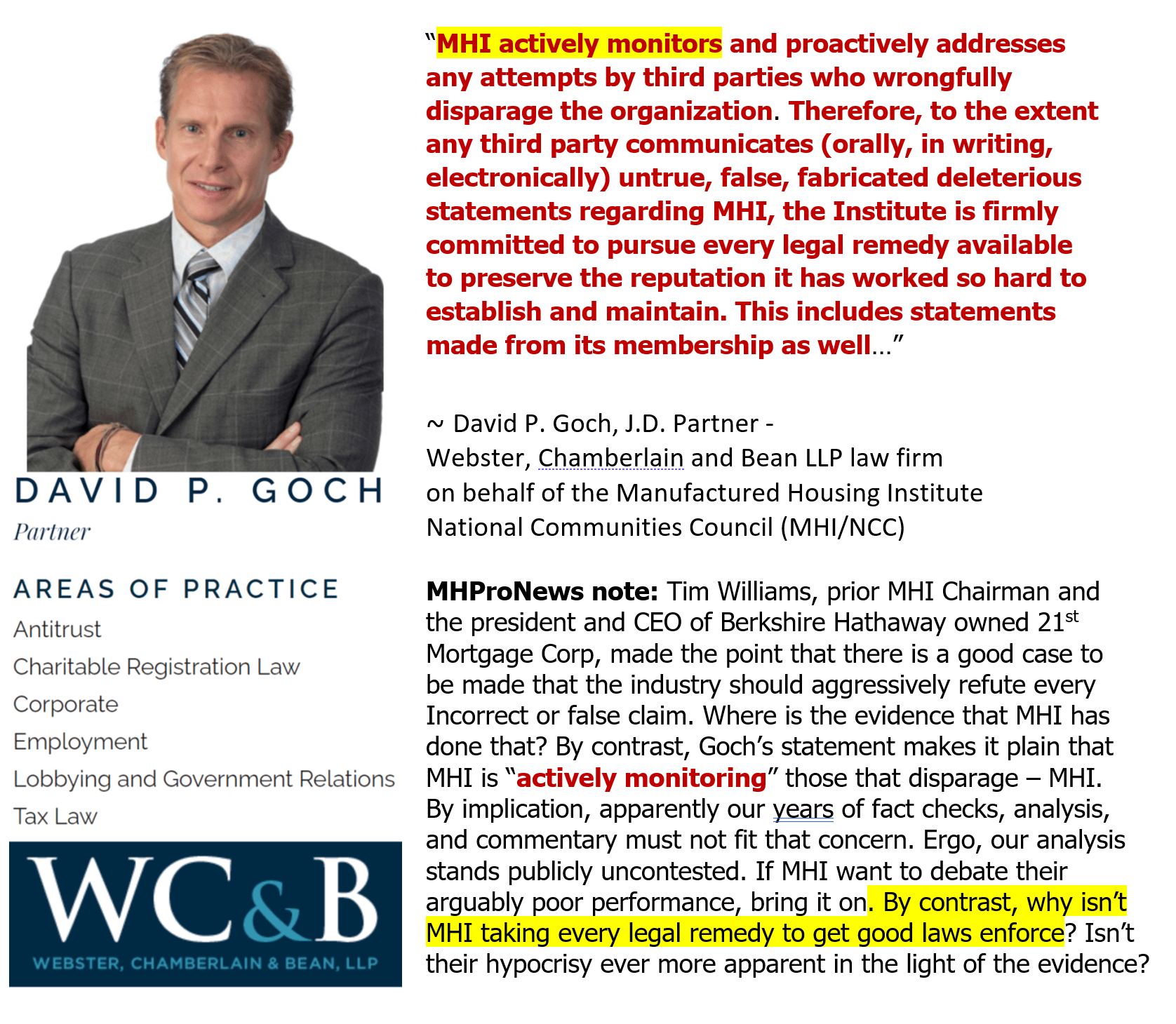 But what MHI has demonstrably avoided, as the above reflects, is a willingness to fight for "all segments" of the industry. So, if MHI does not appear to be working for "all segments" of the industry, who are MHI working on behalf of in reality?
The answer has been provided by MHProNews/MHLivingNews several times in recent years without MHI's attorneys, team members, or leaders bothering to contradict the allegation. Namely, MHI is working to consolidate the industry into the hands of a relatively few larger brands that are MHI members.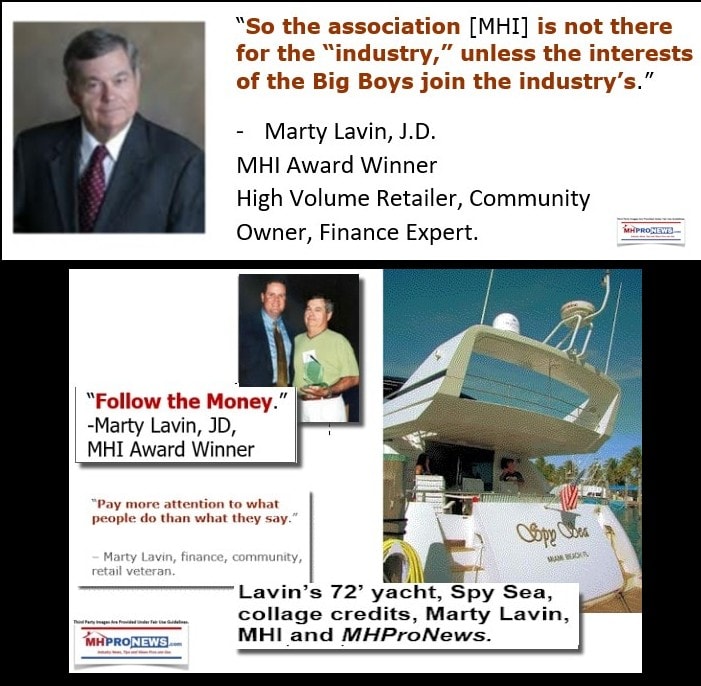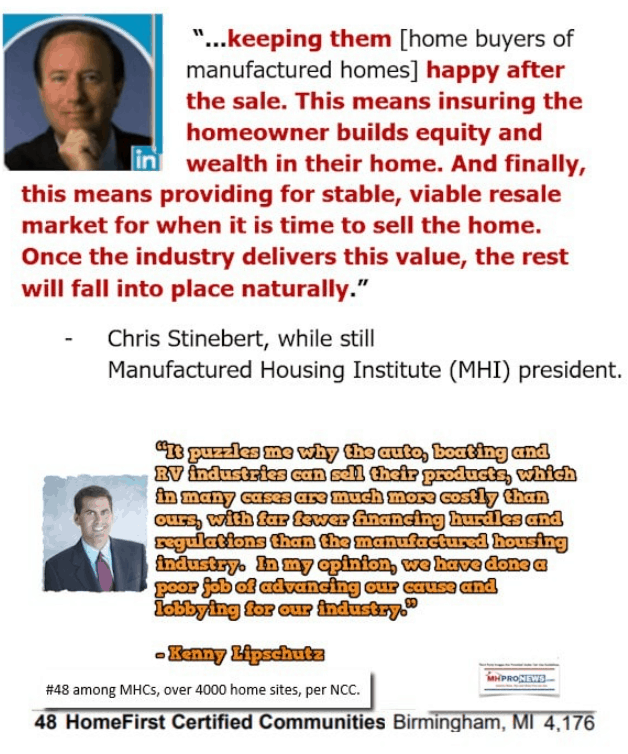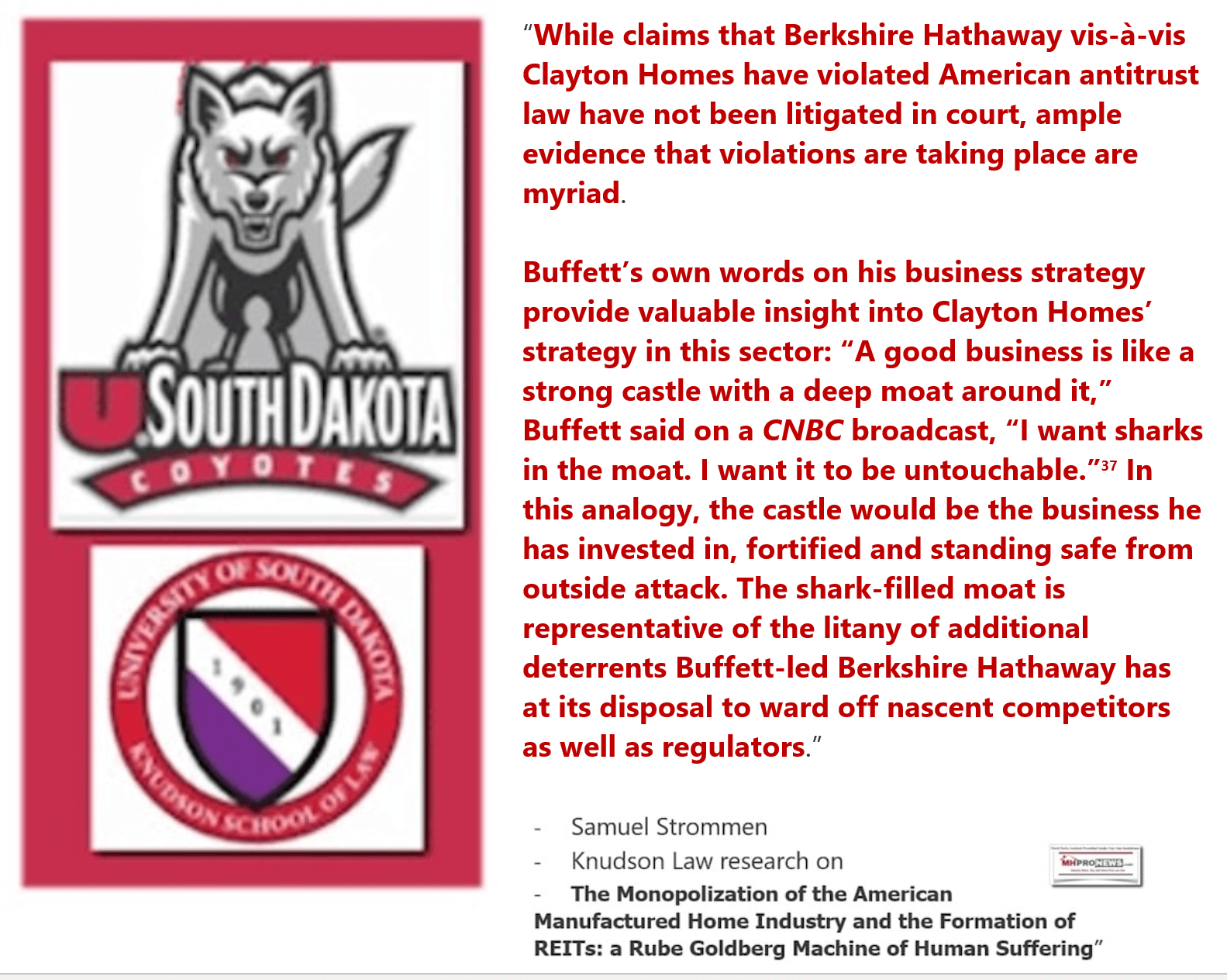 Don't miss the postscript, which includes more on the DTS, financing and other pro-growth topics – so there are additional manufactured housing industry insights.
With no further adieu the following are the MHVille headlines for news, reports, commentary and inspiration for the week that was from 7.10.2022 to 7.17.2022.
What's New in July on MHLivingNews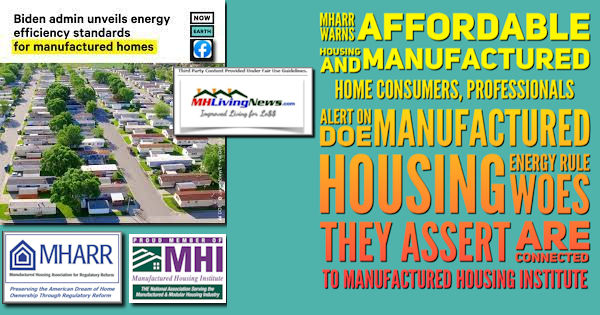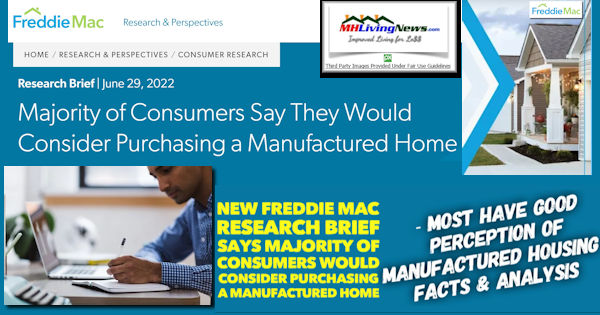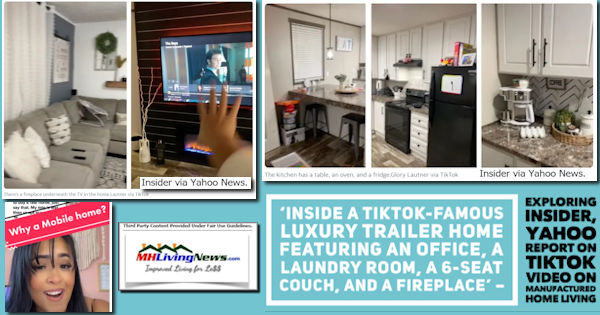 What's New in July from Washington, D.C. from MHARR
MHARR Presents Comments at Federal Housing Finance Agency Duty To Serve "Listening Session"
What's New from best-selling author and speaker, Tim Connor, CSP on the Words of Wisdom

What's the Latest in July on the Masthead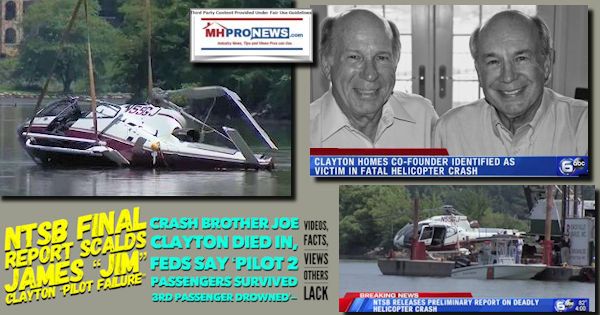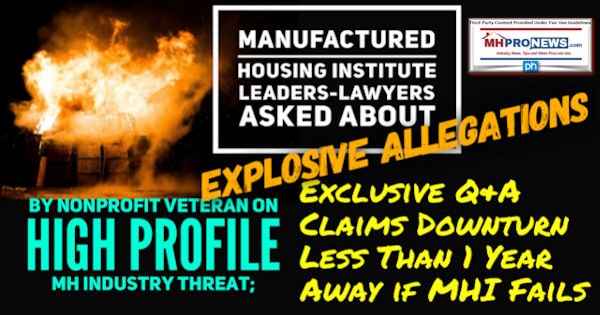 What's New on the Daily Business News on MHProNews
Saturday 7.16.2022
'F-Word' – William 'Bill' Gates III Updates His-Warren Buffett's Multi-Billion Dollar Plans, Gates Talks Buffett More in Own Words, Philanthro-Capitalism; plus, Manufactured Home Stock Update
Friday 7.15.2022
Is Manufactured Housing an Exception? 'The Deal is Off' Home Sales Getting Cancelled at Record Pace, Redfin, ZeroHedge, Media Raise U.S. Housing/Economy Alarms; and MHMarkets Update
Thursday 7.14.2022
Ross Partrich, CEO of RHP Properties, Responds to Resident Complaints Reported by Mainstream Media – MHProNews Fact-Packed Exclusive – plus Manufactured Home Stocks, Markets Update
Wednesday 7.13.2022
Factual, Sharp Remarks Rock FHFA Duty to Serve (DTS) Manufactured Housing Listening Session on July 12, 2022; plus MHStock Updates
Tuesday 7.12.2022
State-by-State, Regional, National Manufactured Housing Data for Production, Shipments for May 2022, Compare Manufactured Home to Conventional Housing, Other Research Reports; and MHStock Updates
Monday 7.11.2022
Buffett's Berkshire Launches Suit Over Green Energy Plan, per Real Clear Energy, 'Raging Backlash' from 'Maine to Hawaii' – Manufactured Housing Implications – Facts and Analysis
Sunday 7.10.2022
Periodic Warren Buffett, Bill Gates Ally – George Soros – 'Declares War' U.S. Patriots, Conservatives, SCOTUS, 'Trump-GOP' – Dems Losing Key Parts of Base? Plus Sunday Weekly MH Headlines Recap
Postscript
AmericanBanker, as well as others, periodically have an ad posted on MHProNews (and/or MHLivingNews) as part of our agreement with an advertiser service that pays publishers like ourselves. American Banker had this ad recently. It is worth noting that several MHI member firms and others in manufactured housing who also use such a service are de facto supporting MHProNews. MHProNews does not necessarily endorse any of those who have those ads on our site(s). That said, for those who want to support our platform, every time you click on those ads, that service will presumably cut a bigger check that supports our pro-white hat, pro-consumer, pro-sustainable MH industry efforts.
That disclosure said, American Banker's tag line above is rather clever. "More than a resource – your ally for advancement."  That statement arguably could be aptly applied to MHProNews and MHLivingNews too. By providing fact- and evidence-packed news, reports, perspectives and expert opinions that are often not found anywhere else in manufactured housing that makes this an unparalleled information resource. The AB statement, is akin to our "Intelligence for your MHLife" © tagline.
Some follow this or that blogger or publication because they like the author(s), or sponsor them, or get supported by them. No doubt some on MHProNews/MHLivingNews fall into similar categories. But MHProNews also counts among its readers (per numerous insights from third parties deemed reliable, along with other evidence) individuals and organizations that may dislike what is published here. So why do they follow us?
Ask RHP Properties (see report linked above), Frank and Dave, Clayton Homes, 21st Mortgage Corp, Cavco Industries, Skyline Champion, Yes! Communities, nonprofits, educators, and a raft of federal, state, or local officials as well as attorneys and members of legally-focused organizations. Thousands of manufactured home professionals follow us day by day in such numbers that millions of pageviews occur on each of our websites every year. There is simply nothing that is known to come close to the engagement and qualify-of-objectively verifiable information as MHProNews/MHLivingNews.com.
We source day-by-day across the left-right divide. That doesn't mean that we agree with what a source has said.
That noted, below is the FHFA video of the 7.12.2022 listening session. Some of those comments are likely quite sincere. Others are arguably little more than posturing or window dressing.
The FHFA/GSEs 'listening session' process has proven to be little more than a venue that allows for 'stakeholders' – including MHProNews/MHLivingNews – to periodically present insights on a federal platform. That is not without value. But the evidence-based case can be made that the listening sessions should not be considered as an authentic process that can lead to implementation of the law they claim to be based on, i.e.: the DTS provisions of HERA 2008.
MHProNews/MHLivingNews stands alone in presenting the statements like those from Kevin Clayton, which ironically demonstrates the point that FHFA and the GSEs are ignoring their obligations under federal law.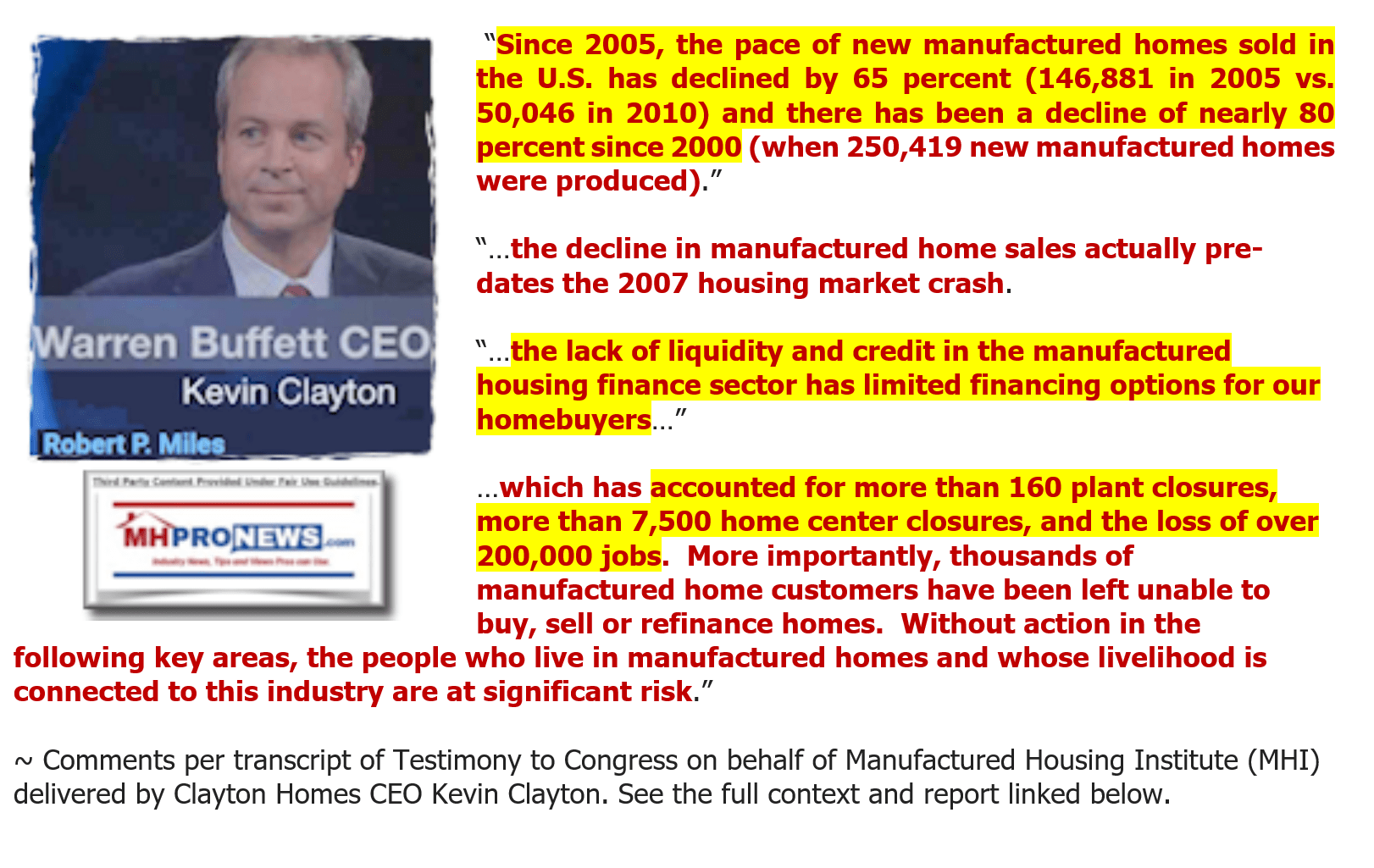 There is no good reason for the FHFA and GSEs to avoid providing a robust support for ALL of the production of HUD Code manufactured homes – save this. The regulatory system is arguably corrupted or inept, as the late and respected John Kenneth Galbraith once observed.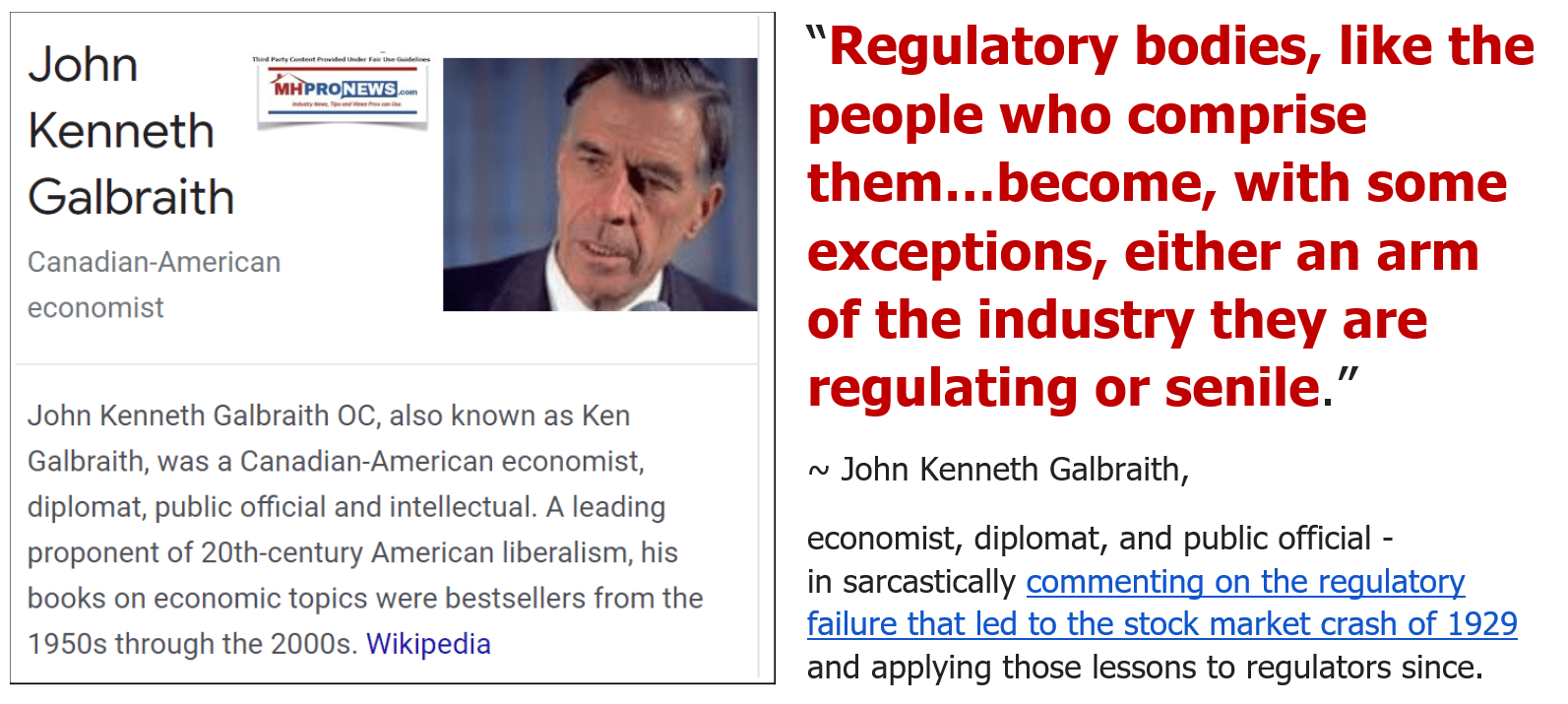 The federal government has become a tool of the elites. Who said? Democratic governor and two-time Democratic presidential hopeful Edmund Gerald "Jerry" Brown Jr.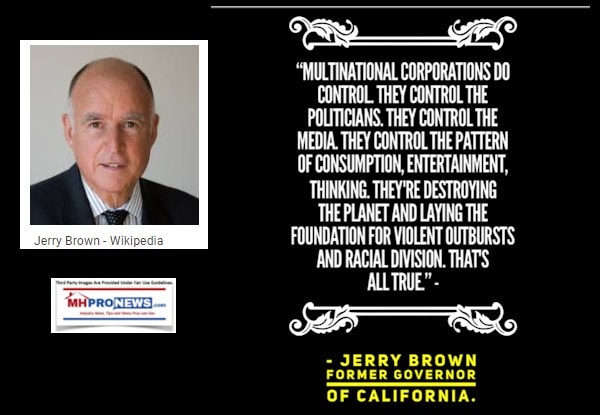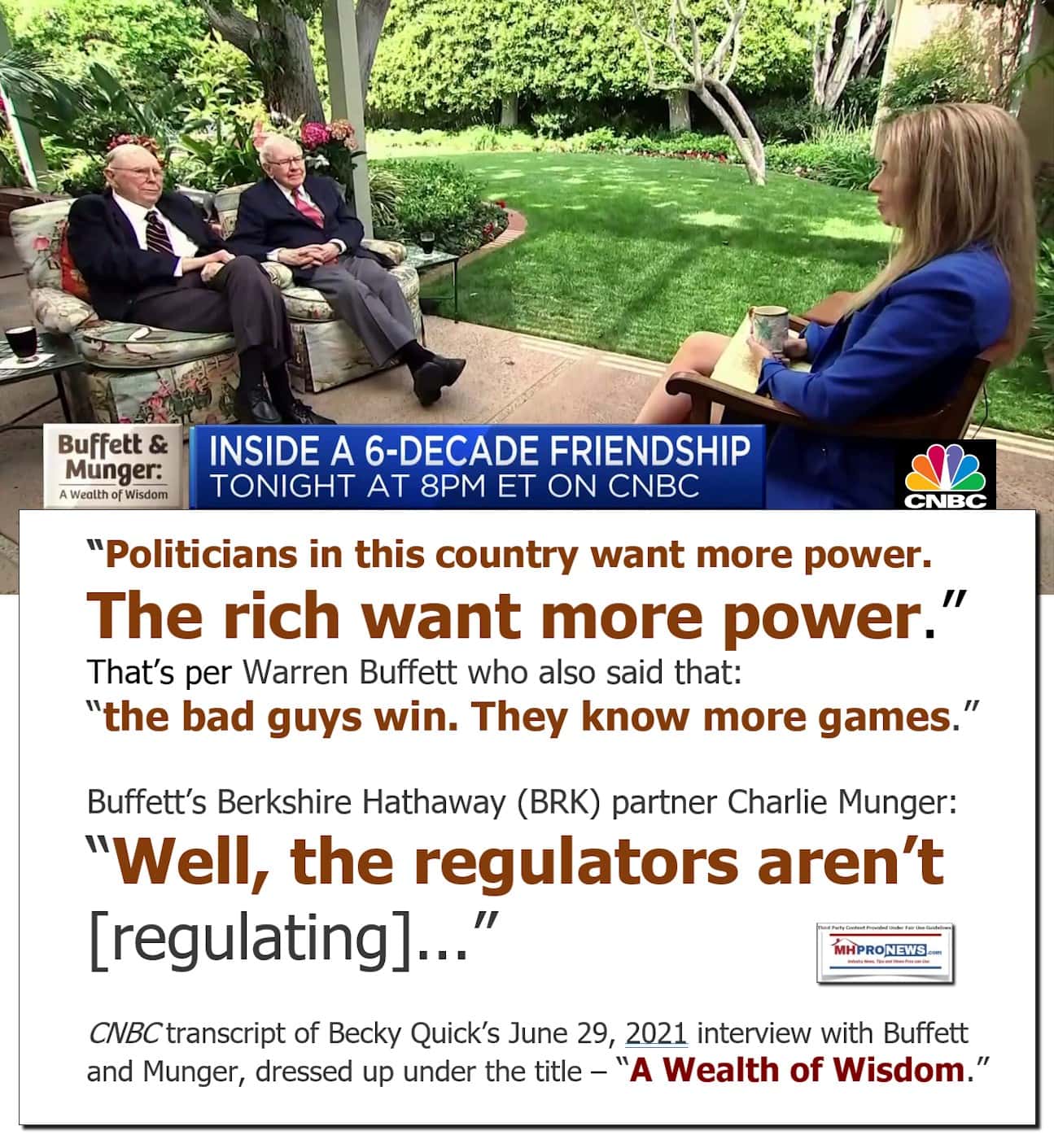 An awakening is apparently occurring in America. The powerful with deep pockets periodically swing their support to this or that politician and/or party. But what is increasingly apparent, as left-leaning Axios and others have said, is that the Democratic Party has become a party of the elites, shifting away in a practical sense from supporting minorities and the less affluent. Democratic leaders and politicos still claim and posture support the minorities vs. the billionaires and their corporate interests. But the obvious effects of their policies reflect harm to the middle class, working class, retirees and others, with only the upper class potentially getting actual benefits.
That's NOT a de facto blanket endorsement of Republicans. There are Establishment Republicans (a.k.a. Grand Old Party or GOP) and then there are those Republicans who have shifted to a more populist stance. While this is often identified as those connected with President Trump, some held those positions prior to the emergence in 2015 of Trump and the "MAGA" or America First movement.  MHProNews has noted historic missteps by Republicans as well as Democrats, e.g.: such as Richard M. Nixon's opening up of Communist China to U.S. trade and investments. "Free trade" Republicans were once correctly opposed by Democrats who recognized the harm that unleavened policy could have on American businesses and jobs.
To truly grasp what is occurring in America and other nations, one must 'follow the money trail' and follow the evidence. One must go beyond merely pretty sounding words and see what occurs in the aftermath of the promises, which is often quite different than what was pledge.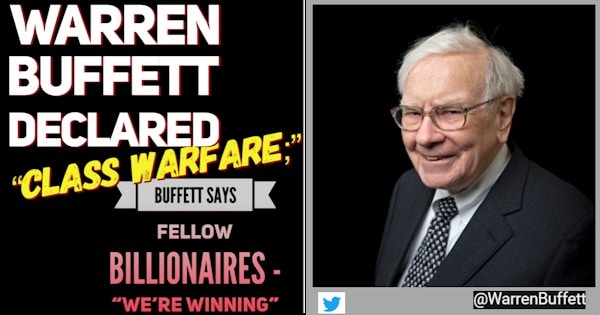 In summary, MHProNews/MHLivingNews seeks facts, evidence, and provides analysis of the same that can benefit consumers and 'white hat' smaller businesses alike. This unique blend is in keeping with what the American Press Institute (API) said in the pull quotes periodically referenced here below.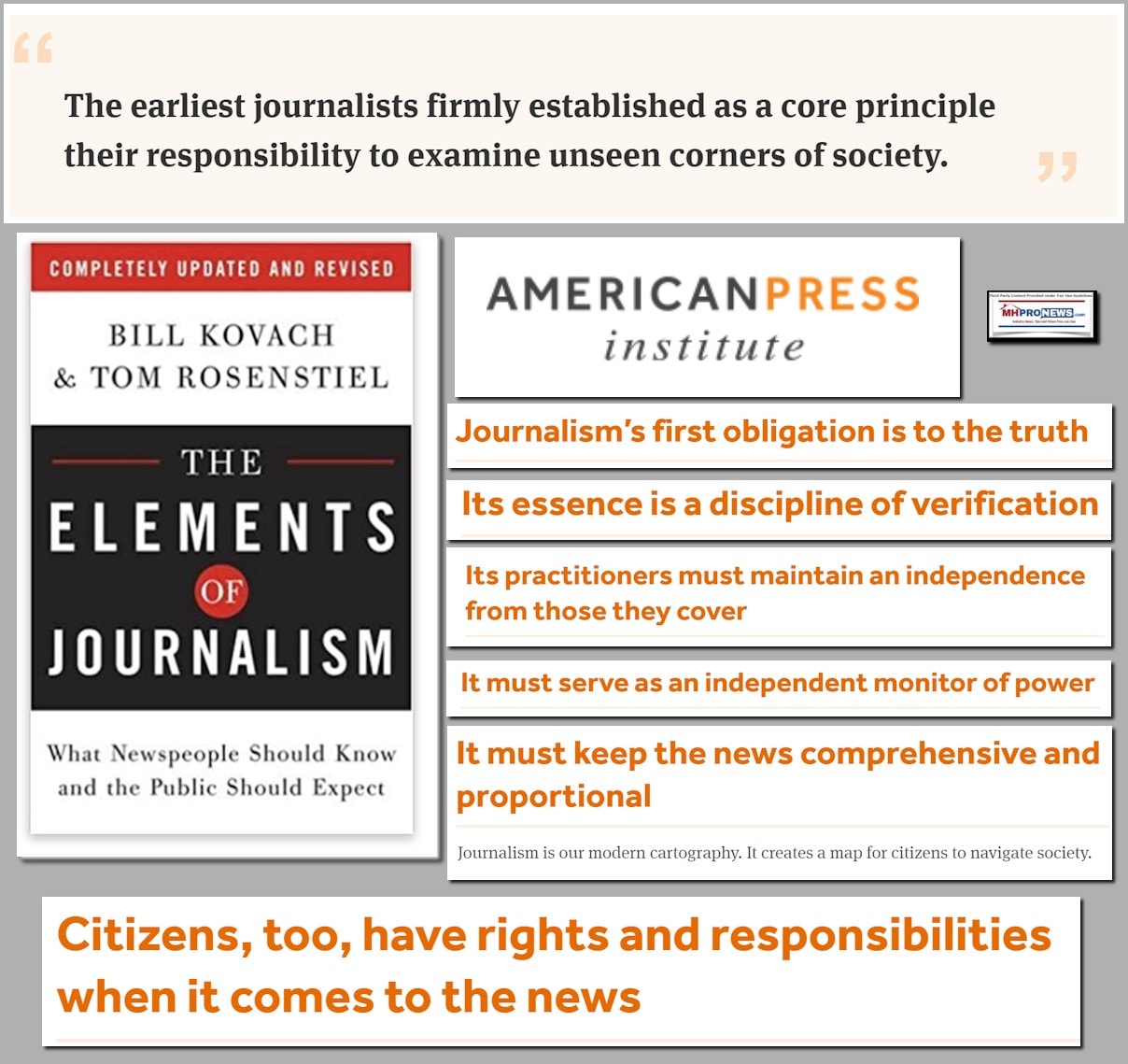 Stay tuned to the first, number one, and only source for manufactured home "Industry News, Tips, and Views Pros Can Use" © were "We Provide, You Decide."©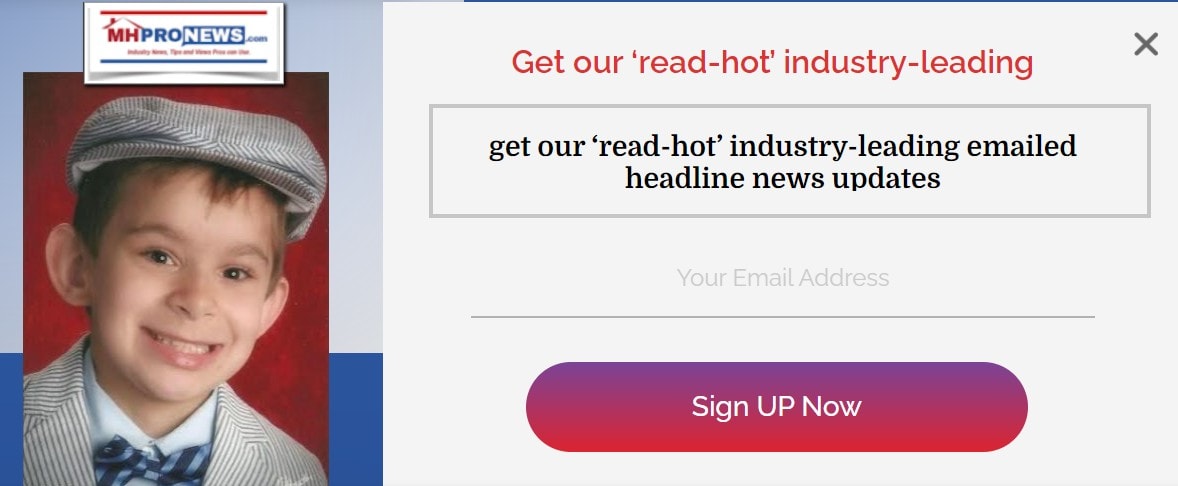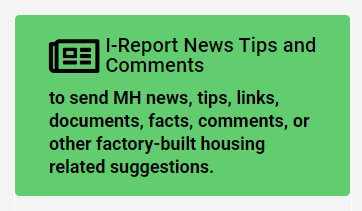 Again, our thanks to free email subscribers and all readers like you, our tipsters/sources, sponsors and God for making and keeping us the runaway number one source for authentic "News through the lens of manufactured homes and factory-built housing" © where "We Provide, You Decide." © ## (Affordable housing, manufactured homes, reports, fact-checks, analysis, and commentary. Third-party images or content are provided under fair use guidelines for media.) (See Related Reports, further below. Text/image boxes often are hot-linked to other reports that can be access by clicking on them.)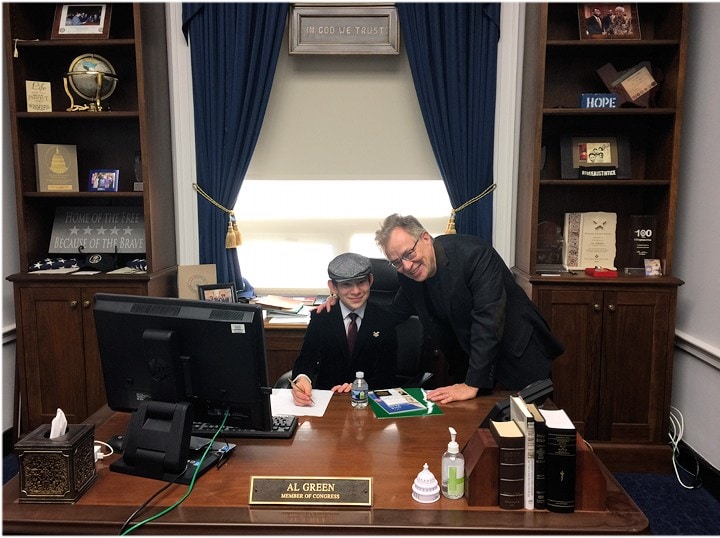 By L.A. "Tony" Kovach – for MHProNews.com.
Tony earned a journalism scholarship and earned numerous awards in history and in manufactured housing.
For example, he earned the prestigious Lottinville Award in history from the University of Oklahoma, where he studied history and business management. He's a managing member and co-founder of LifeStyle Factory Homes, LLC, the parent company to MHProNews, and MHLivingNews.com.
This article reflects the LLC's and/or the writer's position, and may or may not reflect the views of sponsors or supporters.
Connect on LinkedIn: http://www.linkedin.com/in/latonykovach
Related References:
The text/image boxes below are linked to other reports, which can be accessed by clicking on them.
The Calm Before the Next Manufactured Housing Industry Storm? New Facts and Viewpoints; plus Sunday Weekly MHVille Headlines Review 
Recent Mainstream Media Scandals in Manufactured Housing, New Medicinal Reports On Manufactured Housing Pending; Sunday Weekly Headlines in Review
Manufactured Housing Institute (MHI) Helped Raise Profile of DOE Energy Rule in Media, Homes on the Hill, But Critics Say MHI Strategy Won't Work – Examples; plus Sunday Weekly Headline Recap
'Show Me the Man, and I'll Show You the Crime' – Lavrentiy Beria, Lessons to Recapture American Rights, Reviving Affordable Manufactured Home Performance – Viewpoint; plus Sunday Headlines Recap
Manufactured Housing Institute (MHI) Outside Attorney David Goch's Statement to Angry, Threatening Member Speaks Volumes; plus Sunday Weekly MHVille Headlines in Review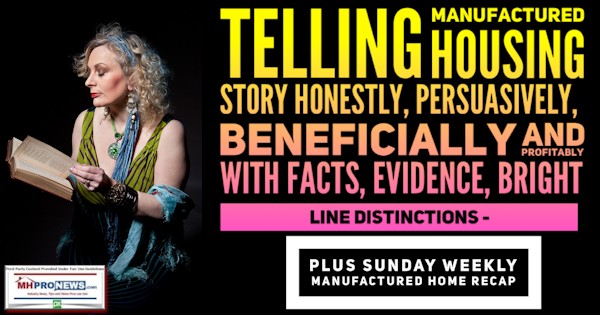 Biden White House Postures Support for More Manufactured Housing, But Biden Era DOE, Other Fed Moves Poised to Limit HUD Code Manufactured Home Sales; plus Sunday Weekly Headlines Review
Russian Disinformation? CNN and WND Report on "World Government Summit," Joe Biden Address to Business Roundtable on "the New World Order;" plus Sunday Weekly Headlines Review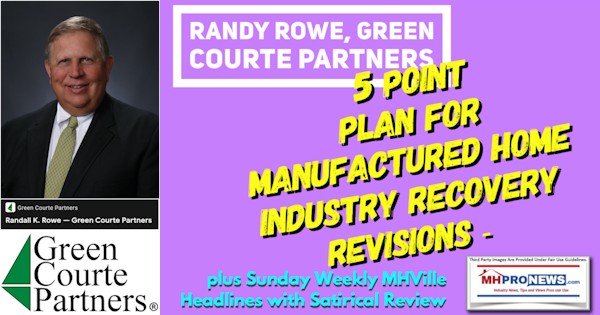 Tobias Peter – American Enterprise Institute Housing Center – Insights on Concerns Over Housing Bubble and Related New Data; plus Sunday Weekly Headlines Review