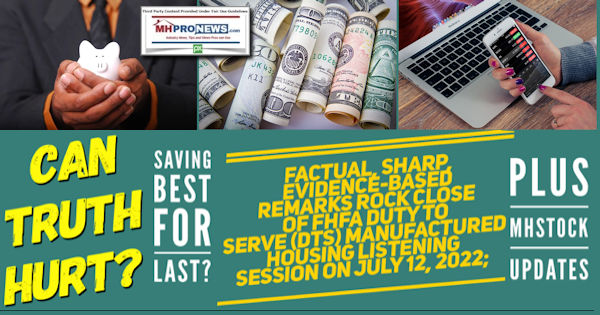 It has been said that dead fish 'go with the flow.' Several of the comments made by various sources in the Duty to Serve (DTS) Manufactured Housing Listening Session on 7.12.2022 urged in distinctive ways the Federal Housing Finance Agency (FHFA) and the two Government Sponsored Enterprises (GSE) to do this or that with respect to the mortgage giants that the FHFA still has under conservatorship. Those "Enterprises" or GSEs are the mortgage firms that Warren Buffett led Berkshire Hathaway once had significant ownership interests in around the turn of the century, namely, Fannie Mae and Freddie Mac.  It will be weeks, per the FHFA before all of those comments that often related to resident protections will be published. But the remarks as prepared by MHProNews co-founder, L.A. "Tony" Kovach are found below. The list of all speakers as of 7.8.2022 is provided after the text of the Kovach address to FHFA.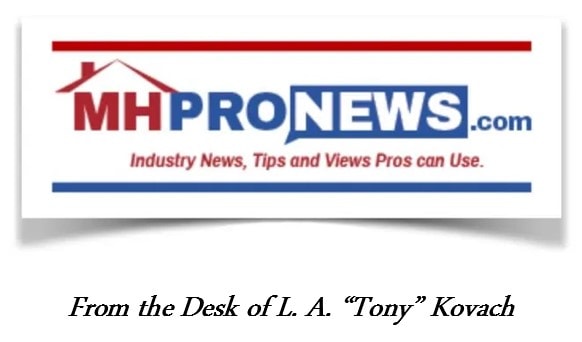 Stating Obvious Facts and Evidence Can End the Duty to Serve Status Quo Insanity Harming Millions, Including Minorities, Seniors, and Lower Income Americans
A Freddie Mac post on 9.2.2021 explained: "the four C's [of good sustainable credit used by a]…lender will evaluate in determining whether they will make a loan: capacity, capital, collateral and credit."
"Majority of Consumers Say They Would Consider Purchasing a Manufactured Home" said Freddie Mac research on 6.29.2022. It stated: "77% of people who are aware of manufactured homes expressed a positive sentiment toward these homes, describing them as "new," "efficient," "affordable" and "easy." Most agree that there are tangible benefits to manufactured homes, including the following:
Allow a wide range of customization.
Affordable without compromising on quality.
Ecofriendly and energy efficient.
A good investment."
62 percent, per their survey, would consider a manufactured home. Regardless of ethnic or age groups, incomes under $50,000 were more favorable toward contemporary Manufactured Homes.
Per LendingTree on 11.30.2021, and analysis of their published research: "Mobile Home Values Are Rising Faster Than Single-Family Home Values." Years of 3rd party research support their conclusion.
HUD Secretary Ben Carson, citing FHFA data, noted in an address archived on the HUD website made to the Manufactured Housing Institute (MHI): "Our nation's shortage of affordable housing is ultimately an issue of supply and demand. With millions of people in need, high demand is already guaranteed."
Noting that mainstream manufactured homes are about half the cost per square foot vs. site-built housing, Carson said: "even at this lower price, manufactured homes appreciate in value at a rate similar to site-built homes, according to the Federal Housing Finance Agency [FHFA] Housing Price Index. Sustainable homeownership is the number one builder of financial capital for most American families. For example, the average net worth of a renter is $5,000 [dollars], while the average net worth of a homeowner is $200,000 [dollars]. That's an extraordinary 40-fold difference. But with comparable home appreciation rates to site-built homes, manufactured homes exhibit their own extraordinary potential to be a wealth creation tool for ordinary, everyday American families." Housing costs have risen since 5.7.2019, but the percentage of saving is the same, per federal data cited by the Tampa Free Press and MHLivingNews.
AP reported Freddie Mac on 9.1.2021 saying: "Researchers from mortgage buyer Freddie Mac estimate that the United States needs an additional 3.8 million homes to meet housing demands…" Critiquing that, Mark Weiss, J.D., President and CEO of the Manufactured Housing Association for Regulatory Reform (MHARR) remarked that some sources assert the housing shortage was significantly higher than Freddie claimed. Weiss pointed out the mortgage giant – during FHFA's conservatorship – played a role in the housing shortage. Said Weiss, "Freddie Mac Unwittingly Proves Its Own Failure."
David Dworkin, CEO of the National Housing Conference (NHC) in federal comments stated manufactured housing was necessary for affordable housing. Dworkin worked for Fannie Mae as a vice president. On 12.10.2019, Dworkin said "we [NHC] have full confidence in both Enterprises ability to reach existing benchmarks."
Triad Financial Services (ECN Capital) provides a similar function for lenders they partner with in manufactured housing as Freddie Mac or Fannie Mae would provide. Triad's proven model reveals over 50 years of sustainability.
Kevin Clayton, CEO of Berkshire Hathaway owned Clayton Homes said under truth in testimony certified remarks to Congress: "MHI and its members have long demonstrated to rating agencies, investors, Fannie Mae, and Freddie Mac, the Federal Housing Administration, Ginnie Mae, and others that manufactured housing lenders operate within a disciplined lending environment. Despite this performance the government sponsored enterprises (GSEs) have had little involvement and displayed little interest in financing and securitizing manufactured homes. Less than one percent of GSE business comes from manufactured housing and none of that comes from manufactured home personal property loans."
My previous remarks on 3.25.2022 should be considered part of the factual and evidentiary foundation for this thesis.
Such quotes, facts, evidence, and claims merit a summary.
From the vantagepoint of implementing DTS for all mainstream manufactured homes – particularly in home-only or so-called chattel loans – the collateral value for investment and acceptance meets the 4Cs of sustainable lending.
The logic and evidence are clear. The GSEs can and should sustainably originate and provide secondary market support under DTS for manufactured home loans.
MHI and Kevin Clayton assert they want DTS fully implemented. If so, why haven't they sued either FHFA and/or the GSEs to get the DTS rule for personal property lending on all manufactured homes fully and properly enforced?
MHI's Lesli Gooch denied his claims, but Doug Ryan with Prosperity Now (then CFED) in an op-ed on AmericanBanker asserted "The system currently discourages Fannie and Freddie from investing in manufactured housing."
Ryan claimed MHI's reluctance was to protect Clayton's headlock on manufactured home lending.
Apparently supporting Ryan's contention, a high-ranking MHI source told MHProNews months before the GSEs announced withdrawal of their chattel pilot projects the following. Tim Williams, CEO of 21st Mortgage Corporation, told dozens of members during a meeting that he was "happy" that the GSEs DTS pilot had failed. Clayton, 21st, MHI and their attorneys declined commenting on that or other controversies.
Is it any wonder that some – like MHARR – are calling for congressional or other federal/state investigations into the apparently corrupted DTS process harming millions, including minorities? ##
Additional Information, More MHProNews Analysis and Commentary in Brief
The following was the announced FHFA presentation agenda outline and speaker lineup.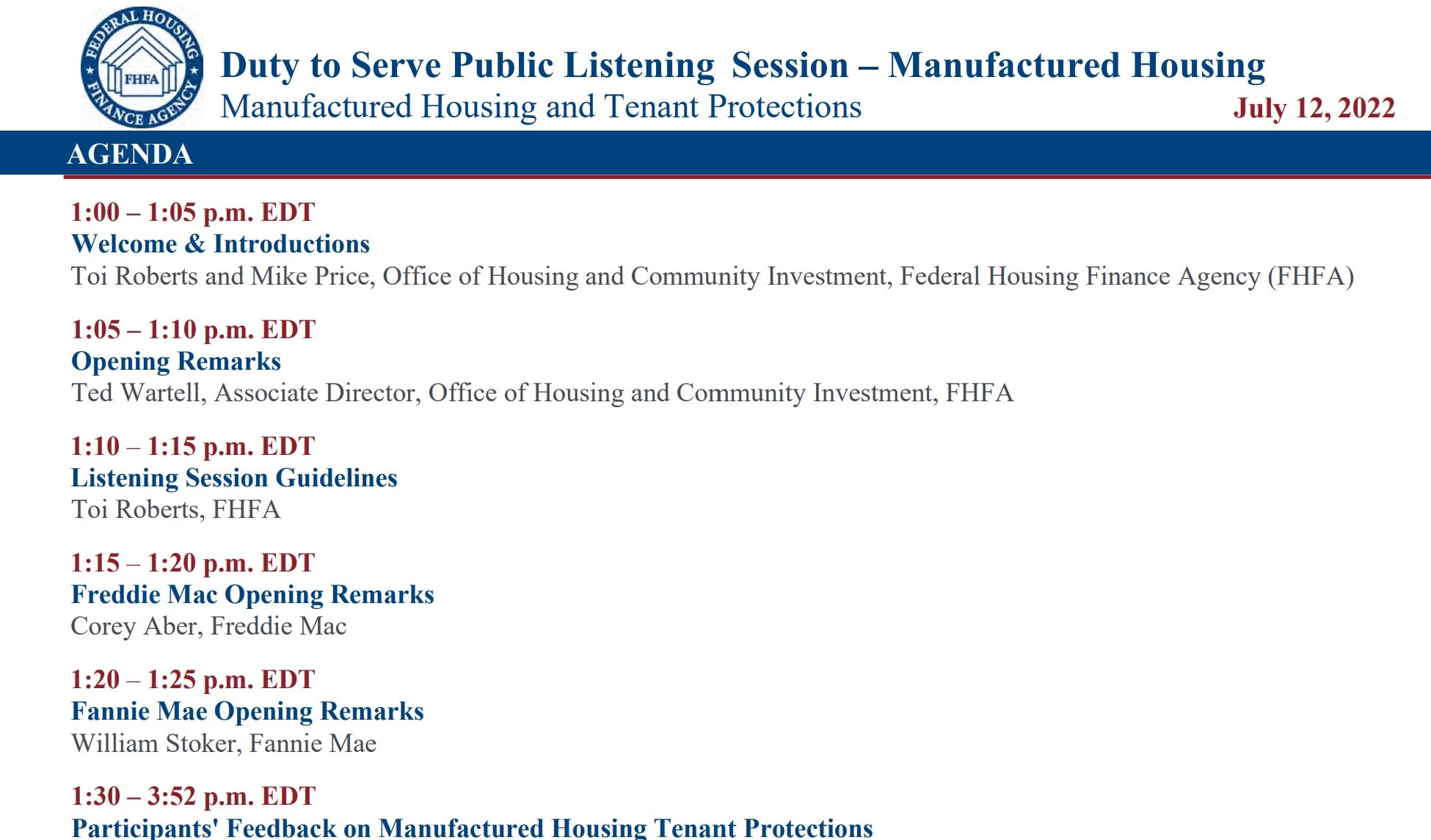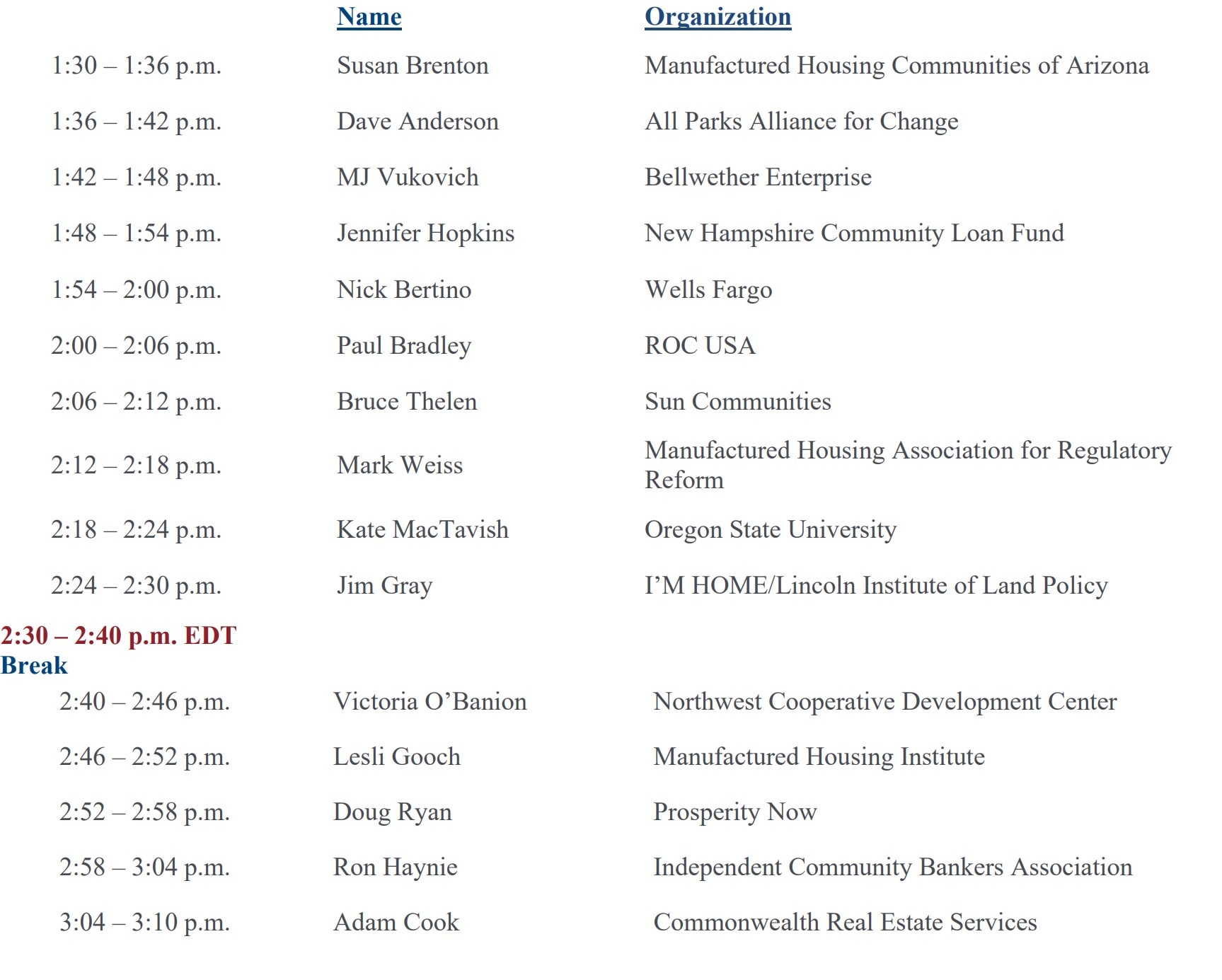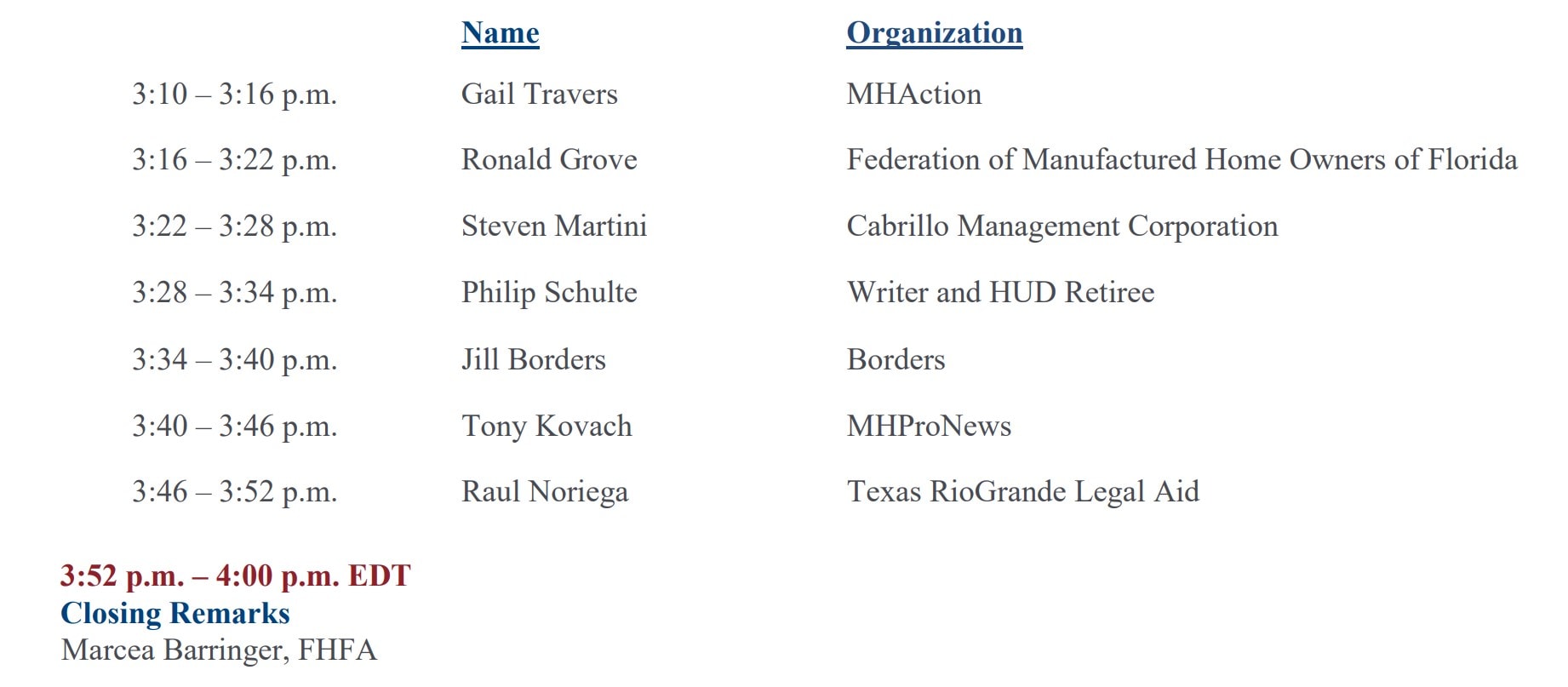 After the remarks above were submitted, the FHFA contact issued a new speakers lineup. Kovach was moved to the final position among the commenters. Coincidence?
The role played by regulators in 'moat' tactics has come into sharper focus in recent years. More on this topic is planned in the foreseeable future, as MHProNews continues to explore the factors that are hobbling this industry that was producing more homes out of more factories being sold by more retail centers and that could be found in more land-lease communities at the turn of the century than are available today. Today, it is generally acknowledged that there are fewer communities, plants, retail centers and lenders than there were in 2000. Why aren't other trade publishers hammering on these facts? Why do so many so-called advocates of manufactured housing not pressing these same factors that clearly impact the numbers of manufactured homes being financed and thus sold during an affordable housing crisis? ##
Next up is our daily business news recap of yesterday evening's market report, related left-right headlines, and manufactured housing connected equities.
The Business Daily Manufactured Home Industry Connected Stock Market Updates.  Plus, Market Moving Left leaning CNN and Right-leaning (Newsmax) Headlines Snapshot. While the layout of this daily business report has been evolving over time, several elements of the basic concepts used previously are still the same. For instance. The headlines that follow below can be reviewed at a glance to save time while providing insights across the left-right media divide. Additionally, those headlines often provide clues as to possible 'market-moving' news items.
Market Indicator Closing Summaries – Yahoo Finance Closing Tickers on MHProNews…
A glitch caused the capture of our standards market summary graphics
to fail – MHProNews regrets the error.
Headlines from left-of-center CNN Business – from the evening of 7.12.2022
When a car isn't just a car
Elon Musk gestures as he speaks during a press conference at SpaceX's Starbase facility near Boca Chica Village in South Texas on February 10, 2022. Billionaire entrepreneur Elon Musk delivered an eagerly-awaited update on Space's Starship, a prototype rocket the company is developing for crewed interplanetary exploration.
Elon Musk's politics trigger strong reactions from Tesla customers
The pilot shortage is forcing airlines to pull service from smaller cities
Is Warren Buffett ditching China's electric car giant? Investors think so
How a Chinese metal tycoon imploded the nickel market — and walked away with billions
Why King Dollar's huge rally isn't reason to cheer
Exchange rate between the euro and the US dollar is the same for the first time in 20 years
Heathrow asks airlines to stop selling summer tickets as it limits daily passengers to 100,000
Boeing delivers a 737 Max to one of the airlines that suffered a fatal crash of the plane
Analysis: The January 6 committee is making history by making good TV
Don't believe these 8 common credit score myths
Matthew Berry, ESPN's fantasy guru, is leaving the network
A detail view of the Starbucks logo is displayed on a coffee cup at a Starbucks coffee shop, Friday, June 17, 2022.
Starbucks is closing 16 stores over safety concerns
Peloton will stop making its own bikes
An Uber sticker is seen on a car windshield on the street in downtown Miami on January 9, 2020.
A massive leak revealed how Uber avoided police with secret technology
CHINA
Video shows violent reaction to China bank protest
Hollywood won't budge for Chinese censors anymore
China says India risks scaring away investors
China crushes mass protest by bank depositors
US and China discuss economic challenges
HOLLYWOOD
'Thor: Love and Thunder' nabs a mighty box office opening for Marvel
Hollywood won't budge for Chinese censors anymore
'Stranger Things' is ending, but a spinoff is in the works
Iconic prop from 'The Shining' can be yours for a price
Squirrel from 'Ice Age' movies finally gets his acorn
Headlines from right-of-center Newsmax 7.12.2022
Dick Morris to Newsmax: Trump Will Run Unopposed for GOP Nod in 2024
Former President Donald Trump has not officially announced his candidacy for a return to the White House in 2024, but he is not only going to run, but he will run unopposed by other Republicans for the nomination, political strategist and Newsmax host Dick Morris said. [Full Story]
Russian Invasion of Ukraine
Israel Sending Ukraine Protective Gear as Iran Sends Drones to Russia
Kremlin Critic Charged Over Criticizing Fighting in Ukraine
'These People Must be Saved': Ukrainians Train in Combat Aid
Ukrainian Rocket Strike Targets Russian Ammunition Depot
Video Report: Russia Has 'Substantially Failed' Its Objectives, Says NSA Sullivan | video
Kyiv Warns Russia Will Step Up Donbas Fight
Zelenskyy Adviser: Three Weapons Necessary to Win War
Putin Expands Fast-Track Russian Citizenship to All Ukraine
Russian Bombardment Kills 3 in Ukraine's Second City Kharkiv
More Russian Invasion of Ukraine
Newsmax TV
Bice: Reconsidering Iran Deal Is 'Complete Misstep'
Eric Trump: Father's Predictions on Biden Came True | video
Neil Chatterjee to Newsmax: More Saudi Oil Won't Change Gas Prices | video
Steil: Most Americans 'Feeling' Recession | video
Dershowitz: 'I Am Being Banned' | video
Ernst: Fauci, NIH End 'Heinous' Dog Experiments | video
Peter Navarro: January 6 Committee 'Trying to Build a Hoax' | video
Newsfront
BYU Could Lose Accreditation Over Transgender Speech Services
Brigham Young University stopped offering transgender speech adaptation services and could lose its accreditation over the move, The College Fix reports…. [Full Story]
Spending Slows in Modern Space Race
Only a year after billionaires Richard Branson and Jeff Bezos took [Full Story]
Nine EU States to Keep Backing 'Terrorist' Palestinian Civil Society Groups
Nine European Union states said in a joint statement on Tuesday they [Full Story]
Left's Racist Attacks an Effort to 'Energize' Progressive Base
In the aftermath of the Supreme Court overturning Roe v. Wade – the [Full Story] | Platinum Article
Seattle Police Arrest Man for Allegedly Threatening to Kill Rep. Jayapal
A 48-year-old Washington state man was arrested over the weekend for [Full Story]
Newsmax Holding Key Debate for Arizona Senate Hopefuls
Newsmax will host a debate with Arizona Republican candidates for the [Full Story]
Uvalde Hallway Video on Day of Mass Shooting Set for Sunday Release
On Sunday, Texas lawmakers will release video footage of the May 24 [Full Story]
Could Sri Lankan Chaos Happen in US With Debt 'at the Limit'?
As economically frustrated Sri Lankans force the president and prime [Full Story] | Platinum Article
Dem Sen. Durbin Called Out on '89 Anti-Abortion Letter
Dick Durbin, D-Ill, now says he is "pro-choice" despite penning [Full Story]
Video Report: WH Admits No Saudi-Israeli Deal on Trip
President Joe Biden will travel to Israel on Tuesday, after the White [Full Story] | video
Florida Man Tries to Flee Deputies on a Riding Lawn Mower
Florida deputies used a taser to stop a man who tried to avoid arrest [Full Story]
Sailor Found Dead on Carrier Carl Vinson Identified by Navy
The sailor who was found dead on the San Diego-based aircraft carrier [Full Story]
O'Rourke to Embark on 49-Day Campaign Tour of Texas
Behind in the polls, Beto O'Rourke, the Democrat running for Texas [Full Story]
Congested Los Angeles Could Ban New Gas Stations
Congested Los Angeles Could Ban New Gas Stations
The Los Angeles City Council is considering an ordinance that would [Full Story]
North Carolina Little League Game Halted by Gunfire
Three shots fired during a Little League game in North Carolina [Full Story]
Video Report: Bannon Will Testify for Jan. 6 Committee
Newsmax national correspondent Logan Ratick explains the trial [Full Story] | video
Video Report: Historic Heat Wave Sweeps Over Europe
Newsmax's Alex Salvi shares details with Tuesday's "Wake Up America" [Full Story] | video
Trump Endorses Cox for Second Time in Maryland Gubernatorial Race
As polls and pundits say the outcome of the Maryland primaries are [Full Story]
Video Report: Biden Budget 'Birthing People' Text Ripped
The Biden White House replaced the "mother" with "birthing people" in [Full Story] | video
Trump: NY Times Is 'Truly the Enemy of the People'
The New York Times' stock is down 40% in the past year, drawing the [Full Story]
DeSantis Gathers Top Donors, Fellow GOP Governors for Meet-and-Greet
Florida Gov. Ron DeSantis recently gathered dozens of top donors and [Full Story]
HBO's 'Succession' Tops Emmy Nominations
"Succession" received a leading 25 Emmy nominations Tuesday, but the [Full Story]
Rasmussen Poll: 63 Percent of Dems View Supreme Court Unfavorably
Democrats have turned against the Supreme Court in light of recent [Full Story]
More Men Seeking Vasectomy After Roe Reversal
FCC Rejects Call to Probe Since-Scrapped Miami Radio Station Sale
The Federal Communications Commission will not investigate the [Full Story]
Meta Gives Warning to 'Net Neutral or Negative' Employees
Not being perceived as positive enough could cost employees their [Full Story]
Pentagon: US Kills IS Group Leader in Syria in Drone Strike
The Pentagon said Tuesday that it killed a leader of the Islamic [Full Story]
The Dutch Art Detective Who Recovered the 'Blood of Christ' Relic
It was 10:30 pm on a Friday when Arthur Brand got the delivery he was [Full Story]
Pope: I Wouldn't Live in Vatican or Argentina If I Retire
Pope Francis said he would not live in the Vatican or return to his [Full Story]
GOP Rep Jerry Carl: Floating Abortion Clinic a 'Pie-In-The-Sky' Plan
Jerry Carl, R-Ala., is dismissing a plan by a California doctor [Full Story]
WHO: COVID-19 Remains a Global Health Emergency
The World Health Organization said Tuesday that COVID-19 remains a [Full Story]
Finance
Roger Goodell: NFL to Name 'Sunday Ticket' Partner in the Fall
The National Football League (NFL) will award rights to its "Sunday Ticket" package to a major streaming service as opposed to a traditional broadcast partner like ESPN, NFL Commissioner Roger Goodell says…. [Full Story]
Fed's Barkin 'Definitely' Sees Signs of Economic Tightening
US Treasury Diplomat Nominee Aims to Curb China's Lending Influence
Rivian to Address Layoffs, Restructuring at Friday Meeting
Neil Chatterjee to Newsmax: More Saudi Oil Won't Change Gas Prices
More Finance
Health
Adding Salt to Your Meals Lowers Life Expectancy By Two Years
People who douse their meals in salt may have a shorter life than those who rarely reach for the salt shaker, a large new study suggests. The study, of more than 500,000 British adults, found that those who always sprinkled salt on their food at the table were 28% more…… [Full Story]
FDA Extends Shelf Life of Some Expired At-Home COVID Tests
Researchers Test Transplanting Pig Organs Into Dead
White House to Prioritize Boosters, Testing for Evasive BA.5 Subvariant
US Deaths From Antibiotic Resistant 'Superbugs' Rose 15 Percent
MHProNews has pioneered in our profession several reporting elements that keep our regular and attentive readers as arguably the best informed in the manufactured housing industry. Among the items shared after 'every business day' (when markets are open) is our left-right headline recap summary. At a glance in two to three minutes, key 'market moving' news items are covered from left-of-center CNN Business and right-of-center Newsmax. "We Provide, You Decide." © Additionally, MHProNews provides expert commentary and analysis on the issues that others can't or won't cover that help explain why manufactured housing has been underperforming during the Berkshire era while an affordable housing crisis and hundreds of thousands of homeless in America rages on. These are "Industry News, Tips, and Views Pros Can Use" © features and others made and kept us the runaway #1 in manufactured housing trade publisher for a dozen years and counting.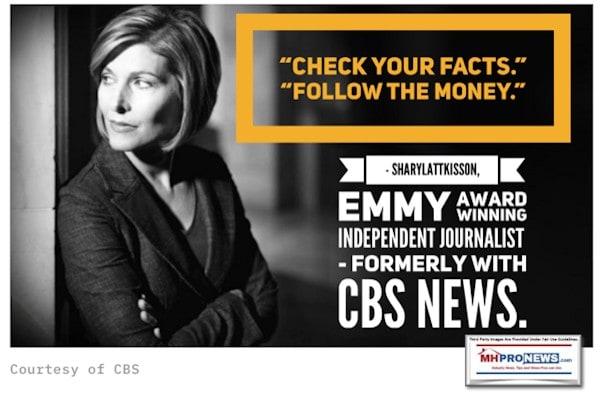 Manufactured Housing Industry Investments Connected Equities Closing Tickers
Some of these firms invest in manufactured housing, or are otherwise connected, but may do other forms of investing or business activities too.
NOTE: The chart below includes the Canadian stock, ECN, which purchased Triad Financial Services, a manufactured home industry lender
NOTE: Drew changed its name and trading symbol at the end of 2016 to Lippert (LCII).
NOTE: Deer Valley was largely taken private, say company insiders in a message to MHProNews on 12.15.2020, but there are still some outstanding shares of  the stock from the days when it was a publicly traded firm.  Thus, there is still periodic activity on DVLY.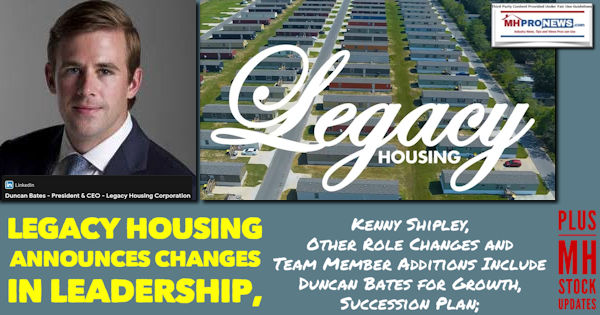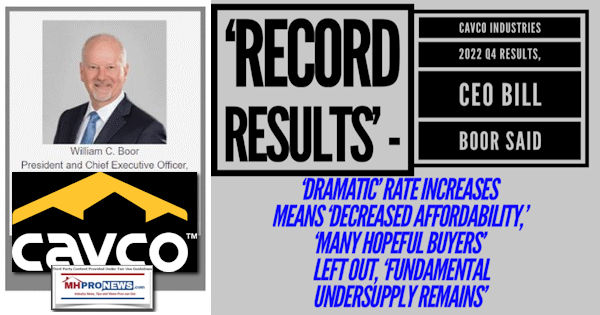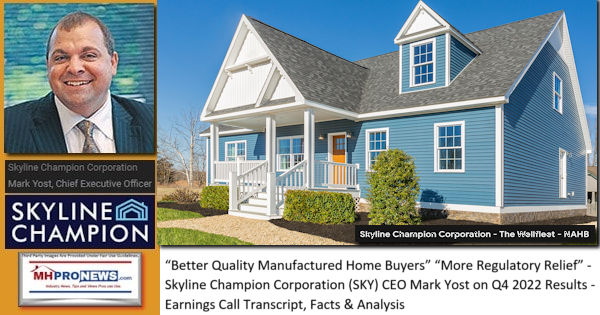 Manufactured Home Communities (a.k.a. 'Mobile Home Parks' – SIC) – Exploring UMH Properties; Fellow Manufactured Housing Institute Member Yes! Communities Suits and Settlements; plus MH Markets Updates
'Announcing!' 'Manufactured Community Owners' Association of America' 'Finally Bringing Fight To Manufactured Home Community Sector of the Industry' – plus Sunday Weekly Manufactured Housing Headlines Review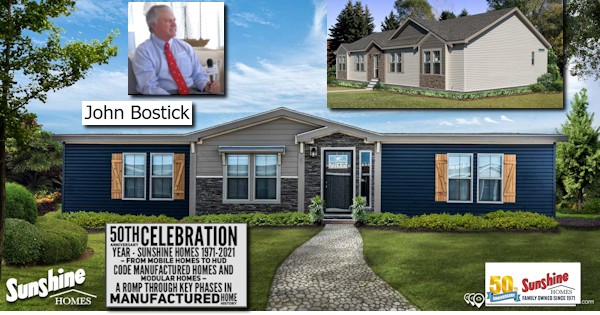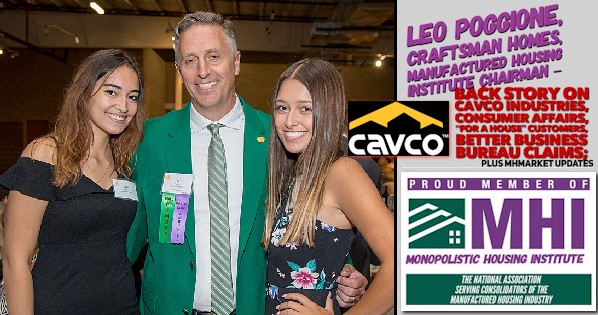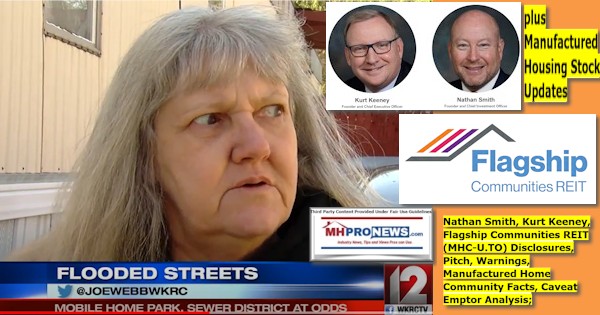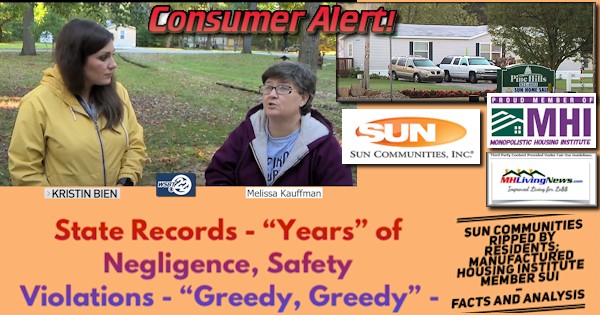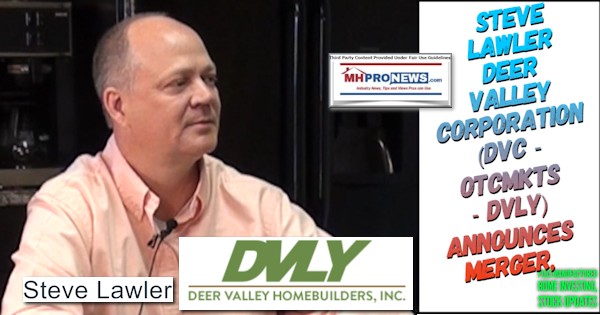 A glitch caused the capture of our standards market summary graphics
to fail – MHProNews regrets the error.
2022

…

Berkshire Hathaway is the parent company to Clayton Homes, 21st Mortgage, Vanderbilt Mortgage and other factory-built housing industry suppliers.


·

LCI Industries, Patrick, UFPI, and LP each are suppliers to the manufactured housing industry, among others.




·

AMG, CG, and TAVFX have investments in manufactured housing related businesses.

For

insights from third-parties and clients about our publisher

, click here.


Enjoy these 'blast from the past' comments.

MHProNews. MHProNews – previously a.k.a. MHMSM.com – has celebrated our 11th year of publishing and have completed over a dozen years of serving the industry as the runaway most-read trade media.
Sample Kudos over the years…
It is now 12+ years and counting…
Learn more about our evolutionary journey as the industry's leading trade media, at the report linked below.
· For expert manufactured housing business development or other professional services, click here.
· To sign up in seconds for our industry leading emailed headline news updates, click here.

Disclosure. MHProNews holds no positions in the stocks in this report.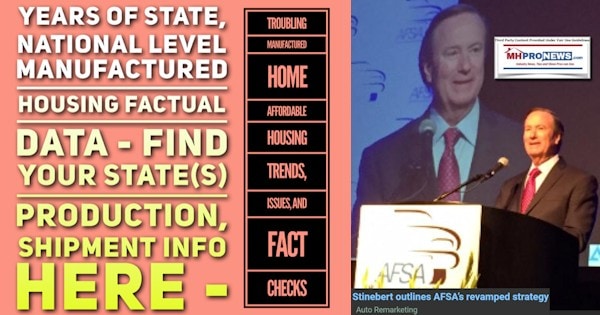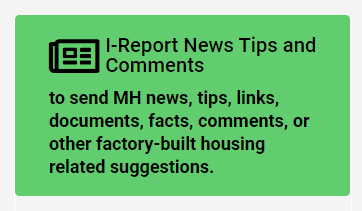 That's a wrap on this installment of "News Through the Lens of Manufactured Homes and Factory-Built Housing" © where "We Provide, You Decide." © (Affordable housing, manufactured homes, stock, investing, data, metrics, reports, fact-checks, analysis, and commentary. Third-party images or content are provided under fair use guidelines for media.) (See Related Reports, further below. Text/image boxes often are hot-linked to other reports that can be access by clicking on them.)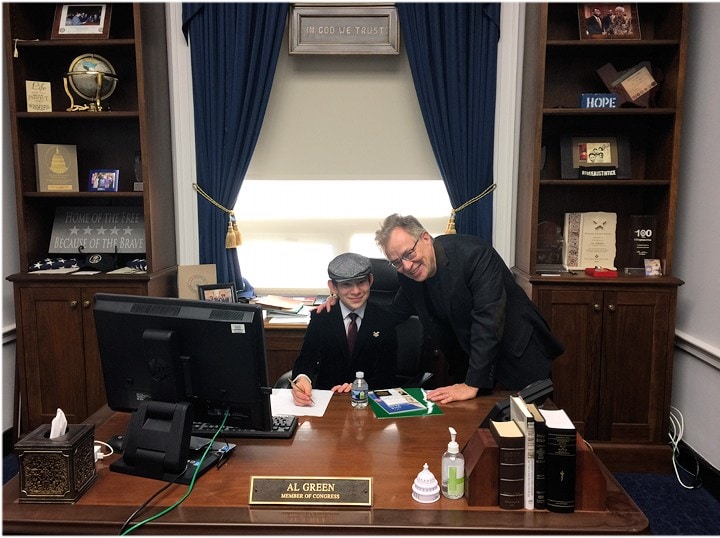 By L.A. "Tony" Kovach – for MHProNews.
Tony earned a journalism scholarship along with numerous awards in history. There have been several awards and honors and also recognition in manufactured housing. For example, he earned the prestigious Lottinville Award in history from the University of Oklahoma, where he studied history and business management. He's a managing member and co-founder of LifeStyle Factory Homes, LLC, the parent company to MHProNews, and MHLivingNews.com. This article reflects the LLC's and/or the writer's position and may or may not reflect the views of sponsors or supporters.