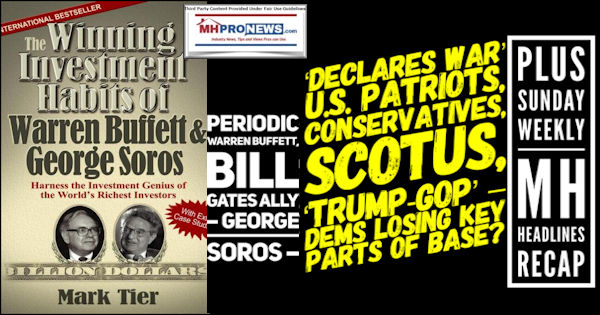 Establishment right-leaning Forbes previously tweeted about an article they posted which identified the top American billionaire philanthropists. The top 3 at that time, according to Forbes? Warren Buffett, Bill Gates, and George Soros. Fast-forward to Business Insider's report on 6.25.2022: "Some of America's most prominent billionaires have denounced the overturning of Roe v. Wade, as Warren Buffett reportedly sets in motion plans…" Their headline said: "Bill Gates and George Soros Among Billionaires Denouncing Roe Decision." That is the top result on 7.9.2022 at about 3:41 PM ET for a Google search of – george soros bill gates warren buffett (see search results further below). The number 2 result for that Google search is found on MHLivingNews at this link here. Then "Billionaires Bill Gates, George Soros Slam Supreme Court's Abortion Decision" said left-leaning Bloomberg on June 24.2022, that's the third result for that 3-name search on Google. Like Business Insider, Bloomberg said: "Abortion-rights causes could be about to receive a major boost from another prominent billionaire: Warren Buffett." Buffett has not hidden his support for abortion, as MHProNews has previously reported here, here, and here. For those queasy about business news mentioning the divisive topic of abortion, notice that Bloomberg, Business Insider, and numerous others in media across the left-right divide haven't hidden the topic from their readers. Agree or not, abortion is a 'wedge' issue long used by Democrats – and numbers of that party's billionaire backers, as this teaser reflects. That noted, the WND NewsCenter look at this is topic provided to MHProNews is shown below. "Everything is political" is a quotation uttered by several informed individuals, including Paul Krugman, and Kenneth Craycraft. A question this Democratic strategy to raises the profile of the abortion issue while inflation is the runaway #1 topic in America as the midterms approach is this. Are billionaires and Democratic leaders like Joe Biden prudent to make abortion a core campaign topic? Is their timing right when Hispanics, Blacks and others are worried about rising costs of food, fuel, and housing are among the groups reportedly moving increasingly toward the GOP as the November 8, 2022 midterms approach?
These are America's top philanthropic givers:

1. Warren Buffett
2. Bill & Melinda Gates
3. George Soros https://t.co/gexlraKzbB #Forbes400 pic.twitter.com/3LUia9yycX

— Forbes (@Forbes) October 5, 2016
More on such questions follow the WND report below, which will then provide some MHProNews analysis, commentary, and then the headlines for this Sunday weekly manufactured housing recap.
WND
George Soros declares war on Supreme Court, GOP
'Domestic enemies of democracy' pose greater threat than China, Russia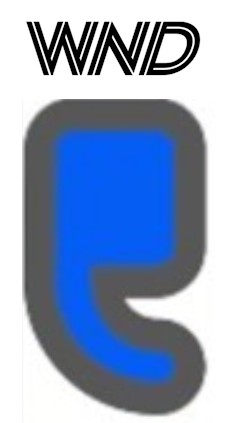 By Art Moore – Published July 6, 2022 at 7:16pm.
On Independence Day, billionaire activist George Soros effectively declared war on the United States Supreme Court and the Republican Party.
"The American public has been alarmed and aroused by the US Supreme Court's growing extremism," Soros wrote in a piece on his site Project Syndicate that was spotlighted by the Gateway Pundit.
"But voters need to recognize the Court's radical majority for what it is: part of a carefully laid plan to turn the US into a repressive regime."
Meanwhile, violent crime has risen substantially in major cities with progressive district attorneys whose campaigns were bankrolled by Soros. Among the DAs is Kim Foxx of Cook County, Illinois, which has recorded more murders in this year than any year since 1994.
In his opinion piece, Soros charged that "democracy is now gravely endangered" and asserted "the threat to the US from the domestic enemies of democracy is even greater" than the threat from foreign enemies such as China and Russia.
The "domestic enemies," he said, include a Supreme Court "dominated by far-right extremists, and Donald Trump's Republican Party, which placed those extremists on the Court."
Soros objected in particular to Justice Samuel Alito's majority opinion in the Mississippi abortion case that overturned the 1973 Roe v. Wade decision.
"There is only one way to rein in the Supreme Court: throw the Republican Party out of office in a landslide," Soros wrote.
He acknowledged it won't be easy to defeat "the radicalized Republicans," who have "stacked the Supreme Court and many lower courts with extremist judges."
"In states such as Florida, Georgia, and Texas, they have enacted a raft of laws that make voting very difficult," he said, referring to election integrity laws such a requiring voter ID.
He claimed the objective is not to make sure that every vote counts, but "disenfranchising African-Americans, other minorities, and young voters generally" in an effort to win elections.
"We must do everything we can," he wrote, "to prevent" the Republicans from retaking the majority in Congress this November. ##
The Sky News video montage that follows was not part of the WND report. It includes some closing observations from Glen Greenwald.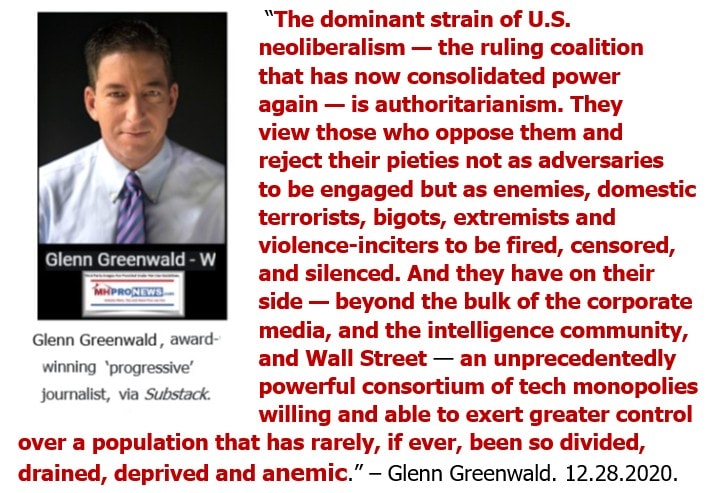 What the Soros, Gates, Buffett et al Announcements Reveal
Besides their obvious support for abortion, the remarks are another reminder of something MHProNews has reported for years. Namely, that many of the top U.S. billionaires routinely favor the Democratic Party. They may on occasion support this or that Republican, but their support for Democrats was noteworthy in the 2020 election cycle, as our reports on the Civic Alliance, other hedge funds, and the Buffett-Gates-Soros connection revealed.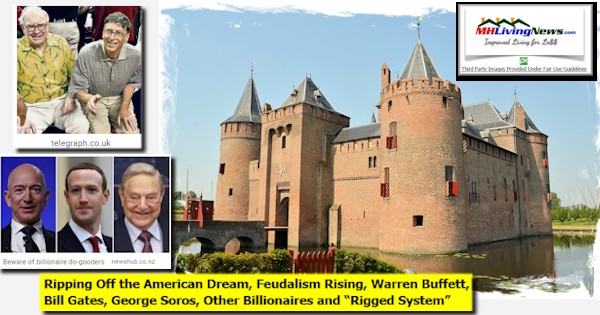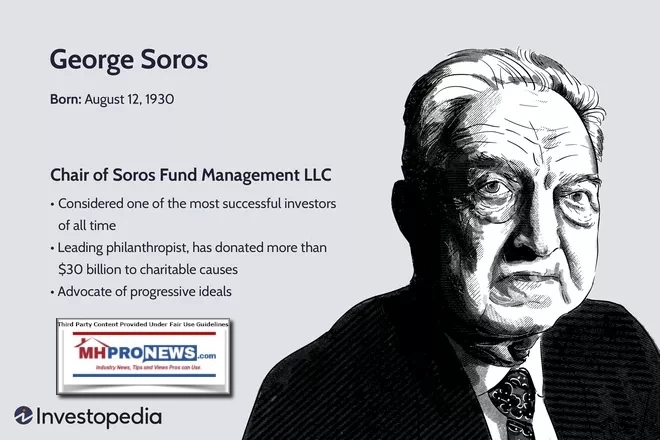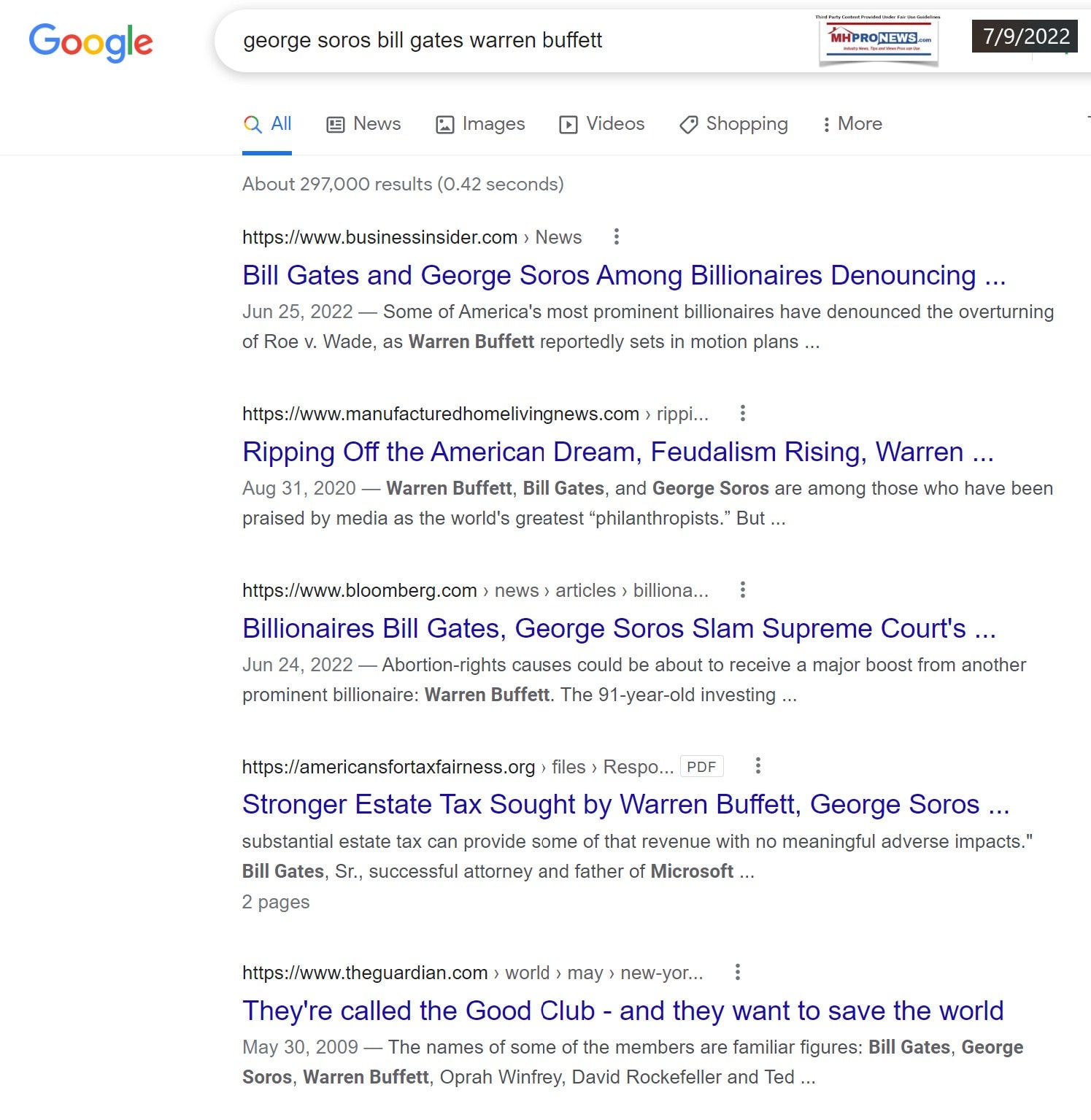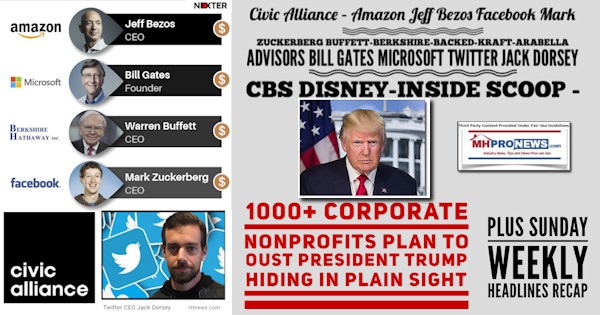 How these billionaires intersect has been a topic raised by longtime or lifelong Democrat backers, such as Greenwald, Robert F. Kennedy Jr., and Naomi Wolf to name but three previously covered by MHProNews.
Ex-Clinton Advisor Wolf Sounds "Totalitarian" Biden Alarm – State "Crushing" Businesses, Free Speech, Religion; Glen Greenwald Warns Democrats Seek Censoring Opposition Media, plus Manufactured Home Investing, Stock Updates
Only about a minute or so of the video above that opened with Tucker Carlson talking about 'the elites' becoming out of touch with the Democratic base, with the example of the special election in Texas that recently made Representative Mayra Nohemi Flores (TX-34-R) the first Mexican-born Hispanic in Congress. Flores captured a seat held by Democrats since the 1870s. The rest of that Sky News video explores the signals that mark Hispanic drift toward the GOP, before closing with Carlson and Greenwald discussing the direction of Democratic Party.  There are other examples that Democratic strategists quietly acknowledge, such as the increasing lock on Florida that Governor Ron DeSantis has. That's due in part, say analysts, to more Hispanics of all ages voting Republican.
But if Hispanics are slipping away from Democrats to Republicans, what about the Black vote? And what does this portend for the business-related policies that could be shifting soon in Washington, D.C.?
Don't miss today's postscript.
It is obvious that public policies impact the business climate. Those who ignore the intersection between politics and business do so at their own peril. Buffett, Gates, and Soros don't miss those ties. Rather, they utilize that intersection of business and politics in an effort to build their respective moats. So, by connecting those dots through reports like this one, MHProNews seeks to provide the most complete and balanced coverage of any manufactured housing trade media, period.
With no further adieu, let's pivot toward the headlines for the week that was from 7.3 to 7.10.2022.
What's New on MHLivingNews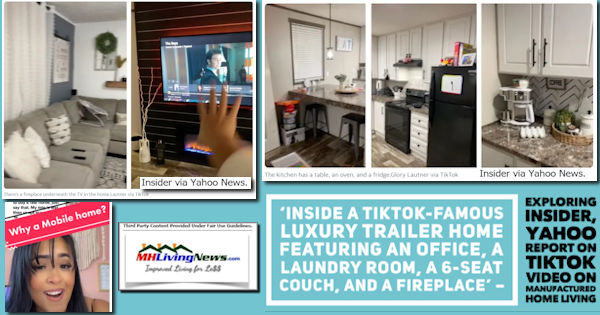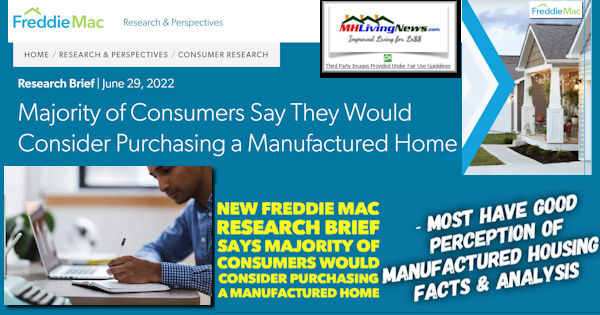 What's New from Washington, D.C. from MHARR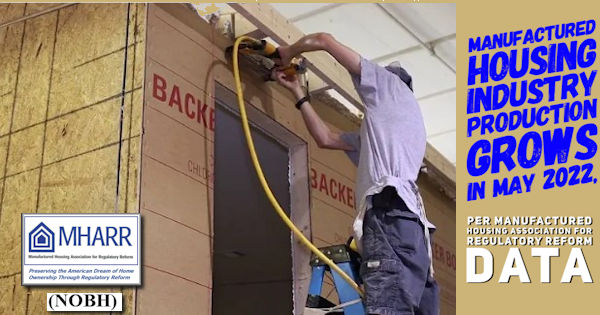 What's New on the Masthead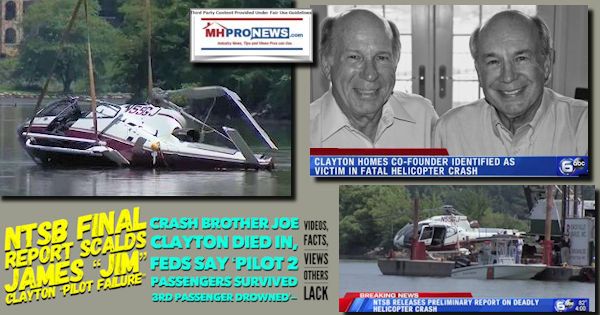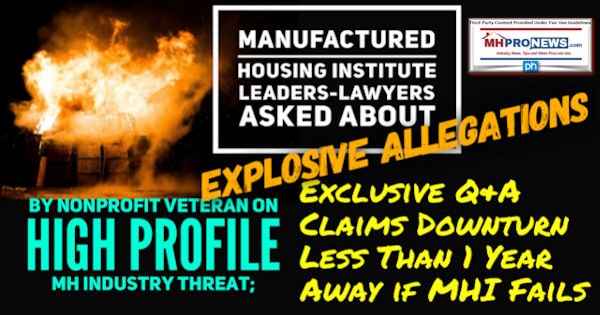 What's Recent from Tim Connor, CSP on the Words of Wisdom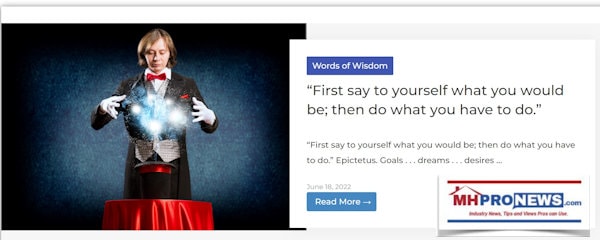 What's New on the Daily Business News on MHProNews
Saturday 7.9.2022
Plan for Citizens, Country to Achieve Prosperity-'Reinvigorating Economic Governance-Advancing New Framework for American Prosperity' by John F. Cogan, Kevin Warsh; plus MH Stock Market Updates
Friday 7.8.2022
Fear, Foibles, Fraud, Folly – Latest Theranos Fraud Conviction Holds Lessons for Manufactured Home Independents, Employees, Investors, Consumers; plus Manufactured Housing Stocks Update
Thursday 7.7.2022
Manufactured Housing Industry Production Grows in May 2022, per Manufactured Housing Association for Regulatory Reform (MHARR) Data, Disconnect on TRERC vs. Federal MH Data? Plus-MHStock Update
Wednesday 7.6.2022
'Quite Obvious U.S. Economy Slowing,' TRERC Research Economist Harold Hunt, Ph.D. Manufactured Housing Demand in #1 Texas Slips, Slowdown in 2nd Half of 2022 Expected; plus, MHStocks Updates
Tuesday 7.5.2022
'We're All Afraid' New York Times, Washington Post, Expose Manufactured Housing Again As Giant Firm Praises Manufactured Home Option– Manufactured Housing Institute (MHI) Link –Facts & Analysis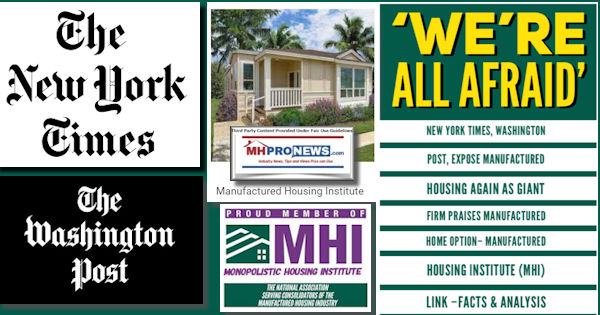 Monday 7.4.2022
Independence Day Medley, 4 Surprising Myths About Thomas Jefferson Dispelled by Chuck Norris, Hollis on LBJ's Complex Great Society Legacy, and Patriotic Music Videos
Sunday 7.3.2022
NAR or NAHB vs. Manufactured Housing Institute – Latest Housing Data Demonstrates, Say MHI Critics, Superior NAR-NAHB Reports to MHI's, w/MHARR Comparison; plus Sunday Weekly Headline Recap
Postscript
Right-leaning Breitbart reported on 7.7.2022 that: "75% of Black Americans Say Inflation is Very Important for 2022 Midterms." The often-edgy media outlet said: "It's going to be a Bidenflation election." If so, that's bad news for Soros, Buffett, Gates, and others that think that a pro-abortion strategy may be a key for their holding onto Congress during the upcoming midterm election.
Breitbart went on to say that: "Nearly two-thirds of Americans say inflation will be "very important" when deciding how to vote in the midterm election, the latest poll from YouGov and the Economist shows." It then noted:
"The poll, taken over the long Independence Day weekend, found 73 percent of Americans say inflation will be very important. Another 20 percent say it will be somewhat important."
"The figure rises to 75 percent for black Americans."
A special report on Black and other ethnic and demographic groups and manufactured housing is pending on MHProNews. It will tie together research from the left and right that reflects the growing concern for Democrats that Blacks are increasingly questioning if that party accurately reflects their values.
The trending shift under the PINO Biden regime away from Democrats and moving toward MAGA Republicans, often representing views more closely aligned with deposed President Donald J. Trump will be important to unpack politically and, on the business/investment levels.
But it will be equally important to look at these trends through the lens of opportunities to serve more minorities and other Americans who previously were not as engaged with manufactured housing as the report linked here indicates they are now.
MHProNews seeks out and finds the facts, evidence, historic, trends, and other data that can be useful for white-hat independents and affordable housing/manufactured home seekers alike. Stay tune to what individuals inside the Black community are saying about politics and how that may play out for manufactured housing.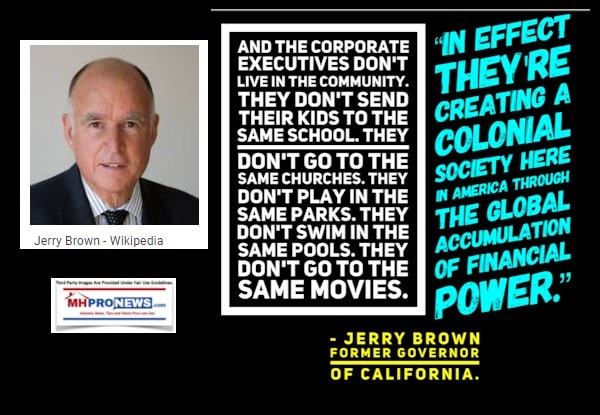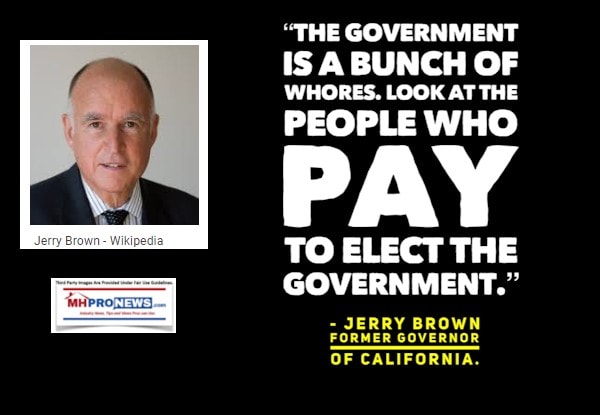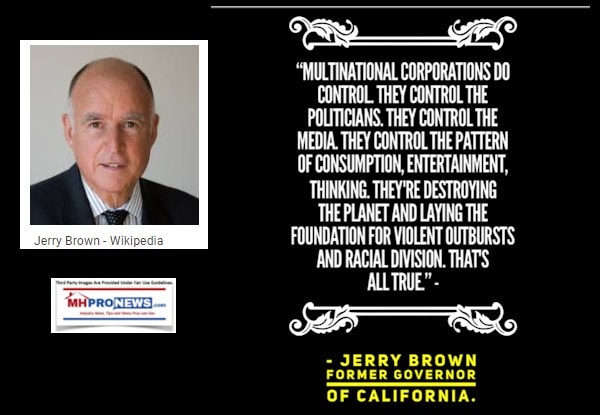 That's a wrap on this Sunday morning installment of "News through the lens of manufactured homes and factory-built housing" © where "We Provide, You Decide." ©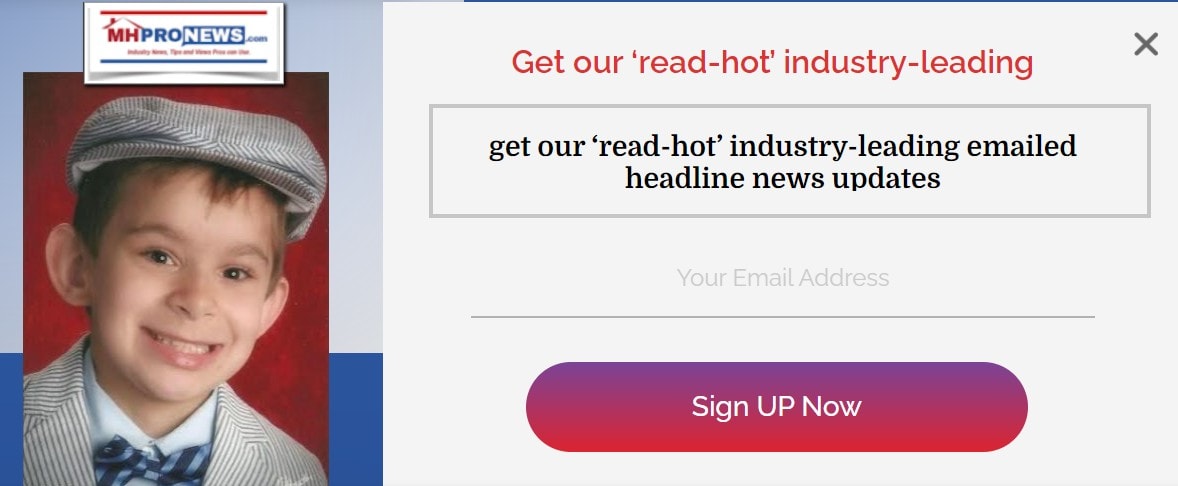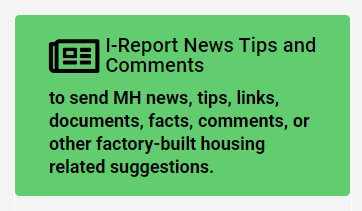 Again, our thanks to free email subscribers and all readers like you, our tipsters/sources, sponsors and God for making and keeping us the runaway number one source for authentic "News through the lens of manufactured homes and factory-built housing" © where "We Provide, You Decide." © ## (Affordable housing, manufactured homes, reports, fact-checks, analysis, and commentary. Third-party images or content are provided under fair use guidelines for media.) (See Related Reports, further below. Text/image boxes often are hot-linked to other reports that can be access by clicking on them.)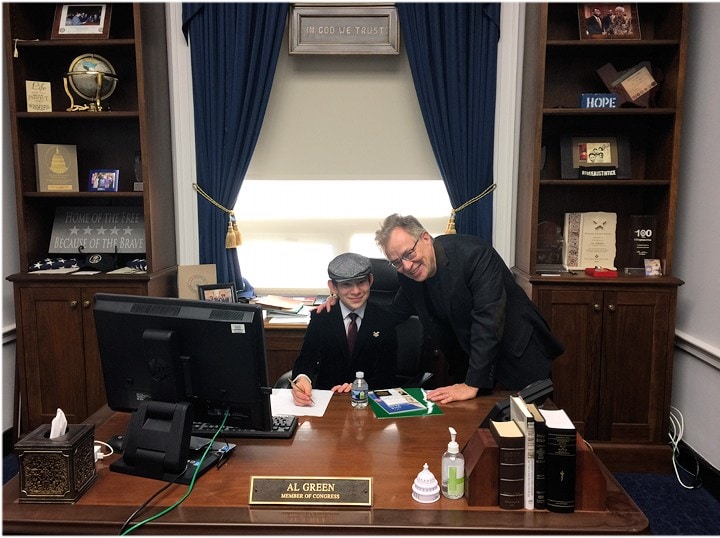 By L.A. "Tony" Kovach – for MHProNews.com.
Tony earned a journalism scholarship and earned numerous awards in history and in manufactured housing.
For example, he earned the prestigious Lottinville Award in history from the University of Oklahoma, where he studied history and business management. He's a managing member and co-founder of LifeStyle Factory Homes, LLC, the parent company to MHProNews, and MHLivingNews.com.
This article reflects the LLC's and/or the writer's position, and may or may not reflect the views of sponsors or supporters.
Connect on LinkedIn: http://www.linkedin.com/in/latonykovach
Related References:
The text/image boxes below are linked to other reports, which can be accessed by clicking on them.
The Calm Before the Next Manufactured Housing Industry Storm? New Facts and Viewpoints; plus Sunday Weekly MHVille Headlines Review 
Recent Mainstream Media Scandals in Manufactured Housing, New Medicinal Reports On Manufactured Housing Pending; Sunday Weekly Headlines in Review
Manufactured Housing Institute (MHI) Helped Raise Profile of DOE Energy Rule in Media, Homes on the Hill, But Critics Say MHI Strategy Won't Work – Examples; plus Sunday Weekly Headline Recap
'Show Me the Man, and I'll Show You the Crime' – Lavrentiy Beria, Lessons to Recapture American Rights, Reviving Affordable Manufactured Home Performance – Viewpoint; plus Sunday Headlines Recap
Manufactured Housing Institute (MHI) Outside Attorney David Goch's Statement to Angry, Threatening Member Speaks Volumes; plus Sunday Weekly MHVille Headlines in Review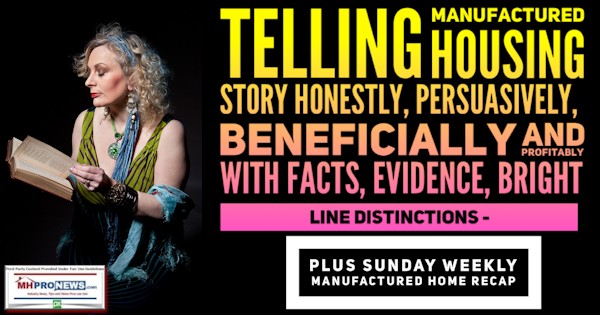 Biden White House Postures Support for More Manufactured Housing, But Biden Era DOE, Other Fed Moves Poised to Limit HUD Code Manufactured Home Sales; plus Sunday Weekly Headlines Review
Russian Disinformation? CNN and WND Report on "World Government Summit," Joe Biden Address to Business Roundtable on "the New World Order;" plus Sunday Weekly Headlines Review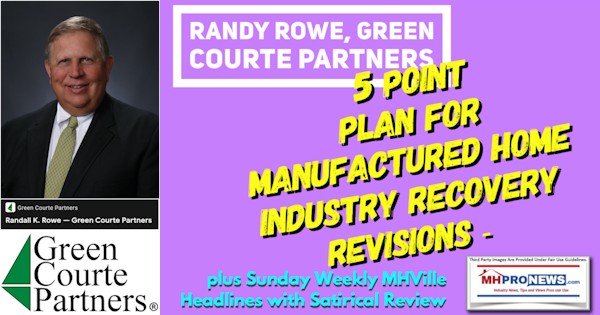 Tobias Peter – American Enterprise Institute Housing Center – Insights on Concerns Over Housing Bubble and Related New Data; plus Sunday Weekly Headlines Review