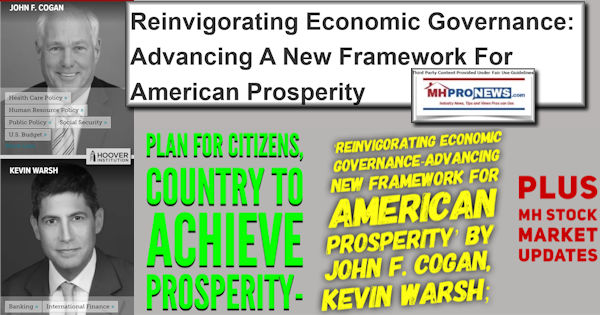 A sine qua non is defined as an essential condition; a thing that is absolutely necessary and John F. Cogan, Kevin Warsh assert their plan "Reinvigorating Economic Governance" is such an absolute necessity. With public opinion surveys reflecting the notion that millions of Americans are losing faith not only in Democrats – who are currently in charge of Washington, D.C. – but in 'the system,' it is certainly an appropriate time to consider what is foundational and essential for personal and national prosperity. Trump Administration economic adviser Stephen Moore said on Newsmax on 6.30.2022 that we are 'already in a recession.' He says it is currently a 'soft' recession, but that could change and get worse. Moore also said that the Russian ruble is currently the strongest currency in the world, due in part to their oil export power. That's an economic policy decision that the so-called Biden White House surrendered for the U.S. on day one via an executive order that cancelled the Keystone Pipeline and began to roll back Trump-era pro-domestic energy policies. By the way, left-leaning CBS News said two days ago that "The ruble has jumped 45% against the dollar since January," and that "Russia's ruble is the strongest currency in the world this year." Left-leaning CBNC said on 6.23.2022 that: "Russia's ruble hit its strongest level in 7 years despite massive sanctions." Thus Moore's statements were not merely right-leaning talking points. Rather, Moore's assertions are based in economic realities that objective voices on either side of the left-right political or media aisle can buttress via evidence. It is with that brief backdrop that the Hoover Institution essay on recharging economic governance could be of interest to thoughtful professionals, investors, and others who are looking to the future.
A Hoover Institution Essay
Reinvigorating Economic Governance:
Advancing A New Framework For American Prosperity
By John F. Cogan and Kevin Warsh
"If old truths are to retain their hold on men's minds, they must be restated in the language
and concepts of successive generations." —Friedrich Hayek (1960)
The American economy is among the most powerful forces for good in the history of humankind. The nation's economic engine has driven living standards to heights unimaginable at the nation's founding. Steadily advancing prosperity—bolstered by bursts of scientific and technological discovery—has expanded productivity and greatly improved the quality and duration of life.
The duty of this generation is to ensure that the American economy sustains its strength. And the purpose of this essay is to outline an economic governance framework, based on our nation's foundational principle of natural liberty, to meet the challenges of our day.
In the twentieth century, America's military played the decisive role in defeating the major global threats to liberty—the Central powers in World War I and the Axis powers in World War II. America's economic and military strength largely checked the advances of the United States' cold war adversary, the Soviet Union, which ultimately collapsed under the weight of a failed ideology.
America's story, however, is neither linear nor assured.1 Too often, economic policy discourages work and investment, exacerbates inequality of opportunity, and stifles economic growth. And in the realm of national security, major armed conflicts in Korea, Vietnam, Iraq, and Afghanistan ended without clear American victories.
Nevertheless, for most of American history, each generation of citizens enjoyed a higher standard of living, a safer, cleaner environment, and a stronger, more secure place in the world. Today, however, America faces a formidable set of detractors with a seemingly forbidding set of questions.
Is personal freedom not suitable to the challenges of our time? Is economic liberty no longer resonant to a broad range of citizens, including policy makers? Is the United States unwilling, unable, or unworthy to champion sound principles of economics to other nations? Is the ascendant intellectual Left in the United States offering a superior policy mix? Is the ascendant East offering a superior alternative to that of the West? Is the failure to convey the principle of economic liberty simply a matter of parlance or persuasion or personage? Or is it something more profound?
Major pillars of US society—government, business, other private organizations—are failing to deliver on realistic expectations of the citizenry. Americans are losing faith in institutions of all sorts, making our common creed harder to sustain and economic progress more difficult to achieve.2 We are, as described by our late colleague George Shultz, at a "hinge point" in history.3
Three major shocks of the twenty-first century—the September 11 terrorist attacks, the 2008 global "financial crisis, and the 2020 pandemic and lockdown—exacerbated existing trends and undermined the American ethos. In each crisis, government policies that were once unthinkable became inevitable, owing ostensibly to the exigencies of the circumstance. The size and scope of government—and the rationale thereto—expanded mightily.
Today, individuals and businesses find themselves subject to more intrusive government edicts, a national debt that exceeds national income, less security, less liberty, and less assured prosperity.4
The growth of government encourages businesses, unions, and other interest groups to look increasingly to the state for favors, subsidies, and bailouts. Rent seeking weakens competition, stifles progress, and undermines faith in our political and economic institutions.5
Internationally, threats to freedom by authoritarian-imperialists are not some relic of the past. The postwar global balance of power is threatened on many fronts: Russia's overt actions to eradicate an independent Ukraine, Iran-backed terror attacks throughout the Middle East, and China's "wolf-warrior" activities in Asia. The vaunted "rules-based global international order" is not self-enforcing. Strong economic governance—and credible military might—underwrite liberty.
America is no longer the single hegemon. In China, the United States is confronting a powerful new rival: a strong and confrontational regime with massive economic resources and grand geopolitical ambitions. The Chinese leadership appears eager to engage in a great power struggle, ideological and otherwise. President Xi's own remarks to the Communist Party Central Committee in 2013 make clear China's goals for its place in the world:
There are people who believe that communism is an unattainable hope. . . . Facts have repeatedly told us that Marx and Engels' analysis of the basic contradictions in capitalist society are not outdated. . . . The eventual demise of capitalism and the ultimate victory of socialism will require a long historical process to reach completion.6
Doubts abound—among allies and adversaries alike—whether American governance is equal to the task. China's leaders believe that America has entered a period of late-stage capitalism that, as Lenin predicted, will ultimately augur a socialistic revolution. The sentiment is not found exclusively among socialists. In 1942 Joseph Schumpeter expressed skepticism that an American-style free-market economy—including one that places value on hard work and strong ethics—could be sustained amid prosperity.7 In his telling, capitalism's fruits invariably lead to its undoing.8
We strongly disagree.
America's foundational principles are well suited to overcome the nation's most pressing challenges. Our nation's past accomplishments are, of course, no guarantee of future prosperity. The past playbook is an imperfect guide, but it's a guide nonetheless. The country's tradition, culture, and history are key elements in the task of charting a stronger path for the twenty-first century.
In this essay, we proffer an economic governance framework that be"ts the country's new challenges. We seek to identify, synthesize, and explain the essential features of a robust economic governance regime. We employ a triptych as a means of organizing the framework's central elements. We judge that ideas, individuals, and institutions are the sine qua non of American prosperity. A sound economic governance framework liberates the individual, encourages the promulgation of new ideas, and ensures the proper functioning of institutions. … ##
For the balance of their thoughtful essay published by the Hoover Institution, see the link here or the complete download linked here.
MHProNews Programming/Format NOTICE: To set the stage for our time-saving and insightful left-right headline recap on the Daily Business News on MHProNews.  First a mainstream media report, then what this may mean for MHProNews' daily headline recap.
The New York Post and others in media reported on 7.6.2022 that "CNN's corporate boss David Zaslav wants network for 'Republicans, Democrats' as ratings sink." That report said, "Warner Bros. Discovery CEO David Zaslav said CNN is renewing its focus on "journalism" — signaling he wants the scandal-scarred, left-leaning network to eventually deliver straight news that also appeals to conservatives." ""Journalism first. America needs a news network where everybody can come and be heard; Republicans, Democrats," Zaslav said. "I think you're seeing more of that at CNN. We're not going to look at the ratings and, in the long run, it's going to be worth more."
Under Licht, CNN has dialed back using the "breaking news" banner on its reports in order to shift away from opinion-based programming. But one well-placed source told The Post that the ratings have taken a hit due in part to removing such "sensational" and "delicious" details that have become commonplace in cable news.
"The problem is we are not a neutral country," the source said. "The ratings are getting worse because they are taking out all the bells and whistles. CNN's ratings are as bad as local news ratings."
"New management is not freaking out but everyone else at CNN is," the source added. "They want to fix the shows first, but they don't realize the shows and ratings are connected."…##
MHProNews Analysis in Brief on the CNN Announcement for Programming Purposes: For years, MHProNews presented CNN as the left-leaning news media for this business daily report and also Fox for the right-leaning news for balance. In the wake of the 2020 election cycle, when Fox management and reports made it clear that they were shifting toward more 'Democratic' friendly news reports, MHProNews pivoted away from Fox and supplied headlines from Newsmax instead. The goal was to keep the headline sources as representative of a balance as possible in this format.
Now that CNN is essentially admitting that they have been more Democratic-friendly for years, if their headline news does shift more toward the right or Republican side of the ledger, then MHProNews will likely replace CNN as our headline source and replace it with say more reliably left-leaning MSNBC.
The purpose would be applying the same principle as with the Fox to Newsmax shift. This Daily Business News on MHProNews service is useful for several reasons, including, but not limited to, the point that getting information from both left and right has value.  The point here is that MHProNews will monitor CNN's content. We may at some point shift if the network's website platform content indeed shifts significantly more to the right. Part of our goal here is to continue to provide both left and right leaning examples of headline news.
This is an ongoing part of our unique and longstanding principle of "We Provide, You Decide" © formula. We aim to continue to reflect reality, as well as the reality of what the left and right wings of the mainstream media are each saying.
Stay tuned for more as circumstances dictate.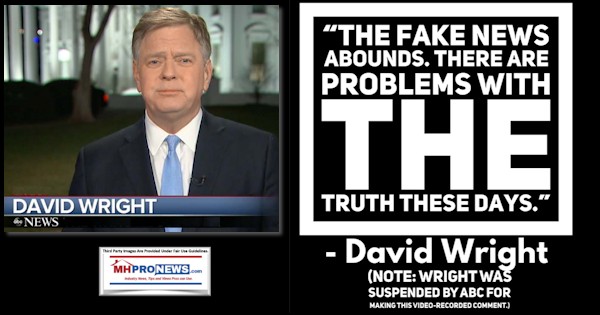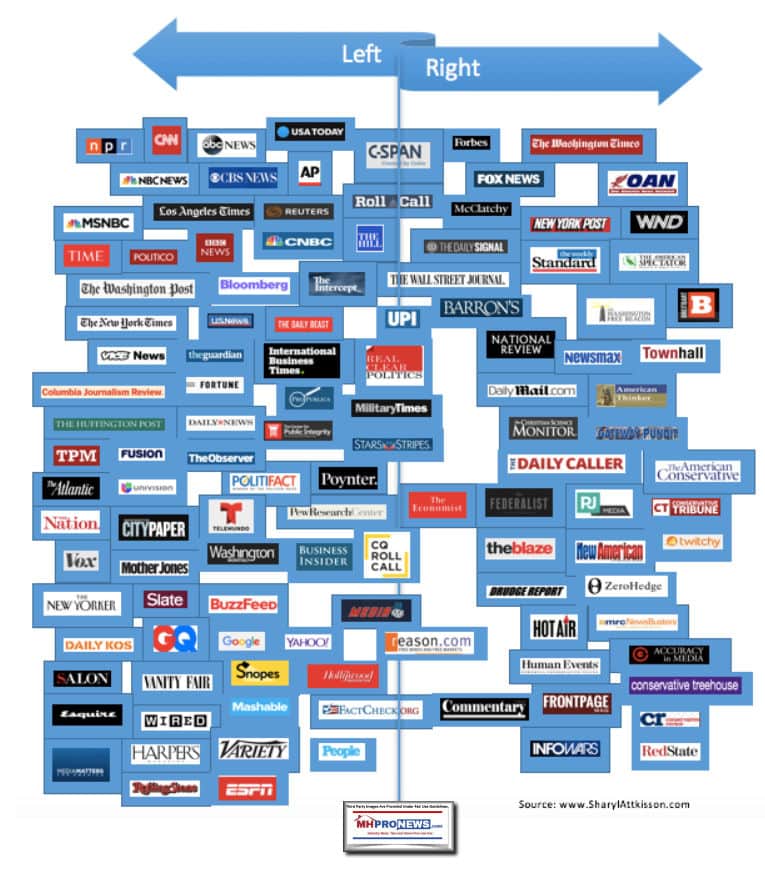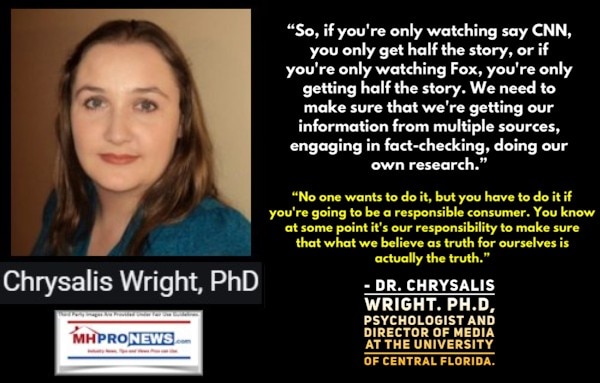 Next up is our daily business news recap of yesterday evening's market report, related left-right headlines, and manufactured housing connected equities.
The Business Daily Manufactured Home Industry Connected Stock Market Updates.  Plus, Market Moving Left leaning CNN and Right-leaning (Newsmax) Headlines Snapshot. While the layout of this daily business report has been evolving over time, several elements of the basic concepts used previously are still the same. For instance. The headlines that follow below can be reviewed at a glance to save time while providing insights across the left-right media divide. Additionally, those headlines often provide clues as to possible 'market-moving' news items.
Market Indicator Closing Summaries – Yahoo Finance Closing Tickers on MHProNews…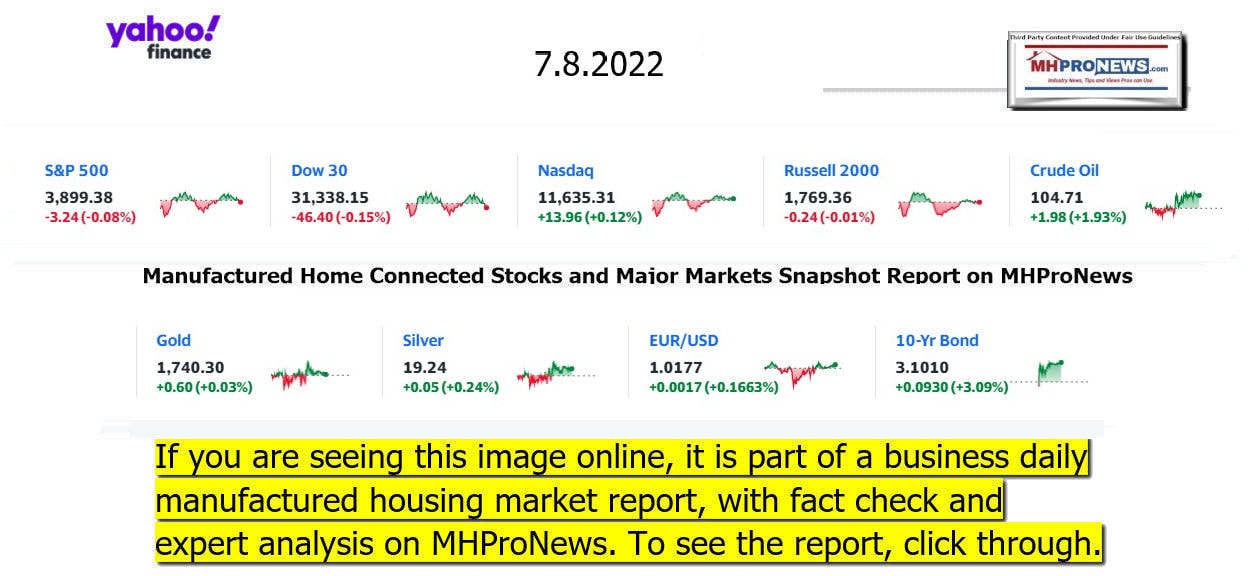 Headlines from left-of-center CNN Business – from the evening of 7.8.2022
Power shift
BEIJING, CHINA – JULY 24: People wear protective masks as they watch a movie in 3D at a theatre on the first day they were permitted to open on July 24, 2020 in Beijing, China. Cinemas in China's capital city re-opened after being closed for six months due to the COVID-19 pandemic on Friday. Under strict local health regulations cinemas are now allowed to sell tickets at 30 percent capacity, must adhere to social distancing measures, and all moviegoers must undergo a temperature check and show their local health code app in order to enter.
Hollywood won't budge for Chinese censors anymore. Here's what changed
US will plunge into recession — but it didn't have to, former IMF chief economist says
Why inflation isn't always bad for the stock market
The economy added 372,000 jobs in June, outpacing expectations
You're much more likely to buy an EV if you've ever had a ride in one
Germany's biggest landlord turns down the heat as Russian gas shortage bites
Twitter is laying off a third of its talent acquisition team
GameStop fires its CFO and looks to cut staff
What really did Boris Johnson in
Period-tracking apps are trying to make women feel safer about their data after the end of Roe v. Wade
China says India risks scaring away investors with raids on its companies
Lab-grown 'supertrees' might help solve the climate crisis
'Thor: Love and Thunder' hopes to jolt a rebounding theater industry
Gen Z isn't that into dining out. Here's how restaurants are chasing them
WWE's Vince McMahon paid $12 million in hush money to multiple women, report says
Customers wait in line to order below signage for the Costco Kirkland Signature $1.50 hot dog and soda combo, which has maintained the same price since 1985 despite consumer price increases and inflation, at the food court outside a Costco Wholesale Corp. store on June 14, 2022 in Hawthorne, California.
Why Costco's $1.50 hot dog combo and 99-cent Arizona iced tea still cost the same
Former Japanese Prime Minister Shinzo Abe speaks for supporting his party member of the House of Councillors Election in Sendai , Miyagi Prefecture on July 5, 2022. 67-year-old Abe has reportedly been shot in the chest during a stumping tour in Nara in the morning on July 8.
Former Japanese PM Shinzo Abe shot dead
INVESTING
Eric Olson, Vice President of the Cystic Fibrosis Franchise at Vertex Pharmaceuticals, holds 2 Kalydeco pills in his office in Cambridge, Mass. on Wednesday, Feb. 8, 2012.
Healthcare stocks may keep your portfolio from needing a checkup
Is the worst over for markets? No one can say
How common are Ponzi schemes in crypto?
GameStop shares are about to get much cheaper
Tesla posts rare drop in sales in second quarter
BOX OFFICE
Top Gun Maverick Jacket split
Jake Tapper identifies key change in 'Top Gun' movie that could anger China
'Stranger Things' is ending, but a spinoff is in the works
Why Netflix split up this season of 'Stranger Things'
How Redbox became a Wall Street darling once again
Squirrel from 'Ice Age' movies finally gets his acorn
Headlines from right-of-center Newsmax 7.8.2022
Rep. Comer to Newsmax: GOP Will Get Hunter Biden Reports 'One Way or the Other'
Hunter Biden, son of President Joe Biden, leaves after the award ceremony of the Presidential Medals of Freedom to seventeen recipients in the East Room at the White House in Washington on Thursday.
James Comer vowed on Newsmax on Friday that "one way or the other," Republicans on the House Oversight Committee will get information from Treasury Secretary Janet Yellen about Hunter Biden's foreign dealings. [Full Story]
Russian Invasion of Ukraine
G-20 Diplomats Fail on Unity Over Ukraine, War's Impact
Attorney: Russian Soldiers Detained for Refusing to Fight in Ukraine
Ukrainian Official Warns of 'Catastrophe' in Captured City
Putin Advises Ukraine to Submit, Says Russian Military Ready for Assault on Kyiv
Putin to Ukraine: Russia Has Barely Started Its Action
UN: War Taking Environmental Toll on Ukraine
Graham, Blumenthal Meet With Zelenskyy in War-Torn Kyiv
Zelenskyy Says Western Weapons Making a Difference

Newsmax TV
Norman: Biden Lying About Supreme Court on Abortion | video
Border Patrol Council Chief: Abbott's Order on Immigrants Needed | video
Comer: Will Get Hunter Reports 'One Way or the Other' | video
Y. Candidate Paladino: State's New Gun Law 'Misses the Point' | video
Flores: NY Times Calls Faith, Family Values 'Far-Right' | video
Ric Grenell: EU Definition of Green Energy Entirely Political | video
Kristi Noem: Those Who 'Control Our Food … Will Control Us' | video

Newsfront
Abe Death Stuns Globe in Light of Japan Gun Laws
The assassination of former Prime Minister Shinzo Abe in broad daylight Friday shocked a world that has come to associate Japan with relatively low crime and strict gun control.Japan's longest-serving prime minister, Abe was shot in the back while campaigning in the city of…… [Full Story]
Related Stories
Shinzo Abe's Suspected Killer Spotted Behind Him Before Shooting
Trump Mourns Death of 'True Friend' Prime Minister Abe
Biden 'Deeply Disappointed' by Gun Ruling
Facebook, Twitter Remove Abe Assassination Videos
Japan Ex-leader Shinzo Abe Assassinated While Giving Speech
Police Seize Homemade Guns From Home of Abe Shooting Suspect
Ruling Clears Louisiana to Enforce Near-Total Abortion Ban
Louisiana can now enforce its ban on almost all abortions under a [Full Story]
ACLU Challenges Arizona's Fetal Personhood Provision
The ACLU's challenge of an Arizona law that would grant a fetus [Full Story]
Next Recession Is Coming, Likely Worse Than 2008
The United States has experienced at least 34 recessions since 1857, [Full Story] | Platinum Article
Report: Horse-Mounted Border Patrol Agents Did Not Strike Del Rio Migrants
The U.S. Customs and Border Protection's Office of Professional [Full Story]
White House: Johnson Resignation Won't Affect US-UK Alliance
White House press secretary Karine Jean-Pierre told reporters that [Full Story]
Biden Jabs at Trump Over Jobs Numbers
President Joe Biden jabbed at former President Donald Trump while [Full Story]
Thousands of Prominent Spaniards in Fake Vaccination Card Scandal
Thousands of high-profile Spanish athletes, businesspeople, and [Full Story] | Platinum Article
Uvalde Mayor: Police Didn't Get Early Chance to End Massacre
The mayor of Uvalde on Friday disputed a new report that alleges [Full Story]
Arizona to Ban Recording Police Officials Within 8 Feet
Outgoing Arizona Gov. Doug Ducey, a Republican, signed a bill [Full Story]
Police Seize Homemade Guns from Home of Abe Shooting Suspect
Japanese police seized multiple homemade handguns from the home of [Full Story]
Poll: Nearly 90% of Americans Anxious About Inflation
Nearly all Americans are worried about inflation as economic worries [Full Story]
Lawsuit Accuses Florida of Stiffing Company for COVID-19 Test Kits
A new lawsuit claims Florida's Division of Emergency Management never [Full Story]
Video Report: DeSantis Heads to Utah for Private Fundraiser
On Friday's "Wake Up America," Leonardo Feldman reports on Florida [Full Story] | video
Biden Signs Order on Abortion Access
President Joe Biden signed an executive order Friday to protect [Full Story]
Report: Biden WH Rejected Public Health Emergency to Protect Abortion Access
Biden administration officials considered declaring a public health [Full Story]
Video Report: 'Outrageous' Political Ads Spark Debate
Recent political ads have sparked debate over whether they have gone [Full Story] | video
Ford Issues New Fire Risk Recall, Expands Earlier Call Back
Ford Motor Co. said Friday it issuing a new recall for 100,000 U.S. [Full Story]
Georgia's Abrams Raises $22M in 2 Months, Far Outpacing Kemp
Stacey Abrams fundraising continues to accelerate, swamping [Full Story]
Poll: Just Quarter of Gun Owners Trust Government to Protect Their Interests
Despite potential overall support for moderate gun-control measures, [Full Story]
Japan Ex-leader Shinzo Abe Assassinated While Giving Speech
Former Japanese Prime Minister Shinzo Abe, one of his nation's most [Full Story]
Inflation, Expenses Rise Sharply as Priorities: AP-NORC Poll
Concerns about inflation and personal finances have surged while [Full Story]
Kavanaugh Harassed by Pro-abortion Protesters at Restaurant
Supreme Court Justice Brett Kavanaugh had to leave by a back door at [Full Story]
Shinzo Abe's Suspected Killer Spotted Behind Him Before Shooting
Photos appear to show the suspected killer of former Japanese Prime [Full Story]
Gun Applicants in NY Will Have to Hand Over Social Accounts
As missed warning signs pile up in investigations of mass killings, [Full Story]
Related
N.Y. Candidate Paladino to Newsmax: State's New Gun Law 'Misses the Point' |video
Biden Admin Proposes Charges Against Border Agents Accused in Migrant 'Whipping'
Charges against Border Patrol agents accused of "whipping" migrants [Full Story]
Report: 1M Background Checks Not Completed on Time for Those Seeking to Buy Guns
Over a million federal background checks on those seeking to buy a [Full Story]
Trump Mourns Death of 'True Friend' Prime Minister Abe
Former President Donald Trump early Friday mourned the death of [Full Story]
G-20 Diplomats Fail on Unity Over Ukraine, War's Impact
Deeply divided top diplomats from the world's richest and largest [Full Story]
US May Curtail Exports for China's Top Chipmaker, SMIC
The Biden administration is considering new, targeted restrictions on [Full Story]
Arizona AG Wants Gov. Ducey to Declare Migrant Surge an 'Invasion'
Arizona Attorney General Mark Brnovich wants Gov. Doug Ducey to [Full Story]
Finance
US House Panel to Investigate Companies Sharing Reproductive Data
A U.S. congressional committee has asked data brokers and personal health apps to tell how they handle users' reproductive health data amid concerns states will use the information to track patients seeking abortion where it is illegal…. [Full Story]
US May Ban Airline Child Seating Fees
Google Offers Concessions to Avoid US Antitrust Lawsuit
Lauren Fix, The Car Coach: US Oil Reserves Sent Overseas
Elon Musk to 'Significantly' Increase Childcare Benefits at His Firms
More Finance
Health
New Research Finds Feeling 'Hangry' is a Real Phenomenon
The concept of "hangry" helps sell candy bars, and it's a convenient excuse to snap at someone when you're in a foul mood. But is hangry — being angry when you're hungry — a real thing? Do people really become more irritable when they want food? "My wife sometimes used to…… [Full Story]
Be Aware of These 4 Warning Signs of Melanoma
7 Foods Naturally High in Melatonin
The Most Common Symptoms of the Newest COVID Variants
Childhood Abuse Linked to Poor Physical, Mental Health in Later Years
MHProNews has pioneered in our profession several reporting elements that keep our regular and attentive readers as arguably the best informed in the manufactured housing industry. Among the items shared after 'every business day' (when markets are open) is our left-right headline recap summary. At a glance in two to three minutes, key 'market moving' news items are covered from left-of-center CNN Business and right-of-center Newsmax. "We Provide, You Decide." © Additionally, MHProNews provides expert commentary and analysis on the issues that others can't or won't cover that help explain why manufactured housing has been underperforming during the Berkshire era while an affordable housing crisis and hundreds of thousands of homeless in America rages on. These are "Industry News, Tips, and Views Pros Can Use" © features and others made and kept us the runaway #1 in manufactured housing trade publisher for a dozen years and counting.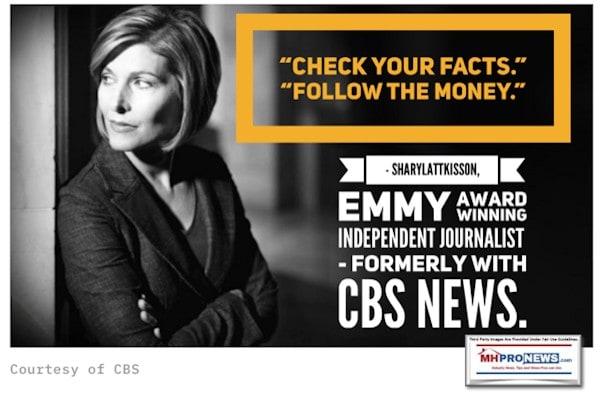 Manufactured Housing Industry Investments Connected Equities Closing Tickers
Some of these firms invest in manufactured housing, or are otherwise connected, but may do other forms of investing or business activities too.
NOTE: The chart below includes the Canadian stock, ECN, which purchased Triad Financial Services, a manufactured home industry lender
NOTE: Drew changed its name and trading symbol at the end of 2016 to Lippert (LCII).
NOTE: Deer Valley was largely taken private, say company insiders in a message to MHProNews on 12.15.2020, but there are still some outstanding shares of  the stock from the days when it was a publicly traded firm.  Thus, there is still periodic activity on DVLY.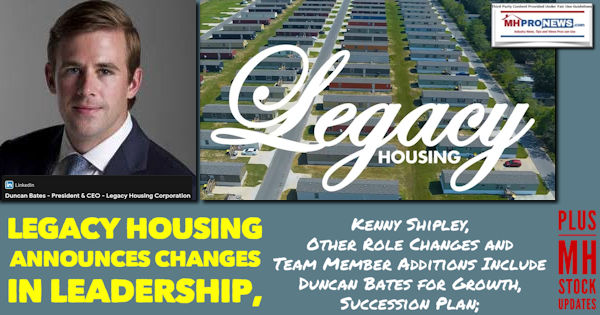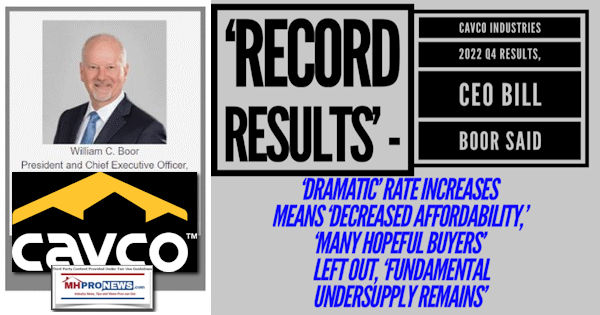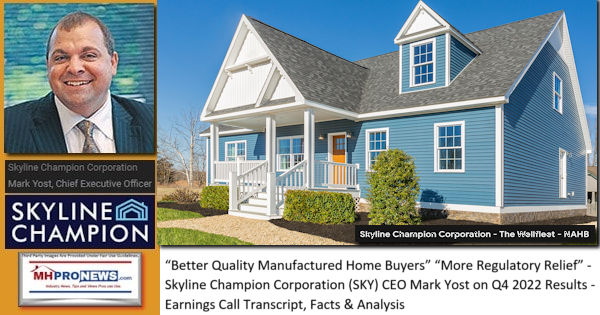 Manufactured Home Communities (a.k.a. 'Mobile Home Parks' – SIC) – Exploring UMH Properties; Fellow Manufactured Housing Institute Member Yes! Communities Suits and Settlements; plus MH Markets Updates
'Announcing!' 'Manufactured Community Owners' Association of America' 'Finally Bringing Fight To Manufactured Home Community Sector of the Industry' – plus Sunday Weekly Manufactured Housing Headlines Review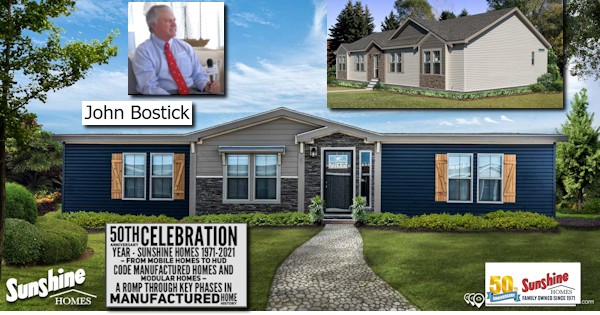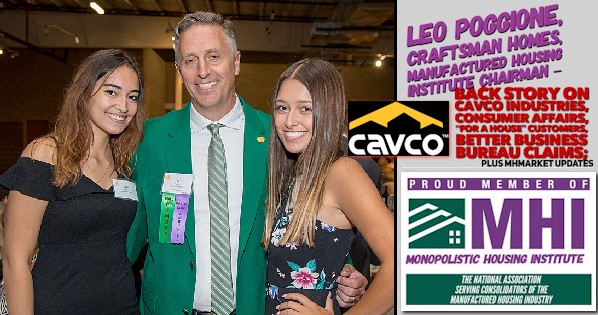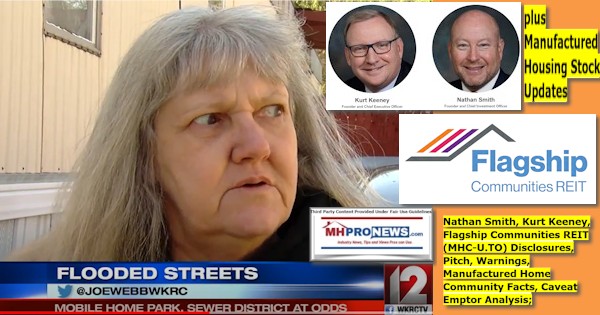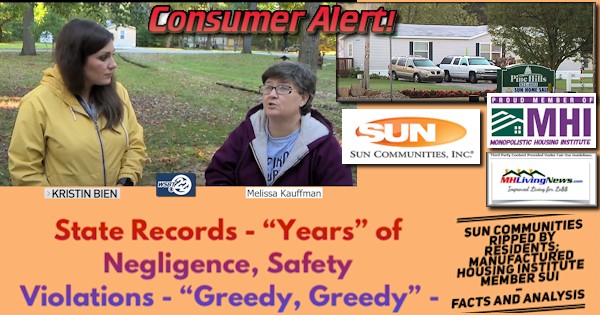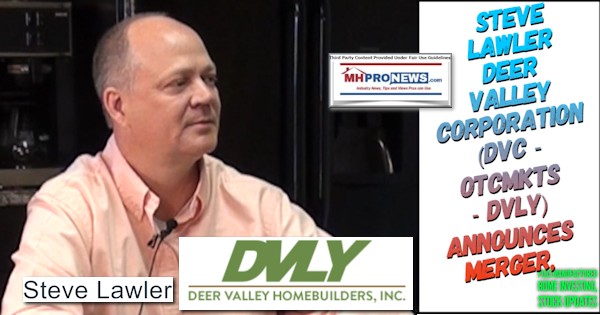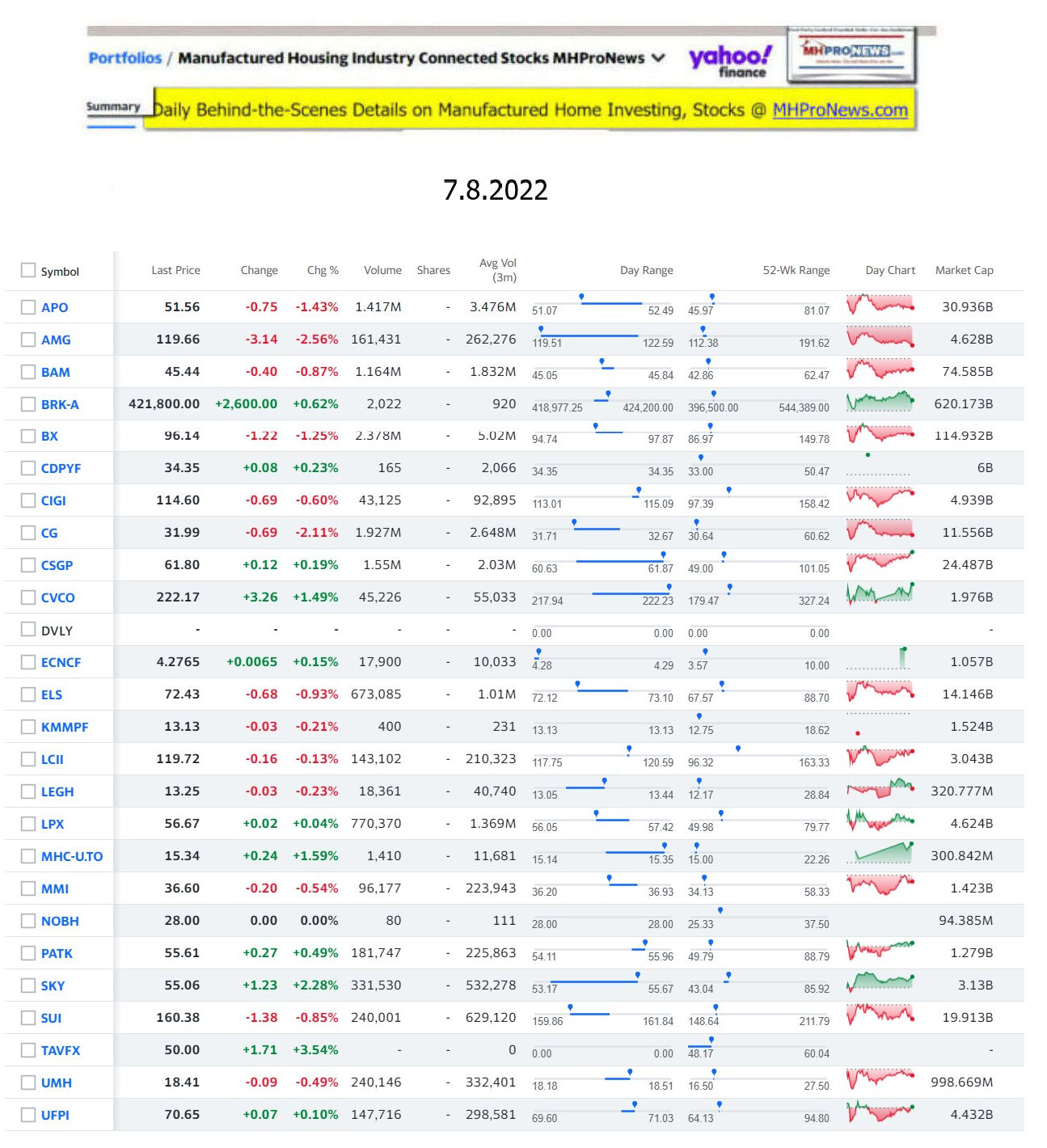 2022

…

Berkshire Hathaway is the parent company to Clayton Homes, 21st Mortgage, Vanderbilt Mortgage and other factory-built housing industry suppliers.


·

LCI Industries, Patrick, UFPI, and LP each are suppliers to the manufactured housing industry, among others.




·

AMG, CG, and TAVFX have investments in manufactured housing related businesses.

For

insights from third-parties and clients about our publisher

, click here.


Enjoy these 'blast from the past' comments.

MHProNews. MHProNews – previously a.k.a. MHMSM.com – has celebrated our 11th year of publishing and have completed over a dozen years of serving the industry as the runaway most-read trade media.
Sample Kudos over the years…
It is now 12+ years and counting…
Learn more about our evolutionary journey as the industry's leading trade media, at the report linked below.
· For expert manufactured housing business development or other professional services, click here.
· To sign up in seconds for our industry leading emailed headline news updates, click here.

Disclosure. MHProNews holds no positions in the stocks in this report.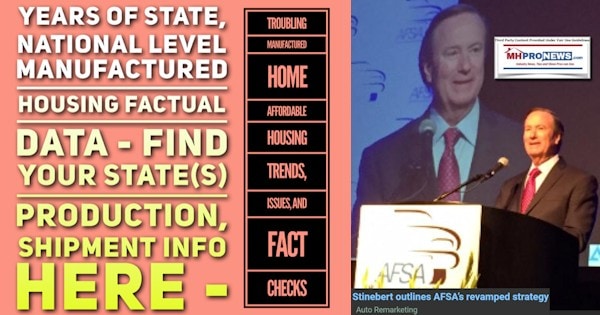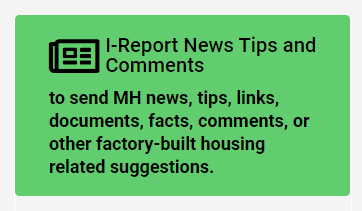 That's a wrap on this installment of "News Through the Lens of Manufactured Homes and Factory-Built Housing" © where "We Provide, You Decide." © (Affordable housing, manufactured homes, stock, investing, data, metrics, reports, fact-checks, analysis, and commentary. Third-party images or content are provided under fair use guidelines for media.) (See Related Reports, further below. Text/image boxes often are hot-linked to other reports that can be access by clicking on them.)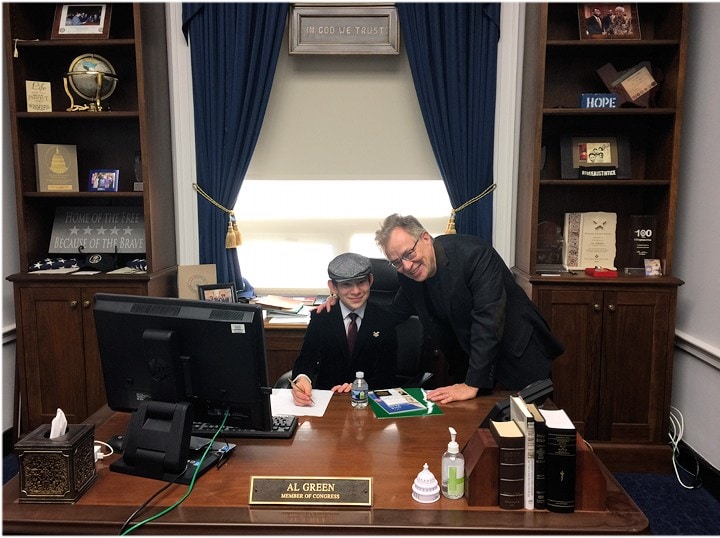 By L.A. "Tony" Kovach – for MHProNews.
Tony earned a journalism scholarship along with numerous awards in history. There have been several awards and honors and also recognition in manufactured housing. For example, he earned the prestigious Lottinville Award in history from the University of Oklahoma, where he studied history and business management. He's a managing member and co-founder of LifeStyle Factory Homes, LLC, the parent company to MHProNews, and MHLivingNews.com. This article reflects the LLC's and/or the writer's position and may or may not reflect the views of sponsors or supporters.