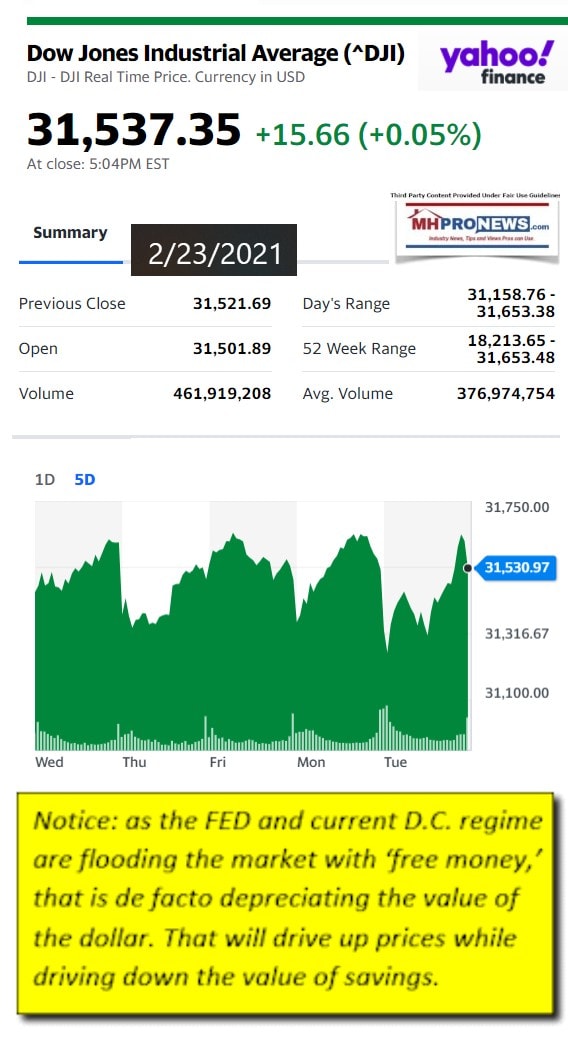 The political and regulatory climate clearly impacts the business environment. The cultural and religious climate obviously impacts politics and business too. That brief preface tees up the following headline topics.
Centrist Real Clear Politics reported today that Ex-Clinton Advisor and feminist Naomi Wolf, Ph.D., "Warns: USA Rapidly "Moving Into A Coup Situation, A Police State" Under The "Guise Of A Real Medical Pandemic""
 Former Clinton adviser Wolf, warned that the U.S. is becoming a "totalitarian state before our eyes" Monday evening on FOX News Channel's "Tucker Carlson Tonight."
Her warning fits the historian's mantra. A good reason to study history is that anything that has happened before can happen again. Studying the past sheds light on the present, and what might be a possible future.
She warned that the U.S. is rapidly "moving into a coup situation, a police state" under the "guise of a real medical pandemic."
"We know from history no one gives up emergency powers."
"That is not a partisan thing," Wolf told Carlson. "That transcends everything that you and I might disagree or agree on. That should bring together left and right to protect our Constitution."
"The state has now crushed businesses, kept us from gathering in free assembly to worship as the First Amendment provides, is invading our bodies … which is a violation of the Fourth Amendment, restricting movement, fining us in New York state … the violations go on and on," she said.
Great segment from liberal feminist author & former Bill Clinton advisor @naomirwolf on the importance of battling COVID-fascism:

"Nowhere in the Constitution does it say 'all this' can be suspended if there's a bad disease."

Why isn't more of this coming from liberals?? pic.twitter.com/tsve96FSXr

— Scott Morefield (@SKMorefield) February 23, 2021
The former Clinton advisor warned that there are 10 things "would-be tyrants always take when they want to close down a democracy."
"Whether they are on the left or the right, they do these same ten things," Wolf explained, "and now we're at something I never thought I would see in my lifetime … it is step 10 and that is the suspension of the rule of law and that is when you start to be a police state, and we're here. There is no way around it."
Dr. Wolf previously tweeted that she voted for Biden-Harris, but regretted it mere days after the 2020 election.
If I'd known Biden was open to 'lockdowns' as he now states, which is something historically unprecedented in any pandemic, and a terrifying practice, one that won't ever end because elites love it, I would never have voted for him.

— Dr Naomi Wolf (@naomirwolf) November 9, 2020
Wolf is one of a growing number of leftists, and often longtime Democrats, who have sounded the alarm on what is occurring in America.
Of course, there are voices on the right who have been sounding the alarm for some time too. President Trump supporter, best-selling author, and documentary filmmaker Dinesh D'Souza recently said that the U.S. is no longer the freest country on earth.
Tonight's featured focus will be a news-analysis from attorney-turned award winning journalist Glenn Greenwald. It was sent late morning on 2.23.2021. While it covers different ground that Wolf, the two are book ends in as much as Greenwald is warning that Democratic lawmakers with clear ties to Silicon Valley and Big Tech are putting pressure on corporate and political leaders to literally shut down right-of-center news outlets.
For our growing numbers of new readers, as well as a reminder to those returning daily, a few quick evening/nightly market report insights.
Every business evening, MHProNews provides a bullet list of left-right news headlines from CNN and in a matter of moments, savvy professionals can see at a glance news headlines and views across the political spectrum.
This is a time saving and insightful way to quickly grab insights from across the left-right divide for those who are hooked on this market-nightly feature.
Our featured focus follows the quotable quotes, periodic political cartoons, those left-right headlines, and two of our three market summary graphics as reported at the closing bell.
After the featured focus, are some recent/related report links and the third manufactured housing focused stock equities graphic. There are some additional items that include the free signup for the manufactured housing industry's x2 weekly emailed news to the most-read trade publication in our profession:
On a day that saw mixed manufactured home connected equities today, with more that dropped than rose, let's press ahead toward our other business-nightly features and tonight's focus on the MHI's de facto admission on the issue of manufactured housing finance.
Quotes That Shed Light – Industry, American, Social, National Issues…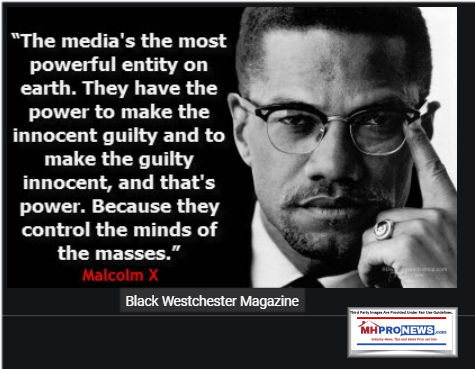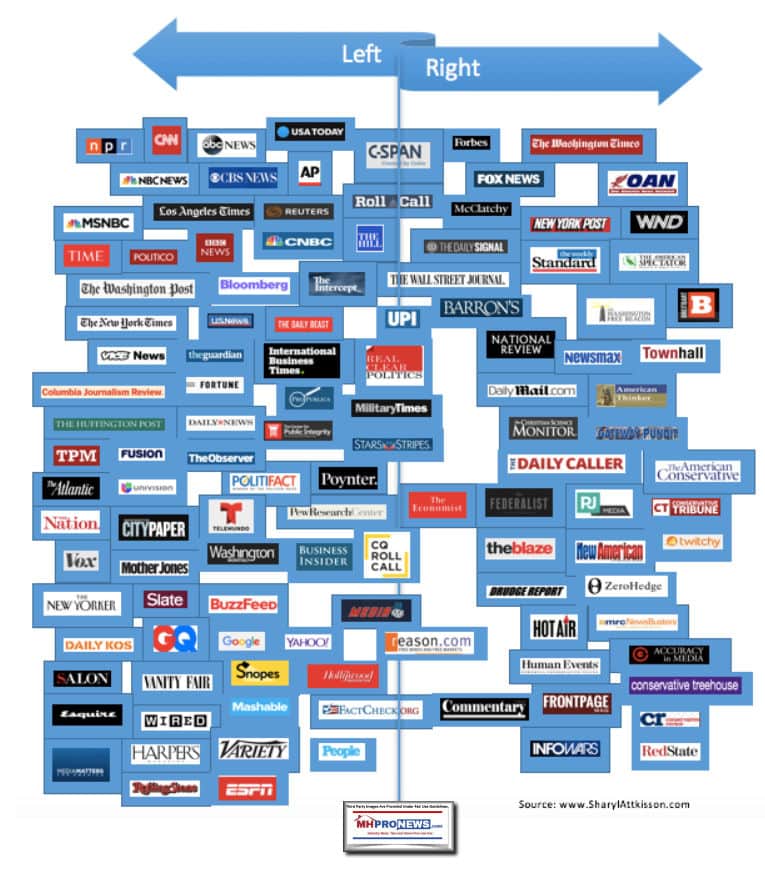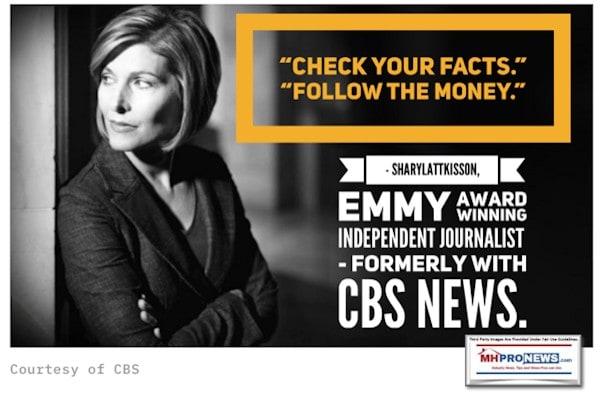 Headlines from left-of-center CNN

Worse than it seems
Chairman of the Federal Reserve Jerome Powell appears before a Senate Banking Committee hearing on Capitol Hill, on December 1, 2020 in Washington, DC.
The national unemployment rate masks how bad things are for some, says Fed chief Jay Powell
4 reasons Tesla's stock is tumbling
The internet may be starting to splinter
Former WeWork CEO in talks to get nearly $500 million in SoftBank settlement
A wave of spending when the economy reopens could cause prices to spike
Opinion: Failing to pass Biden's relief package would be irresponsible
See what has happened to Trump's DC hotel after his loss
Electric vehicle startup raises $4 billion in SPAC offering to compete against Tesla
Regulators examine Texas energy market after natural gas soared 10,000%
After the GameStop fiasco, momentum builds for an $800 billion tax
Instacart is moving beyond the grocery store
Macy's made money for the first time in the pandemic
Oprah-backed Oatly just made a move to go public
So you got a PPP loan? Here's what that means for your state taxes
This photograph taken on December 17, 2020 shows shows a physical imitation of a Bitcoin at a crypto currency "Bitcoin Change" shop, near Grand Bazaar, in Istanbul. – Leading virtual currency bitcoin on 16 December traded above $20,000 for the first time following a sustained run higher in recent weeks. Bitcoin reached a record-high $20,398.50 before pulling back to $20,145, which was still an intra-day gain of nearly four percent.
Elon Musk, Bill Gates and Janet Yellen are sending bitcoin tumbling
NEW YORK, NY – MAY 08: Sports commentator and former professional baseball player Alex Rodriguez takes part in a panel during WSJ's The Future of Everything Festival at Spring Studios on May 8, 2018 in New York City.
Celebs including A-Rod and Ciara are getting into SPACs. What could go wrong?
CANADA – MAY 16: 6th Africa and Middle East conference In Montreal, Canada On May 16, 2000-Sheikh Ahmed Zaki Yamani.  'I was behind it.' The man responsible for the 1973 oil shock has died
EXPANDING THE HOME GYM
Peloton is releasing a cheaper treadmill. It's still $2,495
Beyoncé and Peloton team up on new workouts
Apple now lets you take a 'walk' with Dolly Parton
Peloton is now making its own music for its classes
Apple's Fitness+ wants to take on Peloton with at-home workouts
BLAST OFF
This cancer survivor is set to be the youngest American ever in space
About a third of active satellites owned by SpaceX
SpaceX could launch parts of a Moon space station
Watch SpaceX's Mars rocket prototype crash land
SpaceX announces first civilian space flight crew
Headlines from right-of-center Newsmax
Tiger Woods Badly Hurt in Rollover Car Crash, but Is Expected to Survive
Woods was in Los Angeles over the weekend as the tournament host of the Genesis Invitational at Riviera, where he presented the trophy. He was to spend Monday and Tuesday filming with Discovery-owned GOLFTV.
The Biden Presidency
Biden Team Hunts for Tanden Votes as Senate Opposition Grows
WH Promises Vaccine Help as States Rush to Catch Up
Senate Votes 92-7 to Confirm Tom Vilsack for Second Run as Agriculture Secretary
Senate Confirms Linda Thomas-Greenfield for UN Ambassador
Grenell to Newsmax TV: Garland 'Wrong Man' for Nation's Attorney General |
Poll: Most Confident Biden Can Get Public Vaccinated, Reopen Schools
Fed's Powell Heads to Congress With Economy at a Crossroads
New Jersey Stops Marijuana Arrests, Ends Pending Prosecutions
Dershowitz: 2 Congressmen Want McCarthyite 'Red Channels' as Newsmax, Fox Targeted
DOJ Revives Probe of George Floyd's Death: NY Times
Newsmax TV's 'Spicer & Co.' Investigates Christian Persecution
Florida Is Turning Into the Model for the GOP's Future
James Woolsey to Newsmax TV: Oswald Shot JFK to Be Soviet Hero
Johnson & Johnson: Can Provide 20M Vaccine Doses by End of March
Related
Fauci: Relaxed CDC Guidance Coming for Vaccinated
Fauci: Trump's COVID Signals Were 'Unfortunately Damaging'
WH Promises Vaccine Help as States Rush to Catch Up
Israel Sharing Some COVID Vaccines with Palestinians, Honduras, Czech Republic
DC Police Chief 'Stunned' by Reluctance to Send Guard to Capitol Riot
Wife of Mexican Drug Kingpin 'El Chapo' Appears in US Court
Mexican President: Mexico Doing Better than US on COVID
Kelly Loeffler: Greater Georgia Program Reaching Out to GOP Voters
Perdue Rules Out Senate Bid Next Year
Epoch Times: Trump Tops Poll Asking for 5 Favorite Presidents
Florida GOP Poll: DeSantis Trounces Sens. Rubio, Scott
Coke Conducting Employee Seminars 'To Be Less White'
Biden Claimed He Was Arrested for Trespassing at Capitol
President Joe Biden once said on national television
Trump Slams Supreme Court, IRS, Dems for 'Fishing Expedition'
Finance
Home Depot Became Supplier to Millions During Pandemic
The housing market was among the very few bright spots for the U.S. economy in the year of the lockdown and Home Depot became its supplier, racking up an unprecedented $132 billion in sales for 2020.Sales grew even stronger in the final quarter of the year, surging 25%
Tesla Sinks Below Price at Which It Entered S&P 500 Index
Wells Fargo Sells Asset Management Arm for $2.1B
Fed's Powell Heads to Congress With Economy at a Crossroads
Facebook Says It Will Lift Its Australian News Ban Soon
Health
Pharmacists: 'Pooling' COVID-19 Vaccine Leftovers Could Provide Thousands of Extra Doses
Pharmacists say there is a simple solution to the shortage of COVID-19 vaccine: Use a tried-and-true method of combining leftover vaccine material from used vials to assemble additional doses. According to NBC News, this method is called "pooling," and has been used for…
Clinical Trial of Gene Therapy for Sickle Cell Halted
10 Foods That Boost Your Memory and Brain Power
Foods That Help Beat Heart Disease
Study: Healthy Heart Leads to Better Brain Performance for Kids
Market Indicator Closing Summaries – Yahoo Finance Closing Tickers on MHProNews…
Featured Focus –
Where Business, Politics and Investing Can Meet
In a news analysis emailed to MHProNews, is the following. Note that the typo in the date below the photo of Nancy Pelosi is in the original, that should be 2021, not 2020.
Greenwald's report will be followed by additional information, linked reports, plus more MHProNews Analysis and Commentary.
House Democrats, Targeting Right-Wing Cable Outlets, Are Assaulting Core Press Freedoms
Democrats' justification for silencing their adversaries online and in media — "they are spreading fake news and inciting extremism" — is what despots everywhere say.
Not even two months into their reign as the majority party that controls the White House and both houses of Congress, key Democrats have made clear that one of their top priorities is censorship of divergent voices. On Saturday, I detailed how their escalating official campaign to coerce and threaten social media companies into more aggressively censoring views that they dislike — including by summoning social media CEOs to appear before them for the third time in less than five months — is implicating, if not already violating, core First Amendment rights of free speech.
Now they are going further — much further. The same Democratic House Committee that is demanding greater online censorship from social media companies now has its sights set on the removal of conservative cable outlets, including Fox News, from the airwaves.
The House Energy and Commerce Committee on Monday announced a February 24 hearing, convened by one of its sub-committees, entitled "Fanning the Flames: Disinformation and Extremism in the Media." Claiming that "the spread of disinformation and extremism by traditional news media presents a tangible and destabilizing threat," the Committee argues: "Some broadcasters' and cable networks' increasing reliance on conspiracy theories and misleading or patently false information raises questions about their devotion to journalistic integrity."
Since when is it the role of the U.S. Government to arbitrate and enforce precepts of "journalistic integrity"? Unless you believe in the right of the government to regulate and control what the press says — a power which the First Amendment explicitly prohibits — how can anyone be comfortable with members of Congress arrogating unto themselves the power to dictate what media outlets are permitted to report and control how they discuss and analyze the news of the day?
But what House Democrats are doing here is far more insidious than what is revealed by that creepy official announcement. Two senior members of that Committee, Rep. Anna Eshoo (D-Silicon-Valley) and Rep. Jerry McNerney (D-CA) also sent their own letters to seven of the nation's largest cable providers — Comcast, AT&T, Spectrum, Dish, Verizon, Cox and Altice — as well as to digital distributors of cable news (Roku, Amazon, Apple, Google and Hulu) demanding to know, among other things, what those cable distributors did to prevent conservative "disinformation" prior to the election and after — disinformation, they said, that just so happened to be spread by the only conservative cable outlets: Fox, Newsmax and OANN.
In case there was any doubt about their true goal — coercing these cable providers to remove all cable networks that feature conservative voices, including Fox (just as their counterparts on that Committee want to ban right-wing voices from social media) — the House Democrats in their letter said explicitly what they are after: namely, removal of those conservative outlets by these cable providers:
Congresswoman Eshoo boasted on her official site about these efforts, lauding herself and McNerney for "urging 12 cable, satellite, and streaming TV companies to combat the spread of misinformation and requesting more information about their actions to address misinformation, disinformation, conspiracy theories, and lies spread through channels they host."
For the last four years, we were inundated with media messaging that Trump posed an unprecedented threat to press freedoms. The Washington Post even flamboyantly adopted a new motto to implicitly ratify that accusation (while claiming it was not Trump-specific). Other than the indictment of Julian Assange — which most Washington Democrats cheered — what did the Trump administration do in the way of attacking press freedoms that remotely compares to Democrats abusing their majoritarian power to force the removal of conservative cable outlets from the airwaves, just days after doing the same with dissident voices online?
There is not a peep of protest from any liberal journalists. Do any of the people who spent four years pretending to care so deeply about the vital role of press freedom have anything to say about this full frontal attack by the majority party in Washington on news outlets opposed to their political agenda and ideology?
Evidently not. While many conservative outlets are covering this story, it is difficult to find any liberal outlets writing about it at all. An article from The New York Times was one exception, though it largely attempted to justify these censorship efforts, with paragraph after paragraph purporting to demonstrate the dangerous misinformation spread by these channels. The only nods to the dangers of press freedoms in the article came from statements by Fox News and a GOP member of the Federal Communications Commission (FCC).
Revealingly, these same two members of Congress who sent this threatening letter to cable providers said during the Trump years that freedom of the press must be safeguarded at all costs. "The First Amendment prohibits Congress from making laws that abridge the freedom of the press, and we cherish our country's culture of free expression," they intoned when writing to the FCC in 2019 to complain that Russian news outlets were concealing their affiliation with the Kremlin. "We're not requesting any press censorship," they assured the FCC under Trump. Yet they are clearly doing exactly that now.
In a statement he emailed to me and publicly posted, FCC Commissioner Brendan Carr denounced the Democrats' actions as a "marked departure from First Amendment norms." He said "it is a chilling transgression of the free speech rights that every media outlet in this country enjoys." In response to my inquiries, Commissioner Carr added in a separate statement to me:

The greatest threat to free speech in America today is not any law passed by the government—the First Amendment stands as a strong bulwark against that form of censorship by state action.  The threat comes in the form of legislating by letterhead.  Politicians have realized that they can silence the speech of those with different political viewpoints by public bullying.  The letter sent by two senior Democrats on the House Energy and Commerce Committee to cable companies and other regulated entities, and the Committee's own hearing this week on "disinformation in the media," are the latest examples.  They are singling out selected newsrooms for their coverage of political events and sending a clear message that these media outlets will pay a price if they do not align their viewpoints with Democrat orthodoxy.  That is a chilling transgression of free speech and journalistic freedom.  No government official has any business inquiring about the 'moral principles' that guide a private entity's decision about what news to carry.
 Carr's GOP colleague on the FCC, Commissioner Nathan Simington, similarly accused House Democrats of seeking to "intimidate into silence those who would distribute on their platforms disfavored points of view."
The way Democrats justify this to themselves is important to consider. They do not, of course, explicitly acknowledge that they are engaged in authoritarian assaults on free speech and a free press. Not even the most despotic tyrants like to think of themselves in that way. All tyrants concoct theories and excuses to justify their censorship as noble and necessary.
Indeed, the justifying script Democrats are using here is the one most commonly employed by autocrats around the world to silence their critics. Those they seek to silence are not merely expressing a different view, but are dangerous. They are not merely advocating alternative ideologies but are destabilizing society with lies, fake news, and speech that deliberately incites violence, subversion and domestic terrorism.
In her boastful posting, Rep. Eshoo says her efforts targeting these cable outlets are necessary because "misinformation on TV has led to our current polluted information environment that radicalizes individuals to commit seditious acts and rejects public health best practices, among other issues in our public discourse." This is the rationale invoked by virtually every repressive state to imprison journalists and ban media outlets.
The Democrats sound a great deal like the Egyptian regime of Gen. Abdel el-Sisi. Just two weeks ago, Sisi's regime finally released an Al Jazeera journalist who had been imprisoned for four years based on accusations that he had "spread false news" and was guilty of "incitement against state institutions and broadcasting false news with the aim of spreading chaos." Sound familiar? It should, since that is precisely what House Democrats are saying to ennoble their multi-pronged assault on free expression.
Accusing one's domestic opponents of being subversives and domestic terrorists is by far the most common way that despots on every continent justify their censorship and silencing campaigns of oppositional media outlets. In 2014, the French journalist Valeria Costa-Kostritsky warned in the Index on Censorship that anti-terrorism laws and accusations of promoting subversion were becoming the primary means which authoritarian states from Turkey and Jordan to Russia and the UAE use to justify the silencing of journalists:

Anti-terror legislation seems to be the perfect tool for a state seeking to crack down on opposition. "It's so elusive. You can [see] anything as terrorist propaganda. There needn't be any evidence of violence, any praise of violence. Plus, if you blame someone for having a connection with the [Kurdistan Workers' Party] the public buys that argument easily, especially in a country that is suffering from terrorism, as Turkey is," said Sevgi Akarçeşme, former editor-in-chief of Turkey's Today's Zaman (the English-language edition of daily Zaman), who had her newspaper taken over by the government in March 2016.
A similar means used by repressive governments to silence disfavored media outlets is to claim they are promoting "extremism." As Costa-Kostritsky detailed:

There's another word one can use to browse through reports published on the [Mapping Media Freedom] map: "extremism". Anti-extremism legislation is used to intimidate journalists in post-Soviet countries, particularly in Russia. On the map, of the 35 incidents flagged with "extremism", 11 took place in Russia, and seven in Crimea, others include Belgium, Italy, Hungary, France and Spain. Five reports connecting the media to "extremism" took place during the first half of 2016. They include website closures and journalists being put on a list of extremists. In Russia, most cases using anti-extremism legislations against journalists happen via Roskomnadzor, the national media regulator.
When China arrests journalists it typically justifies its actions by accusing them of fomenting extremism that jeopardizes national security.
And accusing journalists of spreading "fake news" — always a dangerously vague term from its inception — is equally commonplace when government authorities want to silence media outlets. The Washington Post reported that "as 2019 draws to a close, there are 30 journalists in jail worldwide on charges of 'false news' — or, as it's also called these days, 'fake news.'" In sum:

It has now become commonplace to throw around fake-news accusations in the United States. But in other countries around the world — like Egypt, Turkey, Somalia and Cameroon — such charges can have very chilling and stifling impacts on the press, according to an annual report by the New York-based Committee to Protect Journalists.
In Egypt — where General-turned-President Abdel Fatah al-Sissi has been overseeing a crackdown that human rights groups say is harsher than any before — there are 21 journalists in jail for allegedly publishing "false news," according to the CPJ's data. In practice, press freedom advocates say, these charges stem from a simple fact: The journalists published news that Sisi didn't like.
In a passage that the Post would only publish about foreign countries but never about House Democrats, even though it now applies equally, they observed: "There is a serious global problem of disinformation spreading online and sowing distrust and sectarianism. The problem, say press advocates, is that the laws regulating fake news all too often are a means of stifling the media rather than fostering a more transparent environment online."
This framework is hardly rare in the west either. When the Obama administration collaborated with the UK Government in 2013 to detain my husband David Miranda at Heathrow Airport in connection with the work he was doing in the Snowden reporting, they cited an anti-terrorism law to justify his detention, and repeatedly threatened to prosecute him for terrorism if he did not cooperate by providing all of his passwords to them. He ultimately prevailed in his lawsuit against the U.K. Government on the ground that it constitutes an illegal assault on press freedoms and human rights to abuse anti-terrorism frameworks to intimidate or silence journalists.
Justifying the silencing of journalists by accusing them of inciting domestic terrorism and extremism is now the most common means used globally for censorsing the press. The Committee to Protect Journalists in 2013 said they had "tracked a significant rise in journalist imprisonments." The culprit, said the group, was "the expansion of anti-terrorism and national security laws worldwide" after the 9/11 attack, which had been repeatedly abused to criminalize media outlets. "The number of journalists jailed worldwide hit 232 in 2012, 132 of whom were held on anti-terror or other national security charges." In sum: "CPJ's analysis has found that governments have exploited these laws to silence critical journalists."
Are there conspiracy theories and disinformation sometimes found on the conservative cable outlets which House Democrats want taken off the air? Of course there are; all media outlets disseminate conspiracy theories and fake news at times. MSNBC and CNN spent four years endorsing the most deranged conspiracy theory imaginable, one with very toxic roots in the Cold War: namely, the McCarthyite script that the Kremlin had taken over control of key U.S. institutions through sexual blackmail over the President, invasions into the nation's heating system and electric grid, and criminal conspiracy between Moscow and the Trump campaign to hack into Democrats' emails.
All of that was false, just as the one-month tale told over and over by the media about a pro-Trump mob murdering Brian Sicknick by bludgeoning him to death with a fire extinguisher was false — a story which remains unretracted or corrected by most who spread it.
Just imagine if, during the Trump years, the GOP Senate had abused its power to bully cable outlets into removing MSNBC from their platforms, or banning liberal journalists and activists from using social media platforms, on the grounds that they were spreading conspiracy theories and fake news. It is hard to overstate how extreme the rhetoric would have been that Trump and the Republicans were engaged in authoritarian measures to destroy free speech and a free press.
And I would have joined in those denunciations (as I did with the Assange prosecution): as much as I loathe so much of what those outlets do, it is not the role of the government to regulate let alone silence them. The corrective is for journalists to rebuild trust and faith with the public by exposing their misinformation and proving to the public that they will do accurate and reliable reporting regardless of which faction is aggrandized or angered.
But corporate media outlets and Democrats (excuse the redundancy) who spent the last four years posturing as virulent defenders of press freedoms never meant it. Like so much of what they claimed to believe, it was fraudulent. The proof is that they are now mute, if not supportive, as Democrats use their status as majority party to launch an assault against press freedoms far more egregious than anything Trump got close to doing. ##
Notice: Greenwald's website on Substack is linked here.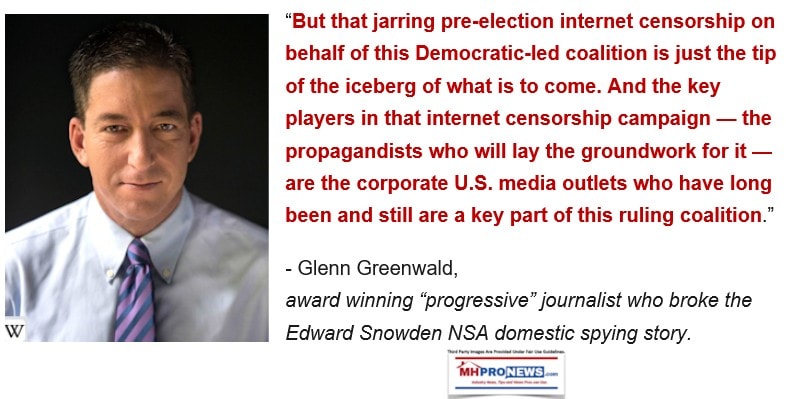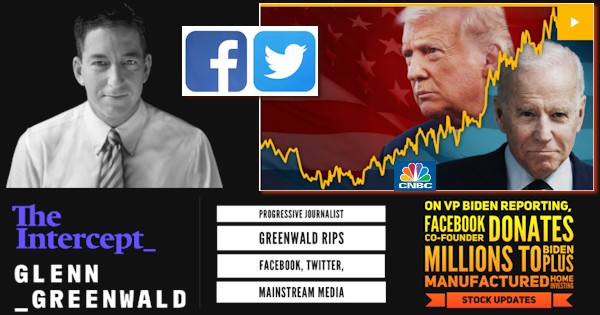 It is worth recalling that Greenwald came out pre-election with warnings about Biden-Harris and how the much of the mainstream, often left-of-center media, was giving them cover.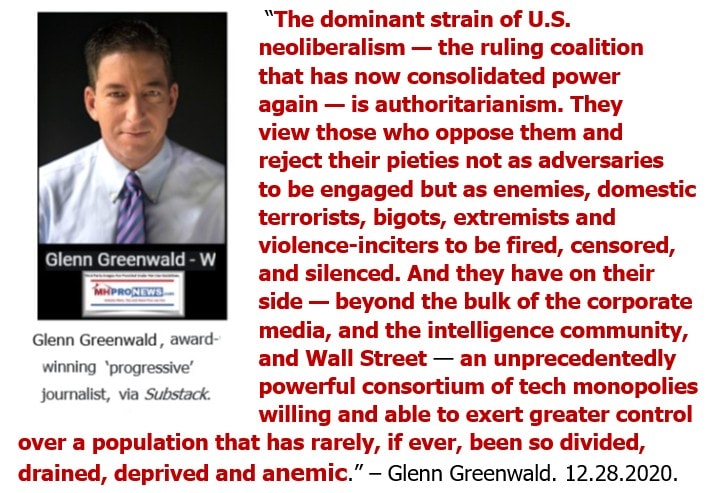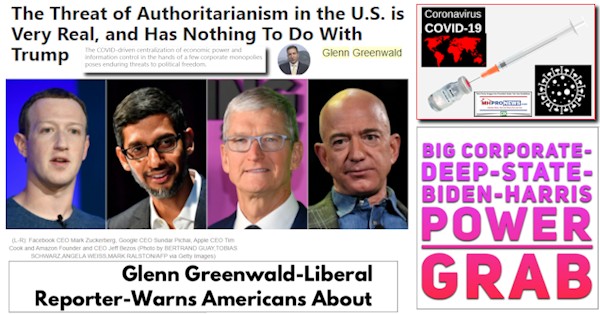 Greenwald has become a strong critic of what he has called the authoritarian strain in the contemporary Democratic leadership.
Wolf and Greenwald, as MHProNews has been reporting, are not alone in blowing the whistle on the nexus between Democrats, media, billionaires, and what is being described in various terms as rising totalitarianism. Robert F. Kennedy Jr., J.D. an environmentalist, lifelong Democrat, nephew of the assassinated John F. "Jack" Kennedy and son of the assassinated Senator Robert F. "Bobby" Kennedy  is another such voice.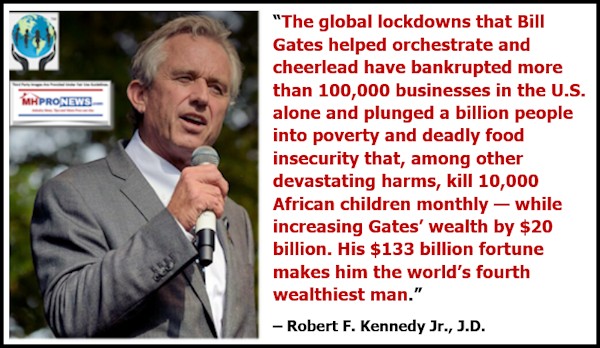 Giving context to how this is occurring is what Edward Curtin described as a "tapestry of lies."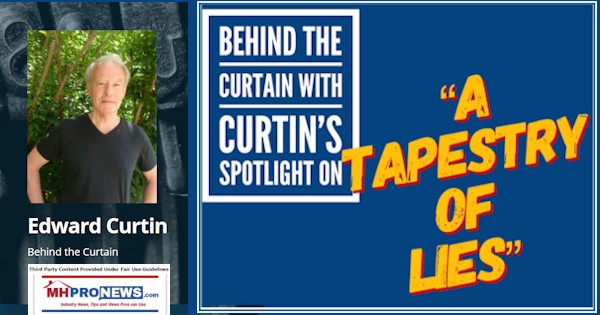 Greenwald has described what is taking place as a "blinding propaganda."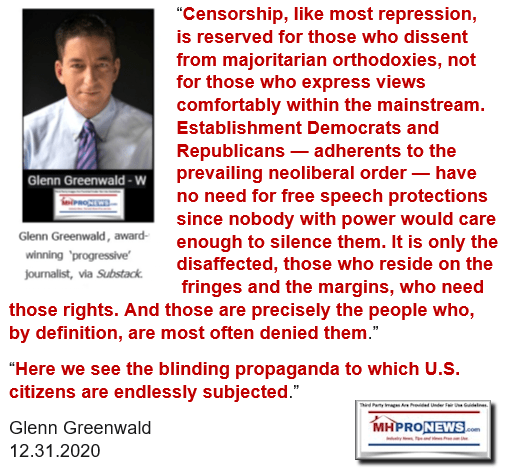 MHProNews has noted that the specific methods can include the following:
Paltering: a mixture of truth, spin, and lies. Because some truth is involved, it may seem more believable.
Citing the Capitol Research Center (CRC), an apt description for a method deployed by these billionaires who often use "philanthropy" via nonprofits that they may exercise significant control over as part of their cover, is "Misdirection and Deception."
That CRC phrasing, is similar to a February 6, 2020 blogger who entitled a post "The Magic of the Mind: Illusion, Misdirection, and Deception." That is reminiscent of a phrasing used by the Manufactured Housing Association for Regulatory Reform (MHARR) to describe what is arguably occurring in our profession at the Manufactured Housing Institute (MHI), as the "Illusion of Motion."
Razzle Dazzle – often seemingly impressive words, claims, videos, or photo ops – are tactics used by con artists. The fact that they are used by politicos and demagogues, past and present, is not surprising. After all, how would a communist, socialist, fascist, or other authoritarian come to power save through clever promises and sincere sounding lies?
There is an array of deceptive methods used, the big lie, attacks on the person, red herrings, that MHProNews organized in the infographic below. Being familiar with these tactics can help people sort out what is authentic from what is clever spin, a logical fallacy, or other deceptive slight-of-hand.

Ironically, the bad news may have a potential silver lining. The greater the darkness, the more the truth may shine.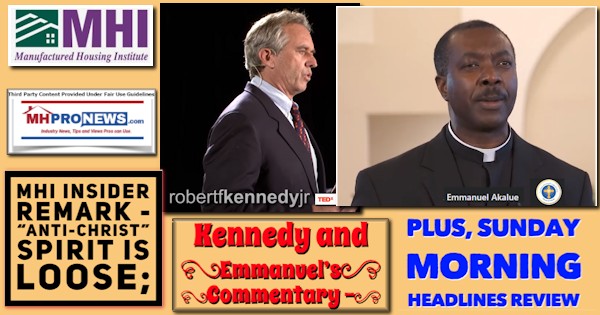 To learn more, see the linked reports above and below.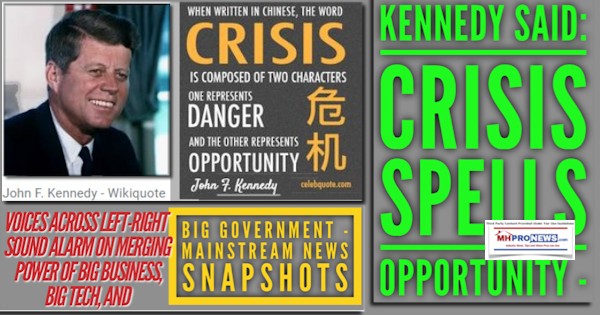 Related, Recent, and Read Hot Reports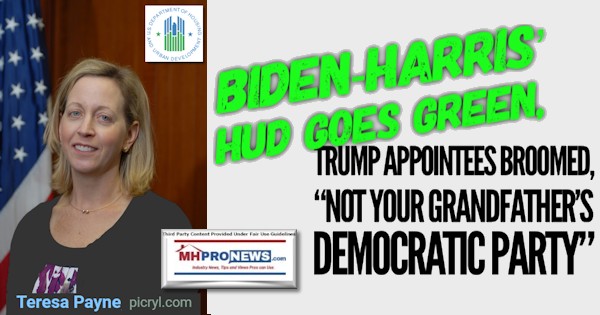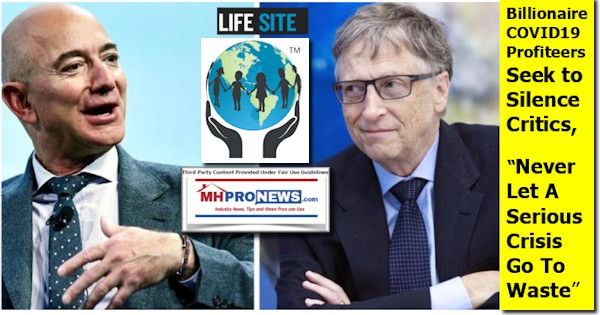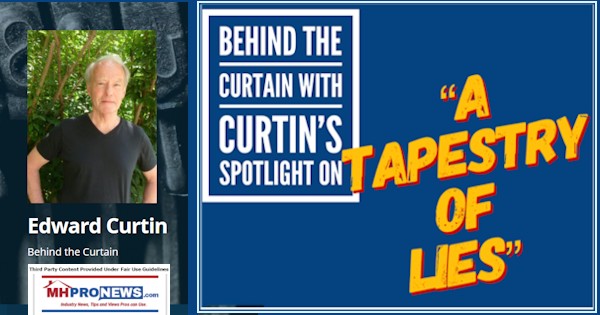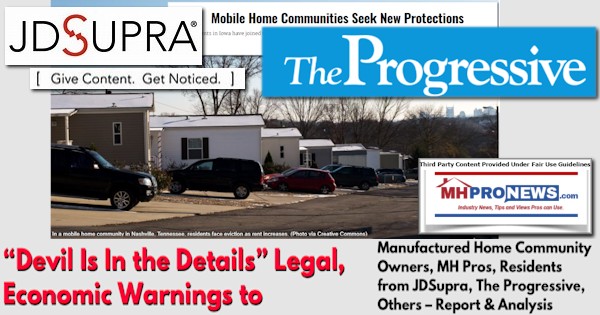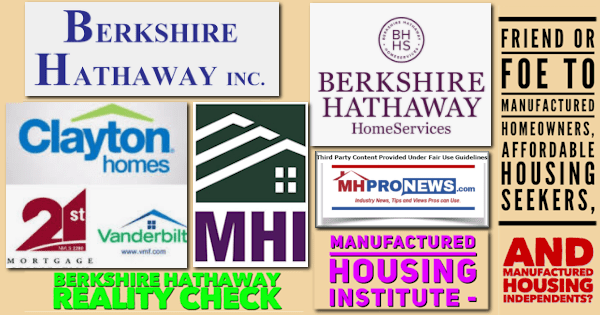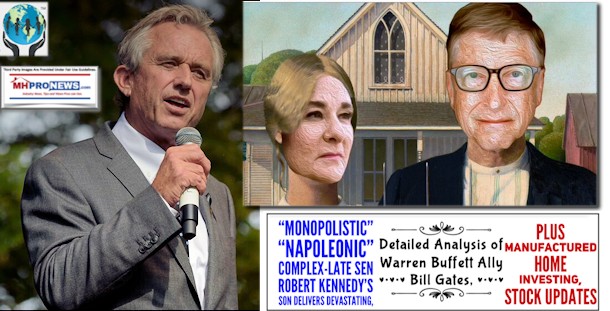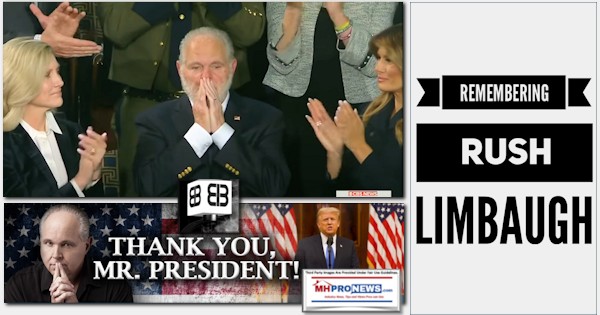 Manufactured Housing Industry Investments Connected Closing Equities Tickers
Some of these firms invest in manufactured housing, or are otherwise connected, but may do other forms of investing or business activities too.
NOTE: The chart below includes the Canadian stock, ECN, which purchased Triad Financial Services, a manufactured home industry lender
NOTE: Drew changed its name and trading symbol at the end of 2016 to Lippert (LCII).
NOTE: Deer Valley was largely taken private, say company insiders in a message to MHProNews on 12.15.2020, but there are still some outstanding shares of  the stock from the days when it was a publicly traded firm.  Thus, there is still periodic activity on DVLY.
Winter 2021…
Berkshire Hathaway is the parent company to Clayton Homes, 21st Mortgage, Vanderbilt Mortgage and other factory built housing industry suppliers.
· LCI Industries, Patrick, UFPI, and LP each are suppliers to the manufactured housing industry, among others.
· AMG, CG, and TAVFX have investments in manufactured housing related businesses. For insights from third-parties and clients about our publisher, click here.
Enjoy these 'blast from the past' comments.
MHProNews. MHProNews – previously a.k.a. MHMSM.com – has celebrated our 11th year of publishing, and is starting our 12the year of serving the industry as the runaway most-read trade media.
Sample Kudos over the years…
It is now 11+ years and counting…and Williams, who praised our accuracy and other services to manufactured housing for years, then said this.
Learn more about our evolutionary journey as the industry's leading trade media, at the report linked below.
· For expert manufactured housing business development or other professional services, click here.
· To sign up in seconds for our industry leading emailed headline news updates, click here.

Disclosure. MHProNews holds no positions in the stocks in this report.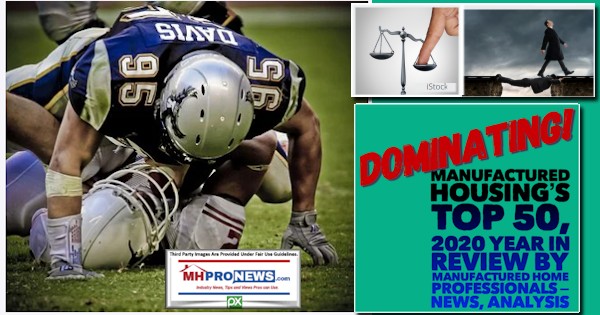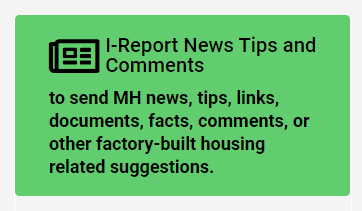 That's a wrap on this installment of "News Through the Lens of Manufactured Homes and Factory-Built Housing" © where "We Provide, You Decide." © (Affordable housing, manufactured homes, stock, investing, data, metrics, reports, fact-checks, analysis, and commentary. Third-party images or content are provided under fair use guidelines for media.) (See Related Reports, further below. Text/image boxes often are hot-linked to other reports that can be access by clicking on them.)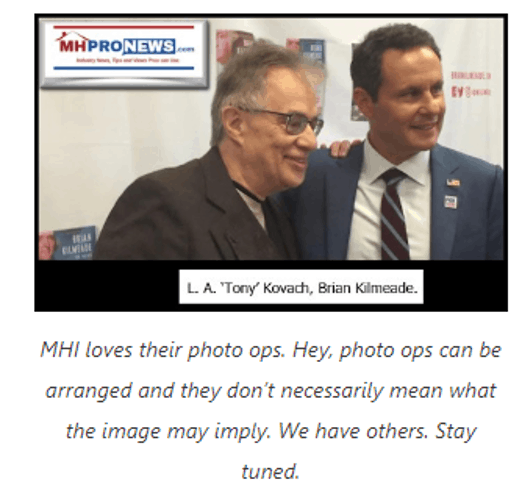 By L.A. "Tony" Kovach – for MHLivingNews.com.
Tony earned a journalism scholarship and earned numerous awards in history and in manufactured housing. For example, he earned the prestigious Lottinville Award in history from the University of Oklahoma, where he studied history and business management. He's a managing member and co-founder of LifeStyle Factory Homes, LLC, the parent company to MHProNews, and MHLivingNews.com. This article reflects the LLC's and/or the writer's position, and may or may not reflect the views of sponsors or supporters.