Millions will recall the old adage that a frog tossed into boiling water quickly jumps out. But if a frog is placed in normal water and the temperature is raised slowly but steadily, you can boil the frog to death.
That analogy may prove useful to the series of quotes – mostly from mainstream media – further below provides.
For detail-minded and longer-term readers of MHProNews, some of these may seem to confirm concerns raised on this platform and on MHLivingNews over the years. As evidence has mounted, so have our cautions and warnings to readers. For us, the relative micro-trend of market manipulation in manufactured housing informed the understanding of why our profession is struggling during an affordable housing crisis. But the reverse is true too. The macro-trends most certainly impact our profession and so many others. Which is why we added the tag line, "News through the lens of manufactured housing."
Following these examples provided by email from CHD, which in turn cites sources such as the New York Times, Washington Post, CNBC, Vox, the Guardian, Gizmodo, Jacobin, Reason, Fox and others that span the left-right spectrum.
The bulk of what follows we would editorial concur with, based upon evidence and sound rationale.
These recent news briefs will be "Additional Information, MHProNews Analysis, and Commentary." Reading these headlines and news briefs objectively should make it plain why these topics matter to virtually all employees, gig workers, independents, investors, taxpayers, and public officials.
While these will tend to seem – and are – problematic, an expression by the late President John F. Kennedy arguably applies. The Chinese character for crisis also spells opportunity. With that introduction, let's dive into these items supplied by the CHD.
The Coup We Are Not Talking About
Two decades ago, the American government left democracy's front door open to California's fledgling internet companies, a cozy fire lit in welcome. In the years that followed, a surveillance society flourished in those rooms, a social vision born in the distinct but reciprocal needs of public intelligence agencies and private internet companies, both spellbound by a dream of total information awareness. Twenty years later, the fire has jumped the screen, and on Jan. 6, it threatened to burn down democracy's house.
I have spent exactly 42 years studying the rise of the digital as an economic force driving our transformation into an information civilization. Over the last two decades, I've observed the consequences of this surprising political-economic fraternity as those young companies morphed into surveillance empires powered by global architectures of behavioral monitoring, analysis, targeting and prediction that I have called surveillance capitalism. On the strength of their surveillance capabilities and for the sake of their surveillance profits, the new empires engineered a fundamentally anti-democratic epistemic coup marked by unprecedented concentrations of knowledge about us and the unaccountable power that accrues to such knowledge.
In an information civilization, societies are defined by questions of knowledge — how it is distributed, the authority that governs its distribution and the power that protects that authority. Who knows? Who decides who knows? Who decides who decides who knows? Surveillance capitalists now hold the answers to each question, though we never elected them to govern. This is the essence of the epistemic coup. They claim the authority to decide who knows by asserting ownership rights over our personal information and defend that authority with the power to control critical information systems and infrastructures.
***
TikTok Is Adding a Potential Misinformation Warning Label to Save Us From Ourselves
TikTok said today in a press release that it'll be looking for content that includes unproven claims, especially those spreading during "unfolding events." Such videos, it says, won't reach the For You page (TikTok's curated main feed where users scroll through random videos) and will include a warning banner reading "Caution: Video flagged for unverified content." If a user chooses to share the video, they'll have to click through a substantial popup asking them: "Are you sure you want to share this video?" with an "unverified content" reminder. The video's creator also gets a notification informing them that they've gotten a warning label.
Seems like a lot for a massive platform that supports text, audio, and video. A spokesperson confirmed in an email to Gizmodo that the platform takes "all of those signals into account" and identifies potentially troublesome content through a mix of proactive searching, user reports, and automated detection.
In order to deem a claim "unverified," TikTok's moderation team sends videos to one of their fact-checking partners, PolitiFact, Lead Stories, and SciVerify. When a partner determines something to be unambiguously debunked, it's removed outright, while "inconclusive" determinations will receive this new warning label. (These labels can't be appealed by the content creator.)
***
At Last, the Regime That Enabled Amazon's Monopoly Power Is Crumbling
This week, Amazon announced that Jeff Bezos will no longer be chief executive of the corporation but will instead take the position of "executive chairman." Andy Jassy, who runs the highly profitable Amazon Web Services cloud computing division, will take the title.
It's not clear what this announcement means, whether Bezos wants to genuinely give up power or whether he wants to continue making decisions while having someone else testify before Congress or in potential antitrust proceedings. But in truth, it doesn't matter, because why Amazon exists in its current form, for good or ill, is a function not of one talented man, but of a legal regime that enables and encourages monopoly power. And that regime is falling apart.
The scale of Amazon's empire is breathtaking. This week, the corporation announced that third-party businesses in the U.S. sold 1 bn products through Amazon's marketplace. It is no longer just an online retailer, but is effectively an economy in itself, adding on to its cloud computing, retail and logistics arms everything from podcasting to low-orbit, satellite-delivered broadband to home security to microchip development to prescription drug distribution to trucking to military contracting. The corporation also mirrors the inequality in the American economy, with the world's richest man presiding over more than a million workers, many of whom make minimum wage.
***
Big Tech Is So Big It Doesn't Need Its Founders Anymore
But in any case, it's clear that most of Big Tech has become so Big and entrenched that it no longer needs the men who made it.
That doesn't mean they don't pay lip service to the idea that they're still the scrappy startups they once were: Bezos, in his step-down note to employees, insisted that it is still "Day 1" at Amazon. That's a reference to the company's insistence that everyone at the company — a $1 trillion company that hired more than 250,000 people in 2020 alone — should act as if they're at a just-launched startup. Amazon also fetishizes the desksthat Bezos and his early co-workers made out of wooden doors, which are supposed to symbolize the company's lean, stay-hungry mentality.
The counter to all of that lip service: There's a serious antitrust movement afoot that wants to break up, or at least slow down, Google, Apple, and Amazon. (Microsoft, which faced its own antitrust breakup case 20 years ago, has largely avoided the wrath of politicians, regulators, and activists this time around.)
***
'See Something, Say Something Online Act' Punishes Big Tech for Not Snitching
A new bill revitalizes the war on terror's favorite slogan in service of forcing tech companies to turn over more user data to the government. The "See Something, Say Something Online Act," introduced by Sen. Joe Manchin (D–W.Va.) and co-sponsored by Sen. John Cornyn (R–Texas), is the latest attack on the federal communications law known as Section 230 as well as freedom of speech and online privacy.
The legislation says any interactive computer service provider—that means social media giants, small blogs, podcast hosting services, app stores, consumer review platforms, independent political forums, crowdfunding and Patreon-style sites, dating apps, newsletter services, and much more—will lose Section 230 protections if they fail to report any known user activity that might be deemed "suspicious."
"Suspicious" content is defined as any post, private message, comment, tag, transaction, or "any other user-generated content or transmission" that government officials later determine "commits, facilitates, incites, promotes, or otherwise assists the commission of a major crime." Major crimes are defined as anything involving violence, domestic, or international terrorism, or a "serious drug offense."
***
The Left Should Oppose Censorship by Big Tech Companies
The fact that I was being "jailed" for the first time since I started my account fourteen years ago, and that this happened while all the major tech platforms were ramping up censorship after the Capitol riot is suggestive, but it could have been a coincidence. One of the most frustrating things about this sort of tech censorship is that there's simply no way to know what's happening behind the curtain.
Does any of this matter? It's certainly an inconvenience for podcasters and streamers like me, but that surely ranks very low on any list of injustices worth losing sleep over. But these companies' actions do matter. Social media is a key part of the information commons of the twenty-first century, but it's been enclosed by private companies.
Even if the right standard for what should or shouldn't be sayable on the digital commons falls somewhere short of free speech absolutism, it's a problem that the standards we have are arbitrarily arrived at and opaquely applied by private companies whose primary allegiance is to making money rather than serving the public good, and who provide no basic due process for users to appeal suspensions or even find out what they allegedly did wrong.
***
Pandemic Highlights Risk of 'Big Employer' Surveillance
Depending on the state, employers may or may not be required by law to notify their workers they are monitoring them via their webcams, software that tracks mouse activity or clicks, or compiling private browser data. Some of these programs, such as InterGuard, can be installed remotely, without the employee's knowledge or consent. Big Brother, indeed.
These programs can be quite elaborate in scope. They can monitor what an employee does online; what they type; capture screenshots; timestamp what files are accessed and when; track their location via GPS; and, in some cases, measure an employee's productivity down to the Nth degree; or even go so far as to punch them off the clock if they're away from the computer for more than 60 seconds.
***
Gabbard: Big Tech Controls Who Gets to Have a Voice
"Let's be clear, the John Brennans, Adam Schiffs and the oligarchs in Big Tech who are trying to undermine our constitutionally protected rights and turn our country into a police state with KGB-style surveillance are also domestic enemies — and much more powerful, and therefore dangerous, than the mob that stormed the Capitol," Gabbard said in a video posted to social media at the time.
The former lawmaker addressed her earlier comments in a Sunday appearance on "The Next Revolution," where she told host Steve Hilton that the crackdown on domestic terror represents a danger to every American and our constitutional rights and freedom of speech.
"The Big Tech companies and oligarchs created a virtual town square, they have invited to us come and be a part of this town square, [and] then they've made billions from our private information and our attention, and now are saying we'll pick and choose which one of you get to have a voice, and which do not," Gabbard said.
***
Facebook Said to Consider Suing Apple Over App Store Practices
Tensions between Apple and Facebookhave been growing for months, rooted in how the companies are diametrically opposed on how they make money. Apple, which has made privacy a key tenet, prefers that consumers pay for their internet experience, leaving less need for advertisers. In contrast, Facebook relies on data about its users to fuel its digital advertising business.
Over time, the Apple chief executive, Timothy D. Cook, and the Facebook chief executive, Mark Zuckerberg, have increasingly taken thinly veiled shots at each other to underline their distaste for the other's philosophies on advertising, targeting and privacy.
The friction ratcheted up after Apple announced changes last year to its upcoming software for iPhones that could harm Facebook's business. Apple said that it would clamp down on some data collection practices by developers and that it would allow iPhone owners to choose whether to allow companies to track them across different apps. That would likely hurt Facebook's ability to collect user data to target ads.Apple also recently began requiring developers to include privacy labels for their apps in the App Store, which detail an app's information collection practices. In a recent analysis, The New York Times found that the privacy label for Facebook's WhatsApp messaging app showed that it gathered far more information from people than another messaging app, Signal.
***
Mexico's Pandemic Policy: No Police. No Curfews. No Fines. No Regrets.
So was Mexico wrong? The answer is nuanced, say health experts and human rights advocates, and reflects the difficulty of balancing public health and civil rights. It's especially tricky in a region with a history of heavy-handed policing and vast inequality. Many Latin American countries decreed strict quarantines last spring, and deployed police and soldiers to enforce them. Human rights complaints soared.
"The countries that do the best get people to comply voluntarily," said Tom Frieden, a former head of the U.S. Centers for Disease Control and Prevention. "But they are very clear about what people need to do."
For years, governments have used law enforcement to promote public health goals such as getting people to wear seat belts or stop smoking in restaurants. The coronavirus pandemic took things to a new level. To stem the initial outbreak, China imposed the largest quarantine in history, locking down 50 million people, who were forbidden even to use their cars.
***
Facebook Spent More on Lobbying Than Any Other Big Tech Company in 2020
For the full year 2020, Facebook spent more than any other Big Tech company at $19.68 million. It increased its lobbying spending by 17.8% from 2019 in a year when the Federal Trade Commission and 48 attorneys general from states and territories filed antitrust complaints against the business.
In the fourth quarter, Facebook lobbied on issues including copyright reform, election integrity, content policy, immigration and international tax policies.
Amazon spent the second most of its Big Tech peers in 2020 at $17.86 million, up 10.7% from the year before. In the fourth quarter, Amazon lobbied on issues including broadband, intellectual property, postal reform, health care and the Justice in Policing Act.
***
If COVID-19 is Primarily a 'First World' Virus, Why is the Global South in Lockdown?
It is not COVID-19 virus, but the COVID-19infodemic, as well as, WHO-led international policy that has triggered a deep economic, social and political crisis in the Global South at this time. The call for lockdowns, curfews and stoppage of public transport systems, often implemented by militaries based on the "Global pandemic" narrative and infodemic of COVID-19 infection figures form the John's Hopkins University data base with contradictory messages resulted in creation of COVID-19 fear psychosis and anxiety in many tropical countries where the Corona virus is mild. As a result, millions have not been able to go to work and have lost jobs and livelihoods in countries like Sri Lanka and Thailand.
As OXFAM's 'Hunger Virus" Report noted: COVID-19 is deepening the hunger crisis in the world's hunger hotspots and creating new epicentres of hunger across the globe. By the end of the year 12,000 people per day could die from hunger linked to COVID-19, potentially more than will die from the disease itself.
The pandemic is the final straw for millions of people already struggling with the impacts of conflict, climate change, inequality and a broken food system that has impoverished millions of food producers and workers.
***
Facebook Will Now Take Down Posts Claiming Vaccines Cause Autism
Facebook is expanding what false claims it will remove from its platforms related to COVID-19, COVID-19 vaccines, and vaccines in general starting today. The company began removing debunked COVID-19 claims in December of last year and notifying customers when they had interacted with a post that has false information that same month. But now the list of potential claims that could get a post removed has grown.
Highlights from the new expanded list of false COVID-19 and vaccine-related claims that will be removed include:
COVID-19 is man-made
Vaccines are not effective at preventing the disease they were created to protect against
It's safer to get a disease than to get its vaccine
Vaccines are dangerous, toxic, or cause autism
Facebook says it will start enforcing this policy immediately, focusing on groups, pages, and accounts that share content from its new list of debunked claims. The company also says it would consider removing the sources of the posts entirely if they became repeat offenders.
***
What Jeff Bezos Hath Wrought
If I had to guess who inspired Amazon's founder, Jeff Bezos, to kick himself upstairs and appoint Andy Jassy, a deputy, as his successor as chief executive, I might wager that at least part of the blame can be laid on Lucy McBath, the freshman Georgia congresswoman, and her understated grilling of one of the world's richest men at a July hearing held by the House antitrust subcommittee.
At the hearing, widely regarded as a watershed moment for America's tech giants, most of the subcommittee members — and all the Democrats — had coalesced around a consensus: The business models of the four biggest tech companies depend on cementing and exploiting their statuses as gatekeepers to the internet, and scheming to bring down anyone who threatens their power to exact ever higher tolls on every minute we spend on the internet.
Only Mr. Bezos, however, had explicitly set out to become a ubiquitous "middleman" of all internet commerce. So most of the lawmakers pushed him to admit that he had systematically bought rivals and lost money selling goods and services below cost solely to destroy the competition, in violation of numerous federal laws that had long gone unenforced — or, as the antitrust scholar Lina Khan has put it, "charted the company's growth by first drawing a map of antitrust laws, and then devising routes to smoothly bypass them."
***
Coming Soon: The 'Vaccine Passport'
One of President Biden's executive orders aimed at curbing the pandemic asks government agencies to "assess the feasibility" of linking coronavirus vaccine certificates with other vaccination documents, and producing digital versions of them.
Denmark's government said on Wednesday that in the next three to four months, it will roll out a digital passportthat will allow citizens to show they have been vaccinated.
It isn't just governments that are suggesting vaccine passports. In a few weeks, Etihad Airways and Emirates will start using a digital travel pass, developed by the International Air Transport Association, to help passengers manage their travel plans and provide airlines and governments documentation that they have been vaccinated or tested for Covid-19.
***
## end of select briefs from the Robert F. Kennedy Jr. Led Children's Health Defense (CHD) ##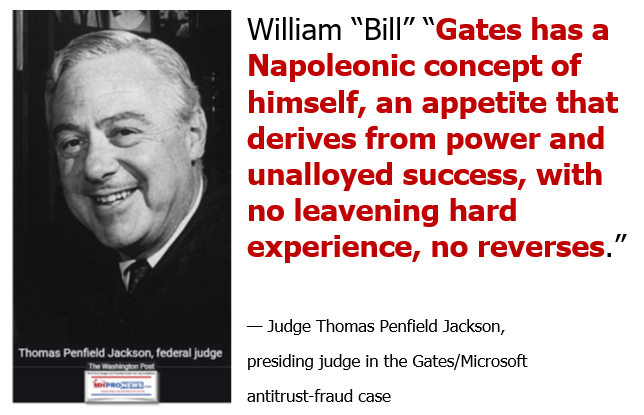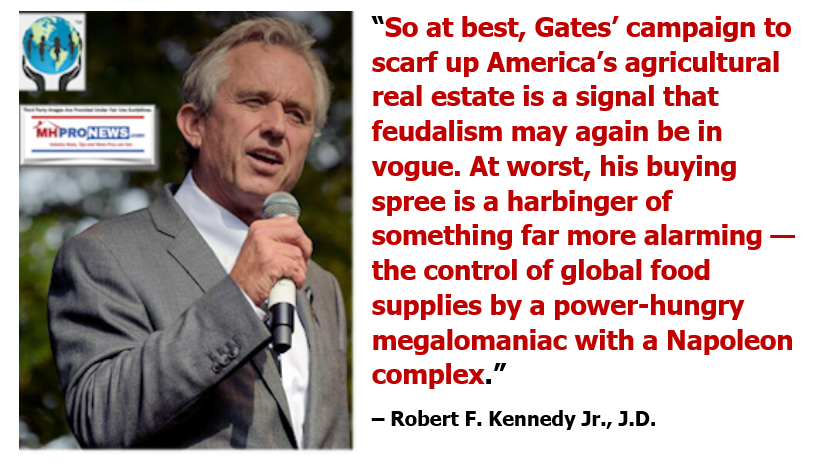 Additional Information, MHProNews Analysis and Commentary 
What is the good news in this seeming blizzard of threats to life, liberty, privacy, the pursuit of the American Dream, and happiness?
Because every crisis is an opportunity disguise.
As the nephew of the late President John F. "Jack" Kennedy (D), and the son of the late Senator Robert F. "Bobby" Kennedy (NY-D), "lifelong Democrat" Robert F. Kennedy Jr. is taking on several powerful voices, billionaires, and corporate forces who support the party that he has been in for decades. Kennedy and the CHD has said that these problems have been brewing for decades.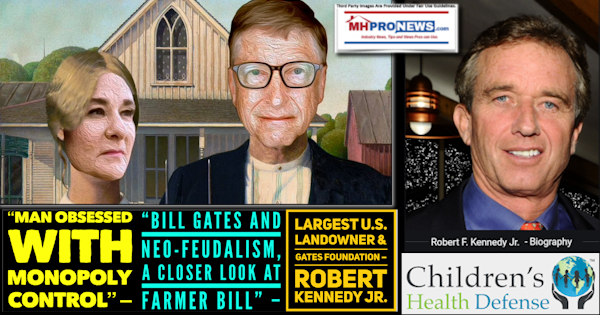 Put differently, what was partially obscured is increasingly being exposed for what it is. Therein lies an opportunity. That opportunity, in our view, is the chance to bring together thinkers from across the left-center-right divide.
Some linked reports will make the point.
Our publications were hardly the first to sound alarms about the risks of media, corporate, and big tech manipulation of news and information. But we have for over half a decade consistently sounded those warnings.
A recent quote from the political right is this from the Rutherford Institute.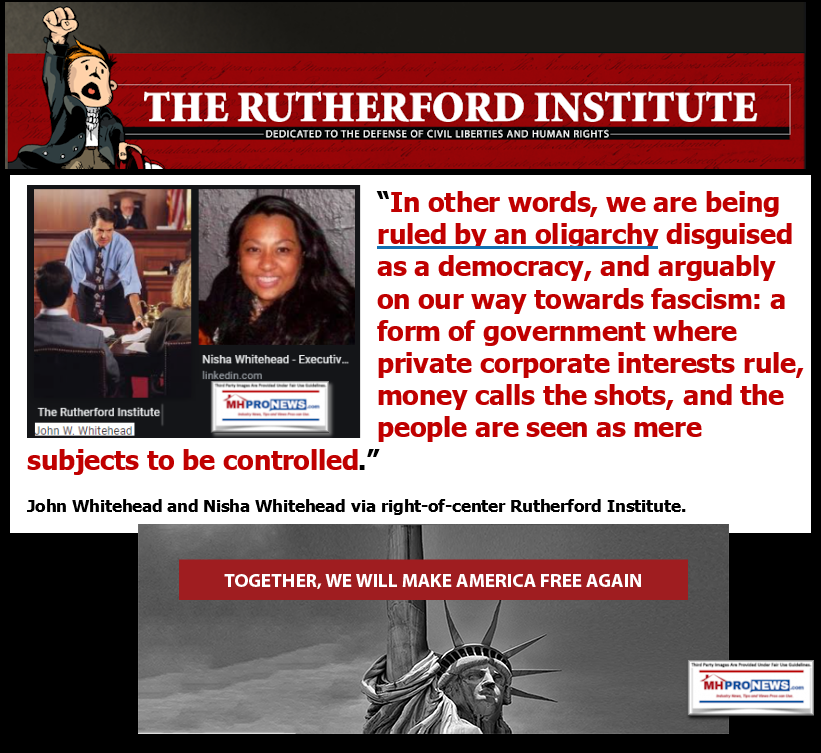 A recent deeper dive and warning from the political left is linked below.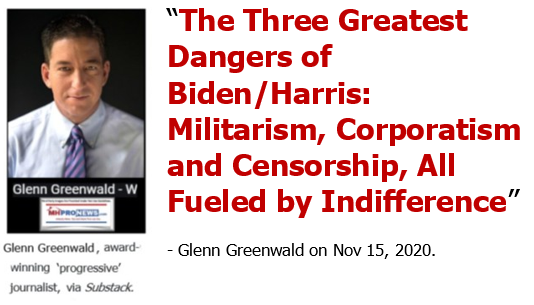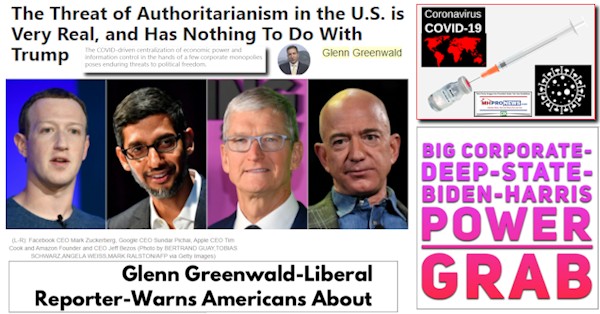 This could easily be summed up in the quotable quote that MHProNews created based on the documentary drama, Shadows of Liberty. Keep in mind that actor Danny Glover has served on the board of directors for a Warren Buffett funded nonprofit.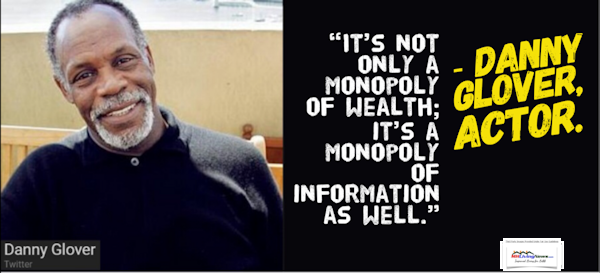 That insight from Glover is the challenge in a nutshell.
The problem is grave.  It is made worse by the realities of what Greenwald calls indifference and how habits impact individuals. Once any habit is formed it is not as easy to break. The maxim 'first you form your habits, then your habits form you' is a matter of centuries of experience and evidence.
But that means that those who get into a habit may find it difficult to break. What that implies is that when powerful, wealthy, and connected individuals want to 'weaponize' habits, they can do so.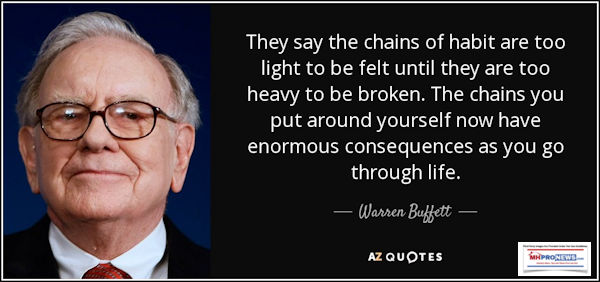 Our focus has been and remains affordable manufactured homes. But these macro-trends impact our profession. Our profession's experiences shed light and give nuance to the macro-trends.
MHProNews has consistently for several years sounded alarms about the Manufactured Housing Institute (MHI). But that group is in turn dominated by a handful of companies. Former MHI Vice President and Manufactured Housing Association for Regulatory Reform (MHARR) President Danny Ghorbani put it this way.
Ghorbani's successor as President and CEO of MHARR, Mark Weiss, J.D., after publishing a detailed report on the internal issues in our industry summed it up like this.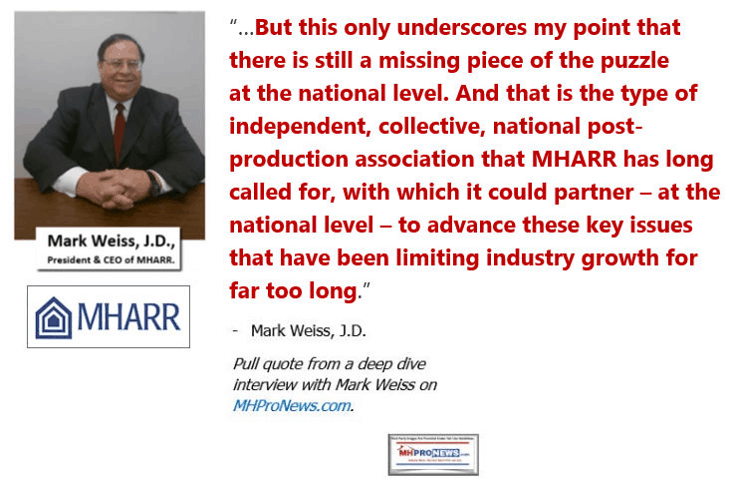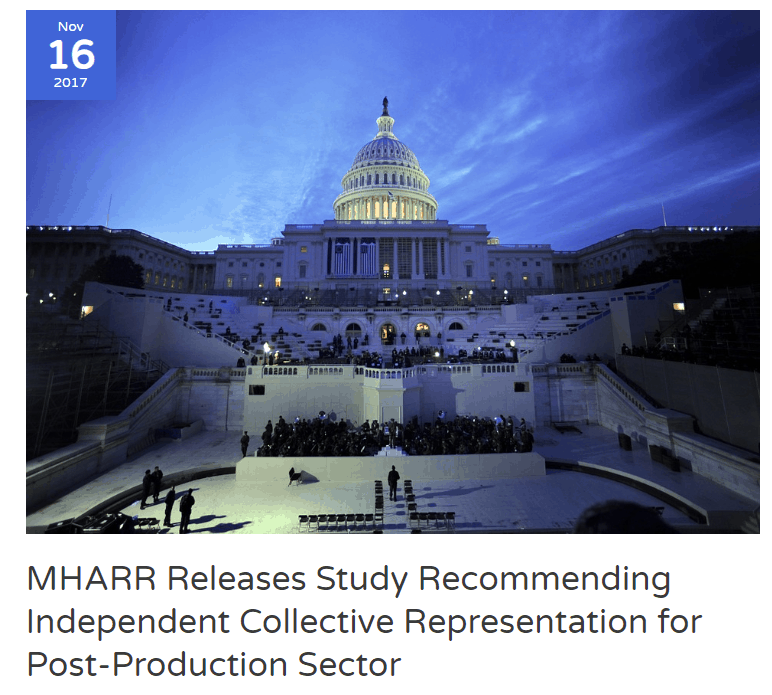 Our profession should be soaring. But what Sam Strommen from Knudson Law referenced as a case of "felony" market manipulation essentially confirmed what MHARR has fought for years, what musing from inside MHI has de facto echoed, and what MHProNews and MHLivingNews have reported virtually alone in our profession's trade media. The report linked below has been the runaway most read in February, starting shortly after it was published.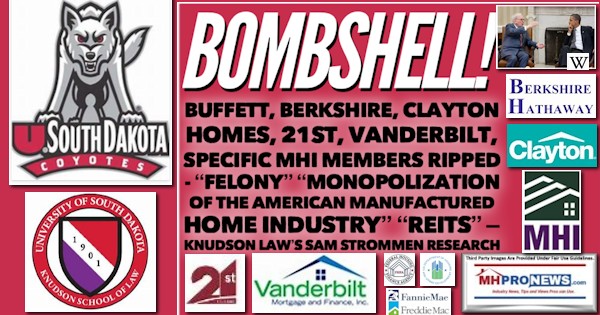 The powers that be were directly and repeatedly challenged to discuss or debate their performance. They have consistently declined.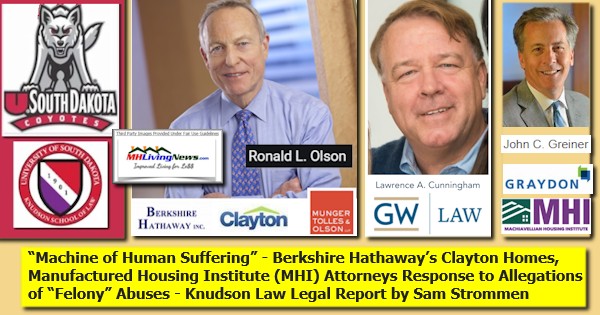 The only soul involved at MHI brave enough to take make that debate ended up tossing in the proverbial towel. But not before Andy Gedo made several useful admissions.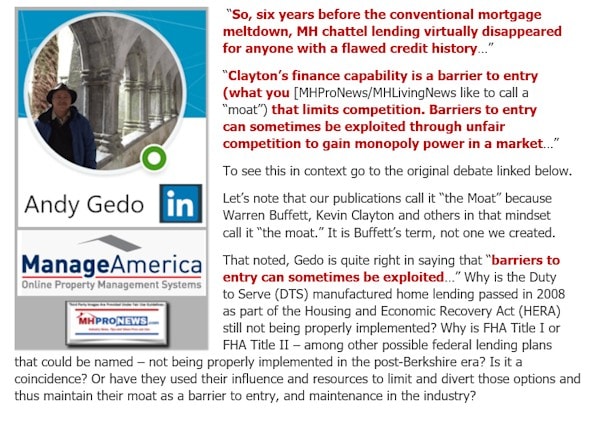 Kevin Clayton has himself made similar admissions.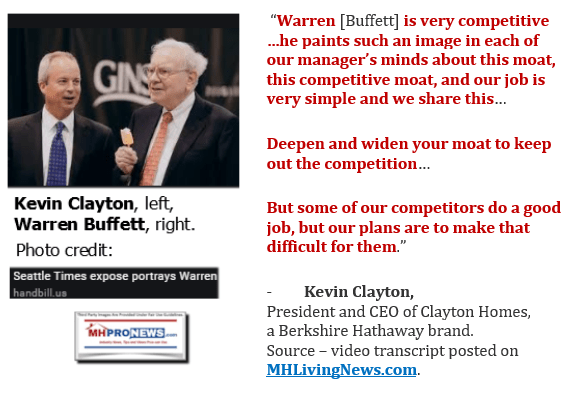 So too has Warren Buffett
What more does a person need?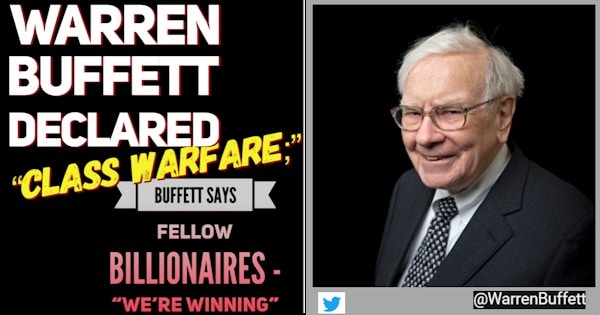 While agreeing on the need for clean air, clean water, and healthy food, etc. MHProNews would take a different view on climate change than the son of the late Senator Robert F. "Bobby" Kennedy. But the bulk of what he argued in the report linked below is why the Children's Health Defense nonprofit that accomplished attorney Robert F. Kennedy Jr leads is doubtlessly why the tech and corporate giants are trying to silence him on social media.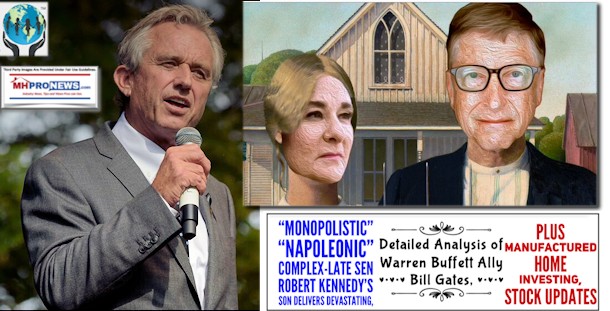 At this time what is needed is to share reality with others. But what is needed soon are leaders willing to step up from inside our industry and announce the obvious. Even relatively mid-sized companies cannot compete if the giants wield the levers of power.
The bad news is potentially good news in disguise.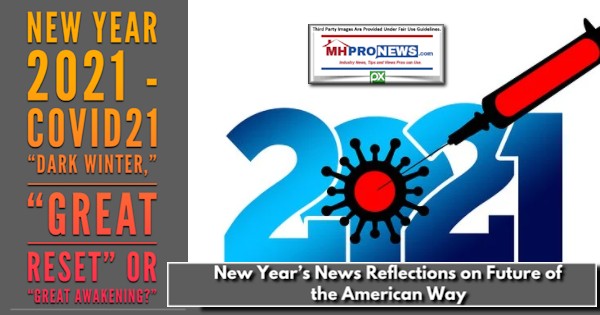 There is a real opportunity for a Great Awakening.
Inform. Organize. Resistance. This can be done profitably.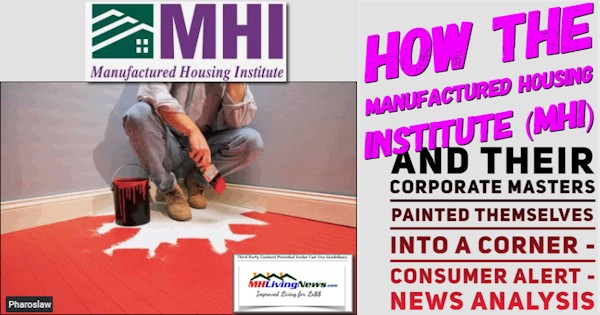 Failure to do it may cost everything you or someone you care about has worked for…so this is not the time for a lack of vision. The opportunity is precisely to bring together insights from across the left-right divide and apply them in a fashion that benefits the majority, instead of the monopolistic minority.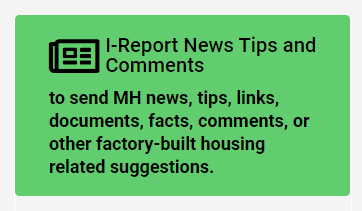 Stay tuned for more of what is 'behind the curtains' as well as what is obvious and in your face reports. It is all here, at the runaway largest and most-read source for authentic manufactured home "Industry News, Tips, and Views Pros Can Use" © where "We Provide, You Decide." © ## (Affordable housing, manufactured homes, reports, fact-checks, analysis, and commentary. Third-party images or content are provided under fair use guidelines for media.) (See Related Reports, further below. Text/image boxes often are hot-linked to other reports that can be access by clicking on them.)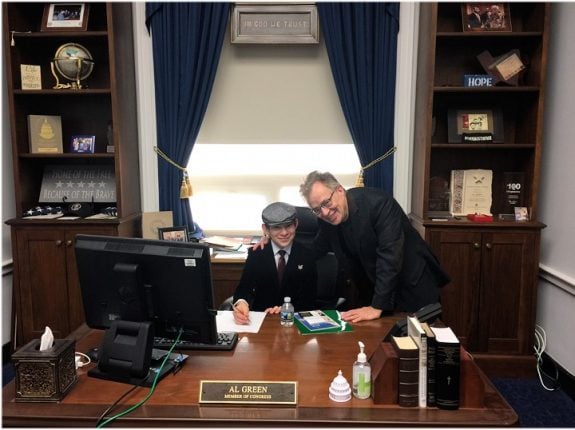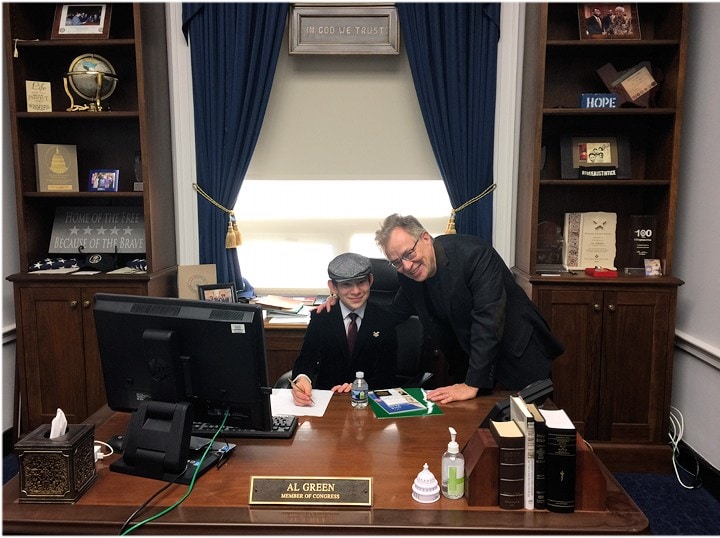 By L.A. "Tony" Kovach – for MHProNews.com.
Tony earned a journalism scholarship and earned numerous awards in history and in manufactured housing.
For example, he earned the prestigious Lottinville Award in history from the University of Oklahoma, where he studied history and business management. He's a managing member and co-founder of LifeStyle Factory Homes, LLC, the parent company to MHProNews, and MHLivingNews.com.
This article reflects the LLC's and/or the writer's position, and may or may not reflect the views of sponsors or supporters.
Connect on LinkedIn: http://www.linkedin.com/in/latonykovach
Related References:
The text/image boxes below are linked to other reports, which can be accessed by clicking on them.