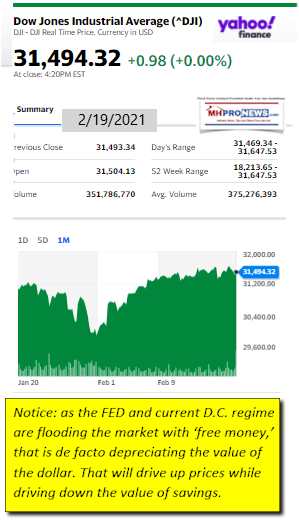 It is Friday night, not Satirical Saturday. So, these bullets are true, not satire.
•          Conventional housing resales are hitting record numbers.
•          Manufactured homes are in another year over year slump.
•          The National Association of Realtors (NAR) and the Manufactured Housing Association for Regulatory Reform (MHARR) releases monthly housing data.
•          It has been some time since the Manufactured Housing Institute (MHI) released any data on new HUD Code manufactured home sales, despite their claims to represent "all segments of manufactured housing" and "factory-built housing."
•          MHI has failed to release any news home sales data on their Clayton Homes backed CrossModTM homes initiative.
•          Yet, MHI claimed that they did 'research' that proved how hot a product this was going to be.  Hmmm….How much did that research cost?
•          Sources have indicated to MHProNews that the total retail sales between MHI's big three builders are in the low double digits.  While the number is not known, Fannie Mae and Freddie Mac have likewise suggested that the numbers are tiny.
•          Despite a dip in sales that follows MHI claims of "millions" of views of their supposed pro-manufactured home marketing information, MHI on 2.17.2021 sent an email to charge members for 'sales training.' What? Charge for sales training while sales are still dropping during an affordable housing crisis?  How bizarre – or brazen – for MHI's self-praised marketing and claims of "momentum" – is it surprising that they want to do sales training too?  If it was a charge of a quarter or even 50c will their 'sales training' work as well as MHI's marketing?
•          Who benefits from that pattern of failure? One word: consolidators. MHI's larger members are not shy about hiding it.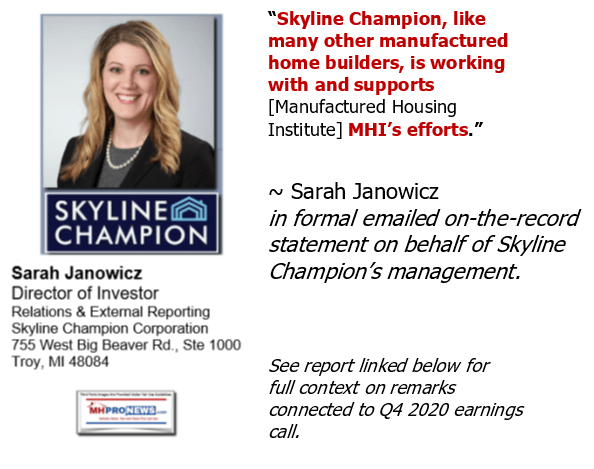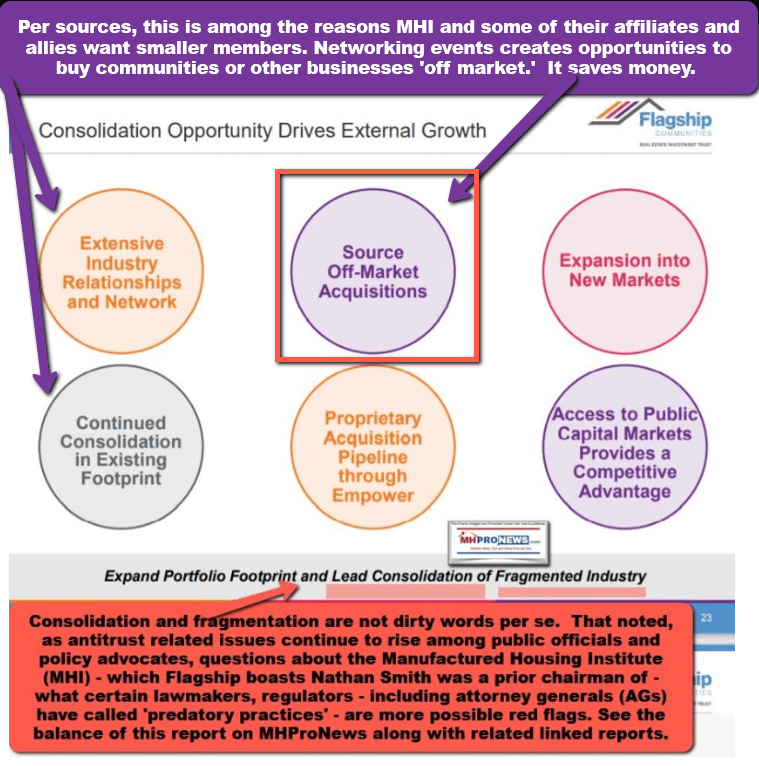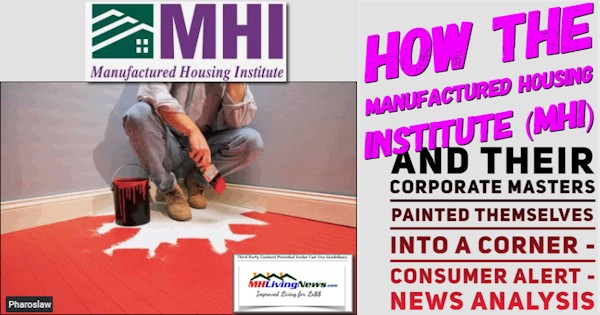 See the linked reports above and below to learn more.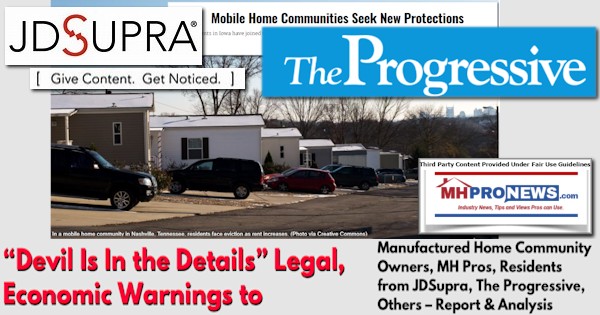 By contrast to MHI, as noted, NAR has released new home sales data. That will be our featured focus tonight.
Quotes That Shed Light – Industry, American, Social, National Issues…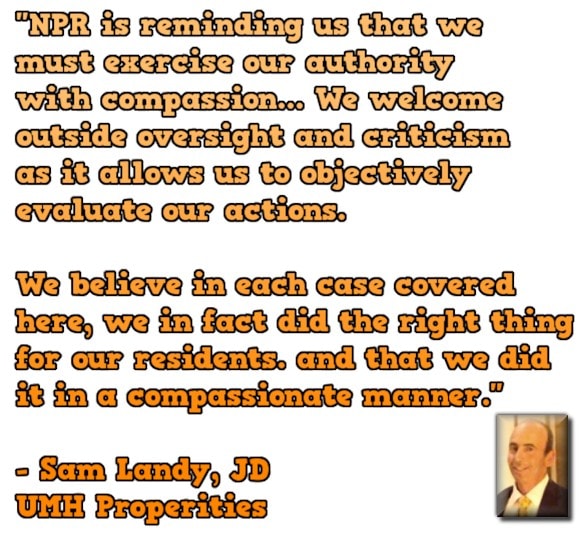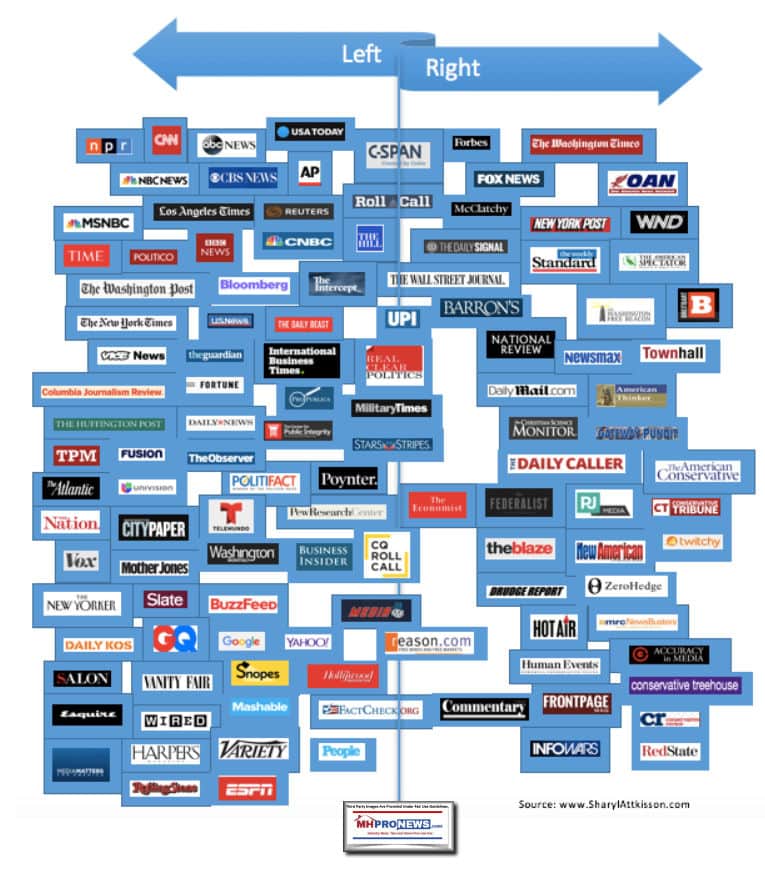 Headlines from left-of-center CNN

Act fast
An aerial view from a drone shows homes in a neighborhood on January 26, 2021 in Miramar, Florida. According to two separate indices existing home prices rose to the highest level in 6 years. (Photo by Joe Raedle/Getty Images)
Buyers need to be ready to pounce in this overheated housing market
Bitcoin's market value tops $1 trillion
Corporate America is jumping for joy while millions remain jobless
Copper prices are soaring. Here's why that's good news for the recovery
Watch lawmakers grill Robinhood's CEO
No slowdown in sight for IPOs or SPACs
UK Supreme Court rules Uber drivers are 'workers,' not contractors
Google reshuffles AI team leadership after a controversial departure
Dole Packaged Foods' US workers will soon make $15 an hour
Walmart just boosted pay to $15. It's not what you think
How to get your kids started investing early
Henrik Fisker's first car company flamed out. He's sure this one will work
Opinion: Rush Limbaugh opened the airwaves to extremist commentary and built an empire
Opinion: The US government must end its war on the American economy
Content by LendingTree
Explore refi options: average $34K in savings
A utilities truck drives down the street during a power outage in McKinney, Texas, U.S., on Tuesday, Feb. 16, 2021. The energy crisis crippling the U.S. showed few signs of abating Tuesday as blackouts left almost 5 million customers without electricity, while refineries and oil wells were shut during unprecedented freezing weather. Photographer: Cooper Neill/Bloomberg via Getty Images
Why the Texas power catastrophe could happen in your state, too
Beyoncé's much-hyped 'Icy Park' Adidas apparel is finally here
'The Muppet Show' showcases the seemingly endless depth of Disney+
Headlines from right-of-center Newsmax
South Carolina Abortion Law Suspended a Day After Passage
South Carolina Gov. Henry McMaster fist bumps South Carolina Citizens for Life Executive Director Holly Gatling before McMaster signed a bill banning almost all abortions in the state on Thursday in Columbia, S.C. Planned Parenthood filed a federal lawsuit to stop the measure from going into effect. (AP)
The Biden Presidency
Mark Green: Biden Immigration Plans 'Pretty Crazy'
Biden Ready to Declare Major Disaster in Texas
Biden: US Commitment to NATO Is 'Unshakeable'
Paul Gosar to Newsmax TV: Border Stance Shows Biden 'Not Sincere' on COVID |
Kerry Vows Aggressive Climate Steps as US Rejoins Paris Accord
US Begins Admitting Asylum Seekers Blocked by Trump
Newsfront
Lindsey Graham on Peace Mission to Mar-a-Lago
Lindsey Graham, R-S.C., will travel to Florida this week, where he will visit former President Donald Trump at his Mar-a-Lago resort in an attempt to ease tensions with Republican leaders, CNN reports. A source told the network that Graham plans to play golf with Trump,
Defiant Cuomo Steps Up Defense on Nursing Home Deaths
Stocks Edge Lower While Bonds Extend Losses
Johns Hopkins Expert Predicts Herd Immunity by April
The United States will achieve herd immunity in its fight against
Donald Trump to Newsmax TV: 'We Lost a Great One' in Rush Limbaugh
Related
David Limbaugh on Rush's Passing: 'My Brother Was the Real Deal'
Hannity: Rush Limbaugh Experienced 'Cancel Culture' Often
'Fox & Friends' Rips NYT for Slams at Rush Limbaugh in His Obit
DeSantis: Rush Limbaugh Was 'Obviously a Legend'
Luetkemeyer to Newsmax TV: Follow Trump 'Template' to Restore Economy
Guns in Capitol Buildings Divide States After Armed Protests
ACLU Asks SCOTUS to Declare All-Male Draft Unconstitutional
DeSantis Orders Florida Flags Lowered for Rush Limbaugh
Texas Grid Operators Say Electrical System Back to Normal
TSA Plans to Add 6,000 Airport Screeners for Post-COVID Travel Rush
China: Clergy Must Embrace Chinese Communist Party
China's State Administration for Religious Affairs has released new
1st Clone of US Endangered Species, a Ferret, Announced
Scientists have cloned the first U.S. endangered species
Iran Renews Call to US to Lift All Sanctions Imposed by Trump
Florida Gov. Ron DeSantis Proposes Election Reforms
US Begins Admitting Asylum Seekers Blocked by Trump
Gizzi: Trump Team Out in Front of McConnell's in '22 Senate Primaries
Florida Man Charged in Attack Plot on Trump Supporters
A Florida man accused of trying to organize an armed response
6 Capitol Police Officers Suspended, 29 Others Under Probe
Trump Lawyer Schoen: Impeachment Trial Boosted Ex-President, Got Me 'Canceled'
Far from hurting former President Donald Trump,
Finance
US Existing Home Sales, and Prices, Rise Again in January
Sales of previously occupied U.S. homes rose again last month, a sign that the housing market's strong momentum from 2020 may be carrying over into this year.
Fed Says Policy Providing 'Powerful Support' to US Economy
Top UK Court: Uber Drivers Entitled to Worker Rights
Apple Is Working on Magnetic Battery Pack Attachment for iPhones
Bitcoin Climbs Above $52,000 as Musk Backs Crypto Over Cash
Health
COVID Placebo Studies Hindered With Volunteers Getting Vaccine
Thousands of volunteers participating in studies of the Pfizer-BioNTech and Moderna COVID-19 vaccines continue to be involved in follow-up research, but many in the placebo group have now gotten their vaccinations, meaning it may be difficult for the companies to answer…
Study: People Can Have Real-Life Conversations While Dreaming
How to Tell Difference Between Heart Attack and Panic Attack
Study: Drinking Alone Is Increasing
CPAP Therapy Also Helps Heart Patients
Market Indicator Closing Summaries – Yahoo Finance Closing Tickers on MHProNews…
Featured Focus –
Where Business, Politics and Investing Can Meet
The following is a media release from the National Association of Realtors (NAR) that provides a stark contrast to the silence by MHI on new HUD Code housing sales.

Key Highlights
Existing-home sales continued to increase in January to a seasonally-adjusted annual rate of 6.69 million, up 0.6% from the prior month and 23.7% from one year ago.
The median existing-home sales price rose to $303,900, 14.1% higher from one year ago.
As of the end of January, housing inventory fell to a record-low of 1.04 million units, down by 25.7% year-over-year – a record decline.
WASHINGTON (February 19, 2021) – Existing-home sales rose in January, marking two consecutive months of growth, according to the National Association of Realtors®. From a month-over-month perspective, buying activity varied in the major regions. Year-over-year, all four areas recorded double-digit gains in January.
Total existing-home sales,1https://www.nar.realtor/existing-home-sales, completed transactions that include single-family homes, townhomes, condominiums and co-ops, increased 0.6% from December to a seasonally-adjusted annual rate of 6.69 million in January. Sales in total climbed year-over-year, up 23.7% from a year ago (5.41 million in January 2020).
"Home sales continue to ascend in the first month of the year, as buyers quickly snatched up virtually every new listing coming on the market," said Lawrence Yun, NAR's chief economist. "Sales easily could have been even 20% higher if there had been more inventory and more choices."
The median existing-home price2for all housing types in January was $303,900, up 14.1% from January 2020 ($266,300), as prices increased in every region. January's national price jump marks 107 straight months of year-over-year gains.
Whereas much of the economy has suffered due to COVID-19, the housing sector has been one of the few bright spots, according to Yun. In NAR's latest quarterly report, released last week, home prices in every tracked U.S. metro area increased during the fourth quarter of 2020.
"Home sales are continuing to play a part in propping up the economy," Yun said. "With additional stimulus likely to pass and several vaccines now available, the housing outlook looks solid for this year."
Yun says he expects more jobs to return, which will spur homebuying in the coming months. He predicts existing-home sales will reach at least 6.5 million in 2021, even as he says mortgage rates are likely to inch higher due to the rising budget deficit and higher inflation.
Total housing inventory3at the end of January amounted to 1.04 million units, down 1.9% from December and down 25.7% from one year ago (1.40 million). Unsold inventory sits at a 1.9-month supply at the current sales pace, equal to December's supply and down from the 3.1-month amount recorded in January 2020. NAR first began tracking the single-family home supply in 1982.
Properties typically remained on the market for 21 days in January, seasonally even with December and down from 43 days in January 2020. Seventy-one percent of the homes sold in January 2021 were on the market for less than a month.
First-time buyers were responsible for 33% of sales in January, up from 31% in December 2020 and from 32% in January 2020. NAR's 2020 Profile of Home Buyers and Sellers – released in late 20204– revealed that the annual share of first-time buyers was 31%.
Individual investors or second-home buyers, who account for many cash sales, purchased 15% of homes in January, up modestly from 14% in December 2020, but down from 17% in January 2020. All-cash sales accounted for 19% of transactions in January, unchanged from December but down from 21% in January 2020.
Distressed sales5– foreclosures and short sales – represented less than 1% of sales in January, equal to December's percentage but down from 2% in January 2020.
"This year, more than ever, we are prepared and eager to help families and neighbors secure housing," said NAR President Charlie Oppler, a Realtor® from Franklin Lakes, N.J., and the CEO of Prominent Properties Sotheby's International Realty. "NAR is working to close the racial homeownership gap, secure equal access to housing for all Americans and address housing affordability issues plaguing communities across the country."
Oppler, citing NAR's recent Snapshot of Race and Home Buying in America, which reported wide differences in homeownership rates across racial groups, said more work is needed.
According to Freddie Mac, the average commitment rate(link is external) for a 30-year, conventional, fixed-rate mortgage was 2.74% in January, up from 2.68% in December. The average commitment rate across all of 2020 was 3.11%.
Single-family and Condo/Co-op Sales
Single-family home sales rose at a seasonally-adjusted annual rate of 5.93 million in January, up 0.2% from 5.92 million in December, and up 23.0% from one year ago. The median existing single-family home price was $308,300 in January, up 14.8% from January 2020.
Existing condominium and co-op sales were recorded at a seasonally-adjusted annual rate of 760,000 units in January, up 4.1% from December and up 28.8% from one year ago. The median existing condo price was $269,600 in January, an increase of 8.6% from a year ago.
Regional Breakdown
Compared to one year prior, median home prices rose at double-digit rates in each of the four major regions.
January 2021 witnessed existing-home sales in the Northeast fall 2.2%, recording an annual rate of 870,000, a 24.3% increase from a year ago. The median price in the Northeast was $361,400, up 15.8% from January 2020.
Existing-home sales in the Midwest inched up 1.9% to an annual rate of 1,570,000 in January, a 22.7% jump from a year ago. The median price in the Midwest was $227,800, a 14.7% increase from January 2020.
Existing-home sales in the South grew 3.2%, posting an annual rate of 2,940,000 in January, up 25.1% from the same time one year ago. The median price in the South was $263,300, a 14.6% climb from a year ago.
Existing-home sales in the West fell 4.4% from the month prior, recording an annual rate of 1,310,000 in January, a 21.3% increase from a year ago. The median price in the West was $461,800, up 16.1% from January 2020.
The National Association of Realtors® is America's largest trade association, representing more than 1.4 million members involved in all aspects of the residential and commercial real estate industries.
# # #
For local information, please contact the local association of Realtors® for data from local multiple listing services (MLS). Local MLS data is the most accurate source of sales and price information in specific areas, although there may be differences in reporting methodology.
NOTE: NAR's Pending Home Sales Index for January is scheduled for release on February 25, and Existing-Home Sales for February will be released March 22; release times are 10:00 a.m. ET.
1Existing-home sales, which include single-family, townhomes, condominiums and co-ops, are based on transaction closings from Multiple Listing Services. Changes in sales trends outside of MLSs are not captured in the monthly series. NAR rebenchmarks home sales periodically using other sources to assess overall home sales trends, including sales not reported by MLSs.
Existing-home sales, based on closings, differ from the U.S. Census Bureau's series on new single-family home sales, which are based on contracts or the acceptance of a deposit. Because of these differences, it is not uncommon for each series to move in different directions in the same month. In addition, existing-home sales, which account for more than 90% of total home sales, are based on a much larger data sample – about 40% of multiple listing service data each month – and typically are not subject to large prior-month revisions.
The annual rate for a particular month represents what the total number of actual sales for a year would be if the relative pace for that month were maintained for 12 consecutive months. Seasonally adjusted annual rates are used in reporting monthly data to factor out seasonal variations in resale activity. For example, home sales volume is normally higher in the summer than in the winter, primarily because of differences in the weather and family buying patterns. However, seasonal factors cannot compensate for abnormal weather patterns.
Single-family data collection began monthly in 1968, while condo data collection began quarterly in 1981; the series were combined in 1999 when monthly collection of condo data began. Prior to this period, single-family homes accounted for more than nine out of 10 purchases. Historic comparisons for total home sales prior to 1999 are based on monthly single-family sales, combined with the corresponding quarterly sales rate for condos.
2The median price is where half sold for more and half sold for less; medians are more typical of market conditions than average prices, which are skewed higher by a relatively small share of upper-end transactions. The only valid comparisons for median prices are with the same period a year earlier due to seasonality in buying patterns. Month-to-month comparisons do not compensate for seasonal changes, especially for the timing of family buying patterns. Changes in the composition of sales can distort median price data. Year-ago median and mean prices sometimes are revised in an automated process if additional data is received.
The national median condo/co-op price often is higher than the median single-family home price because condos are concentrated in higher-cost housing markets. However, in a given area, single-family homes typically sell for more than condos as seen in NAR's quarterly metro area price reports.
3Total inventory and month's supply data are available back through 1999, while single-family inventory and month's supply are available back to 1982 (prior to 1999, single-family sales accounted for more than 90% of transactions and condos were measured only on a quarterly basis).
4Survey results represent owner-occupants and differ from separately reported monthly findings from NAR's Realtors® Confidence Index, which include all types of buyers. Investors are under-represented in the annual study because survey questionnaires are mailed to the addresses of the property purchased and generally are not returned by absentee owners. Results include both new and existing homes.
5Distressed sales (foreclosures and short sales), days on market, first-time buyers, all-cash transactions and investors are from a monthly survey for the NAR's Realtors® Confidence Index, posted at nar.realtor.
###
NAR does not mind laying out facts instead of distractions.  While it is not MHARR's role to be engaged in post-production issues, thankfully, they have pushed back against MHI plus have kept the industry informed on HUD Code home production and shipments.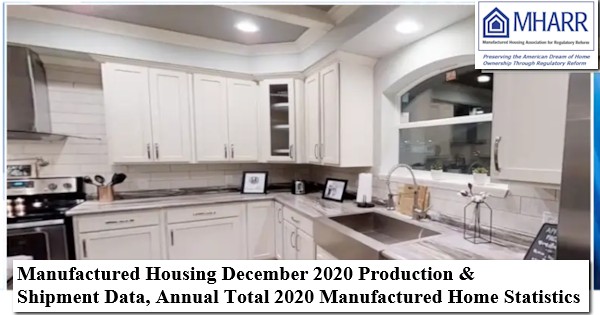 Related, Recent, and Read Hot Reports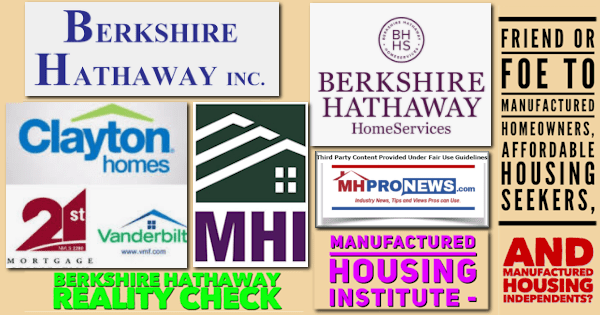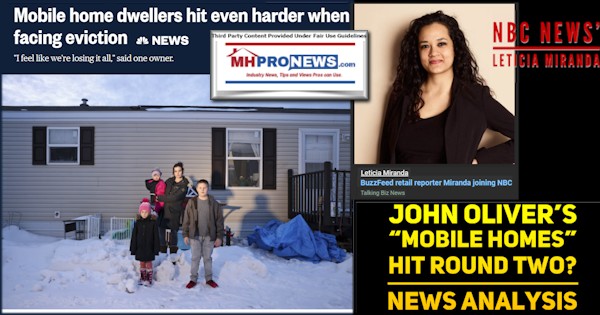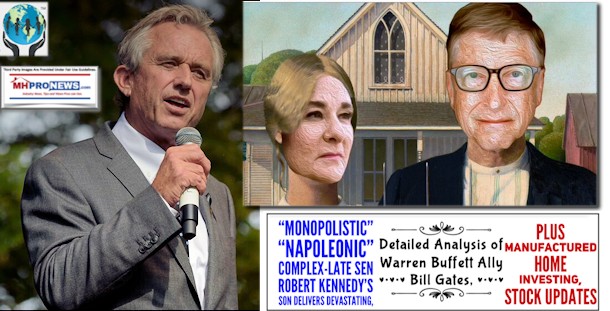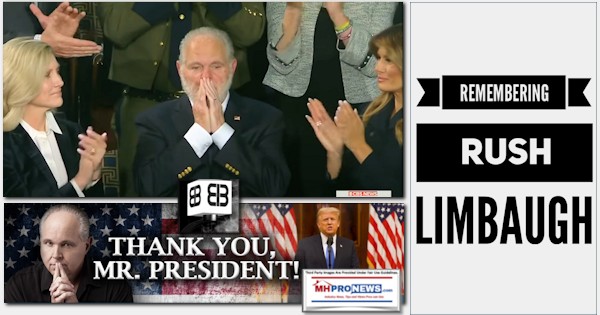 Manufactured Housing Industry Investments Connected Closing Equities Tickers
Some of these firms invest in manufactured housing, or are otherwise connected, but may do other forms of investing or business activities too.
NOTE: The chart below includes the Canadian stock, ECN, which purchased Triad Financial Services, a manufactured home industry lender
NOTE: Drew changed its name and trading symbol at the end of 2016 to Lippert (LCII).
NOTE: Deer Valley was largely taken private, say company insiders in a message to MHProNews on 12.15.2020, but there are still some outstanding shares of  the stock from the days when it was a publicly traded firm.  Thus, there is still periodic activity on DVLY.
Winter 2021…
Berkshire Hathaway is the parent company to Clayton Homes, 21st Mortgage, Vanderbilt Mortgage and other factory built housing industry suppliers.
· LCI Industries, Patrick, UFPI, and LP each are suppliers to the manufactured housing industry, among others.
· AMG, CG, and TAVFX have investments in manufactured housing related businesses. For insights from third-parties and clients about our publisher, click here.
Enjoy these 'blast from the past' comments.
MHProNews. MHProNews – previously a.k.a. MHMSM.com – has celebrated our 11th year of publishing, and is starting our 12the year of serving the industry as the runaway most-read trade media.
Sample Kudos over the years…
It is now 11+ years and counting…and Williams, who praised our accuracy and other services to manufactured housing for years, then said this.
Learn more about our evolutionary journey as the industry's leading trade media, at the report linked below.
· For expert manufactured housing business development or other professional services, click here.
· To sign up in seconds for our industry leading emailed headline news updates, click here.

Disclosure. MHProNews holds no positions in the stocks in this report.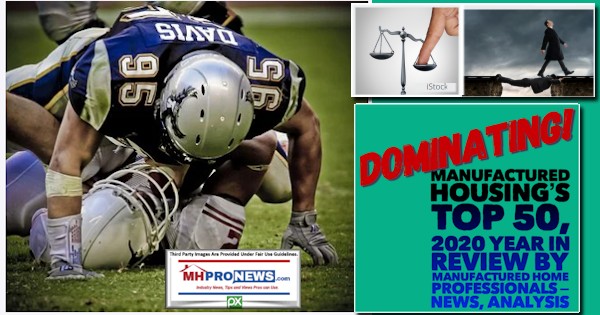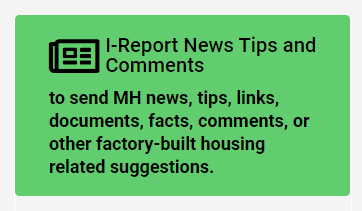 That's a wrap on this installment of "News Through the Lens of Manufactured Homes and Factory-Built Housing" © where "We Provide, You Decide." © (Affordable housing, manufactured homes, stock, investing, data, metrics, reports, fact-checks, analysis, and commentary. Third-party images or content are provided under fair use guidelines for media.) (See Related Reports, further below. Text/image boxes often are hot-linked to other reports that can be access by clicking on them.)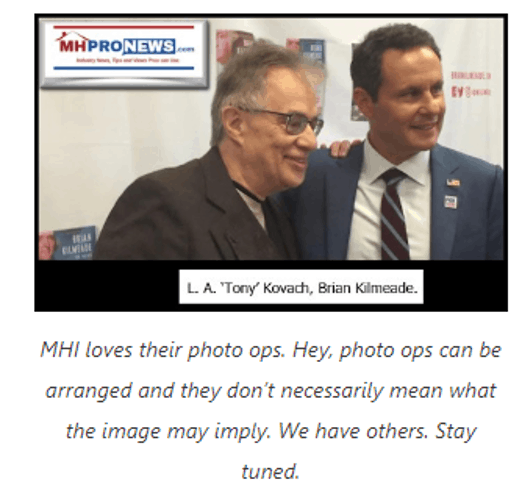 By L.A. "Tony" Kovach – for MHLivingNews.com.
Tony earned a journalism scholarship and earned numerous awards in history and in manufactured housing. For example, he earned the prestigious Lottinville Award in history from the University of Oklahoma, where he studied history and business management. He's a managing member and co-founder of LifeStyle Factory Homes, LLC, the parent company to MHProNews, and MHLivingNews.com. This article reflects the LLC's and/or the writer's position, and may or may not reflect the views of sponsors or supporters.