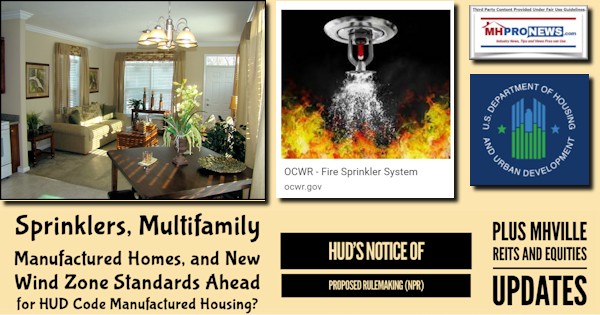 Of course, the Manufactured Housing Institute (MHI) is claiming credit – for some new HUD standards that are not yet a done deal. The Manufactured Housing Association for Regulatory Reform (MHARR) is more nuanced, saying they have consistently advocated for the opportunity for HUD Code manufactured home builders to offer 'multi-family' manufactured homes that consists of multiple housing units. At the same time, MHARR is pushing back on some of the proposed standards. The MHARR release is below, along with the download of the Federal Register Comments letter.

JULY 20, 2022
TO:   MHARR MANUFACTURERS
           MHARR STATE AFFILIATES
           MHARR TECHNICAL REVIEW GROUP (TRG)
FROM: MHARR
RE:   HUD PUBLISHES PROPOSED NEW STANDARDS – INCLUDING  MAJOR VICTORY FOR THE MH INDUSTRY AND CONSUMERS
The HUD Office of Manufactured Housing Programs (OMHP) has published an extensive set of proposed new construction and safety standards and regulations for federally-regulated manufactured housing. The HUD Notice of Proposed Rulemaking (NPR), published in the July 19, 2022 edition of the Federal Register (see, copy attached) addresses – and would adopt (with certain adjustments) – the so-called fourth and fifth group of standards recommendations submitted to HUD by the statutory Manufactured Housing Consensus Committee (MHCC).
Among the multiple standards changes and additions set forth in the NPR, are three that are of particular significance to the HUD Code industry, American consumers of affordable housing and the HUD Code manufactured housing market more broadly. Comments in response to the NPR are due by September 19, 2022. Given the importance of these issues – and particularly the supposedly "voluntary" sprinkler criteria contained in the NPR – MHARR will consult with members and submit relevant comments to HUD.
The three particularly significant standards-modifications and additions contained in the NPR are addressed in further detail below —
Multi-Dwelling Manufactured Homes: The first of the three major HUD actions is the promulgation of new standards that would permit the construction and sale of multi-dwelling unit manufactured homes with up to three dwelling units contained in a single structure. MHARR is – and has been – a strong proponent of these changes. The changes are an outgrowth of an October 3, 2014 warning issued to manufactured housing producers by former HUD manufactured housing program administrator, Pamela Danner, to avoid the production and/or marketing of anything other than "single-family" manufactured homes, based on alleged regulatory restrictions barring multi-family or multi-unit HUD Code homes. MHARR immediately objected to this alleged "guidance" on the ground that the "single-family" limitation contained in the HUD regulations was not based on any supporting language in the National Manufactured Housing Construction and Safety Standards Act of 1974 (as amended by the Manufactured Housing Improvement Act of 2000) and, in fact, was inconsistent with the definition of "manufactured home" contained in the statute. This activity was described in a January 2015 MHARR memorandum regarding the Association's efforts to advance this crucial aspect of parity between manufactured housing and other types of housing as follows:
This MHCC activity relates back to an October 3, 2014 guidance memorandum issued by the HUD program administrator, warning of enforcement action against any HUD-labeled home designed and built for "multi-family or non-single-family residential use" based on the definition of "dwelling unit" contained in section 3280.2 of the HUD standards — which provides that a manufactured home, as a "dwelling unit," must be "designed to be occupied by one family."
In a November 12, 2014 communication to the program administrator – and again at the December 2014 MHCC meeting – MHARR stressed that the "single-family" restriction contained in 3280.2 exceeds relevant statutory authority in that the statutory definition of "manufactured home" states that a manufactured home is a "dwelling," but does not otherwise define or limit a "dwelling" – expressly or implicitly — to being a "single-family" home. Thus, there is no statutory support for the 3280.2 restriction of a "dwelling unit" to occupancy "by one family."
This aggressive MHARR objection forced the Administrator to back down, ultimately leading to MHCC consideration of additions and modifications to the standards to support multi-dwelling unit manufactured homes. Now, after seven years, HUD is finally promulgating those standards to permit and authorize the utilization of HUD Code homes for multi-family situations with up to three units.
This step represents a significant victory for the manufactured housing industry, that will open new markets for HUD Code homes in full competition with other types of housing.
Wind Resistance Criteria:  The second major update contained in the July 19, 2022 proposed rule, would update the reference standard for the HUD Code's wind resistance criteria from the 1988 version of the American Society of Civil Engineers (ASCE) reference code to the 2005 version of that code.  Consistent with this update, the "three second gust" (as opposed to the current "fastest mile") wind resistance criteria would be 140 MPH in Wind Zone II and 150 MPH in Wind Zone III. Again, this change is consistent with the consensus recommendation of the MHCC. Notwithstanding that point, however, MHARR will seek further input on whether the change/update is warranted and cost-effective, and whether it is consistent with the express terms and purposes of applicable law, and will submit appropriate comments to HUD.
"Voluntary" Sprinkler Standard: The third significant modification contained in the July 19, 2022 NPR is a proposal that would establish "voluntary" standards "for the design and installation of fire sprinkler systems when a manufacturer chooses to install such a system…." Such standards, sought by the Manufactured Housing Institute (MHI) and recommended by the MHCC after years of contentious debate, have been consistently opposed by MHARR (dating back to 1987) for multiple reasons, including but not limited to the following:
The insertion of fire sprinkler standards into the HUD Code, even if "voluntary," could – and likely would – ultimately lead to mandatory sprinkler standards as a result of regulatory "mission creep;"
There is no provision – and no valid basis – for the establishment of "voluntary" standards under the 1974 manufactured housing Act as amended;
A voluntary fire sprinkler standard is not needed to federally-preempt state and/or local fire sprinkler mandates, as a valid basis for such preemption can be inferred from the language of both the Act and already-existing "fire safety" standards; and
Fire sprinklers are substantively unnecessary, as is demonstrated by Foremost Insurance Company and National Fire Protection Association (NFPA) data showing that modern HUD Code manufactured homes are already as fire-safe – or safer than – site-built homes based on all metrics of measurement.
Insofar as the validity, legitimacy and persuasiveness of these positions has not changed since the time of the MHCC's recommendation (and, indeed, since the inception of this issue), MHARR will continue to aggressively oppose the needless insinuation of specific fire sprinkler standards in the HUD Code.
In addition to these three specific revisions, the July 19, 2022 NPR contains other standards modifications, as well as reference standards updates, that MHARR will carefully analyze and comment-on as warranted. Again, responsive comments are due by September 19, 2022. As usual, MHARR will seek to make its comments available to industry members in advance of the rulemaking deadline and urges all interested stakeholders to submit their own comments. It should be noted that the changes set forth in the NPR are particularly important for the industry's post-production sector. MHARR, accordingly, would especially encourage businesses within that sector to submit their own comments to HUD.
cc:  Other Interested HUD Code Manufactured Housing Industry Members
Manufactured Housing Association for Regulatory Reform (MHARR)
1331 Pennsylvania Ave N.W., Suite 512
Washington D.C. 20004
Phone: 202/783-4087
Fax: 202/783-4075
Email: MHARR@MHARRPUBLICATIONS.COM
Website: manufacturedhousingassociation.org
— 30 —
The HUD notice in the Federal Register is found at this link here.
Additional or Related Information with More MHProNews Analysis, Tips, and Commentary
To learn more about controversies and other items related to HUD and the manufactured housing industry, see the linked reports.
State-by-State, Regional, National Manufactured Housing Data for Production, Shipments for May 2022, Compare Manufactured Home to Conventional Housing, Other Research Reports; and MHStock Updates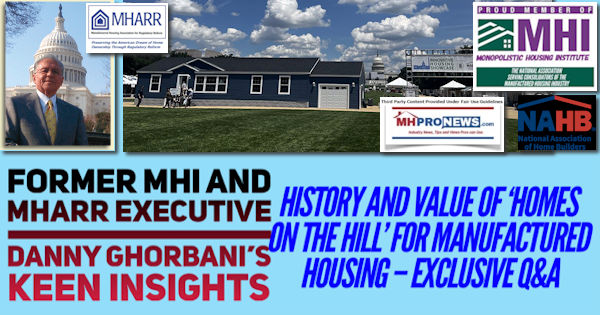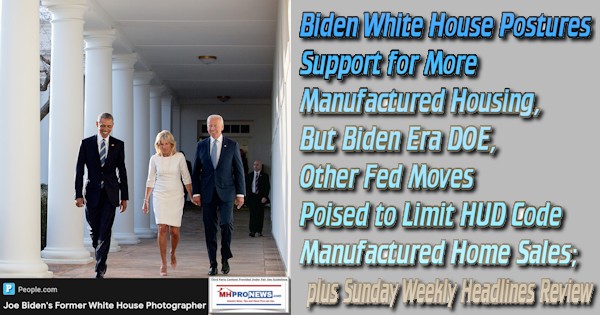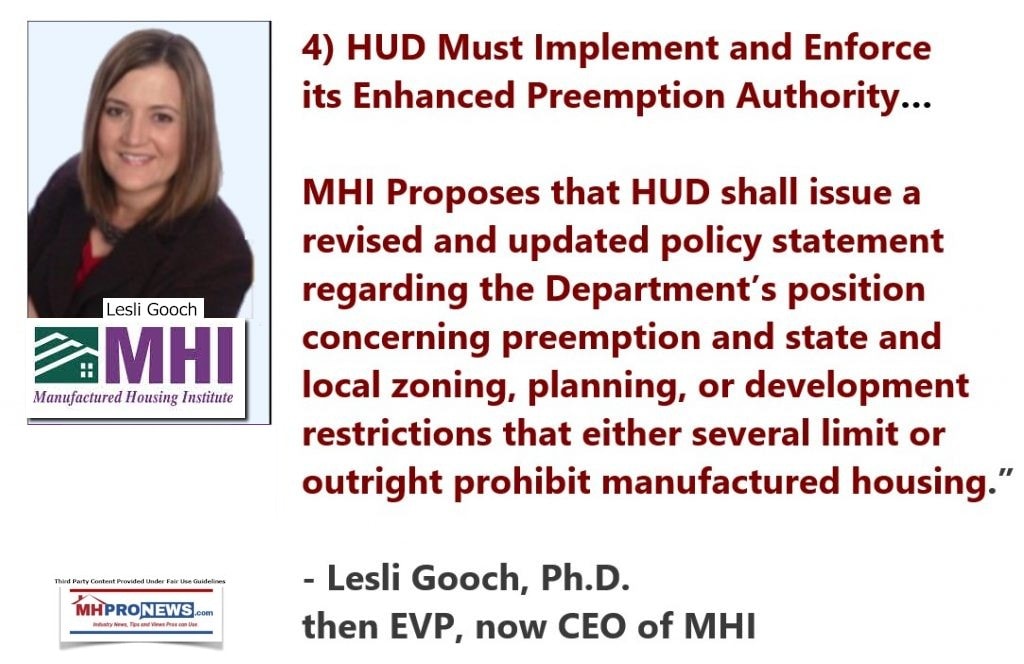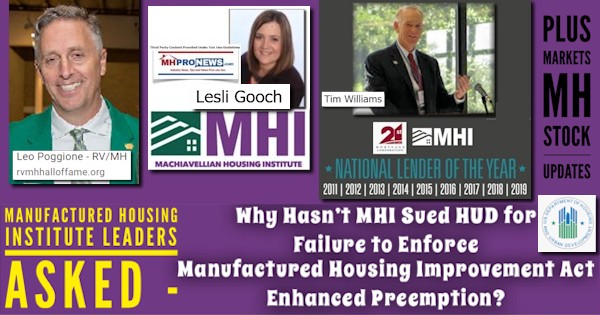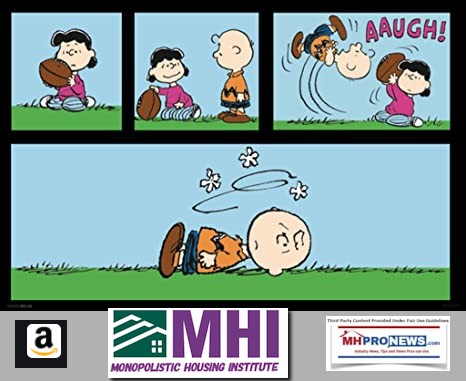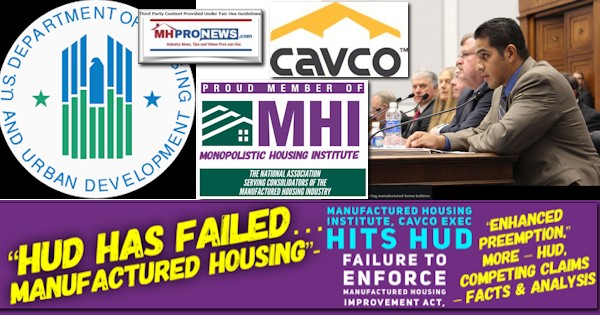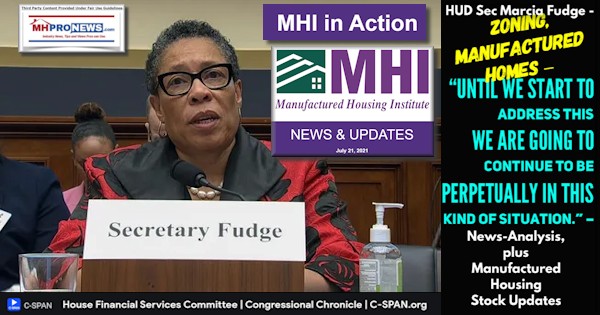 Next up is our daily business news recap of yesterday evening's market report, related left-right headlines, and manufactured housing connected equities.
The Business Daily Manufactured Home Industry Connected Stock Market Updates.  Plus, Market Moving Left leaning CNN and Right-leaning (Newsmax) Headlines Snapshot. While the layout of this daily business report has been evolving over time, several elements of the basic concepts used previously are still the same. For instance. The headlines that follow below can be reviewed at a glance to save time while providing insights across the left-right media divide. Additionally, those headlines often provide clues as to possible 'market-moving' news items.
Market Indicator Closing Summaries – Yahoo Finance Closing Tickers on MHProNews…
Headlines from left-of-center CNN Business – from the evening of 7.20.2022
Thinking different
David Solomon, chief executive officer of Goldman Sachs Inc., during a Bloomberg Television interview on the sidelines of the Global Investment Summit (GIS) 2021 at the Science Museum in London, U.K., on Tuesday, Oct. 19, 2021.
Goldman CEO says that after Ukraine, we'll never see basics like energy and food the same way
Europe's economy is in dire straits. This week presents a crucial test
EU officials plan to force countries to ration gas as Russia weaponizes energy
This airline is launching electronic bag tags to speed up airport check-in
Nearly 'zero revenue': Macao's casinos were burning millions a day. Then came a lockdown
Russia broke the stock market. Now there's only one reliable way to make money
Netflix finally told investors what they want to hear
Next 'Squid Game?' Big ratings on Netflix boosts hope for next Korean hit
Home prices hit an all-time high, even as sales continue to slow
Opinion: The painful market selloff should be over soon
Apple agrees to pay $50 million to settle issues related to its keyboards
First on CNN: Goodyear developing airless metal tires for GM's moon buggy
This Hong Kong farm is using fish and blue lights to grow basil the size of your face
US Postal Service increases its electric vehicle order after blowback
These are the keys to 401(k) investing success in a falling market
Moms are crossing borders in search of baby formula due to US shortage
SUMMER TRAVEL
Passengers queue inside the departures terminal of Terminal 2 at Heathrow Airport in London, Britain, June 27, 2022.
Traveling reaches peak suck just as everyone is trying to get out of town
French resorts grapple with big crowds
Delta baggage flight is latest sign of air travel hell
Opinion: The pilot shortage is about to get a lot worse
Airline bosses still hopeful despite setbacks
HOUSE HUNTING
A For Sale sign is posted in front of a home in Sacramento, Calif., Thursday, March 3, 2022.
The dream of owning a home is out of reach for 4 million Americans
Average rent in Manhattan jumps to $5,000 a month
Home building stalls as the real estate market cools
Foreign buyers are returning to the US housing market
Millions of renters unsure if they can make rent
Headlines from right-of-center Newsmax 7.20.2022
Bipartisan Senate Group Introduces Electoral Reform Bills
Lawmakers review Electoral College results from Ohio back in the 2012 election. (Getty)
Advocates call it an attempt to clarify and fine-tune a process of vote certification that has come under scrutiny and heavy fire in the aftermath of the 2020 presidential election. [Full Story]
Russian Invasion of Ukraine
Yellen Welcomes Ukraine Debt Freeze, Urging Creditors to Join
Ukraine First Lady Appeals for More Arms
Putin Gas Cutoff for Europe: Severe Recession to Follow
Lavrov: Russia's Objectives in Ukraine Now Go Beyond Donbas
Russian Defense Ministry Says It Destroyed US-Made Anti-ship Missile Launcher in Ukraine
Putin Warns EU That Gas Supplies Could Keep Dwindling
Putin Visits Iran on First Trip Outside Former Soviet Union Since Ukraine War
More Russian Invasion of Ukraine
Newsmax TV
Greene: AOC, Omar Protests 'a Joke' | video
Van Drew: Help Ukraine, but US Must Come First | video
Burgess: Biden's Missteps 'Purposefully Destructive' | video
Luetkemeyer: Tax Hike on Small Businesses 'Devastating' | video
Arizona Senate Hopeful Lamon: Masters Is a 'Globalist' | video
Mast: 'Nobody' Believes Biden Would Destroy Iran's Nukes, if Challenged | video
Cramer: Congress Should Probe China's US Farmland Purchases | video
More Newsmax TV
Newsfront
Mother of Uvalde Shooter Apologizes to Victim's Family
The mother of the shooter charged with killing 21 people, including 19 children, at an elementary school in Uvalde, Texas apologized to the family of one of the victims this week during a confrontation…. [Full Story]
Donald Trump and Family Attend Ivana Trump's Funeral in NYC
Former President Donald Trump paid respects to his first wife, Ivana [Full Story]
Appeals Court Says Georgia Abortion Law Should Take Effect
A federal appeals court on Wednesday overturned a lower court ruling [Full Story]
Transgender Swimmer's 'Woman of the Year' Nod 'Tarnished' School's Reputation
The decision by the University of Pennsylvania to nominate [Full Story] | Platinum Article
DHS Chief Mayorkas: US-Mexico Border 'Secure'
Department of Homeland Security Secretary Alejandro Mayorkas on [Full Story]
Abortion Clinic Relocation to New Mexico Draws Protest
Anti-abortion activists from across the U.S. converged in southern [Full Story]
Biden Comes Up Empty for US on Saudi Trip, Experts Say
Foreign affairs experts gave President Joe Biden's first Middle East [Full Story] | Platinum Article
Study: Big Tech Heavily Engaged in Censoring Conservatives
Big Tech is discriminating against conservatives and independent [Full Story]
Dick Morris: Hillary Clinton Will Run Against Trump Again
It will be one of the great political re-matches of all time. Hillary [Full Story]
Related
Dick Morris to Newsmax: Trump Will Face Hillary in 2024, 'Win Handily' |video
Romney Slams Justice Thomas For Urging Reconsideration of Same-Sex Marriage Ruling
Mitt Romney on Wednesday criticized the opinion written by [Full Story]
Feds Probe Former AG's Obstetrician Wife for Allegedly Violating Privacy Laws
The wife of former U.S. attorney general Eric Holder is being [Full Story]
Bipartisan Senate Group Introduces Electoral Reform Bills
A bipartisan group of U.S. senators introduced two bills on [Full Story]
Putin Gas Cutoff for Europe: Severe Recession to Follow
Russian President Vladimir Putin's gas cuts could send some European [Full Story]
Democrat Suit Faults FEC for Inaction on Trump's Teasing of 2024 Run
A pro-Democrat super PAC is accusing the Federal Election Commission [Full Story]
Poll: 58% of Americans Want TikTok Removed From App Stores
TikTok is owned by ByteDance, a Chinese multinational internet [Full Story]
Boris Johnson's Farewell: Stick Close to America, Support Ukraine
British Prime Minister Boris Johnson bowed out of his final showpiece [Full Story]
Trump-Backed Dan Cox Wins Maryland GOP Gubernatorial Primary
In a race flexing former President Donald Trump's endorsement muscle, [Full Story]
Related
Larry Hogan's '24 White House Hopes Dealt Serious Blow
Maryland Sen. Chris Van Hollen Wins Dem Primary
Report: Feds Don't Know Whereabouts of Hundreds of Thousands of Migrants
Federal immigration officials don't know the whereabouts of [Full Story]
Ukraine First Lady Appeals for More Arms
Ukraine first lady Olena Zelenska appealed face to face to U.S. [Full Story]
Rubio Chides Demings on TikTok Use: She Should Know Better
Marco Rubio, R-Fla., says Democratic opponent Rep. Val Demings [Full Story]
Video Report: Vladimir Putin Visits Iran as War in Ukraine Continues
Russian President Vladimir Putin visited Iran to meet with Iranian [Full Story] | video
Michigan Wolverines Coach Under Fire for Pro-life Remarks
Jim Harbaugh, the football coach for the University of Michigan, has [Full Story]
Video Report: Biden Team Takes Credit for Falling Gas Prices, Not Blame for Increase
The Biden Administration has taken credit for the slight fall in gas [Full Story] | video
Giuliani Ordered to Testify in Georgia 2020 Election Probe
A judge in New York has ordered Rudy Giuliani to appear next month [Full Story]
Secret Service Submitted Just 1 Text Message Exchange to Jan. 6 Committee
In fulfilling a request from the Department of Homeland Securitys [Full Story]
Trump Blasts 'Ridiculous and Libelous' Secret Service Claims
Former President Donald Trump on Wednesday hit out at reports that he [Full Story]
Ivana Trump's Life to Be Celebrated at NYC Funeral Mass
Ivana Trump, an icon of 1980s style, wealth and excess, and a [Full Story]
New Schmitt Ad Launches Hits at Hartzler, Greitens in Missouri Race
Missouri Attorney General Eric Schmitt on Wednesday launched a new [Full Story] | video
Quidditch Groups Rebrand Game as Quadball, Distance Themselves From Rowling
Three major organizations that manage and promote the game of [Full Story]
New Yorker Editor Accuses Top Editor of Purposely Placing Errors Into Her Work
An editor at The New Yorker has accused the magazine's [Full Story]
Trump, DeSantis Neck-and-Neck Among Michigan Republicans
Former President Donald Trump and Florida Gov. Ron DeSantis are in a [Full Story]
Finance
Putin Gas Cutoff for Europe: Severe Recession to Follow
Russian President Vladimir Putin's gas cuts could send some European countries into a recession, the International Monetary Fund warned Wednesday… [Full Story]
Tesla Braces for Earnings Hit, But EV Delivery Outlook Is Key
NASA Aiming for Late August Test Flight of Giant Moon Rocket
Yellen Welcomes Ukraine Debt Freeze, Calls on Creditors to Join
Steelers Fans Steamed Over Heinz Field Name Change
More Finance
Health
How Air Conditioning Affects Your Health
With temperatures soaring into triple digits, air conditioning can feel like a blessing. However, while A/C provides respite from the oppressive heat, experts warn that there's a dark side to its benefits. According to Payless Power, 87% of U.S. homes have air conditioning,…… [Full Story]
The Best Times to Hydrate
Study: Medical Errors Declined, Safety Increased in US Hospitals
CDC Stops Tracking COVID Cases on Cruise Ships
Apple Outlines Health Technology Features in New Report
MHProNews has pioneered in our profession several reporting elements that keep our regular and attentive readers as arguably the best informed in the manufactured housing industry. Among the items shared after 'every business day' (when markets are open) is our left-right headline recap summary. At a glance in two to three minutes, key 'market moving' news items are covered from left-of-center CNN Business and right-of-center Newsmax. "We Provide, You Decide." © Additionally, MHProNews provides expert commentary and analysis on the issues that others can't or won't cover that help explain why manufactured housing has been underperforming during the Berkshire era while an affordable housing crisis and hundreds of thousands of homeless in America rages on. These are "Industry News, Tips, and Views Pros Can Use" © features and others made and kept us the runaway #1 in manufactured housing trade publisher for a dozen years and counting.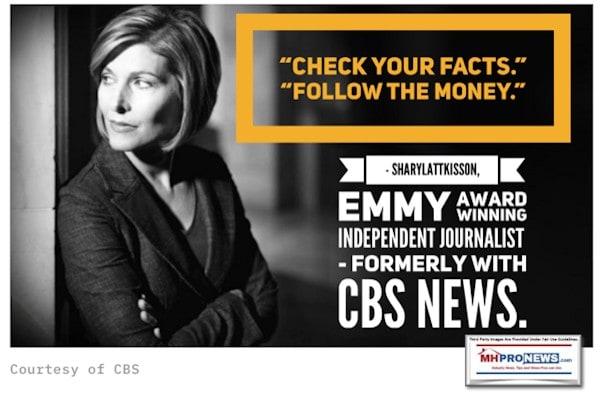 Manufactured Housing Industry Investments Connected Equities Closing Tickers
Some of these firms invest in manufactured housing, or are otherwise connected, but may do other forms of investing or business activities too.
NOTE: The chart below includes the Canadian stock, ECN, which purchased Triad Financial Services, a manufactured home industry lender
NOTE: Drew changed its name and trading symbol at the end of 2016 to Lippert (LCII).
NOTE: Deer Valley was largely taken private, say company insiders in a message to MHProNews on 12.15.2020, but there are still some outstanding shares of  the stock from the days when it was a publicly traded firm.  Thus, there is still periodic activity on DVLY.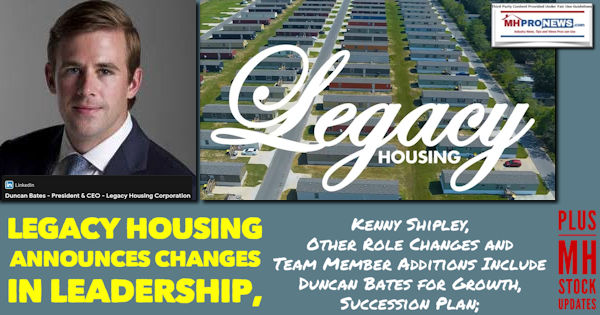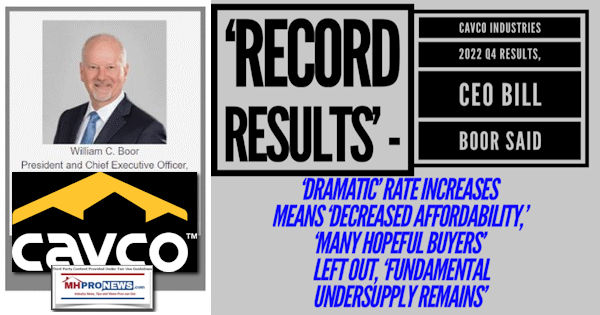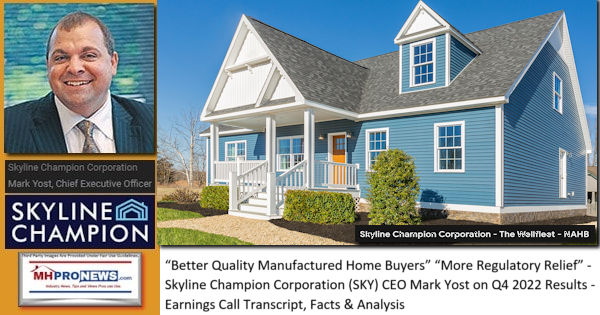 Manufactured Home Communities (a.k.a. 'Mobile Home Parks' – SIC) – Exploring UMH Properties; Fellow Manufactured Housing Institute Member Yes! Communities Suits and Settlements; plus MH Markets Updates
'Announcing!' 'Manufactured Community Owners' Association of America' 'Finally Bringing Fight To Manufactured Home Community Sector of the Industry' – plus Sunday Weekly Manufactured Housing Headlines Review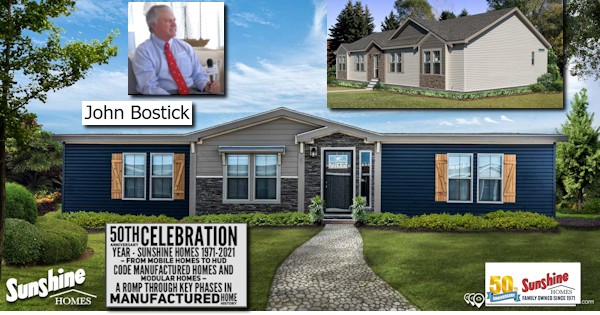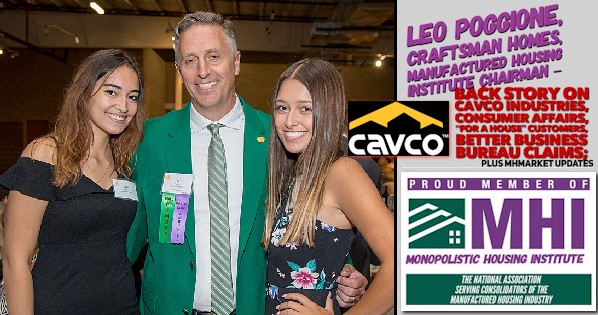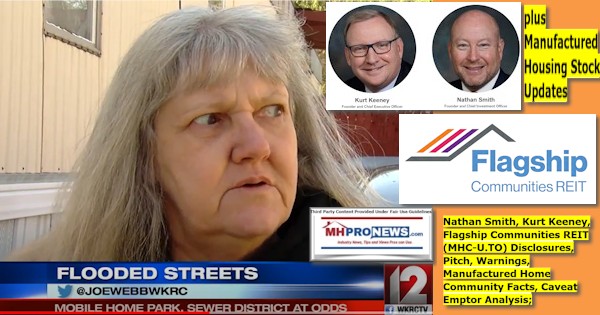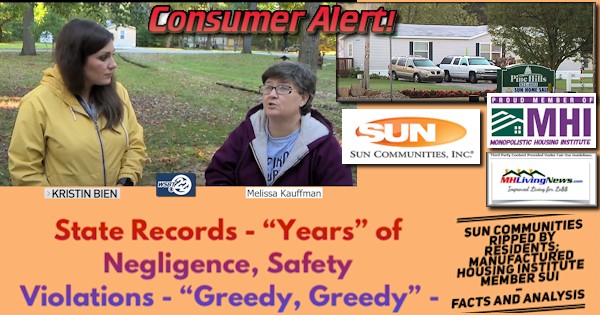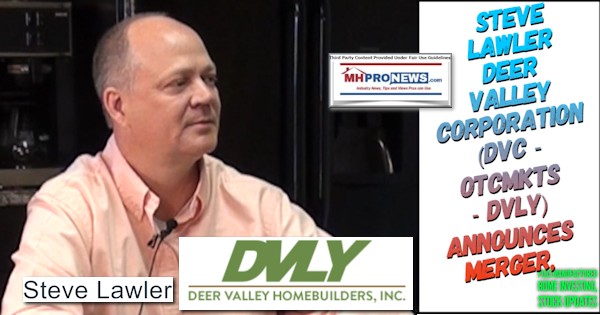 2022

…

Berkshire Hathaway is the parent company to Clayton Homes, 21st Mortgage, Vanderbilt Mortgage and other factory-built housing industry suppliers.


·

LCI Industries, Patrick, UFPI, and LP each are suppliers to the manufactured housing industry, among others.




·

AMG, CG, and TAVFX have investments in manufactured housing related businesses.

For

insights from third-parties and clients about our publisher

, click here.


Enjoy these 'blast from the past' comments.

MHProNews. MHProNews – previously a.k.a. MHMSM.com – has celebrated our 11th year of publishing and have completed over a dozen years of serving the industry as the runaway most-read trade media.
Sample Kudos over the years…
It is now 12+ years and counting…
Learn more about our evolutionary journey as the industry's leading trade media, at the report linked below.
· For expert manufactured housing business development or other professional services, click here.
· To sign up in seconds for our industry leading emailed headline news updates, click here.

Disclosure. MHProNews holds no positions in the stocks in this report.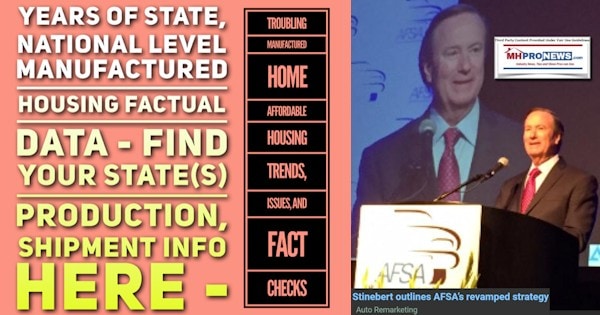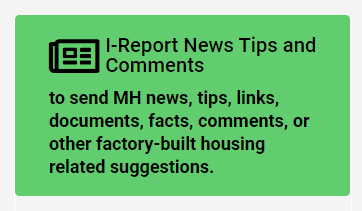 That's a wrap on this installment of "News Through the Lens of Manufactured Homes and Factory-Built Housing" © where "We Provide, You Decide." © (Affordable housing, manufactured homes, stock, investing, data, metrics, reports, fact-checks, analysis, and commentary. Third-party images or content are provided under fair use guidelines for media.) (See Related Reports, further below. Text/image boxes often are hot-linked to other reports that can be access by clicking on them.)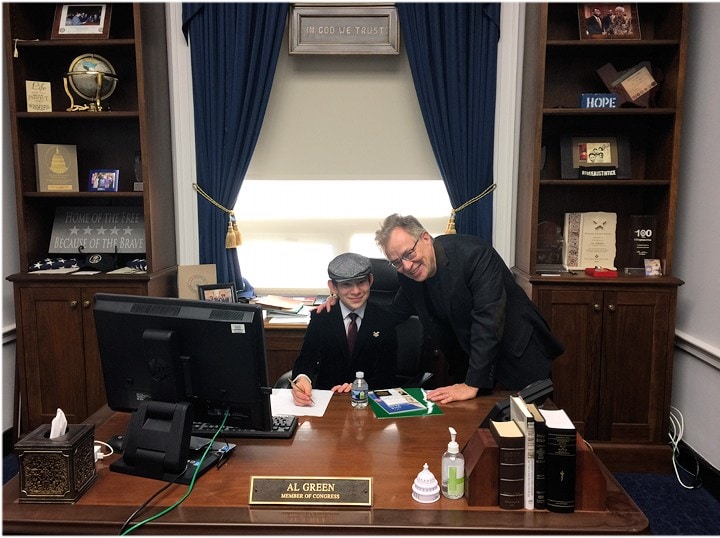 By L.A. "Tony" Kovach – for MHProNews.
Tony earned a journalism scholarship along with numerous awards in history. There have been several awards and honors and also recognition in manufactured housing. For example, he earned the prestigious Lottinville Award in history from the University of Oklahoma, where he studied history and business management. He's a managing member and co-founder of LifeStyle Factory Homes, LLC, the parent company to MHProNews, and MHLivingNews.com. This article reflects the LLC's and/or the writer's position and may or may not reflect the views of sponsors or supporters.