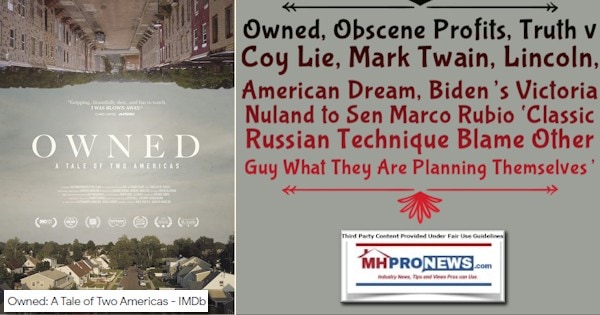 Every day is an IQ test in or beyond MHVille. The late Rush Limbaugh used to quip about taking "obscene profit breaks." Profits are necessary and good for every honest business. That said, even for the mildly well informed, some things are so bizarre that they seem to beg for a satirically edged response. Yes, but numbers of award-winning reporter Sharyl Attkisson's articles are labeled as news analysis, likely for journalistic and liability shield reasons, not unlike what this article and publication have done for years. Owned is a housing documentary distributed by FilmRise. "Owned: A Tale Of Two Americas" sheds light on aspects of factory-built housing but without specifically using verbiage used by our manufactured home profession. It raises topics, both familiar and new, that will be shared and used as a springboard to a subject both familiar and new on MHProNews. How to learn more to earn more despite of what some have said in Owned and others have said with evidence is a rigged system.
As a quick aside, a case can be made that the nation and MHVille have been propagandized, manipulated, and gaslighted before. That's not hyperbole. Odds are good that you and/or those you know have been personally the target of multiple cons or 'confidence jobs,' large or small, starting from something as simple as a fake email or texted phishing scam tempting you in your inbox.
Once famous author Samuel Clemens, a.k.a. Mark Twain, is credited with saying: "It's easier to fool people than to convince them that they have been fooled."
President Abraham Lincoln is similarly credit by Goodreads as saying: "You can fool some of the people all of the time, and all of the people some of the time, but you can not fool all of the people all of the time."
That Lincoln quote dates to September 2, 1858. That's 165 years ago, long before radio, television, cell towers, or the internet.
Manipulation, gaslighting, and 'the big con' concerns have become so common that "gaslighting" was the Merriam Webster 2022 word of the year.
Owned
According to left-leaning Wikipedia: "Owned: A Tale Of Two Americas" is a 2018 documentary film. The film details discrimination in the American housing market. The film was written, directed, and produced by Giorgio Angelini."
But left-leaning PBS said on 2.7.2022 that "Owned: A Tale of Two Americas" is an "Exposé on how the American housing policy market has been manipulated for years in discriminatory ways." So, it opens with a claim that viewers are supposed to believe that something as vast as U.S. housing policy has been manipulated for some 90 years? Yes.
The "Owned: A Tale of Two Americas" documentary video features Levittown early in the video, which was both famous for its affordable housing vision and infamous because it barred blacks from becoming resident-owners.
The video uses the phrase automotive industry style mass production instead of factory building in terms of its discussion of Levittown.
What the video doesn't mention there is that the trailer houses of the 1930s through the 1950s and the mobile homes of the 1950s through the mid-1970s became the affordable and federally regulated manufactured housing on and since June 15, 1976. Put differently, "Owned" is interesting and insightful while itself picking and choosing what to put into its content and what to leave out. That need not be thought of as paltering or spinning, but it may reflect the lack of information on the part of one or more involved in the documentary project.
Several presidents' voices and images are used in Owned, both Democrats and Republicans. The point made by Pamela Blumenthal and Regina Gray in their 9.7.2021 post on the HUD Edge website is in some ways underscored by Owned.
One of the points made in Owned is that while race was an issue in forging zoning and housing policies, today those policies impact people of all racial, ethnic, religious, and other groups.
Let's not forget that Democratic President Woodrow Wilson was a reasonably well documented racist.
Democratic President Lyndon Banes Johnson (LBJ) was accused of being bigoted against blacks too, apparently all too comfortable with using the "n-word."
But LBJ signed the voting rights and civil rights bill passed mostly by Republicans.
Abe Lincoln was a Republican, yet as documentary film maker and historian Dinesh D'Souza suggested, millions may be under the illusion that Lincoln was a Democrat.
If indeed millions believe that, it's strange indeed, because John Wilkes Booth, Lincoln's reported assassin, was a Democrat and supported the Southern Democrats who broke away from the Union in order to try to protect the institution of slavery and their 'property' rights.
But even saying brief historic outline leaves out the point that slavery was common world-wide throughout most of human history. It also ignores the sad point that slavery still exists today, and in both past and present, slavery includes (but isn't limited to) black on black slavery, and the white on white (or other ethnic groups) slavery, which is not always normal labor related, but may be sex trafficking which includes the sex trafficking of minors. By talking so much about the slavery that existed 150 years ago and how it harmed blacks in America, millions are distracted from the rise of different types of slavery in various parts of the world today.
Google or Freespoke.com any of those statements for the evidence for each claim. It has become all too fashionable to ignore the truth that is inconvenient or difficult to explain.
A Looming Anniversary
On the Masthead for what was then called MHMarketingSalesManagement.com and what was later rebranded as ManufacturedHomeProNews.com or MHProNews.com was this posted on 10.15.2009. One of the phrases used was this: if Linda Beem – a property and sales manager this writer/consultant knew and worked with – "can do over 360 closed sales in 6 years in what was once a 'war zone' community, selling a vision of a future good lifestyle to good people, then the obstacles you face can be overcome too!"
For those who recall grade school math, that is 5 sales per month for 72 months or 360 mostly new higher end manufactured homes sold in a land lease. Compare that result to what others in MHVille which are publicly traded firms report and it will quickly become clear why underperformance is a common theme on MHProNews.
Naïve!
God only knows how well intentioned, but nevertheless naïve we were in working hard for months to successfully launch and then to promote MHProNews. Little did this writer, or my co-founder Soheyla Kovach, know that we were de facto challenging some of the most powerful brands and the inflated egos of some in manufactured housing by daring to have a trade publication that didn't ask for permission from the industry's de facto self-proclaimed and would be gatekeepers. To us, we were simply filling a void with a needed product/service – "Industry News, Tips, and Views, Pros Can Use." ©
That initial Masthead (which had its share of spacing errors/typos) said: "industry pros can meet [here on MHMarketingSalesManagement a.k.a. MHProNews] virtually, and as often as you wish, for free!  No need for a big budget, no need for tons of time or money invested.  Here we seek to provide you with a forum that permits the showcasing of tried and true ways to improve performance.  Here you can Discover new ways to protect and enhance your profits."
Perhaps it was like an idiot that didn't know better that we also launched a website called Virtual Louisville Show, because the Louisville Show had been cancelled. At first that notion was shunned. That virtual trade show website frankly flopped, but it put down a marker way ahead of its time.
But this platform which today and for years has been called MHProNews was embraced.  We were the source that the Midwest Manufactured Housing Federation and the late Dennis Hill turned to for promotion of the return of the actual (live, in person) Louisville Show to great praise like the examples provided below. Compare the arc of reported outcomes of those two events linked in this paragraph. What happened to that strong growth trend?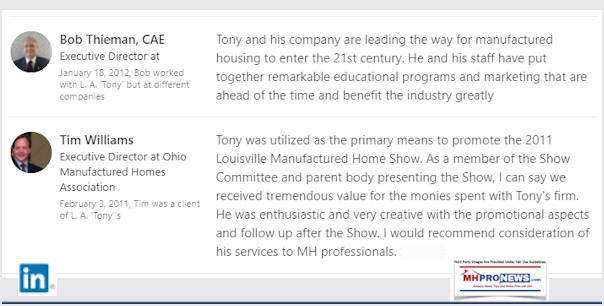 What Happened to the Possibility Thinking for Manufactured Housing in Years Gone By?
Let's be frank. Years ago, our industry had far more variety, and in some cases, perhaps more muscular visionaries.  There were those who literally wanted to build high-rises that used single section mobile or manufactured homes. The factory-built housing industry knew there was a competition with site builders. Decades later, were are a shadow of their production. After the rise in 2022 that topped 112,000, in 2023 we are hoping once more to get back to 100,000 new homes in a year. It's a sad reality that few of us dare challenge.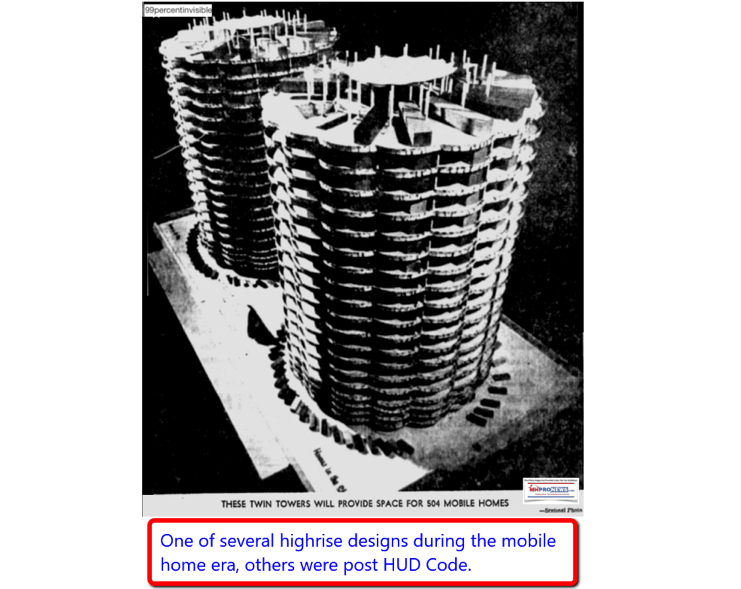 Note: to expand this image to a larger or full size, see the instructions
below the graphic below or click the image and follow the prompts.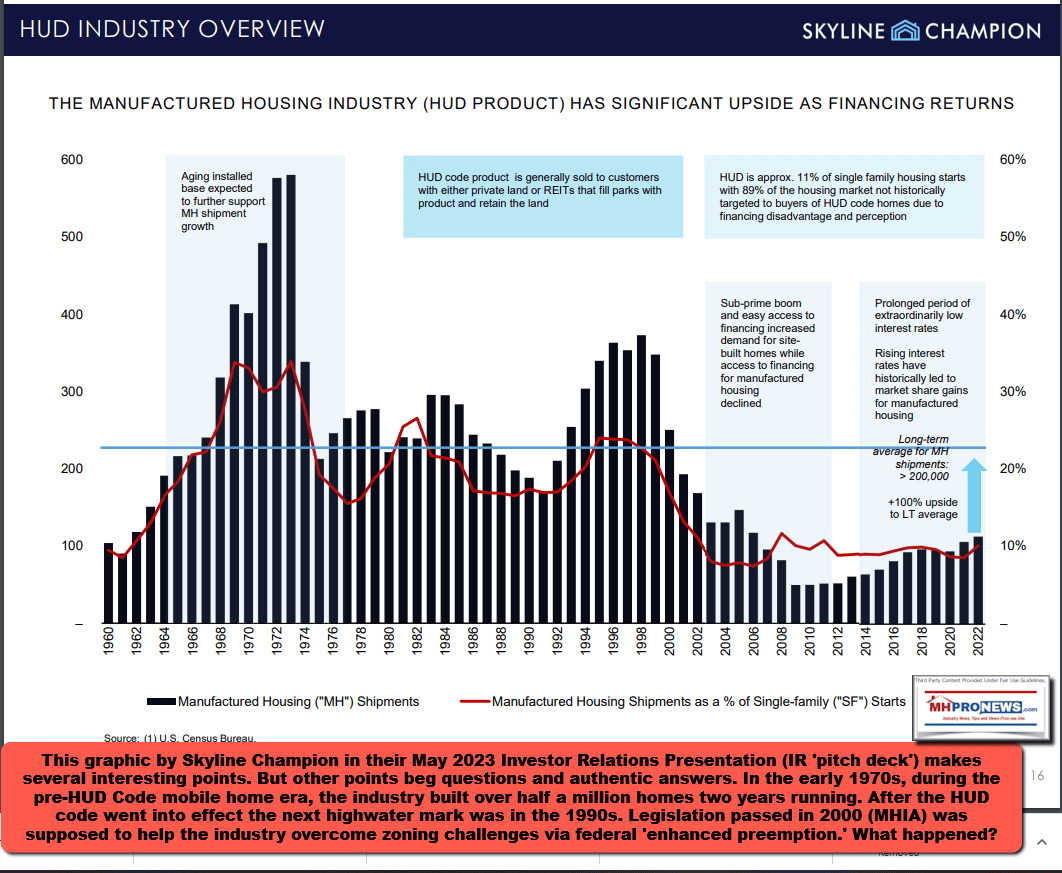 The MHIdea?
We were asked early on to promote via MHProNews the notion of a new, third, national trade group. Sure, we can do that too, was my somewhat casual thought at the time. While supporting it, little did I realize just how vitally important that was then.
Now over a decade later, what was then called the MHIdea by industry pros Dick Moore and Bob Crawford – the need for a new post-production – is still or even more necessary. Moore sold tens of thousands of trailers, mobile homes, and manufactured homes over the years. Moore and Crawford knew how much the manufactured home industry has been diminished.
Fast forward from the early 2010s, or to today.
The techies and gurus of the 2010s have since adapted into a de facto acceptance of the status quo.  In all too many cases, it is our view that they essentially sold their souls – and in at least one case, their business – to the powers that be in MHVille. Perhaps that may have seemed prudent. But in doing so, they arguably often sold out those who were their paying clients. Mind boggling what people will do, or won't do, because of money.
'Alarming Year-Over-Year Manufactured Home Production Declines Continue' per Manufactured Housing Assoc as Deceptive Trade Practice Concerns about ManufacturedHomes.com, MHInsider, MHI Raised
Don't get me wrong. I'm all too happy to do things for money, so long as it is honestly earned.
The word is out. The manufactured home industry is now in month ten of its downturn. Even Cavco's William Bill Boor said the industry is at a critical crossroads to Congress. But meanwhile – wink, wink – the powers that be at the big three and others at MHI continue to consolidate the industry. Isn't it obvious that underperformance yields consolidation?
Skyline Champion-Regional Homes; Case Study Flagship Communities REIT vs. Manufactured Housing Institute Claims Reveal Clear Contradictions-Facts/Analysis; plus Sunday MHVille Weekly Headlines Recap
I got into manufactured housing absolutely convinced that manufactured homes were the wave of the future. That was decades ago, and that future is sadly dimmer today than it was when I entered the business. How is that possible? What has happened to the American Dream?
Memory can be a tricky thing. Each of us may remember something that occurred years ago with great clarity, but we may not remember what we had for lunch a week ago. I'm admitting both good, bad, meh, and ugly here applies to us as it did for others in MHVille. At first, we were hopeful, possibility thinkers – and still are – but we in leadership at MHProNews were naïve in not recognizing the obvious. Huge corporations and deep pocketed backers had the resources – financial, legal, and political – to right every wrong that was occurring in our industry. It is OBVIOUS to clear thinkers that they want the industry manufactured home industry to underperform. There is no other explanation. What is the motivation? Short term, it is consolidation. The report linked above and here makes it clear in their own corporate words that consolidation is the truth hiding in plain sight.
Did I see that in 2009, 2010, 2011, etc.? No. It wasn't until late 2017 that we were given documents that we used to demonstrate an apparent antitrust violation. But yes, we demonstrably supported a post-production trade group to the extent that we published remarks and comments about the subject made by others. I heard some who told me I was missing a key element. They were right, but it wasn't until we had evidence – found on those December 2017 reports – that we as a publisher had hard evidence.
Perhaps, if I admit on behalf of MHProNews' parent company's leadership that I made mistakes and was naïve, it may make it easier for some other people who have been successful and who are experienced to look in the mirror and admit, yes, I've made mistakes too. It is IMPOSSIBLE to find someone who hasn't erred that is walking the earth today. We've all been there, done that, and have our own versions of that t-shirt.
When manufactured housing is the most proven form of affordable housing in the late 20th and early 21st centuries in the United States of America, don't we have to ask then why is it so misunderstood and sidelined? The obvious answer is that the consolidators who apparently dominate MHI are posturing working for "all segments" of manufactured housing, but by keeping the industry underperforming, they are doing another.
Gaslighting, Illusory Truth, the American Dream and MHVille
The gaslighting method of the Illusory Truth Effect has been featured by popular Investopedia just a few months ago. When an investment and business focused website makes the gaslighting method of illusory truth the subject of a 2023 report, shouldn't savvy manufactured housing pros lean in and ponder why that is so? We at MHProNews made that possible.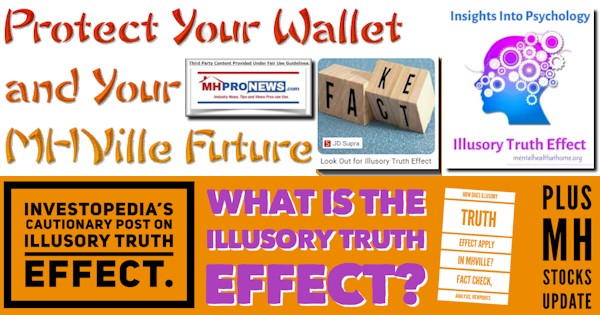 When the two largest national trade groups in manufactured housing each seem to say something similar, but are apparently routinely opposed to each other in practice, doesn't someone with either guts or curiosity ought to ask, why? Why are there two national trade groups that have their own distinctive yet seemingly similar views?
But that too is an illusion of sorts. The National Association of Home Builders (NAHB) is the producers trade group for the conventional housing industry.
The National Association of Realtors (NAR) is a kind of post-production trade group for the conventional housing industry, and yes, they include the resales of thousands of manufactured homes and even some mobile homes. But the point is that there is an NAHB and NAR. There are also the Mortgage Bankers Association (MBA) for the lending side of the housing business. There is also The National Association of the Remodeling Industry, or NARI, for housing remodelers. Look around at others in housing, automotive or other professions, and trade groups that have similar yet distinctive missions exist.
Manufactured housing apparently made a key error in the early 1990s when the then-post national production trade group, the National Manufactured Housing Federation was absorbed by MHI.
White Collar Crimes-Legal Tips, Research-National Manufactured Housing Federation–1000s of Retailers, Communities Lost–Roadmap to Solve MHIndustry Consumer, Independent Business Woes? MHMarkets Update
The Manufactured Housing Association for Regulatory Reform (MHARR) said in a post on their website that "In large measure, the industry — since 2000 — has seen its growth unnecessarily thwarted, undermined and impeded by a combination of factors primarily affecting its post-production sector." That same post said: "While HUD Code manufacturers and other smaller and mid-sized industry businesses have — and have had for nearly thirty-five years – independent, aggressive, national-level representation in Washington, D.C. through MHARR, that type of independent representation has been almost entirely absent for the post-production sector and most importantly, its thousands of smaller, independent businesses, since the National Manufactured Housing Federation disappeared as an independent entity and was subsumed into MHI decades ago."
When thousands of employees at numbers of the leading consolidation focused brands at the Manufactured Housing Institute (MHI) are apparently unhappy, shouldn't that be a topic of conversation, blogging, and trade media inquiries and articles?
1000s Unhappy Working at Clayton Homes, Skyline Champion, Cavco, Sun, ELS, RHP, Flagship, Impact, Yes!, Havenpark Communities-What Will They Do? Facts, WalkOut Threat Op-Ed; plus MHMarkets Update
Have You Ever Wondered, What If?
If I had known the future, it is a fair question, would we have launched MHProNews at all in mid-October 2009? Honestly can't say. But if we knew the future, would we have done some things differently? You bet.
But perhaps, just maybe, God the Almighty knows what He was doing by NOT giving us the ability to foresee the future. Hey, I could be wrong, but maybe God does have it all figured out. Because we have this called free will.
We all have this self-interest thing.  In the normal way we think of the American Dream, we think about providing a product/service to others that they like. If the public likes it, depending on the price-point, they may come back for more and/or tell their friends about it, and viola! You have a successful business. A successful business can be made around salespeople, managers, and other professionals that can earn a good living by making customers happy with that product or service. That's the 'old fashion' – but still valid – way of thinking of the American Dream.
But then there has long been those who see a new business that is off to a hopeful start, and they think, 'we can't let them get away with that behavior.' They feel that their own business is threatened.  And they go about plotting the demise of that competing business. It has long been that way.
Going back to the documentary, Owned. Are there two America's?
Hello? There are at least two Americas is the evidence-based answer.
There are insiders and their crony allies, and there are outsiders. That's true in MHVille, and true outside of it too.
The Bigger Picture…
To the degree that the insiders can pit portions of society against each other, they may think, so much the better – for the sake of the insiders.
There are thousands of subgroups, and so long as Democrats can be pitted against Republicans and Independents (three broad groups), and vice versa, then people inside those groups can be further segmented – DINOs, RINOs, MAGA, etc. – again, in their view, so much the better for those with power. They know that doubt and division is how they can keep power by keeping the majority at each other's throats.
There is simply no way not to step on somebody's toes while telling the truth. Want evidence? Jesus Christ stepped on toes preaching truth, sin, love, mercy, pain, redemption, salvation and the prospect of eternal happiness instead of eternal damnation. And the powers that be in that era crucified Him for doing so.
If that is what happened to perfect Jesus, of course upstarts like the co-founders of MHProNews are going to glitch several times along the way. I said it, so you don't have to do so.
I caught a repeated typo the other day, oops, so sorry. Late 2017 (December) still isn't 2018. My bad. But if I admit that we made mistakes through naïveté, or fat fingers, pride, or any other reason, then it just might make it easier for the reader to think. Hey, if I'm honest with myself, I've glitched too.
Danny, Mark, and MHARR
Danny Ghorbani and this writer have at times fought like proverbial 'cats and dogs.' But we each have far more often shared a deep passion for seeking the best for manufactured housing independents and the manufactured home industry as a whole. I don't speak for Danny, but I think it is fair to say that Danny is a believer in the American Dream. Something similar could be said about Danny's colleague and successor, Mark Weiss, J.D. Mark is the current president and CEO of MHARR.
Danny and Mark could hardly be more different in personality and temperament. But it wouldn't surprise me if the two of their combined years in MHVille exceed that of the entire current senior staff (VP or higher) of MHI. Maybe the entire staff of MHI. And if someone looks at their respective histories, they have tirelessly worked on behalf of all of their members to fight the good fight against far bigger firms and their favored tool, MHI and MHI aligned bloggers and trade publishers.
Indeed, MHI has been a revolving door in the 21st century. Perhaps someone can only last so long at MHI, for whatever reasons.
'Floorplan Crisis'- Manufactured Housing Chattel Finance Battles – Barry McCabe Plug – Manufactured Housing Institute 21st Century Female President and CEO – Gail Cardwell – Industry Update on Financing; plus MHVille Stocks Update
Since Loss of Stinebert at Manufactured Housing Institute (MHI) 'Empowered F-cking Greedy, Selfish Leaders of Companies to Make MHI a Tool for Themselves'-plus MHVille Markets Update
And MHI's website oddly hides/erased on the public side of their site the names of many of those who went before the current and most recent crop of MHI's senior leaders.
The powers that be behind MHI no doubt have reasons for that, and as an ex-MHI member and an ex-MHI Suppliers Division board member, I'm here to tell you, MHI's weaknesses can be and have been systematically exposed by MHARR and MHProNews, each in our unique ways. But MHARR and MHProNews remain independent of each other, even though we see much of the world, and much of MHVille, in very similar ways.
That said, to my knowledge Mark and Danny haven't personally sold at retail a single manufactured home. But that doesn't mean that what they do isn't as absolutely relevant to the industry and its future as those who have personally sold dozens or hundreds of manufactured homes. The typical sales professional waiting for the next 'up' to message, call or walk in may have only a modest or no understanding of what happens in Washington D.C., where MHARR does its part of the industry's work.
Selling More Manufactured Homes
In my best personal month in manufactured home sales, I sold/delivered 15 homes, and had high single digit and lower double-digit sales before and after that record month. Not many in MHVille can say similarly and not be exaggerating (or lying). I've owned and managed locations that delivered as many as 30 homes in a month, and one location for a Texas firm that did far better. Those were not during 'boom' times either.
But those realities alone don't mean that I didn't need association professionals doing their work. Businesses need a good association, and associations need businesses. Each is supposed to complement the other.
Let's go a little deeper with being honest. There are those in MHVille who hate the fact that we are willing to tell hard truths about the industry on MHProNews and/or MHLivingNews. In my view, that is the only way that the industry will break out of its 21st century malaise. If industry pros don't understand what's gone wrong, how can we possibly make it right?
The Rigged System
There are things in the video Owned that I would have expressed differently if I had been the producer. But the best way to treat any source – any source – is to separate the proverbial wheat from the chaff.
I've been calling for an honest history of manufactured housing for years. We take periodic whacks at segments of the industry's history, and the case can be made that all of the current bloggers and trade media combined don't have as much historically accurate and useful information as MHProNews does. That history matters. Because the evidence-based case can be made that when manufactured housing had a vibrant post-production national association, the industry was doing much better than it is today.
Who's Who at Manufactured Housing State Associations per Manufactured Housing Institute (MHI), Others with MHI 'Official' History per Al Hesselbart-Claims-Tips-Views; plus, MHVille Markets Update
The fact that our rivals in publishing, nor MHI, will accept the challenge to debate these facts and thesis publicly is pretty good confirmation of that claim. But don't get me wrong. In a curious way, I'm glad that those rivals exist. If not for our competitors, how else would people know how vastly superior our information and analysis is? Competition is routinely a good thing. Our product/services are superior because they can be compared to others who are obviously failing the industry on a range of key issues.
Some in MHVille that blog or write may also have sold few if any manufactured homes. But that alone doesn't mean that we (MHProNews/MHLivingNews) are better because we've sold vastly more homes than they have. But those decades of positive experiences in retail, communities, with producers and financial services firms doesn't hurt MHProNews/MHLivingNews any either.
When a salesperson in manufactured housing sits down with me, calls or messages, I can listen to and relate to their experiences.
When a manufactured home community manager is communicating with me, I can listen to and relate to their experiences.
We have to 'cover our nut' the same as any other business owner or good manager must do.
When thousands of business owners, managers, marketers, investors, association leaders, and others in MHVille wonder why they keep coming back to this platform – even when they may not like some or much of what is said – part of them surely realize that we recognize the realities of the industry. Hypothetical experience is different than the real thing.
Though some want to escape the truth or reality, truth has a kind of magical appeal too. Public officials and investors that follow our work may have a similar love-hate attraction. Or as Mark Weiss said, facts are stubborn things.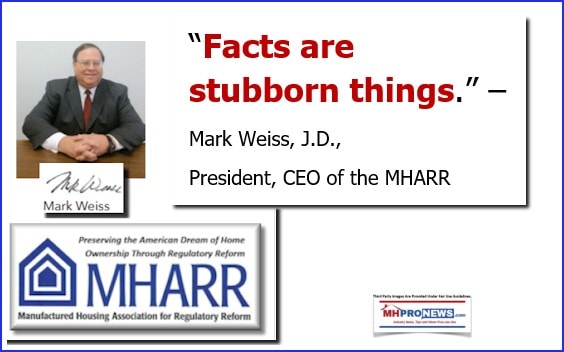 Biden-Trump: When the Bad News Could Be Good News
It is entirely possible that Joe Biden won't make it to the 2024 election, he may step down before more of the you-know-what hits the fan. But we do have some things that we should thank old Joe for before he goes. His points on competition, linked below, are largely true. But the case can be made that he was paltering and projecting, instead of actually wanting to foster competition.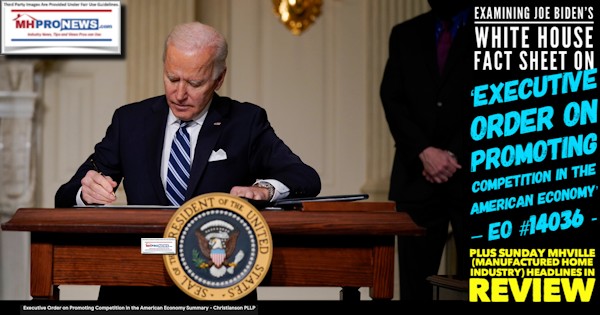 It is possible that deposed President Donald Trump will be overwhelmed with legal woes, or as Tucker Carlson has said, he may be assassinated if those flimsy indictments and ridiculous attempts to misuse the 14th Amendment fail. Few people if any people in modern America have been as vilified as Donald J. Trump. Yet, before 2015, he was a widely admired celebrity. That fact in itself tells you the power of the corporate owned big media and big tech.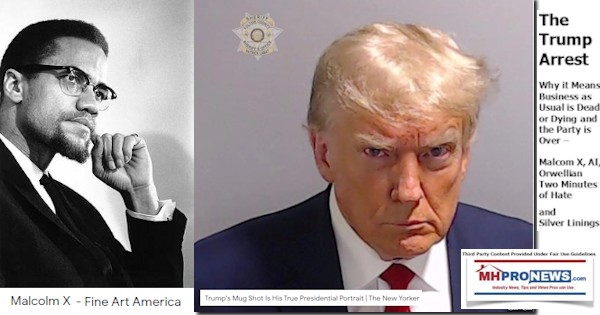 God gave you different talents and skills than the Creator of all gave me. That's part of the Divine Plan.
But God put you, us and others in this world at this time. Current events are ours to deal with, hopefully, with some divine assistance, please. That tees up this from a Biden appointee.
"Victoria Jane Nuland also known as Toria Nuland is an American diplomat currently serving as Acting Deputy Secretary of State," says left-leaning Wikipedia. She is a Democrat. In a Senate hearing with Senator Marco Rubio (FL-R), Nuland remarked in part: "it is a classic Russian technique to blame on the other guy what they are planning to do themselves." In other words, Nuland was describing the process of projecting onto someone else what they themselves are guilty of doing or plotting. That is but one of many methods of "misdirection and deception."
We at MHProNews have spent the last several years in laying out the evidence that manufactured housing has been thwarted both from within and without.
We have made that case using evidence that routinely comes from the very people, organizations and sources who are apparently guilty of whatever.
Some years ago, we were accused of taking information out of context. Huh? Nevertheless, that accusation led us to increase the length of articles, and link them as needed to more information to make it ever so easy to see each and every key point that we are making. That is said to say the following.
The argument can be made that no one could be as incompetent as the past and prior staff leaders of MHI. Then how have they survived? That's easy. Because they are doing what the MHI board wants them to do.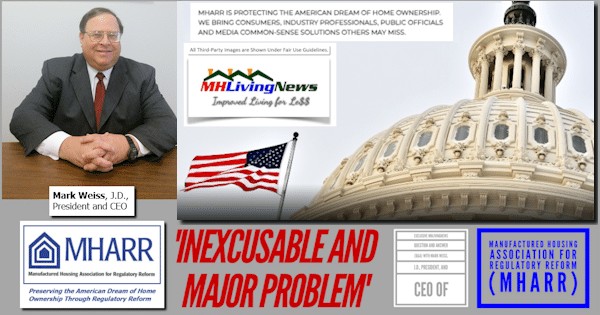 Why does the MHI board want them to promise performance with great flair, yet continually fumble away opportunities? Because most of that board are either beholden to the corporate leaders that dominate them, and/or they are corporate leaders that are consolidation focused.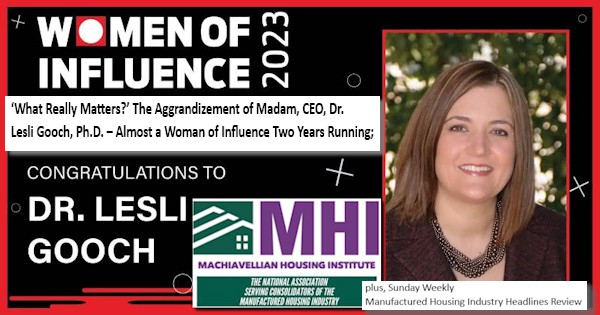 The consolidation of the industry is what is steadily being accomplished.
The truth of several issues impacting the industry's remaining independents are apparently being confused and masked.
Centennial Home's Chad Evans and MHVille Pros Sound Off 2022 Manufactured Housing Backlog Controversy, Changes in Retail Lending, Vanishing Independent Manufactured Home Retailers Examined
Proud of Surviving, But…
Now, some of the survivors in MHVille are understandably proud of their ability to stay alive, or even thrive during this period of over 2 decades of industry underperformance and consolidation.
There are people in manufactured housing today in sales that can't possibly imagine a time when a single person sold 15 homes in a month, because their entire dealership (sales center, retail center, home center, etc.) may not deliver that many homes in 3 months now. There are some people in MHVille that can't imagine 25 closed deals in a month in a land lease community. Or they can't imagine a Linda Beam who averaged 5 homes monthly while managing too. This writer has been there, done that, worked with those who did it, and we have our t-shirts — just as you have your t-shirts and awards.
There are scores of people in MHVille that know firsthand that what is said above and herein are true. But that prior paragraph's point above is that the new generation in MHVille have very little first-hand knowledge of what volume sales in manufactured housing looks like.
Barry Noffsinger Credit Human-Manufactured Home Loans–True Story, View from Trenches – Plus Latest 50 State-By-State Production & Shipment Data, Lessons Learned; MHVille Stocks and REITS Updates
So, there are success stories in MHVille that survive. They ought to be proud of being survivors.
Some may think of themselves impervious to the machinations of the consolidators behind MHI. Maybe they are right, but maybe they aren't.
History reflects that in every leftist revolution in the 20th century, scores of those who fought to bring someone to power were later jailed or eliminated by those same people they supported once they came to power. Most people can't imagine that level of duplicity. But it is a matter of history.
That's part of the favor that Joe Biden is delivering to America, and it is a dark favor indeed. It is difficult to imagine that someone could be so self-serving as to undermine their own country's people for a few million dollars, but there is the growing evidence sitting that the man who when he isn't on vacation is sitting in the White House while actual or digital files mushroom with testimony and documents that scream corruption the Capitol in Washington, D.C.
Donald Trump is at times his own worst enemy. When he exaggerates, for example, he is playing into the hands of his enemies, who use that exaggeration as 'proof' that he is a giant con man and 'serial liar.'
The irony is that Joe Biden is documented to be a serial liar and a racist. When Trump was indicted over Ukraine, the irony was that Biden and his son Hunter were apparently profiting from corruption in Ukraine that Trump was wanting to expose. That's the Victoria Nuland principle at work: "it is a classic Russian technique to blame on the other guy what they are planning to do themselves." You don't have to be Russian to project blame onto an opponent for something that some person or group happens to be guilty of themselves.
Part of the favor – perhaps an unintended gift – that Joe Biden and Donald Trump delivered to America is that by accident and/or design, we now can see just how rigged and corrupted the system has become.
Some 74 percent of the country think it is going in the wrong direction.
Business as usual is dead or dying.
The Time Has Come…
But if we had a post-production trade group that was worth of that name, it might be doing what NFIB or others have done. Namely, survey members and get actual information. We might find out that most people in the trenches of manufactured housing don't think, they KNOW that the industry is underperforming. They may or may not understand why.
MHVille needs a new post-production trade group. The evidence abounds.
That proposed new trade group should work with MHARR to get manufactured housing's good federal laws that are already on the books on track.
Such a group should avoid being a tool of MHI, but as MHARR itself advised, that new trade group should be open to a pivot from MHI, if their leadership decided to do what they claim to do.
The evidence since the MHIdea post-production trade association was floated over a decade ago makes it clear. MHI is unlikely to pivot in the absence of a new post-production trade group. The pivots that have occurred have in part because MHARR's efforts forced a pivot.
But a case could be made that akin to how some of the mainstream media that previously covered up or distracted from years of apparent Biden misdeeds are slowly pivoting now (or they face being exposed as merely being a propaganda arm of the corporate-Democratic-RINO-anti-Trump-anti-MAGA league), MHI has and can be pushed into doing what is 'right.'
Each MHVille group named or implied in this article will be contacted and given the opportunity to respond. Watch for that in the days ahead.
Visionary Leaders Wanted
But in the meantime, there is a need for possible leaders for the new post-production trade group to step forward. We at MHProNews can and will support such an effort, in part, because we are a post-production business too.
MHARR has previously pledged their support.
Here how MHARR s said it: "If the PPS [post-production sector] establishes this badly-needed independent national association, MHARR will pledge its full assistance to the new organization for a finite period after its full incorporation in all regulatory, legislative and (possibly) legal matters." That MHARR study was commissioned by its board.
This writer has personally met and knows several of the key corporate people behind MHARR. Additionally, we have known Danny and Mark for years.
As a flashback from that first Masthead post in October 2009 were these remarks.
"Having news items from Danny Ghorbani's MHARR, MHI and other Associations and sources is priceless.  Personally, I love talking to Danny – as busy as he is – Mr. Ghorbani was one of the first to personally pick up the phone and express his good wishes for this project.  Yesterday, he also called to praise the launch of www.MHMarketingSalesManagement.com and encourage us to press ahead sharing insights and information for the sake of industry builders and all in this business. Passion and Purpose for the Industry come to mind when I think about Danny, and others, who work tirelessly to promote our industry's well-being in D.C, or in state capitals, or at your local district.  Sure, there are differences in viewpoints between some of these leader's minds!  Good! It is in the clash of ideas – it is in testing – that a person's or thought's true metal is forged!  Bring on the association's news and view, we welcome them all!"
That was sincere, enthusiastic, but naïve. But it was also revealing. The clash of ideas, combined with the testing of the difference between mere words and the subsequent deeds, that process is revealing. We still welcome 'them all' content, but we also will test those words from MHI versus reality.
The old and wise maxim applies: 'Fool me once, shame on you. Fool me twice, shame on me.'
We need as an industry a new post-production trade group if the industry is to achieve its full potential. Yes, even those businesses that are doing comparatively well could arguably do better by being a part of MHARR (if they are producers) and/or by earnestly and pragmatically supporting a new post-production trade group, let's call it the MH-IDEAL as a placeholder name. The actual organizers of that group can call it whatever they think is best.
When MHI worked with MHARR, potentially good things happened in the way of legislation that was enacted.
But when MHI began to mouth similar words as MHARR, but then failed to do what is actually required to make words and deeds align, that has to be exposed and as much as possible, and then corrected.
That MHI is teaming up with conventional housing organizations instead of MHARR speaks volumes. But that too could be the subject of a possible jiujitsu move. Another topic for another time.
There are safeguards that MHARR identified that could be used in forming a new post-production trade group.
An MH Success Has Said…
A successful fellow emailed recently to say that he and his partners were 'growing slowly.' What today is slow growth for some (or negative growth for others), could be steady, sustainable robust growth if the industry forged a post-production trade group that worked with MHARR – and when possible, MHI – to advance the industry's cause.
But when MHI is seemingly acting mainly on the behalf of consolidators, that has to be exposed and denounced. MHARR has done that in their own way.
MHProNews has done that exposure in recent years, once the various revelations learned while an MHI member occurred.
A shorter version of this article and thesis will be produced in the near future. But this more detailed thesis is useful now and in the future. Some want or need more insights and information. The fact that we have so many page views per visit speaks volumes about the thirst to know within MHVille and by those probing manufactured housing.
'Like No Place Else!' in MHVille – Research-Reports-Analysis Reveal and Yield Understanding for News and Trends Keeping Manufactured Home Production at Historically Low Levels
There is a cost to a good post-production trade group that can readily be paid for by what it will produce.
Cavco said 6 million new homes are needed. The actual number may be higher than that, because some 9 million young Americans moved back in with their parents last year alone. But when site builders admit that they can't meet the needs for affordable housing, then it should be obvious that the room for sustainable growth abounds in the industry.
Fears of Future – MILLIONS of Millennials Move Back in 2022 with Parents-Facts, Top Reasons, and Possible Silver Lining for Manufactured Housing Pros, Investors; plus MHVille REITs, Stocks Update
Skyline Champion Quarter Ending 7.1.2023 Results – CEO Yost – 'Navigating Current Environment-Shifts in Demand' Net Income Falls 56% – 1Q Fiscal 2024 Results; 'Project Hat Trick'-Facts and Analysis
Looking Ahead = Lessons Learned
We as an industry ought to learn from the past, and not engage in stupid loans that are 'liar loans.'  Lending must be sustainable.
We ought to learn from the past, and give good service with every sale. Don't over promise. Don't underdeliver. That simple rule made the sale of hundreds of manufactured homes with happy customers possible.
A new post-production trade group should encourage members that deliver satisfaction. Here is what former MHI president, Chris Stinebert said.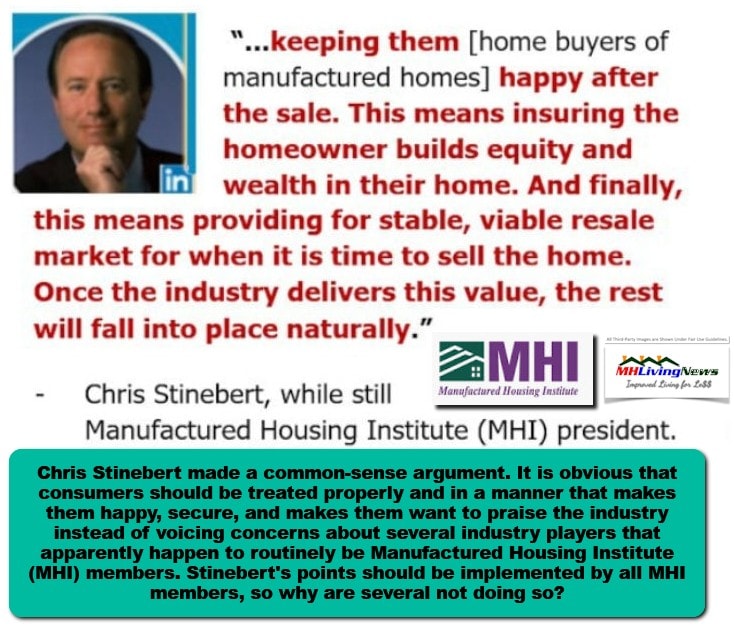 If someone in MHVille that wants to grasp a brighter future – but has had less than great service – they can always turn the page. Americans are remarkably forgiving people.
But when black hats are masquerading as white hats under the cover of MHI, that has to be denounced.
The members of a new post-production trade group, that "MH IDEAL" – all IMHO – should create such a bright line distinction that merely being a member of their group is like an 'award.' They can have a sign out front that proclaims their membership. When people google that, they can see what that means to them as a consumer.
Every bad thing in MHVille can be turned into a jiujitsu move that flips the script against the predators in our industry.
When people buy from companies that are prat of the MH IDEAL more than their larger MHI rivals, they will find sustainable growth that also yields happier employees.
The Latest Facts Are An Obvious Warning Flag
An advanced copy of MHARR's monthly insights to MHVille says: "Just-released statistics indicate that HUD Code manufacturers produced 6,134 new homes in July 2023, a 23.8% decline from the 8,050 new HUD Code homes produced in June 2022. Cumulative production for 2023 is now 50,022 homes, a 28.2% decrease from the 69,709 homes produced over the same period during 2022."
It is past time to organize and advance manufactured housing in Washington, D.C., and in all 50 states. Yes, all 50 states and Puerto Rico too.
Closing Thoughts, Summary and Conclusion
This writer has worked in RVs and saw firsthand what the GoRVing campaign and positive service can do, and also saw what poor service can result in. I've worked in trade show marketing, management, and consulting in other industries too. But most of my adult life has been in manufactured housing.
It was an accidental turn onto old South Shields Boulevard in Oklahoma City, OK that 'introduced' me to the wonders of manufactured housing. In my mind, that flashing arrow reader board sign that proclaimed '$9995 2 bed, 1 bath with AC Delivered and Set Up' must mean that people were lined up at the doors in the morning to buy a manufactured home.
That too was naïve. I can't ever think of a time when they were just waiting at the doors to buy. But on certain event mornings, when we had a promotion or took part in an event, we absolutely packed people in and we would write numbers of them up. The past can be a positive prologue.
Fast forward to 2023. There is an affordable housing crisis. I think the evidence is clear that well over 6 million homes needed, but let's use Cavco's number. The NAHB has said they can't meet the price points. NAR has said more homes must be built. NAR produced a study that MHI oddly ignored to this day on their website, even though that NAR study pointed out the many ways that manufactured homes could fill the need for affordable housing in America.
With the right touch, hundreds of thousands of more people can be served by good, honest, ethical manufactured home sellers and communities. That is what creating an MH IDEAL type trade group could make possible.
The workers at black hat brands that like the industry, but don't like their company, could find a new professional home to go to work at a company that is part of the MH IDEAL.
Educational events.
Marketing events and promotions.
Positive news generating events.
Lobbying and legal muscle that gets put to work to lift the boats for all involved.
As we at MHProNews are just weeks away from completing our 14th year in publishing, there are few things that would be more positive for us to report than the notion that we helped encourage a good post-production trade group into existence.
Regular reports will resume this week, including a full report on the latest data for July 2023.
In the meantime, dig into the meat and potatoes linked herein and below. Our industry deserves robust profit breaks for the independents in our profession by flipping the script on the consolidators.
Nothing is changed until it is challenged. Thanks as always to our sponsors and to our readers for making and keeping us the runaway #1 source for manufactured housing "Industry News, Tips, and Views Pros Can Use." © where "We Provide, You Decide." © ###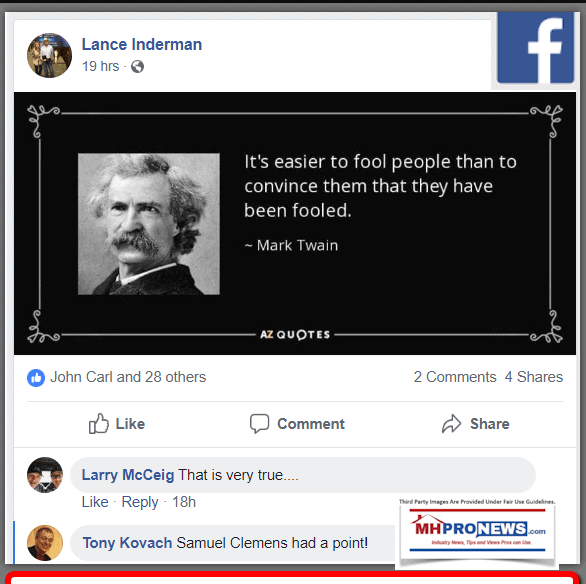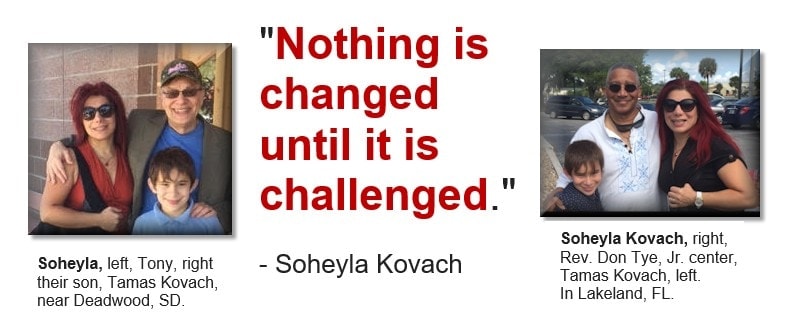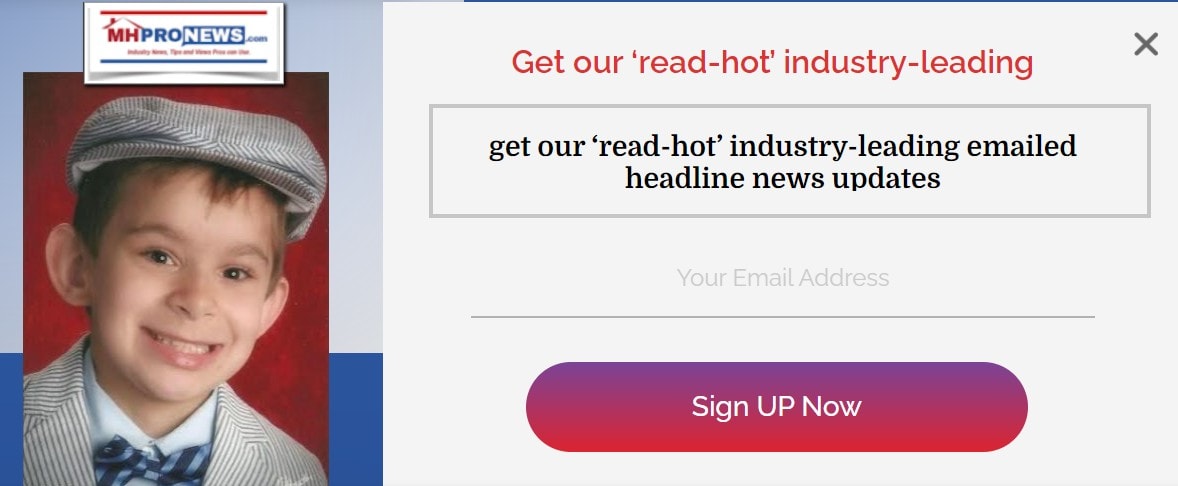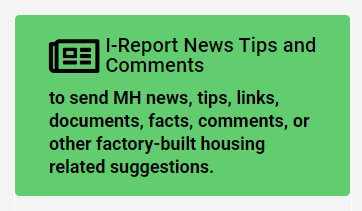 Again, our thanks to free email subscribers and all readers like you, as well as our tipsters/sources, sponsors and God for making and keeping us the runaway number one source for authentic "News through the lens of manufactured homes and factory-built housing" © where "We Provide, You Decide." © ## (Affordable housing, manufactured homes, reports, fact-checks, analysis, and commentary. Third-party images or content are provided under fair use guidelines for media.) See Related Reports, further below. Text/image boxes often are hot-linked to other reports that can be access by clicking on them.)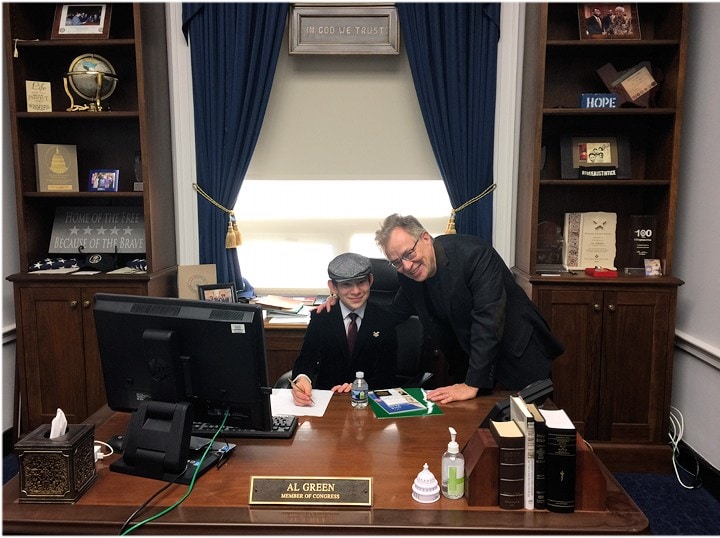 By L.A. "Tony" Kovach – for MHProNews.com.
Tony earned a journalism scholarship and earned numerous awards in history and in manufactured housing.
For example, he earned the prestigious Lottinville Award in history from the University of Oklahoma, where he studied history and business management. He's a managing member and co-founder of LifeStyle Factory Homes, LLC, the parent company to MHProNews, and MHLivingNews.com.
This article reflects the LLC's and/or the writer's position and may or may not reflect the views of sponsors or supporters.
Connect on LinkedIn: http://www.linkedin.com/in/latonykovach
Related References:
The text/image boxes below are linked to other reports, which can be accessed by clicking on them.'
Manufactured Housing Apology, Multi-Billion Manufactured Housing Institute Correction by MHI, Industry Reality Checks -What's Hot Among MHVille Pros; plus MHMarkets Update
Manufactured Housing's Rorschach Test – How You See the Facts, Visuals, Narratives and Evidence Speaks Volumes; plus Sunday Weekly Manufactured Home Industry (MHVille) Headlines in Review
Warren Buffett Success Tip 'Lighter or Darker World Ahead,' 'Is Obama's World a Utopian Myth?' As 7.4 Approaches Revisiting Buchanan's Historic Lessons; plus Sunday Weekly MHVille Headlines Recap
MHARR Washington Update – Fannie, Freddie, Duty to Serve and Latest Concerns on Manufactured Housing Institute Energy Litigation – Facts and Analysis, plus Sunday Weekly MHVille Headlines Recap
'Dark Triad' – Researchers Detect '5 Key Characteristics of BILLIONAIRES' – Evidence how Billionaires, Super Wealthy Think Differently Than Most-Takeaways and Lessons; plus Sunday MHVille Weekly Headlines Recap
'Go to Independent Sales Lot, Spend a Week There During Busy Season and Report on Reality of the Manufactured Housing Industry its Primary Level;' Sunday MHVille Weekly Headlines Recap
Name Calling, Evidence, Facts, and Manufactured Housing's Primary 'Muckraker' Shed Light on Manufactured Home Industry Underperformance; plus Sunday Weekly Headlines Recap
Manufactured Home 'Energy Rule Delayed'–Manufactured Housing Institute Aptly Says 'More Work to Be Done'–Clayton & Independent Builder Insights, Analysis-plus Sunday Weekly Headlines in Review
Andrew Justus, J.D., Niskanen Center Housing Policy Analyst, Hill Op-Ed Asks and Answers – 'What's Holding Back Manufactured Homes?' Sunday Weekly MHVille Headlines in Review
Warren Buffett Led Berkshire Hathaway has Over $100 Billion Available for Investing, Why That Matters to Manufactured Housing, MHEC Members Know How Gold Rules; plus Sunday Weekly Headlines Recap
U.S. Housing Market Snapshot April 2023, Manufactured Housing News Includes Eye Popping $500 Million Offer to Manufactured Home Residents; plus Sunday Weekly MHVille Headlines Recap
Danny Ghorbani – Manufactured Housing's 'Elephant in the Room,' per Prior Manufactured Housing Institute Chair, Exclusive Q&A on Key MHIndustry Issues, plus Sunday Weekly MHVille Headlines Recap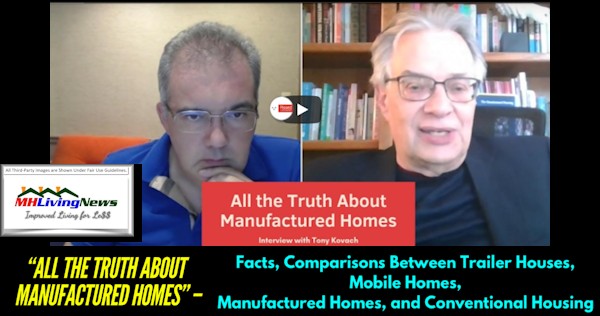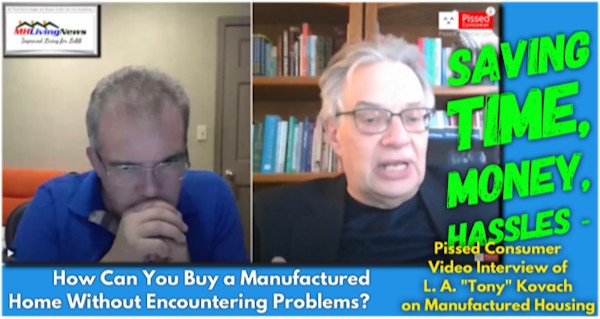 'Affordable Homes for Low Income Must Produce in Factory,' 'Years to Unravel Sabotage,' Grad Students Interest in Manufactured Housing, Factory-Home Solutions; plus Sunday Weekly Headlines Recap