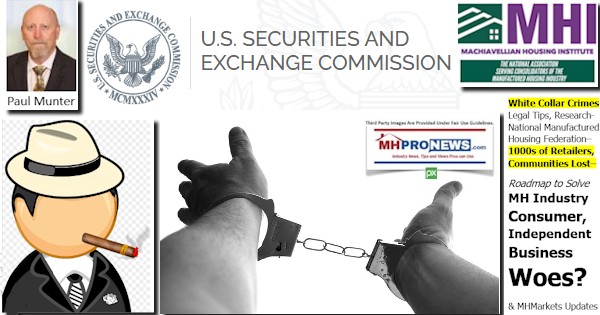 The U.S. Department of Justice website indicates that the legislation referenced in the testimony by the National Manufactured Housing Federation (see Part II below) was enacted. Next from the headline topics, the legal research and opinions referenced herein include federal and state laws per a document focused on the subject of "Fraud; Corporations; Crime; White Collar Crime; Liability (Law)" entitled: "CIVIL AND CRIMINAL LIABILITY OF CORPORATE OFFICERS AND DIRECTORS." That legal research document says in part that "Corporate directors, officers, and others who violate these laws are subject to criminal penalties, administrative fines, civil penalties, cease and desist orders, injunctions, disgorgement (an equitable remedy to provide restitution to defrauded members of the public), private lawsuits, and orders barring them from acting as officers or directors of public companies." So, on the National Manufactured Housing Federation segment of what follows in Part II of today's report had 'a happy ending' in legislative terms. Two sets of Congressional testimony are provided and reviewed in Part II of this report. Part I of this installment of MHProNews will focus on facts related to the loss of thousands of street retailers and communities, that include information from the National Manufactured Housing Federation. Facts, analysis and tips on that topics are in Parts I and III below, which will include the headline legal issues.
These insights will be framed in part in the light of the pending ROAD to Housing Act in Part III and this preface.  Part IV of today's report will be the Daily Business News on MHProNews stock markets and related national headlines segment.
As a growing number of MHProNews readers are grasping, the lessons of history in manufactured housing help us "understand the present and prepare for the future.  Because anything that has happened before can happen again." The mobile home and manufactured housing eras of our industry were once so impressive that U.S. presidents and their families publicly engaged with and in the manufactured home industry. As the "Renewing Opportunity in the American Dream (ROAD) to Housing Act" is looming as is activity on the U.S. Department of Energy (DOE) manufactured housing energy rule are advancing per a Manufactured Housing Institute (MHI) 'affiliated' Texas Manufactured Housing Association (TMHA) leader, surviving industry firms and their employees ought to grasp the realities around them in order to plan and act accordingly. Bluntly, problem solving skills require authentic history to inform professionals, investors, officials and stakeholders how manufactured housing got to this artificially low point. With those foundational notions, at the time that the National Manufactured Housing Federation (NMHF) testimony to Congress cited herein occurred manufactured housing was well over double its current size, which may shed light on why a manufactured home industry analyst is asking tougher questions. These are a among the good reasons to look into this history. The history, as this article with analysis will reflect, will provide specific tips and clues on what has been lost in the manufactured housing industry since those far more productive days? There is much to be learned from that  NMHF organization's testimony.
To further answer such questions, Part I of today's report looks at another piece of Congressional testimony.
The following remarks from Congressional testimony when the National Manufactured Housing Federation (NMHF) said the following. Look carefully at the number of retailers mentioned at the start of the NMHF testimony. The reason this slice of manufactured home history from 1985 matters to industry professionals, investors, consumers, public officials and other stakeholders will quickly become apparent as a factor in why manufactured housing is currently in month seven of yet another 21st century downturn. Indeed, if manufactured housing professionals are to avoid the "insanity" maxim's lesson, that period will enlighten ours today.
Part I – The Number of Retailers (a.k.a. "Dealers") of Manufactured Homes and "White Collar" Legal Issues
According to testimony made to Congress are the following remarks.

The National Manufactured Housing Federation
The National Manufactured Housing Federation (NMHF) is a national trade association comprised of thirty-eight state and regional manufactured housing associations. These state and regional associations contain within their memberships over 8,000 retailers and 20,000 developers active in manufactured home sales, service and land development. Ninety percent of all new manufactured homes sold in the U.S. in 1986 were sold by NMHF affiliated retailers. NMHF affiliated developers own and operate over 1.5 million manufactured home sites across the U.S."
Note that total number of manufactured home retailers in the U.S. then was "over 8,000" in 1985, per the NMHF.
Today, the number of manufactured home street retailers is seemingly something like a guarded secret. Estimates vary, but it may be less than 1000 (+/-) so-called street retailers. There are serious reasons why that number ought to be of interest to anyone seeking to understand why manufactured housing is underperforming as an industry during a well-documented affordable housing crisis.
It should be noted that according to publicly traded firms, they may share a 'retailer' count that appears to be significantly higher than that 1000 (mol) locations estimate. But there are distinctions to be made between street retailers and retailing manufactured home communities (MHCs). For instance. In Cavco's 2020 Investor Relations presentation ("pitch deck") there is a page that says that there are 4,000 home sales centers. But what that page doesn't say is how many of those "sales centers" are street retailers and how many are manufactured home communities (MHCs) that are buying homes wholesale for the purpose of selling them (and/or leasing them) in their own land-lease communities. As an interesting aside, since MHProNews has been raising that issue – i.e.: how many street retailers are there in the U.S.? – Cavco's latest January 2023 IR presentation lacks that same slide that gives the 4000 'home centers' count. (MHProNews editorial note: see what we mean by "the number of manufactured home street retailers is seemingly something like a guarded secret…"?!).
1) It should be apparent that fewer street retailers mean fewer opportunities for consumers to directly engage with a manufactured home seller. It essentially means that fewer manufactured homes are going to be sold through that street retail distribution "channel."
2) Fewer independent street retailers also logically means that segment of the manufactured home industry is steadily losing their voice at MHI. That issue has been previously raised by MHProNews by highlighting this pithy remark by a Manufactured Housing Executives Committee (MHEC) member.
3) For several years, there has been an apparent lack of hard data on how many manufactured housing street retailers remain in the manufactured home industry. Kevin Clayton pegged the number of lost street retailers at 7,500, but others have thought that number is thousands of lost retail centers too low.
4) Thousands of once profitable locations have been lost in manufactured housing during the 21st century. There have also been years of inaccurate information from the Manufactured Housing Institute (MHI) and some of their key members on the number of remaining land-lease communities. Note that in the image below from Cavco's IR pitch that it gives no data on these three "distribution channels" for manufactured housing. How many homes are going into land-lease communities? How many are going to independent or company-owned street retailers? Why does it matter? To answer the last question, because communities are steadily 'filling' per reports and are declining in number. Fewer street retailers are an obvious choke point for a company like Cavco too. Investors and others need to know. In some ways, this is simple math. Fewer sites to fill, fewer retailers equals lower sales levels.  Hiding that data may be considered a material issue by the SEC and others (see further below).
Notice: the graphic below can be expanded to a larger size.
See the instructions below the graphic below or click the image and follow the prompts.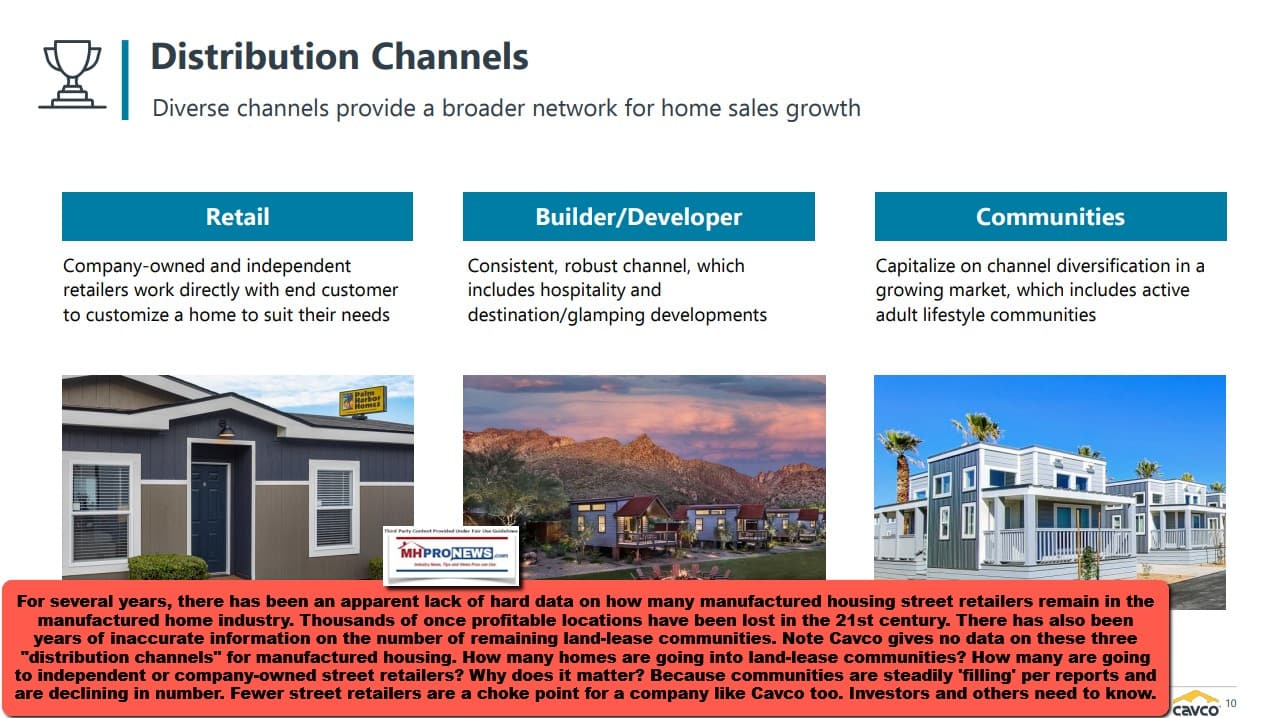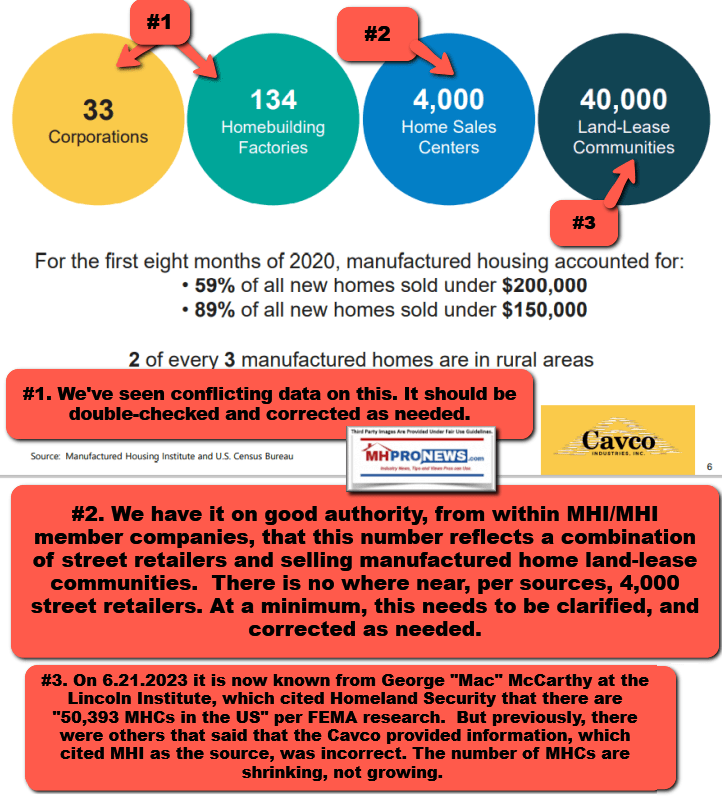 5) Beyond the street retail count is, as mentioned, the statistical anomaly of the manufactured housing community (MHC) count. Note that Cavco is among the MHI member firms that has had the wrong (as in factually inaccurate) community count for some time. The Securities and Exchange Commission (SEC) website has as a download a document linked here that says in part: "The Technical Committee recognizes that reliable, timely and readily accessible information is fundamental for investors." Additionally, the "CIVIL AND CRIMINAL LIABILITY OF CORPORATE OFFICERS AND DIRECTORS" legal research document states: "A person commits this offense when…he knowingly and willfully (1) falsifies,

conceals, or covers up by any scheme or device of a material fact

…" Additionally, there may be legal liability for those who are acting under the direction of those officers (potential example: MHI-connected trade media that knowingly and wittingly publish inaccurate information in furtherance of a prohibited scheme).
6) That same CT.gov legal research document says there is "liability for misstatements made orally or in writing other than the registration statement. It also applies regardless of whether the security is registered or required to be registered." Some investments that currently are and are not publicly traded in manufactured home communities, may fall under such a category.  As to who is an "associated person" in such a purported scheme: "A person is an "associated person" of a broker-dealer if he is a partner, officer, director, or branch manager of the broker-dealer or if

he, directly or indirectly, controls, is controlled by, or is under common control with the broker-dealer, or is an employee

of the broker-dealer." That broad description could be construed to include 'information' providers that say they are industry trade publishers and bloggers.
Did the Late Sam Zell Overpay? Fresh Equity LifeStyle Properties (ELS), Manufactured Housing Institute New Document Insights – The Truth Hiding in Plain Sight, plus MHVille Stocks, REITs Update
7) MHProNews has previously explored the topic of materiality in investing, because of the possible legal implications involved in knowing giving or withholding material information. "Materiality" is industry jargon for anything that has direct consequences or creates risk for investors," said Stanford.  The SEC addressed this hot topic for investors in 2022 with this: "Assessing Materiality: Focusing on the Reasonable Investor When Evaluating Errors." In that SEC statement, it says in part that: "…determining whether the error is material

to those historical financial statements. The Supreme Court has held that a fact is material if there is:

"a substantial likelihood that the … fact would have been viewed by the reasonable investor as having significantly altered the 'total mix' of information made available."[4]"
8) As the report for 6.21.2023 linked below reflected, conventional housing is surging at what has been described by Thompson Reuters and Newsmax at a 'three decade high' seasonally adjusted annual pace. Meanwhile, far less costly manufactured housing has taken a sharp fall that is reportedly a "decade" low in HUD Code manufactured home production. What is the Manufactured Housing Institute (MHI) saying about that oddity?  Plenty, but oddly the MHI housing market snapshot does so without mentioning manufactured homes or manufactured housing at all, save in their own association logo's name.  After years of comparisons by MHProNews between the mainstream housing market and the manufactured housing market, MHI started to recently provide PowerPoint 'research' like this document, linked here. While interesting, in the body of the document itself, a word search revealed that the terms "manufactured home" and "manufactured housing" are NEVER used, save in their own association logo's name. It is arguably a piece of distraction, since MHI itself admitted in their "Federated States" email dated 6.12.2023 that:


March 2023 saw a significant uptick in new home starts, continuing into April with 127,100 new starts. New residential sales have increased 11.8 percent year-over-year across the US, with the South and Midwest both seeing increases at 23.4 percent and 20.6 percent respectively.

9) Restated, facts are facts and facts are stubborn things. MHI postures information without dealing with the point of the information being presented by MHProNews in fact-packed critiques of their problematic efforts, like the most recent such report linked below.  Namely, that manufactured housing is falling sharply while far more costly conventional housing is rising sharply. To borrow from the headline below, you "can't make this up."
Can't Make This Up While-Costly Conv Housing Starts 'Surge' to 3 Decade High, Manufactured Home Production Falls to Decade Low? What are Geniuses at Manufactured Housing Institute Doing? Plus MHMarket Updates
10) There is another reason why the Federated States email is of interest. As the Manufactured Housing Association for Regulatory Reform (MHProNews) noted in its zoning/placement "Issues and Perspectives" linked here, "Unfortunately, the same cannot be said for the industry's post-production sector. Within that sector, the Manufactured Housing Institute (MHI) — by subsuming the former National Manufactured Housing Federation (in 1991) and thereby ending any independent national representation for that sector and especially its smaller businesses — assumed and became solely responsible for the representation and advancement of post-production interests in the nation's capital. Yet – or arguably because of the lack of aggressive, independent national post-production representation after 1991 — it is squarely within the post-production sector that the industry's most serious problems, as noted above (i.e., lack of consumer financing and zoning equity), remain and continue to act as major roadblocks to the fulfillment of manufactured housing's true and complete potential for Americans in need of affordable housing." MHARR has repeatedly said that MHI bears a measure of responsibility in the current scenario. But by implication, that means that MHI board members do too, and those board members include several publicly traded firms. They have a fiduciary duty to represent all members, not just some. There may be 'badges of fraud' involved.
11) MHProNews raised the profile of the history of the National Manufactured Housing Federation (NMHF) in the report linked below, citing MHI's use of that history, which stands in contrast to what MHARR pointed out above.
Who's Who at Manufactured Housing State Associations per Manufactured Housing Institute (MHI), Others with MHI 'Official' History per Al Hesselbart-Claims-Tips-Views; plus, MHVille Markets Update
12) When the NMHF existed, there was a greater degree of counterbalance to MHI beyond MHARR, which came into existence in 1985. Just as MHI and MHARR have at times cooperated on national issues, so too did NMHF and MHI cooperated on issues, including the one cited in the historic information found in Part I and herein below. But to stress, the post-production NMHF – in the following remarks shown – pressed for consumer– and small-business friendly reforms on dispute resolution without the need for courts, attorneys, and litigation. MHI at that time – at least according to the document that this Congressional testimony was culled from – was silent on this same issue. For emphasis and clarity, one should keep in mind that this was prior to the formation of the Association for Regulatory Reform (ARR) which was later rebranded under the more industry-specific name of the Manufactured Housing Association for Regulatory Reform (MHARR).
One of several commonsense takeaways is that the currently more consolidated the manufactured home industry's trade representation has been in the 21st century, the poorer the industry's performance has been.
That's true despite the presence of good laws that exist in the 21st century that didn't exist in the 20th century. That's also true despite the fact that millions of housing units are need, 6 million per Cavco industries, and given that the U.S. population has grown significantly since these remarks were made.
One lesson to learn is that the need for a new post-production trade group, which need not be directly associated with MHI affiliated state associations, is but one of several possible takeaways for potential growth. If MHI consistently acts on behalf of its larger members, why should the smaller ones support it? The four attorneys research and how it relates to MHI and their dominating brands are clearly relevant.
Note that the NMHF included retailers, communities, and other post-production businesses, but allowed manufacturers too. As a takeaway for those pondering creating a new post-production trade group, manufacturers could be allowed an associate role, where they pay dues but don't get to run the association. A variety of models could be considered, and MHARR has said previously that they would share tips to help make a new trade group successful in implementing policies that would grow the industry and thus make it a good investment.
Part II – Historic Flashback – Testimony to Congress from NMHF on Consumer and Small Business Friendly Reforms
National Manufactured Housing Federation, Inc. (William R. Keyes)
STATEMENT BY WILLIAM R. KEYES, PRESIDENT, NATIONAL MANUFACTURED HOUSING FEDERATION, REGARDING THE DISPUTE RESOLUTION ACT, H.R. 3719, H.R. 2863, S. 423

This statement in support of H.R. 3719, sponsored by Mr. Eckhardt, is filed by the National Manufactured Housing Federation through its President, William R. Keyes. At the same time, a statement is also being filed by the Ohio Mobile Home and Recreational Vehicle Association, one of the state member associations of the national Federation, through its Executive Vice President, Gene Keener.
NMHF is a nationwide federation of 21 state and one regional association of manufactured housing dealers, park operators and developers, suppliers, manufacturers, and lenders. States which are members of the Federation are: Arizona, California, Florida, Idaho, Illinois, Indiana, Kentucky, Maryland , Michigan, Missouri, Montana, Nevada, New York, Ohio, Oklahoma, Oregon, Pennsylvania , South Carolina, Texas, Virginia and Washington.
In the 2½ years of its existence, NMHF has grown to represent approximately 70% of this country's manufactured housing dealers.
After we have presented the reasons why NMHF supports this legislation, the statement submitted by Mr. Keener on behalf of the Ohio MH & RV Association will explain the Consumer Review Committee which has helped to establish in Ohio a mechanism for handling complaints concerning manufactured homes. NMHF is proud to support the Ohio program, which offers an informative, practical example of how beneficial to both consumers and businesses informal dispute resolution can be.
As an organization consisting primarily of manufactured housing dealers, park developers and operators, Federation members represent the crucial link in the distribution chain between manufacturers and consumers. Our experience in this position close to the consumer has made us intimately aware of warranty, maintenance and repair issues which can arise after the purchase of a manufactured home. It is the dealer or park operator to whom consumers normally take their complaints.
We must first emphasize that the complaint record of the manufactured housing industry is a good one. About 10 million manufactured homes are currently in use. In 1978, 275,000 homes were shipped nationwide. Only about 7,000 complaints were registered with either the Department of Housing and Urban Development or the State Administrative Agency (SAA) responsible for handling manufactured housing complaints. Many of these complaints concerned only minor or cosmetic problems. Despite this outstanding record of service, the manufactured housing industry recognizes that improvement in consumer satisfaction can always be made.
The bills under consideration would help achieve this by establishing specific entities designated as complaint or dispute receivers. The beneficial impact of this special designation has been demonstrated in already operating programs, such as AUTOCAP (consumer panel for automobiles ) ; MACAP (Major Appliance Consumer Action Panel) ; and HOW ( warranty program for home buyers ) . Moreover, Congress has already expressed its support for dispute resolution by enacting Section 110 of the Magnuson-Moss Act ( P.L. 93-637 ) . Although that provision concerns warranty disputes only, the intent of Congress to encourage non-judicial, informal mechanisms for dispute resolution is clear.
Pursuant to Section 110 and FTC regulations thereunder (16 CFR 703 ), the warrantor may establish a settlement procedure which must be exhausted by the consumer before the consumer can initiate a civil action. Decisions of the dispute procedure are not legally binding, although they are admissible in evidence.
NMHF endorses procedures for the voluntary resolution of consumer problems. However, it is important that voluntary nonprofit organizations be used, as well as governmental agencies. Because the legislation under consideration is designed to fund experimental programs, all avenues and perspectives should be explored and encouraged. The private sector undoubtedly can offer creative programs de- rived from its experiences which might be beyond the scope of governmental agency operations.
NMHF, like many other industry organizations, is concerned about the consumers who choose our products. While some buyers' complaints may be ex- aggerated, other allegations may be justified. Many NMHF members are dealers in a position between manufacturers and consumers. We realize that there are two sides to every story. We usually hear them both. Since it is impossible to make a product with zero defects, we must be ready to respond to legitimate complaints that are filed. NMHF recognizes that the consumer is the key to this industry's future. We are prepared to meet the consumer's legitimate needs.
In many situations, the dealer or park operator has gained years or insight in negotiating disputes between manufacturers, installers , repair and service people, lenders, and consumers. Most of the problems are now handled informally, if possible, and hopefully without having to resort to traditional legal remedies.
Our experiences in this type of negotiation prove to us the immense contribution to both consumer welfare and business interests that a network of informal dispute resolution procedures could provide. The need is there for mechanisms upon which all parties can rely confidently to give impartial and complete consideration of disputed issues.
The current burden on our court system from the thousands of lawsuits filed each day serves to frustrate both the courts and those who seek relief from that forum. Many people have problems that are substantial enough to cause them inconvenience or hardship but are not considered appropriate for judicial determination. Clearly, a non- judicial alternative is desperately needed.
In the past few years, new types of mediation panels have been established. Their purposes range from screening cases before they are filed in court (for example, medical malpractice panels) to resolving minor criminal actions by arbitration rather than adjudication. These types of innovative solutions should be encouraged. The proposed bills can go a long way towards fostering these alternatives.
Each of the bills would establish a Resource Center which would serve as a clearinghouse for the exchange of information as well as provide technical assistance and conduct research to discover the most deserving areas in which to concentrate national efforts.
Both House bills include an Advisory Board composed of government officials, business persons, academicians, community and consumer groups, attorneys and state courts. The vast range of experience that would be provided by this broad cross- section would help to promote a balanced approach to the formation and implementation of informal dispute resolution mechanisms.
Finally, and perhaps most importantly, all of the bills provide funding for state and local governments and nonprofit organizations who receive approval by the Attorney General for their plans to create or improve existing dispute resolution mechanisms. Although the federal government's maximum share of any project's cost diminishes from 100 to 60 percent by the fourth year of the grant, this significant federal contribution to local initiative can be a key factor in the success of new programs or improvements.
The eligibility of nonprofit organizations is particularly important to NMHF because it indicates that industry members who wish to develop mechanisms similar to the Ohio Association's could apply for funding to help consumers serviced by the industry. Thus, private nonprofit groups can make a substantial contribution in devising creative new systems for dispute resolution.
Although the three bills concerning dispute resolution, S. 423, H.R. 2863 and H.R. 3719, are very similar in both their goals and their specific provisions, NMHF supports most strongly H.R. 3719, introduced by Congressman Eckhardt.
The reasons why NMHF prefers H.R. 3719 are as follows:
In contrast to S. 423, H.R. 3719 does not include a statutory 50/50 division in the allocation of funds. S. 423 would set aside half of the funds for state grant applicants with national priority projects. All other state, local and nonprofit organization projects would have to share the remaining half. Private nonprofit groups might be deterred from competing for these limited funds. This statutory limitation could create needless frustration if the types of meritorious applications submitted for funding prove the 50/50 allocation to be inappropriate.
Unlike H.R. 2863, H.R. 3719 does not place a statutory $200,000 cap on the amount of assistance available to any one project during any fiscal year. NMHF believes that, as in the case of the 50/50 allocation, a statutory limit is too inflexible, although guidelines which suggest a monetary ceiling may prove useful in budgeting available funds.
Finally, H.R. 3719 authorizations are the most reasonable, considering the task of national importance which lies ahead of the entities participating in the program. This bill would authorize $3,000,000 a year for the next five years to cover the costs of the Resource Center and Advisory Board, and $15,000,000 a year for the next five years to be applied to funding grants for programs.
In conclusion, NMHF, whose member associations have experience as mediators in the manufactured housing industry, recognizes the valuable contribution which federal funding and coordination of dispute resolution mechanisms can provide. We urge you to review the procedures described in the Ohio MH & RV Association's statement. NMHF is proud to support this fine effort by its state member association to react responsibly to consumer demands.
We strongly support the bills before these Subcommittees today and commend you for considering them. Thank you. ##
That testimony above was found in the document linked here. The hearing was entitled: JOINT HEARINGS BEFORE THE SUBCOMMITTEE ON COURTS, CIVIL LIBERTIES, AND THE ADMINISTRATION OF JUSTICE OF THE COMMITTEE ON THE JUDICIARY AND SUBCOMMITTEE ON CONSUMER PROTECTION AND FINANCE OF THE COMMITTEE ON INTERSTATE AND FOREIGN COMMERCE HOUSE OF REPRESENTATIVES NINETY- SIXTH CONGRESS. That document does not, as noted before, mention any testimony from MHI on this dispute resolution issue.
But this testimony from what was then called the "Ohio Mobile Home and Recreational Vehicle Association" (today it is the Ohio Manufactured Homes Association or OMHA) was as follows.
STATEMENT OF THE OHIO MOBILE HOME AND RECREATION VEHICLE ASSOCIATION, BY GENE KEENER, EXECUTIVE VICE PRESIDENT, REGARDING THE DISPUTE RESOLU[1]TION ACTS, H.R. 3719, H.R. 2863, S. 423

This statement, in support of proposed dispute resolution legislation, is submitted by the Ohio Mobile Home and Recreational Vehicle Association through its Executive Vice President, Gene Keener. The Ohio association is composed of manufactured housing dealers, manufacturers, lenders, insurers and suppliers.
In 1976, the association, in cooperation with the Attorney General of Ohio, established an innovative dispute settlement procedure to resolve consumer complaints. The success of the program is now evident. It provides a demonstration 236 of the potential benefits that can be achieved in settling consumer and other types of disputes under any of the proposed Dispute Resolution Acts.
First, let us put the creation of Ohio's program in historical perspective. In 1975, several dealers in Ohio were alleged to be in violation of the Ohio Consumer Sales Practices Act. Some of these dealers went out of business, leaving behind many unsatisfied consumer complaints which threatened to damage the purchasers of manufactured housing and the public perception of our entire industry if left unremedied. In order to help the industry regulate itself more conscientiously and to respond to consumer demands, the Board of Directors and staff of the state association, with the assistance and advice of the Ohio Attorney General's Office, created a Consumer Education Relations Program. This program is a totally separate and self-supporting division of the Ohio association.
Following is a brief description of how the plan is designed and the success the program has enjoyed so far. We should mention that our experience with the program has demonstrated that use of all of the formal steps is rarely necessary. Often we can bypass an intermediate step to resolve the complaint even sooner and more informally.
Every purchaser of a new manufactured home in Ohio receives from the Association a letter of congratulations and a Consumer Service Procedure card which outlines the available complaint process. The notice also explains that other avenues for remedying problems are available, such as the Better Business Bureau, the Office of the Attorney General and state and federal warranty laws. A copy of the letter and notice is attached to this statement as Attachment A.
For each complaint received by the association, its Board of Directors appoints a Complaint Review Committee. The Committee initially advises all complainants to contact their dealer if they have not already done so. Some complaints are resolved at this early stage. Frequently a complaint form requesting detailed information is required from the homeowner. When the form is returned to the Committee, the Committee forwards a copy to the party it believes is responsible for the subject matter underlying the complaint. This may be the manufacturer, dealer, supplier or park operator. At the same time, a copy is sent to the Ohio Attorney General's Office.
Within 14 days the recipient of the complaint form must report in writing what action has been taken to resolve the complaint. If the recipient fails to respond, the Committee decides who is responsible for resolving the complaint and what remedial steps have been taken so far. The Committee then informs the responsible party and the Attorney General of its findings. The Committee may base its decision on information contained in the file or it may conduct a physical inspection.
If the responsible party does not respond to the findings within a reasonable time, the Committee will authorize a competent third party to take whatever actions are necessary to remedy the problem. This person's services are paid for by the Consumer Relations Program. If the Program's funds are used, the re[1]sponsible party is requested to appear before the Board of Directors to explain its actions or inaction. If the Board affirms the Committee's determination of responsibility and, in addition, finds the party to be liable for the resolution of the complaint, then the party must reimburse the Program or be terminated from membership in our state association. The Attorney General is also notified of the association's action.
In a worst case situation, where the responsible party fails to respond and a third party is authorized to remedy the complaint, a maximum of 70 days is permitted from the date that the complaint form is filed. In most instances, complaints are resolved in half that time.
We in Ohio are very proud of our program and our cooperative efforts with the Attorney General's Office. After three years in operation, over 55 on-site inspections have been conducted. We have resolved over 310 complaints received in our office out of a total of 390 referred to the Association.
Most gratifying, however, are the letters of thanks that we have received from the consumers who benefitted from our dispute resolution program. Time after time these writers express their appreciation for having somewhere to go when they had problems. A recent letter from one satisfied consumer is attached to this statement as an example (Attachment B).
Furthermore, in order to reduce consumer dissatisfaction and misunderstandings which can lead to complaints, the Ohio association has fashioned a complementary program of dealer training. By instructing sales personnel about the 237 scope and content of their legal obligations to consumers, the association hopes to prevent situations that result in complaints. A copy of one of our training aids concerning the Magnuson- Moss Act is attached as an example of this program (Attachment C).
A Dispute Resolution Act could help fund other programs such as ours to help to expand and improve our program. Our experience has shown us that nonprofit industry associations, because they are familiar with the types of problems likely to arise, establish fair dispute resolution mechanisms which are both impartial and beneficial to their customers.
Of course, the bills before you today address more than just consumer complaints, and many informal disputes among neighbors, business partners and others would benefit from non-judicial resolution mechanisms.
However, consumer problems have been our main emphasis, and we have been pleased to eliminate much consumer and business frustration. As one person who used Ohio's program wrote to us: "If there were more places a consumer could go for help, a lot more people would not have the problems they feel they have to put up with."
We commend these Subcommittees and the sponsors for their initiative in considering this legislation. We urge its enactment.
GENE KEENER, Executive Vice President.  ##
Part III Additional Information with More MHProNews Analysis and Commentary 
The following comments are from a 1985 Congressional testimony linked here.  As was noted herein, AAR (now called MHARR) commented on the same issue.  There are specific reasons why this from MHI and NMHF are quoted, as will be shown shortly.

The Manufactured Housing Institute and the National Manufactured Housing Federation appreciate the subcommittee's invitation to participate in its landmark effort to develop an effective new framework for national housing policy. We believe this is a timely and bold response to a challenge of great public importance and burgeoning public need. The Manufactured Housing Institute and the National Manufactured Housing Federation are two separate organizations that have worked together to develop the following comprehensive set of comments.
The Manufactured Housing Institute
The Manufactured Housing Institute (MHI) is a national trade J association representing builders of manufactured homes. There are about 120 companies producing homes in more than 300 factories across the United States. About one-third of those companies are members of MHI. These manufacturers, however, account for more than 50 percent of all manufactured homes produced annually in the U.S. MHI members also include 160 companies that supply a wide variety of goods and services to producers and consumers of manufactured housing.
The National Manufactured Housing Federation
The National Manufactured Housing Federation (NMHF) is a national trade association comprised of thirty-eight state and regional manufactured housing associations. These state and regional
associations contain within their memberships over 8,000 retailers and 20,000 developers active in manufactured home sales, service and land development. Ninety percent of all new manufactured homes sold in the U.S. in 1986 were sold by NMHF affiliated retailers. NMHF affiliated developers own and operate over 1.5 million manufactured home sites across the U.S.
Background
Shelter is one of the most basic needs of humanity and the availability of decent, affordable housing has long been an object of our national policy. However, over the years, the cost of building and maintaining residential housing, whether single- or multifamily, has risen dramatically. With that rise, the deeply rooted dream of home ownership or a safe comfortable rented dwelling is fading into financial impossibility for an increasing number of Americans. The most effective way to restore these basic dreams to a growing segment of the population is by reducing the cost of creating and maintaining
housing. However, even with great efficiencies, the time and expense of homes built "stick by stick" on site cannot be substantially reduced. Manufactured housing represents a viable means of cracking
this price barrier and providing affordable, safe, decent and attractive housing for a multitude of Americans. …"
Again, the full comments from then AAR (now called MHARR), MHI, and the now defunct (consolidated or absorbed into MHI) NMHF are found at this link here, along with hundreds of pages of testimony from other organizations and individuals.
MHProNews Analysis and Commentary 
Today, manufactured housing is facing an array of unexpected 21st century challenges that would have been difficult for most professionals who recall the industry in the late 1990s or early 2000s to recognize. Circa the turn of the century, MHI was touting the potential for manufactured housing to surpass conventional builders in total sales. MHI leaders have said more recently that 500,000 new HUD Code homes produced annually is possible. When post-COVID19 backlogs in manufactured housing were widely touted, Cavco's CEO William "Bill" Boor said that manufactured housing could 'catch up' with site builders. That great potential of the industry has to be starkly contrasted with the reality that manufactured housing is sliding while conventional construction is sharply rising.
Positive legislation was passed into law in 2000, because MHARR and MHI collaborated. MHI used to give their members updates on the progress being made in implementing the Manufactured Housing Improvement Act of 2000 (MHIA). What happened to that practice? Why isn't MHI calling for new hearings on the failure to implement key provisions of the Manufactured Housing Improvement Act of 2000 (MHIA or what MHARR calls the 2000 Reform Law)?
While there were several features to that law, the late William Wade "Bill" Matchneer, J.D., told MHProNews that in his view perhaps the centerpiece of the legislation was the 'enhanced preemption' provision of the MHIA. Matchneer was HUD's first administrator for the post-MHIA Office of Manufactured Housing Programs (OMHP), which became a focus for a Washington Post report.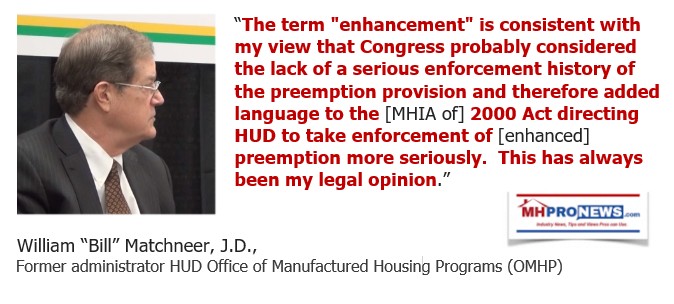 Matchneer said that HUD's Office of General Counsel declined to enforce the "enhanced preemption" provision. Matchneer explained that he personally wrote some letters to various jurisdictions that appeared to be violating the Congressional intent of "enhanced preemption."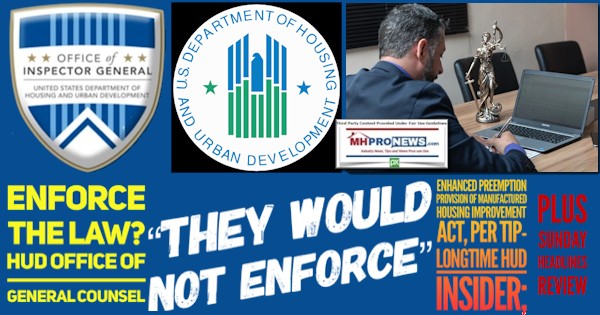 Professor Daniel R. Mandelker expressed to MHProNews a different view on enhanced preemption in his manufactured housing research article, see linked below, he also stressed in his research that the manufactured housing industry needed an organization for manufactured housing litigation and legislative support. While Mandelker's remarks may not have been intentionally meant as a slight or slam against MHI, that is certainly a fair takeaway to consider as a logical conclusion from his research.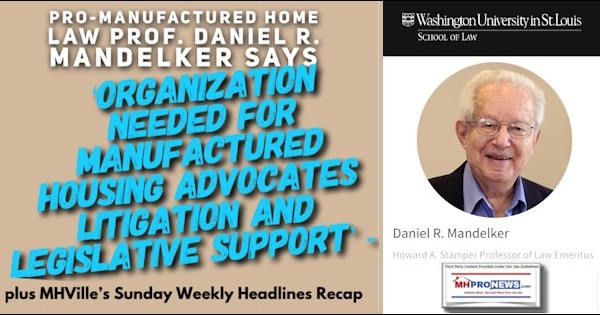 Manufactured housing has demonstrably suffered in total numbers in a variety of ways since the disappearance of the NMHF. A partial list follows.
A) There are far fewer new manufactured homes being sold.
B) In the 21st century, the number of manufactured home communities (a.k.a. 'mobile home parks') has declined by thousands.
C) There are hundreds of fewer factories producing HUD Code manufactured homes.
D) There are thousands of fewer street retailers since 2000.
Given such facts (see links herein for details), there are reasons to ask – has MHI's steady consolidation of the industry post-production representation been good for manufactured housing? Isn't it obvious, in hindsight, that having more associations (e.g.: the previously independent NMHF) with more focused interests (production, post-production, regional, etc.) for decades yielded a superior result to what has occurred in the 21st century? If the yardstick for measuring that question is production, the facts are indisputable.
While there are obviously more factors than just the sheer number of trade groups, or the lack thereof, of national trade associations, it is a factor that ought to be accounted for in any authentic evidence-based analysis of why manufactured housing is underperforming during an affordable housing crisis.
ROAD to Housing Act…
That said, the ROAD to Housing Act draft is pending. There are two reports on that topic on MHProNews. Each brings different and pressing insights.
Trojan Horse-Looming Impact? Troubling Questions, History Raised on Potentially Deceptive "Bait and Switch" Housing Legislation Poised to Harm Manufactured Home Industry? Facts and Analysis
Prof. Lee Ohanian Testimony Boost Affordable Housing Supply and Manufactured Homes, More Manufactured Housing Research – What Senator Tim Scott and ROAD to Housing Act Supporters Should Consider
Legal Views from the DOJ
According to the Department of Justice (DoJ) are the following remarks. Highlighting is added by MHProNews.

American consumers have the right to expect the benefits of free and open competition — the best goods and services at the lowest prices. Public and private organizations often rely on a competitive bidding process to achieve that end. The competitive process only works, however, when competitors set prices honestly and independently. When competitors collude, prices are inflated and the customer is cheated.  Price fixing, bid rigging, and other forms of collusion are illegal and are subject to criminal prosecution by the Antitrust Division of the United States Department of Justice.
In recent years, the Antitrust Division has successfully prosecuted regional, national, and international conspiracies affecting construction, agricultural products, manufacturing, service industries, consumer products, and many other sectors of our economy. Many of these prosecutions resulted from information uncovered by members of the general public who reported the information to the Antitrust Division. Working together, we can continue the effort to protect and promote free and open competition in the market-places of America. …
The Sherman Act prohibits any agreement among competitors to fix prices, rig bids, or engage in other anticompetitive activity. Criminal prosecution of Sherman Act violations is the responsibility of the
Antitrust Division of the United States Department of Justice. Violation of the Sherman Act is a felony punishable by, for corporations, a fine of up to $100 million, and for individuals, a fine of up to $1 million or 10 years' imprisonment (or both). "…collusive agreements can be established either by direct evidence, such as the testimony of a participant, or by circumstantial evidence, such as suspicious bid patterns, travel and expense reports, telephone records, and business diary entries. …
Conditions Favorable to Collusion
"Collusion is more likely to occur if there are few sellers."

"The probability of collusion increases if other products cannot easily be substituted for the product in question or if there are restrictive specifications for the product being procured."

"Collusion is more likely if the competitors know each other well through social connections, trade associations, legitimate business contacts, or shifting employment from
one company to another."

"These conspiracies are by their nature secret and difficult to detect."
The full DoJ document that is quoted above is found as a download at this link here.
There is no lack of interest in antitrust, RICO, or other 'white collar' criminal and civil issues.  There are websites and authors devoted to those topics. Additionally, because the interest is growing in antitrust enforcement, the Biden White House issued its own remarks on the need more competition and thus for antitrust enforcement.
Consolidation in certain situations might be a good thing, but if consolidation is occurring due to a scheme that aims at causing the manufactured housing industry to underperform during an affordable housing crisis, that can create liability and potential criminal risks, per the DOJ, CT.gov (see pull quotes above) and other sources.  There are an array of reasons to think that MHI's antitrust statement is mere window dressing, just as their so-called MHI-NCC code of ethical conduct is also apparently mere window dressing.
The pace of outside legal researchers looking into manufactured housing has apparently shot up in 2023.  The work of James A. "Jim" Schmitz Jr. and his colleagues in raising antitrust issues as it pertains to HUD Code manufactured homes also appears to be rising, per insights to MHProNews from a source close to Schmitz as well as the Congressional testimony on his thesis linked here.  As the public mood over apparently corrupt practices at the federal, state, and local levels seems to be darker now than even a few years ago, it could well be that lawmakers, public officials, major media, researchers, educators, and law enforcement will finally be compelled or opt to lean into these concerns.  The evidence is there. Hearings and probes would doubtlessly reveal more details, as did the SEC probe and litigation with Cavco.  When that may occur is a fair question, but the issue of so-called white-collar crimes in manufactured housing is unlikely to go away.  See the related reports to learn more.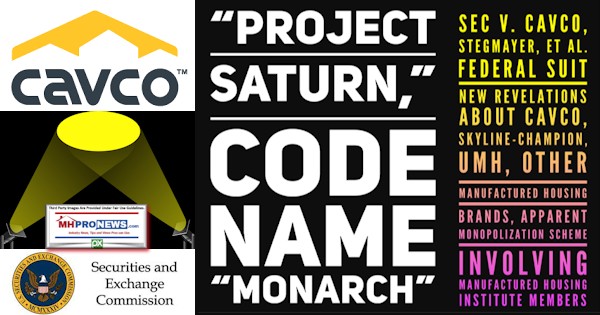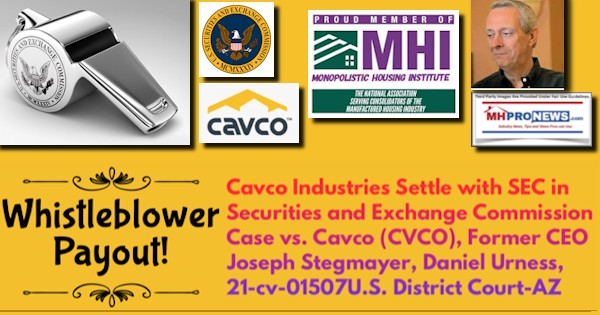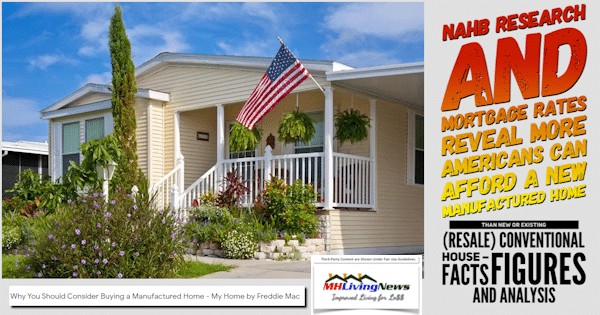 'RV Horizons and Impact Communities Agree to Consent Judgment' Frank Rolfe, Dave Reynolds, and MHI Leaders Asked to React; MHPHOA Residents Alert, and Memorial Day 2023 Manufactured Home Industry Reflections
'Dark Triad' – Researchers Detect '5 Key Characteristics of BILLIONAIRES' – Evidence how Billionaires, Super Wealthy Think Differently Than Most-Takeaways and Lessons; plus Sunday MHVille Weekly Headlines Recap
Hypothetically Speaking-Imagine You're Among Thousands in Sales or Management at Clayton Homes–'Gaslighting' by Clayton Leaders, Buffett-Berkshire-Clayton Moat and MHI–plus MHVille Market Update
Average Sales Price of New Manufactured Homes by Region and Size of Home by Month of Shipment, More HUD Code Manufactured Housing Data with NAR, NAHB Comparisons with More Facts and Analysis
TMHA VP Rob Ripperda's Tell Damages Manufactured Housing Institute Claim, While Dr. Harold Hunt Remarks Undercut Cavco's Bill Boor Statements on Manufactured Housing? Plus MHVille Markets Update
Can't Make This Up While-Costly Conv Housing Starts 'Surge' to 3 Decade High, Manufactured Home Production Falls to Decade Low? What are Geniuses at Manufactured Housing Institute Doing? Plus MHMarket Updates
Investopedia's Cautionary Post on Illusory Truth Effect. What Is the Illusory Truth Effect? How Does Illusory Truth Effect Apply in MHVille? Fact Check, Analysis, Viewpoints Plus MH Stocks Update
Manufactured Housing Institute Claims 'Effective Branding' for 'Manufactured Housing'-Seriously? Target Rich Satirical Saturday Examines MHI Claims, Messaging, RESULT$; plus MHVille Stocks Update
Berkshire Bank's Raymond Leech Says "Stunning Development" – Tim Williams-21st Mortgage Corp (BRK), DTS, FHFA, GSEs, Zoning, Manufactured Housing Enhanced Preemption-MHIA; plus MHMarkets Update
Andrew Justus, J.D., Niskanen Center Housing Policy Analyst, Hill Op-Ed Asks and Answers – 'What's Holding Back Manufactured Homes?' Sunday Weekly MHVille Headlines in Review
Manufactured Home 'Energy Rule Delayed'–Manufactured Housing Institute Aptly Says 'More Work to Be Done'–Clayton & Independent Builder Insights, Analysis-plus Sunday Weekly Headlines in Review
'The Rules Are Simple. They Lie to Us, They Know We Know They Are Lying;' MHVillage/MHInsider Darren Krolewski Unveils Sobering Claim – 'How to Waste Good Money on Marketing' – plus MHVille Stock$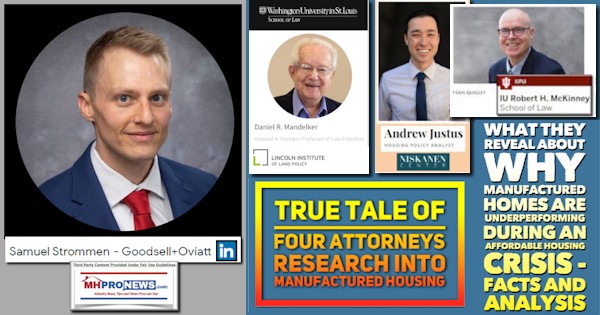 Part IV. Daily Business News on MHProNews Markets and Headline News Segment
Headlines from left-of-center CNN Business – from the evening of 6.21.2023
Meet the Titan's pilot
OceanGate CEO Stockton Rush is seen on Oct. 22, 2013, in Seattle. Rescuers in a remote area of the Atlantic Ocean are racing against time to find a missing submersible before the oxygen supply runs out for five people, including Rush, who were on a mission to document the wreckage of the Titanic.
OceanGate CEO Stockton Rush is one of five people on the submersible missing in the North Atlantic. Here's what we know
FTC sues Amazon, alleging it tricked consumers into signing up for Prime
Autoshop owner who dumped 500 pounds of oily pennies on ex-employee's driveway is ordered to pay additional back wages
Schumer outlines plan for how Senate will regulate AI
Nintendo Direct teases a Princess Peach game for Switch
Lab-grown meat is cleared for sale in the United States
Fed Chair Powell: Battle to bring down inflation still has 'a long way to go'
Fans are just noticing that an iconic Good Humor ice cream treat no longer exists
Satisfying your sweet tooth is about to get more expensive
US home construction surged in May by the fastest pace in more than a year
California is no longer America's most expensive state for gas
Yes, Titanic tourism is a thing, and it's dangerous
Ukraine needs investors to rebuild its war-torn economy. A huge effort is already underway
Tito's is trolling canned cocktails with a $200 empty keg
401(k) plans have never been hotter. That's changing the stock market
Germany's biggest newspaper is cutting 20% of jobs as it prepares for an AI-powered digital future
UK inflation stops falling, raising the chances of much higher interest rates
Yes, inflation is coming down. That doesn't mean goods and services will be cheaper
Elon Musk says Tesla is coming to India 'as soon as humanly possible'
News organizations are struggling to cover media figures and politicians peddling delusions
It could take 131 years for the world to close the gender gap, report shows
US charitable giving falls for first time in decades in 2022 amid high inflation, slumping stocks
Bernie Sanders launches Senate probe into Amazon warehouse safety conditions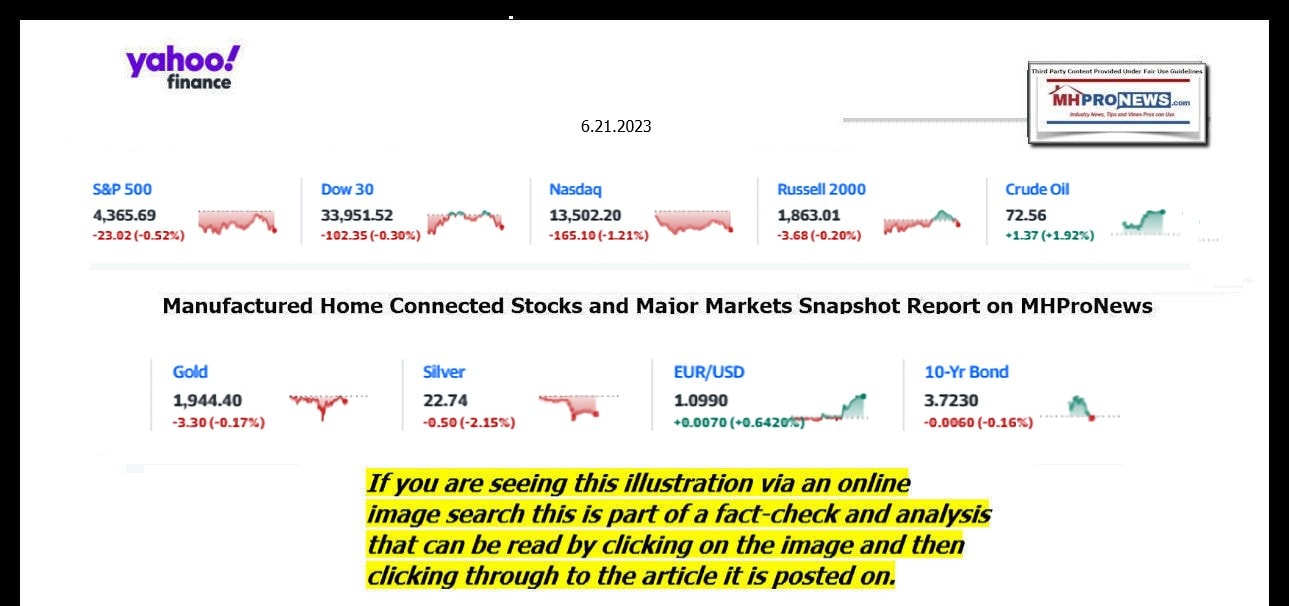 Headlines from right-of-center Newsmax 6.21.2023
Biggs to Newsmax: Dems Hoped to Discredit Durham During Hearing
Special Counsel John Durham testifies during a House Judiciary Committee hearing on the report on origins of the FBI investigation into the Trump presidential campaign, Wednesday. (Sipa via AP)
Biggs to Newsmax: Dems Hoped to Discredit Durham During Hearing
"The left is really trying to focus on something completely different," said Biggs, a member of the House Judiciary Committee. "They tried to discredit Mr. Durham. I don't think that works. On the other hand, we're trying to bring out everything that shows that the FBI is out of control. And then you have a weaponized FBI and, in fact, DOJ." [Full Story]
Related Stories
Durham Calls Russia Origins Probe Findings 'Sobering'
Durham Defends Report, Reputation During Testimony
Jordan: Durham Report Won't Restrain Dems
Jerry Nadler Slams Durham Report as 'Flawed'
Trump Federal Indictment
Trump Classified Documents Case Gets Aug. 14 Trial Date
Trump: Reluctant to Hand Over Docs Due to Personal Items Mixed In
DiGenova: 'Legal Issues,' 'Motions' May Decide Case | video
Lawyer Bobb: Indictment Aims to Keep Trump Out of WH
Heritage Sues DA Bragg Over Trump Indictment Docs
Judge: Trump Can't Review Doc-Case Evidence Unsupervised
Turner: 'Grave Concern' Over Trump, Biden Documents
Sketch Artist Criticized for Favorable Trump Portrayals
Esper Slams Trump's 'Irresponsible Action' on Docs
John Bolton: Concern About Trump's Baggage
Biggs: Dems Tried to Discredit Durham During Testimony
Lankford: Dems Will Promote Abortion Issue in 2024 | video
Blaine Holt: Pay More Attention to China's US Presence | video
Ron Johnson: Hunter Plea Deal Attempt to Keep Truth From Public | video
Gaetz: CIA, Big Tech Interfered in 2020 | video
Waltz: Obama WH Briefed on Bogus Trump-Russia Plan | video
Garcia: FBI Violated Trust in Russiagate | video
Lara Trump: Trump 'Doesn't Shy Away From Anything' | video
More Newsmax TV
Newsfront
NPR Poll: GOP Voters Raise Trump Favorability Over DeSantis
Republican voters see Donald Trump as a more favorable GOP candidate than Florida Gov. Ron DeSantis in the 2024 presidential race, and the former president has huge advantages in key demographic groups, according to a poll released Wednesday…. [Full Story]
Related Stories
Trump Campaign Targets 'Lockdown Ron' in New Ad Spot
DeSantis: Nothing Handed to Me
Wall St Extends Sell-Off on Hint of Further Rate Hikes
U.S. stocks closed lower Wednesday as Federal Reserve Chairman Jerome [Full Story]
Jordan: Durham Report Won't Restrain Dems
No matter what special counsel John Durham has found about the [Full Story]
Durham Defends Report, Reputation During Testimony
Durham Calls Russia Origins Probe Findings 'Sobering'
Jerry Nadler Slams Durham Report as 'Flawed'
Biggs to Newsmax: Dems Tried to Discredit Durham During Testimony
Biden to Restore Endangered Species Protections
The Biden administration proposed bringing back rules to protect [Full Story]
Pro-Choice Group Backs 12 Dems in 2024 House Races
NARAL Pro-Choice America on Wednesday endorsed 12 Democrat lawmakers [Full Story]
McCarthy: Hunter Plea Won't Deter Probes
House Speaker Kevin McCarthy, R-Calif., said investigations into [Full Story]
Related
Fallon to Newsmax: Hunter Deal Shows 'Two-Tiered Justice System' |video
Whitaker to Newsmax: Hunter Biden Deal 'Extraordinary' Change to DOJ Policy
Tiffany to Newsmax: Hunter's Plea Deal Shows 'Dual System' |video
Hunter Biden Agrees to Plead Guilty to Federal Charges
AG Garland Responds to Hunter Plea Deal: Ask Weiss |video
McLaughlin Poll: Biden's Prosecution Has Helped Trump
Documents uncovered by the U.S. House shows the Biden family may have [Full Story]
'Woke' Corporate Push Has Awoken 'Sleeping Dragon,' Backlash
The combination of LGBTQ+ children's swimsuits at Target, Pride baby [Full Story] | Platinum Article
Biden Calling China's Xi 'Dictator' Opens New Rift
President Joe Biden's remarks calling Chinese leader Xi Jinping a [Full Story]
Zelenskyy: Counteroffensive Going 'Slower Than Desired'
Ukrainian President Volodymyr Zelenskyy said battlefield progress in [Full Story]
Kyiv's Allies Vow to Make Russia Pay for Ukraine Invasion
3 Drones Downed Outside Moscow, Russia Suspects Ukrainian Attack
Ukraine Needs Over $6B Aid in Next 12 Months: Prime Minister
Robert Downey Jr.: Year in Prison Was 'Worst Thing' Ever
Robert Downey Jr. has admitted that his year in prison was "the worst [Full Story]
Powell: 0.50@ of Additional Hikes a 'Good Guess'
Further Federal Reserve rate increases are "a pretty good guess" of [Full Story]
US Approves Chicken Made From Cultivated Cells
For the first time, U.S. regulators on Wednesday approved the sale of [Full Story]
Trump Unveils Plan for Reciprocal Tariff Legislation
Former President Donald Trump, in a video released today as part of [Full Story] | video
Hunter Biden Plea Deal 'Severely Handicaps' Trump Campaign
The plea bargain struck between federal prosecutors and President Joe [Full Story] | Platinum Article
Court Rejects Challenge to N.Y. Clinic 'Buffer Zone' Law
A U.S. appeals court on Wednesday upheld a New York county's law [Full Story]
Hunter Biden Has Agreement to End Child Support Fight
Hunter Biden and the mother of his four-year-old daughter will end [Full Story]
Harvard Students Warned Not to Drop 'H-bomb'
Harvard students were advised not to reveal that they attendthe Ivy [Full Story]
More Ships Joining Last-Ditch Search for Titanic Sub
A Canadian military surveillance aircraft detected underwater noises [Full Story]
Titanic Tourism Caters to Thrill-Seekers
Stepson of Missing Sub Traveler Attends Blink-182 Show
Titanic Sub Company Was Warned Over Depth Safety
US Regulator Approves Lab-Grown Chicken for Sale
The United States has granted its first-ever approvals to two [Full Story]
New Poll: Congress Should Pass Pro-life Protections
An overwhelming majority of Americans want pro-life laws passed to [Full Story]
Vatican Promotes 'Radical Inclusion' Study of LGBTQ+
An unprecedented global canvassing of Catholics has called for the [Full Story]
Explosion Hits a Building in Paris, Injuring 4
A strong explosion hit a building in Paris' Left Bank on Wednesday, [Full Story]
Man Who Tased DC Cop on Jan. 6 Gets 12.5 Years
A man who pleaded guilty to having tased former Metropolitan Police [Full Story] | video
Manchin 2024 Presidential Flirtation Worries Dems
West Virginia Sen. Joe Manchin's flirtation with a 2024 third-party [Full Story]
Biden Calls Chinese President Xi a Dictator
President Joe Biden on Tuesday called Chinese President Xi Jinping a [Full Story]
NFL Star Rodgers, Rick Perry to Speak at Psychedelics Conference
Months after Colorado's voters decided to join Oregon in [Full Story]
Biden: White House Developing AI Strategy
President Joe Biden said Tuesday that his administration is meeting [Full Story]
Utah School District Returns the Bible to Shelves
The Bible will return to the shelves in a northern Utah school [Full Story]
Biden Misses Deadline to Declassify COVID-19 Origins
President Joe Biden missed the Sunday night deadline set by a [Full Story]
Court Rules for Christian Business in LGBTQ Lawsuit
A Christian-owned wellness center is exempt from the federal law [Full Story]
The Most Poorly Designed Cars Ever Made
Brake For It
Finance
National Reading, Math Scores Plummet
Reading and math scores for 13-year-olds have continued to plummet since the height of the COVID-19 pandemic, according to national test results released Wednesday…. [Full Story]
Don't Keep Checking Your 401(k)
Uber to Lay Off 200 Employees in Recruitment Division
2023 Ushers in New Movement of Renter Activism
Fed's Bostic: More Hikes May 'Needlessly Drain' Economy
Health
Regular Naps May Boost Brain Power
Taking an afternoon nap can recharge your battery and new research says it's also good for your brain. A new study found that daytime napping could slow the rate at which the brain shrinks as we age. The researchers found the difference in brain volume between people who…… [Full Story]
Two New Diabetes Drugs Approved for Children
Electrical 'Zap' to Brain Limits Damage From Stroke
8 Stomach Symptoms You Should Never Ignore
National Reading, Math Scores Plummet