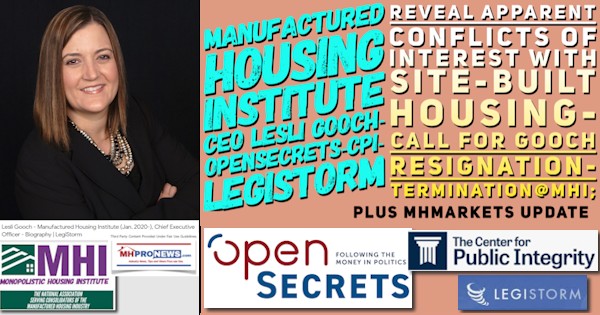 "You can ignore reality, but you cannot ignore the consequences of reality."
– Ayn Rand
"No one's rights can be secured by the violation of the rights of others."
– Ayn Rand
"If some men are entitled by right to the products of the work of others,
it means that those others are deprived of rights."
– Ayn Rand
The manufactured housing industry's production continues to be in a sharp decline. That is per official data for August 2023 released on October 3, 2023, which will be detailed in a report later this week. Just a year ago, the manufactured home industry was still growing as measured by production data at that time. Now, the year-over-year decline in manufactured housing is continuing at a brisk pace. Clearly, whatever gaslighting style praise generated by insiders that has been heaped on Lesli Gooch, Ph.D. is apparently being contradicted by hard facts (see further below). What follows about MHI CEO Gooch in Part I of today's report are from sources that include LegiStorm, OpenSecrets, and the Center for Public Integrity (CPI). But first, the preface of quotes by Ayn Rand, shown above, offer a framing of the issues. There are numbers of possible applications of these quotable quotes by author "Alice O'Connor, better known by her pen name Ayn Rand." Left-leaning Wikipedia said that and: "Russian-born American writer and public philosopher. She is known for her fiction and for developing a philosophical system she named Objectivism. Born and educated in Russia, she moved to the United States in 1926."  Rand was "Influenced by: Friedrich Nietzsche, Aristotle, Ludwig von Mises," was "Born: February 2, 1905, Saint Petersburg, Russia" and "Died: March 6, 1982, New York, NY." Rand authored "The Fountainhead" and "Atlas Shrugged." Rand spent the first two decades of her life in a land where propaganda was common. But this article is focused on Gooch and her backers, not about Rand. Yet Rand's views on what INC said are her 7 principles of "Rationality, independence, integrity, honesty, justice, productiveness, and pride" seem to apply in an inverted manner. 
Expanding Housing Choice Through Investments in Innovation and Technology–Regina Gray, HUD Director, Affordable Housing Research and Technology Division–on Manufactured Housing; plus MHMarkets
Meaning, despite the great potential for manufactured housing, there exists an apparently irrational toleration by certain industry leaders of the purported injustice and lack of productiveness that has been charged against the Manufactured Housing Institute (MHI) CEO Lesli Gooch and her backers. When prominent MHI member Cavco Industries is expressing the notion that a lack of affordable housing is costing the U.S. economy some $2 trillion dollars annually, and manufactured homes are the proven product to solve that affordable housing crisis, that begs the question. How is it possible that MHI and its several multi-billion-dollar brands can consistently fail to advance the industry's own stated goals and interests?
Note: to expand this image to a larger or full size, see the instructions
below the graphic below or click the image and follow the prompts.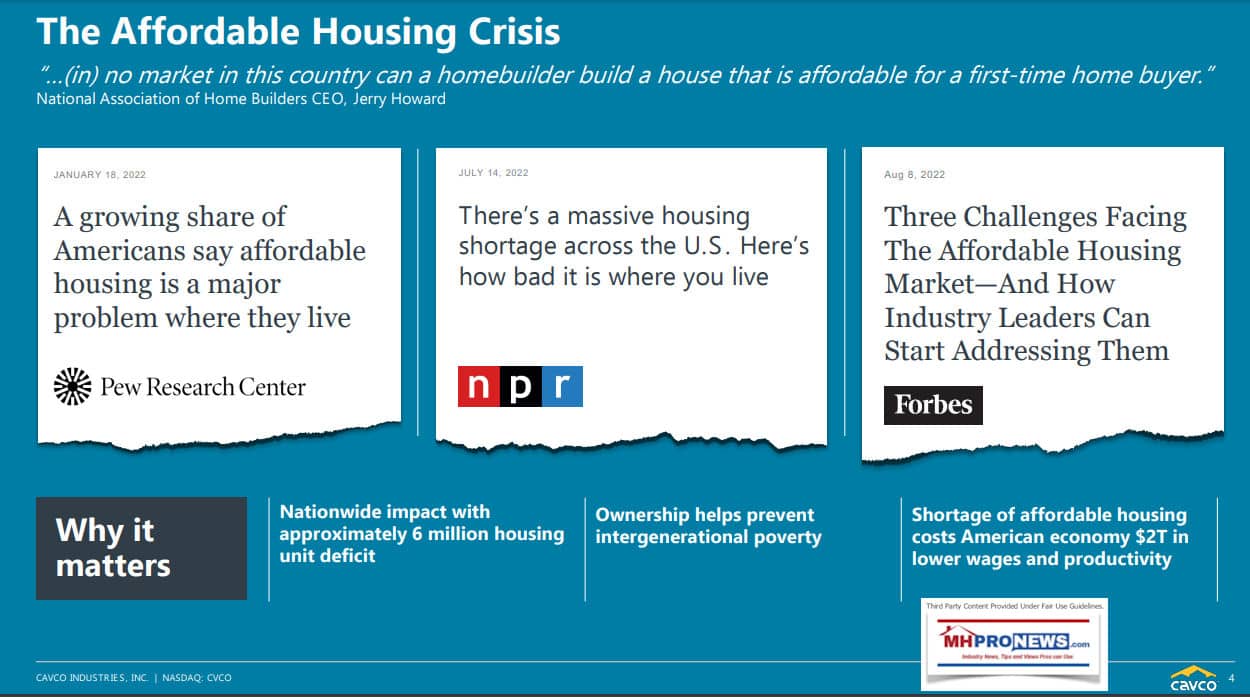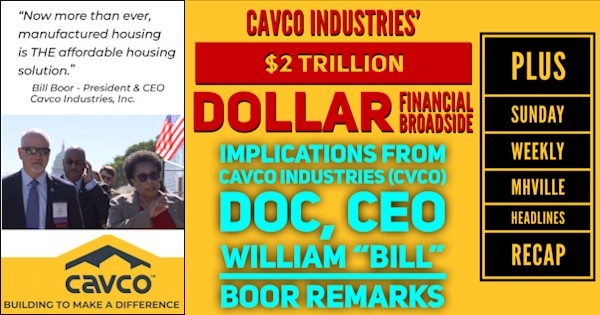 By extension, whatever Gooch has done improperly and failed to do correctly are also an indictment of the leaders of MHI that tolerate what the Manufactured Housing Association for Regulatory Reform (MHARR) previously called an 'inexcusable' status quo.
In this promised follow-up to our previous report on fresh insights on Gooch and apparent evidence of conflicts of interest in her role as the CEO of MHI, the following information was unearthed by MHProNews from the sources as shown. Part II will unpack these facts with additional information with more MHProNews analysis and commentary.
Part I
In reviewing the third-party information that follows, one should keep in mind that these items would have been available to the MHI search committee that hired Gooch.
Such information would also have been available to MHI leaders who decided to name Gooch as CEO.
So, this is NOT only about Gooch herself. Rather, it is equally about those who placed – and have kept Gooch – at MHI in her leadership role.
According to LegiStorm are the following about Lesli Gooch.

Listed as lobbyist by registrants:
Lobbied on behalf of:
Other items about Gooch are behind a LegiStorm paywall.
Some of that lobbying for others in the housing industry by Gooch occurred while Gooch worked for MHI. Some of Gooch's paperwork filed as a lobbyist during occurred during times of day that one would expect her to be 'on the clock,' so to speak, for MHI.
Note that among those firms which reportedly Gooch lobbied for in LegiStorm's list above is AmeriDream.
The following is from a report by the Center for Public Integrity (CPI) entitled "Home loans brokered by nonprofits helped fuel the housing crisis." That CPI article included the following remarks, and specifically names Lesli Gooch in an arguably problematic fashion. While this is a flashback, savvy professionals may see the gut wrench parallels between Gooch's proverbial fingerprints then, as now, which resulted in a conventional housing downturn (then) or the current manufactured housing downturn now.
Per CPI:

Before the housing boom got underway in the late 1990s, a California nonprofit group hatched an idea to help families who qualified for government-backed mortgages but still couldn't raise the down payment.
A home builder would agree to make a donation to the nonprofit in an amount equal to the down payment. The nonprofit would give the cash to the buyer, often earning a generous fee for its role as middleman. In less than a decade, nonprofits had arranged more than a million no-money-down house sales around the country. By 2008, they represented more than a third of all loans backed by the Federal Housing Administration." …

Little attention has been paid to the role of the down payment programs in the origins of the financial crisis. Government and court records examined by the Huffington Post Investigative Fund illustrate how two large housing nonprofits – Nehemiah Corporation of America and AmeriDream Inc. — worked closely with the mortgage divisions of the nation's biggest home builders, adding fuel to the housing bubble and in effect paving the way for even riskier subprime loans by private lenders.
Nehemiah, the Sacramento, Calif.-based inventor of seller-funded down payment assistance, and its closest competitor, AmeriDream of Gaithersburg, Md., together facilitated 40 percent of all such loans backed by the FHA. Over eight years, they arranged 392,000 mortgages worth $54 billion, records from the Department of Housing and Urban Development show." …

Officials at Nehemiah and AmeriDream declined requests for interviews for this article. In a statement to the Investigative Fund, AmeriDream president Ann Ashburn said she hopes that Congress will pass a bill to create a new gift program "to help stabilize the U.S. housing market."
In testimony to Congress in 2007, Ashburn acknowledged that "the extremely fast growth led to a measure of disorganization among down payment assistance providers, and, in some cases, excesses by certain individuals associated with those entities." The National Association of Home Builders, one of the group's allies in the effort to revive the system, also noted the past problems but said they can be fixed.
"Let's reform it so it can operate in a safe and sound way," said David L. Ledford, senior vice president of the association. "The down payment is still the major hurdle and obstacle to homeownership … It would be great if sellers could help out in a way that's managed properly.""

The non-profits have enjoyed the support of an unlikely coalition of real estate interests and civil rights activists – as well as some Democratic and Republican lawmakers who have received campaign contributions from key players. At a congressional hearing in May, Rep. Gary Miller (R-Calif.), co-sponsor of a bill that would restart the system with tighter rules, said that the ban was "an injustice to a lot of the private sector."
Since January 2008, Nehemiah, AmeriDream, and AmeriDream's affiliate, the Association of Homeowners Across America, have spent roughly $2 million lobbying Congress, at first to prevent the ban and then to reverse it, according to disclosure forms."
"They did a lot of pushing and pulling," said Mark Calabria […who was a former…] high-ranking Republican staff member on the U.S. Senate Committee on Banking, Housing and Urban Affairs. "That really tells you this is the most danger they've ever been in. It also tells you how much money they were making."
That is a good place to press "pause" and recall that MHI did a photo op of Lesli Gooch with Dr. Mark Calabria, who after the above was published later headed up the Federal Housing Finance Agency (FHFA) during the Trump Administration.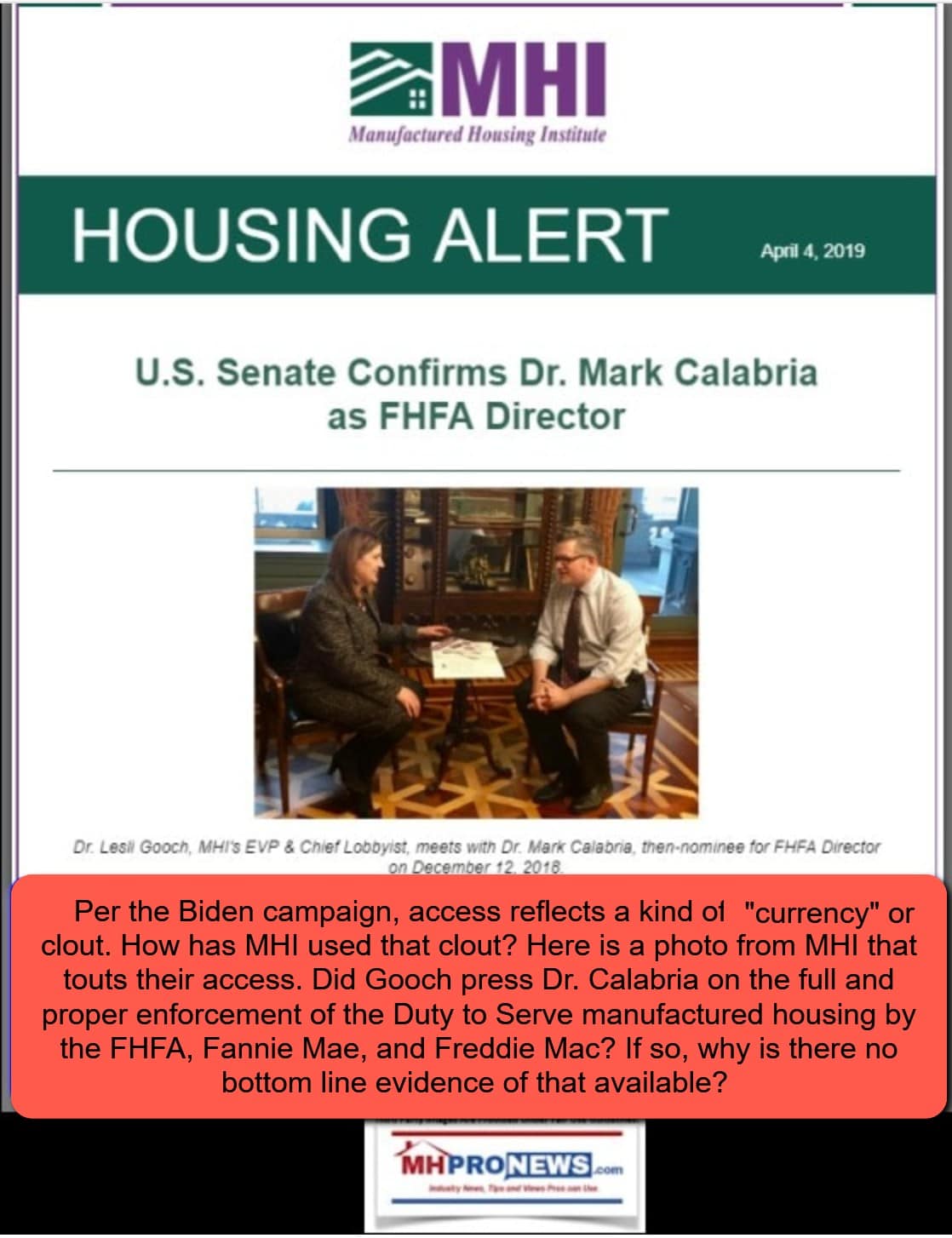 That relevant segue about Gooch and Calabria noted, back to the flashback report from CPI.
"Working with the [Conventional Site] Builders" …
"…AmeriDream was founded as a nonprofit in 1999 under a model similar to Nehemiah's. Soon, hundreds of other copy-cats sprouted, many of them nonprofit in name only, as the IRS would later rule." …

Within a few years, the Government Accountability Office looked into down payment assistance programs, finding that rather than making a true donation, many sellers were just factoring their contributions into the sales price. That was the practice confirmed in July by Beazer Homes, which said as part of a deferred prosecution agreement that it "accepts and acknowledges" that its former employees engaged in criminal acts by inflating the price of homes funded with down payment gifts. Beazer agreed to pay $5 million to the federal government and up to $48 million to homeowners who'd been defrauded." …

'Illusion' of Rising Home Values
Aside from questions about the home builders' conduct, the high foreclosure rate among buyers with seller-funded down payment assistance quickly became evident in some places. Mildred Wilkins, then a foreclosure specialist for Fannie Mae in greater Indianapolis, a hotbed for such programs, said she began to receive a "startling" number of new cases around 2002. She was disturbed by how many of the bad loans on Fannie's books had been backed by the FHA and facilitated by seller gifts.
"These were neighborhoods explicitly advertised as [down payment assistance] communities," said Wilkins. Most of the homes were new construction, with prices between $100,000 and $150,000, and went to low- and middle-income buyers, many of them African-American, she said. On many of the quickly soured mortgages, the price at foreclosure could be 15 percent less than the original sales price. "At the very minimum, the price had been inflated by the amount of the down payment, plus the administrative fee, plus the closing cost and taxes [and] a couple of other little things," she said." …
Another segue is warranted. One may recall that MHI's Gooch penned an op-ed early in the Biden Administration on "equity" for Blacks and minorities.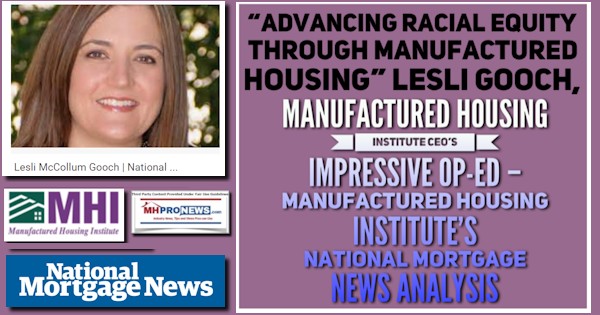 Despite her pretty words in that op-ed, when Gooch was asked by a Black municipal leader for help with a real (as opposed to hypothetical) Black couple who wanted to buy a manufactured home but who were being barred by local officials. In principle, the case could have resulted in numbers of additional manufactured homes being sold. Gooch, on behalf of MHI, provided more pretty words – but no actual support. an opportunity to advance the industry was allowed to slip away. And that black family did not get the home that they hoped and dreamed of buying, though they were already approved for financing.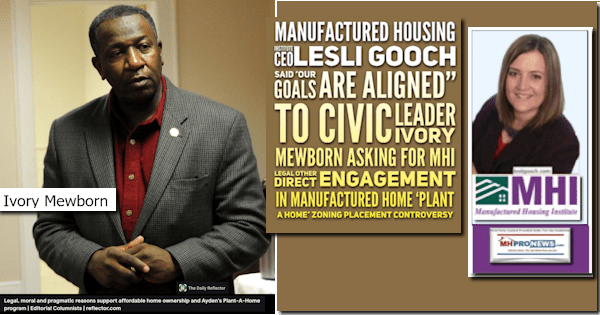 More on that exchange between Mayor Pro-Tem Ivory Mewborn and Gooch is found in the report linked here. Let's do a quick mini-summary. Gooch's fingerprints via lobbying for conventional housing linked organization are apparently a contributing factor in the financial crisis circa 2008 and the related mortgage meltdown, per the Center for Public Integrity (CPI) report being cited herein. Minorities were among those most-harmed, per CPI's research. When an opportunity to help actual Black Americans buy a manufactured home was provided, Gooch provided lip service without any actual support, per Mewborn to MHProNews.
That noted, let's return to CPI's narrative.

These inflated sales prices helped put some upward pressure on the lower end of the housing market, at least in communities where seller-funded gifts were common. "It created the illusion that the average sales price was in fact higher than it was," said Wilkins, who is now a consumer housing advocate.
As the wave of loans crested, Nehemiah publicly decried the tactics of other down payment providers, and called for government intervention. "Allowing credit card and car payments to be wrapped into housing — it was so wrong," said William Atlas, a former Nehemiah chief financial officer who left the nonprofit in 2004 but remains a great believer in its staff and mission. "It's like watching a boat cruising toward the rocks, and everybody's partying on the boat, having too good a time to listen to the horn."" …

Things looked even worse for Nehemiah when the Internal Revenue Service ruled in 2006 that seller-funded down payment gifts did not qualify for tax exemptions but rather were "scams" that left both buyers and the government stuck with houses sold at an inflated price. The IRS immediately rejected several dozen applicants seeking nonprofit status for down payment assistance programs and said it would begin reviewing the previously granted tax-exempt status of 185 other providers. (Nehemiah's status was already under review independently, according to its most recent audit.) Yet in the majority of cases, the IRS never took action to shut them down." …
Highlighting of Gooch's name below is added by MHProNews for emphasis.

Nehemiah and AmeriDream officials have returned that loyalty to their bipartisan boosters in Congress. Last year, AmeriDream's Ashburn, board member Tom Carmody, vice president Robert Newman, and Nehemiah's Syphax each donated $1,000 to Waters' campaign. Ashburn has donated $2,000 to Miller's campaign since 2007, while Carmody and Ashburn also made the largest individual donations — of $2,500 apiece — to America First, a political action committee with ties to Miller that disbursed at least $12,500 to the National Republican Congressional Committee in 2008. One of the lead lobbyists on down payment assistance, Lesli McCollum Gooch of Potomac Partners DC, is a former senior policy adviser to Miller.
McCollum Gooch did not return phone calls seeking comment. Ashburn said in her statement that the reincarnation of down payment gifts would "expand responsible homeownership while establishing unprecedented safeguards for homebuyers.""
So, just as Gooch has often failed to respond to inquiries from MHProNews, she also reportedly failed to respond to inquiries to by CPI in their exposé above.
Thus, part of Gooch's career path has been advocating for clients that apparently fueled the meltdown of the conventional housing market. But as what follows from OpenSecrets will reveal, while Gooch was paid by MHI to lobby on behalf of manufactured housing industry interests, she was in fact apparently double dipping by doing more lobbying for conventional housing interests.
Two competing segments of the housing industry – conventional and manufactured housing. Gooch apparently derived income from both. MHProNews put this question to Bing's AI chat function:
> "Are there any known public disclosures by Manufactured Housing Institute (MHI) CEO Lesli Gooch that she was getting paid by conventional housing interests for advocacy while she has been working for MHI?"
So, there is no known disclosures by Gooch of this sideline gig of lobbying for conventional housing interests while she has been working for MHI. This, apparently, is Gooch. According to Open Secrets, LegiStorm, and other sources, during the timeframe she made this video with pro-MHI American Housing Advocates, she was working with conventional housing linked advocacy efforts.
Yet, somehow, MHI's magicians want the industry to think of Gooch as some type of heroine, who is almost "a woman of influence." Even if she is influential, isn't a relevant question how that influence has been used? More on that in Part II, below.
But next, here is what "follow the money" OpenSecrets said about MHI's CEO Lesli Gooch, Ph.D.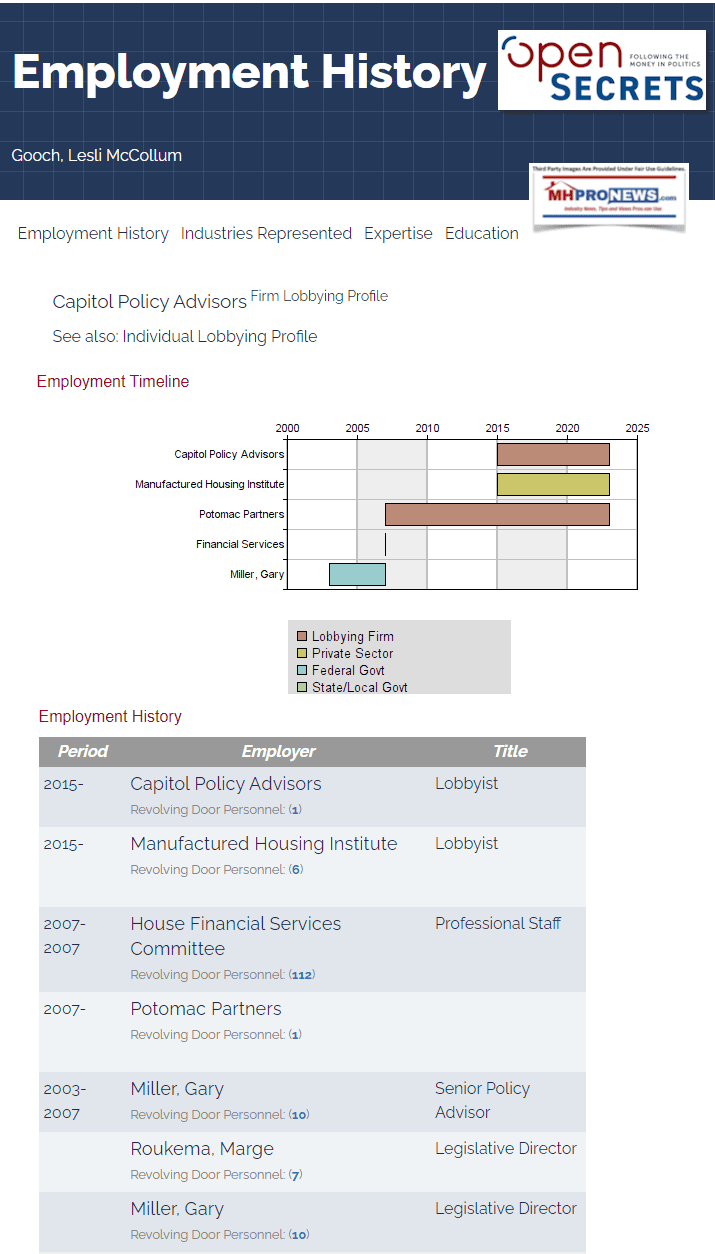 Recall that Gooch is reportedly a "principal" with Capitol Policy Advisors. During 2019 alone, this Gooch-linked operation made over $80,000 over and above her pay from MHI, and while she was working for MHI.
Groups That Have Retained Capitol Policy Advisors in 2019
About National Community Renaissance, per left-leaning Wikipedia:
> "National Community Renaissance, also known as National CORE, is a U.S. non-profit community builder specializing in affordable, multifamily, mixed-income, senior, workforce and special needs housing. Based in Rancho Cucamonga, California, National CORE operates in three states: California, Florida, and Texas."
According to part of a response from Bing AI on 10.3.2023: "I could not find any information on whether National CORE has any manufactured housing linked efforts."
So, the lobbying by Gooch-linked Capitol Policy Advisors literally appears to be on behalf of direct competitors for manufactured housing.
That is textbook conflict of interest. Per Oxford Languages, a "conflict of interest" is "a situation in which the concerns or aims of two different parties are incompatible." Another definition is this from Investopedia, which said this:
What Is a Conflict of Interest?
A conflict of interest occurs when an entity or individual becomes unreliable because of a clash between personal (or self-serving) interests and professional duties or responsibilities."
According to LegalZoom, on the question is a conflict-of-interest illegal is this response.

Is a conflict of interest illegal? It can be. There are multiple federal and state laws that criminalize and prosecute conflicts of interest. Even if a conflict of interest is not illegal, it is likely to lead to suspension or job loss when discovered."
However, no such suspension or loss of job by Gooch occurred when whistleblower documents detailing her conflict of interest were published.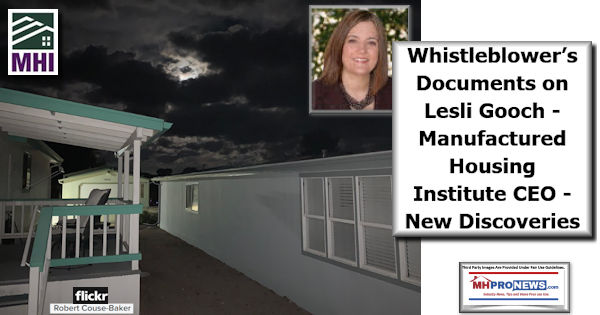 MHProNews first called for the resignation or termination of Lesli Gooch and Richard "Dick" Jennison years ago for apparently misleading its own members in communications that used "the wires" which could be viewed as an element in a RICO violation.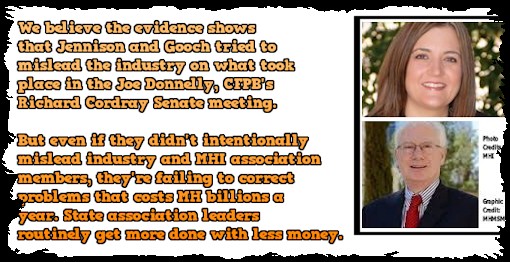 Part II
MHProNews is once more editorially calling for the resignation and/or termination of Gooch. But as or perhaps more important, there arguably should be an independent probe of what has gone wrong at MHI.
Federal Attorneys Move to Dismiss Manufactured Housing Institute-Texas Manufactured Housing Assoc (MHI-TMHA) Lawsuit-DOE's Legal Arguments and CEO Lesli Gooch Ph.D. Exposé; plus MHStocks Update
MHI, per the pleadings in the reports linked herein and below, appears to be involved in apparent antitrust violations.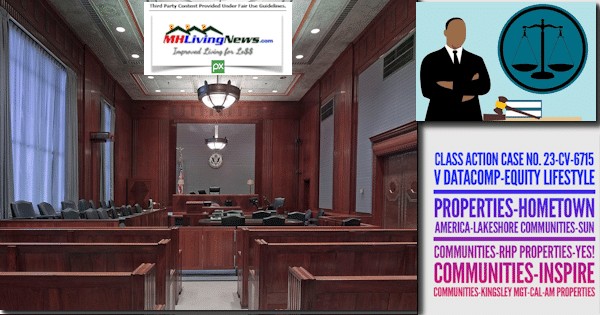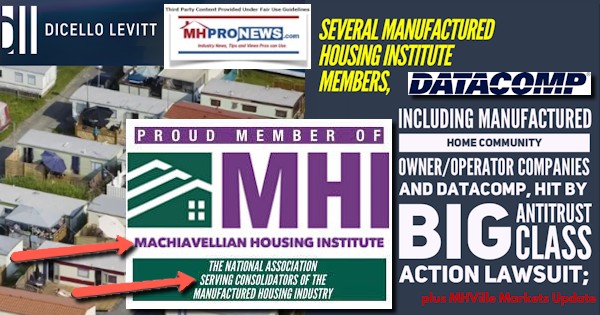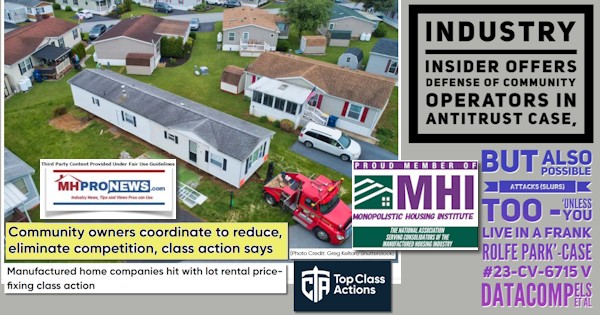 A distinct legal probe from the one named above has been announced, as the report and analysis linked below indicated.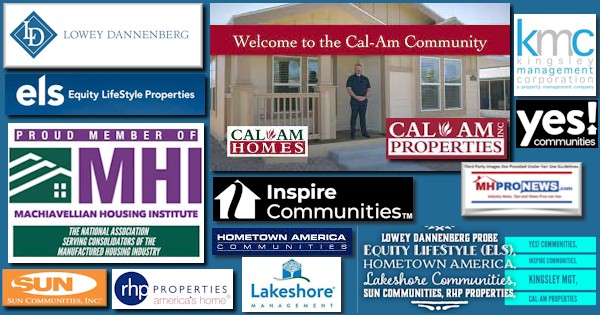 MHProNews asked Bing's AI chat function the following:
> "Which manufactured housing trade media have reported on purported conflicts of interest by MHI CEO Lesli Gooch?"

The consequences of ignoring the types of troubling realities exposed herein and detailed in the linked reports is that manufactured housing has been underperforming as an industry for at least 2 decades. ##
Note: to expand this image to a larger or full size, see the instructions
below the graphic below or click the image and follow the prompts.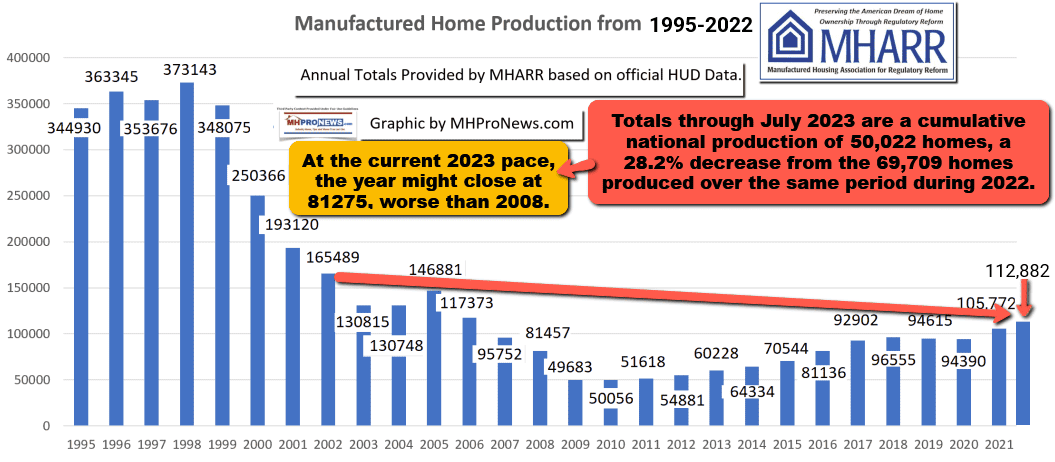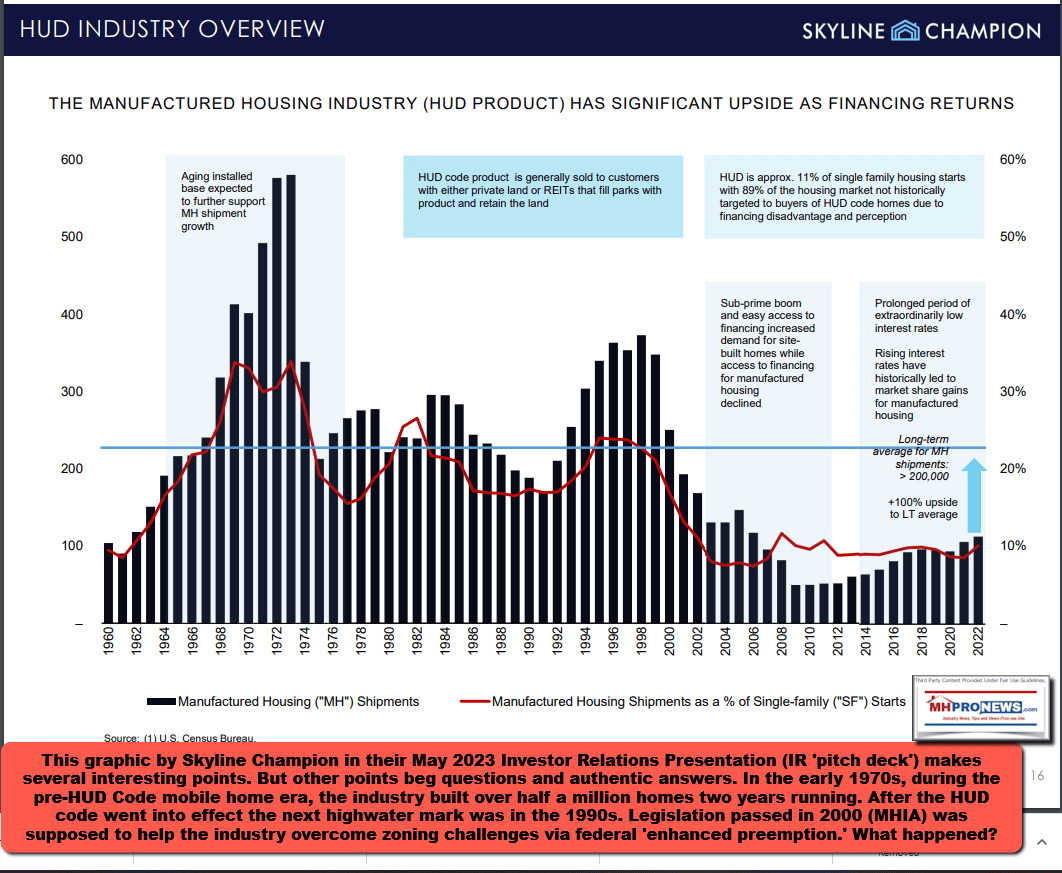 Manufactured housing stocks broadly slide…
Part III – is our Daily Business News on MHProNews stock market recap which features our business-daily at-a-glance update of over 2 dozen manufactured housing industry stocks.
This segment of the Daily Business News on MHProNews is the recap of yesterday evening's market report, so that investors can see at glance the type of topics may have influenced other investors. Thus, our format includes our signature left (CNN Business) and right (Newsmax) 'market moving' headlines.
The macro market move graphics below provide context and comparisons for those invested in or tracking manufactured housing connected equities. Meaning, you can see 'at a glance' how manufactured housing connected firms do compared to other segments of the broader equities market.
In minutes a day readers can get a good sense of significant or major events while keeping up with the trends that are impacting manufactured housing connected investing.
Reminder: several of the graphics on MHProNews can be opened into a larger size. For instance: click the image and follow the prompts in your browser or device to OPEN In a New Window. Then, in several browsers/devices you can click the image and increase the size. Use the 'x out' (close window) escape or back key to return.
Headlines from left-of-center CNN Business – from the evening of 10.3.2023
Real estate insiders question how Trump fraud judge valued Mar-a-Lago
Specialist Dilip Patel works at his post on the floor of the New York Stock Exchange, Tuesday, Oct. 3, 2023. Wall Street is sinking sharply as it focuses on the downside of a surprisingly strong job market.
Dow plunges more than 500 points as spiking yields weigh on stocks
A woman in downtown San Francisco was seriously injured Monday night in an accident involving an autonomous vehicle. San Francisco Fire Department spokesperson Justin Schorr told CNN early Tuesday that the victim has "multiple life-threatening injuries."
A woman was found trapped under a driverless car. It wasn't the first car to hit her
Coffee is in danger. Starbucks is working on solutions
US job openings unexpectedly grew in August
Taylor Swift's Eras Tour movie hits a presale record for Cinemark
Powerball and Mega Millions lotto tickets are sold at Foremost Liquor Store on Sunday, Oct. 1, 2023, in South Pasadena, CA.
The Powerball jackpot is huge, but here are 3 better ways to increase your wealth
Sam Bankman-Fried's trial has started. Here's what you need to know
UAW members and workers hold signs outside the Ford's Chicago Assembly Plant after walking off their jobs in Chicago, Illinois, on September 29, 2023. Another 7,000 members of the biggest US automobile workers' union on Friday joined an already major strike against the top three Detroit car manufacturers.
GM, Ford lay off 500 more workers, blaming strike
A WeWork location in New York, US, on Monday, May 8, 2023.
WeWork says it will skip $95 million in interest payments, tanking shares
Birkenstock could be worth $10 billion
There's a brand new breakfast item coming to Taco Bell
ESG has lost its meaning. One advocate says let's throw it in the trash
Stock market minnows are grabbing most of the world's IPOs
Hong Kong stocks have worst day in three months on worries about rates and real estate
Powerball jackpot climbs to an estimated $1.2 billion for Wednesday's drawing
Head of OPEC warns of a 'dangerous' lack of investment in oil
Feeling lucky? Winning numbers are announced for the $1.04 billion Powerball jackpot
Taylor Swift, a pop culture juggernaut, propels 'Sunday Night Football' to record ratings
Florida minimum wage raised to $12 an hour as part of 2020 constitutional amendment
These popular fast food drive-thrus are getting faster
Apple confirms that a bug and some apps are causing iPhone 15 models to overheat
Microsoft CEO warns of 'nightmare' future for AI if Google's search dominance continues
Note: to expand this image to a larger or full size, see the instructions
below the graphic below or click the image and follow the prompts.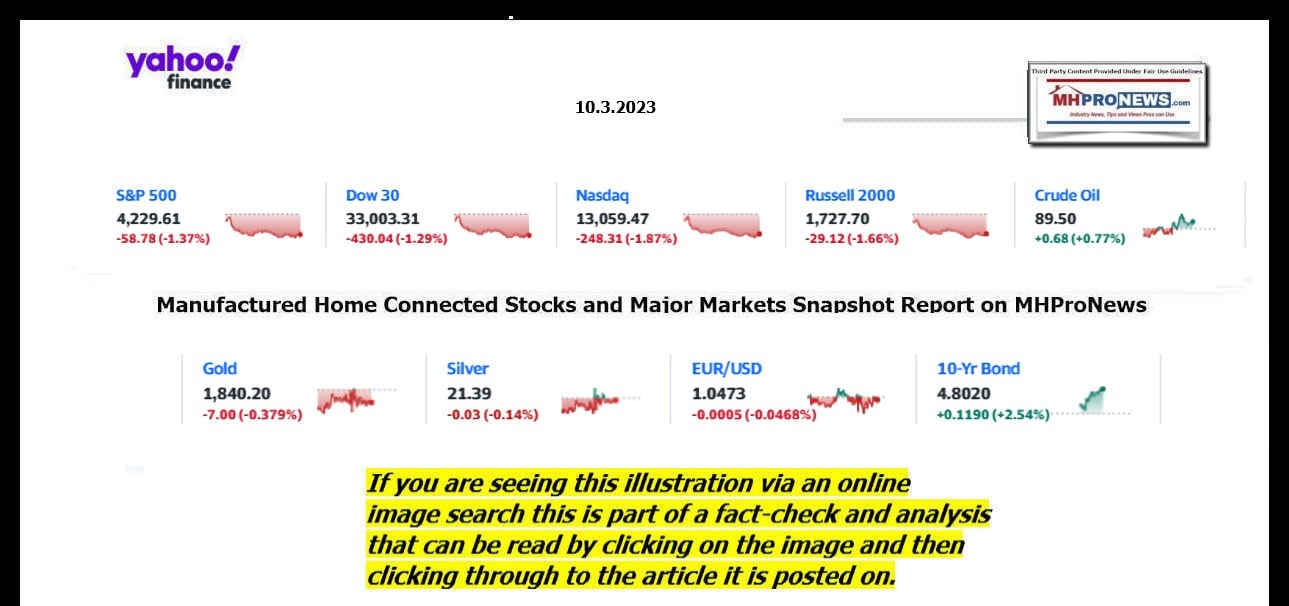 Headlines from right-of-center Newsmax 10.3.2023
Effort to Block McCarthy's Ouster as House Speaker Fails
House Moves Ahead With Challenge to McCarthy Leadership
House Moves Ahead With Challenge to McCarthy Leadership
The House of Representatives on Tuesday voted to allow a leadership challenge to Republican Kevin McCarthy, in a sign that he could be removed from his job as speaker. [Full Story]
Related Stories
Steube to Newsmax: Gaetz Working With Dems to Oust McCarthy
Trump: GOP Should Fight 'Radical Left Democrats'
McCarthy to Newsmax: 'I Believe It's Personal' With Rep. Gaetz
Newsmax TV
Tenney: 'Ridiculous' to Blame Border on GOP
Napolitano: Trump's N.Y. Lawyers 'Didn't Make a Mistake' | video
Former Rep. Collins: Rep. Bowman Must Face Consequences | video
Johnson: Biden's Open Border Profits Cartels | video
Huckabee: Trump's N.Y. Fraud Case 'Is a Sham' | video
Grenell: WH 'Behind the Eight Ball' on Serbia-Kosovo Tensions | video
Guilfoyle: Dems' Frivolous Lawsuits Target Trump '24 Run | video
Elder: Call Bowman an 'Insurrectionist' | video
Bondi: James Shouldn't Be Allowed to Prosecute Trump | video
More Newsmax TV
Continuing Resolution Fallout
Armstrong to Newsmax: 'No Replacement' If McCarthy Ousted
House Moves Ahead With Challenge to McCarthy Leadership
Steube to Newsmax: Gaetz Working With Dems to Oust McCarthy | video
WH Won't Take Sides on McCarthy's Speakership
Speaker McCarthy to Newsmax: 'I Believe It's Personal' With Rep. Gaetz | video
Comer to Newsmax: Will Not Vote to Remove McCarthy | video
Gaetz Moves to Oust McCarthy as House Speaker
More Continuing Resolution Fallout
Newsfront
Trump Plans to Testify in N.Y. AG James' Civil Trial
Former President Donald said he will take the witness stand in New York Attorney General Letitia James' $250 million civil lawsuit "at the appropriate time."… [Full Story]
Related Stories
Trump Back in Court for N.Y. Civil Trial's Second Day
Trump Praises Judge, Claims 80% of Case Is Over
Huckabee to Newsmax: Trump's New York Fraud Case 'Is a Sham'
Guilfoyle to Newsmax: Dems' Frivolous Lawsuits Target Trump '24 Run
Trump, Observing 'Sham' N.Y. Fraud Trial, Sees Positive Sign in Judge's Remarks
Dershowitz to Newsmax: NY AG Puts Trump 'Below the Law'
Trump: 'No Crime,' 'No Victim,' but Me
Mexico Buses Migrants as Thousands Reach US Border
Several hundred migrants in southern Mexico awaited buses north on [Full Story]
Conservative Guidebook Issued Before Catholic Synod
As Roman Catholic bishops from across the world gathered at their [Full Story]
House Moves Ahead With Challenge to McCarthy Leadership
The U.S. House of Representatives on Tuesday voted to allow a [Full Story]
Report: 'Suge' Knight Won't Testify in Tupac Case
Imprisoned rapper and Death Row Records founder Marion "Suge" Knight [Full Story]
Grenell to Newsmax: WH 'Behind the Eight Ball' on Serbia-Kosovo Tensions
Former acting Director of National Intelligence Ric Grenell told [Full Story] | video
Related
Serbia's President: No Serbian Troop Buildup Near Kosovo
Kosovo Carnage Spurs NATO Troop Increase
Serbia Withdraws Troops Near Kosovo Amid Tensions
Kosovo Warns of Serbian Troop Deployment Resembling Russia
Serbian Authorities Detain Alleged Organizer Behind Kosovo Shootings
Serbian police on Tuesday detained an ethnic Serb leader from Kosovo [Full Story]
Ukraine Downs 29 Russian Drones, One Cruise Missile
Ukraine destroyed 29 of 31 drones launched by Russia and one cruise [Full Story]
Related
Biden Tries to Reassure Allies of Continued US Support for Ukraine
Russia Vows No New Mobilization as 335,000 Sign up to Fight
Putin Might Soon Say He'll Run in Russia's 2024 Election
Car Sales Jump in Q3 as UAW Strike Casts Shadow
Top global automakers Tuesday reported a rise in U.S. new vehicle [Full Story]
Police Cuts Show 'Real World Consequence' of 'Defund' Movement
Three years after activists demanded the "defunding" of police [Full Story] | Platinum Article
Morning Consult Poll: Trump Tops GOP, Ties Biden
After the second Republican Party primary debate, it has becoming [Full Story]
Related
Clarity Poll: Trump Tops Biden, Who Tops DeSantis by 4 |video
Echelon Insights Poll: Trump Leads Biden, RFK Jr.
Iran's Military Flex Result of Biden's 'Appeasement'
Iran's increasingly provocative and aggressive interactions with the [Full Story] | Platinum Article
Meta to Lay Off Reality Labs Employees
Meta is planning to lay off employees Wednesday in the unit of its [Full Story]
Greatest Cybersecurity Threats are Unknown
Update frequently, and consider becoming a cybersecurity leader and [Full Story]
Feds Spent $3.3B on Furniture as Staff Worked Remotely
As the vast majority of federal employees worked from home during the [Full Story]
Cuellar Back at Work After Carjacking
U.S. Rep. Henry Cuellar of Texas was back at work Tuesday after being [Full Story]
Related
Dem Rep. Cuellar Carjacked With Gun Held to His Head in D.C.
Feds Fine Stanford for Not Citing Foreign Funds
Stanford University agreed to pay the federal government $1.9 million [Full Story]
Dems' House Leader: Don't Rescue McCarthy
House Minority Leader Hakeem Jeffries, D-N.Y., "definitively" pushed [Full Story]
New Ad: Blue-Collar Biden Will Tame Inflation
A new campaign advertisement for President Joe Biden focuses on his [Full Story]
Jamie Dimon: AI Will Cure Cancer, Extend Life to 100
While artificial intelligence inevitably will eliminate some jobs, it [Full Story]
Study: U.S. Life Expectancy Falls Behind Other Nations
Life expectancy in the United States is falling further behind that [Full Story]
Court Tosses $223.8M J&J Talc Cancer Verdict
A New Jersey appeals court on Tuesday threw out a $223.8 million [Full Story]
Utah GOP Rep. Curtis Says He Won't Seek Romney's Seat
Utah GOP Rep. John Curtis says he will not run for retiring Sen. Mitt [Full Story]
Bankman-Fried Never Given Plea Offer: Prosecutor
Sam Bankman-Fried and U.S. prosecutors never engaged in talks about a [Full Story]
6M Jobs Created, More Evidence of Hot Labor Market
S. job openings unexpectedly rose in August, another sign the U.S. [Full Story]
Hunter Biden Pleads Not Guilty to 3 Federal Gun Charges
Hunter Biden pleaded not guilty on Tuesday to three federal firearms [Full Story]
Lawmakers: Hearings Needed for $22B in SSA Overpayments
Several lawmakers are calling for congressional hearings focused on [Full Story]
Striking Hollywood Actors Resume Contract Talks
Negotiators for striking Hollywood actors resumed contract talks with [Full Story]
Iran: Normalizing With Israel Is 'Betting on Losing Horse'
Iran's Supreme Leader Ayatollah Ali Khamenei said that countries [Full Story]
Court Reviews New Mexico's Gun-Carry Restrictions
Restrictions on carrying guns in public that are tied to an emergency [Full Story]
Gallup: Republicans Hold 14-Point Economic Edge
Republicans currently hold a distinct edge looking ahead to the 2024 [Full Story]
53K Las Vegas Casino, Hotel Workers in Labor Talks
Unions representing roughly 53,000 Las Vegas workers on Tuesday kicked off critical negotiating sessions with hotel and casino operators after its members voted at the end of September to authorize a city-wide strike…. [Full Story]
3 Defense Stocks For Dividends
GM Q3 US Sales Surge 21% on SUV, Pickup Demand
Dow Sinks 438, on Track for Being in the Red for 2023
Banks Behind 70% Spike in Greenwashing
More Finance
Health
Even Short Bursts of Daily Activity Lengthen Life
Good news for couch potatoes – bursts of activity as short as one to three minutes in duration can prompt a steep decrease in the risk of heart attack, stroke and early death, a new study reports. Researchers tracked the activity of more than 25,000 people in the United…… [Full Story]
What You Should Know About Fish Oil Supplements
'High-Quality' Carbs Control Middle-Aged Weight Gain
FDA Warns Against Giving Probiotics to Preemies
All 10 Drugs Agree to Medicare Price Negotiations
Note: to expand this image to a larger or full size, see the instructions
below the graphic below or click the image and follow the prompts.