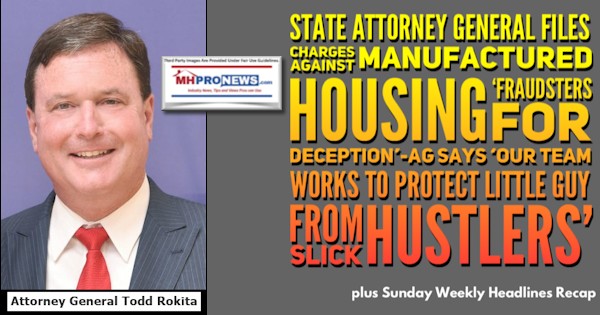 A move by the Indiana State Attorney General Todd Rokita to stop 'fraudsters' from 'deception' may be the kind of useful, pragmatic lesson well suited to this week's Sunday weekly MHVille headlines in review.  That press release by Rokita's office is Part I of today's report. Part II are the headlines recap for the week in review, which includes the latest in the saga of drama originating from the manufactured home community sector and their trade groups. Part III provides additional related information with varied thoughts and insights for the week in review and teasers for what is ahead.
Part I – Indiana State Attorney General Todd Rokita Press Release and Fraud Case Pleading Involving Manufactured Housing 
Attorney General Todd Rokita takes action against alleged manufactured-home fraudsters 
Lawsuit alleges Bartholomew County defendants schemed to evade licensing requirements
Attorney General Todd Rokita has filed a lawsuit against three individuals suspected of scheming to defraud Hoosiers seeking installations of manufactured homes.
"We're acting on behalf of Hoosiers who in some cases paid tens of thousands for services they never received in a satisfactory manner," Attorney General Rokita said. "Our team works diligently to protect the proverbial little guy from getting conned by slick hustlers just looking to make a quick buck. We will hold accountable anyone who dupes consumers in violation of our laws."
The lawsuit alleges the defendants — Steven Singer, Jocel Singer and Aron Singer — engaged in the sales of manufactured homes without a license from the Secretary of State Auto Dealer Services Division. The defendants, residents of Bartholomew County, are also alleged to have promised or completed installations of manufactured homes without a manufactured home installers license.
The defendants allegedly did business at times under such names as Singer Manufactured Homes, Cabin Creek Homes, Rock Creek Homes, and United Palace Home Transport and Sales
One consumer complained about a transaction in which the defendants allegedly failed to arrange for installation of a manufactured home as agreed, failed to install working appliances as agreed, and otherwise failed to meet their contractual obligations to the complainant after she paid them $36,000 in cash. The defendants also allegedly failed to deliver a title to the manufactured home — on which the complainant ultimately had to spend additional money to make livable. The complainant later learned the defendants lacked proper licensure to sell and install manufactured homes.
The defendants' alleged wrongdoing spanned many years.
In 2014, the defendants allegedly received a cease-and-desist order from the Manufactured Home Installers Licensing Board — but thereafter worked to hide their transactions from authorities by both insisting on cash and by conducting advertising/sales online using various social media accounts and marketplaces.
In February of 2023, the Indiana Secretary of State sent the defendants another cease-and-desist notice relating to alleged violations of dealership licensing requirements.
If you purchased a manufactured home from any of the listed defendants or paid them for the installation of your manufactured home in the last five years, please file a complaint with the Attorney General's Homeowner Protection Unit here: https://www.in.gov/attorneygeneral/consumer-protection-division/licensing/
The lawsuit is attached.
A headshot of Attorney General Rokita is available for download.
###
Note for purposes of what follows in Part III from the Manufactured Housing Institute (MHI) that the above was posted by the Indiana AG's office on 9.25.2023.
Among the headlines for the week that was, the latest Masthead below is on a newly announced probe of the manufactured housing community sector. That probe followed in the wake of the antitrust case launched against multiple members of MHI and/or numbers of MHI linked state associations. ICYMI, more on that is found in the second report posted on MHLivingNews in Part II.
Also in Part II is a report by a consumer rights platform that included several references to MHProNews/MHLivingNews featured L. A. "Tony" Kovach. The topic is tips for consumers and home builders reviews, the top article on Manufactured Home Living News (MHLivingNews). 
Fresh revelations on the documented and apparent conflicts of interest of MHI CEO Lesli Gooch with regards to segments of the conventional housing industry is explored.
Other timely and timeless subjects important to professionals, advocates, shareholders, stakeholders, public officials, and taxpayers speak for themselves by scrolling – and reading – the headlines that follow.
As noted, part III of today's report (additional info with analysis and expert commentary) additionally provides fresh information for thousands of industry pros via the lion share of statements from the "Federated States" newsletter produced by the Manufactured Housing Institute (MHI). MHI's 'news' provides insights potentially relevant to Rokita's complaint against the alleged fraudsters and the storm clouds of antitrust connected litigation and investigations.
With no further adieu, here are the headlines for the week that was from September 24, 2023 to October 1, 2023.
Part II – Sunday Weekly Headlines in Review (Recap)
What's New on MHLivingNews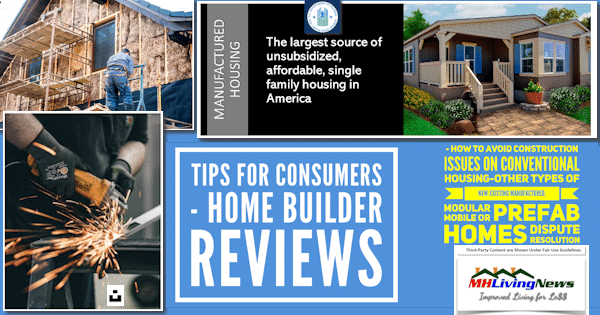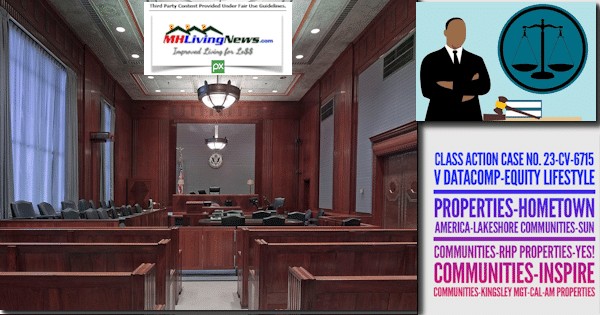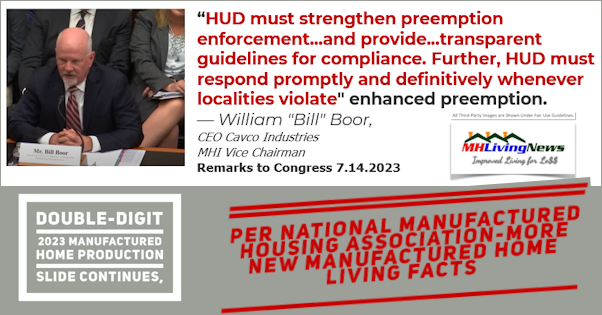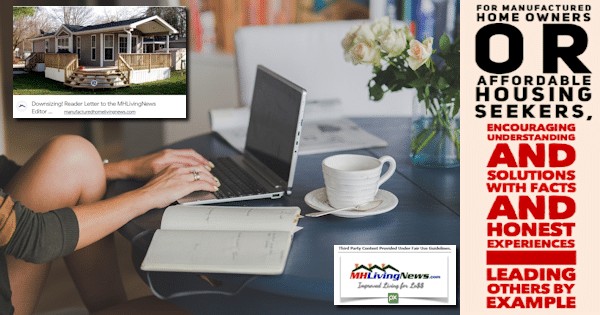 What's New on the Masthead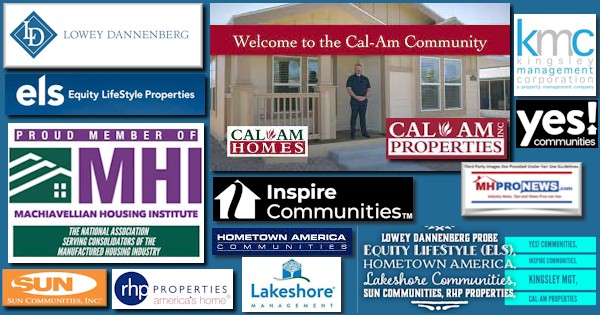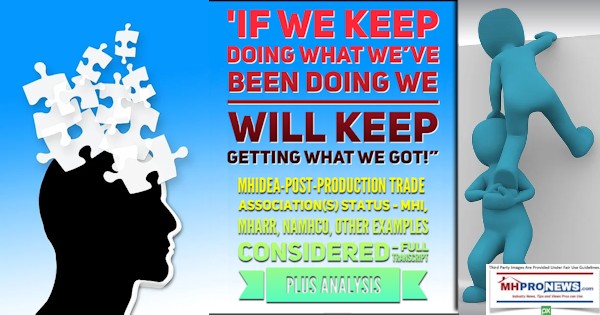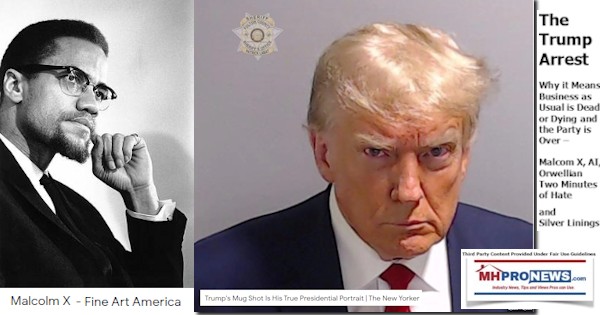 What's the Latest from Washington, D.C. from MHARR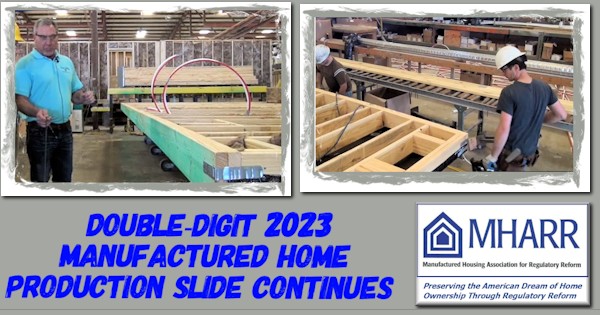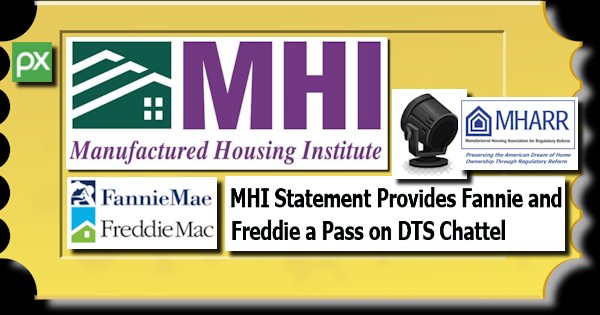 What's New on the Daily Business News section of MHProNews
Saturday 9.30.2023
Most Sought Entry Level Jobs With or Without Degree in 2023, Practical Insights Useful as Home Affordability Slips Away for Millions; plus MHVille Markets
Friday 9.29.2023
Billionaire Class 'Robbery Capitalism' 'How Marxism Serves Billionaires' 'Sinking into Quagmire of National Poverty While Billionaire Class Takes it All' – Middle Class Shrinks; plus MHStocks Update
Thursday 9.28.2023
Federal Attorneys Move to Dismiss Manufactured Housing Institute-Texas Manufactured Housing Assoc (MHI-TMHA) Lawsuit-DOE's Legal Arguments and CEO Lesli Gooch Ph.D. Exposé; plus MHStocks Update
Wednesday 9.27.2023
Evoking Testimony-F.R. "Jayar" Daily – American HomeStar Corp-Manufactured Housing Institute Board of Directors to Congress – 'Boilerplate' Pros Should Know; plus MHVille Market Updates
Tuesday 9.26.2023
As Housing Costs Rise News Sites Ask 'Did Bidenomics Kill American Dream?' With Latest 50 State-MH Data and Will Manufactured Housing Institute (MHI) Tackle This? Plus MHVille Market Updates
Monday 9.25.2023
Industry Insider Offers Defense of Community Operators in Antitrust Case, But Also Possible Attacks (Slurs) too – 'Unless You Live in a Frank Rolfe Park'-Case #23-cv-6715 v Datacomp, ELS, et al
Sunday 9.24.2023
'We Will Have Illegals in U.S. Deny Citizens the Right to Run Our Govt' – How Illegal Immigration Impacts Housing Costs-Ramifications of Biden v Trump 2024; plus Sunday MHVille Headlines Recap
Part III Additional Info, Analysis and Previews 
The exact hour and minutes on 9.25.2023 that the Rokita press release above was posted on the state AG's website is not apparent. That said, KORN Country radio in Indiana posted their version of that report on their website on September 25, 2023 at 1:22 PM. Furthermore, the AG's complaint against Singer filed with the court clerk on 9.25.2023 at 10:52 AM, per the document attached. That means that the Indiana AG's office press release was likely posted the morning of September 25.  With that in mind, note that the following MHI "Federated States" email was delivered on Sep 25, 2023 at about 3:30 PM. Some links have been omitted in what follows from MHI (reports like this should NOT be construed as MHProNews plugging MHI events…because we are NOT promoting MHI, for reasons clarified in the reports on MHI CEO Gooch and the article on F.R. "Jayar" Daily, posted above.)
Typos and other errors in the MHI "newsletter" are in the original.
Federated States Newsletter – September 25, 2023
[circa 3:30 PM]
UPCOMING EVENTS
Note: There will be no Federated States Newsletter on October 2 due to MHI's Annual Meeting in Palm Springs
Register for MHI's Annual Meeting
Join MHI in Palm Springs, CA, next week from October 2-4 for an exclusive members-only event. During the Annual Meeting, members can exchange insights with industry peers, remain at the forefront of housing trends, and actively engage in board, division, and council meetings. Secure your spot today.
MHI National Communities Council Fall Leadership Forum Registration Open Now
More than 500 industry leaders will gather in Chicago at the Westin Michigan Avenue November 1-3 for the 2023 MHI NCC Fall Leadership Forum.
This program is geared toward those involved with manufactured home communities as an owner or manager, manufacturer, service provider, broker, lender or consultant.
Attendees will explore new ideas, examine emerging trends and experience exclusive programming. Register now for the only community executive-level event of the year.
Welcome to the Upgraded ManufacturedHousing.org
MHI upgraded ManufacturedHousing.org to enhance your member experience online.
You may need to create a new password to access members-only content on the website. This may be different than your password for the previous version of the MHI website. Watch this video for a demonstration about how to set up a new password. Note: make sure your playback is set to 1.0 for speed.
Email registration@mfghome.org for assistance. Thank you for your patience while we enhance your experience on ManufacturedHousing.org.
CALL TO ACTION
 Want to Prevent Conflicting Federal Agency Standards? Ask Your Congressional Representative To Cosponsor H.R. 3327
After successfully delaying the compliance date for the Energy Rule, we need to fix the law to avoid conflicting regulations coming from two different federal agencies in the future. Representatives Kustoff (R-TN) and Sewell (D-AL) introduced H.R. 3327, the Manufactured Housing Affordability and Energy Efficiency Act of 2023, bipartisan legislation that clarifies and reaffirms the longstanding role of HUD as the sole regulator of federal manufactured housing construction standards.
Cosponsorship is important because it shows support among Members and improves the chances that the bill language will be incorporated into a moving legislative vehicle and become law. MHI has made it easy for industry members to ask their Representative to support H.R. 3327. Please share the link to the MHI Action Center with your networks. In addition, MHI has drafted a template letter for state associations and companies to send a letter on their letterhead. Contact MHI if you need an updated list of staff contacts for this letter.
Thus far, MHI members have sent over 360 messages to their representatives. The top states contacting their members of Congress are Texas, Pennsylvania, Florida, Wisconsin, and Louisiana. Thanks to these efforts, twelve additional Representatives have signed on to cosponsor the legislation including Representatives Warren Davidson (OH-8), Charles Fleischmann (TN-3), Mike Rogers (AL-3), Rudy Yakym (IN-2), John Rose (TN-6), Bryan Steil (WI-1), Glenn Thompson (PA-15), Lori Chavez-DeRemer (OR-5), Andy Barr (KY-6), French Hill (AR-2), Tracy Mann (KS-1), and Tim Burchett (TN-2). Thank you for your continued efforts to increase cosponsorship of this critical legislation.
NEWS FROM WASHINGTON
 MHI Joins with Business Community in Requesting an Extension of Comment Period for OSHA's Proposed Rulemaking
MHI joined with the Coalition Workplace Safety (CWS) to request an extension of the comment period for the Occupational Safety and Health Administration's (OSHA) proposed rulemaking for the Worker Walkaround Representative Designation Process. This proposed rule would allow employees to designate non-employees as their representatives during facility walkarounds with OSHA Compliance Safety and Health Officers, representing a significant change in the agency's inspection procedures. A 60-day extension to the comment period would ensure the regulated community can analyze the changes, assess their potential impacts, and draft comprehensive comments to address the consequences of these changes on the economy, business operations, and workplace dynamics.
HUD Charges Nevada RV Resort with Discriminating Against Family with Minor Children
The Department of Housing and Urban Development (HUD) announced that it would be charging the Owners Association and General Manager of Preferred RV Resort in Pahrump, NV with discriminating against a family with three minor children. HUD alleges that the resort "discriminated against families by placing unreasonable age restrictions on many of its amenities, including prohibiting anyone under 18 years old from being in the outdoor swimming pool unattended, contrary to state law, and restricting children under 14 years old from using the property's billiards room and spa." Furthermore, the charges allege that the property's management made statements admonishing parents about letting their children be unsupervised on the property. If discrimination is found to have occurred, the judge may award damages to the family, as well as injunctive relief and other equitable relief, attorney fees, civil penalties, and/or punitive damages.
HUD Contingency Plan for Potential Government Shutdown
As the federal government appears to be heading for a shutdown at the end of this week, the Department of Housing and Urban Development (HUD) has released a contingency plan for operations during the closure. The department warns that "monthly subsidy programs such as the public housing operating subsidies, housing choice voucher subsidies, and multifamily assistance contracts can be at risk of running out of funding during a lapse period" while "nearly all of HUD's fair housing activities will cease during a lapse." However, operations related to FHA's portfolio of insured mortgages, including manufactured housing, will continue during a closure. The Office of Manufactured Housing will continue to "perform oversight of Manufactured Home Construction and Safety and Installation Standards and Model Installation standards, as necessary, to maintain core operations and protect life and/or property."
CFPB Announces Rulemaking Process to Remove Medical Bills from Credit Reports
Last Thursday, the Consumer Financial Protection Bureau (CFPB) announced it was beginning a rulemaking process to remove medical bills from credit reports. The proposed rulemaking would enact the following measures: medical bills would be removed from consumers' credit reports, creditors would be prevented from relying on medical bills for underwriting decisions, and it prevent debt collectors from using medical debt reporting as a method of collection. This announcement represents a set of proposals and alternatives under consideration for the CFPB's Fair Credit Reporting Act Rulemaking.
INDUSTRY NEWS
New Research Explores Preferences and Motivations among Prospective Homebuyers
Zillow recently released findings from its 2023 Consumer Housing Trends Report exploring the attitudes, preferences, and motivations of prospective homebuyers. The survey found that millennials, Americans between the ages of 29-43, are the largest cohort of prospective homebuyers (43%). Consistent with existing gaps in homeownership, 61% of prospective homebuyers, and 69% of successful buyers, are white while 18% of prospective homebuyers are Latino/Hispanic and 13% are Black/African American. Roughly 12% of prospective homebuyers identify as LGBTQ+. Just over a third (34%) of prospective homebuyers are in the South. Additionally, prospective homebuyers are overwhelmingly married/partnered (70%), have a college degree or higher (54%), and earn over $100,000 (56%). Other findings of note: 83% of prospective homebuyers indicated that at least one climate risk impacted where they shopped for a home, 64% desired an extra room for a home office, and 56% said they intend to put down less than 20% as a downpayment.
Housing Starts Fall Precipitously in August
New housing starts in the U.S. fell 11.3% to 1.28 million units in August, representing the lowest level of new starts since June 2020. Additionally, new starts are down 14.8% from August 2022. Single-family starts are down 4.3% from July 2023. Overall, the housing market finds itself in the doldrums, with potential homebuyers facing high mortgage interest rates combined with limited inventory that is negatively impacting affordability. Current homeowners with low interest rates are less likely to sell because they are unable to finance a home purchase with similarly favorable rates. While manufactured housing is not immune to the macrolevel economic forces at play, manufactured homes remain the most attainable option for many potential homebuyers priced out of the site-built housing market.
People Support Homebuilding, but Not in Their Neighborhood
A recent survey from Redfin found that respondents broadly support policies to encourage homebuilding, but are hesitant for those new residences to be in their own neighborhoods. A majority of respondents (78%) indicated that they support policies that promote building more housing. However, only a third of respondents (32%) who expressed pro-homebuilding sentiments would feel positive about an apartment complex built in their neighborhood while 20% would be opposed entirely. When segmented by homeowners and renters, the survey indicated that 40% of homeowners would feel negative about the construction of an apartment complex in their neighborhood while only a quarter (24%) of renters would feel the same way. These findings demonstrate that while many Americans are aware of the national housing supply shortage, there is still resistance to new or additional construction in one's own neighborhood, particularly if it is believed that these new homes will change the character or add to the density of an existing neighborhood.
IN THE NEWS
These news stories and articles relevant to manufactured housing appeared in publications across the country last week.
MEMBER RESOURCES
 New Overview of Short-Term Housing
MHI has shared a short slide deck that gives an overview of the impact of short-term rental housing on the overall housing market. The presentation notes that a 2020 study found that a 1% increase in Airbnb listings leads to a 0.018% increase in rents and a 0.026% increase in house prices. Further, many housing advocates argue that the practice of offering short-term and vacation rentals takes much needed homes out the of market, contributing to a lack of affordable and accessible housing.
Tracking State Legislative Action Software
MHI makes several tools available for members to track legislation in their states and localities. MHI's dedicated state legislative tracking service is BillTrack50. If you haven't yet had the opportunity to explore the functions of BillTrach50, this video, will demonstrate how to utilize tracking sheets, some tips for reviewing bills, and how to set up your own keyword searches. …
##
Additional Information with MHProNews Analysis and Commentary
Only a few items from the above will be briefly examined. For instance. H.R. 3327 was "Introduced. May 15, 2023″ per FastDemocracy and other online sources. GovTrack says about H.R. 3327 on 10.1.2023 that: "This bill has 13 cosponsors — 12 Republicans, 1 Democrat — not including its sponsor." The fact that one Democrat has signed on may be a response to the critique of MHI's prior bill on this subject which noted that Skopos Labs gave only a 1% chance for enactment. With Democrats in charge of the White House and Senate, failure to have bipartisanship was an obvious kiss of legislative death. MHProNews' report and analysis on MHI's 'effort' in 2022 has obviously been vindicated.
That said, H.R. 3327 is arguably as still born as HR 7651 was.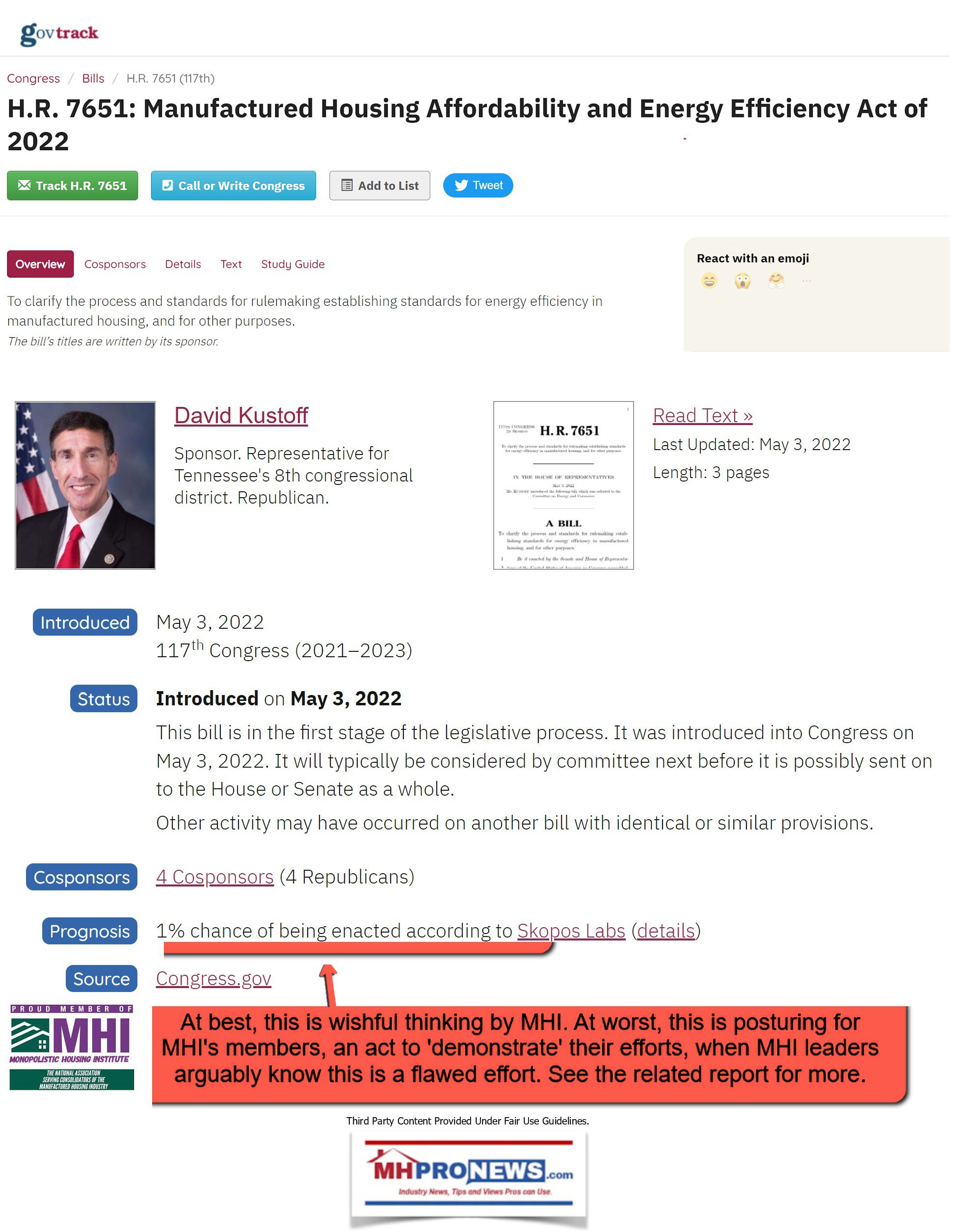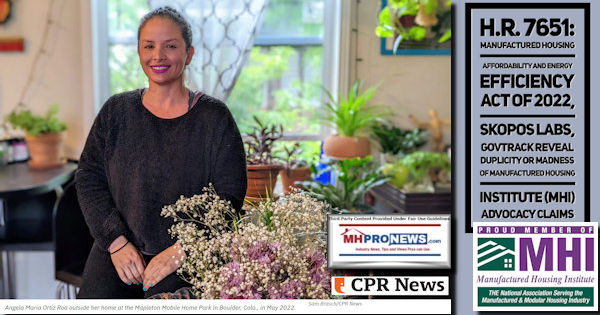 Legal Issues Ignored by MHI's Federated States 'Newsletter'
At least one of those linked outside news cited by MHI above dates back to September 20, 2023 at 4:29 PM. Meaning, MHI could have mentioned the apparent probe by attorneys of several MHI members. MHI is silent on that topic, see the Masthead on that linked above and here.
Nor did MHI mention the big class action lawsuit already underway that includes several of MHI's members as defendants. MHI itself was mentioned, and the door appears to be left open to 'name' MHI as a defendant at some time in the future. See that and more in the reports linked here and here.
Nor did MHI mention the suit by AG Rokita, provided in Part I, above.
Each of these omissions, as well as others by MHI, are part of the broader pattern explored in reports linked from the headlines for the week in review, posted above.
Saturday's report noted obvious misses and arguably prudential errors made by MHI leaders. MHI CEO Lesli Gooch's history of documented and apparent conflicts of interest is linked above and here.
MHI is silent on these issues, just as they are silent on the mainstream news and reports shown from their own Federated States "newsletter" above.
By saying in their newsletter that 360 members have taken action by contacting their lawmaker, MHI has implied that over 600 member firms have failed to act at all because MHI claims to have over 1000 member companies. Given tens of thousands of manufactured housing industry employees, the response to the MHI 'call to action' is at best anemic if not embarrassing.
MHI has announced with their newsletter above their refreshed website. What they have not yet admitted or addressed is that information once publicly available on the MHI website was not found in the fact check posted by MHProNews in the report linked below.
New Curtains – Surprise! Manufactured Housing Institute 'Newly Updated' Website – What's Changed, What's the Same at U.S. Manufactured Home Association Website? Analysis plus MHVille Market Update
Three topics that MHI addressed in their "Industry News' segment of the newsletter are relevant but arguably also embarrassing to the well informed.
New Research Explores Preferences and Motivations among Prospective Homebuyers
Housing Starts Fall Precipitously in August
People Support Homebuilding, but Not in Their Neighborhood
This is purported paltering, posturing, deception and misdirection in action. Each of those items from MHI are grounded in evidence. But there is a flip side to each of those items that are missing from MHI's 'news.' For instance. As conventional housing starts fall, that is an opportunity for manufactured housing producers to grow their market share. Yet, manufactured housing production is falling too, despite our industry's affordability advantage. Manufactured housing production has reportedly fallen for reasons that are questionable.  The rationalization given by Cavco Industries William "Bill" Boor to analyst Gregory Palm during an earnings call earlier this year is contradicted by other evidence, including statements made by Cavco.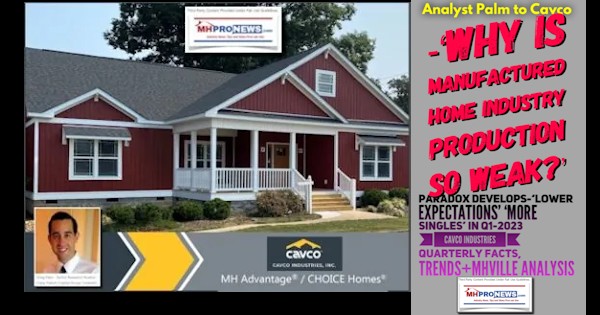 Centennial Home's Chad Evans and MHVille Pros Sound Off 2022 Manufactured Housing Backlog Controversy, Changes in Retail Lending, Vanishing Independent Manufactured Home Retailers Examined
If there are public perceptions that are limiting housing or are limiting manufactured housing – which is apparent from research like what MHI and that others have produced – that is a call to educate. Merely mentioning an issue may score points, but it is akin to virtue signaling. The self-proclaimed job of MHI is supposed to be to grow the market, not to give excuses as to why the market is not growing. Members dues paid to find out what virtually every member already knows has little practical value.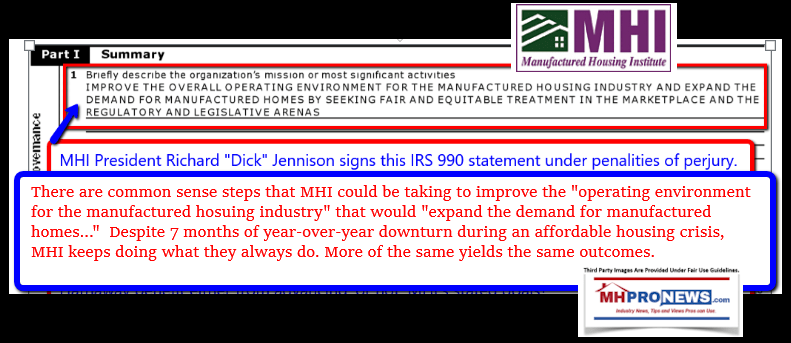 Manufactured housing has on paper the advantages of federal laws that are supposed to overcome these issues. MHI leaders have said so themselves several times. But that begs the question. Why haven't they sued to get those laws enforced?
MHProNews has diligently reported the facts, evidence, claims, and remarks by MHI, its defenders, and juxtaposed that against evidence of possible corruption, antitrust, RICO, material omissions vis-a-vis the SEC, and other possible violations of the law and fiduciary responsibilities raised by MHI and their leaderships' various odd behaviors, actions and inactions.  For instance, the quotable quote and related article linked below was posted October 24, 2020, almost 3 years ago.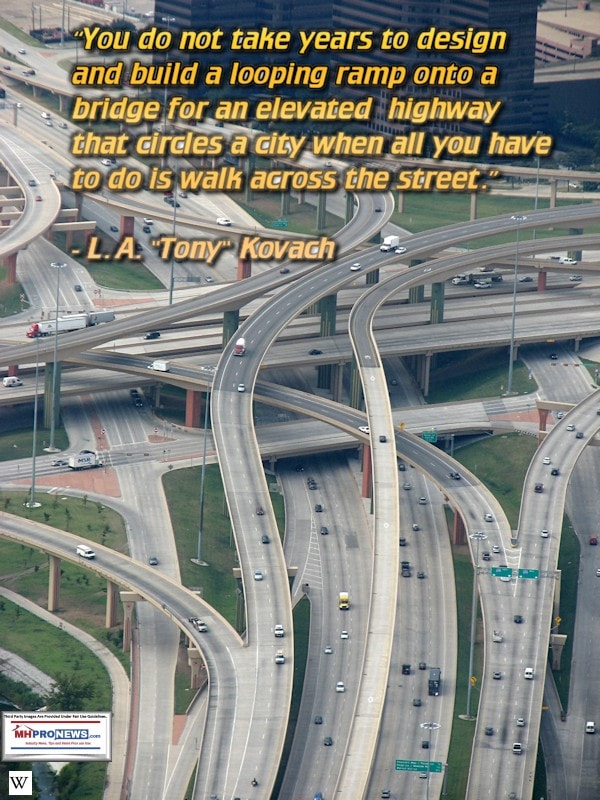 What exactly has MHI done that has advanced the industry since that graphic and post above were shared with the industry some 3 years ago?
Manufactured housing industry production today is dramatically lower than it was then.
That's a problem for independents, affordable housing seekers, taxpayers, investors, and others who depend on manufactured homes as the best or maybe only shot at permanent housing that has yielded the benefits of home ownership to millions of Americans.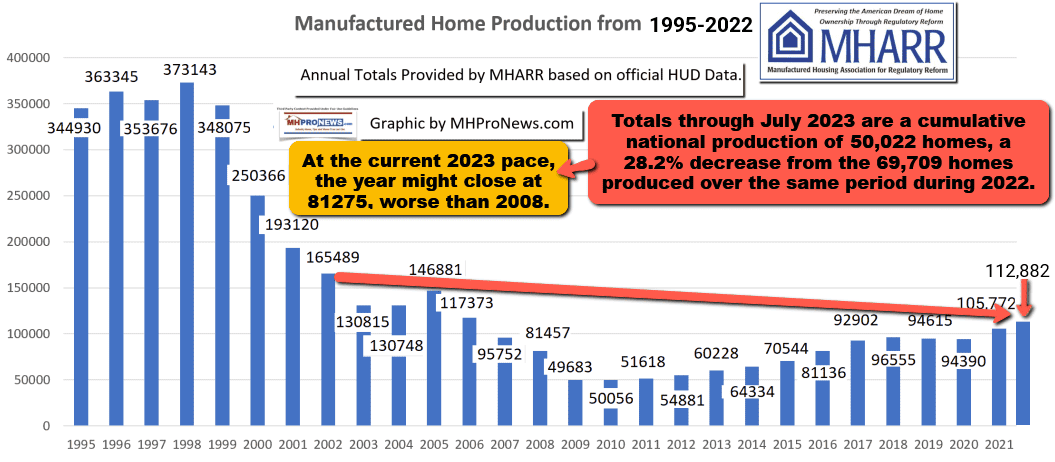 MHProNews has highlighted some flashbacks of remarks by MHARR from some 6 years ago, which in hindsight also point to either inept and/or corrupt behavior.  We have editorially made the point several times that MHI's leaders are routinely educated, experienced, and informed professionals. But precisely because that is true, their behavior ought to call into question several apparently irrational if not harmful remarks, behaviors, fumbles, and worse. Mainstream media, from across the left-right media divide, has often favorably reported on manufactured housing.  But that only begs the question: given the obvious need for more HUD Code manufactured homes, then why is manufactured housing underperforming during an affordable housing crisis?
'The Great MH Boycott' vs 'The Illusion of Motion Versus and Real-World Challenges' – Manufactured Housing Industry Paradoxes and Stumbling Blocks, plus Sunday Weekly MHVille Headlines Recap
'The U.S. Can Solve Its Housing Crisis – It Just Needs To Start Building' Bloomberg, Washington Post Want More Manufactured Housing in 2023! Plus 2022 Year in Review, Sunday MHVille Weekly Headlines Recap
While there have been several milestones on the road to grasping why the manufactured housing industry is underperforming, an apparent pattern of ongoing collusion by specific MHI linked insiders has to be considered by state and federal officials. Given that the lack of affordable housing reportedly has a potential cost to the U.S. economy of some $2 trillion dollars annually, these are not irrelevant concerns for the nation at large. The lack of affordable housing impacts almost every household in some form or another.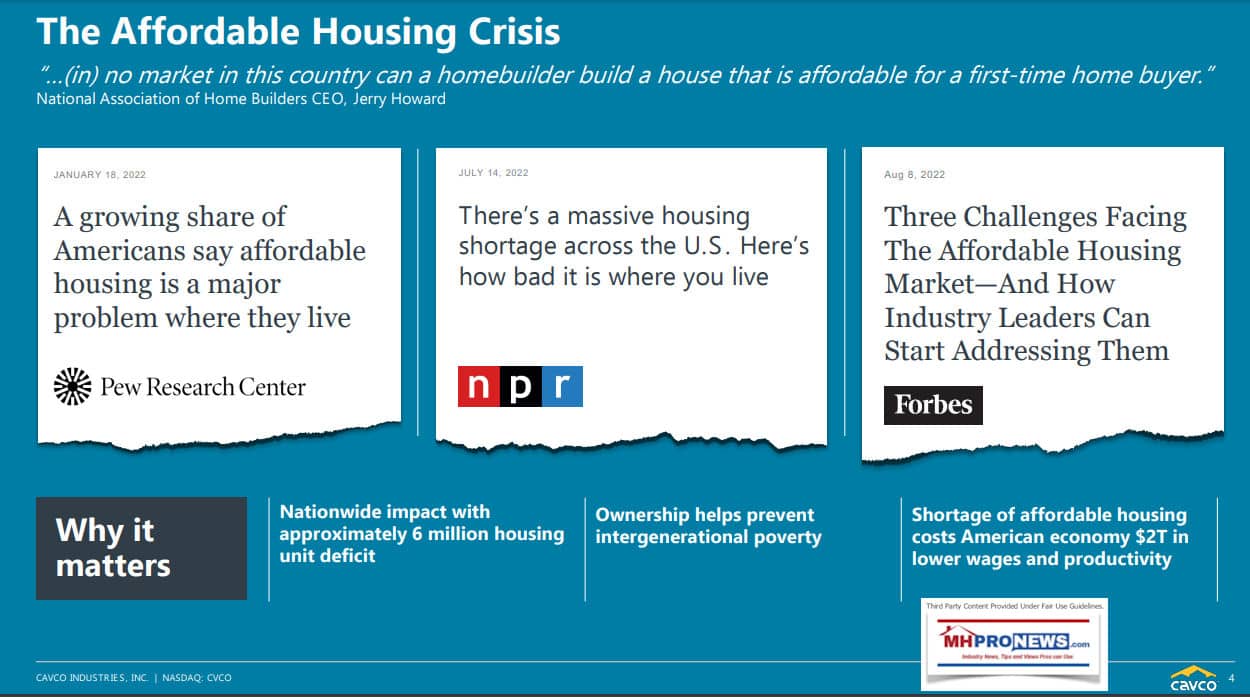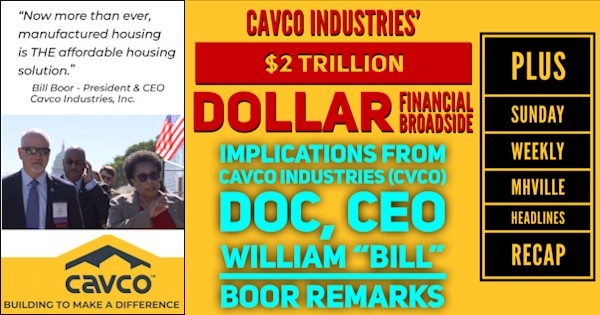 The irony is that the information produced by MHI, properly understood, could be the basis for creating a robust P.E.P. effort to advance the industry. As an MHI-linked MHEC executive told MHProNews, a good 'umbrella' (i.e.: production and post-production) trade group should be keeping three items every in mind. Protect. Educate. Promote. That P.E.P. is part of how a trade association's performance is measured. So too are measurable items like production (is production rising or falling?) or the number of communities (are they rising or falling?). If conventional multifamily housing developers had to report to their members that the number of apartments and other multifamily housing projects were in decline, if the number of apartments were falling instead of rising, isn't that a warning about the health of that industry? But in fact, the numbers of apartments are rising, not falling. By contrast, applying that analogy to manufactured home communities, the number of communities in manufactured housing have been falling for some 2 decades, perhaps longer.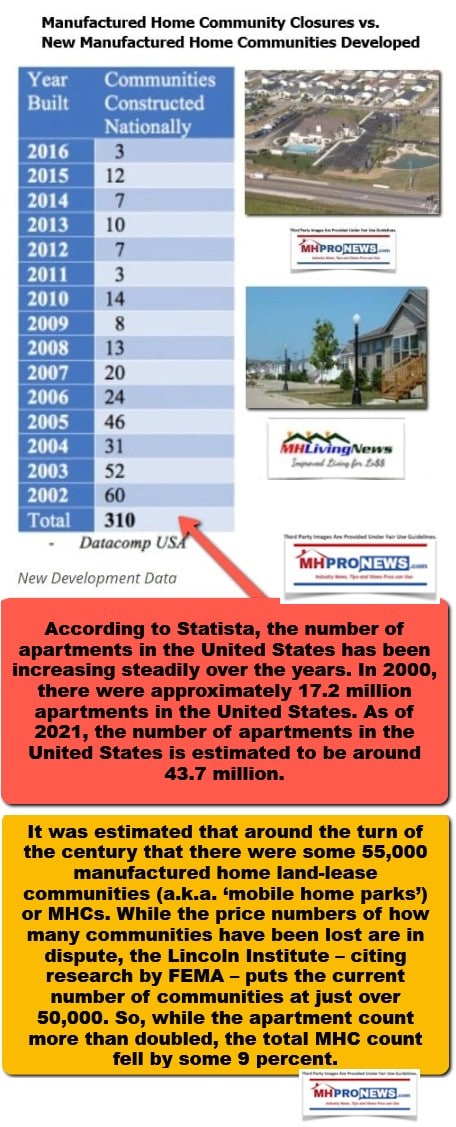 The manufactured home industry, when it is properly understood in the light of reams of third-party research, is routinely surprising in terms of its value.  Modern manufactured homes routinely defy the stereotypes, as former HUD Secretary Ben Carson pointed out. It is the most proven solution to the affordable housing crisis. MHI itself says similarly, though they may cite themselves instead of third parties, they do some of both.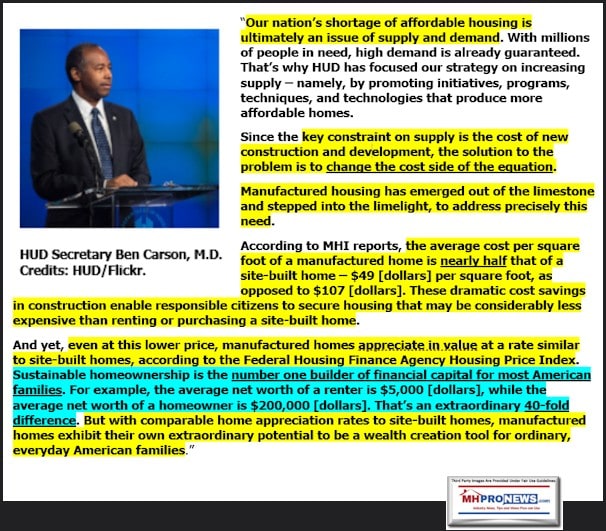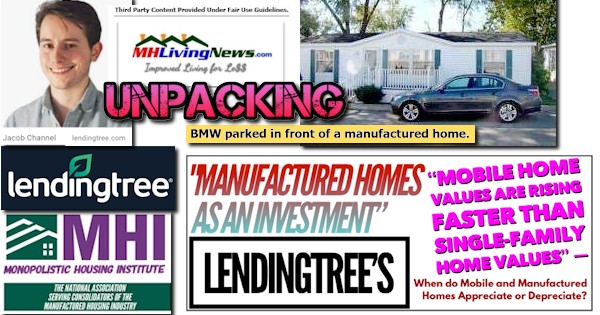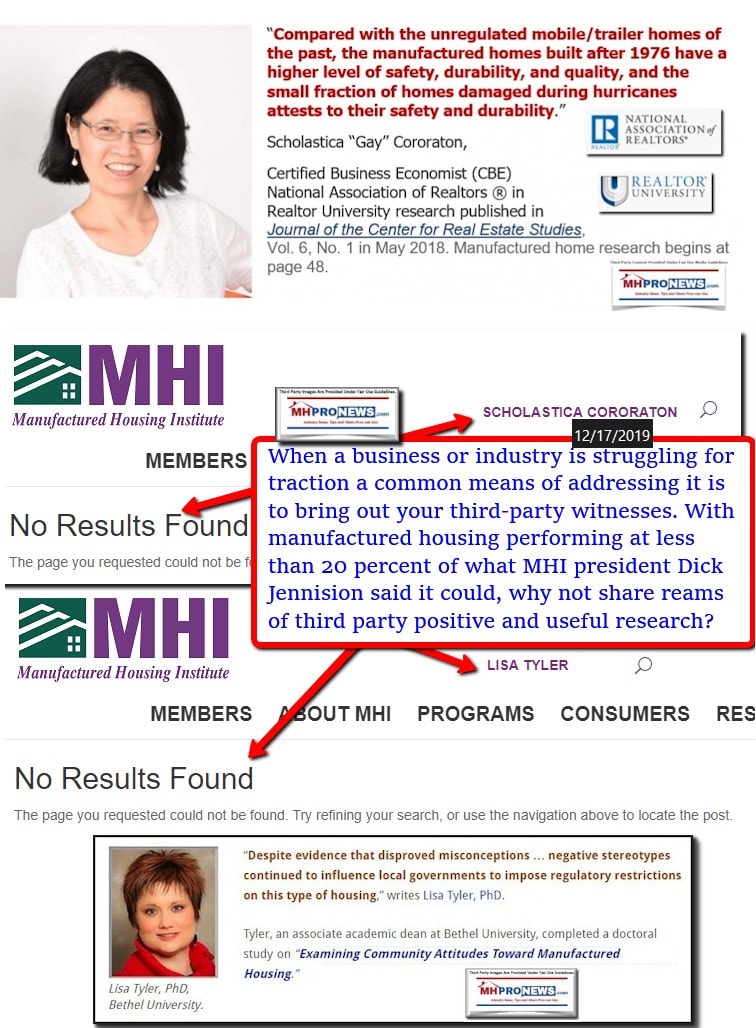 MHI apparently began to mention information about the useful LendingTree research in their newsletters well after MHLivingNews and MHProNews spotlighted the useful and largely positive findings of that third-party to manufactured housing.  But where is that in the new MHI website? Missing. Missing too are the kinds of items shown in the screen captures above.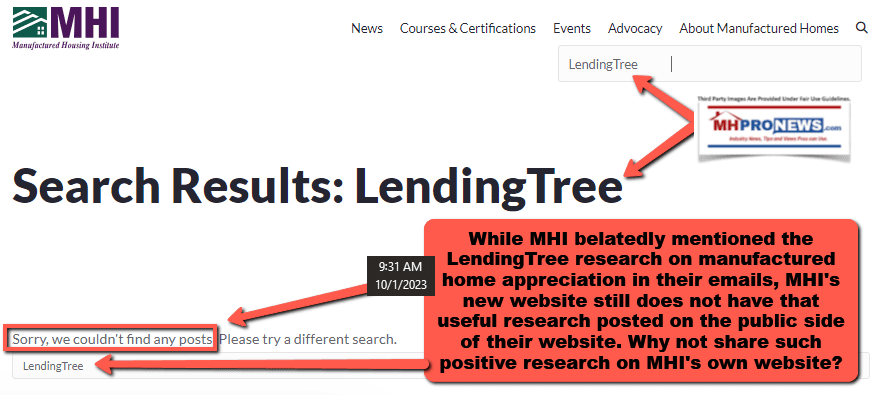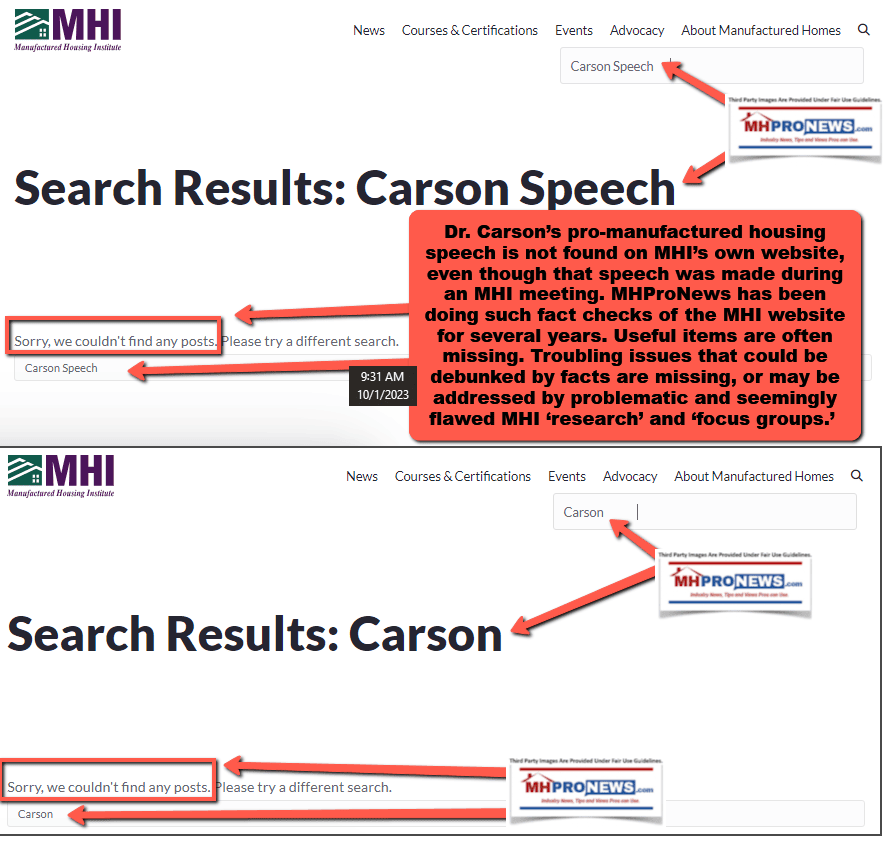 MHProNews has noted that MHI does have seemingly honorable members and good companies, but it has apparently been steadily placed under the control of those whose goal is to consolidate the industry into ever fewer hands.  Those hands? Why, those of their insiders, of course. That concern has been raised by the plaintiffs in the antitrust suit that MHI oddly fails to mention in their newsletter.  MHProNews raised such concerns to the industry's attention months before in the 2nd report, linked below.
Several Manufactured Housing Institute Members, Including Manufactured Home Community Owner/Operator Companies and Datacomp, Hit by Big Antitrust Lawsuit; plus MHVille Markets Update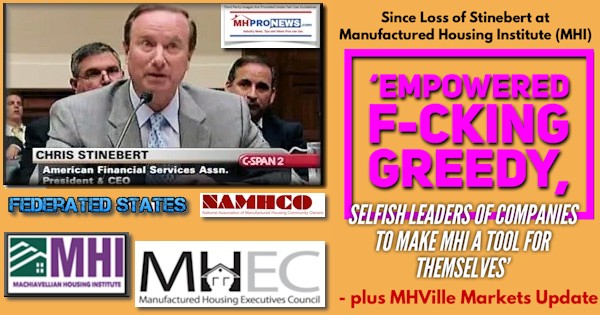 State level AGs and other officials, Democrats and Republicans, have brought certain cases and actions that spotlight some of the challenges faced by honest professionals and sometimes vulnerable consumers.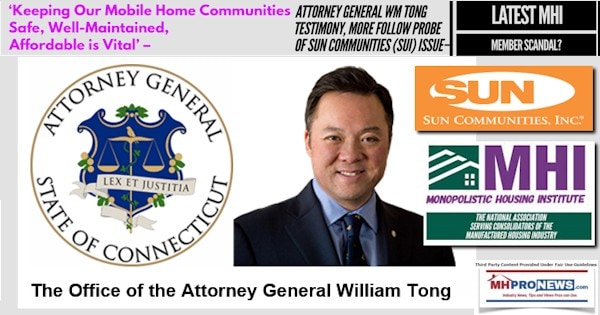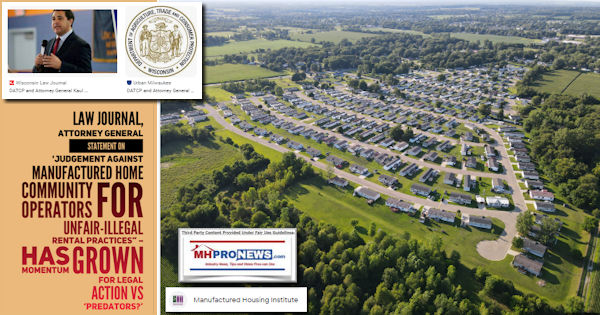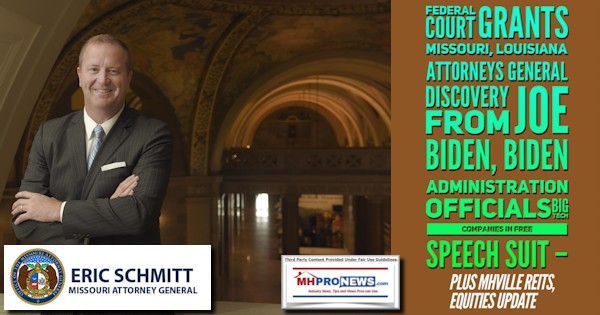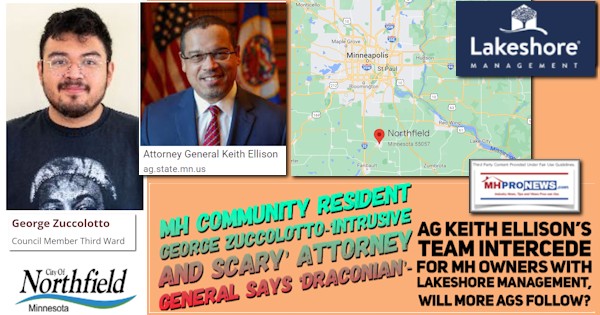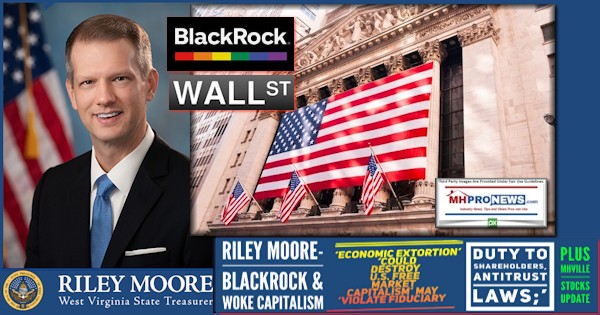 But more ought to be done.
MHProNews has and plans to continue to shed light into the dark crevices of razzle dazzle head fakes that have limited the industry from within at the very time that the industry's product and useful federal laws are most needed. Stay tuned for several planned special and exclusive reports coming in the days ahead.  ###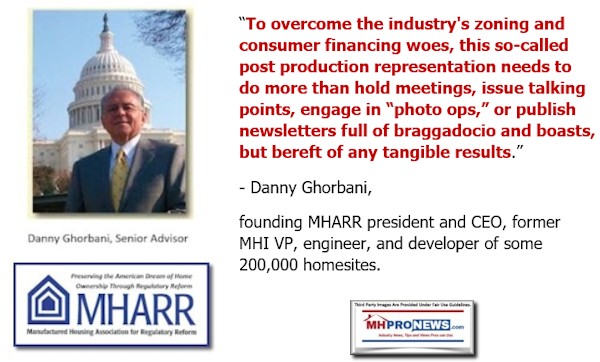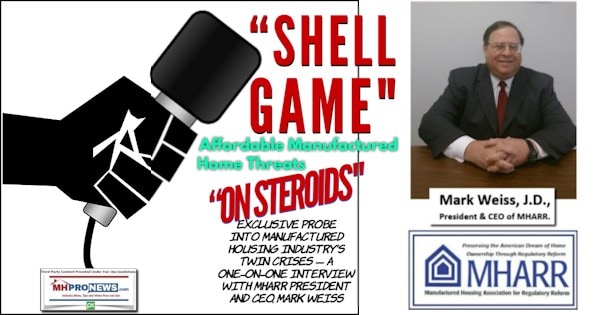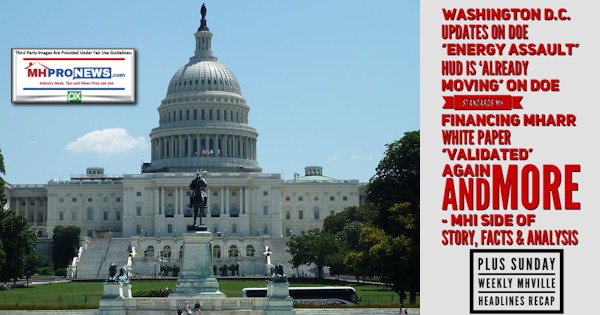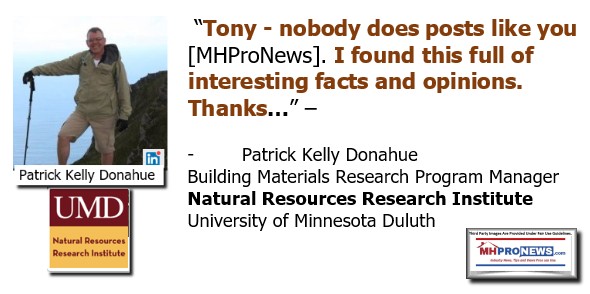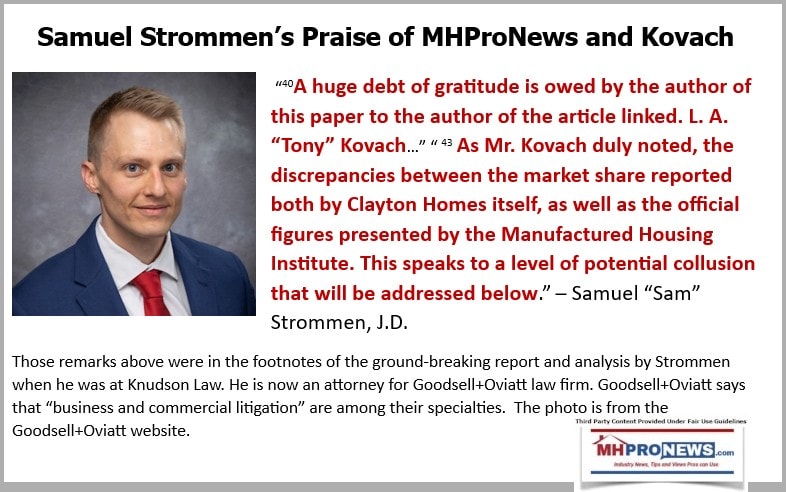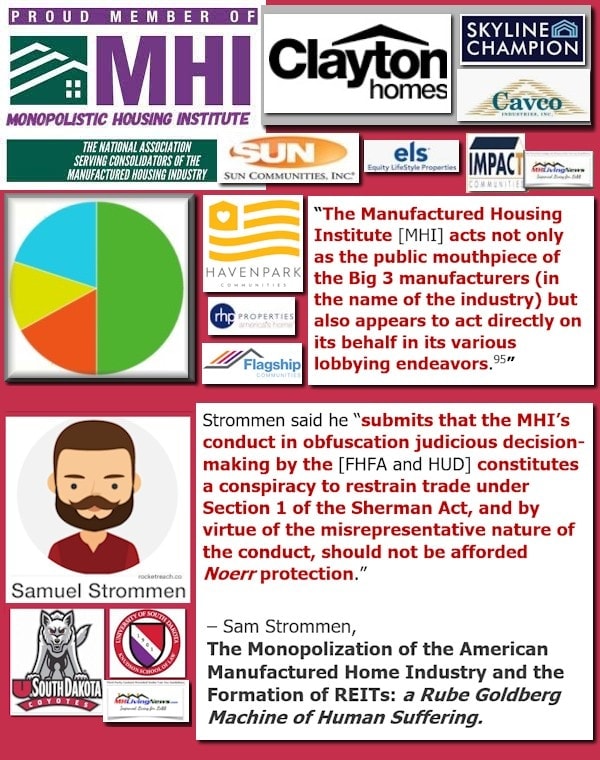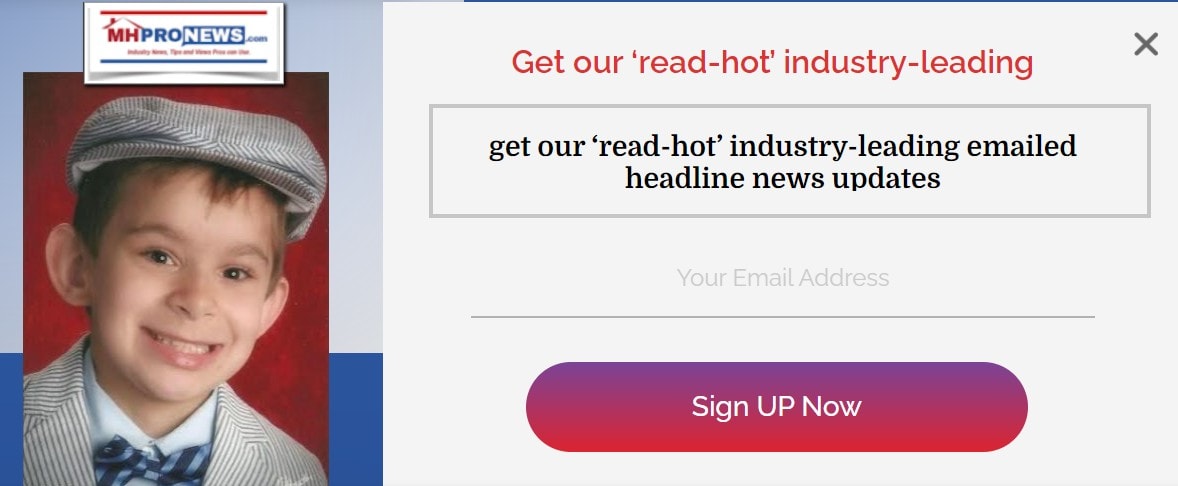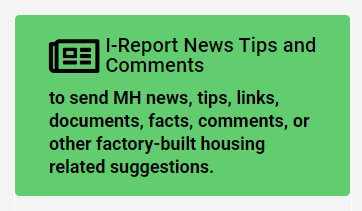 Again, our thanks to free email subscribers and all readers like you, as well as our tipsters/sources, sponsors and God for making and keeping us the runaway number one source for authentic "News through the lens of manufactured homes and factory-built housing" © where "We Provide, You Decide." © ## (Affordable housing, manufactured homes, reports, fact-checks, analysis, and commentary. Third-party images or content are provided under fair use guidelines for media.) See Related Reports, further below. Text/image boxes often are hot-linked to other reports that can be access by clicking on them.)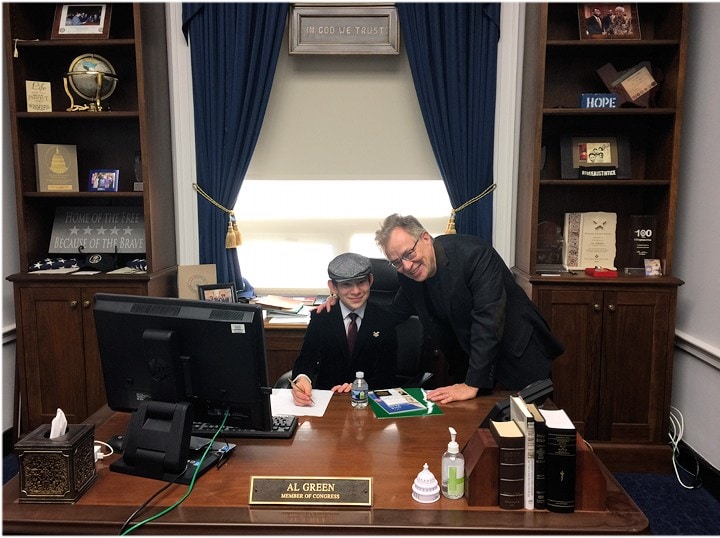 By L.A. "Tony" Kovach – for MHProNews.com.
Tony earned a journalism scholarship and earned numerous awards in history and in manufactured housing.
For example, he earned the prestigious Lottinville Award in history from the University of Oklahoma, where he studied history and business management. He's a managing member and co-founder of LifeStyle Factory Homes, LLC, the parent company to MHProNews, and MHLivingNews.com.
This article reflects the LLC's and/or the writer's position and may or may not reflect the views of sponsors or supporters.
Connect on LinkedIn: http://www.linkedin.com/in/latonykovach
Related References:
The text/image boxes below are linked to other reports, which can be accessed by clicking on them.'
Manufactured Housing's Rorschach Test – How You See the Facts, Visuals, Narratives and Evidence Speaks Volumes; plus Sunday Weekly Manufactured Home Industry (MHVille) Headlines in Review
Warren Buffett Success Tip 'Lighter or Darker World Ahead,' 'Is Obama's World a Utopian Myth?' As 7.4 Approaches Revisiting Buchanan's Historic Lessons; plus Sunday Weekly MHVille Headlines Recap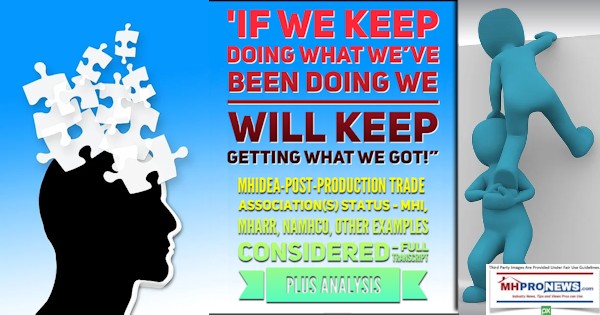 MHARR Washington Update – Fannie, Freddie, Duty to Serve and Latest Concerns on Manufactured Housing Institute Energy Litigation – Facts and Analysis, plus Sunday Weekly MHVille Headlines Recap
'Dark Triad' – Researchers Detect '5 Key Characteristics of BILLIONAIRES' – Evidence how Billionaires, Super Wealthy Think Differently Than Most-Takeaways and Lessons; plus Sunday MHVille Weekly Headlines Recap
'Go to Independent Sales Lot, Spend a Week There During Busy Season and Report on Reality of the Manufactured Housing Industry its Primary Level;' Sunday MHVille Weekly Headlines Recap
Name Calling, Evidence, Facts, and Manufactured Housing's Primary 'Muckraker' Shed Light on Manufactured Home Industry Underperformance; plus Sunday Weekly Headlines Recap
Manufactured Home 'Energy Rule Delayed'–Manufactured Housing Institute Aptly Says 'More Work to Be Done'–Clayton & Independent Builder Insights, Analysis-plus Sunday Weekly Headlines in Review
Andrew Justus, J.D., Niskanen Center Housing Policy Analyst, Hill Op-Ed Asks and Answers – 'What's Holding Back Manufactured Homes?' Sunday Weekly MHVille Headlines in Review
Warren Buffett Led Berkshire Hathaway has Over $100 Billion Available for Investing, Why That Matters to Manufactured Housing, MHEC Members Know How Gold Rules; plus Sunday Weekly Headlines Recap
Danny Ghorbani – Manufactured Housing's 'Elephant in the Room,' per Prior Manufactured Housing Institute Chair, Exclusive Q&A on Key MHIndustry Issues, plus Sunday Weekly MHVille Headlines Recap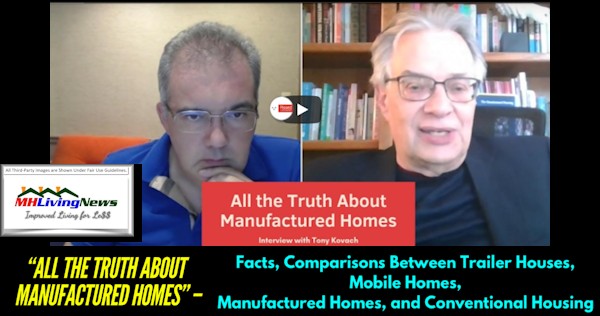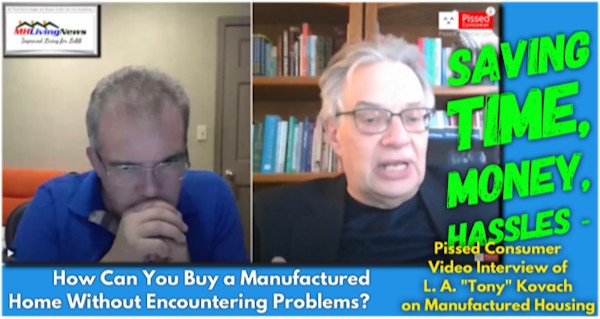 'Affordable Homes for Low Income Must Produce in Factory,' 'Years to Unravel Sabotage,' Grad Students Interest in Manufactured Housing, Factory-Home Solutions; plus Sunday Weekly Headlines Recap