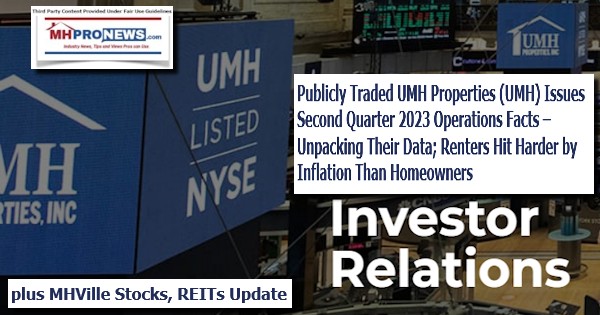 According to a report on left-leaning CNN on 7.12.2023, renters are being hit harder by inflation than homeowners are. "Renters and homeowners are experiencing inflation differently, according to new data from Bank of America — and, unsurprisingly, renters are taking the hit." "Using Bank of America internal data to identify homeowners and renters by housing-related payments in bank accounts — mortgage payments, homeowner association fees or rent payments — analysts found that a wedge has opened between spending by renters and homeowners. Renters are seeing weaker spending growth outside of housing. Two things are causing the split in spending." "First, while the majority of homeowners' monthly payments have not risen, the cost of renting has surged," and second: "…the majority of US homeowners with outstanding mortgage balances have fixed interest rates…" That sort of news ought to be positive for the manufactured home industry's various front-line manufactured home sellers. While UMH Properties says their sales have risen, a closer look at their own data reveals that their sales are nevertheless seemingly muted.
Part I is the UMH Property press release for 7.5.2023.
Part II is additional information with an analysis in brief of UMH's data by MHProNews.
Part III is our Daily Business News on MHProNews macro- and manufactured housing-linked stocks and Real Estate Investment Trusts (REITs) markets report.
Part I
UMH Properties, Inc. Second Quarter 2023 Operations Update
07/05/2023
FREEHOLD, NJ, July 05, 2023 (GLOBE NEWSWIRE) — UMH Properties, Inc. (NYSE:UMH) (TASE:UMH), a real estate investment trust (REIT) specializing in the ownership and operation of manufactured home communities, is providing investors with an update on our second quarter 2023 operating results.
Our communities are rapidly selling and renting new homes, which has resulted in increased occupancy and income. Additionally, as homes in inventory are occupied our high-cost floorplan lines are paid down and replaced with permanent capital at more attractive rates.
During the quarter, approximately 400 rental homes in inventory were occupied making them income producing and 44 new homes were sold, creating additional site rent. This resulted in same property income growth year-over-year of approximately 8.6% and a 190-basis point improvement in occupancy.
Year-to-date, approximately 600 rental homes in inventory were rented making them income producing and 83 new homes were sold, creating additional site rent. Our increase in occupancy and our annual rent increases drove an increase in same property income of approximately 7.4%. This increase in occupancy, together with rent increases implemented in the first and second quarter, generated an increase in monthly rental charges of approximately $900,000 as of July 1, 2023, compared to January 1, 2023. Our current inventory sits at approximately 700 homes, which is still above our normal levels, but is rapidly decreasing as we continue to fill over 100 homes a month.
Sales of manufactured homes for the quarter increased to approximately $8.2 million in the second quarter of 2023, as compared to $7.0 million last year, resulting in an increase of 17%. Year-to-date, gross sales of manufactured homes increased to $15.5 million, as compared to $11.3 million last year, resulting in an increase of 37%. Our sales demand remains strong, and we have over $3 million in deals in our pipeline.
During the quarter, we raised approximately $45.1 million of common equity and $15.6 million of preferred equity through our ATM programs. This capital was utilized to pay down higher cost floorplan lines. Additionally, we have repaid all $58.5 million of our maturing mortgages, and have no mortgage loans maturing next year.
It should be noted that our financial statement closing and review procedures for the quarter ended June 30, 2023 are not yet complete and, as a result, the financial information set forth above reflects our preliminary estimates with respect to such information, based on information currently available to management, and may vary from our actual financial results as of and for the quarter ended June 30, 2023. UMH's full Second Quarter 2023 results will be released on Tuesday, August 8, 2023, after the close of trading on the New York Stock Exchange and will be available on the Company's website at www.umh.reit, in the Financials section. Senior management will discuss the results, current market conditions and future outlook on Wednesday, August 9, 2023, at 10:00 a.m. Eastern Time.
UMH Properties, Inc., which was organized in 1968, is a public equity REIT that owns and operates 135 manufactured home communities containing approximately 25,700 developed homesites. These communities are located in New Jersey, New York, Ohio, Pennsylvania, Tennessee, Indiana, Maryland, Michigan, Alabama, South Carolina and Georgia. UMH also has an ownership interest in and operates two communities in Florida, containing 363 sites, through its joint venture with Nuveen Real Estate.
Certain statements included in this press release which are not historical facts may be deemed forward-looking statements within the meaning of the Private Securities Litigation Reform Act of 1995. Any such forward-looking statements are based on the Company's current expectations and involve various risks and uncertainties. Although the Company believes the expectations reflected in any forward-looking statements are based on reasonable assumptions, the Company can provide no assurance those expectations will be achieved. The risks and uncertainties that could cause actual results or events to differ materially from expectations are contained in the Company's annual report on Form 10-K and described from time to time in the Company's other filings with the SEC. The Company undertakes no obligation to publicly update or revise any forward-looking statements whether as a result of new information, future events, or otherwise. …##
Part II – Additional Information with More MHProNews Analysis and Commentary 
According to Yahoo Finance is the following 1-year stock trend for UMH Properties as of the close of business on the markets yesterday 7.12.2023.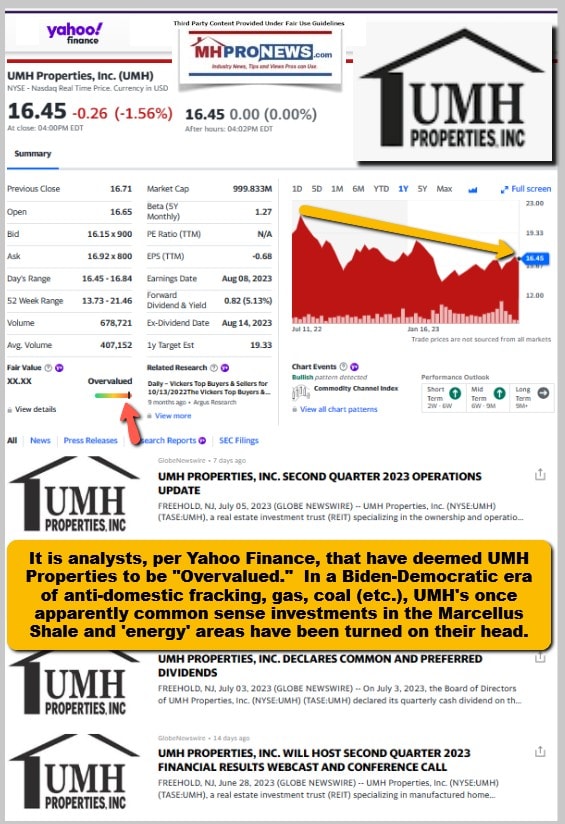 A case can be made that UMH Properties has done a good job of executing their game plan of buying properties that often had higher rates of vacancies and filling them with rentals.
UMH Properties Investor Pitch-Q3 2022 Preview, Keen Insights by MHI-Award Winner UMH for Manufactured Home Community Researchers, 'Mobile Home Park' Investing; plus MHVille REITs, Stocks Update
That said, per inside sources at UMH, in recent years Samuel "Sam" Landy, J.D., President and CEO of UMH has been given advice by 'left leaning' advisors on several initiatives that may now be biting the firm. For example. As so called 'green' initiatives by Democrats has at least for now seemingly gained an upper hand in Washington, D.C. and in states like New York, properties that were 'smart' investments just a few years ago may been losing some of their luster in the eyes of those who buy into the 'green' agenda. That may be impacting their stock's price.
Then, instead of focusing on selling homes and teaching their team how to effectively market and sell more homes so that more people become manufactured homeowners, UMH Properties began to execute a strategy that was more rental focused. Their own quarterly report above makes that clear.  While it is true that the numbers can be impressive for such a strategy, it is also true that this is a shift away from what UMH and so many other manufactured home community operators relied upon for decades. Namely, owner occupied manufactured housing.
Consider their own numbers:
"44 new homes were sold" at "135 manufactured home communities" for the quarter. That's a scant 0.1086419753 new manufactured home units per month per property per month. Ouch.
"Year-to-date, approximately 600 rental homes in inventory were rented" divide that by 135 communities x 6 months and that's 0.74074074074 units per month per property (less than 3/4 of a home per month per property. Ouch).
UMH said "current inventory sits at approximately 700 homes." That may shed light on why this community operator may not be buying as much new inventory as they were previously.
'Alarming Year-Over-Year Manufactured Home Production Declines Continue' per Manufactured Housing Assoc as Deceptive Trade Practice Concerns about ManufacturedHomes.com, MHInsider, MHI Raised
Analyst to Cavco-'Why is Manufactured Home Industry Production So Weak?' Paradox Develops-'Lower Expectations' 'More Singles' in Q1-2023 Cavco Industries Quarterly Facts, Trends+MHVille Analysis
UMH Properties has gone from quietly grumbling about MHI a few years ago to supporting them big time on initiatives such as displaying manufactured homes on the Washington Mall during the HUD-NAHB Innovative Housing Showcase.  While MHI postures being nonpartisan, and they certainly give money via their MHI PAC to candidates from both major parties, they seem to have a Clayton-Berkshire bent for the political left, though they would likely deny it. As anti-Biden sentiment in the U.S. grows, so too has anti-ESG sentiment. Again, insiders at UMH, and their own SEC related investor relations documents reflect the push there for ESG.  The stance is oddly contradictory of their Marcellus and other energy-potential proximity properties.  While BlackRock's Larry Fink has said that he is moving away from ESG pushing lingo, a closer look appears to suggest that Fink is merely changing the verbiage, but still pushing the agenda.
BlackRock Sounds Alarm-Financial Cracks Emerge from Interest Rate Hikes, CEO Larry Fink 'Polycrisis'-Signals De-Emphasis on ESG 'Not Environmental Police' Govs PushBack;plus MHVille Stocks Update
Fink's moves often garner outsized attention by publicly traded firms, which may include UMH. A clear eyed look at how so-called red-states are pushing back on Fink and ESG should be a warning sign for UMH and others in MHVille.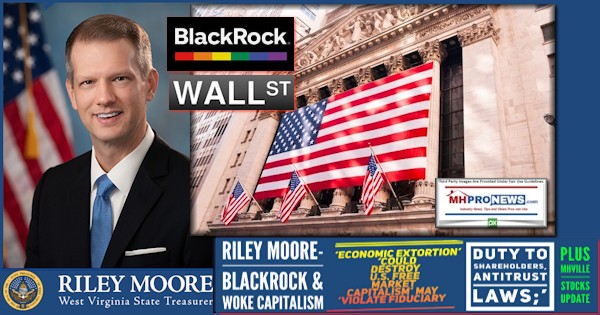 UMH is uniquely positioned to lead among manufactured home community operators, because they have largely avoided the kinds of controversies that so many of their peers at MHI have run afoul of in recent years.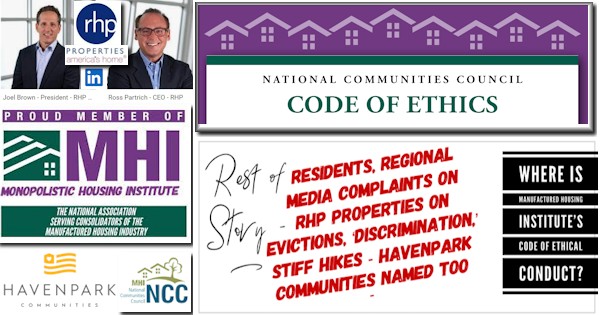 As the apparently artificial shine on the MHI apple fades, UMH would be well advised to consider leading a break with that group and potentially forging a post-production trade group for firms that avoid the kinds of scandals and risks that others at MHI are arguably engaged in.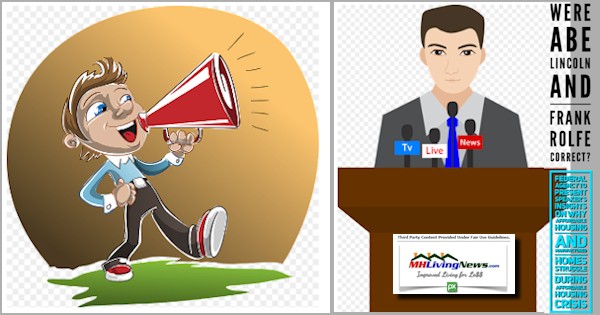 Manufactured Housing's Rorschach Test – How You See the Facts, Visuals, Narratives and Evidence Speaks Volumes; plus Sunday Weekly Manufactured Home Industry (MHVille) Headlines in Review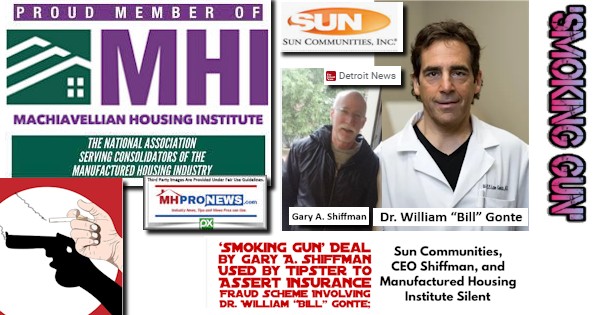 MHARR Highlights Key Industry Issues in Meeting with HUD Assistant Secretary and FHA Commissioner Julia Gordon – MHVille Trade Coverage, Facts, Analysis, Views; plus Market Moving Headline Recap
'Go to Independent Sales Lot, Spend a Week There During Busy Season and Report on Reality of the Manufactured Housing Industry its Primary Level;' Sunday MHVille Weekly Headlines Recap
'Weakness and Delay in Washington' 'Helped Fuel Decline' – Manufactured Housing Institute Faulted by MHARR for 'Shocking' 'Decline' in Manufactured Home Production; plus MHVille Markets Update
'Dark Triad' – Researchers Detect '5 Key Characteristics of BILLIONAIRES' – Evidence how Billionaires, Super Wealthy Think Differently Than Most-Takeaways and Lessons; plus Sunday MHVille Weekly Headlines Recap
As with other stocks noted in Part III below, MHProNews holds no position in this firm. Our expert views comes from years of hands-on experience in manufactured home communities, retail, marketing, sales training, and related issues such as financing. If Landy and their leadership team look at who has per insiders been giving them 'lefty' advice, they may be able to root out, pivot, and successfully change course. Note Ohio is one of the states where UMH has locations that is moving more toward the political right. The Landys have worked too long and too hard to let a few perhaps well meaning, but nevertheless arguably mistaken voices, lead them deeper into the darkness linked to the arguably corrupt MHI tunnel. ##
Ohio Latest State to Break 'Education Monopoly' per Jason Bedrick, Parents 'Hungry' for Change – Why Manufactured Housing Pros Should Applaud, Facts and Analysis; plus MHVille Markets Update
Part III. Daily Business News on MHProNews Markets and Headline News Segment
Headlines from left-of-center CNN Business – from the evening of 7.12.2023
Inflation just fell…
And that reading comes after the Fed paused rate hikes. Should it resume hiking?
Renters are being hit harder by inflation than homeowners
'Time is money': Shopify calculator shows how much unnecessary meetings really cost the company
Farmers Insurance pulls out of Florida, affecting 100,000 policyholders
Arizona man targeted by January 6 conspiracy theorists sues Fox News for defamation
The oldest craft brewery in the United States is shutting down after 127 years
UAW head says it's prepared to strike against Big Three automakers as negotiations start Thursday
What is flood insurance, and why do you need it?
Elon Musk announces a new AI company
ai bot interactive HP
Bot or not? How to tell when you're reading something written by AI
Every Buybuy Baby store is closing after bankruptcy deal falls through
The US economy is defying expectations, says Biden's top economic adviser
Energy Secretary vows to 100% refill emergency oil stockpile — but warns that won't happen before a second Biden term
Fine wine is souring as investment prices sink
Bill Gates says AI risks are real but nothing we can't handle
Grocery prices held steady in June, offering some relief
US inflation cooled in June for the 12th straight month
How AI's astonishing productivity gains could help curb inflation
Domino's shares soar after striking a surprise deal
Actors are poised to go on strike against studios and streaming services
This CEO replaced 90% of support staff with an AI chatbot
Google hit with lawsuit alleging it stole data from millions of users to train its AI tools
Tax prep companies shared private taxpayer data with Google and Meta for years, congressional probe finds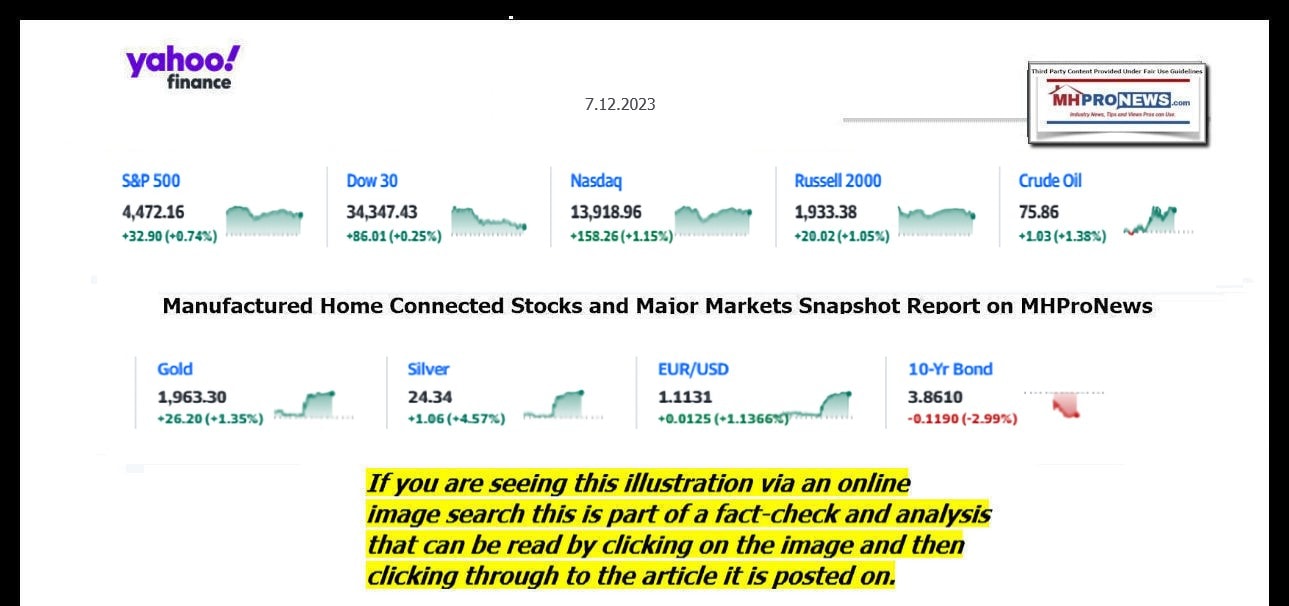 Headlines from right-of-center Newsmax 7.12.2023
Wray Assails Critics' Theory: It's 'Ludicrous' to Claim FBI Set Up 1/6
"I will say, this notion that somehow the violence at the Capitol on January 6 was part of some operation orchestrated by FBI sources and agents is ludicrous and is a disservice to our brave, hardworking, dedicated men and women," Wray said during a fierce grilling before the House Judiciary panel.
Related Stories
Wray: FBI 'Absolutely Not' Protecting Hunter Biden, Family
House GOP to Wray: Americans Have Lost Faith in FBI
Wray Defends FBI: Work Goes Beyond Trump Headlines
FBI Whistleblower to Newsmax: FBI Incentivizes Higher Crime Stats
Tiffany to Newsmax: Wray Must Admit Russian Hoax
Lankford: Biden's Awkward Moments Normal
Matt Gaetz to Newsmax: Biden 'Sleepwalking Us Into WW III' | video
FBI Whistleblower: FBI Incentivizes Higher Crime Stats | video
Tiffany: Wray Must Admit Russian Hoax | video
Ex-Rep. Flores: Running to Finish Work I Started | video
Blaine Holt: New Ukraine-NATO Council a 'Big Deal' | video
Ron Johnson: PGA Hearing Premature | video
Kurt Volker: NATO Must Tell Putin He Won't Win War | video
Jason Smith: House Has More on Bidens Than Luft's Allegations | video
Newsfront
Did US Skip Usual Sanctions After China Balloon? McCaul Issues Subpoenas
The House Foreign Affairs chairman said Wednesday he subpoenaed the State Department for classified documents that could indicate whether the U.S. deviated from its plans for sanctioning China after a Chinese surveillance balloon traversed sensitive military sites across…… [Full Story]
Trump Rips DOJ's About-Face on Immunity in Carroll Case
Former President Donald Trump ripped the Department of Justice for [Full Story]
Probes Ballot Claims; Sues True The Vote
The Georgia State Election Board is asking a judge to order a [Full Story]
Parents Stunned by Woke Girl Scouts' New 'Culture Code'
A "Camp Culture Code" sent out before a recent Girl Scouts sleepaway [Full Story] | Platinum Article
Nasdaq Leads Wall Street to Higher Close
S. stocks ended solidly higher Wednesday, led by a gain of more [Full Story]
Biden to NATO: 'Our Unity Will Not Falter' on Ukraine
President Joe Biden pledged Wednesday that western allies "will not [Full Story]
Related
Biden Appears to Flub Zelenskyy's Name at NATO Summit |video
Kremlin: West's Assurances for Ukraine Could Be Dangerous Mistake
Zelenskyy Seeks Long-Range Weapons in Talks With Biden
NATO Chief: Supplying Enough Weapons to Ukraine Is Top Priority
NATO Deepens Ties With Ukraine but Sets No Clear Path for Membership
Zelenskyy: NATO Summit Results Are Good
House GOP to Wray: Americans Have Lost Faith in FBI
Republicans on the House Judiciary Committee Wednesday grilled FBI [Full Story]
Related
Wray: FBI 'Absolutely Not' Protecting Hunter Biden, Family
Wray: 'Ludicrous' to Claim FBI Involved in Jan. 6 |video
Fox News Stock Downgraded as Viewership Plummets
A major financial services company downgraded Fox Corporation stock, [Full Story]
TIPP Poll: Half of Dems Say Hunter Got Special Treatment
Nearly two-thirds of Americans, including 49% of Democrats, believe [Full Story] | video
5 Politicians Who Could Launch a Third-Party Bid in 2024
Senate Democrats are showing signs of concern about the potential for [Full Story] | Platinum Article
Paul to Rep. Jordan: Push FBI For COVID Origin Info
Rand Paul, R-Ky., sent a letter to House Judiciary Chairman Jim [Full Story]
EPA Proposes Stricter Lead Standards in Older Homes
The Biden administration on Wednesday moved to reduce children's [Full Story]
I&I/TIPP Poll : 56 Percent Say Biden 'Likely' Took Bribes
Were President Joe Biden and his family involved in a foreign bribery [Full Story]
Lankford Pushes Bill to Help Catch Drugs at Border
James Lankford, R-Okla., on Wednesday announced a new bill to [Full Story]
CNN Apologizes to Dylan Mulvaney
CNN issued an on-air apologyto Dylan Mulvaney on Wednesday, oneday [Full Story]
Netanyahu, Senior Biden Adviser Meet Amid US-Israel Tensions
Israeli Prime Minister Benjamin Netanyahu welcomed on Tuesday Amos [Full Story]
Slowing Inflation Seen Making Fed's July Hike Its Last
Inflation is slowing rapidly enough to allow the Federal Reserve to [Full Story]
Israeli Defense Minister Condemns Reservists' Refusal to Serve
At an event honoring the 146th Reserve Armored Division, marking 50 [Full Story]
US Economic Activity Rose Slightly in Recent Weeks
U.S. economic activity increased slightly in recent weeks, and [Full Story]
Biden Appears to Flub Zelenskyy's Name at NATO Summit
President Joe Biden on Wednesday appeared to flub Ukrainian President [Full Story] | video
Ex-Twitter Exec Promoted GDI to DHS Subcommittee
A former Twitter executive behind the suppression of the Hunter Biden [Full Story]
'Succession' Tops Emmy Nominations With 27
"Succession," the HBO drama about an ultra-wealthy family fighting [Full Story]
Erdogan: Turkey Won't Ratify Sweden's NATO Bid Before October,
Turkey's president, Recep Tayyip Erdogan, said Wednesday that [Full Story]
Russia's Trans Advocates Brace for Gender Surgery Ban
Elle Solomina is 36, but she says her life truly began in 2021, when [Full Story]
Dick Morris: Trump Should Boycott Fox Debate
With potentially 12 opponents arrayed against him, moderators like [Full Story]
Chinese Hackers Breach US Govt Email Through Microsoft Cloud
Chinese state-linked hackers secretly accessed email accounts at [Full Story]
US Inflation Falls to Two-Year Low of 3 Percent
After two years of painfully high prices, inflation in the United [Full Story]
H&R Block Shared Taxpayer Data With Meta: Lawmakers
A group of congressional Democrats reported Wednesday that three [Full Story]
Iowa Legislature OKs 6-Week Abortion Ban
Iowa's Republican-led Legislature passed a bill banning most [Full Story]
Milan Kundera, Czech Writer and Former Dissident, Dies at 94
Milan Kundera, whose dissident writings in communist Czechoslovakia [Full Story]
Taibbi: AGs Should Review Key Emails Before 'Mo. V. Biden'
Twitter Files reporter Matt Taibbi on Tuesday urged Attorney Generals [Full Story] | video
Manhattan Office Tower Values Plunge 45%
The end of the pandemic has brought little relief to Manhattan's depressed market for workspace, where empty floors remain the norm and by one calculation the values of 45% of the city's office buildings are below their last sale price…. [Full Story]
Powerball Jackpot Grows to $750M, 6th Highest Ever
Donohue: Public Sours on Higher Education, Rightfully So
SEC Shores Up Money Market Fund Liquidity
Yellen Raised China's Hopes for Tariff Cut
More Finance
Health
Alzheimer's Drug Leqembi Less Effective in Women
Leqembi, the first drug shown to slow the rate of cognitive decline for people with early forms of Alzheimer's disease, may not work as well for women. The Food and Drug Administration granted full approval to Leqembi last week, triggering a process that could expand…… [Full Story]
How to Prevent Potentially Deadly Heat Illness
Low-Cost Humira Competitors Now Available
Don't Ignore Pickleball Injuries
What You Should Know About Water Fasting