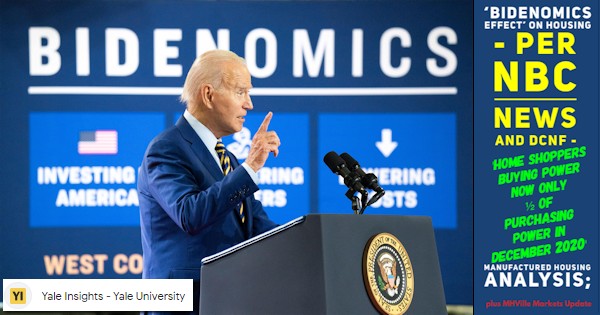 Left-leaning NBC News said on 10.21.2023 that: "A tough market for homebuyers keeps getting tougher as the combination of rising prices and climbing mortgage rates makes it even harder to afford a home, new data shows. In spite of these challenges, people are still buying homes. About 4 million are on track to sell this year. But to a shocking extent, rising mortgage rates and the shortage of homes for sale — which feeds rising prices and bidding wars — has weakened their financial position." NBC also said: "In December 2020, mortgage rates hit some of their lowest levels ever, with a 30-year fixed available for 2.68%. That was a steep drop from 3.78% a year earlier," adding that: "Today, government-backed lender Fannie Mae says the average interest rate on a 30-year fixed-rate mortgage is 7.63%. Prices have shot up as well. The median sale price of a single-family home is above $416,000 as of the second quarter of this year, up from just under $360,000 in late 2020."
What's bad for conventional housing has at various times in manufactured housing history been good for manufactured home sales. That makes sense given mainstream manufactured housing's inherent affordability. But this time around? So far, not so much. More on that in Part II of today's report.
Part I will be more insights about the housing market, in the report below from the right-leaning WND News Center to MHProNews, which also cited NBC's data.
Part II will be additional information with more MHProNews analysis and commentary in brief.
Part III is our Daily Business News on MHProNews macro-market and manufactured housing connected equities report with left (CNN) right (Newsmax) headlines recap.
Part I
MONEY | THE BIDEN EFFECT
Housing market half as affordable than just 3 years ago
Loss of purchasing power due to rising home prices, record-high mortgage rates
By WND News Services
Published October 21, 2023 at 1:42pm
Will Kessler
Daily Caller News Foundation
Americans' purchasing power in the real estate market has been cut in half in less than three years as home prices and mortgage rates rise, pricing average Americans out of the market, according to NBC News.
Housing affordability has been cut in half in less than three years since August 2023, when a median-income household could afford a 30-year on a $356,273 house, compared to December 2020, when that same family could afford a mortgage for a $737,392 house, according to data analyzed by NBC News. The loss of purchasing power is due to rising home prices and record-high mortgage rates, both hitting American consumers and driving up prices.
Mortgage rates have taken a sharp jump over the last three years, with the average 30-year fixed rate mortgage going for 2.68% in December 2020, as opposed to the current rate, which has reached 7.63%, according to NBC News. Average home prices have taken a similar jump in that time frame, going from $360,000 in the fourth quarter of 2020 to $416,000 in the second quarter of this year.
Housing market remains in dangerous territory from Fed's interest rate manipulations, sales are so low that the average realtor is now on pace to sell less than 2 homes annually – sounds like a bubble of realtors if not more… pic.twitter.com/Yq01CFjMqn

— E.J. Antoni, Ph.D. (@RealEJAntoni) October 21, 2023
Median household income has declined from $76,358 in December 2020 to $75,322 as of August 2023, according to NBC News. The amount of income needed to afford a median-priced home has increased dramatically to $94,487 in August 2023, compared to just $38,280 in December 2020, pricing many Americans out of the housing market as a whole.
Inflation has seen a huge spike since the COVID-19 pandemic, which has raised prices across the board, peaking at 9.1% year-over-year in June 2022, and has remained elevated, most recently being reported as 3.7% for September, far from the Federal Reserve's 2% target. The Fed has tried to bring down inflation by raising its federal funds rate to a range of 5.25% and 5.50%, which has in turn placed upward pressure on mortgage rates.
Following the loss in purchasing power, the U.S. real estate market will see the fewest number of homes sold since 2008, when the country was in the middle of the subprime mortgage crisis and the Great Recession.
This story originally was published by the Daily Caller News Foundation. ##
Part II – Additional Information with More MHProNews Analysis and Commentary
A series of steps began literally the day that Joe Biden moved into the White House and began signing executive orders that has dramatically changed the landscape of the U.S. economy, including the broader housing market, and manufactured homes along with it. High ranking Democratic Representative James "Jim" Clyburn (SC-D) admitted on left-leaning MSNBC that Democratic policies have sparked inflation.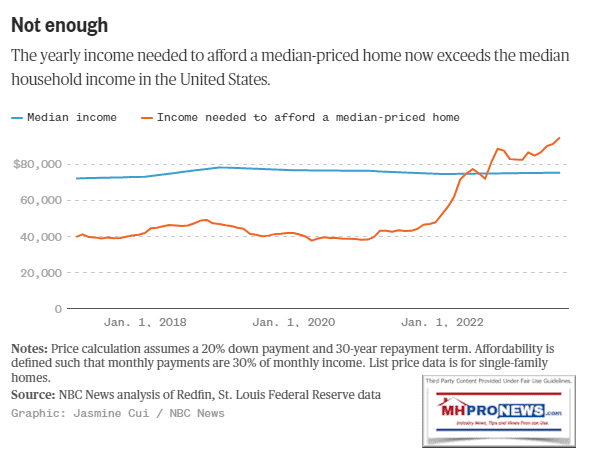 AllSides rates FactCheck.org as left-leaning. So, FactCheck should be more 'pro-Biden' in its bias. FactCheck.org has made the erosion of several aspects of the U.S. economy under what Joe Biden himself has called "Bidenomics" available in a single chart. Also, despite repeated claims that the border with Mexico is 'not open,' FactCheck says that border apprehensions are up 300 percent. The actual count of illegal immigrants may be higher than federal officials say and has an array of ripple effects that include political, economic, and housing.
Note: to expand this image and some others that follow herein to a larger or full size, see
the instructions below the graphic below or click the image and follow the prompts.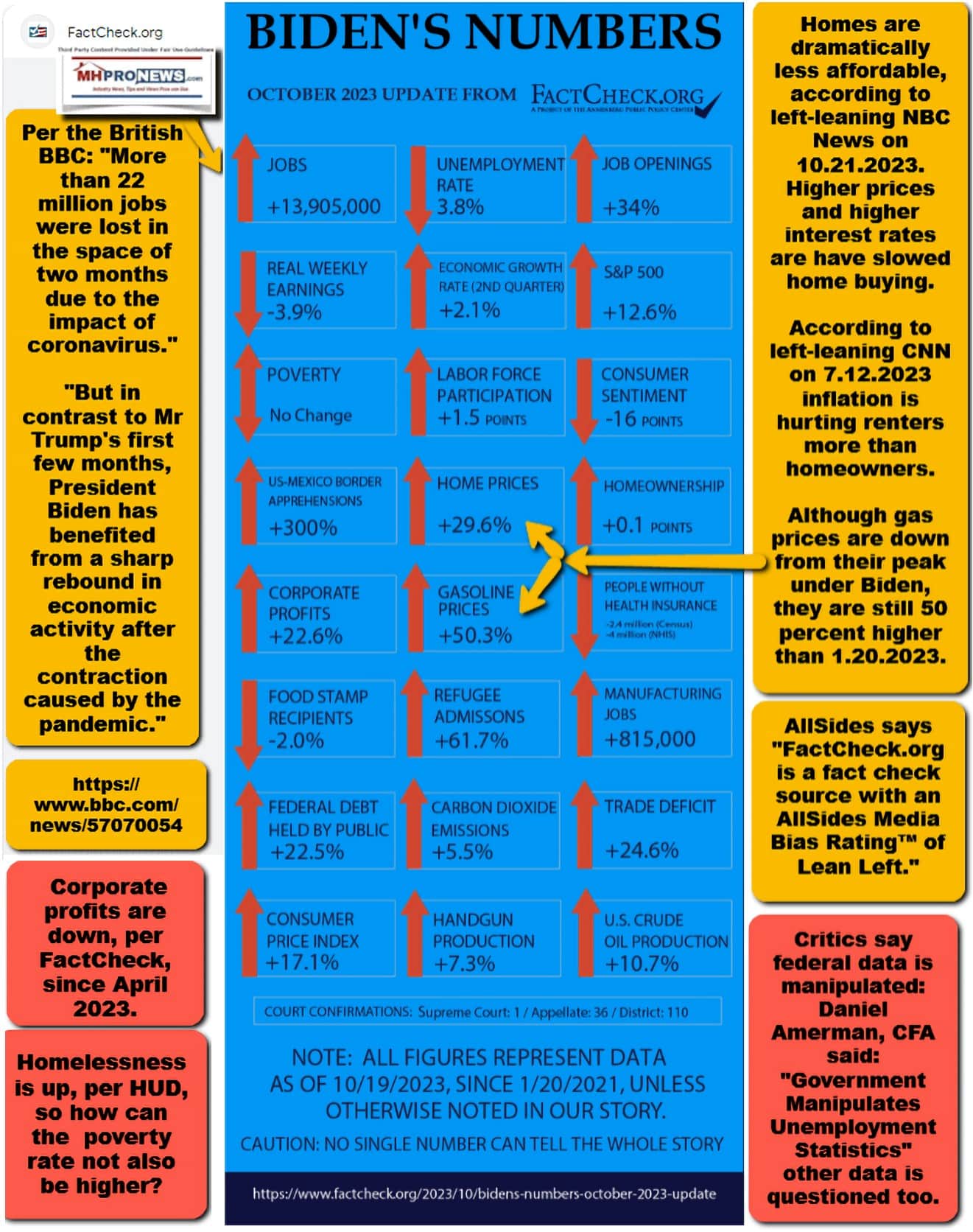 Compare the October 2023 data above, per FactCheck, with that same source's data in April 2023, just 6 months earlier.  Per left-leaning Axios: "2/3 Democrat-leaning voters don't want Biden as 2024 …" in a report dated September 7, 2023.
Note: to expand this image to a larger or full size, see the instructions
below the graphic below or click the image and follow the prompts.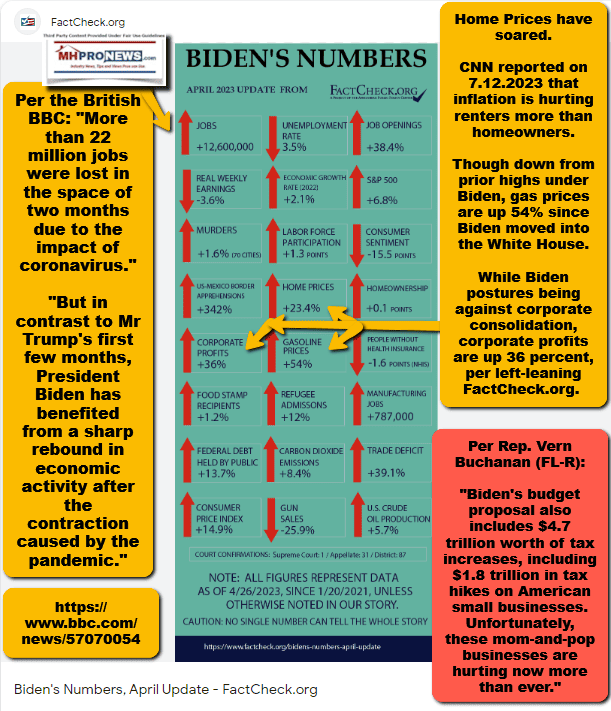 As MHProNews has previously reported, HUD admitted earlier this year that homelessness in the U.S. is 'the worst in years.' This is despite the fact that federal spending is also breaking records in the post-World War II era that most living Americans grew up in.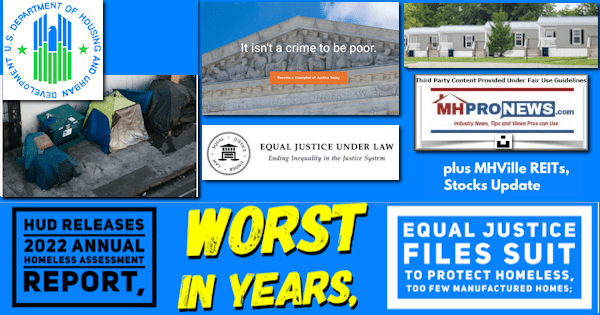 Recently, Oregon Public Broadcasting (OPB) reported that the main contributing factor to homelessness is the lack of affordable housing. The report linked below indicated in information from other places and sources that the claim holds true.
OPB Probes Homelessness Causes, Possible Fixes – 'Most Agree Blame Falls on Lack of Affordable Housing' Pallets-Manufactured Home Takeaways, AI Insights, Analysis; plus MHVille Markets Update
A lack of affordable housing is causing self-proclaimed democratic socialist attorney and author, Fran Quigley, to call for socialized housing. Quigley, who is quite aware of manufactured housing, has for whatever reasons not mentioned manufactured homes in his recent pitch, reported and unpacked in the report linked below.  Quigley claims the affordable housing crisis is a 'crisis with a clear solution' that he pitches on a routine basis.
'A Crisis with a Clear Solution,' Socialist-Minded Attorney Fran Quigley says 'When it Comes to Housing, We Know What Works' – Quigley Remarks w/Analysis; plus MHVille Stocks, Markets Update
Despite the 'happy talk' from the Manufactured Housing Institute (MHI) and its allies that touted how many times the words manufactured housing were used in the Biden White House Housing Plan, the actual outcome from Biden's housing plan has been a sharp decline in manufactured home sales and production. The data is difficult to dispute, as manufactured housing has been in a sharp year-over-year decline.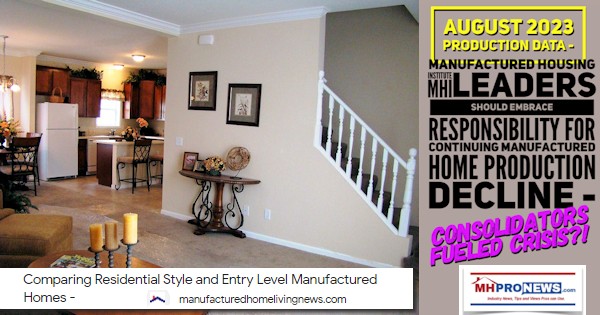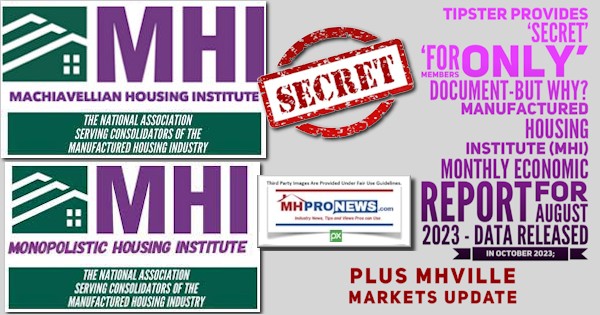 While the month-over-month production increased somewhat for August 2023, the most recent month that federal data is available for HUD Code manufactured homes, the sobering reality is that manufactured housing is still falling as measured by year-over-year production for the same time period in 2022 vs. 2023. The exclusive history of manufactured housing production from 1995 to year to date in August 2023 is found in the report linked below.
The Rise and Fall of HUD Code Manufactured Housing – a History of U.S. Manufactured Home Production by Year – 1995-2022 and 2023 Year to Date Data; plus MHVille Markets Update
It is data- and evidence driven reports like those linked herein that doubtlessly contributes to Manufactured Home Pro News (MHProNews) being the runaway leader among manufactured housing trade media.  As evidence for that, consider this Bing AI inquiry and result.
> "What is the largest and per known information most-read trade media serving manufactured housing industry professionals?"
> "You mentioned MHProNews and MHLivingNews in a prior response. Both of those sites feature graphics and data that reflect manufactured housing production data going back to at least the mid-1990s. Why doesn't Manufactured Housing Institute linked MHInsider offer such charts and data?"