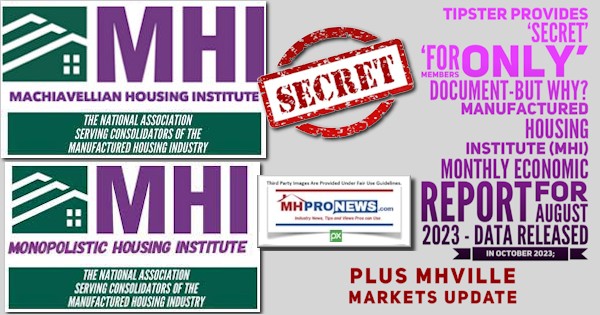 According to informed third-party sources, 'rank and file' manufactured home pros, managers, investors, and others are among the regular readers on MHProNews. Some entered manufactured housing with high hopes, only to see those hopes blunted. The 'view from the trenches' in MHVille is often different than manufactured housing 'leaders' project. It is difficult to imagine good reasons for the Manufactured Housing Institute (MHI) to feel the need to hide potentially useful research, as well as manufactured home production information, from the general public. As what follows from the National Association of Home Builders (NAHB), the National Association of Realtors (NAR), or the Manufactured Housing Association for Regulatory Reform (MHARR) illustrates, others housing trade groups publicly share their information. They want it widely known, not hidden behind a "members only" paywall. But in the case of MHI, as the screen capture below reflects, MHI hides the data that others provide to the general public freely. In Part II of this report, a source linked with the Manufactured Housing Institute (MHI) and the Manufactured Housing Executives Council (MHEC) – provided MHProNews that Arlington, VA based trade association's version of the monthly data that other housing trade groups freely provide to the public. Most, but not all, MHEC members make up what is known in manufactured housing industry (MHVille) circles as the Federated States. That 'secret' information from MHI in Part II from MHI is formatted differently than what MHARR produces. Some will like MHI's format, others will prefer MHARRs. But what MHI produces is quite similar to the format used by the U.S. Census Bureau, which also periodically shares their information to general public without charge. Meaning, there is something odd about the fact that MHI 'hides' or keeps 'secret' for 'members only' information the public can get anyway. But when someone goes to the MHI website and tries to access that information that is free with MHARR and the Census Bureau, MHI has it hidden behind a member only login. One question is – why?
Note: to expand this image to a larger or full size, see the instructions
below the graphic below or click the image and follow the prompts.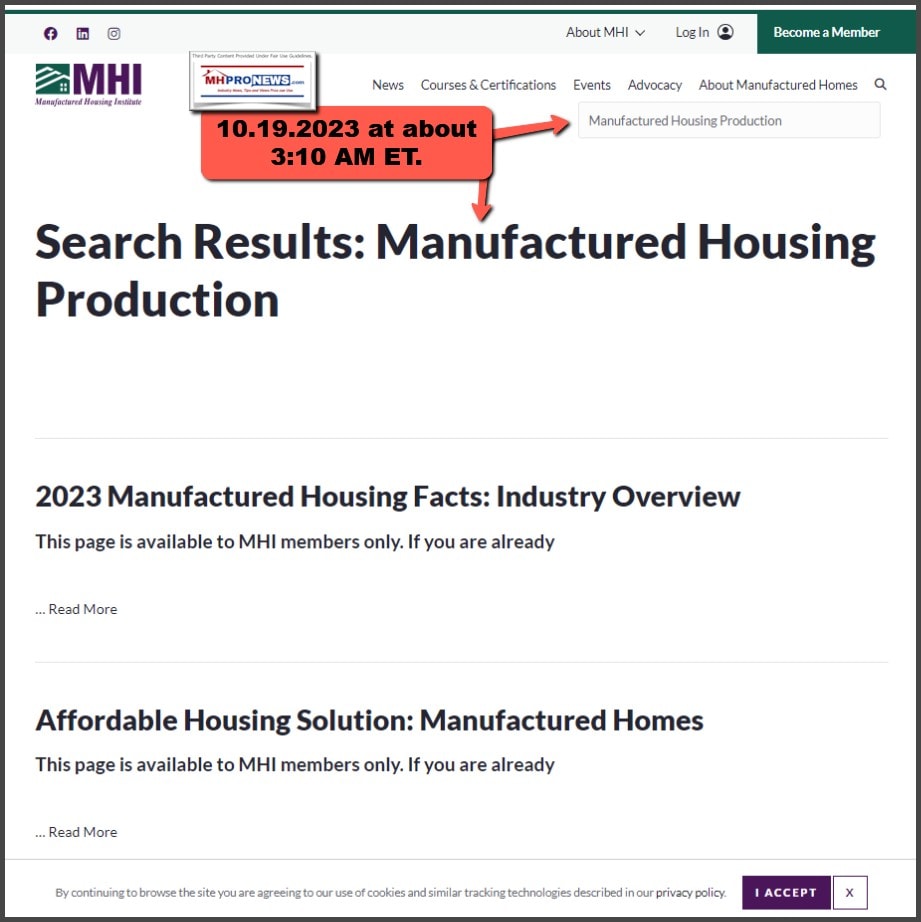 Manufactured Home Pro News (MHProNews) advised leaders and associated attorneys in writing about 2 days in advance that this report was planned. MHI was given an opportunity to respond to prior reports, and to weigh in on the plan for this report. They exercised instead their constitutional right to remain silent. Perhaps that is to keep from possible self-contradictory and/or incriminating remarks as legal issues in manufactured housing heats up? Whatever the motivation, they have once more declined comments, though it was not so many years ago that MHI was asking to weigh in on industry issues here on MHProNews. What's changed there?
Because MHI won't answer the question, MHProNews asked Bing's AI system to explain possible motivations for MHI's seemingly odd behavior. That will be Part I of this report.
Part II, as noted, is the "members only" production information from MHI as provided by a tipster.
Part III of this article is a recap of information from MHARR that covers the same timeframe and data that MHI has presented.
Part IV of this article is additional information with more MHProNews analysis and commentary.
On yet another day when manufactured housing connected equities broadly declined, Part V is our Daily Business News on MHProNews markets recap that includes the 'market moving' headlines from left-leaning CNN and right-leaning Newsmax.
Before jumping into the data that follows, it is helpful to know what the National Association of Home Builders (NAHB) via an X-post (formerly Twitter). Note, that NAHB does not HIDE data, as MHI has been doing for quite some time. Rather, NAHB publicizes their data.
Housing starts grew 7% in September to an annual rate of 1.36 million, 7.2% lower than the same time last year. Single-family home starts were up 3.2% to an annual rate of 963,000. https://t.co/NVQdAZOrfA #realestate #housing #economy pic.twitter.com/FyyBjRCmRr

— NAHB 🏠 (@NAHBhome) October 18, 2023
Not only does NAHB not hide their numbers, they arrange to report their data via news interviews such as the one in the example below.
NAHB CEO Jim Tobin, with a great appearance on Fox Business today, explained the complexities facing first-time home buyers and the dire warnings flashing in the #realestate market. https://t.co/3IglRKLq2x

— NAHB 🏠 (@NAHBhome) October 17, 2023

From the National Association of Realtors (NAR), are the following X-posts (previously known as "tweets). Note that NAR breaks down the information they provide in several ways that gives them an opportunity to communicate information to various market segments (first time buyers, investors, cash buyers, etc.).
Instant Reaction: Mortgage Rates, October 19, 2023. "Since the first week in September, home buyers have faced weekly increases in mortgage interest rates. Today's release at 7.63% shows they are close to the historical average since 1971 of 7.74%." https://t.co/4dil5OyfWl pic.twitter.com/JMarceanqj

— NAR Research (@NAR_Research) October 19, 2023
First-time buyers were responsible for 27% of sales in September; Individual investors purchased 18% of homes; All-cash sales accounted for 29% of transactions; Distressed sales represented 1% of sales; Properties typically remained on the market for 21 days. #NAREHS pic.twitter.com/8xRCNR2Vxo

— NAR Research (@NAR_Research) October 19, 2023
Note that NAR's Lawrence Yun is practically begging for more housing starts.  Again, the information is broken down in a manner that makes it easy for certain groups to relate to the information.
"For the third straight month, home prices are up from a year ago, confirming the pressing need for more housing supply," Yun said. #NAREHS

— NAR Research (@NAR_Research) October 19, 2023
Total housing inventory registered at the end of September was 1.13 million units, up 2.7% from August but down 8.1% from one year ago (1.23M). Unsold inventory sits at a 3.4-month supply at current sales pace, up from 3.3 months in August and 3.2 months in September '22. #NAREHS

— NAR Research (@NAR_Research) October 19, 2023
The median existing-home price for all housing types in September was $394,300, an increase of 2.8% from September 2022 ($383,500). All four U.S. regions posted price increases. #NAREHS pic.twitter.com/pokBEPoxaB

— NAR Research (@NAR_Research) October 19, 2023
"As has been the case throughout this year, limited inventory and low housing affordability continue to hamper home sales," said NAR's Lawrence Yun. "The Federal Reserve simply cannot keep raising interest rates in light of softening inflation and weakening job gains." #NAREHS

— NAR Research (@NAR_Research) October 19, 2023
Year-over-year, sales dropped 15.4% (down from 4.68 million in September 2022). #NAREHS pic.twitter.com/Km9yEQC0zd

— NAR Research (@NAR_Research) October 19, 2023
Total existing-home sales waned 2.0% from August to a seasonally adjusted annual rate of 3.96 million in September. #NAREHS pic.twitter.com/gfxOiWwrqK

— NAR Research (@NAR_Research) October 19, 2023
MHProNews provided some information on the above from NAR earlier this week as provided by the Wall Street Journal. That report unpacks what the data could mean for manufactured housing professionals, IF certain corrective steps were taken.
Wall Street Journal – Conventional Housing Sales May Hit 2008 Lows – Higher Costs, Interest Rates Open Door for Opportunities for Manufactured Housing; plus MHVille Stocks, Market Updates
Bing AI was asked about MHI's use of X or Twitter. Its initial remarks were incorrect. After a follow up by MHProNews that pointed out the specific errors, Bing AI said the following.

You are also right that @MHIUpdate has not posted any tweets since October 7, 2020. According to their Twitter profile, they are the official account of the MHI, but they have not been active for almost three years3. The latest tweet from @MHIUpdate was about their 2020 Annual Meeting, which was held virtually due to the COVID-19 pandemic4.
I'm sorry that I did not find the most recent and accurate information about the MHI and their tweets on manufactured home sales. It seems that their web search results are outdated or irrelevant. I will try to refine my response by using other sources of information.
According to their website, the MHI publishes monthly economic reports on their website that include data on manufactured home shipments, production, and sales5. However, the latest report available on their website is for June 2021, which was posted on August 6, 20216. The report showed that 10,579 new manufactured homes were shipped in June 2021, an increase of 13.5 percent compared to June 20206."
Part of that is classic. Per Bing: "It seems that their [i.e.: the Manufactured Housing Institute or MHI] web search results are outdated or irrelevant."
Part I
Because MHI won't answer such questions directly, MHProNews asked Bing AI Chat function the following question.
> "The National Association of Realtors (NAR), National Association of Home Builders (NAHB), and Manufactured Housing Association for Regulatory Reform (MHARR) each produce monthly information that is made public. So, does the Manufactured Housing Institute (MHI) provide the public with such housing data information? If not, why not?"
Bing's response is as follows.
Again, for first time readers and those who have not yet had the "aha" moment, Bing said (italics added by MHProNews): "MHI may use this data as a source for their own analysis and advocacy, but they do not share it publicly on their website."
In a follow up question, MHProNews asked Bing the inquiry shown below.
Bing's response was as follows.