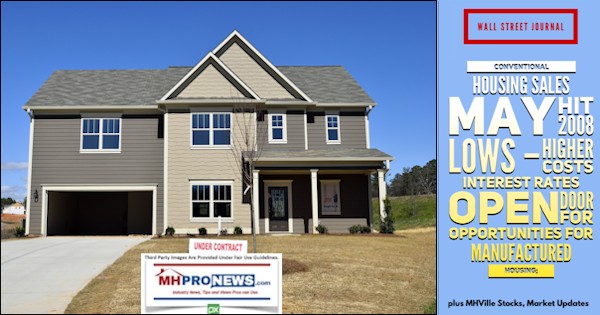 The following report on conventional housing sales sliding includes information from the Wall Street Journal (WSJ) that was made available by the WND News Center to MHProNews. Part II of this report will include manufactured housing related analysis and commentary in brief. Part III is our Daily Business News on MHProNews that features macro- and manufactured housing connected stocks updates, along with a time saving and insight generating left- (CNN) and right (Newsmax) leaning headline news recap.
Part I
Home sales plunge to 2008 levels as record mortgage rates take their toll
'Now sellers are offering a lot of incentives to get buyers to buy their house'
By WND News Services
Published October 16, 2023 at 11:07am
By Will Kessler
Daily Caller News Foundation
The U.S. real estate market is on track to sell the least number of homes since 2008, when Americans were engulfed in the subprime mortgage crisis and the Great Recession, according to the Wall Street Journal.
The number of total existing-home sales is projected to reach only 4.1 million by the end of 2023, the lowest since around 2008, when the world was embroiled in a global financial crisis, despite a higher U.S. population, according to the WSJ. Mortgage rates are currently at their highest point since the year 2000, with the 30-year fixed-rate mortgage averaging 7.57%, bringing purchasing demands for housing to a three-decade low, according to Freddie Mac.
"The market has definitely started slowing," Steven Fischer, a real estate agent in Savannah, Georgia, told the WSJ. "Everyone's doing open houses, everyone's doing price reductions, and now sellers are offering a lot of incentives to get buyers to buy their house."
In an indicator that home sales will stay low for the coming months, purchase mortgages dropped to their lowest point since 1995 in September, according to the WSJ. Housing sales also typically seasonally decline during the fall and winter, meaning that existing home sales for the full year could drop below levels seen in 1995.
The faltering home sales could mean more Americans will have to continue or start renting their living spaces, which could push up prices as supply tightens, leading to inflation, according to the WSJ. The economy may face further depressing effects, like a lack of new home construction and fewer home appliance purchases, that would dampen growth.
Housing affordability has also sunk over the past year, reaching its lowest level since 1985 this past summer, according to the WSJ. The high unaffordability is unlikely to end as prices continue to increase despite rising mortgage rates.
Mortgage rates are feeling the effects of the Federal Reserve's federal funds rate hikes, which have brought the rate to a range of 5.25% and 5.50% after a series of increases that started in March 2022. The Fed has raised rates in an attempt to squash persistently high inflation, which has remained far above the target rate of 2%, measuring at 3.7% in September.
This story originally was published by the Daily Caller News Foundation. ##
Part II – Additional Information with More MHProNews Analysis and Commentary 
The math is simple, actually. When millions of Americans can't qualify for a conventional house because of higher costs and higher interest rates, that ought to be an opportunity for the lower cost and inherently affordable manufactured home industry.
To illustrate the point, MHProNews asked Bing's AI function the following question.
> "What percentage of U.S. renters can no longer qualify to buy the average cost of a house?"
Nevertheless, for whatever combination of reasons, the manufactured housing industry has failed to tap into that tremendous potential for industry growth. Some facts will illustrate that point.
On September 5, 2023 The Manufactured Housing Association for Regulatory Reform (MHARR) said that "HUD Code manufacturers produced 6,134 new homes in July 2023, a 23.8% decline from the 8,050 new HUD Code homes produced in July 2022."
On October 5, 2023 MHARR said: "Just-released statistics indicate that HUD Code manufacturers produced 8,670 new homes in August 2023, a 19.1% decrease from the 10,722 new HUD Code homes produced in August 2022. Cumulative production for 2023 is now 58,692 homes, a 27% decrease from the 80,431 homes produced over the same period during 2022."
So, while year over year production is down, month-over-month, HUD Code manufacturers produced an increasing number of homes. 6,134 new homes were produced in July vs. 8,670 new homes in August 2023.
In a report MHProNews plans to examine later this week, the Texas Real Estate Research Center (TRERC) said that "…the hard data through August has retailers' placement of homes outpacing shipments received for every month thus far in 2023," according to Rob Ripperda, vice president of operations for the Texas Manufactured Housing Association. The report also said that has been "leading to higher backlogs."
Legacy Housing's (LEGH) Curt Hodgson previously observed that too many in manufactured housing don't think or plan very far out. Here is how Hodgson stated that point.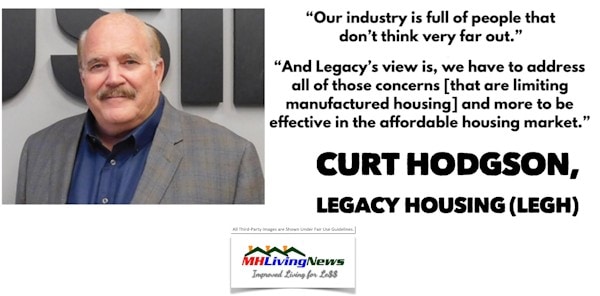 MHProNews recently reported insights into that prior backlog issue.  Recall that some in MHVille claimed that the backlogs in 2022 may have included some fluff and were, in some cases, potentially avoidable. It's a thorny topic that merits a careful look, in case something similar is brewing once again. See the report linked below for more details.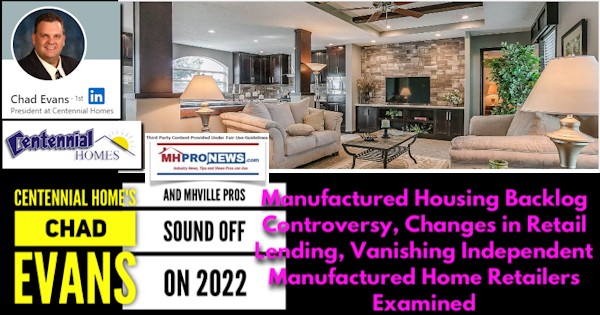 If manufactured housing returned to the production levels of 1995, as the Wall Street Journal reflected on sales levels for conventional housing that year, a similar move by manufactured housing would mean sharp growth. Why? Because manufactured housing was far outproducing the industry in the 1990s vs. what has been occurring in the 2020s. But note in chart below that manufactured home shipments as a percentage of conventional housing single family housing starts line was over 20 percent of new housing starts in 1995. That's about double or more the percentage today of manufactured housing shipments compared to single family housing starts. Restated, in several respects, the manufactured housing industry is demonstrably underperforming by historic measures.
Note: to expand this image to a larger or full size, see the instructions
below the graphic below or click the image and follow the prompts.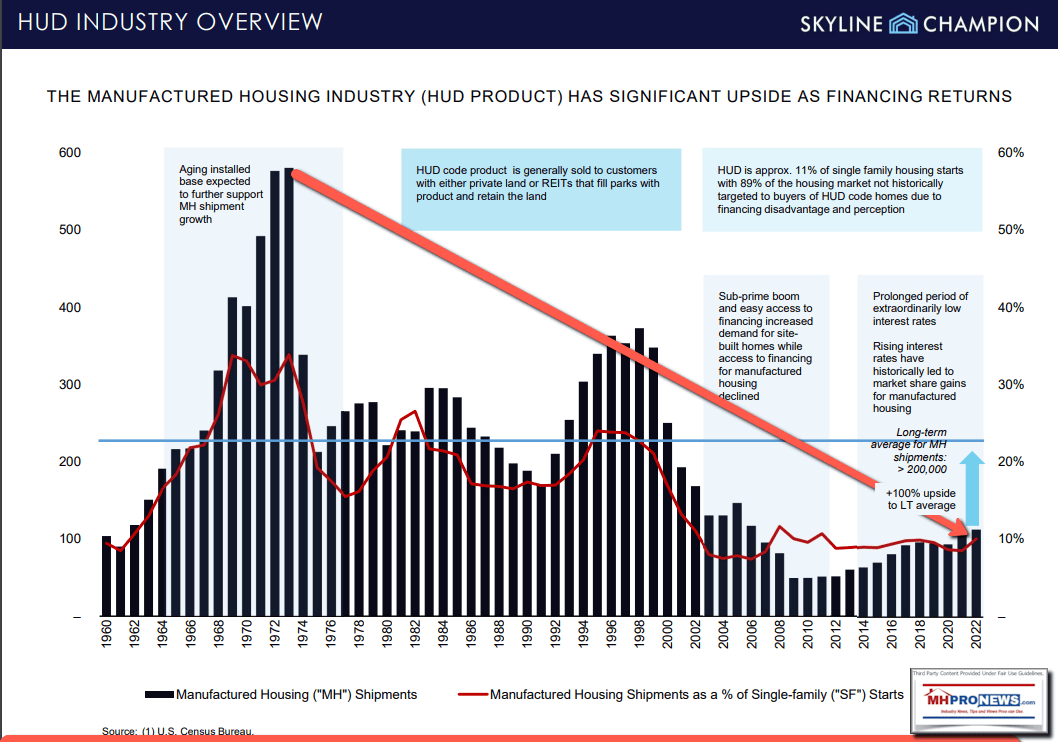 The next graphic reflects that manufactured housing was well more than triple the production in 1995 that it appears to be year to date in 2023.  At the current pace (through August 2023, the chart below was through July 2023), manufactured housing is on pace to produce some 88,038 (an average of 7,336.5 homes through August, times 12). In 1995, manufactured housing produced some 344,930 total HUD Code manufactured homes.  Divide 344,930 by 88,038 (current annualized pace through August 2023) yields 3.91 more production then than now.
Note: to expand this image to a larger or full size, see the instructions
below the graphic below or click the image and follow the prompts.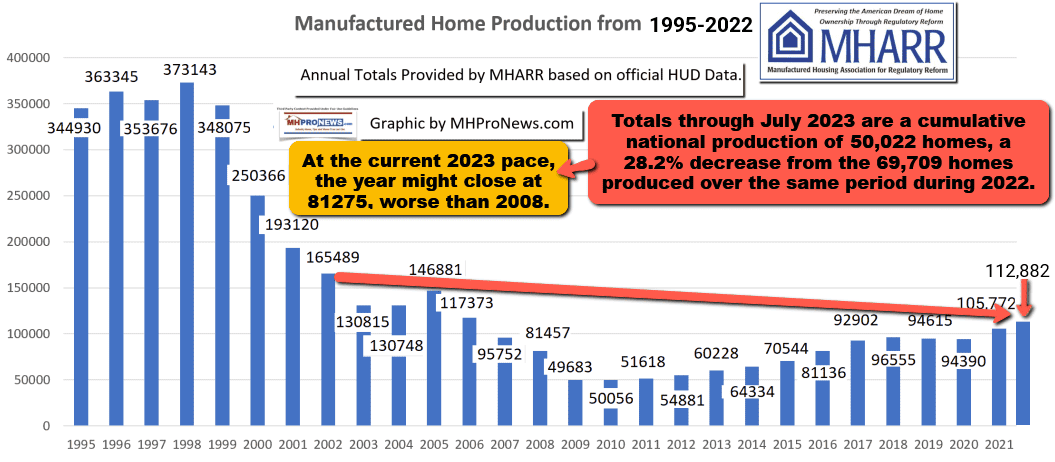 For greater context to the WSJ remarks, see the data in the report linked below.
As Housing Costs Rise News Sites Ask 'Did Bidenomics Kill American Dream?' With Latest 50 State-MH Data and Will Manufactured Housing Institute (MHI) Tackle This? Plus MHVille Market Updates
For more recent market insights and potentially relevant controversies, see the linked and related reports.
'Revolutionize Housing Industry' – Factory-Builder Admares $750 Million Investment in U.S. for Plant w/Automation, More on S2A, Tiny Homes, 3D Printed Housing; plus Sunday Weekly Headlines Review
OPB Probes Homelessness Causes, Possible Fixes – 'Most Agree Blame Falls on Lack of Affordable Housing' Pallets-Manufactured Home Takeaways, AI Insights, Analysis; plus MHVille Markets Update
'Conflict!' MHI CEO Lesli Gooch Purportedly Paid Some $400K in Scheme Involving Indicted Man, 4 Congressional Reps per Bing Research -Exposé Links Evidence Contributing to Manufacturing Housing Underperformance
Expanding Housing Choice Through Investments in Innovation and Technology–Regina Gray, HUD Director, Affordable Housing Research and Technology Division–on Manufactured Housing; plus MHMarkets
Manufactured Housing Institute CEO Lesli Gooch-OpenSecrets-CPI-LegiStorm Reveal Apparent Conflicts of Interest with Site-Built Housing-Call for Gooch Resignation-Termination@MHI; plus MHMarkets
Evoking Testimony-F.R. "Jayar" Daily – American HomeStar Corp-Manufactured Housing Institute Board of Directors to Congress – 'Boilerplate' Pros Should Know; plus MHVille Market Updates
Part III – is our Daily Business News on MHProNews stock market recap which features our business-daily at-a-glance update of over 2 dozen manufactured housing industry stocks.
This segment of the Daily Business News on MHProNews is the recap of yesterday evening's market report, so that investors can see at glance the type of topics may have influenced other investors. Thus, our format includes our signature left (CNN Business) and right (Newsmax) 'market moving' headlines.
The macro market move graphics below provide context and comparisons for those invested in or tracking manufactured housing connected equities. Meaning, you can see 'at a glance' how manufactured housing connected firms do compared to other segments of the broader equities market.
In minutes a day readers can get a good sense of significant or major events while keeping up with the trends that are impacting manufactured housing connected investing.
Reminder: several of the graphics on MHProNews can be opened into a larger size. For instance: click the image and follow the prompts in your browser or device to OPEN In a New Window. Then, in several browsers/devices you can click the image and increase the size. Use the 'x out' (close window) escape or back key to return.
Headlines from left-of-center CNN Business – from the evening of 10.16.2023
Oil prices fluctuate as concerns mount over Middle East tensions
Pedestrians walk by a Walgreens store that was set to close in October of 2021 in San Francisco, California. Walgreens had already shuttered numerous stores in the city since 2019.
CVS, Walgreens and Rite Aid are closing thousands of stores. Here's why
In this photo illustration an Adobe logo seen displayed on a smartphone screen with a computer keyword in the background in Athens, Greece on November 18, 2021.
Adobe previews new AI editing tools
Ford Motor Company Executive Chairman Bill Ford delivers remarks on the future of American manufacturing, Monday, Oct. 16, 2023, in Dearborn, Mich.
Bill Ford calls on striking union to 'stop this now'
In this May 20, 2020 photo, Former U.S. Ambassador Jon Huntsman Jr. looks on during a debate in Salt Lake City.
UPenn in crisis over antisemitism allegations: Jon Huntsman is the latest donor to stop giving, and a board member resigns
Ford Motor Company's electric F-150 Lightning on the production line at their Rouge Electric Vehicle Center in Dearborn, Michigan on September 8, 2022.
Ford lays off 700 who were building electric version of F-150
Lina Khan, Chair of the Federal Trade Commission, prepares for a Senate Judiciary Subcommittee hearing on antitrust laws and enforcement, at the U.S. Capitol, in Washington, D.C., on Tuesday, September 20, 2022.
Lina Khan's rise was heralded as an antitrust revolution. Now she has to pull it off
A Messenger mobile app displayed on a smartphone screen alongside that of Facebook, Instagram, X, WhatsApp, YouTube, TikTok, Threads, on August 15, 2023.
The Israel-Hamas war reveals how social media sells you the illusion of reality
Australia fines X, accusing it of 'empty talk' on fighting child sexual abuse online
In this photo illustration, a Social Security card sits alongside checks from the U.S. Treasury on October 14, 2021 in Washington, DC.
Social Security gains came back to earth. What that means for the economy
TikTok steps up efforts to counter misinformation about Israel-Hamas war
Rite Aid files for bankruptcy
China's movie theaters thrive as economic gloom descends. Hollywood is missing out
Autoworkers in Canada OK deal with GM
Taylor Swift's 'Eras' sets box office record for concert movie
For Palestinian Americans and activists, doxxing is nothing new
Secret audio, a star witness, and 'Thai prostitutes' complicate Sam Bankman-Fried's defense
Israel-Hamas war risks further deglobalization and inflation
Kaiser Permanente labor deal shows why short, disruptive strikes are becoming more common
Reuters journalist Issam Abdallah killed in southern Lebanon, 6 others wounded
Best Buy will soon stop selling DVDs
The future of the auto industry will have an outsized impact on Black America
Why is movie candy sold in boxes?