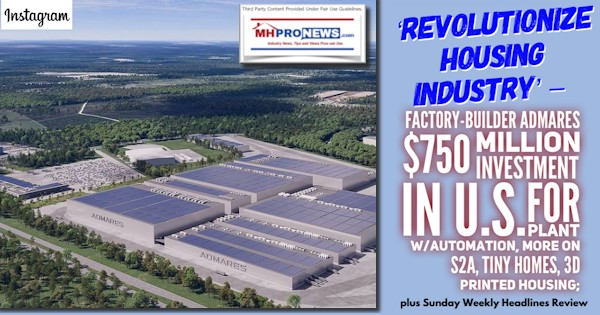 Forest Economic Advisors (FEA) said "Finland's ADMARES Group Ltd. plans to build six smart factories around the world, including one in Waycross, Georgia." "In 2021, ADMARES claims to have erected a building in Brooklyn within two days." "In addition to single-family homes, the company also builds apartment buildings and terraced homes." "The company's goal is to revolutionize the housing industry by building houses on a robotic assembly line instead of a construction site." Georgia Law News stated that: "The company [Admares] said its Waycross factory will be 232,000 square feet and production is scheduled to begin in late 2025. The company plans to build six such factories worldwide, each of which will produce 5,000 to 6,000 houses per year." "The company plans to mass-produce housing in highly automated factories."
The company has been featured by the Wall Street Journal, The New York Times, Business Insider, The Seattle Times, and others in specialized as well as mainstream media.
Georgia Law News said these factory-built "…homes would only require a foundation and utility connections at the site where they are built, Admares said, and could be built with 80% less material waste and 75% less carbon emissions than homes built the traditional way.
"With our advanced technology, we are adopting successful practices common in other advanced industries," said founder and CEO Mikael Hedberg in a statement.
The company said it chose Waycross because of its easy rail and highway access and proximity to a port in Brunswick."
Officials in Georgia indicated the following.
"Housing workers is a growing national challenge and Georgia is no exception. The new Admares facility helps meet that challenge and fill a niche that is critical to economic development," [Pat] Wilson said in a statement.
Admares could be eligible for $28 million in state income tax credits, at $4,000 per job over five years, provided workers make at least $31,300 per year. The state will also fund workers' training. The company could qualify for other incentives, including Waycross or Ware County property tax breaks.
A Bing AI search did not turn up information on the cost per square foot estimated for this kind of apparently modular housing. But the following information was gleaned from the Admares website, which proclaims: "Industrialized Mass Production of Housing."
"ADMARES is the global leader in the digital transformation of the construction industry. We are industrializing, digitalizing and productizing the manufacturing of buildings. Our technology allows whole buildings to be mass-produced at a factory by assembly line workers without any need for traditional construction labor."
Also from their website is the following.
A Smart Factory Mass producing Smart Buildings
Since 2015, we have developed our Smart Building technology enabling entire buildings to be manufactured at our factory. In 2018, we began cooperating with Porsche Consulting and MHP to develop our first automated and robotized factory which will have the capacity to mass produce buildings of the highest quality for the residential, hospitality and healthcare segments."
MHProNews recalls the world-wide hype that preceded what became the apparent global crash and burn of Revolution PreCrafted factory-built housing.
"Scamdemic"-DSA Reports Millions in Revolution Precrafted Properties-"Unicorn" Modulars-CNBC, Other Media, Investors, Buyers Scammed by Robbie Antonio? Plus, Sunday Weekly Headlines Review
As a follow up to scandals involving the above, Bing AI said the following.

According to the web search results, Antonio Robbie and Revolution PreCrafted factory built housing have faced some legal and financial troubles in the past few years. Here are some of the main events that I found:
Several of those linked reports on Bing AI's results were on MHProNews, which tracks the good, bad, and ugly on a range of issues involving the factory-built housing industry.
So, given that history of Revolution PreCrafted and Antonio Robbie in mind, in an inquiry by MHProNews to Bing AI, we asked Bing AI the following.
> "Has there been any controversies about Finland based Admares factory-built homes?"

"I searched the web for any controversies about Finland based Admares factory built homes, but I could not find any evidence of scandals or disputes involving this company."
> "What other international housing factory-built housing companies have announced or planned investments in the United States?"

Besides Admares, which plans to build a modular housing factory in Georgia1, there are some other international companies that have announced or planned investments in the U.S. market for factory-built housing. Here are some examples:
Amherst Holdings, a U.S.-based real estate investment firm that owns more than 39,500 rental homes across the country, has launched a division called Studio Built that will focus on manufacturing components of homes in factories and then assembling them at their permanent locations, a process known as modular construction2. The company aims to produce 1,000 single-family rental homes per year in Florida and Texas, starting in 20222.
Katerra, a U.S.-based construction technology company that has received funding from SoftBank, a Japanese conglomerate, has been building modular and prefabricated housing projects in various states, including California, Nevada, Washington, and Arizona. The company claims to offer end-to-end services, from design and engineering to manufacturing and installation, using its own software platform and factories.
Boxabl, a U.S.-based startup that has partnered with GigaCrete, a Greek company that produces fire-resistant building materials, has developed a foldable modular housing system that can be shipped in standard-sized containers and installed in less than an hour. The company offers a single model called the Casita, which is a 375-square-foot studio unit that costs $50,000. The company has received more than 40,000 preorders and plans to expand its production capacity in Nevada.  …"
Bing continued, but those firms are U.S. based. So in a follow up, MHProNews asked this.
"Those companies appear to be U.S. based. Are there countries from outside the U.S. that have plans for production in the U.S.A.?"
Bing replied in part with these items.

"China: Broad Group, a Chinese company that produces prefabricated steel structures and modular buildings, has announced its intention to build a $410 million factory in Knox County, Tennessee, creating 330 jobs3

. 

The company said its factory will produce its patented Broad Sustainable Building (BSB) technology, which can be used to construct high-rise buildings in a fraction of the time and cost of conventional methods3

. 

The company also said it will establish its North American headquarters in Knoxville, Tennessee3

.

Canada: Bonneville Homes, a Canadian company that designs and manufactures prefabricated homes, has partnered with Clayton Homes, a U.S.-based company that is one of the largest builders of manufactured housing and modular homes in North America, to expand its presence in the U.S. market. The partnership will allow Bonneville Homes to offer its products to Clayton Homes' network of more than 1,600 retailers across the U.S… Bonneville Homes said it will continue to operate its own factories in Quebec and Ontario, Canada."
Given that the Broad Group is planning a production center in Knoxville, TN – near where Clayton Homes is located, MHProNews did a follow up inquiry. Bing's AI replied to that in part by saying the following.

I searched the web for any known ties between the China-based Broad Group and Berkshire Hathaway or Clayton Homes, but I could not find any direct or indirect connections between them. It seems that Broad Group is an independent company that has its own vision and strategy for the U.S. market. …"
Time may tell on the last topic.  But what is apparent from the above, is that foreign and domestic capital is being invested in the U.S. to construct factory-built housing.
Don't miss today's postscript.
With no further adieu, here are the headlines for the week that was from 10.8 to 10.15.2023.
What's New on MHLivingNews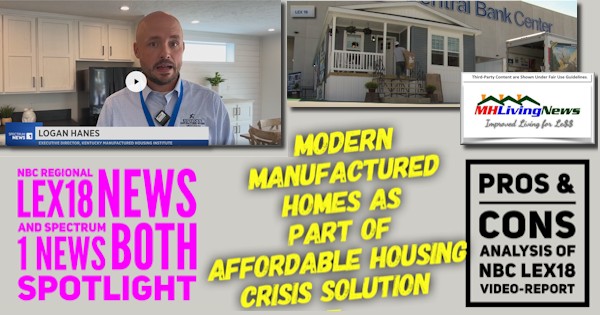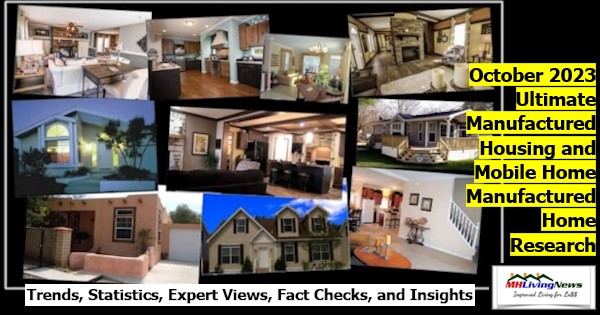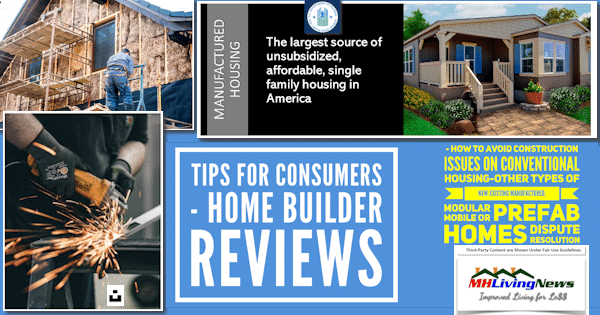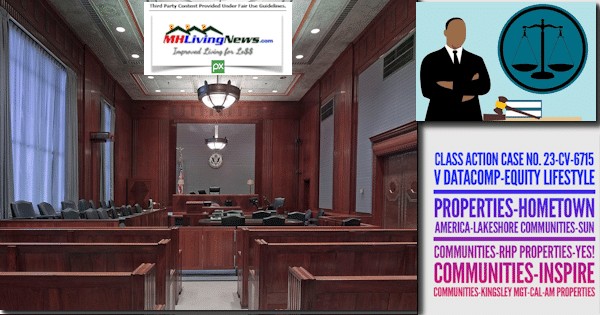 What's New and Recent from Washington, D.C. from MHARR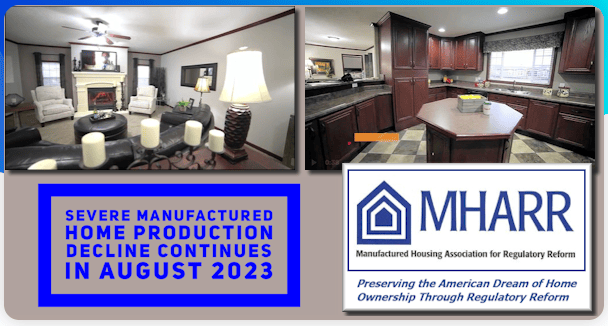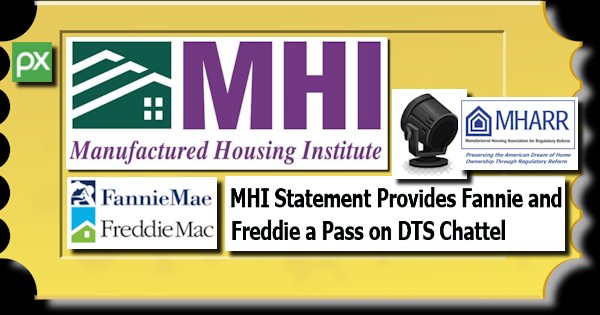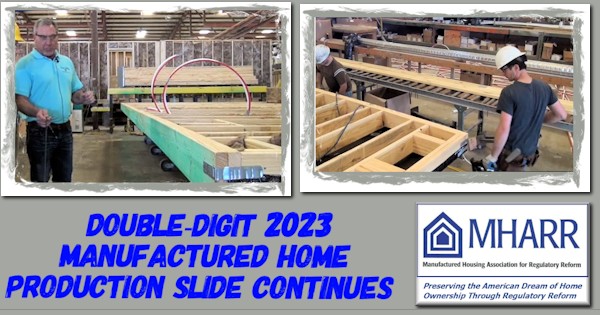 What's New on the Masthead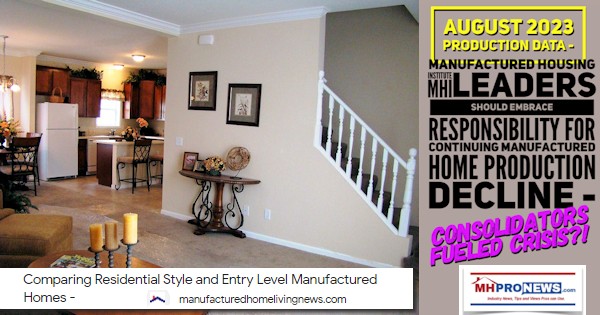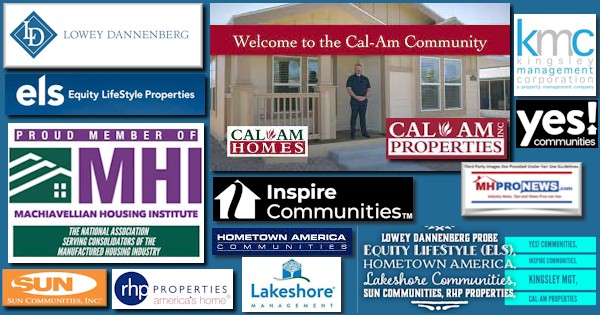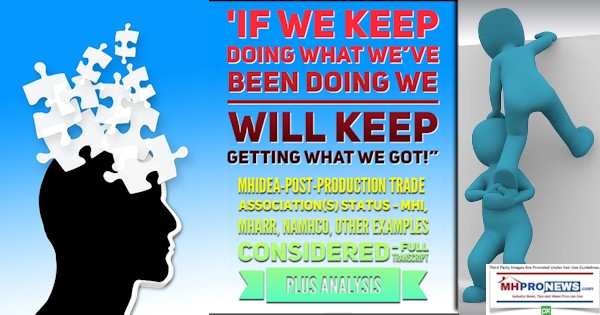 What's New on the Daily Business News on MHProNews
Saturday 10.14.2023
"Shocking" Acclaimed-Award Winning 'Drugs as Weapons Against Us: the CIA War on Musicians and Activists' – Better Understanding USA Today via Insights and Analysis; plus MHVille Market Updates
Friday 10.13.2023
'A Crisis with a Clear Solution,' Socialist-Minded Attorney Fran Quigley says 'When it Comes to Housing, We Know What Works' – Quigley Remarks w/Analysis; plus MHVille Stocks, Markets Update
Thursday 10.12.2023
Class Action Case #1:23-cv-14565 Sailer et al v. Datacomp, Equity LifeStyle, Sun, RHP, Yes! Communities et al, MSJ Files 3rd Manufactured Home Communities Case, Others Set for Trial; plus MHMarkets
Wednesday 10.11.2023
OPB Probes Homelessness Causes, Possible Fixes – 'Most Agree Blame Falls on Lack of Affordable Housing' Pallets-Manufactured Home Takeaways, AI Insights, Analysis; plus MHVille Markets Update
Tuesday 10.10.2023
'Sometimes Respecting and Loving Someone Requires Being Impolite. It Requires Hard Conversation Telling Hard Truths, Engaging in Civil Debate' Alexandra Hudson; plus MHVille Markets Update
Monday 10.9.2023
'Conflict!' MHI CEO Lesli Gooch Purportedly Paid Some $400K in Scheme Involving Indicted Man, 4 Congressional Reps per Bing Research -Exposé Links Evidence Contributing to Manufacturing Housing Underperformance
Sunday 10.8.2023
Litigation, Liability, Jobs, Trends, and Expected: NAHB, NAR, MHARR, MHI – 'Homebuilder Sentiment Declining Rapidly After 1H23 Bounce' 'Historically Low Inventory;' plus Sunday Weekly Headlines Review
Postscript
In exploring Admares and other factory-built housing providers that have announced or started big plans for the U.S., some longer-term and detail-minded readers of MHProNews may recall S2A and its bold claims.
"First Electrically Self-Sustaining" "There's No Utility Bill" S2A "Stunning" "MegaFactory" Plans Dozens of Factory-Built Housing Building Centers – Facts, Video, Report, Analysis
With that in mind, MHProNews asked Bing's AI the following.
> "What happened to the plans of S2A factory home builders?"

According to the web search results, S2A factory home builders have faced some delays and challenges in their plans to build electrically self-sustaining, custom luxury, modular homes across the U.S. Here are some of the main events that I found:
These are some of the recent developments that I could find about S2A factory home builders. …"
So, while delays and hurdles have been encountered, there are apparent advances being reported on s2A.
Another topic that MHProNews has periodically published on for some years is the emergence of 3D printed housing.
>" It seems that 3D printed housing to have had a slower start in the U.S. than some expected. What are the latest examples of 3D printing of housing in the U.S.A.?"

3D printing of housing is a technology that uses large machines to deposit layers of concrete, plastic, or other materials to create the walls and structures of homes. This method can offer advantages such as faster construction, lower cost, less waste, and more customization. However, it also faces some challenges such as regulatory approval, transportation logistics, design limitations, and public perception.
According to the web search results, there are some recent examples of 3D printing of housing in the U.S.A. that show the potential and progress of this technology. Here are some of them:
These are some of the latest examples of 3D printing of housing in the U.S.A. that I could find from the web search results. …"
Bing AI said about the total number of modular housing units built in the U.S. annually that: "I searched the web for how many modular homes are built in the U.S. annually, but I could not find any official or reliable statistics on this topic."
One more related question for Bing AI with respect to this report's main topics.
> "Tiny houses have had a lot of attention in recent years. Do you have any estimates on how many tiny houses are built in the U.S. annually?"

…I searched the web for how many tiny houses are built in the U.S. annually, but I could not find any official or reliable statistics on this topic. However, I found some estimates and trends from different sources that may give you some idea of the tiny house market and industry growth. Here are some of them:
Did I say 'one more?' Well, this is different but related and was posed to Bing AI:
> "There is an affordable housing crisis. How many total affordable housing units are needed in the U.S. in 2023?"

…I searched the web for how many total affordable housing units are needed in the U.S. in 2023, but I could not find any official or reliable statistics on this topic. …"
The full reply by Bing's AI droned on, but if it seems somewhat surprising that there is no "official and reliable statistics on this topic" consider this from a similar Google search.
The Zillow media room said in June 2023 that: "Affordability crisis: United States needs 4.3 million more homes."
The National Low Income Housing Coalition (NLIHC) said: "The U.S. has a shortage of 7.3 million rental homes affordable and available to renters" with low to modest incomes.
The Real Deal said: "number of new units needed to be built is difficult to pin down…" as some of the answers.
A 2023 report by CNN Business found via Freespoke.com search indicates that the number of housing units needed is about 6.5 million.
MHProNews has noted that disconnect in the total estimated number of housing units needed in the U.S. in several prior reports. So, Bing's AI reply only confirms what MHProNews has previously suggested and indicated, based on several sources. Given the billions that flow to federal officials alone, one might think that there is a better grasp on how many housing units are needed in the U.S.? But apparently, not so.
That noted, Cavco's estimate of some 6 million housing units are needed is a reasonable one, perhaps even low, based on estimates like those noted above and below.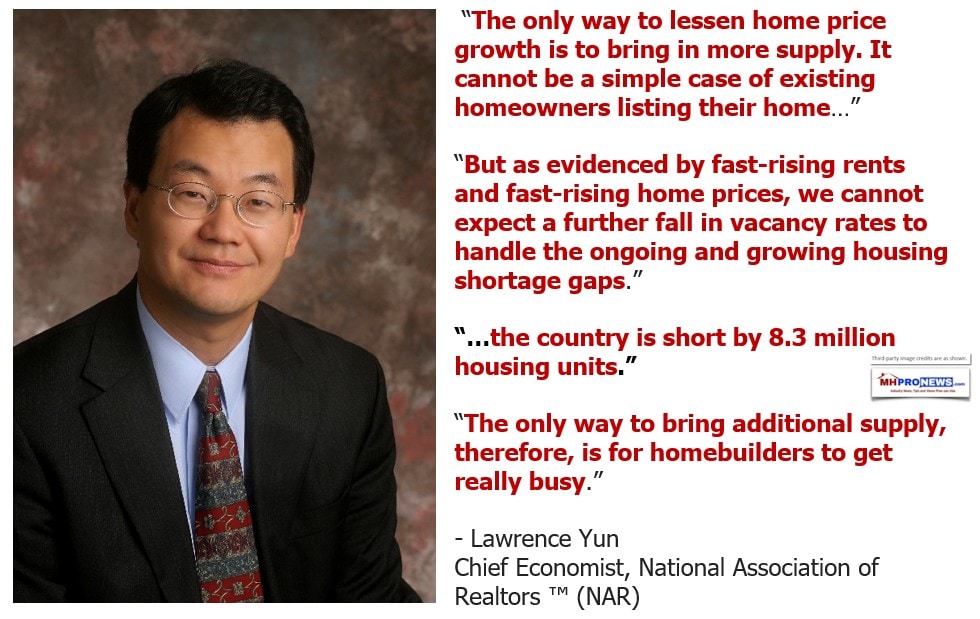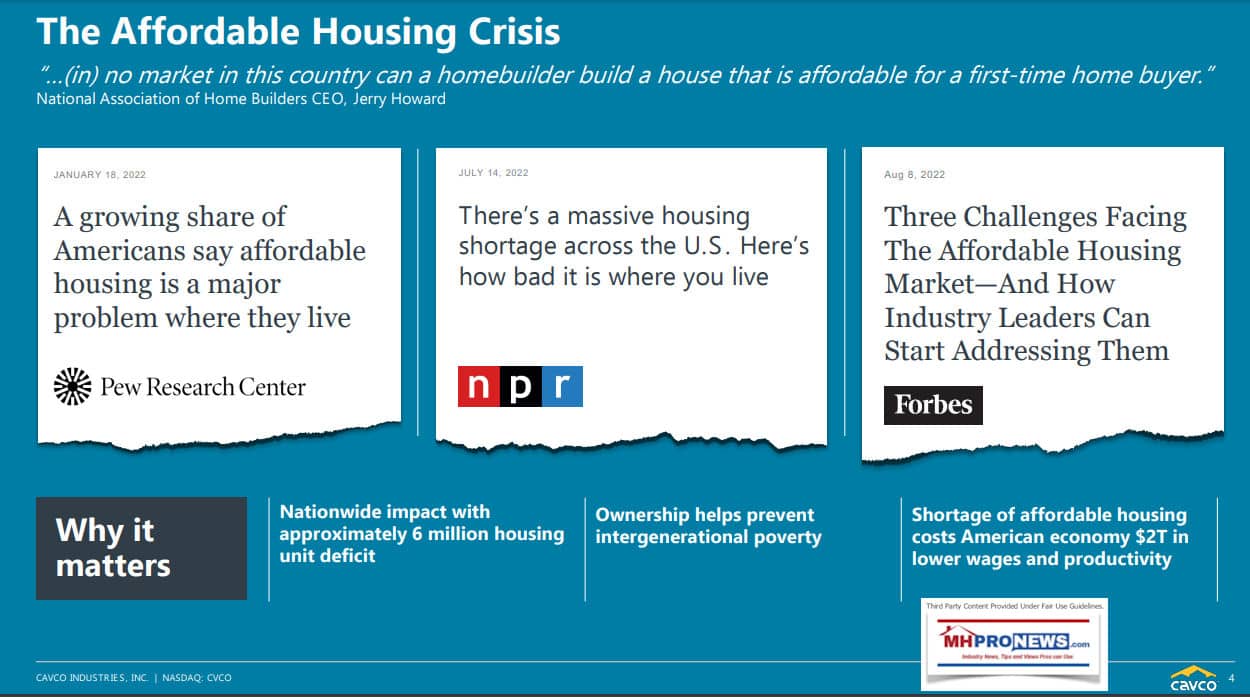 But one obvious point is that millions of housing units are needed. Manufactured housing industry leaders in the late 20th century saw the growing needs for affordable housing. Following MHARR's lead, MHI and the Texas Manufactured Housing Association's (TMHA) Will Earle came together to help enact the Manufactured Housing Improvement Act of 2000 (MHIA). Those three – with support from others in MHVille – specifically made so called "enhanced preemption" a provision of federal law. But once the law was passed, federal preemption has only been occasional invoked by HUD.
This writer for MHProNews was invited to participate in a session last week with a Washington, D.C. lobbyist. That lobbyist was asked:  what can do you do when you have a federal law that has been enacted but is not being properly and routinely enforced? His answer was that while there are various strategies that may prove useful, often the most important and effective option is to turn to the courts and ask that existing law be properly and consistently enforced.  That response confirms years of MHProNews reporting, commentaries, and analysis on the subject.
While every report for the week is deemed useful, informative and important – or we wouldn't publish it – perhaps one of the most important ones for the week is the one featuring Logan Hanes. Hanes is the executive director of the Kentucky Manufactured Housing Institute (KMHI).
Hanes did something that is arguably a step above what MHI did when they presented to local officials on manufactured housing some years ago.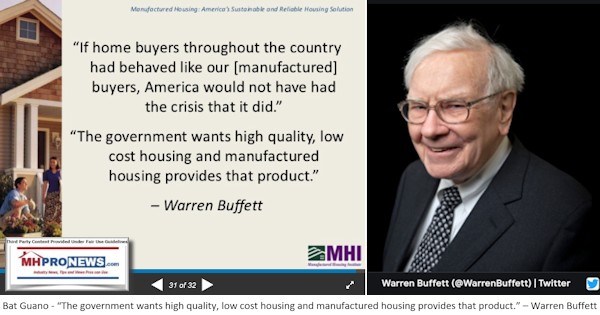 But based upon our research (shown in the MHLivingNews article with video linked here and above), Hanes appears to have made a similar error as MHI did (see the report linked above). MHProNews plans to give Hanes an opportunity to weigh in and will plan a follow up report in the days ahead. Stay tuned for that article.  That MHLivingNews article covers some familiar ground to regular and detail minded readers, but also breaks new ground in identifying how the manufactured home industry can and should respond to the affordable housing crisis in a manner that opens up literally hundreds of thousands of new opportunities annually. Indeed, an evidence-based case can be made that based on the known facts, if manufactured housing produced a million units a year for the next 8 years, there would still be a need for more affordable housing in the U.S.
Imagine. One million new HUD Code homes a year, if only existing federal laws were properly enforced.  That would mean that Richard "Dick" Jennison's point that the industry could achieve 500,000 new homes annually could be a low estimate.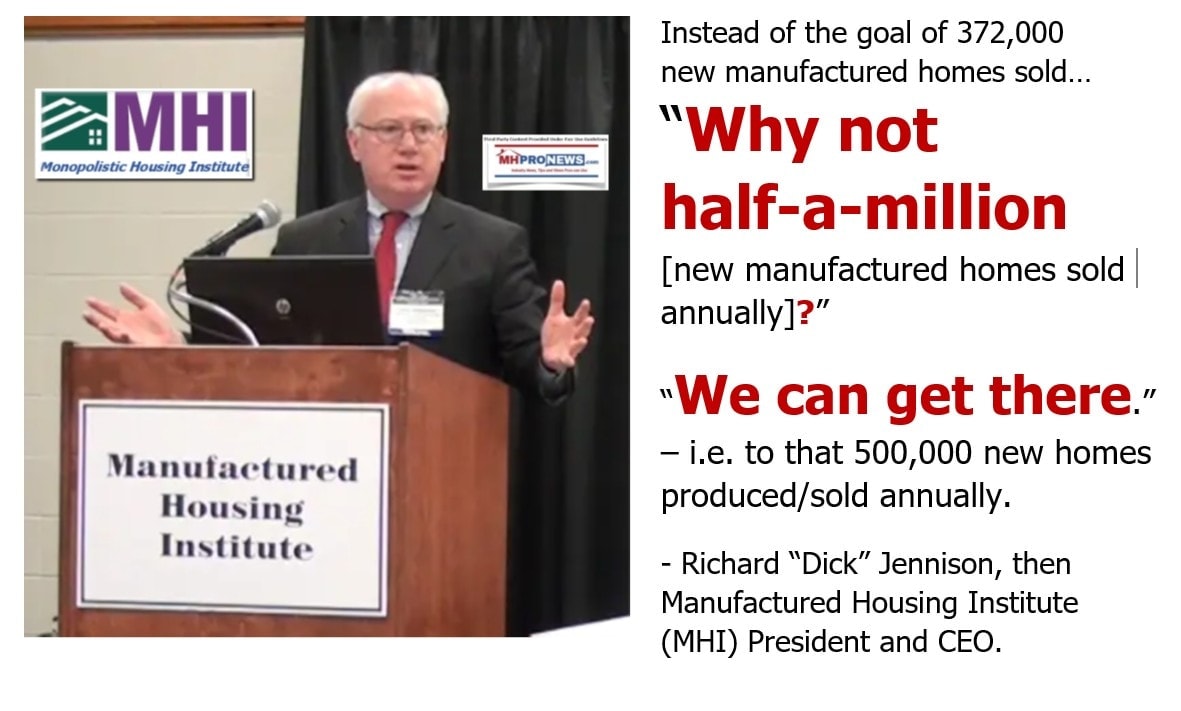 That would also mean that Cavco's points noted and linked above about millions of new affordable housing units being needed in the U.S. could be achieved by HUD Code builders. But that being true, then doesn't it imply that Cavco and other MHI members that are publicly traded may be shortchanging their investors by not pursuing legal and other avenues to get existing federal laws enforced.
Before wrapping up this installment of our Sunday weekly headlines in review, let's tease tomorrow's planned report on a different MHI member in the land lease communities sector. It will cover new ground that includes insights from financial and other news sites that have apparently not been addressed by any other manufactured housing trade media. Watch for it.
As MHProNews says goodbye to year 14 of publication and starts our 15th year of serving manufactured housing professionals, investors, researchers, public officials, attorneys, and others with "Industry News, Tips, and Views Pros Can Use" ©, we want to thank all of those who have made this platform and our MHLivingNews sister site possible. Sponsors, past and present, tipsters and information sources routinely used in our reports, our loyal audience and subscribers to our popular x2 weekly emailed news update, and of course God Almighty, who gave each of us life, free will, and this opportunity to come together to explore practical insights in the world of modern manufactured housing that are often found nowhere else in MHVille. Our thanks to one and all.
Now, onto year 15 of publishing MHProNews and beyond! When enough people of good will act as needed, our industry can achieve production levels that surpass the heydays of yore. Let it be so, tallyho! ###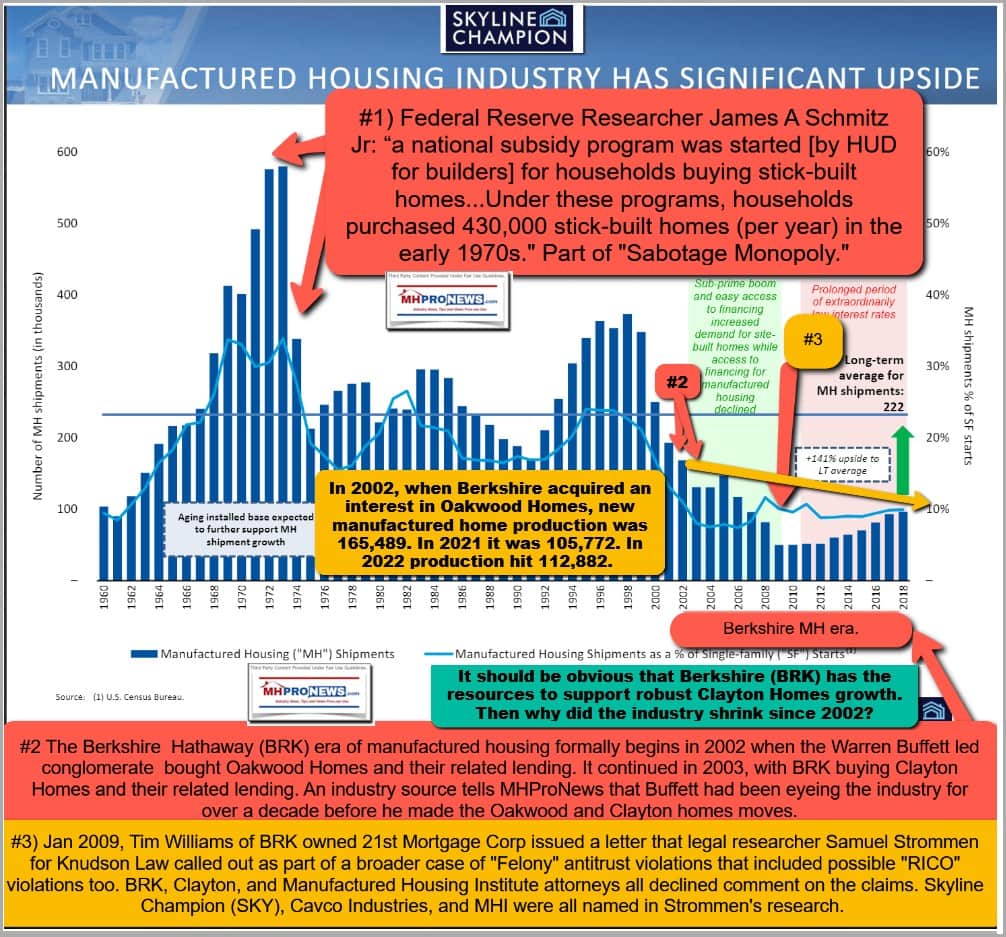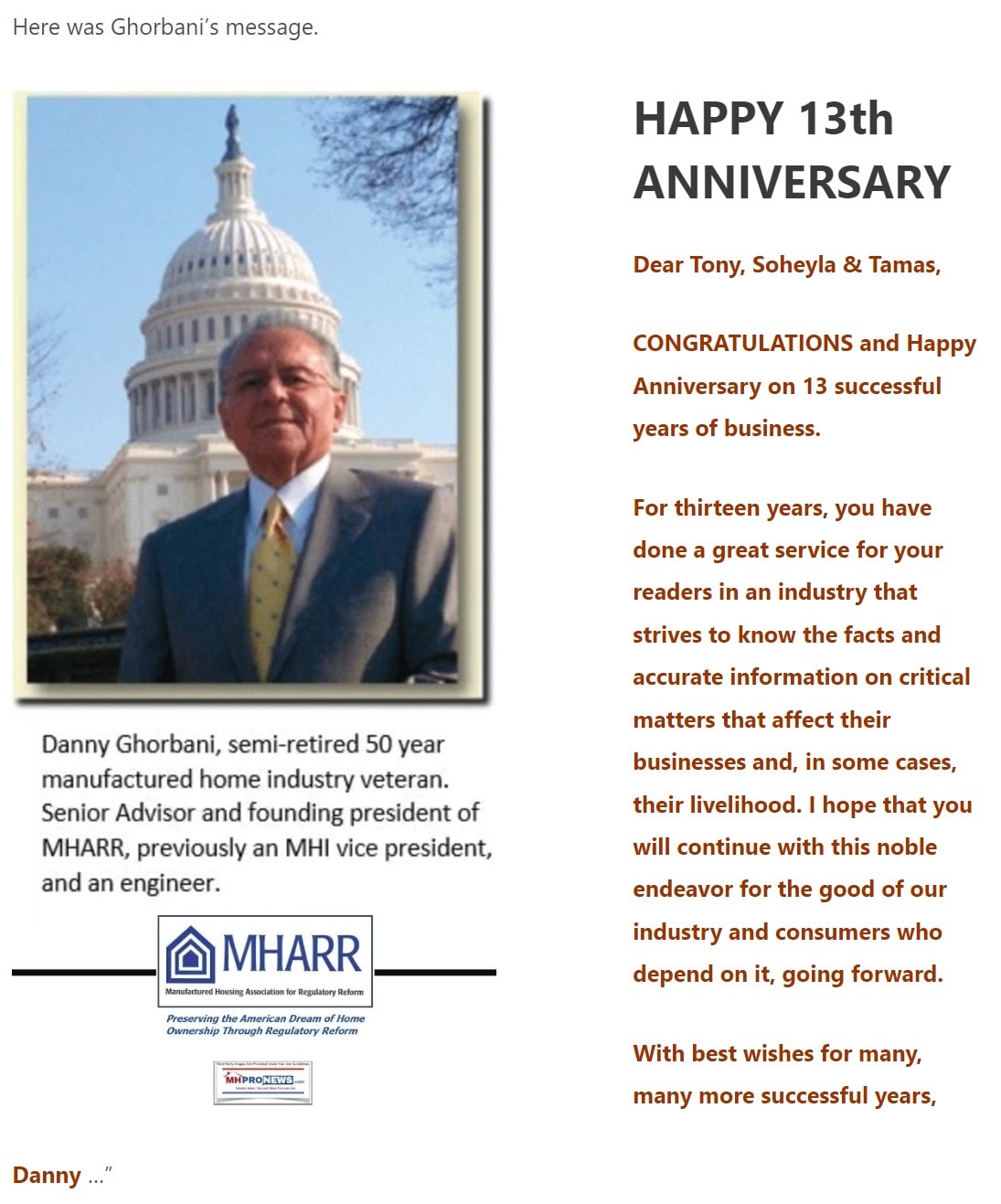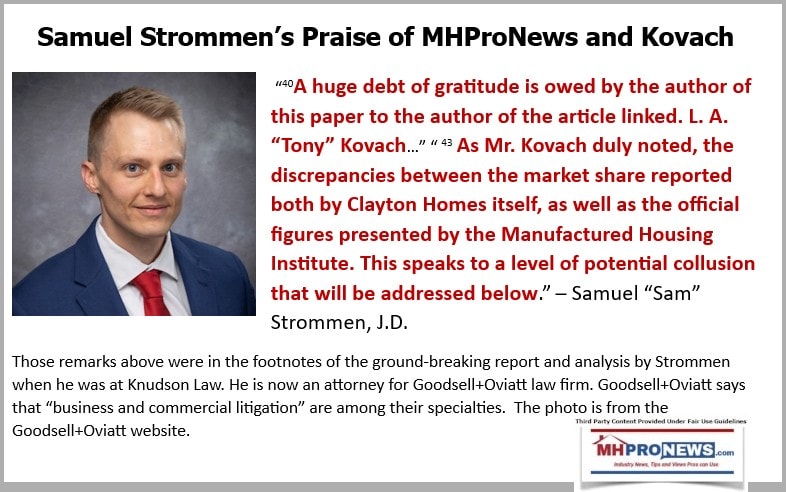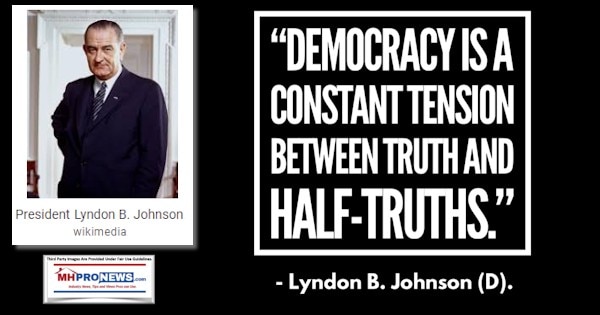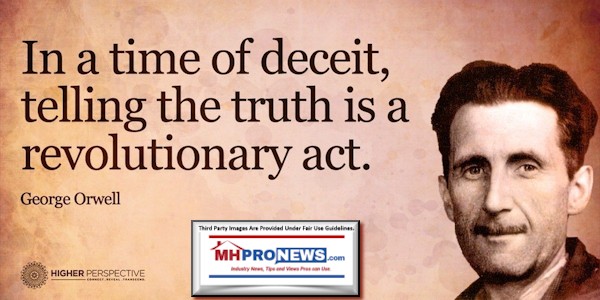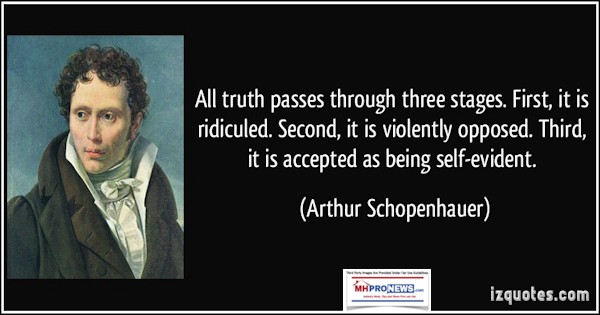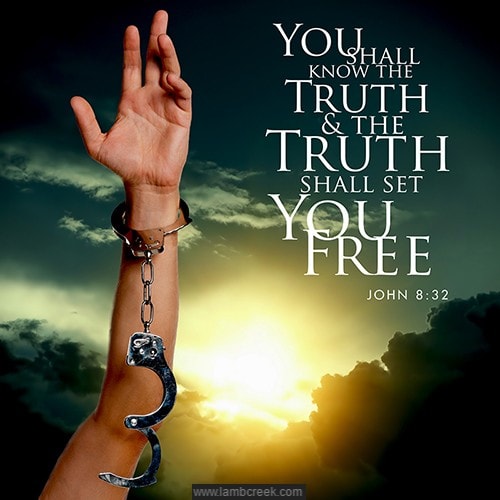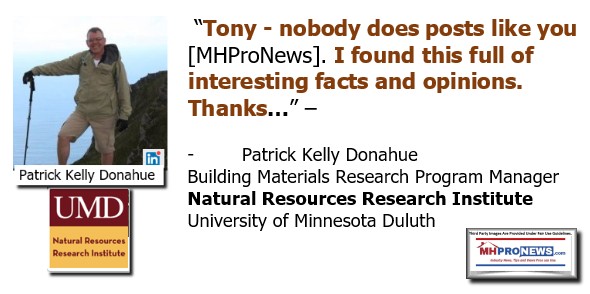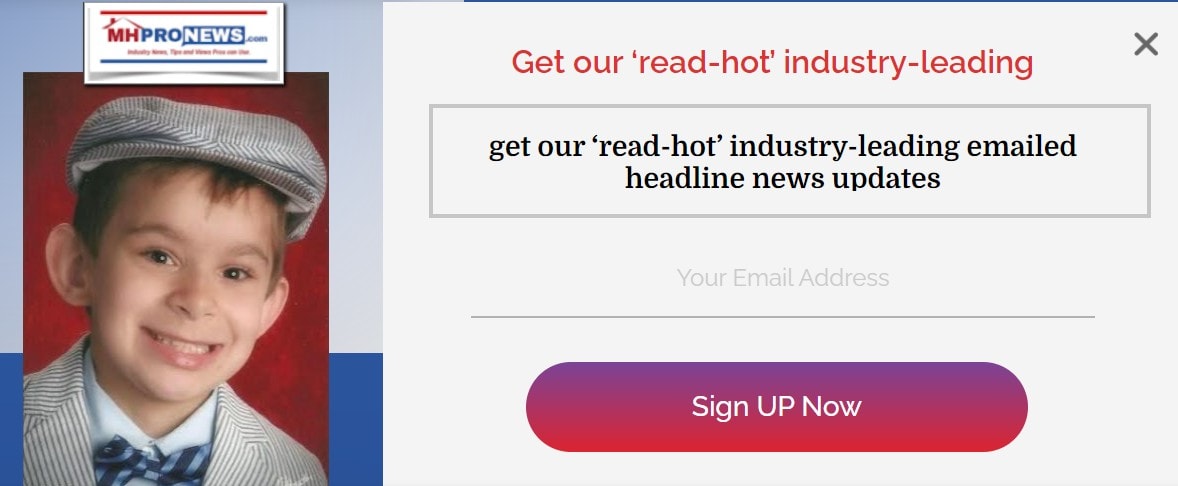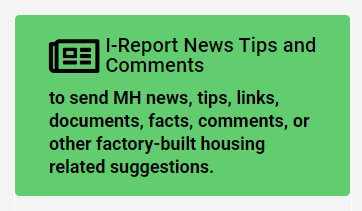 Again, our thanks to free email subscribers and all readers like you, as well as our tipsters/sources, sponsors and God for making and keeping us the runaway number one source for authentic "News through the lens of manufactured homes and factory-built housing" © where "We Provide, You Decide." © ## (Affordable housing, manufactured homes, reports, fact-checks, analysis, and commentary. Third-party images or content are provided under fair use guidelines for media.) See Related Reports, further below. Text/image boxes often are hot-linked to other reports that can be access by clicking on them.)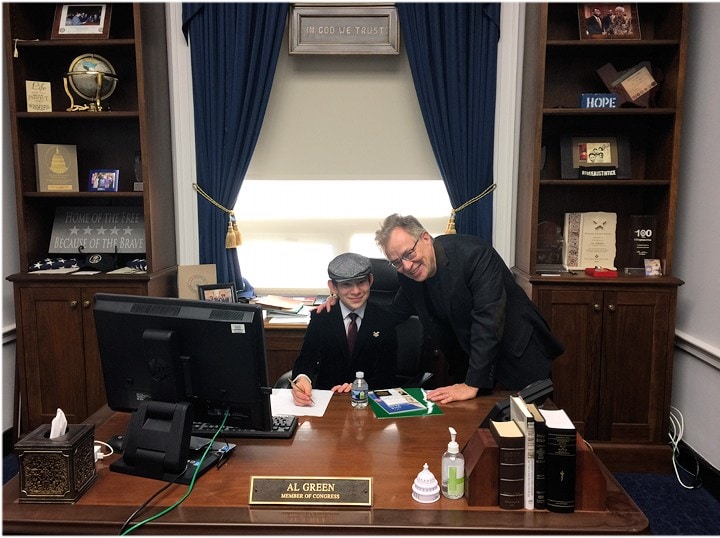 By L.A. "Tony" Kovach – for MHProNews.com.
Tony earned a journalism scholarship and earned numerous awards in history and in manufactured housing.
For example, he earned the prestigious Lottinville Award in history from the University of Oklahoma, where he studied history and business management. He's a managing member and co-founder of LifeStyle Factory Homes, LLC, the parent company to MHProNews, and MHLivingNews.com.
This article reflects the LLC's and/or the writer's position and may or may not reflect the views of sponsors or supporters.
Connect on LinkedIn: http://www.linkedin.com/in/latonykovach
Related References:
The text/image boxes below are linked to other reports, which can be accessed by clicking on them.'
'Warren Buffett Apparently Has Eye on New Double-Wide' MarketWatch-Fast Company Reports on Clayton Homes and Related Manufactured Housing Acquisitions, plus Sunday Weekly MHVille Headlines Recap
H.R. 5198 – Expansion of Attainable Homeownership Through Manufactured Housing Act of 2023 – Manufactured Housing Institute Supported Bill Explored; plus Sunday Weekly MHVille Headlines Recap